Increase or decrease font size for easier reading : A+ A-
Noppadol Duangporn
Noppadol Duangporn (1941-2019) - นพดล ดวงพร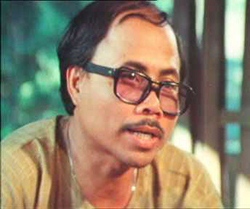 Noppadol Duangporn is an actor playing Thai movies and Thai TV series. He is also a singer and a comic
This Noppadol Duangporn movie page contains 11 records.
---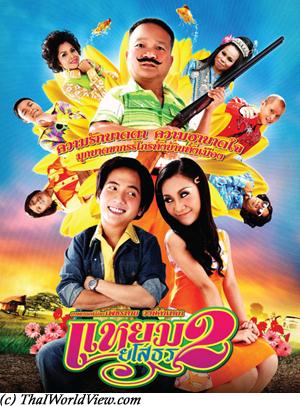 Year

: 2009



Thai title

:

แหยม ยโสธร 2




English title

: Hello Yasothon 2



Rating

: 4/5


Director

: Mum Jokmok



Main actor

: Mum Jokmok,Noppadol Duangporn


Main actress

:



Buy now

:

A few years have passed since "Hello Yasothon 1". Yaem is now married and has three children. He is village headman (กำนัน). A new district officer (นายอำเภอ) is coming. His name is Palat and he is coming from Bangkok. He tries to seduce Yaem's daughter called Wae. Yaem's teen child provides hints to Palat to seduce his sister Wae. Yaem doesn't trust Bangkokian people, who speak sweet words too easily (คนกรุงเทพปากหวาน). The mother likes Palat but the father always interferes. The movie highlights the life in Isan (อีสาน ) area in the Northeast of Thailand through the village head activities, i.e. visit Buddhist temples, check rice fields, market, village silk craft, Bun bang fai festival (ประเพณีบุญบั้งไฟ). Palat needs to go back to Bangkok. Wae is pregnant with Palat. Yaem comes to Bangkok to ask his parents to take responsability. Meanwhile local ruffians steal the Buddha statue (Ong Bak as a funny reference to Tony Jaa's movie in which Mum Jokmok also played) from the local Buddhist temple and kidnap Yaem's wife and daughter. Yem and Palat help each other to neutralize the ruffians. This movie is an hommage to 1960s old Thai movies. Actors are wearing colorful clothes. This movie has an ambiance similar to "Mon Rak Lung Tung" (1970 - มนต์รักลูกทุ่ง) but with less songs and more comedy. Lao language and a Molam (หมอลำ) soundtrack are used. The movie is full of funny visual or wording jokes. It is also an hommage to Isan culture. Isan people shall be pround of their language and culture.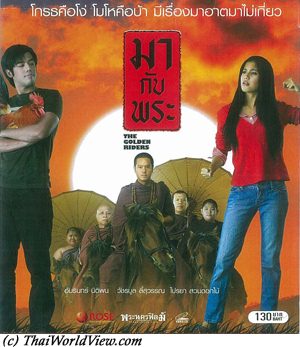 Year

: 2006



Thai title

:

มากับพระ




English title

: The Golden Riders



Rating

: 3/5


Director

:



Main actor

: Noppadol Duangporn


Main actress

:



Buy now

:

One novice, one young man and one lady are in a train heading to Chiang Rai. The novice is going to famous Buddhist temple "Wat Tham Pa Archa Thong" where monks ride horses. The lady, called Tengmo, is heartbroken and goes back to her parent's home. She is the daughter of a local district officer. The young man called Phon has been laid off and is going for a break. The novice is from Bangkok has difficulty to get used to the life inside the temple. The abbot is very demanding. He is working with the two young people to teach local mountain people to get rid of debts but the local district officer doesn't appreciate their action. This comedy illustrates the decline of the role of Buddhist monks as sacred and unchallengeable in Thai movies. The abbot is still a model but his monks sometimes forget the Buddhist rules through a comic way. The local district officer combines with a former soldier, who claims he has hidden gold ingots inside the ground where the temple is now built. Pressure is done on abbot to move his temple to another location but finally no gold can be found. The gold was found previously by a monk and used to build a big Buddha statue (same story as Wat Traimit).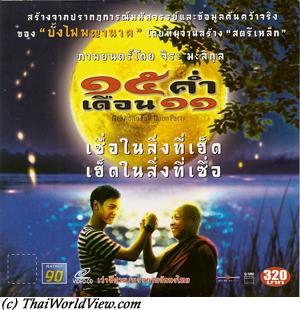 Year

: 2002



Thai title

:

๑๕ ค่ำ เดือน ๑๑




English title

: Mekhong full moon party



Rating

: 5/5


Director

: Jira Malikul



Main actor

: Noppadol Duangporn,Somchai Sakdikul


Main actress

:



Buy now

:

Thai movie "15 ค่ำ เดือน 11" was released in year 2002. This movie is about the Naga fireballs festival happening each year in Nong Khai and Phon Phisai. Every year more than 100 000 people gather by the Mekong River on November Full Moon. After sunset, mysterious fireballs called Naga fireballs rise up from the river and disappear into the sky. This movie looks into the various theories behind the phenomenon. Some locals still believe in the traditional myth of the Naga, making a sacred offering to Buddha. One doctor called Professor Surapon thinks that the fireballs are natural and installs complex equipment to make measurements. Another wants to prove the phenomenon is a hoax. The movie tells the story of an abbot of a Buddhist temple, who is depicted as responsible for making the fireballs. A boy, called Kan, who is helping the abbot, becomes reluctant to continue as he feels the media will eventually expose the practice and gives a bad image of Buddhism. The abbot (Noppadol Duangporn) wishes to continue as he feels it perpetuates the faith of the local people. The morality is "believe in what you do / do what you believe". Part of the movie is in Isaan / Lao language. Somchai Sakdikul fails to demonstrate the phenomenon is a hoax and that it is manmade. The abbot is looking for Kan's help. Kan was raised by the abbot but went to Bangkok to finish his studies. Kan knows young lady Lit since his childhood. There is some competition between Kan and the Professor Surapon towards Lit, who is now a teacher. As Kan has decided not to put the balls under the river this year, the abbot decides to do it by himself despite the strong water current and his old age. Will there be Naga fireballs this year? The viewpoint is that both supernatural and scientific beliefs can exist side by side. This movie has received an award at the Bangkok International film festival in 2003. This movie has also been registered as National Heritage per the 2015 list released by the Thai Film Archive.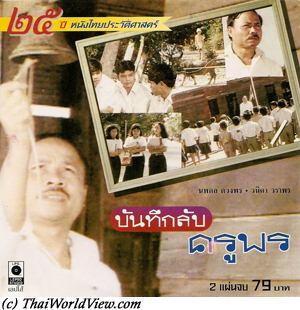 Year

: 1981



Thai title

:

บันทึกลับครูพร




English title

:



Rating

: 3/5


Director

:



Main actor

: Noppadol Duangporn


Main actress

:
It shows the importance and abnegation of teachers working in Thai remote rural villages in order to intruct poor children.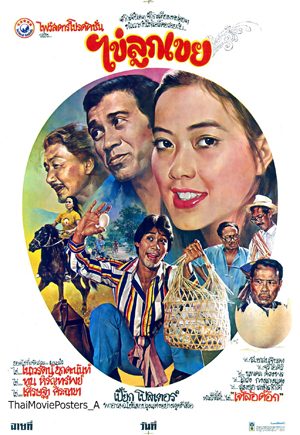 Year

: 1981



Thai title

:

ไข่ลูกเขย




English title

:



Rating

: 5/5


Director

: Piak Poster



Main actor

: Toon Hiransap,Sor Asanajinda,Lor Tok,Settha Sirachaya,Somchai Samipak,Noppadol Duangporn,Krong Kangkengdaeng


Main actress

: Naowarat Yooktanun,Juree Osiri
Thai movie ไข่ลูกเขย was released in year 1981 and lasts 1h50mn. A remastered version was released by Five Star Production (ไฟว์สตาร์โปรดักชั่น) in the decade 2010s and shown on Thai TV cable. The movie was released under VCD format by Solar company. The movie director is Piak Poster. This is a social Romantic Comedy. Mother Juree Osiri wishes to marry her daughter Rose (Naowarat Yooktanun) to Jongsak (Settha Sirachaya), a rich but insipid man. Her husband is played by Somchai Samipak. Tuan (Toon Hiransap) is going to the village to bring improvements. He meets Rose as her car splashes him with mud. As her car refuses to start anymore, he forces her to apologize before bringing her by bicycle to the village. Tieng (Sor Asanajinda) is the village leader and father of Tuan. Tuan is seen as a crazy guy by many villagers. Rose takes her revenge by taking his clothes away while he is bathing in a stream. She forces him to apologize to get his clothes back. As the school headmaster has to go to the city for a meeting, Tuan is the one to help with the children. At that time, there was one teacher for all class levels! Rose realizes that Tuan is a clever man. He is hiding his real identity. Following a conference in Bangkok, Rose's mother is charmed by a young man protecting the poor farmers rights versus the rich Bangkokian society. Turn spends time with Lok Tok to understand his tricks to beat local administration. Noppadol Duangporn wishes to become the new village leader. At nighttime, Tuan hacks Rose's radio in order to sing a song. She tries to unveil him but cannot. Finally, Rose befriends with Tuan. Noppadol informs the mother Juree. Juree complains to Rose that she is coming from a wealthy family with a high status so she shouldn't befriend a farmer. The father Somchai Samipak tries to temporize his wife. Noppadol has an objective to replace Tieng so he goes to meet the chief district officer in the city, Tuan tricks them by emptying their petrol tank and puts a laxative in their drinking water. The next day, they try to get revenge, but Tuan is good at Karate. Meanwhile Rose finds papers and pictures showing the real identity of Tuan. Tuan claims he had no choice as villagers would not trust a civil servant from Bangkok. It was the only way to see the real village problems, the good and bad things done by villagers. They go for a walk and get stuck by a storm. Juree, the mother, coming to inspect her daughter, is then very worried. On the next day, she refuses her daughter Rose to come here again. Upset, Rose claims she sees people value by their achievements and not by their money. She claims Tuan and she are now wife and husband in order to stay in the village. The mother is upset as her daughter marries a poor farmer (คนบ้านนอก). Her husband, Somchai, knows the truth, but doesn't disclose it. Juree tries to bring back her daughter to her home, but she fails. As the village leader is reaching retirement, a new village leader has to be elected. Noppadol is facing Krong Kangkengdaeng. Krong is winning by far as he is more popular. There is a new bailiff (ปลัดอำเภอ) nominated in the area. It is Tuan! Through a good speech, he reminds villagers that he, as a civil servant, is here to serve them and not the opposite! Rose goes back to her home with Tuan. The mother is upset as he keeps singing. On the next day, Jongsak comes to flirt with Rose, but Tuan exits his room wearing a bailiff uniform. Tuan apologizes to the mother and discloses his real identity. The mother is now delighted that her daughter marries Tuan.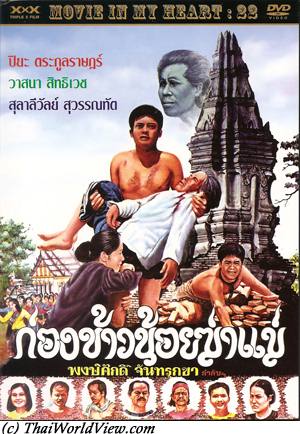 Year

: 1980



Thai title

:

ก่องข้าวน้อยฆ่าแม่




English title

:



Rating

: 5/5


Director

:



Main actor

: Piya Trakulrard,Noppadol Duangporn


Main actress

: Wassana Sitthiweth



Buy now

:

The story takes place in Isan region, Northeast of Thailand, in Yasothon province. Local traditions are nicely shown in this movie. Molam (หมอลำ) music is played with reed mouth organ (แคน) during the village feast. Bald men compete against each other, head against head. This traditional game is called "Bald head smashing" (หัวล้านชนกัน). Isan traditions such as dances and music are featured. A mother has two grown-up children. She is always worried about them (ลูกแม่ เป็นห่วง). Thong is her son and Boonsi is her daughter. Thong gets seriously hit on the head during a fight and it takes him a few days to recover. Typical Isan ceremonies such as Bai si Ceremony (พิธีบ่ายศรีสู่ขวัญ) are shown. Villagers techniques to get red ants (มดอดง), to get small wood, to catch tree lizard (กิ้งก่า), to capture frog (กบ) or fishing methods are nicely shown. Life was harsh in villages with no electricity. There is only one season for rice so most of the time rice fields are dry. SaiBua (สายบัว) is a young village girl. Saibua and Thong love each other. Thong needs to fight with a young man called Sao as they love the same woman. Finally Saibua becomes Thong's wife but outside a wedding. Her family has no choice than accept (ยกให้). A proper wedding is organised. Sing and Boonsi do the same thing! The grandmother wants a grandson (หลาน). Thong loses money when playing game so making his wife and mother upset. Thong has a crisis and almost hit his wife and mother. Life is ongoing through the seasons. SaiBua is now pregnant. Saibua dreams that Thong's mother is leaving them as she saw her as a nun (แม่ชี). One day the mother is giving alms at the village Buddhist temple. Thong is in rice fields using his buffalo to work on the soil. Saibua is at home doing chores. His mother prepares sticky rice for him. But Thong starts to be upset as he has no food to eat. He is very angry. He believes a little bit of food is given to him. Losing temper and without really noticing it, he hurts his mother. As sticky rice was compacted, it is in fact a lot and Thong is not able to finish it. He realizes too late that he has hurt and killed his own mother. He is a bad son as he hit his own mother. A trial (ศาล) is organized to judge Thong. He has done a sin (ปาบ), he is an ungrateful child (ความชั่วของลูก), an evil person (สัตว์นรก, ลูกทรพี). He gets authorisation from the tribunal to build a small pagoda (พระธาตุ) to host his mother bones (เวรกรรม). He works very hard under the harshness of a guard. The small food he gets is offered to his mum. The pagoda is finished (ขออิฐ) as a way to compensate (ชดเชย) his evil part. He has difficulty to get separated from his wife, child and sister but it is time for punishment. His head is cut. During the last executor dance, the executor reminds to Thong that there is nothing personal and it is just his duty to perform. This story ensures that Thai children always respect their parents and the pagoda is said to be located in Yasothon province (ธาตุก่องข้าวน้อยฆ่าแม่ จ.ยโสธร). This movie belongs to the same movie family as "A Child of the Northeast" (ลูกอีสาน) as it gives a realistic picture of Isan region. The movie picture is quite colorless sometimes.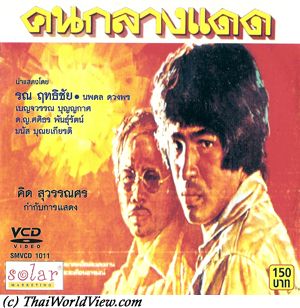 Year

: 1979



Thai title

:

คนกลางแดด




English title

:



Rating

: 5/5


Director

:



Main actor

: Noppadol Duangporn,Ron Rittichai


Main actress

:



Buy now

:

Phlaew and Na have a small company producing ice and transporting it to customers. They share profit 50-50. They are living in a Bangkok slum where families support each other. Phaew is a nice guy. He is sending local children to school and help to send Maew, little girl having respiratory problems, to hospital. Poor children from slum have no time to do homework after school because they sell flowers, newspapers at traffic light intersections. It is a hard job to sell garlands and get revenue when it is the rainy season. Poor people has no time to study as they need to earn money to survive but get blamed by teacher when they arrive late to school or when they couldn't do homework because they were too tired. There is a contrast between rich children playing piano and poor children playing with bamboo. They dream of changing lifes, i.e. sell clothes instead of selling flower garlands. Elders are gambling and drinking. There are internal family fighting on savings. Pa, middle age woman, borrows money from local mafia den. Pa and Na lose at horse betting and Pa cannot reimburse the mafia den. Pa's husband fled away because of her gambling habit and because her daughter got handicapped by a cart while the mother played cards. Pa gets hit by mafia tough men because she cannot give money back. Phlae celebrates his birthday with all poor kids and Na. Alcohol helps them to forget their problems temporary. Phlaew discovers that Na was unfair with him since two years because he doesn't know how to read. Na didn't share the revenue honestly. Phlaew asks for 30 000 Baht to pay back Pa debts and to do good for her daughter Phae. Pa encounters Na when going to give back money to mafia. He convinces her to bet on Thai boxing following a tip he got. When he realizes that the money they bet is coming from Phlaew it is too late. Meanwhile the mafia tough guys are looking for Pa. They look after her daughter Phae to locate the mother. The local insane guy, who tries to protect Phae and Maew, is hit by a knife. Due to the fear, Maew died due to her respiratory problems. Phlaew asks for revenge. One of the participants brings them to the boss, who is getting and selling land from slums in order to build modern buildings. A deadly fight erupts in which Na gets shot. The boss gets badly hurt but survives. Slum people get caught by the Police. Before dying Maew, the little girl, has writen a text to celebrate the Bangkok 200 years anniversary. Bangkok development is done on the back of poor people. Bangkok is not an angel city anymore. People in slum are moved from one place to another following Bangkok development. To chase people from slums, their houses are often burnt. This movie highlights their difficult and poor living condition (youngsters addicted to cheap drugs, poverty, insalubrity...) but they still have a good heart towards each other in a similar way to people living in up-country villages. "คนกลางแดด" means the people under the sun. Slum people same as villagers are second class citizen. This movie has also been registered as National Heritage per the 2016 list released by the Thai Film Archive.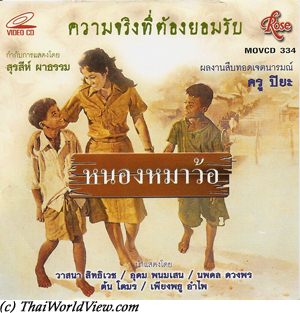 Year

: 1979



Thai title

:

หนองหมาว้อ




English title

:



Rating

: 5/5


Director

: Surasee Phatham



Main actor

: Noppadol Duangporn


Main actress

: Wassana Sitthiweth



Buy now

:

The teacher called Piya is dead but the young lady teacher continues to stay in the village. Farmers have many debts, so are forced to sell at low price the harvest before reaping. They are being cheated. The young lady teacher convinces the farmers to unite themselves in cooperatives in order to sell in common after reaping and to get the "real" market price. One hundred chariots leaded by buffaloes bring the rice into the city. But the powerful buyers don't agree... Her life is in danger.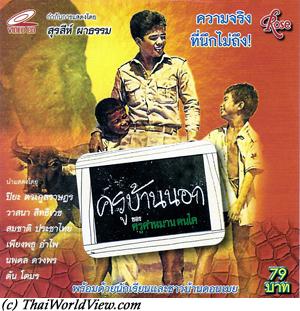 Year

: 1978



Thai title

:

ครูบ้านนอก




English title

: The Rural Teacher



Rating

: 5/5


Director

: Surasee Phatham



Main actor

: Piya Trakulrard,Noppadol Duangporn


Main actress

: Wassana Sitthiweth



Buy now

:

A new teacher, Piya (ครูปิยะ), is sent to poor Isan (อีสาน), northeastern part of Thailand, in a remote village called Baan Nong Ma Wo (บ้านหนองหมาว้อ). There are still carts with buffaloes there. An old and derelict bus is the only link to the bigger provincial city. On the way to the village, the old bus needs to give priority to big logging concession truck. The headmaster (ครูใหญ่) shares classrooms with Piya and Phisit. Dao (ดวงดาว), young lady, is the third teacher. They teach two classrooms with many children at same time. Those are outdoor classrooms with basic roof. Children have no shoes and wear old clothes. The headmaster tries his best but he is not smart. There is a welcome ceremony for the teachers. Phisit is a butterfly with ladies. The headmaster likes playing cards. There is a puppet allegory of fighting together against evil makes us stronger. Rural teachers' job is tough. Phisit just comes here as he couldn't find another job but Piya, who is also coming from Isan, wishes to transfer his knowledge to pupils. He is an idealistic man. The village is poor and there is a need to get water from a remote pond. Piya sees many children don't have enough food to eat so he decides to plant vegetable (ปลูกผัก) in the school garden to provide them additional food. The headmaster needs to go to the city to get rural teachers' salary but every month the salary is cut by various fees (birthday gifts to high ranking teachers, donation to temples, visiting bordel...). Local villagers use a chaman to cure people as poor people cannot afford modern doctors (หมอรักษา). Piya is pushing for an expansion of the school. All villagers like him (เป็นคนดีไม่พ่อต้องมีเงินด้วย). Khun Mongkhon, local magnate, always makes donations to the school. Dao wishes to make a local newspaper for villagers. The village head is concerned as villagers shall not become too intelligent! During a welcome party, teacher Phisit and Piya have to box some officials to protect Dao. Phisit has to leave the village as rural teachers have no value. Dao loves this place (ยากจนแต่ใจดี). Piya wishes to be a boat for children to cross the sea between poorness, wealth and knowledge. Piya witnesses some illegal tree logging. Those people have big bad influence but Piya decides to investigate. He finds the place and takes pictures to send to local newspapers. He even takes the risk to shoot the responsible leaders. Khun Mongkhon is the leader. Newspaper is published and Mongkhon suspects Piya immediately as he is infusing social ideas into the kids. Even villagers start to challenge the ruffians. The ruffians cut trees (ตัดไม้เถื่อน) so soon there will be no forest and no water for the trees. Villagers decide to protect teacher Piya as the ruffians try to shoot him. His life is in danger. Dao wants him to leave (คนที่ทำประโยชน์ให้). There is undeclared love between Dao and Piya. Piya takes refuge in a Buddhist temple. Ruffians recruit a hitman. Piya decides to go back to teach the children as it is his duty. During a moving and sad scene where the children rush out of the school to welcome Piya, he is shot to death. This movie highlights many themes such as corruption, bad influence, rural teacher dedication, education and knowledge for children in order to fight against corrupted people. There is molam (หมอลำ) music as background music as it is the symbol of poor Isan (อีสาน), northeastern part of Thailand. The movie succeeded to reap 9M Baht in year 1978 and got two awards for best scenario and best director. Surasee Phatham has directed a remake of his own movie in 2009 as he was never happy with the number of details that were edited out. Thirty years ago too, many young people were involved in social and political activities so many filmgoers found it easy to identify with the teacher. In 1978, everyone wanted to watch action movies but when the movies "The Rural Teacher" (ครูบ้านนอก) and "The Old Scar" (แผลเก่า) were released, they were successful.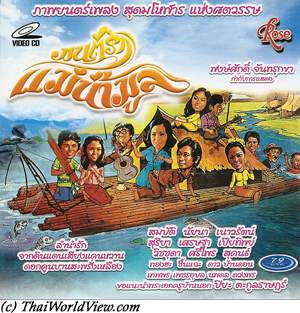 Year

: 1977



Thai title

:

มนต์รักแม่น้ำมูล




English title

:



Rating

: 3/5


Director

:



Main actor

: Sombat Methanee,Sukon Koewliam,Settha Sirachaya,Suriya Chinaphan,Piya Trakulrard,Noppadol Duangporn


Main actress

: Naowarat Yooktanun,Piathip Kumwong,Naiyana Shewanan
This folk-music movie is similar to "mon rak luuk thung". It features folk or "LUUK THUNG" songs. It is about love stories between villagers from Ubon, i.e. a teacher and his fiancee staying in Bangkok, a farmer wishing to be a singer and his fiancee, a school director and a nurse.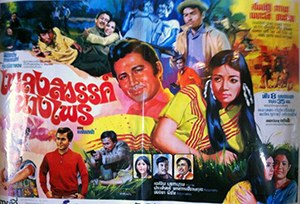 Year

: 1971



Thai title

:

เพลงสวรรค์นางไพร




English title

:



Rating

: 3/5


Director

:



Main actor

: Sombat Methanee,Sawin Sawangrat,Choomporn Theppitak,Anucha Ratanaman,Krai Kanchit,Noppadol Duangporn,Sompong Phonmitr


Main actress

: Pawana Chanajit,Khomapat Attaya
Following huge success of movie "Mon Rak Luk Tung" (มนต์รักลูกทุ่ง) in 1970, many song movies were released to catch up with this trend. Such movies include songs, a bit of action, romance and humor. Thai movie เพลงสวรรค์นางไพร is one of them and was released in year 1971. It features nine songs. Director is พิชิต มีชัย. This movie was a lost movie in Thailand. In year 2013, a last copy was found in a Thai temple in the North of Thailand. Only three reels of the movie are left, so around 1h30mn. Unfortunately the film reels were in bad condition due to water soaking, so only 18mn are usable. It is in 16mm format so there is no sound as such format requires dubbing. No songs are left. No movie poster is left. A movie partial summary is still available. Sombat Methanee is Waiwai, working as forest guard. Pawana Chanajit is SaenGneun. Others actors include Sawin Sawangrat, Choomporn Theppitak, Anucha Ratanaman, Krai Kanchit, Khomapat Attaya, countryside folk singers (นักร้องลูกทุ่ง) such as Noppadol Duangporn. Action takes place in a village. Ruffians are terrorizing and aggressing local ladies. A spirits doctor is coming to the village. A ghost appears to the villagers during an assembly. Romance is happening between Waiwai and SaenGneun. A small sequence shows Sombat Methanee punching ruffians. The remaining sequences are not enough to understand the movie.
---