Increase or decrease font size for easier reading : A+ A-
Nipaporn Nongnuch
Nipaporn Nongnuch (1961) - นิภาพร นงนุช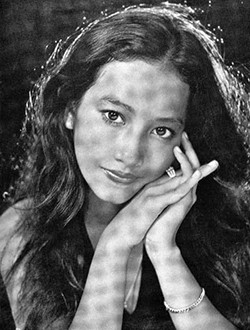 Nipaporn Nongnuch
This Nipaporn Nongnuch movie page contains 11 records.
---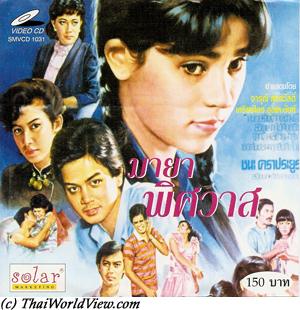 Year

: 1983



Thai title

:

มายาพิศวาส




English title

:



Rating

: 4/5


Director

: Chana Kraprayoon



Main actor

: Kriengkrai Unhanan,Suchao Pongwilai,Manop Aussawathep


Main actress

: Jarunee Sooksawad,Pissamai Wilaisak,Mayurachath Muarnprasitivej,Nipaporn Nongnuch
Dokbua (ดอกบัว), a young lady, is hurt by Chala's car. She is a poor girl coming from Chiang Mai to Bangkok in order to work but she was told a falsehood regarding the job nature. As she has nowhere to go, she can finally stay as a maid as Chala gets pity on her harsh life. Chala's HiSo family includes various members. Pen is a middle age woman. She is the new wife of Chon, who is paralyzed. Chita is Chon's sister. She never got married. Chon has three children, Chala, Chet and Lek. There is always a bad and oppressive ambiance in the family. Chala only spends money but does not earn anything. In fact Chala gives the money to a poor family. Chet and Pen are lovers. All men in the house fight over Dokbua. Pen wants to use Dokbua to take care about her paralyzed husband ardors so that she can have more free time with Chet. Dokbua played the stupid girl but she is in fact very intelligent. Only Chala knows Dokbua has entered the house with a specific idea. What is her goal and her hidden secret? This HiSo house is same as hell (นรก). People are doing bad deeds (มีบาป). Ten years ago, Chon, the father always partied in the house and brought girls. It only stopped when the father became paralyzed. Lek, the youngest daughter, has a boyfriend called Tat. Tat also tries to seduce Dokbua. Pen has a new plan and introduces Dokbua to a rich man called Tawat. Pen gets money in exchange of providing young girls to rich men. There are arguments between Tawat and Chon. Dokbua prefers to stay with Chon. Tawat takes over Chon's company as he looses face regarding Dokbua. It causes a heart attack to Chon. Dokbua talks to Chon privately on his hospital bed while he is dying. Chon is afraid about hell (กลัวนรก) due to his previous bad deeds. Before dying he updates his testament and gives nothing for his children. Everything goes for Dokbua. Chita relates Chon's story to Chala. Chon was behaving like a ruffian when he was young. After having a second kid the father starts to misbehave again with girls so the mother called Lamyong hanged up herself. Dusit was a former business associate of Chon but they had arguments. Chita and Dusit were in a love story and Chon made it broken up. Dusit later has another wife but Chon never forgave to Dusit and Dusit was shot in the back. Dokbua is Dusit's daughter. Dusit is still alive but is paralyzed. Tat still tries to seduce Dokbua as Lek is now a poor girl. Chet also tries to be nice. This hypocrisy causes Tat and Lek to break up. Pen and Chet also break up. Pen cannot stand it. Pen shots Chet and becomes crazy. Lek behaves as a bad girl. The whole family ends up in a turmoil even if Dokbua didn't intend to be such a mess. Finally Dokbua and Chala declares their love for each other. Dokbua gives all heritage to Chita. This movie highlight the high society hypocrisy. Chana Kraprayoon is famous for directing drama / romance movies and Thai TV series. This movie was adapted in a Thai TV serie in 2007. Jarunee Sooksawad got an award for her Best Actress performance in this movie.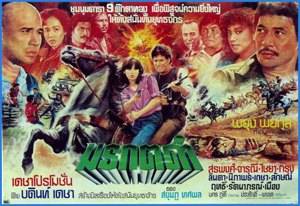 Year

: 1983



Thai title

:

มรกตดำ




English title

:



Rating

: 2/5


Director

:



Main actor

: Sorapong Chatree,Chaiya Suriyun,Rith Luecha,Krung Srivilai,Kecha Plianvithee,Lak Apichat


Main actress

: Jarunee Sooksawad,Nipaporn Nongnuch,Ratanaporn Intarakamhaeng,Linda Khatancharoen
Fighting is happening in a village. All villagers are killed by mercenaries led by Rith (Rith Luecha). Fighters, riding horses and wearing black clothes, led by Maneerak (Jarunee Sooksawad) are chasing them away. Maneerak has a mixed of Ninja and cowboy skills. Two groups are fighting for this area control as it contains precious gems. One group includes Maekin (Krung Srivilai), Kecha (Kecha Plianvithee), Maneewong (Nipaporn Nongnuch) and Maneerak. The opposite group includes Rith, Lak (Lak Apichat) and Runfa (Linda Khatancharoen). Maneerak, Maneewong and Runfa are three sisters. Their father died before. Rith's ruffians are looking over workers digging for gems. Yutta (Sorapong Chatree) finds a big black emerald (มรกตดำ) and flees away but is chased by the guards. The black stone (ก้อนหิน) is a sacred item. It helps to get rid of the guards and a blind monk appears to Yutta to encourage him to take good care of the stone. A mysterious man called Chaiya (Chaiya Suriyun) keeps surveying the two groups. Yutta is involved despite him in the fightings between the two groups as he helped Maneewong and then sold some gems. Yutta loves Runfa but she cannot be trusted as she steals the black stone while he is sleeping. This time, Yutta helps Maneerak, younger sister of Maneewong. The black stone belongs to Tibet and Runfa tries to sell it. Maneerak is able to get the black stone as Rufa's domestic helper stole it. Maneewong wishes to get the full heritage of her father. Maneerak visits her mum (Ratanaporn Intarakamhaeng) in a Buddhist retreat on a hill. Yutta follows her but Maneewong and her lover Maekin are just behind. Duel happens between Yutta and Maekin. Everybody is now looking for the black stone. Maekin kills Rith during the fighting between the two groups. Yutta gets rid of Lak. Finally both Yutta and Maekin are discovered to be undercover police officers (ผู้กอง). Chaiya(Chaiya Suriyun) is an undercover military officer. Chaiya and the mother make everybody realize greed. Understanding is back in the family and Yutta will bring back the black stone to Tibet with Maneerak. This 1h37mn movie is part of Thai Tom Yam western style. The Thai movie poster mentioned that nine Thai stars, having received Thai cinema awards before, are featured in this movie.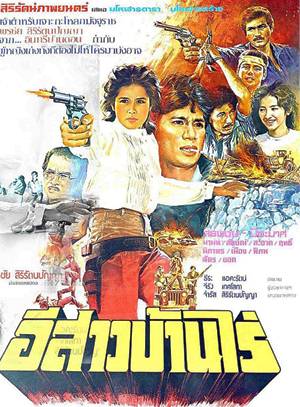 Year

: 1983



Thai title

:

อีสาวบ้านไร่




English title

:



Rating

: 3/5


Director

:



Main actor

: Sorapong Chatree,Manop Aussawathep,Lak Apichat,Sahat Piempongsan,Rith Luecha,Pipop Pupinyo,Chat Mongkolchai


Main actress

: Piyamas Monayakol,Nipaporn Nongnuch
Thai movie อีสาวบ้านไร่ was released in year 1983. Main actor is Sorapong Chatree and main actress is Piyamas Monayakol. The movie is lost in Thailand but a trailer of three minutes is still available. Other actors include Manop Aussawathep, Lak Apichat, Sahat Piempongsan, Rith Luecha, Nipaporn Nongnuch, Pipop Pupinyo, Chat Mongkolchai. The three minutes trailer show various sequences such as Piyamas Monayakol being a fearful young lady able to use guns and fight also, brawls involving Sorapong Chatree. It looks like Piyamas Monayakol is back to her hometown after studying in Bangkok and have then issues with some local ruffians (Rith, Chat, Pipop, Manop). Thanks to Sorapong and Lak, she fights back against ruffians. A love story is also happening between Sorapong and Piyamas. A first version of movie อีสาวบ้านไร่ with Sombat Methanee and Aranya Namwong was released in year 1970. The 1970 version features songs but the 1983 is a pure action movie with no songs.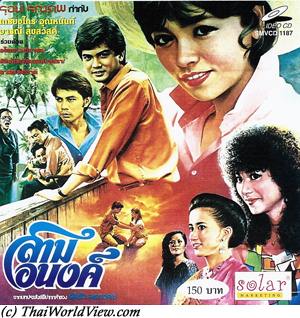 Year

: 1982



Thai title

:

สามอนงค์




English title

:



Rating

: 3/5


Director

: Ruj Ronnapop



Main actor

: Kriengkrai Unhanan


Main actress

: Jarunee Sooksawad,Nipaporn Nongnuch
A grandmother has got four grandchildren, i.e. 3 girls and one boy. Due to heritage machiavellian reasons, she forced a wedding between two of her grandchildren but the boy has already a girl friend. So the newly husband misbehaves with his wife. Fed up by this behavior, her sister brings her back to Chiang Mai. Knowing that his wife is pregnant, the husband asks for forgiveness.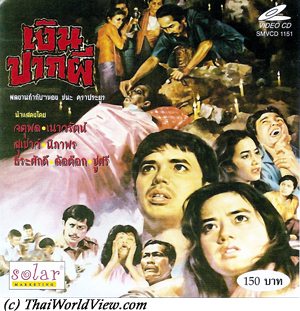 Year

: 1981



Thai title

:

เงินปากผี




English title

: Ghost Money



Rating

: 3/5


Director

: Chana Kraprayoon



Main actor

: Jatuphol Poopirom,Lor Tok,Suchao Pongwilai


Main actress

: Naowarat Yooktanun,Nipaporn Nongnuch,Chosri Misommon
Malee (Chosri Misommon) is married to Lor Tok, an alcoholic caretaker. Lor Tok has a daughter called Lao (Nipaporn Nongnuch) and a son called Lo. Malee has also a son from a previous wedding. He is called Mon (ทะลึ่ง). Lor Tok is a husband believing his wife more than his children so relationship is very bad between his children and the new wife. Teacher Awan (Naowarat Yooktanun) meets Pop (Jatuphol Poopirom) visiting the countryside per invitation from his friend, a policeman played by Suchao Pongwilai. The father doesn't give money anymore to his children so Lo thinks about stealing the coins from dead corpses (เงินปากผี). With two friends (Biaw and Pui), Lo goes in a Buddhist temple at night time to steal coins from corpses stored in a morgue. The teacher brings Pop to a famous sacred cave where birds can be heard but not seen. Many people died there. The three children spent all their pocket money so decide to go to the sacred cave to look for additional coins. They dig up a coffin with a corpse still in perfect condition (ผีเขมร). One of the kids forces to open the mouth in order to get the coin so causing the dead spirit to be very upset. Biaw dies because of the ghost. The boy Lo wishes to give back the coins to the spirit but Mon has stolen the coins and plan to sell them in Bangkok. The policeman enquiries on the coins found on Biaw. Biaw's mother gives the coins to the teacher. The spirit then possesses the teacher and frightens Pui at night time. Pui is found with burnt hands. As Lo recognises his stealing, the spirit doesn't hurt him but forces him to watch Pui digging endlessly. The spirit is now after Malee and sends hell birds (นกนรก) to punish her as she is a liar. Pui finally dies. A spirit doctor (หมอผี) arrives in the village and warns the teacher Awan that she is possessed. He asks to meet her in the sacred cave to perform an exorcist ceremony (พิธี) but he is found dead. The spirit kills both Malee and Mon. Villagers finally request the help of a Buddhist monk in order to neutralize successfully the evil ghost. In 2014, this movie was fully restored in beautiful colorful HD version by Five Star company.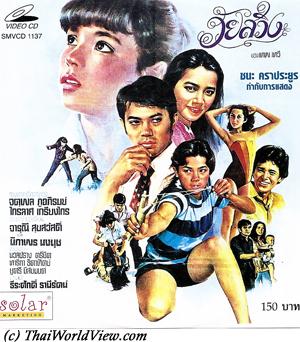 Year

: 1980



Thai title

:

วัยสวิง




English title

:



Rating

: 3/5


Director

:



Main actor

: Jatuphol Poopirom,Krailat Kriengkrai


Main actress

: Jarunee Sooksawad,Nipaporn Nongnuch,Tharika Thidathip



Buy now

:

Nout, a young female teen, is walking along the beach. She steals a golden Buddha necklace (สร้อยลูก) and flees. Et, young man from a rich family, helps as some people are chasing Nout. Nout plays a mute girl (แม่ใบ้), steals also his wallet and disappears. Nout lives with her mother in a shack. Her elder sister, Oon, is gone and left her young child behind. Nout sells sea jewels for tourists on Pattaya beach. Panoo, Oon's sister boyfriend, writes a letter and refuses to recognize that he is the father of the child. Nout discovers that Et is Panoo's young brother. By giving back the wallet, she tries to find where is Panoo but Panoo has just died from a cancer. Panoo's family is aware that Panoo has a young child and wishes to find him. His family publishes a newspaper article. Hopefully a neighbour warns Nout' s family so they decide to bring the baby for its good sake future. Panoo 's mother wants Nout and her mother to stay to take care of the baby. Et discovers that the wallet's robber is Nout, sibling of the baby. Nout refuses to recognize her faults (ใจแขง). She faces animosity from Anong, a domestic helper, who dreams to marry Et and also from Khun, Et's girlfriend (แฟน). Phi Sing is a rickshaw driver who loves Anong. A few verbal fights happen between Nout and Khun (ไม่ยอมจริงๆ, เรื่องหยุมหยิม). Nout is sent to school to finish her studies. Anong tries to push Khun against Nout so that she can have Et for herself only. Pak, friend of the family, has high interest in Nout (เด็กดื้อ). Et is upset as he loves Nout but cannot say it. His mother pushes him to marry Khun but his dream is to marry Nout. Anong declares her love to Et but to no avail. Pak wants to marry Nout and asks Et to be his requester (พ่อซื้อ). She needs to think about it. Anong is fired as she tried to hide the grandmother's ring into Nout's room in order to accuse her of robbery. Finally Anong-Khun collusion is disclosed. To justify her sacking, she lies and complains to Phi Sing that Et tried to rape her. She soothes him as she wants to take revenge. Nout doesn't love Pak so refuses the wedding proposal. A modern lady shall marry for love and not for position (รักเหมือนน้อง). Anong and Phi Sing steal the baby and ask for a 100 000 Baht ransom. Jarunee's boxing skills are well shown off. Following a fight between Anong and Nout, the baby is finally released through a fierce mud fight. But Nout and her mother decide to go back to Pattaya to avoid causing more troubles. Et drives there and ask Nout to come back to Bangkok as his wife. It is a typical romantic movie from 1980s decade. Jarunee always excels playing the upcountry girl that has a swift tongue and knows how to give witty and sharp answers.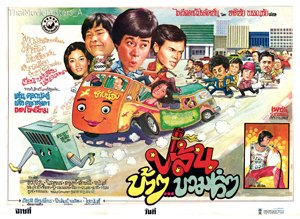 Year

: 1979



Thai title

:

ปล้น บ้าๆ บวมส์ๆ




English title

: The Mad Robbery



Rating

: 3/5


Director

: เพชร ราชภรณ์



Main actor

: Der Doksadao,Thep Po-ngam,Sithao Petcharoen,Thuam Thoranong,Sompong Phonmitr,Dam Datsakorn,Lak Apichat,Pipop Pupinyo,Somsak Chaisongkram,Boo Wibunnan,Sukon Koewliam


Main actress

: Nipaporn Nongnuch,Duangcheewan Komolsen,Malee Wetpraseri,Chosri Misommon
Thai movie ปล้น บ้าๆ บวมส์ๆ / The Mad Robbery was released in year 1979 and lasts 1h43mn. A remastered version was released by Five Star Production (ไฟว์สตาร์โปรดักชั่น) in the decade 2010s and shown on Thai TV cable. It was released under VCD format by Lepso company. Movie director is เพชร ราชภรณ์. A group of six friends (including เด่น ดอกประดู่, Der Doksadao, Thep Po-ngam) are doing magic tricks and selling medicine to cure toothache, but it fails to be a good business. Running out of money, they decide to rob a bank. Sithao Petcharoen and Thuam Thoranong are among the policemen being warned about a robbery. Sompong Phonmitr, as head of police, orders the Police to surround the bank. The six friends succeed to flee by disguising themselves as ladies. They put a fake bomb around a group of ruffians (Dam Datsakorn, Lak Apichat, Pipop Pupinyo, Somsak Chaisongkram, อนันต์ สัมมาทรัพย์...), who promised to get revenge knowing it was a trick. The bank boss is Boo Wibunnan. The police head is upset with three policemen as they let the six fake ladies escape. They must catch them back to erase their mistakes. The six friends have a car accident but get help from truck drivers led by young lady Ae (Nipaporn Nongnuch). Ae invites them to her home. There, they find Boo, Ae's father, playing cards with other men. Luckily, Boo does not recognize them. Boo is losing money. As Tok is knowing card tricks, he gets the money back. The six friends prefer to leave afraid that Boo would recognize them. They decide to look for a job in Bangkok. Ae invites them to her home in Bangkok and guarantees that her father will find jobs for them. Going to Bangkok, Tok leaves the bank bag full of money to his aunt Malee Wetpraseri. The friends then separate to avoid being caught by the police. Tok meets his old old friend Elvis (วิสูตร ตุงคะรัตน์ - Thai Elvis), who invites him. In Ae's house, the friends meet the aunt Chosri Misommon and Ae's elder sister Ann (Duangcheewan Komolsen). The ruffians try to take revenge over the six friends, but finally they give up as they see the Police chasing the friends. Back at his aunt's house, Tok finds she has died, and the money has disappeared. At the funerals, Sukon Koewliam announced to Tok that aunt Hom had used the money to donate to the local Buddhist temple to build a sacred chapel. Thai people finally catch the six friends and Boo recognizes them as robbers of his bank!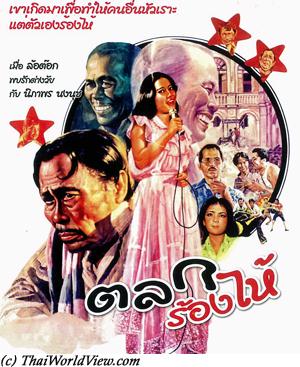 Year

: 1979



Thai title

:

ตลกร้องไห้




English title

:



Rating

: 4/5


Director

:



Main actor

: Lor Tok,Sahat Piempongsan,Sukon Koewliam,Thuam Thoranong


Main actress

: Nipaporn Nongnuch,Malee Wetpraseri,Chosri Misommon



Buy now

:

Four comics have no success as their comical shows in slums or market are failures. One of them knows famous and rich comic Lor Tok and thinks to ask him to be their teacher (ครูบาอาจารย์). During one TV show, Lor Tok sees a young beautiful lady called Kloi (Nipaporn Nongnuch) singing a song related to old men attractiveness. He wants to know more about her. Lor Tok wishes to be her sponsor (ผู้อุปการะ) to help her to become famous. Lor Tok has become a capricious star (ดาราดังมาก, ลืมตัว, สร้างบารมี) believing his fame can allow him all excesses. Lor Tok rejects the four comics' request to be their teacher and mentor. He has a wife and daughter already. His wife is unhappy as he changed a lot since being a star. Lor Tok wishes to drop everything for Kloi and promises house, car, career to her but she is afraid. His wife, fed up, considers to quit him (เลิก). Lor Tok has only Kloi in mind and refuses all movie, interview or show proposals as they are too low for a superstar like him. So he starts to alienate people around him. Lor Tok has no gratitude (ไม่มีกตัญญู) for show owners who helped him before when he was not famous (ไม่มีวันดับ). Following heavy drinking, Lor Tok has a car accident with Kloi. Lor Tok's wife flees away. His manager has to sell the house and two cars to cover the hospital expenses. He now lives with his daughter in a rented small bungalow. He keeps indulging in alcohol and had often serious pains in the chest. Finally without money, Lor Tok stops drinking and looks for show representations to pay for his daughter school fees. Nowadays people like comic groups and not anymore individual comic so he has no more success. The four guys are now a famous comic troupe in Thailand. His daughter is back with her mother. Finally Lor Tok accepts to play as a team with the four guys he denigrated before. He succeeds to regain fame (เป็นอาจารย์) and during a singing contest, Lor Tok sings a touching song regarding his life errors. At the end of the song, he dies following heart attack. On his cremation day, all his former friends including Kloi pay sincere homage to him.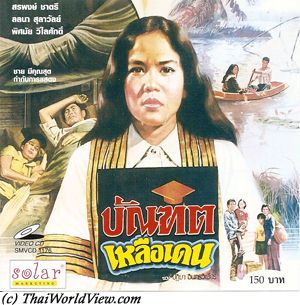 Year

: 1979



Thai title

:

บัณฑิตเหลือแดน




English title

:



Rating

: 5/5


Director

: Chai Meekunsut



Main actor

: Sorapong Chatree,Manop Aussawathep


Main actress

: Pissamai Wilaisak,Lalana Sulawan,Nipaporn Nongnuch
A farmer couple with two young daughters quit their land to find jobs and a better life in Bangkok. Wan and her younger sister Wannee have now grown up. Their father wants them to study up to university and become บัณฑิต (graduate). Unfortunately he died before during an accident on a construction site. The mother is working in a short time motel and washes bed sheet. As Wan studies are expensive and the mother has a small salary, the mother has no choice but to accept sexual proposals from a customer called Atasit in order to get money for her daughter studies. Meanwhile Wan meets a young man called Narat and a love story starts. Following her mother disease and expensive hospital fees, Wan has also no choice than to sell her body to Atasit to get money. Atasit wants to meet her again but this transaction was only financial and based on necessity (ความจำเป็น). Narat asks to marry Wan. Meanwhile Atasit also seduces the younger sister Wannee for similar financial issues. Wan asks him to stop but he refuses. All the women of the same family have the same fate with Atasit because they are coming from a poor background. The mother tries to help her daughters. The daughters try to help their mother. The movie ends up tragically. Wannee dies due to miscarriage and heavy loss of blood. Wan decides to kill Atasit to have him pay for his sins but her mother kills him first in order to take the judicial blame and avoid ruining all the efforts done by her and her former husband to have Wan become a successful graduate. Finally Atasit was Narat's father... This damned life mixing poor people from the country side and rich Bangkokian people ends up in a wreckage for all.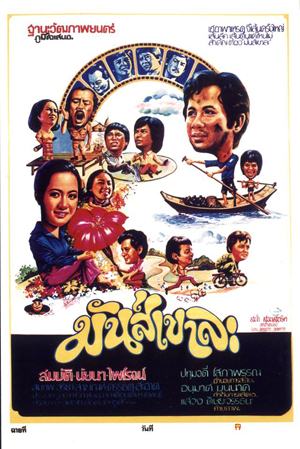 Year

: 1978



Thai title

:

มันส์เขาล่ะ




English title

:



Rating

: 3/5


Director

:



Main actor

: Sombat Methanee,Prachuap Ruekyamdee,Lor Tok,Tawan Siriwat,Suriya Chinaphan,Phairoj Jaising,Sayan Chantaraviboon,Rong Kaomulkadee,Thep Thienchai,Somphob Benjatikul,Boo Wibunnan,Kanchit Kwanpracha,Sahat Piempongsan,Thuam Thoranong


Main actress

: Naiyana Shewanan,Chosri Misommon,Nipaporn Nongnuch,Tharika Thidathip
Thai comedy movie มันส์เขาล่ะ was released in year 1978. The movie is lost in Thailand but a sequence of 1h03mn is left to be seen. Subdistrict headman (กำนัน) Lor Tok wishes to produce a movie with his daughters and his wife playing as actresses. His wife is played by Chosri Misommon. His daughters include Wassana (Naiyana Shewanan) and Nipaporn Nongnuch. Tawan Siriwat seems to oppose the Subdistrict headman's decision. A photo studio is managed by Prachuap Ruekyamdee and his two friends, i.e. Sayan Chantaraviboon and Rong Kaomulkadee. Prachuap and his friends convince Lor Tok to manage the movie for him. They are now looking for a main actor (พระเอก) for their movie but Fui (Sombat Methanee) is finally hired by mistake. Fui's close friend is Thep Thienchai. Lor Tok is the movie producer so they use the money to buy a mercedes! He wishes his family to play in the movie. Somphob Benjatikul is his assistant. Fui and Wassana like each other. Boo Wibunnan is hired as movie director. They are also looking for somebody to write the story. Tawan brings them to meet Mui (Kanchit Kwanpracha) as they are looking for a ruffian (นักเลง). A ceremony for the movie launch (เลี้ยงใหญ่โต๊ะ) is organized. Fui has to sing and does it well (it is Sombat Methanee's real voice). Thuam Thoranong as comic actor is also present. Sahat Piempongsan is used as decorator. Lor Tok always needs to protect his daughters against the young men trying to seduce them. Multiple gags happen during the shooting as Lor Tok doesn't accept any kiss to his daughters. Phairoj Jaising is involved as actor also and a few ดาวยั่ว are joining (Tharika Thidathip). The movie shooting is a disaster. Kamnan Lor Tok is back to his village and is welcomed by Tawan Siriwat and Suriya Chinaphan singing an ironic son and teasing the Subdistrict headman. This comedy is featuring many famous comic actors from 1970s and more than 18 Thai famous actors / actresses.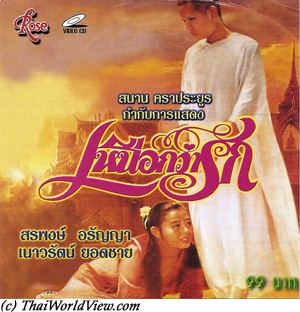 Year

: 1978



Thai title

:

เหนือกว่ารัก




English title

:



Rating

: 4/5


Director

:



Main actor

: Sorapong Chatree,Yodchai Meksuwan


Main actress

: Naowarat Yooktanun,Aranya Namwong,Nipaporn Nongnuch,Tharika Thidathip
A poor woman has to leave her daughter as she cannot take care about her and is giving her to a wealthy family. When growing, the daughter discovered that she has another real mother. In order not to destroy the wealthy family harmony, the poor woman has to play the role of a bad woman, the role of a prostitute to disappoint her daughter. As it is not enough to break her daughter's love, she is no choice than to become a nun ("MAE CHI" - แม่ชี).
---