Increase or decrease font size for easier reading : A+ A-
Nareerat Monsiri
Nareerat Monsiri (1963) - นรีรัตน์ มนต์ศิริ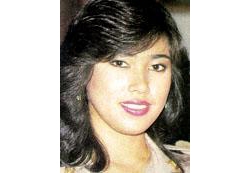 Nareerat Monsiri played in around 20 movies
This Nareerat Monsiri movie page contains 6 records.
---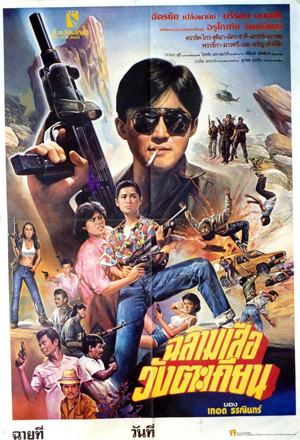 Year

: 1987



Thai title

:

ฉลามเสือวังตะเคียน




English title

:



Rating

: 3/5


Director

:



Main actor

: Chatchai Plengpanich,Chat Mongkolchai,Krai Kanchit,Kanchit Kwanpracha


Main actress

: Marasri Bangchang,Nareerat Monsiri
Thai movie ฉลามเสือวังตะเคียน was released in year 1987. The movie lasts 1h33mn. Three ruffians chase two young ladies. They only succeed to catch one girl. Dao Reuang (อรุโณทัย จิตตรีขันธ์) succeeds to flee. She tells her mother (Marasri Bangchang) the whole story. The father tries to rescue his daughter but finally both are killed. Later on a group of soldiers (ทหารเรือ) led by หมวด Tieng (Chatchai Plengpanich) storm a ruffians' place heavily armed. Then Tieng arrives in a small city. He helps a night lady called Rarai. Her father wanted to become rich thanks to jewels (พลอย) but he died before. Chat Mongkolchai is a local notable. Tieng wins back his land titles against subdistrict officer Krai Kanchit. Tieng authorises the notable to stay on the land but claims he will marry his daughter Kaew (Nareerat Monsiri). Ruffians try to kill him at nighttime but they fail. The ruffian leader, called เจ้าพ่อ Wang Takhien (Kanchit Kwanpracha) or Athon, is concerned of losing his influence (บารมี) and power (อำนาจ) towards villagers. He decides to get rid of Tieng and threatens the local doctor also through some shots on his office (สถานีอนามัย). Village leader (ผู้ใหญ่) and sub district officer Krai are also involved and corrupted with Athon. Chat's wife called Soi also. Tieng and the village leader shot each other because of Soi. Tieng is seriously injured but his friends protect him while he is recovering. Soi is the mistress of Athon. She is pregnant. Soi pushes Kaew versus Dao as both have interest in Tieng. Ratana is Athon's son and he wishes to have Kaew as his wife. Rarai has her own plan to replace Athon. Subdistrict officer Krai kidnaps Kaew and kills her father. A hitman shots the doctor and Dao's mother. Tieng and his friends decide to storm the ruffians place in order to release Kaew. Heavy fightings do occur. Everybody dies except Tieng, Kaew and Dao.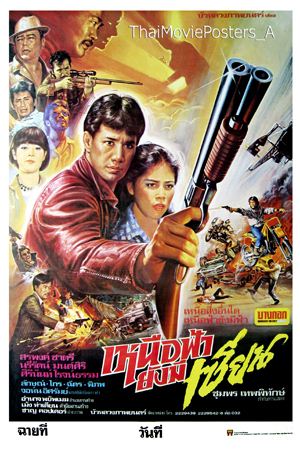 Year

: 1986



Thai title

:

เหนือฟ้ายังมีเซียน




English title

:



Rating

: 2/5


Director

: Choomporn Theppitak



Main actor

: Sorapong Chatree,Lak Apichat,Krai Kanchit,Chat Mongkolchai,Pipop Pupinyo


Main actress

: Nareerat Monsiri



Buy now

:

A man comes back in a Hat Yai city district, which is ransacked by a local mafia. He is looking for an old friend. He decides to stay and acts as a local astrologer. But local mafia dislikes him and wishes him to leave through threats. He is collaborating with the police to stop them. This movie also highlights the police's extra judicial killings.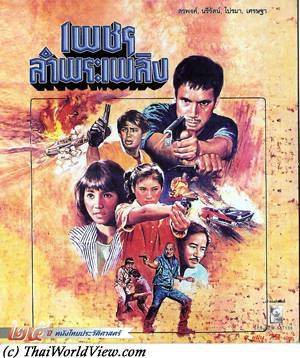 Year

: 1985



Thai title

:

เพชรลำพระเพลิง




English title

:



Rating

: 3/5


Director

:



Main actor

: Sorapong Chatree,Pipop Pupinyo,Krai Kanchit


Main actress

: Nareerat Monsiri



Buy now

:

Some Thai Soldiers are fighting at the border against some communist invaders. Phet (เพชร) and Chat (ชาติ) are two key members of this unit. They deserve a rest. Phet brings Chat back to his village. Meanwhile the village headman (ผู้ใหญ่) is killed by a professional killer (มือปืน). Khun Thana, a local influent man, is responsible of his death. Mae Ploy, a child called Haeng, Phet and Chat are witnesses of the murder. Thana wishes to suppress all witnesses. As the future of the country (ชาติ) is endangered if children don't go to school, Phet and Chat decide to protect Haeng and the school. Luckily for the two soldiers, the two teachers, Porn (ครูศิริพร) and Plang (ครูปราง), are also beautiful ladies. Phet captures one of the killer in the city. Thana tries to use his influence to release the killer. Phet meets Lady Kanya (กันยา), a local company owner, having issues with local mafia. Jealousy starts between Kanya and Porn regarding Phet. Following a gun fighting in the school, a student is killed. A car chasing happens in the city and finally the child killers are punished. Phet is captured but succeeds to escape. Phet is played by Sorapong Chatree with a beard. A barber scene is inspired from Sergio Leone western spaghetti movies. Kanya (ขายชาติ) proposes to Phet to steal army weapons but he refused and is held prisoner. As Phet has disappeared, Chat and the two teachers look for him. Chat helps to release Phet. Two former solder friends (ทรยศชาติ) are now working for Thana. They complain that Thai government didn't support them properly. Finally following Phet's touching words, they change side and sacrifice themselves for the nation (เป็นคนไทย). The two former soldiers sacrifice their life to destroy the ruffians' explosive stock. It is a typical action movie from 1980s with nationalist aspect and highlighting children education importance for the future of the country. It is only a 68 minutes movie so part of the movie might have been cut.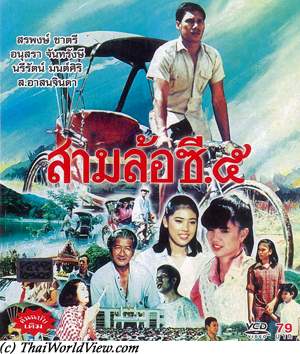 Year

: 1985



Thai title

:

สามล้อ ซี.๕




English title

:



Rating

: 3/5


Director

:



Main actor

: Sorapong Chatree,Sor Asanajinda


Main actress

: Nareerat Monsiri
Lek has been educated in a Thai Buddhist temple. His mother, fed up by the drunkard behavior of her husband, has become a Buddhist nun. Lek is now a teacher. He saves one of his student from drowning. His mother Namphrao thanks him and has interest with Lek but nothing happens between them. Namphrao has to go abroad but continues to send letters to Lek. Finally Lek got married to Lamai, the daughter of a rickshaw driver. His teacher salary is not enough so Lek has to work at night time as a rickshaw driver. He receives praises from the Thai administration for his dedication over children. He even become the rickshaw's president association. Namphrao is back and it causes jealousy from Lamai. Wishing to open a new business, Namphrao withdrews money from the bank but her money is stolen by robbers. Lek helps to retrieve the money but his family is kidnapped by the robbers. Robbers are killed by the Police and Namphrao leaves Thailand to let Lek and Lamai to have happiness.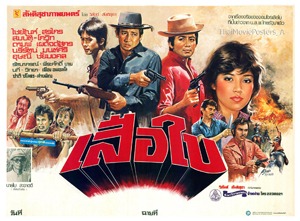 Year

: 1984



Thai title

:

เสือใบ




English title

: Seua Bai



Rating

: 3/5


Director

:



Main actor

: Chaiyan Sorakrai,Sombat Methanee,Dam Datsakorn,Chat Mongkolchai,Kowit Wattanakul


Main actress

: Nareerat Monsiri



Buy now

:

Bai (Chaiyan Sorakrai) is the son of poor farmers. Some cows disappear in the village. Ying, son of local subdistrict headman, is suspected (ชาวบ้านเดือดร้อน) to sell the cows to gamble. A fist fight happens between Ying and Bai as Bai challenges him on the money origin. Ying and his friends are strongly defeated by Bai and his brother Chom. Yiem (Dam Datsakorn), Ying's father (พ่อ), doesn't accept this and threatens to kill Bai if he doesn't apologize. Yiem hits Bai's father. Wishing to clarify the situation with Yiem, Bai and Chom end up fighting with Ying and his ruffians again. Ying shots Chom and Bai has no choice but shooting Ying also. Chom is only injured but Ying dies. Chom and Bai have to flee but subdistrict headman (กำนัน) Yiem promises to revenge his dead son. While fleeing, Bai helps Malee (Nareerat Monsiri) threatened (รังแก) by ruffian Riem (Chat Mongkolchai). Sia Thong is another godfather lending money then taking land and cows when villagers cannot repay. Bai has to play the robin woods to get back the illegal contracts from Sia Thong. Malee is Seua Fai's (Sombat Methanee) young sister. Yiem's ruffians kill Chom. Bai and his friend Sakorn (Kowit Wattanakul) take refuge in Seua Fai's territory. Romance starts between Bai and Malee. Seua protects villagers and punish those acting badly. Yiem's ruffians team perform robbery (ปล้น) by using Bai's name. They hide their face. The action is taking place during World War II with Japanese soldiers occupying Thailand. Bai and Seu Fai team help each other to neutralize a petrol stock maintained by Japanese soldiers. While visiting his mother, Bai is surprised by Yiem's ruffians. He succeeds to escape but a traitor is leading Yiem to Bai's hidden refuge. Yiem is bringing the police with him. Shootings happen. As Sakorn is seriously injured, he stays behind to stop Yiem's ruffians. Meanwhile Yiem sends teammates to kidnap Bai's parents so Bai's team has to split into two parts. Following his mother's request, Bai finally surrenders to the police. No thief can escape police. The real historical Bai is coming from Suphanburi province. He was a thief (โจร) very active after World War 2. He stayed in prison from 1953 to 1963. The real man Seua Bai (เสือใบ) has a small speech at the end of this movie. He is highlighting that his illegal life should not be followed. Other versions of Seua Bai were in 1971 (สุภาพบุรุษเสือใบ), 1998 (เสือ โจรพันธุ์เสือ). In 1971 version, the part related to the fight against Japanese invaders is much longer.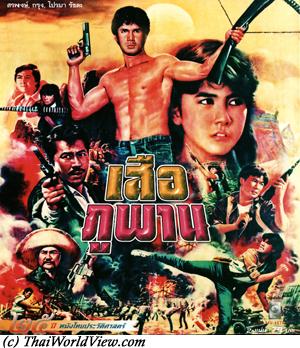 Year

: 1983



Thai title

:

เสือภูพาน




English title

:



Rating

: 2/5


Director

:



Main actor

: Sorapong Chatree,Krung Srivilai,Somsak Chaisongkram,Boo Wibunnan,Pipop Pupinyo,Chat Mongkolchai,Krai Kanchit,Pao Porapak


Main actress

: Nareerat Monsiri



Buy now

:

Thai movie เสือภูพาน was released in year 1983. The movie "เสือภูพาน", released under VCD by Lepso ltd, lasts only 56 minutes so for sure the original movie was cut a lot so making the whole story a bit difficult to understand. The movie เสือภูพาน was already released by Happy Time ltd so this version might be longer. Another online version lasts 1h07mn. It was also released under as an international title as "Spy Inferno" (1h26mn). It is a mix of Thai footage and Hong Kong footage done by Filmark production. The movie is in Spanish language. The Thai footage lasts more than one hour. The picture quality of "Spy inferno" is much better than the Thai VCD release. Some scenes are present only in the Filmark version and some only in the Thai VCD version. The Thai actors are not even mentioned in the credits. Soldiers led by Phupan (Krung Srivilai) are attacked by traitors. As their leader is injured, they have to retreat. This group of traitors is led by a big chief (Boo Wibunnan). The big chief leader wears Vietnamese clothes with a communist red star. They are traitors to the Thai nation. His ruffians' team includes Somsak Chaisongkram, Chat Mongkolchai, Krai Kanchit, Pao Porapak, ชูชัย ชัชดา and Pipop Pupinyo. They terrorize and ransack the local population. Kamnan (กำนัน) Lit is taking orders from a female boss (หัวหน้า) called Melan (Nareerat Monsiri). Only two men, Seu (Sorapong Chatree) and Phupan, are organizing resistance against them. Seu's parents and younger sister were killed by the ruffians. The international version shows the village attack by the ruffians. Subdistrict headman (กำนัน) Yeun refuses to sell his land to the ruffians. Lit tries to intimidate Yeun. Seu helps a singer aggressed by Somsak Chaisongkram (เล่นผัวเมียกัน). Seu is kidnapped by the ruffians but refuses to divulge information on Phupan. The doctor Bua helps Seu to flee. A chase is engaged to catch them back. Kamnan Lit kidnaps Yeun to force Yeun's daughter (ไปรมา รัชตะ) to be his wife. Her friend Promod helps to release Kamnan Lit. There is a secret informer (หูตา), called Number 13, inside the ruffians' team. The traitors move to another secret place but Bua leads the Thai army there. Melan is finally uncovered as the hidden informer inside the ruffians. The Thai army, helped by Seu, storm the ruffians' headquarters but faces strong opposition. Seu appears in hill tribes clothes. All ruffians are killed. Bua dies in the fightings. Thai movie เสือภูพาน reminds of movies such as ชุมแพ 2 (1984) or เสือภูเขา (1979) where a hill tribe character has strong fighting skills.
---