Increase or decrease font size for easier reading : A+ A-
Nardtaya DaengBunga
Nardtaya DaengBunga (1961) - นาถยา แดงบุหงา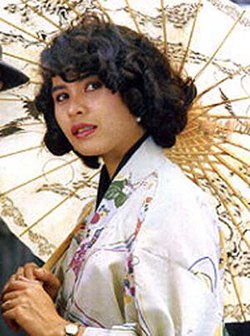 Nardtaya DaengBunga
This Nardtaya DaengBunga movie page contains 11 records.
---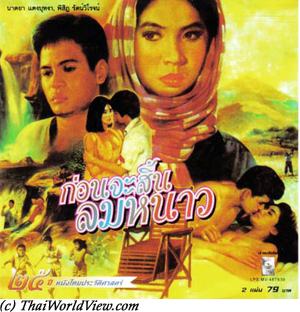 Year

: 1989



Thai title

:

ก่อนจะสิ้นลมหนาว




English title

:



Rating

: 2/5


Director

:



Main actor

:


Main actress

: Nardtaya DaengBunga
Pete, singer, and Noon, actress, are in love but don't often see each other due to busy schedule. Noon introduces to Pete her younger student sister. Noon also meets a doctor during a short stay in a hospital. Due to distance, their love fades and temptation is high. Will they stay together?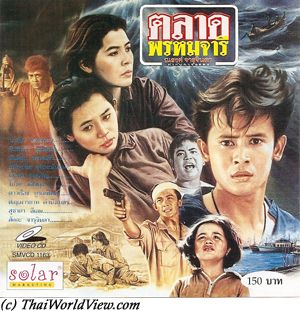 Year

: 1988



Thai title

:

ตลาดพรหมจารี




English title

: Virgin market



Rating

: 5/5


Director

:



Main actor

: Kriengkrai Unhanan,Santisuk Promsiri,Kowit Wattanakul


Main actress

: Jintara Sookkapat,Nardtaya DaengBunga



Buy now

:

This movie takes place in the South of Thailand. The Thai title means "Virgin market". Kaem is living with his wife (Phrae), son and father. Kaem is a fisherman. He also takes care of Pia as she has no father and mother anymore. Pia is now 18 years old and is flirting with Faeng. Pia and Faeng love each other but Kaem is over protective. Kaem is drinking and gambling. He has gambling debts and needs to give back 2000 Baht within two months so he has to interact with the gambling den owner. Phrae is a good wife that Kaem doesn't deserve due to his bad behavior. Kaem's fishing selling business is getting worst and worst. He believes he needs to get a faster engine to be able to go far and get more fishes in deep sea. Kaem learns that a sick Hong Kong businessman is looking for a young virgin woman as he believes it is the best cure. Kaem is so eager to get a new engine for his fishing boat that he agrees to sell Pia's virginity to the local gambling den owner for 15 000 Baht. He gets the money, buys the engine and has to handover Pia within three days. While trying the new engine, a storm is coming. Kaem doesn't listen to Phrae's advice to go back. The engine gets stuck and the boat gets caught in the storm. Hopefully they survive but the engine is dead. But Kaem still has his promise to fulfill. He deceits Pia by sending her to the gambling den owner by bringing a letter. She is forced to stay emprisonned during two days until the Chinese man arrives. On his arrival, she succeeds to escape from her jailers and jumps into the sea. She goes back to her home but the gambling owner is waiting there. Phrae protects her by beating him with a paddle. Everybody now knows Kaem's treacherousness. For her own good sake, Phae sends Pia to Faeng's home but this one rejects her believing she has slept with other man. The gambling den owner now wants his money back with interest. He threathen with gun Kaem, Phrae and Kaem's father in front of many villagers. He shots a few time inside the boat engine making it unusable. Kaem becomes crazy and cries endlessly about his engine. Faeng now understands the whole story and goes back to search for Pia. It is unfortunately too late... Pia has jumped to her death from a cliff. Wrecked lives due to poverty... Kriengkrai Unhanan is more used to play the good guys but deliver an outstanding performance in playing Kaem role. It is a remake of ตลาดพรหมจารี realized in 1973 with Piathip Kumwong.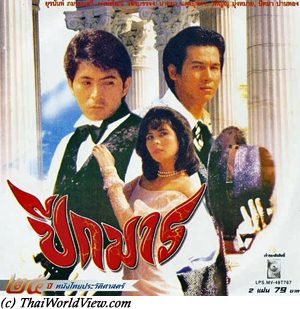 Year

: 1987



Thai title

:

ปีกมาร




English title

:



Rating

: 3/5


Director

:



Main actor

: Yuranan PamornMontri,Phongphat Wachirabanjong


Main actress

: Nardtaya DaengBunga
Salai is in her thirties. She is pregnant and is about to deliver. Her husband Phu is staying with his mother. His mother is very possessive and doesn't like Salai. She even don't trust her to educate her own baby. She makes life a hardship for everybody up to the point Salai is fed up and asks for divorce. She finally takes a break and goes back to Isan to work as archaeologist at an old Khmer temple (Prasat Hin Khao Phanom Rung). She meets a young man in his twenties called Laiseu, who immediately loves her. He is courting her but she refuses. She comes back to Bangkok. The mother wants to force the divorce. Phu is weak with his mother and always listen to her. Laiseu continues his courtship with Salai but nothing happens between both. One day, Phu sees Salai and Laiseu together so believes she is unfaithful to him. Phu hits Salai very hard and rapes her. She is sent to hospital. Her lawyer friend suggests her to sue her husband. In 1980s Thai society it was unbelievable to sue a husband for such motives as it was considered as private couple issues. Only in 2007, The Thai national assembly has passed into law the nation's first marital rape bill. Salai now carries a gun to protect her-self. Laiseu also asks Phu to leave Salai alone and without troubles. Finally for the sake of their child, they reunite and Phu finally speaks strongly with her mother in order to get his independance. This movie was adapted later to a Thai TV serie (ละคร).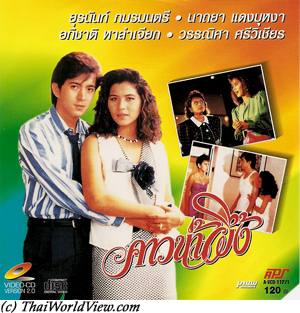 Year

: 1987



Thai title

:

คาวน้ำผึ้ง




English title

:



Rating

: 2/5


Director

:



Main actor

: Yuranan PamornMontri,Apichat Halamjiak


Main actress

: Nardtaya DaengBunga,
After a few years abroad, a man is coming home to Thailand. His former fiancee is now married to another man but the marriage is a failure. Will they ever find happiness together?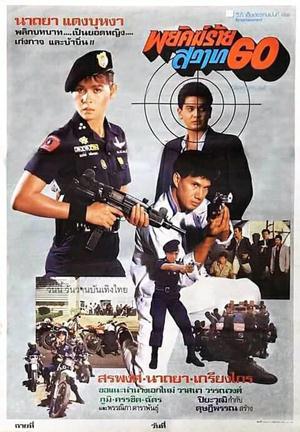 Year

: 1987



Thai title

:

พยัคฆ์ร้ายสวาท 60




English title

:



Rating

: 3/5


Director

:



Main actor

: Sorapong Chatree,Kriengkrai Unhanan,Kanchit Kwanpracha,Pumi Patanayut,Chat Mongkolchai,White Padungkan


Main actress

: Nardtaya DaengBunga



Buy now

:

Thai movie พยัคฆ์ร้ายสวาท 60 was released in year 1987 and lasts 1h32mn. It was released under VCD format by Lepso company. It is a small Police movie with Sorapong Chatree and three subordinates (ลูกน้อง) with highlights on policewomen. James Bond movie is used as soundtrack. Three overseas gangs from Hong Kong, Japan and Thailand gather for business. Police inspector (สารวัด) Toma It (Sorapong Chatree) has to work with policewoman Nee (Nardtaya DaengBunga) to neutralize those gangs. Two other assistants including Oratai (วาสนา วรรณวงศ์) join them. Policewoman Oratai is acting as a singer. Drug exchange occurs outside the club. Shootings happen. White Padungkan has a short role and gets killed. Police intervenes and drug is seized. Amnat (Kanchit Kwanpracha) is the Thai mafia boss. Hiu (Kriengkrai Unhanan) is the Japan mafia boss. Wang Kae (Pumi Patanayut) is the Hong Kong mafia boss. Amnat has betrayed the other mafia leaders. Wang Kae and Chat Mongkolchai arrive in Thailand. Amnat's team fail to kill them. They bring diamonds. Hiu asks all mafia leaders to put disagreements aside and focus on Thai police first as the dirty business is endangered. Nee's younger sister Prissana wished to go overseas for work and suddenly disappears. Nee wants to know where she found a job. She is aware of a hairdresser shop proposing easy overseas job, It is owned by Amnat's girlfriend, Chamfa. Chamfa introduces Nee to the Japanese manager Saekino, who invites her to a restaurant. It is his tactic to kidnap girls and then send them overseas for prostitution. Police teammates come to help. Nee releases the girls kidnapped in a warehouse. Ashamed, Prissana gets suicide. The mother wishes Oratai to leave Police as she doesn't want to lose another daughter. Nee cannot disappoint her father already dead. Police are aware of a drug exchange, so Toma It and his team trap the ruffians. Ruffians suspect there is a traitor among them. Police use Oratai to infiltrate ruffians. Saekino has been released from jail. Ruffians capture Nee's mother. Nee succeeds to release her mother and kills Saekino. Oratai is part of the new batch of women brought by Champa. Ruffians have identified that Oratai is a policewoman. Song, the traitor among the ruffians, helps Oratai to flee. Police start to surround the warehouse. Ruffians start to evacuate ladies. Oratai releases the ladies captured in a bus. Ruffians' leaders try to flee. Thai Police succeed to neutralize all of them and all leaders are killed or captured.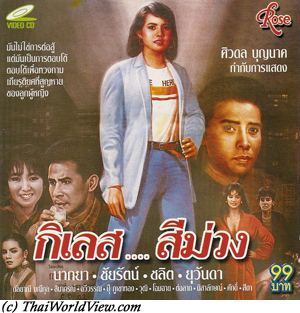 Year

: 1987



Thai title

:

กิเลสสีม่วง




English title

:



Rating

: 2/5


Director

:



Main actor

:


Main actress

: Nardtaya DaengBunga
It is about of feminist association fighting for women rights. They help women forced to prostitution, women beaten by their drunk husbands, women raped in police jails. They strongly punish the men doing bad acts. Their gaining popularity annoys a local felonious politician. This one is using gunmen to get rid of the association. Can they win?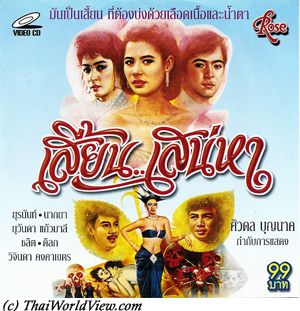 Year

: 1986



Thai title

:

เสี้ยนเสน่หา




English title

:



Rating

: 1/5


Director

:



Main actor

: Yuranan PamornMontri


Main actress

: Nardtaya DaengBunga
An Asian young woman is working as a maid for a Thai man. He finally wants to marry her and recognizes her daughter as his daughter. Due to problems, he has to flee and disappears. Before he organizes a false wedding with his associate in order for him to take care of his new family. The former associate finally tries everything to get all his whole wealth, even by pushing the daughter against the mother.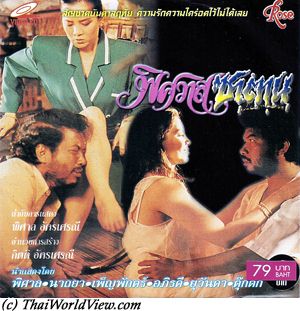 Year

: 1986



Thai title

:

พิศวาสซาตาน




English title

:



Rating

: 1/5


Director

:



Main actor

: Pisarn Akraseranee


Main actress

: Penpak Sirikul,Nardtaya DaengBunga,Apiradee Pawaputanon
A dangerous man and some teammates try to escape during a prison transfer. Only the man can escape but is seriously injured. He finally ends up in a strange house where only a few women are living. Despite his bad past, the women do believe in his redemption and will fight among each other for him.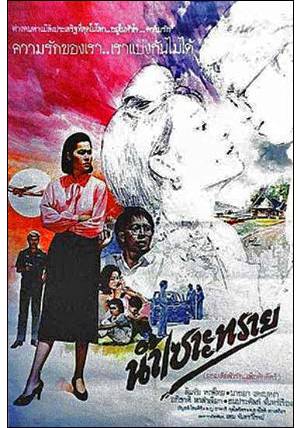 Year

: 1986



Thai title

:

น้ำเซาะทราย




English title

:



Rating

: 3/5


Director

:



Main actor

: Apichat Halamjiak


Main actress

: Sinjai Hongthai,Nardtaya DaengBunga
Teacher Wan (วรรณรี) is married with Pim (ภีม) and has two kids. She is quite old fashioned. She is a dedicated housewife, spends a lot of time to educate kids and take care of the home (เป็นคนดี). She has a high self esteem of herself as she believes she has never done anything wrong. Pim doesn't value his wife's kindness and efforts. He starts to be fed up with Wan. Wan's closest friend is Pukrong (พุดกรอง), a lonely (ความว้าเหว่) and young rich widow (แม่มาย). They know each other for 20 years. Pong, Pim's friend, tries to seduce Pukrong but she is not interested beyond friendship. Pukrong is somebody who dares (คนกล้า). Pim is seduced. Pukrong and Pim become lovers. They have to see each other in discreet places to avoid being seen by others (ขาดกันไม่ได้). Pong starts to be a nuisance as he tries to follow Pukrong everywhere so hindering her love with Pim. Pim has rent a house (บ้านของเรา) so that they can see each other discreetly and happily (รางรัก). Back home, Wan notices a perfume smell on Pim's shirt similar to Pukrong's expensive perfume. Meanwhile Pukrong has decorated "their" home with expensive furniture. Pong announces to Wan that he is aware that Pim and Pukrong are having an affair (เป็นชู้กัน). Pukrong admits in front of Wan and Pim. Pim is seen as a traitor (ผัวทรยศ). Pim is unable to make a proper decision. Wan asks for divorce (ไม่มีทางตกลง) and Pim goes back to Pukrong. Pong pushes Wan to fight back Pukrong to get her husband back (ภรรยาถูกต้อง). Pong pushes Pukrong to go out to have a new life. He presents to her a handsome and honest military colonel called Neephon. If Pim is having happiness outside why Wan cannot have happiness? Pukrong is now pregnant. Pim is upset that another man is inside Wan's life and is taking over his own duty as father. Pukrong starts to be upset by this situation and makes the link with her own son she haven't seen for years. Pukrong misses her son in America and finally decides to go there with her new born child. This way she also gives a chance to Pim and Wan couple. Wan refuses to accept Pim to come back. Pim remains alone. It is a remake of 1973 "น้ำเซาะทราย" movie. The scenario is almost identical. Sinjai Hongthai has always played the modern and liberated woman in many 1980s movies.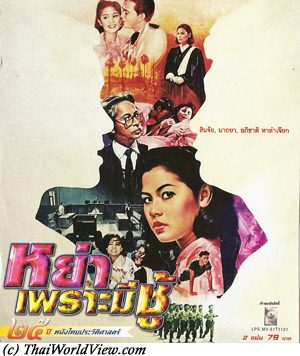 Year

: 1985



Thai title

:

หย่าเพราะมีชู้




English title

: The Accusation



Rating

: 5/5


Director

: Manop Udomdej



Main actor

: Apichat Halamjiak


Main actress

: Sinjai Hongthai,Nardtaya DaengBunga
The English title is the Accusation. Phan is a modern woman, teacher and writer. She is married with Phukphan and there is no love in the couple anymore (ชีวิตคู่น่าเบื่อ) but she needs to endure. They have strong arguments and her husband wishes to push her for divorce. He is an army officer. She finally receives a registered letter suing her for divorce due to adultery (ชู้). It makes newspaper headlines. She wishes to fight back and asks her friend Wan, a lawyer, to help but she refuses as Phan doesn't have strong evidences to refute the accusation. Wan finally changes her mind but has to face a famous lawyer on the other side. They start enquiries on Phukphan's past. The trial starts. The judge would like them to divorce silently to avoid noise and shame but it is too late. They both had a very busy schedule. Phukphan accuses his wife to have an affair with soldier Chayo. The trial raises issues related to sex affairs and private diseases (ติดเชื้อ). Crude details are given during the trial regarding intimate preferences of the husband such as a sadism. He blames his wife for not giving him what he wanted (อารมณ์เพศ). Real crude details are given during the trial. It was quite shocking during 1980s Thai society period. The lawyer is a woman. The defendant is a woman facing the establishment and men hostility. The accuser even tries to use fake testimony involving a policeman. Phukphan wishes to go with another woman. As Phan doesn't want to initiate the divorce, he planned to accuse her of adultery. Who wants to marry a woman who divorces her husband? it is wrongly seen as shameful by Thai society. A woman that asks for divorce is seen as a bad woman. She tried to support hoping her husband would change but he didn't. The movie exposes the horrible realities of her relations and his own sordid sexual life. Phukphan's lawyer claims that Phan's bad behavior is coming from the modern Thai novels she is writing. She finally wins the trial. This movie is widely admired by younger educated and intellectual Thai people. It nevertheless caused a major scandal by its sexual frankness and by the implication that a senior military figure could be guilty of socially inadmissible practices. In 1980s, Sinjai Hongthai played the modern woman in many movies (ฉันรักผัวเขา, ครั้งเดียวก็เกินพอ) directed by Manop Udomdej. She always has to fight for her rights.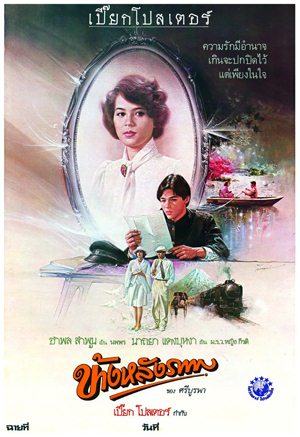 Year

: 1984



Thai title

:

ข้างหลังภาพ




English title

: Behind the Painting



Rating

: 3/5


Director

: Piak Poster



Main actor

: Amphol Lumpoon


Main actress

: Nardtaya DaengBunga
This movie is about the impossible love between a young man and a married woman older than him. The action takes place in Japan. The movie highlights the restricted existence of unmarried women and the pressure for them to marry, whatever the circumstances. This movie is based on a romantic novel written by Kulap Saipradit (กุหลาบ สายประดิษฐ์). Behind the Painting is widely regarded as one of the best-written novels in the Thai language.
---