Increase or decrease font size for easier reading : A+ A-
Naowarat Watchara
Naowarat Watchara (1949) - เนาวรัตน์ วัชรา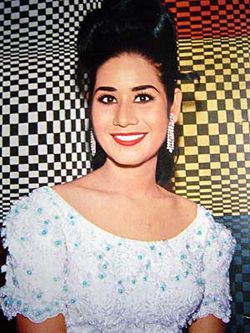 Naowarat Watchara participated to Thailand Pageant competition in 1964 and finished number 3 behind Aranya Namwong and future Apasara Hongsakula, Miss Universe 1965. She played in more than 30 movies and was also a singer. She won the best Thai actress award thanks to her performance during her first movie called Deuan Rao (เดือนร้าว ) in 1966
This Naowarat Watchara movie page contains 8 records.
---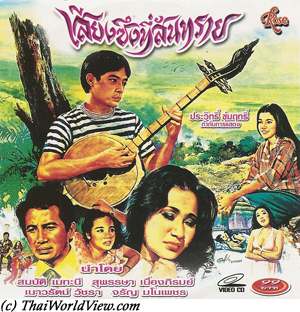 Year

: 1980



Thai title

:

เสียงซึงที่สันทราย




English title

:



Rating

: 4/5


Director

:



Main actor

: Sombat Methanee


Main actress

: Supansa Nuengpirom,Naowarat Watchara,Sarinthip Siriwan



Buy now

:

In North of Thailand, a mother has got two daughters, Pim and Kaew. Pim has been a prostitute and has now a new boyfriend. Kaew is in love with a poor peasant. The mother pushes Kaew to go to Bangkok during one year to be a prostitute in order to buy her a house and pay her debts. Pim tries to hinder her mother but has to go to Bangkok. In Bangkok, she discovers that her boyfriend is already married. She also discovers that she is sick with leprosy. Meanwhile Kaew follows her mother's order and goes to Bangkok to be come a prostitute. Pim's boyfriend left her and now takes care about Kaew. Knowing this, the boyfriend's wife throws acid on Kaew's face. Nobody becomes happy. This movie shows the good view (girls going back to their home with nice clothes, gifts to family, money to buy house) and the sad view (girls beaten by pimps, forced to have many customers and getting diseases). It also emphasizes the cruel dilemma, i.e. stays poor or loses dignity but becomes rich.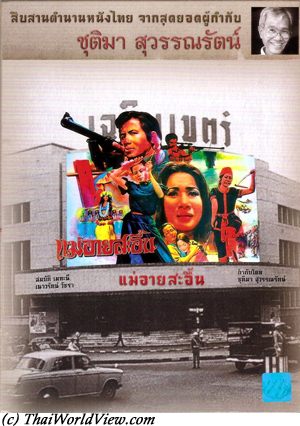 Year

: 1972



Thai title

:

แม่อายสะอื้น




English title

:



Rating

: 5/5


Director

: Chutima Suwannarat



Main actor

: Sombat Methanee,Kamthorn Suwanpiyasiri,Sahat Piempongsan,Jamroon Nuatjim


Main actress

: Naowarat Watchara,Tasawan Saneewong,Metta Roongrat,Viphavadi Triyakul,Malee Wetpraseri



Buy now

:

A subdistrict headman is almost blind but still performs traditional arts. His daughter Dao Lin (Naowarat Watchara) can do traditional spade dance. They are living in a Northern village specialised in making traditional colorful umbrellas. Mem (Malee Wetpraseri) recommends Dao Lin to a Bangkokian lady for a job in Bangkok (เสริมสวย). Dao Lin accepts as she needs money to cure her father's eyes. The second daughter is played by Tasawan Saneewong, who is acting for the first time. No further study for her as they are too poor. In Bangkok, Dao Lin realises the job is in fact acting as a prostitute (โสเภณี / ฉันไม่ใช่สินค้า). Dao Lin cannot send news. She ends up in pregnancy and succeeds to flee the brothel (กลุ่มนรก). She delivers a baby, who is unfortunately disabled. The hospital doctor (Kamthorn Suwanpiyasiri) finds her a job as a model (นางแบบ) but she needs to hide her baby (สังคมทุกวันนี้จำเป็นต้องสวมหน้ากากเข้าหากัน). She gives her baby to her sister lying it is a friend's baby. Dao Lin meets Songpon (Sombat Methanee) in Penang. They finally get engaged (หมัน). Dao Lin discovers that the doctor is Sombat's brother but he promises to disclose nothing. She forgets her family so her father decides to come to Bangkok with her sister Chaeung and disabled son to find Dao Lin. Ten (Metta Roongrat) becomes Chaeung's friend in Bangkok. Chaeung recognises her sister on TV. When meeting together, Dao Lin is ashamed (ลืมตัว) as she doesn't want anybody to know her poor background so she chases away her younger sister. Disappointed, Chaeung runs away and is hit by a car. She is cured by the same doctor, who cured her elder sister. Having pity on her, the doctor recruits her as domestic helper. Dao Lin is surprised to see Chaeung in the doctor's house and asks her not to reveal their family links until she is married with Songpon. Pi (Sahat Piempongsan) is having an affair with Songpon's mother. He always asks for money. They all go to Southern island to help poor children. Songpon's brother called Songyut lives there and takes care of the family domain. Songyut falls in love with Chaeung. Songpon also loves Chaeung but just got engaged with her sister... The mother asks Songyut to stop seeing her as she is a poor girl. Chaeung is kidnapped per the mother's orders. Ten asks Songyut for help. A boat chase is happening in Phuket near the James Bond island. Pi, wishing to get the family domain, shots Songyut through a long range gun but falls from the cliff and dies. The mother is horrified and crossed against Chaeung (เด็กเวร) but she is indirectly responsible of her lover's acts. Meanwhile Dao Lin warns Songpon who finally rescues Chaeung after an impressive car chase. Songyut's mother asks Dao Lin to get rid of Chaeung as she takes her as responsible of her son's death. Dao Lin accepts. Chaeung hears this conversion and arguments happen between the two sisters. Dao Lin's father hears his two daughters arguing and now is aware that Chaeung hides the reality about Dao Lin forgetting her own family. Chaeung, the father and the disabled son leave for Mae Sai. Da Lin follows them there but her father is already dead. He got suicide because of disappointment with his daughter. Songpon is here also blaming Dao Lin not to have told him the truth about her background as he is comprehensive and it would have saved her father's life. Nobody in the village wishes to talk to Dao Lin. To pay respect to her father a last time, she performs the traditional spade dance and finally cuts her throat during the dance. She entrusts Chaeung and her son to Songpon. It is a sad family drama with a rich mother causing her son's death and a poor daughter causing her father's death. The DVD แม่อายสะอื้น (1972) lasts 1h55mn but some parts are missing as it is a copy from U-matic tapes.. Famous director is Chutima Suwannarat (ชุติมา สุวรรณรัตน์) well known for sad movies.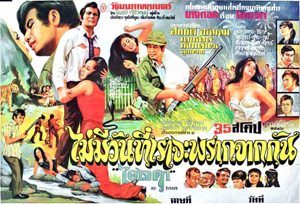 Year

: 1971



Thai title

:

วันที่เราจะพรากจากกัน




English title

:



Rating

: 4/5


Director

:



Main actor

: Sombat Methanee,Prachuap Ruekyamdee,Sithao Petcharoen,Songthong,Sawin Sawangrat,Sukon Koewliam,Chana Sriubon,Ruj Ronnapop


Main actress

: Aranya Namwong,Naowarat Watchara,Sopha Sataporn,Ratanaporn Intarakamhaeng
ไม่มีวันที่เราจะพรากจากกัน (There is no day we will split) was released in year 1971. The full movie lasts 2h27mn. The remaining film is in a poor condition. The image has no more color and is only tinted. Unfortunately the sound is distorted and barely hearable. A full movie summary is still available as some old Thai movie stars magazines can still be found nowadays. The movie remains famous for its 9 to 10 songs. A few songs are sung by Sithao Petcharoen and Songthong. One of the famous singer in this movie is กังวานไพร ลูกเพชร, a countryside singer (นักร้องลูกทุ่ง). He is acting as a couple with Naowarat Watchara in this movie. Main actors in this romantic movie are Aranya Namwong and Sombat Methanee. Interesting to see that Aranya Namwong is wearing big sunglasses that are back to fashion in decade 2010s. Other actors include Prachuap Ruekyamdee, comic actor Sukon Koewliam, Naowarat Watchara, Chana Sriubon, Sopha Sataporn, Ratanaporn Intarakamhaeng, Ruj Ronnapop. Kampee (Sombat Methanee) is orphan but gets patronized by his older sister Rampoei, who is married to rich merchant Vivat. Kampee (คัมภีร์) is engaged with Rewadee (Naowarat Watchara). He goes to study abroad. When he comes back, his fiancee Rewadee is going to marry Pinjo, who was a former friend. Kampee, disappointed, causes big arguments during the wedding, gets beaten and thrown away in the water. When he wakes up, he meets for first time a young woman called Ailada (Aranya Namwong), riding a bicycle and going to help him. Surprised, he leaves rashly by taxi (คนบ้า). Kampee leaves his home as Pinjo's father forces him to go to Sukhothai province. Rampoei wants Kampee to marry Walli, younger sister of Vivat. Kampee meets Ailada again in Phitsanulok train station and they argue again. Kampee shall be the head of forest guards in district Huay Krai. Kampee is welcomed by Plang (Prachuap Ruekyamdee), his assistant. Ailada is Plang's daughter! Kamnan Preuang (Sawin Sawangrat) is doing illegal business in the forest by cutting trees. Plaew, son of Kamnan Preuang, loves Ailada since they are kids. Plang and Kampee have a plan to stop those illegal activities. Having learnt this, Ailada informs Preuang. So Kampee's plan fails. Aware that Ailada is the one who disclosed the plan, Kampee has arguments with her but Ailada finally understands and recognises her mistake. Love starts to emerge. Walli is coming to visit Kampee. To get rid of Walli, Kampee claims he is already engaged with Ailada so she has mischievous behavior with Kampee! Kamnan Preuang and Plaew get agreement with Pinjo to use Rewadee to ease Kampee. Pinjo wishes to kill Kampee as he cannot stand to have Rewadee close to Kampee. It is discovered that Plaew is the real son of Plang and not Preuang. Plaew and Ailanda are then brother and sister! Plaew and Ailanda are looking for Kampee knowing he is endangered by Pinjo's plans to kill him. A thunderstorm happens. Kampee and Ailanda take refuge in a cave. A snake is threatening them. Plaew and Rewadee take refuge in a cave also. Pinjo misunderstands Plaew's intention to help Rewadee. He finally falls in the river and dies. Back from the forest, learning that Kampee and Ailanda plan to marry, Rewadee still tries to get back Kampee and simulates to have spent the night with him. It causes Ailanda's ire, who then flees away. Rewadee apologizes but it is too late. Ailanda is gone and Kampee is back to Bangkok. Kampee indulges in alcohol and finally accept his sister's proposal to marry Walli. Rewadee is pregnant with Plaew. As Ailanda is back to district Huay Krai, Plaew decides to stop Kampee's wedding with Walli to ensure Kampee can marry Ailanda! Plaew lies that Kampee made a young lady pregnant in district Huay Krai so he needs to assume. Finally Kampee and Ailanda are reunited.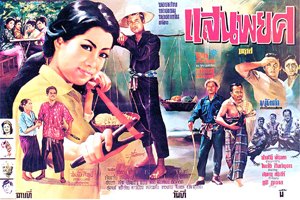 Year

: 1968



Thai title

:

แสนพยศ




English title

:



Rating

: 3/5


Director

: Phan Kam



Main actor

: Mitr Chaibancha,Daonoi Duangjai,Prachuap Ruekyamdee,Lor Tok,Sompong Phonmitr,Sukon Koewliam


Main actress

: Aranya Namwong,Naowarat Watchara,Preeya Roongrueng,Sarinthip Siriwan,Mom Chan Phuangwan
Thai movie แสนพยศ was released in year 1968 and features key actors Mitr Chaibancha and Aranya Namwong. Other actors / actresses include Daonoi Duangjai, Prachuap Ruekyamdee, Naowarat Watchara, Preeya Roongrueng, Lor Tok, Sukon Koewliam, Sompong Phonmitr and หม่อมชั้น (famous Thai actress from royal lineage and often playing low roles such as domestic helpers…). It was shot at same time as movie Iten – อีแตน (35mm format and year 1968). The movie was lost in Thailand but finally a partial reel was found in year 2013 thanks to a teacher and collector of old items in Songkhla area. A 5mn30s sequence is still available. It is in fact the first movie (16mm format) played by Aranya Namwong after she became Miss Thailand. A group of ladies including Naowarat Watchara are talking together and seem to prepare a plan. Not sure if it is targeted against Aranya? In another sequence Aranya is locked. A mamasan wants to force Aranya to go with a rich customer but she gets slapped. Even ruffians fail to coerce her. Last sequence is showing Mitr and Aranya talking together under a tree. Aranya Namwong played in movie ลมหนาว but only in a short sequence where she sang a song. Later on, she played again with Mitr in อีแตน which is often mistaken as Aranya's first movie. In Fact Iten (อีแตน) is her movie in 35mm format and แสนพยศ is her first movie in 16mm format! The two movies were probably shot at the same time. The movie poster announces that Mitr meets miss Thailand! A TV serie (ละคร) was done in year 2000.



Year

: 1968



Thai title

:

สายพิณ




English title

:



Rating

: 3/5


Director

:



Main actor

: Sombat Methanee,Ruj Ronnapop,Preuhat Boonlong


Main actress

: Naowarat Watchara
"Sai Pin" (สายพิณ) is a Thai movie released in year 1968. Main actors are Sombat Methanee and Naowarat Watchara. Actress Naowarat was just famous after playing her first role in movie "Chula tree koon" (จุฬาตรีคูณ) with Mitr Chaibancha in year 1967. She even got a Thai cinema golden award (รางวัลตุ๊กตาทอง). สายพิณ is her second movie. The next next famous movie featuring Sombat and Naowarat was "Lom Krot" (ลมกรด). "Sai Pin" (สายพิณ) full movie was supposed to be lost. Finally in year 2013, a final 16mm copy was found belonging to a former outdoor cinema projectionist. The full movie is then still available in Thailand and lasts more than two hours ten minutes. It was never released in any video format. A 20mn extract can be found online. The picture is still very colorful. The movie features also two songs. Sombat rents a house (มาเช่าบ้าน). Ruj Ronnapop is the second tenant. He claims to be rich but has no money. Ruj also claims to be the son of a famous company owner (Preuhat Boonlong). Sombat is the real son but he believes his father has maybe another son with a second wife. The two sisters (Naowarat and สุชาวดี มุกดาประกร, new actress starring for the first time in this movie) are renting part of their house. The company warehouse was burnt. Who did it? Sombat is investigating. The sister gets raped by the ruffian head. As usual, the police arrives when everything is settled down. In the older movies, it was almost impossible to find a movie where bad guys would win. The movie ends up by a double wedding (Sombat / Naowarat and Ruj / สุชาวดี มุกดาประก). Ruj is finally also adopted by Sombat's father as he is finally a good guy also.



Year

: 1968



Thai title

:

ทรายแก้ว




English title

:



Rating

: 3/5


Director

:



Main actor

: Sombat Methanee,Sithao Petcharoen,Sukon Koewliam,Anucha Ratanaman


Main actress

: Naowarat Watchara,Prim Praphaporn
ทรายแก้ว is a Thai movie released in year 1968. This movie is a lost movie in Thailand as only one reel is left and it is the last reel. The reel is in 16mm format so there is no sound available as such format requires live dubbing. Previously one dubber was used in small theaters and two dubbers in big theaters. No movie summary is left. It is a romantic family drama with Sombat Methanee and Naowarat Watchara as main actors. Other actors are Sithao Petcharoen, Sukon Koewliam, Anucha Ratanaman, Prim Praphaporn. Prim Praphaporn has no more the main role but second role (นางรอง). Sombat and Anucha rescue Naowarat. Anucha kidnaps Naowarat and sends her on a boat. Following a fight with Naowarat's father, Anucha falls on his own knife and kills himself. Naowarat and Primpaporn get reunited with their father. Following a last misunderstanding, Naowarat and Sombat finally marry.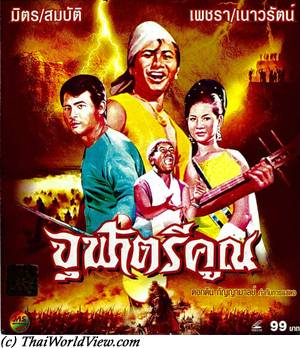 Year

: 1967



Thai title

:

จุฬาตรีคูณ




English title

:



Rating

: 3/5


Director

: Dokdin Kanyaman



Main actor

: Mitr Chaibancha,Sombat Methanee,Sawin Sawangrat,Prachuap Ruekyamdee


Main actress

: Petchara Chaowarat,Naowarat Watchara
This movie is based on a famous Thai poem. This movie is about the love between lady Daralai (ดาราราย) and a King named Ayarawat (อริยวรรต). Ayarawat has a brother called Katiya (ขัตติยะ). Ayarawat has seen a beautiful lady in his dreams and want to see her in real. They disguise as commoners to see ladies in Paransee (พาราณสี) kingdom. Indian clothes style and music remind a little bit of Bollywood movies. Ayarawat imitates a blind Brahmin (พราหมณ์) and is named as Wipha (วิพาหะ). An earthquake (แผ่นดินไหว) disturbs a sacred (บูชา) ceremony. Daralai (เจ้าหญิง) receives help from Wipha to avoid crowd stampede. She stays with the commoners until the royal guards find her back. Wipha requests kisses to recover his sight view. There is love between Daralai and Wipha but she is promised to another man already. Katiya meets also another princess called Apasara (อาภัสรา). Daralai loves Wipha. She finally discovered that he is a King of a rival kingdom. She has to choose between love and fidelity to her own kingdom. She doesn't like Ayarawat's behavior. Ayarawat (อริยวรรต) is captured by Paransee kingdom's guards but is freed by his brother. Ayarawat kidnaps Daralai but his brother is captured. Ayarawat is hot temper. He is ready to a war with Paransee kingdom if his brother is not freed. To avoid a war between the two kingdoms, Daralai declares she doesn't love Ayarawat anymore in order that Ayarawat agrees to exchange her with Katiya. Finally Katiya gets freed by princess Apasara but doesn't come back on time to prevent the exchange. Disappointed by Daralai, Ayarawat decides to marry to Princess Apasara. Daralai is back but learning that Ayarawat has a new queen, she leaves. Understanding his mistake, Ayarawat decides to invade Paransee kingdom to get back Daralai. Ayarawat is injured and died when looking for Daralai. They are both reunited in heaven. Katiya becomes the new king.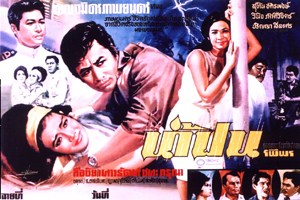 Year

: 1967



Thai title

:

น้ำฝน




English title

:



Rating

: 3/5


Director

:



Main actor

: Luechai Natnat,Lor Tok,Adul Dulyarat,Sor Asanajinda,Adinan Singhiran,Chana Sriubon


Main actress

: Naowarat Watchara,Chadaporn Wachirapranee,Yaowaret Nisakorn,Karuna Yuwakorn
Thai movie น้ำฝน was released in year 1967. It features main actor Luechai Natnat and main actress Naowarat Watchara. The movie is lost in Thailand but a 3mn30s trailer remains to be seen. Other actors are Lor Tok, Adul Dulyarat as a doctor, Sor Asanajinda, Chadaporn Wachirapranee, Yaowaret Nisakorn, Adinan Singhiran, Chana Sriubon as administrative officer and a new actress Karuna Yuwakorn (กรุณา). Luechai Natnat plays two roles. The picture is still colorful. It looks like a family drama.
---