Increase or decrease font size for easier reading : A+ A-
Nanthida Kaewbuasai
Nanthida Kaewbuasai (1960) - นันทิดา แก้วบัวสาย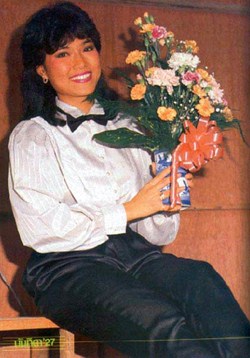 Nanthida Kaewbuasai is a famous Thai female singer. She also played into 21 movies
This Nanthida Kaewbuasai movie page contains 13 records.
---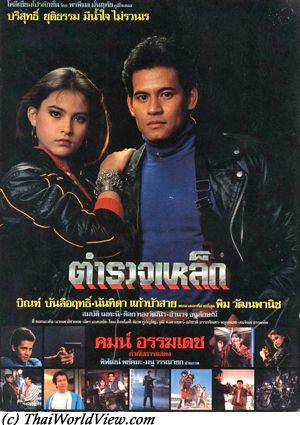 Year

: 1986



Thai title

:

ตำรวจเหล็ก




English title

:



Rating

: 4/5


Director

: Kom Akadej



Main actor

: Bin Banleurit,Sombat Methanee,Kom Akadej,Pipop Pupinyo,Chat Mongkolchai


Main actress

: Marsha,Nanthida Kaewbuasai
Thai movie ตำรวจเหล็ก was released in year 1986. Kom Akadej is the movie director. The movie lasts 1h40mn. Sombat Methanee is a police police commander (ผู้บังคับ) enquiring on a murder. Chanyut was found dead in his swimming pool. 2000M baht have disappeared following the murder. Bin (Bin Banleurit) finds an earring there. Pim (Marsha playing in her first movie) is a journalist (นักข่าว). Muat (หมวด) Bin kills two ruffians having shot policemen. Singer Chengila (Nanthida Kaewbuasai) is harassed by (ขอตัว) Nai Chareun Phran, son of an influential banker and also targeting to be a parliamentary. Fighting happens in the club. Bin arrests Nai Chareun Phran but he is released thanks to his father. Investigations on hitmen are ongoing. Pim enters illegally in a Chinese temple to take pictures of a ceremony. Hitman Chat Mongkolchai is present. A money exchange shall happen between Chat and the son of Sia in order to release Sia. Pim recognizes Bin and reveals by mistake that Police is part of the Chinese lions dancers. Shooting happens and all ruffians are killed. Bin is looking for information on another hitman called Seua Weng. Weng is looking to flee overseas so looking to exchange Thai baht in dollar. He is shot by another fierceful killer, Ai Tong Bai boon Sung, before being able to flee. Bin suspects Kaewbuasai should be related to Chanyut as he found she is wearing only one earring. Chengila was the girlfriend of Chanyut. Chengila has seen the murderer, i.e. Nokhun, famous lawyer (ทนายความใหญ่) and even took a video. Entertainment place Chao Praya 3 is the place where the killer is coming every day to see a girl. Nai Chareun Phran, helped by his lawyer (Kom Akadej) frames Bin in a trap. Chengila blacklists the lawyer Nokhun by asking 200M Baht. The lawyer puts some fake policemen in front of Chengila's condo but Bin arrests them. As usual Pim is here to take pictures. Bin suspects Chengila is not telling the whole truth to him as there should be a reason why fake policemen kept watching her flat. Later on the killer erupts in the disco and tries to shoot Chengila. She escapes thanks to Bin, who is injured. She flees but finally gets shot by the hitman. Before dying, she calls the police and talks about a tape hidden in the bathroom. Bin's assistant finds it and the lawyer is identified as the killer. Nai Chareun Phran is afraid and sends the killer to get rid of the lawyer. He is only injured and ends up at the hospital. The lawyer tries to corrupt Bin's assistant but to no avail. The killer erupts in the hospital and kills Bin's assistant. The lawyer succeeds to flee. Final scene is happening around a political meeting scene. Nokhun injures Nai Chareun Phran and both get arrested. Bin with Pim's succeed to neutralize the killer.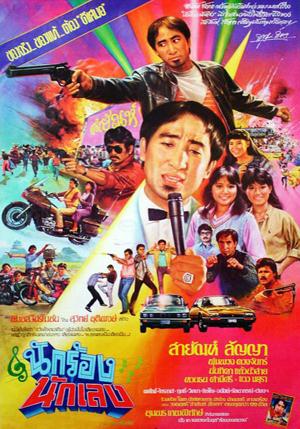 Year

: 1984



Thai title

:

นักร้องนักเลง




English title

:



Rating

: 2/5


Director

:



Main actor

: Sayan Sanya,Rith Luecha,Tuanton Kammeesri,Krailat Kriengkrai


Main actress

: Pumpuang Duangchan,Nanthida Kaewbuasai,Ratanaporn Intarakamhaeng



Buy now

:

The story script relates the conflicts between a singer and bad tough guys. Many songs are featured during the story. Both main actors are famous Luk Thung (ลูกทุ่ง) or Thai country music singers.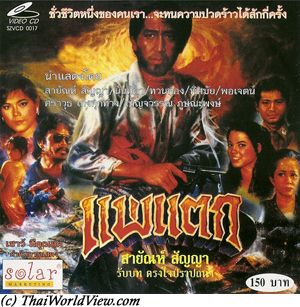 Year

: 1984



Thai title

:

แพแตก




English title

:



Rating

: 3/5


Director

:



Main actor

: Sayan Sanya,Porjed Kaenpetch


Main actress

: Pissamai Wilaisak,Nanthida Kaewbuasai
Phai (Sayan Sanya) is living with his mother and younger sister called Kaew. Wut is Phai's friend and becomes policeman. Wut is Kaew's boyfriend. Phai loves a local prostitute, called Rampeung, but his mother despises her. The local mafia doesn't want to release Rampeung so Phai has serious arguments with them. Phai learns that Kaew has a blood cancer. There is a need to change her blood but it is expensive. He cannot tell the truth in order that Kaew keeps high moral. People start to believe he has a devious relationship with his sister as he takes care of her too much. He cannot accept Kaew and Wut's wedding as it would cause Kaew's death. His mother chases him from home. Before living home, he tells the truth to his mother causing her to indulge into alcohol when knowing the truth. While wandering, he prevents a gunman to kill an entrepreneur called Chat. Chat gives him shelter in his home. Dao (Sayan Sanya), Chat's daughter, is fond of him. Wut is now a policeman. Kaew's mother refuses the wedding also. Wut become an inflexible policeman. Love and duty are different things. Chat and Somjet, a local mafia leader, are involved in various bad traffics. Chat is killed by Somjet but it is believed that Phai killed Dao's father. Rampeung is shot while protecting Phai. Dao understands that Phai is innocent. Kaew is sent to hospital. Phai goes back home and fight successfully against Somjet. A storm destroys his house. Phai believes his mother and sister are dead. He kills himself due to despair despite Wut's last attempt to save him. Both main actors are famous Luk Thung (ลูกทุ่ง) or Thai country music singers. Both Sayan Sanya and Nanthida Kaewbuasai perform songs during the movie.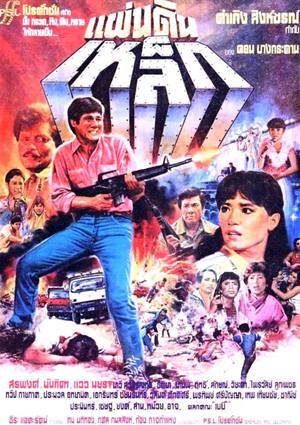 Year

: 1983



Thai title

:

แผ่นดินเหล็ก




English title

:



Rating

: 3/5


Director

:



Main actor

: Sorapong Chatree,Rith Luecha,Lak Apichat,Manop Aussawathep


Main actress

: Thitima Sangkapitak,Nanthida Kaewbuasai,Wiyada Umarin
Thai movie แผ่นดินเหล็ก was released in year 1983. It was also released under another name เสียงเพลงนักเลงโหด and using another movie poster. This movie is lost in Thailand but a sequence of 46mn is left to be seen. Kamnan is starting to prepare his birthday when ruffians come to ask for his land. Hopefully his son (Sorapong Chatree) chases them away. His friend Daeng, injured, is cured by Doctor Oon (Thitima Sangkapitak). Sorapong meets the daughter of a petrol station owner (Nanthida Kaewbuasai). Maen (Lak Apichat) makes Daeng enter as luk thung singer in Rith's nightclub. Decha (Manop Aussawathep) wishes to hire the new singer. Arguments happen between ruffians. A few luk thung songs are featured in the nightclub. Decha is looking for a hitman (มือปืน) to get rid of his enemies (ศัตรู). Sorapong being around accepts the job. Nanthida has issues with ruffians asking cover fee (ค่าคุ้มครอง) as she is going to visit her land. Hopefully Maen and his friends help her. During one evening, Sorapong shoots Rith in his nightclub but misses him. The two remaining movie reels end up here. This movie was not famous and is a kind of action / song movie (หนังเพลง).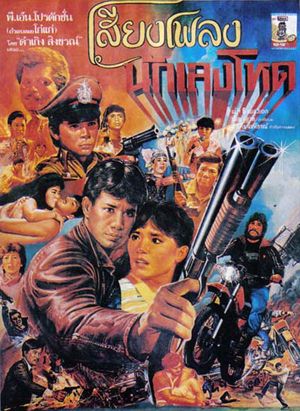 Year

: 1982



Thai title

:

เสียงเพลงนักเลงโหด




English title

:



Rating

: 2/5


Director

:



Main actor

: Sorapong Chatree


Main actress

: Nanthida Kaewbuasai,Wiyada Umarin
Two groups of bad tough guys confront each other to dominate the local underworld. One former hitman is involved between them as he tried to free one young woman kidnapped as her family refuses to pay business protection free to the local mafia. Six songs are featured during the story.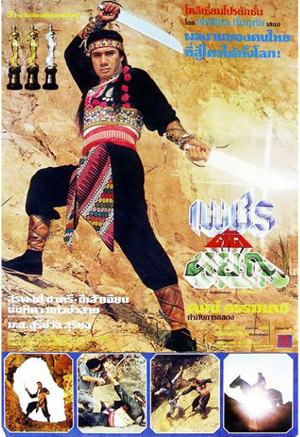 Year

: 1982



Thai title

:

เพชรตัดหยก




English title

:



Rating

: 4/5


Director

: Kom Akadej



Main actor

: Sorapong Chatree,Lak Apichat,Dam Datsakorn,Phairoj Jaising,Chat Mongkolchai,Kecha Plianvithee,Somsak Chaisongkram,Pao Porapak,Pipop Pupinyo,Norman Chu


Main actress

: Suriwan Suriyong,Nanthida Kaewbuasai
Thai movie เพชรตัดหยก was released in year 1982 and lasts 1h54mn. It is a VHS featuring the movie in format 4:3 instead of 16:9 so left and right parts of the original image are lost. Kom Akadej is the movie director. The main character, Lao Thong, has special skills such as running very fast or jumping very high. This movie is considered as part 2 of Thai movie เสือภูเขา / The mountain lion (1979). Lao Thong (Sorapong Chatree) is a Meo hill tribe villager. Lao Thong's wife (Suriwan Suriyong) and his son are killed by ruffians led by Dam Datsakorn storming a Meo hill tribe village to steal the cattle. Lao Thong has to get revenge. Tong Chi (Lak Apichat) joins him. Lisu village leader wishes to marry his two daughters including Asuma (Nanthida Kaewbuasai). Per local customs, the husband (พิธีเลือกคู่) needs to win a fight between all contenders. Tong Chi is about to win but ruffians including Pao Porapak and Chat Mongkolchai storm the Lisu village and kidnap Asuma. Lao Thong helps and releases Asuma. He refuses her hand as he is under mourning period but promises to help getting guns to be able to fight against ruffians. In another village, Lao Thong helps a lady aggressed by thugs. She has same face as his former wife. Her name is Soyi and she has good fighting skills also. She is carried by Pipop Pupinyo and Somsak Chaisongkram. Lao Thong buys guns from her brother Lao (Phairoj Jaising), who tries to get rid of him and Lak. Soyi helps Lao Thong to flee so causing her brother's ire. A mysterious soldier (Hong Kong actor ฉีเส้าเฉียน / Norman Chu), called Norman, helps Asuma and her sister aggressed by ruffians. Tong Chi fights against Norman as he believes he tries to seduce Asuma. Lao Thong and Norman also fight. Norman asks to meet Lao to buy weapons. Norman kidnaps Soyi as he wishes to infiltrate the ruffians. Lao tries to release his sister but he is defeated by Norman. Lao Thong releases Soyi and takes away the weapons with Tong Chi. Lao Thong defeats Norman but spares his life. Tong Chi hides weapons inside Lisu village. The village is stormed by ruffians. All gather to storm the ruffians' place. The big leader is identified as Decha (Kecha Plianvithee). Fightings and explosions occur with all ruffians being killed but unfortunately Lao and Tong Chi also die.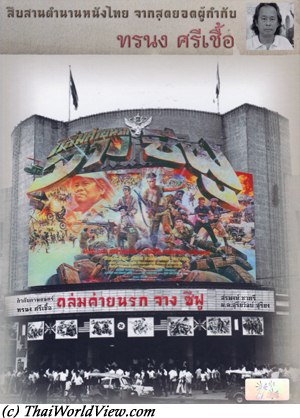 Year

: 1982



Thai title

:

ถล่มค่ายนรกจางซีฟู




English title

: KHUN SA THE OPIUM EMPEROR



Rating

: 3/5


Director

: Toranong Srichua



Main actor

: Sorapong Chatree,Joomjim Khemlek,Tuanton Kammeesri,Manop Aussawathep,Somjin Thammatat,Nirut Sirijanya,Pinyo Parnnui,Somsak Chaisongkram,Pumi Patanayut


Main actress

: Nanthida Kaewbuasai
Thai movie ถล่มค่ายนรกจางซีฟู / 'KHUN SA' THE OPIUM EMPEROR was released in year 1982 and lasts 1h45mn. The DVD soundtrack is quite bad with sound going up and down. The DVD image has also a poor quality. This is a VHS ripped and put on a DVD. Movie director is Toranong Srichua. This movie is about Chang Chi-fu (จางซีฟู) or Khun Sa, famous opium warlord. In January 1982 a Thai Ranger squad, together with units from the Border Patrol Police and the Royal Thai Army, was used to force Khun Sa to move his headquarters from Thailand across the border into Burma. Sorapong Chatree recalls war and is stressed. He is sent to spy Khun Sa. Twenty men, including Tuanton Kammeesri / Pumi Patanayut / พยัคฆ์ รามวาทิน, arrive in the camp led by Khun Sa. Their trainer is Joomjim Khemlek. Khun Sha (Somjin Thammatat), drug warlord, sells drugs to buy weapons. Manop (Manop Aussawathep) has conflicts with Khun Sha. Manop is attacked on his way back by Burmese soldiers but gets help from Nirut (Nirut Sirijanya). Manop is back to his mountain village with Nirut. His younger sister Rungfa (Nanthida Kaewbuasai) welcomes him. A journalist Pinyo Parnnui is arrested by Somsak Chaisongkram. He wishes to interview khun Sa. Sorapong, disguised as a fleeing prisoner, is attacked by a plane and then is arrested by Khun Sa's men. Siriporn (ศิริพร เอี่ยมสุนทร), daughter of Khun Sa, saves his life but he remains tied. Manop learns that the Burmese soldiers who attacked him are in fact soldiers linked to Khun Sa as real Burmese soldiers would not dare entering Thai soil. Upset, Manop and Nirut storm Khun Sa's HQ but get captured. Sorapong wins Siriporn's trust. Khun Sa believes there is a traitor in the camp. Sorapong sympathizes with other men, who are part of the government. Siriporn complains her father produces too much drugs. Drug is given to prisoners to keep them under control. Sorapong succeeds to have his friends escaping but he is then captured. About to be hanged, Sorapong is released by his teammates. Thai forces' attacks against the camp happen. Many people die but Khun Sa succeeds to flee in Burma. This movie is often considered as Thai remake of US movie "Apocalypse Now" by Francis Ford Coppola.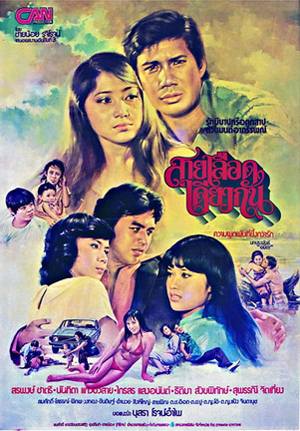 Year

: 1982



Thai title

:

สายเลือดเดียวกัน




English title

:



Rating

: 4/5


Director

:



Main actor

: Sorapong Chatree,Pipop Pupinyo,Somsak Chaisongkram,Kraison Saenganan


Main actress

: Thitima Sangkapitak,Nanthida Kaewbuasai,Suphanee Jitthieng
Yoo (Thitima Sangkapitak) and Kasem (Sorapong Chatree) love each other. Yoo's father doesn't want her daughter to meet Kasem anymore as he is coming from poor background (บ้านนอก / จน). Kasem needs to fight back (ต่อสู้) but Yoo's father refuses to see his kindness and even hits him, so Yoo flees with Kasem. They live in countryside as farmers. Ten years have passed. They have now three children, Yupa, Decha and a baby girl. Yoo keeps crying having pity on her children as they are poor. Yoo wishes to go back to Bangkok but Kasem refuses as unwilling to be despised by the father again. Yoo is tired of this life. As Yoo is sick, Kasem goes to a neighbouring town to buy medicine. When he is back, Yoo has died already. The children are also tired of this hardship and would like their father to bring them to their grandparents. One day some ruffians claim rent fee for the last ten years. As Kasem refuses, he is beaten and left for dead. The house is burnt down. The children have no choice but to go to Bangkok. They finally go by train and are lucky to have another traveller paying their tickets as he has pity of them. Decha always think of eating sweets. Arrived in Bangkok, Decha is separated from Yupa. Yupa is hit by a car. Her eye vision is altered. Meanwhile Decha is recruited in a pickpocket gang (ล้วงกระเป๋า) led by veteran actor Pipop Pupinyo. The couple who hit Yupa with their car is considering adopting the children as they don't have their own kids but the woman has a concern on Yupa as she is already old enough to understand. Knowing this, Yupa prefers to leave in order to secure her small sister's future. Finally the family has another child called Thanee but keeps the secret about the other child named Wilai. Children are now grown up. Decha is deeply involved in robbing, pickpocket activities and even heroin traffic. Yupa (Nanthida Kaewbuasai) is begging as she is almost blind. Decha tries to seduce Wilai, an university student coming from a well-off family, whose wallet has been stolen by his team. Thanee, jealous about Decha, reveals to Wilai the robber background of Decha. Decha complains that no chance is given to him like his father (อยากเป็นคนดี). Thanee (ลูกอิจฉา) also reveals to Wilai that she is not real daughter but just an adopted street child. Reading a newspaper, Wilai's stepfather finds that Wilai's real grandparents search their grandchildren to give their heritage. Hearing a little girl singing his mother lullaby, Decha is able to find back Yupa. Yupa is not aware from where Decha money is coming from. Finally through a final touching sequence Decha loses a potential love with Wilai but finds back his lost sister. This strong drama movie highlights brother-sister bonds (พี่น้องต้องรักกัน).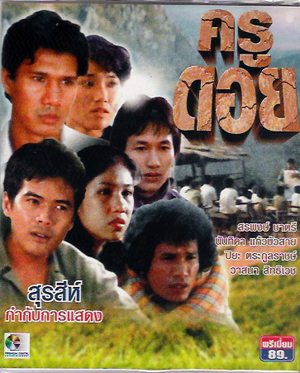 Year

: 1982



Thai title

:

ครูดอย




English title

: Mountain teacher



Rating

: 5/5


Director

: Surasee Phatham



Main actor

: Sorapong Chatree,Piya Trakulrard,Doo Dook Kradon


Main actress

: Wassana Sitthiweth,Nanthida Kaewbuasai



Buy now

:

Thai movie ครูดอย was released in year 1982. It lasts 1h50mn. Four new teachers (including Piya Trakulrard, Doo Dook Kradon and Wassana Sitthiweth) are sent to Loei in a remote village located on a mountain. They are welcomed by indifferent villagers busy doing gambling (การพนัน). Teacher Sompong is already in the village. Sompong (Sorapong Chatree) indulges in alcohol (สุรา) as he feels useless. Only one monk is left in the village. Villagers seem to be very strong here (ไม่ร่วมมือ). Those new teachers teach children and adults. The school is very basic. Teacher Sompong made a pond for villagers to avoid getting water from far away. One part of the village is under influence of a ruffian managing an underground casino and wishing to undercut influence of the village headman and teacher Sompong. Wan (Nanthida Kaewbuasai) is worried about teacher Sompong. New teachers succeed to have villagers working to build new school by flattering the ruffian. They also finish teacher Sompong's task by bringing water in the village through bamboo pipes. The ruffian feels betrayed as the merit goes back to teacher Sompong. Some old people die because of cold. Teachers organise a concert donation (บริจาคคนจน) to get warm clothes for villagers. It is a success and such remote village gets awareness. Their next action is to convince village men to stop gambling. Tempting the luck (การเสี่ยงโชค) is the only hope of poor people. The teachers buy cheated dices to win village men's money and have it reused to improve the school. Having no more pocket money, the village men keep drinking alcohol. One of the teachers simulates being sick because of the alcohol to convince them to stop drinking. Teachers convince villagers to work together and to prepare rice fields on mountains slopes. Wan is sick during rainy season and there is no more medicine. It is a nightmare to go to the nearest city and roads are stuck in the mud. There is no electricity in the village. Good weather is back. The teachers go to sell their products at the city. When they are back, Wan is dead. It is time for the four young teachers to be allocated to somewhere else. Teacher Sompong stays as he is a mountain teacher (ครูดอย) and villagers need him. Thanks to the teachers, villagers are now able to take care about themselves, take decision and do not rely on external help only. In this movie, director Surasee Phatham uses Isan music as background. His movie shows the dedication of the teachers going in remote areas with cold winter.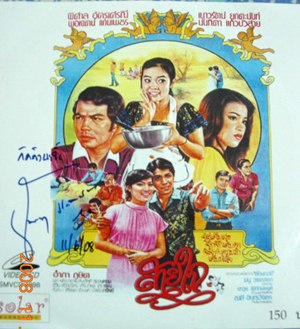 Year

: 1981



Thai title

:

สายใจ




English title

:



Rating

: 3/5


Director

:



Main actor

: Pisarn Akraseranee,Porjed Kaenpetch,Sawin Sawangrat,Somsak Chaisongkram


Main actress

: Naowarat Yooktanun,Sarinthip Siriwan,Nanthida Kaewbuasai,Ampha Pusit,Janthana Siriporn
Thai movie สายใจ was released in year 1981. It lasts 1h45mn. Yae Suk (Naowarat Yooktanun) and Den (Pisarn Akraseranee) have a car accident. They find an arrangement for the damages (ค่าเสียหาย). Her parents are Sarinthip Siriwan (คุณหญิง) and Sawin Sawangrat. Da (Nanthida Kaewbuasai) is her sister. Yae Suk is selling old items from her grandfather to allow the family to survive (หมดตัวแล้ว). But the parents either gamble the money or bet on horses. The father meet Somsak Chaisongkram and Saksit (Porjed Kaenpetch) while playing cards. The father invites them for lunch as he has the idea to marry his daughters in order to get money from the dowry (ค่าสินสมรส). A family gathering for all parties including Ampha Pusit happens to know each other. Da doesn't like Saksit as she believes he is just a gambler. He loses on purpose. Saksit pretends he can buy anything (ซื้อความนับถือความรักไม่ได้). Pho Lieng is also interested by Da and even tries to abuse her. Saksit helps her on time. They all go for a hike in the mountain but accidents occur. Finally Saksit and Da sympathize. Pho Lieng sends men to get rid of them. They have to spend the night in the forest but finally defeat the ruffians. As his daughters spent night outside home, the father claims his family name is tarnished (ขายหน้า). Da refuses to get sold (ถูกขาย). One old family friend mentions that the family name is already tarnished since a long time as the father and mother are strong gamblers. It shouldn't be the daughters' duty to pay for their gambling vice. Misunderstanding happens between Da and Saksit. Den helps to solve the issue. They finally get reunited also.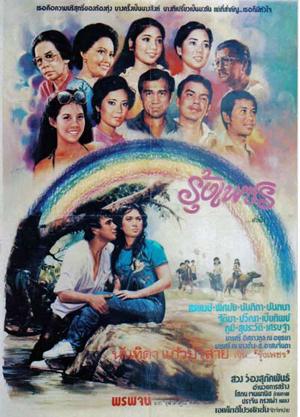 Year

: 1980



Thai title

:

รุ้งเพชร




English title

:



Rating

: 3/5


Director

:



Main actor

: Sorapong Chatree,Sor Asanajinda,Settha Sirachaya


Main actress

: Nanthida Kaewbuasai,Pissamai Wilaisak,Piathip Kumwong,Thitima Sangkapitak,Nantada Ngaokrajang
This movie รุ้งเพชร was shot in 1980. A first version of this story was released in 1961 with Sombat Methanee and Ratanaporn Intarakamhaeng. The main actress is Thai singer Nanthida Kaewbuasai, who sings the famous song "มารักกันใหม่" during the movie. Despite being a grown up teen, Rung (Nanthida Kaewbuasai) still likes children games such as riding buffalo, swimming in river, throwing rock with a sling. She is the leader of small group of friends. Her mother hates Bangkok and doesn't want her daughter to study there. But her mother is sick as she has a severe pain in the stomach. She refuses to leave her home. Rung's father died 10 years ago. The mother finally dies and Rung has to go to Bangkok to a mysterious uncle Phra's home. Her mother always recalled Rung that only uncle Phra helped her when her husband died. Uncle Phra is part of Bangkok rich society (ผู้ดี). Uncle Phra is married to Orapin. Orapin is much younger than uncle Pha and has a lover, who is bankrupted. Orapin is not very happy to see Rung arriving in their home and doesn't understand why Phra wants to take care about this orphan (เด็กกำพร้า). She suspects than Rung is Phra's daughter from a minor wife in Ayuthaya. Anong is Orapin's elder sister. Yai is uncle Phra's son. He behaves like a high society man. Yai has already a fiance. Her name is Nit and she is the second daughter of Anong. They don't get along with Rung. Yai has just finished his studies and needs to be temporary teacher for Rung per his father's request. Rung always speaks frankly (เด็กบ้านนอก). Nit and Yai consider themselves as brother - sister (พี่น้อง) but Anong has other plans in mind and wants to get them married as Yai is very rich. Orapin and Anong are worried about Rung taking a part of the heritage as Uncle Phra is getting older. Rung is doing her studies at UAU. Yai is going abroad. When he is back and while being sick, only Rung takes care about him at nighttime. Yai starts to understand and see Rung's kindness. Pricha, a family friend, has also interest into Nit and starts to seduce her. It is unveiled by uncle Phra that Rung is an hidden family member and child of a famous Thai aristocrat. Shine the jewel and its beauty is revealed... Yai asks Rung to become his fiancee by offering a ring. Anong and her daughter Nit try a last offensive to get Yai back from Rung but to no avail. Yai offers a necklace to Rung causing Orapin and Anong disappointment and ire. Phra agrees to divorce with Orapin but all his heritage is already transferred to Yai so Orapin will get nothing! Orapin and Anong decide to act. They organize Rung kidnapping. Anong tries to poison Phra's teapot but due to a maid mistake Anong finally drinks her owned poisoned tea and dies. Orapin discovers that her lover was cheating her with Anong's elder daughter. Through hate, revenge they kill each other and finally police shots Anong's lover. Yai and Rung can live happily. Nit and Pricha also. In 1980 this movie selling point was "Sorapong meets 6 leading actresses" (สรพงษ์ พบ 6 นางเอก - นันทิดา/นันทนา/พิศมัย/ธิติมา/ปวีณา/เปียทิพย์). This is typical romance movie from beginning of 1980s decade with an impossible love between a poor girl and a rich man. This movie features many famous Thai stars from 1970s-1980s.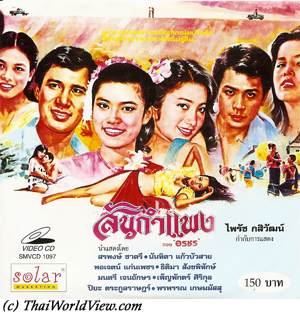 Year

: 1980



Thai title

:

สันกำแพง




English title

:



Rating

: 3/5


Director

:



Main actor

: Sorapong Chatree,Porjed Kaenpetch


Main actress

: Nanthida Kaewbuasai,Penpak Sirikul,Thitima Sangkapitak



Buy now

:

Two friends, Som living in Chiang Mai and Daeng in Bangkok, are in love with two Chiang Mai girls. Following a dramatic misunderstanding, the two friends set apart as Daeng is wrongly accused of courting Som's girl friend and being responsible of her pregnancy. Disappointed by Daeng's behavior, Som marries Daeng's girlfriend, who is also pregnant. Twenty years later, their children meet in Chiang Mai. Will they be able to have a love story after their parents' failure twenty years ago?



Year

: 1980



Thai title

:

พ่อจ๋า




English title

:



Rating

: 3/5


Director

:



Main actor

: Sorapong Chatree,Settha Sirachaya,Sor Asanajinda,Witoon Karuna


Main actress

: Nanthida Kaewbuasai,Ratanaporn Intarakamhaeng,Thitima Sangkapitak,Chosri Misommon,Tukata Jindanuch
Yen (Thitima Sangkapitak) flees her family as her father wants to force her to marry a man she doesn't love. She wants to commit suicide. Yen is saved by Pon (Sorapong Chatree), a poor young man living in a slum. They live happily a few months and she gets pregnant. Her father finally finds her. She has to go back with him and leaves Pon. On her wedding day, Pon appears to take back his new born daughter to bring her up. Her name is Yuwadee. During many years, he works very hard to pay for her education and keeps secret his low society level status. Having financial problems following an accident, his daughter Yuwadee has to go back in Yen's family but she is not happy. He finally succeeds to get Yuwadee back. Now becoming a TV serie star, her career is endangered by rumours about her father. Forced to appear on the stage, Pon insults and dishonors himself to avoid that his daughter career is damaged. Will Yuwadee reject her father? Yuwadee character is played by actress and singer Nanthida Kaewbuasai. A few songs are featured in the movie. Thai cinema often uses young actors and make them look older instead of using real veteran actors. This movie highlights the strong bonds between a father and his child. A first version of this movie was directed by Sor Asanajinda in 1957. Sor Asanajinda is playing Yen's father in this 1980 version! Ratanaporn Intarakamhaeng, who played as leading actress in the 1957 version, is also playing in the 1980 version.
---