Increase or decrease font size for easier reading : A+ A-
Nantana Ngao Krajang
Nantana Ngao Krajang (1955) - นันทนา เงากระจ่าง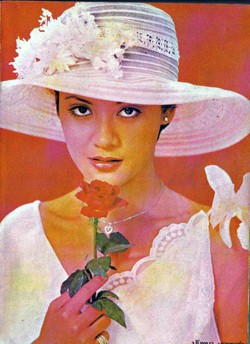 Nantana Ngao Krajang played in around 20 movies during only four years. She is still remembered for our performance in famous movie "The old scar" (แผลเก่า) Nantana Ngao Krajang stopped her career in 1980 and went to America with her family
This Nantana Ngao Krajang movie page contains 9 records.
---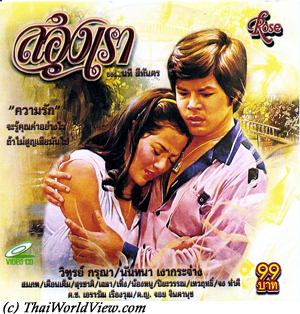 Year

: 1979



Thai title

:

สองเรา




English title

:



Rating

: 3/5


Director

:



Main actor

: Witoon Karuna,Somphob Benjatikul


Main actress

: Nantana Ngao Krajang,Deuan Tem Salitul
Teewa (Witoon Karuna) is a photographer and writer. He is also a butterfly hopping from one woman to another (น้ำผึ้งดวงตา) such as Tuk. He is sweet talker (ปากตรงกับหัวใจเสมอ). It is lust (ความใคร่) before real love (ความรัก). He meets one of his books fan called Rat (Nantana Ngao Krajang) at the party. They get on well but she asks more time to be ready as Teewa was heading directly to a motel. Romantic scenes with Teewa and Rat are shot partially in Ancient City (เมืองโบราณ). Rat's friends warn her about Teewa (เจ้าชู้ที่สุด). Rat's father wishes to send her to America to study. Separation is very difficult (ไม่อยากห่างคุณ). Rat needs to study four years. They see each other a last time in Ayutthaya, symbol of eternal love (เจ้าฟ้ากุ้ง). They promise to wait each other. Teewa has opportunity to go to America for business trip but he is not able to find Rat as she changed address. He doesn't receive news anymore. Teewa starts to indulge in alcohol and finally quits his job. Teewa has a car accident. Tuk gives her blood to save him. They marry and have a child. Four years have passed. Rat finally comes back and contacts Teewa. She also married in America with a fellow Thai student and didn't dare to tell it to Teewa. It is painful (ทรมานใจ) to see other during social parties as love is still here. They secretly meet in Sukhothai. A difficult choice between love and society dictates has to be done. Teewa is thinking to divorce Tuk and marry Rat. Finally seeing their current families wrecking away, they decide it is wiser to stop their impossible love. Movie สองเรา ("two of us") was released in 1979. Same as character Rat, actress Nantana Ngao Krajang stopped her career in 1980 and went to America with her family.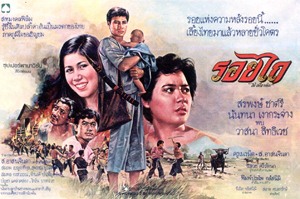 Year

: 1979



Thai title

:

รอยไถ




English title

:



Rating

: 5/5


Director

: Neramit,Sor Asanajinda



Main actor

: Sorapong Chatree,Sor Asanajinda,Somphob Benjatikul,Sompol Kongsuwan


Main actress

: Nantana Ngao Krajang,Wassana Sitthiweth
Thai movie รอยไถ was released in year 1979. The movie lasts 1h48mn. Four versions were directed 1950, 1960, 1979, 1989. Same main actor (Sorapong Chatree) and same main actress (Nantana Ngao Krajang) as "The Scar" (แผลเก่า) - 1976 are playing. Other actors are สุพรรณ บูรณะพิมพ์, Sompol Kongsuwan, จำนง, จิตติน, โกร๋น บางกรวย. Movie directors are Neramit (เนรมิต) and Sor Asanajinda. Talui (Sor Asanajinda), หมอลุย, is a bit crazy but respected as a father by Leu. Leu (Sorapong Chatree) losts his two buffaloes by gambling to Plien. Phan (Wassana Sitthiweth) blames him for this. Leu is brother in law (พี่เคย) of Phan. Leu is married to Pheuan (Nantana Ngao Krajang) and is having one child. Finally Leu defeats the ruffians by fighting as they are unrespectful to Phan. The ruffians (นักเลง) are wishing to take Phan and Pheuan as wives. Oon (Somphob Benjatikul) always wanted to marry Pheuan but he was too late. Bua, the mother, is helping Oon. Bua is upset with Leu as he is poor and lost his mother's heritage by gambling. Oon tries to reignite his love (ย้อนรัก) with Pheuan, who is now considering fleeing from Leu. Pheuan has pity on Leu (ข้าวเปล่าอร่อยดี) and her son so she keeps crying. While Leu is busy repairing the roof, Oon forces her to come as she is still undecided until the last minute. Wedding is happening soon. Oon is worried that Leu will bring a mess and wants to avoid a bloody celebration (ฉลองกับเลือด). Likay is organized. Leu brings his son to Phan and promises to get revenge up to Bangkok as he suffered a lot. Meanwhile Leu hears about the forthcoming wedding. He finally escapes with Pheuan but ruffians are chasing them. He gets injured through a fight versus too many opponents. Talui diverts their attention thanks to firecrackers and helps him to flee. Oon prevents the village headman to use a gun to shoot Leu. The village headman is upset having his men injured so they are looking after Leu. Talui helps Leu same as a father towards a son. Phan takes care of Leu and his son while Leu is sick. Leu understands Phan would have been a better wife than Pheuan. Meanwhile Talui prepares some tricks against the ruffians. The movie ends tragically. Loi, Pheuan and Phan's brother, and Talui die while protecting Leu's house. Even their mother die also. Oon, recognizing his mistake, accepts to give back Pheuan but Leu refuses. He realises too late that Talui is his real father. Having nothing left, he finally quits the area with Phan.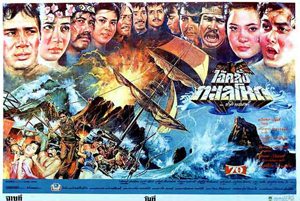 Year

: 1979



Thai title

:

ไอ้คลั่งทะเลโหด




English title

:



Rating

: 5/5


Director

:



Main actor

: Sorapong Chatree,Phaophan Phongnathee,Manop Aussawathep,Prachuap Ruekyamdee,Adinan Singhiran,Taksin Jampol,Dam Datsakorn,Somsak Chaisongkram,Rith Luecha


Main actress

: Wiyada Umarin,Duangcheewan Komolsen,Nantana Ngao Krajang
A woman is about to deliver her baby. The husband brings his wife on a boat but it is caught in a storm. Their village on the island is wiped away by a tsunami. A boy is born on the boat. The boat is then attacked by a group of pirates (Manop Aussawathep, Prachuap Ruekyamdee, Adinan Singhiran and Taksin Jampol). The baby life is spared and is named Ai Klang. During his youth, Ai Klang is trained to use all weapons. Salai (Wiyada Umarin) likes Ai Klang since her childhood. Ai Klang (Sorapong Chatree) has a reputation of having extraordinary skills as storm child (ลูกพายุ). He is disliked by some pirates (Dam Datsakorn, Somsak Chaisongkram, Rith Luecha and Phaophan Phongnathee) on the island. During a boat attack, the father is injured and the diviner predicts a bad omen for the village (ดาวบอก). Ai Klang and Sarapat, the other son (ลูกพ่อ), keep arguing over Salai. Their pirate (สลัด) village is located on an island. Normally they never keep survivors to avoid their hidden village to be discovered. Sarapat keeps a young lady called Chom (Duangcheewan Komolsen) for his father. She becomes in fact his mistress. Salai's family members are accused of theft. In fact, their crime is to have seen Sarapat and his mistress Chom together. Through a deadly game, two are shot but the father survives as Ai Klang fails, on purpose, to hit him three times. Ai Klang rescues a young lady Malai (Nantana Ngao Krajang) whose boat is wrecked on the island. It causes Salai's jealousy. While bringing her back to her father, Ai Klang is recognized as pirate and needs to flee. Ai Klang learns from Salai's father that he is not the real son of the pirates' leader. While the father is away, the bad pirates get rid of Salai's father despite Ai Klang's resistance. Ai Klang is attached to a pole during rising tide but Salai helps him before he gets drowned. Sarapat takes over the island while his father is away. When the father is back, he is captured. While Sarapat and his men celebrate their victory, the island volcano wakes up. Ai Klang and a number of men faithful to the father attack the renegade pirates. Fight is fierce but they win. Salai is killed during the fightings. Ai Klang ends up fighting with his father as he killed his real parents twenty years ago. He is unable to kill him as twenty years together have created strong filial bonds. To acknowledge his mistake, the father announces that they all stop to be pirates! But it is too late as finally a tsunami wipes the island. Just before, the father sent Ai Klang and Malai to take refuge on higher grounds. ไอ้คลั่งทะเลโหด was released in year 1979 and features an impressive list of famous 1970s Thai actors. Star wars movie soundtrack is used. The movie was never released officially in VCD or DVD format but a VHS telezin version can be found around. It is supposed to be one of the few Thai movies shot in 70mm format.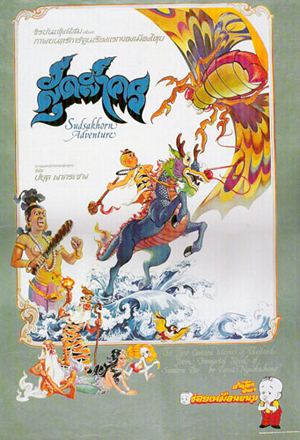 Year

: 1979



Thai title

:

สุดสาคร




English title

: Sudsakorn



Rating

: 3/5


Director

: Payut Ngaokrachang



Main actor

:


Main actress

: Nantana Ngao Krajang
Thai cartoon สุดสาคร / Sudsakorn was released on year 1979 and lasts 1h12mn. It was released only on VHS format. There is a sequence showing how the cartoon was made (การผลิดหนัง). This cartoon was done through traditional way at the end of decade 1970s. Hundreds of thousands of drawings were done. Director is Payut Ngaokrachang (ปยุต เงากระจ่าง). Payut Ngaokrachang wished to make the first Thai animation film and faced many difficulties while making this animation film (resource issues, money issues...). He almost became blind after having worked for 3 years on this animation film. His daughter, the veteran actress Nantana Ngao Krajang, can be seen in the introduction sequence as a painter. This cartoon is featuring a character from a Thai literary work, Phra Aphai Mani, by the poet Sunthorn Phu. A prince, called Phra Aphai Mani (พระอภัยมณี), flees from a lady Yak by riding a mermaid. The mermaid is pregnant and delivers a baby son. His name is Sudsakorn. Luang Ta (หลวงตา / พระฤๅษี) helps. Sudsakorn is human and not half fish. Finally the hermit takes the child away to raise it. The hermit trains the kid to be able to fight also. Sudsakorn dominates a shark but he fails to master a mystic unicorn (ม้านิลมังกร). Sudsakorn wishes to find his father. The hermit provides some magical items (ไม้เท้าวิเศษ) to Sudsakorn in order to fight against enemies. He leaves his mum (ลาก่อน แม่.). On the way to find his father, Sudsakorn, riding his unicorn, is attacked by ghosts (ผีสิง). Following fierceful fightings during 7 days and 7 nights, the hermit gives Sudsakorn a hand too. The hermit warns him about ghosts ( ผีดิบ). Sudsakorn meets a naked beggar on another island. Pretending teaching some new magic to him, the beggar (ชีเปลือย) pushes Sudsakorn from a cliff and steals the unicorn. The beggar uses it to reach the kingdom. Once again Luang Ta helps Sudsakorn to escape. Sudsakorn chases the old beggar. He is finally forgiven by the local king, who also adopts Sudsakorn. Sudsakorn travels on a fleet. Butterfly ghosts (ผีเสื้อยักษ์) attack the fleet but Sudsakorn defeats them.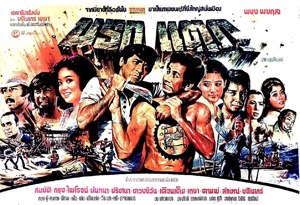 Year

: 1979



Thai title

:

นรกแตก




English title

:



Rating

: 3/5


Director

: Payoong Payakul



Main actor

: Sombat Methanee,Krung Srivilai,Phairoj Jaising,Dam Datsakorn,Kecha Plianvithee,Lak Apichat,Pipop Pupinyo,Boo Wibunnan,Phirapon Piyawan


Main actress

: Nantana Ngao Krajang,Prissana Chabaprai,Duangcheewan Komolsen,Deuan Tem Salitul
Thai movie นรกแตก was released in year 1979. It features Sombat Methanee and Krung Srivilai. This action movie is lost in Thailand but a trailer lasting 1 minute 30 seconds is left to be seen. The short trailer shows Sombat (ยิ่ง มหายศ) receiving sacred tattoos from a famous monk from South of Thailand so giving him mystical power, a knife fight between Sombat and Dam. Other actors are Phairoj Jaising, Pipop Pupinyo, Dam Datsakorn, Duangcheewan Komolsen, Kecha Plianvithee, Lak Apichat, Nantana Ngao Krajang, Boo Wibunnan, Prissana Chabaprai. This movie was a mixed of action and mystic (หนังบู๊ผสมไสยศาสตร์) same as เสาร์ 5 (1976). There are ghosts (ผีดิบ) and pirates (โจรสลัด). Director was Phayung Phayakul (พยุง พยกุล). The main actress in this director's movies is always his own wife, i.e. Prissana Chabaprai.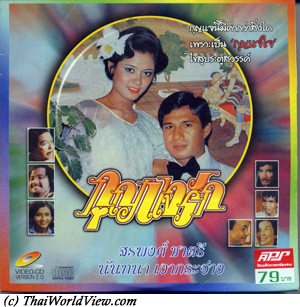 Year

: 1978



Thai title

:

กุญแจรัก




English title

:



Rating

: 5/5


Director

:



Main actor

: Sorapong Chatree,Somsak Chaisongkram,Somkuan Krajangsat


Main actress

: Nantana Ngao Krajang,Suphanee Jitthieng
Toon's former boyfriend, Bati, dies in a parachute accident. Her parents send her to study in France in order to forget this sad story. Doctor Sompong (Sorapong Chatree) is Toon's childhood friend. Both parents wish Toon (Nantana Ngao Krajang) and Sompong to marry but they don't love each other. Romance happens at Dusit zoo with Ananta Samakhom Throne Hall in the background. Sompong tries his best but Toon is not receptive (เอาใจยาก). Toon likes music and dancing. One night a biker mechanic falls in love with Toon by seeing her in a nightclub. She still cannot forget Bati (รักเดียวใจเดียว). Thongchai, friend of Rat, coming back from USA, has same look as Bati so Toon gets confused at first. Sompong decides to learn dancing. Toon likes to play fool with Sompong. One of her friend, Rat, is sponsored by Thanong (Somsak Chaisongkram). Rat acts as a matchmaker (แม่ซื้อ). Thongchai misses the USA for its sex freedom, openness, lack of conservative society but Thai culture is different. So Toon stops seeing Thongchai as she doesn't share his view. Sompong continues his best without forcing Toon. Thongchai keeps harassing Toon. Toon's hot temper causes issues in her own family and she refuses any arranged wedding with Sompong. While going out at nighttime, she falls in a trick set up by Thanong. The biker mechanic tries to help but he gets severely beaten as he is outnumbered. Thanong can then rape Toon. Toon's father (Somkuan Krajangsat) and Sompong are looking for her. She is found unanimated in a small road. Sompong helps Toon to recover and keep high spirit through touching words (เริ่มตอนชีวิตใหม่). Toon accepts to marry Sompong. Thanong is finally arrested for prostitution incitation. The mechanic guy learns about the wedding on the newspapers. His love failure remains a defeat for him amplified by the beatings on the head including sequels. On the wedding day unable to keep his frustration he shots Toon. Toon dies. Toon and Sompong are separated a last time (จากกันเพื่อไม่ต้องจากกันอีก). This movie is a strong romantic drama from decade 1970s highlighting many social issues such as women liberalization, arranged wedding... This movie features a great soundtrack with many famous decade 1970s songs. Actors are wearing great flared (pattes d'éléphants) jeans.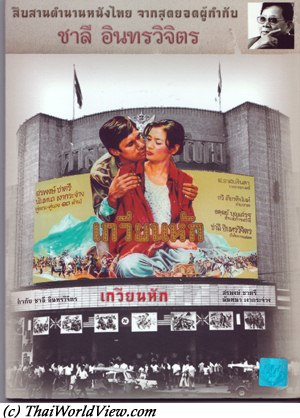 Year

: 1978



Thai title

:

เกวียนหัก




English title

:



Rating

: 4/5


Director

:



Main actor

: Sorapong Chatree,Sor Asanajinda,Somphob Benjatikul,Dam Datsakorn,Sayan Chantaraviboon,Lak Apichat,Kecha Plianvithee,Sawin Sawangrat


Main actress

: Nantana Ngao Krajang,Sarinthip Siriwan,Duangcheewan Komolsen



Buy now

:

Thai movie เกวียนหัก was released in year 1978 and lasts 1h26mn. The DVD picture is not sharp as the original 35mm film was certainly very damaged and incomplete. The DVD was released by Happy Home Entertainment in year 2014. Aunt Sarinthip Siriwan is taking care of her nephew Rien (Nantana Ngao Krajang), whose beauty impresses many men. She is just 16 years old and is the daughter of subdistrict headman Kecha (Kecha Plianvithee). น้อง Kuay (Duangcheewan Komolsen) likes Faeng but he prefers Rien. Sor (Sor Asanajinda) is the Faeng's father. Taming (Dam Datsakorn) is a robber. Sayan Chantaraviboon and Lak Apichat are part of his team. Sawin Sawangrat is the village leader (ผู้ใหญ่). Today is an important day to perform good deeds at the Buddhist temple (ทำบุญที่วัด). Chan (Somphob Benjatikul) tries to seduce Krajang. Festival, dances, songs, fireworks do happen after the religious ceremony. Faeng wins a small contest similar to rocket festival (ประเพณีบุญบั้งไฟ) versus Chan. Faeng (Sorapong Chatree) loves Rien so it generates jealousy from other men in the village. While trying to kiss Rien, Faeng is injured by her to the arm by her spade (ไม่เสียหาย). During the night Taming robs some houses. Faeng is summoned to subdistrict headman's house. Faeng is accused to have joined Taming the night before to rob houses. Faeng has an injury at the arm so he must be culprit. Rien admits she was the one to injure Faeng (เรื่องปล้นหรือเรื่องปล้ำ) because he tried to kiss her. Kecha loses face in front of the villagers! Disappointed, Kuay enters in Faeng's room. He pities her and tells an old secret story about the village leader being the one robbing houses before. They almost become lovers but Faeng asks her to go back. Chan declares his love to Rien but she is not interested. He wishes to ask her hand to her father. Rien and Faeng love each other but the subdistrict headman forbids Faeng to meet his daughter again. The father shall bring her away on the next day. Faeng and Rien become lovers (รักเหมือนโจร). Taming promises to help. Faeng's father is found dead. Faeng storms the subdistrict headman's place as he believes he knows who is behind the murder. Fightings occurs and the village leader is killed. Faeng learns where Chan and Rien are heading. Love circumstances towards Rien push Faeng to become a ruffian. Fierce fightings happen when Taming, Faeng and the ruffians storm the convoy led by Chan. Faeng defeats Chan but Rien dies following her injuries caused by the cart (เกวียน) falling on her.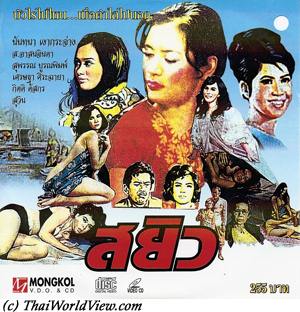 Year

: 1978



Thai title

:

สยิว




English title

:



Rating

: 3/5


Director

:



Main actor

: Sor Asanajinda,Settha Sirachaya


Main actress

: Nantana Ngao Krajang
A policeman and his girl friend are investigating a serial killer stabbing young women and stealing their diamonds jewels.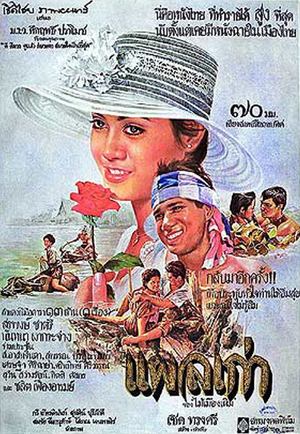 Year

: 1977



Thai title

:

แผลเก่า




English title

: The old scar



Rating

: 5/5


Director

: Cherd Songsri



Main actor

: Sorapong Chatree,Sor Asanajinda,Settha Sirachaya


Main actress

: Nantana Ngao Krajang,Sarinthip Siriwan
The movie is built same a theatrical "Likay" (ลิเก) with traditional music. It portrays the Thai culture and way of life though a romance. Peasant Riem loves Kwan but the love is not reprocical. He loves singing Likay. Traditional peasant way of life, watching over buffalo, rice planting, getting fish from rice fields, ceremonies where young men invite girls they like to dance, Songkran ceremony with small pagoda made of sand are gracefully shown. They finally love each other with a promise in front of the local deities tree. But Riem family refuses this love story. Choi, local gangster, injures Kwan with his sword making a scar. This scar is the symbol of their love that nothing can break. Riem's father wants to sell her to the local gangster Choi. Riem's father is local "Kamnan" (กำนัน) but has many debts with Choi as he likes to gamble and drink alcohol. Riem is enslaved with chains. Kwan infliges a scar to Choi also but when he tries to free Riem, it is too late. Her father and Choi have brought her to Bangkok. There she is integrated to a rich Bangkokian family as she has the same face as their deceased daughter. A young man called Somchai is courting her. Riem discovers high society Bangkokian life with balls and European orchestra. The contrast is flagrant with village life and Kwan playing flute on his buffalo. Kwan arrives in Bangkok and searches for Riem. He cannot find her. He chases Choi to know where he sent Riem but during a sword fight, Choi is killed. Three years have passed. Knowing that her mother is sick, Riem goes back to visit her. Kwan has chance to meet Riem but Kwan also understands that she forgot him. He asks again for the support of the local deities. Riem misses her home and Kwan. She finally comes back as her mother is dying. In the past, her mother marries her husband for money in order to be secure but was never happy with him. So she advises her daughter to listen to her heart as love is more important than money. Riem promises to tell Kwan her decision in front of the local deities tree. On the same day, seeing that his father is getting older and older, Kwan promises him to honor his wish to see his son in yellow robes (ชายผ้าเหลือง) as a monk. Learning that Riem is forced to go back to Bangkok, he decides to help her but faces opposition from Riem's family and Somchai. Finally Somchai shot Kwan fatally and he drowns in front the local deities tree. Riem stabs herself and drowns with her beloved Kwan. Kwan's father will never see his son in yellow robes (ชายผ้าเหลือง) as a monk. Historically, Cherd Songsri's movie is a classic tale of star-crossed lovers and was one of the first Thai films to be a success internationally due to the precise representation of rural Thailand. It got Top award at Festival des 3 Continents in Nantes, France in 1981. This movie is part of the first 25 films heritage list announced on October 4 2011, which is Thai Movies Conservation Day.
---