Increase or decrease font size for easier reading : A+ A-
Namgneun Boonnak
Namgneun Boonnak (1940) - น้ำเงิน บุญหนัก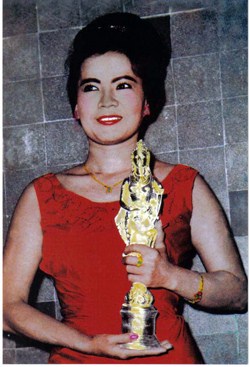 Namgneun Boonnak has played in more than 20 movies. She started her career in year 1956. She got two Thai cinema awards in year 1965 (นางสาวโพระดก) and year 1966 (กาเหว่า)
This Namgneun Boonnak movie page contains 13 records.
---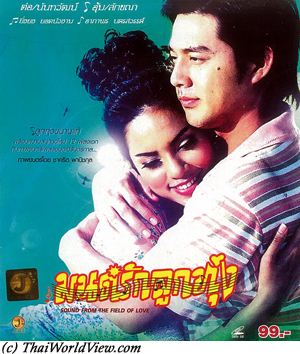 Year

: 2004



Thai title

:

มนต์รักลูกทุ่ง




English title

: The Field of Love



Rating

: 3/5


Director

:



Main actor

: Krung Srivilai,Phairoj Jaising


Main actress

: Namgneun Boonnak



Buy now

:

This folk-music movie is a remake of one of the most famous Thai movie (มนต์รักลูกทุ่ง) shot in 1970. It features 14 folk songs or "LUUK THUNG" songs. It is about a love story between a poor peasant, Klao, and a young woman, Thong Kwao, coming from a rich family. Thong Kwao's parents are worried about the family assets if their daughter marries a poor man so they send her to Bangkok so that she can be far away from Klao. Thong Kwao's parents refuse Klao's proposal for marriage and request an expensive dower (ค่าสินสอด), i.e. 100 000 Baht. Various misunderstandings happen between Klao and Thong Kwao but love will win.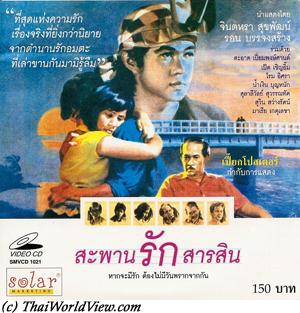 Year

: 1987



Thai title

:

สะพานรักสารสิน




English title

:



Rating

: 4/5


Director

: Piak Poster



Main actor

: Ron Banjongsang,Sahat Piempongsan,Sawin Sawangrat


Main actress

: Jintara Sookkapat,Namgneun Boonnak,Sulaleewan Suwanthat



Buy now

:

Thai movie สะพานรักสารสิน lasts 1h35mn. It was released under VCD many years ago but a HD version remastered is available since year 2015. It is based on a real story happened in 1973 on Phuket island. Sulaleewan Suwanthat is playing the mother. Kotham (Ron Banjongsang) is a good son as he is working in a farm of rubber tree and coconut and giving all his money to his mum. He is also driving local small bus to help his friend. He meets Hiu (Jintara Sookkapat), an university student who has good heart (น้ำใจ) to protect him with her umbrella while he is changing a bus wheel during a thunderstorm. Hiu's father (Sahat Piempongsan) is aware that his daughter is seating in the front with Tom so he forbids her. Kotham buys a doll (ตุ๊กตา) for Hiu knowing she likes it. Romance starts between Hiu and Kotham . While enjoying a local festival, Hiu is surprised by her father and slapped (ลูกไม่รักดี). Back home, she is severely beaten by her father, who even disapproves his daughter going to university. The father meets khun Arun, an administrative officer, as he wishes him to marry her swiftly. Hiu offers herself to Kotham but he refuses (บูชา Hiu). They finally decide to flee on a remote island. Kotham becomes a diver to catch pearls and seashells. Police finds them and Kotham ends up in jail as Hiu is not yet 20 years old. The local Kamnan (Sawin Sawangrat) convinces the father to remove the complaint on Kotham. But the father doesn't forgive. He hits his daughter with a stick in front of Kotham. Hiu is pregnant. Kotham loses his mother. The father still wants his daughter to marry Arun. Only suicide appears a solution for the youngsters. The mother and Kotham's friends wish to stop them but they are too late. The two corpses are found later clinched to each other. As they are inseparable even in the death, Hiu's father orders to bury them together. This movie has also been registered as National Heritage per the 2016 list released by the Thai Film Archive.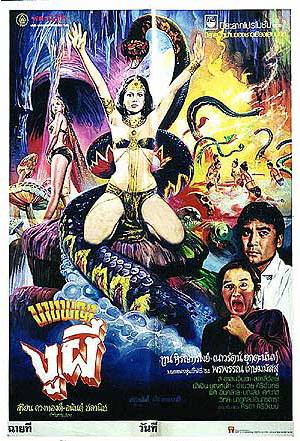 Year

: 1984



Thai title

:

นางพญางูผี




English title

: Ghost Snake Queen



Rating

: 3/5


Director

:



Main actor

: Toon Hiransap,Sor Asanajinda


Main actress

: Naowarat Yooktanun,Pornpan Ketmamatsu,Namgneun Boonnak
Some villagers are hired to catch snakes. A big snake (งูใหญ่) remains to be caught. Chat is one of the villagers. His wife is about to deliver. During a storm, Chat is killed by a huge snake and the baby girl is possessed by a snake. The little girl renamed Boonmee is rescued by a family, who also has a baby girl called Kamfa (Naowarat Yooktanun). They are now grown up beautiful women. Boonmee (Pornpan Ketmamatsu) always think her parents love Kamfa more than her. It is Songkran day. Some Bangkokian people, undercover policeman Cha (Toon Hiransap) and professor Phalat (Sor Asanajinda), come to the village. Young and old people often die in the village so they come to investigative. Nobody knows the real death cause. Some bodies are kept in Wat Khun Duang. Songkran is celebrated there so Cha meets Kamfa and Boonmee. Brother (พี่) Inta is jealous. Both ladies like Cha very much. The temple coffins only contain snakes but no corpses. Villagers afraid of the evil (งูผี). In order to get rid of the evil spirit, there is a need to identify in which body the spirit has taken refuge in. Boonmee brings jealousy in Ita's heart versus Cha. The subdistrict headman's daughter is bitten by a snake. Cha goes to city to bring back a real doctor as he doesn't trust the local shaman (หมอผี). Boonmee (นางปีศาจ) causes the spirit to possess Kamfa and to kill the subdistrict headman's daughter. Villagers now believe Kamfa is the evil spirit (งูผีร้าย). Boonmee kills her own father to prevent him to help Kamfa. Kamfa is captured and will be burnt (เผ่า) in front of the subdistrict headman's house. Cha comes on time but Inta and villagers prevent him to help. Cha and Kamfa shall die on a real stake. A forest monk (พระธุดงค์) stops the fire and announces Kamfa is not the evil spirit that villagers are looking for. The monk asks Kamfa to put a sacred necklace around Boonmee's neck to neutralize the spirit. Kamfa is concerned that her mother shall not stand losing her husband and then one daughter. Boonmee apologizes to her sister and promises not to kill anyone again. The old sorcerer spirit has to bite villagers and drink their blood to remain young. Boonmee seduces and hypnotizes Cha. Kamfa and Phalat have to find a way to release Cha. Boonmee captures her own sister to give her for sacrifice to the snake spirit showing no gratitude to her mother. At nighttime the mother sneaks in the cave and sends on time the sacred necklace on the spirit's head breaking all spells. Evil is defeated and the cave is sealed. It is a remake of 1966 Thai movie "งูผี" with Mitr Chaibancha and Petchara Chaowarat. Compared to 1966 version, Boonmee is much more temptress and is helped by a bunch of sexy amazones. Modern disco and even James Bond soundtrack are used. It is a typical horror movie from 1970-1980s mixing scaring and funny sequences. A second opus of นางพญางูผี was released in 1990 with Bin Banleurit.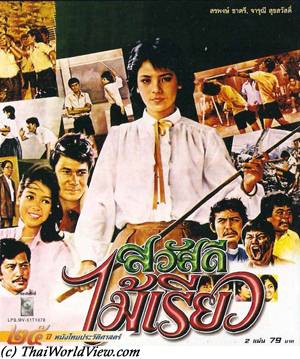 Year

: 1982



Thai title

:

สวัสดีไม้เรียว




English title

:



Rating

: 4/5


Director

: Phan Kam



Main actor

: Sorapong Chatree,Sor Asanajinda,Suchao Pongwilai


Main actress

: Jarunee Sooksawad,Ampha Pusit,Namgneun Boonnak
A new teacher (ครูใหม่) called Sirin (Jarunee Sooksawad) is recruited. She notices that two students always arrive late. One is a boy called Satit coming from a rich family (ลูกเศรษฐี). One is a girl called Kalaya coming from a slum family (สลัม). The movie highlights the importance to study for teens but also the importance for teachers to keep interest from their students (รักเรียน). This school has a strict director and strict teachers keeping the same program and activities without changes over years. Sirin tries to change this mindset. In Thai schools students show respect to their teachers in the mornign and evening (ไหว้ครู) and get hit with a stick (ลงโทษ) when they fail to obey to the school rules. Sirin faces opposition from the teacher head when she wishes to punish Satit for his bad behavior. Only the poor child Boonmee gets punished. Sirin wants to have same treatment for all children either rich or poor. A fight happens between Satit and Boonmee. Satit's elder brother, called Narit, comes to complain about the new teacher at the shool. He trusts Satit and doesn't know he is behaving badly. Kalaya has no time to study. Every early morning she has to deliver newspapers. Her father is always drunk and hit his wife. Kalaya is too ashamed to say why she is late everyday. Teachers decide to buy a bicycle for her so she doesn't have to run in the morning (same as movie Walli - วัลลี). Satit keeps stealing things. This time he steals teacher belongings and accuses Boomee. Hopefully Sirin is aware of the stratagem but Narit refuses to believe that his younger brother has problems as he is coming from a rich family. Money doesn't buy happiness... Kalaya didn't come to school since many days as her father sold the bicycle to buy alcohol. She now works in a construction site. Students decide to share the workload regarding newspapers distribution so that she can be on time in school. Following a brawl, Satit is sent to Police station. Teacher Sirin confirm (รับรอง) her students integrity so that they can be released. The school is going to take part in sport competition with other schools. They have big hope in cycling with Kalaya and Thai boxing with Boonmee. Poor children train hard while rich children just enjoy beach. Sirin sees Satit stealing the director's ring. She prevents the robbing but gets injured as Satit pushes her violently. The director doesn't believe Satit could be a robber. Losing trust in her director, Sirin resigns. Students refuse to study until Sirin is back. Finally Satit tells the truth to his brother. This one asks the director to recruit back Sirin. Sirin refuses to acknowledge the director's requests but accepts when students implore her. Competition starts. The school wins in boxing and cycling. Satit becomes a good boy. Despite strange cuts in the editing, this movie is full of good feelings, i.e. school importance, teacher dedication, studies, rich and poor society opposition...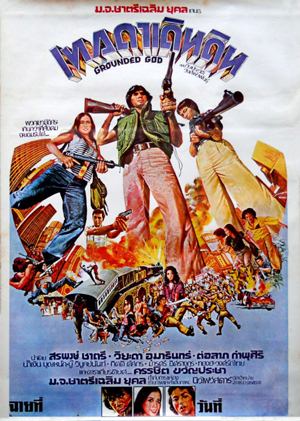 Year

: 1976



Thai title

:

เทวดาเดินดิน




English title

: Grounded god



Rating

: 4/5


Director

: ChatriChalerm Yukol



Main actor

: Sorapong Chatree,Boo Wibunnan


Main actress

: Wiyada Umarin,Namgneun Boonnak
Two young guys are dealing with heroin. The police failed to catch them. The two guys take refuge in a young lady's home, who is the girlfriend of one of them. They are modern Thai hooligans. Sorapong Chatree plays a hooligan in bell-bottom jeans in a film that mirrors the youthful chaos of the year 1976. The movie was shot in 1976 at the time of the violent crackdown on leftist students and protestors that occurred in the grounds of Thammasat university. The three young hooligans are living thanks to small thefs (stealing goods, wallets...). They are in rebellion with the society, i.e. they like damaging public installation, breaking windows, frightening middle class people, eating in restaurant without paying. One of them is keen on drugs also. One of the hooligan is rebelling again the system as when he was soldier, he was told to kill communist villagers but those people were good people worshipping the King of Thailand so he lost faith in Thai official institutions. The Chief of police looking for them was his former military superior. When robbing a house and neutralizing the occupants, they get a gun. While stealing a car, they face a strong owner who fights them. He is shot dead. They become more and more violent. They are caught in a whirlpool. They rob banks and shot policemen. Followed by police, they finally find refuge in the South of Thailand around Yala where they continue their bank robbing. They get too much media coverage. Journalists called them Grounded gods as they can do whatever they want, they always escape and nobody can catch them. They have nothing to loose and know they will die sooner or later. Surrounded by the Police, they hide in the jungle and are captured by a muslim community. The community is fighting against Thai institutions also but have real motives. It is precursory regarding current violent events happening in South of Thailand. The three hooligans finally died under Police bullets. It reminds of Stanley Kubrik's ultra violent "Clockwork Orange" movie and Bonny and Clide story. It is unofficially claimed that Oliver Stone was inspired from "Grounded God" for his controversial "Natural Born Killers" as many parallels are visible.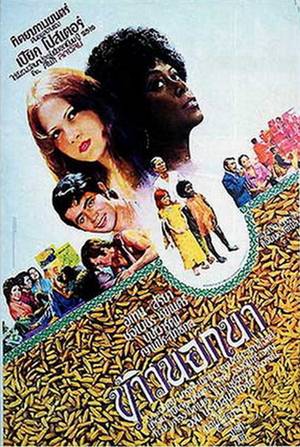 Year

: 1975



Thai title

:

ข้าวนอกนา




English title

:



Rating

: 5/5


Director

: Piak Poster



Main actor

: Uten Boonyong,Adul Dulyarat,Suriya Chinaphan


Main actress

: Sulaleewan Suwanthat,Marasri Bangchang,Khomapat Attaya,Namgneun Boonnak
Thai movie Khao Nok Na (ข้าวนอกนา) was released in year 1975 and directed by Piak Poster. It lasts 1h38mn. An aunt (Sulaleewan Suwanthat) is raising two children, the elder called Deuan is 5 years old and the youngest is called Dam (หีดำ). Both fathers are different. Dam's father is a black man so she is called Dam (ดำ – black) as a reference to her skin color. The children were temporarily given to the aunt by the mother. Unable to raise them, the aunt wishes to sell them to a rich lady. The rich lady (Marasri Bangchang) doesn't want Dam (ไม่ชอบเด็กดำๆ) and buys only Deuan for 3000 baht. She is renamed as Deuan Krai Saen (บุบผารัตน์ ญาณประสิทธิกุล). Father is veteran actor Adul Dulyarat. Finally Dam (ช่อเพชร ชัยเนตร) is sold to a family to become a helper (คนใช้งาน) and to be the puppet of the daughter. Veteran actress Khomapat Attaya is part of the other helpers. Dam is always stubborn (ดือ) as people dislike her skin color. Phi Pan (Suriya Chinaphan) is the son of a taxi driver, who always supported Dam but died earlier in a car accident. The house is becoming a mess with the daughter being pregnant with one male driver and the son spending like crazy on music instruments to build a band. The real mother is back and is asking for her two daughters. The aunt gives the address but the rich lady (คุณผู้หญิง) refuses to let Deuan go. The real mother, always seen smoking, goes to the police to get her rights respected. She finds first Dam. Adul refuses to give back Deuan and proposes 50 000 baht. She accepts and has to sign a contract. Having the money, she also rejects Dam and asks her to go back to her home. Disappointed by her own mother, Dam is looking for a job. She becomes a singer in a nightclub and sings her difficulties as being black in Thailand. Meanwhile the rich family watches Deuan playing in a ballet representation. Dam finds Phi Pan in the street and brings him to her home. They become lover as Dam believes he would be a caring man like his father but Pan is a lazy boy taking profit of girls' money. Pan is using Dam's money to entertain another lady. Adul finds that Deuan goes back home late and is wearing a ring given by a young boy Pop (เลือดแม่ของแค่มันแรง) (Uten Boonyong). Dam is finally dumped by Pan so indulges in alcohol and becomes a short time prostitute. She is surnamed as ลิง (monkey) or สกปรก (dirty) and being rejected by Thai society (equally by rich and poor Thai people). Dam meets people having problems also and starts indulging in drugs to forget daily problems. Pop tries to bring Deuan to a short time motel but finally changes his mind as she keeps crying and mentioning her father's pressure. Dam meets finally Deuan. Deuan is in paradise (สวรรค์) and Dam is in hell (นรก). Finally Deuan ends up with Dam indulging drugs as her paradise is also a hell being the daughter of an easy lady. Police captures the whole group. Deuan's parents bail her, forgive her mistakes and accept her relationship with Pop. A US black man bails Dam from jail and brings her to USA with him. The movie highlights racism in Thailand. Following Vietnam war, many similar cases of children born from Thai prostitutes and black US soldiers did happen in Thailand. A TV serie on the same story was released in year 2013. Khao Nok Na (ข้าวนอกนา) is an interesting title. Normally rice is white so Dam is the rice "outside" the field, i.e. being black and different from the majority of Thai people. The movie got 4 awards (รางวัลตุ๊กตาทอง), i.e. best actress, best song, best story, best supportive role.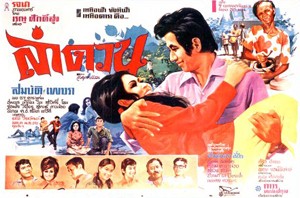 Year

: 1971



Thai title

:

ลำดวน




English title

:



Rating

: 3/5


Director

:



Main actor

: Sombat Methanee,Songthong,Pipop Pupinyo,Choomporn Theppitak,Sukon Koewliam


Main actress

: Petchara Chaowarat,Namgneun Boonnak
ลำดวน is a Thai movie released in year 1971 with Sombat Methanee and Petchara Chaowarat. The whole movie is 2h30mn long and features 7 songs. A 41mn sequence is still available online. This movie was lost in Thailand but a final copy was finally discovered in year 2013 in the house of a former outdoor projectionist. The below summary is based on the 41mn sequence. It is in 16mm format so there is no sound as such format requires live dubbing. Songthong is a temple boy. He is going to Bangkok to find a work and to sell newspapers on the street. Pipop Pupinyo is playing the father (he hasn't yet a shaved head, which will be his recognizable trademark in following movies). The mother is played by Namgneun Boonnak. First one hour is about the parents life. Namgneun Boonnak is sick and Sukon Koewliam takes care of her. Twenty years have passed. Lamduan (Petchara Chaowarat) and Thongdee (Sombat Methanee) meet in a garden. Thongdee is a temple boy also. Thongdee is singing to declare his love to Lamduan. Lamduan is seeing ghosts, i.e. her mother (วิญญาณแม่) and then herself. Thongdee is punching Choomporn Theppitak as he is harassing young ladies. Finally Lamduan is sent to a Buddhist temple to expel ghosts. After discussion with the abbot, she leaves the area and goes with Thongdee in order to start a new life.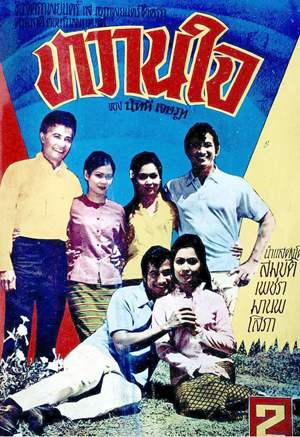 Year

: 1970



Thai title

:

หวานใจ




English title

:



Rating

: 3/5


Director

: Sor Asanajinda



Main actor

: Sombat Methanee,Manop Aussawathep,Charin Nantanakorn,Dokdin Kanyaman,Pramin Jarujareet


Main actress

: Petchara Chaowarat,Sopha Sataporn,Metta Roongrat,Sulaleewan Suwanthat,Namgneun Boonnak
Thai movie หวานใจ was released in year 1970. Sombat Methanee and Manop Aussawathep are playing the main actors. Petchara Chaowarat and Sopha Sataporn are playing the main actresses. Manop Aussawathep is playing one of his first roles. The movie is lost in Thailand but a 2mn30s trailer remains to be seen. Other actors are Charin Nantanakorn, Dokdin Kanyaman, Metta Roongrat, Pramin Jarujareet, Sulaleewan Suwanthat, Namgneun Boonnak, เทิด. Movie director is Sor Asanajinda. A movie summary extracted from Thai stars magazines is still available to be read. Five songs are featured in the movie. Three ladies (Sopha, Petchara, Metta) seem to love Sombat. As usual with 1960s and early 1970s movies, there is a mix of multiple tastes (หนังครบรส) in Thai movies, i.e. romance, action, comedy. Manop gets beaten by ruffians.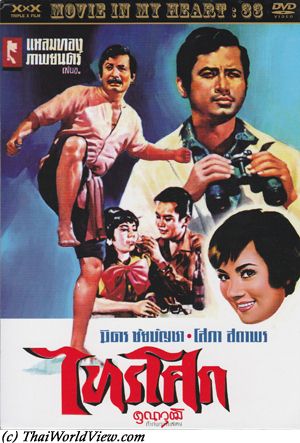 Year

: 1967



Thai title

:

ไทรโศก




English title

:



Rating

: 5/5


Director

: Wichit Khunawut



Main actor

: Mitr Chaibancha,Adul Dulyarat,Adinan Singhiran,Choomporn Theppitak


Main actress

: Boosara Narumit,Namgneun Boonnak,Marasri Bangchang,Sopha Sataporn
Thai movie ไทรโศก was released in year 1967. It is directed by Wichit Khunawut. It lasts 2h06mn. Yen (Boosara Narumit) is being raised since childhood by a stepfather but was never officially adopted. Bai (Mitr Chaibancha) is a dumb and a bit retarded adult (เด็กวัด) accompanying the monk during morning alms. Kitty (Adul Dulyarat) is the real son. Adinan Singhiran is helping for everything in Thorasok domain. The father is sick. Urai (Namgneun Boonnak) is pregnant with Kitty. Usa (Marasri Bangchang) is Urai's mother. Bai is named as ผีทะเล. Kitty is always upset with Yen. The father finally dies and the testament is opened. It is a shock for the family to learn that no money is given to Kitty if he doesn't marry Yen and have a child with her! The mother and Urai are upset. The mother prepares the wedding of Yen and Kitty to follow the testament. But it is a forged plan. They drunk Bai so that Bai enters in Yen's bedroom at nighttime. Yen becomes pregnant. Kitty goes to live with Urai in Bangkok. A child is born from Yen. The mother names it as Ying Yong and takes it to Bangkok to raise it. Meanwhile on countryside, some ruffians shot a couple and a baby is left behind. Yen decides to adopt and raise the baby. Many years have passed. Kittikorn, son of Urai and Kitty, tries to seduce Dao (Sopha Sataporn), Yong Yot's daughter. Ying Yong (also played by Mitr Chaibancha) is younger brother (น้อง) of Kittikorn. Kittikorn is insolent (ทะลึ่ง) and lazy. The daughter of Yen, called Srai Gnam (รักชนก จินดาวรรณ), is now a doctor. The man who killed the two parents many years ago is now released from jail. His son is Thep (Choomporn Theppitak). He spent 20 years in jail. He wishes to get revenge over Yong Yot who sent him to jail. Dao sees that Srai Gnam is wearing same pendant as her. Ying Yong and Dao are close together so Kittikorn realises he has no chance with Dao so his parents think about Srai Gnam who is a doctor. Thep befriends with Kittikorn. Ying Yong meets Bai but doesn't realize Bai is his father. Kitty wishes his son Kittikorn to marry the daughter of Yen. Yen refuses. Kitty loses his nerves so hits both Yen and Ngam Sai. Before Ying Yong can do anything, Bai intervenes and punches violently Kitty. Kitty becomes half paralyzed due his fall. Ngam Sai as doctor treats him. Ying Yong realises the kindness of Ngam Sai. The grandmother now wants to have Ying Yong to marry Ngam Sai. Urai cannot support this and tells the truth about Ying Yong to her son Kittikorn. She then quits Kitty and goes back to Bangkok. With the help of Kittikorn and Thep, the ruffians wish to storm Thorasok domain and gets the 200 000 baht stored there. Kittikorn wants them to kill Ying Yong also. Kittkorn hits Dao (หลานสาว Yong Yot) and kidnaps her. Meanwhile ruffians attack the house at nighttime (ถูกปล้น). Bai is killed by Kittikorn (ชาติชั่ว). Kitty is shot during the fighting and discloses the truth to Ying Yong before dying. Ngam Sai is identified as second daughter of Yong Yot. As it turns badly, Kittikorn escapes and wishes to flee with Dao. Dao shots Kittikorn and becomes crazy. Peace can finally happens in Srai Sok domain. Some mute sequences lasting 16 minutes haven't been released on the DVD. Maybe because the dubbing was missing for those parts? Maybe the VCD and DVD versions had to last the same time? Those sequences show the baby found by Adinan, Kitty having heated discussion with his mother and Adinan, Yen treated as a domestic helper by Kitty and Urai, Bai carrying big jar, Urai and Kitty showing their son to the mother, Kitty and her mother in front of the father's corpse, Kittikorn punching Ying Yong.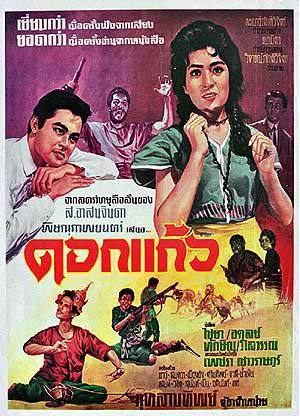 Year

: 1962



Thai title

:

ดอกแก้ว




English title

:



Rating

: 3/5


Director

: Neramit



Main actor

: Adul Dulyarat,Chaiya Suriyun,Adinan Singhiran,Taksin Jampol,Chao Klaewklong,Somkuan Krajangsat


Main actress

: Petchara Chaowarat,Wilaiwan Watthanaphanit,Sarinthip Siriwan,Namgneun Boonnak
Thai movie ดอกแก้ว was released in year 1962. It features Petchara Chaowarat as main actress and Adul Dulyarat / Chaiya Suriyun as main actors. The movie was produced by กุหลาบทิพย์ ภาพยนตร์ (Celestial Rose Movies). The movie is lost in Thailand but a sequence of twelve minutes is left to be seen. Other actors and actresses are Chao Klaewklong , วิชิต ไวงาน, เมืองเริง ปัทมินทร์. A man (Somkuan Krajangsat) is found dead. He has been shot by a ruffian. Adinan tries to protect him but he is also shot. It looks like there is a testament left behind. Next sequence shows Wilaiwan Watthanaphanit and Adinan Singhiran, who is injured. Wilaiwan is holding a baby. Adinan dies so Wilaiwan flees with the baby but meets robbers. Shootings happens with the Police. The robbers' leader protects Wilaiwan. Next sequence shows Taksin Jampol and Petchara as mountain people. Maybe Petchara was the baby seen in the earlier part of the movie. While going to the city, Taksin and Petchara give a hand to Adul being aggressed by ruffians. Next sequence shows Chaiya and Sarinthip Siriwan. It looks like Adul and Chaiya are brothers. Petchara is now living in a nice house and wears beautiful clothes. Taksin is upset that Chaiya and Petchara are friends. Chaiya helps Petchara aggressed while taking care of a baby. Petchara uses a gun to protect Taksin also being threatened by a ruffian. A remake of ดอกแก้ว was released in year 1981 and featured Sorapong Chatree. At that time Dok Kaew was a famous movie and was projected as same time บันทึกรักพิมพ์ฉวี. Having two famous actors such as Mitr and Chaiya helped to boost Petchara's career.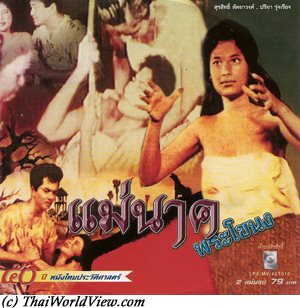 Year

: 1959



Thai title

:

แม่นาคพระโขนง




English title

:



Rating

: 3/5


Director

:



Main actor

: Lor Tok,Surasit Sattayawong,Kokheng


Main actress

: Preeya Roongrueng,Namgneun Boonnak



Buy now

:

Every man in the village loves a young lady called Nak. Young men Mak, Tit Man and the local subdistrict headman's son are part of the suitors but Nak loves Mak. Tit Man tries to forget his discomfiture with another lady called Lamchoon but to no avail so he leaves the village. During a temple festival (งานวัด), where Nak was making merit (ทำบุญ), the local subdistrict headman's son (ลูกกำนันเศรษฐี) fights over Nak with Mak. It turns to be a general fight. Mak promises to marry Nak. On the following day a wedding procession takes place. Similar to movie "The old scar" (แผลเก่า), this 1959 version highlights the rural life with fishing in rice fields and buffaloes. The main actor is the strong and muscular สุรสิทธิ์ สัตยวงษ์. When Nak is pregnant (แผลท้อง), Mak is so happy. But he does receive a letter as he has been selected by lottery to be a soldier in Bangkok. Pa is staying with Nak. The local subdistrict headman's son tries his chance again while Mak is away but Tit Man, going back from Bangkok, helps Nak to chase him. In Bangkok, a woman Chomanak tries to seduce Mak but he is faithful to Nak. Nak dies while giving birth. In this "Mae Nak" 1959 version, the part when Nak is still human is much longer (49 mn) than other "Mae Nak" movies focusing on the ghostly part. During funerals, strong wind and dog howlings happen. People are afraid of ghosts. A local master (อาจารย์) called Thong wishes to make magic filters (ยาเสน่ห์) with Nak's corpse oil (น้ำมันพราย) as it has strong power but he gets strangled while trying to get oil by putting a candle under Nak's chin. Nak is back home waiting for Mak. Nak is now a Phi Tai Hong Klom (ผีตายโหงทองกลม), powerful spirit as it is includes the spirit of unborn baby. The local subdistrict headman's son tries his chance again but this time he loses life. Lor Tok plays a dishonest sorcerer master again asking his acolytes to wear fake ghosts clothes but of course real Mae Nak ghost is coming and all flee. Mak is back home. While preparing food for Mak, a lemon falls on below floor. Mak sees Nak's arm streching out to get the lemon. His child has a demon face. The food is only made of salted fish (ปลาร้า). As he just drank alcohol, he believes his vision is altered. During night time, Nak takes appereance of an ugly ghost again. Mak flees to Tit Man's house. Tit Man confirms that Nak is now a ghost (วิญญาณแรง). Nak is unhappy with Mak's friends as she sees them as a hindrance to her love. A new master helps to neutralize Nak. She refuses to die and birth again (วิญญาณเกิดใหม่) because she loves Mak so much. Love is not possible between ghost and human. In this Mae Nak version, the master succeeds to neutralize Mae Nak and have her spirit emprisonned in an earthen jar closed by a sacred cloth. In other versions, only a Buddhist monk can stop Mae Nak as masters are always useless charlatans. Mae Nak Prakanong (1959) starred sexy actress Preeya Rungruang, while the more recent Nang Nak (1999) featured the actress Intira Jaroenpura, thus shifting the image of female ghosts to a more realistic and humanistic one. It is a typical 1960s movie with dog howling, sorcerer (หมอผี) used, rural background. The picture is decolored and as it is a former 16mm movie, it features a dubbed soundtrack. Mae Nak movie first version was played during Preeya Roongrueng's funerals as an ultimate homage.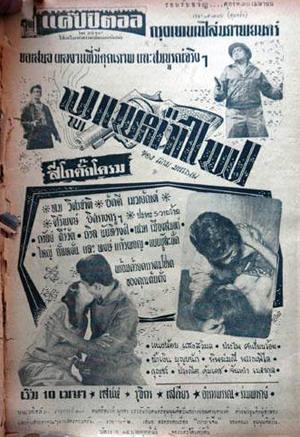 Year

: 1959



Thai title

:

งูเห่าไฟ




English title

:



Rating

: 3/5


Director

:



Main actor

: Tawan Siriwat,Siripong Isarangkul


Main actress

: Namgneun Boonnak
Thai movie งูเห่าไฟ was released in year 1959. It features ทม-แน่งน้อย as main actor and main actress. The movie is lost in Thailand but a damaged sequence of four minutes remains to be seen. Other actors include Tawan Siriwat, Namgneun Boonnak, ทม วิศวชาติ, อัคคี เมฆยัณห์, ถวิล นันทิวงศ์, เสมา เมืองสมุทร. The left sequences include action parts such as fist fighting and gun fights.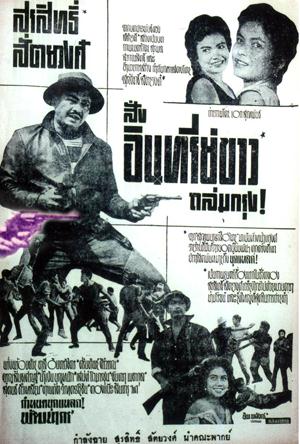 Year

: 1958



Thai title

:

สั่งอินทรีย์ขาวถล่มกรุง




English title

:



Rating

: 3/5


Director

: Surasit Sattayawong



Main actor

: Surasit Sattayawong,Sukon Koewliam,Settha Sirachaya


Main actress

: Sarinthip Siriwan,Namgneun Boonnak
Thai movie สั่งอินทรีย์ขาวถล่มกรุง was released in year 1958. It features Surasit Sattayawong as main actor. The movie is lost in Thailand but a sequence of 22 minutes is left to be seen. The movie was earlier called อินทรีย์ขาว and then renamed before the launch as สั่งอินทรีย์ขาวถล่มกรุง. But name อินทรีย์ขาว still appears in the title credits! For the screenings in Bangkok, Surasit and the team of actors did the dubbing by themselves! It was the first movie as producer for Surasit Sattayawong. Surasit was also the director of this movie. Other actors include Sarinthip Siriwan, Namgneun Boonnak, ชาลี อินทรวิจิตร, จรูญ สินธุเศรษฐ์, เสน่ห์ โกมารชุน, จันทรา เมธากุล, Sukon Koewliam, ทานฑัต วิภาตะโยธิน, ทองแป๊ะ สินจารุ. Surasit is working in a outdoor mine. A woman claiming to love Surasit also has a love affair with the mine's owner. Surasit discovers the truth. Surprising both together, he shoots his wife and the lover. Later on, a big brawl happens in a village. Surasit is now a rickshaw driver. A big street fighting erupts between two groups. After the fighting, a discussion happens in a room. While carrying rice, Surasit has arguments with others workers who makes fun of him. Another general brawl happens. There is a sequence where a child is talking to a fat guy. It looks like it is Settha Sirachaya (เศรษฐา ศิระฉายา) when he was 14 years old.
---