Increase or decrease font size for easier reading : A+ A-
Naiyana Shewanan
Naiyana Shewanan (1955) - นัยนา ชีวานันท์
Naiyana Shewanan's first movie was Out of the Darkness (มันมากับความมืด) by ChatriChalerm Yukol
This Naiyana Shewanan movie page contains 32 records.
---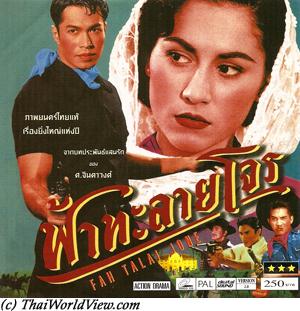 Year

: 2000



Thai title

:

ฟ้าทะลายโจร




English title

: Tears of the Black Tiger



Rating

: 4/5


Director

: Wisit Sasanatieng



Main actor

: Sombat Methanee


Main actress

: Naiyana Shewanan



Buy now

:

It is based on "Romeo and Juliette" scenario. Thai cowboys gang are confronting each other and one cowboy loves the daughter of the opposite gang. It is a rollicking technicolour melodrama, a loving homage to the lost Thai films of the 1960s. This movie was awarded the first prize of the 8th annual Dragons and Tigers Award for Young Cinema in Vancouver. It is Wisit Sasanatieng's first movie. The movie costs 20 millions Baht as it has to be digitalised to add the old style color aspect.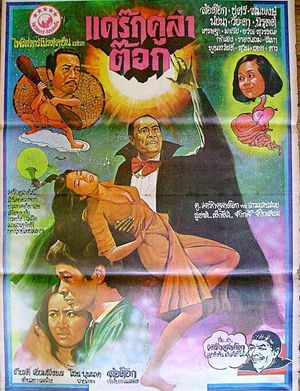 Year

: 1979



Thai title

:

แดร็กคูล่าต๊อก




English title

:



Rating

: 3/5


Director

: Lor Tok



Main actor

: Nirut Sirijanya,Sawin Sawangrat,Settha Sirachaya,Lor Tok,Sithao Petcharoen,Sompong Phonmitr,Kokheng


Main actress

: Naiyana Shewanan,Wiyada Umarin
Klom (Nirut Sirijanya) and Sae (Naiyana Shewanan) love each other. They wish to die together as their love story is impossible as Klom is poor and Sae's father wants her to marry kamnan Oi's son. Oi (Sawin Sawangrat) is an influential local ruffian. The son CheunKlan is played by veteran actor Settha Sirachaya. Some local ghosts (ผีกระสือ and ผีกระหัง) wish to help them as there are already enough spirits in the graveyard (ป่าช้า)! The male spirit helps Klom to give a lesson to CheunKlan and his sbires (มือปืน). The spirits have invited Dracula (ผีฝรั่ง) for a meeting in Thailand to discuss about issues they are facing (overpopulation in cemetery, people doing less donations to spirits...). The two fathers want CheunKlan and Sae (ลูกไม่รักดี) to get engaged. Dracula (Lor Tok) wants to discover Thailand (spicy food and disco). Dracula meets Oum (Wiyada Umarin), a young lady just dropped by her boyfriend. Sae simulates to be possessed (ผีเข้า) but both fathers hire a spirit doctor (หมอผี) to chase the spirit. Sae finally passed away (สิ้นใจ). To help Klom, the two ghosts prepare a plan, one is going to see the hell guardian (Sithao Petcharoen) to ask for clemency and one is possessing the body to prevent decay (เน่าเปื่อย). Klom visits hell to find Sae. He sees some people tortured as they did behave badly in their previous life (member of Parliament having lied and having made false promises...). Corruption is present in hell also! Finally Klong finds Sae in the heaven and get authorization to bring her spirit (วิญญาณ) back to earth. Meanwhile Dracula falls in love with Oum but later on kidnaps also Sae who is back from heaven. This comedy movie starts with a funny idea, sarcastic comments on Thai society but ends up crazily (บ้าบอ) with the real movie director complaining on Lor Tok acting as Dracula. Finally all flee in front of a real ghost. Veteran actor Sithao Petcharoen got a Thai cinema award for his comic role as hell guardian. A second part called หักเหลี่ยมแดร๊กคูล่า was released 7 years later in 1986.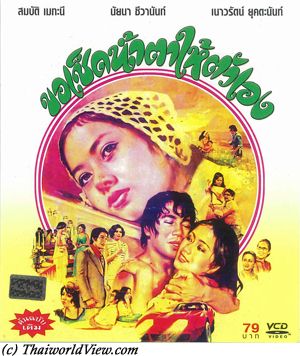 Year

: 1978



Thai title

:

ขอเช็ดน้ำตาให้ตัวเอง




English title

:



Rating

: 3/5


Director

:



Main actor

: Sombat Methanee,Sawin Sawangrat,Chana Sriubon


Main actress

: Naowarat Yooktanun,Naiyana Shewanan,Tharika Thidathip
Daen Chai is a young teen happing problems with her stepfather and his son. She decides to flee home but always thinks about her mother left alone with her bad stepfather. She gets shelter in Pa and Lung's home who have pity on her. They treat her in a similar way as their own daughter. But one day, Lung declares his love for Daen Chai and forces to have private relationship with him in exchange of a promise to send her to study in Japan. Daen Chai accepts as she wishes to be able to help her mother when she gets a job but she is fed up with men behavior. Back from Japan, she finds a job in a fashion design house. The boss, Phong, surprised by her strong character, asks her for marriage. They are happy together but Phong's sister wishes to break their love by introducing Miss Pree to Phong. Miss Pree succeeds to seduce Phong. Daen Chai blames Phong of having a mistress or เมียน้อย. Phong and Daen Chai finally divorce but Daen Chai is still in Phong's heart despite he has to marry Miss Pree. Fate is against Miss Pree that discovers she has a terminal cancer...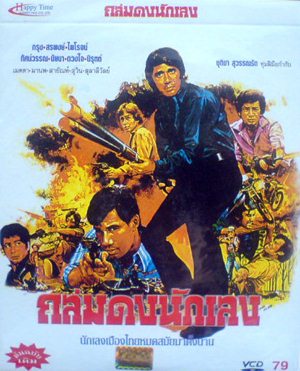 Year

: 1978



Thai title

:

ถล่มดงนักเลง




English title

:



Rating

: 4/5


Director

:



Main actor

: Sorapong Chatree,Krung Srivilai,Phairoj Jaising,Nirut Sirijanya,Manop Aussawathep,Sayan Chantaraviboon,Sawin Sawangrat


Main actress

: Naiyana Shewanan,Metta Roongrat,Tasawan Saneewong,Duangjai Hathaikarn,Sulaleewan Suwanthat



Buy now

:

Thai movie ถล่มดงนักเลง was released in 1978 and lasts 1h53mn. The movie was released under VCD format by Happy Time Marketing company. Movie director is ชุติมา สุวรรณรัต. It is a typical Thai movie from decade 1970s and featuring two top action movies actors, i.e. Sorapong Chatree and Krung Srivilai. Jane (Metta Roongrat), as countryside bus ticket receiver, has issues with four ruffians including Plaew (Manop Aussawathep) and Sayan Chantaraviboon. Ruffians complain that driver Kate (Tasawan Saneewong) is driving too fast on bad countryside roads. Kate chases them away by threatening them with a rifle. Village leader (Sawin Sawangrat) is concerned that Plaew is back after a few years in prison. Nit is the village leader's daughter (Naiyana Shewanan) (หลานสาวคนสวย). Nit warns Krieng (Sorapong Chatree), her fiance, that ruffians are back to the village. Sa (Nirut Sirijanya), a gay character, is harassed by those four ruffians and beaten severely. Reudi (Duangjai Hathaikarn) is nurse for the village and is taking care of Sa. Mun (Krung Srivilai), selling buffalos and managing a herd, is stopping in the village to buy food for his team. Mun is also beaten by the ruffians and is saved by Nit. Mun promises to come back and gets revenge. Thong Chai (Phairoj Jaising) is arriving in the village. Ruffians prepare to steal the buffalo herd to make easy money. Thong Chai is a undercover policeman. Krieng (คู่รัก) is also arriving in the village following letter sent by Nit. Other ruffians also arrive to work for Plaew. The buffalo herd guardians are attacked. All are killed except Mun being injured. Plaew is jealous to see Nit and Krieng together. He asks for a fight one to one with Krieng but gets defeated. Phairoj wishes to catch the big boss, i.e. Seua Klaew, so he needs to collect more evidences. Meanwhile Plaew's team continues to harass villagers. Mun, staying in the village to get revenge, has a fight with Plaew also. Four men and four ladies have romance, i.e. Krieng (Sorapong Chatree) - Nit (Naiyana Shewanan), Sa (Nirut Sirijanya) - Reudi (Duangjai Hathaikarn), Mun (Krung Srivilai) - Kate (Tasawan Saneewong), Thong Chai (Phairoj Jaising) - Jane (Metta Roongrat). Aunt Sulaleewan Suwanthat is found hanged as she refuses to sell rice noodles to the ruffians. Ruffians try to storm Mun's house but they fail. Plaew uses ruffians from other provinces to avoid being involved. Plaew sends bikers to storm the market. The bikers are pushed back but Sawin dies during the fightings. Plaew is fed up to lose so he decides to act under his real name, i.e. Seua Klaew! Ruffians kidnap the four ladies. It turns badly and Jane is shot. Sayan Chantaraviboon is injured by Jane before being shot. Worried to die, Sayan lets Nit and Kate to search for a doctor for him. The four friends storm the ruffians' den. Heavy shooting shootings occur. Police arrives also. Plaew, upset that Sayan let two ladies to flee, shoots Sayan and the nurse Reudi. All ruffians are killed. Sa carries the nurse body.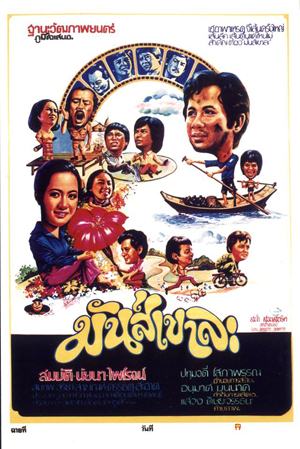 Year

: 1978



Thai title

:

มันส์เขาล่ะ




English title

:



Rating

: 3/5


Director

:



Main actor

: Sombat Methanee,Prachuap Ruekyamdee,Lor Tok,Tawan Siriwat,Suriya Chinaphan,Phairoj Jaising,Sayan Chantaraviboon,Rong Kaomulkadee,Thep Thienchai,Somphob Benjatikul,Boo Wibunnan,Kanchit Kwanpracha,Sahat Piempongsan,Thuam Thoranong


Main actress

: Naiyana Shewanan,Chosri Misommon,Nipaporn Nongnuch,Tharika Thidathip
Thai comedy movie มันส์เขาล่ะ was released in year 1978. The movie is lost in Thailand but a sequence of 1h03mn is left to be seen. Subdistrict headman (กำนัน) Lor Tok wishes to produce a movie with his daughters and his wife playing as actresses. His wife is played by Chosri Misommon. His daughters include Wassana (Naiyana Shewanan) and Nipaporn Nongnuch. Tawan Siriwat seems to oppose the Subdistrict headman's decision. A photo studio is managed by Prachuap Ruekyamdee and his two friends, i.e. Sayan Chantaraviboon and Rong Kaomulkadee. Prachuap and his friends convince Lor Tok to manage the movie for him. They are now looking for a main actor (พระเอก) for their movie but Fui (Sombat Methanee) is finally hired by mistake. Fui's close friend is Thep Thienchai. Lor Tok is the movie producer so they use the money to buy a mercedes! He wishes his family to play in the movie. Somphob Benjatikul is his assistant. Fui and Wassana like each other. Boo Wibunnan is hired as movie director. They are also looking for somebody to write the story. Tawan brings them to meet Mui (Kanchit Kwanpracha) as they are looking for a ruffian (นักเลง). A ceremony for the movie launch (เลี้ยงใหญ่โต๊ะ) is organized. Fui has to sing and does it well (it is Sombat Methanee's real voice). Thuam Thoranong as comic actor is also present. Sahat Piempongsan is used as decorator. Lor Tok always needs to protect his daughters against the young men trying to seduce them. Multiple gags happen during the shooting as Lor Tok doesn't accept any kiss to his daughters. Phairoj Jaising is involved as actor also and a few ดาวยั่ว are joining (Tharika Thidathip). The movie shooting is a disaster. Kamnan Lor Tok is back to his village and is welcomed by Tawan Siriwat and Suriya Chinaphan singing an ironic son and teasing the Subdistrict headman. This comedy is featuring many famous comic actors from 1970s and more than 18 Thai famous actors / actresses.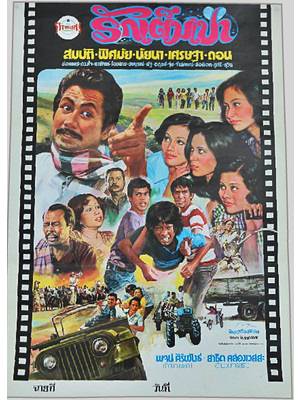 Year

: 1978



Thai title

:

รักเต็มเปา




English title

:



Rating

: 3/5


Director

:



Main actor

: Sombat Methanee,Sayan Chantaraviboon,Settha Sirachaya,Sawin Sawangrat,Lor Tok


Main actress

: Naiyana Shewanan,Pissamai Wilaisak,Chosri Misommon
Thai movie รักเต็มเปา was released in year 1978. It is lost but a sequence of 1h26mn remains to be seen. This movie mixes songs, comedy and romance. Sayan Chantaraviboon, Toei (Settha Sirachaya) and two friends are singing during a Buffalo racing festival to attract interest from Naiyana Shewanan and other beautiful young ladies. They are in conflict with another group of men but Sawin Sawangrat, local subdistrict headman (กำนัน), and To (Sombat Methanee), local village headman, calm them down. Sayan loses and buffaloes run over him. He ends up at a local clinic where a beautiful nurse called Oon takes care of him. To, his father, is upset that his son, Sayan, lost. Pissamai Wilaisak, the head of the clinic, asks him to make less noise. Toei has interest in Naiyana, daughter of Kamnan Sawin, but he is afraid of the father. To promises to help Toei and to visit the subdistrict headman. Chosri Misommon is the wife of Kamnan Sawin. A triple romance is happening. To is from lineage Bai Toei (ตระกูล) so he wants to organize a big procession (ขบวนขันหมาก). Unfortunately Chosri has hearing problems so To and Chosri misunderstood each other. So it ends up in a funny food fighting between the two families as the subdistrict headman refuses the wedding as he has not been informed before. Toei asks help from Lor Tok (นักเลงเก่า) but it turns to a disaster again two times! Sayan leaves the clinic as he was simulating being sick in order to be near Oon. Seeing that love stories are not successful, To has the idea to kidnap the ladies. Sayan messes up and Pissamai is kidnapped instead of Oon. To claims to be สุภาพบุรุษ Bai Toei or ผู้ยิ่งใหญ่ Bai Toei! Meanwhile subdistrict headman Sawin organises a hunt to find the ladies. After seeing To driving a car with the ladies inside, subdistrict headman Sawin shots him but the ladies prevent Sawin and his men to kill them. Pissamai takes care of To. As a wedding is going to happen, some members of the opposite family kidnapped Naiyana, so Sombat and Pissamai follow them and finally they succeed to release Naiyana.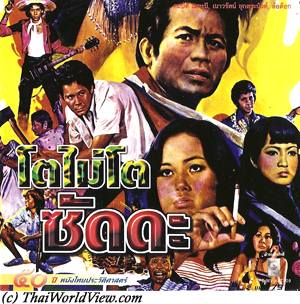 Year

: 1978



Thai title

:

โตไม่โตซัดดะ




English title

:



Rating

: 4/5


Director

:



Main actor

: Sombat Methanee,Lor Tok,Pinyo Parnnui


Main actress

: Naowarat Yooktanun,Naiyana Shewanan,Metta Roongrat
Ananda, high society lady, is pregnant. She has to give away her child to save appearances. Twenty years passed. Ananda is still thinking about her lost child. Ananda is the elder (พีใหญ่) and has two brothers Klang (พีกลาง) and Lek (พีเล็ก). She is married to a man called Boon and they have a daughter called Phiu. Klang (Sombat Methanee) refuses a wedding with Phiu as they are like brother and sister (ญาติ). Klang is fiance to a singer called ReudeeWan (Naowarat Yooktanun). Klang is ashamed that ReudeeWan is a singer but she wants to keep her freedom. Tia (Naiyana Shewanan) is a young girl living in a poor family. Her brother is called To. He is deformed like Quasimodo. They are selling food by using a mobile cart. Drugged people kill Tia and To's mother to get money to buy narcotics. One day accidentally Klang destroys Tia's cart and asks her to work as domestic helper with her brother when he learns about her mother's tragic death. One evening Lek is drunk and Phiu takes benefit of it to secure her future. ReudeeWan fights with Tia as ReudeeWan sees Tia as a rival. Tia uses sharp tongue with Phiu, ReudeeWan and Ananda. Tia has feelings for Klang. Boon always plays cards and loses. One day Boon is drunk and tries to abuse Tia. As he is the master (เจ้านาย), he believes he can have right over Tia (ดูถูกคนใช้) and treats her as a prostitute. To protects his sister, To hits Boon. Tia slaps Ananda as this latter despises her. Tia and To leave the home as there are not happy (ไม่สบายใจ) here. Tia finds a new job as beautician. To becomes a thief! 200 000 baht are stolen by ruffians. To is captured but is released as he helps the Police to get back the money. The head of the ruffians is Boon! Tia is working in a beauty shop (ผู้เสริมสวย). Ruffians kidnap her as Boon wants Tia to be his wife (เมีย). She succeeds to flee and threatens to fill a complaint (แจ้งความ). Following Klang's request, To and Tia are back to his home. Later To is shot by gun. Ananda is selfish (ใจร้าย) as she refuses to stain her car with To's bleeding body. In fact To is Ananda's lost child. To is safe (ปลอดภัย). Still looking for revenge, Boon orders to kill Ananda but To sacrifices his life to save her. To asks Ananda to take care of Tia (ฝาก). Boon gets shot by his own ruffians. This movie highlights that perceptions can be wrong. Poor people can be good also and high society people (ผู้ดี) can be bad also. This two hours movie features nice 1970s songs.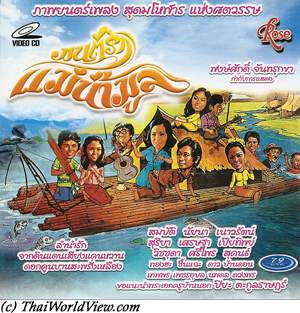 Year

: 1977



Thai title

:

มนต์รักแม่น้ำมูล




English title

:



Rating

: 3/5


Director

:



Main actor

: Sombat Methanee,Sukon Koewliam,Settha Sirachaya,Suriya Chinaphan,Piya Trakulrard,Noppadol Duangporn


Main actress

: Naowarat Yooktanun,Piathip Kumwong,Naiyana Shewanan
This folk-music movie is similar to "mon rak luuk thung". It features folk or "LUUK THUNG" songs. It is about love stories between villagers from Ubon, i.e. a teacher and his fiancee staying in Bangkok, a farmer wishing to be a singer and his fiancee, a school director and a nurse.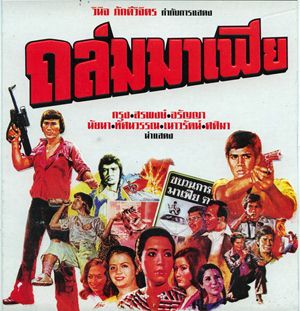 Year

: 1977



Thai title

:

ถล่มมาเฟีย




English title

: Mafia defeated



Rating

: 4/5


Director

: วินิจ ภักดีวิจิตร



Main actor

: Paen Pleumsachai,Pipop Pupinyo,Krung Srivilai,Lor Tok,Sayan Chantaraviboon,Chat Mongkolchai,Somchai Samipak,Sorapong Chatree,Sukon Koewliam,Nirut Sirijanya,Lak Apichat,Manop Aussawathep,Kecha Plianvithee,Boo Wibunnan,Kanchit Kwanpracha,Adul Dulyarat,Man Teeraphol


Main actress

: Naiyana Shewanan,Chosri Misommon,Tasawan Saneewong,Aranya Namwong,Naowarat Yooktanun,Sasima Singsiri
Thai movie ถล่มมาเฟีย (Mafia defeated) was released in year 1977 and lasts 1h54mn. It was released under VCD format by company XxX (Triple X). One song is featured. Movie director is วินิจ ภักดีวิจิตร. Thai actors and actresses featured in this movie are Paen Pleumsachai, Pipop Pupinyo, Krung Srivilai, Lor Tok, Sayan Chantaraviboon, Chat Mongkolchai, Naiyana Shewanan, Somchai Samipak, Sorapong Chatree, Chosri Misommon, Sukon Koewliam, Tasawan Saneewong, Nirut Sirijanya, Lak Apichat, Manop Aussawathep, Kecha Plianvithee, Aranya Namwong, Naowarat Yooktanun, Boo Wibunnan, Kanchit Kwanpracha, Adul Dulyarat, Sasima Singsiri, นรา นพนิรันดร์, Man Teeraphol, ชินดิษฐ์ บุนนาค, เมือง อพอลโล, จวบ, โจ๊ก, สุเทพ เหมือนประสิทธิเวช. This movie includes an impressive number of 30 Thai stars from decade 1970s. Sorapong Chatree, Nirut Sirijanya, Lak Apichat play bad guys in this movie. Normally they always play on the good guys side. Five ruffians including Paen Pleumsachai and Pipop Pupinyo are waiting (มาไม่ดี) for Yot Baramee from Suphanburi. Yot (Krung Srivilai) was just released from prison. Ruffians accuse him of murder but get defeated by Yot. Yot's friends are Lor Tok, Dip (Sayan Chantaraviboon), Han (Chat Mongkolchai) and Baan Yen (Naiyana Shewanan). Krieng (Man Teeraphol) accuses Yot to have killed his father. To avoid causing more issues in the village, Yot leaves for Bangkok with Dip and Lor Tok. Kamnan Somchai (Somchai Samipak) has three children, Mike (Sorapong Chatree), Baan Yen and Yot, being an adopted child. Somchai recommends Yot to contact Mike in Bangkok. Chosri Misommon is playing a crazy secretary, working in company Mike Engineering. Yot, Ding and Lor Tok are looking for job in Bangkok. Mike is not so willing to help as he has only low skills jobs to offer. Songtaew driver (Sukon Koewliam) and receiver (Tasawan Saneewong) have issues with ruffians asking for protection fee. Yot and Dip help and fighting with ruffians occurs. Thai mafia is very powerful and has strong influence. Yot is upset with Thai mafia and would like to stop them. Saem (Nirut Sirijanya) and Lak Apichat, mafia members, visit bars to get money donations (ทำบุญ). Saem and Lak threaten bar owner Chindit (ชินดิษฐ์ บุนนาค) so they have arguments with Yot and Dip, having a drink there and always wishing to help. Policeman Samit (Manop Aussawathep) arrests them. Chindit helps to release them from jail. Sompong (Kecha Plianvithee) is having Watanee (Aranya Namwong) as new girlfriend. His daughter Busalin is back from studying in USA. Busalin (Naowarat Yooktanun) is welcomed in Bangkok by Mike. Saem and Lak try to shoot Yot and Dip, but they succeed to flee thanks to Watanee's car passing by. Mike is part of mafia team working for Sompong. Mike orders Chindit's bar to be closed seven days but Yot and Dip interfere again. Satra (Kanchit Kwanpracha), part of mafia team, asks to kill Yot. Sompong threatens to kill Yot's friends if he refuses to work for him. Satra accuses Mike. Baan Yen is captured by ruffians, who kill her father Somchai and Han. Yot is accused of the murders. Mafia Italy Don Vito (สุเทพ เหมือนประสิทธิเวช) is visiting Thai mafia to show unification. Learning his father's death, Mike tries to shoot Yot despite they are brothers (น้องชาย). Han is not dead and discloses that Krieng is responsible of the murders. The one behind is Satra pushing Mike and Yot against each other. Baan Yen understands the truth. Surapong (Adul Dulyarat), head of police, and his team storm the mafia's den. Yot and his friends are leading. Busalin understands that his father and his ruffians are betraying Thailand (ทำร้ายชาติ). The movie ends up in multiple shootings with Mike and Satra shooting each other, Yot shooting Sompong. Mafia is defeated.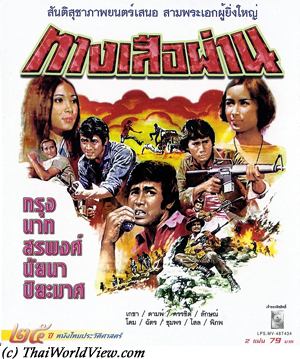 Year

: 1977



Thai title

:

ทางเสือผ่าน




English title

:



Rating

: 3/5


Director

: Choomporn Theppitak



Main actor

: Krung Srivilai,Nard Poowanai,Sorapong Chatree,Pipop Pupinyo,Lak Apichat,Dam Datsakorn,Kecha Plianvithee,Chat Mongkolchai,Kanchit Kwanpracha,Choomporn Theppitak


Main actress

: Piyamas Monayakol,Naiyana Shewanan
Krieng (เกรียง - Krung Srivilai) and Krai (ไกร - Sorapong Chatree) are brothers. They have a sister called Kaew. The third brother is away. They are part of a poor family and their father is sick. Ruffians are terrorising the local villagers (ปล้อนบ้าน). Krieng and Krai want to report a killing (แจ้งความ) to the village headman but he is out of town. The village headman has two children, Sarapee and her brother Han (หาญ - Dam Datsakorn). Han uses a lot of bad influence (อิทธิพล) and is always accompanied by ruffians. Han is committing extortion under the name of Seua Hin (เสืออินทร์). Sarapee is Krieng's love. Some villagers refuse to sell their land to Boonthong (บุญทอง), a local rich businessman. Boonthong is using Han to push them. He has a beautiful daughter called Angkap (อังกาบ - Piyamas Monayakol). Angkap is Krai's love (นางฟ้ามาแล้ว). Han doesn't appreciate his sister to go out with Krieng so this one is beaten by ruffians. Han also loves Angkap. Han is collaborating with Boonthong. Angkap is promised by her father to Han. The third son, Kan (กาญจน์), played by Nard Poowanai, is back. While Krieng and Krai are working in the fields, Kaew and the father are killed. The three brothers are looking for revenge. The village headman is not aware that his son is smuggling with Boonthong. Ket (เกตุ – Lak Apichat) is one of Han's ruffians but he has a nice heart and always warns Angkap if something fishy is under preparation. Han is always looking for arguments with Krieng even during a temple fair. Han uses Ket to shoot Krai in the back while performing Thai folk dance (รำวง) as he is jealous of his relation with Angkap. Ket is playing double game as a fake bullet is used to shoot Krai. Ket warns Angkap that Han plans a night attack to get rid of Krai. Warned by Angkap, the three brothers prepare a surprise for Han and his ruffians. The ruffians fall in a trap and only Han and a few guys escape death. Han takes revenge over Ket by raping and killing his wife. Ket recognizes that Han's missing short button is the one he found near his wife's dead body. Following fist fights and car motorbike chase between Ket and Han, Han finally succeeds to flee. Han kills Boonthong to get his money and recruits more mercenaries. The three brothers and Ket are ready to fight back but they need to face 50 ruffians having M16 guns. Police lead by Mot is coming to help. Ruffians take Sarapee as hostage. A final face to face between the father and Han, the ruffian son, happens. Following a misunderstanding the village headman shoots his own son. Ket also dies. It is moralist ending. Ket is an unknown hero and law remains stronger than filial bonds. It is a 2h03mn movie. This movie features the new 1970s generation of Thai leading actors, i.e. Krung, Sorapong, Nard (สามพระเอกผู้ยิ่งใหญ่).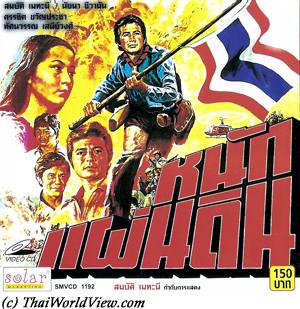 Year

: 1977



Thai title

:

หนักแผ่นดิน




English title

:



Rating

: 4/5


Director

: Sombat Methanee



Main actor

: Sombat Methanee,Prachuap Ruekyamdee,Kanchit Kwanpracha,Lak Apichat,Manop Aussawathep


Main actress

: Naiyana Shewanan,Tasawan Saneewong



Buy now

:

Ruffians attack a bus and put fire into it. Hopefully military can help on time but some passengers die. Who was behind the ruffians? A local villager Chat is having financial difficulties. Nemana and Data, owners of the local sawmills, lend money to poor people with high interest. Chat bought a truck. He is close friend with Tai (Sombat Methanee), who is a village scout (ลูกเสือชาวบ้าน). The Village scouts was a right-wing group sponsored by the King and Queen of Thailand to promote national unity in 1970s. Villagers are helping each other. Due to debts (หนี้) Chat needs to give his rice fresh crop to Nemana. Poor (จน) people just work for the rich! Nemana gives him back the truck against his wife's rice fields guarantee and allows him to cut trees in forest. He befriends with Prachan, who is Nemana's close associate. Despite Nemana's promise, some other ruffians try to catch Chat so he has to fight back for his life. As he shots two men, he has to flee to Bangkok. They lie to him as the ruffians are not dead. He is driving a taxi in Bangkok. He gets framed by Prachan who puts drugs in his car (เล่นละคร) in order to increase Chat's dependence to him as Chat needs to pay back his gratitude. He accepts to join their team. Nuan and Tai marry. Chat, due to easy money and lust, forgets his pregnant wife Bua (กรุงเทพสวรรค์คนมี นรกคนจน, คนลืมตัว). Back to the village Chat complains about the corruption of officials and how to benefit from it! Tai wishes to fight against this corruption that is bad for the country, fight against the bad parliament members. Tai and Chat disagree so fight (คนโทรยศแผ่นดิน). Nemana and Tai have a disagreement regarding rice selling. Tai pushes his democratic concept as villagers can sell to anybody (สหาย). It is democracy versus communism. Nemana proposes to share power and influence (แบ่งอำนาจ). As Tai refuses, they kidnap Nuan, his wife, who is teacher in order to force Tai to join them. Tai refuses their ultimatum and decides to act at nighttime. Faced to a Buddha statue, Tai prays in front of the Thai King and Queen pictures. Thai Buddhism, the monarchy and the nation were high symbols against Communism in 1970s. Patriotic songs are played in the background (รักชาติ). Tai has to use a floating wing similar to a hang-glider to enter silently their camp. He succeeds to release Nuan but they are captured while trying to escape from the camp. Chat's mother dies on a mine while trying to convince her son (คนขายชาติ) to release Tai. Through his treachery he loses his mother (สร้างกรรม). He changes side so frees Tai and Nuan. Chat dies while holding the Thai flag. Tai takes over the Thai flag. Meanwhile villagers holding Thai flags and singing patriotic songs go towards the camp. Thai army is joining them. The ruffians are defeated and some of them injured or killed. Through high compassion, soldiers give help and priority to treat them. Tai successfully removes the red (communist) flag and replaces it by the Thai flag generating cheers and dances. The song "Nak Phaendin" was released in 1975. It is was a patriotic song (เพลงปลุกใจ) against the communist influence (คอมมิวนิสต์). During 1975-1980 years, Thailand was surrounded by Communist countries (Laos, Cambodia, Vietnam) and was at high risk to fall also. This movie from an historical point of view shows nicely this trouble period and how the government propaganda was done.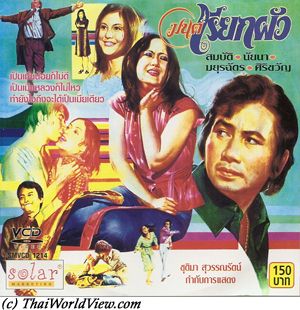 Year

: 1976



Thai title

:

มนต์เรียกผัว




English title

: The Spell



Rating

: 5/5


Director

:



Main actor

: Sombat Methanee,Prachuap Ruekyamdee,Somsak Chaisongkram,Somchai Samipak


Main actress

: Naiyana Shewanan,Mayurachath Muarnprasitivej,Sirikwan Nanthasiri,Sulaleewan Suwanthat,Phong Lada Pimolpan
Thai movie มนต์เรียกผัว was released in year 1976 and lasts 2h16mn. It is a Five Star Production and a remastered version was released in mid-decade 2010s. Previously it was released under VCD format by Solar company (2h12mn). Movie director is ชุติมา สุวรรณรัตน์. This is a romantic family drama movie putting focus on couple life. Plak (Mayurachath Muarnprasitivej) doesn't trust her husband Cheut (รักงาน) as he is working always late having meetings with Somchai Samipak and manager Sak (Prachuap Ruekyamdee). Ram (Somsak Chaisongkram) and aspiring model Rose (Sirikwan Nanthasiri) have a relation. Ram promises to visit her parents to officialise their relationship. Plak remains very upset as for his job, Cheut (Sombat Methanee) has to meet models. She believes he is having affairs, but she cannot catch him. It makes Cheut's life miserable and they often quarrel. Cheut is drunk one night and meets waitress Deuan (Naiyana Shewanan). On the following day, she is aggressed and raped by two ruffians. It is a strong scene and probably one of the first movies where the main actor is unable to help the main actress. Another movie was Thon (โทน) where Chaiya is unable to help Aranya on time. It was a new trend from 1970s movies being more realistic than previous decades. Deuan's mother is played by Sulaleewan Suwanthat. Plak's mother is played by Phong Lada Pimolpan. Rose is pregnant with Ram but he refuses to take responsibility of the baby (คนใจสัตว์) and hits her. He forces Rose to trick Cheut in order to accuse him about the pregnancy. Another day, the ruffians threaten Deuan again but Cheut and Prachuap are luckily there. They help Deuan and a fight occurs with ruffians. Cheut brings back Deuan home. Deuan's mother takes care of eight poor children and raises them so Deuan's work is important to have money for all expenses. There are children from poor prostitutes, who cannot raise them. Cheut finds a job for Deuan in Sak's company in order to work daytime instead of nightime. Plak brings trouble to Deuan so she wishes to change job. Cheut wants to have a child but Plak keeps eating birth control pills. Deuan continues to bring troubles at Cheut's office. He gets closer to Deuan as she has everything he wishes Plak had. By hazard, Plak is present in a shop where Sak buys dresses for Deuan on behalf of Cheut. Sak organises a meeting between the two ladies to ease the tension. Deuan acknowledges she loves Cheut but gets pity from him (ความสงสาร) and not real love (ความรัก). She doesn't wish to break his marriage and mentions that Plak is a bad wife not taking care properly of his husband. Plak wants to take revenge over Cheut and goes out with Ram. Ram brings Plak to a short time hotel. He tries to abuse her but hopefully Sak, passing by, helps her. The next day, Cheut gives a lesson to Ram in a bowling alley but Ram promises to get revenge. Deuan visits a doctor and finds she is pregnant with Cheut. She has a worrying heart disease. The doctor warns she could lose her life by giving birth. But she is willing to take the risk as she knows Cheut wishes a child and she wishes to thank him for all his kindness towards her family. Plak changes her behavior and tries to be a good wife caring about her husband. On the opposite side, Cheut becomes harsher. Plak feels that Cheut changed a lot and that his love has moved to another woman. Cheut comes back home very late even on her birthday. Plak is at hospital and Cheut takes care about Deuan being sick. Ram tricks Cheut by mentioning to Rose's brother that he is one who refused to take responsibility. Cheut is kidnapped while going to Deuan's home to bring her for child delivery. Meanwhile Plak prepares to leave home for UK knowing she has lost Cheut due to her continuous jealous behavior. As Cheut is still not coming to bring Deuan to hospital, Deuan calls his home and talks to Plak without being aware. Decided to do a last good thing for Cheut, she brings Deuan to hospital and then goes towards airport. Cheut gets beaten by Rose's brother but finally Rose confesses Ram is the father. General fighting occurs and Rose shoots Ram going to stab her brother. Cheut arrives at hospital before the delivery. Reading the letter that Plak left for him, he rushes to airport being puzzled by Deuan's sentence that it is probably the last time they meet. He brings back Plak to hospital mentioning that such hasty departure decision should be discussed with cold heart. A child is born but Deuan has died. Plak promises to take care of all children. This movie highlights the difficulties of life for main wife (เมียกลาง) and mistress (เมียน้อย), their place in society, the choice for the husband between two wives and the way some Thai men can abuse women in Thai society (Deuan feeling ashamed of having been raped and not going to police to fill a complaint, Ram refusing assuming Rose's pregnancy).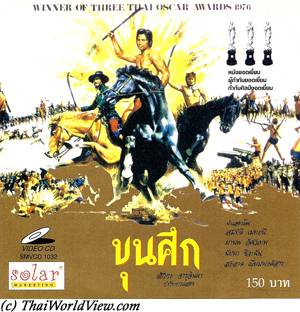 Year

: 1976



Thai title

:

ขุนศึก




English title

: The War Lord



Rating

: 4/5


Director

:



Main actor

: Sombat Methanee,Manop Aussawathep,Sahat Piempongsan


Main actress

: Naiyana Shewanan,Duangdao Jarujinda
It deals about the opposition between two men during Ayuthaya period. One is part of aristocracy, one is a commoner but both love the same woman. The commoner is forced to live in clandestinity. But thanks to courageous performances during war, he deserves respect and title. This movie has won Three Thai oscars. A remake was done in 2003.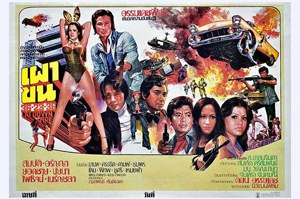 Year

: 1976



Thai title

:

เผาขน




English title

: Lay Down and Die



Rating

: 3/5


Director

: Kom Akadej



Main actor

: Sombat Methanee,Manop Aussawathep,Phairoj Jaising,Kanchit Kwanpracha,Yodchai MeksuwanBoo,Choomporn Theppitak,Dam Datsakorn,Boo Wibunnan,Kom Akadej,Pipop Pupinyo,Pan Borapet


Main actress

: Aranya Namwong,Naiyana Shewanan,Moeifa,Chosri Misommon,Neranchala Thaleungsak
Thai movie เผาขน was released in year 1976. The movie was never released on VCD or DVD in Thailand but a collector saved the film from 16mm format into VHS many years ago. The copy was not so good and was in red color as the film was already old. It lasts 1h44mn and is incomplete. The movie was also released in Italy under the name Lezi Puca Se (Lay Down and Die). It was also released by IFD Films and Arts, a Hong Kong company, under the name Bionic Heroes (1977) and lasts 1h25mn. The VHS rip is still colorful and sharp but the original Thai version has been reduced and cut to fit VHS standard format. Some sequences missing in the Thai remaining version are present in the international release. Enemies are trying to enter Thailand. At the border, Fon (Sombat Methanee) refuses to meet his younger sister Naiyana. He has to investigate who is providing weapons for Thai enemies. The enquiry leads him to a bunny bar, owned by Manop Aussawathep. Both Aranya Namwong and Pong (Phairoj Jaising), sister and brother, have resentments against Manop as he failed to honour the promise to their father to take care of them. They are used by him for low jobs. Pong (Phairoj Jaising) keeps having arguments with Dam, Manop's right hand. Boo Wibunnan is shot by Kanchit Kwanpracha, who ends up in jail. Aranya is having issues with Ah, an older man, who is trying to rape her as she was sold by Manop. Pong shoots him deadly. Pong and Aranya are then chased by the police. Prisoners Kanchit and Yodchai Meksuwan escape from the prison and are chased by the police. Some ruffians led by Dam Datsakorn try to shoot them while they are fleeing. They split to increase the chance for escape. Yodchai meets Pong and Aranya. They bring him temporarily with them to avoid police but then get rid of him on the backside of the road. Manop Aussawathep's girlfriend is played by Moeifa. Both Pong and Aranya fail to kill Manop. Kanchit wishes to revenge also on Manop as he believes he was betrayed. Manop pacifies everybody and Yodchai joins the team also. Dam, Yodchai and Kanchit do a heroin traffic in the train. Naiyana Shewanan spies them. Manop, as head of the traffickers, is upset as his latest traffic was discovered by the police so there must be a spy in his team. Manop decides to use Aranya for a Thai boxing match in order to exchange drugs versus money among a busy crowd. The niece of Manop is Pissamai (Neranchala Thaleungsak). Pissamai and Pong become very close. Chosri Misommon is playing Aranya's Thai boxing trainer. Choomporn Theppitak is playing a drug trafficker. Aranya wins her Muay Thai boxing match. Nayana spies Kanchit and his ruffians charging drugs in a truck. Yodchai convinces the ruffians that he will manage Nayana by himself. As Manop tries to abuse Pissamai, Pong helps her and they flee together chased by Dam. Meanwhile Fon shows to Aranya that Manop uses her as a mule only as drugs is hidden under banknotes. They also flee. Pong is captured while trying to release Nayana. Fon flees with Aranya and Pissamai. While trying to capture drug dealer Choomporn, Fon is finally neutralized by Pipop Pupinyo, Pan Borapet and Kanchit. They are transferred to the ruffians' base by helicopter. Fon is attached to a rope under the helicopter. He falls in a lake. Ruffians are attacking a border station to let enemies enter Thailand. Some ruffians are changing side such as Kanchit trying to protect Yodchai, who was the one always informing the police. The movie highlights police and military helping each other to push back enemies of Thailand. Pong and Pissamai die in each other's arms while fighting for Thailand. Director Kom Akadej is also having a small role as policeman. The movie features a very big number of famous Thai actors / actresses from decade 1970s.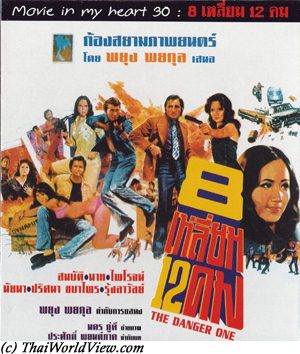 Year

: 1976



Thai title

:

8 เหลี่ยม 12 คม




English title

: The Danger One



Rating

: 3/5


Director

: Payoong Payakul



Main actor

: Sombat Methanee,Dam Datsakorn,Nard Poowanai,Phairoj Jaising,Pipop Pupinyo,Phirapon Piyawan


Main actress

: Prissana Chabaprai,Naiyana Shewanan,Runglawan Sripatimakul,Moeifa,Khomapat Attaya



Buy now

:

Payoong Payakul is the director of the Thai movie "8 เหลี่ยม 12 คม". His wife Prissana Chabaprai is also playing. The movie was released in year 1976 and lasts 1h44mn. The image is a bit reddish and damaged as being the last copy still available on the market. The selling point of the point, according to the poster, is the presence of six movie stars (ดาราเอกโคจร) including Runglawan Sripatimakul, Prissana Chabaprai, Naiyana Shewanan, Nard Poowanai, Sombat Methanee, Phairoj Jaising. The movie features also a few ดาวยั่ว (วิกาวดี, Khomapat Attaya, Moeifa, มิสหลาบยัง) acting in a few daring sequences. A jewellery robbery does happen. Khom (Sombat Methanee) and Chitchai (Dam Datsakorn) are involved. An overseas buyer is now expected in a few days. Anita (Naiyana Shewanan) is the younger sister of Chitchai. Chitchai fails to steal the jewellery suitcase from Khom. Khom sent Krissana (Nard Poowanai) to study in England. Krissana now becomes a policeman. Khom promises it is his last job in order to avoid facing Krissana as a policeman. Tonachai (Phairoj Jaising) with two ladies called Rita and Rosana always help Khom. Chitchai requests the diamonds to Khom earlier than expected. Tonachai has many enemies (ศัตรู) and has a fighting in an underground parking. Chitchai sent some ruffians (Pipop Pupinyo, Phirapon Piyawan...) but it fails. In the morning, Khom brings the 10M baht jewellery for Rita to check. The hotel groom exchanges the small suitcases while they are not aware. Police head asks Krissana to neutralise this jewellery ring. Krissana starts by entering Chitchai's nightclub, i.e. the Suzi bar, by claiming being a life insurance seller. Chitchai's ruffians aware that Krissana is certainly a cop tries to kill him but without success. Khom is concerned that he may face sooner or later Krissana (ปัญหาตัดสินใจไม่ถูก). Krissana gets information from Anita, who is his girlfriend. Khom believes the diamonds have been stolen by Chitchai's team. Rita is in fact part of Chitchai's team also and is finally shot by them. Chitchai captures Khom. The jewels are going to be used in a weapons deal exchange. Aware of the exchange place, Tonachai and the ladies head there. Krissana brings policemen there and also helps to release Khom. The HQ is then stormed and Chitchai is captured. Chitchai recognises his mistakes and is finally happy about the relationship of Rita and Krissana.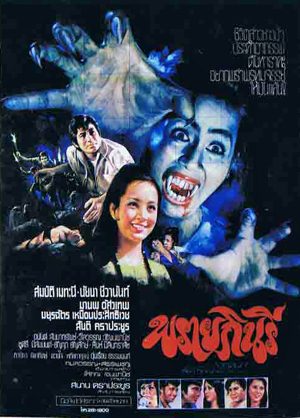 Year

: 1976



Thai title

:

พรายกินรี




English title

: The Tiger Devil



Rating

: 3/5


Director

:



Main actor

: Sombat Methanee,Manop Aussawathep,Adul Dulyarat,Pipop Pupinyo


Main actress

: Naiyana Shewanan,Malee Wetpraseri,Wilaiwan Watthanaphanit,Mayurachath Muarnprasitivej,Chosri Misommon,Duangjai Hathaikarn
Thai movie พรายกินรี (The Tiger Devil) was released in year 1976 and lasts 1h35mn. The movie is certainly cut as it is only available from cable TV programmes. Malee (Malee Wetpraseri) and Kinaree (Naiyana Shewanan) are travelling together after leaving a Christian community. They are aggressed on the way to their village by two men including Manop Aussawathep. They step back when understanding that Kinaree, who was fighting strongly, is a lady (นางฟ้า). Pipop Pupinyo, the village leader, remembers that many years he wanted to burn Kinaree as she was accused to be a tiger devil spirit. A monk stopped the burning and gave a sacred necklace to prevent Kinaree to become a spirit again (เวรกรรมของหลาน). She has to keep until being 20 years old. Kinaree and her grandmother were expelled from the village but are now back. One young villager tries to abuse Kinaree while she is bathing in the waterfall. When angry, she becomes the tiger devil spirit again and kills the villager. The grandmother Malee falls and gets injured. Per Kinaree's request, Manop searches for a doctor. Doctor Sombat Methanee then checks Malee but she finally dies. Pipop, afraid of Kinaree, leads the villagers to burn her again. The doctor decides to bring Kinaree in Bangkok but faces Manop, who is jealous. The doctor and Kinaree succeed to flee Manop and the angry crowd. They are back to Bangkok. New characters are present in the doctor's home, Chosri Misommon as domestic helper, Wilaiwan Watthanaphanit as mother, Mayurachath Muarnprasitivej as his fiancee Dao (ปากเสียใหญ่), friends such as Chom (Duangjai Hathaikarn) and Chatree (Adul Dulyarat). She is used in the kitchen but is useless (เด็กเวร). Dao has a lover (เล่นชู) called Chai (อนันต์ สัมมาทรัพย์). There is a ballroom event. Dao tries to humiliate Kinaree (ชาวป่า) during the ball but to no avail. She hires the car driver to hurt Kinaree but she becomes a tiger devil spirit (ผีเสือ) again and kills him. Today is Kinaree's birthday. Dao aware that Kinaree could be a spirit is willing to challenge her. She removes her necklace and slaps her. Horror happens with Chai is killed and Dao injured by the tiger devil spirit. Police shots the spirit a few minutes before Kinaree's 20th birthday. Kinaree becomes a full human but dies due to her injuries in the doctor's arms. Another version of Kinaree was released in year 1969 (กินรี) with Sombat and Suthisa. In this older version, Kinaree doesn't die.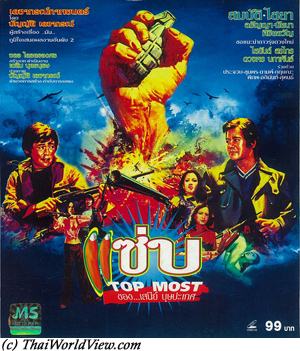 Year

: 1976



Thai title

:

แซ่บ




English title

: Top most



Rating

: 3/5


Director

:



Main actor

: Sombat Methanee,Chaiya Suriyun,Prachuap Ruekyamdee,Dam Datsakorn


Main actress

: Aranya Namwong,Naiyana Shewanan,Sirikwan Nanthasiri
Prakan (Sombat Methanee) and Wi Ok Hen Lom (Chaiya Suriyun) are Pa Wieng's sons. Pa Wieng is the head of a team of bandits (โจร). Once Prakan knows Pa Wieng is not his real father, he flees to find his real father, Sing. A couple, Karn and his girlfriend Duang, is fleeing as Pa Wieng's ruffians are following them up. Karn dies but Duang is saved by Prakan (Sombat Methanee). Pa Wieng is Prakan's stepfather (พ่อเลี้ยง). Prakan is now considered as a traitor (ลูกหมา, ทรยศ) as he tried to flee. Wi Ok Hen Lom is always following Prakan remotely and helps him when needed. Prakan and Duang arrive in the adjacent district. Luang (Dam Datsakorn) is the subdistrict headman (กำนัน) and her sister Deuan (Aranya Namwong) is the village headman. They control very strictly the subdistrict. Sing was the former village headman but his authority has been neutralized. Prakan wants to find the former village headman (ผู้ใหญ่บ้าน) Sing, who is his real father. But Sing refuses to recognize him as his son. Prakan and Duang (เพื่อนรัก) are captured by Deuan (คนเก่ง). Sing's daughter, Kotko, supports them. Prakan helps to protect their oil stock and gets back his freedom. Finally Sing recognises Prakan (ลูกพ่อ). Luang believes Prakan is a undercover policeman (ตำรวจชายแดน). Saming is another mafia leader and is Luang's best friend. Saming and Luang destroy Prakan's house but Deuan doesn't agree (ไม่เห็นด้วย, ไม่ยุติธรรม). It is war declaration with Prakan. Prakan uses rape as weapon to revenge himself against Deuan. Luang asks the district officer (นายอำเภอ) to arrest them but Deuan provides an alibi to Prakan. Luang decides to give Deuan to Saming but Prakan rescues her on time (มารับเมีย). Now Prakan has two wives (มีเมีย2คน), Deuan and Duang! Kotko and Duang are kidnapped. Pa Wieng comes to help but dies in the fight against Luang and Saming. As expected, ruffians are defeated. It is a typical action movie from 1970s decade when local authorities were not respecting the law and were local kingpins. It is also a very bad habit in Thai movies and Thai TV series (ละคร) to use rape as an expression of love. In 2006, a Thai movie with the same name was released but it was a comedy.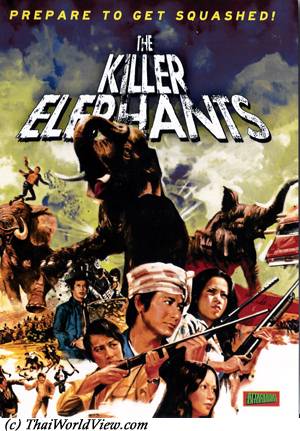 Year

: 1976



Thai title

:

ไผ่กำเพลิง




English title

: Killer Elephants



Rating

: 5/5


Director

: Kom Akadej



Main actor

: Sombat Methanee,Yodchai Meksuwan,Kanchit Kwanpracha,Pipop Pupinyo,Dam Datsakorn,Sayan Chantaraviboon,Kom Akadej


Main actress

: Aranya Namwong,Naiyana Shewanan,Mayurachath Muarnprasitivej
Ruffians are chased by police officer Ching Ming (Yodchai Meksuwan) but he failed to catch them. He meets his old friend Kau Fei (Sombat Methanee). Ruffians are hiding in a Surin timber yard. A big fight happens as Ching Ming wishes to jail them. Hopefully Kau Fei helps Ching Ming but there is no way to know where is the big boss behind. Local police is trying to catch Kau Fei but elephants prevent police to follow up Kau Fei. He has been accused of murder but he was framed. The head of ruffians (Kanchit Kwanpracha) framed him as Kau Fei refuses to sell his farm land to him. Ruffians burn the houses on the farm land. Ching Ming and Kau Fei help people stuck in their home. Ching Ming likes a lot a local lady Shao Feng (Naiyana Shewanan). Kau Fei decides to take revenge by entering in the boss home. He is not here so he captures madame Shu (Aranya Namwong). Ruffians try to rescue her by entering the farm through the forest but they are welcomed by guns and elephants. Kau Fei still loves Shu despite she was forced to go with the boss. Ching Ming tries to arrest Kau Fei but to no avail. Kau Fei comes to town to make trouble inside the boss' favorite nightclub. Shu is now pregnant with Kau Fei. As Shu is about to deliver, Ching Ming helps to bring her to hospital. The boss aware of this wants to use her and the baby as a bait. Taking profit of Surin elephant carnival (เทศกาลของเมืองสุรินทร์), Kau Fei sends a few elephants and villagers to pick up Shu. Kau Fei does a rampage in the boss' house and even injures him but Mau Tien, another ruffian, finishes him. Mau Tien (Dam Datsakorn) becomes the boss and decides to kidnap Shu and two nurses to attract Kau Fei to the plains. Kau Fei and the villagers rescue Shu and the two nurses. Then a crazy rampage of the elephants on the ruffians' camp happens. They are pushing huts and cars with real people inside. Big explosions and houses in fire happen. Even Ching Ming intervenes and helps Shao Feng. He finally lets Kau Fei go to Cambodia. The Thai movie "Killer Elephants" - ไผ่กำเพลิง was released in Thailand in 1976. Main actors are Sombat Methanee and Aranya Namwong. The movie director was Kom Akadej, who got the "international name of Som Kit in the credits, which is a version of his middle name, Somkit. All the other actors got Chinese style names, probably to cash in on the Hong Kong market and the rest of the worlds wish for more Kung Fu movies. The Killer Elephants cannot be found anymore in Thailand except at the Thai Film Archive, the original Thai version. Joseph Lai and his IFD Arts and Entertainment prepared this international version, which is the most common version outside Thailand. This DVD was released by Swedish company Attackafant Entertainment directed by Fred Anderson, a well known lover of Thai cinema. This DVD is the first official ไผ่กำเพลิง DVD release ever. The "Killer Elephants" movie rights in Thailand belongs to Coliseum film (บริษัท โคลีเซี่ยมฟีล์ม), company from Kom Akadej. Up to now no VCD / DVD was released in Thailand with correct rights according to Thai law. Only a video tape was released long time ago. Coliseum film company would sell the rights for all Kom Akadej's movies and not only for 'Killers Elephants' movie. Thai Company XxX (Triple X) was only interested in 'Killer Elephants' movie so up to this day Thai people are still waiting for a Thai version of ไผ่กำเพล to be released again. The movie also includes also famous supporting actors such as Yodchai Meksuwan, Naiyana Shewanan, Mayurachath Muarnprasitivej, Kanchit Kwanpracha, Pipop Pupinyo, Dam Datsakorn, Sayan Chantaraviboon. The finest batch of Thai actors during 1970's! Only Sorapong Chatree and Krung Srivilai are missing. Pipop Pupinyo, Kanchit Kwanpracha and Dam Datsakorn were the regular bad guys in Thai cinema and so of course even in The Killer Elephants! The same story was also released as Thai TV lakorn in 2004.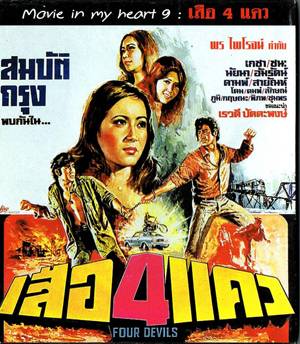 Year

: 1976



Thai title

:

เสือ 4 แคว




English title

: Four Devils



Rating

: 4/5


Director

:



Main actor

: Sombat Methanee,Krung Srivilai,Choomporn Theppitak,Kecha Plianvithee,Pipop Pupinyo,Dam Datsakorn,Chana Sriubon,Kom Akadej,Lak Apichat,Sayan Chantaraviboon,Pan Borapet,Paen Pleumsachai,Pumi Patanayut


Main actress

: Naiyana Shewanan,Rewadee Pattaphong



Buy now

:

Thai movie เสือ 4 แคว was released in year 1976. It lasts 2h20mn. Pleung (Krung Srivilai) and Chat (Sombat Methanee) are always fighting in a prison. The head of prison decide to transfer them to another prison. To avoid any issues during the transfer, they are hogtied together. During transfer, Pleung's teammates attack the police armed escort. Pleung and Chat flee together. Choomporn Theppitak is playing a policeman. They do realize that they have a common enemy called พ่อเลี้ยง Do Tawan (Kecha Plianvithee). Do Tawan is aware that Pleung is now free. Choi (อัมรัตน์ ขัตติยา) is Do Tawan's girlfriend. Four devils [เสือ4แคว] (Pipop Pupinyo – Seua Wang, Dam Datsakorn - Seua Nan, Seua Ping - Chana Sriubon, Seua Yom – โดม สิงห์โมฬี) are called by Do Tawan to kill Pleung. 1M Baht reward is promised for the one who succeeds to kill Pleung. น้อง Kaew (Rewadee Pattaphong), a teacher, is Do Tawan's younger sister. She knows the secret behind her brother. Do Tawan (โจรใจบาป) is selling drugs. Pleung, a former teammate, asked him to stop but ended up in jail because of Do Tawan. Pleung's younger sister Wallin (Naiyana Shewanan) is still kept captive by Do Tawan (ตัวประกัน). A bomb is hidden in her bungalow. Kaew prevents her brother from abusing Wallin. ภูมิ พัฒนายุทธ, Kan (Kom Akadej), Wai (Lak Apichat), Suki (Sayan Chantaraviboon) meet Chat in the restaurant (เอาเต็มที่). He claims to be เสือ4แคว. They sympathize with Chat, who sends them to help Pleung against the 4 devils. Meanwhile, Chat plans to enter Do Tawan group in order to spy them and release Wallin. Pleung, being attacked by Seua, decides to fight back and attack them directly also causing Dam to flee. Do Tawan hires Chat. Seua Ping's team includes veteran actors Pan Borapet, กฤษณะ อำนวยพร and Paen Pleumsachai. Chat pushes the teams against each other. Chat succeeds to exchange Wallin with Kaew simulating a kidnapping. Meanwhile Choi helps to provide information on Do Tawan's business. Chat is identified as the traitor. Chat shall be smashed by a train but Pleung helps him on time. Knowing that Chat is not dead, Do Tawan moves his stock of drugs in a safer place. Pleung identifies the place and decides to attack it. Chat, being finally a policeman, also comes with reinforcement. All ruffians are killed by the Thai A-team. Unable to flee, Do Tawan prefers to explode the warehouse to avoid surrendering. Pleung has to go back to jail but Chat promises that his efforts to catch Do Tawan will be taken into account to reduce the severity. This movie features a huge number of famous Thai actors and actresses.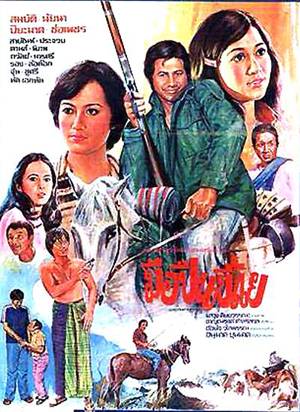 Year

: 1976



Thai title

:

มือปืนขี้แย




English title

:



Rating

: 3/5


Director

:



Main actor

: Sombat Methanee,Dam Datsakorn,Prachuap Ruekyamdee,Pipop Pupinyo,Rong Kaomulkadee,Tawan Siriwat,Sayan Chantaraviboon,Tat Ekathat,Lor Tok,Kokheng


Main actress

: Piyamas Monayakol,Chosri Misommon,Marasri Isarangkul,Naiyana Shewanan
Thai movie มือปืนขี้แย was released in year 1976. This action and comedy movie is lost in Thailand but the first reel lasting 26mn and a 3mn trailer are still available to be seen. Fightings happen with Dam Datsakorn and Pipop Pupinyo as they discover that Sombat Methanee is travelling hidden in their truck. Sombat is accompanied by a tall actor reminding Richard Kiel playing in James Bond movie Moonraker. Comic actor Rong Kaomulkadee is the driver. Sombat Methanee is looking for Kamnan Tawan Siriwat in order to find his mother (Marasri Isarangkul). He finds her but he wishes to identify now who killed his father. Sayan Chantaraviboon wishes to impress young lady KamPoo (Piyamas Monayakol). But he gets bullied by Chosri Misommon and Tat Ekathat. Policeman Raem Prachuap Ruekyamdee meets a friend's daughter, who is now a teacher (ช่อเพชร). Lor Tok is Thai boxing trainer (อาจารย์). Sayan wishes to learn from him as he is not able to fight against anybody. Dao (Naiyana Shewanan) meets Sombat but clash happens between them. Other comic actors are Kokheng and Joomjim Khemlek as policeman.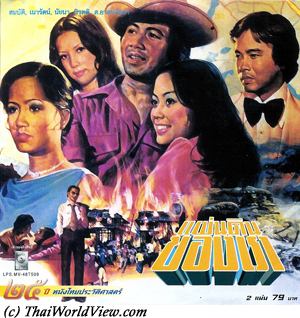 Year

: 1976



Thai title

:

แผ่นดินของเรา




English title

:



Rating

: 4/5


Director

: Sor Asanajinda



Main actor

: Sombat Methanee,Sor Asanajinda,Nirut Sirijanya,Phirapon Piyawan


Main actress

: Naowarat Yooktanun,Naiyana Shewanan
แผ่นดินของเรา is the movie introducing famous Thai actress, Naowarat Yooktanun, for the first time. Sor Asanajinda, Thai national artist, is the movie director and also actor. A father comes to rest in a house close to sea with his three grown up daughters, Yai (อัจฉรา) the elder, Eung and Pak (ภัคคินี), the youngest. Tamlong (ธำรง), is the one who has transformed this hostile land into an oasis due to his hard work. Pak is the youngest daughter and always dares doing things. All the three girls are impressed by Tamlong's strong personality. During a boar chase, Tamlong saves Pak's life but is injured at the leg. During his recovery at Pak's parents home, Pak and Tamlong declare their love to each other. Tamlong is twice older than Pak (ผู้ชายแก่ๆ). Wedding takes place. Pak marries before her elder sister Yai so Yai is quite upset as according to Thai traditions, she should have married first. Yai is still waiting for her fiance Narin (นเรนท์) to go come back from his studies in France. Pak and Tamlong settle on their new land (แผ่นดินของเรา). Finally Narin and Pak meet. Both of them are hot temper (คนผีทะเล). Yai is too old style (โบราณ), too traditional for Narin. He is fond of Pak. He gets fun of Pak having married an older man. While wandering in their domain, Pak is bitten by a snake but Narin helps her on time. Love feelings start between both of them. Narin becomes jealous of Tamlong and considers stopping his engagement with Yai. Finally Yai accepts Narin advances knowing he is hot temper. Being forced by his parents, Narin shall finally marry Yai next month but it is not a love wedding. Yai is too reserved for Narin. Narin is modern as he studied abroad so he doesn't like Thai traditional stuff anymore and wants external signs of love similar to western behavior. Finally Narin and Pak start an affair as Pak is convinced by Narin's true love. But Pak doesn't dare to leave Tamlong for Narin and is worried to hurt her sister Yai. Tamlong knows something has changed. Pak is challenged by Narin about her real feelings. On the wedding day, Pak and Narin disappear and send a letter to Yai and Tamlong to explain their decision. While fleeing on a boat, Narin and Pak are robbed by ruffians so they run out of money already. Pak discovers harsh life with Narin as he is not a good lawyer and being addicted to alcohol also. They live in a slum. Pak needs to become a street vendor (แม่ค้า). Yai is pregnant with Narin so she feels ashamed. Yai takes refuge in Tamlong's home to hide her pregnancy to her parents. Pak discovers that Narin has a mistress. A night he is out, a fire burns the slum. They lose everything. As Narin is sick, Pak needs to prostitute herself. Tamlong finally finds Pak and asks her to come back to their land. Pak cannot leave Narin as he is sick (ไข้ป่า) and she still loves him. She values Tamlong's kindness (ความดี, น้ำใจ), who forgives her and gives her money. Narin is sent to jail following a robbery. He refuses to see her again trying to push her to get a new life. Pak finally goes back to Tamlong's land to die there due to severe sickness. This 1976 movie highlights society conflicts between modern and traditional patterns.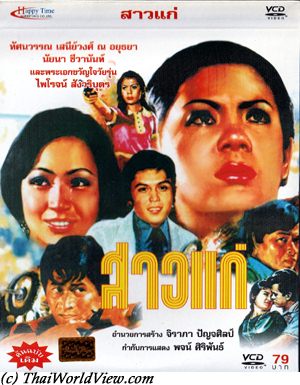 Year

: 1976



Thai title

:

สาวแก่




English title

:



Rating

: 3/5


Director

:



Main actor

: Phairoj Sangwaribut,Manop Aussawathep


Main actress

: Naiyana Shewanan,Tasawan Saneewong,Mayurachath Muarnprasitivej
Thai drama movie สาวแก่ was released in year 1976 and it lasts 1h45mn. Doctor Pim (Phairoj Sangwaribut) and nurse พี่ Yot (Tasawan Saneewong) are boyfriend / girlfriend. She is 12 years older. Her close friend is Jaem (Mayurachath Muarnprasitivej). Chaninee (Naiyana Shewana) brings her father to hospital. Pim helps to cure him. Many people in the hospital gossip (นินทา) about Pim and Yot. Jaem has even some concerns about the couple (ความเหมาะสมผู้หญิงกับผู้ชาย). Knowing he fails to be chosen to be sent overseas as doctor, Pim involves in alcohol and Yot has to bring him back home. Finally Yot and Pim become lovers as Pim is pushing for it under alcohol influence. Chalat (Manop Aussawathep), a policeman, is introduced to Yot by Jaem as she believes Pim and Yot don't go together properly as she is much older than him. The doctor opens a clinic with Yot as assistant. Yot sold her land to pay for the clinic. They are still calling each other "พี่ Yot" (Sister Yot) and doctor (หมอ). Pim meets Chaninee another time as her father is sick again. The father finally dies. He presents Yot as elder sister (พี่สาว) to Chaninee. Yot wishes to marry to stop all rumors (คนนินทาไม่มีวันหยุด). Jealousy happens as Yot is aware that Pim is seeing Chaninee. She complains Pim changed since he is meeting Chaninee. Yot announces she is pregnant since 2 months. She wishes to die! Pim goes to Pattaya beach to relax and meets Chaninee by accident there. Yot follows him there in order to know the truth. Yot keeps reminding Pim about the favors and help (ท่วมบุญคุณ) she gave him. Finally Pim accepts to marry her in order that the child has a father. Yot remains very jealous. The baby is born. Yot complains she is not happy despite performing her wife's duties (ทำหน้าที่ให้ดีที่สุด) as good as she can. Jaem recommends Yot to give him some freedom and she keeps complaining that Pim has to kindness towards her (ไม่รู้จักบุญคุณ). Jaem is now with an older man with 4 kids. She claims it is better for a woman to marry an older man than a younger man. Fed up and following arguments with Yot, Pim quits the house. Pim announces he loves Chaninee but as respect for Yot, he will not quit her. Jaem and Chalat bring Yot out. Seeing Chaninee, Yot argues with her but Chaninee claims she didn't see Pim since his wedding. Yot shoots Chaninee but hopefully Chalat is here to stop her. Chalat promises to take care of Yot so that both couples can have happiness.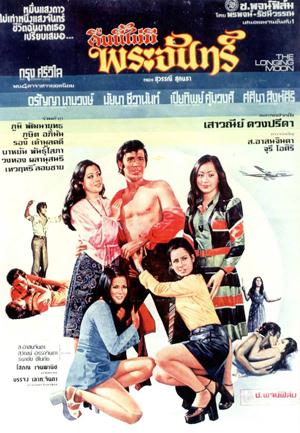 Year

: 1975



Thai title

:

คืนนี้ไม่มีพระจันทร์




English title

:



Rating

: 3/5


Director

:



Main actor

: Krung Srivilai,Sor Asanajinda,Rong Kaomulkadee


Main actress

: Naiyana Shewanan,Aranya Namwong,Piathip Kumwong,Juree Osiri,Sasima Singsiri
Thai movie คืนนี้ไม่มีพระจันทร์ was released in year 1975. The movie is lost in Thailand and only a sequence of 38 minutes remains to be seen. A group of young women including Naiyana Shewanan is sleeping together in a big bungalow near the beach. It is the yearly trip organized by their art university (มหาวิทยาลัยศิลปากร). One of the young ladies recognizes Nat (Krung Srivilai), a male art student of the same university. Back to his home, Soi Dao (Aranya Namwong) is waiting for Nat. Later Nat ends up drinking expensive alcohol with another young lady called Yu (Sasima Singsiri). Nat has no money so is being entertained by ladies. Yu is drunk and Nat brings her home but June (Piathip Kumwong) has time to recognize him. Nat sees women as sexual objects and lies to each of them (เจ้าชู้). He goes from Soi Dao to Yu. Soi Dao is finally pregnant (ลูกเศรษฐี). Soi's father is played by Sor Asanajinda and Soi's mother is played by Juree Osiri. They are concerned about their family name and they don't want Soi Dao to marry anybody. Soi Dao wishes to go abroad as Nat doesn't show interest anymore. Nat is not sure if Naiyana loves him as she is aware of his butterfly activities. Playing a game with another man, Soi Dao arouses Nat to get back his interest through jealousy. The left sequence ends up here. In 1975, this movie makes a lot of noise because of some daring scenes (หนังโป๊ๆ เปลือยๆ).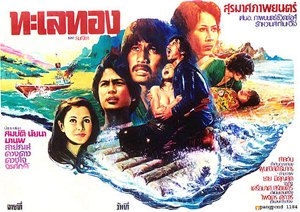 Year

: 1975



Thai title

:

ทะเลทอง




English title

:



Rating

: 4/5


Director

:



Main actor

: Sombat Methanee,Man Teeraphol,Manop Aussawathep,Sayan Chantaraviboon,Choomporn Theppitak


Main actress

: Naiyana Shewanan,Duangdao Jarujinda
Many years ago, Laem Kun Thalae (Sombat Methanee) and Mae Plae (Naiyana Shewanan) were tied to a pole, beaten and left to die in the sea. Laem Kun Thalae survived thanks to his friend Fong but Mae Plae died. Their child was left to a teacher. Many people believed they both died in the sea during high tide. The teacher has three children, i.e. one boy, Pu (Sayan Chantaraviboon), and two daughters, Nang (Naiyana Shewanan) and Neua Oon. Nang is the baby given many years ago. Nang is hard worker but Neua Oon is lazy. Sak, son of Sou (Man Teeraphol), a local ruffian, always wants to bring the two sisters out but Pu refuses and Nang is not interested to go. Sak becomes lover with Neua Oon (ได้เป็นเมีย). Kun (Sombat Methanee) and his friend Fong (Manop Aussawathep) are always seen around. Kun always helps Nang in difficult situations. Pradet (Choomporn Theppitak) is the local policeman officer but is bending to Sou. Sou wishes Pradet to arrest Kun as he is a trouble maker. Nang and Sak's two sisters (Nit and SiriPorn) are kidnapped by overseas woman traffickers. They are rescued by a boat carrying Kun, Sak and Pu. Kun decides then to keep Sak and his sisters as hostage. They take refuge on an island. Pu and Siriporn become lovers. There is a suggestion for Kun to surrender to police (มอบตัว) as Sou is following up them. Nit (Duangdao Jarujinda) promises to help as she loves Kun. Kun doesn't believe in the police fairness so he flees with Nang. As the action is taking place close to Cambodia border, their boat gets attacked by red Cambodian soldiers. They have to jump from the boat but are caught up in a storm. They are finally protected by Mae Plae's spirit (วิญญาณ) and rescued by a boat. Sou and his ruffians team capture Kun and Fong. They are ready for a final vengeance. Nit believes Kun and Laem Kun Thalae are the same individual. Situation is reversed thanks to Kun's skills. Sou, Sak and Nit are now prisoners under Kun. The policeman Pradet agrees to speak and discloses what really happens many years ago between him, Sou and Laem Kun Thalae. Finally Nang's real father is policeman Pradet. His wife Sai is Sou's younger sister. Pradet has a short relationship with Mae Plae. Through jealousy, Sai and Sou took vengeance on Mae Plae and innocent Laem Kun Thalae. So Kun and Laem Kun Thalae are the same man. Despite his initial desire for vengeance, Kun leaves it away and stays with Nang. Thai movie "Thalae Thong" (ทะเลทอง) was released in 1975.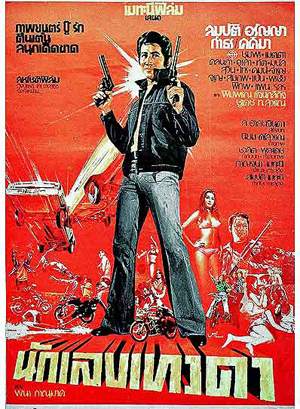 Year

: 1975



Thai title

:

นักเลงเทวดา




English title

:



Rating

: 3/5


Director

: Sombat Methanee



Main actor

: Sombat Methanee,Tat Ekathat,Sawin Sawangrat,Kom Akadej,Kamthorn Suwanpiyasiri,Choomporn Theppitak,Pipop Pupinyo,Krai Kanchit,Sukon Koewliam


Main actress

: Aranya Namwong,Naiyana Shewanan,Orasa Isarangkul,Metta Roongrat,Sasima Singsiri,Donnapha Sophee,Manat Boonkiet



Buy now

:

Thai movie นักเลงเทวดา was released in year 1975. The VCD lasts 1h32mn. Metta Roongrat as market merchant (แม่ค้า) is harassed by ruffians. A car is driven by a mysterious hitman, who kills most of the ruffians of Kamnan Wattana. Wattana (Tat Ekathat) is upset. Kamnan Wattana's daughter, called Wantanee, is played by Naiyana Shewanan. Orasa Isarangkul is also a market merchant (แม่ค้า). Nobody saw his face but he was wearing a red clothing. Thewada (Sombat Methanee) is wearing a red shirt so he is identified as the hitman. Thewada wishes to revenge his friend Somsak killed by ruffians (เทวดามาคิดบัญชี). Thewada enquiries on various ladies to uncover the mysterious hitman. Somsak's wife (ผู้หญิงใจร้าย)(Sasima Singsiri) is involved in the murder with the help of Sawin Sawangrat. Thewada helps Wantanee (ลูกสาวกำนัน). Thewada is not the mysterious killer in red shirt but is willing to find who is behind. Similar to a Thai James Bond with gadgets and kissing all girls (หลงเสน่ห์). Kamnan Wattana agrees to take him as new staff before being son in law (ลูกเขย)! Thewada gets support from Dam (Kom Akadej). A car 'chase happens between Thewada and Kan (Kamthorn Suwanpiyasiri). A sister (Aranya 'Namwong) and her brother (Choomporn Theppitak) are looking for the man, who killed their father นาย Vitun. They believe Thewada is the killer but he succeeds to escape their house just to be captured by Kan (องค์การ). Pipop Pupinyo is part of Kan's team. A third group is with Sawin and Somsak's wife. Kan storms Kamnan Wattana's house and kidnaps his daughter. Metta and Osara are also kidnapped. Thewada and Dam then storm Kan's house to release the ladies. Krai Kanchit is part of Kan's team. Fighting and shooting happen until all ruffians are neutralized or killed. The movie ends up with Thewada leaving with both ladies Aranya and Naiyana.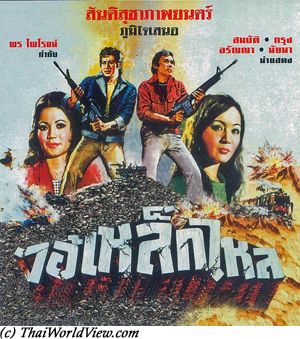 Year

: 1975



Thai title

:

ไอ้เหล็กไหล




English title

: The Iron Man



Rating

: 3/5


Director

:



Main actor

: Sombat Methanee,Krung Srivilai,Lak Apichat,Dam Datsakorn,Sawin Sawangrat


Main actress

: Aranya Namwong,Naiyana Shewanan



Buy now

:

Sa Ai (Sombat Methanee) buys gemstone from people working in mines. Two groups, lead by Sa Ai and Ko Sai, are fighting each other for gemstone control. They buy then sell those gems. Sa Ai rescues and shelters young lady Supranee (Naiyana Shewanan), whose parents have been killed by Ko Sai's tough men. Another lady called Soi (Aranya Namwong) also loves Sa Ai. Sa Ai meets a young man called Chae (Krung Srivilai) and they decide to work together. But Chae is working for the other group lead by Ko Sai. Sa Ai escapes to two murder attempts but his father is killed. Sa Ai wants to sell gems for 500 000 baht to Chae. Ko Sai wishes to get those gems. Chae seems to play on both sides. Supranee and Sa Ai are injured during a trap prepared by Ko Sai. Supranee and Soi love Sa Ai but Soi sacrifices her-self as Supranee has already lost everything in her life. Violent gun fights erupt between both groups. Ko Sai uses his own sister to put a bomb inside Sa Ai's car but Chae warns him just in time after a swift car race. Chae shows interest into Soi. Ko Sai kinadps Soi and Supranee to attract Chae and Sa Ai in a trap. A heavy gun fight happens but Chae with a police team is joining to help. Bad guys are all killed or captured. Chae, who is in fact a policeman, kills the headman without proper justice. Extrajudicial killings have always been an issue in Thailand. The last notorious killings happen during the 2003 anti-drug effort. This movie features many Kung fu fightings in 1970s comfortable (สบายมาก) Thai style. This old movie has an image very damaged. In the past the camera original and any additional exhibition prints were circulated to cinemas around the country or projected from the backs of trucks on to sheets hung between trees at fairgrounds. There is no original soundtrack but a 1970s James Bond soundtrack is used! Slogan "See you later" (พบกันใหม่) is shown instead of "The end" (สวัสดี) to encourage fans to see their favourite stars in the next movie. More than one hundred movies were produced per year in Thailand in 1970s.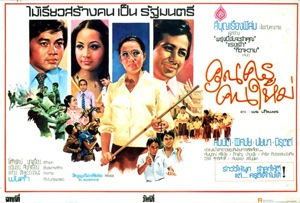 Year

: 1975



Thai title

:

คุณครูคนใหม่




English title

:



Rating

: 4/5


Director

: Phan Kam



Main actor

: Sombat Methanee,Nirut Sirijanya,Pinyo Parnnui


Main actress

: Pissamai Wilaisak,Naiyana Shewanan
Teacher (ครู) Rabiep (Pissamai Wilaisak) leaves Nakhon Sawan school as she needs to bring her mother for treatment in a modern Bangkok hospital. Her sister is Mon (Naiyana Shewanan). Another school headmaster, following a recommendation from his Nakhon Swan friend, asks her to join his school and teach a boys class (นักเรียนอะไรไม่มีมารยาท). Santhi comes to school but doesn't enter class so gets scolded by teacher Rabiep. Rabiep is torn between her concern towards her sick mother and her teacher duty (หน้าที่). She takes deep concern in her pupils future and wants all of them to pass exams (พ่อแม่ที่สองของนักเรียน). Rabiep is still single. As a young teen Thong (Pinyo Parnnui) is chased away from Santhi's home, Rabiep accepts to shelter him. Santhi comes back to Thong to ask him to join his ruffians group but he refuses so gets severely beaten. Per teacher Rabiep's code, Santhi is canned six times as he refuses to apologize to Thong. Khun Sathan, Santhi's father, comes to complain to the school. He has funded the school (นายทุน). 18 years ago Sathan (Sombat Methanee) and Rabiep had a love story but finally Sathan married another lady. Sathan believes Rabiep takes revenge over him through his son and asks the school headmaster to fire Rabiep. The headmaster is in a difficult situation as he is indebted to Sathan. Meanwhile Mon goes to complain to Sathan's but only meets doctor Nophol (Nirut Sirijanya). Santhi is arrested by the police following fighting in a bordel. Teacher Rabiep makes him leave the jail and Sathan understands Rabiep's kindness towards her Pupils. Per doctor Nophol's request, Mon, university student in her last year to become teacher, accepts to give private lessons to Santhi. As he tries to abuse Mon, he gets slapped by his father and flees from home. Following his wife's death, Sathan didn't educate him in a right way (ตามใจ). Due to lack of money and difficult life in slum house, Santhi finally accepts to go back to school but tries to tarnish Rabiep's name (ทำให้เสียชื่อ) as he is aware of the love story 18 years ago. As Sathan chases away his son, he ends in a coffee shop where he is beaten by thugs. Teacher Rabiep recovers him from the police and offers him a new chance by giving him a shelter in her home (รักครูเหมือนแม่). Santhi becomes a good guy helping on chores and is studying well. He accepted in the army. Sathan forgives to his son and starts a new romance with teacher Rabiep. All bad pupils have become good guys and give their respect to teacher Rabiep (วันไหว้ครู). The movie highlights teacher dedication and their importance in their duty to transform children into good adults. It is the first movie for veteran actor Pinyo Parnnui.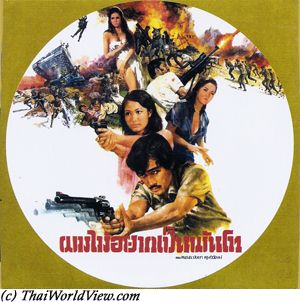 Year

: 1974



Thai title

:

ผมไม่อยากเป็นพันโท




English title

: I Don't Want To Be a Lieutenant



Rating

: 3/5


Director

: ChatriChalerm Yukol



Main actor

: Somphob Benjatikul


Main actress

: Naiyana Shewanan,Sasima Singsiri
It deals with the story of Phanto, a member of Thai secret service, who goes to Cambodia to be a spy. He is looking for informations useful for Thai security and has to face many threats especially from the "red communists".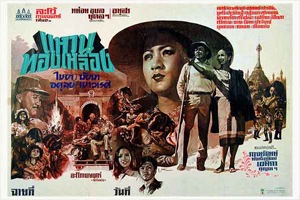 Year

: 1973



Thai title

:

แหวนทองเหลือง




English title

:



Rating

: 4/5


Director

: พระเจ้าวรวงศ์เธอ พระองค์เจ้าอนุสรมงคลการ



Main actor

: Chaiya Suriyun,Adul Dulyarat,Chao Klaewklong,Sukon Koewliam,Sompol Kongsuwan


Main actress

: Naiyana Shewanan,Yaowaret Nisakorn,Marasri Isarangkul,Juree Osiri,Chosri Misommon,Chadaporn Wachirapranee
Thai movie แหวนทองเหลือง was released in year 1973 and lasts 2h56mn. The movie was never released on VCD / DVD formats but was shown on Thai TV cable. Director is Thai prince พระเจ้าวรวงศ์เธอ พระองค์เจ้าอนุสรมงคลการ. The production of this movie last almost 2 years. Many actors and actresses are featured in this movie, i.e. Chaiya Suriyun, Naiyana Shewanan, Adul Dulyarat, Yaowaret Nisakorn, Chao Klaewklong, Marasri Isarangkul, Juree Osiri, Sukon Koewliam, เมืองเริง ปัทมินทร์, Sompol Kongsuwan, เสถียร ธรรมเจริญ, Chosri Misommon, ภาณุวัฒน์ มังคลารัตน์, เขมิกา กุญชร ณ อยุธยา, Chadaporn Wachirapranee. In North of Thailand, Sai Kam (Chosri Misommon) and her young sister Duang Jai (Naiyana Shewanan) are domestic helpers in a beautiful mansion. Krissada (Chaiya Suriyun) (คุณผู้ชาย) is the owner. The subdistrict headman Prem (Chao Klaewklong) is Duang's father. Uuan (Juree Osiri) and Noi (Marasri Isarangkul) dream to marry Krissada. Krissada is gone to visit waterfalls with Duang. A snake bites Krissada and Duang Jai saves him. A romance starts, and a wedding promise happens. Krissada gives a ring to Duang Jai. Krissada has to leave urgently to Bangkok after receiving a telegraph. Sukon Koewliam loses Krissada's letter he was supposed to give to Duang Jai. Duang Jai stays in a relative home to hide her pregnancy. Finally, Prem discovers that his daughter Duang Jai is pregnant. To hide his shame, the father plans to marry Duang as soon as possible. Prem wants to hide that Krissada is the father as he doesn't believe Duang Jai is telling the truth. As he owns a lot to Krissada's father, he nevertheless refuses to damage Krissada's honor. Sai Kam and Duang are enchained but Duang succeeds to flee. She tries to go to Bangkok but has no money, so she walks by following the railway tracks to Bangkok! Railway workers and doctor Metta (Adul Dulyarat) find her. She is about to deliver. A daughter is born. It is war time, so Bangkok is not a good place to stay. Doctor Metta proposes to send her. During two years, Duang Jai is looking for Krissada's house in Bangkok. She finally finds it. Sukon tells her Krissada's story. Krissada has disappeared. Metta asks her to decide about her future but Duang Jai refuses to marry him per her promise to Krissada. Chadaporn Wachirapranee is playing a brothel owner. Duangjai is working there as she needs money to survive. Bombs destroy the brothel house and her friends are killed. A Japanese officer helps her. As she has nowhere to go, being a ผู้หญิงชัว, he proposes her to be his domestic helper and wife (เมีย). The war is going to be finished soon. The Japanese officer promises to keep sending money to her. He dies on the way to Japan. Duangjai needs to resume being a prostitute (โสเภณี). The house owner wishes to expel Duang Jai and Taew as they cannot pay the rent anymore. The Japanese officer helped the owner during war, but gratitude is useless according to the house owner! Duang Jai and Taew find gold hidden under the carpet. Many years passed. Taew (Yaowaret Nisakorn) and Duangjai have set up their own company. Duangjai has a new name, i.e. เศรษฐีโสเภณี. Taew recommends her to look for her lost daughter and to look for happiness. Duang Jai meets Krissada again as her car hits a passerby. He has become a beggar. His father had many debts. Krissada was part of Seri Thai (resistance to Japanese invaders) but had chosen the wrong boss so had to flee to Laos. Duangjai proposes to help. She doesn't dare to tell who she is. Thai newspapers start to give bad rumours about her previous status as prostitute (ปากเสีย). Nattaya, one of the employees, is a drug addict (ติดยา). Krissada proposes to help. Nattaya has difficulties to get rid of drugs. She succeeds to flee from Krissada's home. She is then kidnapped as ruffians want to get money from Duang Jai and Taew. Krissada helps. During fightings with ruffians, Phi Taew is shot and wishes Duang Jai to disclose the truth but Duang Jai still has concerns about her past (ชีวิตโสเภณีมีค่าเพราะว่าเงิน). Nattaya announces to Duangjai that she is going to marry with Krissada. Duangjai tries to break the relationship but Nattaya refuses. Finally, Duangjai asks to be with Krissada a few hours. She wears Northern clothes again. Krissada is not able to link Duang Jai and Aitit, Duang Jai new name. Duangjai leaves and gives a gift for the wedding. The gift is the ring given twenty years ago. Finally doctor Metta is able to explain that Nattaya is Duangjai's daughter and so Krissada's daughter so a wedding cannot happen. Now it is Krissada turn to look for Duang Jai...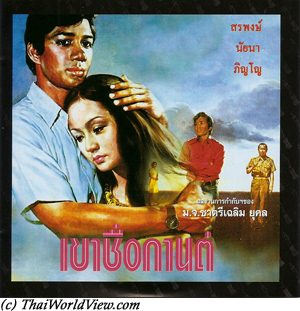 Year

: 1973



Thai title

:

เขาชื่อกานต์




English title

: His name is Karn



Rating

: 5/5


Director

: ChatriChalerm Yukol



Main actor

: Sorapong Chatree


Main actress

: Naiyana Shewanan



Buy now

:

Dr. Kan gets married with a Bangkokian lady called Areutai. They go to countryside in Phitsanulok where Dr. Kan has been assigned. Areutai knows that her husband is poor but appreciates his maturity despite having the same age. Areutai's mother complains that in province Dr Kan will become rich slowly (รวยช้า). How can poor people find money to pay medicine? There is no way to become rich. On the oppositive in Bangkok, he could be rich in one day. Anyway it will be a lesson of life for Areuai (ชีวิตบ้านนอกมันเป็นอย่างไร). They arrive in Amphoe Babadan through oxcart riding. There is no doctor in the district so local people need to go to provincial centre or to contact a local shaman (หมอผี) or someone unaccredited as a doctor (หมอเถื่อน). There is at least a dispensary (สถานีอนามัย). Areutai is a romantic lady and able to do many things by herself but she doesn't want to be poor her whole life. Before Dr Kan, she met Moon, who is a rich man. He wanted to marry Areutai but was too slow to ask. Dr. Kan faces his first serious case when a man is bitten by a snake. It is too late to cure so the patient dies. Some local people complain on modern doctors (หมอสมัยใหม่) believing that any medicine injected can cure. Dr. Kan decided to come to the remote area to help poor people (คนน่าสงสาร). Dr. Kan and Areutai are having happiness (ชีวิตเป็นสุข) the first months but then Areutai wants to work. She is lonely. They don't have enough money to bear a baby. Dr. Kan is very busy (งานยุ่งมาก). Areutai is fed up. She decides to takes a break and goes to Bangkok. Moon still misses her. In Phitsanulok, it is already the rainy season (น้ำท่วม) so there is more work for Dr. Kan. Areutai is hoping for a letter from her husband to go back. Meanwhile she is out (เที่ยวทุกวัน) every day with Moon. She has a car accident with Moon as he doesn't want to let her go back to Phitsanulok. The district officer doesn't like Dr. Kan as he refused to give some free medicine stock for the district officer relatives' personal usage. Dr. Kan discover that a casino (บ่อน) is running at night time. The district officer is using his influence (อิทธิพล) to protect it (คลุม). Police cannot interfere. A fight happens inside the casino. A relative of the district officer is injured. Dr. Kan cannot help (ช่วยก็ไม่ได้) as the patient needs urgent blood transfer in hospital. He is not a god (ไม่ใช้หมอเทวดา). Some local people think that Dr. Kan refuses to help relatives of the district officer. The relative dies. Learning that Areutai is at hospital, Dr. Kan needs to go back urgently to Bangkok. Dr. Kan is confused. He thinks about opening a cabinet doctor in Bangkok. Moon wishes to talk with Dr. Kan. There are harsh words between the two men. Dr. Kan needs to choose between offering happy life to his wife or helping poor people. Moon tries to have Dr. Kan sent abroad. Dr. Kan goes back to Phitsanulok and faces death intimidations threats from the district officer's relatives (หมอกานต์ในบ่อน่ไม่ยอมลงให้กู - คนเก่งอยู่ไม่ได้). As Areutai's memory is back, he decides to go abroad to gain more money to make his wife happier. He goes back to Phitsanulok a last time to wrap up his activities. His police friend can do nothing against the district officer. He drinks alcohol to forget his uselessness (this was a taboo in Thai movies before). The district officer is under investigation and will likely be condemned to jail. Dr. Kan is witness of the district officer's illegal activities. His relatives belief that Dr. Kan is the one who discloses the whole story to authorities during his trips to Bangkok. Dr. Kan is shot dead by them during a storm. He was a good person (เขาเป็นคนดี). ChatriChalerm Yukol criticized the Thai bureaucracy and presented the problems of rural area. The film was successful at box office and received good reviews. As the district officer was a corrupted character, the movie has difficulty passing the film censorship committee. ChatriChalerm Yukol showed the film to Field Marshal Thanom Kittikachorn and then the film passed approval. It is likely that if ChatriChalerm Yukol were not the great-grandson of King Chulalongkorn, the film wouldn't have passed the censorship committee as he couldn't have met the Prime Minister. The movie is based on a novel from Suwannee Sukontha written in 1970. The movie "เขาชื่อกานต์n" actually threw away all the main characters of the Thai classical drama (clown, maid of honor...) so it was an unconventional movie compared to the 1960s Thai movies standards. Main actor Sorapong Chatree got a golden statuette (ตุ๊กตาทองดารานำชาย) for his interpretation as Doctor Kan.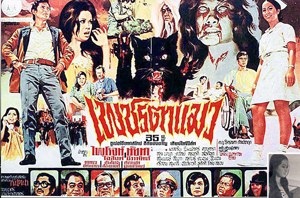 Year

: 1972



Thai title

:

เพชรตาแมว




English title

:



Rating

: 3/5


Director

:



Main actor

: Phairoj Jaising,Manop Aussawathep,Surasit Sattayawong,Tawan Siriwat,Sukon Koewliam,Sompong Phonmitr,Lor Tok


Main actress

: Naiyana Shewanan,Sisala Thongtara,Malalin Bonnak,Khomapat Attaya
Thai movie เพชรตาแมว was released in year 1972. The movie lasts 2h25mn. It seems the movie was never released on DVD or VCD. Only on cable TV so scenes involving alcohol drinking or smoking cigars are blurred. A few songs are featured in the movie similar to all movies beginning of 1970s following huge success of "Mon Rak Luk Tung". Three men are looking in a remote cave for a mystical cat having real diamond eyes. Chat is the one who finds it first but fighting happens with another man. They shoot each other. The third one being a Prince (หม่อม)(Manop Aussawathep), who finally keeps the jewel and doesn't give it back to Chat's daugher. Ten years have passed. The prince is now disabled, lost his wife and child. The jewel brought him bad luck as he is not the real owner. Niphon (Surasit Sattayawong), Tawan Siriwat, Sisala Thongtara, Sukon Koewliam are his domestic helpers. Tawan Siriwat hires a young lady to get the jewel from the Prince. Meanwhile the prince asks Yot (Phairoj Jaising), being a police inspector (สารวัตร), to look for Chat's daughter called Bussayarat. Bussayarat is now a nurse (Naiyana Shewanan). Sompong Phonmitr is her father and wishes to marry her to a local ruffian in order to get money to continue to buy alcohol. Yot helps Bussayarat aggressed by those ruffians. Yot brings Bussayarat to Bangkok in order to meet the Prince believing he found Chat's daughter. As Bussayarat has still a father, the Prince claims she is not the Bussayarat he is looking for but keeps her as a nurse. Niphon introduces to the Prince a fake Bussayarat played by Malalin Bonnak. The Prince asks for 7 days to ensure (สอบถาม) she is the real one. Meanwhile Tawan Siriwat also introduces to the Prince another fake Bussayarat played by Khomapat Attaya. The diamond is sacred (ของศักดิ์สิทธิ์) so it will bring bad luck to malevolent people. Tawan Siriwat, disguised as a ghost (ผี) frightens Malalin to chase her away. Khomapat also faces many black cats in her room and flees. Niphon is married to Nuan (สุพรรณ บูรณะพิมพ์). Nuan is elder sister of Malalin. Niphon is thinking to flee with Malalin when they get the diamond. As Khomapat is in hospital following her shock, Niphon cuts her oxygen approvisionnement to get rid of a competitor. Seeing Yot loving Bussayarat, Malalin is jealous and tries to take Yot away from Bussayarat. Meanwhile Yot is sent by the prince to meet Phra lo (Lor Tok) in order to bring back the diamond. Tawan Siriwat sends some ruffians to steal it but it fails. A ceremony to handover the diamond (มอบเพชร) to Malalin is organised. It ends badly with Tawan Siriwat trying to steal the diamond and injuring Malalin. Yot shots Tawan Siriwat. Being disfigured, Malalin asks Bussayarat to get the diamond for her so that she can have chirurgical operation. Having the diamond, Malalin prepares to flee with Niphon. Khomapat's aunt called Nathalie shots Malalin to get the diamond. Many deaths happen due to the evil power of the diamond (อำนาจของเพชรตาแมว). Nathalie becomes crazy after Niphon steals the diamond from her. Niphon is chased by the police. He shots by mistake Nuan and finally falls from a building. During an official ceremony, the Prince gives back the diamond to Bussayarat.



Year

: 1971



Thai title

:

มันมากับความมืด




English title

: Out of the Darkness



Rating

: 3/5


Director

: ChatriChalerm Yukol



Main actor

: Sorapong Chatree,Kom Akadej,Rujira Isarangkul,Dam Datsakorn,Surasit Sattayawong,Tawan Siriwat


Main actress

: Naiyana Shewanan,Chosri Misommon,Marasri Isarangkul
A mysterious object fall in the sea. Two scientifists from Bangkok come to the South of Thailand looking for the mysterious object. The local villagers worship what they believe to be a god. But a mysterious creature start to kill villagers at night time. The scientifists have to help the villagers to get rid of this mysterious objet. It was the first Thai science-fiction movie but it was not successful at the box office. In his first film, ChatriChalerm Yukol used new actors, whereas other filmmakers used established superstars.
---