Increase or decrease font size for easier reading : A+ A-
Monrudee Yamaphai
Monrudee Yamaphai (1962) - มนฤดี ยมาภัย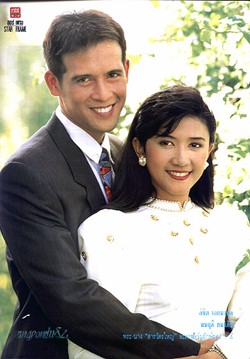 Monrudee Yamaphai played in more than 20 movies and many Thai TV series. She played her first movie "กรรม" at 16 years old
This Monrudee Yamaphai movie page contains 5 records.
---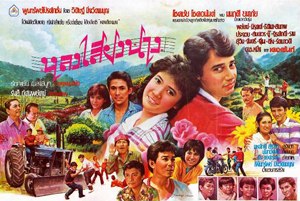 Year

: 1983



Thai title

:

หลงเสียงนาง




English title

:



Rating

: 3/5


Director

: Rangsee Thatsanaphayak



Main actor

: Sawin Sawangrat,Somkuan Krajangsat,Prachuap Ruekyamdee,Nirut Sirijanya,Chokchai ChokAnan


Main actress

: Monrudee Yamaphai,Thitima Sangkapitak
The musical movie "หลงเสียงนาง" is now very difficult to find in Thailand. It is easier to find a Cambodian copy (VHS tape only) than the Thai original version. In the Cambodian version, some songs are still in Thai language and not Khmer language! Many songs are featured including the hit "Long Sieng Nang" (หลงเสียงนาง). The movie scenario is quite similar to "Mon Rak Luuk Thung" (มนต์รักลูกทุ่ง), i.e. a romantic musical comedy. The movie director is Rangsee Thatsanaphayak (รังสี ทัศนพยัคฆ์). He directed around 100 movies! This movie features four veteran actors (Sawin Sawangrat, Somkuan Krajangsat, Prachuap Ruekyamdee, Nirut Sirijanya as Yot) and two veteran actresses, i.e. Monrudee Yamaphai as Chalita (ชลิตา) and Thitima Sangkapitak as Chontima (ชลธิมา). The main actor is seldom seen in Thai movies, i.e. Chokchai ChokAnan (โชคชัย โชคอนันต์) as he played in two movies only. Chokchai ChokAnan is a Thai country music singer, who became famous thanks to the song "หลงเสียงนาง". This song was even adapted in Khmer language (ลา..ลา..ลา.....). Chokchai ChokAnan is half Thai and half Indian. He is playing character Nat. A car from Bangkok is arriving with two young ladies in the village. Yot and Nat, two close friends, tease the two Bangkokian ladies with their motorbike. Finally the two couples tease each other. The Bangkok ladies wish to discover rural life and try to drive a tractor. Nat tries to seduce Chalita through love songs but she is reluctanct. Finally love emerges but the father forbids the young ladies to see the boys. They have to use tricks to see each other. Chalita is finally fianced by her father to an older Chinese Bangkokian businessman. Nat is upset but Chalita was forced. Nat sends a little boy to sing a song telling his disappointment. Chalita has to talk to him through songs (รักคุณคนเดียว). Finally the Bangkokian businessman cannot be trust as he steals money from Chalita's father. Thanks to Nat and Yot, through a final gunfight battle, the businessman and his ruffians are defeated. The father now recognizes the young men's value and accept their love with his daughters.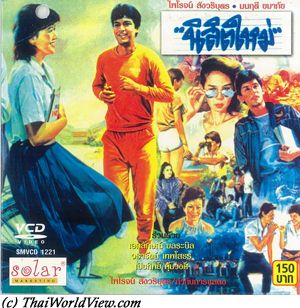 Year

: 1983



Thai title

:

นิสิตใหม่




English title

:



Rating

: 2/5


Director

:



Main actor

: Phairoj Sangwaribut


Main actress

: Monrudee Yamaphai,Piathip Kumwong
Wattee is a university student. In a hurry as he has forgotten one book, he borrows Pla's bicycle. Some other students believe he intends to steal the bicycle. He needs to prove that Pla has given him the bicycle keys but Pla is sick for a few days. He is judged by university court of justice but he is saved by Pla just in time. A love story starts between Wattee and Pla but former Pla's boyfriend still wants to marry with her. His family and Pla's mother prepare a plan in which Pla's mother company is bankrupted. Pla has no choice than to marry her former boyfriend in order to save her mother and her company. Things end up well as Wattee is able to tell the truth to Pla before she leaves to England. This movie highlights the Thai modern society changes in which young people choose their mate by themselves and not following their parents' wishes anymore.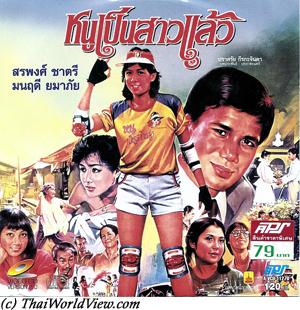 Year

: 1982



Thai title

:

หนูเป็นสาวแล้ว




English title

:



Rating

: 3/5


Director

:



Main actor

: Sorapong Chatree,Sor Asanajinda,Prachuap Ruekyamdee


Main actress

: Monrudee Yamaphai,Thitima Sangkapitak,Metta Roongrat,Linda Khatancharoen



Buy now

:

Kathon is a girl coming from a poor family in a slum. She is doing small jobs to support her aging grandparents. A supermarket owner, Pakasit, catches her stealing food cans. Following her explanations, he has mercy on her. He then understands her good heart and character. He declares his love for her. But his mother looks down people coming from slum believing that they are only interested in her son's money. Hopefully his friends are coming to help Pakasit...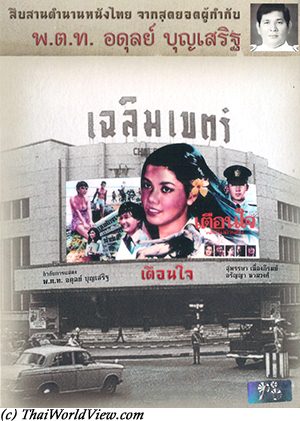 Year

: 1979



Thai title

:

เตือนใจ




English title

:



Rating

: 4/5


Director

: Adul Phijit



Main actor

: Tuanton Kammeesri,Surasit Sattayawong,Lor Tok,Thep Thienchai


Main actress

: Supansa Nuengpirom,Aranya Namwong,Monrudee Yamaphai,Ratanaporn Intarakamhaeng



Buy now

:

Surasit (Surasit Sattayawong) and Ratanaporn (Ratanaporn Intarakamhaeng) have a teenage daughter called Teuan Jai (Supansa Nuengpirom). New soldiers selection (ทหาร) is happening. Lor Tok is their instructor. Strong regulation (ระเบียบ) is taught to them. Young lady Teuan Jai meets one cadet in the bus while going to university. Monrudee Yamaphai as student is her close friend. Tuanton (Tuanton Kammeesri) is married to Aranya Namwong (เมียตำรวจ). He has often nightmares. He is still a low rank policeman making his wife unhappy about his status. Suphansa receives a love letter from one of the soldier. Finally a group of five young soldiers cadets and five young ladies students including Teuan Jai meet each other. They all go to Pattaya. All boys have same goal to serve their country. There are drunkard ruffians at the street entrance leading to Teuan Jai's home. Arguments happen with the young soldiers cadets (นักเรียนเป็นทหาร). One evening, Teuan Jai is raped and killed (มนุษย์ใจสัตว์). A wallet is found with prints on it. The police officer Tuanton investigates on the issue. He visits by night the murdering place and the corpse storeroom (ห้องเก็บศพ) to look for evidences. Thep Thienchai is arrested but he is not the culprit. This murder has caused big emotion and Thai police has to broadcast a message encouraging young ladies to wear appropriate clothing. There is a comparison of young Thai people doing sacrifice to become soldiers and other young people behaving very badly. People having usefulness for the country versus people being a burden. Finally the policeman catches the killer thanks to scratches proofs in his shoulder. As he refuses to acknowledge the murder despite proofs found, the policeman has to force him by using some beatings. Tuanton is finally expelled from the police. This movie is based on a real story, which happened in 1961, where a group of hooligans raped and killed a young student called Teuan Jai PhuangNak. The DVD lasts 1h32mn but the original film is longer. The movie director is Adul Phijit (อดุล พิจิตต์).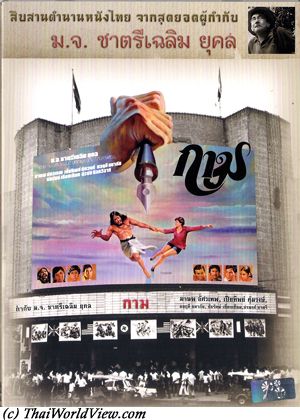 Year

: 1978



Thai title

:

กาม




English title

: Kama



Rating

: 5/5


Director

: ChatriChalerm Yukol



Main actor

: Manop Aussawathep,Sorapong Chatree,Dam Datsakorn,Nirut Sirijanya,Adul Dulyarat,Somsak Chaisongkram


Main actress

: Piathip Kumwong,Monrudee Yamaphai,Wiyada Umarin,Metta Roongrat



Buy now

:

Chet (Sorapong Chatree) performs love scene with Manvika (Piathip Kumwong) in front of cameras. Manvika (ดาวโป้) is a sex movies star. Veena (Monrudee Yamaphai), her teen daughter, feels ashamed. Manvika draws a line between public life and private life. She works hard to pay her daughter's studies. There is a crazy painter called Marut (Manop Aussawathep) living near their home and drawing big vagina, i.e. his vision of a mother, or big penis (พระเจ้า), i.e. his vision of the humanity creation. The art critic doesn't understand him and sees him as a sex maniac only. The artist is seen as obscene (ลามก) by his neighbours. Veena gets interest in this artist and also starts to draw similar vagina during school art lessons. She is studying in a catholic private school. Next week is Veena's birthday. Veena has feelings that her mother doesn't spend enough time with her and more time with other men while playing movies. A journalist called Surasak keeps harassing the mother. As a vengeance as Manvika slapped him, the journalist publishes picture of her daughter Veena presented as a new star (ดาวรุ่งดาวใหม่). Despite not being aware, Veena is threatened to be expelled if it ever happens again as her school can only accept good mindset lady (สุภาพบุรุษสตรี). Society doesn't make a difference between a job and real personality of people. They all believe Manvika can only be an easy woman. The artist is also despised as sexual representations cannot be art according to society prejudices. While going back from restaurant, Veena's friend car hits the artist. Veena helps to bring him back home safely. The journalist is still angry and writes devastating reviews about Manvika. He is also a corrupted guy accepting money to write good reviews. Veena understands the artist motivations and doesn't believe what he is drawing is dirty as it is the origins of our world. People start to gossip, including Surasak the journalist, as Veena visits him every day. Neighbours believe a sex maniac artist and a daughter of porno star can only do bad things together. Veena wishes the artist to draw mountains or sea and he follows her advice. Following Surasak's pressure, Manvika is downgraded to second role by movie director (Adul Dulyarat). One evening, the artist wishes to draw a nude painting of Veena. Afraid she starts shouting and fighting back. Surasak following them secretly takes pictures to be published on Thairat newspaper's first page and pretending a rape. The artist is beaten by the mob. Nobody talks anymore to Veena (คนเลว) at her school. Manvika tries to get help from other newspapers but with no avail. Veena is fired from her school. Surasak's wife (Metta Roongrat) asks him to consider how he would react if his own daughter was tarnished the same way. Nobody comes to Veena's birthday (รังเกียจหนู). Newspapers can shape belief of people as even Manvika doubts about her own daughter. Only the artist understood her, so she leaves her home to find him in Koh Samet (เข้าใจกันดี). Following Manvika's tearful pleas, Surasak recognizes his mistakes and promises not to write about her and her family anymore. Being recognized on Koh Samet island, police and her mother are coming to get Veena back. Veena doesn't want to go back with her mum and be called as sex star daughter (ลูกสาวดาวโป้) again. Marut, the artist, gets shot by the police. Only the crazy artist was understanding Veena. This movie กาม includes strong critique of newspapers living on scandals (ข่าวเป็นข่าว), strong critique of society preconceived opinions on art and people public life. Many famous Thai actors have a cameo appearance in this movie.
---