Increase or decrease font size for easier reading : A+ A-
Moeifa
Moeifa (1943) - เหมยฟ้า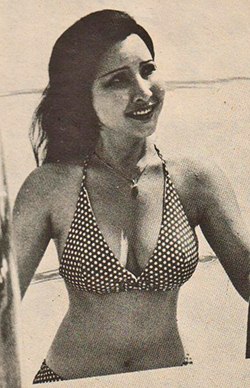 Moeifa always played the "ดาวโป้" (actress who always played the girl friend of the Mafia boss, the jealous woman, the temptress, the prostitute or the woman who dressed in sexy clothes)
This Moeifa movie page contains 12 records.
---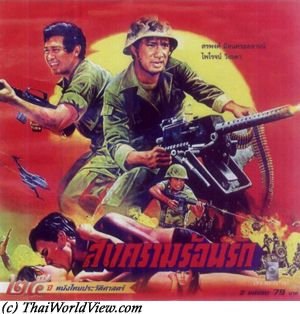 Year

: 1986



Thai title

:

สงครามร้อนรัก




English title

:



Rating

: 2/5


Director

:



Main actor

: Sorapong Chatree,Phairoj Jaising,Porjed Kaenpetch,Dam Datsakorn


Main actress

: Wiyada Umarin,Moeifa
During Vietnam war some Thai soldiers are facing the Vietcong resistance. It is their last days of their engagement. One of them, Athit, has a Vietnamese girlfriend called Cheut Cheun, but needs to be separated from her. Athit promises to come back. Due to the South Vietnam invasion by North Vietnam, he cannot keep his promise. Many Vietnamese boat people then flee to Hong Kong. Cheut Cheun's father forces his daughter to leave Vietnam in order to secure a better future for her. The smugglers are part of the mafia. Those evil men rape the young girl on the boat. The boat is hijacked by Thai ruffians and the boat people are put in a cage. The young girls are transferred to another boat by the ruffians, who wish to send them to Thailand. Athit and his friend Wat accidentally see Cheut Cheun. She was sent to a bordel. Athit promises to help. Cheut Cheun refuses to obey the mamasan (มาม่าซัง) so faces wrath from her and is tortured (ทรมาน). The mamasan considers the girls (เด็กผู้หญิง) as things and now wishes to send them to singapore due to the deranging noise made by Athit. It is difficult for Athit to free Cheut Cheun due to the mamasan's bad influence (อิทธิพล). He wishes to buy a ticket to send her back to Vietnam. He convinces the police to investigate and helps to gather proofs. He doesn't have enough money to buy her back so he tries to organize an escape but it fails. His friend Wat is killed. The police finally arrests (จับ) the mamasan and her ruffians. This movie highlights the boat people phenomena and the mafia taking profit of it. The main actress is from Philippines. She might had less concern that Thai actresses to play sexy scenes. Soundtrack from Dario Argento's horror movies is used.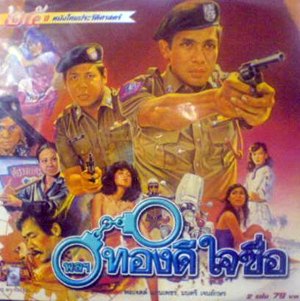 Year

: 1982



Thai title

:

พลฯ ทองดีใจซื่อ




English title

:



Rating

: 5/5


Director

: ยอด มาลา



Main actor

: Porjed Kaenpetch,Tuanton Kammeesri,Somchai Samipak,Krailat Kriengkrai,Wittaya Sukdamrong


Main actress

: Moeifa,Anchalee Chaisiri
Thai movie พลฯ ทองดีใจซื่อ was released in year 1982 and lasts 1h43mn. It was released under VCD format by Lepso company. Movie director is ยอด มาลา. This is a social movie about Thai police (หนังสะท้อนชีวิต). Actors and actresses are Porjed Kaenpetch, Tuanton Kammeesri, Somchai Samipak, Krailat Kriengkrai, Moeifa, Montree Jenuksorn (มนตรี เจนอักษร), Wittaya Suk Damrong, Anchalee Chaisiri. The movie took place during Bangkok 200 years anniversary. Somchai Samipak welcomes a new promotion of fresh policemen including Thongdee, Samak, Krailat. They work in parallel with experienced policemen. Three addicts kidnap a child and ask for a car to flee. Child is released and Thongdee (Porjed Kaenpetch) even saves one of the ruffians jumping from the bridge. One policeman has seventeen years' experience but never took bribes to make additional revenue (มือสะอาด) or additional job to make ends meet. Some policemen accept bribery and let truck drivers to go even if they committed infraction. Police inspector's wife (Anchalee Chaisiri) doesn't follow law. Thongdee and his colleague have issues with her but her husband Tuanton Kammeesri agrees with the policemen's actions. Tuanton Kammeesri got his position thanks to his wife. She is upset and is having an affair with drug addict. Krailat Kriengkrai is a policeman drinking alcohol. Thongdee and his colleague have issues with a child of a deputy. Rich kid believes relations can help them to avoid police. His mother is Moeifa (คุณหญิง). Even Thongdee's boss is on Moeifa's side and is blaming his own men. The deputy finally forces his wife and son to apologize. He blames the police boss saying that people, who build the country, are not the police inspector who stays in the air-conditioned room. Thongdee and nurse Duangjai are going to marry. Unfortunately, Thongdee is shot while police is trying to catch some robbers. Thongdee cannot speak anymore due to the injury and has to leave Thai police. Policeman salary (เงินเดือนหลวง) is very low. Two policemen families are living in a slum. One policeman, Samak, is fair. The other one is corrupted and gets extra money by getting money from citizen. Samak's wife is fed up with her poor life and is seeing the corrupted policeman enjoying good life. Thai police help citizen and ensure law is applied (ระเบียบกฎหมาย). Police catches one deputy's wife who was playing cards. Thai police helps a pregnant woman and a birth happens in a police car. Two Thai policemen save a lady wishing to get suicide as her husband has a minor wife. Finally, the corrupted policeman gets caught by his wife as he was having a minor wife, i.e. rich people problems... Samak is shot during a last mission before heading to his wife's birthday. Krailat is also killed in front of Thongdee while trying to stop an altercation between small ruffians. This movie shows that they are good and dedicated Thai policemen to do their duty also and not only corrupted ones.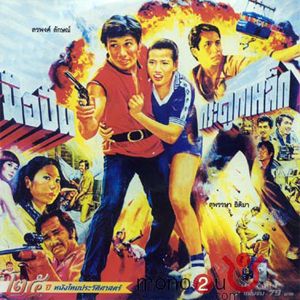 Year

: 1981



Thai title

:

มือปืน กระดูกเหล็ก




English title

: Iron Bone killer



Rating

: 3/5


Director

: Payoong Payakul



Main actor

: Sorapong Chatree,Nard Poowanai,Dam Datsakorn,Porjed Kaenpetch,Lak Apichat,Phairoj Jaising,Sithao Petcharoen


Main actress

: Thitima Sangkapitak,Supansa Nuengpirom,Moeifa
Thai movie Iron Bone killer / มือปืน กระดูกเหล็ก was released in year 1981. It is directed by famous action movie director Payoong Payakul. It lasts 1h56mn. While driving back from an underground casino, Kit Meka (Sorapong Chatree) finds a dead man lying on the road with a pod full of money. Kit gets shot and injured by two men but succeeds to flee after shooting them. Another car chases him. He takes refuge at a doctor's home but the ruffians do a rampage there. He finally ends up in a neighbouring house where a young enthusiastic lady welcomes him warmly. He leaves to go to funeral of his friend Phi Kamnan Pan. He meets Seua Tot (Nard Poowanai) and Moeifa there. Kit escapes to ruffians again and is rescued by a young lady called Pim. The ruffians' leader, Pho Luang (Dam Datsakorn), is upset that his men are not able to catch Kit named as มือปืน กระดูกเหล็ก so he has to be involved himself. Pho Luang's girlfriend is called Taorung (Thitima Sangkapitak). Porjed Kaenpetch, playing a policeman, is investigating on the ruffians' activities. Pim is the niece (หลานสาว) of Seua Tot. Lak Apichat is part of Seua Tot's team. Kit helps Tot betrayed by one of his teammates. Meanwhile Pim is disfigured and raped by Pho Luang's ruffians. Seua Tot promises revenge. Tot takes revenge on Pho Luang's mother. They also kidnap Pho Luang's wife Taorung and ask for 500 000 baht (ผู้นรก) ransom. Pho Luang and his men chase after them. They take refuge in a Christian village (หมู่บ้านศาสนา). Kit and Seua Tot's team diverge and split. Seua Tot's team falls into an embuscade and Seua Tot is left for dead. Fed up to always been chasen, Kit decides to counterattack. Kit shoots Pho Luang's men and through a final fight, both Pho Luang and Kit fall from a cliff but only Kit survives. Ot (Phairoj Jaising) takes over Pho Luang's illegal business. Some ruffians led by Ot try to kill Kit. Kit ends up facing the policeman Pat (Porjed Kaenpetch). Pat is former lover of Taorung and still loves her. Taorung's heart is still split but promises forever love to Kit (ดวงเดียว). Meanwhile Kit only sees himself as a staff of Taorung. He meets Farung (Supansa Nuengpirom) and asks her father (Sithao Petcharoen) to teach him Thai boxing. Ot and his men decide to get rid of Kit. Pat chases the ruffians and ends up in a duel with Ot. Kit helps Pat before Ot can shot him. Seua Thot also saves Kit but dies, being shot by Ot. All ruffians being neutralized, Kit ends up with both Taorung and Farung.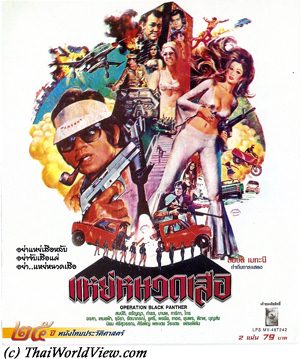 Year

: 1977



Thai title

:

แหย่หนวดเสือ




English title

: Operation Black Panther



Rating

: 3/5


Director

: Sombat Methanee



Main actor

: Sombat Methanee,Manop Aussawathep,Pipop Pupinyo,Kamthorn Suwanpiyasiri


Main actress

: Aranya Namwong,Moeifa,Tharika Thidathip



Buy now

:

Cheutchai (Sombat Methanee) spends a lot of time to read James Bond novels so behaves similarly and weirdly (บ้าๆ บอๆ). This movie reminds of French movie "L'animal" with Jean-Paul Belmondo. Cheutchai is mistaken as another Cheutchai by some ruffians at Bangkok airport. He is brought to a meeting of a mysterious secret organisation (องค์กร). They are all wearing animal mask to hide their real identity and call themselves by number. Traitors are killed by a black panther. Cheutchai is given a mission by sexy number 9, Sareuthai, to kill a politician. He is recruited as a hitman but doesn't shoot the politician so causing the ruffians' ire. He flees through a two driving sides Mini British car. There is a car chase through Bangkok, then until the top of the Golden Mountain and then through a side car. Cheutchai needs to hide in a brothel to escape the ruffians and then in a gogo bar. He finally flees with dancer Aranya and takes refuge in her home. Cheutchai asks help from Sareuthai. She suggests him to kill the organisation leader and gives him the building map. Sareuthai is later killed by the black panther due to her betrayal to the organisation. Cheutchai decides to enter in the building at nighttime but he is captured. Being joked on his qualification as Thai scout (ลูกเสือ), he punches back. During 1970s the Thai scout organisation was seen as a protector of Thai kingdom against external threats such a red communists. He succeeds to escape thanks to Aranya. Police arrives on time to rescue them. Cheutchai and Aranya neutralize the organisation leaders (ทำร้ายชาติ) at Don Meuang airport. In 1976 Don Meuang airport was still used for international travel. Aranya was in fact an uncovered policeman. This movie is a mix of action and comedy. The VCD includes two soundtracks. The second soundtrack in Isan language adds many oral jokes absent in the original Thai soundtrack. The movie features also a funky 1970s music soundtrack. It is produced by "Methanee film" company and Sombat Methanee is also the film director. It is a two hours movie.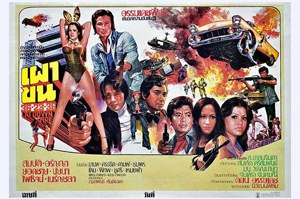 Year

: 1976



Thai title

:

เผาขน




English title

: Lay Down and Die



Rating

: 3/5


Director

: Kom Akadej



Main actor

: Sombat Methanee,Manop Aussawathep,Phairoj Jaising,Kanchit Kwanpracha,Yodchai MeksuwanBoo,Choomporn Theppitak,Dam Datsakorn,Boo Wibunnan,Kom Akadej,Pipop Pupinyo,Pan Borapet


Main actress

: Aranya Namwong,Naiyana Shewanan,Moeifa,Chosri Misommon,Neranchala Thaleungsak
Thai movie เผาขน was released in year 1976. The movie was never released on VCD or DVD in Thailand but a collector saved the film from 16mm format into VHS many years ago. The copy was not so good and was in red color as the film was already old. It lasts 1h44mn and is incomplete. The movie was also released in Italy under the name Lezi Puca Se (Lay Down and Die). It was also released by IFD Films and Arts, a Hong Kong company, under the name Bionic Heroes (1977) and lasts 1h25mn. The VHS rip is still colorful and sharp but the original Thai version has been reduced and cut to fit VHS standard format. Some sequences missing in the Thai remaining version are present in the international release. Enemies are trying to enter Thailand. At the border, Fon (Sombat Methanee) refuses to meet his younger sister Naiyana. He has to investigate who is providing weapons for Thai enemies. The enquiry leads him to a bunny bar, owned by Manop Aussawathep. Both Aranya Namwong and Pong (Phairoj Jaising), sister and brother, have resentments against Manop as he failed to honour the promise to their father to take care of them. They are used by him for low jobs. Pong (Phairoj Jaising) keeps having arguments with Dam, Manop's right hand. Boo Wibunnan is shot by Kanchit Kwanpracha, who ends up in jail. Aranya is having issues with Ah, an older man, who is trying to rape her as she was sold by Manop. Pong shoots him deadly. Pong and Aranya are then chased by the police. Prisoners Kanchit and Yodchai Meksuwan escape from the prison and are chased by the police. Some ruffians led by Dam Datsakorn try to shoot them while they are fleeing. They split to increase the chance for escape. Yodchai meets Pong and Aranya. They bring him temporarily with them to avoid police but then get rid of him on the backside of the road. Manop Aussawathep's girlfriend is played by Moeifa. Both Pong and Aranya fail to kill Manop. Kanchit wishes to revenge also on Manop as he believes he was betrayed. Manop pacifies everybody and Yodchai joins the team also. Dam, Yodchai and Kanchit do a heroin traffic in the train. Naiyana Shewanan spies them. Manop, as head of the traffickers, is upset as his latest traffic was discovered by the police so there must be a spy in his team. Manop decides to use Aranya for a Thai boxing match in order to exchange drugs versus money among a busy crowd. The niece of Manop is Pissamai (Neranchala Thaleungsak). Pissamai and Pong become very close. Chosri Misommon is playing Aranya's Thai boxing trainer. Choomporn Theppitak is playing a drug trafficker. Aranya wins her Muay Thai boxing match. Nayana spies Kanchit and his ruffians charging drugs in a truck. Yodchai convinces the ruffians that he will manage Nayana by himself. As Manop tries to abuse Pissamai, Pong helps her and they flee together chased by Dam. Meanwhile Fon shows to Aranya that Manop uses her as a mule only as drugs is hidden under banknotes. They also flee. Pong is captured while trying to release Nayana. Fon flees with Aranya and Pissamai. While trying to capture drug dealer Choomporn, Fon is finally neutralized by Pipop Pupinyo, Pan Borapet and Kanchit. They are transferred to the ruffians' base by helicopter. Fon is attached to a rope under the helicopter. He falls in a lake. Ruffians are attacking a border station to let enemies enter Thailand. Some ruffians are changing side such as Kanchit trying to protect Yodchai, who was the one always informing the police. The movie highlights police and military helping each other to push back enemies of Thailand. Pong and Pissamai die in each other's arms while fighting for Thailand. Director Kom Akadej is also having a small role as policeman. The movie features a very big number of famous Thai actors / actresses from decade 1970s.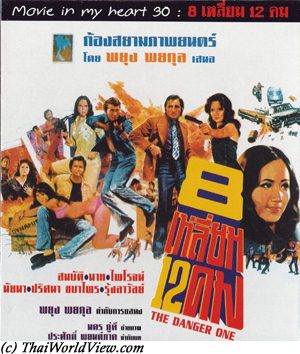 Year

: 1976



Thai title

:

8 เหลี่ยม 12 คม




English title

: The Danger One



Rating

: 3/5


Director

: Payoong Payakul



Main actor

: Sombat Methanee,Dam Datsakorn,Nard Poowanai,Phairoj Jaising,Pipop Pupinyo,Phirapon Piyawan


Main actress

: Prissana Chabaprai,Naiyana Shewanan,Runglawan Sripatimakul,Moeifa,Khomapat Attaya



Buy now

:

Payoong Payakul is the director of the Thai movie "8 เหลี่ยม 12 คม". His wife Prissana Chabaprai is also playing. The movie was released in year 1976 and lasts 1h44mn. The image is a bit reddish and damaged as being the last copy still available on the market. The selling point of the point, according to the poster, is the presence of six movie stars (ดาราเอกโคจร) including Runglawan Sripatimakul, Prissana Chabaprai, Naiyana Shewanan, Nard Poowanai, Sombat Methanee, Phairoj Jaising. The movie features also a few ดาวยั่ว (วิกาวดี, Khomapat Attaya, Moeifa, มิสหลาบยัง) acting in a few daring sequences. A jewellery robbery does happen. Khom (Sombat Methanee) and Chitchai (Dam Datsakorn) are involved. An overseas buyer is now expected in a few days. Anita (Naiyana Shewanan) is the younger sister of Chitchai. Chitchai fails to steal the jewellery suitcase from Khom. Khom sent Krissana (Nard Poowanai) to study in England. Krissana now becomes a policeman. Khom promises it is his last job in order to avoid facing Krissana as a policeman. Tonachai (Phairoj Jaising) with two ladies called Rita and Rosana always help Khom. Chitchai requests the diamonds to Khom earlier than expected. Tonachai has many enemies (ศัตรู) and has a fighting in an underground parking. Chitchai sent some ruffians (Pipop Pupinyo, Phirapon Piyawan...) but it fails. In the morning, Khom brings the 10M baht jewellery for Rita to check. The hotel groom exchanges the small suitcases while they are not aware. Police head asks Krissana to neutralise this jewellery ring. Krissana starts by entering Chitchai's nightclub, i.e. the Suzi bar, by claiming being a life insurance seller. Chitchai's ruffians aware that Krissana is certainly a cop tries to kill him but without success. Khom is concerned that he may face sooner or later Krissana (ปัญหาตัดสินใจไม่ถูก). Krissana gets information from Anita, who is his girlfriend. Khom believes the diamonds have been stolen by Chitchai's team. Rita is in fact part of Chitchai's team also and is finally shot by them. Chitchai captures Khom. The jewels are going to be used in a weapons deal exchange. Aware of the exchange place, Tonachai and the ladies head there. Krissana brings policemen there and also helps to release Khom. The HQ is then stormed and Chitchai is captured. Chitchai recognises his mistakes and is finally happy about the relationship of Rita and Krissana.



Year

: 1976



Thai title

:

3นักสู้ผู้ยิ่งใหญ่




English title

:



Rating

: 3/5


Director

:



Main actor

: Sorapong Chatree,Phairoj Jaising,Sukon Koewliam,Pipop Pupinyo,Uten Boonyong,Boo Wibunnan,Krai Kanchit


Main actress

: Pawana Chanajit,Moeifa,Duangjai Hathaikarn,Runglawan Sripatimakul
3นักสู้ผู้ยิ่งใหญ่ movie deals about two ruffians factions competing for leadership. One group is led by wealthy man (พ่อเลี้ยง) Yan. The second group is led by Sia (คนอิทธิพลมาก). Sia is played by actor Boo Wibunnan, who always plays the mafia leader, half Chinese half Thai, speaking a Thai language mixed with Chinese words. Sia's daughter is Taptim (Pawana Chanajit). She is fair and doesn't hesitate to recognise mistakes done by her father or his team. Both ruffians leader have sexy mistresses (ดาวโป้) played by Moeifa and Runglawan Sripatimakul. Yumei is Yan's mistress but she has also another lover, i.e. Roj (Phairoj Jaising), Yan's close associate. Some of Sia's ruffians take compromising pictures in order to blackmail Roj as they are aware he is having an affair with his boss mistress. Jom (Sorapong Chatree) and his wife Srithong find a job inside Yan's company. Yan's daughter Songla notices Jom. Sia's ruffians threaten villagers working as gold prospectors. Jom and Roj have a fight with Sia's ruffians as they raped one of the village lady. Each ruffians leader is responsible and protecting his territory and people. While Jom is away, Srithong is raped and killed. Jom promises to revenge her. Siep (Uten Boonyong), an undercover policeman, having a strong punch, is entering the area. Sia wishes to recruit him. As Taptim has studied in university, Siep tries to convince her that her father activities are wrong (เดือดร้อน) towards villagers. Jom is captured by some ruffians led by Hin while walking endlessly. He is finally released as he is identified as staff from Yan. Hin accepts Jom in his team and trains him so that he can revenge his wife. Roj And Yumei are expelled by Yan as they are having an affair. Yan has received a comprising picture given by Sia! Roj joins Sia's team. Siep and Taptim try to reconcile both parties causing Sia's ire. As Siep shoots one of Sia's ruffians trying to rape a villager, he is considered as a traitor (ทรยศ) and imprisoned. Jom joins back Yan as he has finished his training. Moeifa drugs Yumei so that she cannot refuse Sia's advances. Her plan is to take the team control with Roj. Yumei is punished and killed by Roj. Knowing Yumei's death, Yan requests a one to one duel with Sia. Yan shots Sia but then Roj cowardly shots Yan also. Roj is the new leader. Meanwhile Taptim helped Siep to flee. Jom and Siep fight back in order to defeat Roj and his ruffians. The area now becomes ruffians free. It is a 2h12 movie with some 1970s key actors. Movie picture is quite poor and colorless. It certainly comes from an old TV program recording.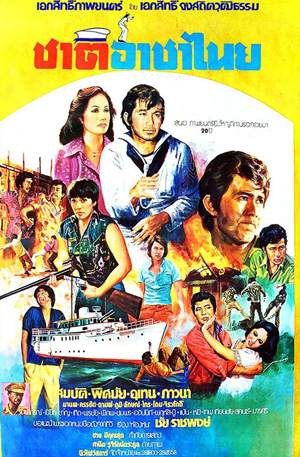 Year

: 1976



Thai title

:

ชาติอาชาไนย




English title

:



Rating

: 3/5


Director

:



Main actor

: Sombat Methanee,Uten Boonyong,Manop Aussawathep,Kanchit Kwanpracha,Krai Kanchit,Dam Datsakorn,Lak Apichat,Choomporn Theppitak,Boo Wibunnan,Paen Pleumsachai


Main actress

: Pissamai Wilaisak,Pawana Chanajit,Moeifa
Thai movie ชาติอาชาไนย was released in year 1976. It features Sombat Methanee as main actor and Pissamai Wilaisak as main actress. The movie is lost in Thailand but there is a short trailer of 1mn30s left to be seen. Other actors and actresses are Uten Boonyong, Pawana Chanajit, Manop Aussawathep, Kanchit Kwanpracha, Krai Kanchit, Dam Datsakorn, Lak Apichat, Choomporn Theppitak, Boo Wibunnan, Moeifa. The short left trailer allows to see a brawl involving Sombat, Kanchit, Dam, Krai, Choomporn and Paen Pleumsachai. Sombat hits Kanchit as he refuses to betray? The movie was previously released in year 2500 with Ratanaporn Intarakamhaeng, เชาวน์ แคล่วคล่อง, Somkuan Krajangsat, ทม วิศวชาติ and กมลพันธ์.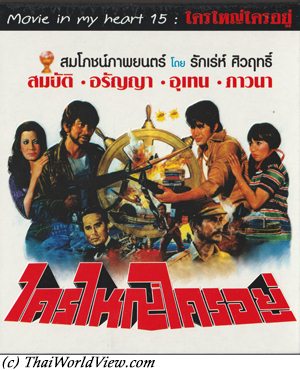 Year

: 1976



Thai title

:

ใครใหญ่ใครอยู่




English title

: The great outlaw



Rating

: 4/5


Director

: เสนีย์ โกมารชุน



Main actor

: Sombat Methanee,Uten Boonyong,Dam Datsakorn,Taksin Jampol,Kecha Plianvithee,Tat Ekathat,Pan Borapet


Main actress

: Aranya Namwong,Pawana Chanajit,Moeifa



Buy now

:

Thai movie ใครใหญ่ใครอยู่ / The great outlaw was released in year 1976 and lasts 2h08mn. The movie was released on VCD format in Thailand by company XxX (Triple X). Movie director is เสนีย์ โกมารชุน. Lom is having a boat transportation business on the river. Nai Prakit's ruffians (including Pan Borapet and เมือง อพอลโล่) are threatening Lom's team (Tat Ekathat). Nai Prakit (Kecha Plianvithee) wishes to marry Lom's daughter, i.e. Nam Rong (Aranya Namwong) but Lom refuses. Nai Prakit's team shoots Lom's boats and crew. Lom's staff decides to leave as they are afraid to be killed. Nam Rong proposes to talk to Nai Prakit in order to find a solution. Threatened by ruffians, Nam Rong gets help from an unknown man named Chuey (Sombat Methanee). She hires him! Peace is proposed to Nai Prakit but he is refused. Chuey is the son of an old friend of Lom. Lin See Thong (Uten Boonyong) arrives in the city and comes to eat sweets at Sida's shop (Pawana Chanajit). Fighting occurs with ruffians as one of them dislikes Lin See Thong trying to seduce Sida. Lin See Thong asks to join Nai Prakit's team. Rampeung (Moeifa) is Prakit's girlfriend. Prakan (ลูกรัก)(Dam Datsakorn) is back per his father's request. Prakit needs his help to destroy Lom's business and gets rid of Chuey. A new policeman (Taksin Jampol) arrives also in the city. He is a strong punch man and trashes ruffians lacking respect to him. Prakan, using small speed boats, disrupts Lom's boat fleet and prevent Lom's goods to be sold on the market. Two ruffians, Mek and Sing, intend to get rid of Lin See Thong as he is getting too close to Nai Prakit. Rampeung seduces Lin See Thong. Mek and Sing ask Nai Prasit to beware Rampeung and Lin See Thong. Ruffians try to storm Lom's house at night time. Shooting happens. Police arrive very fast and ruffians have to retreat. Nai Prakit suspects there is a traitor among them. Even Taksin dares to enter in Nai Prakit's house (บ้านเจ้าพ่อ). Speed boat fighting occurs as Chuey prepares resistance to the ruffians. Action scene is managed as well as in James Bond movies. Chuey defeats Prakan. Nai Prakit kills Rampeung as she sacrifices her life mentioning the police radio found belongs to her despite it belongs to Lin See Thong. Lin See Thong is kept prisoner in his room as Nai Prakit isn't sure he is innocent or not. Ram Rong is kidnapped by Prakan. Lom and Chuey enter Nai Prakit's home. Meanwhile Thai police is informed, and they arrive by boat. To win time and to allow Thai police to come, Lin See Thong asks for a fight one to one with Chuey to show his sincerity to Nai Prakit. Heavy shootings occur. Lom is shot. Nai Prakit and Prakan are captured. Both Chuey and Lin See Thong are undercover policemen. Policeman Taksin mentions that nobody is big enough to be above the law!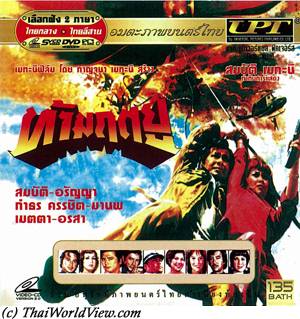 Year

: 1976



Thai title

:

ท้ามฤตยู




English title

:



Rating

: 3/5


Director

: Sombat Methanee



Main actor

: Sombat Methanee,Manop Aussawathep,Kanchit Kwanpracha,Kamthorn Suwanpiyasiri,Krai Kanchit


Main actress

: Aranya Namwong,Metta Roongrat,Moeifa



Buy now

:

During Vietnam war Tua (Sombat Methanee) and his friend Kamleu help to extract American soldiers from the enemy field. A new mission is given to them. They need to eliminate a Lao mafia leader called Kosi. This is the third tentative (รับจ้าง) to get rid of Kosi. It takes place in 1972. Tua is sent on mission to Vientiane. Tua is having a few James Bond secret gadgets. He is captured by a mafia team led by Madam (Moeifa). He claims he has come to Vientiane to kill Mafiosi (เจ้าพ่อ) Kosi. Madam frees him in order to know where Kosi is hidding. Tua meets Jenny, Kosi's daughter. Kosi neutralizes Tua and believes that he is an American agent (มือปืนรับจ้าง) sent to kill him. Kosi is in business conflict with Madam. During a heavy gun fight between the two groups, Kosi is saved by Chinese soldiers and sent to Muang Sing in Northern Laos. Madam is killed. The mission has now changed. Tua and his friend Kamleu now need to extract Kosi from the Chinese soldiers and hand over him to American soldiers. Jenny is also captured by Chinese soldiers. Tua meets Kupan, an old friend who is now involved in drug trafficking. He understands that Kosi was involved in trug trafficking and weapons smuggling to support Red communists. Kosi has been transfered in an island close to Pattaya. Following a final batle involving a turtle shape submarine, Kosi is killed and his treacherous organisation destroyed. It is a typical action movie from mid 1970s with Sombat Methanee, who is directing this movie and also playing the main actor role. It is inspired from James Bond movies' theme with a main actor having gadget agent secret and behaving like a Don Juan. It still includes some Thainess with Tua asking for help from his Buddhist amulet. It is available in both Lao and Thai languages.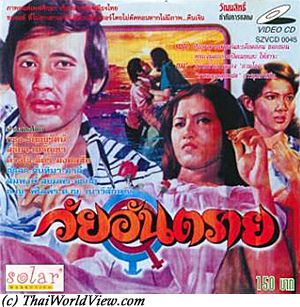 Year

: 1976



Thai title

:

วัยอันตราย




English title

:



Rating

: 5/5


Director

:



Main actor

: Krung Srivilai


Main actress

: Tanyarat Lohanan,Duangjai Hathaikarn,Moeifa,Neranchala Thaleungsak
Husband Rat is butterflying outside (รักกินขโมย) with mistress singer (นักร้อง) Na while his wife Potchanee is at home with two children, Tik and Tup. He spends a lot of money on his singer and comes back late every night (แม่ใหม่). A friend warns the wife Potchanee where is her husband (ผัวชั่ว). Potchanee surprises them together. Arguments are raised (วิชาผูกชาย) sharply. One of the daughter, hiding in the car, hears everything. The wife shoots the singer, her husband and her daughter by mistake so she kills herself. The movie introduction sets the tone. It is about love, crave and death (ใคร่, ตาย, รัก). The daughter Tup finally didn't die. She is now an adult and living with her younger sister Tik, who is studying at university. Tup is a doctor in order to help other people. She also wants her younger sister to do activities useful for the society (ประโยชน์สำหรับสังคม). Tup has a boyfriend called Krienkrai. Krienkrai's younger brother, Kong, likes Tik a lot. The two brothers love the two sisters. Krienkrai wishes to marry with Tup but she is always delaying as understanding (ความเข้าใจ) is important for her as she is afraid of being married and facing same issue as her mother. If Krienkrai wants love, Tup will give him. If Krienkrai wants crave, he shall go somewhere else (ไปหาที่อื่น). So Krienkrai is going out with Moeifa (กะหรี่) to have crave with another woman. She wishes to train his younger brother (เด็กน้อย) also! Ruffian Yot (คนจิงจกสังคม) is leading a prostitution ring. One of his prostitutes, Kathin, flees but she is caught back. Luckily the two brothers pass by and help her. She has syphilis. The doctor gives an educational description of all sexual deceases with crude and real pictures. Pat, young lady, has issues with her parents. Her mother is sick as her father doesn't have mood to do his bedtime husband duties so she is depressed. Pat leaves home and is kidnapped by ruffians. Luckily Pat is rescued in time by Kong. Kong helps to bring happiness on her face. if parents are not happy, children will behave badly (ไม่อบอุ่น). Passage to teen age is dangerous (วัยอันตราย). Tik is ready to lose Kong so that Pat can have happiness. During a storm Pat and Krienkrai have a short time sexual relation. Krienkrai still wishes Tup to stop being a doctor after their wedding. Pat is now pregnant. Who is the father? Kong is suspected by Tik. Pat's mother suggests abortion. Krienkrai is drunk everyday but refuses to marry Pat. Pat refuses to abort. Kong knows the truth (เลวกว่าหมา). Kong decides to recognize the baby as his brother is too coward. Kit understands Kong's decision. Pat refuses that Tik or Tup sacrifice themselves and promise not to kill herself. The ruffians lead by Yot notice Pat and Tik in a mall. They kidnap them. Hopefully Kathin, the lady that Krienkrai helped before, is still working there again (สังคมไม่รับ) and promises to help Pat and Tik. Pat is raped and hurt in the tummy by Yot. Tik succeeds to escape thanks to Kathin. She calls Kong, Krienkrai and the police for help. They neutralize the ruffians. Finally Krienkrai accepts to recognize the child. He blames Tup for refusing to give him some lust before so causing all this mess to happen as he needs to go outside (ระบาย)! Tup still loves Krienkrai especially after such sacrifice and continues to dedicate her life to medicine. The movie features great music from 1970s. The movie highlights that lust (กิเลส) and desire (ตัณหา) are present in all people. Impact will depend on how each individual can succeed to control himself. It also features academic educational messages on sexual deceases, birth control (correct use of contraceptive) and basic sexual teaching about unique father conception. "Wai Antarai" is really part of the new kind of movies that appear during 1973-1976 freedom era. It was the first Thai movie about sex education (เพศศึกษา).



Year

: 1976



Thai title

:

เหมือนฝัน




English title

:



Rating

: 3/5


Director

:



Main actor

: Nard Poowanai,Dam Datsakorn,Taksin Jampol


Main actress

: Pawana Chanajit,Mayurachath Muarnprasitivej,Metta Roongrat,Moeifa,Chosri Misommon,Sasima Singsiri
Thai movie เหมือนฝัน was released in year 1976. It lasts 2h09mn but is still incomplete. Sakuna (Mayurachath Muarnprasitivej), Ot's young sister, shots a man in a nightclub (คนทรยศ). Yeah Nut (Metta Roongrat), a singer, and Kachen (Taksin Jampol), nightclub's owner, believe Ot (Dam Datsakorn) is responsible but he refutes any implication. Yeah Nut and Kachen go upcountry side to meet Meuan (Nard Poowanai), the younger brother of the dead man. He is responsible of a temple school. Meuan decides to go to Bangkok. Yeah Nut likes secretly Meuan. It seems a part of the movie is missing there but Meuan is recruited by Kachen to work as gigolo. Meuan has a girlfriend (แฟน) called Mascilla in Bangkok but still needs to perform his gigolo job with demanding customers such as Moeifa. A hitman (นักเลงรับจ้าง) tries to kill Kachen but Meuan foils this plan. Meuan needs to meet his new customer called Linda. Ot decides to use Sakuna to neutralise Meuan. Meuan is finally the one to catch Sakuna! Meuan, while looking for Linda, gets a pieing from Luuk Maew (Pawana Chanajit). Chosri Misommon is playing a role as Linda's domestic helper. Luuk Maew is Linda's daughter and she dislikes Meuan. Aware that Meuan is going to Kanchanaburi with Linda, Ot prepares a plan to get rid of him. As Linda and Meuan are not back after one week, Mascilla and Luuk Maew go there to look for them. Everybody meets at the same restaurant along the river. General fighting happens and all ends up in police station. Linda and Mascilla decide to fight over Meuan (ถึงเก่ายังไม่มีสนิม). They have arguments about beauty comparison and money (ซื้อความสุขจากเขา). Meuan gets slapped by Linda. Luuk Maew is kidnapped. Meuan is fed up of his job. He indulges in alcohol and has arguments with Linda, Mascilla and Kachen as he feels other people just use him. Meuan kidnaps Sakuna (ตัวประกัน) to exchange her with Luuk Maew. During the exchange, Meuan is injured and Tawat (สมชาย ศรีภูมิ), who kidnapped Luuk Maew, is killed. Sakuna promises to revenge over Meuan. Luuk Maew loves Meuan but finds Linda in bed with Meuan (หลอกลวง). She flees away. Meuan requests his money to Kachen. Meuan plans to give his money back to the temple school he funded. All protagonists meet in the temple. Sakuna wishes to kill Meuan but Yeah Nut wishes to protect him. They end up killing each other. Meuan, injured but helped by Fan, finds strength to bring the money to the temple school. Both Kachen and Ot stop fighting as they have their dead young sisters to take care.
---