Increase or decrease font size for easier reading : A+ A-
Mayurachath Muarnprasitivej
Mayurachath Muarnprasitivej (1949) - มยุรฉัตร เหมือนประสิทธิเวช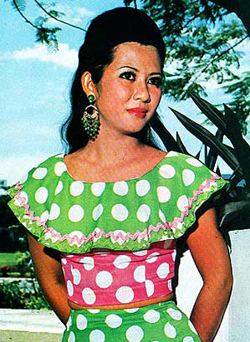 Mayurachath Muarnprasitivej
This Mayurachath Muarnprasitivej movie page contains 26 records.
---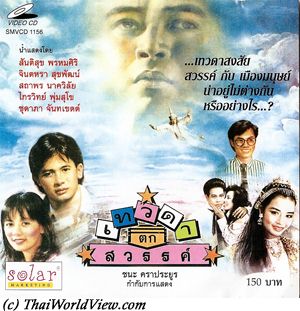 Year

: 1989



Thai title

:

เทวดาตกสวรรค์




English title

:



Rating

: 4/5


Director

:



Main actor

: Santisuk Promsiri,Kiet Kijcharouen,Suchao Pongwilai,Kriengkrai Unhanan


Main actress

: Jintara Sookkapat,Mayurachath Muarnprasitivej
Thep is part of a group of deities (Thewada - เทวดา) that comes to earth. Thep fails to go back to heaven. People in a slum (สลัม) are expelled from their home as a big company wishes to build a hotel. A journalist from CH8 (ข่าว 8) called Aep is showing the truth. Ruffians try to bring troubles but Thep protects Aep. Aep believes he met a crazy guy (เจอคนบ้า). As Thep has nowhere to go, he welcomes him in his home. Aep's sister, Kaew, is blind and makes flowers. Aep is having issues with a colleague, Watee, at the office. Other deities come to pick up Thep but Thep prefers to stay believing he is more useful in human world (มนุษย์). Aep is doing an enquiry on a kid that was kidnapped. He always highlights the opposition between poor and rich society. Aep interviews show real society so they are disturbing to his boss. Aep is worried (กลุ้มใจ) as her boss doesn't value his work. Thep starts to understand society hypocrisy (Good people – คนดี – only pretending, Charitable work – งานกุศล - is not only for those going to temple, do we value people only by their name particule – ทาน ?) Deities can be same as humans. As Thep is not willing to go back yet to heaven so he is helping Aep to do kindness (ช่วยทำความดี). Wattee and his boss (หัวหน้าผู้หญิง) are lovers. Wattee threatens her to nominate him at a higher position. An eye donation (บริจากตา) happens for Kaew. The donor is not compatible but Kaew accepts her fate. Meanwhile Wattee has no scruples. He dumps his girlfriend to pursue high professional hopes. He gets one video tape featuring a drug case but it is stolen by Da, one of the employee as it features her husband. She tries to protect her wedding and child as her husband is playing cards and dealing with drugs. Thep challenges the heaven that goodness should be seen before he heads back. To avoid bringing trouble to Da, the chief editor takes the responsibility of the missing tape. Things get worse as Da tries to get suicide as her husband has fled with her daughter. The deity leader tries to get back Thep but to no avail. Finally Da and her daughter are reunited. Through Kaew and the chief editor's action, Thep can see kindness on earth. Wattee is still jaleous with Thep and Aep. He sends some ruffians to neutralize them. Thep can vanquish them and Wattee is sent to jail as his boss doesn't support him (ตอบแทนความดี!). As Wattee is now in jail, it is time for Thep to go back to heaven. It was originally a Thai TV serie done in 1986 and then adapted to cinema in 1989. Another TV serie remake was done in 1998.



Year

: 1987



Thai title

:

เหยื่อ




English title

:



Rating

: 5/5


Director

:



Main actor

: Ron Rittichai


Main actress

: Mayurachath Muarnprasitivej,Jintara Sookkapat,Chosri Misommon
A couple has two teen boys, Long and Lit (elder brother). They don't spend a lot of time with their children as they need to work hard and late to pay back their mortgage. The father often goes on long business trips in provinces. Having no time for their children will bring bad consequences. The wife's younger sister, Sai, is staying as maid. The couple has issues with their teen boys. The boys are playing in illegal underground den, do small smuggling to earn extra money despite the pocket money given already by parents, wander with bad guys (นักเลง). The parents are worried that their kids may be caught by the police following raids on illegal casinos. The maid suggests to buy a video player so that they stay home. They wish to watch porn and violent movies. They borrow tapes from bad guys. It gives them bad ideas such as rape and they starting peeping Sai bathing. The teens are lazy and expect everything is due to them (ลูกแบบเทวดา). Watching violent movies makes Long tense. So he tortures and kills a cat. Watching porn movies arouse the teens (เกิดอารมณ์จะปล่อยที่ไหน). They think about Sai to teach them as she had a boyfriend before. Long drinks alcohol and still frequents the bad guys, who propose to bring him to prostitutes. He is always in bad mood (หงุดหงิด). Lit tries to rape Sai in the bathroom and Long hits her violently on the head. Blood flows. Sai is dead. The teens are murderers that need to hide their crime. They lie that Sai fled away with her new boyfriend in order to avoid that their mother calls the police for disappearance. They hide Sai's corpse inside the garden well. A house lizard (จิ้งจก) falls in front of Long. It is a bad omen as house lizards should never fall from ceiling or walls. A new maid is found to take care of the house. She is a young divorced lady called Sawin. They prevent the new maid to check inside the well as there is a very bad smell. Since Sai's death, Long feels bad and always stay alone. Sawin is not shy and entices Lit. They become lovers. Long becomes jealous. Long's bad friends are arrested for rape. Long starts to panic. He complains that Lit throws away brotherhood versus his girlfriend. They decide to get rid of Sai's corpse while Sawin is going out. Sawin finally discovers the corpse. Long tries to drown Sawin. A fight between the two brothers. Sawin flees and alerts the neighbours. The teens are jailed. The mother becomes crazy. The father blames the society for allowing such bad movies sales and distribution. But watching movies at home is internal affair. เหยื่อ means victim (indirect or direct). This movie is also a warning to parents not giving enough time to their children. Giving them too much freedom can have terrible side effects.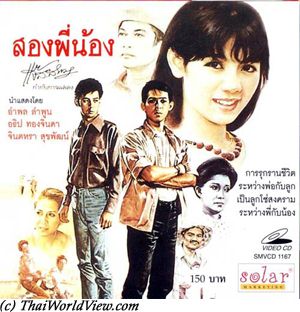 Year

: 1985



Thai title

:

สองพี่น้อง




English title

:



Rating

: 4/5


Director

:



Main actor

: Amphol Lumpoon,Chana Sriubon


Main actress

: Mayurachath Muarnprasitivej,Pissamai Wilaisak,Jintara Sookkapat
Ken's mother left early when he was a baby as she has a mysterious decease. Even the father doesn't know the real reason. The father marries again and has another boy called Ann (Amphol Lumpoon). Growing up, there is always animosity between Ann and Ken. Ann believes their father loves Ken much more than him. Having hot and bad temper, it creates jealously up to the point Ann hits Ken. Willing to clarify with Ann, the father chases him and has a serious car accident. He is disabled. A friend doctor sends his fresh graduate daughter Bin Kaew (Jintara Sookkapat) to help for his recovery. The father is the head of a big farm. Being disabled, the intendant Tiu needs to replace him. The father is strong and strict with his son Ann. The father does not forgive his son's past mistakes. One brother is doing everything good. One brother is doing everything bad. Ken has difficulty to live without knowing why his mother left many years ago. A love story starts between Ann and Bin Kaew. Ann discovers that every month Tiu is going in a remote area in the mountains. Puzzled, he follows secretly Tiu and finds he brings food to a lady. This lady is Ken's mother. She has leprosy disease so hides her-self since 20 years. She is ashamed and doesn't want anybody to know she is still alive. Thinking doing good, Ann brings Ken to see his mother. Ken has still in mind his beautiful mother picture. He cannot stand the vision of his mother aged and disfigured by the leprosy. He flees away. Nobody knows where he is. A few days later, he decides to go to see his mother again but she has commited suicide already disappointed by her son rejection. Ann and Bin Kaew finds Ken on top of the mountain trying to suicide. Unfortunately despite Ann's desperate efforts, Ken falls from the cliff and dies. Ann brings Ken's body to his father and this one has an hemorrhage in the brain. On his bed, before dying, he forgives to his son Ann so that Ann can move forward in his life and not be eaten by remorses.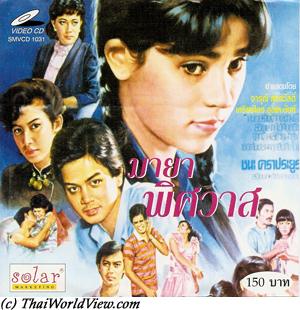 Year

: 1983



Thai title

:

มายาพิศวาส




English title

:



Rating

: 4/5


Director

: Chana Kraprayoon



Main actor

: Kriengkrai Unhanan,Suchao Pongwilai,Manop Aussawathep


Main actress

: Jarunee Sooksawad,Pissamai Wilaisak,Mayurachath Muarnprasitivej,Nipaporn Nongnuch
Dokbua (ดอกบัว), a young lady, is hurt by Chala's car. She is a poor girl coming from Chiang Mai to Bangkok in order to work but she was told a falsehood regarding the job nature. As she has nowhere to go, she can finally stay as a maid as Chala gets pity on her harsh life. Chala's HiSo family includes various members. Pen is a middle age woman. She is the new wife of Chon, who is paralyzed. Chita is Chon's sister. She never got married. Chon has three children, Chala, Chet and Lek. There is always a bad and oppressive ambiance in the family. Chala only spends money but does not earn anything. In fact Chala gives the money to a poor family. Chet and Pen are lovers. All men in the house fight over Dokbua. Pen wants to use Dokbua to take care about her paralyzed husband ardors so that she can have more free time with Chet. Dokbua played the stupid girl but she is in fact very intelligent. Only Chala knows Dokbua has entered the house with a specific idea. What is her goal and her hidden secret? This HiSo house is same as hell (นรก). People are doing bad deeds (มีบาป). Ten years ago, Chon, the father always partied in the house and brought girls. It only stopped when the father became paralyzed. Lek, the youngest daughter, has a boyfriend called Tat. Tat also tries to seduce Dokbua. Pen has a new plan and introduces Dokbua to a rich man called Tawat. Pen gets money in exchange of providing young girls to rich men. There are arguments between Tawat and Chon. Dokbua prefers to stay with Chon. Tawat takes over Chon's company as he looses face regarding Dokbua. It causes a heart attack to Chon. Dokbua talks to Chon privately on his hospital bed while he is dying. Chon is afraid about hell (กลัวนรก) due to his previous bad deeds. Before dying he updates his testament and gives nothing for his children. Everything goes for Dokbua. Chita relates Chon's story to Chala. Chon was behaving like a ruffian when he was young. After having a second kid the father starts to misbehave again with girls so the mother called Lamyong hanged up herself. Dusit was a former business associate of Chon but they had arguments. Chita and Dusit were in a love story and Chon made it broken up. Dusit later has another wife but Chon never forgave to Dusit and Dusit was shot in the back. Dokbua is Dusit's daughter. Dusit is still alive but is paralyzed. Tat still tries to seduce Dokbua as Lek is now a poor girl. Chet also tries to be nice. This hypocrisy causes Tat and Lek to break up. Pen and Chet also break up. Pen cannot stand it. Pen shots Chet and becomes crazy. Lek behaves as a bad girl. The whole family ends up in a turmoil even if Dokbua didn't intend to be such a mess. Finally Dokbua and Chala declares their love for each other. Dokbua gives all heritage to Chita. This movie highlight the high society hypocrisy. Chana Kraprayoon is famous for directing drama / romance movies and Thai TV series. This movie was adapted in a Thai TV serie in 2007. Jarunee Sooksawad got an award for her Best Actress performance in this movie.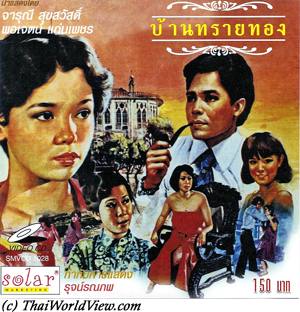 Year

: 1980



Thai title

:

บ้านทรายทอง




English title

:



Rating

: 3/5


Director

: Ruj Ronnapop



Main actor

: Porjed Kaenpetch


Main actress

: Jarunee Sooksawad,Mayurachath Muarnprasitivej,Tharika Thidathip



Buy now

:

It is a love story about a girl named Pojaman from a noble family who fights with relatives to obtain her right as the real owner of the castle. The fighting ends in happiness when she finds true love with the son of one her relatives that she is fighting with. This story has been made into a film and a television series several times in the past four decades.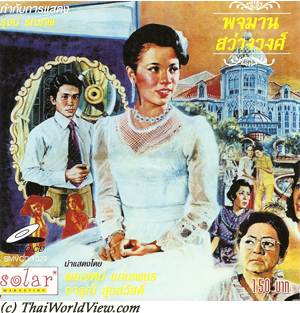 Year

: 1980



Thai title

:

พจมานสว่างวงศ์




English title

:



Rating

: 3/5


Director

: Ruj Ronnapop



Main actor

: Porjed Kaenpetch


Main actress

: Jarunee Sooksawad,Mayurachath Muarnprasitivej,Tharika Thidathip,Sarinthip Siriwan,Suphanee Jitthieng



Buy now

:

Two young new married people from Thai high society receive strong pressure from their family. The husband's mother try to persuade her son to divorce. The wife's younger sister wants to have a pleasant life without working. Will their wedding be strong enough to resist? This movie is the second part of "Baan Sai Thong".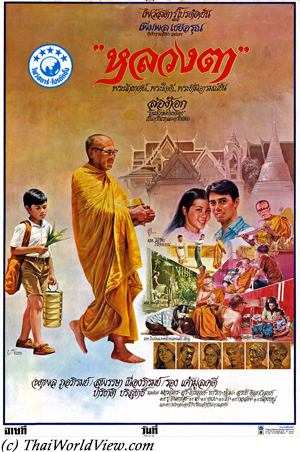 Year

: 1980



Thai title

:

หลวงตา ภาค 1




English title

: The old monk



Rating

: 4/5


Director

: Permpol Choei-arun



Main actor

: Jatuphol Poopirom,Lor Tok,Rong Kaomulkadee,Krailat Kriengkrai,Thuam Thoranong


Main actress

: Supansa Nuengpirom,Mayurachath Muarnprasitivej,Tharika Thidathip,Juree Osiri



Buy now

:

Thai movie หลวงตา ภาค 1 / The old monk was released in year 1980 and lasts 2h13mn (according to Five Star Production website). It was released under multiple formats, a beta-max version (2h01mn), VCD version by Solar (2h02mn), VCD version by BKP (2h05mn), DVD version by BKP (2h05mn), a True Thai Film cable TV version (1h48mn). A remastered version was released during decade 2010s by Five Star Production. Movie director is Permpol Choei-arun. This movie shows the importance of Buddhist abbots in Thai society. Luang Ta (Lor Tok) is an abbot in a Thai Buddhist temple. He is taking care of children (เด็กวัด) given to the temple as the parents are too poor to take care of them. During childhood, young boy Long often deal with stubborn Chuk and Ek. Long (Jatuphol Poopirom) and Ek (Rong Kaomulkadee) are now grown up. Mae Choi (Mayurachath Muarnprasitivej) is Long's mother but she is ashamed (ผู้หญิงขายคัว) so she doesn't disclose who she is. Long is like orphan (ลูกกำพร้า) under the responsibility to Luang Ta. Fighting between Long and Ek occur as Ek always tease others but they remain friends. Luang Ta teaches (สั่งสอน) them continuously. Long is accepted in school army and Ek is accepted in police school. Mae Choi dies. Luang Ta organises a funeral being the main sponsor (เจ้าภาพ). The undertaker (สัปเหร่อ) discloses she worked in a brothel (ซ่อง) before. Young lady Duangjai (Tharika Thidathip) stays in temple as she has nowhere to go. She has little education as her parents thought primary studies were enough. Luang Ta complains that girls should study also and not only do home chores. She regains trust in herself and learns new skills but after a while Luang Ta tells her it is time to leave as it is not correct for a lady to stay in a temple where only men are present. Lom, without parents and who has always lived in Buddhist temple, is in love with a young woman called Wan (Supansa Nuengpirom). Her high society parents (Thuam Thoranong and Juree Osiri) don't want a poor groom. On top of this, they are worried about impacts on their lineage. Lom decides to go at the Thai border as he knows this love is impossible. Wan clashes with her parents, who are more worried about old symbols such as status, fame, lineage instead of their daughter happiness. By reading newspapers, Luang Ta learns that Duangjai made a successful wedding. Pushed by Wan, her parents visit Luang Ta to learn more about Lom. The abbot gives them the whole story. The parents are concerned about gossip as Lom is prostitute's son but Luang Ta reminds them that skills and good personality are not linked to lineage but to own ability. Ek is proud to announce to Luang Ta that he is now police captain with 3 stars. Luang Ta complains that multiple stars don't make people more intelligent. Lom is injured at the border and is sent to hospital. Luang Ta decides to visit him but two robbers (including Krailat Kriengkrai) enter in the Buddhist temple. They kidnap Luang Ta. Surrounded by police led by Ek, they have to endure Luang Ta's sermons (โดนเทศน์ไม่ไหว) so they finally give up and surrender. Long is back to the temple to visit Luang Ta with his wife Wan as her parents have agreed to the wedding.



Year

: 1979



Thai title

:

35 กะรัต




English title

:



Rating

: 3/5


Director

:



Main actor

: Phairoj Sangwaribut,Somsak Chaisongkram


Main actress

: Aranya Namwong,Mayurachath Muarnprasitivej
It is about a love story between a young man and a woman older than him. This love story is mixed with a dramatic family story linked with a diamant 35 carats.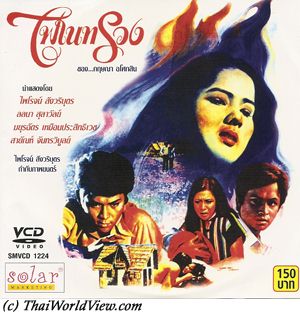 Year

: 1979



Thai title

:

ไฟในทรวง




English title

:



Rating

: 2/5


Director

:



Main actor

: Phairoj Sangwaribut,Sayan Chantaraviboon


Main actress

: Lalana Sulawan,Mayurachath Muarnprasitivej
Long, a young man, falls in love with Yuenda, a young girl still doing her studies. Pop, Yuenda's brother, who is already married, is extremely protective over his younger sister. Anyway a love story blossoms between Long and Yuenda. Yuenda fails her studies and is not willing to do another year. Disappointed by her exams failure, she decides to visit her father a few days. Pop is also coming with her and on the return trip he declares his love for her. He forces her to enter into an incestuous relation. Finally this relation becomes consensual. Shall love come from the heart of body sensations? Pop becomes more and more jealeous when Yuenda meets Long. He announces his relation with Yuenda to Long. Long is shocked. Pop's wife tries to break up the relation by sending Yuenda far away with Long. They take refuge in a remote farm but Pop finds them. They flee away but have issues with three bad guys who stabbed Long. Pop grabs Yuenda so that she cannot visit Long in hospital. Finally Pop's wife manages that Long and Yuenda get married. Pop decides to abduct Yuenda to prevent the wedding but he dies in a car accident.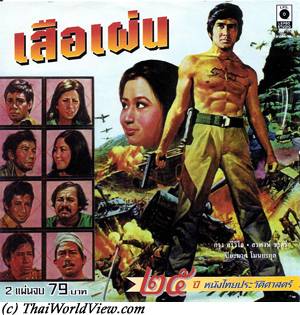 Year

: 1978



Thai title

:

เสือเผ่น




English title

:



Rating

: 3/5


Director

:



Main actor

: Krung Srivilai,Sorapong Chatree,Manop Aussawathep,Phairoj Jaising


Main actress

: Piyamas Monayakol,Mayurachath Muarnprasitivej
During World War II a man quits the police to go back in his village. There he becomes an outlaw by robbing local people. He joins force with the Thai police to enter resistance and fight Japanese troops. After the end of the war, he still continues to be an outlaw. This time, the Thai police won't allow it anymore...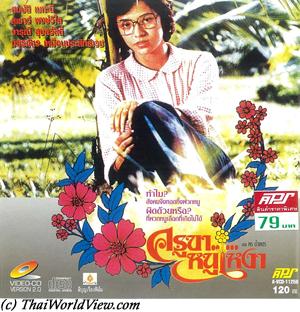 Year

: 1978



Thai title

:

ครูขาหนูเหงา




English title

:



Rating

: 3/5


Director

: Phan Kam



Main actor

: Sombat Methanee,Suchao Pongwilai


Main actress

: Jarunee Sooksawad,Mayurachath Muarnprasitivej,Yotsoi Komarachoon
Wannee is a ลูกครึ่ง or "luk kreung", i.e. half Thai and half foreigner. Her mother is Thai but she doesn't know who is her father. She is staying in an internship who other girls. Her mother, who is a "rented wife" (เมียให้เช่า), visits her from times to times. She is often seen with a different foreigner so many teens laugh at Wannee. Wannee's mother is doing such job to pay for her daughter school. Some of Wannee's friend have also problems, one girl has no official parents, one is half Thai half American from a black US sailor that quit Thailand after Vietnam war. Thirty years ago, half Thai / half foreign kids were not as popular as nowadays. Another girl seems to have a normal family but her parents don't love each other, have no time to get interest in their daughter and just stay together for appearance. Fed up by mockeries, Wannee rejects her mother. Later on, Wannee starts to get blind. She realizes that her mother was finally a good caring mother. Her mother is now dying of an uterus cancer. Why children have to bear with their parents' decisions and mistakes?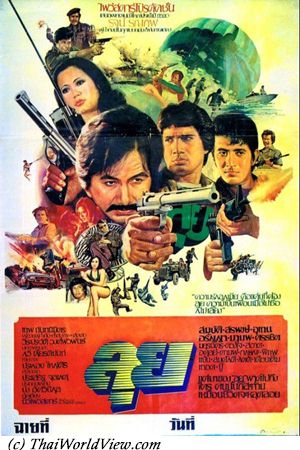 Year

: 1977



Thai title

:

ลุย




English title

:



Rating

: 5/5


Director

: Ruj Ronnapop



Main actor

: Sombat Methanee,Sorapong Chatree,Kanchit Kwanpracha,Pipop Pupinyo,Somsak Chaisongkram,Uten Boonyong,Paen Pleumsachai,Dam Datsakorn,Adul Dulyarat,Boo Wibunnan,Sahat Piempongsan,Manop Aussawathep


Main actress

: Mayurachath Muarnprasitivej,Duangjai Hathaikarn,Aranya Namwong
Thai movie ลุย was released in year 1977 and lasts 2h03mn. It was released under VCD format by company Solar Marketing. A remastered version was released by Five Star Production in the decade 2010s and shown on Thai TV cable. Movie director is Ruj Ronnapop. Lui (Sombat Methanee), Nai (Kanchit Kwanpracha), Lui's Father, Pipop Pupinyo, Somsak Chaisongkram, Deuan (Uten Boonyong) are part of a secret mafia organization. Paen Pleumsachai and his men attack Deuan. Lui and other colleagues arrive to help but his father dies in the fighting. Lui is a hitman in the organization. Lui is married to Sai Nam (Mayurachath Muarnprasitivej). Fed up to be a hitman for 10 years, Lui has decided to stop in order to take care of his wife Sai Nam and his son. He informs his friend Deuan. The secret organization (องค์การ) is not willing to let him go so easily as he knows all the internal secrets. They send two hitmen to kill him. They fail but, before being shot, one of them lies that Deuan is the one who disclosed Lui's location. Another three hitmen led by Somsak are sent but are also killed by Lui. The organisation asks Nai to manage but he refuses as he believes Lui has done nothing wrong. The organisation decides to send Nai to Hong Kong as they lose some trust with him. Ruffian Tio shall be the one to manage Lui. Kanchai Insree (Dam Datsakorn) is hired by Tio (Adul Dulyarat) to kill Lui as Deuan refuses to do the job. A bomb is put in his car. Unfortunately, his wife and son are killed. Lui shoots Deuan as revenge as he believes he is the culprit. Lui takes Boi, Deuan's son, to raise as his own son. Aunt Dou (Duangjai Hathaikarn) is helping. Boi reveals the truth to Lui, i.e. Deuan was beaten as he refused to kill Lui. Pipop and others are killed by Lui. Kanchai is also killed but before dying, he shouts to Boi that Lui is the one, who killed his father Deuan. Lui meets Prakasit (Sahat Piempongsan) by luck in a mall. Chasing happens but Lui spares his life as Prakasit hides behind his daughter. They take refuge in Kanchanaburi. Boi grows up there and learns how to shoot. He is played by Sorapong Chatree. Lui is now having a moustache. Ruffians led by Tio are still looking for Lui. Tio is having good time with girls managed by แม่ Soi (Aranya Namwong). Tio is killed by Lui. They invest in a Pattaya hotel by buying shares in order to prepare a future for Boi, Aunt Dou and Soi. Boi meets a young lady Not (เดือนเต็ม สาลิตุล) looking for a hotel room with her friend Metta. Nai is back from Hong Kong. Three ruffians' leaders are left. Metta is Sakdan's son trying to identify where Lui is hiding. Lui is warned by Soi. Lady Not is Prakasit's daughter. Lui takes care of Sakdan. Kamphet (Manop Aussawathep) kills Soi as she refuses to disclose where Lui is hiding. Nai arrives at the hotel. Boi hears Lui and Nai talking together and that Lui killed his father Deuan through a misunderstanding. He wishes to kill uncle Lui as revenge despite Aunt Dou explaining to him. Thanks to Metta, ruffians now know where Lui is hiding. Boi is willing to shoot Lui and Lui accepts it. He uses an empty gun to shoot the man, who killed his father, but cannot shoot the uncle, who raised him. Ruffians storm Lui's place. Both Nai and Lui are injured. They chase Boi away. Boi faces Metta and is knocked out by him. Nai is shot by ruffians. Lui is shot multiple times by ruffians. Ruffians are celebrating their victory. On his last breath, Lui shoots at the explosives he put under his house. Ruffians are wiped out. Lui dies in Boi's arms.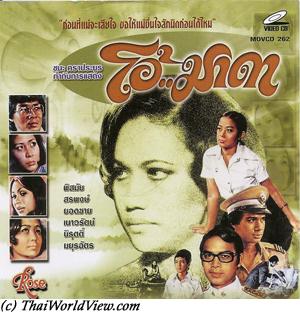 Year

: 1977



Thai title

:

โอ้มาดา




English title

:



Rating

: 3/5


Director

: Chana Kraprayoon



Main actor

: Sorapong Chatree,Yodchai Meksuwan,Nirut Sirijanya


Main actress

: Naowarat Yooktanun,Pissamai Wilaisak,Mayurachath Muarnprasitivej



Buy now

:

It is about a woman, who is tyrannizing her family by imposing her wishes in order to become a lady (คุณหญิง - "KHUN JING"). Fortunately for her family, her dreams are going to fail...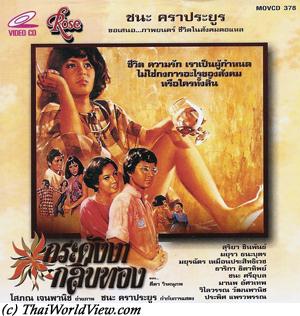 Year

: 1976



Thai title

:

กระดังงากลีบทอง




English title

:



Rating

: 3/5


Director

: Chana Kraprayoon



Main actor

: Manop Aussawathep,Chana Sriubon


Main actress

: Mayurachath Muarnprasitivej,Mayura Thanabutr
It is about a love story between a young boy and a woman older than him. The boy's parents refuse to let such a marriage. Will he follow his heart or the Thai society pressure?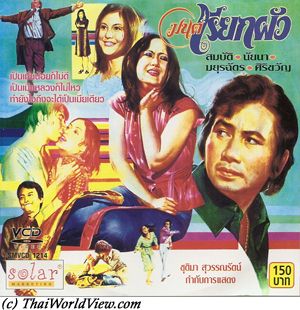 Year

: 1976



Thai title

:

มนต์เรียกผัว




English title

: The Spell



Rating

: 5/5


Director

:



Main actor

: Sombat Methanee,Prachuap Ruekyamdee,Somsak Chaisongkram,Somchai Samipak


Main actress

: Naiyana Shewanan,Mayurachath Muarnprasitivej,Sirikwan Nanthasiri,Sulaleewan Suwanthat,Phong Lada Pimolpan
Thai movie มนต์เรียกผัว was released in year 1976 and lasts 2h16mn. It is a Five Star Production and a remastered version was released in mid-decade 2010s. Previously it was released under VCD format by Solar company (2h12mn). Movie director is ชุติมา สุวรรณรัตน์. This is a romantic family drama movie putting focus on couple life. Plak (Mayurachath Muarnprasitivej) doesn't trust her husband Cheut (รักงาน) as he is working always late having meetings with Somchai Samipak and manager Sak (Prachuap Ruekyamdee). Ram (Somsak Chaisongkram) and aspiring model Rose (Sirikwan Nanthasiri) have a relation. Ram promises to visit her parents to officialise their relationship. Plak remains very upset as for his job, Cheut (Sombat Methanee) has to meet models. She believes he is having affairs, but she cannot catch him. It makes Cheut's life miserable and they often quarrel. Cheut is drunk one night and meets waitress Deuan (Naiyana Shewanan). On the following day, she is aggressed and raped by two ruffians. It is a strong scene and probably one of the first movies where the main actor is unable to help the main actress. Another movie was Thon (โทน) where Chaiya is unable to help Aranya on time. It was a new trend from 1970s movies being more realistic than previous decades. Deuan's mother is played by Sulaleewan Suwanthat. Plak's mother is played by Phong Lada Pimolpan. Rose is pregnant with Ram but he refuses to take responsibility of the baby (คนใจสัตว์) and hits her. He forces Rose to trick Cheut in order to accuse him about the pregnancy. Another day, the ruffians threaten Deuan again but Cheut and Prachuap are luckily there. They help Deuan and a fight occurs with ruffians. Cheut brings back Deuan home. Deuan's mother takes care of eight poor children and raises them so Deuan's work is important to have money for all expenses. There are children from poor prostitutes, who cannot raise them. Cheut finds a job for Deuan in Sak's company in order to work daytime instead of nightime. Plak brings trouble to Deuan so she wishes to change job. Cheut wants to have a child but Plak keeps eating birth control pills. Deuan continues to bring troubles at Cheut's office. He gets closer to Deuan as she has everything he wishes Plak had. By hazard, Plak is present in a shop where Sak buys dresses for Deuan on behalf of Cheut. Sak organises a meeting between the two ladies to ease the tension. Deuan acknowledges she loves Cheut but gets pity from him (ความสงสาร) and not real love (ความรัก). She doesn't wish to break his marriage and mentions that Plak is a bad wife not taking care properly of his husband. Plak wants to take revenge over Cheut and goes out with Ram. Ram brings Plak to a short time hotel. He tries to abuse her but hopefully Sak, passing by, helps her. The next day, Cheut gives a lesson to Ram in a bowling alley but Ram promises to get revenge. Deuan visits a doctor and finds she is pregnant with Cheut. She has a worrying heart disease. The doctor warns she could lose her life by giving birth. But she is willing to take the risk as she knows Cheut wishes a child and she wishes to thank him for all his kindness towards her family. Plak changes her behavior and tries to be a good wife caring about her husband. On the opposite side, Cheut becomes harsher. Plak feels that Cheut changed a lot and that his love has moved to another woman. Cheut comes back home very late even on her birthday. Plak is at hospital and Cheut takes care about Deuan being sick. Ram tricks Cheut by mentioning to Rose's brother that he is one who refused to take responsibility. Cheut is kidnapped while going to Deuan's home to bring her for child delivery. Meanwhile Plak prepares to leave home for UK knowing she has lost Cheut due to her continuous jealous behavior. As Cheut is still not coming to bring Deuan to hospital, Deuan calls his home and talks to Plak without being aware. Decided to do a last good thing for Cheut, she brings Deuan to hospital and then goes towards airport. Cheut gets beaten by Rose's brother but finally Rose confesses Ram is the father. General fighting occurs and Rose shoots Ram going to stab her brother. Cheut arrives at hospital before the delivery. Reading the letter that Plak left for him, he rushes to airport being puzzled by Deuan's sentence that it is probably the last time they meet. He brings back Plak to hospital mentioning that such hasty departure decision should be discussed with cold heart. A child is born but Deuan has died. Plak promises to take care of all children. This movie highlights the difficulties of life for main wife (เมียกลาง) and mistress (เมียน้อย), their place in society, the choice for the husband between two wives and the way some Thai men can abuse women in Thai society (Deuan feeling ashamed of having been raped and not going to police to fill a complaint, Ram refusing assuming Rose's pregnancy).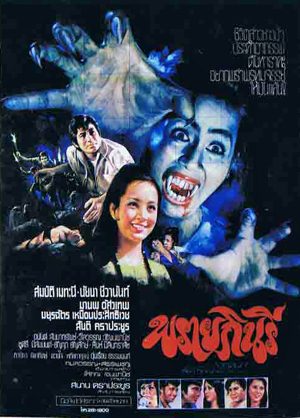 Year

: 1976



Thai title

:

พรายกินรี




English title

: The Tiger Devil



Rating

: 3/5


Director

:



Main actor

: Sombat Methanee,Manop Aussawathep,Adul Dulyarat,Pipop Pupinyo


Main actress

: Naiyana Shewanan,Malee Wetpraseri,Wilaiwan Watthanaphanit,Mayurachath Muarnprasitivej,Chosri Misommon,Duangjai Hathaikarn
Thai movie พรายกินรี (The Tiger Devil) was released in year 1976 and lasts 1h35mn. The movie is certainly cut as it is only available from cable TV programmes. Malee (Malee Wetpraseri) and Kinaree (Naiyana Shewanan) are travelling together after leaving a Christian community. They are aggressed on the way to their village by two men including Manop Aussawathep. They step back when understanding that Kinaree, who was fighting strongly, is a lady (นางฟ้า). Pipop Pupinyo, the village leader, remembers that many years he wanted to burn Kinaree as she was accused to be a tiger devil spirit. A monk stopped the burning and gave a sacred necklace to prevent Kinaree to become a spirit again (เวรกรรมของหลาน). She has to keep until being 20 years old. Kinaree and her grandmother were expelled from the village but are now back. One young villager tries to abuse Kinaree while she is bathing in the waterfall. When angry, she becomes the tiger devil spirit again and kills the villager. The grandmother Malee falls and gets injured. Per Kinaree's request, Manop searches for a doctor. Doctor Sombat Methanee then checks Malee but she finally dies. Pipop, afraid of Kinaree, leads the villagers to burn her again. The doctor decides to bring Kinaree in Bangkok but faces Manop, who is jealous. The doctor and Kinaree succeed to flee Manop and the angry crowd. They are back to Bangkok. New characters are present in the doctor's home, Chosri Misommon as domestic helper, Wilaiwan Watthanaphanit as mother, Mayurachath Muarnprasitivej as his fiancee Dao (ปากเสียใหญ่), friends such as Chom (Duangjai Hathaikarn) and Chatree (Adul Dulyarat). She is used in the kitchen but is useless (เด็กเวร). Dao has a lover (เล่นชู) called Chai (อนันต์ สัมมาทรัพย์). There is a ballroom event. Dao tries to humiliate Kinaree (ชาวป่า) during the ball but to no avail. She hires the car driver to hurt Kinaree but she becomes a tiger devil spirit (ผีเสือ) again and kills him. Today is Kinaree's birthday. Dao aware that Kinaree could be a spirit is willing to challenge her. She removes her necklace and slaps her. Horror happens with Chai is killed and Dao injured by the tiger devil spirit. Police shots the spirit a few minutes before Kinaree's 20th birthday. Kinaree becomes a full human but dies due to her injuries in the doctor's arms. Another version of Kinaree was released in year 1969 (กินรี) with Sombat and Suthisa. In this older version, Kinaree doesn't die.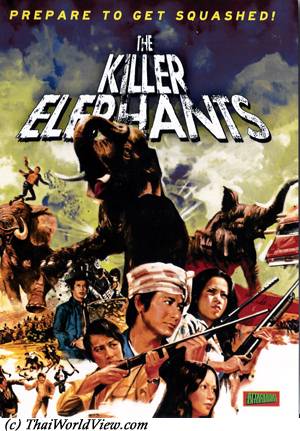 Year

: 1976



Thai title

:

ไผ่กำเพลิง




English title

: Killer Elephants



Rating

: 5/5


Director

: Kom Akadej



Main actor

: Sombat Methanee,Yodchai Meksuwan,Kanchit Kwanpracha,Pipop Pupinyo,Dam Datsakorn,Sayan Chantaraviboon,Kom Akadej


Main actress

: Aranya Namwong,Naiyana Shewanan,Mayurachath Muarnprasitivej
Ruffians are chased by police officer Ching Ming (Yodchai Meksuwan) but he failed to catch them. He meets his old friend Kau Fei (Sombat Methanee). Ruffians are hiding in a Surin timber yard. A big fight happens as Ching Ming wishes to jail them. Hopefully Kau Fei helps Ching Ming but there is no way to know where is the big boss behind. Local police is trying to catch Kau Fei but elephants prevent police to follow up Kau Fei. He has been accused of murder but he was framed. The head of ruffians (Kanchit Kwanpracha) framed him as Kau Fei refuses to sell his farm land to him. Ruffians burn the houses on the farm land. Ching Ming and Kau Fei help people stuck in their home. Ching Ming likes a lot a local lady Shao Feng (Naiyana Shewanan). Kau Fei decides to take revenge by entering in the boss home. He is not here so he captures madame Shu (Aranya Namwong). Ruffians try to rescue her by entering the farm through the forest but they are welcomed by guns and elephants. Kau Fei still loves Shu despite she was forced to go with the boss. Ching Ming tries to arrest Kau Fei but to no avail. Kau Fei comes to town to make trouble inside the boss' favorite nightclub. Shu is now pregnant with Kau Fei. As Shu is about to deliver, Ching Ming helps to bring her to hospital. The boss aware of this wants to use her and the baby as a bait. Taking profit of Surin elephant carnival (เทศกาลของเมืองสุรินทร์), Kau Fei sends a few elephants and villagers to pick up Shu. Kau Fei does a rampage in the boss' house and even injures him but Mau Tien, another ruffian, finishes him. Mau Tien (Dam Datsakorn) becomes the boss and decides to kidnap Shu and two nurses to attract Kau Fei to the plains. Kau Fei and the villagers rescue Shu and the two nurses. Then a crazy rampage of the elephants on the ruffians' camp happens. They are pushing huts and cars with real people inside. Big explosions and houses in fire happen. Even Ching Ming intervenes and helps Shao Feng. He finally lets Kau Fei go to Cambodia. The Thai movie "Killer Elephants" - ไผ่กำเพลิง was released in Thailand in 1976. Main actors are Sombat Methanee and Aranya Namwong. The movie director was Kom Akadej, who got the "international name of Som Kit in the credits, which is a version of his middle name, Somkit. All the other actors got Chinese style names, probably to cash in on the Hong Kong market and the rest of the worlds wish for more Kung Fu movies. The Killer Elephants cannot be found anymore in Thailand except at the Thai Film Archive, the original Thai version. Joseph Lai and his IFD Arts and Entertainment prepared this international version, which is the most common version outside Thailand. This DVD was released by Swedish company Attackafant Entertainment directed by Fred Anderson, a well known lover of Thai cinema. This DVD is the first official ไผ่กำเพลิง DVD release ever. The "Killer Elephants" movie rights in Thailand belongs to Coliseum film (บริษัท โคลีเซี่ยมฟีล์ม), company from Kom Akadej. Up to now no VCD / DVD was released in Thailand with correct rights according to Thai law. Only a video tape was released long time ago. Coliseum film company would sell the rights for all Kom Akadej's movies and not only for 'Killers Elephants' movie. Thai Company XxX (Triple X) was only interested in 'Killer Elephants' movie so up to this day Thai people are still waiting for a Thai version of ไผ่กำเพล to be released again. The movie also includes also famous supporting actors such as Yodchai Meksuwan, Naiyana Shewanan, Mayurachath Muarnprasitivej, Kanchit Kwanpracha, Pipop Pupinyo, Dam Datsakorn, Sayan Chantaraviboon. The finest batch of Thai actors during 1970's! Only Sorapong Chatree and Krung Srivilai are missing. Pipop Pupinyo, Kanchit Kwanpracha and Dam Datsakorn were the regular bad guys in Thai cinema and so of course even in The Killer Elephants! The same story was also released as Thai TV lakorn in 2004.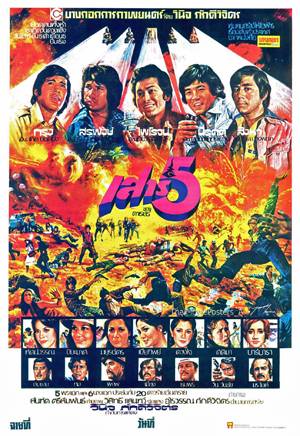 Year

: 1976



Thai title

:

เสาร์ 5




English title

:



Rating

: 2/5


Director

:



Main actor

: Krung Srivilai,Sorapong Chatree,Phairoj Jaising,Nirut Sirijanya,Pipop Pupinyo


Main actress

: Piyamas Monayakol,Tasawan Saneewong,Piathip Kumwong,Mayurachath Muarnprasitivej,Duangjai Hathaikarn



Buy now

:

5 friends are reunited for a mission in Northeast of Thailand. They were soldiers during Vietnam war. They receive sacred powerful Buddha amulets from a famous Buddhist monk in order to protect them during fighting. They have to swear, holding Thai flag, that they are willing to sacrifice their life for the nation, the religion and the monarchy. Sent on mission, they are facing a bunch of thieves, foreign people having a secret base with powerful rockets to threaten Thailand. Finally with the support of five women soldiers, they defeat the villains. Five major actors and actresses from the 1970s were featuring in this action movie.



Year

: 1976



Thai title

:

เหมือนฝัน




English title

:



Rating

: 3/5


Director

:



Main actor

: Nard Poowanai,Dam Datsakorn,Taksin Jampol


Main actress

: Pawana Chanajit,Mayurachath Muarnprasitivej,Metta Roongrat,Moeifa,Chosri Misommon,Sasima Singsiri
Thai movie เหมือนฝัน was released in year 1976. It lasts 2h09mn but is still incomplete. Sakuna (Mayurachath Muarnprasitivej), Ot's young sister, shots a man in a nightclub (คนทรยศ). Yeah Nut (Metta Roongrat), a singer, and Kachen (Taksin Jampol), nightclub's owner, believe Ot (Dam Datsakorn) is responsible but he refutes any implication. Yeah Nut and Kachen go upcountry side to meet Meuan (Nard Poowanai), the younger brother of the dead man. He is responsible of a temple school. Meuan decides to go to Bangkok. Yeah Nut likes secretly Meuan. It seems a part of the movie is missing there but Meuan is recruited by Kachen to work as gigolo. Meuan has a girlfriend (แฟน) called Mascilla in Bangkok but still needs to perform his gigolo job with demanding customers such as Moeifa. A hitman (นักเลงรับจ้าง) tries to kill Kachen but Meuan foils this plan. Meuan needs to meet his new customer called Linda. Ot decides to use Sakuna to neutralise Meuan. Meuan is finally the one to catch Sakuna! Meuan, while looking for Linda, gets a pieing from Luuk Maew (Pawana Chanajit). Chosri Misommon is playing a role as Linda's domestic helper. Luuk Maew is Linda's daughter and she dislikes Meuan. Aware that Meuan is going to Kanchanaburi with Linda, Ot prepares a plan to get rid of him. As Linda and Meuan are not back after one week, Mascilla and Luuk Maew go there to look for them. Everybody meets at the same restaurant along the river. General fighting happens and all ends up in police station. Linda and Mascilla decide to fight over Meuan (ถึงเก่ายังไม่มีสนิม). They have arguments about beauty comparison and money (ซื้อความสุขจากเขา). Meuan gets slapped by Linda. Luuk Maew is kidnapped. Meuan is fed up of his job. He indulges in alcohol and has arguments with Linda, Mascilla and Kachen as he feels other people just use him. Meuan kidnaps Sakuna (ตัวประกัน) to exchange her with Luuk Maew. During the exchange, Meuan is injured and Tawat (สมชาย ศรีภูมิ), who kidnapped Luuk Maew, is killed. Sakuna promises to revenge over Meuan. Luuk Maew loves Meuan but finds Linda in bed with Meuan (หลอกลวง). She flees away. Meuan requests his money to Kachen. Meuan plans to give his money back to the temple school he funded. All protagonists meet in the temple. Sakuna wishes to kill Meuan but Yeah Nut wishes to protect him. They end up killing each other. Meuan, injured but helped by Fan, finds strength to bring the money to the temple school. Both Kachen and Ot stop fighting as they have their dead young sisters to take care.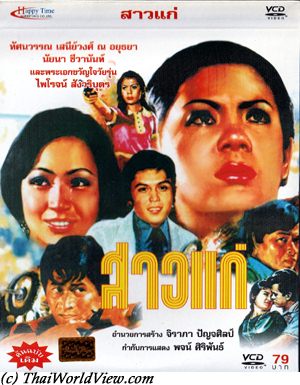 Year

: 1976



Thai title

:

สาวแก่




English title

:



Rating

: 3/5


Director

:



Main actor

: Phairoj Sangwaribut,Manop Aussawathep


Main actress

: Naiyana Shewanan,Tasawan Saneewong,Mayurachath Muarnprasitivej
Thai drama movie สาวแก่ was released in year 1976 and it lasts 1h45mn. Doctor Pim (Phairoj Sangwaribut) and nurse พี่ Yot (Tasawan Saneewong) are boyfriend / girlfriend. She is 12 years older. Her close friend is Jaem (Mayurachath Muarnprasitivej). Chaninee (Naiyana Shewana) brings her father to hospital. Pim helps to cure him. Many people in the hospital gossip (นินทา) about Pim and Yot. Jaem has even some concerns about the couple (ความเหมาะสมผู้หญิงกับผู้ชาย). Knowing he fails to be chosen to be sent overseas as doctor, Pim involves in alcohol and Yot has to bring him back home. Finally Yot and Pim become lovers as Pim is pushing for it under alcohol influence. Chalat (Manop Aussawathep), a policeman, is introduced to Yot by Jaem as she believes Pim and Yot don't go together properly as she is much older than him. The doctor opens a clinic with Yot as assistant. Yot sold her land to pay for the clinic. They are still calling each other "พี่ Yot" (Sister Yot) and doctor (หมอ). Pim meets Chaninee another time as her father is sick again. The father finally dies. He presents Yot as elder sister (พี่สาว) to Chaninee. Yot wishes to marry to stop all rumors (คนนินทาไม่มีวันหยุด). Jealousy happens as Yot is aware that Pim is seeing Chaninee. She complains Pim changed since he is meeting Chaninee. Yot announces she is pregnant since 2 months. She wishes to die! Pim goes to Pattaya beach to relax and meets Chaninee by accident there. Yot follows him there in order to know the truth. Yot keeps reminding Pim about the favors and help (ท่วมบุญคุณ) she gave him. Finally Pim accepts to marry her in order that the child has a father. Yot remains very jealous. The baby is born. Yot complains she is not happy despite performing her wife's duties (ทำหน้าที่ให้ดีที่สุด) as good as she can. Jaem recommends Yot to give him some freedom and she keeps complaining that Pim has to kindness towards her (ไม่รู้จักบุญคุณ). Jaem is now with an older man with 4 kids. She claims it is better for a woman to marry an older man than a younger man. Fed up and following arguments with Yot, Pim quits the house. Pim announces he loves Chaninee but as respect for Yot, he will not quit her. Jaem and Chalat bring Yot out. Seeing Chaninee, Yot argues with her but Chaninee claims she didn't see Pim since his wedding. Yot shoots Chaninee but hopefully Chalat is here to stop her. Chalat promises to take care of Yot so that both couples can have happiness.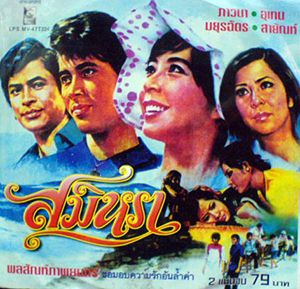 Year

: 1975



Thai title

:

สมิหรา




English title

:



Rating

: 3/5


Director

:



Main actor

: Uten Boonyong,Sayan Chantaraviboon,Sawin Sawangrat,Sukon Koewliam,Rong Kaomulkadee


Main actress

: Pawana Chanajit,Mayurachath Muarnprasitivej,Metta Roongrat
Thai movie สมิหรา was released in year 1975 and lasts 2h01mn. Two students, Alissa (Mayurachath Muarnprasitivej) and Suntaya (Pawana Chanajit), are two close friends studying in Chiang Mai. Pong (Sayan Chantaraviboon) is Alissa's brother. Metta Roongrat is the aunt called Vina. Yot (Uten Boonyong) accepts to take Suntaya as secretary (เลขาคนใหม่) per Alissa's request. Sawin Sawangrat is the father of Yot. Yot hat a hot temper (ใจร้อน, เอาใจตัวเองอย่างเดียว). Vina warns Alissa about letting Suntaya too close to Yot (ใกล้มากก็ไม่เคยจะดี). Pong wishes to marry Suntaya but he is younger (รุ่นน้อง). Yot and Suntaya go to Hat Yai for business trip while Alissa needs to go overseas again. A difficult meeting happens in Hat Yai regarding company ownership. Suntaya demonstrates her negotiating skills and impresses Yot. During nighttime, Suntaya and Yot becomes lovers (ทรยศเพื่อน). They stay in Hotel Samira (สมิหรา) so giving the movie title. Suntaya asks Yot to stop seeing her in Bangkok. Vina also asks Suntaya to find her own place to allow time between Yot and Alissa. Yot wishes to marry with Suntaya but she doesn't want to hurt Alissa. One day Suntaya feels dizzy while walking in Bangkok. She is pregnant. Pong brings her to the doctor. Yot has then a misunderstanding that Suntaya sees secretly Pong. Being sick, Yot visits Suntaya and is surprised by Alissa. Alissa is disappointed by her friend (น่าเจ็บใจ, เสียดายเพื่อนรัก). Feeling guilty, Suntaya is lost. Pong, aware of the situation, proposes to marry her to ensure the child has a father. Finally Suntaya writes a letter to Alissa and disappears. Yot only realises that she was pregnant. Suntaya is now a teacher in a remote hill tribe village. Sukon Koewliam is also playing a short domestic helper role. Pong's friend, a doctor, meets Suntaya in the village and warns Pong as she is going to deliver her baby. It is discovered that Suntaya has hemophilia (รอดไม่ได้). Pong warns Yot. Alissa also joins. During a final touching sequence, Suntaya gives her baby to Yot and Alissa, then passes away.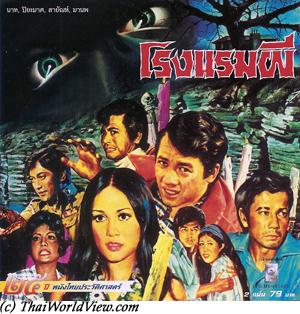 Year

: 1975



Thai title

:

โรงแรมผี




English title

:



Rating

: 3/5


Director

:



Main actor

: Nard Poowanai,Kanchit Kwanpracha,Manop Aussawathep,Lor Tok,Sayan Chantaraviboon,Chana Sriubon,Sithao Petcharoen,Boo Wibunnan,Tat Ekathat


Main actress

: Piyamas Monayakol,Mayurachath Muarnprasitivej,Metta Roongrat
Khun Samong comes in a hotel for one night as it is raining heavily. Her husband chases her but she refuses to follow him up. During the night, she dies being strangled. Footprints on the floor show that the killer is handicapped. The day after a young lady Wilai is coming one night in the same hotel to meet an older man called Siu. He has many banknotes in his suitcase. He also dies and the money disappears. Wilai also dies. The hotel manager Pan finds the money inside his desk drawer. With his partner, he decides to throw away the money in the sea but the banknotes come back with the tide. Khun Samong's husband believes that the hotel management is responsible of his wife's death and the money robbing. So he tries to take revenge over them but it fails. Police is investigating. Khun Samong's husband is also found dead. Finally it is identified that a ghost is living in the hotel. He possessed the hotel manager causing him to walk like a disabled man. Following a chase with the Police, the hotel manager Pan dies. His partner tells a story. Before World War II, Pan flees with a young lady called Sarapee. Sarapee was promised to an older man. This one becomes disabled during World War II due to bombs. He never forgives to Pan and Sarapee. After his death, a house belonging to the older man is given to Pan and Sarapee through legacy. They transform the house into a hotel. Now the ghost is willing to kill all hotel family member one by one, starting with Pan, then his partner. Finally the younger people found that the ghost body is still kept in a crypt below the hotel. They manage to kill the ghost thanks to a sacred Budha image. This movie is different from other Thai horror movies from 1970s decade and more realistic as there are not the usual traditional clown characters that accompany the leading actor.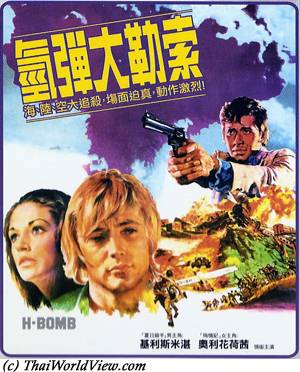 Year

: 1975



Thai title

:

ตัดเหลี่ยมเพชร




English title

: Great Friday



Rating

: 3/5


Director

: Chalong Pukdeewichit



Main actor

: Krung Srivilai,Phairoj Jaising,Pipop Pupinyo,Robert Mitchum,Kecha Plianvithee


Main actress

: Pawana Chanajit,Mayurachath Muarnprasitivej,Olivia Hussey



Buy now

:

Two CIA agent are slain in Pattaya by a mysterious scarface man. A CIA top management meeting is organised in Washington. A nuclear missile called Alpha has been stolen. Suspects are a communist terrorist group called Fuji and led by a Cambodian General named Keng, the KGB and an influential Thai businessman called Koo. All of them are implicated in this Alpha project. Another American agent called Reddy is flying from Hong Kong to find the missile hidden somewhere in Thailand. Reddy tries to meet Koo's daughter, Erica. Reddy and Erica had a former romantic relation and still love each other after 4 years of separation. Zee (Krung Srivilai) is like a son for Koo and also his favorite henchman. Zee loves Erica also. He doesn't trust Reddy and believes he is a undercover CIA agent. Two secret agents of Thailand are also supporting Reddy in his quest. Koo's mistress is played by Pawana Chanajit, the Pearl of Asia. She is in fact working for Fuji group. Koo doesn't want his daughter to see Reddy. An impressive car chasing and shootings takes place during Chiang Mai Songkran festival between Ruddy, Erica and Fuji members. Reddy is captured while entering Koo's house. Erica helps Reddy to flee as he has been drugged. Reddy finally finds the missile after multiple fighting scenes against Fuji group and against Zee. Zee really loved Erica as he sacrifices his own life to avoid her being shot by Fuji members. This movie is fully packed with actions sequences such as train collision, boat chase, shooting, car chase, helicopter gunned down... The movie includes multiple treacheries and double agents. It is nice to see so many Thai actors in this international Hong Kong / Thai movie. Two international stars Robert Mitchum and Olivia Hussey brought more international exposure to this movie. In 1970s Krung Srivilai always played the good guy but in this international production, he is playing well the bad guy. The English dubbing is quite weird but the movie has really a nice budget. This movie is a Bangkok film production. It is available in Thailand as "ตัดเหลี่ยมเพช" and in Hong Kong on VCD format under the title "H-Bomb".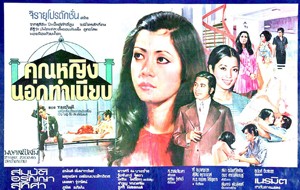 Year

: 1974



Thai title

:

คุณหญิงนอกทำเนียบ




English title

:



Rating

: 4/5


Director

: Neramit



Main actor

: Sombat Methanee,Jamroon Nuatjim


Main actress

: Aranya Namwong,Mayurachath Muarnprasitivej,Suthisa Putnuch,Metta Roongrat,Chosri Misommon,Marasri Bangchang
Thai drama movie คุณหญิงนอกทำเนียบ was released in year 1974. It features Sombat Methanee as main actor and Aranya Namwong as main actress. The movie is lost in Thailand but a sequence of 48 minutes remains to be seen. It is the final sequences of the movie. Supasatee (Aranya Namwong) also called Sajee has arguments with the son, who treats her as a minor wife (เมียเก็บ). The father is Chit (Sombat Methanee). His younger sister (Metta Roongrat) also doesn't accept that Sombat has a new younger mistress. Sajee and Chit deny any wrongdoing. Chit sends Sajee back to the slum through his mercedes so people are gossiping including her own grandmother (Chosri Misommon). Her own grandmother tells her not to forget her own roots but Sajee wishes to climb the social ladder without taking in account other people's critics. Chit is celebrating the birthday of Suthisa, his wife (Suthisa Putnuch). Metta brings doubt in Suthisa's heart but is in fact disappointed that Chit would choose Sajee over her! It causes Lady Suthisa to die as she has a fragile heart already. Even Kaew (Mayurachath Muarnprasitivej), Sajee's best friend and Chit's daughter, believes Sajee wants to take the place of Suthisa. Finally romance happens between Sajee and Chit. The grandmother believes Sajee will be back as same as lotus, she comes from dirty slum soil so she cannot adapt to rich soil. Kaew is pregnant. Sajee has to find an abortion doctor for her. One day while driving with Chit, she sees a woman hit by a car. It is her own mother. Sad event showing she starts forgetting her roots. Chit is also having heart issues. His new wife Sajee gets rejected as Lady nomination (คุณหญิง) as she is not coming from a proper background. Chit ends up at the hospital where Sajee asks to modify the heritage terms. Worried about heritage, Chit's children cause their father's death by asking too many questions instead of letting him rest. On the opening of the testament, Chit's children realize Sajee is not asking for a single baht and is just going back to her slum. Rich people looked wrongly at Sajee. She was the one having a good and true heart.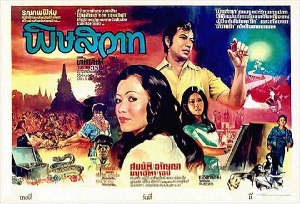 Year

: 1974



Thai title

:

พิษสวาท




English title

:



Rating

: 3/5


Director

: Ruj Ronnapop



Main actor

: Sombat Methanee,Ruj Ronnapop,Somchai Samipak,Thep Thienchai


Main actress

: Aranya Namwong,Mayurachath Muarnprasitivej
Thai movie พิษสวาท was released in year 1974 and lasts 2h20mn. The movie is only available on VHS and was never released on VCD or DVD. The picture is very colourful and sharp. Akanee (Sombat Methanee) has a dream where he cuts the head of a woman. The following day, his friend Chet (Ruj Ronnapop) introduced him to a lady called Chorasinee (Aranya Namwong). She is expert in ancient artifacts (นักนิยมของเก่า). She notices a special jewel owned by Akanee. Akanee is very confused as she is the same lady he just beheaded in his dream. Chorasinee seems to know a lot of things about him. She is able to recall many strange past events. Thip (Mayurachath Muarnprasitivej) loves secretly Akanee. Chorasinee often comes and disappears very fast. She warns Akanee about things not to be done wrongly a second time as nobody has two chances in life! During a charity performance, Chorasinee promises to play an evil lady (นางปีศาจ). Somchai Samipak is interested by her. It seems that Akanee met her in a previous life when he was a prince. She asks her life back to Akanee (ถ่วงชีวิต). Robbers try to steal Akanee's jewel but get punished by an invisible spirit. Chorasinee invites Akanee, Thip and Chet to her home in Ayutthaya. Thep Thienchai welcomes them. During Ayutthaya period, Akanee protected the treasure of the Siamese King. Akanee, to ensure the treasure is not stolen, killed all the guards so that their spirits (วิญญาณ) protect the treasure forever. A lady called Ubon was loved by Akanee's love. Akanee cut Ubon's head also. Somchai's wife is concerned that Chorasinee goes in his car. Chorasinee's duty is to keep the Siamese King's treasure. She is Ubon's resurrection. Somchai wishes to marry Chorasinee and become rich (มหาศาล). Somchai is somebody dishonest as he killed a dealer before to steal his drugs and to keep the agreed money. Somchai is found dead at Chedi Saam Ong. Strange events occur as Thip's painting, formerly showing a beautiful Chorasinee, is now showing an ugly evil spirit (นางปีศาจ). Akanee asks Chet to go to Ayutthaya as he wishes an archeologist team to dig at a specific place as he believes there is a dead body there lying since centuries. A skeleton with a spade is found. It is the Prince's skeleton. Chorasinee invites Akanee to follow her. Thip and Chet follow up. They arrive in a mysterious place and a judgement is occurring per Chorasinee's request. She complains that despite their love, Akanee killed her and gave her a never ending task to look after the treasure. Thip, loving Akanee, agrees to take over but Akanee refuses. Finally the spirit guardian asks Chorasinee to choose somebody to replace her, i.e. Akanee or Thip. She finally accepts to continue doing such role as she cannot choose Akanee as she loves him, she cannot choose Thip as she would lose Akanee's love. Her spirit is then released. Akanee becomes a monk for the rest of his life. They should meet again in another life.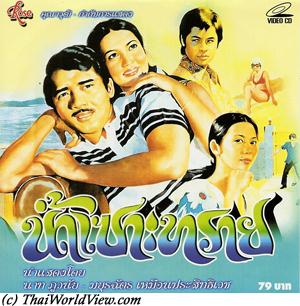 Year

: 1973



Thai title

:

น้ำเซาะทราย




English title

:



Rating

: 5/5


Director

: Wichit Khunawut



Main actor

: Nard Poowanai,Sayan Chantaraviboon


Main actress

: Mayurachath Muarnprasitivej,Wandee Sritrang,Marasri Bangchang



Buy now

:

This movie about two couples interaction. Pim (ภีม), a white-collar, and Wan (วรรณรี), a teacher, are married. Pukrong (พุดกรอง) is a rich and lonely widow (ว้าเหว่). Pong (พงษ์), a bachelor, tries to be Pukrong's sweet heart boyfriend but he is a butterfly. Pim often argues with his wife and Wan feels neglected (น้อยใจ) with Pim. Pim and Pukrong love each other secretly (รักกัน). Wan is too well-mannered (เรียบร้อย) and strict (เคร่งครัด) so Pim is fed up despite she gave her two beautiful children and takes well care of the home. They still use the polite word "ค่ะ" at the end of each sentence. Life is scheduled as a clock with Wan so Pim is fed up. Pim is a frustrated husband and arguments occur with Wan. Pim and Pukrong continue to see each other secretly in Bangkok. Pim needs to lie to Wan (ของขโมยอร่อยกว่า). As Pong continues to be her faithful admirer, he becomes annoying as Pukrong doesn't have full freedom to see Pim. Pukrong has to involve her well-off friend (ผู้ดี - คุณผู้หญิง). It highlights that Thai high society people also plays cards and have same sins. Her friend has to be involved in the lies. Pim rents a house for them to see each other freely (ความสุขของเรา) in order to avoid busy hotels and frequented restaurants. Pukrong spends a lot of money to decorate the house as she wishes a forever love. Pong knows that Pukrong flees behind the house. Pukrong wishes to see Pim every day. Wan knows her husband went out as his clothes smell perfume. Wan and Pong starts to notice. Pong is informed about the truth through a friend who saw them in a bar (เล่นรัก). Wan refuses to believe that her best friend (สุภาพบุรุษ) steal her husband love. Pukrong doesn't want a hidden love. Wan fights back to keep her husband. Can money buy everything including love? There is insinuation (พูดประโชด) between the two women and then a real verbal fight (บาปตื่นเต่น). Wan knows the truth now (ใจเป็นทรายศ). Pukrong is the bad rich high society girl versus Wan, the good teacher worried about position girl and strict mother / wife. Pukrong tells the truth to Wan. Pim has to go back to Wan due to the children. Pakrong feels left over. But it is not as easy. Wan wishes to divorce with Pim and chases him away. Finally Pim goes back to Pakrong. It is now the main wife versus the minor wife (เมียน้อย / เมียหลวง). Pong pushes Wan to fight (สู่). Pong tries to break the relationship as Pim is fed by Pukrong. Wan refuses to see a shaman (หมอผี) to help her to have Pim back. Meanwhile Pim and Pakrong are enjoying their romance. Pukrong is pregnant. Pong presents a military officer Neephon to Wan. If Pim can have a new love, why Wan cannot have one? It creates jealously on Pim's side as he doesn't want his kids to have a new father. This time Pim refuses to divorce. Pukrong has another child in America from a previous relation. She understands Pim's feelings towards his previous family and also understands he will never be able to choose so leaving things unsettled forever so Pukrong decides to go to America with her new born baby. Pim tries to resume relationship with Wan but it is too late. Wan refuses. Pim ends up alone. It is a long movie as it lasts 2h37 with a dubbed soundtrack. This movie highlights Thai society hypocrisy, i.e. Thai men can have a minor wife but the main wife cannot do anything except to complain in silence. Classical music is used in tragic moments. The scenario is inspired from a book written by author Krisna Asokesin (กฤษณา อโศกสิน), who has won the SEAWRITE prize for literature. Another movie remake was done in 1986. It was adapted as Thai TV serie many times also.
---