Increase or decrease font size for easier reading : A+ A-
Marsha
Marsha (1970) - มาช่า วัฒนพานิช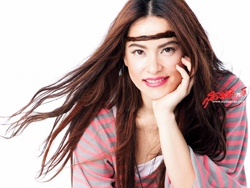 Marsha Vadhanapanich is a Thai pop singer and actress. She was married to actor Amphol Lumpoon but then divorced.
This Marsha movie page contains 11 records.
---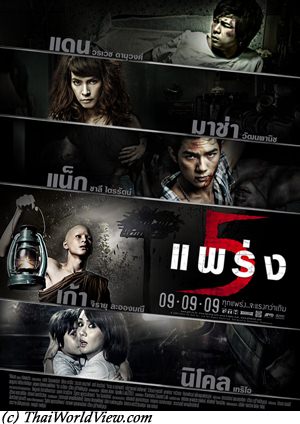 Year

: 2009



Thai title

:

5 แพร่ง




English title

: Phobia 2



Rating

: 5/5


Director

:



Main actor

: Charlie Trairattana,Choomporn Theppitak


Main actress

: Marsha,Nicole Theriault



Buy now

:

Phobia franchise is back with a new episode released on 09.09.09! This time, Phobia 2 is made of five different stories. First story is about a young rebel teen called Phae. His parents are separated following a divorce. He blames his mother for not loving him enough. He is now a Buddhist novice in order to hide as he has committed a crime. While walking in the forest, the abbot asks him to stay in a remote area as part of meditation training. The local people believe in ghosts but Phae doesn't. Phae neither likes to be commanded neither listens to advice and recommendation. He secretly eats food at night time committing a breach in Buddhist teachings. He has no respect for monkhood. He is responsable of his father death in a car accident. Pret (เปรต) ghosts are living there. He is facing death as a karmic retribution (กรรม) of his previous bad actions (เรื่องของกรรม). Second story is regarding a teen having a motorbike accident and recovering from his injuries in an hospital room shared with a dying man. At night time a ghost (ผีอำ) is roaming inside the room and wishes to kill him in order to exchange bodies. Third story is about Thai zombies. Two japanese tourists are taken in autostop by a truck. The truck is transporting mysterious goods as something is knocking from inside. There are immigrants from south of thailand. They have eaten small balls containing drug. Then the drug has leaked and they become zombies. The two tourists and truck drivers are running for their life... Fourth story is about a garage lady owner, Nut, who is selling second hand cars. Those cars already have a deadly accident. She is concealing the truth to her customers. Some customers died as the cars were nice outside but not repaired inside. Nut is looking for her daughter that always like hiding in cars. Ghosts come to have revenge of having been sold a broken car. They take revenge over her daughter. The fifth story is the most funny and Ironical. It takes place on the shooting of Thai horror movie "Alone 2" (แฝด 2). The actress playing the ghost dies at hospital. The show must go on. The team needs to finish the movie to ease the ghost. Thainess is well shown in those 5 small movies. Phobia 2 was very popular and did 113.5 millions baht revenue in 2009.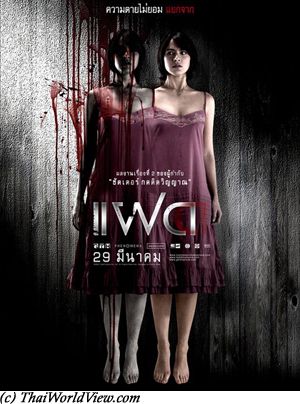 Year

: 2007



Thai title

:

แฝด




English title

: Alone



Rating

: 4/5


Director

:



Main actor

:


Main actress

: Marsha



Buy now

:

Pim and Ploy were Siamese twins. Ploy is dead many years ago following a chirurgical operation as Pim wanted to be separated from her twin sister. Pim comes back from Korea with her husband Dong as her mother is sent to hospital due to serious sickness. Back in bangkok, Pim starts to see scary ghost manifestations related to Ploy. Dong, believing that Pim has health problems, sent her to a psychanalyst friend. The psychanalyst tries to convince her that the ghost manifestations are not real but only in her imagination as she feels guilty regarding her sister's death. She relates then her story. Many years ago, Dong met Pim and Ploy. He fell in love with Pim. Ploy was jealous and tried to break the relationship. Pim was so upset that she decided to get split from her twin sister. Dong learnt later that the reality is more frightening. Ploy, in fact, killed her sister and took her identity. She became Pim. Once Dong knows the truth, he breaks up with her but Ploy tries to erase and kill everything related to Pim. First her own mother, then Dong... It was first film role for Thai pop singer Marsha since 15 years.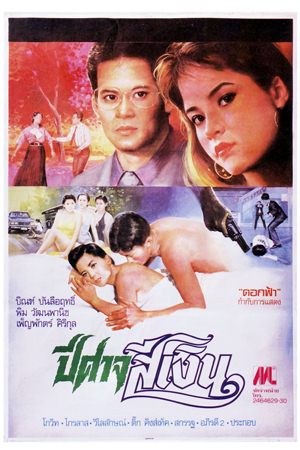 Year

: 1988



Thai title

:

ปีศาจสีเงิน




English title

:



Rating

: 4/5


Director

:



Main actor

: Krailat Kriengkrai,Kowit Wattanakul,Bin Banleurit


Main actress

: Penpak Sirikul,Marsha



Buy now

:

Thai movie ปีศาจสีเงิน was released in year 1988. It lasts 1h40mn. Malee (Penpak Sirikul) is working in a brothel. Bookham (Krailat Kriengkrai) sympathizes with her. Bookham discovers that his wife Chaba is having an affair (ชู้) with another man (แม่เลวที่สุด). Malee's husband Thada is only interested in the money she brings and do not hesitate to sacrifice her to take profit of her beauty. Thada is violent and heavy drinker. Malee helps Bookham to feed his baby called Duangjai. Thada is selfish (ไม่กลัวรอคเอ็ดแต่กลัวรอคอด) so he refuses to have a child. Malee finds an abandoned child and wishes to raise it (เอาเด็กมาเลี้ยง). As Thada refuses, Malee asks Bookham to keep the child for her. The child is named Maem. To pay his own debt, he even uses Malee as money replacement. Finally Thada accepts to release Malee following a last sum of money. Bookham and Malee educate the two girls. Chaba keeps visiting Bookham to get money as claiming she wants to raise her daughter Duangjai by herself but Bookham refuses so he has to give her money. Duangjai and Maem don't get along so well. The real mother Wilai finds Malee but the daughter Maem flees her and gets hit by a car. Malee has to work again as prostitute to pay the hospital bill (ความสำเร็จของลูกสำคัญกว่า) (ทำเพื่อลูก). She has to go with Yamato, a Japanese man. He finally marries her but dies shortly due to cancer. She has to take over his hotel and meets an ambitious manager called Somchat (Kowit Wattanakul). Somchat has a lover already, his own secretary but he wishes to marry Malee to steal her money. Bookham warns her but she doesn't listen as love is blind. One night, Somchat brings her in a remote bungalow. Some ruffians hit Somchat and rape Malee. Pictures to blackmail her and request for one million Baht are sent. Bookham is accused by Somchat to be the mastermind. Malee finds Somchat in bed with the secretary. The secretary asks for 1M to forget Somchat. Being an adult already, Maem (Marsha) is back from overseas. Her fiance is Doctor Bin (Bin Banleurit). Doctor Bin wishes to be a countryside doctor to help poor people but this is not the kind of life that Maem is expecting. So clash happens. Thada (แมงดา) finds a job as server in the hotel. Malee has to name him as assistant manager to keep his mouth shut (ความจำเป็นจริงๆ). She wishes to protect Maem in order that she doesn't know her origin. Somchat and his ruffians hit Thada to know Malee's past. Somchat asks for 5M baht to kept silent but is chased as he is identified as the mastermind. Malee wishes to marry Maem with Bin but she is worried that problems could happen during the wedding ceremony. Somchat wishes to bring trouble but Wilai tries to stop him as she will not let anybody brings trouble to the happiness of Maem, her real daughter. During the fight she is killed. Bookham shots Somchat. Then Thada intervenes by threatening Malee with a gun. He discloses that Malee is a prostitute (ความลับไม่มีในโลก) to all and so bringing shame to Maem. Bookham also shots Thada. Maem blames Malee but gets slapped by Bookham as Malee has done everything to bring good education to Maem (ตระกูลไม่สำคัญ ความกตัญญสำคัญ). Bookham ends up in jail. Bin confirms it doesn't change anything for him and confirms the wedding with Maem.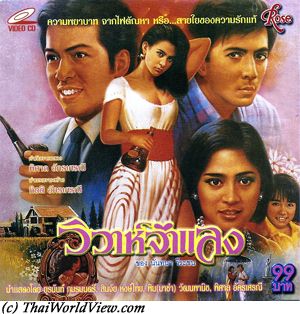 Year

: 1988



Thai title

:

วิวาห์จำแลง




English title

:



Rating

: 3/5


Director

:



Main actor

: Yuranan PamornMontri


Main actress

: Sinjai Hongthai,Marsha,Marasri Bangchang
Two students shall marry when their studies are finished. The boy is going abroad to finish his studies. A nasty teacher drugs and abuses the fiancee in order to force her to marry him. When he is back, his fiancee is married to the nasty teacher. The marriage is a disaster as it is not based on reciprocal love. In order to forget his marriage failure, the nasty teacher seduces the fiance's sister. This is too much for the former fiance...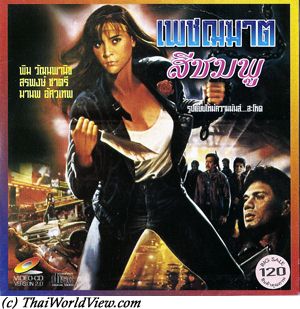 Year

: 1988



Thai title

:

เพชฌฆาตสีชมพู




English title

:



Rating

: 2/5


Director

:



Main actor

: Sorapong Chatree,Manop Aussawathep


Main actress

: Marsha



Buy now

:

Nin is a young lady coming from a rich family. At night time, she transforms herself in a mysterious executioner (เพชฌฆาต) to kill some mafia leaders (คนเลว). A rose is left as a signature (ดอกกุหลาบสีชมพู). The policeman Chatri is satisfied that bad ruffians (ผู้ร้าย) are neutralized but he needs to catch the executioner according to the Thai law. Nai Pratum is head of a big mafia ring (วงใหญ่) dealing with weapons trade (อาวุธสงคราม). Nin disrupts his activities. Chatri meets Nin but ignores that she is the mysterious executioner. Chot is Nin's best friend but he wishes to become her husband. Nin refuses as she values more Chatri (ผมจะขอวันนั้น). Nin gives hints to Chatri to stop the ruffians. Nai Pratum recruits two hitmen to kill Chatri. They only succeed to injure him. Nai Pratum takes his order from a mysterious boss (เจ้านาย). Nai Pratum orders to kill another mafia leader and accuse Nin by leaving a rose on the premises. By kidnapping Chatri, Nai Pratum forces Nin to reveal her real identify in order to save Chatri. The mysterious leader is Chot, the unlucky lover. As expected, bad ruffians are defeated. It is a typical 1980s action movie that is only worth due to a few stars acting (Sorapong, Marsha and Manop). Marsha is really a precursor of Thai modern actress Yanin Vismistananda in martial arts fight.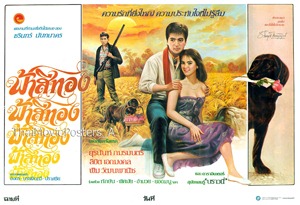 Year

: 1987



Thai title

:

ฟ้าสีทอง




English title

:



Rating

: 3/5


Director

: Charin Nantanakorn



Main actor

: Yuranan PamornMontri,Likit Eakmongkol,Taksin Jampol


Main actress

: Marsha,Pissamai Wilaisak
Thai movie ฟ้าสีทอง was released in year 1987 and lasts 1h48mn. The movie was shown on True Thai film cable TV channel. Movie is directed by Charin Nantanakorn. Young man Yothin is taking care of a huge agricultural domain. His dream is to have it becoming prospere (สีทอง) instead of being barren. His dog is even named as Si Thong. His parents (including Pissamai Wilaisak) are leaving in the city. Yothin is waiting for his brother Yuratit (Yuranan PamornMontri) to be back from England to help him. Pho Lieng Panat (Taksin Jampol) and his daughter Nit (Marsha) are living in the opposite domain. PhoLieng Panat and Yothin have often being in conflict before. Yothin is found shot dead. Yot (Likit Eakmongkol), domain intentant, suspects Pho Lieng Panat but he has no proof. Yuratit promises to continue what his brother started and to find who killed his brother. Yuratit helps young lady Nit whose vehicle is stuck in mud but Yot and also the father Pho Lieng Panat disapprove as each side sees each other as enemy (ศัตรู). The father Panat goes overseas for two weeks so Yuratit and Nit sympathise. A fire is lit in Nit's farm. Yuratit comes to help and saves a kid being endangered during a fire. Yot is the one, who started the fire, as he still believes Pho Lieng Panat killed his boss Yothin. Romance starts between Nit and Yuratit. Yot looks like not being happy with this relationship. Three ruffians tried to steal the money inside the safe of Nit's company. Nit suspected that those ruffians also lit the fire but finally she learns that Yot started fire in her farm's hangar. Nit believes orders are coming from Yuratit. The father is back and forbids to Yuratit to enter his farm (ไร่) anymore. Yuratit's parents visit the farm while Yuratit is away in the farm fixing the domain. While visiting the farm by carriage, the horse gets nervous as Nit uses her riffle to chase cattle away. The father is injured by falling from the carriage. Nit visits him every day as she feels guilty. Later, on Panat, Nit's father, is shot and injured. Panat believes Yuratit and his father are behind this shooting. Yuratit and his father visit Pho Lieng Panat to clear all the misunderstandings. Panat assures he has nothing to do with Yothin's death. Yuratit then suspects Yot. The two men fight as Yot is willing to get the whole domain for himself. Yot kept pushing both domains against each other. Yuratit is injured but Nit also injured him before he can kill Yuratit. Yot flees but the dog Si Thong revenges his master Yothin. Peace is back in both domains.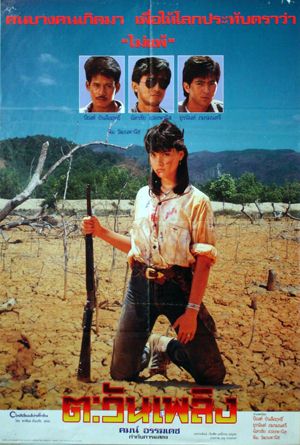 Year

: 1987



Thai title

:

ตะวันเพลิง




English title

:



Rating

: 4/5


Director

: Kom Akadej



Main actor

: Chatchai Plengpanich,Yuranan PamornMontri,Bin Banleurit


Main actress

: Marsha
Thai movie ตะวันเพลิง was released in year 1987 and lasts around 1h44mn. Movie is available under VHS format. Movie director is Kom Akadej. Vin (Chatchai Plengpanich) is a hunter group leader. They hire Chon as a driver but Chon (Bin Banleurit) is upset with the hunters' behavior as they shoot cattle. Young lady Rung Tawan (Marsha), owner of a ranch and raising cattle, is leaving alone. Patana (Yuranan PamornMontri) is her former husband and business partner but they split. Patana is alcoholic and useless. Rung Tawan finds that people went on her domain as she finds beer cans, cigarette packets and one cattle was killed. Police is not helping. She suspects a group of hunters led by Vin. She has strong arguments with them as she asks for compensation. No weapons are found in their car as they were hidden in their camp. Following a car chase with Rung Tawan, one ruffian is slightly hurt so they take revenge by putting snakes and mice in her home. But one of the hunters wants a bigger revenge. Chon tries to calm them down but to no avail. So at nighttime, they use fireworks to frighten her and break her windows. She runs away but they chase her by motorbike. Chon rescues her. On the next day, Patana is surprised to find Chon being at Rung Tawan's side. Being drunk, he did not help and is now jealous. Hunters chase her again and try to rape her. Patana takes a rifle but as he is shaking and is afraid, he flees away. Hopefully, Chon helps Rung Tawan again. Rung Tawan slaps Patana for being a useless drunkard and coward. Hunters are upset by Chon's behavior. Vin's girlfriend tries to entice Chon by provoking him. Being upset, Vin has a fight one to one with Chon. Chon is chased from the group and has to leave his knife, shoes behind per Vin's threat. Rung Tawan, taking her rifle, storms the hunters' camp. Shooting occurs. Rung Tawan shoots their car tank reservoir and it explodes. She flees away. Chased by hunters, she gets help from Chon. They get split inside a hangar. Police announces that the hunters left the area. Patana tries to stop drinking alcohol and finally succeeds. Chon is back and Rung Tawan takes care of him as he is weak. Rung Tawan has to choose between Chon and Patana. Hunters are back (คิดบัญชี). Epic final fighting does occur between Chon, Rung Tawan, Patana and the ruffians led by Vin...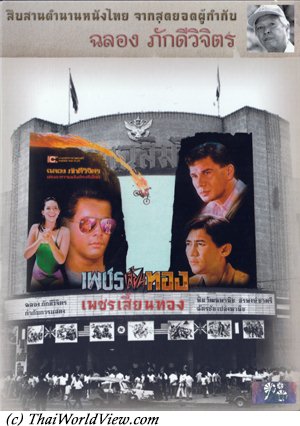 Year

: 1987



Thai title

:

เพชรเสี้ยนทอง




English title

:



Rating

: 4/5


Director

: Chalong Pukdeewichit



Main actor

: Sorapong Chatree,Chatchai Plengpanich,Adul Dulyarat,Rith Luecha,Somchai Samipak,Sayan Chantaraviboon


Main actress

: Marsha,Jariya Anfone



Buy now

:

Thai movie เพชรเสี้ยนทอง was released in year 1987 and lasts 1h48mn. It was released under DVD format by Happy Home Entertainment company. Movie director is Chalong Pukdeewichit. It was actor Tin Settachoke's (ตฤณ เศรษฐโชค) first movie. Policeman Borapon (Sorapong Chatree) shoots a young ruffian being part of a biker gang. The young ruffian hit policemen trying to stop him. Borapon claims it was self-defense, but youngsters accuse Borapon of abuse of power. Those kids are coming from rich families so Borapon loses at court. He is separated from his wife Rutika (จริยา สรณคม - Jariya Anfone). At nighttime Borapon follows his former wife working as DJ in her nightclub. Songklam (Rith Luecha) and Chakrit (Chatchai Plengpanich) are acting as bodyguards of Nat (Marsha) in the nightclub. Borapon's wife is having a new boyfriend going to invest in her club. It makes Borapon very upset. Youngsters are playing fun of Nat, Songklam and Chakrit after seeing them in a mall. Somchai Samipak is uncle of one of the youngsters, i.e. Chetanan (Tin Settachoke). Borapon follows his wife and her boyfriend. While they are drinking, the boyfriend is shot by Songklam, who succeeds to flee. Borapon is accused. He has to take leave from Thai police (พักราชการ). Nat is businessman Orachun's daughter. Orachun (Adul Dulyarat) plans to transfer his business to Chakrit. It is Nat's birthday. Her father is always busy. The youngsters are part of the musicians performing at the birthday. Orachun is satisfied of the music group performance and wishes to greet the singer. When knowing that the singer, Chetanan, is son of former associate Wat, Orachun orders to kill him. The killing fails. Aware of this, Somchai orders his nephew Chetanan to come to Phuket. In Phuket, youngsters meet Borapon and promise to get revenge. Orachun stole money from Wat before when Wat and Orachun were business partners (ลงทุนด้วยกัน). Wat was killed by Orachun's ruffians. Chetanan kidnaps Nat while she is doing windsurf and holds her captured on a remote island in Krabi (ใช้กรรม). It is his plan to revenge against Orachun. Head of police in Phuket is Sayan Chantaraviboon, playing a cameo role. People believe Nat has drown. Rutika arrives in Phuket to ask for money to Orachun. Bullet analysis shows that Borapon is not guilty. Nat makes her captors drink. A fisherman, named Tim, helps her to flee but he has bad ideas in mind. Chetanan helps Nat on time but he gets severely beaten by Tim before. Romance starts between Chetanan and Nat. Tim warns Orachun that the youngsters are staying on a raft on Phi Phi island. While Chetanan is away, Orachun and his men storm the raft and release Nat. One of Chetanan's friends (เอ็ม สุรศักดิ์ วงษ์ไทย) is killed. Rutika comes again to get support from Orachun regarding her debts but she is chased away. Orachun is just looking to take over her business and has no intention to help her. Being ruined, she realized that only Borapon was always nice with her. While having diner, Songklam shoots Rutika. It is part of Orachun's plan to take over the discotheque. Both Borapon and Chetanan are looking for revenge and storm Orachun's home. Heavy shootings occur. Songklam is shot by Borapon. Chakrit and Chetanan shoot each other. Borapon prevents Orachun to shoot Chetanan by injuring him first. Orachun is arrested and admits he was wrong.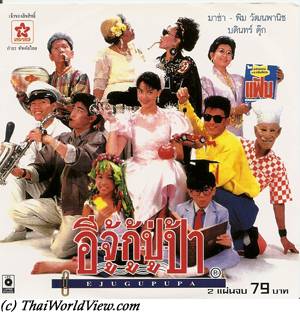 Year

: 1987



Thai title

:

อีจู้กู้ปู่ป้า




English title

: Ejugupupa



Rating

: 1/5


Director

: Kumtorn Tubkunlai



Main actor

: Kamthorn Suwanpiyasiri


Main actress

: Marsha,Piyamas Monayakol,Sulaleewan Suwanthat,Sarinthip Siriwan
A young woman is back from Germany. Her older relatives are quarreling in order to take care about her and find the best husband for her. But the young lady has other ideas in her mind...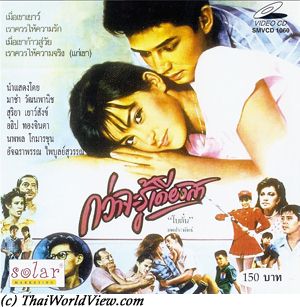 Year

: 1987



Thai title

:

กว่าจะรู้เดียงสา




English title

:



Rating

: 4/5


Director

:



Main actor

: Suchao Pongwilai


Main actress

: Pissamai Wilaisak,Marsha



Buy now

:

Thip (ทิพย์), a 16 years old teen, is part of a family of well off people (เป็นลูกผู้ดี). She is not a villager kid (ลูกชาวบ้าน) so her mother doesn't want her to mingle with people of lower status. Her mother (Pissamai Wilaisak) plans to find a good husband for Thip. The mother is very strict and Thip is not allowed to go out without her mother's authorization. She forbids almost everything (อะไรๆก็ห้าม) despite her husband's advice (รู้จักโลก). Thanks to her friend, Thip meets Chaya (ไชยา), a young teen boy, working in a bicycle repair shop. He is very strong at football. Everybody is fed up with the mother's behavior as she is too excessive (ไม่สบายใจทุกคน, ไม่สนุกสนานหมือนเด็กอื่น, จะไม่ใครเหลือ). The husband spends long hours and nights working at the family factory. Believing that her husband is having an affair at the factory, the mother decides to work late also so Thip has more time to meet Chaya. Love emerges between Thip and Chaya. The mother wishes to put her in a boarding school (โรงเรียนประจำ) as she has no time for her (ไม่มีเวลาดูแล). Thip learns to drive and often spent time with Chaya at the Rose inn... Thip becomes pregnant. As the mother discovers that Thip has a boyfriend, she becomes so upset. Afraid to announce her pregnacy, Thip finally flees with Chaya. They go to Bangkok. Afraid to tarnish her family name, the mother forbids anybody to announce the news. The mother uses a hit man (มือปืน) to take revenge over Chaya's father, who has claimed the blame was on Thip (แม่มีเงินและอิทธิพล). Bangkok people are not honest (ระวังตัว) with provincial people. Thip and Chaya have a hard life in Bangkok. They meet a lady called Chalem, who is in fact interested to use Thip in a call girl ring. Thip is not used to do chore house or cook food so she experiments a harsh life. Their couple is under hard pressure. Chaya finds a small job (30 baht ซ่อมจักรยาน). Thip needs to become a domestic helper (คนใช้) as they don't have enough money. She is hired by a teacher despite she has a husband already. Thip and Chaya live in separated place (ดีอย่างหนึ่งเสียอย่างหนึ่ง). Chaya smokes now and meets ruffians. Meanwhile the teacher's husband tries to rape Thip. She has to flee but she cannot find Chaya as he moved out. He is now addicted to drugs. Thip's parents are now separated so she has no choice but to ask Chalem to find an escort job for her. She doesn't want to go with guests. Chalem wants her to abort but finally keeps the baby, who is a girl. Chaya is smashed by a car while fleeing following a robbery. Thip is sold to a prostitution ring in North of Thailand. During a bordel inspection, a relative of Thip recognizes her. Thip gives him the baby and then finally suicides herself. This movie highlights Thai society modern issues (lack of care and time for children, teens pregnancy, abortion, prostitution...).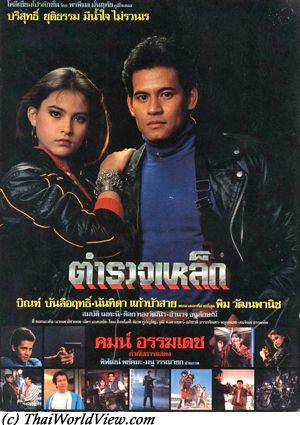 Year

: 1986



Thai title

:

ตำรวจเหล็ก




English title

:



Rating

: 4/5


Director

: Kom Akadej



Main actor

: Bin Banleurit,Sombat Methanee,Kom Akadej,Pipop Pupinyo,Chat Mongkolchai


Main actress

: Marsha,Nanthida Kaewbuasai
Thai movie ตำรวจเหล็ก was released in year 1986. Kom Akadej is the movie director. The movie lasts 1h40mn. Sombat Methanee is a police police commander (ผู้บังคับ) enquiring on a murder. Chanyut was found dead in his swimming pool. 2000M baht have disappeared following the murder. Bin (Bin Banleurit) finds an earring there. Pim (Marsha playing in her first movie) is a journalist (นักข่าว). Muat (หมวด) Bin kills two ruffians having shot policemen. Singer Chengila (Nanthida Kaewbuasai) is harassed by (ขอตัว) Nai Chareun Phran, son of an influential banker and also targeting to be a parliamentary. Fighting happens in the club. Bin arrests Nai Chareun Phran but he is released thanks to his father. Investigations on hitmen are ongoing. Pim enters illegally in a Chinese temple to take pictures of a ceremony. Hitman Chat Mongkolchai is present. A money exchange shall happen between Chat and the son of Sia in order to release Sia. Pim recognizes Bin and reveals by mistake that Police is part of the Chinese lions dancers. Shooting happens and all ruffians are killed. Bin is looking for information on another hitman called Seua Weng. Weng is looking to flee overseas so looking to exchange Thai baht in dollar. He is shot by another fierceful killer, Ai Tong Bai boon Sung, before being able to flee. Bin suspects Kaewbuasai should be related to Chanyut as he found she is wearing only one earring. Chengila was the girlfriend of Chanyut. Chengila has seen the murderer, i.e. Nokhun, famous lawyer (ทนายความใหญ่) and even took a video. Entertainment place Chao Praya 3 is the place where the killer is coming every day to see a girl. Nai Chareun Phran, helped by his lawyer (Kom Akadej) frames Bin in a trap. Chengila blacklists the lawyer Nokhun by asking 200M Baht. The lawyer puts some fake policemen in front of Chengila's condo but Bin arrests them. As usual Pim is here to take pictures. Bin suspects Chengila is not telling the whole truth to him as there should be a reason why fake policemen kept watching her flat. Later on the killer erupts in the disco and tries to shoot Chengila. She escapes thanks to Bin, who is injured. She flees but finally gets shot by the hitman. Before dying, she calls the police and talks about a tape hidden in the bathroom. Bin's assistant finds it and the lawyer is identified as the killer. Nai Chareun Phran is afraid and sends the killer to get rid of the lawyer. He is only injured and ends up at the hospital. The lawyer tries to corrupt Bin's assistant but to no avail. The killer erupts in the hospital and kills Bin's assistant. The lawyer succeeds to flee. Final scene is happening around a political meeting scene. Nokhun injures Nai Chareun Phran and both get arrested. Bin with Pim's succeed to neutralize the killer.
---