Increase or decrease font size for easier reading : A+ A-
Marasri Isarangkul
Marasri Isarangkul (1922) - มารศรี อิศรางกูร ณ อยุธยา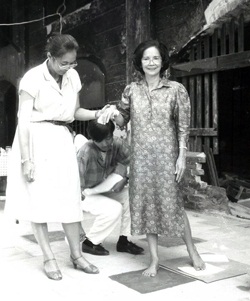 Marasri Isarangkul's full name is Marasri Isarangkul Na Ayutthaya
This Marasri Isarangkul movie page contains 26 records.
---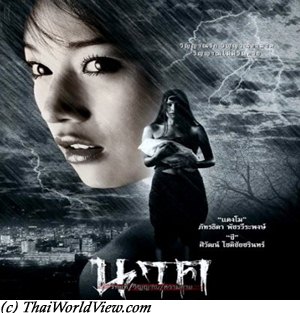 Year

: 2006



Thai title

:

นาค รักแท้ / วิญญาณ / ความตาย




English title

: Ghost Of Mae Nak



Rating

: 3/5


Director

:



Main actor

: Kowit Wattanakul


Main actress

: Marasri Isarangkul



Buy now

:

Nak and mak are a young couple that love each other deeply. Their trueness of their love wakes up the ghost Mae Nak. Mae Nak has been buried only and never had any proper funeral ceremony. Through terrific apparitions, she needs their help to rest in peace. Anybody who try to hinder their love is killed (the greedy estate agent who sold them the old house, the burglars). Mak, following a circulation accident, falls in a deep coma. Nak needs Mae Nak help to cure him. But Nak needs to find Mae Nak's body first to make proper Buddhist ceremony so that she can rest in peace. She also needs to give her back an old brooch made of her bones. Nak has to finish her task before an exorcism (ไล่ผี) is done on Mak. This is a modern and refreshing version based on Mae Nak ghost story that has inspired more than 15 Thai movies. The two main actors are coming from the Thai soap opera TV series. The director is English and the photography direction is really good.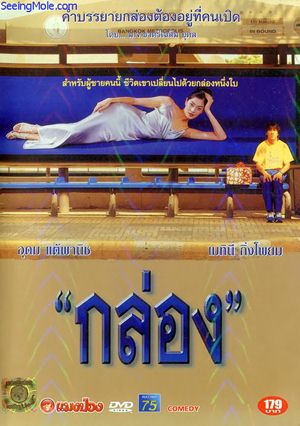 Year

: 1998



Thai title

:

กล่อง




English title

:



Rating

: 3/5


Director

:



Main actor

: Udom Taepanich


Main actress

: Metinee Kingpayom,Orasa Isarangkul,Juree Osiri,Marasri Isarangkul
Thai movie กล่อง, directed by ChatriChalerm Yukol, was released in year 1998. It lasts 1h36mn. A story is told by a comic show actor (Udom Taepanich - อุดม แต้พานิช). The people appearing in the story are in fact present in the theater. He reuses them. The story is about Cheut, who is a song composer and has only problems having debts, being annoyed by the landlord (Orasa Isarangkul), being exploited by ruffians or by policemen (asking for money for police charity but keeping for himself) and being unlucky. His wife (Metinee Kingpayom) always blames him (คนหรือควาย). He goes to a music producer but cannot get any appointment so even loses his musical compositions there. As he always gets cheated, bullied, annoyed, blamed (กง แกล้ง รังแก ด่า) so he decides to get suicide but he fails despite several attempts (ไม่เคยทำอะไรสำเร็จ). Wishing to plunge from a tall bridge, he misses the bus. He notices another passenger also waiting for the bus. Trying to talk to him, he realizes that the passenger is dead. He steals his box as anyway it cannot have any usage for a dead man. Cheut and his wife try to open the box without success. In the morning, the wife is very unhappy as she found from the newspaper that the dead man is a drug trafficker and that box certainly contains heroin. So they are in serious problem. Following multiple happenings, Cheut gets rid of the box. His wife, learning from TV that the deceased was finally a rich man and not a drug trafficker, asks him to get back the box asap. As the landlord is asking for the rent, Cheut's wife tells her there is certainly money in the mysterious box. Rumours spread fast (นินทา). People are greedy. People previously bad with him are now very polite, very attentive as they believe he is now a rich man. They all fail to open the box. Luckily the producer finds the songs written by Cheut and he becomes a rich man. He decides to throw away the box. The box is like Pandora box, a box for dreams. As their dreams are achieved, they don't need the box anymore.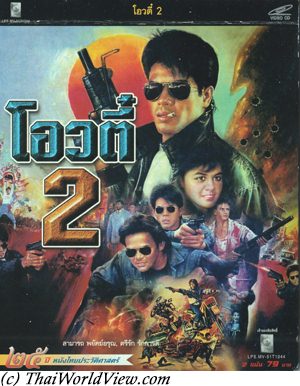 Year

: 1990



Thai title

:

โอวตี๋ 2




English title

:



Rating

: 3/5


Director

:



Main actor

: Samat PhayakArun,White Padungkan,Tongchai Prasongsanti


Main actress

: Trirak Rakkarndee,Marasri Isarangkul



Buy now

:

Thai movie โอวตี๋ 2 was released in year 1990 and last 1h30mn. It was released under VCD format by Lepso Co Ltd and previously under VHS format (1h34mn). Movie โอวตี๋ part 1 was released in year 1986. Main actor changed from Chatchai Plengpanich to สามารถ พยัคฆ์อรุณ. Oti (สามารถ พยัคฆ์อรุณ - Samat PhayakArun) is released from prison. He is a former ruffian (วงการนักเลง). His son is tall now. His mother is played by Marasri Isarangkul. His wife is sick, but she hides it. Local mafia leader Saeng asks help from him but Oti refuses (นักเลงหัวไม้). Former colleagues and enemies (ศัตรูเก่า) are looking for troubles with Oti. It is hard for Oti to have a new life as former people still try to interact with him. Oti is hired by Saeng to get rid of godfather (เจ้าพ่อ) Seua. Oti accepts for a last time and asks not to be disturbed anymore. Young lady Trirak Rakkarndee is ordered by Saeng to follow Oti and to ensure the job is done properly. She starts to appreciate Oti but Oti is married. Saeng has promised to leave him alone but... Oti kills godfather Seua while his powerful hitman Dam is out of town. Saeng wishes to get rid of Oti as he doesn't want to join him. Trirak tries to warn Oti but he is not willing to listen as he is worried Trirak will cause misunderstanding with his wife. Saeng's team puts a bomb under his car. Oti and his son escape to death but his wife and mother die. He shelters his son in his close friend Seeoui's home (Tongchai Prasongsanti). It is revenge time for Oti. ไอ้ Dam also wishes to revenge Seua and kill Oti. Among Saeng's team, there is also ไวท์ ผดุงการ (White Padungkan). To force Oti, Saeng kidnaps his son. Trirak still wishes to help Oti despite his refusal. Oti finally accepts and both storm Saeng's place. Heavy fighting and shooting occur. Ruffians are defeated. Saeng and Dam are killed. Oti surrenders to Police and is sent back to jail with Trirak.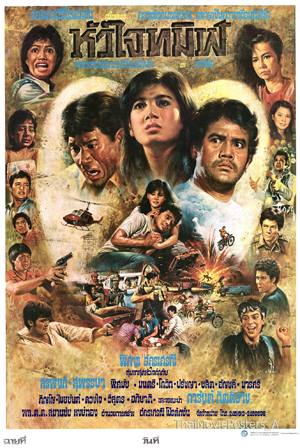 Year

: 1983



Thai title

:

หัวใจทมิฬ




English title

:



Rating

: 3/5


Director

: Pisarn Akraseranee



Main actor

: Sorapong Chatree,Kowit Wattanakul,Pinyo Parnnui,Chaiyan Sorakrai


Main actress

: Supansa Nuengpirom,Pissamai Wilaisak,Marasri Isarangkul,Duangjai Hathaikarn,Anchalee Chaisiri
Thai movie หัวใจทมิฬ was released in year 1983 and lasts 1h17mn. It was released under VCD format by Lepso Company and Rose Company. Movie director is Pisarn Akraseranee. Pissamai Wilaisak and her mother Marasri Isarangkul are heads of a drug cartel. A drug exchange occurs but it is a trick by the Thai police led by officer Kincha (Sorapong Chatree) and Kowit Wattanakul. They surround the ruffians' den. Heavy fighting occurs as ruffians are using war weapons such as machine guns. Marasri, seriously injured, takes grenades and races towards police cars. Kincha ends up at hospital and remaining ruffians flee. Kincha's wife (Duangjai Hathaikarn) asks him to stop as she is worried her children will have no father. Knowing who is the policeman leading the assault in the newspaper, Thong Kam (Pissamai Wilaisak) promises to get revenge. Sifa (Anchalee Chaisiri), Pinyo Parnnui, Montree Jenuksorn (มนตรี เจนอักษร), ปรัชญา อัครพล, ชลิต เฟื่องอารมย์, อภิชาติ อรรถจินดา and Chaiyan Sorakrai are part of the crazy ruffians. Sifa, being pregnant, gets married with วิสูตร ตุงคะรัตน์ (Thai Elvis Presley). The wedding doesn't end up well as the husband has a mistress. He sets up a bomb in the car. Both Sifa and her brother Chaiyan die. Montree gets revenge over Elvis but gets shot by Kincha. Another ruffian is captured. Mother Thong Kam is very upset. Kowit and Waen (Supansa Nuengpirom), Kincha's younger sister, are close friends. Ruffians kidnap by mistake Waen as she used her brother's car. Back home Kincha finds his family was killed. Thai police use the captured ruffian and organises a fake escape to identify where ruffians are hidden. Thai police storms the area and all ruffians are killed including the mother. One ruffian, named Karan (การันต์ กิตติราช), succeeds to escape with the younger sister Waen. He follows his mother's orders despite she is dead. He helps when Waen is bitten by a snake. Thong Kam was a raising mother, who trained them to be tamil. Waen starts to understand and to pity her kidnapper. He is injured by Kowit but still able to flee. He helps again Waen aggressed by crazy campers. Love occurs. Finally, Thai police surrounds the Buddhist cave, where they are hiding. Waen tries to convince her brother Kincha not to shoot at เจนอักษร. He doesn't understand her sister. Karan has to exit from the cave hearing Waen crying. As he is carrying a gun, Thai police shoots him. หัวใจทมิฬ is another violent movie shot by Pisarn Akraseranee.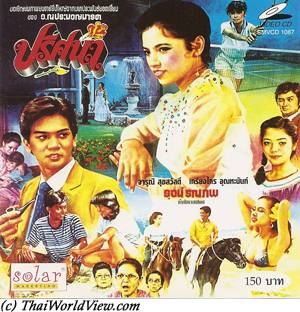 Year

: 1982



Thai title

:

ปริศนา




English title

:



Rating

: 4/5


Director

: Ruj Ronnapop



Main actor

: Kriengkrai Unhanan,Suchao Pongwilai,Adul Dulyarat,Ruj Ronnapop


Main actress

: Jarunee Sooksawad,Linda Khatancharoen,Marasri Bangchang,Sarinthip Siriwan,Marasri Isarangkul,Sulaleewan Suwanthat,Anchalee Chaisiri



Buy now

:

Thai movie ปริศนา was released in year 1982 and lasts 2h08mn. Movie director is Ruj Ronnapop. The movie was released under VCD format by Solar Marketing company. In mid 2010s, it was re-mastered by Five Star production company and shown on True Thai Film cable TV channel. Prisana (Jarunee Sooksawad) is a young Thai lady coming back from USA. Her life vision is influenced by her American education. Her future mate choice should be based on love and not based on family choice or wealth. Will she overcome Thai high society rules? Her father was dead before she was born so her grandmother even refused to recognize Prisana as her granddaughter. Prisana's mother (Marasri Bangchang) welcomes her daughter back from USA after studying 12 years there. It is hard for Prisana to get used to conservative Thai behavior. Fed up at home, Prisana decides to become a teacher (ครู) so she makes herself older. She has two sisters, Seri and Anong. Her older sister has a boyfriend called Sameu (Suchao Pongwilai). One of the student is daughter of a high-level family (ท่านหญิง). Prisana has authority issue with students as the daughter organises rebellion. Prisana teaches her a strong lesson so her brother, Chai, hears about Prisana for the first time. Prawit (เอกลักษณ์ ยลระบิล) meets Anong (ปัทมา ปานทอง) again. Seeing Prisana, Prawit forgets Anong and focus on Prisana only. Chai (Kriengkrai Unhanan) is Prawit's close friend. Chai invites all of them at a party at his home. Ratree (Linda Khatancharoen), Chai's fiance, is upset as Chai dances with Prisana. Ratree is expecting to marry Chai. It is Prisana's birthday. Chai offers her a dog. Prawit offer her a bracelet. Both men are enamoured with Prisana. Following a family trip in Hua Hin, Prisana announces she will not marry Prawit so Anong is happy. Chai is getting closer to Prisana (น่ารักที่สุด). Seeing Ratree unsuccessful to get Chai's love, Sameu tries his luck and kisses Ratree (มนุษย์หลอกลวง). Seri (Anchalee Chaisiri) sees them and is disappointed. Neighbour Anoon (ปรัชญา อัครพล) is back from America and tries to become close to Prisana. Chai tells Prisana that Prawit wants to marry her, so she becomes very upset. Finally, Prawit accepts to marry Anong as he knows he has no more chance with. Chai's aunt (Sarinthip Siriwan) is also very upset as she understands Chai's plan to marry Prisana instead of Ratree, his fiancee. Chai has arguments with his aunt as he refuses to marry Ratree. He doesn't love her and consider her as a younger sister (น้อง). The aunt and Ratree threaten Prisana. Prisana is seen by them as low status girl. The aunt wants this wedding to occur in order to keep money inside the family. At Prawit's wedding, Chai asks Prisana's hand but she doesn't believe him. Prisana is fed up by those high society people. Chai finally offers her a ring for engagement. Pushed by the aunt and Ratree, elder lady Marasri Isarangkul summons both Chai and Prisana. Prisana is looked down again but hopefully her uncle Adul Dulyarat can testify she is the real daughter of his defunct brother. Both the aunt and Ratree lose face and love can blossom between Prisana and Chai.



Year

: 1980



Thai title

:

หนึ่งน้องนางเดียว




English title

:



Rating

: 3/5


Director

:



Main actor

: Sombat Methanee


Main actress

: Pissamai Wilaisak,Tharika Thidathip,Chosri Misommon,Marasri Isarangkul
Thai movie หนึ่งน้องนางเดียว was released in year 1980 and lasts 1h18mn. Maybe the movie was cut or censored as it is a short duration for a movie. The picture quality is average. This movie is remake of movie หนึ่งน้องนางเดียว released in year 1959. The mother is played by Marasri Isarangkul. The poor family adopts an orphelin Phayak on top of their current child Phayak. Many years have passed. Narit (Sombat Methanee) is riding horse with his fiancee Nathee. Suddenly Narit falls from a horse (ตกม้า) as a snake attacks it. He gets help from PlaiWan (Pissamai Wilaisak). Phayak (ณัฐ ไชยยงค์) is her brother, who is a hunchback. Narit seduces PlaiWan (คนกรุงเทพพูดหวานอย่างนี้ทุกคนหรือค่ะ?). Phayak doesn't trust Narit. While her parents are away to cure the father's heart disease, PlaiWan and Narit become lovers. Phayak blames his sister (ใจง่าย). The father, knowing that her daughter was too easy, has a heart attack and dies. Narit is back to Bangkok and promises to come back as soon as possible. A child is born but Narit is still not back so PlaiWan decides to to Bangkok. Chosri Misommon is playing a domestic helper. Narit had to marry Nathee (Tharika Thidathip) due to some debt towards parents. In front of Nathee, Narit ignores PlaiWan and his child (เลวกว่าหมา). Narit chases them. Back home, the baby is dead and the mother dies also. PlaiWan and Phayak burn the house and leave the area to start a new life. They settle in South of Thailand and make a living by fishing. An old sorceress predicts to PlaiWan that Narit will come back to her as a slave. A spirit (ปู่) tells to Phayak where a treasure is located in the sea. They become rich and buy a beautiful home. PlaiWan is renamed as Fatima. Narit meets Fatima but he doesn't recognize PlaiWan. They become lovers again causing Phayak's ire towards this (หมาป่า). Phayak is going overseas to remove his hunch. Narit meets Methinee, a business woman but he doesn't realize she is PlaiWan (ไม่จริงจัง). Phayak kidnaps Narit to get revenge over him. He also lies to Nathee in order to seduce her. He tortures Narit's body but also Narit's spirit by telling his fiancee is now his! Nathee grabs a gun but Phayak shoots her. The police arrives and shootings happen. PlaiWan releases Narit as Phayak has gone too far. Phayak finally dies as he was willing to revenge PlaiWan's honor.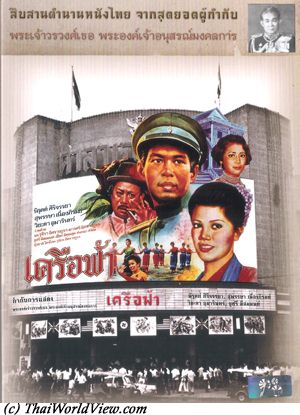 Year

: 1980



Thai title

:

เครือฟ้า




English title

:



Rating

: 4/5


Director

:



Main actor

: Nirut Sirijanya,Rujira Isarangkul


Main actress

: Supansa Nuengpirom,Wiyada Umarin,Sarinthip Siriwan,Chosri Misommon,Marasri Isarangkul,Janthana Siriporn



Buy now

:

Thai movie เครือฟ้า (สาวเครือฟ้า) was released in year 1980. It is available under DVD format (1h49mn) and VCD format (2h01mn) released by former company Solar. During World War 2, Hoi is a military officer (นายทหาร) in Chiang Mai back from overseas. Hoi (ลูกผู้ดี / ลูกพญา) is coming from a high society family (Sarinthip Siriwan). Hoi (Nirut Sirijanya) meets a young Northern lady called Kreua Fa (Supansa Nuengpirom) at a traditional dance event. Chiang Mai is famous for the beauty of its ladies (เมืองคนงาม). Kreua Fa's father raised elephants. Local North people speak local northern dialect in the movie. Kreua Fa makes Hoi discover elephants' life in the forest. A local old notable wishes to marry Kreua Fa. The notable involved in drugs trafficking wishes to get rid of Hoi. A plan is set up to have Hoi having a deadly accident in the forest with an elephant but Kreua Fa helps him on time. Romance starts between them. They finally marry following Northern traditions. As Thailand has declared war to Germany, Hoi needs to go back to Bangkok and then to fight in Europe. His plane is hit and Hoi lost his memory. Three years have passed. Champa has been taking care of him during his long recovery. Hoi's parents settle the wedding with this rich heiress (Wiyada Umarin). Meanwhile Kreua Fa has delivered a child. The evil notable kidnaps Kreua Fa's baby to force her to become his wife. Kreua Fa's friends use elephants to release her and the notable is arrested for drug trafficking. One day Hoi is invited to Chiang Mai to demonstrate Thai airplanes. Kreua Fa hearing the plane believes Hoi comes back for her. Hoi has the feeling he went to Chiang Mai before losing his memory (ความทรองจำ). The new wife is aware of Kreua Fa but hides the truth to Hoi. Officer Pla explains the truth to Kreua Fa that Hoi lost memory as his plane was hit during the war. Kreua Fa needs to wait. Kreua Fa tries to get suicide. Finally aware of a ball given by high society, she decides to find Hoi. During the ball, arguments arise between Kreua Fa and Champa but Hoi cannot remember Kreua Fa. Kreua Fa is so disappointed so she decides to kill herself. Hoi finally recovers his memory. While rushing to find Kreua Fa, he just arrives on time to have her dying in his arms. She entrusts her child to Hoi. This movie has been released in theaters before in year 1953 (Chalit Susewee and Wilaiwan Watthanaphanit) and 1965 (Mitr Chaibancha and Pissamai Wilaisak).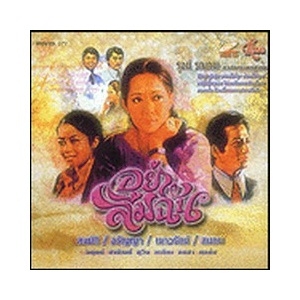 Year

: 1977



Thai title

:

อย่าลืมฉัน




English title

:



Rating

: 3/5


Director

: Ruj Ronnapop



Main actor

: Sombat Methanee,Sawin Sawangrat,Sayan Chantaraviboon,Somphob Benjatikul,Adul Dulyarat


Main actress

: Aranya Namwong,Naowarat Yooktanun,Chosri Misommon,Marasri Isarangkul,Tharika Thidathip
Thai romance movie อย่าลืมฉัน was released in year 1977. The movie lasts around 2 hours 04 minutes and was released under VCD format. Movie director is Director is Ruj Ronnapop. Khaem (Sombat Methanee) and Suriyong (Aranya Namwong), both students, are in love. They shall marry. Finally Suriyong, due to filial duty (บุญคุณ), has to marry an older rich man, who is a banker. Khaem is disappointed and goes overseas. Suriyong never had chance to explain to him (มีเหตุผล). Fed up to be at home, Suriyong looks for a job and is engaged as secretary (เลขา). Her new boss is just back from overseas and is Khaem himself! Working relationship is difficult as Khaem makes it hard for Suriyong due to resentments. Khaem is also giving hard time to his managers (ผู้จัดการ) Somkit (Sawin Sawangrat) and Boon (Sayan Chantaraviboon). Khaem has a new girlfriend (แฟน) called Kaelong (Naowarat Yooktanun). Suriyong still wears the ring given by Khaem. Khaem spies Suriyong as she sees a man called Eua meeting her. For Eua (Somphob Benjatikul), Suriyong is only her stepmother (แม่เลี้ยง). He has no other feelings despite Khaem's suspicion. Alita, Khaem's gig from overseas, is back to Thailand and brings him trouble. Khaem is aware that Suriyong has two children but those two children are in fact from the previous wife of the banker, who died earlier. One night, while bringing the kids for holidays, Khaem becomes lover with Suriyong. There is misunderstanding as Suriyong believes it was arranged to trick her. Suriyong becomes pregnant. Khaem is upset to always see Suriyong with Eua so he writes a harsh letter to her. Khaem asks for a wedding with Kaelong as soon as possible. Finally Suriyong plans to flee overseas (หายกลุ้มก็กลับมาเอง). Khaem, realising his mistakes and misunderstandings due to jealousy, rushes to airport in order to find Suriyong before she leaves Thailand…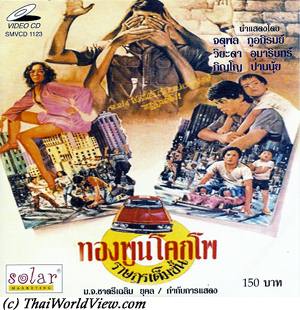 Year

: 1977



Thai title

:

ทองพูน โคกโพ ราษฎรเต็มขั้น




English title

: Taxi Driver (Citizen I)



Rating

: 5/5


Director

: ChatriChalerm Yukol



Main actor

: Jatuphol Poopirom,Pinyo Parnnui,Somsak Chaisongkram,Boo Wibunnan


Main actress

: Wiyada Umarin,Marasri Isarangkul



Buy now

:

Thai movie ทองพูน โคกโพ ราษฎรเต็มขั้น / Taxi Driver (Citizen I) was released in year 1977. Thongpoon (Jatuphol Poopirom) is a Thai farmer coming from Udon Thani and going to Bangkok. Thongpoon sold his rice field in Udon and has spared money during five years to buy a taxi. This taxi represents the future for him and his young son. It is his dream to have his own taxi. Thongpoon is gullible. Rich Bangkok people cheat him by claiming having no change but Taen, a kind-hearted prostitute, gives him a note without asking change back. Her name is Taen (Wiyada Umarin) and she has issues with Somsak Chaisongkram (แมงดา) as she is pregnant. Thongpoon helps chasing Somsak away and becomes her regular taxi driver. He picks up her at her working place (อาบอบนวด). Thongpoon proposes to Taen to take care about his son but not easy to stop such job well paid. Thongpoon meets also Pinyo Parnnui, who claims to be a Thai soldier having fought in Vietnam and now being paralyzed. When his taxi get stolen by bad boys, his life alters. As they also steal his money, he is expelled from his home by his landlord (Marasri Isarangkul) as he cannot pay the rent. He ends up working on a construction site. His goal is to get back his taxi by all means. Pinyo brings him where the ruffians mingle but he gets beaten again. A business card lost allows to identify Boo Wibunnan as garage owner. He then forgets Taen and son. He refuses money from Taen to buy a new taxi as he doesn't want to be a pimp (แมงดา). He storms Boo's garage and kill the ruffians trying to stop him. This madness leads him to prison. This movie highlights the impossible fight between poor and rich influential people, the analogy between the buffalo and the taxi for poor Isan people in Bangkok. Jatuphol Poopirom got a Thai award for his performance. It was his first movie. Sorapong Chatree was supposed to play the main role of Thongpoon but he was not available for the shooting so new comer Jatuphol Poopirom replaced him. As Jatuphol Poopirom died during a car accident in 1981, Sorapong Chatree played the main role in Citizen II. ChatriChalerm Yukol drove around Bangkok for weeks with cab drivers gathering anecdotes for "The Citizen".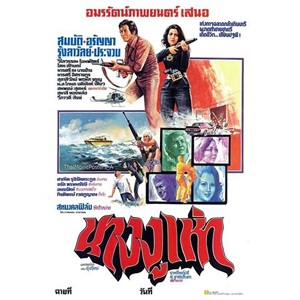 Year

: 1976



Thai title

:

นางงูเห่า




English title

:



Rating

: 4/5


Director

: กิตติพงษ์ เวชภูญาณ



Main actor

: Sombat Methanee,Prachuap Ruekyamdee,Adinan Singhiran,Preuhat Boonlong,Lak Apichat,Sompong Phonmitr,Sukon Koewliam


Main actress

: Aranya Namwong,Runglawan Sripatimakul,Wilaiwan Watthanaphanit,Khomapat Attaya,Marasri Isarangkul,Marasri Bangchang,Sulaleewan Suwanthat
Thai movie นางงูเห่า was released in year 1976 and lasts 1h32mn as incomplete version. The movie was shown in Thai Film Archives in 2017. Movie director is กิตติพงษ์ เวชภูญาณ. One song is featured. Famous robber Cobra lady / นางงูเห่า, as Tai (Aranya Namwong), flees the police, led by Sompong (Sompong Phonmitr), after another daring robbery. Policemen fail to catch her. Tai and her brother Lak (Lak Apichat) steal jewelry from Preuhat Boonlong and Marasri Isarangkul. They also steal another couple, i.e. มล.โกมล ปราโมช and Marasri Bangchang. Prachuap Ruekyamdee, her father, is waiting for Tai outside. They have to flee the police again. The car is hidden in a truck. Police are surrounding their place as there is a traitor among the team. Adinan Singhiran sacrifices himself to attract police attention so that others can flee. Kan (Sombat Methanee) helps a young lady called Choompu (Khomapat Attaya), whose necklace has been stolen. Tai meets Kan at a waterfall while Tai is bathing. Tai's family is still hiding from the Thai police. Lak and her mother (Wilaiwan Watthanaphanit) recommend Tai not to meet Kan again as he could be an undercover policeman. Tai meets Kan again (คนกรุงเทพปากหวาน). A romance starts. Tai's grandmother (Sulaleewan Suwanthat) is about to die and tells her that Prachuap is not her real father. Choompu likes Kan and lies that Tai already has a husband. Tai is disappointed that her father forced her to go down a wrong path. She flees and meets a monk that recommends her to go back to the right path. Kan is a policeman and receives the duty from his boss (จรูญ สินธุเศรษฐ์) to catch the cobra lady. Tai asks for a meeting one to one with the head of the police. Kan comes also. Tai is aware Kan is there. She has important information to share about Thailand security. After doing bad things, she wants to do good things for the nation. Chased by the police, her family is now involved in weapons traffic instead of jewelry traffic. The lady boss (Runglawan Sripatimakul) appreciates Tai and gives her more responsibilities. A new mission is to kill policeman Kan, who is becoming a threat for them... Ruffian Dom (โดม สิงห์โมฬี) said he can manage by himself. Tai helps Kan against Dom. Kan asks Tai to surrender and he will wait for her, but she refuses. Kan gets finally captured by ruffians. Lak and her father release police inspector Kan and open the gates to let police enter. Meanwhile Tai still pretends to be loyal to her boss but the lady boss sees that Tai betrays them. Shootings occur. The lady boss shoots Lak and his father Prachuap. Tai shoots the lady boss but it is too late as Lak and her father are dead. Kan arrests Tai. Finally, Tai is released as she is the lost daughter of the rich people she robbed before!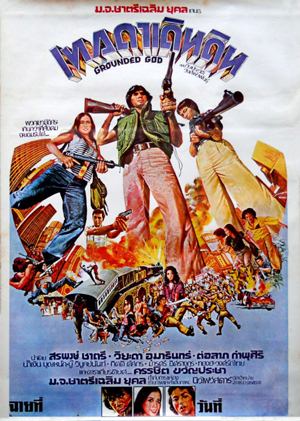 Year

: 1976



Thai title

:

เทวดาเดินดิน




English title

: Grounded god



Rating

: 4/5


Director

: ChatriChalerm Yukol



Main actor

: Sorapong Chatree,Boo Wibunnan,Kanchit Kwanpracha


Main actress

: Wiyada Umarin,Namgneun Boonnak,Marasri Isarangkul



Buy now

:

Thai movie เทวดาเดินดิน / Grounded god was released in year 1976 and lasts 2h24mn. It was released under VCD format by Solar company and lasts 2h10mn. The cable TV version lasts 2h24mn (but some parts are censored through pixelation). It was remastered by Five Star production in the decade 2010s. It was also released through a Thai TV series in 2001. Movie director is ChatriChalerm Yukol. Thai actors and actresses are Sorapong Chatree, Boo Wibunnan, Wiyada Umarin, Namgneun Boonnak, Kanchit Kwanpracha, Marasri Isarangkul, ต่อลาภ กำพุศิริ, กิตติ ดัสกร. This movie mirrors the youthful chaos of the year 1976. The movie was shot at the time of the 1976 violent crackdown on leftist students and protests that occurred in Thammasat university, bangkok. This movie reminds of Stanley Kubrik's violent "Clockwork Orange'' movie and Bonny and Clide story. It is unofficially claimed that Oliver Stone was inspired from this Thai movie for his controversial "Natural Born Killers'' as many parallels are seen. Two young guys including Sorapong Chatree and Toi (ต่อลาภ กำพุศิริ) are dealing with heroin. The police led by inspector Adul (Kanchit Kwanpracha) fail to catch them. He promises to catch them within 15 days. A journalist takes pictures. Young lady Viyada is robbing malls. The two guys take refuge in Viyada's home as Sorapong knows Viyada. They are modern Thai hooligans. The three young hooligans are living thanks to small thefts (stealing goods, wallets...). They are in rebellion with society (ปัญหาสังคม), i.e. they like damaging public installation, breaking windows, frightening and robbing middle class people, eating in restaurants without paying. Toi is keen on drugs also. Police inspector Adul has never had time for his family even on wedding day or children's birthdays. Journalists called them เทวดาเดินดิน (Grounded gods) as they can do whatever they want, they always escape, and nobody can catch them. They have nothing to lose and know they will die sooner or later. When robbing a house and neutralizing the occupants, they get a gun. While stealing a car, they face a strong foreign owner, who fights against them. He is shot dead by Sorapong so they flee to Southern provinces by train. Sorapong, one of the hooligans, is rebelling against the system as when he was a soldier, he was told to kill communist villagers but those people were good people worshipping the King of Thailand so he lost faith in Thai official institutions. Adul was Sorapong former military superior so it is becoming a personal affair. They become more and more violent. They are caught in a whirlpool. They rob banks and shot policemen. Followed by police, they finally find refuge in the South of Thailand around Yala where they continue their bank robbing. Boo (Boo Wibunna), an ordinary bank staff, decides to join them. They get too much media coverage. Surrounded by the Police, they hide in the jungle and are captured by a Muslim community. Wiyada is injured in the leg. The community is fighting against Thai institutions also but have real motives. It is precursory regarding current violent events happening in South of Thailand. Helping during a fighting where the village is attacked, they are allowed to quit the muslim community. Back in Bangkok, they try to get help from their drug dealer, being an old woman, but they get expelled. Wiyada's injury is getting worse. Wiyada wishes to die in Pattaya near the sea. Chased by the police, they end up in a high tower. The hooligans finally die under Thai Police bullets. This movie also highlights criticism of newspapers looking for scoop and raising them as heroes.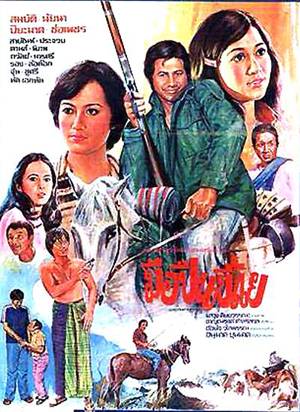 Year

: 1976



Thai title

:

มือปืนขี้แย




English title

:



Rating

: 3/5


Director

:



Main actor

: Sombat Methanee,Dam Datsakorn,Prachuap Ruekyamdee,Pipop Pupinyo,Rong Kaomulkadee,Tawan Siriwat,Sayan Chantaraviboon,Tat Ekathat,Lor Tok,Kokheng


Main actress

: Piyamas Monayakol,Chosri Misommon,Marasri Isarangkul,Naiyana Shewanan
Thai movie มือปืนขี้แย was released in year 1976. This action and comedy movie is lost in Thailand but the first reel lasting 26mn and a 3mn trailer are still available to be seen. Fightings happen with Dam Datsakorn and Pipop Pupinyo as they discover that Sombat Methanee is travelling hidden in their truck. Sombat is accompanied by a tall actor reminding Richard Kiel playing in James Bond movie Moonraker. Comic actor Rong Kaomulkadee is the driver. Sombat Methanee is looking for Kamnan Tawan Siriwat in order to find his mother (Marasri Isarangkul). He finds her but he wishes to identify now who killed his father. Sayan Chantaraviboon wishes to impress young lady KamPoo (Piyamas Monayakol). But he gets bullied by Chosri Misommon and Tat Ekathat. Policeman Raem Prachuap Ruekyamdee meets a friend's daughter, who is now a teacher (ช่อเพชร). Lor Tok is Thai boxing trainer (อาจารย์). Sayan wishes to learn from him as he is not able to fight against anybody. Dao (Naiyana Shewanan) meets Sombat but clash happens between them. Other comic actors are Kokheng and Joomjim Khemlek as policeman.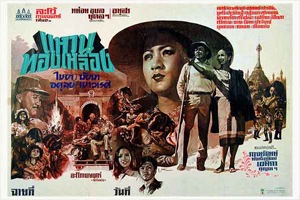 Year

: 1973



Thai title

:

แหวนทองเหลือง




English title

:



Rating

: 4/5


Director

: พระเจ้าวรวงศ์เธอ พระองค์เจ้าอนุสรมงคลการ



Main actor

: Chaiya Suriyun,Adul Dulyarat,Chao Klaewklong,Sukon Koewliam,Sompol Kongsuwan


Main actress

: Naiyana Shewanan,Yaowaret Nisakorn,Marasri Isarangkul,Juree Osiri,Chosri Misommon,Chadaporn Wachirapranee
Thai movie แหวนทองเหลือง was released in year 1973 and lasts 2h56mn. The movie was never released on VCD / DVD formats but was shown on Thai TV cable. Director is Thai prince พระเจ้าวรวงศ์เธอ พระองค์เจ้าอนุสรมงคลการ. The production of this movie last almost 2 years. Many actors and actresses are featured in this movie, i.e. Chaiya Suriyun, Naiyana Shewanan, Adul Dulyarat, Yaowaret Nisakorn, Chao Klaewklong, Marasri Isarangkul, Juree Osiri, Sukon Koewliam, เมืองเริง ปัทมินทร์, Sompol Kongsuwan, เสถียร ธรรมเจริญ, Chosri Misommon, ภาณุวัฒน์ มังคลารัตน์, เขมิกา กุญชร ณ อยุธยา, Chadaporn Wachirapranee. In North of Thailand, Sai Kam (Chosri Misommon) and her young sister Duang Jai (Naiyana Shewanan) are domestic helpers in a beautiful mansion. Krissada (Chaiya Suriyun) (คุณผู้ชาย) is the owner. The subdistrict headman Prem (Chao Klaewklong) is Duang's father. Uuan (Juree Osiri) and Noi (Marasri Isarangkul) dream to marry Krissada. Krissada is gone to visit waterfalls with Duang. A snake bites Krissada and Duang Jai saves him. A romance starts, and a wedding promise happens. Krissada gives a ring to Duang Jai. Krissada has to leave urgently to Bangkok after receiving a telegraph. Sukon Koewliam loses Krissada's letter he was supposed to give to Duang Jai. Duang Jai stays in a relative home to hide her pregnancy. Finally, Prem discovers that his daughter Duang Jai is pregnant. To hide his shame, the father plans to marry Duang as soon as possible. Prem wants to hide that Krissada is the father as he doesn't believe Duang Jai is telling the truth. As he owns a lot to Krissada's father, he nevertheless refuses to damage Krissada's honor. Sai Kam and Duang are enchained but Duang succeeds to flee. She tries to go to Bangkok but has no money, so she walks by following the railway tracks to Bangkok! Railway workers and doctor Metta (Adul Dulyarat) find her. She is about to deliver. A daughter is born. It is war time, so Bangkok is not a good place to stay. Doctor Metta proposes to send her. During two years, Duang Jai is looking for Krissada's house in Bangkok. She finally finds it. Sukon tells her Krissada's story. Krissada has disappeared. Metta asks her to decide about her future but Duang Jai refuses to marry him per her promise to Krissada. Chadaporn Wachirapranee is playing a brothel owner. Duangjai is working there as she needs money to survive. Bombs destroy the brothel house and her friends are killed. A Japanese officer helps her. As she has nowhere to go, being a ผู้หญิงชัว, he proposes her to be his domestic helper and wife (เมีย). The war is going to be finished soon. The Japanese officer promises to keep sending money to her. He dies on the way to Japan. Duangjai needs to resume being a prostitute (โสเภณี). The house owner wishes to expel Duang Jai and Taew as they cannot pay the rent anymore. The Japanese officer helped the owner during war, but gratitude is useless according to the house owner! Duang Jai and Taew find gold hidden under the carpet. Many years passed. Taew (Yaowaret Nisakorn) and Duangjai have set up their own company. Duangjai has a new name, i.e. เศรษฐีโสเภณี. Taew recommends her to look for her lost daughter and to look for happiness. Duang Jai meets Krissada again as her car hits a passerby. He has become a beggar. His father had many debts. Krissada was part of Seri Thai (resistance to Japanese invaders) but had chosen the wrong boss so had to flee to Laos. Duangjai proposes to help. She doesn't dare to tell who she is. Thai newspapers start to give bad rumours about her previous status as prostitute (ปากเสีย). Nattaya, one of the employees, is a drug addict (ติดยา). Krissada proposes to help. Nattaya has difficulties to get rid of drugs. She succeeds to flee from Krissada's home. She is then kidnapped as ruffians want to get money from Duang Jai and Taew. Krissada helps. During fightings with ruffians, Phi Taew is shot and wishes Duang Jai to disclose the truth but Duang Jai still has concerns about her past (ชีวิตโสเภณีมีค่าเพราะว่าเงิน). Nattaya announces to Duangjai that she is going to marry with Krissada. Duangjai tries to break the relationship but Nattaya refuses. Finally, Duangjai asks to be with Krissada a few hours. She wears Northern clothes again. Krissada is not able to link Duang Jai and Aitit, Duang Jai new name. Duangjai leaves and gives a gift for the wedding. The gift is the ring given twenty years ago. Finally doctor Metta is able to explain that Nattaya is Duangjai's daughter and so Krissada's daughter so a wedding cannot happen. Now it is Krissada turn to look for Duang Jai...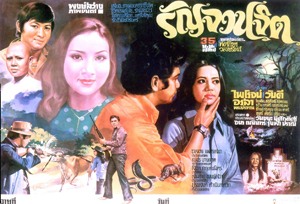 Year

: 1973



Thai title

:

รัญจวนจิต




English title

:



Rating

: 3/5


Director

:



Main actor

: Phairoj Jaising,Surasit Sattayawong,Sawin Sawangrat


Main actress

: Wandee Sritrang,Orasa Isarangkul,Marasri Isarangkul
Thai movie รัญจวนจิต was released in year 1973. The movie is lost in Thailand but a few minutes trailer remains to be seen. Main actor is Phairoj Jaising and main actress is Wandee Sritrang. Other actors are Orasa Isarangkul, Surasit Sattayawong, Sawin Sawangrat, Marasri Isarangkul, สุพรรณ, วันชนะ, อมร, ขวัญฤดี, รุ่งฟ้า. This is a sad drama movie with a bit of action.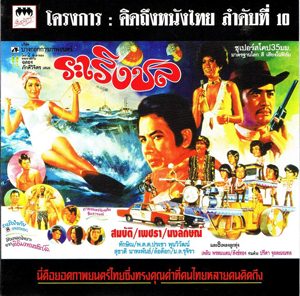 Year

: 1972



Thai title

:

ระเริงชล




English title

: Ra Rueng Chon



Rating

: 5/5


Director

: Chalong Pukdeewichit



Main actor

: Sombat Methanee,Songthong,Rujira Isarangkul,Lor Tok,Pan Borapet,Taksin Jampol,Paen Pleumsachai


Main actress

: Petchara Chaowarat,Somjit Sapsamruey,Marasri Isarangkul,Orasa Isarangkul,Wassana Chalakorn
Thai movie ระเริงชล was released in year 1972 and lasts 2h07mn. It was released under VCD format by XxX company in year 2001. Director is Chalong Pukdeewichit. The movie was found overseas and the picture is sharp and colorful. Unfortunately the first part of the movie (around 20 minutes) was missing. So in order to be able to release the movie, a remaining 35mm film was digitized. As the film reel was almost 30 years old, the colors were gone and scratches could be seen. But at least the first 20 minutes were recovered and VCD was released. Eight songs are featured including the group "Impossible" (วงดิอิมพอสซิเบิ้ล), Songthong and เพลิน พรหมแดน... Petchara wears extraordinary hats in this movie. Pak (Sombat Methanee) is back from overseas. Per his parents' arrangement, he needs to marry a young lady called Rareung (Petchara Chaowarat). His father (Rujira Isarangkul) and his mother (Somjit Sapsamruey) have a debt towards Thon (Lor Tok) and his wife (Marasri Isarangkul), who helped them financially. They must have gratitude (บุญคุณ) towards this family. It is the overseas student versus the upcountry lady (เด็กบ้านนอก). Pak is not willing to marry Rareung and wishes to break the engagement (ถอดหมั้น) as he has a fiancee, called Sopha (นงลักษณ์ โรจนพรรณ), still being overseas. The young lady, Rareung, is behaving like a hippy. If no wedding, Pak's father has to pay back the debt but he doesn't have the money. Pak agrees to work for Thon one year in order to pay back his father's debts. The engagement is maintained. They have to move back to Rayong. Pak met Pleun (เพลิน) as local architect and Sang (Songthon). Plaem (Orasa Isarangkul) is aggressed by ruffians including Pan Borapet. Pleun and Rareung help her on time. Sopha is back from USA and is willing to pay the 1M Baht debt. Pak refuses as he is not a thing that can be purchased. Rareung calls him "golden pimp" (แมงดาปิดทอง)! Pak is authorised by Thon to go to Sopha's birthday. A fight occurs during Sopha's birthday. Bouleu (พ.ต.ต.ประชา พูนวิวัฒน์) hires ruffians to beat Pak as he sees him as a rival. Rareung and his friends help him. Sopha's mother (ประพิศ พราวพรรณ) wishes her daughter to marry Bouleu, a rich businessman. Bouleu has a mistress already (Wassana Chalakorn). Den (ปรีดา จุลละมณฑล) has a car accident with Sopha so he tries to seduce her and comes to her house. Rareung's mother is suddenly dead. Thon has a mistress. Her brother Chu (Taksin Jampol) pushes her to become official wife. Pak refuses that Rareung's breaks her debt contract. Rareung is aggressed by three ruffians but Pak helps her on time. Bouleu hires Chu to recover some drugs fallen in the sea. A party (งานฉลอง) is organised to celebrate new bungalows opening so many families are gathering. Sopha knows she lost to Rareung. Bouleu proposes to help her by damaging the parachute. While Rareung is parasailing, Paen Pleumsachai shoots the parachutes and ruffians kidnap the ladies. They ask for 1M baht ranson to Thon. Bouleu is the mastermind behind. The ransom fails as the police intervenes. Chu is involved but he is doubled. Plaem (sister of policeman Den) and Thon's mistress are also captured. Police is about to storm the island where Bouleu and his team is hiding. Wassana is disappointed that Bouleu still loves Sopha. She warns Pak and the police regarding mines hidden under the beach. Bouleu shoots her. Police led by Den and Pak succeed to storm the HQ and to release the ladies. They have to flee as a time bomb shall destroy the HQ. A final fight occurs between Pak and Bouleu. Wassana harpoons Bouleu. Happy romance can happen between Pak and Rareung, between Den and Sopha, between Pleun and Plaem.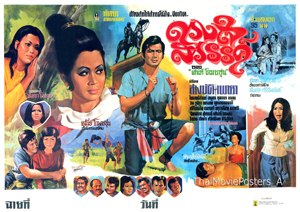 Year

: 1971



Thai title

:

ดวงใจสวรรค์




English title

:



Rating

: 3/5


Director

:



Main actor

: Sombat Methanee,Sukon Koewliam,Anucha Ratanaman,Choomporn Theppitak,Man Teeraphol,Daonoi Duangjai,Sithao Petcharoen,Krong Kangkengdaeng


Main actress

: Petchara Chaowarat,Khomapat Attaya,Marasri Isarangkul
Thai movie ดวงใจสวรรค์ was released in year 1971. The movie is lost in Thailand. Only a short left colorful sequence lasts 6 minutes and the image is quite damaged. The remaining sequence is in mute state as the reel is in 16mm format. Main actor is Sombat Methanee and main actress is Petchara Chaowarat. Other actresses and actors are Man Teeraphol, Khomapat Attaya, วิน วิษณุรักษ์, รุจิรา อิศรางกูร,เทอด ดาวไท, พุทธพงศ์, เตือนใจ บุญพระรักษา, ณรงค์, Daonoi Duangjai, Marasri Isarangkul, จิตตรา, Sukon Koewliam, เสน่ห์ โกมารชุน, ถนอม นวลอนันต์, Krong Kangkengdaeng, Sithao Petcharoen, สีเผือก, ศรีสุริยา. It is probably an historical romantic movie as people wear old style clothes. Various sequences are left but main actor and main actress cannot be seen. A rampage seems to have happened in a house. A man helps an unconscious man on the floor. He then dies. A young lady finds her mother dead on the floor also. A reddish sequence shows Anucha Ratanaman in a bar talking to barman. Anucha Ratanaman is upset by two other men and leaves the bar. Another sequence shows three armed men led by Choomporn Theppitak. Three comic men including Sukon Koewliam, Krong Kangkengdaeng are running and are tired. A beautiful woman (Khomapat Attaya) is walking near them. She is a ghost! The movie features 9 songs according to the movie poster.



Year

: 1971



Thai title

:

มันมากับความมืด




English title

: Out of the Darkness



Rating

: 3/5


Director

: ChatriChalerm Yukol



Main actor

: Sorapong Chatree,Kom Akadej,Rujira Isarangkul,Dam Datsakorn,Surasit Sattayawong,Tawan Siriwat


Main actress

: Naiyana Shewanan,Chosri Misommon,Marasri Isarangkul
A mysterious object fall in the sea. Two scientifists from Bangkok come to the South of Thailand looking for the mysterious object. The local villagers worship what they believe to be a god. But a mysterious creature start to kill villagers at night time. The scientifists have to help the villagers to get rid of this mysterious objet. It was the first Thai science-fiction movie but it was not successful at the box office. In his first film, ChatriChalerm Yukol used new actors, whereas other filmmakers used established superstars.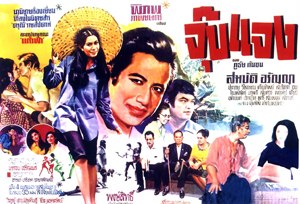 Year

: 1970



Thai title

:

จุ๊บแจง




English title

:



Rating

: 3/5


Director

:



Main actor

: Sombat Methanee,Somkuan Krajangsat,Adinan Singhiran,Prachuap Ruekyamdee,Sukon Koewliam,Op Boonthit,Sompong Phonmitr


Main actress

: Aranya Namwong,Wilaiwan Watthanaphanit,Somjit Sapsamruey,Sarinthip Siriwan,Khomapat Attaya,Chosri Misommon,Marasri Isarangkul
Thai movie จุ๊บแจง was released in year 1970. Main actor is Sombat Methanee and main actress is Aranya Namwong. The movie is in 16mm format and so in mute state as such format requires dubbing. The film is incomplete as only 1h31mn remains to be seen. No summary is available. The movie features four songs but they are lost. Aranya Namwong is Jub Jaeng. Her parents are played by Somkuan Krajangsat as father and Wilaiwan Watthanaphanit as mother. Her mother seems upset. Sombat meets Jub Jaeng's mother indulging in alcohol. Marasee, a rich old lady, orders Adinan Singhiran to kidnap Jub Jaeng. While discussing inside the house, three thugs storm it and kidnap Jub Jaeng. The father and mother get hit by the thugs. Somjit Sapsamruey is Sombat's mother. Prachuap Ruekyamdee releases Jub Jaeng but it is a coup monté. It seems that Jub Jaeng is coming from a rich family. Khomapat Attaya and her mother Sarinthip Siriwan are having arguments with Jub Jaeng. Sukon Koewliam and Chosri Misommon are playing comic roles a domestic helpers. Sombat tries to seduce Jub Jaeng. They finally become lovers. Khomapat and her mother denigrate Jub Jaeng towards Sombat. Khomapat pushes Aranya in the stairs. She ends up at hospital. Wilaiwan and Somkuan finally find Jub Jaeng. They finally get reunited thanks to Sompong Phonmitr. This movie features sequence shot in famous Daimaru former shopping mall. Prachuap has a leg injury and is visited by twin ladies (real singers อารยา ปาริชาติ ฉายาลักษณ์). Finally the parents let Jub Jaeng go with Sombat. Khomapat and her mum are upset about the gifts bought by Sombat to Jub Jaeng. Sombat tries to end the dispute with Khomapat but it ends up badly. While walking on the beach, he gets stabbed by ruffians. Khomapat gets also aggressed by ruffians on the beach. Khomapat tries to hit Jub Jaeng again but she fights back and finally decides to quit this crazy house. Prachuap and Sombat finally understand Khomapat's bad games. Sombat rushes after Jub Jaeng and they finally reconcile.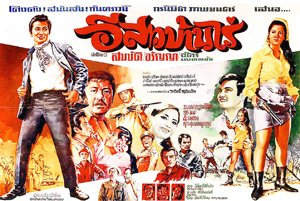 Year

: 1970



Thai title

:

อีสาวบ้านไร่




English title

:



Rating

: 3/5


Director

:



Main actor

: Sombat Methanee,Chat Mongkolchai,Anucha Ratanaman,Choomporn Theppitak,Adinan Singhiran,Chanee Yotchai,Sithao Petcharoen,Kokheng,Sukon Koewliam


Main actress

: Aranya Namwong,Prim Praphaporn,Khomapat Attaya,Marasri Isarangkul
Thai movie อีสาวบ้านไร่ was released in year 1970. It features Sombat Methanee as main actor and Aranya Namwong as main actress. The movie is lost in Thailand but a sequence of 15 minutes remains to be seen. It is a 16mm format movie so no sound is available as it requires live dubbing. A remake was released in year 1983 featuring Sorapong Chatree and Piyamas Monayakol. This movie is also lost except a trailer. Other actors and actresses include Chat Mongkolchai, Anucha Ratanaman, Prim Praphaporn, Choomporn Theppitak, Khomapat Attaya, Adinan Singhiran, โดม สิงห์โมฬี, Chanee Yotchai, Marasri Isarangkul, สาวิตรี สุวรรณจิต, เทิด, Sithao Petcharoen, Kokheng, เสนอ โกมารชุน, Sukon Koewliam. The summary is as below. Aranya is Sarinee. Her nickname is Isao (อีสาว). Sombat is Jainum. Sarinee is the land owner's daughter. Her father gets killed by the neighbour Virawilai (วรวิไล) as he refuses to sell his land. She replaces her father but her staff continues to get annoyed by the ruffians. Jainum gets hired and becomes part of the staff of Sarinee. He gives a tough lesson to the ruffians and is now responsible of the cows in the ranch. Jainum investigates on Sarinee's father death. He finds that those responsible of the murder want to build a runway for planes to bring weapons illegally inside Thailand. Love emerges between Jainum and Sarinee. Owner of ranch Virawilai tries to kidnap Sarinee to force her to transfer her land. While trying to help, Jainum is also captured but hopefully Thai police is coming behind. Ruffians flee in the mountain but Jainum follows them up in order to release Sarinee. The remaining left sequence is certainly happening in the middle of the film. Various scenes can be seen. Choomporn Theppitak is talking on a bed to a lady. Choomporn is a singer in a high end club. Sithao Petcharoen, Sukon Koewliam and two other men try to enter at nighttime in a women's dormitory. They are discovered, beaten and chased away by Prim Praphaporn. Aranya Namwong is meeting Adinan Singhiran in the countryside. He is giving her a letter. She is missing Sombat Methanee. Sombat is with Sukon Koewliam. Two ruffians including Chanee Yotchai kills a man (probably Sarinee's father) in cold blood. A four minutes trailer is also available. Additional scenes can be seen such as Chanee Yotchai trying to recover Sombat Methanee with rocks thanks to a bulldozer, various fightings involving Sombat Methanee or Aranya Namwong, Anucha Ratanaman kidnapping Aranya Namwong, Sombat Methanee fighting with Anucha Ratanaman in order to release Aranya...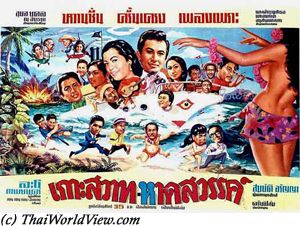 Year

: 1969



Thai title

:

เกาะสวาทหาดสวรรค์




English title

: Paradise Island



Rating

: 3/5


Director

: Prince Anusornmongkolgan



Main actor

: Sombat Methanee,Thuam Thoranong,Rujira Isarangkul,Ruj Ronnapop,Anucha Ratanaman,Op Boonthit,Sukon Koewliam


Main actress

: Aranya Namwong,Chosri Misommon,Manat Boonkiet,Metta Roongrat,Marasri Isarangkul,Sisala Thongtara
Khun Pradeun, a playboy, loves to party. He doesn't work. His father has arguments over coconuts gardens in Ko Samui with another businessman. They bet who could work more successfully, i.e. the son, Khun Pradeun, or the daughter, Khun Tum. Tum is a modern Thai lady wishing to work and with no husband. Her mother wants to find one husband for her but she prefers to go to island Sawat to help her father. If Pradeun wins, Tum must marry him. If he loses, he shall give up his business to her. Similar to many movies at the end of 1960s decade, this movie is rythmed with songs. Pradeun and Tum meet each other on the boat to island Sawat. Pradeun doesn't know the real identity of Tum as he expects somebody called Tum (ตุ่ม - pimple) to be fat, stupid. But he only shows his arrogance and suffisance. Tum and his friends try everything to have Pradeun to go back to Bangkok but to no avail. In the midst of controversy, he falls in love with her. Meanwhile, she begins to be confused because she might be in love with him as well. Pradeun tries dumping tactic to prevent sales but his three thousands coconuts have disappeared. He then needs to sort the coconuts that are mixed on purpose with those of Tum. They decide to use ruffians (นักเลง) to intimidate each other. Despite a few KO, Pradeun is the last one to stand up. Finally he knows the true regarding Tum and slaps her face for her treacherous behavior (in many Thai movies or Thai TV series, violence over women is surprisingly a way for men to show their love). Love is stronger between both of them. He saves her life during a fire in the local school and they finally marry. It is a 2h30 long lovely emotions movie. In 1960s decade, 2 hours length was frequent for many movies. This movie was then successfully updated in 2000s decade as a Thai TV serie.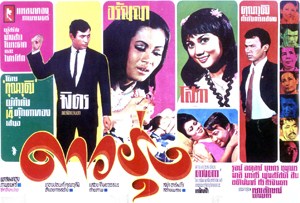 Year

: 1969



Thai title

:

ดาวรุ่ง




English title

:



Rating

: 3/5


Director

: Wichit Khunawut



Main actor

: Mitr Chaibancha,Ruj Ronnapop,Adul Dulyarat,Adinan Singhiran,Choomporn Theppitak


Main actress

: Aranya Namwong,Malee Wetpraseri,Sopha Sataporn,Marasri Isarangkul
Thai movie ดาวรุ่ง was released in year 1969. It features Mitr Chaibancha as main actor and Aranya Namwong as main actress. The movie is lost in Thailand but a sequence of 19 minutes is still left to be seen. The movie is 16mm format so it is in mute state as such format requires live dubbing. There is an animated discussion between Mitr, Ruj Ronnapop, Malee Wetpraseri, Adul Dulyarat and Marasri Isarangkul. Aranya sees Mitr enlacing Sopha Sataporn so it creates misunderstanding. Disappointed, Aranya accepts to be engaged with Adul. Sopha and Ruj marry. Sopha loves secretly Mitr. Wishing to leave Thailand, Sopha tries to prevent him and gives him a goodbye kiss. Ruj seeing this takes a gun to shoot Mitr. Following a fight with Sopha, Ruj falls in the stairs. The sequence ends up by Mitr giving respect to a Buddha statue and Sopha being just behind suddenly. The movie is directed by famous Thai director Wichit Khunawut presented on the poster as the director with 14 Thai cinema rewards. Adinan Singhiran is playing a major d'homme.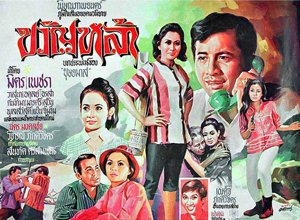 Year

: 1969



Thai title

:

ขวัญหล้า




English title

:



Rating

: 3/5


Director

:



Main actor

: Mitr Chaibancha,Adul Dulyarat,Op Boonthit,Chat Mongkolchai,Adinan Singhiran


Main actress

: Petchara Chaowarat,Orasa Isarangkul,Wassana Chalakorn,Marasri Isarangkul
Thai movie ขวัญหล้า was released in year 1969. It features Mitr Chaibancha as main actor and Petchara Chaowarat as main actress. The movie is lost in Thailand but a sequence of six minutes is left to be seen. Mitr is not seen in the remaining sequence. New star in this movie is Chat Mongkolchai. Other actors are Adul Dulyarat, Op Boonthit, Orasa Isarangkul, Wassana Chalakorn, Adinan Singhiran, ขอใจ ฤทัยประชา, กัณฑิมา ดาราพันธ์. Summary is still available from Thai star magazines. A family has a very cute daughter called Pan Kaew (Petchara). She never saw her parents as she was raised by Pa Puang. Her aunt Pa Puang is sick and so sent her to Chiang Mai in Nai Sarapee's home to be a domestic helper. In fact Pa Puang sold her! But Nai Sarapee likes her so much that she treats her like a daughter. One day when walking near the house, she hears an old man voice crying and asking for food / water. She gives him food and promises to help him again. Nai Sarapee announces to Pan Kaew that she will send her to Bangkok. In fact she is sold to a brothel (ซ่องโสเภณี / ซ่องนางโลม) for 6000 Baht. In the past, Pa Puang used to love Pan Kaew's father. But this love was not reciprocal. When Pan kaew was born, Pa Puang promised to make Pan Kaew's life as miserable as possible as a revenge against her father. Saying goodbye to the old man, he tells her to dig for an old jar and take the bracelet inside. If somebody sees this bracelet, she shall answer she is ขวัญหล้า! If this somebody has a red taint, Pan Kaew shall bring him to help the old man. In Bangkok, Pan Kaew meets Bua Riaw (Orasa). Understanding they have been sold, they try to flee. One day while the brothel owner brings Pan Kaew for her first customer, a man named Sun called her as Kwan La. Knowing Pan Kaew's father, Sun decides to help her. Meanwhile the brothel owner's son also decides to help Pan Kaew to flee. The summary ends up here.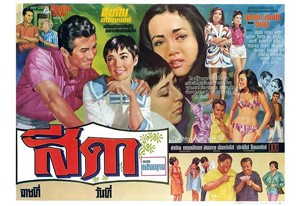 Year

: 1968



Thai title

:

สีดา




English title

:



Rating

: 3/5


Director

:



Main actor

: Sombat Methanee,Adul Dulyarat,Prachuap Ruekyamdee,Daonoi Duangjai,Sompong Phonmitr


Main actress

: Pawana Chanajit,Pissamai Wilaisak,Metta Roongrat,Kaenjai Meenakanit,Mom Chan Phuangwan,Marasri Isarangkul,Chosri Misommon
Thai movie สีดา was released in year 1968. It lasts 2 hours and the film image is quite damaged as being only in red color. This movie was never released on VCD but shown on Thai cable TV only. Naren (Adul Dulyarat) and Nuan (Pissamai Wilaisak) have two children. Naret has a heart decease and ends up at the hospital. He dies there. Many years have passed. Nuan is living in a slum with her two daughters, Sophee (Metta Roongrat) and Sida (Pawana Chanajit) still studying. Daonoi Duangjai and Sompong Phonmitr are their neighbours. Malin and Kaenjai (Kaenjai Meenakanit), playing an actress, meet Sophee. Sophee is lazy and big spender. She dreams of becoming an actress, be famous and have money. Nuan is hurt by a car driven by Wan (Sombat Methanee). Ramet (Prachuap Ruekyamdee) is a movie director. Main actor Panong is pushed by Malin for wedding but he is a butterfly and is interested by Sophee. Sophee refuses to recognize her mother is in the street as she is ashamed of her origins. Pa (Marasri Isarangkul) is Wan's aunt. Wan meets Sida as his car splashes her but he pretends to be a car driver only in order to be friend with her as she has a kind heart and has education. Changing his name as Tiaw, he looks for a job in the slum. An undertaker job (สัปเหร่อ) is proposed to him. Sophee is offered the role of main actress. She wishes to quit the house. The mother is sick, they have no more money and Sida stops going to school. Sophee lends to Sida 100 baht but doesn't want to see her anymore. The landlord คุณนาย (Chosri Misommon) expels them. Sida and Nuan have to live under a bridge. Sida becomes blind following a car accident involving Ramet. Wan, aware of this, takes care of Sida. Net, Wan's official fiancee, is jealous and hires the domestic helper to cause Sida to fall from a cliff. Hopefully Wan helps Sida on time. On Sophee's birthday, Nuan and Sida visit her but she is not happy to see them and asking them to stop visiting her. Altercation happens and Sophee pushes Sida, whose head hits a pillar. She ends up at hospital again. Meanwhile Sophee and Panong promise love to each other. Malin, fed up by Sophee and Panong, throws acid to their faces. Luckily Sopha recovers her sight while Sophee is disfigured. She asks for mercy to Sida and Nuan. She decides to become a nun. This movie highlights that doing good always pays off while doing bad always ends up sadly.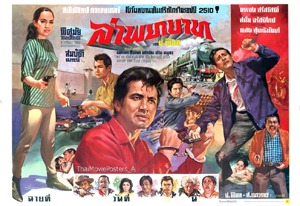 Year

: 1967



Thai title

:

ล่าพยาบาท




English title

:



Rating

: 3/5


Director

: สนั่น จรัสศิลป



Main actor

: Sombat Methanee,Taksin Jampol,Anucha Ratanaman,Chao Klaewklong,Tawan Siriwat,Sawin Sawangrat,Sithao Petcharoen


Main actress

: Pissamai Wilaisak,Prim Praphaporn,Kaenjai Meenakanit,Marasri Isarangkul,Mom Chan Phuangwan
Thai movie ล่าพยาบาท was released in year 1967. Main actors and actresses include Pissamai Wilaisak, Sombat Methanee, เสกสรร สัตยา, Taksin Jampol, Prim Praphaporn, Anucha Ratanaman, Chao Klaewklong, ชาย, Tawan Siriwat, Kaenjai Meenakanit, สุเทพ เหมือนประสิทธิเวช, Sawin Sawangrat, Sithao Petcharoen, Marasri Isarangkul, ปราณีต คุ้มเดช, Mom Chan Phuangwan, ทองฮะ, ชื้นแฉะ, บู๊ หมูตอน. Movie director is สนั่น จรัสศิลป. The film was never released on VHS / VCD / DVD format but a dubbed sequence in 16mm format can still be seen in Thailand. It was shown in Thai Film Archives in year 2019. Sombat Methanee plays a policeman.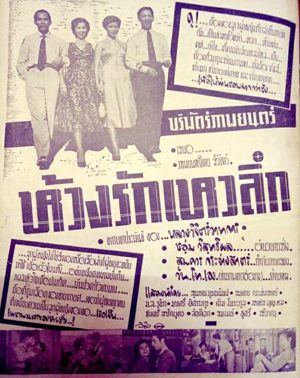 Year

: 1955



Thai title

:

ห้วงรักเหวลึก




English title

:



Rating

: 3/5


Director

: Somkuan Krajangsat



Main actor

: Rujira Isarangkul,Lor Tok,Preuhat Boonlong,Sompong Phonmitr,Somkuan Krajangsat


Main actress

: Chosri Misommon,Marasri Isarangkul
Thai movie ห้วงรักเหวลึก was released in year 1955. Only a sequence of 38mn remains to be seen. It was shown on Thai TV channel 9 many years ago. Movie director is Somkuan Krajangsat. It is a Crime / Drama / Thriller movie. Thai actors and actresses featured in this movie are Rujira Isarangkul, Lor Tok, Preuhat Boonlong, Sompong Phonmitr, Chosri Misommon, สุพรรณ บูรณะพิมพ์, Somkuan Krajangsat, Marasri Isarangkul, เติม โมรากุล, สำราญ เหมือนประสิทธิเวช, จันตรี สาริกบุตร. A woman in prison recalls a case with her lawyer Akatip (อรรถทิพย์)(Rujira Isarangkul). Her name is Khun PraPinpan (ประพิมพรรณ)(สุพรรณ บูรณะพิมพ์). A man called Khun Manot (มาโนช)(เติม โมรากุล), already married, entered in her house while PraPinpan's husband was away. Despite being reluctant, the man forced her. In the morning, she shot him arguing she was raped by him. Akatip's colleague is Sawut (ทรงวุฒิ)(Somkuan Krajangsat). A man brings a letter to the lawyer to show the lady asked indeed to meet Manot. 30,000 baht is requested to keep silent. The lawyer pays for the letter. The lady is finally released. The lawyer hides the letter. PraPinpan admits that Khun Manot and her were already married but still seeing each other (ทําความชั่ว). She killed Manot as he was afraid of his wife. The lady lied during the trial and the lawyer protected her. Prapinpan, after being released, divorces with her current husband Phon Pern (พรเพิ่ม)(สำราญ เหมือนประสิทธิเวช). Prapinpan works now in the lawyer's office. Tiemchan (เทียมจันท)(Marasri Isarangkul), a widow lady, is invited for breakfast. She puts powder in the coffee in the lawyer's wife cup, i.e. Thanomkwan (ถนอมขวัญ) (จันตรี สาริกบุตร). She dies due to poison. People suspects PraPinpan. PraPinpan, now working as secretary, wishes to collaborate and consults Sawut. She discovers that Tiemchan is Akatip's mistress. Akatip is going to marry with Tiemchan. Thanks to PraPinpan and Sawut's efforts, Tiemchan is arrested. Fed up with all this mess, PraPinpan decides to leave for South of Thailand. Sawut loves PraPinpan also. Phon Pern, her previous husband, still harasses her through letters so she shoots him.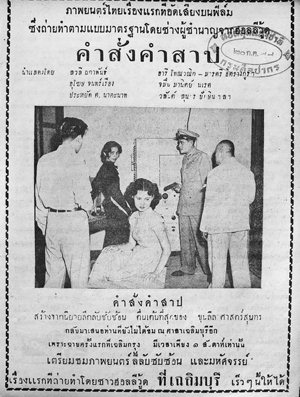 Year

: 1954



Thai title

:

คำสั่งคำสาป




English title

: Dead Man's Voice



Rating

: 5/5


Director

: เบอร์เน็ตต์ ลามอนต์



Main actor

: Sukon Koewliam


Main actress

: Marasri Isarangkul
Thai movie คำสั่งคำสาป / Dead Man's Voice / The Command That Doom was released in year 1954. It was found in year 2019 by Thai Film Archives in the USA (National Archives and Records Administration - NARA). It was produced by "ยูซิส" (United States Information Service – USIS) as part of efforts to stop communist propagation in Southeast Asia. Most of USIS movies were lost in Thailand after the cold war was over. Thai actors and actresses featured in this movie are วสันต์ สุนทรปักษิน, สวลี ผกาพันธุ์, Marasri Isarangkul, อารี โทณะวณิก, อุโฆษ จันทร์เรือง, Sukon Koewliam, ประหยัด ศ. นาคะ นาท. Movie director is เบอร์เน็ตต์ ลามอนต์. A short trailer lasting 1mn21s can be seen on Thai Film Archives Facebook page. The full movie lasts 1h42mn. The movie is in Black and White. There are two versions, i.e. 1951 (138 minutes) and 1954 (102 minutes). The 1951 was never released officially in theaters. It is an early anti-communist propaganda film. Both versions were shown in Thai Film Archives in year 2020. This Thai movie was shot in a similar way as Hollywood movies from the 1950s. So, it was very different from other Thai movies produced locally.
---