Increase or decrease font size for easier reading : A+ A-
Marasri Bangchang
Marasri Bangchang (1933) - มารศรี ณ บางช้าง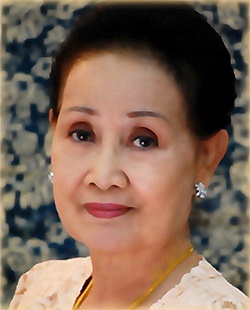 Marasri Bangchang is a Thai actress playing in Thai movies and Thai TV series. Later on, she even opens her business to sell seasonings
This Marasri Bangchang movie page contains 34 records.
---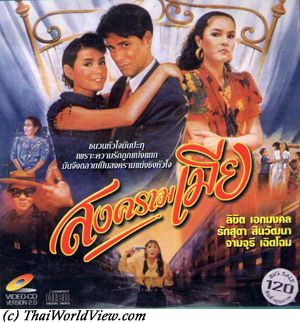 Year

: 1991



Thai title

:

สงครามเมีย




English title

:



Rating

: 3/5


Director

:



Main actor

: Likit Eakmongkol


Main actress

: Marasri Bangchang



Buy now

:

Pakpun, young rich man (ลูกเศรษฐี), has a famous and beautiful mistress called Maenma. She is a model (นางแบบ). But Pakpun is already married to Oon and has two children. Oon has a shock when learning the news from her husband but finally seems to allow (อนุญาต) and even authorises Maenma to live in the house compound (เมียดีๆ). Pakpun is coming from a rich family so it is normal for him to have a second wife (เมียน้อย / เมียหลวง). It seems unnatural that the main wife accepts so easily. A war is in preparation! It starts with a word war, i.e. why a famous beautiful model needs to steal somebody else husband instead of finding one herself? Money? ใจง่าย? Pakpun starts to feel uneasy (ไม่สบายใจ). Oon offers Maenma some money to leave away. Oon always speaks slowly and politely. Maenma loses temper very easily. Pakpun is divided between his two wives. Insults start such as 'นางบำเรอิง' (concubine) or 'Why Pakpun has to get another wife if the first wife was doing properly her duties?'. Oon has often vertigoes as she is now two months pregnant. Maenma wishes to defeat Oon. Oon asks Pakpun to become infertile (ทำหมัน) so he cannot have a child with somebody else. Maenma offers sour mangoes food as a gift but the food is poisoned to hurt the baby. Hopefully one of the maid eats the food first. The housekeeper accuses Maenma gift but Pakpun is not able to decide to break up with Maenma. Maenma needs to hurry up being pregnant even if it means using an old boyfriend to be the father! Pakpun sees them but Maenma argues Pakpun doesn't take care of her as she is only a minor wife. Her strategy is to make Pakpun jealous. This drives him crazy and he chases away Oon as he is waiting for Maenma the whole night. Upset Oon leaves the home without mentioning where she is going. Oon delivers a boy but refuses to go back to Pakpun's home. Maenma announces Pakpun that she is pregnant but Pakpun breaks up with her as the child cannot be from him as he is now infertile. The real father also refuses to take care of Maenma as he is leaving abroad a few years. Maenma is now alone. Upset she tries to shoot Oon but Pakpun uses his body as a protection wall. He is injured. Getting crazy and afraid to be sent to jail, Maenma kills herself. This movie highlights the issue of minor and main wife status in Thai society.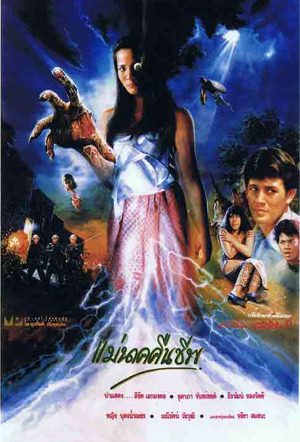 Year

: 1990



Thai title

:

แม่นาคคืนชีพ




English title

:



Rating

: 3/5


Director

:



Main actor

: Likit Eakmongkol


Main actress

: Metta Roongrat,Marasri Bangchang
Thai movie แม่นาคคืนชีพ was released in year 1990. It lasts 1h46mn. Marut (Likit Eakmongkol), working in a newspaper as writer (นักเขียน), is investigating on ghosts (ผี). Veteran actress Metta Roongrat is the mother of Marut. Marut decides to write the real story about Mae Nak (แม่นาค). With a friend, he goes to Buddhist temple Mahabut. Nobody wishes to answer to him. Marut takes pictures of the dancers (ละครชาตรี) and remarks a lady identified as teacher (ครู) Nuan Monapa (ชุดาภา จันทเขตต์) on the picture. Relief character is called Mongkon (ธีรวัฒน์ ทองจิตติ). Nom is Nuan's younger sister. Marut meets the teacher face to face but she claims she is not the one on the pictures. A man called Boonme (จ้องไว้แล้ว) has arguments with Marut and Mongkon as he believes they come to seduce teacher Nuan. Bad words fuse (หมาหมู่) so better use polite language (ภาษาดอกไม้). After a diner, Marasri Bangchang mother of Nuan, Marut and Mongkon are aggressed by ruffians led by Boonme. Ghost Mae Nak having same face as teacher Nuan helps Marut. Her previous husband called Mak is reincarnated through Marut nowadays. Marut has disappeared and his parents, Mongkon and Nuan are worried. A woman called Apinya and claiming to be Marut's fiancee threatens to sue Nuan's family. Mae Nak wishes to go living in Marut's home. So she visits Nuan and warns her not to visit Marut to avoid bringing confusion. Apinya is unhappy of Nuan being in Marut's home and called her bumpkin teacher (ครูบ้านนอก). Apinya, being slapped, quits the home and promises to come back with a spirit doctor (หมอผี). She decides to hire some ghost busters. They fail. Apinya decides to hire a real master (อาจารย์). Brahma statue asks Mae Nak to forget her love and to rebirth (หมดเวร). Apinya puts a sacred neck on Nuan and she becomes Mae Nak. Marut is now aware of the reality. He chases away Apinya and removes the necklace hurting Mae Nak. Mae Nak asks Marut to marry the real Nuan. Nuan and Marut get engaged. During one night, Nuan is kidnapped. Boonme is suspected. Marut decides to get Mae Nak's help. Apinya is the one behind the kidnapping wishing Boonme to have Nuan becoming his wife. Mae Nak arrives on time to save Nuan. Apinya to save her life promises to stop bothering Nuan. Mae Nak can now leave this world to rebirth.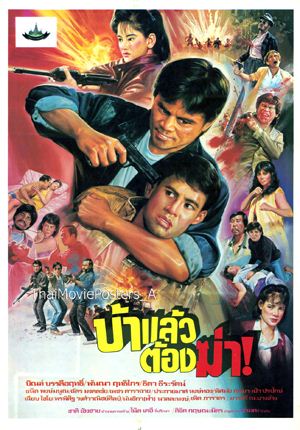 Year

: 1990



Thai title

:

บ้าแล้วต้องฆ่า




English title

:



Rating

: 3/5


Director

: อำมตะ



Main actor

: Bin Banleurit,Panna Rittikrai,Pao Porapak,Chat Mongkolchai,Paen Pleumsachai


Main actress

: Thida Thidarat,Marasri Bangchang
Thai movie บ้าแล้วต้องฆ่า was released in year 1990 and lasts 1h17mn. It was released under VCD format by Lepso company. Thai actors and actresses featured in this movie are Bin Banleurit, Panna Rittikrai, Thida Thidarat, Chat Mongkolchai, เพชร ดาราฉาย, ประกายมาศ หงษ์ทอง, พิศมัย ภุมมา, เพิด ภาราดร, Marasri Bangchang, Paen Pleumsachai, Pao Porapak. Movie director is อำมตะ. A teenage girl is aggressed by multiple ruffians but Panna (Panna Rittikrai) intervenes and knocks them down. Her mother (Marasri Bangchang) is sick so she had to buy medicine for her. Panna has dirty business with Pramat (Paen Pleumsachai). Thai Police, led by Charlie (Bin Banleurit), intervenes. Shooting occurs. Pramat is shot by Charlie. Charlie shoots multiple ruffians but Panna succeeds to flee. Roselin (Thida Thidarat) is a policewoman working with Charlie. Captain (ผู้กอง) Charlie disrupts mafia business. Cheut (Pao Porapak) is killed by Lin (พิศมัย ภุมมา) as he failed a drug exchange. Charlie's wife and son were killed by the mafia a few years ago. Charlie is suspended (พักราชการ) by his boss as he killed too many ruffians as revenge. Heum (Chat Mongkolchai) has to steal diamonds (ปล้นเพชร) per mafia leader Kampon's order. Four ruffians try to kidnap Saithip, Charlie's sister, per Sia's order but they fail thanks to firecrackers used to make them afraid of policemen shooting them. Charlie is just back to his village. Roselin and Thai police stop Panna and Lin transporting illicit goods in a truck. Foreigner John meets Vilod (Tanit Pongmanoon) to organize a diamond exchange. Diamond is stolen as ruffians shoot the foreigner John. Kampon is upset that Lin fails again. Heum gets money from Kampong but does not share it equally so Vilod is in trouble to cure his mother. Charlie chases away the ruffians harassing Saithip again. Charlie's boss calls him back to help with the diamond theft. Vilod has no money to cure his sick money so he steals a lady bag but gets chased by Charlie and Roselin. Being caught, he wishes to negotiate his freedom in order to cure his mother. He shares information related to the diamond theft. Vilod brings Charlie and Roselin to the ruffians' place. One of them succeeds to flee and informs Heum. Then Heum also flees to a new place. Ruffians kill Vilod's sister Vilai and his mother as retaliation. Kampon also prepares to move away. Vilod escapes from the Police and wishes to get revenge. He storms Kampon's house but gets shot. Charlie's sister is kidnapped so Charlie decides not to wait for orders and to storm Kampon's house. He gets help from Panna, who is an undercover policeman. Heavy fighting does occur. Ruffians are defeated but Charlie dies in his sister's arms. Panna saves Rosalin and shoots mafia leader Kampon.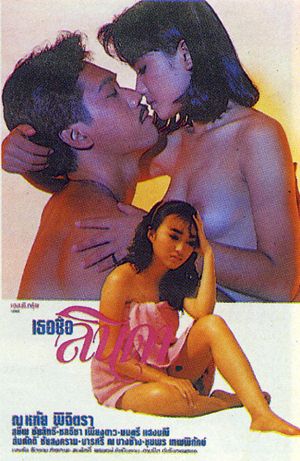 Year

: 1990



Thai title

:

เธอชื่อลินดา




English title

:



Rating

: 3/5


Director

:



Main actor

: Choomporn Theppitak,Somsak Chaisongkram


Main actress

: Marasri Bangchang,Nahatai Pijittra
Thai movie เธอชื่อลินดา was released in year 1993 and lasts 1h30mn. It is an uncensored movie. Wat and his girlfriend Lin (ชลธิชา เพียงดาว) are handling a gogo bar business. Drunkards are a continuous problem. Lin needs to send money for her mother (Marasri Bangchang) and younger sister Linda (ณหทัย พิจิจตรา - Nahatai Pijittra) to study but the drunkard stepfather Det (Somsak Chaisongkram) steals the money. He spies the young lady bathing and tries to abuse her. Linda hits him with a bottle and flees to Pattaya to stay with her sister Lin. She starts working as cashier in the bar. One night, while going home, she is aggressed by two thugs. Hopefully a young man called Prakorn (มนตรี แสงมณี) helps her. Linda meets an older man called Sia Somkat (Choomporn Theppitak). While Lin sends her mother back to Bangkok, Wat declares his love to Linda. Linda is fed up by the hypocrisy of all men she meets. She meets Prakorn again and he teaches her drawing. Meanwhile Wat still wants Linda to become his wife. His sbires try to drug her but finally Lin is the one to be drugged. A second tentative happens. This time Wat abuses of Linda when she is sleeping. Crisis happens between the two sisters when Wat announces to Lin that Linda is his wife now. Linda leaves and takes refuge in Prakorn's home. She avoids seeing Wat. After 2 months, Prakorn realises that Linda is pregnant. To avoid abortion and sin (บาป), Prakorn accepts to recognise the child. Wat finds where Linda is hiding. Fighting erupts and Wat stabs Prakorn. Prakorn ends up at hospital but Linda has no money to pay the bill. She has to resort to call Sia Somkat and sells her body (ขายตัว) to get money. Prakorn is shocked but understands that Linda had no choice. Wat still chases after Linda as he wants the baby. While Linda is out, he shoots Prakorn. The Thai police, passing by, shoots Wat and his ruffians. Disappointed by life, Linda drowns herself in the sea. The movie ends up with a warning saying that suicide is bad and not a solution to problems.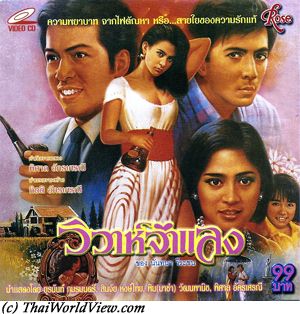 Year

: 1988



Thai title

:

วิวาห์จำแลง




English title

:



Rating

: 3/5


Director

:



Main actor

: Yuranan PamornMontri


Main actress

: Sinjai Hongthai,Marsha,Marasri Bangchang
Two students shall marry when their studies are finished. The boy is going abroad to finish his studies. A nasty teacher drugs and abuses the fiancee in order to force her to marry him. When he is back, his fiancee is married to the nasty teacher. The marriage is a disaster as it is not based on reciprocal love. In order to forget his marriage failure, the nasty teacher seduces the fiance's sister. This is too much for the former fiance...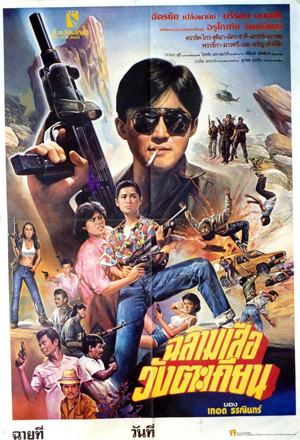 Year

: 1987



Thai title

:

ฉลามเสือวังตะเคียน




English title

:



Rating

: 3/5


Director

:



Main actor

: Chatchai Plengpanich,Chat Mongkolchai,Krai Kanchit,Kanchit Kwanpracha


Main actress

: Marasri Bangchang,Nareerat Monsiri
Thai movie ฉลามเสือวังตะเคียน was released in year 1987. The movie lasts 1h33mn. Three ruffians chase two young ladies. They only succeed to catch one girl. Dao Reuang (อรุโณทัย จิตตรีขันธ์) succeeds to flee. She tells her mother (Marasri Bangchang) the whole story. The father tries to rescue his daughter but finally both are killed. Later on a group of soldiers (ทหารเรือ) led by หมวด Tieng (Chatchai Plengpanich) storm a ruffians' place heavily armed. Then Tieng arrives in a small city. He helps a night lady called Rarai. Her father wanted to become rich thanks to jewels (พลอย) but he died before. Chat Mongkolchai is a local notable. Tieng wins back his land titles against subdistrict officer Krai Kanchit. Tieng authorises the notable to stay on the land but claims he will marry his daughter Kaew (Nareerat Monsiri). Ruffians try to kill him at nighttime but they fail. The ruffian leader, called เจ้าพ่อ Wang Takhien (Kanchit Kwanpracha) or Athon, is concerned of losing his influence (บารมี) and power (อำนาจ) towards villagers. He decides to get rid of Tieng and threatens the local doctor also through some shots on his office (สถานีอนามัย). Village leader (ผู้ใหญ่) and sub district officer Krai are also involved and corrupted with Athon. Chat's wife called Soi also. Tieng and the village leader shot each other because of Soi. Tieng is seriously injured but his friends protect him while he is recovering. Soi is the mistress of Athon. She is pregnant. Soi pushes Kaew versus Dao as both have interest in Tieng. Ratana is Athon's son and he wishes to have Kaew as his wife. Rarai has her own plan to replace Athon. Subdistrict officer Krai kidnaps Kaew and kills her father. A hitman shots the doctor and Dao's mother. Tieng and his friends decide to storm the ruffians place in order to release Kaew. Heavy fightings do occur. Everybody dies except Tieng, Kaew and Dao.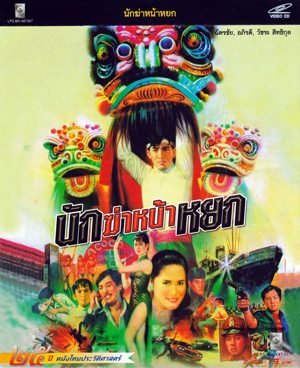 Year

: 1987



Thai title

:

นักฆ่าหน้าหยก




English title

: Ninja Force of Assassins



Rating

: 3/5


Director

:



Main actor

: Chatchai Plengpanich,Krai Kanchit,Pumi Patanayut,Somsak Chaisongkram


Main actress

: Kanchana Jindawat,Apiradee Pawaputanon,Marasri Bangchang



Buy now

:

Thai movie นักฆ่าหน้าหยก was released in year 1987 and lasts 1h33mn. It was released under VCD and VHS format in Thailand. Parts of the movie are censored. An international version released by Filmark is named as "Ninja Force of Assassins". It is a mix of the Thai movie นักฆ่าหน้าหยก and Ninja sequences shot in Hong Kong. The Filmark version is shorter but it keeps violence and nudity sequences removed from Thai VCD. Film director is ศุภสิทธิ์. Actors and actresses include Chatchai Plengpanich, Kanchana Jindawat, Krai Kanchit, Pumi Patanayut, Apiradee Pawaputanon, Somsak Chaisongkram, Marasri Bangchang, วัชระ สิทธิกูล, เทิดพร มโนไพบูลย์, เพชร, เด่น ปรีชา, โจ๊ก ท่าฉลอม. Kata's father is hit by a car and dies. He was refusing to bend to ruffians' bad influence. Kata (Chatchai Plengpanich) wishes to revenge his father, who was a policeman. Ruffians' leader Tong is shot during a lion dance performance by Kata and his acolyte Yot. New leader is Krai Kanchit. Police suspects the killer to be a professional hitman (มือปืนรับจ้าง). Wee (Kanchana Jindawat) sees Kata shooting a ruffian's leader in Don Muang. Kata earns the name as มือปืนหน้าหยก as he is handsome. Wee's brother is police leader Chatree (Pumi Patanayut). Krai, Lin Jung (Apiradee Pawaputanon) and his team are also concerned about who is shooting them one by one. Kata gets close (ร่วมมือ) to Lin Jung. Wee knows that Kata is a hitman but doesn't disclose the truth to her brother as Kata is doing good for the society by getting rid of bad men. Ruffians, having clarified that there is no internal war between them, decide to gather to get rid of Kata. Somsak Chaisongkram chases him in a mall and Kata is beaten. Police head Chatree is upset to see Wee having issues when being with Kata. She was shot and almost kidnapped. Wee is hiding something to him. Lin is upset to see Kata with Wee. Lin loves Kata, but she knows she has no way to become his official girlfriend (แฟน). She is playing double game. She is helping Wee, being captured by ruffians to attract Kata in a trap. She is identified as traitor by ruffians and later Lin is found dead. Ruffians take revenge on Yot's aunt (Marasri Bangchang). Chatree has no proofs but reminds Kata that law shall be applied for all (หน้าที่ของกฎหมาย) but Kata refuses. Kata and Yot storm the hangar where ruffians are exchanging drugs. Fiercely fighting is occurring as Kata is having a submachine gun. Ruffians are defeated but Yot is killed. Krai is finally captured by Chatree.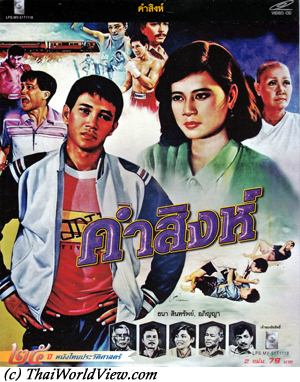 Year

: 1986



Thai title

:

คำสิงห์




English title

:



Rating

: 5/5


Director

:



Main actor

: Krailat Kriengkrai,Suchao Pongwilai,Sompong Phonmitr,Kowit Wattanakul


Main actress

: Marasri Bangchang
Thai movie คำสิงห์ was released in year 1986 and lasts 1h54mn. Kam sing (ธนา สินทรัพย์) is a Thai boxer leaving for Bangkok and recalling his past while travelling by train. He is coming from a poor family. Due to debt, his father had to give the land title (จำนองที่ดิน) as compensation so they are finally expelled from their house. Her mother (Marasri Bangchang) sent him to learn Thai boxing in a Buddhist temple as he is always fighting. He befriends with Bulong (Krailat Kriengkrai). The rich local man Boon increases the interest rate so much so they have no way to pay back to get the house. They finally steal the debt recognition from him through a fight. Police is now looking for Kam Sing and Bulong. Kam Sing and the rich man's daughter Nit (อภิญญา คุ้มตะบุตร) know each other since childhood. Kam Sing finally decides to flee to Bangkok. Her mother doesn't wish him to become a Thai boxer (เจ็บตัว). Suchao Pongwilai is the heartless owner of ring. Sompong Phonmitr tries to abuse from Kam Sing. As all chances have been exhausted (หมดสภาพ), Bulong fights on a Thai boxing ring but is severely injured to the brain. While getting Bulong out of hospital, they are caught by police. Kam Sing ends up in jail as he was the one to hit Boon. Kam Sing is sent to isolation quarters (คุกมืด) as Kam Sing hits an inmate wishing to have relationship with him. His mother, tired by his behavior, becomes a nun (บวชชี). Knowing this, Kam Sing promises himself to become a good guy and to do something his mother would be proud of him. He decides to become a professional Thai boxer. Kam Sing wins all his fights as he is training very hard. He shall now face Kowit Wattanakul, Thai boxing champion. To trick the match, Suchao Pongwilai puts Kowit in a lower category so Kam Sing needs to lose weight to match 70kg causing him to become much weaker. Following an epic fight, Kam Sing finally defeats Kowit. He is back to his town and is shown as an example. He left as a pariah and comes back as a champion. He can now show to his mother that he really changed.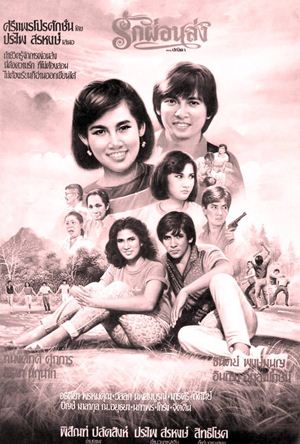 Year

: 1985



Thai title

:

รักผ่อนส่ง




English title

:



Rating

: 2/5


Director

:



Main actor

: Tanit Pongmanoon


Main actress

: Marasri Bangchang
Thai รักผ่อนส่ง was released in year 1985. The movie was released many years ago through VHS video tape but then never under VCD or DVD format. This teen romantic comedy movie (หนังวัยรุ่น) was never famous and was released at a time where teen movie popularity was getting strong. A few minutes trailer is still available also to be seen. The main actors and actresses are ทนงศักดิ์ ศุภการ, สิริยา นฤนาท, Tanit Pongmanoon, อินทิรา อิ่มสมโภชน์, อธิติยา พรหมคุณ, วัลลภ นพสมบูรณ์, Marasri Bangchang.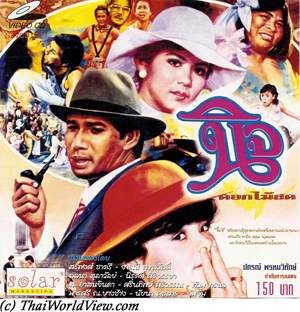 Year

: 1983



Thai title

:

นิจ




English title

:



Rating

: 3/5


Director

:



Main actor

: Sorapong Chatree,Sor Asanajinda,Joomjim Khemlek,Thuam Thoranong


Main actress

: Jarunee Sooksawad,Lalana Sulawan,Sarinthip Siriwan,Marasri Bangchang
Two young people are married following their parents agreement but the man doesn't love his wife and still continue to visit his mistress. Despite all her attemps, the young lady cannot succeed to get love from her husband and left. His husband finally understands that her mistress has an awful mind and try to get her wife's love back. Is it too late?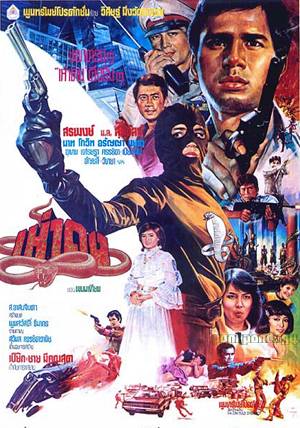 Year

: 1983



Thai title

:

เห่าดง




English title

:



Rating

: 4/5


Director

: เปี๊ยก มีคุณสุต



Main actor

: Sorapong Chatree,Nard Poowanai,Pipop Pupinyo,Kanchit Kwanpracha,Kowit Wattanakul,Settha Sirachaya,Uten Boonyong


Main actress

: Suriwan Suriyong,Aranya Namwong,Piathip Kumwong,Mayura Thanabutr,Marasri Bangchang,Anchalee Chaisiri
Thai movie เห่าดง was released in year 1983 and last 1h55mn. A remastered version was released by Five Star Production (ไฟว์สตาร์โปรดักชั่น) in the decade 2010s and shown on Thai TV cable. As usual on Thai television programs, bad things are blurred such as smoking a cigarette, alcohol bottle or putting a gun on a temple. The movie was also released under VHS format. The movie director is เปี๊ยก มีคุณสุต. A first version of movie "เห่าดง'' was released in 1958 with leading actress Amara Asavananda. The 1983 version featured leading actress Suriwan Suriyong and it was her first movie. The movie song is "จะไปดูหนังไทย บ๊ะ ต้องเห่าดง ดาวดัง สรพงษ์ ผิวคล้ำ นำแสดง สุรีย์วัล สุริยง มาประชันขันแข่ง อรัญญา ก็มา ร่วมกันในเห่าดง". Pleng (เพลิง)(Nard Poowanai) and Kam (Piathip Kumwong) have arguments. Kam complains Pleng is not sincere. Pleng must choose between being a ruffian (นักเลง, การพนัน) versus being an honest military officer (ยุติธรรม). They break up. The military head, Prachom (Kanchit Kwanpracha), promises to help Pleng but this latter refused due to his strong character (กระดูกแข็ง). Pleng has arguments with a debtor, who insults his mother. He stabs him, flees and quits the army. Finally, Pleng becomes a ruffian (เสียคน). Both Prachom and his wife (Marasri Bangchang) are upset by Pleng's decision. Pleng meets dancer Anchalee (Anchalee Chaisiri) in a restaurant. Pleng has a fight with the restaurant owner Prayak (Uten Boonyong) and gets injured. Anchalee takes care of him. Pleng is accepted in the ruffians' team by leader Prayak. Prayak and Chinta (จินดา)(Aranya Namwong) have a child called Bayan. Bayan is in fact a child being kidnapped. Prayak and Chinta need to flee the police and go overseas. Pleng promises to take care of Bayan. Many years have passed. Bayan has now grown up and is renamed Prao (พราว)(Suriwan Suriyong). She has learnt fighting skills (การต่อสู้). While doing shopping, a young policeman called Wut (วุฒิ)(Sorapong Chatree) contacts Prao as Prissana but it is a mistake. But in fact, Prao and Prissana are twins (ลูกแฝด)! They were separated 15 years ago following a robbery by Prayak in Prachom's home. Prissana is Wut's sister. She is engaged to a policeman (Kowit Wattanakul). Hao Dong is a mysterious judiciary punishing ruffians and warning police in advance (ผู้หวังดี). Behind it is Pleng, who always felt guilty to have quit the army. During a last event, Pleng gets shot and killed while helping Wut. Young lady Prao replaces her father Pleng as judiciary. She avenges Pleng by putting a bomb in ruffian leader's car. Wut pretends to be Niwat, insurance representative, in order to investigate the daughter, Saisree (ไซซี)(Mayura Thanabutr), regarding her father's death. In a discotheque, Saisree recognises Prao as they studied together in Japan. Prao studies martial arts including Ninja skills. Wut suspects Prao to be Hao Dong but proofs are not enough. Wut likes Prao (ตํารวจมีหัวใจเหมือนกัน!). Chita and Phayak come back from overseas to support Prao. Prao still wants to catch the real leader of the mysterious society (วงการ). Saisree is now the head of a Chinese style secret society. Both Prao and Saisree want to avenge their father's death. Ruffians are aware that Hao Dong is behind Saisree's father's death, so they want to avenge. Saisree asks Wut to lie to Prao and to attract her in a trap. He refuses. As Saisree loves Wut, she protects him while the ruffians wish to shoot him. Saisree is shot, but Wut succeeds to escape. Prissana is kidnapped by ruffians in order to attract Prao. Wut, the police and Prao storm the ruffians' headquarters. Chita and Phayak, wearing Hao Dong uniforms, are also killed in the fighting, so Prao cannot be accused. Prao is reunited with her parents. A double wedding Prissana / Chao and Prao / Wut can happen.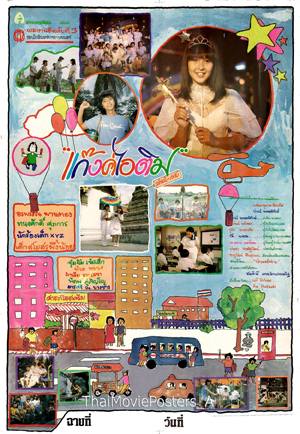 Year

: 1983



Thai title

:

แก๊งไอติม




English title

: Gang Ice-cream



Rating

: 3/5


Director

: ปกรณ์ พรหมพิทักษ์



Main actor

: Joomjim Khemlek,Thuam Thoranong,Pipop Pupinyo


Main actress

: Marasri Bangchang



Buy now

:

Thai movie แก๊งไอติม was released in year 1983 and lasts 1h38mn. It was released under VCD format by Solar company. Multiple songs are featured. Movie director is ปกรณ์ พรหมพิทักษ์. It is school time for children. Joomjim Khemlek is managing a few poor kids selling ice cream for him. Thip (อรพรรณ พานทอง), as teacher, is teaching slum children. Her mother Bangransi (Marasri Bangchang) believes it is useless. She would like her daughter to teach in rich schools. Poor kids are influenced by their parent's behavior such as illegal betting (การพนัน). The kids need to earn money to help their parents. Some kids have no more parents. An older teacher is also upset by their influence on other children. Thanks to gambling (หาเงินไม่ถูกต้อง), the kid Dam is able to fulfil his dream, i.e buy a bicycle. Thuam Thoranong, as headmaster (ครูใหญ่), is quite open minded thanks to Thip but an older lady teacher forbids some kids to sell ice cream in school as it causes children to spend all their pocket money. The poor children try to sell somewhere else, but it is not successful as competition is hard. Teacher Thip decides to help them and to buy their ice cream to support them but they refuse as teacher Thip is always nice (ใจดี) to them and trying to teach to behave properly. As teacher Thip is smart, she finds ways for them to succeed in their small business. Elder ice cream seller Chat (ทนงศักดิ์ ศุภการ) is secretly fond of teacher Thip. Teacher Thip proposes a special program to teach those kids out of scolarisation. The headmaster accepts. Thip mixes the children so they know each other better (ต้องรักกัน). Friendship occurs when Dam helps one of the children about to drown. The poor kids are not able to sell ice cream anymore as a Jumbo shop opens near the school. Thip's mother finds a new position of teacher for her daughter. The Jumbo owner refuses to join force with the slum children as he is not willing to share benefits (รวมหุน). Joomjim hires Pipop (Pipop Pupinyo) as hitman. Pipop kidnaps the ice cream shop owner's daughter and becomes uncontrollable. Chat is the one to help (ทำดี ได้ดี). Finally, all kids get a job in Jumbo shop and also some shares. Thip is back to celebrate their achievement.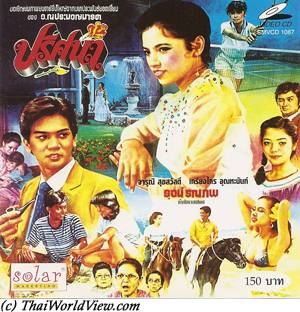 Year

: 1982



Thai title

:

ปริศนา




English title

:



Rating

: 4/5


Director

: Ruj Ronnapop



Main actor

: Kriengkrai Unhanan,Suchao Pongwilai,Adul Dulyarat,Ruj Ronnapop


Main actress

: Jarunee Sooksawad,Linda Khatancharoen,Marasri Bangchang,Sarinthip Siriwan,Marasri Isarangkul,Sulaleewan Suwanthat,Anchalee Chaisiri



Buy now

:

Thai movie ปริศนา was released in year 1982 and lasts 2h08mn. Movie director is Ruj Ronnapop. The movie was released under VCD format by Solar Marketing company. In mid 2010s, it was re-mastered by Five Star production company and shown on True Thai Film cable TV channel. Prisana (Jarunee Sooksawad) is a young Thai lady coming back from USA. Her life vision is influenced by her American education. Her future mate choice should be based on love and not based on family choice or wealth. Will she overcome Thai high society rules? Her father was dead before she was born so her grandmother even refused to recognize Prisana as her granddaughter. Prisana's mother (Marasri Bangchang) welcomes her daughter back from USA after studying 12 years there. It is hard for Prisana to get used to conservative Thai behavior. Fed up at home, Prisana decides to become a teacher (ครู) so she makes herself older. She has two sisters, Seri and Anong. Her older sister has a boyfriend called Sameu (Suchao Pongwilai). One of the student is daughter of a high-level family (ท่านหญิง). Prisana has authority issue with students as the daughter organises rebellion. Prisana teaches her a strong lesson so her brother, Chai, hears about Prisana for the first time. Prawit (เอกลักษณ์ ยลระบิล) meets Anong (ปัทมา ปานทอง) again. Seeing Prisana, Prawit forgets Anong and focus on Prisana only. Chai (Kriengkrai Unhanan) is Prawit's close friend. Chai invites all of them at a party at his home. Ratree (Linda Khatancharoen), Chai's fiance, is upset as Chai dances with Prisana. Ratree is expecting to marry Chai. It is Prisana's birthday. Chai offers her a dog. Prawit offer her a bracelet. Both men are enamoured with Prisana. Following a family trip in Hua Hin, Prisana announces she will not marry Prawit so Anong is happy. Chai is getting closer to Prisana (น่ารักที่สุด). Seeing Ratree unsuccessful to get Chai's love, Sameu tries his luck and kisses Ratree (มนุษย์หลอกลวง). Seri (Anchalee Chaisiri) sees them and is disappointed. Neighbour Anoon (ปรัชญา อัครพล) is back from America and tries to become close to Prisana. Chai tells Prisana that Prawit wants to marry her, so she becomes very upset. Finally, Prawit accepts to marry Anong as he knows he has no more chance with. Chai's aunt (Sarinthip Siriwan) is also very upset as she understands Chai's plan to marry Prisana instead of Ratree, his fiancee. Chai has arguments with his aunt as he refuses to marry Ratree. He doesn't love her and consider her as a younger sister (น้อง). The aunt and Ratree threaten Prisana. Prisana is seen by them as low status girl. The aunt wants this wedding to occur in order to keep money inside the family. At Prawit's wedding, Chai asks Prisana's hand but she doesn't believe him. Prisana is fed up by those high society people. Chai finally offers her a ring for engagement. Pushed by the aunt and Ratree, elder lady Marasri Isarangkul summons both Chai and Prisana. Prisana is looked down again but hopefully her uncle Adul Dulyarat can testify she is the real daughter of his defunct brother. Both the aunt and Ratree lose face and love can blossom between Prisana and Chai.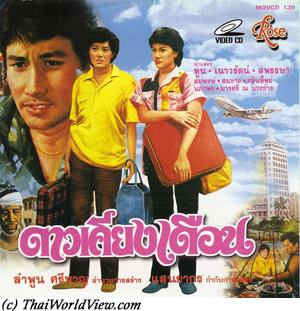 Year

: 1982



Thai title

:

ดาวเคียงเดือน




English title

:



Rating

: 3/5


Director

:



Main actor

: Toon Hiransap


Main actress

: Naowarat Yooktanun,Supansa Nuengpirom,Sarinthip Siriwan,Marasri Bangchang
Two sisters are living together with their mother in a northern village. Their friend have gone to Bangkok and are making a good living. When their mother dies, they also have to go to Bangkok to earn money but they refuse to work in entertainment business. They finally work as domestic helpers in a high end family. Both of them love the family's son. But their family love is stronger than a rivality towards a man and they finally go back to the countryside. if all rural people go to Bangkok, who will cultivate rice for Bangkok people?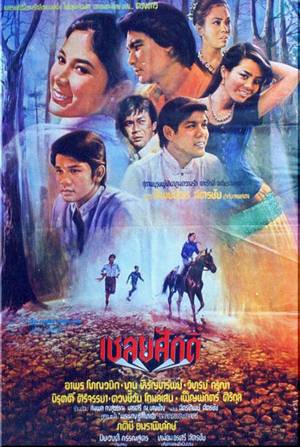 Year

: 1981



Thai title

:

เชลยศักดิ์




English title

:



Rating

: 3/5


Director

:



Main actor

: Toon Hiransap,Nirut Sirijanya,Aphorn Tonawanik


Main actress

: Penpak Sirikul,Duangcheewan Komolsen,Marasri Bangchang
Two Royal family clans (ตระกูล) have strong continuing conflicts (ความอาฆาตแค้น). One clan is อัศวราช, clan from the leading actor Yothin, and สันตติวงศ์, clan from the leading actress Alissa. M.C. , father of Alissa and Atisak, is dying. He wishes to clear up the conflicts between the two clans. Yothin (โยธิน) and Atisak (อติศักดิ์) from opposite clans have a gun duel. Yothin loses and needs to be Atisak's prisoner (เชลย) for one year. He has to stay in Atisak's estate located in countryside. He meets Alissa, Atisak's younger sister and Anoun, the younger brother. Yothin cannot get anywhere without authorization from Atisak or Alissa (เขาเป็นทาส). Prince (เจ้าแสนไทย) Saenthai, Atisak's friend, speaks sweetly with Alissa (อลิสา) but doesn't have real interest into her. Yothin becomes Anoun's personal instructor. Alissa and Atisak can force Yothin's body to execute tasks but they cannot control his spirit (จิตใจ). Yothin has a fiancee already Piromya (ภิรมยา) but he doesn't dare to see her and didn't tell her he is now under Atisak's orders. Saenthai has a high interest into Piromya. Prince Kanfa (เจ้าขวัญฟ้า) is having an affair (เมียน้อย) with Kaew, a domestic helper. He is acting as a butterfly with women but he wishes to marry Alissa. Yothin and Piromya still love each other. But Piromya is attracted by Kanfa. Piromya breaks up with Yothin when she learns that Yothin has become Atisak's slave. Piromya try to console with Kanfa. Yothin's father is sick but Yothin refuses to visit him to avoid having gratitude (บุญคุณ) to Atisak and Alissa. As Piromya is now pregnant, Kanfa needs to marry her but he cannot forget Alissa. Kanfa kidnaps Alissa to force her to become another wife. Yothin organises a hunt to find her. Piromya wishes to see the face of the traitor Kanfa (ผู้ทรยศหัวใจ) and dies in pregnancy while looking for Kanfa. Despite knowing Piromya's fate and being wrong, Kanfa refuses to let Alissa go. Though an unfortunate occurrence of circumstances, Kaew stabs Kanfa. Yothin flees with Alissa and Anoun. Love emerges between Alissa and Yothin. Unfortunately Anoun dies drowned in rapids while trying to help a dog. Atisak gives back his freedom to Yothin. Yothin leaves and promises to Alissa to come back as a friend (มิตร) and not a prisoner (เชลย) anymore. This movie is based on a story written by Princess Watnanokom Prawit (วัฒโนดม ประวิตร). It was adapted two times as movies (1959 and 1981) and three times for Thai television (1983, 1991 with Likit and Jintara, 2010).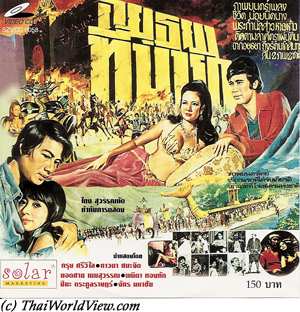 Year

: 1979



Thai title

:

อยุธยาที่ข้ารัก




English title

: The last day of Ayudhya



Rating

: 3/5


Director

:



Main actor

: Krung Srivilai,Yodchai Meksuwan,Piya Trakulrard,Surasit Sattayawong,Tawan Siriwat,Lor Tok,Pipop Pupinyo,Pan Borapet


Main actress

: Pawana Chanajit,Chosri Misommon,Somjit Sapsamruey,Marasri Bangchang,Sulaleewan Suwanthat



Buy now

:

Thai movie อยุธยาที่ข้ารัก / The last day of Ayudhya was released in year 1979 and lasts 2h18mn. The movie features many songs. The Thai chief soldier (Tawan Siriwat) is a traitor. Young lady Lam Duan (พนิดา ทองทัต) helps the Thai King (Surasit Sattayawong) to flee. Ayutthaya city is burnt and destroyed as the traitor opens the door to Burmese soldiers. Resistance is on. Lam Duan and her husband Reuang (Yodchai Meksuwan) try to kill the Burmese King but they fail and are sentenced to death. They promise to love each other every life (ทุกชาติ) and to kill the Thai traitor. 200 years have passed. Lam Duan is reborn under MouMou's name. Reuang is reborn under Decha's name. Sulaleewan Suwanthat is playing MouMou's mother. Dam (Pipop Pupinyo) kidnaps the subdistrict headman's daughter. Decha (Yodchai Meksuwan) likes painting and falls for Noi (Pawana Chanajit), a good heart prostitute. Decha is hired (นับสืบ) by a rich lady (Somjit Sapsamruey) to find her lost granddaughter (หลานสาวเศรษฐี). Dam buys a young lady called MouMou (พนิดา ทองทัต) for 3 nights from her parents but she refuses and escape after hitting Dam. Decha finally helps her but she doesn't trust believing he is another rapist. They take refuge in a cave. At nighttime, Decha dreams that MouMou is Noi and makes love to her. He promises to be responsible of his acts. Chased by Dam's ruffians including Pan Borapet, MouMou splits with Decha to attract the ruffians. She is unfortunately shot by ruffians and falls from a cliff. Toon (Lor Tok) is Decha's assistant. Lor Tok as medium (คนทรง) convinces the grandmother that Noi is her lost granddaughter. If Decha marries Noi, lost granddaughter, then they will have 1M baht to share! On the wedding day, MouMou is back. She wants to get her husband Decha back. Krung was the one to rescue MouMou when she falls from the cliff. He wishes to marry her but she refuses as she loves Decha, her husband in this life and previous life as Reuang. In order not to lose 1M baht, Noi has to accept to share Decha with MouMou. One day in alternance (โควตา) but jealousy makes it impossible to happen. Krung Srivilai has finally a small role in this movie but he is displayed on the poster as the main actor. Decha and Noi plan to send MouMou to a psychiatric hospital. She rebels and when facing Tawan Siriwat, she reminds he was the traitor in Ayutthaya and stabs him. The rich lady realises that her missed granddaughter is MouMou and not Noi! MouMou flees and reaches Ayutthaya. There, disappointed by life, she becomes a nun.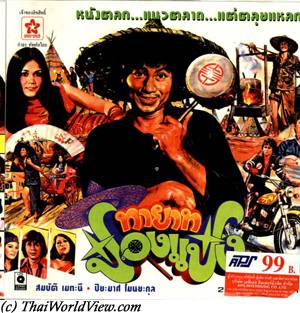 Year

: 1978



Thai title

:

ทายาทป๋องแป๋ง




English title

:



Rating

: 3/5


Director

: Kumtorn Tubkunlai



Main actor

: Sombat Methanee


Main actress

: Piyamas Monayakol,Metta Roongrat,Tharika Thidathip,Marasri Bangchang



Buy now

:

Following the father death, a Thai family called Thanayu needs to share an heritage (มรดก) between family members. An unexpected heir is found but he is coming from a Chinese lineage as the father had a Chinese mistress. The Thai family is looking for a man called Pong Peng. Pong Peng is upset that his mother was rejected by the Thai family so he decides to tease them. Pong Peng wears old Chinese clothes, speaks with a strong accent and uses bad manners. Pong Peng meets the whole family during a diner, including daughter Oon, brother Rajan and an aunt. The grandfather, believing that Pong Peng is having a harsh life, gives a 15 000 Baht monthly allowance for him to learn Thai properly (พูดไทยไม่ชัด), to wear decent clothes and to prepare his wedding in order to accelerate his integration in Thai society. The grandfather has Oon in mind but she refuses to marry. Oon needs to help Pong Peng to buy modern clothes. A lunch in a Chinese restaurant turns to a disaster. Her dress is full of food. He brings to a motel to clean her dress and gets slapped by Oon for going to such a sleazy place. Rajan, Oon's brother is always playing cards and loses a lot of money to Pongpat, a ruffian. Pongpat is the leader of a bikers group. The aunt's daughter tries to seduce Pong Peng but to no avail. Oon still refuses to marry Pong Peng and flees from home. Her car gets catched by the bikers. Pongpat asks for one million baht ransom. Pong Peng rescues Oon following gun fights with the bikers. The Thai family discovers that Pong Peng is a rich man and a company owner. Oon is upset by Pong Peng's lies. The movie ends happily.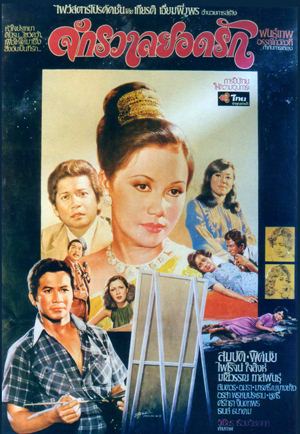 Year

: 1976



Thai title

:

จักรวาลยอดรัก




English title

: My dearest world



Rating

: 3/5


Director

: พันธุ์เทพ อรรถไกวัลวที



Main actor

: Sombat Methanee,Somkuan Krajangsat,Phairoj Jaising


Main actress

: Pissamai Wilaisak,Marasri Bangchang,Chosri Misommon,Amara Asavananda
Thai movie จักรวาลยอดรัก was released in year 1976 and lasts 1h59mn. Movie director is พันธุ์เทพ อรรถไกวัลวที. Chakawan (Sombat Methanee) meets young lady Sakuna overseas when hanging around a red district. Chakawan asks Sakuna (Pissamai Wilaisak) to be her painting model before he leaves for Philippines. Urot (มณีวรรณ ภาสพันธุ์), Sakuna's friend, recommended her to work at nighttime. Sakuna accepts the model job as she is not interested in nighttime working job. Chakawan forces her to have a relation in his hotel room. Sakuna refuses to meet him anymore. Later on, Sakuna receives a letter from her fiance Khanat, who is studying overseas. Back to Thailand, Sakuna starts to work as a secretary in a company owned by Somkuan. Somkuan Krajangsat is Chakawan's father! Amayichi (Phairoj Jaising) is a new manager from Japan and is working in Somkuan's company with Chakawan. Sakuna is pregnant but she refuses to tell who the father is (ลูกไม่ตั้งใจ). Chakawan wishes to take responsibility but he has another wife, Linda, in the Philippines. Vadika, Kaem's (Marasri Bangchang) daughter, is hired as a new secretary. Chosri Misommon, Sakuna's mother, asks for money. Amayichi gives a lot of tasks to the new secretary as he saw her with Chakawan so he is concerned for Sakuna. By keeping her busy, she will have no time to be around Chakawan. Sakuna's mother spends a lot of money gambling (30,000 THB). She asks her daughter to pay her debt. Sakuna still thinks about doctor Khanat. For the sake of her future child, Sakuna moves in a house rented by Chakawan (ทำหน้าที่). Mother (Amara Asavananda) visits Chakawan and Sakuna. Somkuan and Amara had Chakawan as son but finally Somkuan stayed with Kaem. Somkuan doesn't want his son to do the same mistake as he did. Khanat asks Sakuna to fly to Canada as he received a worrying letter from Sakuna's mother. Upset by her situation, Sakuna tries to get suicide. Amayichi takes care of her. Linda stops her relationship with Chakawan knowing he has another pregnant wife. Chakawan disappears for a few days. Sakuna has an accident as she jumps out of the car after an argument with Kaem. The baby dies. Chakawan is upset as he believes she did it on purpose. Chakawan pays Sakuna's mother expenses so the mother doesn't want to lose such a good son-in-law. She wants her daughter Sakuna to forget Khanat. Amayichi tries to help (ความเข้าใจ). Situation is difficult as both still love each other but nobody is willing to disclose his heart, so they remain blocked on misunderstanding. Everybody wants to find solutions for them, i.e. Somkuan, the mother and Amayichi. Sakuna announced to Khanat that she will not follow him overseas. Chakawan is going to leave Thailand for Australia. Amayichi is saying goodbye at the airport. He announces he is going to marry Vadika. Inside the plane to Australia, Chakawan is reading a farewell letter from Sakuna saying she is sitting the row behind Chakawan...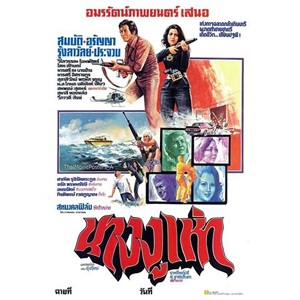 Year

: 1976



Thai title

:

นางงูเห่า




English title

:



Rating

: 4/5


Director

: กิตติพงษ์ เวชภูญาณ



Main actor

: Sombat Methanee,Prachuap Ruekyamdee,Adinan Singhiran,Preuhat Boonlong,Lak Apichat,Sompong Phonmitr,Sukon Koewliam


Main actress

: Aranya Namwong,Runglawan Sripatimakul,Wilaiwan Watthanaphanit,Khomapat Attaya,Marasri Isarangkul,Marasri Bangchang,Sulaleewan Suwanthat
Thai movie นางงูเห่า was released in year 1976 and lasts 1h32mn as incomplete version. The movie was shown in Thai Film Archives in 2017. Movie director is กิตติพงษ์ เวชภูญาณ. One song is featured. Famous robber Cobra lady / นางงูเห่า, as Tai (Aranya Namwong), flees the police, led by Sompong (Sompong Phonmitr), after another daring robbery. Policemen fail to catch her. Tai and her brother Lak (Lak Apichat) steal jewelry from Preuhat Boonlong and Marasri Isarangkul. They also steal another couple, i.e. มล.โกมล ปราโมช and Marasri Bangchang. Prachuap Ruekyamdee, her father, is waiting for Tai outside. They have to flee the police again. The car is hidden in a truck. Police are surrounding their place as there is a traitor among the team. Adinan Singhiran sacrifices himself to attract police attention so that others can flee. Kan (Sombat Methanee) helps a young lady called Choompu (Khomapat Attaya), whose necklace has been stolen. Tai meets Kan at a waterfall while Tai is bathing. Tai's family is still hiding from the Thai police. Lak and her mother (Wilaiwan Watthanaphanit) recommend Tai not to meet Kan again as he could be an undercover policeman. Tai meets Kan again (คนกรุงเทพปากหวาน). A romance starts. Tai's grandmother (Sulaleewan Suwanthat) is about to die and tells her that Prachuap is not her real father. Choompu likes Kan and lies that Tai already has a husband. Tai is disappointed that her father forced her to go down a wrong path. She flees and meets a monk that recommends her to go back to the right path. Kan is a policeman and receives the duty from his boss (จรูญ สินธุเศรษฐ์) to catch the cobra lady. Tai asks for a meeting one to one with the head of the police. Kan comes also. Tai is aware Kan is there. She has important information to share about Thailand security. After doing bad things, she wants to do good things for the nation. Chased by the police, her family is now involved in weapons traffic instead of jewelry traffic. The lady boss (Runglawan Sripatimakul) appreciates Tai and gives her more responsibilities. A new mission is to kill policeman Kan, who is becoming a threat for them... Ruffian Dom (โดม สิงห์โมฬี) said he can manage by himself. Tai helps Kan against Dom. Kan asks Tai to surrender and he will wait for her, but she refuses. Kan gets finally captured by ruffians. Lak and her father release police inspector Kan and open the gates to let police enter. Meanwhile Tai still pretends to be loyal to her boss but the lady boss sees that Tai betrays them. Shootings occur. The lady boss shoots Lak and his father Prachuap. Tai shoots the lady boss but it is too late as Lak and her father are dead. Kan arrests Tai. Finally, Tai is released as she is the lost daughter of the rich people she robbed before!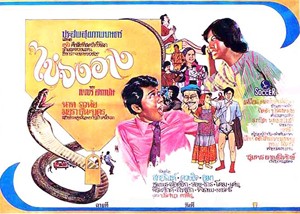 Year

: 1976



Thai title

:

ไข่จงอาง




English title

:



Rating

: 3/5


Director

: Choomporn Theppitak



Main actor

: Nard Poowanai,Sayan Chantaraviboon,Krai Kanchit,Rong Kaomulkadee,Choomporn Theppitak,Lor Tok


Main actress

: Mayura Thanabutr,Duangjai Hathaikarn,Marasri Bangchang
Thai movie ไข่จงอาง was released in year 1976. The movie is lost in Thailand but a remaining sequence of 28 minutes is left to be seen. Veteran actress Marasri Bangchang is collecting debts reimbursement. She is married to younger man called Insee (Rong Kaomulkadee) but his little bird gets burnt by hot soup poured by his wife as he is courting younger lady (แม่ค้า)! This comedy features three male friends (Sayan Chantaraviboon, Nard Poowanai and Pong) looking for fun. Three ladies friends (Nit – Mayura Thanabutr, Pip - Duangjai Hathaikarn, Tip…) realise that their three husbands are going to have fun together but their wives surprise them (อยากตายไหม). Pong is a doctor so he is lying about his friends' health in order to get some compassion from their wives. Other actors are Krai Kanchit, Lor Tok, อุมา, โดม, เด่น, ปริศนา ดาริน, หมึก.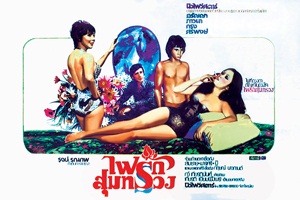 Year

: 1975



Thai title

:

ไฟรักสุมทรวง




English title

:



Rating

: 4/5


Director

: Ruj Ronnapop



Main actor

: Sorapong Chatree,Krung Srivilai,Somchai Samipak,Boo Wibunnan


Main actress

: Aranya Namwong,Pawana Chanajit,Marasri Bangchang
Thai movie ไฟรักสุมทรวง was released in year 1975 and lasts 1h40mn. It was released under VCD format by company Solar. Movie director is Ruj Ronnapop. Remastered version of whole portfolio was released during decade 2010s by Five Star Production but movie ไฟรักสุมทรวง was not included. Maybe they didn't the 35mm film anymore and only a U-matic tape. Uma (Aranya Namwong) is a modern lady, who is smoking and drinking. At a party, Ek (Sorapong Chatree), successful overseas student, arrives with his parents (Somchai Samipak and Marasri Bangchang). He meets Uma, an elder woman, who is attracted by him. She asks him to send her home. Afraid to succumb to Uma, he flees. The next day, he meets his old friend Kowit. Ek finally declares his love to Uma. Kowit (Krung Srivilai) is trying to seduce Uma for years but it stayed at friendship level only. Uma accepts to go out with Ek. Phi Uma is drunk. Ek is ashamed to get a room from Boo Wibunnan, hotel manager. Uma's younger sister, Pracha / Pat (Pawana Chanajit), has just finished her studies in Chiang Mai. Uma makes Ek to promise not to ever foul with her sister. Kowit wishes to marry Uma. She is older then Ek so it won't be accepted by Thai conservative society. Uma only respects (นับถือ) Kowit. Pat is coming back. Ek and Uma always need to hide. Ek is tired by such relationship that cannot blossom. Ek's parents push him to meet Pat so he accepts to go shopping with her. Uma warns him he will be heartbroken (เธอจะเสียใจ) but he doesn't believe Uma. Pat is surprised as some people call Ek as khun Sangkom. Ek discloses he loved a woman before, but it is now over (สิ้นสุดแล้ว) and he has to use another name due to privacy protection. Uma is aware. Pat learns finally that Ek had a relationship with Uma. Ek claims it was due only to mood (เหล้า) and alcohol (เหล้า). Pat is now teacher in Pattaya. Ek gets a room there as overseas student (นักเรียนนอก) and follows her. He justifies love (ความรัก) vs lust (ความใคร่). Ek wishes to marry Pat. Pat refuses to marry her elder sister's husband (ผัว)! He insists on following her everywhere. She is going to marry another man called Amnat. Kowit visits Ek and punches him as Ek justifies himself by Uma's own desires (ความต้องการของพี่Uma). Kowit and Uma finally get engaged. Prat has quit her school. Ek is ready to die to marry her (ยอมตาย). He storms Uma's home and learns about the coming wedding. He races to reach it on time and brings a mess in the wedding. Pat flees with Ek. Uma and Kowit let them go as it is impossible to stop such strong real love. This modern movie from mid 1970s put the stress on feminine desire. Most of the previous Thai movies focus only on male desire.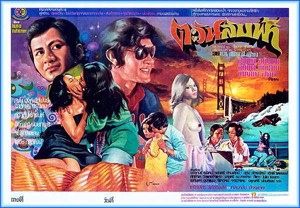 Year

: 1975



Thai title

:

ตะวันลับฟ้า




English title

:



Rating

: 4/5


Director

: ไพรัช กสิวัฒน์



Main actor

: Sombat Methanee,Kwanchai Suriya,Sawin Sawangrat,Paen Pleumsachai,Sithao Petcharoen


Main actress

: Aranya Namwong,Kantima Daraphan,Marasri Bangchang
Thai movie ตะวันลับฟ้า was released in year 1975. It was never released under VCD format. It was released on Thai TV cable channels (Thai BPS, Chaloem Krung TV) and CH7. The movie was remastered in the decade 2010s and shown on Thai BPS. The remastered version lasts 1h43mn. It was also released on U-matic tape and only lasted 1h20mn. The full version probably lasts more than 2 hours as the remastered version is censored. Additional sequences can be seen in the U-matic tape version and other TV versions. Especially the scenes where Chompoo is in love with Tawan (จุดขายตะวันลับฟ้า). Those scenes are highlighted on the movie poster but are cut from the remastered version. This movie was not a commercial success as lesbian love (หญิงรักหญิง) was not a popular topic in 1975. Aranya Namwong was famous for daring to take all roles. It was hard for movie directors to find a beautiful stuntwoman the same as Aranya so finally, Araya had to play many scenes by herself. Movie director is ไพรัช กสิวัฒน์. Thai actors and actresses featured in this movie are Aranya Namwong, Sombat Methanee, อนันต์ สัมมาทรัพย์, Kantima Daraphan, Kwanchai Suriya, รสสุคนธ์ สุรนิคม, จรัสศรี สายะศิลปี, Sawin Sawangrat, สวัสดิ์ วิเศษพงษ์, สุทธิจิตร วีระเดชกำแหง, Marasri Bangchang, ไฉไล ไชยทา (real singer), เพลินตา อุมาแมน, จีราวัจน์ จารุวิจิตร, อรุณศรี น้อยทิพย์, Paen Pleumsachai, Sithao Petcharoen. It was first movie for เกรียงไกร แก้ววิรุฬห์ and ทัศนาลัย สัจจะเวทะ. The story was written by Sor Asanajinda. Tawan (Aranya Namwong) is having a boyfriend, named Nirut (นิรุทธ์)(อนันต์ สัมมาทรัพย์), but Chompoo, a young lady, is jealous as she loves Tawan. Tawan's sister, Saeng Som (Kantima Daraphan), is married to Manot (Kwanchai Suriya), who is a soldier and has a bad view on students. Nirut shall go to the USA two years to finish his studies. Manot is not taking good care of his wife Saeng Som and has even a child with a minor wife. Saeng Som has a miscarriage so she has to go to hospital. In the USA, Nirut forgets Tawan with a young lady called Butree and still lies to Tawan. Saeng Som leaves for the USA as her wedding with Manot is going nowhere. Manot keeps drinking alcohol and tries to abuse Tawan. Finally, Tawan learns through Saeng Som that her fiancee Nirut has married another woman in the USA as she is pregnant. Tawan is so sad and disappointed. A singer (นักร้อง) gives back Manot as he is useless and penniless. Manot tries to change (กลับตัว) but fails. Saeng Som, his former wife, is going to marry again with a doctor. Manot is worried not to see his kids again and knows he has become useless towards his family. Tawan wishes to send Manot to hospital in order to cure his addiction. Manot wishes to get suicide to stop being a hindrance and dies being hit by a car. As Tawan rejects Choompoo's lesbian love, Choompoo tries to kill Tawan as she is not willing to share Tawan with anybody. Chompoo is getting crazy. Her friend brings Tawan to Buri's house (Sombat Methanee) as Tawan, being a decorator (มัณฑนากรสาว), is hired to decorate his house. Pa Nuan (Marasri Bangchang). Invited to a party, Tawan meets Nirut, the new chief district officer (นายอำเภอ), who still loves Tawan. Paen Pleumsachai tries to abuse Aranya but Buri helps. Sithao Petcharoen is working as a house designer with Tawan. Nirut promises to divorce and Tawan believes him. There is ongoing preparation of a new home for the future bride (เจ้าสาว). Who will be the lucky one (ใครจะโชคดี)? Buri recommends Tawan not to wait as he believes that Nirut, per his position of chief district officer, will not divorce. Nirut meets secretly Tawan but is discovered by his wife Butree. Aware, Buri declares they are old friends and that next month, Tawan and Buri will marry! Tawan doesn't have happiness with Buri as jealousy prevails. Tawan visits Chompoo but she hasn't fully recovered. Tawan is pregnant. Tawan and Choompoo shall not meet each other again for Choompoo's good sake. Tawan refuses to come back to Buri's house. Tawan decides to drink medicine to kill the baby but finally changes her mind as the baby is not responsible for the current situation. Choompoo wishes to kill Buri as she knows Tawan is unhappy and knows that the child is unwanted. Buri keeps drinking and falls sick. Chompoo storms Buri's home to kill him. Decided to get her wedding a last chance, Tawan goes back home to see Chompoo about to kill Buri. Nirut, alerted by Tawan, comes to help and is going to shoot Chompoo. Tawan begs Chompoo not to kill the father of her child. Chompoo finally kills herself. Tawan decides to go back with Buri.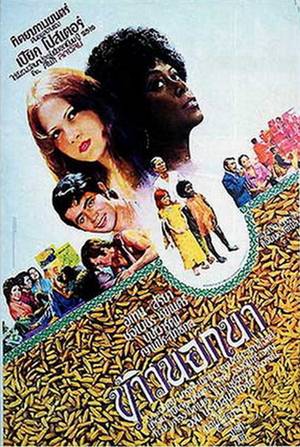 Year

: 1975



Thai title

:

ข้าวนอกนา




English title

:



Rating

: 5/5


Director

: Piak Poster



Main actor

: Uten Boonyong,Adul Dulyarat,Suriya Chinaphan


Main actress

: Sulaleewan Suwanthat,Marasri Bangchang,Khomapat Attaya,Namgneun Boonnak
Thai movie Khao Nok Na (ข้าวนอกนา) was released in year 1975 and directed by Piak Poster. It lasts 1h38mn. An aunt (Sulaleewan Suwanthat) is raising two children, the elder called Deuan is 5 years old and the youngest is called Dam (หีดำ). Both fathers are different. Dam's father is a black man so she is called Dam (ดำ – black) as a reference to her skin color. The children were temporarily given to the aunt by the mother. Unable to raise them, the aunt wishes to sell them to a rich lady. The rich lady (Marasri Bangchang) doesn't want Dam (ไม่ชอบเด็กดำๆ) and buys only Deuan for 3000 baht. She is renamed as Deuan Krai Saen (บุบผารัตน์ ญาณประสิทธิกุล). Father is veteran actor Adul Dulyarat. Finally Dam (ช่อเพชร ชัยเนตร) is sold to a family to become a helper (คนใช้งาน) and to be the puppet of the daughter. Veteran actress Khomapat Attaya is part of the other helpers. Dam is always stubborn (ดือ) as people dislike her skin color. Phi Pan (Suriya Chinaphan) is the son of a taxi driver, who always supported Dam but died earlier in a car accident. The house is becoming a mess with the daughter being pregnant with one male driver and the son spending like crazy on music instruments to build a band. The real mother is back and is asking for her two daughters. The aunt gives the address but the rich lady (คุณผู้หญิง) refuses to let Deuan go. The real mother, always seen smoking, goes to the police to get her rights respected. She finds first Dam. Adul refuses to give back Deuan and proposes 50 000 baht. She accepts and has to sign a contract. Having the money, she also rejects Dam and asks her to go back to her home. Disappointed by her own mother, Dam is looking for a job. She becomes a singer in a nightclub and sings her difficulties as being black in Thailand. Meanwhile the rich family watches Deuan playing in a ballet representation. Dam finds Phi Pan in the street and brings him to her home. They become lover as Dam believes he would be a caring man like his father but Pan is a lazy boy taking profit of girls' money. Pan is using Dam's money to entertain another lady. Adul finds that Deuan goes back home late and is wearing a ring given by a young boy Pop (เลือดแม่ของแค่มันแรง) (Uten Boonyong). Dam is finally dumped by Pan so indulges in alcohol and becomes a short time prostitute. She is surnamed as ลิง (monkey) or สกปรก (dirty) and being rejected by Thai society (equally by rich and poor Thai people). Dam meets people having problems also and starts indulging in drugs to forget daily problems. Pop tries to bring Deuan to a short time motel but finally changes his mind as she keeps crying and mentioning her father's pressure. Dam meets finally Deuan. Deuan is in paradise (สวรรค์) and Dam is in hell (นรก). Finally Deuan ends up with Dam indulging drugs as her paradise is also a hell being the daughter of an easy lady. Police captures the whole group. Deuan's parents bail her, forgive her mistakes and accept her relationship with Pop. A US black man bails Dam from jail and brings her to USA with him. The movie highlights racism in Thailand. Following Vietnam war, many similar cases of children born from Thai prostitutes and black US soldiers did happen in Thailand. A TV serie on the same story was released in year 2013. Khao Nok Na (ข้าวนอกนา) is an interesting title. Normally rice is white so Dam is the rice "outside" the field, i.e. being black and different from the majority of Thai people. The movie got 4 awards (รางวัลตุ๊กตาทอง), i.e. best actress, best song, best story, best supportive role.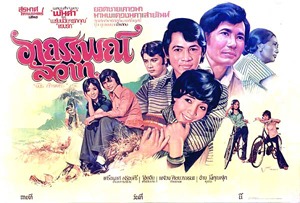 Year

: 1974



Thai title

:

อาถรรพณ์สวาท




English title

:



Rating

: 3/5


Director

: Phan Kam



Main actor

: Yodchai Meksuwan,Sayan Chantaraviboon,Manop Aussawathep,Boo Wibunnan


Main actress

: Pawana Chanajit,Chosri Misommon,Marasri Bangchang,Duangnapa Autthapornphisan
Thai movie อาถรรพณ์สวาท was released in year 1974. This หนังชีวิตรัก movie is lost in Thailand but 59 minutes are left to be seen. Other actors are Duangnapa Autthapornphisan (ดวงนภา อรรถพรพิศาล), จิระศักดิ์, จรัสศรี, ขุนแผน. Movie director is Phan Kam. Nok (Pawana Chanajit) needs to leave for Bangkok. Her friends, including Tao and Kung (Sayan Chantaraviboon), are already missing her. They are close friends (ลูกทะเล). Nok's mum (Marasri Bangchang) sends her in Bangkok to finish her studies. She shall stay in her mother's best friend home. In Bangkok, Nok meets Kata (Yodchai Meksuwan). Chosri Misommon is playing a domestic helper. Kata doesn't welcome Nok as she reminds him a former love that failed and so bad souvenirs. Boo is debtor recover. Walin (Manop Aussawathep), close friend with Kata, likes Nok also. Nok and Yodchai play jealousy games towards each other. Due to debts, Yodchai's mother succeeds to marry Nok and Kata but there is no real love between them. Kata is ashamed as people shall gossip if it is a wedding due to money arrangement. In reality, Nok's mother doesn't have money anymore also! As his mother warns him on his family name status (ตระกูล) if Nok has any bad behavior, Kata starts to enquiry about all activities of Nok. As Nok's mother is bankrupted, Kata's mother is upset to have organised this wedding and tries to find Nok in compromising situation to have an excuse to cancel the wedding. Nok learns that her mother is ruined and gets sick. While Kata is on business trip and Kata's mother refuses to call a doctor, Kung brings Nok out of this heartless home. Kata's mother puts the blame on Nok but Kata is fully aware of his mother's tricks and decides to get Nok back. Finally Kata accepts to give back her freedom to Nok. Going back, he has a car accident. On the hospital bed, Nok declares her love to Kata. The movie ends happily.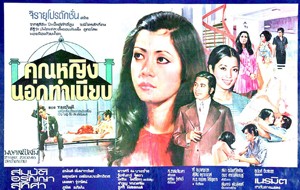 Year

: 1974



Thai title

:

คุณหญิงนอกทำเนียบ




English title

:



Rating

: 4/5


Director

: Neramit



Main actor

: Sombat Methanee,Jamroon Nuatjim


Main actress

: Aranya Namwong,Mayurachath Muarnprasitivej,Suthisa Putnuch,Metta Roongrat,Chosri Misommon,Marasri Bangchang
Thai drama movie คุณหญิงนอกทำเนียบ was released in year 1974. It features Sombat Methanee as main actor and Aranya Namwong as main actress. The movie is lost in Thailand but a sequence of 48 minutes remains to be seen. It is the final sequences of the movie. Supasatee (Aranya Namwong) also called Sajee has arguments with the son, who treats her as a minor wife (เมียเก็บ). The father is Chit (Sombat Methanee). His younger sister (Metta Roongrat) also doesn't accept that Sombat has a new younger mistress. Sajee and Chit deny any wrongdoing. Chit sends Sajee back to the slum through his mercedes so people are gossiping including her own grandmother (Chosri Misommon). Her own grandmother tells her not to forget her own roots but Sajee wishes to climb the social ladder without taking in account other people's critics. Chit is celebrating the birthday of Suthisa, his wife (Suthisa Putnuch). Metta brings doubt in Suthisa's heart but is in fact disappointed that Chit would choose Sajee over her! It causes Lady Suthisa to die as she has a fragile heart already. Even Kaew (Mayurachath Muarnprasitivej), Sajee's best friend and Chit's daughter, believes Sajee wants to take the place of Suthisa. Finally romance happens between Sajee and Chit. The grandmother believes Sajee will be back as same as lotus, she comes from dirty slum soil so she cannot adapt to rich soil. Kaew is pregnant. Sajee has to find an abortion doctor for her. One day while driving with Chit, she sees a woman hit by a car. It is her own mother. Sad event showing she starts forgetting her roots. Chit is also having heart issues. His new wife Sajee gets rejected as Lady nomination (คุณหญิง) as she is not coming from a proper background. Chit ends up at the hospital where Sajee asks to modify the heritage terms. Worried about heritage, Chit's children cause their father's death by asking too many questions instead of letting him rest. On the opening of the testament, Chit's children realize Sajee is not asking for a single baht and is just going back to her slum. Rich people looked wrongly at Sajee. She was the one having a good and true heart.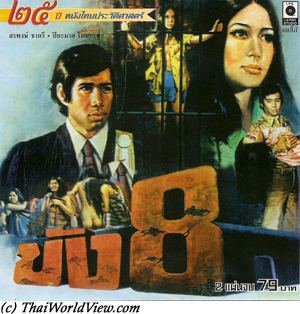 Year

: 1974



Thai title

:

ขัง 8




English title

:



Rating

: 3/5


Director

:



Main actor

: Sorapong Chatree,Krung Srivilai,Kom Akadej


Main actress

: Piyamas Monayakol,Ratanaporn Intarakamhaeng,Marasri Bangchang
Thai movie ขัง 8 was released in year 1974 and is showing realistic life in prison. Thai movie ขัง 8 was released in year 1974 and is showing realistic life in prison. Dao (Piyamas Monayakol) finds her fiance in bed with another woman (แฟนใหม่). As he is going to break the engagement with her, Dao shoots him. Policeman (Kom Akadej) arrests Dao. Her mother (Ratanaporn Intarakamhaeng) keeps crying. Dao is condemned to prison (ติดคุก) and discovers the harsh life there. Elder prisoner is played by Marasri Bangchang. Prassadee (Krung Srivilai) is the prison supervisor. Oratai has arguments with Dao as she wished Dao to be her husband (เป็นสามี). As they fight, both of them are condemned to isolation quarters. Oratai finally recognizes her mistake under the pressure of Prassadee. Dao faces adversity in prison with its internal harsh rules (ระเบียบ) and lack of freedom. Her lawyer Songkram (Sorapong Chatree) visits her and he succeeds to get her released for a retrial. Dao is reunited with her family again. Outside of prison, she realises who is or is not her real friend. She needs to convince a friend to be her witness (พยาน) for the retrial. Songkram promises to help. The father dies. Songkram confesses that he is helping Dao as he has gratitude towards her father. The father refused a debt reimbursement but asked him to promise to marry Dao. Per gratitude over the father (บุญคุณ), Songkram asks for Dao's hand. As tomorrow will be the trial decision, Dao asks him to wait. The tribunal condemns Dao to full life imprisonment. She has to do at least 8 years to hope for any pre-release (สั่งกรรมก็รับกรรม). Songkram promises to wait. Songkram continues to visit Dao regularly but is also now Tuk's boyfriend. Dao learns about his wedding and is of course disappointed. Her surname is นางฟ้าขัง8. When she exits from prison after five years for good behavior, she finds Songkram and her younger sister Tuk have a child. Anyway she is not resentful. It was the first movie of Piyamas Monayakol. A remake was done in year 2002.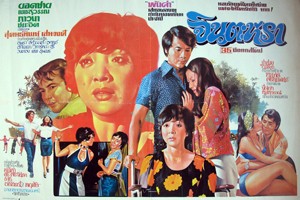 Year

: 1973



Thai title

:

จินตะหรา




English title

:



Rating

: 4/5


Director

: Phan Kam



Main actor

: Yodchai Meksuwan,Choomporn Theppitak,Adul Dulyarat,Preuhat Boonlong


Main actress

: Pawana Chanajit,Amara Asavananda,Marasri Bangchang,Juree Osiri
Thai movie จินตะหรา was released in year 1973 and lasts 1h50mn. It was released under VHS format. Movie director is Phan Kam. It is a romance drama (หนังชีวิตรัก). Montree (Yodchai Meksuwan) is a famous sport student in the university. Kesa (Choomporn Theppitak) introduces him to sexy lady Kha (อภิญญา วีระขจร). Basaba (สุคนธ์ทิพย์ เสนะวงศ์) and Jintara (Pawana Chanajit) are close friends and are joking about Montree. Kha makes Montree drinks a lot. Montree flees before sleeping with her making her very upset. Busaba's father and Jintara's mother have decided to marry. This is a new wedding for the parents (Amara Asavananda and Adul Dulyarat). The grandfather (Preuhat Boonlong) hopes to have a grandson (หลาน) so that his son's life is useful (เสียชาติเกิด)! Busaba and Jintara become half-sisters but from different father and mother! Jealousy often occurs between the two sisters as Jintara likes to have or to use everything that Busaba has. Busaba has interests in Montree. Jintara hides to read playboy. Jintara starts to be jealous to see Busaba and Montree together. Jintara tries to take Montree away from Busaba. Montree is confused. The grandfather wants a son to keep the family lineage. He pushes his son to take a minor wife as the new wife is still not pregnant. Jintara is blamed by her mother as she keeps having bad behavior, i.e. เอาแต่ใจตัวเอง. Jintara collapses (เป็นลม) due to big headache. A doctor finds she has a brain cancer. She has only six months to live. She changes her behavior and becomes a nice person (ความหวังดี). She tries to reunite Montree and Busaba but it fails. In order to push back Montree to Busaba, she stops showing interest to Montree and simulates to be interested in another student called Asawin. Fighting occurs between Asawin and Montree. Montree is injured. Montree's mother, Juree Osiri, complains that Jintara brings troubles to her son (ลูกไม่รักดี). Jintara's mother is finally pregnant. Montree wishes to know the truth behind Jintara's behavior change. Jintara's health is getting worse. Her mother is about to deliver and Jintara has still to perform the school theater performance for orphelin children. Her theater performance becomes similar to her real life as she collapses during the last scene (ฉากสุดท้าย). The new child is a daughter and is named Jintara as the first Jintara is leaving this world… Jintara makes Montree and Busaba promise to love each other.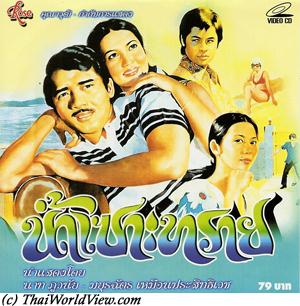 Year

: 1973



Thai title

:

น้ำเซาะทราย




English title

:



Rating

: 5/5


Director

: Wichit Khunawut



Main actor

: Nard Poowanai,Sayan Chantaraviboon


Main actress

: Mayurachath Muarnprasitivej,Wandee Sritrang,Marasri Bangchang



Buy now

:

This movie about two couples interaction. Pim (ภีม), a white-collar, and Wan (วรรณรี), a teacher, are married. Pukrong (พุดกรอง) is a rich and lonely widow (ว้าเหว่). Pong (พงษ์), a bachelor, tries to be Pukrong's sweet heart boyfriend but he is a butterfly. Pim often argues with his wife and Wan feels neglected (น้อยใจ) with Pim. Pim and Pukrong love each other secretly (รักกัน). Wan is too well-mannered (เรียบร้อย) and strict (เคร่งครัด) so Pim is fed up despite she gave her two beautiful children and takes well care of the home. They still use the polite word "ค่ะ" at the end of each sentence. Life is scheduled as a clock with Wan so Pim is fed up. Pim is a frustrated husband and arguments occur with Wan. Pim and Pukrong continue to see each other secretly in Bangkok. Pim needs to lie to Wan (ของขโมยอร่อยกว่า). As Pong continues to be her faithful admirer, he becomes annoying as Pukrong doesn't have full freedom to see Pim. Pukrong has to involve her well-off friend (ผู้ดี - คุณผู้หญิง). It highlights that Thai high society people also plays cards and have same sins. Her friend has to be involved in the lies. Pim rents a house for them to see each other freely (ความสุขของเรา) in order to avoid busy hotels and frequented restaurants. Pukrong spends a lot of money to decorate the house as she wishes a forever love. Pong knows that Pukrong flees behind the house. Pukrong wishes to see Pim every day. Wan knows her husband went out as his clothes smell perfume. Wan and Pong starts to notice. Pong is informed about the truth through a friend who saw them in a bar (เล่นรัก). Wan refuses to believe that her best friend (สุภาพบุรุษ) steal her husband love. Pukrong doesn't want a hidden love. Wan fights back to keep her husband. Can money buy everything including love? There is insinuation (พูดประโชด) between the two women and then a real verbal fight (บาปตื่นเต่น). Wan knows the truth now (ใจเป็นทรายศ). Pukrong is the bad rich high society girl versus Wan, the good teacher worried about position girl and strict mother / wife. Pukrong tells the truth to Wan. Pim has to go back to Wan due to the children. Pakrong feels left over. But it is not as easy. Wan wishes to divorce with Pim and chases him away. Finally Pim goes back to Pakrong. It is now the main wife versus the minor wife (เมียน้อย / เมียหลวง). Pong pushes Wan to fight (สู่). Pong tries to break the relationship as Pim is fed by Pukrong. Wan refuses to see a shaman (หมอผี) to help her to have Pim back. Meanwhile Pim and Pakrong are enjoying their romance. Pukrong is pregnant. Pong presents a military officer Neephon to Wan. If Pim can have a new love, why Wan cannot have one? It creates jealously on Pim's side as he doesn't want his kids to have a new father. This time Pim refuses to divorce. Pukrong has another child in America from a previous relation. She understands Pim's feelings towards his previous family and also understands he will never be able to choose so leaving things unsettled forever so Pukrong decides to go to America with her new born baby. Pim tries to resume relationship with Wan but it is too late. Wan refuses. Pim ends up alone. It is a long movie as it lasts 2h37 with a dubbed soundtrack. This movie highlights Thai society hypocrisy, i.e. Thai men can have a minor wife but the main wife cannot do anything except to complain in silence. Classical music is used in tragic moments. The scenario is inspired from a book written by author Krisna Asokesin (กฤษณา อโศกสิน), who has won the SEAWRITE prize for literature. Another movie remake was done in 1986. It was adapted as Thai TV serie many times also.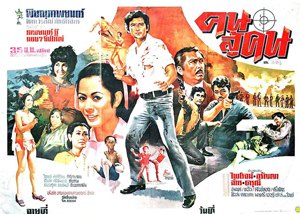 Year

: 1972



Thai title

:

คนสู้คน




English title

:



Rating

: 3/5


Director

:



Main actor

: Phairoj Jaising,Choomporn Theppitak,Chat Mongkolchai,Songthong,Paen Pleumsachai


Main actress

: Aranya Namwong,Marasri Bangchang,Sisala Thongtara,Donnapha Sophee,Darunee Cheunsakul
Thai movie คนสู้คน was released in year 1972. It features Phairoj Jaising as main actors and Aranya Namwong as main actress. It lasts 1h36mn. Two songs are featured in this movie. This is the first movie featuring Phairoj Jaising and Aranya Namwong together. Director is วิจารณ์ ภักดีวิจิตร. Often in 1960 or 1970s Thai movies, music from Italian spaghetti westerns (Ennio Morricone) or James Bond movies was used. Korakot (Phairoj Jaising) arrives in Udon Thani. The introduction sequence even shows old theater โรงหนังเฉลิมวัฒนา. Korakot is back to his village through a bus from Udon Thani. He gets robbed by two ruffians (นักเลงเจ้าถิ่น) including Yuan (Choomporn Theppitak). They steal a jewellery belonging to his mother. Krit (Chat Mongkolchai) rescues him. Some relief characters are played by Songthong and Sisala Thongtara (ศรีสละ ทองธารา). Krit's sister is played by "bad girl" Donnapha Sophee. Knowing his friend's problems, krit chases after the ruffians. Two are killed but Yuan succeeds to flee. Korakot is not able to hold a weapon or fight back (ใจต้องสู้). Khun Phiset is upset with Krit as two of his men were killed. Korakot shall go to Khun Phiset's home to get back his jewellery. On the way, he meets Plienjai, Khun Phiset's daughter (Aranya Namwong), expert in shooting with Daojai (Darunee Cheunsakul). Yuan claims he doesn't have it. Plienjai likes Korakot. Daojai and Krit (สุภาพบุรุษนักสู้) love each other. Yuan loves Plienjai also but it is not reciprocal so he tries to force her. Khun Phiset chases him away. Korakot gets a training from Krit (คนสู้คน). Yuan forges an alliance with another ruffian leader called Seua Sing (Paen Pleumsachai) to get revenge and plans to kidnap Plienjai. As they get pushed back by Krit and Korakot, Seua Sing prepares more men to join. Enticed to get back his mother's jewellery, Korakot is tortured by Sing and Yuan by being attached to a cross and forced to walk under harsh sun. Meanwhile Songthong is killed through an embuscade. Krit helps Korakot before a full dehydration. Korakot's mother is played by Marasri Bangchang. A double wedding happens, i.e. Korakot with Plienjai and Krit with Daojai. Yuan, Sing and their ruffians bring troubles to the party by kidnapping the ladies including Krit's sister. Korakot and Krit chase after the ruffians. Seua Sing rapes Krit's sister. As a bait, Korakot defies Yuan and defeats him while Krit releases the ladies. Through a final shooting, Seua Sing is shot by Krit's sister but she also dies. Newly-wed couples can now find happiness with the ruffians being neutralised.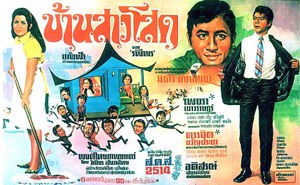 Year

: 1970



Thai title

:

บ้านสาวโสด




English title

:



Rating

: 3/5


Director

: Adul Dulyarat



Main actor

: Mitr Chaibancha,Kanchit Kwanpracha,Adul Dulyarat,Somkuan Krajangsat,Sukon Koewliam,Lor Tok,Prachuap Ruekyamdee


Main actress

: Petchara Chaowarat,Metta Roongrat,Prim Praphaporn,Juree Osiri,Orasa Isarangkul,Jomchai Jarintorn,Marasri Bangchang
บ้านสาวโสด is a Thai movie released in year 1970. It features Kanchit Kwanpracha as main actor and Petchara Chaowarat as main actress. The movie was started with Mitr Chaibancha but it was incomplete due to his premature death. So the main actor was replaced by Kanchit. Another version with Toon Hiransap and Piyamas Monayakol was released in year 1984. In 1970 Mitr Chaibancha worked in many movies in parallel. So some movies still kept one or two sequences of Mitr at the beginning of the reel as additional advertisement for the movie. Around 1 hour 30 minutes is left to be seen. Three single ladies (Metta Roongrat, Prim Praphaporn, Juree Osiri) are living together. Petchara arrives in their home. She is doing chores. Their neighbour is Kanchit Kwanpracha. Other actors are Somkuan Krajangsat, Prachuap Ruekyamdee, Orasa Isarangkul, Adul Dulyarat, Sukon Koewliam, Lor Tok, Jomchai Jarintorn. Kanchit likes Petchara very much. Funny sequences happen on beach seaside between Sukon Koewliam and Prim Praphaporn. Misunderstanding keeps happening between Kanchit and Petchara as other ladies try to seduce Kanchit. It seems that Petchara will marry Prachuap as she is disappointed by Kanchit. Finally kidnappers enter in Petchara's home but they are chased away by Kanchit and captured by Adul Dulyarat and Orasa Isarangkul. Outside the home kidnappers are there again and threaten to shoot Kanchit. Petchara stand between Kanchit and the ruffians to prevent any shootings showing her real love towards Kanchit. In fact kidnappers are this time Adul and Osara playing this trick to force their reconciliation. Six songs are featured. There are still old still pictures showing Mitr playing movie บ้านสาวโสด and the movie poster is also showing his name.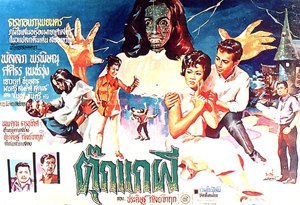 Year

: 1969



Thai title

:

ตุ๊กแกผี




English title

: Gecko ghost



Rating

: 3/5


Director

:



Main actor

: Surayut-Chaiyayut Vetchayan,Sukon Koewliam


Main actress

: Sasithorn Phetrung,Yaowaret Nisakorn,Marasri Bangchang
Thai horror movie ตุ๊กแกผี was released in year 1969. A father (ประดิษฐ์ กัลย์จาฤก) is married with a woman (มารศรี ณ บางช้าง) and have three grownup children, one boy (Surayut- Chaiyayut Vetchayan) and two daughters including Sasithorn Phetrung. His wife is severely sick. So the husband tries to bring in the house a new younger minor wife (Yaowaret Nisakorn). The children disagree with the new minor wife but the father keeps protecting her. Arguments occur and the mother dies due to shock. Her spirit enters a gecko. The son of the minor wife, Phalalop (พัลลภ พรพิษณุ), likes Sasithorn Phetrung. The mother ghost threatens the new wife not to bother her children. Sukon Koewliam is used as a spirit doctor (หมอผี) but he is chased away by the gecko ghost. The ghost lady is having multiple dots on the face similar to a gecko. A famous scene is when the ghost is putting live small mouses in her mouth to eat them. Surayut- Chaiyayut kidnaps a young lady, daughter of the new wife. Her brother Phalalop releases her. Arguments and fightings happen Surayut-Chaiyayut and Phalalop. Phalalop falls from a high cliff and is left as dead. Romance happens between Surayut- Chaiyayut and the minor wife's daughter. Phalalop isn't dead. A romance also happens between Sasithorn Phetrung and Phalalop. Thanks to a second spirit doctor, the second wife neutralises the ghost as a sacred cloth seals the coffin. Meanwhile Phalalop is having a new girlfriend to the high disappointment of Sasithorn Phetrung. Surayut- Chaiyayut finally finds the sacred cloth and removes it. To ruin the reputation of Sasithorn Phetrung, the minor wife hires a man to rape her and a photographer to take dirty pictures but the mother ghost kills the rapist first. A third spirit doctor gives an exorcist knife (มีดหมอ) to stab the body of the ghost mother on the 15th day of lunar calendar. The ghost wakes up on time and order the minor wife to stab herself. The father organizes ceremonies for both spirits to find peace. The two young couples can wed.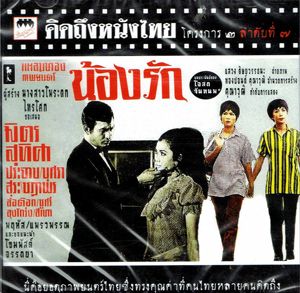 Year

: 1969



Thai title

:

น้องรัก




English title

:



Rating

: 3/5


Director

: Wichit Khunawut



Main actor

: Mitr Chaibancha,Prachuap Ruekyamdee,Lor Tok,Sithao Petcharoen,Preuhat Boonlong


Main actress

: Suthisa Putnuch,Chosri Misommon,Boosara Narumit,Chadaporn Wachirapranee,Khomapat Attaya,Marasri Bangchang



Buy now

:

Thai movie น้องรัก was released in year 1969 and lasts 1h13mn. It is available under VCD format by famous company XxX owned by Toh Pantamit. The original movie is certainly longer as movies in decade 1960s could last up to 2h30mn. It is probably the last 3 reels of the film. Movie director is Wichit Khunawut. One 35mm reel is also still available. Sri (Chadaporn Wachirapranee) brings her niece Kate (Boosara Narumit) in a massage parlour for work but arguments occur as other masseuses complain she is too beautiful so she will take away their customers such as Lor Tok. Sithao Petcharoen is the parlour manager. Fight occurs between Chosri Misommon and Sri. Young lady Dao (Suthisa Putnuch) meets doctor Wut (Mitr Chaibancha) in Neramit's house. Khomapat Attaya is the niece. Shot (Prachuap Ruekyamdee), car driver, knows Kate and loves her. Shot punches his own boss after seeing him with Kate in the massage parlour. She works to be able to raise her younger sister Dao. Marasri Bangchang is playing the owner of rental house. Lying to Shot, Kate has to prostitute herself (ทำงานพิเศษ) in order to find money to pay the rent. Meanwhile Dao tries everything to meet Preuhat Boonlong, her lost grandfather. Neremit proposes to pay Dao's birthday party as he knows she is not rich. It causes the mother and niece's ire. They ruin the party. To help her, Wut pays for the expense and proposes to transform her into an ugly nurse so she can be close to her grandfather. Meanwhile Kate is abused by another man at night time believing it was her lover. She feels so ashamed (ความชั่ว). Thanks to a ring, the grandfather identifies Dao as his granddaughter. Meanwhile Kate is arrested by Police and sent to prison for rehabilitation. Everybody is looking for Kate but she forbids her aunt to tell the truth to anybody. Kate gets seriously sick in the prison. Doctor Wut is the one to treat her. He identifies an incurable cancer (มะเร็งมดลูก). Kate was behaving same as a mother for Dao. Before dying, Kate asks to give her blessings (อวยพร) to the future wedding of Dao and Wut.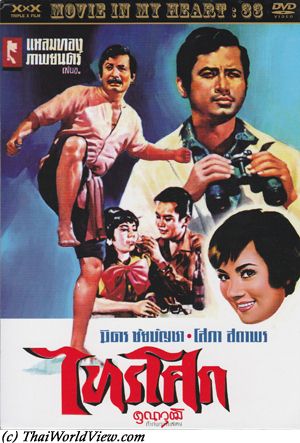 Year

: 1967



Thai title

:

ไทรโศก




English title

:



Rating

: 5/5


Director

: Wichit Khunawut



Main actor

: Mitr Chaibancha,Adul Dulyarat,Adinan Singhiran,Choomporn Theppitak


Main actress

: Boosara Narumit,Namgneun Boonnak,Marasri Bangchang,Sopha Sataporn
Thai movie ไทรโศก was released in year 1967. It is directed by Wichit Khunawut. It lasts 2h06mn. Yen (Boosara Narumit) is being raised since childhood by a stepfather but was never officially adopted. Bai (Mitr Chaibancha) is a dumb and a bit retarded adult (เด็กวัด) accompanying the monk during morning alms. Kitty (Adul Dulyarat) is the real son. Adinan Singhiran is helping for everything in Thorasok domain. The father is sick. Urai (Namgneun Boonnak) is pregnant with Kitty. Usa (Marasri Bangchang) is Urai's mother. Bai is named as ผีทะเล. Kitty is always upset with Yen. The father finally dies and the testament is opened. It is a shock for the family to learn that no money is given to Kitty if he doesn't marry Yen and have a child with her! The mother and Urai are upset. The mother prepares the wedding of Yen and Kitty to follow the testament. But it is a forged plan. They drunk Bai so that Bai enters in Yen's bedroom at nighttime. Yen becomes pregnant. Kitty goes to live with Urai in Bangkok. A child is born from Yen. The mother names it as Ying Yong and takes it to Bangkok to raise it. Meanwhile on countryside, some ruffians shot a couple and a baby is left behind. Yen decides to adopt and raise the baby. Many years have passed. Kittikorn, son of Urai and Kitty, tries to seduce Dao (Sopha Sataporn), Yong Yot's daughter. Ying Yong (also played by Mitr Chaibancha) is younger brother (น้อง) of Kittikorn. Kittikorn is insolent (ทะลึ่ง) and lazy. The daughter of Yen, called Srai Gnam (รักชนก จินดาวรรณ), is now a doctor. The man who killed the two parents many years ago is now released from jail. His son is Thep (Choomporn Theppitak). He spent 20 years in jail. He wishes to get revenge over Yong Yot who sent him to jail. Dao sees that Srai Gnam is wearing same pendant as her. Ying Yong and Dao are close together so Kittikorn realises he has no chance with Dao so his parents think about Srai Gnam who is a doctor. Thep befriends with Kittikorn. Ying Yong meets Bai but doesn't realize Bai is his father. Kitty wishes his son Kittikorn to marry the daughter of Yen. Yen refuses. Kitty loses his nerves so hits both Yen and Ngam Sai. Before Ying Yong can do anything, Bai intervenes and punches violently Kitty. Kitty becomes half paralyzed due his fall. Ngam Sai as doctor treats him. Ying Yong realises the kindness of Ngam Sai. The grandmother now wants to have Ying Yong to marry Ngam Sai. Urai cannot support this and tells the truth about Ying Yong to her son Kittikorn. She then quits Kitty and goes back to Bangkok. With the help of Kittikorn and Thep, the ruffians wish to storm Thorasok domain and gets the 200 000 baht stored there. Kittikorn wants them to kill Ying Yong also. Kittkorn hits Dao (หลานสาว Yong Yot) and kidnaps her. Meanwhile ruffians attack the house at nighttime (ถูกปล้น). Bai is killed by Kittikorn (ชาติชั่ว). Kitty is shot during the fighting and discloses the truth to Ying Yong before dying. Ngam Sai is identified as second daughter of Yong Yot. As it turns badly, Kittikorn escapes and wishes to flee with Dao. Dao shots Kittikorn and becomes crazy. Peace can finally happens in Srai Sok domain. Some mute sequences lasting 16 minutes haven't been released on the DVD. Maybe because the dubbing was missing for those parts? Maybe the VCD and DVD versions had to last the same time? Those sequences show the baby found by Adinan, Kitty having heated discussion with his mother and Adinan, Yen treated as a domestic helper by Kitty and Urai, Bai carrying big jar, Urai and Kitty showing their son to the mother, Kitty and her mother in front of the father's corpse, Kittikorn punching Ying Yong.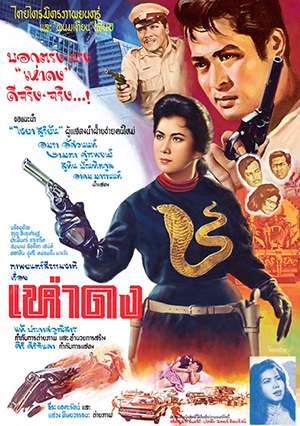 Year

: 1958



Thai title

:

เห่าดง




English title

: Hao Dong



Rating

: 3/5


Director

: Tae Prakardwutthisan



Main actor

: Chaiya Suriyun,Lor Tok,Dokdin Kanyaman,Sompong Phonmitr


Main actress

: Amara Asavananda,Chosri Misommon,Marasri Bangchang
เห่าดง (Hao Dong) is a 1958 Thai movie by director Thae Pragartvuthisarn. It features famous Thai actor Chaiya Surin (his first movie) and actress Amara Asavananda. Other actors include Lor Tok, Dokdin Kanyaman, Sompong Phonmitr, Chosri Misommon. A remake was released in year 1983 with Sorapong Chatree and Suriwan Suriyong. No extract of the movie is left anymore. But there is still a short 1mn22s sequence from 1958 Thai news showing a huge crowd waiting to see Hao Dong movie. A few still pictures are still available showing Amara Asavananda wearing color Hao Dong costume. It was a big commercial success thanks also to great advertisements including radio, TV, huge billboards up to 12 meters (คัทเอาต์ขนาดยักษ์) of actress Amara Asavananda in popular areas of Bangkok. Three gangs of robbers are bringing trouble in Bangkok. Hao Dong works alone. Hao Dong is a former military (ทหารม้า). He is not a ruthless gangster like the two other groups. Feeling betrayed, the other groups (เล็บเหล็ก, แสงเทียน) wish to get rid of Hao Dong. As he dies, his daughter (Amara Asavananda) takes over. Chaiya is playing a policeman and love will emerge with Amara. The success of movie Hao Dong is due to the presence of 3 famous Thai comic stars (Lor Tok, Dokdin Kanyaman, Sompong Phonmitr). Tae Prakardwutthisan had also the good idea to make a simple but entertaining song to be diffused on radios for movie promotion. It mentions Dokdin as ตัวดำๆ. A movie as that time was always a financial risk due to potential military coup d'etat as it could ruin all investments on a movie. Hao Dong generated 1.3M baht revenue.
---