Increase or decrease font size for easier reading : A+ A-
Manat Boonkiet
Manat Boonkiet (1923) - มนัส บุญยเกียรติ์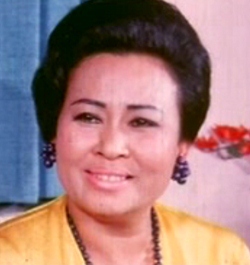 Manat Boonkiet is often playing the grandmother or the mother in Thai movies
This Manat Boonkiet movie page contains 15 records.
---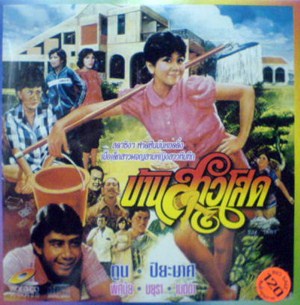 Year

: 1984



Thai title

:

บ้านสาวโสด




English title

:



Rating

: 3/5


Director

:



Main actor

: Toon Hiransap,Boo Wibunnan,Somchai Samipak,Somkuan Krajangsat,Supakorn Srisawat,Krong Kangkengdaeng


Main actress

: Piyamas Monayakol,Metta Roongrat,Pissamai Wilaisak,Mayura Thanabutr,Pornpan Ketmamatsu,Janthana Siriporn,Manat Boonkiet
Thai movie บ้านสาวโสด was released in year 1984. The TV cable version lasts around 1h55mn and is coming from channel "true thaifilm". So cigarettes, alcoholic drinks and even sexy posters on the wall are blurred. Two songs are featured in this movie. A first version of this movie was released in year 1970 with Mitr Chaibancha, Kanchit Kwanpracha and Petchara Chaowarat. Three sisters are still single, i.e. Yip (Metta Roongrat), Teuan (Pissamai Wilaisak), Waraipon (Mayura Thanabutr). One is her mid- forties, one is her mid-thirties, one is her mid-twenties. Yip likes women more than men. A lawyer (อำนวย ศิริจันทร์) discloses the father's testament. They get heritage from their father including the house to share. If they ever marry, they lose any rights to the house. Being singles, they challenge each other who will get married first. A friend will send her son Ting (หลาน) to stay in their house after having studied in Bangkok. The domestic helpers (Janthana Siriporn...) leave as there are fed up by miser Teuan. Plaew (Piyamas Monayakol) is hired as new domestic helper. The three ladies get interest into Ting (Toon Hiransap), 26 years old, as he is very handsome (หน้าหอม). Ting meets Tangwon (Boo Wibunnan) and Metti (Supakorn Srisawat). They wish to rent the house behind บ้านสาวโสด. Businessman Somchai Samipak has a new wife. His daughter is Plaew but she left home as she is unhappy with her new stepmother Vichanee (Pornpan Ketmamatsu). Plaew is suspected by Ting to be the daughter of a rich businessman. Ting's parents are played by Somkuan Krajangsat and Manat Boonkiet. Teuan is worried that Plaew will take Ting from them. Ting's father already found a fiancee for his son. Thanks to Krong Kangkengdaeng, Ting is hired as a driver (คนขับรถ) by Somchai. Plaew and her sister wonder why Ting behaves this way. The new young wife Vichanee is Metti's mistress but she asks Ting to keep quiet on this and she provides a photo album on Plaew (คุณหญิง) to Ting. Vichanee also become mistress with Ting (ความต้องการ). Ting fails to show that Plaew is in fact a rich businessman's daughter. Ting's parents are worried that their son gets enamoured with a domestic helper (เด็กคนใช้). Following a family trip to Pattaya, Ting's parents meet Plaew's parents and both of them are uncovered! Romance can finally start between Ting and Plaew.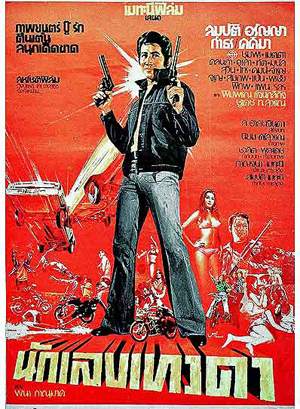 Year

: 1975



Thai title

:

นักเลงเทวดา




English title

:



Rating

: 3/5


Director

: Sombat Methanee



Main actor

: Sombat Methanee,Tat Ekathat,Sawin Sawangrat,Kom Akadej,Kamthorn Suwanpiyasiri,Choomporn Theppitak,Pipop Pupinyo,Krai Kanchit,Sukon Koewliam


Main actress

: Aranya Namwong,Naiyana Shewanan,Orasa Isarangkul,Metta Roongrat,Sasima Singsiri,Donnapha Sophee,Manat Boonkiet



Buy now

:

Thai movie นักเลงเทวดา was released in year 1975. The VCD lasts 1h32mn. Metta Roongrat as market merchant (แม่ค้า) is harassed by ruffians. A car is driven by a mysterious hitman, who kills most of the ruffians of Kamnan Wattana. Wattana (Tat Ekathat) is upset. Kamnan Wattana's daughter, called Wantanee, is played by Naiyana Shewanan. Orasa Isarangkul is also a market merchant (แม่ค้า). Nobody saw his face but he was wearing a red clothing. Thewada (Sombat Methanee) is wearing a red shirt so he is identified as the hitman. Thewada wishes to revenge his friend Somsak killed by ruffians (เทวดามาคิดบัญชี). Thewada enquiries on various ladies to uncover the mysterious hitman. Somsak's wife (ผู้หญิงใจร้าย)(Sasima Singsiri) is involved in the murder with the help of Sawin Sawangrat. Thewada helps Wantanee (ลูกสาวกำนัน). Thewada is not the mysterious killer in red shirt but is willing to find who is behind. Similar to a Thai James Bond with gadgets and kissing all girls (หลงเสน่ห์). Kamnan Wattana agrees to take him as new staff before being son in law (ลูกเขย)! Thewada gets support from Dam (Kom Akadej). A car 'chase happens between Thewada and Kan (Kamthorn Suwanpiyasiri). A sister (Aranya 'Namwong) and her brother (Choomporn Theppitak) are looking for the man, who killed their father นาย Vitun. They believe Thewada is the killer but he succeeds to escape their house just to be captured by Kan (องค์การ). Pipop Pupinyo is part of Kan's team. A third group is with Sawin and Somsak's wife. Kan storms Kamnan Wattana's house and kidnaps his daughter. Metta and Osara are also kidnapped. Thewada and Dam then storm Kan's house to release the ladies. Krai Kanchit is part of Kan's team. Fighting and shooting happen until all ruffians are neutralized or killed. The movie ends up with Thewada leaving with both ladies Aranya and Naiyana.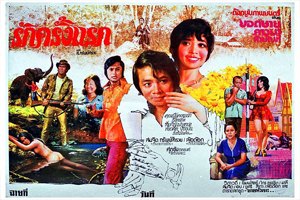 Year

: 1974



Thai title

:

รักครั้งแรก




English title

:



Rating

: 3/5


Director

: Lor Tok



Main actor

: Yodchai Meksuwan,Sayan Chantaraviboon,Op Boonthit,Sithao Petcharoen,Lor Tok,Krai Kanchit


Main actress

: Pawana Chanajit,Chosri Misommon,Somjit Sapsamruey,Malee Wetpraseri,Khomapat Attaya,Manat Boonkiet
Thai movie รักครั้งแรก was released in year 1974. Main actors and actresses include Pawana Chanajit, Yodchai Meksuwan, Sayan Chantaraviboon, Malee Wetpraseri, Somjit Sapsamruey, Op Boonthit, Chosri Misommon, Sithao Petcharoen, Lor Tok, วิภาวดี ตรียะกุล, Khomapat Attaya, Krai Kanchit, Manat Boonkiet. Movie director is Lor Tok. The film is lost in Thailand but a left sequence in 35mm format can still be seen. The picture is very damaged and reddish. It lasts six minutes. During the remaining sequence, Nim (Pawana Chanajit) loves Seum (Yodchai Meksuwan), being a poor man. Sorasak (Sayan Chantaraviboon) is her promised fiance per her parents' arrangement. Sorasak's mother is Manat Boonkiet. On Nim's birthday, an official engagement ceremony shall happen but Nim declares her love to Seum in front of her family. Sorasak loses face and punches Seum afterwards. Nim's parents are mother Mom Somjit Sapsamruey and father Op Boonthit. Chosri Misommon has pity over Nim. Seum teaches Nim to play music with old instrument. Seum is Nim's first love. This movie highlights the dilemma between a chosen marriage by parents and children's own love choice.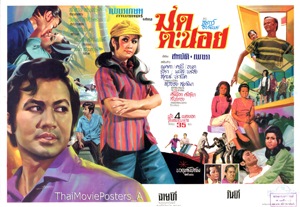 Year

: 1971



Thai title

:

มดตะนอย




English title

:



Rating

: 3/5


Director

: วิจารณ์ ภักดีวิจิตร



Main actor

: Sombat Methanee,Anucha Ratanaman,Rujira Isarangkul,Sukon Koewliam,Songthong


Main actress

: Petchara Chaowarat,Metta Roongrat,Darunee Cheunsakul,Manat Boonkiet



Buy now

:

Thai movie มดตะนอย was released in year 1971 and lasts 1h54mn. The movie was released under VCD format by company TripleX. The picture is quite damaged but still a bit colorful. This is the last found copy of the movie. Movie director is วิจารณ์ ภักดีวิจิตร. Thai actors and actresses featured in this movie are Sombat Methanee, Petchara Chaowarat, Metta Roongrat, ดรุณี ชื่นสกุล - Darunee Cheunsakul, Anucha Ratanaman, Rujira Isarangkul, Manat Boonkiet, พรชัย, Sukon Koewliam, ปราณีต คุ้มเดช, สุวัจชัย สุทธิมา, สีเผือก, ศรีสุริยา, Songthong. It even includes a few songs in 35mm format. Arriving in a beautiful mansion, young lady Motanoi (Petchara Chaowarat) wishes to meet the house owner Nai (Manat Boonkiet). She meets the daughter Kate (Metta Roongrat), who looks down on her. Chakeen (Anucha Ratanaman) is the son having a positive attitude towards Motanoi. Sukon Koewliam is the domestic helper. Motanoi is the recipient of the Apinat family's grandfather's heritage. Maen (Rujira Isarangkul), a lawyer, arrives to check the proof. Motanoi's father is Nikon Apinat. Whenever she marries, then the heritage becomes hers. She meets doctor Cheewan (Sombat Methanee), being her neighbour as she wishes to see his car. The mother wishes her daughter Kate to marry doctor Cheewan. The doctor complains to the mother about Motanoi. Motanoi has a strong character (เด็กกะโปโล) and is unruly (เกเร). It is Kate's birthday (บ้านผู้ดี). The son befriends Motanoi. Motanoi invites herself to Kate's birthday and performs a song at the party. The mother accuses Motanoi to ruin Kate's birthday party. Motanoi is back to her village and meets her old friends Songthong, Saeng Dao (ดรุณี ชื่นสกุล) and Sandon. His friends check if she has changed or not. Villager Sandon still loves Motanoi and refuses to let her belong to somebody else. Sandon performs a heart broken song. Fed up with her friends trying to catch her, she leaves the village with Chakeen. Cheewan meets Sandon as he hits him with his car. Sandon and Saeng Dao finally stay with the doctor. Motanoi leaves for overseas to study. Five years have passed. Young lady Nantaporn is back in Thailand. Maen's car is damaged so doctor Cheewan goes to pick her up but he is not aware that Nantaporn and Motanoi are the same person. The family's fortune is lost as the mother Nai is gambling. As Motanoi has a good heart, she allows them to stay in her house, but they still behave as high-so. Aware of the truth, Cheewan doesn't know how to apologize to Motanoi. Kate gives a love philter to Sandon, but it is acidic. Her plan fails as she is the one , who receives the acid in the face and not Motanoi. Saeng Dao tries to kill Motanoi as she is upset that Chee Wan is always sad because of Motanoi and keeps drinking. The mother has a lover, ruffian Nit. They plan to kill Motanoi to ensure heritage stays with them. Finally, the mother asks for money from the lawyer Maen. Nit and his men try to kidnap Motanoi. Fighting occurs and Cheewan is injured. Police arrive on time as the lawyer Maen alerts them. Motanoi takes care of Cheewan during his recovery. Love emerges while Kate, her mother and ruffians end up in jail. A remake, featuring Toon Hiransap and Apiradee Pawaputanon, was released in 1985.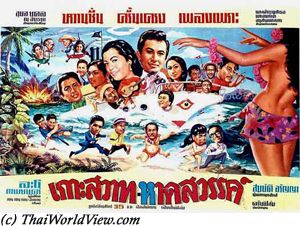 Year

: 1969



Thai title

:

เกาะสวาทหาดสวรรค์




English title

: Paradise Island



Rating

: 3/5


Director

: Prince Anusornmongkolgan



Main actor

: Sombat Methanee,Thuam Thoranong,Rujira Isarangkul,Ruj Ronnapop,Anucha Ratanaman,Op Boonthit,Sukon Koewliam


Main actress

: Aranya Namwong,Chosri Misommon,Manat Boonkiet,Metta Roongrat,Marasri Isarangkul,Sisala Thongtara
Khun Pradeun, a playboy, loves to party. He doesn't work. His father has arguments over coconuts gardens in Ko Samui with another businessman. They bet who could work more successfully, i.e. the son, Khun Pradeun, or the daughter, Khun Tum. Tum is a modern Thai lady wishing to work and with no husband. Her mother wants to find one husband for her but she prefers to go to island Sawat to help her father. If Pradeun wins, Tum must marry him. If he loses, he shall give up his business to her. Similar to many movies at the end of 1960s decade, this movie is rythmed with songs. Pradeun and Tum meet each other on the boat to island Sawat. Pradeun doesn't know the real identity of Tum as he expects somebody called Tum (ตุ่ม - pimple) to be fat, stupid. But he only shows his arrogance and suffisance. Tum and his friends try everything to have Pradeun to go back to Bangkok but to no avail. In the midst of controversy, he falls in love with her. Meanwhile, she begins to be confused because she might be in love with him as well. Pradeun tries dumping tactic to prevent sales but his three thousands coconuts have disappeared. He then needs to sort the coconuts that are mixed on purpose with those of Tum. They decide to use ruffians (นักเลง) to intimidate each other. Despite a few KO, Pradeun is the last one to stand up. Finally he knows the true regarding Tum and slaps her face for her treacherous behavior (in many Thai movies or Thai TV series, violence over women is surprisingly a way for men to show their love). Love is stronger between both of them. He saves her life during a fire in the local school and they finally marry. It is a 2h30 long lovely emotions movie. In 1960s decade, 2 hours length was frequent for many movies. This movie was then successfully updated in 2000s decade as a Thai TV serie.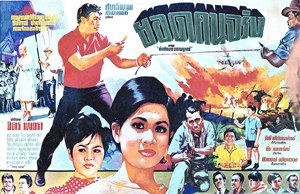 Year

: 1969



Thai title

:

ยอดคนจริง




English title

:



Rating

: 3/5


Director

:



Main actor

: Mitr Chaibancha,Ruj Ronnapop,Choomporn Theppitak,Sukon Koewliam,Preuhat Boonlong,Daonoi Duangjai,Chana Sriubon


Main actress

: Petchara Chaowarat,Somjit Sapsamruey,Manat Boonkiet
ยอดคนจริง is a Thai movie released in year 1969. It is in 16mm format so the movie is mute as such 16mm reels requires dubbing. Main actors are Mitr Chaibancha and Petchara Chaowarat. Other key actors include Ruj Ronnapop, Chana Sriubon, Choomporn Theppitak, Sukon Koewliam, Preuhat Boonlong, Daonoi Duangjai. It is a lost movie and only part of the first reel is left. A 16 minutes passage is available online. A few sequences are about Mitr listening to his boss (Preuhat Boonlong) blaming him. Mitr accepts to seat in a car following the driver's advice for a job. There is a sequence in a nightclub with dance and music concert. Mitr is recruited as bouncer in this nightclub. Fight erupts in the nightclub with Choomporn. Mitr's boss, aware of it, is going to cane him but Petchara prevents it. Working as gardener, Mitr gets comfort from his mum (Somjit Sapsamruey), Petchara and Ruj. The poster is great and shows sequences that are unfortunately not in the 16 minutes passage left. It shows that it is an action movie.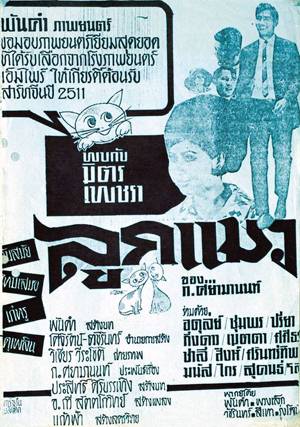 Year

: 1968



Thai title

:

ลูกแมว




English title

:



Rating

: 3/5


Director

: Phan Kam



Main actor

: Mitr Chaibancha,Adul Dulyarat,Krai Kanchit,Choomporn Theppitak,Sawin Sawangrat,Sukon Koewliam,Paen Pleumsachai,Preuhat Boonlong,Krung Srivilai


Main actress

: Petchara Chaowarat,Metta Roongrat,Preeya Roongrueng,Kingdao Daranee,Sasithorn Phetrung,Manat Boonkiet,Sarinthip Siriwan
Thai movie Luuk Maew / ลูกแมว was released in 1968. The movie is lost in Thailand and only a partial sequence is left. There is no sound as the movie was in 16mm format. A dubbed sequence, lasting 58mn, was shown in Thai Film Archives in 2020. The movie director is Phan Kam. Thai actors and actresses featured in this movie are Mitr Chaibancha, Adul Dulyarat, Krai Kanchit, Choomporn Theppitak, Sawin Sawangrat, Sukon Koewliam, Paen Pleumsachai, Preuhat Boonlong, Petchara Chaowarat, Metta Roongrat, Preeya Roongrueng, Kingdao Daranee, Sasithorn Phetrung, Manat Boonkiet, Sarinthip Siriwan. Krung Srivilai has a small role in this movie as extra standing behind Mitr Chaibancha and Kingdao Daranee during the wedding sequence. Rin's mother (Manat Boonkiet) would like her son Rin to marry Rose (Petchara Chaowarat), who is the daughter of Princess Pa, as she is hoping for a dowry to pay her debts. Rin (Mitr Chaibancha) is not convinced as he doesn't know Rose. Sifu (Choomporn Theppitak), being a relative of Princess Pa, wishes to kill Princess Pa and Rose to get the family heritage. Rose gets shot by Sifu and falls into the sea. Rose changes her nickname to Luk Maew (ลูกแมว) to avoid ruffians to find her. Luk Maew gets some help from doctor Adul Dulyarat. As Rose has disappeared, the mother has already a new plan to marry her son Rin to another niece of Princess Pa, i.e. Duang Kaew (Kingdao Daranee). While visiting a school, Rin is hurt by a ball sent by Luk Maew. They meet for the first time. Rin brings Luk Maew back to his home. Luk Maew shall be the baby-sitter for his disabled niece. In the home, there are also Rin's mother and her two daughters Metta Roongrat and Preeya Roongrueng. Luk Maew is not welcomed. Luk Maew meets Preuhat Boonlong, being the father of the niece. He cannot meet his daughter as the mother considers him as a poor man. Sifu threatens Metta following a night she was drunk. Meanwhile ruffians think that Luk Maew and Rose are the same person. To be safe, Luk Maew flees from the house and claims to join her fiancé. Rin is disappointed and finally accepts to marry Duang Kaew per his mother's request. Luk Maew takes refuge in Preuhat's home and learns about the wedding through newspapers. About to leave home, Luk Maew is captured by Paen Pleumsachai and Sifu. Seeing the wedding card, Sifu decides to storm the wedding as he realises that his boss Dusit (Sawin Sawangrat) betrayed him. Sifu was supposed to marry Duang Kaew. Sifu shoots Dusit and plans to use Luk Maew as a hostage. Rin and Krai Kanchit storm Sifu's den to release Luk Maew. Metta Roongrat is the one, who shoots Sifu, to take revenge as he abused her when she was drunk. There is a misunderstanding as Luk Maew believes that only Krai helped to release her. Two lawyers ask the mother to pay her debts. Preuhat pays the debts and the mother accepts again Preuhat as son- in-law and apologizes for her misunderstanding. Disappointed, Rin is about to leave Thailand. Luuk Maew fails to meet him at the airport, but luckily thanks to Preuhat, the misunderstanding is solved.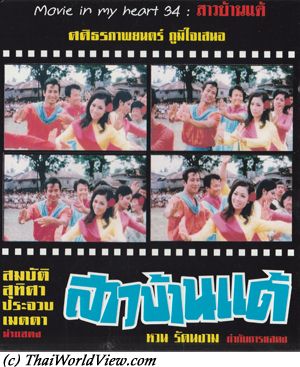 Year

: 1968



Thai title

:

สาวบ้านแต้




English title

:



Rating

: 4/5


Director

:



Main actor

: Sombat Methanee,Prachuap Ruekyamdee,Sukon Koewliam,Daonoi Duangjai,


Main actress

: Suthisa Putnuch,Metta Roongrat,Malee Wetpraseri,Mom Chan Phuangwan,Yaowaret Nisakorn,Preeya Roongrueng,Manat Boonkiet



Buy now

:

Thai movie สาวบ้านแต้ was released in year 1968 and lasts 2h23mn. It is available under VCD format by famous company XxX owned by Toh Pantamit. It is a romantic sad movie (หนังรักโศก). The image picture is still very colorful. Nawin (Sombat Methanee) and Khon (Prachuap Ruekyamdee) visit a village administrated by village leader Sukon Koewliam. Pong (Daonoi Duangjai) is their friend. Nawin, learning how to ride a bicycle, makes young lady Khangpu (Suthisa Putnuch) falling. ChangDee (Metta Roongrat) is her elder sister. Khangpu's mother was seduced by a Bangkok man many years ago and thrown away when she was pregnant. Due to shame, she got suicide. Khangpu doesn't know who her father is. So grandmother Malee Wetpraseri tries to prevent Nawin and Prachuap to meet the young ladies ChangDee and Khangpu. Better beware of Bangkok people (คนกรุงเทพ). They continue to follow the ladies up to an outdoor cascade or local market. Ruffian Ma tries to seduce and abuse Khangpu. Hopefully Nawin and his friends beat them away. Khangpu still cannot trust them per her grandmother's advice. Ma and ruffians are back. Nawin is injured at the head so he gets pity from the young ladies. Both Khangpu and Changdee love Nawin as Pong sent Nawin's love letter to the wrong person, i.e. Changdee. Nawin and Khangpu finally become lovers. Nawin has to go back urgently back to Bangkok per his mother's request. She found a fiancee called Orapin (Yaowaret Nisakorn) for him! Her sister Chana is played by Preeya Roongrueng. The mother rejects the request of Nawin to break the engagement. Khangpu believes Nawin has another wife in Bangkok. Khangpu is pregnant 3 months already. Months pass and Nawin is not back. Khangpu delivers a small boy. Wedding ceremony with Orapin is happening and many guests are joining the party. 3 years have passed and Khangpu is crying every day. The grandmother suggests they go to Bangkok to find Nawin. They find him and Nawin explains he was forced by his mother to marry Orapin. The mother (Manat Boonkiet) invites Khangpu (เมียบ้านนอก) to stay in her home but it is a trick. The mother, Orapin and Chana try everything to have Nawin breaks up with Khangpu. They succeed. Finally Orapin was having an affair with another man. It turns badly and she is strangled. Nawin is accused of murder but his friends can demonstrate that he is not guilty. Nawin and Khangpu can have happiness together.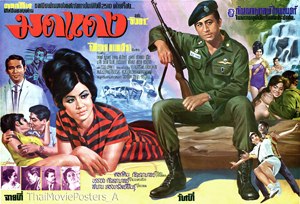 Year

: 1967



Thai title

:

มดแดง




English title

:



Rating

: 3/5


Director

: Dokdin Kanyaman



Main actor

: Mitr Chaibancha,Adul Dulyarat,Sawin Sawangrat,Pramin Jarujareet,Somchai Samipak,Lor Tok,Dokdin Kanyaman


Main actress

: Petchara Chaowarat,Chadaporn Wachirapranee,Manat Boonkiet,Orasa Isarangkul,Malee Wetpraseri,Somjit Sapsamruey
Thai movie มดแดง was released in year 1967. Main actors and actresses include Mitr Chaibancha, Petchara Chaowarat, Adul Dulyarat, Chadaporn Wachirapranee, อาคม มกรานนท์, Somjit Sapsamruey, บุษกร สาครรัตน์, อภิญญา วีระขจร, Sawin Sawangrat, Malee Wetpraseri, Manat Boonkiet, สิงห์ มิลินทราศัย, Pramin Jarujareet, ธัญญา ธัญญารักษ์, ละออ, Somchai Samipak, นาฏ นดา, ด.ญ. ศิริพร เทียนทอง, ด.ช.นวรัตน์ ไชนันท์, ด.ช.บัณฑิต กัญญามาลย์, Lor Tok, Orasa Isarangkul, Dokdin Kanyaman. Movie director is Dokdin Kanyaman. The film was never released on VHS / VCD / DVD format but a sequence in 35mm format can still be seen in Thailand in Thai Film Archives. It is a song lasting only 4 minutes. Petchara, Orasa Isarangkul, Dokdin Kanyaman can be seen in this remaining sequence. In Thai Film Archives, four songs in 35mm format have been restored in 2017. They were shown during the yearly commemoration related to Thai actor Mitr Chaibancha (รำลึกมิตร ชัยบัญชา).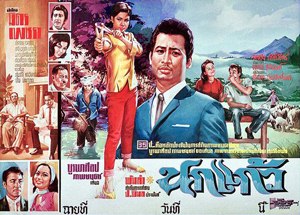 Year

: 1966



Thai title

:

นกแก้ว




English title

:



Rating

: 3/5


Director

: Phan Kam



Main actor

: Mitr Chaibancha,Adul Dulyarat,Prachuap Ruekyamdee,Lor Tok,Sukon Koewliam,Anucha Ratanaman


Main actress

: Petchara Chaowarat,Kaenjai Meenakanit,Prim Praphaporn,Sarinthip Siriwan,Manat Boonkiet
นกแก้ว is a 1969 Thai movie in 16mm format with no sound. It was directed by Phan Kam, who directed more than 60 movies in his whole career. Only 1h10mn is left. Only the first and last film reels are left. So it is difficult to understand accurately the whole story. Prachuap Ruekyamdee is Petchara's close friend. In a village on the countryside, Petchara Chaowarat catches Lor Tok trying to get fishes in their field. Sukon Koewliam is also having another comic role in the village. A grandfather in a wheel chair is talking to his son in Bangkok. As he is going old, he needs to prepare his succession. Petchara is his hidden granddaughter with another woman. The rich family siblings doesn't want her to receive anything. Anucha Rattanamarn is fiance with Kaenjai Meenakanit. They prepare a plan to disinherit Petchara. Mitr Chaibancha, the grandson, is offering flowers to the grandfather. There is a carnival in the village. Adul Dulyarat, a mysterious rich man, meets with Petchara. Petchara and Kaenchai meet also. She gives her a letter. What is inside the letter? Certainly a letter in which Petchara shall reject her rights to the heritage. Later on, Adul wants Petchara to sign a letter but she refuses so he slaps her. Adul threatens her mother to force Petchara to sign the letter. Meanwhile Mitr and Ruekyamdee enter secretly in the house where Petchara is held prisoner in order to help her. Shootings happen with ruffians but Thai police arrive on time to catch Adul. There is an important meeting to open heritage documents at the same time. Petchara arrives on time before the final signature! The grandfather was kept in the dark regarding Petchara by his own family but they all got arrested by police for forgery. Many movies names with Mitr and Petchara started with นก (bird) such as นกยูง (1969), นกแก้ว (1969), นกขมิ้น (1965) or นกน้อย (1964).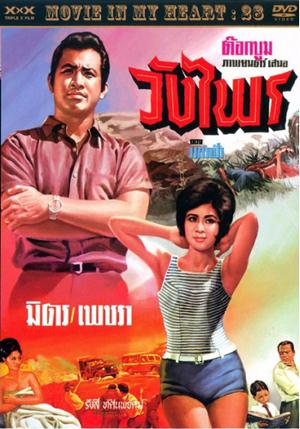 Year

: 1966



Thai title

:

วังไพร




English title

:



Rating

: 4/5


Director

:



Main actor

: Mitr Chaibancha,Adinan Singhiran,Preuhat Boonlong,Tat Ekathat,Lor Tok,Adul Dulyarat,Prachuap Ruekyamdee


Main actress

: Petchara Chaowarat,Kingdao Daranee,Somjit Sapsamruey,Preeya Roongrueng,Manat Boonkiet



Buy now

:

Thai movie วังไพร was released in year 1966 and it lasts 1h45mn. The original movie is certainly longer. It was released under VCD and DVD format by Thai company TripleX owned by former dubber คุณโต๊ะพันธมิตร. Rumours say there is a ghost (ผี) around Wang Prai (วังไพร) domain. Adinan Singhiran tries to prevent hunter Wikrom to go there. Wikrom is bitten by a snake (งูเจ้า) while entering in Wang Prai to find the ghost. Wang Prai is a 2500 rai domain. Kramom (Preuhat Boonlong) and Ekarin (Tat Ekathat) are now enemies (ศัตรูของพ่อ) due to old family stories over the domain possession. Chai (Mitr Chaibancha) is son of Kramom. Lor Tok is Kramon's attendant. Choompu (Kingdao Daranee) is one of Ekarin's daughter. Somjit Sapsamruey is Ekarin's wife. Prapayon (Preeya Roongrueng) wishes to marry Chai but this one has more interest in Koi (Petchara Chaowarat), Ekarin's second daughter. Chai's parents don't like Koi. In fact Chai doesn't approve elders' decision to be enemies. Phi Pong (Adul Dulyarat) is Koi's elder brother but he has disappeared for many years. In fact Pong is hiding in Wang Prai as he is disfigured following a virus caught during war. Chai is helping him and ghosts rumors are only there to frighten anybody to come near Wang Prai. Chai's brother (Prachuap Ruekyamdee), a doctor, comes back to Thailand with a lady called Nathalie and her kid. They are Pong's family. 500 000 baht are needed to cure him. Koi and Chai succeed to find enough money by lying to elders. Pong is finally cured but elders refuse to allow weddings between Chai Phi / Koi and Chai Nong / Choompu. So the youngsters simulate fleeing and hide in Wang Prai. As the grandchild is about to fall from a cliff, the grandfathers help each other and regain friendship. Weddings are authorised. Other actors / actresses are วิน, เปรมชัย, มนัส.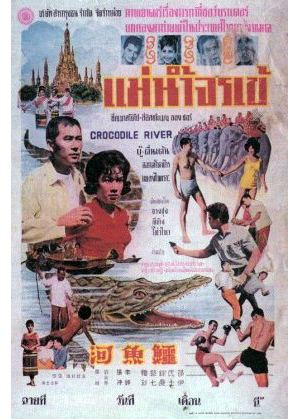 Year

: 1965



Thai title

:

แม่น้ำจระเข้




English title

: Crocodile River



Rating

: 3/5


Director

: Lo Wei



Main actor

: Paul Chang Chung,Man Teeraphol


Main actress

: Lee Ting,Yaowaret Nisakorn,Malee Wetpraseri,Manat Boonkiet



Buy now

:

The tragic romance 鱷魚河 - "Crocodile River" is a Shaw Brothers movie filmed in Thailand. Thainess is present through traditional dance (รำวง) in the village, Thai boxing match and master honorific dance (ครู), floating market, Tuk Tuk ride through Bangkok including Wat Phra Kaew and Grand Palace, Ananta Samakhom Throne Hall, Bangkok zoo, democracy monument, Wat Pho and even the royal barges on Chao Praya river, Wat Arun, Pattaya beach, Loy Krathong festival. It includes three well known Thai actors, i.e. Man Teeraphol, Malee Wetpraseri (ป้ามาลี เวชประเสริฐ) and Yaowaret Nisakorn. Crocodile River was Lo Wei's first film for the Shaw Brothers studio. Crocodile River movie features Romeo And Juliet-flavored story. Families are against each other. Yodi (Paul Chang Chung) is the Romeo and Lee Ting is his Juliet. The two students love each other from across a river that is filled with crocodiles. Families are living on opposite sides of the river. Hidden secrets between both families cause fights to happen. Yodi's parents try to push him to another girl but he is not interested. The girl tries to get his interest by using her sexy shapes but it is enough. Yodi swims across the river to be reunited with Lee Ting. Following a fight between Yodi and Lee Ting's brother (Man Teeraphol), Lee Ting cannot leave the house and her father removes all her clothes to ensure she doesn't going out naked. The girl's father uses saboteurs on his neighbors' property and they put fire in a barn. Finally Lee Tin flees from her house and swims across the river. Yodi helps her as crocodiles are converging towards her. But it is too late for both of them. Their death makes the two clans to pacify. Lee Tin's brother seems to be Yodi's father hidden son. This Shaw Brothers movie is a remake of Thai movie "จำปูน" (1964) featuring Man Teeraphol, Sor Asanajinda, Taksin Jampol, Somjit Sapsamruey, Tat Ekathat...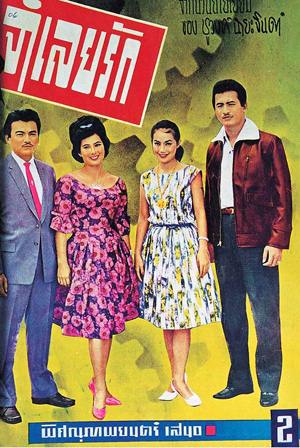 Year

: 1963



Thai title

:

จำเลยรัก




English title

:



Rating

: 5/5


Director

:



Main actor

: Mitr Chaibancha,Prachuap Ruekyamdee,Preuhat Boonlong


Main actress

: Pissamai Wilaisak,Amara Asavananda,Sulaleewan Suwanthat,Manat Boonkiet,Malee Wetpraseri
Thai movie จำเลยรัก was released in year 1963. This movie features Mitr Chaibancha as main actor and Pissamai Wilaisak as main actress. The movie is lost in Thailand but a succession of sequences lasting one hour and 20 minutes is left to be seen. It is remaining out take sequences session (หลุด). The remaining film was dubbed and shown in Thai Film Archives in year 2017. Another version of จำเลยรัก was released in year 1978 through a DVD still available. It features Phairoj Sangwaribut and Naowarat Yooktanun. Two brothers, Narin and Narit (Mitr Chaibancha), are arguing. The youngest brother Narin loves a woman called Satsanee. As the love is not blossoming, he gets suicide. Satsanee (Amara Asavananda) and younger sister So (Pissamai Wilaisak) are part of a rich family. Her parents are played by Preuhat Boonlong and Manat Boonkiet. Her aunt by Malee Wetpraseri. Domestic helper is played by Sulaleewan Suwanthat. Believing So is Satsanee, the elder brother Narit blames So and announces to her that Narin is about to die. It is her last chance for her to see him. She follows Narit without warning her other family members. She understands too late that Narit kidnaps her. Narit wants her to pay for her sins (การใช้บาป). She claims she is not Satsanee but So! He doesn't listen. Satsanee meets Wat (Prachuap Ruekyamdee). Narit doesn't want to release So as he is concerned she would lie to other men again. Ruffians led by Khun Wiset threatens Narit to sell his tin mine but he refuses. On the way to the city, Narit helps Wat, whose car has a flat tire. While having a drink, he learns that Narit just engaged with a young lady called Satsanee! Lady Boonkrai tries to frame So by pushing Bai to rape her. Narit is very upset with So as he believes she keeps seducing men such as his brother Narin, Bai and Wat so he keeps her captive so that she pays her moral debts (ชดใช้). Narit knows the truth as So speaks while having a nightmare. Narit excuses himself about his behavior. So asks him to give pardon (ขออภัย) but Narit refuses as he lost his brother. Love emerges between Narit and So. Ruffians attack the tin mine. Narit defeats their leader and confronts the owner of another mine, khun Wiset, that tried to steal his belongings. So cares for Narit, who was slightly injured during the fightings. Narit offers a pendant to So. So is back to her home. Satsanee wants to know where So has disappeared. Satsanee is engaged with Wat. Nariti finally meets Wat and the real Satsanee. Satsanee borrows So's pendant. Bai realizes that Boonkrai was lying to him. Boonkrai also lies to Satsanee about Wat having an accident. Boonkrai and Hin have a plan. Narit and Wat storm the ruffians' place to release Satsanee. Narit defeats Hin. Satsanee wishes to stay her whole life with Narit. Wat and Narit go back to Bangkok by train. Satsanee breaks up with Wat and gives back her engagement ring (ถอดหมั้น). Narit buys an engagement ring. Narit visits Satsanee's parents and Satsanee believes Narit is asking for her hand. Narit asks for So's hand causing Satsanee's despair! It was a trick for Satsanee to suffer and understand the suffering she caused to others. Narit doesn't want to meet Satsanee anymore and chases her away. Satsanee finally goes to see Wat back at the hospital and they engage again. Narit and So can have happiness. Three songs are featured in the movie.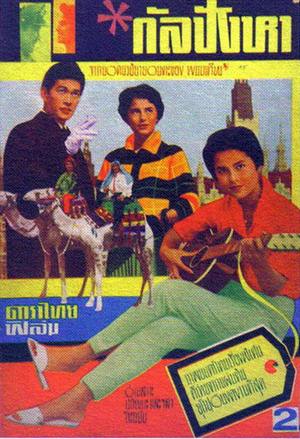 Year

: 1962



Thai title

:

กัลปังหา




English title

:



Rating

: 3/5


Director

: Wichit Khunawut



Main actor

: Chana Sriubon,Ruj Ronnapop,Sukon Koewliam,Preuhat Boonlong,Boo Wibunnan


Main actress

: Kesarin Patamawan,Amara Asavananda,Manat Boonkiet
Thai movie กัลปังหา was released in year 1962. It features Chana Sriubon as main actor and Kesarin Patamawan as main actress. Back from overseas, Kung (Kesarin Patamawan) doesn't want to study anymore as she is old enough. His parents are worried she just wants to have fun with friends. Kung has met Chris (Chana Sriubon) in Italy. Back to Thailand, she meets a fisherman called Naemai (also played by Chana Sriubon) near her home and sympathizes with him. Other actors are Ruj Ronnapop and Boo Wibunnan. She even forces her way (คนดือ) on his boat to see how the life on a boat is. But she takes unreasonable risks. Romance starts between them. Kung receives a request for engagement from Chris. Naemai is arrested by the police. Naemai is Chris' younger brother. Finally aware of the love between Naemai and Kung, Chris breaks his engagement with Kung and lets them having happiness. A VHS from the 16mm film was released in 1992 at the same time as Thai movie สาวน้อย. Director of this movie is famous director Wichit Khunawut. Thai actress Kesarin Patamawan (เกศริน ปัทมวรรณ) played in less than 10 movies before moving to USA. Chana Sriubon played in many other movies with various famous actresses such as in แม่ (with Ratanaporn Intarakamhaeng), ยอดพิศวาส (with สุทิน บัณฑิตกุล), จอมใจเวียงฟ้า (with Metta Roongrat), ก่อนอรุณจะรุ่ง (with Prapan Narkthong), โรงแรมนรก (with Sarinthip Siriwan), สองฝั่งฟ้า (with Pissamai Wilaisak), หมอกสวาท (with Petchara Chaowarat). A remake of movie กัลปังหา with Jarunee Sooksawad, Sorapong Chatree and Nirut Sirijanya was released in year 1985.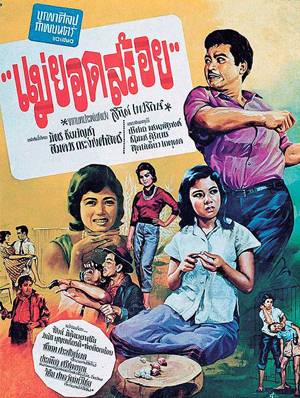 Year

: 1962



Thai title

:

แม่ยอดสร้อย




English title

:



Rating

: 3/5


Director

:



Main actor

: Mitr Chaibancha,Somkuan Krajangsat


Main actress

: Prisana Pomsura,Manat Boonkiet
Thai movie แม่ยอดสร้อย was released in year 1962. It features main actor Mitr Chaibancha and main new actress Prisana Pomsura (ปริศนา พรหมสุรางค์). Other actors are Somkuan Krajangsat as policeman, Lor Tok Noi (ล้อต๊อกน้อย). The film is lost in Thailand but a trailer of 3mn30s is still available. Mitr is playing a role as Mom Ratchawong Waipot. The cameraman for this movie is a woman. It was the first time in Thailand. The movie features two main actresses, who are playing sisters role, i.e. Prisana Pomsura and Sutchalio Ketpon (สุดเฉลียว เกตุผล). Mitr Chaibancha is involved in a few fighting sequences. Other actors and actresses include สิงห์ and มนัส.
---