Increase or decrease font size for easier reading : A+ A-
Man Teeraphol
Man Teeraphol (1936) - แมน ธีระพล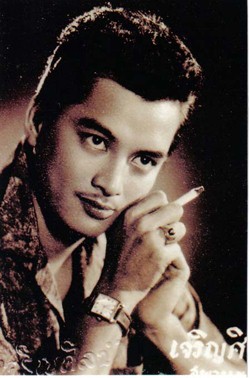 Man Teeraphol has played in more than 50 movies from 1958 to 1977
This Man Teeraphol movie page contains 34 records.
---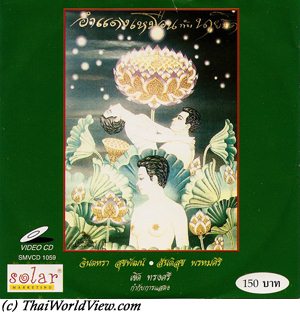 Year

: 1994



Thai title

:

อำแดงเหมือนกับนายริด




English title

: MUEN and RID



Rating

: 5/5


Director

: Cherd Songsri



Main actor

: Santisuk Promsiri,Man Teeraphol,Ron Rittichai


Main actress

: Jintara Sookkapat,Duangdao Jarujinda



Buy now

:

Prior to 1865, women had no status in Thai society. They were looked down on as object with no significant value. Their parents and husbands had the right in law to pawn or sell them, just as they could pawn or sell their cattle. Hence the old Thai saying: "Women are buffaloes, men are humans". Muen was the daughter of peasants in Nontaburi Province. During a storm, she almost drown and was saved by a young monk called Rid. As she was love with the monk, she wanted to be close to him and succeeded to convince the temple abbot to be able to go to the temple school. Despite Thai society obstruction that thought that knowledge was useless for women, she learnt how to read and write. Her parents were trying to force her to marry Poo, who had alread several wives. She managed to escape and took refuge with Rid, who has left the monkhood for her. When he discovered where she was, Poo claimed under the law that Rid had abducted his wife. Muen was arrested, and suffered abuse and mistreatment in Jail. But she never gave up hope, and managed to escape and submit a petition to King Mongkut. She condemned the law as being unfair, and condemned Thai society for condoning men's exploitation and abuse of women. She faced the death penalty for her temerity; Thai society had lived by and respected the laws she attacked for centuries. The King issued a Royal Decree granting her a pardon. Based on a true story, the film celebrates an early case of a struggle for women's rights in Thailand, which resulted in a decree promulgated by King Mongkut in December 1865.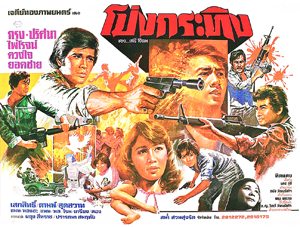 Year

: 1979



Thai title

:

โป่งกระทิง




English title

:



Rating

: 3/5


Director

:



Main actor

: Krung Srivilai,Dam Datsakorn,Yodchai Meksuwan,Phairoj Jaising,Man Teeraphol


Main actress

: Prissana Chabaprai,Duangjai Hathaikarn
Thai action movie โป่งกระทิง was released in year 1979. Main actors are Krung Srivilai and Prissana Chabaprai. This movie is lost in Thailand. The three last reels are only left to be seen. Phairoj Jaising and three ladies (Duangjai Hathaikarn, Prissana Chabaprai) including Kaew are having issues with ruffians. They decide to fight back. Shootings are exchanged with ruffians. Krung Srivilai as policeman (หัวหน้าสถานีคนใหม่) tries to arrest the ruffians. Det (Dam Datsakorn) and Man Teeraphol are the ruffians' leaders. Yodchai Meksuwan is subdistrict headman. Det is using bad influence (อิทธิพล) over the area. Det and Phi Khun are buying weapons (อาวุธ). Their den is surrounded by policemen led by Krung but they refuse to give up. Heavy shootings happen. Det is finally captured.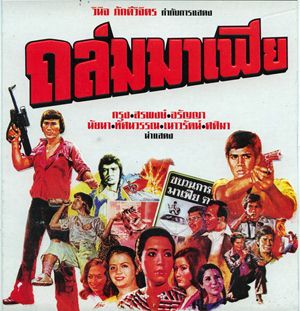 Year

: 1977



Thai title

:

ถล่มมาเฟีย




English title

: Mafia defeated



Rating

: 4/5


Director

: วินิจ ภักดีวิจิตร



Main actor

: Paen Pleumsachai,Pipop Pupinyo,Krung Srivilai,Lor Tok,Sayan Chantaraviboon,Chat Mongkolchai,Somchai Samipak,Sorapong Chatree,Sukon Koewliam,Nirut Sirijanya,Lak Apichat,Manop Aussawathep,Kecha Plianvithee,Boo Wibunnan,Kanchit Kwanpracha,Adul Dulyarat,Man Teeraphol


Main actress

: Naiyana Shewanan,Chosri Misommon,Tasawan Saneewong,Aranya Namwong,Naowarat Yooktanun,Sasima Singsiri
Thai movie ถล่มมาเฟีย (Mafia defeated) was released in year 1977 and lasts 1h54mn. It was released under VCD format by company XxX (Triple X). One song is featured. Movie director is วินิจ ภักดีวิจิตร. Thai actors and actresses featured in this movie are Paen Pleumsachai, Pipop Pupinyo, Krung Srivilai, Lor Tok, Sayan Chantaraviboon, Chat Mongkolchai, Naiyana Shewanan, Somchai Samipak, Sorapong Chatree, Chosri Misommon, Sukon Koewliam, Tasawan Saneewong, Nirut Sirijanya, Lak Apichat, Manop Aussawathep, Kecha Plianvithee, Aranya Namwong, Naowarat Yooktanun, Boo Wibunnan, Kanchit Kwanpracha, Adul Dulyarat, Sasima Singsiri, นรา นพนิรันดร์, Man Teeraphol, ชินดิษฐ์ บุนนาค, เมือง อพอลโล, จวบ, โจ๊ก, สุเทพ เหมือนประสิทธิเวช. This movie includes an impressive number of 30 Thai stars from decade 1970s. Sorapong Chatree, Nirut Sirijanya, Lak Apichat play bad guys in this movie. Normally they always play on the good guys side. Five ruffians including Paen Pleumsachai and Pipop Pupinyo are waiting (มาไม่ดี) for Yot Baramee from Suphanburi. Yot (Krung Srivilai) was just released from prison. Ruffians accuse him of murder but get defeated by Yot. Yot's friends are Lor Tok, Dip (Sayan Chantaraviboon), Han (Chat Mongkolchai) and Baan Yen (Naiyana Shewanan). Krieng (Man Teeraphol) accuses Yot to have killed his father. To avoid causing more issues in the village, Yot leaves for Bangkok with Dip and Lor Tok. Kamnan Somchai (Somchai Samipak) has three children, Mike (Sorapong Chatree), Baan Yen and Yot, being an adopted child. Somchai recommends Yot to contact Mike in Bangkok. Chosri Misommon is playing a crazy secretary, working in company Mike Engineering. Yot, Ding and Lor Tok are looking for job in Bangkok. Mike is not so willing to help as he has only low skills jobs to offer. Songtaew driver (Sukon Koewliam) and receiver (Tasawan Saneewong) have issues with ruffians asking for protection fee. Yot and Dip help and fighting with ruffians occurs. Thai mafia is very powerful and has strong influence. Yot is upset with Thai mafia and would like to stop them. Saem (Nirut Sirijanya) and Lak Apichat, mafia members, visit bars to get money donations (ทำบุญ). Saem and Lak threaten bar owner Chindit (ชินดิษฐ์ บุนนาค) so they have arguments with Yot and Dip, having a drink there and always wishing to help. Policeman Samit (Manop Aussawathep) arrests them. Chindit helps to release them from jail. Sompong (Kecha Plianvithee) is having Watanee (Aranya Namwong) as new girlfriend. His daughter Busalin is back from studying in USA. Busalin (Naowarat Yooktanun) is welcomed in Bangkok by Mike. Saem and Lak try to shoot Yot and Dip, but they succeed to flee thanks to Watanee's car passing by. Mike is part of mafia team working for Sompong. Mike orders Chindit's bar to be closed seven days but Yot and Dip interfere again. Satra (Kanchit Kwanpracha), part of mafia team, asks to kill Yot. Sompong threatens to kill Yot's friends if he refuses to work for him. Satra accuses Mike. Baan Yen is captured by ruffians, who kill her father Somchai and Han. Yot is accused of the murders. Mafia Italy Don Vito (สุเทพ เหมือนประสิทธิเวช) is visiting Thai mafia to show unification. Learning his father's death, Mike tries to shoot Yot despite they are brothers (น้องชาย). Han is not dead and discloses that Krieng is responsible of the murders. The one behind is Satra pushing Mike and Yot against each other. Baan Yen understands the truth. Surapong (Adul Dulyarat), head of police, and his team storm the mafia's den. Yot and his friends are leading. Busalin understands that his father and his ruffians are betraying Thailand (ทำร้ายชาติ). The movie ends up in multiple shootings with Mike and Satra shooting each other, Yot shooting Sompong. Mafia is defeated.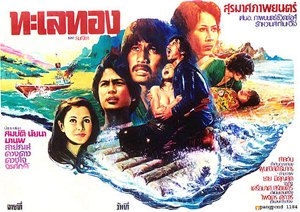 Year

: 1975



Thai title

:

ทะเลทอง




English title

:



Rating

: 4/5


Director

:



Main actor

: Sombat Methanee,Man Teeraphol,Manop Aussawathep,Sayan Chantaraviboon,Choomporn Theppitak


Main actress

: Naiyana Shewanan,Duangdao Jarujinda
Many years ago, Laem Kun Thalae (Sombat Methanee) and Mae Plae (Naiyana Shewanan) were tied to a pole, beaten and left to die in the sea. Laem Kun Thalae survived thanks to his friend Fong but Mae Plae died. Their child was left to a teacher. Many people believed they both died in the sea during high tide. The teacher has three children, i.e. one boy, Pu (Sayan Chantaraviboon), and two daughters, Nang (Naiyana Shewanan) and Neua Oon. Nang is the baby given many years ago. Nang is hard worker but Neua Oon is lazy. Sak, son of Sou (Man Teeraphol), a local ruffian, always wants to bring the two sisters out but Pu refuses and Nang is not interested to go. Sak becomes lover with Neua Oon (ได้เป็นเมีย). Kun (Sombat Methanee) and his friend Fong (Manop Aussawathep) are always seen around. Kun always helps Nang in difficult situations. Pradet (Choomporn Theppitak) is the local policeman officer but is bending to Sou. Sou wishes Pradet to arrest Kun as he is a trouble maker. Nang and Sak's two sisters (Nit and SiriPorn) are kidnapped by overseas woman traffickers. They are rescued by a boat carrying Kun, Sak and Pu. Kun decides then to keep Sak and his sisters as hostage. They take refuge on an island. Pu and Siriporn become lovers. There is a suggestion for Kun to surrender to police (มอบตัว) as Sou is following up them. Nit (Duangdao Jarujinda) promises to help as she loves Kun. Kun doesn't believe in the police fairness so he flees with Nang. As the action is taking place close to Cambodia border, their boat gets attacked by red Cambodian soldiers. They have to jump from the boat but are caught up in a storm. They are finally protected by Mae Plae's spirit (วิญญาณ) and rescued by a boat. Sou and his ruffians team capture Kun and Fong. They are ready for a final vengeance. Nit believes Kun and Laem Kun Thalae are the same individual. Situation is reversed thanks to Kun's skills. Sou, Sak and Nit are now prisoners under Kun. The policeman Pradet agrees to speak and discloses what really happens many years ago between him, Sou and Laem Kun Thalae. Finally Nang's real father is policeman Pradet. His wife Sai is Sou's younger sister. Pradet has a short relationship with Mae Plae. Through jealousy, Sai and Sou took vengeance on Mae Plae and innocent Laem Kun Thalae. So Kun and Laem Kun Thalae are the same man. Despite his initial desire for vengeance, Kun leaves it away and stays with Nang. Thai movie "Thalae Thong" (ทะเลทอง) was released in 1975.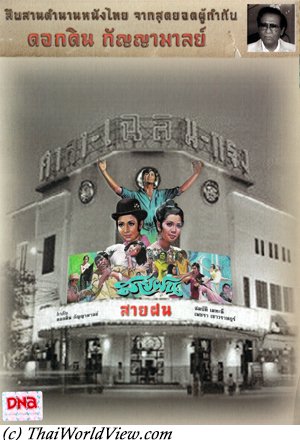 Year

: 1973



Thai title

:

สายฝน




English title

:



Rating

: 4/5


Director

: Dokdin Kanyaman



Main actor

: Sombat Methanee,Man Teeraphol,Dokdin Kanyaman,Choomporn Theppitak,Prachuap Ruekyamdee,Sawin Sawangrat


Main actress

: Petchara Chaowarat,Suthisa Putnuch,Orasa Isarangkul,Donnapha Sophee,Chadaporn Wachirapranee,Somjit Sapsamruey



Buy now

:

Thai movie สายฝน was released in year 1973 and last 2h33mn. It was released under DVD format by company Happy Home Entertainment. The picture is sharp and colorful. Three songs are featured in the movie. Sathit (Sombat Methanee) is a former football player, who failed to have success. Sathit gives back his room keys to his landlord Chadaporn Wachirapranee, quits university and is going back home to Sukhothai. Sathit has to go back urgently (เรื่องยุ่งๆ). Young lady Kaewta (Suthisa Putnuch) is disappointed as she believes there is a love story behind his sudden return. Sathit meets Saipin (Petchara Chaowarat), student coming back from USA, in the train. Likay (Orasa Isarangkul) and Cheunchai (Man Teeraphol) welcome Saipin in Phitsanulok. Uncle Jing (Dokdin Kanyaman) is a teacher and Deuan (Donnapha Sophee) is his daughter. Saming (Choomporn Theppitak) and Sataya (จีรศักดิ์ ปิ่นสุวรรณ) have arguments with Sathit and Jing. Saipin is uncle Saeng's daughter (Prachuap Ruekyamdee). Saeng owns the land where Jing's school is located, and all local villagers are indebted to him. Sathit's mother is played by Somjit Sapsamruey (ลูกไม่รักดี), being almost blind. Half of his land was sold to Saeng to pay for Sathit's studies, so she is upset that he stops studying. Kaewta is a new teacher arriving in Jing's school. She wishes to be close to Sathit. Sataya wishes to marry with Deuan. Love triangle occurs between Sathit, Kaewta and Saipin. Saming and Cheunchai manage an illegal game den (บอล) where villagers get poorer. One villager hangs herself due to debts. Sathit decides to get rid of this underground den. Deuan is pregnant with Sattaya but he refuses to recognize his paternity. Sathit calls the police to have the den closed. Upset, Saming decides to get rid of Sathit. Sathit organizes a rebellion to increase the salary of the farmers paid by Saeng. Sawin Sawangrat is part of the rebellion. Saipin helps the villagers by buying food for them (แจก) but villagers are reluctant to accept. Saipin gives secretly money to the mother to pay back her debt. The ruffians burn Sathit's fields to prevent him selling goods to help villagers. Sathit wishes to get revenge but Kaewta calms him down. Sathit loves Kaewta like a sister (น้องสาว). Sad, she wishes to go back to Bangkok, but she finally stays because of poor children needing her. Due to money conflict, Saming kills Cheunchai. Rats eat the supply so even Sawin dies due to disease. Saipin lets the farmers take the rice inside Saeng's barns. Upset, Saeng chases Sathit. Saming is also shot by Saeng. About to shoot Sathit and Jing, Saeng understands that Saming was the one being dishonest with farmers by using the den to make them poor and buying their land at low price. The movie ends up with Thai King Rama IX car convoy passing by and rain falling through a cloud having the Royalty symbol shape.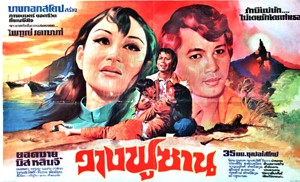 Year

: 1973



Thai title

:

วางฟูซาน




English title

:



Rating

: 3/5


Director

:



Main actor

: Yodchai Meksuwan,Sukon Koewliam,Lor Tok,Pipop Pupinyo,Thep Thienchai,Man Teeraphol,Joomjim Khemlek


Main actress

: Ling Yin,Metta Roongrat,Sisala Thongtara,Wassana Chalakorn
Thai movie วางฟูซาน was released in year 1973. The movie is lost in Thailand but a sequence of 19 minutes remains to be seen. Main actor is Yodchai Meksuwan and main actress is a Hong Kong actress named Miss Ling Yin (มิส หลินจี). Other actors and actresses include Sukon Koewliam, Metta Roongrat, Joomjim Khemlek, Sisala Thongtara, พนม นพพร, Man Teeraphol, Wassana Chalakorn, พูนสวัสดิ์ ธีมากร, Pipop Pupinyo, Lor Tok, สีเผือก, ศรีสุริยา, Thep Thienchai. Men (Yodchai Meksuwan) comes to Hong Kong to perform Thai boxing fighting matches. He is also a gambler. Men is not allowed to enter a casino anymore as he is responsible of the pregnancy of the owner's daughter called Lin. So he has to go back to Thailand. Meanwhile Lin is waiting for him. Later on Men meets Lin again in a Bangkok bar where she is a singer. Seeing she is pregnant, Men brings her in a rented house for her to deliver the baby. He uses Lin's money to indulge other women. Men is seen with Sisala Thongtara and is carrying her packets. Lin is the one supporting financially Men. As the money is running out, Lin is expelled from the house. She ends up in Phetburi and gives birth to a little girl called Liu. Many years later Liu, now a young girl, finds Men full of blood as he has been beaten by local ruffians. She brings Men to her mother Lin. Lin finally forgives Men. Men becomes finally a good guy. One day while he goes to the market, he finds Thai police in his home arresting Lin as her visa is over. Back to Hong Kong, Lin goes back to the place called Wang Fu San. Seeing no hope in her future, no hope to see again Men and her daughter, she decides to jump from a cliff. Hopefully Men and Liu arrive just in time to stop her.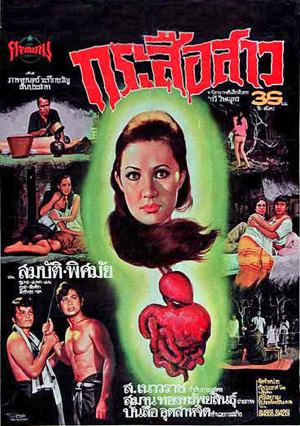 Year

: 1973



Thai title

:

กระสือสาว




English title

: will-o'-the-wisp



Rating

: 4/5


Director

: ส.เนาวราช



Main actor

: Sombat Methanee,Choomporn Theppitak,Sawin Sawangrat,Lor Tok,Songthong,Man Teeraphol,Tat Ekathat,Chao Klaewklong


Main actress

: Pissamai Wilaisak,Metta Roongrat,Sulaleewan Suwanthat,Orasa Isarangkul
Thai movie กระสือสาว / "will-o'-the-wisp" was released in year 1973 and lasts 1h43mn. The movie was never released under VHS/VCD/DVD format in Thailand. Thai movie กระสือสาว was released in 35mm film format and brought new Fx effects in 1973 such as double impression to show the spirit quitting the dead body. It took 3 to 4 months to be shot in the jungle. Thai Film Archives has still a 16mm copy as, in 1973, 16mm projectors were still popular in provinces. Thai Film Archives got it from a donation from a company showing outdoor movies in villages (หนังขายยา). The movie is a bit like the "Nang Nak" movie scenario. It was released under VHS format in Sweden with the original picture, Thai sound and with Swedish subtitles, under the name "Ghost of Guts Eater". The original movie is probably a bit longer as some still pictures show sequences are not present in the Swedish VHS. In the 1970s, a few Thai movie rights were sold in Scandinavia. This movie shows interesting traditional behaviors and patterns such as traditional baby delivery, staying above a hot pot after delivery (การอยู่ไฟ), 100 days ceremony after a relative death, vision of people without head indicating forthcoming death, hidden treasures kept by deity and signalled by an ignis fatuus, Kraseu ghost belief, love filters. Thai movie กระสือสาว is about a traditional folklore ghost called Kraseu (กระสือ). It is a filth-eating floating ghost with a head, a trailing heart and intestines. This ghost loves to eat cordon umbilical and placenta from newborn babies (ผีกระสือจะมากินรกเด็ก). Thai movie กระสือสาว scenario was written by ทวี วิษณุกร and released in two cartoon books in year 1968. Villagers found many dead chickens in their farm. They were eaten by a Kraseu ghost. Villagers followed the floating ghost and hit it critically. A grandmother (Sulaleewan Suwanthat) was in fact possessed by the ghost. Before dying, she gives a ring to her granddaughter, Bua Klee (บัวคลี่)(Pissamai Wilaisak), and asks her not to burn her corpse (so opposite of Thai tradition เผาศพ). Bua Klee then becomes possessed by the Kraseu ghost (ถูกวิญญาญกระสือ). Boon Muang (บุญเมือง)(Sombat Methanee) is her husband. Chat (ฉัตร)(Man Teeraphol), a local thug, still tries to seduce her. Phi Chood (จู๊ด)(Choomporn Theppitak), Boon Muang's closest friend, and Boon Muang chase Chat away. Bua Klee is now pregnant. The Kraseu spirit is inside the ring and is hungry (ไปหากิน). Bua Klee goes outside to look for filthy food and is identified by a villager. She is named as Krasao Sao (กระสือสาว) as the ghost has a young and pretty face! A fight erupts between Chat and Boon Muang as all villagers claim she is a ghost (ผีกระสือ). Boon Muang refuses (ไม่เชื่อ) such allegations but the villagers push him to verify if his wife is a ghost. So he hits her with a stick to chase the ghost but nothing is happening except tears from Bua Klee. A local shaman (หมอผี) Pradit (Tat Ekathat) invokes a dead spirit (ผีโขมดพราย) to take revenge on Boon Muang and Bua Klee. Yomatut, the hell guardian, comes to get his life as he is a nasty man (ลงนรก). Boon Muang decides to leave the village. They take refuge in a relative home, i.e. uncle Chaeng (Sawin Sawangrat). Bua Klee meets another Kraseu old ghost in the village. Bua Klee is delivering her baby in traditional Thai way by holding a rope attached to the ceiling. The Kraseu old ghost and its husband try to steal the baby. Boon Muang fends them off and hits back. The husband (ผีกะหังและกระสือแก่) dies and the Kraseu old ghost dies in the early sunshine. Boon Muang visits the sub district headman of Dong Dok Kaew area (Chao Klaewklong) to bring him some gifts from uncle Chaeng. Madeua (Metta Roongrat) is the daughter of the sub district headman and is fond of Boon Muang. While accompanied by Madeua, Boon Muang is shot in the arm by Chat. Madeua is disappointed to learn that Boon Muang is already married. She used love potions trick to make him forget his wife and son (เสน่ห์ยาแฝด). Meanwhile Bua Klee wishes to get a treasure (สมบัติ) by seeing an ignis fatuus. When a flame is coming from the ground, it is a spirit haven according to traditional belief. She can get the treasure by showing her nudity! But finally, she needs to give the treasure back to the guardian as she still needs to pay for karma (กรรม). Boon Muang and Madeua marry. Following Bua Klee's request, Uncle Chaeng goes to the subdistrict headman home. The son Chiep is also coming with a sacred thread to recover his father. On the way Chaeng and Chiep see each other without a head! This is a bad omen indicating a forthcoming death! Uncle Chaeng has to shoot Madeua to protect Chiep. The sub district headman wishes to avenge his daughter. Uncle Chaeng and Chiep are shot dead during the fight. Chood is beaten by Chat. Bua Klee finds uncle Chaeng and Chiep dead bodies. Both Chood and Boon Muang are captured by Chat and the sub district headman. Bua Klee interferes as a Kraseu ghost and causes the sub district headman and Chat to shoot each other. Boon Muang refuses to go back with Bua Klee as she is a Kraseu ghost. Following advice from a hermit, finally the body of the grandmother is burnt, and Bua Klee becomes a normal human being again.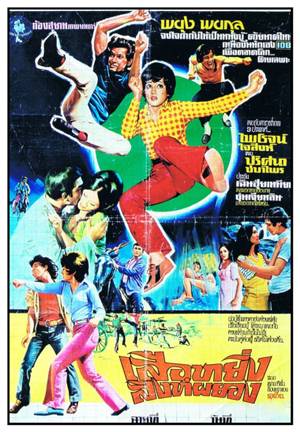 Year

: 1973



Thai title

:

เสือหยิ่งสิงห์ผยอง




English title

: Spirits of Bruce Lee



Rating

: 3/5


Director

:



Main actor

: Phairoj Jaising,Michael Chan Wai-Man,Man Teeraphol,Choomporn Theppitak,Paen Pleumsachai


Main actress

:
Thai HK co production movie เสือหยิ่งสิงห์ผยอง / Spirits of Bruce Lee / 猛蛟閗地蛇龍女 lasts 1h34mn. Such HK movies normally last around 1h30mn (TV format) but the Thai version was often more than 2 hours. This movie is lost in Thailand but as it was a Thai HK co production, it could still be found overseas under VHS format. A Chinese jewel trader is betrayed and killed in Mae Sai area. Later on Yu (Phairoj Jaising known in Chinese as Poon Lok!) is facing local bunch of thugs. Chan (Michael Chan Wai-Man) helps Yu. Chan is looking for his lost brother involved in jade trade. Old rural life scene such as a cart with buffaloes can still be seen. Having learnt that his brother disappeared, Chan looks for him all around the small city of Mae Sai. He meets Mr Wang, owning a tea shop. Paen Pleumsachai is supporting Yu. Chan knows that his brother is now dead so he enquiries on the murderers. Choi Nan, daughter of Mr Wang, supports and helps Chan. They find Sompon, who is wearing the brother's watch. He bought it from Taimoo, who is linked to local powerful kingpin called Min Pan Tim. In his team Man Teeraphol and Choomporn Theppitak can be found. Chan kills Choomporn believing he is Min Pan Tim. Min Pan Tim injures him in the leg but Chan succeeds to flee thanks to Yu. Chan recovers thanks to Choi Nan. Ruffians burn their house but fail to find them. Knowing that Min Pan Tim has given a day off to most of his ruffians, the four friends storm his house. During the fightings, Mr Wang is killed but Min Pan Tim is defeated also. Surrounded by ruffians, Yu, head of police, helps Chan and Choi Nan on time.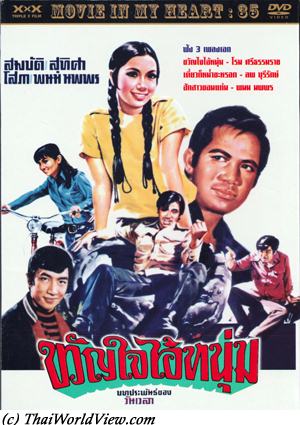 Year

: 1972



Thai title

:

ขวัญใจไอ้หนุ่ม




English title

:



Rating

: 3/5


Director

:



Main actor

: Sombat Methanee,Anucha Ratanaman,Man Teeraphol


Main actress

: Suthisa Putnuch,Sopha Sataporn,Wassana Chalakorn



Buy now

:

Thai movie ขวัญใจไอ้หนุ่ม was released in year 1972 and lasts 1h45mn. It is available under DVD format by famous company XxX owned by Toh Pantamit. Num (Sombat Methanee) is a truck driver (สิบล้อ). He is working for Tia. Raemjai (Suthisa Putnuch) is harassed by ruffians. ปากหวานกับเด็กบ้านนอก. Anucha Ratanaman, driver of minibus (สองแถว), loves Raemjai also so there is jealousy between the two men. The movie features a few songs. Those songs are shot in 35mm format as this format allows image and sound together. The 35mm image is more damaged than the 16mm image as the film is less resistant to time damage. The movie itself is in 16mm format so in the past, dubbers were needed. Such 1970s decade movie include various style to please the whole audience such as action, romance and a bit of spice with a typical waterfall scene where the actress Wassana Chalakorn swims in the water. Head of ruffians (นักเลง) Sakda loves Raemjai also. As Phaen, Raemjai's brother, has debts in Sakda's underground casino, Sakda is pushing him for a wedding with Raemjai. Num punches Sakda's ruffians being irrespectful with Raemjai. Tia's daughter (Sopha Sataporn), called Deuan, doctor student, is back from Bangkok. Ponsak (Man Teeraphol) is Sakda's son. Taking profit that Num is working in Bangkok and the brother Phaen away, Sakda rapes Raemjai at nighttime. Ponsak harasses Deuan so Anucha intervenes. As he is about to be defeated, other minibus drivers help him. Back from Bangkok, Raemjai announces that she is breaking up with Num as she is not suitable anymore. Only Raemjai's brother knows the truth. Shocked, Num leaves very angry. Drinking alcohol, Num is informed by his friends that Raemjai has been kidnapped by Sakda. Num storms Saksa's house with the help of Anucha and minibus drivers. Hopefully Thai Police arrives on time as ruffians have guns. Shootings happen. Phen and Saksa shoot each other. Before dying, Saksa announces that he didn't touch Raemjai that night due to his heart decease (โรคหัวใจ). Num and Raemjai can have happiness. Deuan goes back to Bangkok as she knows she cannot get Num's love.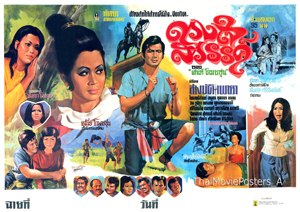 Year

: 1971



Thai title

:

ดวงใจสวรรค์




English title

:



Rating

: 3/5


Director

:



Main actor

: Sombat Methanee,Sukon Koewliam,Anucha Ratanaman,Choomporn Theppitak,Man Teeraphol,Daonoi Duangjai,Sithao Petcharoen,Krong Kangkengdaeng


Main actress

: Petchara Chaowarat,Khomapat Attaya,Marasri Isarangkul
Thai movie ดวงใจสวรรค์ was released in year 1971. The movie is lost in Thailand. Only a short left colorful sequence lasts 6 minutes and the image is quite damaged. The remaining sequence is in mute state as the reel is in 16mm format. Main actor is Sombat Methanee and main actress is Petchara Chaowarat. Other actresses and actors are Man Teeraphol, Khomapat Attaya, วิน วิษณุรักษ์, รุจิรา อิศรางกูร,เทอด ดาวไท, พุทธพงศ์, เตือนใจ บุญพระรักษา, ณรงค์, Daonoi Duangjai, Marasri Isarangkul, จิตตรา, Sukon Koewliam, เสน่ห์ โกมารชุน, ถนอม นวลอนันต์, Krong Kangkengdaeng, Sithao Petcharoen, สีเผือก, ศรีสุริยา. It is probably an historical romantic movie as people wear old style clothes. Various sequences are left but main actor and main actress cannot be seen. A rampage seems to have happened in a house. A man helps an unconscious man on the floor. He then dies. A young lady finds her mother dead on the floor also. A reddish sequence shows Anucha Ratanaman in a bar talking to barman. Anucha Ratanaman is upset by two other men and leaves the bar. Another sequence shows three armed men led by Choomporn Theppitak. Three comic men including Sukon Koewliam, Krong Kangkengdaeng are running and are tired. A beautiful woman (Khomapat Attaya) is walking near them. She is a ghost! The movie features 9 songs according to the movie poster.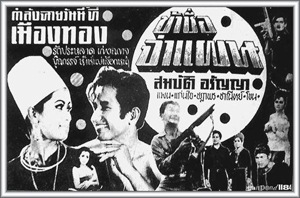 Year

: 1971



Thai title

:

ข้าชื่อจ่าแผน




English title

:



Rating

: 3/5


Director

:



Main actor

: Sombat Methanee,Chanee Yotchai,Sor Asanajinda,Krai Kanchit,Man Teeraphol


Main actress

: Aranya Namwong,Chadaporn Wachirapranee,Kaenjai Meenakanit
Thai movie ข้าชื่อจ่าแผน was released in year 1971. First the movie was called วีรกรรมภูขี้เถ้า and started to be advertised / promoted in August 1970. When it was finally released on the market in August 1971, the name was changed to ข้าชื่อจ่าแผน. Two posters are available. It features Sombat Methanee as main actor and Aranya Namwong as main actress. It is a movie in 16mm format so it is in mute state as such format requests live dubbing. The movie is lost in Thailand but a remaining sequence of 1h35mn is still available. Hill tribe Chanee Yotchai is holding a machine gun. Chadaporn Wachirapranee is found kissing Chanee by Sombat so Chanee gets punched and Chadaporn gets scolded. Sor Asanajinda stops them. Hill tribe Krai Kanchit sets side with Chanee. Chadaporn tries to seduce Sor but to no avail. Chanee promises to revenge over Sombat. Aranya is a hill tribe young lady. Chanee and his men embuscade Sombat and Sor but they are pushed back. Chanee becomes the new village leader following a putsch. An army helicopter lands and heavy fighting happens with Chanee's men. Sombat and two friends are kidnapped by a group of village women led by Aranya, who use them as their "toys". General actor Man Teeraphol is leading the soldiers. As the ladies throw their clothes away, the three men have to wear Tarzan clothes. The ladies end up in bikini also. Fighting happens with ruffians. They try to release the village leader but without success. One of Sombat's friends loses his girlfriend, being raped and killed by ruffians. Kaenjai Meenakanit is the real leader of the ruffians. She likes Sombat. Sombat has to be very careful as Chanee knows who he is. One of Sombat's friend disguises himself into a weird Chinese master. Aranya and her girls are captured while trying to meet Sombat. Krai changes side. Final heavy fightings happen. Krai and Chanee shot each other. Chadaporn, who holds a timer bomb, throws herself on Kaenjai as she understands she has been dumped by Chanee and Kaenjai.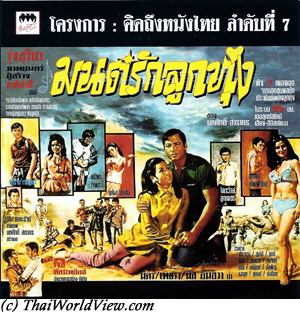 Year

: 1970



Thai title

:

มนต์รักลูกทุ่ง




English title

:



Rating

: 4/5


Director

:



Main actor

: Mitr Chaibancha,Sukon Koewliam,Lor Tok,Prachuap Ruekyamdee,Somkuan Krajangsat,Man Teeraphol


Main actress

: Petchara Chaowarat



Buy now

:

This folk-music movie is one of the most famous Thai movie. It run during six months in Bangkok and generated more than 7 millions baht revenue. It features 14 folk or "LUUK THUNG" (ลูกทุ่ง) songs. It is about a love story between a poor farmer and a young woman coming from a richer family. Movie fans from Nakhon Pathom, Ayuthaya and Singburi have been hiring at least two buses a day to take them and from the theatre in Bangkok. It was a winning combination of the most Thai popular film stars and folk songs of the time. "Mon Rak Luuk Thung" (มนต์รักลูกทุ่ง) has been adapted in many other movies versions (1982, 2004) and TV series (ละครรีเมค) (1995 CH7 with Saranyu Wongkrachang, 2005 CH7, 2010 CH3 with Jintara Sookkapat as the mother and Santisuk Promsiri as the local mafia head). This movie is part of the first 25 films heritage list announced on October 4 2011, which is Thai Movies Conservation Day.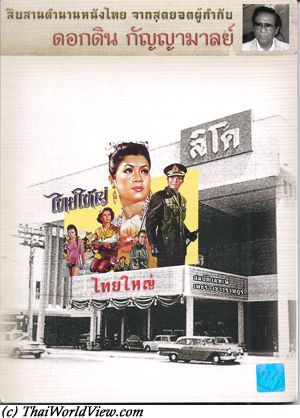 Year

: 1970



Thai title

:

ไทยใหญ่




English title

:



Rating

: 3/5


Director

: Dokdin Kanyaman



Main actor

: Sombat Methanee,Man Teeraphol,Dokdin Kanyaman,Choomporn Theppitak,Sawin Sawangrat,Adul Dulyarat


Main actress

: Petchara Chaowarat,Metta Roongrat,Chadaporn Wachirapranee,Jomchai Jarintorn



Buy now

:

Tanoi (Sombat Methanee) is a prince (ฟ้าชาย) living in a small kingdom at the Thai border. Some insurgents try to kill him. It is a putsch handled by Saenfa (Man Teeraphol). Tanoi has to flee by helicopter. Metta (Metta Roongrat), Koi (Petchara Chaowarat) and Tua (Dokdin Kanyaman) are three friends always together. As usual Metta and Dokdin are playing supporting roles (ตัวประกอบ) so bringing additional fun. The helicopter crashes but Tanoi has time to escape. Tua catches him in his fish net. Tanoi, despite being mistaken as a thief, finally becomes friend with Koi, Tua and Metta. A romance starts between Koi and Tanoi. Tanoi doesn't disclose his royal origin and is happy to stay in remote village (บ้านป้า). Yanee (Jomchai Jarintorn) through Choomporn (Choomporn Theppitak) wishes to buy Koi's land. Fond of Tanoi, she wishes to hire him but he refuses. Tanoi finally succeeds to contact his army thanks to the radio left in the helicopter. Choomporn is hired by Saenfa's team to catch Tanoi. The village becomes too dangerous for Tanoi so he leaves for Bangkok. Yanee and Koi have different mothers but same father, ie Sawin (Sawin Sawangrat). Yanee expulses Koi from her land. Koi, Tua and Metta go to Bangkok to live in the father's house but they are chased away by Chadaporn Wachirapranee. Aran (Adul Dulyarat) is protecting Tanoi. Per his advice, Tanoi has to wear a moustache and ignore his old friends to avoid any risk being identified by Saenfa. Koi, Tua and Metta identify him in a restaurant terrace but are disappointed when Tanoi claims he doesn't know them. Koi and his friends are sheltered by a nice lady, who in fact Tanoi's mother! Sawin makes alliance with Saenfa. Tanoi shall be captured or killed. During a dinner between Tanoi and Aran, Koi and his friends disguise to know more about Tanoi. Ruffians try to kill him. Yanee just puts sleeping medicine instead of poison as she loves secretly Tanoi. So Koi and his friends can rescue Tanoi on time. Yukol, Tanoi's younger brother, also loves Koi. In Mae Sai, Pa discloses to Koi that Tanoi is her son. Meanwhile Tanoi tries to regain power. Sawin is killed. Despite strong resistance, Saenfa's soldiers are defeated. Finally Tanoi marries Koi after a last minute suspense and misunderstanding as she believes she is not high ranking enough for a prince. The DVD is based on different sets of movie reels. The 16mm part is in very good condition and is still colorful. The movie features a few songs recorded in 35mm format but the damaged image is in red color only. But it is still original songs despite some cracking in the sound. Two movies were released by Dokdin Kanyaman, ie ไทยใหญ่ in 1970 and ไทยน้อย in 1969. For movie ไทยใหญ่ featuring Sombat Methanee hanging to a rope attached to a helicopter, extra precaution were taken to avoid same tragic accident as Mitr Chaibancha. As Mitr Chaibancha died, director Dokdin Kanyaman started to use Sombat Methanee as main favorite actor.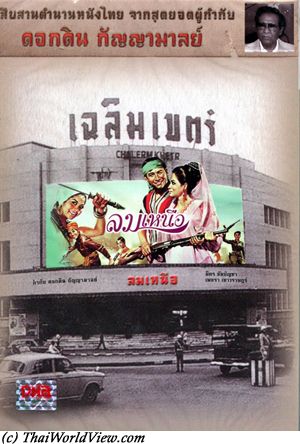 Year

: 1969



Thai title

:

ลมเหนือ




English title

:



Rating

: 3/5


Director

: Dokdin Kanyaman



Main actor

: Mitr Chaibancha,Dokdin Kanyaman,Adul Dulyarat,Man Teeraphol


Main actress

: Petchara Chaowarat,Metta Roongrat,Chadaporn Wachirapranee
Kata (Mitr Chaibancha) is a former policeman inspector (สารวัตร). He is always accompanied by his close friend O - โอ (Dokdin Kanyaman). A new job in Chiang Mai area is proposed to Kata by Sathorn (Adul Dulyarat). They have to travel up to Salween river and reach a remote small kingdom with an ethnicity called Pu Luang (ชาวปูลวง). Kata meets Liboo (Metta Roongrat) on the way. Kata is recruited as military instructor (ฝึก). Soldiers are women (ทหารหญิง). This small kingdom is between Thailand and Burma. Nonsa (Petchara Chaowarat) is the leader of the kingdom as her father is deeply sick since three years. Her step sister (ลูกบุญธรรม) called Yanee (Chadaporn Wachirapranee) is looking to take power (ผู้ร้าย). Tapo and Kata are competitors for Nonsa's heart. A duel between Tapo and Kata ends with Kata's victory. Jealous of Kata's love over Nonsa, Liboo tries to hurt Nonsa. O takes the blame of this. Tapo (Man Teeraphol) is also a traitor and tries to convince Liboo to join them (ชาวผู้ร้าย). Kata and O are also captured but succeed to flee thanks to Liboo. Gun fights happen between the two groups. Yanee and Nonsa injure each other. Kata brings Nonsa to a Chiang Mai hospital. Taking advantage that Nonsa is not here, Yanee's army tries to attack Pu Luang base but they are pushed back thanks to Sawin, Nonsa's brother, and Liboo. Nonsa is recovering from her arm injury with Kata but rushes back to her kingdom when learning the bad news. Tapo shoots Liboo in the back. Pu Luang base is finally defeated. Nonsa and Kata succeed to wake up the father as he was sleeping since three years. Nonsa finally shoots deadly Yanee. Kata is discovered to be a spy but he refuses to disclose for who. Facing the firing squad, he only says to Nonsa that he loves her (ผมรักคุณ). Finally he is forgiven as love is reciprocate. Kata is working for Thai government. He needs to go back to Thailand. Will he choose between love or duty? Nonsa asks him to choose duty (นาที) first. Finally Sawin takes the responsibility of Pu Luang kingdom in order to let his sister leave with Kata. This movie directed by Dokdin Kanyaman is part of Happy Home new DVD releases. There is a mix of action, romance and comedy with Dokdin Kanyaman as relief character. ลมเหนือ (1969) is a 2h23mn movie but the original version should be longer as some parts are missing. Dokdin Kanyaman is called 'black' (ดำ) due to his skin complexion! The first actor to wear a machine gun with ammunitions on the arm was not Silvester Stallone but Mitr Chaibancha!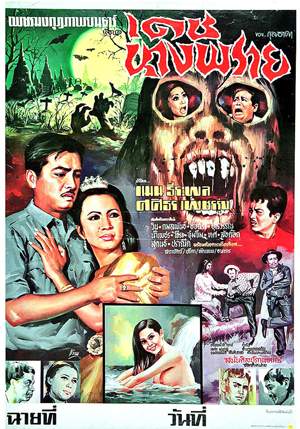 Year

: 1969



Thai title

:

เดชนางพราย




English title

:



Rating

: 3/5


Director

:



Main actor

: Man Teeraphol,Lor Tok,Sukon Koewliam,Joomjim Khemlek


Main actress

: Sasithorn Phetrung
Thai movie เดชนางพราย was released in year 1969. Main actor is Man Teeraphol and main actress is Sasithorn Phetrung. The movie is lost in Thailand but a 3mn30s trailer remains to be seen. This movie is a comedy horror movie. It features Man Teeraphol, Sasithorn Phetrung, วิน, กมลพันธ์, อัจฉรา, อุไรวรรณ, น้ำเพชร, พีระ, Joomjim Khemlek, ทศ, Lor Tok. The left sequence show a ghost transforming itself into a beautiful lady (Sasithorn Phetrung), the romance between Man Teeraphol and the ghost, a black magician (หมอผี) used to chase the ghost. Man Teeraphol and Sasithorn Phetrung are seldom the main stars in movies. As it was a small horror comedy movie, there was no need to have big stars such as Mitr Chaibancha and Petchara Chaowarat.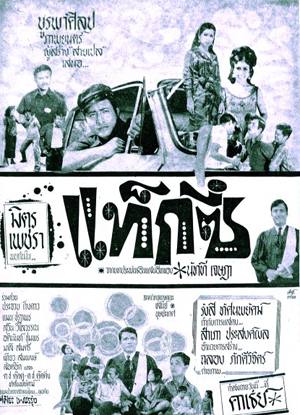 Year

: 1968



Thai title

:

แท็กซี่




English title

: Taxi



Rating

: 3/5


Director

:



Main actor

: Mitr Chaibancha,Prachuap Ruekyamdee,Lor Tok,Choomporn Theppitak,Man Teeraphol,Sawin Sawangrat,Sompong Phonmitr


Main actress

: Petchara Chaowarat,Sasithorn Phetrung,Chadaporn Wachirapranee,Kingdao Daranee,Wilaiwan Watthanaphanit,Malee Wetpraseri
แท็กซี่ is a 1968 Thai movie with Mitr Chaibancha, Prachuap Ruekyamdee, Petchara Chaowarat. Only 4 minutes of the movie are left. It is a 16mm movie without sound. Despite the short passage available, it is enough to see Mitr Chaibancha helping Prachuap Ruekyamdee during a fight. Even comic Lor Tok is present. Grandma veteran actress มาลี เวชประเสริฐ and her two daughters, including Petchara Chaowarat, are living in a rich house. They are kidnapped. Guess Mitr Chaibancha will help to release them! Prachuap Ruekyamdee seems to work in a cafe restaurant where songs are performed. Fight erupts again in the cafe. There is no summary available of this movie. At the end of the movie, many taxis gather to protect main actor Mitr Chaibancha. It is the first movie for veteran actress ศศิธร เพชรรุ่ง (Sasithorn Phetrung). Sasithorn Phetrung later had a love story with Mitr Chaibancha.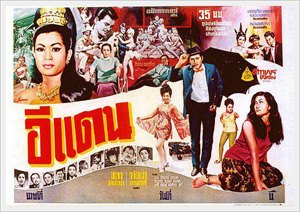 Year

: 1968



Thai title

:

อีแตน




English title

: E-tan



Rating

: 5/5


Director

:



Main actor

: Mitr Chaibancha,Sawin Sawangrat,Sukon Koewliam,Man Teeraphol,Thuam Thoranong,Lor Tok,Kokheng,Sompol Kongsuwan


Main actress

: Aranya Namwong,Chadaporn Wachirapranee,Yaowaret Nisakorn,Wilaiwan Watthanaphanit,Malee Wetpraseri,Chosri Misommon
Thai movie อีแตน was released in year 1968. The movie lasts 3 hours. This movie has a very colorful image and a DVD was released by Thai film Archives in year 2014. Five songs are featured. Kalong (Wilaiwan Watthanaphanit) is married to a chief district officer. Her father is Sawin Sawangrat. She is pregnant. While chasing traffickers, the chief district officer is injured and finally dies. Before dying, he asks his mum to send Kalong to Bangkok in order to have his child raised by his father. The baby has a scar around the ear. The father has a new wife (กันฑรีย์ นาคประภา), who is upset about losing heritage, and she prepares a plan with her lover Nipon (Man Teeraphol) to get rid of Kalong and her child. Mien (Malee Wetpraseri) hears their plan, takes the baby and flees. Shocked, Kalong has a brain attack. Tam, Mien's husband, names the baby E- tan. E-tan (Aranya Namwong) is now a grown beautiful young lady. E-tan meets Rungroj (Mitr Chaibancha) being a lawyer responsible to expel people from a slum to build a new building. E-tan, Tam (Sompol Kongsuwan) and Mien have to leave. Mien goes back to her hometown to work and to send money. Being sick, she is cheated and no money reaches E-tan and Tam. So E-tan decides to quit school in order to work. She tries to find a job as domestic helper in a rich house. But she gets issues with the owner accusing her to have stolen her necklace. She is a fighting with the daughter called Supatra. E-tan meets Phaka (Chadaporn Wachirapranee). She is a mamasan but E-tan is not aware. Tam is the old boyfriend of the mamasan Phaka so he sells E-tan for 5000 baht. Thuam Thoranong, as a customer, is severely beaten with E-Tan. Mien is back and threatens to kill Tam if E-tan is not back within seven days. As the grandfather is getting old and sick but refusing to transfer his heritage to his younger new wife, Nipon has the idea to find a 19 years old girl to pretend being the lost granddaughter. He hires E-tan from Pakha without knowing that E-tan is the real granddaughter! She is recognised by the grandfather thanks to the scar. Rungroj is engaged with Supatra (Yaowaret Nisakorn) but he doesn't love her. He thinks about the young lady beggar but doesn't realise that she is the same lady as the new granddaughter. Supatra is jealous as Rungroj spends a lot of time with E-tan as the grandfather asks him to be a teacher for her. Aware that Nipon and the mother plan to kill them once heritage has been transferred to her, E-Tan prepares a plan with her friends from the slum. A social event is organized to present E-Tan to Thai society as the official lost daughter. Nipon prepares poison for the grandfather. Mien is wishing to announce the bad plans of the new wife and Nipon but she is is killed before by Nipon. Upset by Mien's death, E-Tan shots him with a gun without knowing that he is already dead having drunk the poison by mistake. E-Tan is accused of murder by the new wife and is sent to jail. Rungroj is the lawyer for E-tan. Tam, recognizing that E-Tan has always been good with him, relates the real story to the judge and E-Tan is spared from prison. She then can marry with Rungroj.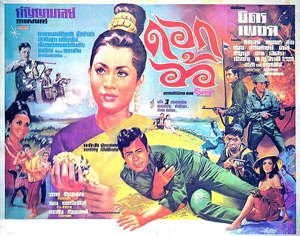 Year

: 1968



Thai title

:

ดอกอ้อ




English title

:



Rating

: 3/5


Director

: Dokdin Kanyaman



Main actor

: Mitr Chaibancha,Sawin Sawangrat,Dokdin Kanyaman,Adul Dulyarat,Man Teeraphol


Main actress

: Petchara Chaowarat,Chadaporn Wachirapranee,Sarinthip Siriwan,Orasa Isarangkul
Thai movie ดอกอ้อ was released in year 1968. Main actors and actresses include Mitr Chaibancha, Petchara Chaowarat, Chadaporn Wachirapranee, Sawin Sawangrat, Sarinthip Siriwan, Dokdin Kanyaman, Adul Dulyarat, Orasa Isarangkul, Man Teeraphol, มนัส บุณยเกียรติ, วริศรา วชิราชัย, ธัญญา ธัญญารักษ์. Movie director is Dokdin Kanyaman. The film is lost in Thailand and was never released under VHS, VCD or DVD. It can be seen at Thai Film Archives and lasts 2h17mn. A dubbed version was shown in Thai Film Archives in year 2018. It features 3 songs, i.e. ดอกอ้อ, ลำนำลำโขง, เริงไพร. This movie was very popular. It made a lot of money especially in Chaleum Chan theater in Chantaburi (เฉลิมจันท์ จันทบุรี - โรงไม้). It was shown 4 times a day. It made almost 1M Baht in this single theater. Mitr Chaibancha (นายอ่อน) sings ดอกอ้อ song (voice from singer สุเทพ วงศ์กำแหง) and tries to seduce Petchara (ครูดอกอ้อ).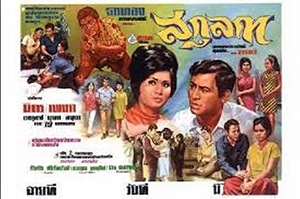 Year

: 1968



Thai title

:

สกุลกา




English title

:



Rating

: 3/5


Director

:



Main actor

: Mitr Chaibancha,Pisarn Akraseranee,Adul Dulyarat,Man Teeraphol


Main actress

: Petchara Chaowarat,Prim Praphaporn,Boosara Narumit
Dara, Deuan (Boosara Narumit) and Dao are three ladies living together. They are not rich. Deuan works in a club as a partner to earn money for her younger niece Dao (Petchara Chaowarat) to study. Anong (Mitr Chaibancha) and Poon (Pisarn Akraseranee) are brothers. The club manager (ผู้จัดการ) loves Deuan. Another young man Trin loves secretly Deuan also. The manager warns Poon about Deuan. Poon respects Deuan and helps her financially. Dara and Deuan prefer avoid coming to school events to avoid Dao losing face. A rich family wishes to adopt Dao as their daughter (อุปกรณ์) as she is coming from a poor family without a father and she has very good behavior. The parents are Kanchanarot (Adul Dulyarat) and Varee. Dara and Deuan are not willing as they have a secret animosity against this family. Anong wishes his brother to stop seeing Deuan as the manager even sent ruffians to hit Poon due to jealousy. Finally Anong sent his brother abroad for study. Wadee is Varee's daughter. It is scheduled that Anong and Wadee will certainly marry. Dara is hit by a car and dies. Kanchanarot meets Deuan. They had an affair long time ago. Kanchanarot believes Dao is his own daughter with Deuan. Choem is her old name. Meanwhile Sia, a ruffian, falls in love with Dao and offers 150 000 baht to Deuan to marry Dao. Sia and the club manager wish to take Dao and Deuan as wives. Deuan flees before the one month deadline expiry and accepts Dao to stay in Kanchanarot 's family. Valai, Varee's sister, tries to bring jealousy in Varee and Wadee's heart against Dao (จะรักมากจะลืมคนอื่น). Poon loves also Dao but got another love, Pen, while studying abroad. He requests help from his elder brother. Anong has the difficult task (พ่อซื้อ) to ask Dao's hand for his younger brother despite he loves secretly Dao. Dao cries as she also loves secretly Anong. Deuan contacts Dao and assures Anong is much better than Poon. Dao decides to marry Trin as she doesn't want to hurt Wadee. Poon and Pen finally marry. Trin refuses to marry Dao as he knows Dao doesn't love him. Finally Sia kidnaps Dao to have her becoming his wife. The movie ends tragically with Trin giving his life to protect Dao and taking the blame regarding the knife used by Deuan to stab Sia. Mothers have often similar age as daughters in old Thai movies! It was Pisarn Akraseranee first movie. A Thai TV serie สกุลกา was made in 2009 based on a similar scenario.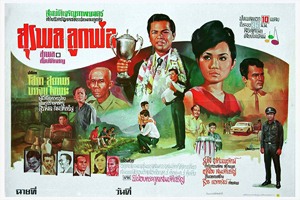 Year

: 1968



Thai title

:

สุรพลลูกพ่อ




English title

:



Rating

: 3/5


Director

: Rangsee Thatsanaphayak



Main actor

: Adul Dulyarat,Man Teeraphol,Choomporn Theppitak,Somkuan Krajangsat,Sompong Phonmitr,Lor Tok


Main actress

: Sopha Sataporn,Somjit Sapsamruey
Thai movie สุรพลลูกพ่อ was released in year 1968. The movie is lost in Thailand but a trailer lasting a few minutes remains to be seen. The remaining film is in 16mm format, so it is in mute state as such format requires live dubbing. This movie is about Suraphol Sombatcharoen's life. He was a sixties famous country music star and was murdered in 1968. His father had produced this movie as a homage to his dead son. Main actresses and actors featured in this movie are Sopha Sataporn, บรรจบ ใจพระ, Adul Dulyarat, Man Teeraphol, Choomporn Theppitak, Somkuan Krajangsat, Somjit Sapsamruey, Sompong Phonmitr, ทองฮะ, สุดเฉลียว เกตุผล, Lor Tok. Family members of Suraphol Sombatcharoen also played in this movie. The movie was produced by Sombatcharoen movies (สมบัติเจริญภาพยนตร์), owned by Sombatcharoen (สมบัติเจริญ) who is the father of Suraphol. Movie director is รังสี ทัศนพยัคฆ์. The movie featured 10 songs (in 35mm format) including a few hits such as สุรพลคนกล่อมโลก, 16 ปีแห่งความหลัง, สาบานรัก, ลืมไม่ลง, ดำเนินจ๋า, เดือนจ๋า. Various sequences allow to see Suraphol's childhood with Lor Tok, teenage time, Suraphol working as mechanics and then meeting Adul, Suraphol being part of a music orchestra during army period, Suraphol meeting his future wife Sopha, Suraphol holding his newborn child during a concert, Somjit Sapsamruey playing Suraphol's mother and scolding her son, Suraphol ending in jail for a short period, Suraphol having a new wife.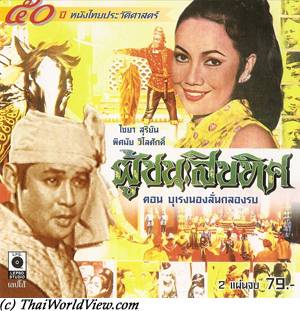 Year

: 1967



Thai title

:

ผู้ชนะสิบทิศ ภาค 2 ตอนบุเรงนองลั่นกลองรบ




English title

: The Conqueror of Ten Directions II



Rating

: 4/5


Director

: Neramit



Main actor

: Chaiya Suriyun,Chana Sriubon,Man Teeraphol,Rujira Isarangkul


Main actress

: Pissamai Wilaisak,Metta Roongrat,Karuna Yuwakorn



Buy now

:

This part of the second part of the "The Conqueror of Ten Directions" trilogy. Sadet (จะเด็ด) starts to be also named as Buren Nong (บุเรงนอง), his future name as a King. Sadet (จะเด็ด)(Chaiya Suriyun) is now staying in the kingdom of Phrae. Prince Sopinya from the kingdom of Hongsawadee is coming for an official visit to the kingdom of Phrae. Katima (Metta Roongrat) is also in Phrae. She is doing sword street performances to make a little money as she lost her purse. Khairoo, head of Hongsawadee swordmen, wishes to buy Katima's sword and has arguments with her. A soldier helps Katima. Katima is dressed like a man. Sadet doesn't recognize Katima and befriends with her. Sadet still uses sweet words with various princesses. Arguments happen between Sadet and Sopinya. Sadet succeeds to have Khairoo judged for malversation causing Sopinya's ire. The king of Phrae uses Sadet as councillor. Sadet is called under the name of Wang. Following Sopinya's bad influence, the king of Phrae finally decides to arrest Sadet. Sopinya proposes to the king of Phrae an alliance against the kingdom of Taungoo. Princess Kusuma (กุสุมา)(Pissamai Wilaisak) tries to warn Sadet and finds Katima in Sadet's room. It is too late. Sadet is imprisoned. Mangtra's help is needed. Mangtra is now the king of Taungoo. Taungoo's army besieges Phrae but needs to retreat. Taungoo's army is swapped away as night time in their encampment. Hongsawadee henchmen brings troubles during the blocus and Sopinya convinces Kusuma to follow him. Sopinya takes advantage over Kusuma while she is sleeping. Meanwhile taking profit of the mess, Katima succeeds to free Sadet and the other prisoners following fierce fights. Mangtra is angry with Sadet and claims he is a traitor (ทรยศ) as he stayed with Phrae instead of Taungoo. He threatens to cut his head following the 40 000 soldiers, who died for nothing. Hopefully the old monk can interfere and saves Sadet offering his own head as a guarantee. Sadet is ordered to seize Phrae and is offered 60 000 soldiers but he only requests 20 000 soldiers. If he fails, his head will be cut. Sadet wins a first battle over a fort on the way to Phrae thanks to a better strategy. Learning that Kusuma has been sent to Hongsawadee, he leaves the army and decides to go there. Sadet gets the confidence of king of Hongsawadee while Sopinya is away. Kusuma still loves Sadet and wishes to die as Sopinya forced her. A fire is provoked in Hongsawadee by Sadet's henchmen. Sadet steals Sopinya's boat and takes back Kusuma with him. The second opus features an impressive performance by actor Chaya Suriyun. The movie continues to mix romance and historical characters.



Year

: 1967



Thai title

:

ผู้ชนะสิบทิศภาคสมบูรณ์ บุเรงนองถล่มหงสาวดี




English title

: The Conqueror of Ten Directions III



Rating

: 4/5


Director

: Neramit



Main actor

: Chaiya Suriyun,Chana Sriubon,Man Teeraphol,Rujira Isarangkul


Main actress

: Pissamai Wilaisak,Metta Roongrat,Karuna Yuwakorn



Buy now

:

This is the last opus of The Conqueror of Ten Directions trilogy. Sadet receives armors and award from Chantra, king of Taungoo kingdom. Chantra, Chantra's sister, still loves Sadet. Kusuma, Phrae kingdom princess, who also loves Sadet, hears everything and leaves for Phrae kingdom. Despite honors given, Mantra is still unhappy with Sadet, following the former military defeats but can do nothing against Sadet as he is seen as a soldier with many virtues (ทหารบารมี). Sadet comes back officially to Taungoo kingdom. The monk mentor protects Sadet as Mantra has still not decided what to with Sadet. Recently Mantra indulges in alcohol. The two men are angry against each other. The war is still ongoing between Hongsawadee and Taungoo kingdoms. Sadet decide to ordain (บวช) to wash his sins and mistakes. Chantra visits him before ordination. They declare their love towards each other once again. Chantra refuses that Sadet ordinates as the kingdom is on war. Sadet captures Khairoo, head of Hongsawadee swordmen. Then Sadet visits Kusuma in Phrae kingdom. Sadet wishes to take Kusuma to Taungoo kingdom. Sadet wants to have both ladies, Chantra and Kusuma, as wives. Khairoo, head of Hongsawadee swordmen, flees from jail and kills the monk, who was the mentor of Sadet and Mantra. Sadet decide to destroy Hongsawadee kingdom as retaliation and defeats their army. Sopinya, Hongsawadee kingdom prince, and Khairoo make an alliance with another warlord to fight Taungoo kingdom. Sadet captures the warlord. The warlord changes alliance and Hongsawadee city is definitively destroyed. Mantra defeats and kills Hongsawadee's king (พระเจ้าสการะวุตพี). Sopinya and Khairoo pay for their sins and are killed. Sadet is also loved by another lady called Katima, who is commoner. Unfortunately seeing that there is no way she can get Sadet's love for her alone, Katima gets suicide. Mantra finally renunciates to the kingdom and Sadet becomes the new king of the three unified kingdoms. The whole trilogy is more than 7 hours long. Even if the 3 VCDs are full, the original movies were in fact cut to fit the VCD format, which means 2h30mn maximum. What a pity Lepso company never releases them in DVD format!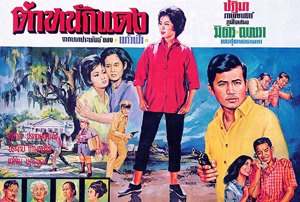 Year

: 1967



Thai title

:

ตำหนักแดง




English title

:



Rating

: 3/5


Director

:



Main actor

: Mitr Chaibancha,Daonoi Duangjai,Sithao Petcharoen,Prachuap Ruekyamdee,Sukon Koewliam,Man Teeraphol,Tawan Siriwat,Somkuan Krajangsat


Main actress

: Petchara Chaowarat,Mom Chan Phuangwan,Preeya Roongrueng,Somjit Sapsamruey,Chadaporn Wachirapranee,Metta Roongrat,Malee Wetpraseri
ตำหนักแดง is a Thai movie released in year 1967. It features famous actors Mitr Chaibancha and Petchara Chaowarat. Other actors are Mom Chan Phuangwan, Daonoi Duangjai, Preeya Roongrueng, Somjit Sapsamruey, Malee Wetpraseri, Chadaporn Wachirapranee, Sithao Petcharoen, Prachuap Ruekyamdee as a policeman, Metta Roongrat, Sukon Koewliam, Man Teeraphol as a ruffian (คนร้าย), Tawan Siriwat. The movie is lost in Thailand but a remaining last extract lasting 13 minutes is still available. There is no movie summary available anymore. The sequence is in 16mm format and it still has a colorful picture. Both Metta and Chadaporn seem to be Man Teeraphol's mistresses. There is a spectacle of children without parents (เด็กกำพร้า). There is a nice dialog sequence between Mitr and Prachuap. It is unfortunately in mute state as 16mm movies require dubbing. Prachuap tries to stop Preeya using a gun to shoot somebody. Metta and Chadaporn end up fighting. It is difficult to understand a movie without the summary and only by watching mute short sequences but it is a chance to see another movie with Mitr and Petchara together.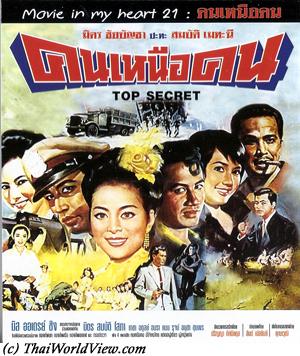 Year

: 1967



Thai title

:

คนเหนือคน




English title

: Top secret



Rating

: 3/5


Director

: Wichit Khunawut



Main actor

: Mitr Chaibancha,Sombat Methanee,Adul Dulyarat,Kecha Plianvithee,Boo Wibunnan,Choomporn Theppitak,Ruj Ronnapop,Man Teeraphol


Main actress

: Sopha Sataporn,Amara Asavananda



Buy now

:

A mysterious Dakota airplane drops a big parcel in the sea, containing in fact the ruffians leader (หัวหน้าใหม่) called Adamcha (Kecha Plianvithee). Meanwhile two Royal Thai airplanes intercept the plane forcing it to land at Don Meuang airport. Thai Army is then aware that a mysterious organisation is preparing plans to harm Thailand so Thai army chief asks his officers to do their best to protect Thailand, Buddhism and the King. Police inspector (สารวัตร) Chet (Mitr Chaibancha) needs to help also and to find an agent called double X. Double X is in fact a police woman called Chin Chin. Adul (Adul Dulyarat) steals some documents in governmental building. Amara (Amara Asavananda), a young lady, supports Adul as part of the organisation. The secret organisation (ผู้ก่อการร้าย) brings disorder in Thailand through bombs and Thai police seems unable to stop them. Chet follows Adamcha's car but gets captured when entering in Adamcha's house. The police chief asks another policeman to help, i.e. Chet's younger brother called Sombat (Sombat Methanee). Real actor names are used in this movie as anyway it was a 16mm movie with dubbing. During an evening party to celebrate their bad achievements, double X's team kidnaps Amara and asks for a ransom. Adul follows the police ladies and after being summoned by Chin Chin (Audrey Sing) regarding his treacherous behavior over Thailand, he accepts to change side. He works for the organisation because of his love for Amara. Sombat helps to release Amara and shoot some policemen (แสดงหนัง). Sombat is finally accepted in the secret organisation following a test. A bank attack turns to a fiasco as police was aware. Sopha (Sopha Sataporn), Sombat's love, is injured. It seems there is spy in the organisation. Sombat helps his brother Chet to flee. Chet is back to the house with full Police squad but Adamcha and his clique have already left. Chet succeeds to get the plan of their new retreat but the ruffians, seeing army soldiers, retreat to a well hidden place. Adul provides the location to the police but is identified as traitor. He is imprisoned and refuses any help from Amara, his former love. Police and army storm the hidden place of their organisation. Following various shootings and Adul's sacrifice, the secret organisation is vanquished. It is another nationalist 1960s movie with police and army protecting Thailand against external threats. The picture quality features many red and green lines (เส้นฝนตกมาก) as company Phanmitr has used the latest film reels available for this movie, which was very popular in 1960s. คนเหนือคน (Top Secret) is a 2h15mn movie. It is also features a few popular songs including a duo Sombat and Sopha.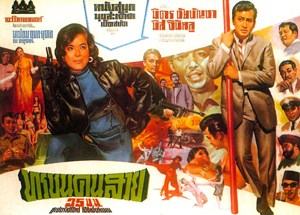 Year

: 1967



Thai title

:

ทรชนคนสวย




English title

: Operation Revenge



Rating

: 4/5


Director

: Mom Ubon Yukol



Main actor

: Mitr Chaibancha,Ruj Ronnapop,Somkuan Krajangsat,Sukon Koewliam,Man Teeraphol,Adinan Singhiran,Preuhat Boonlong,Sawin Sawangrat,Sompol Kongsuwan


Main actress

: Orasa Isarangkul
Thai movie ทรชนคนสวย / Operation Revenge was released in year 1967 and lasts 2h26mn. This movie is directed by Mom Ubon Yukol who is a Thai prince and father of famous Thai director Chatrichalerm Yukol. Thai actors and actresses featured in this movie are Mitr Chaibancha, Ruj Ronnapop, Somkuan Krajangsat, Sukon Koewliam, Man Teeraphol, Adinan Singhiran, Orasa Isarangkul, Preuhat Boonlong, Sawin Sawangrat, Sompol Kongsuwan, สิงห์ มิลินทราศรัย, อดุลย์ กรีน, ทานทัต วิภาตะโยธิน, สักรินทร์ ปุญญฤทธิ์. ทรชนคนสวย is a Thai movie in 35mn format. It was released only in VHS format. In 2020, Thai Film Archives released the remastered version on YouTube on New Year's Eve day. The Film Archive digitized the preserved 35mm film, did cleaning and color grading to match the original release. ทรชนคนสวย is a spy genre movie from 1960s. Such movies follow the popular trend traced by James Bond 007 films. Movie ทรชนคนสวย has a nice and colorful picture. Chairman Wichien (Preuhat Boonlong) is accused of being a traitor causing the secret organization to lose opium worth 100M THB. The organization asks his best friend Tenglin to kill him. He discloses to his friend that opium is hidden in Hong Kong but still gets killed by him. Pusit (Somkuan Krajangsat) is a military officer looking for opium. Police are also looking for it. Vichien's daughter Lin (มิสจิ้นหลู - นางฟ้า from Taiwan) is living in Hong Kong. She wishes to understand why her father was killed. Reung (Mitr Chaibancha), a former policeman, meets her in a hotel. Cheng (Man Teeraphol) contacts Reung to buy the plan guiding to the hidden opium drug versus a 20M baht fee. As Cheng has only half of the money, he gets only half of the map! Suriyan (Ruj Ronnapop) is a policeman. Lin (น่ารัก) listens to Reung and spies his room (แอบฟังอยู่), but she gets discovered by him. She wants to buy the map also. Meanwhile Cheng discovers that sympathetic ink has been used for the map he just bought! Reung shall meet Lin in a nightclub located in Kowloon. She is singing there. Two songs are featured (ปากของคุณน่าจูบจังเลย). Reung invites Lin to Bangkok. Reung gets aggressed by Cheng and his ruffians. Luckily he gets help from Thai policeman Suriyan. Reung and Suriyan need to flee the nightclub. Back to Bangkok, Reung loses a bet to a mysterious Indian guy wishing to get his clothes as the map is inside. Following a fight in the casino, Reung flees wearing underwear only and riding a motorbike with Lin. Reung is accused to have killed the Indian guy and is arrested by Thai police. Pusit helps him to get away. Ruffians try to get back the drugs worth 100M bath (ฝิ่น). Tenglin suspects the drugs to be hidden in Vichien's tomb, but he doesn't inform other ruffians. Pong (สิงห์ มิลินทราศรัย) and Sawin Sawangrat follow him. Lin is going to Songkla and shall meet Reung there. Thai Police are on the way to Songkla also. Suda (Orasa Isarangkul) pretends to be a car failure to meet Reung. She is dangerous (ปีศาจ) and is working for the secret organisation (ถึงอาบคงไม่หายความร้อน / ยินดีเสมอครับ) led by Sompol Kongsuwan. Meanwhile Lin is poisoned in the train by Tenglin, her father's former best friend. She is saved by Pusit. Pong, once knowing where opium is hidden, then kills Tenglin. The opium is hidden under Vichien's grave. Meanwhile ruffians led by Sompol Kongsuwan have a misunderstanding with ruffians led by Cheng. Overcoming danger and traps, Reung and Pusit succeed to enter under the grave and release Lin. Ruffians flee by submarine but it is sunk by Thai army rapid boats. Reung and Lin get married.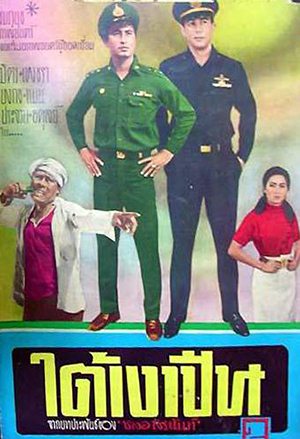 Year

: 1967



Thai title

:

ใต้เงาปืน




English title

:



Rating

: 3/5


Director

:



Main actor

: Mitr Chaibancha,Prachuap Ruekyamdee,Adul Dulyarat,Taksin Jampol,Lor Tok,Adinan Singhiran,Man Teeraphol


Main actress

: Petchara Chaowarat,Chadaporn Wachirapranee
Thai movie ใต้เงาปืน was released in year 1967. This movie features Mitr Chaibancha as main actor and Petchara Chaowarat as main actress. The movie is lost in Thailand but a twenty minutes sequence is left to be seen. Mitr Chaibancha is listening to the ruffians using a radio. A bomb is set on the railway tracks on the way of the train to Bangkok. Mitr (แทน ท่าม่วง) and Prachuap Ruekyamdee (ช่วง สีคิ้ว) are going to help and stop the train on time of course. Adul Dulyarat is ปลิว ปากน้ำโพ. Other actors and actresses include Lor Tok, Taksin Jampol, Adinan Singhiran, Chadaporn Wachirapranee, Man Teeraphol. The original poster in newspaper says that Juree Osiri and Sompong Phonmitr are dubbing the movie.



Year

: 1966



Thai title

:

ผู้ชนะสิบทิศ ตอน ยอดขุนพล




English title

: The Conqueror of Ten Directions I



Rating

: 4/5


Director

: Neramit



Main actor

: Chaiya Suriyun,Man Teeraphol,Rujira Isarangkul


Main actress

: Pissamai Wilaisak,Metta Roongrat,Kaenjai Meenakanit,Karuna Yuwakorn



Buy now

:

This story takes place during Ayuthaya period around 1530. It is about politics regarding three kingdoms, i.e. Taungoo - ตองอู (Burma), Phrae (Thailand) and Hongsawadee - หงสาวดี (Mon). It relates the fabulous destiny of Sadet (จะเด็ด) (Chaiya Suriyun). One day he will become King Bayinnaung (พระเจ้าบุเรงนอง), Burmese King, known as "The Conqueror of Ten Directions" as his empire extended up to a big part of Southeast Asia including Thailand. When he was a baby, a monk promised to Sadet a bright future. He was brought up by a royal wet nurse in Kingdom of Taungoo. Mingyinyo (พระเจ้าเมงจีโย) was the King of Taungoo from 1486 to 1531. Sadet becomes very close with King Mingyinyo's children, i.e. Mangtra, the son, and Chantra (จันทรา), the daughter. Sadet is brave, has a nice presence, speaks well so all ladies like him and fall in love with him. Sadet needs to be separated from princess Chantra. He is surprised with Chantra in his room. Their different social status doesn't allow such behavior. He leaves for Hongsawadee. Mangtra wants Sadet to speak to princess Thavadee on his behalf. Princess Thavadee loves Sadet also despite Sadet's attempts to tell how good Mangtra is. Sopinya, Princess Thavadee's brother, is angry with Sadet's behavior and would prefer to have Mangtra as brother-in-law. Khairoo, head of Hongsawadee swordmen, prepares a plan. Jewelry is stolen and found in Sadet's room. Sadet has to flee. The monk tells Sadet to take refuse at Thayaki's sword school. Sadet fights with some ruffians in a restaurant. Those are part of Thayaki's sword school. Sadet has chance to meet Thayaki, his son and his daughter Katima (Metta Roongrat), who likes Sadet a lot. Sadet has opportunity to defeat Khairoo, who was treacherous with him in Hongsawadee. In 1531, Mangtra becomes new king of Taungoo and is now called King Tabinshwehti (พระเจ้าตะเบ็งชะเวตี้). As an acquinted childhood friend to the new king, Sadet gains the royal trust and is made the royal brother-in-law. Sadet then goes to Phrae and meets princess Kusuma (กุสุมา)(Pissamai Wilaisak), whom he tries to seduce also. The movie is divided into three parts. ผู้ชนะสิบทิศ ตอน ยอดขุนพล is part 1. It is based on Thai novel "ผู้ชนะสิบทิศ" or "The Conqueror of Ten Directions" from writer Chote Phraepan (pen name "Yacob" - ยาขอบ). There are ten directions as it includes eight compass directions and it also counts heaven and hell. The Thai novel was adapted to a TV serie, a movie serie and a musical comedy. The song of the same name from the movie series, performed by Charintra Nanthanakorn (ชรินทร์ นันทนาคร) remains one of the most recognizable and popular songs in Thailand. This 1960 old movie has still colorful and clean image that allows enjoying the nice costumes. It lasts 2h30. Old Thai and royal language (ราชาศัพท์) is used during the long dialogues. Big part of the movie is shot indoor.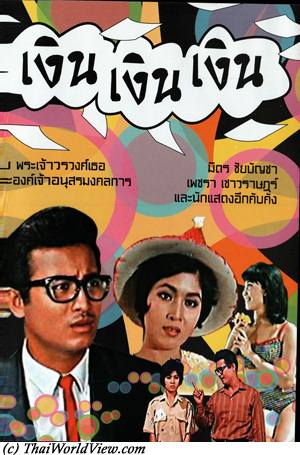 Year

: 1965



Thai title

:

เงิน เงิน เงิน




English title

: Money Money Money



Rating

: 5/5


Director

: Prince Anusorn Mongkolkarn



Main actor

: Mitr Chaibancha,Charin Nantanakorn,Lor Tok,Sukon Koewliam,Adul Dulyarat,Sawin Sawangrat,Daonoi Duangjai,Dokdin Kanyaman,Man Teeraphol,Ruj Ronnapop,Thuam Thoranong,Banglae


Main actress

: Petchara Chaowarat,Wilaiwan Watthanaphanit,Orasa Isarangkul,Chadaporn Wachirapranee,Mom Chan Phuangwan,Chosri Misommon,Sulaleewan Suwanthat



Buy now

:

The movie starts by a small introduction highlighting that everybody fights for money (เงิน เงิน เงิน). This introduction features many actors or actresses with cameo role such as Daonoi Duangjai, Dokdin Kanyaman, Man Teeraphol, Chadaporn Wachirapranee. Tu (Mitr Chaibancha) comes back to Thailand after overseas studies in USA. Tum (สุมาลี ทองหล่อ) is his sister. They are orphans. Their uncle Hirun is a creditor. Mom (Mom Chan Phuangwan) is Hirun's assistant. For Hirun, money is work and work is money. He has no feelings for his customers personal problems. Tu's uncle wants him to take over his duty but Tu doesn't like such job bringing suffering to people (สงสาร) so that is why he has done artistic studies as it can bring happiness to people. He meets Kingkaew (Petchara Chaowarat), a vagabond. Wishing to help poor people and teased by Kingkaew, he proposes to bring the A-ram boys band (เด็กวัด) in Bangkok to play music in a nightclub. His uncle chases him away as he cancelled all debt contracts. Tum is chased also. Teacher (ครู) Rangsun (Charin Nantanakorn) will help writing songs for the band. There is a crazy lady (Wilaiwan Watthanaphanit) in Hirun's house looking for her children. Tum wonders if she is her mother or not. They arrive in Bangkok but have little money. They met a restaurant owner's daughter (Chosri Misommon), willing to join them as a singer. Pa (Sulaleewan Suwanthat) is their house owner. They borrow 300 000 baht from Pa but Tu has to promise to marry her daughter (Orasa Isarangkul) Nataya. Pa knows that Tu is a potential rich heir. Lor Tok proposes ideas for their nightclub promotion. Tu's concept is that art belongs to everybody. Hirun wants to be sure his nephews will fail so he hires ruffians to destroy their nightclub. The ruffians steal their money so Tu and his friends decide to serve and cook by themselves. Hirun comes on the opening day with a bunch of tough ruffians to make noise and also kidnap the performing girls. Indian actor Banglae (บังเละ) is acting as nightclub guard. Kingkaew always find solutions to problems occurring. The ruffians drunk the cook and waiters to delay orders. Hirun takes the teacher (ครู) Rangsun's piano as he didn't pay his rent due to sickness. Adul Dulyarat is a doctor trying to save the teacher Rangsun. Hirun sends his ruffians to create a brawl in order to destroy the nightclub. Artist should be protected. The Thai King giving cinema awards inspires them not to stop fighting (ศีลปินไม่เคยตาย). By hazard, Tum and her friends have chance to release the crazy woman called Nat. Another uncle of Tu called Sompong is released from prison after twenty years. He narrates to Tu the story of his father betrayed by his own brother Hirun and who finally committed suicide. Nat is reunited with her two children, Tu and Tum. All the money of Hirun is coming from the one million baht that the father gave him to raise his children. They promise to take revenge on his 60th birthday coming soon. Hirun has to face the truth on his birthday turning to be a nightmare for him. He finally lost his whole fortune. The nightclub featuring arts becomes a huge success. This movie features 14 songs. A double DVD (3h20mn) including the 35mm movie fully restored was released by Thai Film Archives. The whole movie should even be a bit longer as the song หญ้าโลมดิน sung by Mitr and Petchara is missing. It is present on the VHS version and on a 16mm version left. Another movie version was released in year 1983. Two TV series were released in years 1997 and 2007. The producer is Prince หม่อมอุบล ยุคล. This movie includes more than 60 Thai actors, actresses and singers. Petchara got a Thai cinema reward for this movie. This movie is part of the second 25 films heritage list announced on October 4 2012, which is Thai Movies Conservation Day.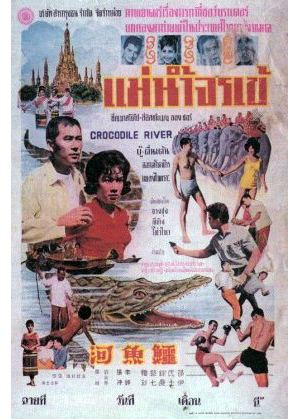 Year

: 1965



Thai title

:

แม่น้ำจระเข้




English title

: Crocodile River



Rating

: 3/5


Director

: Lo Wei



Main actor

: Paul Chang Chung,Man Teeraphol


Main actress

: Lee Ting,Yaowaret Nisakorn,Malee Wetpraseri,Manat Boonkiet



Buy now

:

The tragic romance 鱷魚河 - "Crocodile River" is a Shaw Brothers movie filmed in Thailand. Thainess is present through traditional dance (รำวง) in the village, Thai boxing match and master honorific dance (ครู), floating market, Tuk Tuk ride through Bangkok including Wat Phra Kaew and Grand Palace, Ananta Samakhom Throne Hall, Bangkok zoo, democracy monument, Wat Pho and even the royal barges on Chao Praya river, Wat Arun, Pattaya beach, Loy Krathong festival. It includes three well known Thai actors, i.e. Man Teeraphol, Malee Wetpraseri (ป้ามาลี เวชประเสริฐ) and Yaowaret Nisakorn. Crocodile River was Lo Wei's first film for the Shaw Brothers studio. Crocodile River movie features Romeo And Juliet-flavored story. Families are against each other. Yodi (Paul Chang Chung) is the Romeo and Lee Ting is his Juliet. The two students love each other from across a river that is filled with crocodiles. Families are living on opposite sides of the river. Hidden secrets between both families cause fights to happen. Yodi's parents try to push him to another girl but he is not interested. The girl tries to get his interest by using her sexy shapes but it is enough. Yodi swims across the river to be reunited with Lee Ting. Following a fight between Yodi and Lee Ting's brother (Man Teeraphol), Lee Ting cannot leave the house and her father removes all her clothes to ensure she doesn't going out naked. The girl's father uses saboteurs on his neighbors' property and they put fire in a barn. Finally Lee Tin flees from her house and swims across the river. Yodi helps her as crocodiles are converging towards her. But it is too late for both of them. Their death makes the two clans to pacify. Lee Tin's brother seems to be Yodi's father hidden son. This Shaw Brothers movie is a remake of Thai movie "จำปูน" (1964) featuring Man Teeraphol, Sor Asanajinda, Taksin Jampol, Somjit Sapsamruey, Tat Ekathat...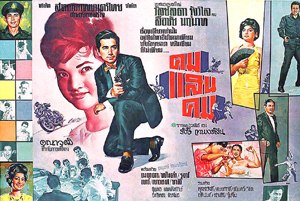 Year

: 1964



Thai title

:

คมแสนคม




English title

:



Rating

: 3/5


Director

: Wichit Khunawut



Main actor

: Luechai Natnat,Adinan Singhiran,Adul Dulyarat,Ruj Ronnapop,Man Teeraphol,Choomporn Theppitak


Main actress

: Metta Roongrat,Yaowaret Nisakorn
Thai action movie คมแสนคม was released in year 1964. It features Luechai Natnat as main actor. The movie is lost in Thailand but a 3mn30s trailer remains to be seen. Wichit Khunawut is one of the most famous Thai director. Songs were written and sung by Charin. Various short sequences are showing new actress Warada Wongwilai (วัลย์ลดา รุ้งวิไล), Adinan Singhiran, Adul Dulyarat as head of the ruffians, Ruj Ronnapop, Man Teeraphol, Metta Roongrat as a singer. A few fights and gun shootings happen. Old views of Bangkok can be seen. Luechai was a famous main actor before the arrival of Mitr Chaibancha and Sombat Methanee.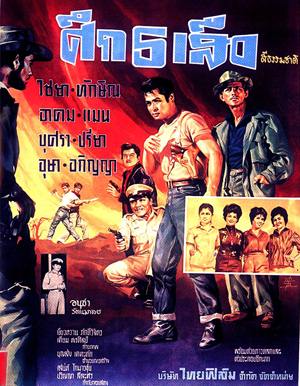 Year

: 1963



Thai title

:

ศึก 5 เสือ




English title

:



Rating

: 3/5


Director

:



Main actor

: Chaiya Suriyun,Taksin Jampol,Sukon Koewliam,Man Teeraphol,Anucha Ratanaman


Main actress

: Preeya Roongrueng,Boosara Narumit,Usa Atcharanimit
Thai movie ศึก 5 เสือ was released in year 1963. It features Chaiya Suriyun as main actor. The movie is lost in Thailand but eleven minutes of various sequences remain to be seen. 4 ladies are featured in this movie, i.e. Preeya Roongrueng, Boosara Narumit, Usa Atcharanimit and อภิญญา วีระขจร. Other actors featuring in this movie are Taksin Jampol, Sukon Koewliam, Man Teeraphol, Anucha Ratanaman as policeman. The movie is in 16mm format so no sound is available as this format requires live dubbing. There is a sequence when Chaiya Suriyun's character is still a kid. Preeya Roongrueng is then the mother. A man is worried in his home despite being protected by police. Taksin Jampol is shot by the police while he was threatening this man (อาคม มกรานนท์) in his house. Chaiya visits Usa Atcharanimit in her room but gets pushed back. He kidnaps two ladies. Shootings with police happen. One of the lady trying to protect him against the shots but dies in his arms. Chaiya finally dies also following a duel with Man Teeraphol. This is mainly a story of police catching thieves but it involves some police-thief couple. In one case, the father is a policeman and the son is a thief. In another case the father is a thief and the son is a policeman! It can only end sadly... Another version of ศึก 5 เสือ was released in year 1977 with Sombat Methanee.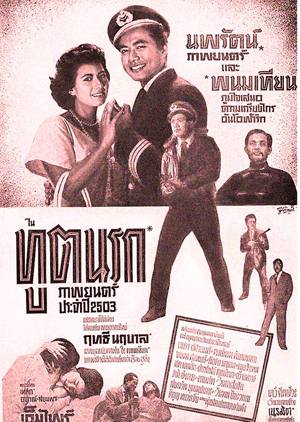 Year

: 1960



Thai title

:

ฑูตนรก




English title

:



Rating

: 3/5


Director

: Neramit



Main actor

: Luechai Natnat,Man Teeraphol,Tat Ekathat,Phirapon Piyawan,Jamroon Nuatjim


Main actress

: Amara Asavananda
Thai movie ฑูตนรก (เล็บครุฑ ภาคสมบูรณ์) was released in year 1960. The main actor is ฤทธี นฤบาล and main actress is Amara Asavananda. This movie is supposed to be a sequel of Thai movie "เล็บครุฑ" released in year 1957 and featuring Luechai Natnat. Luechai got a Thai cinema award for his first movie. In this sequel, the main actor is new and his name is ฤทธี นฤบาล. Others actors and actresses are พงษ์ลดา พิมลพรรณ, งามตา ศุภพงษ์, Luechai Natnat, Man Teeraphol, Tat Ekathat, ประศาสน์ คุณะดิลก, กวี นาคราช, ชาติ เชิงชาย, สมถวิล มุกดาประกร, Phirapon Piyawan, Jamroon Nuatjim (จำรูญ หนวดจิ๋ม). Director is Neramit (ครูเนรมิต). It was not a big success as the main actor was more known for second roles in other movies. The movie is lost in Thailand but a 5 minutes sequence is is left to be seen. Luechai Natnat has certainly a small role to make the transitions between the two movies. Various small sequences can be seen such as scenes including actors Tat Ekathat and Man Teeraphol, Jamrun Nuatchim hiding under the bed, Amara threatened by a man with a bottle full of acid, Amara and a captain in front of a paquebot, the captain leaving, veteran sexy actress (ดาวยั่ว) seducing a man.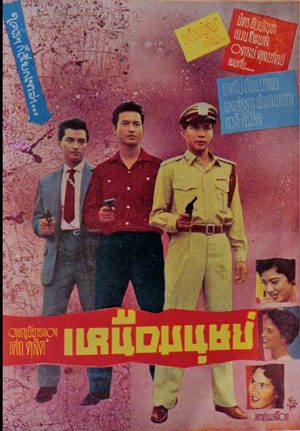 Year

: 1959



Thai title

:

เหนือมนุษย์




English title

:



Rating

: 3/5


Director

: Wichit Khunawut



Main actor

: Mitr Chaibancha,Adul Dulyarat,Man Teeraphol,Sompong Phonmitr,Sukon Koewliam


Main actress

: Rewadee Siriwilai,Kesarin Patamawan,Phong Lada Pimolpan
Thai movie เหนือมนุษย์ was released in year 1959 and lasts 1h26mn. The picture is still colorful. Director is Wichit Khunawut. Mitr Chaibancha was only 25 years old. This is oldest movie still featuring Thai superstar Mitr Chaibancha. Highlight of the movie is Mitr Chaibancha playing with 3 famous main actresses of decade 1950s. Sarawat Cheut (Adul Dulyarat) and Man Teeraphol are policemen. Mitr is playing a bad ruffian, called Krieng, flirting with ladies. Krieng succeeds to win the trust of a gang. The leader sends him in south of Thailand. Sompong Phonmitr follows Krieng as he is impressed by him. Krieng meets Saen, local leader in Pattalung. A local lady called Lada (Rewadee Siriwilai) follows Krieng. Krieng intercepts a truck driven by Saen and containing illicit goods. He joins the Thai police (เจ้าหน้าที่) to catch Saen. Krieng infiltrates another ruffians group and keeps in sync' with Thai police. He meets another lady called Apson (Kesarin Patamawan). Lada is shot while fleeing with Krieng. Businessman Pong asks help from inspector Cheut. Saen kidnaps inspector Man. Krieng helps to release him while ruffians are busy transporting goods. Nit (Phong Lada Pimolpan) is raped by a ruffian. Krieng and Apson joins their efforts to protect Thailand against people trying to hurt the country. Nit steals a document from the ruffians. Undertaker (สัปเหร่อ) kills Saen and Go. Ruffians are aware Krieng betrayed them (ทรยศ). Krieng and Apson are identified as traitors and are attached. Police, called previously by Apson, disturb the ruffians allowing Krieng to escape. Phi Cheua and Nit die during the fightings but Nit shoots Go before dying. Apson is a uncovered policewoman called Achala. It discovered that Krieng's real name is Chet and he is the elder brother of Cheut! Cheut and Chet love the same woman, i.e. Achala. The leader still tries to kill Krieng as revenge. The real leader is Businessman Pong! Krieng succeeds to neutralize the ruffians and escape before the building collapses. He gets Achala's love.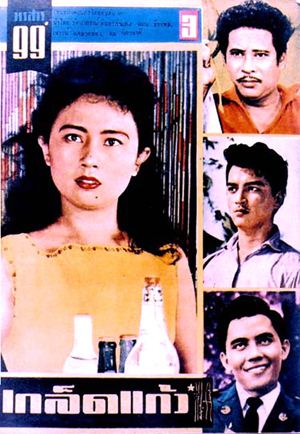 Year

: 1958



Thai title

:

เกล็ดแก้ว




English title

:



Rating

: 3/5


Director

: Phan Kam



Main actor

: Man Teeraphol,Adinan Singhiran,Tawan Siriwat


Main actress

: Ratanaporn Intarakamhaeng,Mom Chan Phuangwan,Somjit Sapsamruey
Thai movie เกล็ดแก้ว was released in year 1958. The movie is lost in Thailand but a 6 minutes colorful and sharp trailer is still available. Main actors are Ratanaporn Intarakamhaen and (Man Teeraphol. Other actors are Tawan Siriwat (ดาวร้าย), Mom Chan Phuangwan. The movie is mainly shot in province Chumphon. It starts with a nice sequence of a family at the beach around Hua Hin. Khun Thanya (Man Teeraphol), young Bangkokian man, has a bad behaviour. He flees from Bangkok to Chumphon and meets Kaet Kaew. Kaet Kaew (Ratanaporn Intarakamhaeng) is a local village young lady. Adinan Singhiran loves Kaet Kaew but love is not reciprocal (พี่น้อง). Plaew (เชาวน์ แคล่วคล่อง), another villager, also loves Kaet Kaew so fighting happens between the two men. Kae Son (Somjit Sapsamruey) is the mother of Kaet Kaew. Love emerges between khun Thanya and Kaet Kaew despite her mum warning her against Bangkok people. Kaet Kaew follows him to Bangkok but faces disappointment. Back to Chumphon she marries with Plaew. A remake was released in year 1983 with Sorapong Chatree and Naowarat Yooktanun.
---