Increase or decrease font size for easier reading : A+ A-
Malalin Bonnak
Malalin Bonnak (194x) - มาลาริน บุนนาค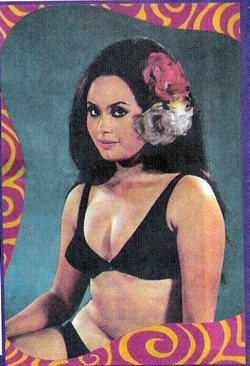 Malalin Bonnak played in Thai movies during years 1970-1975 She is often played the "ดาวโป้" (actress who always played the girlfriend of the Mafia boss, the jealous woman, the temptress, the prostitute or the woman dressed in sexy clothes) or สาวดาวยั่วเซ็กซี่
This Malalin Bonnak movie page contains 4 records.
---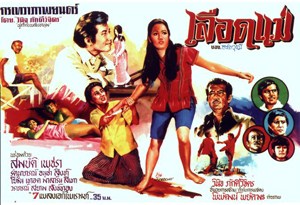 Year

: 1972



Thai title

:

เลือดแม่




English title

:



Rating

: 3/5


Director

:



Main actor

: Sombat Methanee,Choomporn Theppitak,Anucha Ratanaman,Songthong,Sithao Petcharoen


Main actress

: Petchara Chaowarat,Ratanaporn Intarakamhaeng,Malalin Bonnak
This 1972 Thai movie เลือดแม่ lasts 2h20mn. Its full version still exists among a Thai collector but it was never released through any official video format such as VHS, VCD or DVD. A 40mn sequence can be watched online. A Bangkokian man (Anucha Ratanaman) is lying to an upcountry girl (Ratanaporn Intarakamhaeng) about his love. Ratanaporn is then pregnant. Knowing that Anucha will not come back, she flees her home to avoid shame and ends up in a thieves' den. A baby girl is born. Years have passed. The baby girl is Petchara Chaowarat. While being an adult, she gets rescued by Choomporn Theppitak as she was getting threatened by ruffians. As Petchara wishes to know who her father is (she only has a pendant), she flees to Bangkok with Choomporn. Being aggressed by thugs, they get help from Sombat Methanee. Malalin Bonnak (มาลาริน) is Sombat's promised fiancee. As they have no place to go, Sombat helps them to stay at a friend's home. Malalin sees Petchara as a concurrent for Sombat's heart. Love emerges between Sombat and Petchara. Malalin and her mother makes a plan to denigrate Petchara. She is drugged while sleeping and a ruffian simulates leaving her bed while Sombat is just here. Choomporn learning this gives a lesson to Malalin. Her mother being sick, Petchara and Choomporn have to go back to their home town. Malalin's mother orders a ruffian to go also in order to kill Petchara as Sombat refuses to marry her daughter. The shootings go wrong in the village. Choomporn protects Petchara with his own body and dies. The ruffian gets injured by Petchara's stepfather, who also dies. Back to Bangkok as Malalin's mother refuses to pay anything to the ruffian, she also gets shot. Anucha, aware of the whole story, goes to the village with Sombat. Both love stories finally blossom, i.e. Sombat and Petchara, Anucha and Rattaporn. Seven songs are performed including singer Songthong.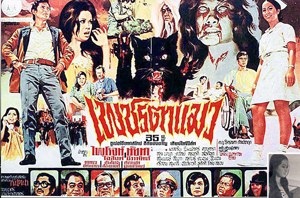 Year

: 1972



Thai title

:

เพชรตาแมว




English title

:



Rating

: 3/5


Director

:



Main actor

: Phairoj Jaising,Manop Aussawathep,Surasit Sattayawong,Tawan Siriwat,Sukon Koewliam,Sompong Phonmitr,Lor Tok


Main actress

: Naiyana Shewanan,Sisala Thongtara,Malalin Bonnak,Khomapat Attaya
Thai movie เพชรตาแมว was released in year 1972. The movie lasts 2h25mn. It seems the movie was never released on DVD or VCD. Only on cable TV so scenes involving alcohol drinking or smoking cigars are blurred. A few songs are featured in the movie similar to all movies beginning of 1970s following huge success of "Mon Rak Luk Tung". Three men are looking in a remote cave for a mystical cat having real diamond eyes. Chat is the one who finds it first but fighting happens with another man. They shoot each other. The third one being a Prince (หม่อม)(Manop Aussawathep), who finally keeps the jewel and doesn't give it back to Chat's daugher. Ten years have passed. The prince is now disabled, lost his wife and child. The jewel brought him bad luck as he is not the real owner. Niphon (Surasit Sattayawong), Tawan Siriwat, Sisala Thongtara, Sukon Koewliam are his domestic helpers. Tawan Siriwat hires a young lady to get the jewel from the Prince. Meanwhile the prince asks Yot (Phairoj Jaising), being a police inspector (สารวัตร), to look for Chat's daughter called Bussayarat. Bussayarat is now a nurse (Naiyana Shewanan). Sompong Phonmitr is her father and wishes to marry her to a local ruffian in order to get money to continue to buy alcohol. Yot helps Bussayarat aggressed by those ruffians. Yot brings Bussayarat to Bangkok in order to meet the Prince believing he found Chat's daughter. As Bussayarat has still a father, the Prince claims she is not the Bussayarat he is looking for but keeps her as a nurse. Niphon introduces to the Prince a fake Bussayarat played by Malalin Bonnak. The Prince asks for 7 days to ensure (สอบถาม) she is the real one. Meanwhile Tawan Siriwat also introduces to the Prince another fake Bussayarat played by Khomapat Attaya. The diamond is sacred (ของศักดิ์สิทธิ์) so it will bring bad luck to malevolent people. Tawan Siriwat, disguised as a ghost (ผี) frightens Malalin to chase her away. Khomapat also faces many black cats in her room and flees. Niphon is married to Nuan (สุพรรณ บูรณะพิมพ์). Nuan is elder sister of Malalin. Niphon is thinking to flee with Malalin when they get the diamond. As Khomapat is in hospital following her shock, Niphon cuts her oxygen approvisionnement to get rid of a competitor. Seeing Yot loving Bussayarat, Malalin is jealous and tries to take Yot away from Bussayarat. Meanwhile Yot is sent by the prince to meet Phra lo (Lor Tok) in order to bring back the diamond. Tawan Siriwat sends some ruffians to steal it but it fails. A ceremony to handover the diamond (มอบเพชร) to Malalin is organised. It ends badly with Tawan Siriwat trying to steal the diamond and injuring Malalin. Yot shots Tawan Siriwat. Being disfigured, Malalin asks Bussayarat to get the diamond for her so that she can have chirurgical operation. Having the diamond, Malalin prepares to flee with Niphon. Khomapat's aunt called Nathalie shots Malalin to get the diamond. Many deaths happen due to the evil power of the diamond (อำนาจของเพชรตาแมว). Nathalie becomes crazy after Niphon steals the diamond from her. Niphon is chased by the police. He shots by mistake Nuan and finally falls from a building. During an official ceremony, the Prince gives back the diamond to Bussayarat.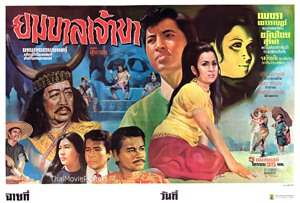 Year

: 1971



Thai title

:

ยมบาลเจ้าขา




English title

:



Rating

: 2/5


Director

:



Main actor

: Sawin Sawangrat,Lor Tok,Sithao Petcharoen,Kwanchai Suriya,Daonoi Duangjai


Main actress

: Petchara Chaowarat,Malalin Bonnak,Charuwan Sawirayong
ยมบาลเจ้าขา (1971) is a Thai movie, which was never released in any format (VHS, VCD, DVD). An extract of 54mn can still be seen despite the whole remaining footage is around 1h40mn. It is a 16mm movie so no original sound is available as such movies were dubbed. There is no more poster available. ยมบาลเจ้าขา is a horror movie with a comic twist. Most former Thai horror movies have more comedy than real horror (หนังผีตลก). While her husband is away, Petchara Chaowarat is aggressed and raped by Sawin Sawangrat so she gets suicide. Daonoi (ดาวน้อย ดวงใหญ่), Sithao, Lor Tok are playing comic characters. They are aware Petchara is dead. Two other veteran actresses are involved in this movie, i.e. Malalin Bonnak (มาลาริน บุนนาค) and Charuwan Sawirayong (จารุวรรณ สวีรวงศ์), spouse of Mitr Chaibancha. It was her first movie. Charuwan Sawirayong was married to Mitr Chaibancha from 1959 to 1963. The movie scenario is a bit similar to Mae Nak story. All know Petchara has died except her own husband Kwanchai Suriya. Kwanchai Suriya (ขวัญชัย สุริยา) is a new actor and part of the numerous tentatives to find a proper candidate to replace superstar Mitr Chaibancha, who unfortunately died in year 1970. Kwanchai Suriya was quite shy when acting so he only played 2 movies as main actor and then only secondary roles. When Kwanchai realizes his wife is now a ghost (รู้เป็นผี) so he flees from his home but Petchara is still looking for him. Sawin is back from Bangkok with a man and they do visit a cemetery with a spirit doctor (หมอผี). It is a fiasco. Meanwhile Kwanchai and his friends also hire a spirit doctor. As Petchara ghost refuses to be born again, it is imprisoned in an earth clay pot. Many spirit doctors (หมอผีแขก, หมอผีจีน, หมอผีไทย) intervene but fail to control the ghost. Following all the deaths, Kwanchai agrees to go with Petchara ghost to stop the killings. He gets estranged and both go to hell judgment. The hell king refuses to accept Kwanchai as it is not his time to die yet. Before leaving, the Hell King shows him around. It features two songs in the Hell Kingdom. Through a touching song, Petchara tries to convince the Hell guardian but to no avail. Finally Kwanchai is sent back to earth but all his friends believe he is a ghost too! The movie ends with Kwanchai convincing them that he is still alive. The movie features a total of three songs.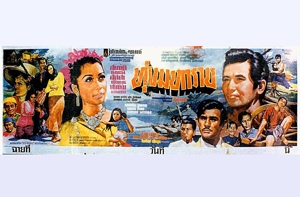 Year

: 1970



Thai title

:

ทุ่งมหาราช




English title

:



Rating

: 3/5


Director

: Sor Asanajinda



Main actor

: Sombat Methanee,Taksin Jampol,Choomporn Theppitak,Sithao Petcharoen,Kokheng,Tat Ekathat


Main actress

: Suthisa Putnuch,Malalin Bonnak
Thai movie ทุ่งมหาราช was released in year 1970. The movie is lost in Thailand. Only one reel is left. The left sequence lasts 19 minutes and the image is quite damaged. The remaining sequence is in mute state as the reel is in 16mm format. Movie director is Sor Asanajinda. Main actors and main actresses include Sombat Methanee, Suthisa Putnuch, Taksin Jampol, Malalin Bonnak, Choomporn Theppitak, Sithao Petcharoen. A lady (Malalin Bonnak) is taking a boat. Sombat and Sithao are seen on a boat. Sombat is holding a gun and shootings happen. Scene with Choomporn, Sithao, Sombat and Suthisa holding a baby. They are having lunch along the river. Another scene is Sombat wakes up stranded on the shore near a young lady. The lady is on the shore is dead. The lady is Sombat's lover. Chief (Tat Ekathat) is having discussion with Sombat. Sombat is discussing with an old lady in the village. Malalin Bonnak is spying them. Sombat is talking to Taksin Jampol. Soup seller is veteran comic actor Kokheng. Suthisa finds Sombat having an affair with Malalin Bonnak. Sombat is seen walking with Suthisa wearing a beautiful dress. She is probably his wife.
---