Increase or decrease font size for easier reading : A+ A-
Mai Charoeunpura
Mai Charoeunpura (1969) - ใหม่ เจริญปุระ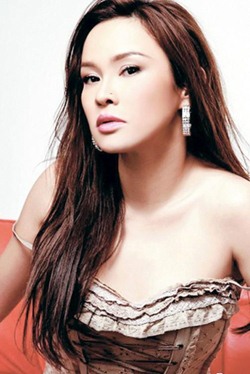 Mai Charoeunpura comes from a well-known show business family. She is a popular singer and actress with GMM Grammy. Her father is the famous actor and director Ruj Ronnapop. Her younger half sister is actress Intira Jaroenpura
This Mai Charoeunpura movie page contains 9 records.
---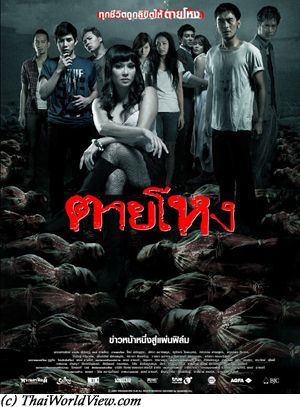 Year

: 2010



Thai title

:

ตายโหง




English title

: Tai Hong



Rating

: 3/5


Director

:



Main actor

:


Main actress

: Mai Charoeunpura



Buy now

:

This movie is based on four real sensational and lurid stories. It is surfing on the Phobia movies serie (5 แพร่ง / สี่แพร่ง) success. It is featuring four small episodes with different directors. ตายโหง (Tai Hong) are spirits who died following a violent death. 1) On New Year's Eve a party is taking place in a disco. A fire happens. A young man, called Em, survives to the fire and has vision of dead people that haunts him. His girlfriend died during the fire as she was was stuck in the restrooms. There was only one exit. Finally both of them already died during the fire... It is based on real event that occurred on December 31, 2008 in the Santika Club nightclub in Bangkok where 66 people died. 2) A young man is sent to prison. He has visions and hears voice. It is a scary prison with frequent suicides. He was sent to jail because he raped and killed a young lady. Finally unable to withstand the horrible visions pressure, he suicides himself. 3) A mute young man receives a visit from a young girl. A financial transaction happens between both of them. She dies in his flat. He hides the corpse inside the building water tank. Then he has visions of her dead body. As the body starts to putrefy, people living in the building start to drink or shower with the water from the tank and finds body residues. One young lady investigates but the mute young man tries to drown her in the water tank. He is finally the one to get sunk by the ghost... 4) A prostitute (Mai Charoeunpura) brings two men in a motel room. While they are taking a shower, she talks to the old caretaker, who mentions presence of Phi Tai Hong (ผีตายโหง) in the motel. A corpse is found in the motel room. This episode is the most comic one. It mixes real and fake ghosts.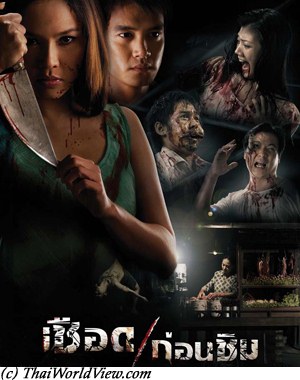 Year

: 2009



Thai title

:

เชือดก่อนชิม




English title

: Meat Grinder



Rating

: 4/5


Director

:



Main actor

:


Main actress

: Mai Charoeunpura,Pimchanok Leuwisetpaiboon,Duangta Tungkamanee



Buy now

:

Bout is a lady selling Thai noodle soup. Her life is full of sorrow, sad and bloody events. She has one young crippled daughter called Bua. When Bout was young, she was mistreated by her mum so has now sequels. Bout was raped by her father forcing Bout to marry early as she was pregnant. She had also a bad unfaithful husband who had debts. She killed him and her mistress as they try to drown her daughter who spied them together in the bedroom. The events happen during 1973 Thai student uprising historical events. A corpse is found in her cart as a student hides inside and receives a lost bullet. To get rid of the corpse, she chops it inside her noodle soup. It gives a delicious taste. She meets a young man that is looking for his missing friend. A love story starts. There is a strong analogy on flesh during lust and on bloody flesh used in noddle soup... A debt collector always bothers and threatens Bout to get paid relating old debts from her former husband. One evening she kills him and uses his flesh in noodle soup also. The young man understand after a while why she stockpiles sedatives from his pharmacy. She uses sedatives to put to sleep her victims before chopping them. He discovers Bua's body in a big jar. In fact Bout is crazy as Bua is dead since a long time already. Bua is only alive in her imagination. The young man sends her to police but without tangible proofs, Bout cannot be arrested. She is released and is looking for revenge over her former boyfriend and his new girlfriend. She kidnaps the girlfriend in her bloody cellar containing so many corpses... Main actress is famous Thai pop singer Mai Charoeunpura. Her performance is so striking that the pity over her sad life surpasses the horror due to her bloody killings. The film has been cut by Thai censors as the censors worried the film story could jeopardise the popularity of Thai noodle soup! The original Thai title was ก๋วยเตี๋ยว เนื้อ คน meaning "human meat noodles". The Thai title has to be changed to เชือด ก่อน ชิม meaning "carve before tasting".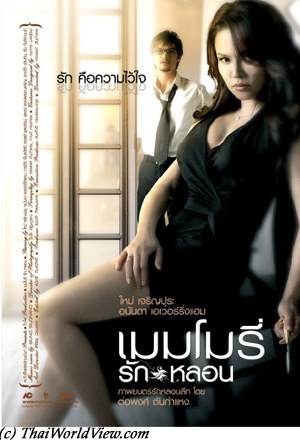 Year

: 2008



Thai title

:

เมมโมรี่ รักหลอน




English title

: Memory Love Haunt



Rating

: 4/5


Director

:



Main actor

: Ananda Everingham


Main actress

: Mai Charoeunpura



Buy now

:

A policeman calls his friend and doctor Krit (Ananda Everingham) to investigate on a weird case. Prae, 8 years old girl, claims she can see ghosts. One ghost is always frightening her but her mother, Ingorn (Mai Charoeunpura) believes it is only dreams that will disappear. Krit is specialized in difficult cases and psychic issues. He is puzzled by the bruises on Prae body. The doctor has lost his daughter before also and sometimes indulge in alcohol. He doesn't talk a lot to his wife being focus only on his job. Ingorn doesn't bring her daughter to school to avoid remarks on her daughter madness. She has quit her husband before as he was very violent. The doctor is worried Prae could hurt herself. He visits her at her home. She has scars on the face. When she does a drawing, there is Prae and her mother but also another small child in the house. The doctor starts to have visions also, seeing Ingorn face instead of his wife face. He is seeing a child being smashed by a car. He starts to be very close to Ingorn and Prae. He has finally a relationship with Ingorn. It seems that Ingorn has a relationship problem with men and she forbids her daughter to see any boy. Her own problems reflects in her daughter problems. The doctor decides to bring Prae to the hospital but Ingorn poisons him before. His wife quits Krit. Krit finds Ingorn again. Krit is really wishing to help Ingorn but she refuses any help and doesn't trust anybody. Up to the point, she prefers to die instead of having somebody else taking care of her daughter. Main actress is famous Thai pop singer Mai Charoeunpura.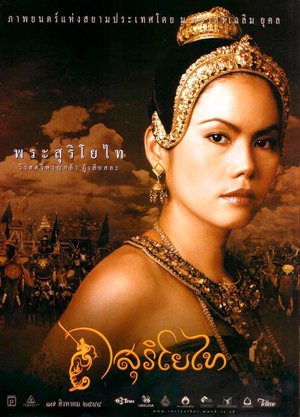 Year

: 2001



Thai title

:

สุริโยไท




English title

: Suriyothai



Rating

: 5/5


Director

: ChatriChalerm Yukol



Main actor

: Sorapong Chatree,Sombat Methanee,Chatchai Plengpanich,Phongphat Wachirabanjong,Saranyu Wongkrachang,Ron Rittichai


Main actress

: Mai Charoeunpura



Buy now

:

It is about a legendary Thai princess who died fighting the Burmese on elephant-back. The film required five years of research and two-and-a-half years of shooting. It has broken almost every record in Thai film history. It is the most expensive at 400 million baht, the most star-studded, with a cast of 2,000 extras and more than 50 elephants and 70 horses. It has the longest shooting time and the longest screening time, i.e. three hours and five minutes. In 2003, an updated five hours version was released. In 2003, the film was also released in the United States with a shorter running time. This version was edited by Francis Ford Coppola, an old classmate of ChatriChalerm Yukol. Reigning monarch Queen Sirikit instigated this movie, financed most of it, arranged for palaces and historic sites to be opened to a film crew for the first time. The Culture Ministry registers 25 Thai classic films each year at the National Film Heritage Registry. This movie is part of the 25 films heritage list announced on 04 October 2015, which is Thai Movies Conservation Day.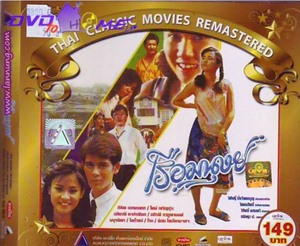 Year

: 1988



Thai title

:

เรือมนุษย์




English title

:



Rating

: 4/5


Director

:



Main actor

: Likit Eakmongkol,Apichat Halamjiak,Phairoj Jaising


Main actress

: Thitima Sangkapitak,Mai Charoeunpura,Apiradee Pawaputanon,Natanee Sitthisaman
Thai movie เรือมนุษย์ was released in year 1988 and lasts 1h57mn. This movie is a critic of Thai high society (ผู้ดี) and karmic retribution. Young lady Pim is pregnant with young lad Chayapon. Pim is the daughter of Plao (Apichat Halamjiak) and Rose (Thitima Sangkapitak). Parents never have time for their daughter so she was mainly raised by younger aunt Nitima (สรารัตน์ หรุ่มเรืองวงศ์). Parents are worried about face. A meeting occurs with Dam, uncle of Chayapon, (Likit Eakmongkol). Pim refuses to marry Chayapon as he is also issued from a sad family without love. Khiaw (Mai Charoeunpura) is hired as domestic helper by Rose. Khun Det, Chayapon's father, is currently abroad. Choo is his mistress (Apiradee Pawaputanon). Chayapon asks money to her to hire an illegal doctor to perform abortion. Rose finally is interested in pushing for a wedding as Khun Det (Phairoj Jaising) is rich. Na Feuang (Natanee Sitthisaman) helps for the abortion money as she doesn't agree with this wedding. The abortion doesn't happen. Khun Det is back and agrees to recognize the child. Det rents a house for Pim and Nitima to have them near him. Fed up with Rose, Plao takes Kiaw as mistress and they move out in a rented house. Khun Det goes to Nitima's office every day as he tries to seduce her. It makes Dam to be upset. Choo complains about Det (ความยุติธรรม - justice between man and woman) as he has many flirts, but she cannot satisfy her own desires. Dam refuses to be a proxy. Det offers a diamond ring to Nitima and gives bad rumors about Dam and Choo. Pim helps Det so Dam believes a romance has started between Nitima and Det so he gets drunk. Choo tries to take advantage of Dam being drunk. Det chases Choo and Dam, his half-brother, of his house. Rose tries to get suicide as Kiaw is pregnant, so she lost face. Nitima and Dam become friends again as misunderstanding is clarified. It is a sin (บาปกรรม) to abort so Rose authorises Kiaw to stay in their home. Pim's child is born. Det still wishes to seduce Nitima. Kiaw is feeling unwell as Plaew is split between his old (ทำตัวเป็นแม่พระ) and new wife. Det understands excession passion (กิเลส) towards Nitima was wrong and apologises. Feuang is hit by a car as she sees Choo with her husband (ทำประชด). The child born from Kiaw is infirmed. Happiness is back in all couples. Kiaw has even a new husband, i.e Chayapon!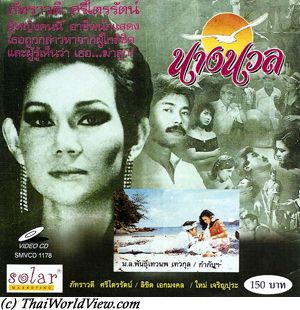 Year

: 1987



Thai title

:

นางนวล




English title

:



Rating

: 3/5


Director

: Pantewanop Tewakul



Main actor

: Likit Eakmongkol


Main actress

: Mai Charoeunpura,Thitima Sangkapitak
Thep is coming to his home in South of Thailand. He is the son of a famous TV serie star. He decides to teach students acting and meets a girl called Nuan, whose dream is to be a TV serie star. Thep's mother then comes to South of Thailand for holidays with her boyfriend, who is a famous TV serie producer. Willing to change her life, Nuan tries to seduce Thep's mother's boyfriend. She finally goes to Bangkok following his advice. There he takes care about her and she starts a TV serie star career. But being pregnant he forces her to abort and dumps her. In her foolish dream to continue to be a TV serie star, she accepts to play in porn movie. She finally comes back to South of Thailand in her hometown where this lovestory tragically ends.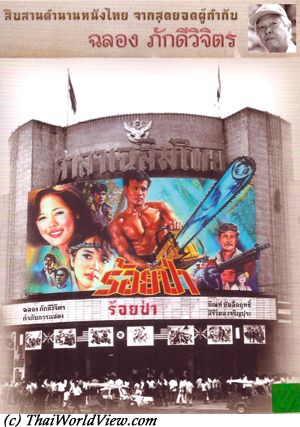 Year

: 1986



Thai title

:

ร้อยป่า




English title

:



Rating

: 5/5


Director

: Chalong Pukdeewichit



Main actor

: Bin Banleurit,Somchai Samipak,Taksin Jampol,Manop Aussawathep,Rith Luecha


Main actress

: Mai Charoeunpura



Buy now

:

Thai movie ร้อยป่า was released in year 1986 and directed by veteran Chalong Pukdeewichit. Luang Ta is taking care of an orphaned boy called Seua (ลูกศิษย์วัด). Seua (Bin Banleurit) sympathizes with young girl Paew but gets an enemy as Anirut (ลูกผู้ดี). Years passed. They are now adults. Luang Ta dies. Seua goes to Lampang to do forest staff studies. He meets Srinuan. In Srinuan's disco, he protects Somchai (Somchai Samipak) as พ่อเลี้ยง against a murder tentative. During studies, he finds that teck forest has few trees left (ตรวจป่า). He meets Boon Ying and presents himself as new forest staff (พนักงานป่าใหม่). He tries to prevent ruffians led by Theum (Taksin Jampol) to cut illegally trees (ทำรายป่าไม่ได้). Seua gets his degree and is sent at Thai Burmese border. He realises that Paew was the one to support him financially during his studies. พ่อเลี้ยง Ithi (Manop Aussawathep), owner of a company allowed to cut 2000 trees, tries to corrupt Seua (เก็บเงินของคุณเลย) to cut more trees. Ruffians are sent to kill Seua but Theum and Leum being around help him. แม่เลี้ยง Saenthong (Mai Charoeunpura) wishes to get authorisation for her trees. Seua has issues with Nok (Rith Luecha), leader of elephant keepers. Seua checks the trees deeply in the forest and gives approval (ราชการดีๆยังมีอยู่ครับ). Back to the village, they found that Nok has taken all elephants. Hopefully Theum lends them some elephants to ensure the company is not stuck. Seua rejects Saenthong's love as he still thinks about Paew. Ithi is the one trying to close Saenthong's company as he is joining shares (ร่วมหุ้น) with a Bangkok company led by Anirut, engaged with Paew. Leum is captured and killed by ruffians with a chainsaw. Saenthong is also kidnapped. Seua revenges Leum through a chainsaw fighting with Nok. It is time for Seua to neutralise Ithi. Hopefully พ่อเลี้ยง Somchai and Theum give a hand to Seua as he is in a bad situation versus many ruffians. All ruffians are killed. Police arrives. Theum prefers to die gun in the hand instead of surrendering. Suea leaves as a lonely cowboy saddened by the death of Theum. An earlier version with Mitr Chaibancha and Petchara Chaowarat was released in year 1963.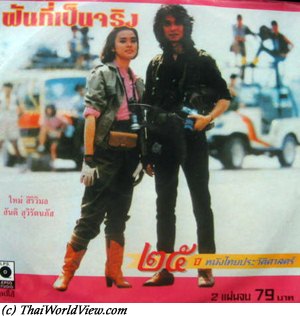 Year

: 1985



Thai title

:

ฝันที่เป็นจริง




English title

:



Rating

: 2/5


Director

:



Main actor

:


Main actress

: Mai Charoeunpura
Kratae's team (กระแต ) is hired by a Japanese company to shoot beauty of Thailand. They go to Sukhothai, Lopburi and its numerous bats coming from caves, Chachoengsao provinces. Two teams are in fact in competition. The second team is lead by Khae (เข้). Then they all go to Phitsanulok to shoot the flying vegetables (ผักบุ้งลอยฟ้า). They attend to many festivals (ประเพณีเก่า) in various provinces such as Phi Ta Khon in Dansai, Loei Province. It is also a way to show provincial food (Isan) and fruits. The two teams compete together (ผู้ชายเก่งกว่า - สู้กัน). Following a race, their equipment is damaged. So they have no choice than collaborate. They go to the Cobra snake festival in Khon Kaen, to the Phichit Boat Races, to Erawan Cave in Udon Thani, to Kaeng Khut Khu at the Laotian border (Chiang Khan) and finally to Phuket island. This movie shows many unseen touristic sites in Thailand. This movie is about tourism in Thailand with a love story as background. It is nice to see Phi Phi island without nowadays massive tourist development. The Japanese company was trying to locate some old Thai treasures thanks to the two Thai teams. Their bad stratagem is nosed out on time.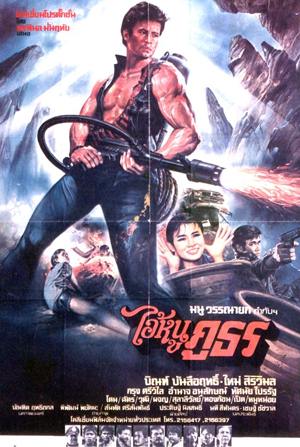 Year

: 1985



Thai title

:

ไอ้หนูภูธร




English title

:



Rating

: 4/5


Director

:



Main actor

: Bin Banleurit,Chat Mongkolchai


Main actress

: Mai Charoeunpura,Sulaleewan Suwanthat
Thai action movie ไอ้หนูภูธร was released in year 1985 and lasts 1h40mn. Movie director is มนู วรรณายก. The movie was released under VHS format before year 1988. It was never released under VCD or DVD format. Thup (Bin Banleurit) is a truck driver delivering goods. His close teammate is named Noi. Thup is getting delivery orders from a warehouse managed by subdistrict headman Chai. Ruffian Chat Mongkolchai is working for subdistrict headman Chai. Each time, they refill petrol, the trucks must pay 20 THB extra fee (ค่าน้ำมัน). This is extortion and it makes Thup and his friends, Krong and Kamsai, very upset. Thup meets his old soldier friend played by Krung Srivilai. Thup still has his mother (Sulaleewan Suwanthat) and a younger sister called Thien. Thup realises that the ruffians try to hide opium in the goods he has to transport. He refuses and quits the warehouse. Subdistrict headman Chai threatens him to keep quiet. Thup helps Rung (Mai Charoeunpura) having her truck stuck in a trench. Subdistrict headman Chai calls local banks and has Thup blacklisted in all local companies. Thup cannot find a new job. Luckily Rung proposes him to work for her and to transport jars (โอ่ง) from Bangkok. He has arguments with Chat and his men when visiting Krung's restaurant. Ruffians try to prevent him to pay back his truck, but it fails. Thup and Noi are ambushed by Chat and his ruffians. Noi is shot by ruffians. It is time for revenge. Thup, helped by Krong and Kamsai, storm a restaurant and shoot Chat and three of his men. Police try to arrest Thup but he flees. Ruffians storm his home and shoots his mother. His sister and Rung are captured. Thup storms subdistrict headman Chai's warehouse to know where his sister and Rung are held prisoners. Chai tells the location and is then arrested by the Police. To avoid long term jail, he also discloses the ruffians' den location, i.e. a remote cave. Thup, Krong and Kamsai enter the place while police and Thai soldiers also try to overcome the place. Thup finds his sister having been killed. The big boss is Krung. Thup is disappointed that Krung, as a soldier, who served Thailand, can behave like this. Thup gets a flamethrower and takes revenge over Krung, who hurt his family very badly.
---