Increase or decrease font size for easier reading : A+ A-
Linda Khatancharoen
Linda Khatancharoen (1956) - ลินดา ค้าธัญเจริญ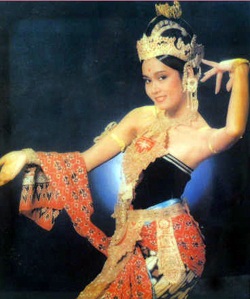 Linda Khatancharoen has played in more than 25 movies and many Thai TV series. She was seriously ill in year 2012
This Linda Khatancharoen movie page contains 7 records.
---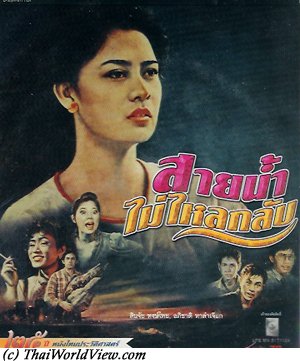 Year

: 1987



Thai title

:

สายน้ำไม่ไหลกลับ




English title

:



Rating

: 5/5


Director

:



Main actor

: Apichat Halamjiak,Somsak Chaisongkram


Main actress

: Sinjai Hongthai,Piathip Kumwong,Linda Khatancharoen
A young lady called Feun (Sinjai Hongthai) is working in a hairdresser shop and washes customers' hair. Khun Warut (Apichat Halamjiak), one customer, has interest in Feun. Phaen (Piathip Kumwong), Feun's stepmother, tries to push her to go out with Warut. Feun's father (Somsak Chaisongkram) indulges in alcohol and is seriously sick. Aniwat is Feun's close friend and wishes to marry her when he finishes his studies. Pressured by Phaen, Feun accepts a dinner invitation from Warut. Aware of this, Aniwat feels betrayed. Warut asks for Feun's hand. Phaen pushes her to accept. Troubled, she wishes to talk to Aniwat. But seeing him with another lady, she finally accepts Warut's offer. Warut starts to be more daring with Feun knowing they will marry soon. The wedding shall be a very small ceremony without Warut's parents. In fact, Warut is already married with three children. Phaen was aware. Warut and Feun don't understand each other. Feun likes to stay home but Warut likes to go to disco. Phaen is not interested in Feun's father but only in money that Warut gives to Feun. Warut doesn't come back home a few days already. While doing shopping with Warut, Warut and Feun meet Warut's wife. Feun understands that Warut lied to her (โลกลวง). She flees but is hit by a car. She is rescued by a DJ who introduces her to another lady called Luang. Feun cannot go back home as she doesn't want to be forced by Phaen again or to meet Warut again. Luang is working as a call girl. First Feun looks for normal jobs (waitress) but she still faces men harassment. She cannot find proper jobs (อยากเป็นคนดีแต่สังคมไม่ยอม). So she has finally no choice than working same as Luang as she is worried about her father. It is a difficult job as some men are crazy or violent. She enters in a whirlpool of sex and easy money. One day, one of her guest is Aniwat! Aniwat still believes Feun is a good person despite doing this job (ต้องการเงิน). Aniwat still loves Feun. Feun accepts to start a real love relationship with Aniwat. Their love is spoilt by meeting some former customers while dining and by a liver disease due to alcohol high level of consumption. Aniwat's friend tries to break this relationship. Feun's friend finds that Aniwat is already fiance with a teacher. Knowing this, she indulges in alcohol again and ends up in hospital. Despite cutting part of her liver, she will not survive long. She leaves the hospital and stays near the sea. Knowing Aniwat's wedding, she ends up in hospital again. Her friend forces Aniwat to visit her to hospital so that he can understand her real love and the pain he caused her. Feun dies in front of him. Movie สายน้ำไม่ไกลกลับ highlights society hypocrisy as it is allowed or understood that a man can have multiple mistresses but the opposite is not accepted. It highlights a society where men harassment is still excessive.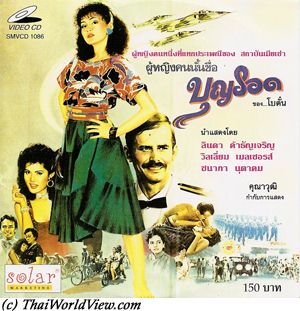 Year

: 1985



Thai title

:

ผู้หญิงคนนั้นชื่อบุญรอด




English title

: Her name is Boonrawd



Rating

: 4/5


Director

: Wichit Khunawut



Main actor

:


Main actress

: Linda Khatancharoen,Sarinthip Siriwan
Boonrawd is coming from a poor Isan family but she is proud and wants to succeed in work and family. During Vietnam war she works in a Pattaya restaurant and also opens a small bakery. An American officer, who speaks Thai language, wants to become her friend as he appreciates her strong spirit and mind. She faces the discrimination of prostitutes (Boonrawd is strong minded and refuses to become a prostitute for easy money), American GIs (they think all Thai women can be bought), Thai people (discrimination when she is seen with the American officer). Boonrawd faces pressure from her mother who wants her to become a prostitute (same as her sister) in order to pay her mother's lottery bills. She finally overcomes all difficulties and marries her American officer.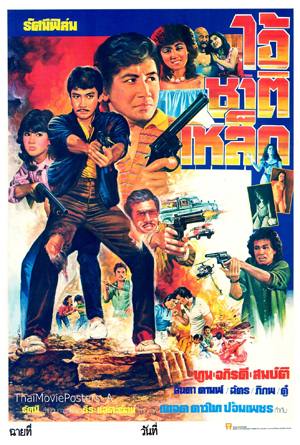 Year

: 1984



Thai title

:

ไอ้ชาติเหล็ก




English title

:



Rating

: 4/5


Director

:



Main actor

: Toon Hiransap,Dam Datsakorn,Sombat Methanee,Doo Dook Kradon,Pipop Pupinyo,Chat Mongkolchai


Main actress

: Linda Khatancharoen,Apiradee Pawaputanon
Thai movie ไอ้ชาติเหล็ก was released in year 1984 and lasts 1h50mn. It is available under VHS format. The picture quality is very sharp. Policeman Ran (Toon Hiransap) has to take over an important task, i.e. intercept a truck hiding illicit goods. Cannabis (กัญชา) is seized. The ruffians' leader Linda (Linda Khatancharoen) is upset so she wants to meet Police inspector Ra (หัวใจเป็นเหล็ก). Tanum (Dam Datsakorn) is working for her. Doo Dook Kradon and Tiu (Sombat Methanee) are playing foreign tourists and visit a gogo bar. Back to countryside, Tiu learns that his wife Jan was raped and killed while he was away. Doo discovers that his wife is living with Pipop Pupinyo now (เมียพี่มีชู้). Unable to give a lesson to Pinyo, Doo receives help from Tiu! Both Ran and policewoman Apiradee Pawaputanon are given to mission to find the drug traffickers in Isan. Waew (Chat Mongkolchai) has arguments with Ran, disguised as a ruffian (นักเลง อาละวาด). Waew receives some help from Tiu and Doo. Tanum, following a recommendation from Waew, hires Tiu and Doo as drivers. Following some shootings and fightings, Ran is framed by Waew and Tanum. As Ran's gunshot unfortunately another policeman and a ruffian, Ran is accused in front of other policemen to be a rogue policeman. Ran is arrested and dismissed as police officer. Anyway he continues his investigation in order to clean his name. Waew takes profit of the ruffian's death to abuse his wife. Tiu kills Waew as he is one, who raped his wife. Tiu and Doo flee. They take refuge in Linda's house per Tanum's advice. As Tanum fails a few times during drug transportation, a waitress played by Apiradee is suspected. She is kidnapped. Seeing Tiu and Linda close together, Tanum is upset and frames him by warning the Police regarding the next drug transportation. Ran releases Apiradee. Tiu escapes to the Police. Tiu is very upset as nobody told him what was inside the truck. This time, Tanum tries to shoot him but Doo is killed instead. Tiu kills Tanum through a fierce fight. Linda's birthday happens in weird conditions. Ran is captured and refuses to join the ruffians in drug trafficking. This time Apiradee releases Ran and they quickly go to the pier to catch all ruffians. Tiu and Linda are arrested. It is seldom seeing Sombat Methanee playing a bad guy. Life conditions push Tiu to become a bad guy as he followed Linda's asking for help. Being arrested, Linda asks Ran for compassion towards Tiu as she is the one sole responsible but Tiu will still have to answer about his acts to Thai justice.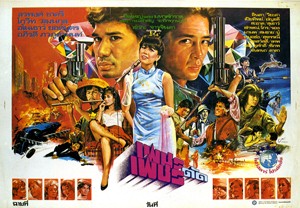 Year

: 1984



Thai title

:

เพชรตัดเพชร




English title

: Diamond vs Diamond



Rating

: 4/5


Director

: สักกะ จารุจินดา



Main actor

: Sorapong Chatree,Kowit Wattanakul,Somchai Samipak,Paen Pleumsachai,Krai Kanchit,Pipop Pupinyo,Manop Aussawathep,Boo Wibunnan,Pao Porapak,Rong Kaomulkadee,Lak Apichat,Sahat Piempongsan,Thep Po-ngam,Suchao Pongwilai


Main actress

: Apiradee Pawaputanon,Piathip Kumwong,Wiyada Umarin,Anchalee Chaisiri,Linda Khatancharoen,Janthana Siriporn,Suphanee Jitthieng



Buy now

:

Thai movie เพชรตัดเพชร was released in year 1984 and lasts 2h07mn. It was released under VCD format by Solar company and under VHS format. A remastered HD version was released during decade 2010s by Five Star Production. This movie features an impressive number of famous Thai actors and actresses from decade 1980s including less known actors หมอซ้ง, พุนสวัสดิ์ ธีมากร, วุมิ คงคาเขตร, ชูศักดิ์ สุธีรธรรม, ดาดา. Movie director is สักกะ จารุจินดา. Thai movie เพชรตัดเพชร was originally released in the year 1966 with Mitr Chaibancha, Luechai Natnat and Petchara Chaowarat. It was also released as Thai TV series in the years 2011 and 2016. Suchao Pongwilai is drunk inside a disco with a partner (Linda Khatancharoen). Mo Sing (หมอซ้ง) tries to seduce the partner so it makes Suchao angry and a fight erupts. Mo Sing loses a two colours denture and gets angry. He shoots Suchao and flees. The partner is found back by Mo Sing, but she claims she doesn't have the denture. Pailin (Piathip Kumwong) is the gang's leader. Yot (Kowit Wattanakul) is her right hand. During a drug exchange, Cheut (Sorapong Chatree) is killed by Yot keeping both drugs and money. Head of police Somchai Samipak talks to police officer Naresuan (Sorapong Chatree). He needs him to neutralise a drug gang working in Thailand, Hong Kong and Macau. Cheut is Naresuan's twin. They were separated when they were 12 years old. Naresuan wishes to revenge his dead brother. Naresuan accepts the mission and will act as Cheut in order to catch Yot. In a bar, Cheut meets Paen Pleumsachai, Pipop Pupinyo as he is looking for Yot. Cheut meets his previous girlfriend Yoi (Wiyada Umarin) having Manop Aussawathep as new husband. Fighting occurs in the bar. Back to Yaowarat district, Cheut ends up in Boo Wibunnan's entertainment centre and meets Anchalee Chaisiri. She suggests him to go to Jumbo bar to find Yot. There, Cheut is facing Pao Porapak. Cheut finally finds Yot with his girlfriend, then steals his suitcase full of drugs and gives it back to the police. Cheut flies to Hong Kong. He meets Pailu (Apiradee Pawaputanon), a singer. Pailu introduces him to Cheng (Krai Kanchit). On a boat in Sai Kung, Cheut meets Cheng again. Coming for a drug exchange, Cheut steals money from Cheng. He gets help from Jo (อโนเชาว์ ยอดบุตร), an undercover HK policeman. HK Police recommends to Cheut to leave Hong Kong as soon as possible for his own safety. Rong Kaomulkadee and Lak Apichat are working for Sahat Piempongsan, former boss of Cheut. Sahat thought Cheut was dead. Knowing Cheut is still alive, he decides to help him. Yot sends a killer to get rid of Cheut but he fails. Cheut learns from head of Police Somchai that Pailu is from Interpol. Another tentative to kill Cheut fails again. Cheut gets help from Rong. Thai police uses a stratagem for Jo to join Cheng's team. Facing a fight with ruffians, Cheng is helped by Jo in a bar. Convinced by his skills, Cheng asks him to join his team. Pailin is business partner with Cheng. Per Pailin's order, Yot captures Cheut. Cheng wants to get back his money. Meanwhile, Sahat captures Pailin's men in order to know where they keep Cheut. Cheut claims the money was confiscated by the HK Police but the drug is still stored in a suitcase hidden in Pailu's home. Pailu gets help from Somchai so that drug is given back to ruffians. Cheng starts to suspect Pailu also. She fails to escape. Meanwhile Thai police surrounds the ruffians' den. Yot plans to kill Cheut but it fails through a final epic fight between Cheut and Yot. Finally Thai police arrests all ruffians. Sahat fails to flee.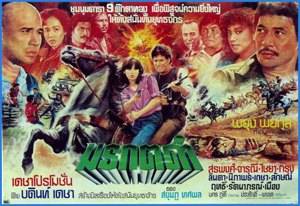 Year

: 1983



Thai title

:

มรกตดำ




English title

:



Rating

: 2/5


Director

:



Main actor

: Sorapong Chatree,Chaiya Suriyun,Rith Luecha,Krung Srivilai,Kecha Plianvithee,Lak Apichat


Main actress

: Jarunee Sooksawad,Nipaporn Nongnuch,Ratanaporn Intarakamhaeng,Linda Khatancharoen
Fighting is happening in a village. All villagers are killed by mercenaries led by Rith (Rith Luecha). Fighters, riding horses and wearing black clothes, led by Maneerak (Jarunee Sooksawad) are chasing them away. Maneerak has a mixed of Ninja and cowboy skills. Two groups are fighting for this area control as it contains precious gems. One group includes Maekin (Krung Srivilai), Kecha (Kecha Plianvithee), Maneewong (Nipaporn Nongnuch) and Maneerak. The opposite group includes Rith, Lak (Lak Apichat) and Runfa (Linda Khatancharoen). Maneerak, Maneewong and Runfa are three sisters. Their father died before. Rith's ruffians are looking over workers digging for gems. Yutta (Sorapong Chatree) finds a big black emerald (มรกตดำ) and flees away but is chased by the guards. The black stone (ก้อนหิน) is a sacred item. It helps to get rid of the guards and a blind monk appears to Yutta to encourage him to take good care of the stone. A mysterious man called Chaiya (Chaiya Suriyun) keeps surveying the two groups. Yutta is involved despite him in the fightings between the two groups as he helped Maneewong and then sold some gems. Yutta loves Runfa but she cannot be trusted as she steals the black stone while he is sleeping. This time, Yutta helps Maneerak, younger sister of Maneewong. The black stone belongs to Tibet and Runfa tries to sell it. Maneerak is able to get the black stone as Rufa's domestic helper stole it. Maneewong wishes to get the full heritage of her father. Maneerak visits her mum (Ratanaporn Intarakamhaeng) in a Buddhist retreat on a hill. Yutta follows her but Maneewong and her lover Maekin are just behind. Duel happens between Yutta and Maekin. Everybody is now looking for the black stone. Maekin kills Rith during the fighting between the two groups. Yutta gets rid of Lak. Finally both Yutta and Maekin are discovered to be undercover police officers (ผู้กอง). Chaiya(Chaiya Suriyun) is an undercover military officer. Chaiya and the mother make everybody realize greed. Understanding is back in the family and Yutta will bring back the black stone to Tibet with Maneerak. This 1h37mn movie is part of Thai Tom Yam western style. The Thai movie poster mentioned that nine Thai stars, having received Thai cinema awards before, are featured in this movie.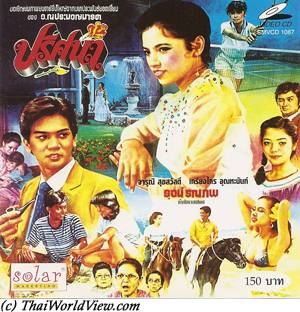 Year

: 1982



Thai title

:

ปริศนา




English title

:



Rating

: 4/5


Director

: Ruj Ronnapop



Main actor

: Kriengkrai Unhanan,Suchao Pongwilai,Adul Dulyarat,Ruj Ronnapop


Main actress

: Jarunee Sooksawad,Linda Khatancharoen,Marasri Bangchang,Sarinthip Siriwan,Marasri Isarangkul,Sulaleewan Suwanthat,Anchalee Chaisiri



Buy now

:

Thai movie ปริศนา was released in year 1982 and lasts 2h08mn. Movie director is Ruj Ronnapop. The movie was released under VCD format by Solar Marketing company. In mid 2010s, it was re-mastered by Five Star production company and shown on True Thai Film cable TV channel. Prisana (Jarunee Sooksawad) is a young Thai lady coming back from USA. Her life vision is influenced by her American education. Her future mate choice should be based on love and not based on family choice or wealth. Will she overcome Thai high society rules? Her father was dead before she was born so her grandmother even refused to recognize Prisana as her granddaughter. Prisana's mother (Marasri Bangchang) welcomes her daughter back from USA after studying 12 years there. It is hard for Prisana to get used to conservative Thai behavior. Fed up at home, Prisana decides to become a teacher (ครู) so she makes herself older. She has two sisters, Seri and Anong. Her older sister has a boyfriend called Sameu (Suchao Pongwilai). One of the student is daughter of a high-level family (ท่านหญิง). Prisana has authority issue with students as the daughter organises rebellion. Prisana teaches her a strong lesson so her brother, Chai, hears about Prisana for the first time. Prawit (เอกลักษณ์ ยลระบิล) meets Anong (ปัทมา ปานทอง) again. Seeing Prisana, Prawit forgets Anong and focus on Prisana only. Chai (Kriengkrai Unhanan) is Prawit's close friend. Chai invites all of them at a party at his home. Ratree (Linda Khatancharoen), Chai's fiance, is upset as Chai dances with Prisana. Ratree is expecting to marry Chai. It is Prisana's birthday. Chai offers her a dog. Prawit offer her a bracelet. Both men are enamoured with Prisana. Following a family trip in Hua Hin, Prisana announces she will not marry Prawit so Anong is happy. Chai is getting closer to Prisana (น่ารักที่สุด). Seeing Ratree unsuccessful to get Chai's love, Sameu tries his luck and kisses Ratree (มนุษย์หลอกลวง). Seri (Anchalee Chaisiri) sees them and is disappointed. Neighbour Anoon (ปรัชญา อัครพล) is back from America and tries to become close to Prisana. Chai tells Prisana that Prawit wants to marry her, so she becomes very upset. Finally, Prawit accepts to marry Anong as he knows he has no more chance with. Chai's aunt (Sarinthip Siriwan) is also very upset as she understands Chai's plan to marry Prisana instead of Ratree, his fiancee. Chai has arguments with his aunt as he refuses to marry Ratree. He doesn't love her and consider her as a younger sister (น้อง). The aunt and Ratree threaten Prisana. Prisana is seen by them as low status girl. The aunt wants this wedding to occur in order to keep money inside the family. At Prawit's wedding, Chai asks Prisana's hand but she doesn't believe him. Prisana is fed up by those high society people. Chai finally offers her a ring for engagement. Pushed by the aunt and Ratree, elder lady Marasri Isarangkul summons both Chai and Prisana. Prisana is looked down again but hopefully her uncle Adul Dulyarat can testify she is the real daughter of his defunct brother. Both the aunt and Ratree lose face and love can blossom between Prisana and Chai.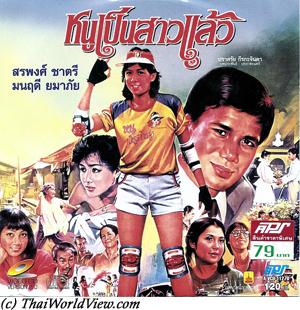 Year

: 1982



Thai title

:

หนูเป็นสาวแล้ว




English title

:



Rating

: 3/5


Director

:



Main actor

: Sorapong Chatree,Sor Asanajinda,Prachuap Ruekyamdee


Main actress

: Monrudee Yamaphai,Thitima Sangkapitak,Metta Roongrat,Linda Khatancharoen



Buy now

:

Kathon is a girl coming from a poor family in a slum. She is doing small jobs to support her aging grandparents. A supermarket owner, Pakasit, catches her stealing food cans. Following her explanations, he has mercy on her. He then understands her good heart and character. He declares his love for her. But his mother looks down people coming from slum believing that they are only interested in her son's money. Hopefully his friends are coming to help Pakasit...
---