Increase or decrease font size for easier reading : A+ A-
Likit Eakmongkol
Likit Eakmongkol (1958) - ลิขิต เอกมงคล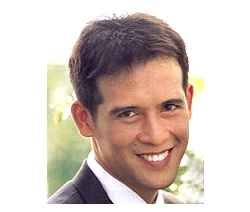 Likit Eakmongkol was a former model. He played in both movies and TV series. He played in more than 40 movies. He got acting awards in 1988 and 1991 for his performances in movies "ครั้งเดียวก็เกินพอ" and "ขยี้". He stopped acting due to eye problems
This Likit Eakmongkol movie page contains 21 records.
---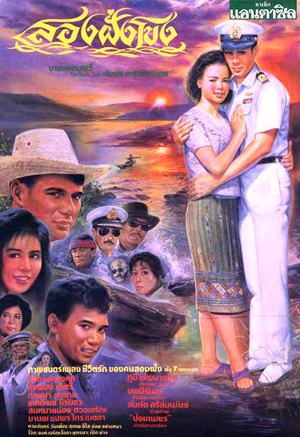 Year

: 1992



Thai title

:

สองฝั่งโขง




English title

:



Rating

: 3/5


Director

:



Main actor

: Likit Eakmongkol,Sorapong Chatree,Manop Aussawathep,Krai Kanchit,Choomporn Theppitak


Main actress

: Metta Roongrat
Border police led by Sarawat Sorapong Chatree is intercepting smugglers from Laos. Nawin (Likit Eakmongkol), navy officer (ผู้การ), is patrolling on a boat at the border between Laos and Thailand. Sorapong and Nawin often have to work together. Veteran actor Manop Aussawathep is head of navy soldiers. Beautiful landscapes are shown over the Mekong river being the border between Thailand and Laos. 7 molam songs are featured. Pim, molam singer in Laos, is kidnapped by ruffians. In fact Pho Im, head of ruffians (Krai Kanchit), gives to Pim's mother (Metta Roongrat) and Pim a deadline of two days for a wedding. Pol, who secretly loves Pim, helps her to flee in order to go to Thailand. Pim's father is a molam singer on Thai side (ฝั่งไทย). Choomporn Theppitak welcomes his daughter from Laotian side. Relief characters are people having similar face as famous actors Songthong. One of the other daughters Phan understands that Nawin has now more interest into Pim so she lets her new sister having happiness as she suffered a lot in Laos before. Action takes place in Amphoe Bong Chiem, most eastern part of Thailand. Pol follows up in Thailand and discovers that Nawin is also having interest in Pim. Pho Im decides to get back Pim from Thailand. Pol is disappointed and now works forcedly for Pho Im. He fails to bring back Pim to Laos as Nawin prevents him to do so. Another kidnapping tentative happens. Pol is captured by Nawin but finally stays at Choomporn's house as he was forced by Pho Im to try to kidnap Pim. Romance starts between Pol and Pim's Thai sister. Ruffians storm directly Choomporn's house to abduct Pim. Shootings are exchanged. Ruffians are finally neutralized. Pim's mother finally stay with Choomporn Theppitak as both Thai and Laos Mekhong river banks are inseparable. Movie สองฝั่งโขง is considered as a "small movie" (หนังฟอร์มเล็ก) dedicated for provinces audience.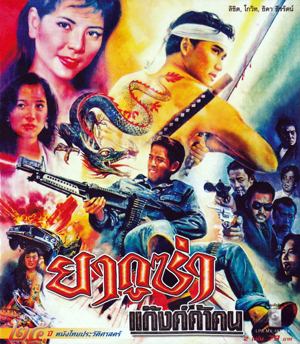 Year

: 1992



Thai title

:

ยากูซ่า แก๊งค์ค้าคน




English title

: Yakusa



Rating

: 2/5


Director

:



Main actor

: Likit Eakmongkol,Kowit Wattanakul,Chat Mongkolchai


Main actress

: Thida Thidarat



Buy now

:

Thai movie ยากูซ่า แก๊งค์ค้าคน was released in year 1992. It lasts around 1h20mn. This movie features a similar scenario to Thai movie ตำรวจเหล็ก where a journalist always interferes with the police investigations. Some cash transport cars are attacked (รถถูกปล้น) by ninjas. Police inspector (Sarawat - สารวัตร) Kiet (Likit Eakmongkol) is asked to work on this case. Yukasa, Japanese mafia, is causing troubles in Thailand including women trafficking. Inspector Kiet enquiries on a company sending people to Japan as he suspects them to provide fake passports. The owner Chakrit argues that the ladies are volunteered to work in Japan. Chat Mongkolchai is also involved. Chakrit helps Kiet's younger sister Plaew aggressed by three ruffians. Kiet doesn't believe in Chakrit's sincerity. A journalist (นักข่าว) called Dao (Thida Thidarat) is always around to take pictures. A local car seller opens a new shop selling Japanese cars. He seems to refuse Yakusa gang's pressure to pay protection fee. Shootings happen during the opening and 4 gang members are shot by Kiet and his colleague. Later on as they enquire in a snooker parlour about the dead gang members, shootings happen again with other members. Kriet is surnamed as มือปราบมหากาฬ. Weapons exchange shall happen with Yakusa gang. Kiet is informed thanks to a singer. The journalist Dao meets Somchai and Yoshida, leaders who are preparing the traffic. Dao learns about the weapon exchange thanks to Chakrit. Kowit Wattanakul is working with the ruffians. Dao's pager sound reveals her presence and shootings happen. As the weapons exchange fail, the gang enquiries who could be the traitor on their side? Kowit is identified as the traitor. Kiet then brings a mess in their drug warehouse. The journalist Dao is kidnapped. Plaew is also kidnapped. Kiet tries to release them but he also gets captured with Kowit, who is a Japanese undercover policeman. As they condemned to slow death, Chakrit releases them. Heavy gun fightings do happen against the ninjas and Thai ruffians, who are all killed. Chakrit also dies by committing hara kiri.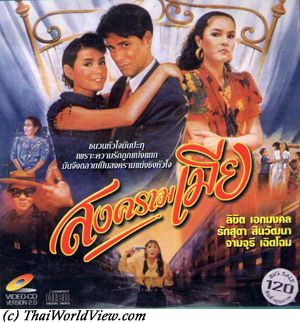 Year

: 1991



Thai title

:

สงครามเมีย




English title

:



Rating

: 3/5


Director

:



Main actor

: Likit Eakmongkol


Main actress

: Marasri Bangchang



Buy now

:

Pakpun, young rich man (ลูกเศรษฐี), has a famous and beautiful mistress called Maenma. She is a model (นางแบบ). But Pakpun is already married to Oon and has two children. Oon has a shock when learning the news from her husband but finally seems to allow (อนุญาต) and even authorises Maenma to live in the house compound (เมียดีๆ). Pakpun is coming from a rich family so it is normal for him to have a second wife (เมียน้อย / เมียหลวง). It seems unnatural that the main wife accepts so easily. A war is in preparation! It starts with a word war, i.e. why a famous beautiful model needs to steal somebody else husband instead of finding one herself? Money? ใจง่าย? Pakpun starts to feel uneasy (ไม่สบายใจ). Oon offers Maenma some money to leave away. Oon always speaks slowly and politely. Maenma loses temper very easily. Pakpun is divided between his two wives. Insults start such as 'นางบำเรอิง' (concubine) or 'Why Pakpun has to get another wife if the first wife was doing properly her duties?'. Oon has often vertigoes as she is now two months pregnant. Maenma wishes to defeat Oon. Oon asks Pakpun to become infertile (ทำหมัน) so he cannot have a child with somebody else. Maenma offers sour mangoes food as a gift but the food is poisoned to hurt the baby. Hopefully one of the maid eats the food first. The housekeeper accuses Maenma gift but Pakpun is not able to decide to break up with Maenma. Maenma needs to hurry up being pregnant even if it means using an old boyfriend to be the father! Pakpun sees them but Maenma argues Pakpun doesn't take care of her as she is only a minor wife. Her strategy is to make Pakpun jealous. This drives him crazy and he chases away Oon as he is waiting for Maenma the whole night. Upset Oon leaves the home without mentioning where she is going. Oon delivers a boy but refuses to go back to Pakpun's home. Maenma announces Pakpun that she is pregnant but Pakpun breaks up with her as the child cannot be from him as he is now infertile. The real father also refuses to take care of Maenma as he is leaving abroad a few years. Maenma is now alone. Upset she tries to shoot Oon but Pakpun uses his body as a protection wall. He is injured. Getting crazy and afraid to be sent to jail, Maenma kills herself. This movie highlights the issue of minor and main wife status in Thai society.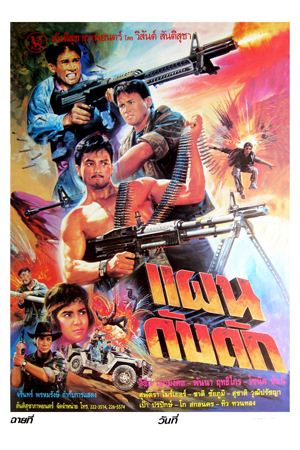 Year

: 1991



Thai title

:

แผนกับดัก




English title

:



Rating

: 2/5


Director

:



Main actor

: Likit Eakmongkol,Panna Rittikrai


Main actress

:
Thai full action movie แผนกับดัก was released in year 1991 and lasts 1h26mn. The movie is also called หักเหลี่ยมพระกาฬ. Two groups of ruffians meet to exchange drugs and money. Phayut, seconded by Chat (Panna Rittikrai), decides to betray his partner in order to keep the money and drugs. The partner's son, Keng, and daughter, Nat, wish to revenge their father's death but fail as there are only two. Phayut uses one of his men as a bait to fool the police. As his man is arrested, Phayut asks police inspector (สารวัตร) Likit (Likit Eakmongkol) to release the accused (ผู้ต้องหา) but Likit refuses. During the prisoner transfer, ruffians kill policemen and Phayut shots himself his man causing Chat's disapproval. A lady calls Likit as she wishes to provide information to him. This is a trap to accuse him to receive dirty money (รับสินบน). Likit has to leave Police temporarily in order to clean his name. Likit, Nat and Keng decide to unite against Phayut. Asulaman, a Philippines citizen, is looking for drugs but the deal fails to succeed. Chat warns Phayut that he doesn't like his way of working anymore (ไม่ชอบคนหากหลัง) and leaves the team. Phayut hires a hitman (โซนิค ซันนี่) to get rid of Chat and Likit. The hitman fails and finally joins Likit's team. Phayut kidnaps Asulaman to show him he is not as bad as rumours said (อย่าเล่นสกปรกอีกก็แล้วกัน). Chat and Likit guess it is another trick. Shootings happen but Phayut succeeds to flee. The hitman is captured but a policeman (หมวด) comes to help also. The team prepares a plan against Phayut (แผนกับดัก). Phayut ask support from other ruffians (โจรป่า). Shootings involving heavy machine gun happen but final fights are one to one fightings. Nat revenges her father by taking care directly of Phayut. Ruffians are defeated. Likit is finally reintegrated in the police. It is a low budget movie. Likit Eakmongkol is the main actor but all main fighting scenes are featured by Panna Rittikrai. Such movie has no direct sound recorded but the film was dubbed after. Additional funny words especially for second roles are added during post production and are a reminder of the famous dubbers activities in 1960s and 1970s. So for such 1990s production there was no more live dubbing but post dubbing.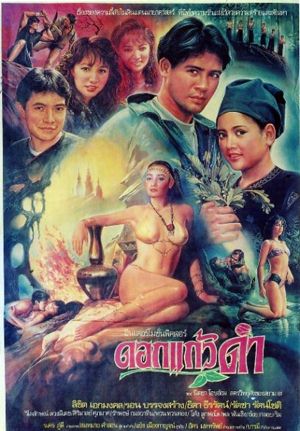 Year

: 1990



Thai title

:

ดอกแก้วดำ




English title

:



Rating

: 3/5


Director

:



Main actor

: Likit Eakmongkol


Main actress

: Thida Thidarat
Thai movie ดอกแก้วดำ / ลายแทงมหาภัย (renamed by Lepso Ltd) was released in year 1990. It lasts 1h31mn. A doctor called Tidi didn't go back home since one month. He went to Burmese border. There are rumours that he is enamored with a mysterious (คุณหมอลงเสนห์ผู้หญิงเจ้าฟ้า) and evil woman (นางผีร้าย) called Mae Nang. His sister called Lak is worried. Lak, a nurse, asks Palang to help as he is close friend with Tidi. Palang (Likit Eakmongkol) is engaged with Pat. Pat is very jealous (แม่หญิง) and upset as she was thinking to go to seaside for holidays with Palang. Palang is head of the forest rangers (หัวหน้าป่าไม้). YouPo (Thida Thidarat), a mountain village girl, likes secretly Palang. A troupe led by Palang goes inside the forest to look for Tidi. Cross hidden love happens between YouPo and Palang, between a young mountain man and Lak. Men wearing black powder are following them. Their leader Payak is interested in Pat. Mae Nang keeps the doctor alive to make special concoction for her. The doctor is kept inside a cave to do herbal medicine (ยาสมุนไพร) to resurrect dead people. Only 3 people go near the cave. YouPo follows them. As they aggressed by three warriors, YouPo's help is decisive. Meanwhile the camp is attacked. Payak wants Pat. Mae Nang is protected by vampires (ผีดิบ). She gives order to them through a talisman she always wears. Pat and Payak become lovers. Being threatened by Mae Nang, Payak has to capture Palang and his team. Pat used herself as a bait but it turns badly as shootings happen. Pat and Payak die. The herbal medicine done by doctor Tidi fails to work with Pat. Mae Nang, interested in Palang, decides to get rid of Tidi and wishes Palang become her new lover. Hopefully YouPo can intervene timely and removes the sacred talisman causing the vampires to kill Mae Nang. The vampires disappear as the talisman is broken. YouPo and Palang can be happy together.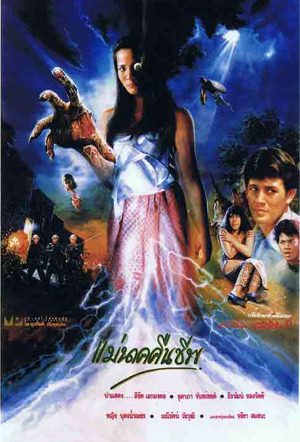 Year

: 1990



Thai title

:

แม่นาคคืนชีพ




English title

:



Rating

: 3/5


Director

:



Main actor

: Likit Eakmongkol


Main actress

: Metta Roongrat,Marasri Bangchang
Thai movie แม่นาคคืนชีพ was released in year 1990. It lasts 1h46mn. Marut (Likit Eakmongkol), working in a newspaper as writer (นักเขียน), is investigating on ghosts (ผี). Veteran actress Metta Roongrat is the mother of Marut. Marut decides to write the real story about Mae Nak (แม่นาค). With a friend, he goes to Buddhist temple Mahabut. Nobody wishes to answer to him. Marut takes pictures of the dancers (ละครชาตรี) and remarks a lady identified as teacher (ครู) Nuan Monapa (ชุดาภา จันทเขตต์) on the picture. Relief character is called Mongkon (ธีรวัฒน์ ทองจิตติ). Nom is Nuan's younger sister. Marut meets the teacher face to face but she claims she is not the one on the pictures. A man called Boonme (จ้องไว้แล้ว) has arguments with Marut and Mongkon as he believes they come to seduce teacher Nuan. Bad words fuse (หมาหมู่) so better use polite language (ภาษาดอกไม้). After a diner, Marasri Bangchang mother of Nuan, Marut and Mongkon are aggressed by ruffians led by Boonme. Ghost Mae Nak having same face as teacher Nuan helps Marut. Her previous husband called Mak is reincarnated through Marut nowadays. Marut has disappeared and his parents, Mongkon and Nuan are worried. A woman called Apinya and claiming to be Marut's fiancee threatens to sue Nuan's family. Mae Nak wishes to go living in Marut's home. So she visits Nuan and warns her not to visit Marut to avoid bringing confusion. Apinya is unhappy of Nuan being in Marut's home and called her bumpkin teacher (ครูบ้านนอก). Apinya, being slapped, quits the home and promises to come back with a spirit doctor (หมอผี). She decides to hire some ghost busters. They fail. Apinya decides to hire a real master (อาจารย์). Brahma statue asks Mae Nak to forget her love and to rebirth (หมดเวร). Apinya puts a sacred neck on Nuan and she becomes Mae Nak. Marut is now aware of the reality. He chases away Apinya and removes the necklace hurting Mae Nak. Mae Nak asks Marut to marry the real Nuan. Nuan and Marut get engaged. During one night, Nuan is kidnapped. Boonme is suspected. Marut decides to get Mae Nak's help. Apinya is the one behind the kidnapping wishing Boonme to have Nuan becoming his wife. Mae Nak arrives on time to save Nuan. Apinya to save her life promises to stop bothering Nuan. Mae Nak can now leave this world to rebirth.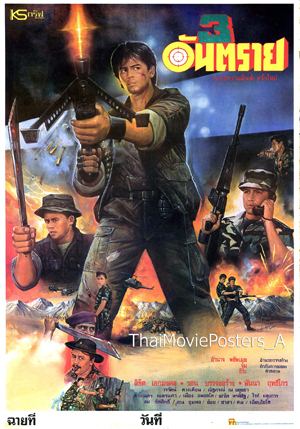 Year

: 1990



Thai title

:

3 อันตราย เดนสงคราม




English title

:



Rating

: 2/5


Director

:



Main actor

: Likit Eakmongkol,Panna Rittikrai


Main actress

:
Thai movie 3 อันตราย เดนสงคราม was released in year 1990. It lasts 1h25mn. It is a nationalist trend movie. Officer Mongkol (Likit Eakmongkol) has nightmares about war but he accepts a dangerous task to protect the country. His friend Seua joins him. While discussing with young ladies (สาว), there are attacked by three men, who assail them. The three men are shot by Krit (Panna Rittikrai) and Mongkol. Krit is a former friend met during Vietnam war. Young lady Duang Deuan and Mongkol like each other. Mongkol and his two friends accept their superior's mission to get rid of the ennemies (งานเสี่ยงอันตราย). Those enemies (ศัตรูเก่า) are not waiting and already try to kill Mongkol. Mongkol starts to recruit additional men. They are now nine. They train them very hard. Duang Deuan calls Mongkol as she is worried that some men watch after her house. It is a trick to attract Mongkol. Duang Deuan is even part of the ruffians team. Mongkol is captured and tortured by his old enemy. Their leader wishes to capture the two other officers also to get revenge to be a stateless man. The eight other Thai soldiers enter the forest to find Mongkol. Fightings happen. Panna's skills are well shown. The ruffians leader's girlfriend is used as a bait to kill some of the soldiers. Mongkol is tortured again. Duang Deuan asks the ruffians to kill him instead of torturing him. The ruffians leader Nai Ephon wishes to have Duang Deuan becoming his wife also! Disappointed by Nai Ephon, Duang Deuan releases Mongkol. For the nation, for the religion, for the King, they fight! Mongkol and his team attack the camp on two sides. Finally the ruffians get defeated but many soldiers have lost their lives. Only four are left. Duang Deuan even dies while protecting Mongkol.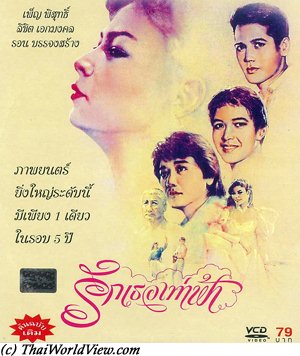 Year

: 1989



Thai title

:

รักเธอเท่าฟ้า




English title

:



Rating

: 3/5


Director

:



Main actor

: Likit Eakmongkol,Sor Asanajinda


Main actress

: Aranya Namwong,Pen Pisut



Buy now

:

Tik loves a young man called Mike but Tik's mother doesn't like him. She wants Tik to marry Boonsot, son of her friend. Tik, being drugged on her mother's orders, is raped by Boonsot to force her to become his wife. The wedding day turns to a tragedy. Tik's father has a fatal heart attack. Boonsot is caught by the police a few days later as he is a drug dealer. So Tik's mother decides to become a nun. Tik goes to see Mike again but Mike already has a new girlfriend. The doctor, who previously treated her father, has also interest in Tik. Finally Boonsot, who escapes from prison, saves Tik from the lawyer Khanit, who tried to rape and kill her. Being arrested again, he declares that he has always loved Tik (รักTikเท่าฟ้า) sincerely.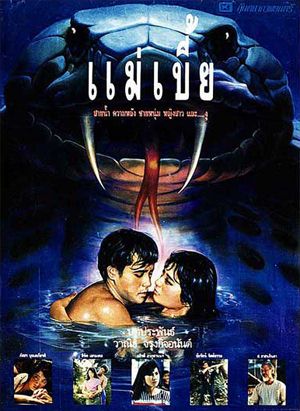 Year

: 1989



Thai title

:

แม่เบี้ย




English title

: MaeBia



Rating

: 3/5


Director

:



Main actor

: Likit Eakmongkol,Sor Asanajinda


Main actress

: Passorn Boonyakiat,Apiradee Pawaputanon
Mekhala is a rural young attractive lady living in a old house. Tourists groups are frequently visiting the house to buy local products. Chanachol, urban educated businessman, is visiting the house and there is an immediate match between Mekhala and him. Mekhala is living with Pa, Lung and a little girl. The previous owners of the house and their child drowned but the corpse of the child was never found. Chanachol has the feeling that he already comes before in this old house. Chanachol is already married and have two children. Finally Chanachol has a liaison with Mekhala. A supernatural jaleous cobra is protecting Maekala. The cobra tries to send Chanachol away but Mekhala refuses and protects Chanachol against the snake. Phot, a local resident, also wishes to marry Mekhala but she refuses. The cobra sends him away. Phot comes back to Mekhala's house in order to catch and kill the cobra. He gets bitten and dies. Meanwhile Chanachon's wife realises that her husband has an extra-marital affair. She tries to threathen Mekhala. Still loving strongly Chanachon, Mekhala decides to break with him in order not to wreck his family. Chanachol cannot stand this separation and go back to the old house. On the way back, the cobra makes him fall from the boat and he drowns. It seems that Mekhala's previous suitors ended up dead and a new one is already courting Mekhala...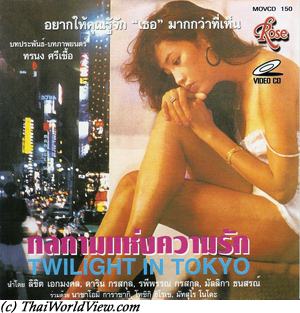 Year

: 1989



Thai title

:

กลกามแห่งความรัก




English title

: Twilight in Tokyo



Rating

: 3/5


Director

: Toranong Srichua



Main actor

: Likit Eakmongkol


Main actress

: Darin Kornsakoon
It deals about a young Thai lady, Waew, sent to Japan to become an escort girl (โสเภณี). Her parents are poor farmers. Waew is the elder sister and has decided to sell her body in Tokyo in order to support her parents and younger sister (น้องสาว). She discovers the sad life there, the huge debt to pay back. Anyway she supports her family by sending money back home. She wishes her father to build a new house instead of the shack, in which they are living. Homesick, she goes back home and discovers that her father has lost all the money she has sent due to unscrupulous investments and gambling (การพนัน), her mother has become a nun (บวชชี), her sister is partying everyday after learning that Waew is a prostitute. The younger sister's moraly is tarnished by living in Bangkok. Money has destroyed her family (เสียผู้เสียคน). Fed up by her family who doesn't understand and compassionate about her burden, she goes back to Japan. Disappointed by her pimp's selfishness, she kills herself. In 1989, the movie got Thai movie "best scenario" award (รางวัลตุ๊กตาทอง). In 1980s many Thai girls went to work as prostitutes in Japan so director Toranong Srichua wanted to show their fate through his movie. He went to Japan with a 32 people team during 15 days to shoot the movie. Even a Yakusa gang (แก๊งยากูซ่า) helped to close Shinjuku street (ถนนชินจูกุ) for 5 hours. Actress Darin Kornsakoon became famous thanks to this role. In 1980s, movies were shown in a limited number of cinemas in Bangkok. Toranong Srichua's movies often got only secondary grade cinemas but thanks to "Twilight in Tokyo" movie, the film was released in first grade cinemas and it was full at each session.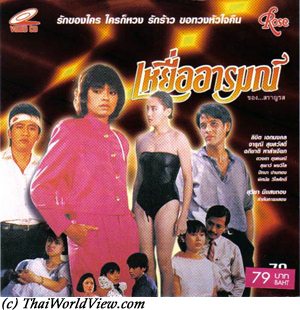 Year

: 1988



Thai title

:

เหยื่ออารมณ์




English title

: Victim of lust



Rating

: 4/5


Director

:



Main actor

: Likit Eakmongkol,Apichat Halamjiak,Suchao Pongwilai


Main actress

: Jarunee Sooksawad,Pissamai Wilaisak,Duangta Tungkamanee,Patama Panthong
A middle age lady Tien (Pissamai Wilaisak) has two children, Yetha (Duangta Tungkamanee) and Takasit (Likit Eakmongkol). The mother is having a young lover Somrit (Apichat Halamjiak) so getting disapproval from her both children (แม่ไม่อาย). Arop (Suchao Pongwilai) is having two families, one with the major wife Oon (daughter Pim but from another wedding) and one with a minor wife Plaew (daughter Leu). Takasit has just divorced with Yaboot (Jarunee Sooksawad). Somrit is having diner with Yaboot. Somrit is a seducer (ต้นไม้หลายดอก). Pim has seen Arop with Plaew and threatens to do everything she can to break this relationship (ช่วยไม่ได้). Takasit, aware that Somrit is seeing Yaboot, asks her to stop this before she gets disappointed. Yetha also sees Somrit in a disco with Yaboot. She is worried about her mother (บัดซบ / เกลียด). Yaboot's mother sees Somrit with Taen in a restaurant. Both Takasit and Yetha dislike Somit (แมงดา) and are afraid of the consequences on their mother (ไม่ยุติธรรมสำหรับแม่) as she gets love only because of her money. Tien offers a business to Somrit but there is a need to spend a lot of money on promotion. Misunderstanding increases between Yeuta, Tien, Yaboot and Takasit. Somrit is claiming nobody understands him. Yaboot is confused between Somrit and Takasit. Who does she really love? Could she marry again the husband she just divorced? Pim declares her love to Arop. Arop cannot accept this but Oon hears everything, i.e. a daughter loving her step father! Those two families are in middle of serious love crisis. Oon is the traditional Thai wife forgiving his husband's mistakes such as minor wife. Finally the crisis are solved. Pim decides to go studying abroad and gets pardon from her parents Oon and Arop. Somrit's double game is unmasked as he asks Yaboot for wedding. The love story with Tien is over and Somrit is chased by Yetha (ไม่ลูกผู้ชาย) under a weapon threatening without any indemnities. Yaboot finally goes back with Takasit and stops listening to her mother. Morality is safe. Somrit remains alone without anything. The movie เหยื่ออารมณ์ (1988) is about love (รัก), separation (เลิก), appearance and society constraints, i.e. no divorce in older age, no young lover for a woman. A previous version with Krung Srivilai, Aranya Namwong, Sahat Piempongsan was released in 1975.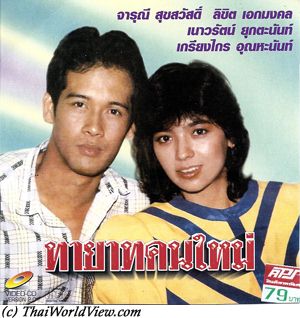 Year

: 1988



Thai title

:

ทายาทคนใหม่




English title

:



Rating

: 3/5


Director

:



Main actor

: Likit Eakmongkol,Kriengkrai Unhanan


Main actress

: Jarunee Sooksawad,Naowarat Yooktanun,Sarinthip Siriwan
A father has two sons, one has taken over the business. He is heartless and strong minded. The other one spends his time going out for party and doesn't want to help on his father's business. His dream is to open his own business. They met a young lady living in a slum and selling flowers on the streets. She has arguments with the first son but becomes friend with the second one. The first son's girlfriend wants to push to get married and plots a plan to get the whole family heritage. A gunman wishing to kill the father is hindered by a samlo driver, who is the father of the young lady. Unfortunately he got killed. To show his gratitude, the father decides that the young lady shall become his daughter. Tenses situations happen at the house when the new daughter arrives...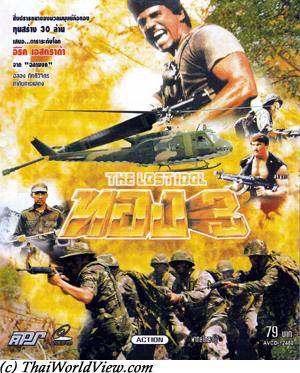 Year

: 1988



Thai title

:

ทอง ภาค 3




English title

: The lost idol



Rating

: 4/5


Director

: Chalong Pukdeewichit



Main actor

: Sorapong Chatree,Erik Estrada,Christoph Klüppel,Likit Eakmongkol,Sayan Chantaraviboon,Krung Srivilai,Rith Luecha


Main actress

: Apiradee Pawaputanon



Buy now

:

Thai movie ทอง ภาค 3 / The lost idol (1988) lasts 89 minutes. Chalong Pukdeewichit is same director as previous sequels. A company of American soldiers is lost in Cambodia in 1975. They face Vietcong attack. They find a Brahma statue made of pure gold. The company carries it and their leader Oliver decides to hide it until the war is over. He betrays his own soldiers by shooting them but one, called Kirt (Erik Estrada), succeeds to flee despite being injured. The leader Oliver believes they are all dead. Meanwhile Red Khmer soldiers led by Sorapong Chatree are still chasing the US soldiers. They shoot Oliver and take for granted that he is dead. Kirt derives on a tree trunk and young Thai lady Lamyai helps him. He recovers and decides to stay with Lamyai. Meanwhile Oliver receives a promotion, a US medal and decides to go back to Thailand. He meets Catherine, his girlfriend, who is a US doctor working at the Thai Cambodian border. Colonel (ผู้พัน) Oliver asks Don (Likit Eakmongkol) to build a team in order to get back the statue from Cambodia. Part of this team are Krung Srivilai and Rith Luecha present in previous opus but with different roles. Christopher (Christoph Klüppel) is also part of the team. He was selected by Chalong Pukdeewichit thanks to his impressive bodybuilding. 1M baht is promised for each. Half now and half when the job is completed. Another group is following Oliver also. They threaten Katherine to get information. To force Kirt to join his team, Oliver kidnaps his daughter. Kirt has to accept to lead them through the Thai Cambodian border as it is full of mines. Meanwhile Katherine is going to Cambodian side to help poor people per her previous promise to Sorapong. It reminds the real story of Phanom Rung lintel stolen during Vietnam war and given back to Thailand in year 1988. Sayan Chantaraviboon and Apiradee Pawaputanon are part of the Red Khmer army. Sorapong's men are all killed during an embuscade and Katherine is captured. The Vietnamese soldiers wish to know why Oliver is back. Despite being tortured, Oliver refuses to speak. Kirt tells the Vietnamese about the gold statue (เทวดารูปทองคำ). The Vietnamese leader (นพพล โกมารชุน) plans to bring it back to Vietnam. One Cambodian man warns Sorapong that this statue belongs to Cambodian heritage and that it should stay here. They attack the truck convoy and the mercenaries free themselves. Sorapong asks mercenaries to join his team if they want to spare their life. If they survive, they will get freedom. The Khmer soldiers and the mercenaries attack the Vietnamese camp. Heavy fightings happen as Vietnamese soldiers have tanks. The Vietnamese leader succeeds to flee with the golden statue through an helicopter. Oliver sneaks in also. The statue finally falls in the lake and the helicopter crashes in the mountain. Chalong Pukdeewichit uses same recipe as previous sequels, i.e. famous Thai actors to be able to attract Thai audience and quite famous foreign actors to attract overseas audience.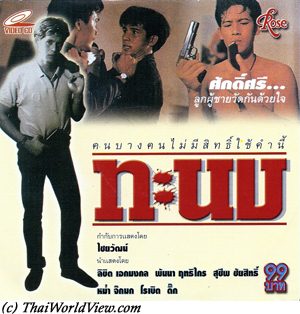 Year

: 1988



Thai title

:

ทะนง




English title

: The Pride



Rating

: 3/5


Director

:



Main actor

: Likit Eakmongkol,Mum Jokmok,Panna Rittikrai


Main actress

:
A soldier is coming back to the slum where he lived when he was younger. He learnt that his mother and sister have died during a fire. His father told him that a local influencial man is responsible of the fire in order to drive out people from the slum. His father is seen as a drunk man so the police doesn't believe him. The father is finally killed by a gunman. Having lost faith in police and in justice of the rich towards the poor, the soldier decides to enquiry by him-self. A traitor policeman is helping the influencial man.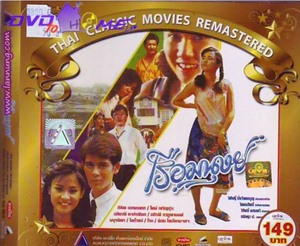 Year

: 1988



Thai title

:

เรือมนุษย์




English title

:



Rating

: 4/5


Director

:



Main actor

: Likit Eakmongkol,Apichat Halamjiak,Phairoj Jaising


Main actress

: Thitima Sangkapitak,Mai Charoeunpura,Apiradee Pawaputanon,Natanee Sitthisaman
Thai movie เรือมนุษย์ was released in year 1988 and lasts 1h57mn. This movie is a critic of Thai high society (ผู้ดี) and karmic retribution. Young lady Pim is pregnant with young lad Chayapon. Pim is the daughter of Plao (Apichat Halamjiak) and Rose (Thitima Sangkapitak). Parents never have time for their daughter so she was mainly raised by younger aunt Nitima (สรารัตน์ หรุ่มเรืองวงศ์). Parents are worried about face. A meeting occurs with Dam, uncle of Chayapon, (Likit Eakmongkol). Pim refuses to marry Chayapon as he is also issued from a sad family without love. Khiaw (Mai Charoeunpura) is hired as domestic helper by Rose. Khun Det, Chayapon's father, is currently abroad. Choo is his mistress (Apiradee Pawaputanon). Chayapon asks money to her to hire an illegal doctor to perform abortion. Rose finally is interested in pushing for a wedding as Khun Det (Phairoj Jaising) is rich. Na Feuang (Natanee Sitthisaman) helps for the abortion money as she doesn't agree with this wedding. The abortion doesn't happen. Khun Det is back and agrees to recognize the child. Det rents a house for Pim and Nitima to have them near him. Fed up with Rose, Plao takes Kiaw as mistress and they move out in a rented house. Khun Det goes to Nitima's office every day as he tries to seduce her. It makes Dam to be upset. Choo complains about Det (ความยุติธรรม - justice between man and woman) as he has many flirts, but she cannot satisfy her own desires. Dam refuses to be a proxy. Det offers a diamond ring to Nitima and gives bad rumors about Dam and Choo. Pim helps Det so Dam believes a romance has started between Nitima and Det so he gets drunk. Choo tries to take advantage of Dam being drunk. Det chases Choo and Dam, his half-brother, of his house. Rose tries to get suicide as Kiaw is pregnant, so she lost face. Nitima and Dam become friends again as misunderstanding is clarified. It is a sin (บาปกรรม) to abort so Rose authorises Kiaw to stay in their home. Pim's child is born. Det still wishes to seduce Nitima. Kiaw is feeling unwell as Plaew is split between his old (ทำตัวเป็นแม่พระ) and new wife. Det understands excession passion (กิเลส) towards Nitima was wrong and apologises. Feuang is hit by a car as she sees Choo with her husband (ทำประชด). The child born from Kiaw is infirmed. Happiness is back in all couples. Kiaw has even a new husband, i.e Chayapon!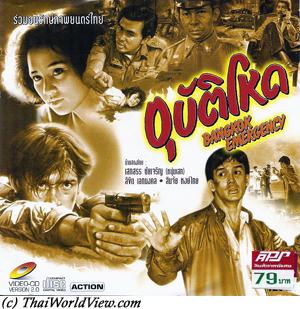 Year

: 1988



Thai title

:

อุบัติโหด




English title

: Bangkok Emergency



Rating

: 3/5


Director

: Toranong Srichua



Main actor

: Likit Eakmongkol


Main actress

: Sinjai Hongthai
A young postman dreams he will become famous. His dreams become true but not the way his policeman father was expecting as he gets twisted in mafia rivalries with a gunman causing his life and his family to be destroyed.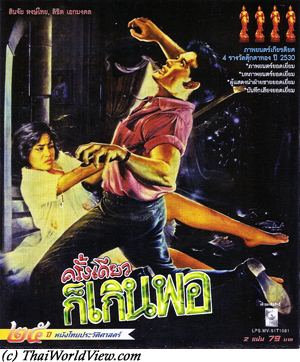 Year

: 1988



Thai title

:

ครั้งเดียวก็เกินพอ




English title

:



Rating

: 4/5


Director

: Manop Udomdej



Main actor

: Likit Eakmongkol,Apichat Halamjiak,Somsak Chaisongkram


Main actress

: Sinjai Hongthai



Buy now

:

Lak is a modern Thai lady. She is fianced since two years but her fiance (คู่หมั้น) is always busy with his work and has no time for her. There is still no confirmed date for the wedding and she is upset by this. In Pukhet, to escape to boredom, Lak (Sinjai Hongthai) meets young bachelor Samon (Likit Eakmongkol). Samon is hot temper and asks for wedding with Lak after a few days of friendship only but she refuses as she has already a fiance. She starts to be fed up with Samon as she doesn't love him. Samon is a butterfly man. Samon invites himself (รังควาน) to Lak's appartement in Phuket. She refuses to tell anything to her fiance as there is nothing to say! Lak accepts to kiss Samon but nothing more. Then Samon forces her and she gives way to Samon. Despite her friend advice, Lak refuses to go to police to file a claim (แจ้งความ) as she is afraid and feels shameful. Lak is back to Bangkok. Samon continues to chase her in Bangkok. Samon contacts Lak's fiance and tell him he and Lak love each other and that he and Lak are lovers. A discussion happens between Lak and her fiance. She cannot stand his kindness and gives back her fiancee ring. He leaves to Indonesia. As Samon is still chasing her, she goes to police to complain. Samon is arrested. Samon's lawyer asks for compromise outside the court to protect her name but she refuses. She claims she was not consenting (ไม่เต็มใจ). Samon's lawyer tries to convince the tribunal that it was not a rape but a common acceptance. Lak changes home and quits Bangkok. She doesn't care anymore about the trial. She is now pregnant. Shall she keep the future baby or not? She doesn't want to destroy the baby future as it is still a life so she decides to keep it. She doesn't want to be forced again by Salmon's acts so she keeps behaving same as before, i.e. doing intensive gym. The foetus dies. She is now freed. She loses the trial as Samon is only condemned to a 600 baht fine. She meets him in an hotel again. He challenges her again. At night time, he succeeds to enter in her house but gets severely beaten and dies when falling from the stairs. She is sent to prison but released promptly. Her former fiance is waiting for her. This Manop Udomdej's movie is related to women position in Thai society (difficulty to prove a rape, abortion difficulty for single woman). This movie received four gold statuette awards (รางวัลตุ๊กตาทอง) in 1987.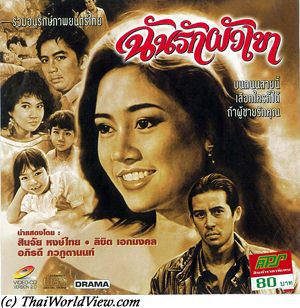 Year

: 1987



Thai title

:

ฉันรักผัวเขา




English title

:



Rating

: 4/5


Director

: Manop Udomdej



Main actor

: Likit Eakmongkol,Apichat Halamjiak


Main actress

: Sinjai Hongthai,Apiradee Pawaputanon
Am is singer in a music club. A young mysterious man called Win is coming every evening. Am refuses to sing a specific song "The last night" (คืนสุดท้าย) for him as it reminds her bad memories. She is living with her mother. She often thinks about her previous fiance, who lied to her as he had already a wife. She is now a singer and needs to be hostess with customers. A producer and a journalist are looking for new singers. They notice Am. Nowadays being capable (สามารถ) is not enough, the journalist would like to request more from Am but she doesn't play such bad game. She made a first music album with the producer. The journalist writes a bad article on Am regarding her relationship with a married man in order to boost record sales. She feels bad and drinks too much. Win brings her home. It is bad journalism. The journalist gets 2 baht per record sold. The journalist claims that nowadays talent (สามารถ) is nothing without advertisement (โฆษณา). The producer makes new songs for her, i.e "I love her husband" (ฉันรักผัวเขา) and "My heart hurts because of you" (ใจเจ็บเพราะว่าเธอ). Am accepts to sing these two songs even if she is worried that it will only corroborates the false news. Am is invited at the journalist's birthday in Cha Am. He tries to force her as he claims her success is due to him but Win knocks out the journalist and helps her. Win and Am become friends and start a relation (แฟน). The journalist continues to write bad news article on Am's love life. ช่างมันฉันไม่แคร์ - she decides to ignore the news. Am discovers that Win has two children already with a woman called Kae. They are married but live separately. Kae has already a new boyfriend (มีใหม่แล้ว). As Win is not yet divorced, Am refuses to go inside his house to protect her honor (ขายหน้า). Win's wife refuses to divorce in order to bring him troubles and to get more money. It is a difficult situation for Am as she is a middle of a broken family. The kids want the mother to stay. Kae calls the journalist. Another dirty (สกปรก) news article is published. Kae takes the two kids to use them as a means (เครื่องมือ) to force Win. She teases (แกล้ง) Win to prevent any happiness for him. She finally agrees for divorce as her children don't love her and her new boyfriend threatens to leave her. Unfortunately when happiness seems to be possible, Win dies in a car accident when going to Pattaya to meet Am. She sings his song "The last night" (คืนสุดท้าย) as a last homage for Win while crying. This movie highlights modern items in Thai society, i.e. the bad journalism, the stigmata of being a woman breaking a married couple.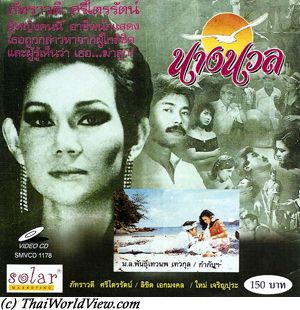 Year

: 1987



Thai title

:

นางนวล




English title

:



Rating

: 3/5


Director

: Pantewanop Tewakul



Main actor

: Likit Eakmongkol


Main actress

: Mai Charoeunpura,Thitima Sangkapitak
Thep is coming to his home in South of Thailand. He is the son of a famous TV serie star. He decides to teach students acting and meets a girl called Nuan, whose dream is to be a TV serie star. Thep's mother then comes to South of Thailand for holidays with her boyfriend, who is a famous TV serie producer. Willing to change her life, Nuan tries to seduce Thep's mother's boyfriend. She finally goes to Bangkok following his advice. There he takes care about her and she starts a TV serie star career. But being pregnant he forces her to abort and dumps her. In her foolish dream to continue to be a TV serie star, she accepts to play in porn movie. She finally comes back to South of Thailand in her hometown where this lovestory tragically ends.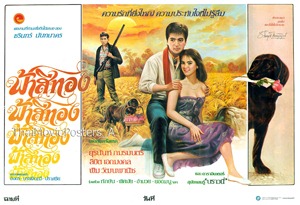 Year

: 1987



Thai title

:

ฟ้าสีทอง




English title

:



Rating

: 3/5


Director

: Charin Nantanakorn



Main actor

: Yuranan PamornMontri,Likit Eakmongkol,Taksin Jampol


Main actress

: Marsha,Pissamai Wilaisak
Thai movie ฟ้าสีทอง was released in year 1987 and lasts 1h48mn. The movie was shown on True Thai film cable TV channel. Movie is directed by Charin Nantanakorn. Young man Yothin is taking care of a huge agricultural domain. His dream is to have it becoming prospere (สีทอง) instead of being barren. His dog is even named as Si Thong. His parents (including Pissamai Wilaisak) are leaving in the city. Yothin is waiting for his brother Yuratit (Yuranan PamornMontri) to be back from England to help him. Pho Lieng Panat (Taksin Jampol) and his daughter Nit (Marsha) are living in the opposite domain. PhoLieng Panat and Yothin have often being in conflict before. Yothin is found shot dead. Yot (Likit Eakmongkol), domain intentant, suspects Pho Lieng Panat but he has no proof. Yuratit promises to continue what his brother started and to find who killed his brother. Yuratit helps young lady Nit whose vehicle is stuck in mud but Yot and also the father Pho Lieng Panat disapprove as each side sees each other as enemy (ศัตรู). The father Panat goes overseas for two weeks so Yuratit and Nit sympathise. A fire is lit in Nit's farm. Yuratit comes to help and saves a kid being endangered during a fire. Yot is the one, who started the fire, as he still believes Pho Lieng Panat killed his boss Yothin. Romance starts between Nit and Yuratit. Yot looks like not being happy with this relationship. Three ruffians tried to steal the money inside the safe of Nit's company. Nit suspected that those ruffians also lit the fire but finally she learns that Yot started fire in her farm's hangar. Nit believes orders are coming from Yuratit. The father is back and forbids to Yuratit to enter his farm (ไร่) anymore. Yuratit's parents visit the farm while Yuratit is away in the farm fixing the domain. While visiting the farm by carriage, the horse gets nervous as Nit uses her riffle to chase cattle away. The father is injured by falling from the carriage. Nit visits him every day as she feels guilty. Later, on Panat, Nit's father, is shot and injured. Panat believes Yuratit and his father are behind this shooting. Yuratit and his father visit Pho Lieng Panat to clear all the misunderstandings. Panat assures he has nothing to do with Yothin's death. Yuratit then suspects Yot. The two men fight as Yot is willing to get the whole domain for himself. Yot kept pushing both domains against each other. Yuratit is injured but Nit also injured him before he can kill Yuratit. Yot flees but the dog Si Thong revenges his master Yothin. Peace is back in both domains.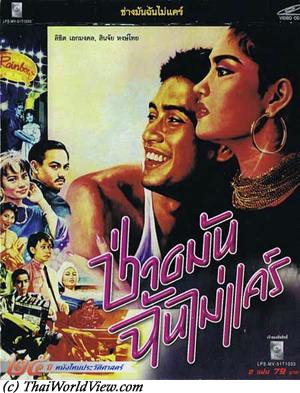 Year

: 1986



Thai title

:

ช่างมันฉันไม่แคร์




English title

: I don't care



Rating

: 4/5


Director

: Pantewanop Tewakul



Main actor

: Likit Eakmongkol


Main actress

: Sinjai Hongthai,Wiyada Umarin,Thitima Sangkapitak



Buy now

:

Pim is a very busy business woman. She is independent, smokes, drinks beer. She wears men clothes like suit and tie. She is a modern 1980s emancipated woman compared to Thai traditional standards. She only believes in herself. A young man called Bird and his friend are living together in a small flat. They have always no money. Pim needs a new model for an advertisement and is looking for one in Siam Square. She meets Bird in a cafe. Pim has a suitor called Komsan, who asks her for wedding. Pim is 30 years old already but she doesn't want to follow traditional ways, i.e. have husband, have children, stop working and stay home. So she refuses. Bird is recruited for underwear commercial shooting. Bird is younger than Pim. He follows Pim to a camping on Pattaya beach. Bird's mother needs 5000 baht. Bird needs to work again. He is Chippendales dancer in the "Rainbow" bar, a club for women, and then male prostitute for ladies. Bird is coming from Northeastern Thailand and has almost no studies knowledge. He is impressed by Pim (แม่โฆษณา) and her leadership. Pim considers herself same as prostitute selling her brain. Bird is fed up with his life as a gigolo. He only meets crazy ladies looking for sex only. One night, Komsan tries to force Pim but Bird chases him. They both tell their life. Pim has been traumatised by the Thai students massacre on 6 October 1976. Pim met Komsan during those events and loved him. But then Komsan changed a lot being mainly interested in money (เงิน) and power (อำนาจ). Regarding Bird, he is a farmer son and his real name is Wang. Pim has choice between Komsan, rich man and ละครพระเอก, and Bird. She is looking for a simple man (คนง่ายๆ). A love story starts between them. Bird is a good hearted man. Bird is often treated as a buffalo (ควาย) in his job as he is coming from countryside and doesn't have high studies knowledge. Bird leaves his job but then needs to do it again to get money to cure his sick friend. Pim's friend knows Bird. Due to jealousy, she announces Pim's relationship with Bird to Pim's boss and Komsan. But Pim doesn't care (ช่างมันฉันไม่แคร์). She quits her job and decides to stay with Bird despite society and family reprobation. The particular punch of this story, apart of from its depiction of low life in Bangkok, was provided by the fact that Pim has been a member of the young radicals in the 1970s. The 6 October 1976 students massacre in Thammasat University has never been fully investigated. When Pim meets old friends, they sing old songs for life (เพลงชีวิต) reminding them about the 1976 events.
---