Increase or decrease font size for easier reading : A+ A-
Lalana Sulawan
Lalana Sulawan (1960) - ลลนา สุลาวัลย์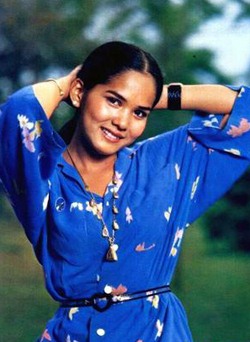 Lalana Sulawan became famous overnight thanks to Piak Poster's teen movies in 1970s. She often played duo with Phairoj Sangwaribut
This Lalana Sulawan movie page contains 20 records.
---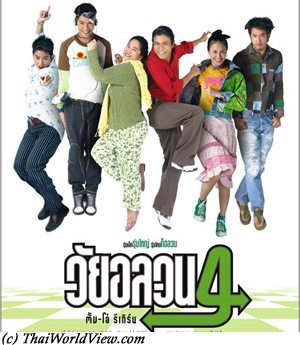 Year

: 2005



Thai title

:

วัยอลวน 4




English title

: Oops, There's Dad



Rating

: 2/5


Director

:



Main actor

: Phairoj Sangwaribut


Main actress

: Lalana Sulawan



Buy now

:

Almost 30 years have passed since the last opus of the movie serie "Wai On-la-won" (วัยอลวน) directed by Piak Poster. O (โอ๋) and Tam (ตั้ม) are now grown-up adults with two children, i.e. Toey (เตย) their teen son and Tong (ตอง), their daughter who is an university student. O is worried that her son might be gay. They go to Chiang Mai for their daughter's birthday. They want to do a surprise (วางแผนจัดงานวันเกิด) for her. Surprised, Tong needs to hide her boyfriend, Vichian, on the balcony (แอบมีแฟน). As O forgot her watch in Tong's condominium, Tam goes back and discovers that her daughter has a boyfriend. He takes the decision to keep the secret in order not to upset O. Tong tries to contact her old roommate she quit 2 years ago. Tong needs to find a temporary roommate to give false appearance to her mother. Tam helps to arrange. By lying to O, things turn badly for Tam and as two different roommates appear so O believes Tam turns obscene (ลามก). O is upset with Tam. Finally thanks to flashback images of their past through the previous movies, O and Tam get reunited. Tam tells her the truth about Tong living together with a boyfriend. They accept the fact. Like all parents they face issues when children grow up. The movie features many songs including the famous "ชูวับ ชูวับ" song updated to modern rock times. The OST CD includes also all the previous songs updated to modern music by Thai groups such as Taxi, อุ๊ หฤทัย , บัวชมพู ฟอร์, Endorphine... Another English title is also Wai On La Won 4: 30 Years Later.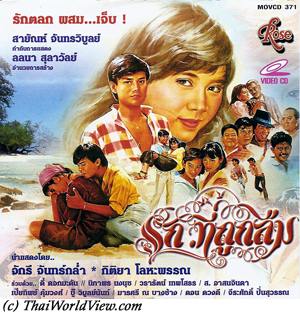 Year

: 1984



Thai title

:

รักที่ถูกลืม




English title

:



Rating

: 3/5


Director

:



Main actor

: Sor Asanajinda


Main actress

: Lalana Sulawan,Piathip Kumwong
A young man has promised to marry a young girl, who is finishing her studies abroad. But he is in fact a womaniser. After her return to Thailand, the young woman discovers this bad reality and breaks up. The young man decides to change his behavior and tries to reconquest his former love. Will he succeed?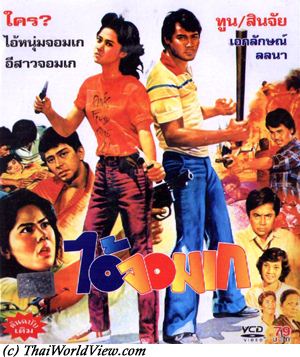 Year

: 1984



Thai title

:

ไอ้จอมเก




English title

:



Rating

: 3/5


Director

:



Main actor

: Toon Hiransap,Sayan Chantaraviboon,Pipop Pupinyo,Chat Mongkolchai


Main actress

: Sinjai Hongthai,Lalana Sulawan



Buy now

:

Keng (Toon Hiransap) is staying in relatives' rich house. The mother is not happy to see Keng at her home despite he is a relative (สอนมารยาท). The mother has two sons (Pochet and Kira) and one daughter called Chan. Chan (Sinjai Hongthai) teaches Thai boxing (สอนมวย) to Keng. Keng wishes to take revenge over ruffian Wo as he is responsible of his mother's death. Keng is Kliaw's young brother (น้องชาย). Kliaw is married to Kira (Sayan Chantaraviboon). Keng has also a school friend called Waew. Pochet loves secretly Waew (Lalana Sulawan) but Waew is already the minor wife of a rich man, i.e. Kira! Chan always protects Keng against Pochet (ลูกไม่รักดี). One day Keng sees Kira with Waew! Following the mother / Pochet's opposition and being only protected by Chan, Keng finally leaves their house. Keng finished drunk and Kliaw / Chan having pity takes care of him. Fed up, the mother decides to use Kam, a ruffian leader, to give Keng a lesson (สั่งสอน). Wo is part of Kam's team. Chan protects Keng against the ruffians as Keng is too afraid to fight. Wo is a pimp (แมงดา) as he is extorting money from Waew. Seeing Wo strangling Waew, Keng finally gets the strength to fight and gives a harsh lesson to Wo (สู้คนได้). Waew is now aware that Kira is Kliaw's husband. To revenge his mother death, Keng decides to hit Wo with Chan's help. The mother (ไม่เกรงใคร) tries to push another woman called Wan into Kira's arms to replace Kliaw. Finally Kliaw decides to leave also the house with Keng. Tired by this stressed situation, Kira stops his relationship with Waew. Pochet asks Waew's hand. As all domestic helpers have left, the mother has to clean the house and to do the cooking as Wan is useless. Wan is a rich man's mistress (เมียเก็บ) already. The mother now knows the real value of Wan and Kliaw. As Pochet is unfaithful with her, Waew shoots him accidentally. Wo, passing by, wishes to terminate Pochet but Waew protects him with her body so being the one to die. The ruffians (including veteran actors Pipop Pupinyo and Chat Mongkolchai) kidnap Chan and her mother. They request 1M baht ransom. Kliaw, Pochet, Keng and Kira storm the ruffians' place to release Chan and the mum. The ruffians are defeated. Finally the mother makes apologies regarding her behavior and the whole family can get happiness back. Thai movie ไอ้จอมเก was released in year 1984. This action romance features a leading actress practising kung fu. In many 1980s movies, actresses such as Apiradee Pawaputanon, Jarunee Sooksawad, Suriwan Suriyong played similar active roles.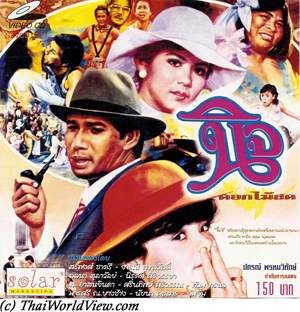 Year

: 1983



Thai title

:

นิจ




English title

:



Rating

: 3/5


Director

:



Main actor

: Sorapong Chatree,Sor Asanajinda,Joomjim Khemlek,Thuam Thoranong


Main actress

: Jarunee Sooksawad,Lalana Sulawan,Sarinthip Siriwan,Marasri Bangchang
Two young people are married following their parents agreement but the man doesn't love his wife and still continue to visit his mistress. Despite all her attemps, the young lady cannot succeed to get love from her husband and left. His husband finally understands that her mistress has an awful mind and try to get her wife's love back. Is it too late?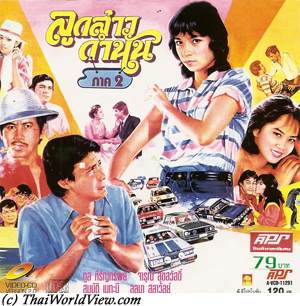 Year

: 1983



Thai title

:

ลูกสาวกำนัน 2




English title

:



Rating

: 3/5


Director

:



Main actor

: Toon Hiransap,Sombat Methanee,Rong Kaomulkadee


Main actress

: Jarunee Sooksawad,Lalana Sulawan,Ampha Pusit
This funny movie is the second opus about the daughter of a district officer. Teng Mo has just married when another woman claims that she is already the wife of her husband! Funny moments happen until Teng Mo and her husband fall in love again.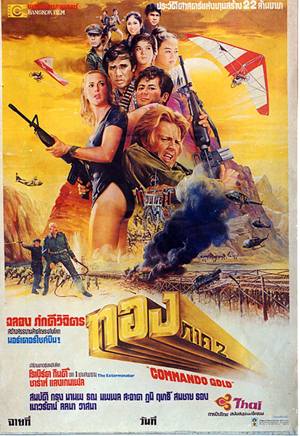 Year

: 1982



Thai title

:

ทอง ภาค 2




English title

: Commando Gold



Rating

: 3/5


Director

: Chalong Pukdeewichit



Main actor

: Sombat Methanee,Krung Srivilai,Sahat Piempongsan,Robert Ginty,Rith Luecha,Somchai Samipak,Manop Aussawathep,Ron Rittichai,Rong Kaomulkadee


Main actress

: Wassana Sitthiweth,Naowarat Yooktanun,Lalana Sulawan,Sarah Langenfeld



Buy now

:

ทอง ภาค 2 / Goldraider is a sequel of ทอง ภาค 1. It was released in year 1982. It lasts 1h33mn. It is a DVD featuring English language with Thai subtitles. The plane leaving Laos with gold bars is shot down. There is a stock valued 200M USD on board. Cheut (Sombat Methanee) and Satra (Krung Srivilai), both present in first sequel, succeed to jump by parachute. Cheut ends in a mountain village where Wassana Sitthiweth is a teacher. Satra ends in another village led by Somchai Samipak and is accused of being a spy. As one leader wishes to marry Naowarat Yooktanun, Satra's life is spared as he needs to offer gold for the wedding. So Satra must lead them. Another team led by Mark (Robert Ginty) and including Cordelia (Sarah Langenfeld), Penpoin (Lalana Sulawan) - explosive expert -, Rith Luecha – knife expert - and others is on the way to the border to prevent communists to grab the gold bars. The commando has to get back three big boxes containing weapons and delivered by planes. The Laotian leader is a general (Manop Aussawathep), who has a crippled leg. He has to catch the gold raiders and find the gold bars to give back to his commander Sahat Piempongsan. While crossing a ravine, the gold raiders get reunited with Satra and Naowarat, who were fleeing from the Laotian soldiers. They finally all get captured except Mark, who flees through his flying motorcycle. Penpoin recognises her former Thai boyfriend, who is now a captain in the communist army. At night time, Mark releases them and they storm the ruffians' camp. As the village chief was killed, Naowarat guides them to the plane. They succeed to steal the gold bars from the laotian soldiers and rush to the Mekong river to wait for US helicopters. Manop Aussawathep tries to steal the gold from his own commander Sahat Piempongsan. Laotian army reinforcement arrives but the gold raiders succeed to slow them down. Gold is finally extracted but 5 of the gold raiders have lost their lives during the expedition.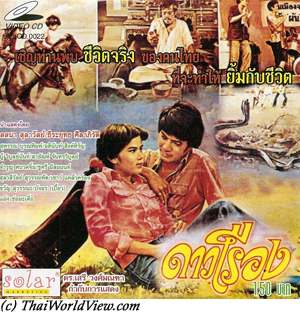 Year

: 1979



Thai title

:

ดาวเรือง




English title

:



Rating

: 3/5


Director

:



Main actor

: Jamroon Nuatjim


Main actress

: Lalana Sulawan
This is the story of a woman, who has a very bad character. One day, a young official comes in the village. Will he succeed to win her heart?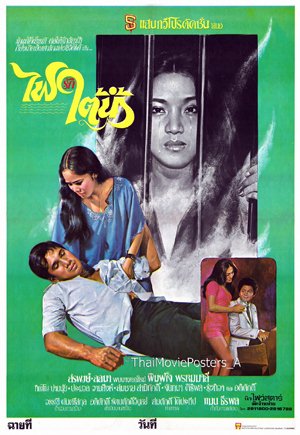 Year

: 1979



Thai title

:

ไฟรักใต้น้ำ




English title

:



Rating

: 3/5


Director

: Man Teeraphol



Main actor

: Sorapong Chatree,Somchai Samipak,Pinyo Parnnui


Main actress

: Lalana Sulawan,Janthana Siriporn
Thai movie ไฟรักใต้น้ำ was released in year 1979 and lasts 1h34mn. The movie was available on VHS. It is a movie recording on TV CH3 many years ago. It was first movie for actress พิมพ์ใจ พรหมมาลี. Movie director is Man Teeraphol. It is businessman Somchai's (Somchai Samipak) birthday party. His daughter Tum (Lalana Sulawan) is managing the party with the help of Bun (Sorapong Chatree), being a dedicated staff. Su (Janthana Siriporn) is Tum's close friend. Vinny is Tum's sister. Bun meets attractive young lady Jit (พิมพ์ใจ พรหมมาลี) at the party. On the next day, Jit starts trying to seduce Bun. Bun is a clerkman without money and is very shy. He lives in a slum. Jit invites Bun to go out. Vinny sees Bun and Jit together. Bun and Jit become lovers. Jit wants to marry Bun. Bun does not move to Jit's home as he does not want to be perceived as profiting from a richer woman (กอดเมียน้อย). They marry but Bun wants to keep money on his own for the wedding. Jit works for the government. Jit has a strong libido. Peung (Pinyo Parnnui) is mute and is a musician in Pattaya hotel. Jit has a manager, who is her former lover. Jit is not fully happy with her married life. Jit spends a lot of money as she must join official events (งานสังคม), so it makes Bun upset. Bun works hard so he does not have time for his wife at nighttime due to tiredness. Jit needs sex (ต้องการ). Having dinner with her boss, he drugs her. Vinny and Su see Jit in the car and see her running out from a short time hotel. Jit fled from the hotel before her boss could do anything to her. They share the news with the father Somchai and Tum. Back home, she drinks a lot and argues with Tum, who is sending Bun back home. Bun slaps Jit, who quit their home. Back to Pattaya hotel, Jit drinks a lot as she complains Bun does not understand her. The boss just wants a mistress and makes many promises to Jit. She is not interested. Finally, Peung and Jit become lovers. Jit is not yet divorced but is having an affair with Peung (ชู้). Tum is aware through Vinny. Jit needs desire (ความใคร่). Bun is sick as he works too much. He is just husband in name (ผัวในนาม) so he is also upset. The ladies bring Bun to Pattaya to try to find a solution. Bun sees Jit with Peung. He punches Peung and slaps Jit. At evening time, Bun drinks a lot. Peung, wishing to get revenge, hits him with a stick. He then tries to strangle Tum. Jit, looking for Peung, intervenes and has no choice but to stab Peung. Jit ends up in jail and recognizes her mistakes, but it is too late. She wishes good luck to Bun and Tum together.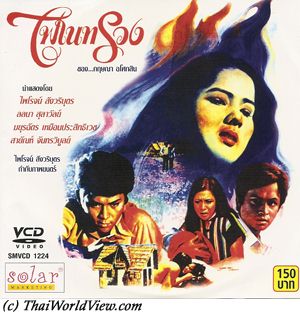 Year

: 1979



Thai title

:

ไฟในทรวง




English title

:



Rating

: 2/5


Director

:



Main actor

: Phairoj Sangwaribut,Sayan Chantaraviboon


Main actress

: Lalana Sulawan,Mayurachath Muarnprasitivej
Long, a young man, falls in love with Yuenda, a young girl still doing her studies. Pop, Yuenda's brother, who is already married, is extremely protective over his younger sister. Anyway a love story blossoms between Long and Yuenda. Yuenda fails her studies and is not willing to do another year. Disappointed by her exams failure, she decides to visit her father a few days. Pop is also coming with her and on the return trip he declares his love for her. He forces her to enter into an incestuous relation. Finally this relation becomes consensual. Shall love come from the heart of body sensations? Pop becomes more and more jealeous when Yuenda meets Long. He announces his relation with Yuenda to Long. Long is shocked. Pop's wife tries to break up the relation by sending Yuenda far away with Long. They take refuge in a remote farm but Pop finds them. They flee away but have issues with three bad guys who stabbed Long. Pop grabs Yuenda so that she cannot visit Long in hospital. Finally Pop's wife manages that Long and Yuenda get married. Pop decides to abduct Yuenda to prevent the wedding but he dies in a car accident.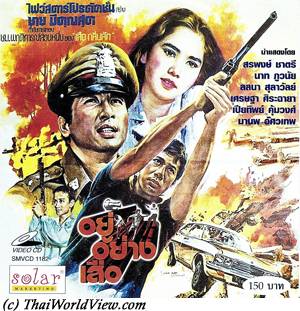 Year

: 1979



Thai title

:

อยู่อย่างเสือ




English title

:



Rating

: 3/5


Director

: Chai Meekunsut



Main actor

: Sorapong Chatree,Settha Sirachaya,Manop Aussawathep,Nard Poowanai


Main actress

: Piathip Kumwong,Lalana Sulawan,Duangcheewan Komolsen
An intensive deforestation is taking place in North of Thailand. Seua (Sorapong Chatree), young man, is back to his native city and is looking for a job. He met Duang, a former girlfriend. Priaw, Duang's brother, drives him to a neighbouring city, Mae Sot, where job opportunities are soaring. Seua meets Pop, an old friend, in order to get job recommendations. Seua is married but he comes alone. They have a drink in a bar. Two interesting characters are working in the bar, i.e. lady Toi (แม่เพลิงไฟ) and ladyboy (กะเทย) Aree, who is a musician and singer. Pop is shot while they are having a drink. A Police inspector (สารวัตร) is investigating the murder but no clues can be found regarding the murderer and cause. It seems to be linked to a corruption and bad influence case. Kamsaen, rich and influential man (พ่อเลี้ยง) , has a beautiful daughter called Kamyat. Pop was a family member but he was not well appreciated as he tried to seduce Kamyat. Seua tries to meet Kamsaen but to no avail. Some ruffians sent by Sinkon, Kamsaen's close assistant, try but fail to drub Seua. Truth has to be hidden and it is a strong message that Seua should stop investigating on Pop's death. The bar manager is shot also. Seua is seriously beaten at the head as he refuses to stop investigating. While driving, Sinkon is also shot by the hitman. A former policeman, Natheum, passing by, sees the hitman's face. All witnesses are killed one by one. Illegal forest concessions (ตัดไม้เถื่อน) business is suspected. Threatening letters are now received by Seua. A plan is prepared with the police inspector. They break over the ruffians directly inside the forest. Shootings happen between police and the ruffians. They release Kamsaen and his daughter held prisoners inside a hut. The ruffian leader succeeds to escape and is still unknown. Natheum is Seua's old friend. While having a drink in the bar, he recognizes Aree as the hitman. Kamsaen has been simulating his capture and is in fact the real headmaster. Toi is his mistress. Kamsaen is killed while trying to resist to the police. Seua, carrying a Magnum 357 gun, revenges his friend Pop by shooting Aree. The magnum 357 is certainly influenced by inspector Harry movies with Clint Eastwood. This movie is a typical action movie from decades 1970s-1980s and features the finest Thai actors and actresses.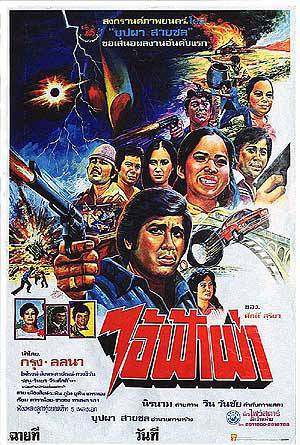 Year

: 1979



Thai title

:

ไอ้ฟ้าผ่า




English title

:



Rating

: 3/5


Director

:



Main actor

: Krung Srivilai,Sawin Sawangrat,Phairoj Jaising,Boo Wibunnan,Sayan Chantaraviboon


Main actress

: Lalana Sulawan,Duangcheewan Komolsen,Ratchanoo Boonchuduang
A new baby is born and is called Ai Fa Pha (ไอ้ฟ้าผ่า) as it is born during a storm. Many years have passed. Yoo (Krung Srivilai) is back from university. His surname is Fa Pha. He is expecting his girlfriend Anoolok (Lalana Sulawan) to wait for him at the bus station but he is welcomed by three ruffians when getting off the bus. Even police led by Phalat, a corrupted official (ราชการเลวๆ), wants to catch him. Yoo takes refuge with his old friend bandit (เสือ) Beung (Phairoj Jaising). The sub-district headman (กำนัน) Pho is having forced land promises of sale with many villagers including Sin (Sayan Chantaraviboon). Beung is a mix of Robin Wood and thief forcing bad guys such as the local rice reseller to be more honest. Yoo and Beung want to help Sin who is treated like a slave by the sub-district headman family. Sin loves Kru, the daughter of Kamnan Pho. Beung kills both the brother and the father. Phalat accepts bribe (ใช้อำนาจ) from a Thai Chinese businessman. Beung wants to arrange a wedding between Sin and Kru but finally Kru becomes Yoo's fiancee as Sin doesn't want to be forced anymore! Phalat wishes to marry Anoolak. But she is still awaiting for Yoo. Her father was forced to fiance her with Phalat due to some debts. Phalat organizes kidnapping of Anoolak. She finally escapes thanks to Sin. Beung shoots the Chinese businessman to stop corruption. Young lady Nokarin likes Beung, an eternal bachelor. Fa Pa, convinced by his family and Anoolak, finally surrenders to the police and his complaints are heard by the district officer. Palat and his acolytes are dismissed (ยุติธรรม). The weddings Yoo / Anoolak and Sin / Kru can happen. But Palat wishes for revenge. They storm the wedding ceremony and shoot guests. The ruffians are defeated but Sin and Beung are shot dead while trying to protect each other. It is linked to their karma. Good deeds are recompensed but bad deeds are paid. Beung's killings are finally paid despite he killed bad people only. A few romantic songs are performed during the movie.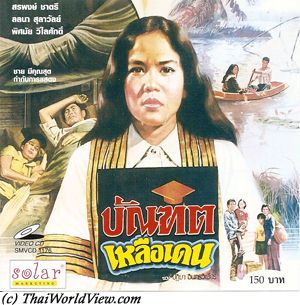 Year

: 1979



Thai title

:

บัณฑิตเหลือแดน




English title

:



Rating

: 5/5


Director

: Chai Meekunsut



Main actor

: Sorapong Chatree,Manop Aussawathep


Main actress

: Pissamai Wilaisak,Lalana Sulawan,Nipaporn Nongnuch
A farmer couple with two young daughters quit their land to find jobs and a better life in Bangkok. Wan and her younger sister Wannee have now grown up. Their father wants them to study up to university and become บัณฑิต (graduate). Unfortunately he died before during an accident on a construction site. The mother is working in a short time motel and washes bed sheet. As Wan studies are expensive and the mother has a small salary, the mother has no choice but to accept sexual proposals from a customer called Atasit in order to get money for her daughter studies. Meanwhile Wan meets a young man called Narat and a love story starts. Following her mother disease and expensive hospital fees, Wan has also no choice than to sell her body to Atasit to get money. Atasit wants to meet her again but this transaction was only financial and based on necessity (ความจำเป็น). Narat asks to marry Wan. Meanwhile Atasit also seduces the younger sister Wannee for similar financial issues. Wan asks him to stop but he refuses. All the women of the same family have the same fate with Atasit because they are coming from a poor background. The mother tries to help her daughters. The daughters try to help their mother. The movie ends up tragically. Wannee dies due to miscarriage and heavy loss of blood. Wan decides to kill Atasit to have him pay for his sins but her mother kills him first in order to take the judicial blame and avoid ruining all the efforts done by her and her former husband to have Wan become a successful graduate. Finally Atasit was Narat's father... This damned life mixing poor people from the country side and rich Bangkokian people ends up in a wreckage for all.



Year

: 1979



Thai title

:

ไผ่แดง




English title

: Red bamboo



Rating

: 5/5


Director

: Permpol Choei-arun



Main actor

: Sorapong Chatree,Suchao Pongwilai,Krailat Kriengkrai


Main actress

: Lalana Sulawan



Buy now

:

Red bamboo is a novel writen by famous writer M.R. Kukrit Pramoj in 1954. It was reprinted 19 times and translated in 9 languages. It is adapted from "The Little World of Don Camillo". The movie deals about the opposition between the new faith (Communism) and the old faith (Buddhism). It is about the conflicts that arose between traditional Thai village life and the forces of modernization that were transforming the country. It takes place in Isan region, northeastern part of Thailand. It is the hot season. Kwen is a local villager but he is seen as a communist even if he doesn't fully understand the doctrine foundations. He wants to refuse the help from government. Monk and government are working together to give food to poor villagers. Evan Luang Pho Buddha statue is magically giving advice to the abbot, Sompan, as sometimes he has also doubts ansd weaknesses. Kwen, the red communist, helps villagers and challenges the local power regarding debt cycle and the current society behavior. When Kwen was a child, he was friend (สหาย) with Sompan. Kwen believes that religion is hurt by the politics as they are too close. The government uses the Buddhist religion as an ally. Both Sompan, the abbot, and Kwen, the red communist, want to help poor people but not in the same way. The abbot is seen as a traitor (ทรยศ) by the communists. The rain finally comes. Kwen thinks that religion is only helping people when they are hungry in order that later they do donations to the temple. A Chinese moneylender, called Sia, is present in the village. The villagers believe time has arrived and that communist rebellion will happen. They plan to get weapons and arrest the monks. Kwen warns his friend Sompan but he refuses to leave. Finally the rebellion was only a falso rumour. Tom is one of Kwen's partisan. Tom doesn't want to ordain 15 days but finally accepts to ease his aging mother (ไม่นับถือศาสนา). Sompan is first reluctant to accept. Another Kwen's partisan, Thip, causes trouble. Thip's girlfriend, Kathiem, is three months pregnant. Kathiem would like to follow up traditions but Thip refuses (ไม่ย่อมแต่ง) to follow as traditions are a threat to own liberty (เสรี). Love shall prevail over traditions. Finally the wedding happens. On top of this Tom is not willing to disrobe. So Kwen is angry with Sompan (หลอกชาวบ้าน). A fake monk raises belief into spirits in order to get money from villagers but he is expelled by Sompan. Meanwhile the Chinese moneylender gets some villagers' land and rent it to them! There is still no school in the village. Sompan and Kwen support each other to help financing the school (บริจาค). As the money is not enough, Sompan gives money from the temple to help build the school (โรงเรียนประชาชน). Tom and the subdistrict headman's daughter like each other so Tom disrobes. Tom's mother has no land anymore as she sold it to get money from the Chinese moneylender. There is an issue to decide on the location of the school. The two villages are separated by a small bridge. A meeting is organized in the Buddhist temple to solve the conflict (โรงเรียนใหม่). The school shall be built on the bridge so it is really in the middle of the two villages. But the soil now belongs to rich moneylender Sia. Sia already agreed with the district Chief Officer to build a dam so arguments raise between Sia and the villagers. The soil transfer is found as illegal as it was not officially stamped. Ruffians come with guns. So the villagers have to flee but Kwen prepares a plan to fight back. Kwen wishes to fight against corrupted officials. Villagers capture Sia and his ruffians during nighttime. Finally a high ranking official recognizes that Sia is a dishonest man and thanks the villagers for their action towards him. The school can now be completed. Collaboration between Kwen and Sompan is finally successful as Kwen accepts to ease down his communist aspirations. In 1990, a Thai TV serie (ละคร) based on the same story was produced This movie has also bee registered as National Heritage per the 2016 list released by the Thai Film Archive.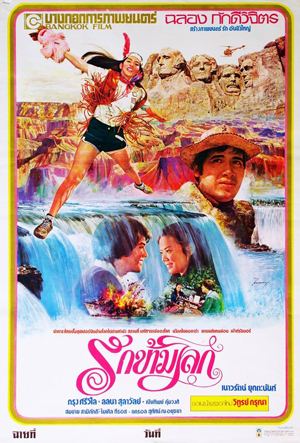 Year

: 1978



Thai title

:

รักข้ามโลก




English title

:



Rating

: 3/5


Director

: Chalong Pukdeewichit



Main actor

: Krung Srivilai,Somchai Samipak,Witoon Karuna


Main actress

: Naowarat Yooktanun,Piathip Kumwong,Lalana Sulawan,Juree Osiri



Buy now

:

Thai police inspector (สารวัตร) Ton (Krung Srivilai) is chasing drug traffickers. Heroin traffickers are shot dead by a mysterious helicopter while trying to flee police in USA. 20M baht are lost. To compensate their loss, traffickers need to get drugs directly from Golden Triangle in Thailand. Anong (Piathip Kumwong) is married to a drunkard foreigner. Nit (Naowarat Yooktanun) is her daughter. The husband Mike has a secret arrangement with the US ruffians as he becomes rich suddenly. They all travel to USA. The drug traffic is coming from Thailand to USA through antics. Maem Clara is a small antics shop's owner. She is working with Pai (สมชาย สามิภักดิ์ - Somchai Samipak), who is the driver, and with Fon (Witoon Karuna). Noon (Lalana Sulawan) is Pai's daughter. Even Osiri, veteran actress and Somchai Samipak's wife, has a small role. Pai's van is followed up by Mike. Mike tries to stop Pai's van. Finally Ton helps to push back the ruffians but they all have to flee. Unfortunately Anong is captured by Mike (เป็นตัวประกัน) while fleeing. While running away from the ruffians, romance starts between Noon and Ton, between Fon and Nit. Ton fails to find heroin in uncle Pai's van. Maem Clara is the real master behind the traffic. As usual, Krung can defeat his opponents thanks to his powerful kicks. Heroin is finally hidden inside the teak wood that uncle Pai ordered from Thailand. Mike is dropped and shot by his friends. Nit and Noon are also captured. Before dying, Mike discloses to Ton where the ruffians are heading to. Police is then chasing their boat. Through final shootings and bombings, ruffians are all killed, Mit and Noon are released but Nit's mother is losing her life. Thai movie รักข้ามโลก, directed by Chalong Pukdeewichit, was mainly shot in USA in 1978. This romance and action movie includes one love song by Witoon Karuna. Another movie called ล่าข้ามโลก directed by Chalong Pukdeewichit was also shot in USA in 1983.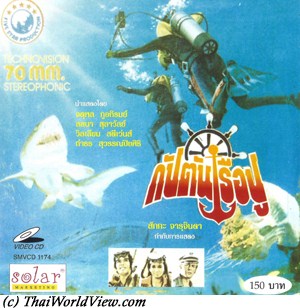 Year

: 1978



Thai title

:

กัปตันเรือปู




English title

: The Pistol



Rating

: 3/5


Director

:



Main actor

: Jatuphol Poopirom,Kamthorn Suwanpiyasiri,Boo Wibunnan


Main actress

: Lalana Sulawan
Thai movie กัปตันเรือปู (The Pistol) was released in year 1978 and lasts 2h01mn. A remastered HD version was released online by Fivestar production in year 2014. A foreigner called Steve is having a diving school in Pattaya and is also the captain of a boat used to transport tourists. Kan (Jatuphol Poopirom) is one of his former employees and is a skilled diver. He now catches crabs (จับปู) and finds a weird piece of rock while fishing. He gives it to the captain's assistant called Ben. Kan is married to Plae (Lalana Sulawan). Inside the rock, an old gun (ปืนโบราณ) is found. Steve asks Ben to get pictures of the gun. The photographer warns Sia Saeng (Kamthorn Suwanpiyasiri) who wants to know where Kan catches crabs. Chinese expert (Boo Wibunnan) is also interested by the old gun. As Kan refuses to disclose the location, he gets beaten. Ruffians believe a treasure must lie at the location where the gun was found. Impressive submarine images show the hunt for the old ship. Steve and Kan dive and look for the old ship under the sea but the ruffians led by Saeng are looking for their location through another boat. Steve and Kan simulate a fake ghost presence in the old ship to chase away Saeng. Many people start to be interested by this old ship including an old professor. The professor believes a Portuguese ship going from Macau to Ayutthaya drowned many centuries ago. Even distrust happens between Kan and Steve. Kan hides the gun in the sea as his home is attacked. The Portuguese embassy wishes to buy the gun for 100 000 baht. Unfortunately the gun has disappeared taken away by another fishing boat net. The dreams of becoming rich fade away for Kan.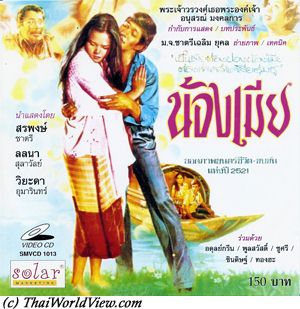 Year

: 1978



Thai title

:

น้องเมีย




English title

: Sister-In-Law



Rating

: 5/5


Director

: ChatriChalerm Yukol



Main actor

: Sorapong Chatree,Thuam Thoranong


Main actress

: Lalana Sulawan,Wiyada Umarin,Chosri Misommon
Four members of a family are living on a barge and carrying goods between provinces. Saeng, young man, is married to Plang. They have a young baby. Taptim is the young sister-in-law. Taptim is working hard but her elder sister is lazy. Saeng shouts after Taptim but remains silent with his wife. The barge arrives in Bangkok. Plang is fed up with her life on the boat. She is still young and wants to have fun. She sees herself having no future with Saeng. Taptim believes Plang doesn't love Saeng but married him to go away from her parents. Saeng doesn't believe Taptim. Saeng needs to sell 5000 watermelons. He only gets an offer of 20000 baht only. He refuses to sell. Plang believes she can be a country music (ลูกทุ่ง) singer. Plang meets in a hair-dresser shop a middle age gentle lady, who proposes to help her. Taptim refuses to join Plang as she is afraid to become a prostitute in Bangkok. Plang quits the barge. Saeng is shocked and finally sell the watermelons 12000 baht to have money and look for his wife in Bangkok. The trader knows that Saeng needs money urgently so he gives him a very low price (ขี้โกง). Bangkok is so big. He goes in every singing entertainment places to find her the whole day and night. Hopefully a taxi driver helps him (คนบ้านนอก). Saeng doesn't know how to read. He drinks too much and leaves his 12000 baht in a restaurant. Taptim has to take care of the baby as both parents are out in Bangkok. The taxi driver is a nice and honest guy as most of the taxi drivers come from Isan (อีสาน). Saeng sells his boat for a small amount and buys back a smaller boat. He finally finds Plang when she was ironically singing "chai dio rak dio" (ใจเดียวรักเดียว - one heart one love). Plang is performing in a drinking joint which offers live entertainment. Customers can invite singers to chat with them. Saeng and the taxi driver get beaten by the guards. The old woman introduces an old rich man to Plang. It is a financial transaction. Understanding that the man brings her to a hotel, she flees. Saeng loses his money again. Saeng stops looking for Plang having lost everything. The only money that is left is from Taptim as she forces the trader to give a higher compensation for the watermelons. Finally Saeng regrets not to have married Taptim as she has a better mood and behavior than Plang. Saeng wishes to get Taptim as new wife. It happens... When Plang decides to come back, it is too late to get back Saeng. She comes to get back her child. Nobody wishes to stay in Bangkok. They all go back to countryside. Bangkok is a symbol for poor up-country people, i.e. dream of wealth. Some people dream to get rich there but many of them come back home without money. Some countryside people arrive in Bangkok and get abused by Bangkokian people.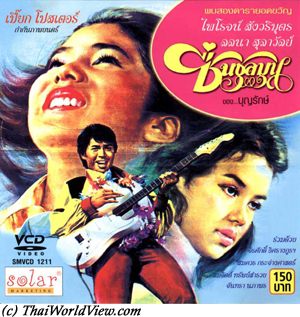 Year

: 1978



Thai title

:

ชื่นชุลมุน




English title

:



Rating

: 3/5


Director

: Piak Poster



Main actor

: Phairoj Sangwaribut,Somkuan Krajangsat


Main actress

: Lalana Sulawan



Buy now

:

This movie is the third part of the movie serie "Wai On-la-won" (วัยอลวน). O (โอ๋) and Tam (ตั้ม) are now a happy married couple. O's father gets convinced to participate in a bus company business and has to buy shares. He needs to pay 200 000 baht. Tam is a nice husband but still likes to flirt with ladies and go for lunch with them. Sometimes he has a party with friends and his monthly salary is gone! He is so happy when he believes that O is pregnant but she has only a minor tiredness. O's father has given the money but didn't get any official reconnaissance papers as promised so got cheated (โดนโกง). Somchai, their relative (ญาติ) and domestic helper (คนรับใช้), gets biten by a fierce dog and has scars. The owner only gives 20 baht for compensation. He is the same guy who promises to sign documents regarding the loan from O's father. Tam asks for 200 000 baht compensation. Refusal is received and the issue has to be settled at tribunal (ฟ้องศาล). Tam enquiries to get proofs that the dog belongs to rich bad guy. Tam claims her relative was going to play in a movie to justify the important money amount. Trial starts but witnesses used by Tam cannot match the strong opposition from the lawyer. Family life go on for Tam and O. Tam buys a car. His musician skills are also well used in various occasions to play modern Thai music. Two songs from this movie became hits. His friends bring him to a massage parlor (อาบอบนวด). There he meets a masseuse that presents him a friend wishing to become a movie star. He convinces her to play her best performance during the trial if she wishes to get employed by his friend. It works so well! The movie highlights poor people fight against rich dishonest people. Piak poster movies reflects an image of Thai society with its good aspects and bad aspects. They are a joy to watch.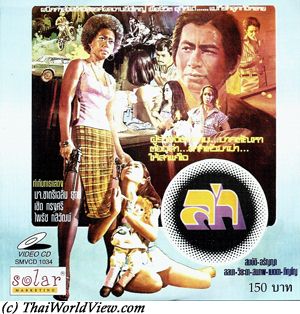 Year

: 1977



Thai title

:

ล่า




English title

: The Hunter



Rating

: 4/5


Director

:



Main actor

: Sombat Methanee,Somsak Chaisongkram,Somphob Benjatikul,Pinyo Parnnui,Lak Apichat


Main actress

: Aranya Namwong,Wiyada Umarin,Lalana Sulawan,Metta Roongrat
A group of ruffians (Pinyo Parnnui) indulging in drugs and alcohol is terrorizing a slum. Mateson (Aranya Namwong) is married to Atisak. They have child called Pheung (Lalana Sulawan). Atisak has a mistress so Mateson has no choice but to divorce. The house remains under Atisak's name as she made the mistake to give him money in order for her parents to believe he was a richer bachelor (ผู้อุปถัมภ์). They have to move in a slum to get cheap rent. They get some support from their aunt (Metta Roongrat). Mateson is looking for a job. Karucha (Sombat Methanee) interviews her. Hearing the unfair rumors on Mateson, he decides to recruit her. Karucha has also a daughter. A fight happens between Karucha and Atisak as they meet in a restaurant. Police, led by police inspector Lak Apichat, is looking for evidence that the ruffians are selling drugs in the slum. Karucha wishes to marry Mateson but she refuses. Meanwhile police shoots the ruffians. Their leader, injured, consigns a bag of heroin to Pheung. When Mateson is back, drug is given to police. Ruffians promises to take revenge on the mother and the daughter. Police is looking after their house. One evening as Karucha couldn't send them back home as his daughter has to be sent to hospital, they get caught in a serious storm and the ruffians catch them inside the slum as the taxi refuses to go up to their home. Both get raped. Mateson still refuses to go in Karucha's home. Pheung remains in a shocked state despite support of the doctor (Wiyada Umarin). The ruffians get released later. Mateson decides to take revenge by herself as men never take responsibility. She frames Atisak in a trap by disguising herself as a black prostitute. Atisak's new girlfriend, being jealous, shoots him. She learns how to make up well. She then shots three ruffians by attracting one of them by playing a junky. All those killings start to have an impact on Mateson's spirit. People start to make a link between the ruffians killings one by one and the number of dolls given to the daughter. Killing happen in atrocious ways such as acid and cut by a train on railway. Two are left, i.e. the leader Yong (Somsak Chaisongkram) and Paew (Somphob Benjatikul). Paew discovers that she is Mateson but finally all die. Mateson has become crazy. She succeeds to kill them one by one but her eager wish to take vengeance leads her to madness. This 2h10mn movie was produced by ChatriChalerm Yukol.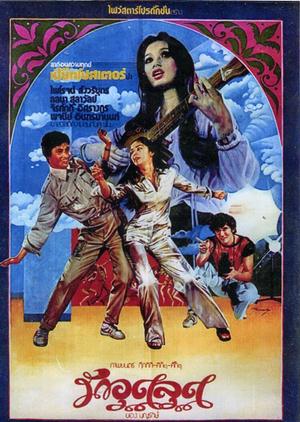 Year

: 1977



Thai title

:

รักอุตลุต




English title

:



Rating

: 3/5


Director

: Piak Poster



Main actor

: Phairoj Sangwaribut,Somkuan Krajangsat


Main actress

: Lalana Sulawan
Tam is now a junior lawyer (ทนายความ) but he wishes to get a new job as he doesn't fit well with lawyer job requirements. He is too nice to be a strong lawyer. While going to his new work, his taxi hurts another car (ขึ้นอุบัติเหตุ). There are arguments as Tam helps the taxi driver to get more damage fees from the rich car owner. The rich owner car is his new boss! So Tam quits his new job. He finds a new job as fire extinguisher seller but it is a failure again (ตกงาน). So finally Tam finds a job as model (นายแบบ) for a modern clothes designer. He meets Nit, a lady working as singer and model. Tam wishes to have friendship only. O starts to be jealous as many ladies like pictures of Tam in magazines. Tam doesn't understand O's reluctance (ไม่เสียอะไรเลย). To challenge him, O becomes a model also but Tam cannot stand other men commenting about his wife. They both stop this job. They finish their model career dancing on a podium with flashy clothes as it was the disco era. Tam still meets Nit but as a friend. Tam is hiding money from his wife as pocket money. Tam knows Nit's elder sister as he is the one to condemn her when he was still a lawyer (กลุ้มใจ). Will this friendship turn into love? Tam starts to go back home late and giving bad excuses. Et, a photographer, also loves Nit. O sees Tam and Nit in a car. Troubles happen (เรื่องใหญ่). Tam argues that Nit is already Et's girlfriend. Nit asks Et to play her boyfriend role to avoid troubles between Tam and O. Finally Nit falls in depression as she loves Tam but Tam is already married. Et helps her to recover and to forget Tam. Tam finally finds a job in Bangkok bank and happy couple life is resumed with O. This is the second opus of Wai On La Won by director Piak Poster. Same recipes as previous movie Wai On La Won (วัยอลวน) are applied, i.e. modern songs such as ชูวับ ชูวับ, use of English words in Thai sentences. The movie made 9 millions baht at the Thai cinema box office.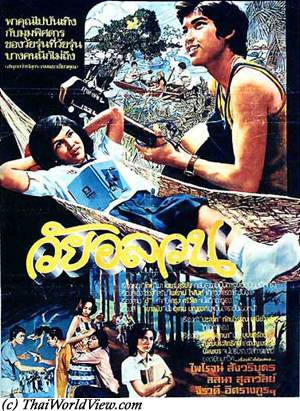 Year

: 1976



Thai title

:

วัยอลวน




English title

: Wai On La Won



Rating

: 3/5


Director

: Piak Poster



Main actor

: Phairoj Sangwaribut,Somkuan Krajangsat


Main actress

: Lalana Sulawan
Tam (ตั้ม) is an university student. He takes additional jobs as he doesn't come from a rich family. He rents a house to a strict owner, who has two daughters. Tam tries to seduce the first daughter but she is already engaged. Tam is an evening teacher (อาจารย์) and teaches the second teen daughter called O (โอ๋), who is quite stubborn (ดื้อ) and not willing to learn (ไม่ตั้งใจเรียน). The father believes O is having an affair with Tam. The father is old style (แบบโบราณ ). He decides to send O every day (จะส่งเรียน) to school. Tam continues to support her secretly through messages hidden in books (No sms and chat in 1976!). Love emerges between O and Tam despite the father's surveillance. Tam needs to use tricks to deceive the father. In parallel Tam is still following lawyer studies. He needs to find trick to get money to finish to pay his studies. The father threatens Tam to force him to leave but to no avail. Finally O and Tam can get married. This movie serie by Piak Poster included four opus, i.e. วัยอลวน (1976), รักอุตลุต (1977), ชื่นชุลมุน (1978), วัยอลวน 4 (2005). This first opus was a break with 1970s movies as it was the first successful teen movie including new modern actors (Phairoj and Lalana) and especially modern music. It was the first teen movie, which changed the local trend where the main actor had to be always polite, good looking with a robust body. The director, Piak Poster, used a new actor, Phairoj Sangwaribut, who was quite slim. At the beginning, the movie was a failure. No theaters were interested to show it as the 6th October 1976 sad events just happened. Piak Poster shown it to the students and good feedbacks started to spread. Nice modern songs and guitar performances helped to popularize the movie. Finally it reaped 8 millions Baht. ตั้ม and โอ๋ became popular nicknames in that period.
---