Increase or decrease font size for easier reading : A+ A-
Kwanchai Suriya
Kwanchai Suriya (194x) - ขวัญชัย สุริยา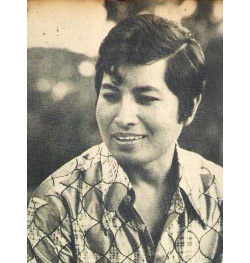 Kwanchai Suriya was a new actor in year 1971 and part of the numerous tentatives to find a proper candidate to replace superstar Mitr Chaibancha, who unfortunately died in year 1970. Kwanchai Suriya was quite shy when acting so he only played 2 movies as main actor and then only secondary roles
This Kwanchai Suriya movie page contains 2 records.
---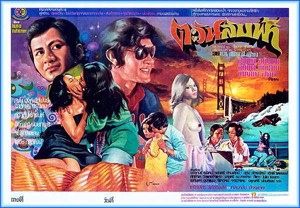 Year

: 1975



Thai title

:

ตะวันลับฟ้า




English title

:



Rating

: 4/5


Director

: ไพรัช กสิวัฒน์



Main actor

: Sombat Methanee,Kwanchai Suriya,Sawin Sawangrat,Paen Pleumsachai,Sithao Petcharoen


Main actress

: Aranya Namwong,Kantima Daraphan,Marasri Bangchang
Thai movie ตะวันลับฟ้า was released in year 1975. It was never released under VCD format. It was released on Thai TV cable channels (Thai BPS, Chaloem Krung TV) and CH7. The movie was remastered in the decade 2010s and shown on Thai BPS. The remastered version lasts 1h43mn. It was also released on U-matic tape and only lasted 1h20mn. The full version probably lasts more than 2 hours as the remastered version is censored. Additional sequences can be seen in the U-matic tape version and other TV versions. Especially the scenes where Chompoo is in love with Tawan (จุดขายตะวันลับฟ้า). Those scenes are highlighted on the movie poster but are cut from the remastered version. This movie was not a commercial success as lesbian love (หญิงรักหญิง) was not a popular topic in 1975. Aranya Namwong was famous for daring to take all roles. It was hard for movie directors to find a beautiful stuntwoman the same as Aranya so finally, Araya had to play many scenes by herself. Movie director is ไพรัช กสิวัฒน์. Thai actors and actresses featured in this movie are Aranya Namwong, Sombat Methanee, อนันต์ สัมมาทรัพย์, Kantima Daraphan, Kwanchai Suriya, รสสุคนธ์ สุรนิคม, จรัสศรี สายะศิลปี, Sawin Sawangrat, สวัสดิ์ วิเศษพงษ์, สุทธิจิตร วีระเดชกำแหง, Marasri Bangchang, ไฉไล ไชยทา (real singer), เพลินตา อุมาแมน, จีราวัจน์ จารุวิจิตร, อรุณศรี น้อยทิพย์, Paen Pleumsachai, Sithao Petcharoen. It was first movie for เกรียงไกร แก้ววิรุฬห์ and ทัศนาลัย สัจจะเวทะ. The story was written by Sor Asanajinda. Tawan (Aranya Namwong) is having a boyfriend, named Nirut (นิรุทธ์)(อนันต์ สัมมาทรัพย์), but Chompoo, a young lady, is jealous as she loves Tawan. Tawan's sister, Saeng Som (Kantima Daraphan), is married to Manot (Kwanchai Suriya), who is a soldier and has a bad view on students. Nirut shall go to the USA two years to finish his studies. Manot is not taking good care of his wife Saeng Som and has even a child with a minor wife. Saeng Som has a miscarriage so she has to go to hospital. In the USA, Nirut forgets Tawan with a young lady called Butree and still lies to Tawan. Saeng Som leaves for the USA as her wedding with Manot is going nowhere. Manot keeps drinking alcohol and tries to abuse Tawan. Finally, Tawan learns through Saeng Som that her fiancee Nirut has married another woman in the USA as she is pregnant. Tawan is so sad and disappointed. A singer (นักร้อง) gives back Manot as he is useless and penniless. Manot tries to change (กลับตัว) but fails. Saeng Som, his former wife, is going to marry again with a doctor. Manot is worried not to see his kids again and knows he has become useless towards his family. Tawan wishes to send Manot to hospital in order to cure his addiction. Manot wishes to get suicide to stop being a hindrance and dies being hit by a car. As Tawan rejects Choompoo's lesbian love, Choompoo tries to kill Tawan as she is not willing to share Tawan with anybody. Chompoo is getting crazy. Her friend brings Tawan to Buri's house (Sombat Methanee) as Tawan, being a decorator (มัณฑนากรสาว), is hired to decorate his house. Pa Nuan (Marasri Bangchang). Invited to a party, Tawan meets Nirut, the new chief district officer (นายอำเภอ), who still loves Tawan. Paen Pleumsachai tries to abuse Aranya but Buri helps. Sithao Petcharoen is working as a house designer with Tawan. Nirut promises to divorce and Tawan believes him. There is ongoing preparation of a new home for the future bride (เจ้าสาว). Who will be the lucky one (ใครจะโชคดี)? Buri recommends Tawan not to wait as he believes that Nirut, per his position of chief district officer, will not divorce. Nirut meets secretly Tawan but is discovered by his wife Butree. Aware, Buri declares they are old friends and that next month, Tawan and Buri will marry! Tawan doesn't have happiness with Buri as jealousy prevails. Tawan visits Chompoo but she hasn't fully recovered. Tawan is pregnant. Tawan and Choompoo shall not meet each other again for Choompoo's good sake. Tawan refuses to come back to Buri's house. Tawan decides to drink medicine to kill the baby but finally changes her mind as the baby is not responsible for the current situation. Choompoo wishes to kill Buri as she knows Tawan is unhappy and knows that the child is unwanted. Buri keeps drinking and falls sick. Chompoo storms Buri's home to kill him. Decided to get her wedding a last chance, Tawan goes back home to see Chompoo about to kill Buri. Nirut, alerted by Tawan, comes to help and is going to shoot Chompoo. Tawan begs Chompoo not to kill the father of her child. Chompoo finally kills herself. Tawan decides to go back with Buri.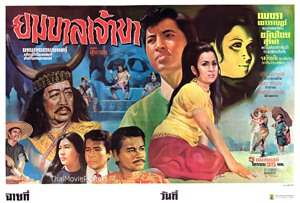 Year

: 1971



Thai title

:

ยมบาลเจ้าขา




English title

:



Rating

: 2/5


Director

:



Main actor

: Sawin Sawangrat,Lor Tok,Sithao Petcharoen,Kwanchai Suriya,Daonoi Duangjai


Main actress

: Petchara Chaowarat,Malalin Bonnak,Charuwan Sawirayong
ยมบาลเจ้าขา (1971) is a Thai movie, which was never released in any format (VHS, VCD, DVD). An extract of 54mn can still be seen despite the whole remaining footage is around 1h40mn. It is a 16mm movie so no original sound is available as such movies were dubbed. There is no more poster available. ยมบาลเจ้าขา is a horror movie with a comic twist. Most former Thai horror movies have more comedy than real horror (หนังผีตลก). While her husband is away, Petchara Chaowarat is aggressed and raped by Sawin Sawangrat so she gets suicide. Daonoi (ดาวน้อย ดวงใหญ่), Sithao, Lor Tok are playing comic characters. They are aware Petchara is dead. Two other veteran actresses are involved in this movie, i.e. Malalin Bonnak (มาลาริน บุนนาค) and Charuwan Sawirayong (จารุวรรณ สวีรวงศ์), spouse of Mitr Chaibancha. It was her first movie. Charuwan Sawirayong was married to Mitr Chaibancha from 1959 to 1963. The movie scenario is a bit similar to Mae Nak story. All know Petchara has died except her own husband Kwanchai Suriya. Kwanchai Suriya (ขวัญชัย สุริยา) is a new actor and part of the numerous tentatives to find a proper candidate to replace superstar Mitr Chaibancha, who unfortunately died in year 1970. Kwanchai Suriya was quite shy when acting so he only played 2 movies as main actor and then only secondary roles. When Kwanchai realizes his wife is now a ghost (รู้เป็นผี) so he flees from his home but Petchara is still looking for him. Sawin is back from Bangkok with a man and they do visit a cemetery with a spirit doctor (หมอผี). It is a fiasco. Meanwhile Kwanchai and his friends also hire a spirit doctor. As Petchara ghost refuses to be born again, it is imprisoned in an earth clay pot. Many spirit doctors (หมอผีแขก, หมอผีจีน, หมอผีไทย) intervene but fail to control the ghost. Following all the deaths, Kwanchai agrees to go with Petchara ghost to stop the killings. He gets estranged and both go to hell judgment. The hell king refuses to accept Kwanchai as it is not his time to die yet. Before leaving, the Hell King shows him around. It features two songs in the Hell Kingdom. Through a touching song, Petchara tries to convince the Hell guardian but to no avail. Finally Kwanchai is sent back to earth but all his friends believe he is a ghost too! The movie ends with Kwanchai convincing them that he is still alive. The movie features a total of three songs.
---