Increase or decrease font size for easier reading : A+ A-
Kumtorn Tubkunlai
Kumtorn Tubkunlai (1941-2001) - กำธร ทัพคัลไลย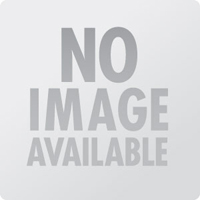 Kumtorn Tubkunlai has directed 12 successful comedies. His wife and actress Piyamas Monayakol was playing in all Kumtorn Tubkunlai's comedy movies
This Kumtorn Tubkunlai movie page contains 11 records.
---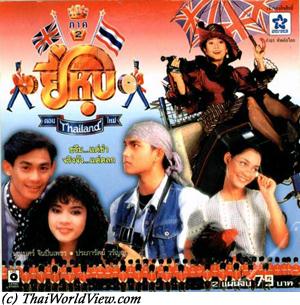 Year

: 1994



Thai title

:

มาดามยี่หุบ 2




English title

: Madam Yeehoob 2



Rating

: 3/5


Director

: Kumtorn Tubkunlai



Main actor

: Sor Asanajinda


Main actress

: Piyamas Monayakol
The full title is มาดามยี่หุบ ภาค 2 จากอังกฤษถึงประเทศไทย. Poo is Madam Yeehoob's daughter. They have been 18 years away from Thailand. They have arguments with Pittaya, young man, at the airport. In Yeehoob's Thai house, the maid is played by actress Nattanee Sitthisaman, who became famous thanks to บ้านผีปอบ movie serie. All visitors are afraid of her :) Pittaya is a young rich man. Somsri, a tour guid, is trying to seduce him but he only has interest in Poo. Meanwhile a photographer, called Teh, is looking for a new model. Somsri asks Teh to take compromising picture of Poo in Wat Po. Finally love quarreling happens as both Pittaya and Teh are fond of Poo. Madam Yeehoob buys a new car to visit her family in the countryside. When playing golf, Pittaya meets a countryside girl called Pla. He mistakes her as Poo as they have same face. Pla and Poo are twins (แฝด). The grandfather took care of Pla while Poo and Madam Yeehoo were in England. Madam Yeehoo wishes to send Pla to Bangkok to teach her modern life. Pla discovers hi-so life when she is invited for diner by Pittaya's father and she commits many funny breaches of etiquette. Meanwhile Poo shall learn countryside life and house chores. Many humorous scenes happen until Pittaya and Teh understood that there are two ladies so no need to be rivals. It is Kumtorn Tubkunlai's second movie based on twins. As usual his wife, Piyamas Monayakol, was playing in this movie.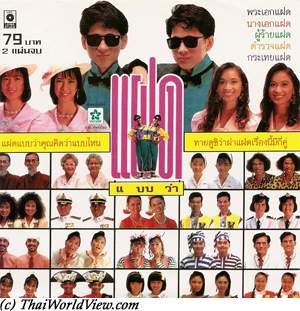 Year

: 1992



Thai title

:

แฝดแบบว่า




English title

:



Rating

: 2/5


Director

: Kumtorn Tubkunlai



Main actor

:


Main actress

: Piyamas Monayakol
Two twins are set apart when they were babies. As they are becoming adults, they have the feeling they miss another part of themselves. This movie is based on twins confusion gags and gather an impressive collection of twins.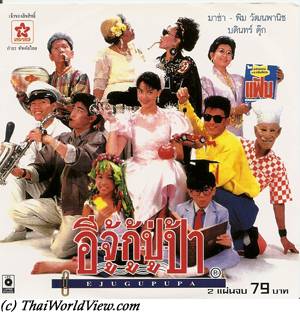 Year

: 1987



Thai title

:

อีจู้กู้ปู่ป้า




English title

: Ejugupupa



Rating

: 1/5


Director

: Kumtorn Tubkunlai



Main actor

: Kamthorn Suwanpiyasiri


Main actress

: Marsha,Piyamas Monayakol,Sulaleewan Suwanthat,Sarinthip Siriwan
A young woman is back from Germany. Her older relatives are quarreling in order to take care about her and find the best husband for her. But the young lady has other ideas in her mind...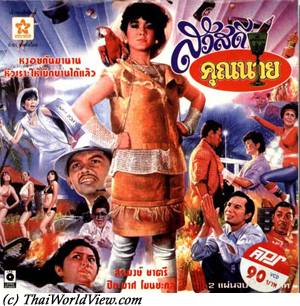 Year

: 1984



Thai title

:

สวัสดีคุณนาย




English title

:



Rating

: 3/5


Director

: Kumtorn Tubkunlai



Main actor

: Sorapong Chatree,Supakorn Srisawat


Main actress

: Piyamas Monayakol,Wiyada Umarin
A HiSo family (วงผู้ดี) has a special domestic helper (คนใช้พิเศษ) called Kaew. She can break glass with her strong pitched voice. The daughter has her fiancee (คู่หมั้นชาย), Duangtawan, studying in England. He needs to come back (ธุระสำคัญ) to Bangkok following his father's request. There was a wedding promise between the parents. But Duangtawan wants to check his future wife's mindset first so he disguises himself as the family's car driver (คนขับรถ). His own driver, Phat Thai, becomes the Mom Chao (หม่อมเจ้า) and visits the HiSo family. Kaew (นางตัวดี) simulates herself as the Madam (คุณนาย) as her boss is out for holidays. Finally Duangtawan and Kaew start to be very close as Duangtawan appreciates her simplicity and frankness despite simulating being a Madam. The movie shows Thai society equality through food, i.e. rich / poor people can also sit on the floor, eat papaya salad (ส้มตำ) and sticky rice (ข้าวเหนียว). The Madam is asking for an engagement diner. As Duangtawan's father confirms, she comes back earlier than expected. Quiproquo happens again as Madam's daughter tries to seduce the car driver as she believes he is the real Duangtawan. She brings him to a short time motel (ข่มขืนเขา). Finally Duangtawan tells to Kaew the truth about his real identity but she flees ashamed of her own condition. Through a final quiproquo, the truth is revealed to all. It is finally discovered that Kaew is also the granddaughter of rich family. It a nice small movie but it lacks the craziness and dances that can be found in Bollywood movies.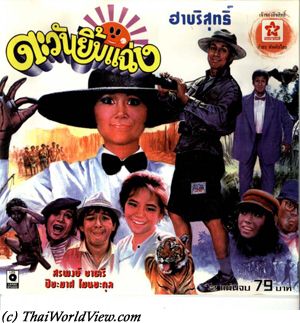 Year

: 1984



Thai title

:

ตะวันยิ้มแฉ่ง




English title

:



Rating

: 3/5


Director

: Kumtorn Tubkunlai



Main actor

: Sorapong Chatree,Sor Asanajinda


Main actress

: Piyamas Monayakol,Janthana Siriporn
In Nan province, animist forest people (คนป่า) are discovered. They are called "Phi Tong Leuang" (ผีตองเหลือง) or Mlabri ethnic group. They do not possess anything and share everything within the group. They are exploited by Bangkokian people to cut trees in forest. They stop to cut trees because deities (ผีฟ้า) are angry. A professor sends a group of students including a young lady called Doktawan to study and to catch a "Phi Tong Leuang" in the forest. In Ta Wa Dung village, people from Chinese origins are living. They are far from civilization and are friend of the Mlabri ethnic group. Cheng is a young man living in Ta Wa Dung village. The students mistakes Cheng as a Mlabri ethnic group member and catches him. Cheng is same as French Asterix and his magic potion. Cheng gets high strength when getting exposed to sun. As he wishes to visit Bangkok, he lets himself captured. There, he is exposed like an animal in a cage. Doktawan educates him to modern world (radio, music, dance). A romance happens between Cheng and Doktawan. The illegal logging company sends ruffians to get rid of Cheng so he has to flee. Police catches him and sends him to hospital for crazy people as he is walking half naked. Meanwhile Cheng's parents are worried and decide to go to Bangkok to search for him. They arrive in Bangkok with elephants and horses to look for him! Finally Cheng is reunited with his family but it is discovered that he is not a Mlabri so he needs to help Doktawan to find real Mlabri ethnic group members. Meanwhile the illegal logging company wants to kill all Mlabri people to be able to exploit the forest. Gun fight happens in famous Earth Pillars site at Sao Din. Police arrives on time to rescue the students and Mlabri. This is a typical Thai comedy from the 1980s decade with a "katoey" (กะเทย) in the funny and silly role, gags from "Raiders of the Lost Ark" and "The Gods Must Be Crazy" (1981). There is very bad taste as the illegal logging company ruffians often carry a nazi flag to emphasize their badness. In 2009 the operator of a waxworks museum in Pattaya has been forced to cover up a giant billboard of Adolf Hitler giving a Nazi salute after complaints. This movie includes first introduction of hidden advertisement with beer brand name promotion.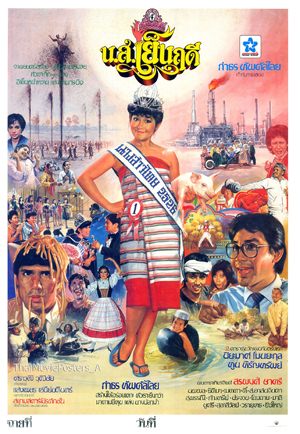 Year

: 1983



Thai title

:

น.ส.เย็นฤดี




English title

:



Rating

: 2/5


Director

: Kumtorn Tubkunlai



Main actor

: Sorapong Chatree,Toon Hiransap


Main actress

: Piyamas Monayakol,Metta Roongrat,Thitima Sangkapitak



Buy now

:

A 70 years old man discovers he has a hidden daughter. Of course his daughter in law doesn't want to share the heritage with this girl and tries many stratagems...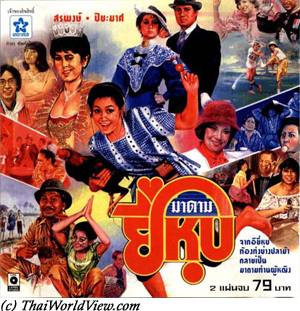 Year

: 1982



Thai title

:

มาดามยี่หุบ




English title

: Madam Yeehoob



Rating

: 3/5


Director

: Kumtorn Tubkunlai



Main actor

: Sorapong Chatree,Sor Asanajinda


Main actress

: Piyamas Monayakol,Pissamai Wilaisak,Wiyada Umarin



Buy now

:

Following a promise done by his father 20 years ago, Ekarat has to marry Yee hoop, a young lady educated in old style. Ekala's mother doesn't want his son to marry a bumpy country side girl. Yee Hoop's parents leave her in Ekarat's parents home so she can get used to urban life. She gets introduced to the family. Only Ekarat's younger brother, who is a katoey, is supporting her to learn things about modern life. She does many hilarious mistakes. Is she really a bumpy girl or is she simulating? Ekarat is first puzzled then seduced by Yee Hoop. Finally following his mother disapproval, he marries her in country side. When Yee Hoop goes back to Ekarat's mother home, she is subject to bad tricks, bad jokes from the mother relatives. One girl who always wanted to marry Ekarat for his money, even engages a hitman to get rid of Yee Hoop. Everything is finally settled but Yee Hoop flees to England believing that Ekarat is involved. She arrives at the time of Lady Di wedding with Prince Charles. Real images of the wedding are used. Finally Ekarat and Yee Hop get reunified. A second opus was done 12 years later and a Thai TV serie based on the movie was shot in 2004.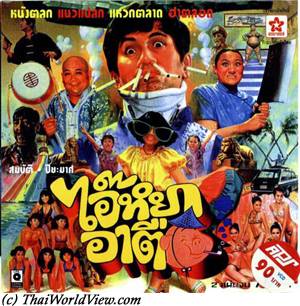 Year

: 1981



Thai title

:

ไอ๊หยา อาตือ




English title

:



Rating

: 3/5


Director

: Kumtorn Tubkunlai



Main actor

: Sombat Methanee,Boo Wibunnan


Main actress

: Piyamas Monayakol



Buy now

:

An old 700 years old Chinese mummy is displayed in a Thai museum. Despite the numerous police guards, a robbery happens and the original mummy is replaced by a copy. A thief is injured during a shooting with police. The head of police goes to pick up his daughter Chim coming back from England at the airport and realises that her daughter's boyfriend, called Sak, has same face as the thief. Meanwhile the thief, called Kimtheun, dies at the hospital. The head of police wants Sak to replace the dead thief at the hospital so that his thievish colleagues come to free him and so the police will be able to locate the mommy. Sak cannot refuse if he wishes to marry the head of police's daughter! A Chinese descendant and owner of antique shop is the one to order the robbery. A thievish colleague comes to the hospital not to help Sak but no kill him in order that he cannot talk anymore. Sak flees and takes refuge in the colleague's car trunk. He arrives in Chinese Viharnra Sien shrine in Chonburi province. Sak has to act like Kimtheun and discovers that he has one older wife and two children. Sak doesn't speak Chinese very well. Hopefully he can argue that his head injuries cause him to lose memory. There is some light mockery of old Chinese customs in Thailand (boss with numerous concubines and much younger that the main wife, strong accent when speaking Thai, mixing of Chinese and Thai words Atia for father - Ama for mother, eat pork crazily). Next plan is to steal the Democracy Monument's two golden offering bowls in Bangkok. Arguments and comic situations happen when Chim finds Sak with the Chinese wife. Sak claims he is Kimtheun. Chim starts to be suspicious. Kimtheun's youngest brother knows well a Chim's friend so Sak is broken cover when Chim and her friends visit the Chinese shrine. Sak needs to tell the truth to Chim. Sak argues he didn't do anything with Kimtheun's wife as she cut off her husband's manhood before and gave it to ducks as Kimtheun was too unfaithful (Surgeons in Thailand have become experts at re-attaching things). Sak and Chim follow up the antique shop owner up to Baan Beung in his secret cave where he hides the mummy. Being discovered, the boss hides himself inside the mummy armour. Sak and Chim need to replace the false mummy by the real mummy before Chinese authorities find the trick. It would cause the father to lose his job. During the mummy inspection, the mummy becomes alive as the antique owner doesn't want to go to China causing a big fear to everybody. Finally Sak and Chim happily marry. Director Kumtorn Tubkunlai has directed many comedies related to Chinese culture background. It is similar style and gags as the Pink Panther movie.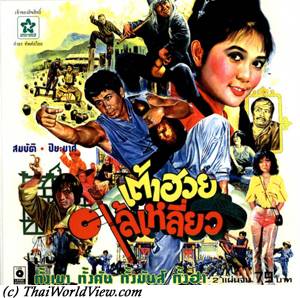 Year

: 1980



Thai title

:

เต้าฮวยไล้เหลี่ยว




English title

:



Rating

: 3/5


Director

: Kumtorn Tubkunlai



Main actor

: Sombat Methanee,Lor Tok,Boo Wibunnan,Phirapon Piyawan


Main actress

: Piyamas Monayakol,Suphanee Jitthieng



Buy now

:

This movie is a parody of Hong Kong Kung Fu movies that were popular in Thailand during 1970s decade. Thao Huay is a traditional Thai man selling healthy Chinese soups. His family is originating from China. Thao Huay's father gets beaten by some members of the Kung Fu school Snake Boxing (มวยงู) and dies. Aspiring for revenge, Thao Huay looks for a master to learn boxing and become a disciple (ลูกศิษย์). Meanwhile Thao Hua meets a young Thai lady called Waan, who is papaya salad seller (แม่ค้าส้มตำ). He has arguments with her in the local market (ตลาด) regarding a selling site location. Waan learns that her real father is Chinese so she goes to live together in his home with her mother. His Chinese father has already a wife so there are arguments who is the main wife (เมียหลวง) and who is the minor wife (เมียน้อย). The father is having a jewelry (ร้านทอง). Sompong, a rich young coming back from America, tries to seduce Waan but Waan still has a sweet spot for Thao Huay. A robbery is happening at the jewelry. Robbers hide the jewelry inside Thao Huay's palanquin. Thao Huay faces hardships during the training with the master. He learns the monkey dance (รำมวยลิง). This dance skills gets highest efficiency if the fighter is drunk also. Waan is kinadped by Kung Fu school Snake Boxing. Thao Huay is going to rescue her. With the help of his master, the Kung Fu school is defeated. Thao Huay gives back the gold and can marry Waan.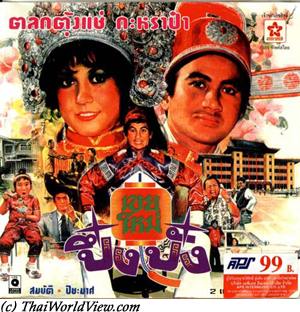 Year

: 1979



Thai title

:

เขยใหม่ปึ๋งปั๋ง




English title

:



Rating

: 2/5


Director

: Kumtorn Tubkunlai



Main actor

: Sombat Methanee,Boo Wibunnan


Main actress

: Piyamas Monayakol,Runglawan Sripatimakul,Chosri Misommon,Janthana Siriporn



Buy now

:

Kimtom is a young man part of a wealthy Chinese family established in Thailand since a few generations. Wo is a young lady part of a Thai traditional high society family (ผู้ดี). Kimtom and Wo love each other but both families refuse this union. The Chinese family wants a rich bride for Kimtom. The Thai family wants a famous family name to match their rank. The Thai high society family despises Chinese customs (strong accent - พูดไทยไม่ชัด, laugh loudly, No good manners - มารยาท, burping during diner). Kimtom wants to prove that Wo's mother is wrong. Wo's mother is pushing towards the son of a Thai rich family linked to old aristocracy. His name is Samkhan (สำคัญ). Kimtom comes to the diner dressed with Chinese traditional old clothes. As Wo's mother thinks that Chinese food is savorless (รสชืดชืด), she makes a very spicy curry for Kimtom! Kimtom's family makes a 2M Baht donation (บริจาค). Wo's family complains about new rich people (เศรษฐีใหม่) versus old aristocracy (เศรษฐีเก่า). It is Wo turn to go for a diner with the Chinese family. Funny situations happen as she doesn't know how to use chopsticks. Finally both families agree for a wedding but the wedding needs to include Chinese and Thai ceremonies. Kimtom doesn't feel well because Wo's mother doesn't accept him. The movie raises issues regarding multiracial weddings. There should be no border for love. The wife needs to stay in the husband's home according to Chinese customs. But Wo's mother keeps her at her home. Misunderstandings keep happening (ทำประชด). Wo is pregnant. The Chinese family wants a boy first. Then both families fight over the education of the child. Finally as Kimtom helps to prevent a robbery on Wo's mother jewels and they move to their own house, happiness and understanding happen again.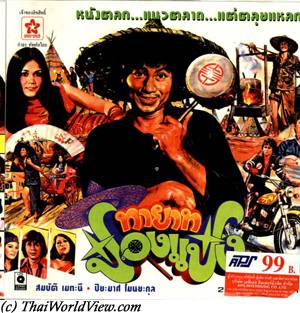 Year

: 1978



Thai title

:

ทายาทป๋องแป๋ง




English title

:



Rating

: 3/5


Director

: Kumtorn Tubkunlai



Main actor

: Sombat Methanee


Main actress

: Piyamas Monayakol,Metta Roongrat,Tharika Thidathip,Marasri Bangchang



Buy now

:

Following the father death, a Thai family called Thanayu needs to share an heritage (มรดก) between family members. An unexpected heir is found but he is coming from a Chinese lineage as the father had a Chinese mistress. The Thai family is looking for a man called Pong Peng. Pong Peng is upset that his mother was rejected by the Thai family so he decides to tease them. Pong Peng wears old Chinese clothes, speaks with a strong accent and uses bad manners. Pong Peng meets the whole family during a diner, including daughter Oon, brother Rajan and an aunt. The grandfather, believing that Pong Peng is having a harsh life, gives a 15 000 Baht monthly allowance for him to learn Thai properly (พูดไทยไม่ชัด), to wear decent clothes and to prepare his wedding in order to accelerate his integration in Thai society. The grandfather has Oon in mind but she refuses to marry. Oon needs to help Pong Peng to buy modern clothes. A lunch in a Chinese restaurant turns to a disaster. Her dress is full of food. He brings to a motel to clean her dress and gets slapped by Oon for going to such a sleazy place. Rajan, Oon's brother is always playing cards and loses a lot of money to Pongpat, a ruffian. Pongpat is the leader of a bikers group. The aunt's daughter tries to seduce Pong Peng but to no avail. Oon still refuses to marry Pong Peng and flees from home. Her car gets catched by the bikers. Pongpat asks for one million baht ransom. Pong Peng rescues Oon following gun fights with the bikers. The Thai family discovers that Pong Peng is a rich man and a company owner. Oon is upset by Pong Peng's lies. The movie ends happily.
---