Increase or decrease font size for easier reading : A+ A-
Krong Kangkengdaeng
Krong Kangkengdaeng (1928-2011) - โกร่ง กางเกงแดง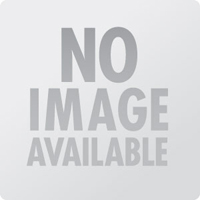 Krong Kangkengdaeng
This Krong Kangkengdaeng movie page contains 7 records.
---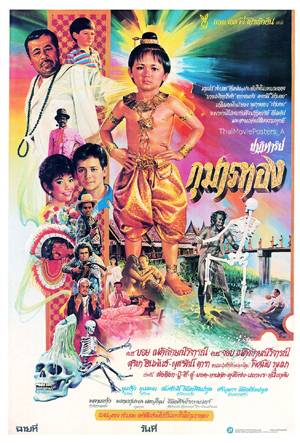 Year

: 1985



Thai title

:

ปาฏิหาริย์กุมารทอง




English title

:



Rating

: 2/5


Director

: พลายแก้ว



Main actor

: Lor Tok,Suriya Chinaphan,Supakorn Srisawat,Boo Wibunnan,Doo Dook Kradon,Krong Kangkengdaeng


Main actress

:
Thai movie ปาฏิหาริย์กุมารทอง was released in year 1985 and lasts 1h28mn. The movie was released under VHS format and VCD format by Solar. Director is พลายแก้ว. Thai actors and actresses featured in this movie are Lor Tok, Suriya Chinaphan, Supakorn Srisawat, Boo Wibunnan, Doo Dook Kradon, ทานทัต วิภาตะโยธิน, Krong Kangkengdaeng, นภาพร หงสกุล, หนึ่งฤทัย, ผุสรัตน์ ดารา, ยอด. A wandering monk, giving advice to the local community, has a magical baby spirit statuette (กุมารทอง). He leaves the statuette behind as he is entering the forest for meditation. Village leader Boo Wibunnan is having a gambling den. Boo is married to a new young wife (พิศมัย ภุมมา). Tok (Supakorn Srisawat) is Boo's right hand. A teacher (Suriya Chinaphan) is trying his best to teach children as the school lacks money. The monk leaves the statuette to an old couple. The baby spirit asks them to keep the secret. A couple is having an issue as the husband is losing a lot of money by gambling in Boo's place. The grandma and grandma are worried about their grandchild. The gambler even sells his kid on a bet. Master (อาจารย์) Lor Tok arrives in the village. He is a fake master. The baby spirit warns him to behave properly and uses him to defeat Boo, who is abusing the local community. First many villagers win money through a lottery organised by Boo. Boo then challenges Lor Tok to organise a lion dance contest to win back his money. Boo loses again a lot of money. Money is used to improve the local school facilities. The teacher and Pim (ผุสรัตน์ ดารา), Boo's daughter, get on well. Boo is upset with this relationship. Boo and his new wife believe Pim is betraying them. The teacher is beaten and captured while visiting Pim in her room. They finally succeed to escape. Boo hire hitmen (including Doo Dook Kradon) to get rid of master Lor Tok. They fail. Tok suggests a master from Malaysia. The master is resurrecting a vampire (ผีดิบ). The baby spirit and its skeleton associate defeat the vampire also. Villagers can enjoy a peaceful life without gambling. This comedy includes many comic actors from decade 1980s.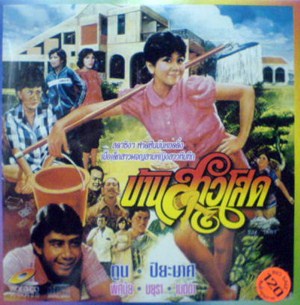 Year

: 1984



Thai title

:

บ้านสาวโสด




English title

:



Rating

: 3/5


Director

:



Main actor

: Toon Hiransap,Boo Wibunnan,Somchai Samipak,Somkuan Krajangsat,Supakorn Srisawat,Krong Kangkengdaeng


Main actress

: Piyamas Monayakol,Metta Roongrat,Pissamai Wilaisak,Mayura Thanabutr,Pornpan Ketmamatsu,Janthana Siriporn,Manat Boonkiet
Thai movie บ้านสาวโสด was released in year 1984. The TV cable version lasts around 1h55mn and is coming from channel "true thaifilm". So cigarettes, alcoholic drinks and even sexy posters on the wall are blurred. Two songs are featured in this movie. A first version of this movie was released in year 1970 with Mitr Chaibancha, Kanchit Kwanpracha and Petchara Chaowarat. Three sisters are still single, i.e. Yip (Metta Roongrat), Teuan (Pissamai Wilaisak), Waraipon (Mayura Thanabutr). One is her mid- forties, one is her mid-thirties, one is her mid-twenties. Yip likes women more than men. A lawyer (อำนวย ศิริจันทร์) discloses the father's testament. They get heritage from their father including the house to share. If they ever marry, they lose any rights to the house. Being singles, they challenge each other who will get married first. A friend will send her son Ting (หลาน) to stay in their house after having studied in Bangkok. The domestic helpers (Janthana Siriporn...) leave as there are fed up by miser Teuan. Plaew (Piyamas Monayakol) is hired as new domestic helper. The three ladies get interest into Ting (Toon Hiransap), 26 years old, as he is very handsome (หน้าหอม). Ting meets Tangwon (Boo Wibunnan) and Metti (Supakorn Srisawat). They wish to rent the house behind บ้านสาวโสด. Businessman Somchai Samipak has a new wife. His daughter is Plaew but she left home as she is unhappy with her new stepmother Vichanee (Pornpan Ketmamatsu). Plaew is suspected by Ting to be the daughter of a rich businessman. Ting's parents are played by Somkuan Krajangsat and Manat Boonkiet. Teuan is worried that Plaew will take Ting from them. Ting's father already found a fiancee for his son. Thanks to Krong Kangkengdaeng, Ting is hired as a driver (คนขับรถ) by Somchai. Plaew and her sister wonder why Ting behaves this way. The new young wife Vichanee is Metti's mistress but she asks Ting to keep quiet on this and she provides a photo album on Plaew (คุณหญิง) to Ting. Vichanee also become mistress with Ting (ความต้องการ). Ting fails to show that Plaew is in fact a rich businessman's daughter. Ting's parents are worried that their son gets enamoured with a domestic helper (เด็กคนใช้). Following a family trip to Pattaya, Ting's parents meet Plaew's parents and both of them are uncovered! Romance can finally start between Ting and Plaew.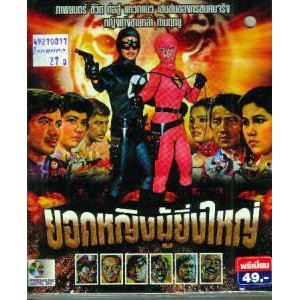 Year

: 1981



Thai title

:

ยอดหญิง ผู้ยิ่งใหญ่




English title

:



Rating

: 2/5


Director

:



Main actor

: Sombat Methanee,Yodchai Meksuwan,Kecha Plianvithee,Pipop Pupinyo,Lak Apichat,Boo Wibunnan,Thuam Thoranong,Paen Pleumsachai,Krong Kangkengdaeng


Main actress

: Wassana Sitthiweth,Piathip Kumwong,Duangcheewan Komolsen.Suphanee Jitthieng
Thai movie ยอดหญิง ผู้ยิ่งใหญ่ was released in year 1981. The version seen only lasts 1h05mn so too many scenes were cut making the storytelling bit weird. Boss (เจ้านาย) Bancha (Kecha Plianvithee) is trafficking weapons. Pipop Pupinyo is part of his team. A mysterious masked vigilante man, wearing black clothes, is trying to stop him. It is Nam (Sombat Methanee). A truck carrying weapons is stopped by Thai Police thanks to Nam. Nam warns Bancha but a fighting erupts with his tough guys. Nam gets help from a mysterious masked vigilante woman, wearing red clothes. Nam meets Nissa (Wassana Sitthiweth), daughter of the police head. Yot (Lak Apichat) helps Pat (Piathip Kumwong) kidnapped by ruffians. Ruffians kidnap Sia / เสี่ย Boo Wibunnan's child and shoot him in the shoulder. Hopefully red and black masked vigilantes follow the car but get attacked by yellow masked men (องค์การสีเลือง). Two ladies Pat and Nissa (นกสองตัว) are captured by Bancha's team, who are preparing to betray Thailand. Yodchai Meksuwan and Darlin (Duangcheewan Komolsen), from Malaysia, are police members. Bancha threatens the police head to kill his daughter Nissa if their business is disrupted again. Nam simulates joining the yellow gang in order to be able to release the ladies. Nam cannot reach agreement so a one to one (ต่อสู้แบบลูกผู้ชาย) fight must happen. Police finally arrives. Pat sacrifices her life to save Nam. Lak helps to release Darlin, who is identified to be the mysterious red masked vigilante woman. All ruffians are captured or killed. The identity of the gang leader (ลืมชาติ) is then known... Other actors are เศกสิทธิ์, Suphanee Jitthieng,โดม สิงโมฬี, Krong Kangkengdaeng.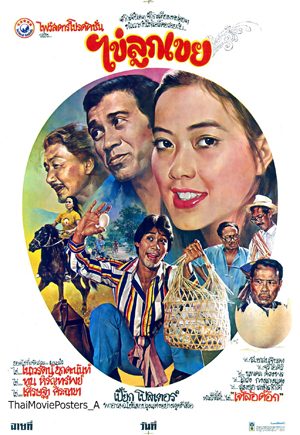 Year

: 1981



Thai title

:

ไข่ลูกเขย




English title

:



Rating

: 5/5


Director

: Piak Poster



Main actor

: Toon Hiransap,Sor Asanajinda,Lor Tok,Settha Sirachaya,Somchai Samipak,Noppadol Duangporn,Krong Kangkengdaeng


Main actress

: Naowarat Yooktanun,Juree Osiri
Thai movie ไข่ลูกเขย was released in year 1981 and lasts 1h50mn. A remastered version was released by Five Star Production (ไฟว์สตาร์โปรดักชั่น) in the decade 2010s and shown on Thai TV cable. The movie was released under VCD format by Solar company. The movie director is Piak Poster. This is a social Romantic Comedy. Mother Juree Osiri wishes to marry her daughter Rose (Naowarat Yooktanun) to Jongsak (Settha Sirachaya), a rich but insipid man. Her husband is played by Somchai Samipak. Tuan (Toon Hiransap) is going to the village to bring improvements. He meets Rose as her car splashes him with mud. As her car refuses to start anymore, he forces her to apologize before bringing her by bicycle to the village. Tieng (Sor Asanajinda) is the village leader and father of Tuan. Tuan is seen as a crazy guy by many villagers. Rose takes her revenge by taking his clothes away while he is bathing in a stream. She forces him to apologize to get his clothes back. As the school headmaster has to go to the city for a meeting, Tuan is the one to help with the children. At that time, there was one teacher for all class levels! Rose realizes that Tuan is a clever man. He is hiding his real identity. Following a conference in Bangkok, Rose's mother is charmed by a young man protecting the poor farmers rights versus the rich Bangkokian society. Turn spends time with Lok Tok to understand his tricks to beat local administration. Noppadol Duangporn wishes to become the new village leader. At nighttime, Tuan hacks Rose's radio in order to sing a song. She tries to unveil him but cannot. Finally, Rose befriends with Tuan. Noppadol informs the mother Juree. Juree complains to Rose that she is coming from a wealthy family with a high status so she shouldn't befriend a farmer. The father Somchai Samipak tries to temporize his wife. Noppadol has an objective to replace Tieng so he goes to meet the chief district officer in the city, Tuan tricks them by emptying their petrol tank and puts a laxative in their drinking water. The next day, they try to get revenge, but Tuan is good at Karate. Meanwhile Rose finds papers and pictures showing the real identity of Tuan. Tuan claims he had no choice as villagers would not trust a civil servant from Bangkok. It was the only way to see the real village problems, the good and bad things done by villagers. They go for a walk and get stuck by a storm. Juree, the mother, coming to inspect her daughter, is then very worried. On the next day, she refuses her daughter Rose to come here again. Upset, Rose claims she sees people value by their achievements and not by their money. She claims Tuan and she are now wife and husband in order to stay in the village. The mother is upset as her daughter marries a poor farmer (คนบ้านนอก). Her husband, Somchai, knows the truth, but doesn't disclose it. Juree tries to bring back her daughter to her home, but she fails. As the village leader is reaching retirement, a new village leader has to be elected. Noppadol is facing Krong Kangkengdaeng. Krong is winning by far as he is more popular. There is a new bailiff (ปลัดอำเภอ) nominated in the area. It is Tuan! Through a good speech, he reminds villagers that he, as a civil servant, is here to serve them and not the opposite! Rose goes back to her home with Tuan. The mother is upset as he keeps singing. On the next day, Jongsak comes to flirt with Rose, but Tuan exits his room wearing a bailiff uniform. Tuan apologizes to the mother and discloses his real identity. The mother is now delighted that her daughter marries Tuan.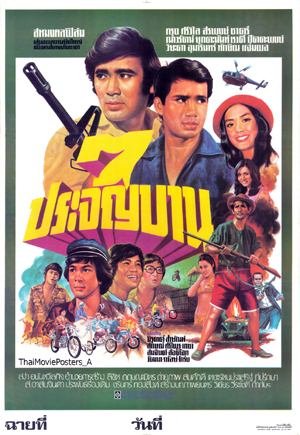 Year

: 1977



Thai title

:

เจ็ดประจัญบาน




English title

:



Rating

: 3/5


Director

: วิเชียร วีระโชติ



Main actor

: Krung Srivilai,Sorapong Chatree,Taksin Jampol,Nirut Sirijanya,Sayan Chantaraviboon,Lak Apichat,Kecha Plianvithee,Somjin Thammatat,Lor Tok,Tawan Siriwat,Pan Borapet,Chanee Yotchai,Krong Kangkengdaeng


Main actress

: Naowarat Yooktanun,Rewadee Pattaphong,Wiyada Umarin
Thai movie เจ็ดประจัญบาน was released in year 1977. Main actors and actresses include Krung Srivilai, Sorapong Chatree, Naowarat Yooktanun, Rewadee Pattaphong, Wiyada Umarin, Taksin Jampol, Nirut Sirijanya, Sayan Chantaraviboon, Lak Apichat, ศรีไพร ใจพระ, Kecha Plianvithee, Somjin Thammatat, Lor Tok, วัฒนา กีชานนท์, Tawan Siriwat, Krong Kangkengdaeng, Pan Borapet, Chanee Yotchai. Movie director is วิเชียร วีระโชติ. The film is lost in Thailand but a sequence in 35mm format can still be seen. The picture is very damaged and reddish. The sound is almost inaudible. It lasts around 50 minutes. During the remaining sequence, the seven mercenaries can be seen. The team includes Krung, Sorapong, Nirut, Lak, Sayan, Taksin and ศรีไพร ใจพระ. They help each other. A mission towards Thai nation is given by their boss. Multiple fighting and shootings against ruffians happen. A romance is happening between Sorapong Chatree and Naowarat Yooktanun. Taksin Jampol is playing famous role of จ่าดับ จำเปาะ role, i.e. a mercenary / a gunman wearing คาดเชือกกล้วย and red pants (กางเกงในสีแดง). The movie "เจ็ดประจัญบาน" was a sequel of movie "หนึ่งต่อเจ็ด" also released in 1977. Movie "หนึ่งต่อเจ็ด" is a lost movie. It featured Krung Srivilai, Sorapong Chatree, Rewadee Pattaphong, Tharika Thidathip, Taksin Jampol, Nirut Sirijanya, Sayan Chantaraviboon, Lak Apichat, ศรีไพร ใจพระ, Aranya Namwong, Kecha Plianvithee, Dam Datsakorn, Adul Dulyarat, อัศวิน รัตนประชา, Pipop Pupinyo, Siripong Isarangkul, Pramin Jarujareet, สมุย. It was a remake of the previous version released in 1958. Thai movie "หนึ่งต่อเจ็ด" (1958 version) featured Surasit Sattayawong, Wilaiwan Watthanaphanit, วิภา วัฒนธำรงค์, Sarinthip Siriwan, Adul Dulyarat, Sor Asanajinda, ทม วิศวชาติ, สมชาย ตันฑกำเนิด. Movie director was Sor Asanajinda. It is a movie mixing action and comedy. The movie made more than one million THB.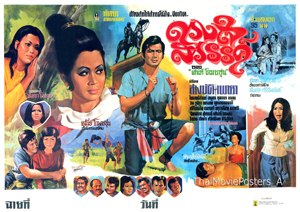 Year

: 1971



Thai title

:

ดวงใจสวรรค์




English title

:



Rating

: 3/5


Director

:



Main actor

: Sombat Methanee,Sukon Koewliam,Anucha Ratanaman,Choomporn Theppitak,Man Teeraphol,Daonoi Duangjai,Sithao Petcharoen,Krong Kangkengdaeng


Main actress

: Petchara Chaowarat,Khomapat Attaya,Marasri Isarangkul
Thai movie ดวงใจสวรรค์ was released in year 1971. The movie is lost in Thailand. Only a short left colorful sequence lasts 6 minutes and the image is quite damaged. The remaining sequence is in mute state as the reel is in 16mm format. Main actor is Sombat Methanee and main actress is Petchara Chaowarat. Other actresses and actors are Man Teeraphol, Khomapat Attaya, วิน วิษณุรักษ์, รุจิรา อิศรางกูร,เทอด ดาวไท, พุทธพงศ์, เตือนใจ บุญพระรักษา, ณรงค์, Daonoi Duangjai, Marasri Isarangkul, จิตตรา, Sukon Koewliam, เสน่ห์ โกมารชุน, ถนอม นวลอนันต์, Krong Kangkengdaeng, Sithao Petcharoen, สีเผือก, ศรีสุริยา. It is probably an historical romantic movie as people wear old style clothes. Various sequences are left but main actor and main actress cannot be seen. A rampage seems to have happened in a house. A man helps an unconscious man on the floor. He then dies. A young lady finds her mother dead on the floor also. A reddish sequence shows Anucha Ratanaman in a bar talking to barman. Anucha Ratanaman is upset by two other men and leaves the bar. Another sequence shows three armed men led by Choomporn Theppitak. Three comic men including Sukon Koewliam, Krong Kangkengdaeng are running and are tired. A beautiful woman (Khomapat Attaya) is walking near them. She is a ghost! The movie features 9 songs according to the movie poster.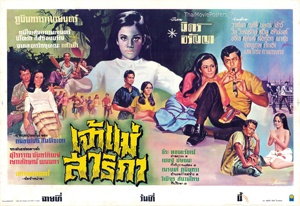 Year

: 1969



Thai title

:

เจ้าแม่สาริกา




English title

:



Rating

: 3/5


Director

: เชษฐ ชัยชนะ



Main actor

: Mitr Chaibancha,Chao Klaewklong,Sawin Sawangrat,Adinan Singhiran,Sukon Koewliam,Krong Kangkengdaeng


Main actress

: Aranya Namwong,Wassana Chalakorn
Thai movie เจ้าแม่สาริกา was released in year 1969. Thai actors and actresses featured in this movie are Mitr Chaibancha, Aranya Namwong, Wassana Chalakorn, ฤทธี นฤบาล, อุไรวรรณ จันทร์ทิพย์, บุษกร, Chao Klaewklong, วิน, Sawin Sawangrat, Adinan Singhiran, ขอใจ, Sukon Koewliam, Krong Kangkengdaeng. Movie director is เชษฐ ชัยชนะ. The movie is lost in Thailand but a sequence lasting 47 minutes (2 first reels only so the movie is incomplete) remains to be seen. The image is colorful and sharp. The remaining film is in 16mm format, so it is in mute state as such format requires live dubbing. A dubbed version was shown in Thai Film Archives in 2020. The story is a bit similar to to เจ้าแม่ตะเคียน or แก้วกาหลง. Kaew (แก้ว - Mitr Chaibancha) and Sarika (สาริกา - Wassana Chalakorn) marry as they love each other since a long time. Wit (วิทย์ - ฤทธี นฤบาล), local ruffian, is upset as he also loves Sarika but nothing he can do. On Sarika's side, her younger sister Ranjuan (รัญจวน - Aranya Namwong) also likes secretly Kaew. After the wedding, Kaew receives a government assignment to be a soldier in Vietnam. Kaew goes fighting in Vietnam with his friend Pai (ไผ่ - วิน วิษณุรักษ์). Sarika is pregnant. One day she heard that through a letter that Kaew had disappeared during fighting in Vietnam. It makes Sarika very worried as she doesn't know if Kaew is still alive or not. To change her mind, she goes wandering around the waterfall. Wit and Pikun (พิกุล - อุไรวรรณ จันทร์ทิพย์), a young lady loving Kaew, put in place a plan to get rid of Sarika. While Sarika is walking near the waterfall, an acolyte working for Wit pushes her. She falls and dies. Everybody thinks it is a suicide as Sarika was depressed after learning sad news about Kaew. While the funeral ceremony is happening, Kaew and Pai are coming back from Vietnam. Kaew meets a friend coming back from the ceremony. The friend is about to say that Sarika has died but her ghost appears, and the friend doesn't dare to say anything to Kaew. Sarika behaves as if she was still alive. She brings Kaew to her parents' house and pretends there is a relative's funeral ceremony. Everybody is surprised as they thought Kaew died in Vietnam. Nobody dares to tell the truth to Kaew. Kaew goes back home and sleeps. Sarika and his baby are there. In the morning Kaew doesn't see Sarika and his baby so he visits Ranjuan, who disclosed the truth to Kaew. The remaining film is ending there. The remaining part of the story can be found in old Thai cinema magazines. When Pikun knows that Kaew is back, she asks a shaman to make a love philter to seduce Kaew. She plans to kill him and to get his heritage. Ranjuan helps Kae. Gradually love merges between Kaew and Rajuan. It makes Sarika to be very upset (ออกอาละวาด) as she is afraid to lose Kaew. Villagers use a shaman to calm down Sarika but the sham has pity for Sarika. The shaman asks Kaew and Rajuan to talk to Sarika so that she can understand. Sarika finally understands and requests that a spirit house be built near the waterfall where she died so that there is proof of her love towards Kaew.
---