Increase or decrease font size for easier reading : A+ A-
Krissada Sukosol
Krissada Sukosol (1970) - กฤษดา สุโกศล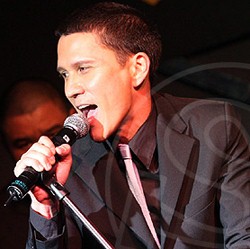 Krissada Sukosol
This Krissada Sukosol movie page contains 7 records.
---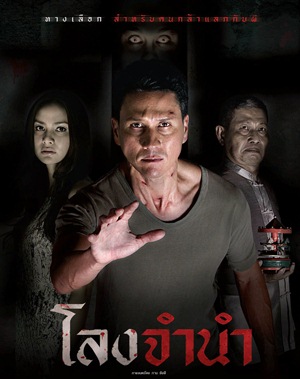 Year

: 2013



Thai title

:

โลงจำนำ




English title

: Pawn Shop



Rating

: 3/5


Director

:



Main actor

: Krissada Sukosol


Main actress

:



Buy now

:

Thai movie โลงจำนำ - Pawn Shop was released in year 2013. It is about spirit worshipping (การบูชาผี). The movie plays with the Thai words โลงจำนำ and โรงจำนำ (pawn shop). A middle age man owner of a pawn shop (โรงจำนำ) is having issues with his wife always complaining. Asking to become rich to his small spirit altar, the spirit accepts his request but he must kill his wife. Two young ladies including Som accept also to pay respect to ghost. They sell their soul (วิญญาณ) to the ghost (จำนำตัวเองกับผี). A lady customer looking to pawn her belongings accepts 1M baht if she also pays respect to the ghost. Dao and her boyfriend often argue. Many people including the boyfriend (Krissada Sukosol) accepts to pledge to the spirit versus 1M baht as they are in desperate need of money. Krissada boasts to be not afraid (ไม่กลัวมัน). They are put in a locked room and are facing their worst nightmares. The movie features beautiful graphics and sound. There is doubt if their scary visions are reality or nightmares. Krissada killed a young girl by accident by hurting her with his car at night time. He exchanges his life against the little girl's life (ปัญหาแห่งความตาย).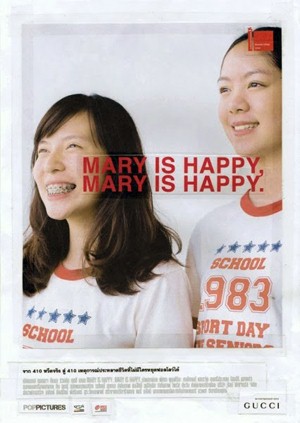 Year

: 2013



Thai title

:

แมรี่มีความสุข




English title

: Mary is happy, Mary is happy



Rating

: 2/5


Director

:



Main actor

: Krissada Sukosol


Main actress

:
Thai drama movie Mary is happy / แมรี่มีความสุข was released in year 2013 and lasts 2h07mn. The movie got four Thai cinema awards, i.e. best actress, best supporting actress, best movie and best photography. The movie got listed as part of Thai heritage movie list in year 2016. It is based on 410 tweets sent by a Twitter user. It features two teens, Mary and Em, wondering about their future. Actor Krissada Sukosol is having a role as teacher. Each tweet is shown on the screen for reading and is linked to a short video sequence. The movie highlights teens problems such as love deception, exams, end of school year, questions on their future, first love, studies...



Year

: 2012



Thai title

:

อันธพาล




English title

: Gangster - Antapal



Rating

: 5/5


Director

: Kongkiat Khomsiri



Main actor

: Krissada Sukosol,Phongphat Wachirabanjong


Main actress

:



Buy now

:

Chot (Krissada Sukosol) defeats Saeng (Phongphat Wachirabanjong) in a one to one knife fighting. Dang and Chot take over Saeng's illegal business (นักเลง) such as drug, gambling, gold shop and prostitution. This movie offers a great 1950s atmosphere representation including old standalone theater (โรงหนังเก่า) with live dubbing. A few historical mistakes are present as posters of Sirikwan Nanthasiri (ภาพโฆษณาสุราไก่แดง)(1972) and movie poster of คนกินเมีย (1974) are used. Piak and Tong are working in the cinema and wish to become ruffians also. Four kings are holding the business. Poo (ดังใหญ่) wishes to extend his territory. Dang wishes to ordain for his mother (บวชให้แม่) but Poo is bringing trouble as he wants his own territory (ที่). Chot is the first to use a gun so the gangster period evolves from knife to gun (ยุคมีด / ยุคปืน). Chot tries to shot Poo but fails to reach his target as the gun is defective. Police arrests ruffians and jails them. Dang dies in a car accident while going to south of Thailand. Four years have passed. The movie highlights the booming industry of Thai cinema in 1950s / 1960s by showing big billboards advertising latest film releases. Police has taken over the mafia and being the one receiving protection fee. Chot is released from prison. Piak and Tong are waiting for him. Police is also waiting to put him back to jail. Chot keeps seeing the ghost of the woman he unfortunately killed while trying to shot Poo as his gun was built with poor quality. Chot has changed and is more receptive to small shop owners' problems. Some scenes are shot in a cinema showing "Hao Dong" (เห่าดง - 1958) famous movie. Chot is not as inflexible as before. Despite kidnapping a ruffian leader for execution, Chot gives him a last chance to fight back. Oti is a new strong ruffian. Piak defects from Chot's group to join Oti. Oti is a bloody fighter. He even shots with rifle the police leader. Through final shootings, Chot and his team attack Oti and his boss. Nobody survives. The movie Gangster - Antapal (อันธพาล) was released in 2012. The movie Gangster – Antapal (อันธพาล) is based on similar characters previously used in 1997's Dang Bireley's and Young Gangsters (2499 อันธพาล ครองเมือง) but it is not a remake. The movie goes beyond Dang character and shows the real gangster era through Chot's character. The movie includes past stories or souvenirs from elderly people.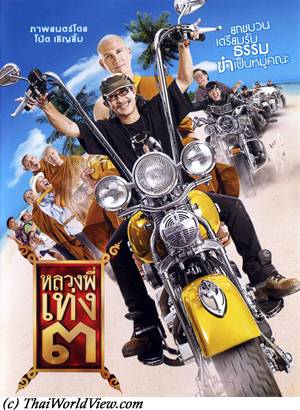 Year

: 2010



Thai title

:

หลวงพี่เท่ง 3




English title

: The Holy man 3



Rating

: 3/5


Director

:



Main actor

: Krissada Sukosol,Note Chernyim,Akom Preedakul,Koeti Aramboy,Der Doksadao


Main actress

:



Buy now

:

Noi decides to enter the monkhood (บวช) and rejects his rock star attitude. He is looking for calm (เอาความสงบ) as he is a stressed man. The abbot reminds him the analogy between a hose splashing randomly due to water pressure and the spirit always wandering. Funny gags happen when monks are going out for alms (บิณฑบาตร) due to small size comic actor Koeti Aramboy trying to offer food to a giant monk or when a man is still jealous that his wife has a sweet spot for the abbot since decades. As usual there are flatulence jokes when spicy and sour food is given to monks. Robbers steal the temple bell (ระฆัง). Later they come to steal the Buddha head (มาขโมยพระ). Monks are all drugged but hopefully the main Buddha statue (หลวงพ่อ) is not stolen as it is too heavy! The gang leader is a burlesque Chinese vendor. He uses false claims regarding the monks that they enter monkhood while leaving pregnant women behind them. Noi is smart enough to counter their lies. Actor Akom Preedakul is playing a funny Thai boxing trainer bringing coyote dancers to the temple! Similar to 1980s-1990s decade comedy ghost movies, there is an sequence about villagers fleeing ghosts. Unfortunately the Buddha statue head is cut and stolen by the Chinese gang. The giant monk disguises himself as soft real Bouddha statue (Luang Pho Nim - หลวงพ่อนิ่ม) as a trick to find their cache. Then Noi asks his former bikers friends for help. They are led by Ed carabao, real leader of famous Thai band Carabao. The robbers are captured and the Buddha head recovered.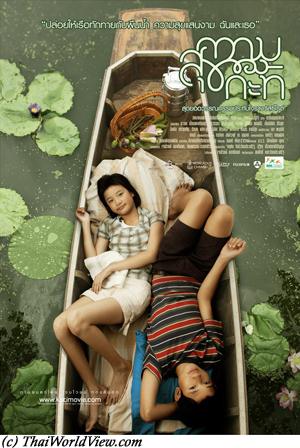 Year

: 2009



Thai title

:

ความสุขของกะทิ




English title

: Happiness of Kati



Rating

: 5/5


Director

:



Main actor

: Krissada Sukosol,Sahat Piempongsan


Main actress

: Jaruwan Panyopas



Buy now

:

This movie is a based on a novel written by Jane Vejjajiva. It got a S.E.A. Write Award. A family is quitting their appartment in Bangkok. Katy, 9 years old girl, is now living with her grandparents on countryside. Kati's life in the village certainly contrasts with her life in the city as countryside life is depicted as quiet and bucolic. She misses her mum (แม่เคยสัญญาว่าจะกลับมา). She tries to have a normal life and so watches Thai TV series (ละคร) when coming back from school. She notices that there is no picture from her mum (ในบ้านไม่มีรูปถ่ายแม่เลย) in the house. She starts to understand there is something going wrong (ไม่เคยมีใครพูดถึงแม่). It looks like adults want Kati to enjoy her childhood and forgets her mum (กะทิจำหน้าแม่ไม่ได้แล้ว). Tong is Kathi's best friend and she spends a lot of time with him. She heard adults mentioning that nobody can escape suffering and unhappiness. The movie shows nicely the life in the countryside (development coming in the village, football match in Buddhist temple compound, numerous pupils in classroom, first vision of a foreigner through a French cyclist visiting the village during his trip around the world). She then learns that her mother is very sick. Kati is sent to a house close to the sea. No need to hide the truth to her anymore. The mother is sitting on a wheelchair. She has no more strength. The movie shows the last touching moments of love between Kati and her mother. Kati spends a lot of time with her mother. The mother then passes away peacefully. Kati shall now decide if she wishes or not to meet her real father. She takes the decision to meet him and waits for his feedback. Meanwhile she goes back to countryside. The photography is superb. There is great picture and sensitive mood. The movie highlights the importance of family and close friends, life sorrow, change and choices that need to be taken. The last sequence on the drawers appears as a completion of Kati's life puzzle as she can learn about her mother's life and her own life amongst their contents.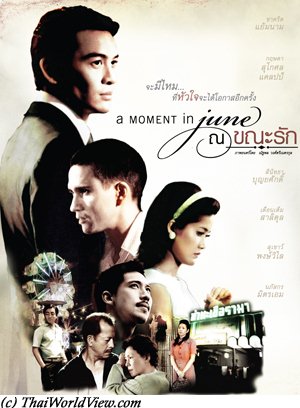 Year

: 2008



Thai title

:

ณ ขณะรัก




English title

: A Moment in June



Rating

: 3/5


Director

:



Main actor

: Shahkrit Yamnarm,Suchao Pongwilai,Krissada Sukosol


Main actress

: Deuan Tem Salitul



Buy now

:

This movie relates about a love story that failed to succeed 30 years ago. A young man is already married and following his best friend's departure for Japan, he has to look after his friend's fiancee. A love story happens between both. This love is reciprocal but he finally fails to flee with her as his wife is pregnant. Thirty years later, the woman wishes to meet the man again. There are analogies with a two young men love story that are going to break up, this 30 years old love story and this love story with a new chance 30 years later. Based on misunderstanding and lack of effort or compromise, love stories can fail. One of the young men, Pakorn, is making a theater piece outline related to this love story. He is in fact the son of the older man and has done the theater piece following the older woman request. The love story magic happens again but his own love story fail as his lover died in a train accident. This movie includes colorful atmosphere of 1970s era.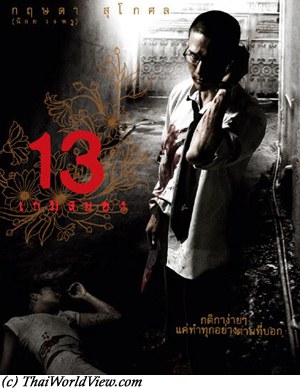 Year

: 2006



Thai title

:

13 เกมสยอง




English title

: 13 Beloved



Rating

: 5/5


Director

: Chookiat Sakweerakul



Main actor

: Krissada Sukosol,Saranyu Wongkrachang


Main actress

:



Buy now

:

Chit is a busy sales guy but his performance is not good. He cannot reimburse his car (his car plate has number 13) as his sales drop. One of his colleague, Pramee, steals his customers as Chit is too slow. His boss fires him as the company is going online so there is a need for less Sales people. Only a young lady called Tong is his friend in this company. Chit has debts. His mother is asking for money. He lies to his mum regarding his financial problems. He receives a phone call from an unknown number. It is a call regarding playing games to win big cash prize. As Chit has debts, he accepts to play but has to follow strict rules (he shall not disclose that he is playing a game). First game is easy. Just got 10 000 baht by crushing a fly with a newspaper (it is worth to note that there is Thaksin Shinawatra picture on the newspaper and his face is crashed against the wall!). Second game is to eat the fly to win 50 000 baht. The final prize is 100 millions baht but there are still 11 games to perform. If one game is lost then the whole money amount is lost. Next game is to make three children cry (the games are related to Chit's own childhood). Then Chit shall steal money from a beggar. Then Chit shall eat special food, i.e. shit, in a Chinese restaurant (he used to insult other people in the past - ฝรั่งขี้นก). Then he shall worship a crazy man. At 13:13 the crazy man announced God shall come (พระเจ้าจะมา) so Chit enters a bus arriving at that time. Chit has arguments with bus passengers regarding a mobile phone and gets beaten. He needs to pay respect (ไหว้) to a ruffian's feet to get it back so starts to lose self-esteem to accept such degrading act. It degenerates to a deadly and bloody fight as Chit almost kills one guy to get the phone. He is now under high stress and accepts to do anything. During next game, he needs to retrieve a dead elderly man, who falls in an indoor wishing well (In modern society people are neglecting their elder parents) and announce the bad news to his family. The relatives were living in a house close to the father but didn't visit him. He then meets his former girlfriend Maew, who wants to become a famous singer. She has a new boyfriend called Chaleum. For the 8th game Chit needs to beat somebody, who has number 8 on his vest. Chaleum has a number 8 on his vest... Due to jealousy over Maew, Chit beats deeply Chaleum. Realizing his acts, he hits again a taxi driver to bring Chaleum to hospital. Meanwhile his crazy actions are shown on TV news and a police inspector (สารวัตร)is chasing him (ผู้ร้าย). His friend Tong, puzzled by his behavior, finds a mysterious 13beloved.com website and starts to make the link with Chit's weird acts. He reaches the hospital, needs to find assistant and to avoid the police. He finds an old lady in room 805 then escapes as he removes glasses and pushes the old lady in wheelchair. He needs to follow up the old lady where she wishes to go. By helping the old lady, he puts a thread over a road causing the death of many teens, racing on their motorbike, through decapitation. Tong finds him and asks him to surrender (มอบตัว). He is already crazy. He needs to grab sword and decides to kill Tong or her dog to stop them interfering in the game. Still having a little bit of humanity, he only kills the dog. He continues the rampage by killing a cow and cutting her guts. He is still followed by Tong. Finally Tong discovers it is an online game encouraging people to forget reality and go beyond convenances. For the last game Chit needs to kill his father, who was brutal with him during his childhood. He now behaves same as his father now. Despite the hate between the father and the son, Chit prefers to lose (ยอมแพ้). The winner is the father who kills his son, Chit. This movie got many overseas awards. It emphazises modern societies where there is less morality and more egoism, self-centerism.
---