Increase or decrease font size for easier reading : A+ A-
Kom Akadej
Kom Akadej (1948-2012) - คมน์ อรรฆเดช
Thai director Kom Akadej shot around 12 movies from 1975 to 1987. He was also an actor in around 10 movies from 1971 to 1975. He was a famous action movie director. Khom was working with Hong Kong stars like David Chiang (in 1982's Phet Tad Yok) and making action films like The Mountain Lion - เสือภูเขา (1979) and พยัคฆ์ยี่เก (1983). Kom Akadej reached his peak in late 1970s and early 1980s. The Mountain Lion - เสือภูเขา (1979) movie remains famous for its kung fu scenes. This film was one of the first to mix elaborate stunt work and well choreographed fight scenes. He then switched to Thai TV serie direction. Kom Akadej was president of The committee of The Federation of National Film Association of Thailand in 1999-2002. Kom Akadej movies are difficult to find officially. Movies rights in Thailand belongs to Coliseum film (บริษัท โคลีเซี่ยมฟีล์ม), company of Kom Akadej. Up to now no VCD / DVD was released in Thailand with correct legal rights according to Thai law. Coliseum film company would sell the rights for all Kom Akadej's movies and not only for a single movie. Some companies were only interested in one or a few titles but not the whole catalog so preventing any Kom Akadej movies releases up to this day
This Kom Akadej movie page contains 9 records.
---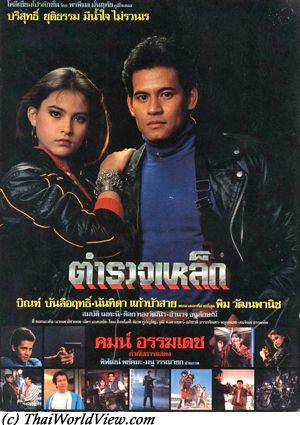 Year

: 1986



Thai title

:

ตำรวจเหล็ก




English title

:



Rating

: 4/5


Director

: Kom Akadej



Main actor

: Bin Banleurit,Sombat Methanee,Kom Akadej,Pipop Pupinyo,Chat Mongkolchai


Main actress

: Marsha,Nanthida Kaewbuasai
Thai movie ตำรวจเหล็ก was released in year 1986. Kom Akadej is the movie director. The movie lasts 1h40mn. Sombat Methanee is a police police commander (ผู้บังคับ) enquiring on a murder. Chanyut was found dead in his swimming pool. 2000M baht have disappeared following the murder. Bin (Bin Banleurit) finds an earring there. Pim (Marsha playing in her first movie) is a journalist (นักข่าว). Muat (หมวด) Bin kills two ruffians having shot policemen. Singer Chengila (Nanthida Kaewbuasai) is harassed by (ขอตัว) Nai Chareun Phran, son of an influential banker and also targeting to be a parliamentary. Fighting happens in the club. Bin arrests Nai Chareun Phran but he is released thanks to his father. Investigations on hitmen are ongoing. Pim enters illegally in a Chinese temple to take pictures of a ceremony. Hitman Chat Mongkolchai is present. A money exchange shall happen between Chat and the son of Sia in order to release Sia. Pim recognizes Bin and reveals by mistake that Police is part of the Chinese lions dancers. Shooting happens and all ruffians are killed. Bin is looking for information on another hitman called Seua Weng. Weng is looking to flee overseas so looking to exchange Thai baht in dollar. He is shot by another fierceful killer, Ai Tong Bai boon Sung, before being able to flee. Bin suspects Kaewbuasai should be related to Chanyut as he found she is wearing only one earring. Chengila was the girlfriend of Chanyut. Chengila has seen the murderer, i.e. Nokhun, famous lawyer (ทนายความใหญ่) and even took a video. Entertainment place Chao Praya 3 is the place where the killer is coming every day to see a girl. Nai Chareun Phran, helped by his lawyer (Kom Akadej) frames Bin in a trap. Chengila blacklists the lawyer Nokhun by asking 200M Baht. The lawyer puts some fake policemen in front of Chengila's condo but Bin arrests them. As usual Pim is here to take pictures. Bin suspects Chengila is not telling the whole truth to him as there should be a reason why fake policemen kept watching her flat. Later on the killer erupts in the disco and tries to shoot Chengila. She escapes thanks to Bin, who is injured. She flees but finally gets shot by the hitman. Before dying, she calls the police and talks about a tape hidden in the bathroom. Bin's assistant finds it and the lawyer is identified as the killer. Nai Chareun Phran is afraid and sends the killer to get rid of the lawyer. He is only injured and ends up at the hospital. The lawyer tries to corrupt Bin's assistant but to no avail. The killer erupts in the hospital and kills Bin's assistant. The lawyer succeeds to flee. Final scene is happening around a political meeting scene. Nokhun injures Nai Chareun Phran and both get arrested. Bin with Pim's succeed to neutralize the killer.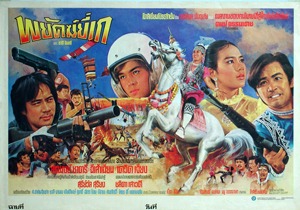 Year

: 1983



Thai title

:

พยัคฆ์ยี่เก




English title

: The Opera Hero



Rating

: 5/5


Director

: Kom Akadej



Main actor

: Sorapong Chatree,Sor Asanajinda,Manop Aussawathep,Pipop Pupinyo,Panna Rittikrai,Somsak Chaisongkram,Kom Akadej,Note Chernyim,Supakorn Srisawat,Chat Mongkolchai,Rith Luecha


Main actress

: Suriwan Suriyong,Piathip Kumwong
Thai movie พยัคฆ์ยี่เก was released in year 1983 and last 1h50mn. It was released under VHS format. A Hong Kong version, also released under VHS format, lasts 1h30mn. The movie is directed by Kom Akadej. Two Hong Kong actors are featured, i.e. David Chiang and Norman Chu. On the movie poster released in Hong Kong, they are of course shown preeminently. A Likay (Thai folk traditional theater) troupe led by teacher Pong (ครู) (Sor Asanajinda) performs in Sukhothai. The main Likay actor is played by Tuan Tong (Sorapong Chatree) and gets a lot of flowers offered especially by ladies including Piathip Kumwong, wife of the village leader (ผู้ใหญ่). It makes the village leader (Manop Aussawathep) to be very upset so he storms the Likay theater with his ruffians (Pipop Pupinyo, Panna Rittikrai and Somsak Chaisongkram) to fight with Tuan Tong as he cannot accept that his wife (แม่ตัวดี) spends money on a Likay handsome actor. Both end up at the police station but the police head (Kom Akadej) finally releases Tuan Tong as he did nothing wrong. Back to the Likay theater, Tuan Tong is beaten by ruffians. A local doctor, called Thongdee, always gives free health care to the Likay troupe. Chased again by the ruffians, Tuan Tong and Note Chernyim have to steal David Chiang's jeep to flee. David Chiang, Suriwan Suriyong and Supakorn Srisawat (ดี๋ ดอกมะดัน) are brothers and sisters. Getting back his jeep, David meets Chompoo, Tuan Tong's sister, (ชลิดา เสาวดี) so he even learns Likay skills as he is enamoured. Suriwan is expert in deltaplane. A jewellery money exchange turns badly between Manop and Sothon (โสธร รุ่งเรือง). Sothon is shot by Chat Mongkolchai but he succeeds to flee. He hides the jewellery inside the Likay theater. David is also looking for Sothon so it creates a misunderstanding between Tuan Tong and David. Sothon is killed by ruffians using a deltaplane shooting harpoons but they are still looking for the missed jewellery. They burnt the Likay theater as retaliation. Teacher Pong sells one diamond to rebuild the theater. He has hidden the real jewellery through the fake jewels used in Likay costumes. As Chat failed to capture Pong and is even shot by David, he is replaced by โดม สิงโมฬี. Ruffians storm the Likay theater again during a performance. Teacher Pong is shot by the ruffians with harpoons and killed. Chompoo is captured as she is wearing half of the real jewellery. The ruffians are led by Norman Chu, doctor Thongdee (ชาลี อินทรวิจิตร) and Rith Luecha. David and others Likay male actors (Note Chernyim...) are also captured. Tuan Tong and Suriwan storm the campment. Multiple fightings and shootings happen. Most of the protagonists die except Tuan Tong, Suriwan and his sister.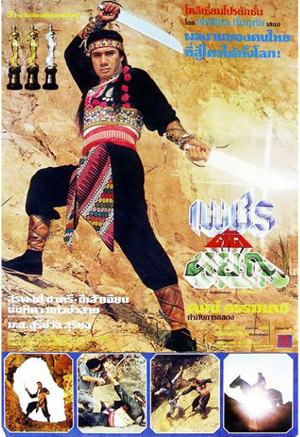 Year

: 1982



Thai title

:

เพชรตัดหยก




English title

:



Rating

: 4/5


Director

: Kom Akadej



Main actor

: Sorapong Chatree,Lak Apichat,Dam Datsakorn,Phairoj Jaising,Chat Mongkolchai,Kecha Plianvithee,Somsak Chaisongkram,Pao Porapak,Pipop Pupinyo,Norman Chu


Main actress

: Suriwan Suriyong,Nanthida Kaewbuasai
Thai movie เพชรตัดหยก was released in year 1982 and lasts 1h54mn. It is a VHS featuring the movie in format 4:3 instead of 16:9 so left and right parts of the original image are lost. Kom Akadej is the movie director. The main character, Lao Thong, has special skills such as running very fast or jumping very high. This movie is considered as part 2 of Thai movie เสือภูเขา / The mountain lion (1979). Lao Thong (Sorapong Chatree) is a Meo hill tribe villager. Lao Thong's wife (Suriwan Suriyong) and his son are killed by ruffians led by Dam Datsakorn storming a Meo hill tribe village to steal the cattle. Lao Thong has to get revenge. Tong Chi (Lak Apichat) joins him. Lisu village leader wishes to marry his two daughters including Asuma (Nanthida Kaewbuasai). Per local customs, the husband (พิธีเลือกคู่) needs to win a fight between all contenders. Tong Chi is about to win but ruffians including Pao Porapak and Chat Mongkolchai storm the Lisu village and kidnap Asuma. Lao Thong helps and releases Asuma. He refuses her hand as he is under mourning period but promises to help getting guns to be able to fight against ruffians. In another village, Lao Thong helps a lady aggressed by thugs. She has same face as his former wife. Her name is Soyi and she has good fighting skills also. She is carried by Pipop Pupinyo and Somsak Chaisongkram. Lao Thong buys guns from her brother Lao (Phairoj Jaising), who tries to get rid of him and Lak. Soyi helps Lao Thong to flee so causing her brother's ire. A mysterious soldier (Hong Kong actor ฉีเส้าเฉียน / Norman Chu), called Norman, helps Asuma and her sister aggressed by ruffians. Tong Chi fights against Norman as he believes he tries to seduce Asuma. Lao Thong and Norman also fight. Norman asks to meet Lao to buy weapons. Norman kidnaps Soyi as he wishes to infiltrate the ruffians. Lao tries to release his sister but he is defeated by Norman. Lao Thong releases Soyi and takes away the weapons with Tong Chi. Lao Thong defeats Norman but spares his life. Tong Chi hides weapons inside Lisu village. The village is stormed by ruffians. All gather to storm the ruffians' place. The big leader is identified as Decha (Kecha Plianvithee). Fightings and explosions occur with all ruffians being killed but unfortunately Lao and Tong Chi also die.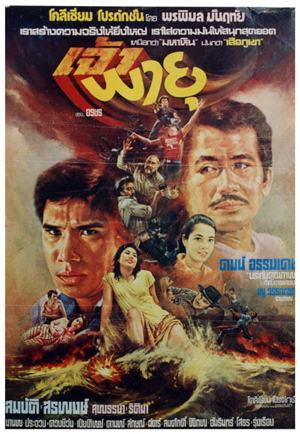 Year

: 1980



Thai title

:

เจ้าพายุ




English title

: Thunder Kid



Rating

: 5/5


Director

: Kom Akadej



Main actor

: Sorapong Chatree,Sombat Methanee,Manop Aussawathep,Prachuap Ruekyamdee,Dam Datsakorn,Somsak Chaisongkram,Lak Apichat,Choomporn Theppitak,Somchai Samipak,Chat Mongkolchai,Pipop Pupinyo,Siripong Isarangkul,Paen Pleumsachai,Pao Porapak


Main actress

: Supansa Nuengpirom,Piathip Kumwong,Thitima Sangkapitak,Duangcheewan Komolsen
Thai movie เจ้าพายุ was released in year 1980 and lasts 1h55mn. It was never released in Thailand but is still available overseas in Sweden as it was sold through VHS format. Palat (Sombat Methanee) rapes Piathip Kumwong, his former wife, as he is upset she has another lover (Manop Aussawathep). A kid is born from this relationship but it has no recognized father (ไม่มีพ่อแต่ต้องมีชื่อ). Manop is said to be Yu's father. Uncle (พ่อลุง) Jaeng (Prachuap Ruekyamdee) names the kid as Thunder (เจ้าพายุ), as he is born during a storm, but his nickname is Yu. When Yu was 3 years old, Piathip left home as Palat was having a new wife called Duangcheewan. Being adults, Eum (Thitima Sangkapitak) and Yu (Sorapong Chatree) love each other since childhood. Eum's parents promise her to another man called To (Dam Datsakorn). Palat, Somsak Chaisongkram and To try everything to break this relationship. Eum and Yu flee but are chased by Palat and ruffians led by To. Yu accepts to surrender and is sent to prison. Manop Aussawathep, father of Yu, learns that Palat has been nominated as chief district. He still has a debt to pay with Palat. While Palat is resting with his family, he does attack them. Palat's new wife (Duangcheewan Komolsen) is shot dead. Pho Seua (Choomporn Theppitak) in prison teaches Yu to master resistance and strength. Yu becomes friend with Pha (Lak Apichat) in prison. Eum, knowing that Yu's father killed Duangcheewan, cannot marry Yu anymore and accepts to marry To. Yu is devastated to learn this news. After a while, Yu is released from jail. Pha is waiting for him. Yu helps Sia Wiwat (Somchai Samipak) and his daughter Chan (Supansa Nuengpirom) Chan having issues with ruffians. He has conflicts with Chat Mongkolchai, head of workers (ป่าไม้). Meanwhile To sends some men (Somsak Chaisongkram and Pipop Pupinyo) to get rid of Yu. Siripong Isarangkul is playing the big boss. They push Manop to force his own son Pha to get rid of Yu. Pha and Yu are in fact brothers. As Pha refuses to kill Yu, To sends Paen Pleumsachai to kill him but it fails as Pha is only injured. Pha gets revenge by shooting Siripong Isarangkul. To's hidden plan is to get rid of Sia Sawat, Yu and to get the sawmill for himself and to get Chan as wife for Chat. Chat uses heavy machine to drop tree logs on the office, where Sia Wiwat and uncle Jaeng are working. Uncle Jaeng dies. Yu has to take revenge on Chat and To. Yu chases To until he can kill him. Final fighting does occur between Manop, Palat and Yu. Manop catches Yu and threatens to kill him if Palat doesn't surrender. Yu is Palat's real son! Piathip already lost one son so she cannot accept this and shoots Manop.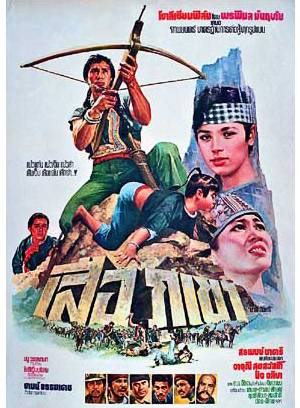 Year

: 1979



Thai title

:

เสือภูเขา




English title

: The Mountain Lion



Rating

: 4/5


Director

: Kom Akadej



Main actor

: Sorapong Chatree,Manop Aussawathep,Rith Luecha,Lak Apichat,Dam Datsakorn,Chat Mongkolchai,Somsak Chaisongkram


Main actress

: Jarunee Sooksawad,Nit Alisa
Lao Thong (Sorapong Chatree) is a Hmong leaving in Northern part of Thailand. He has a wife called Siew Fa and a young boy named Soo Noi. While he is away, his wife Siew Fa has been kidnapped by ruffians, who have been threatening the mountain villagers since years. Lao Thong's nickname is the Mountain Lion (เสือภูเขา) as he can run very fast. Lao Thong goes after the ruffians and find their camp. Their leader is Museudam. Lao Thong and Siew Fa have to kill Chayo, Museudam's brother, in order to escape from the ruffians' camp. They need to flee with their son from the Hmong village as Museudam seeks for revenge. Unfortunately Lao Thong and his family are captured by another ruffians group. Hopefully their leader, Cha Teun, is a former sergeant who knows well Lao Thong. Some ruffians believe they are undercover policemen so Lao Thong has to fight and defeat them to win his freedom. Opium trade has always been a huge traffic in Northern Thailand due to Golden Triangle (Burma, Laos and Thailand). Lao Pho (Lak Apichat) is a Hmong village working with the police border to neutralize local ruffian gangs. Cha Teun's gang is attacked by the Police. Cha Teun believes that Lao Thong is the traitor who warned the police. Then both gangs decide to take revenge over him. They decide to hire another Hmong as only a lion can catch a lion. His wife, Siew Fa, is injured. Na Cha (Jarunee Sooksawad), Lao Pho's sister, helps them. Museudam and Cha Teun try to hire Lao Pho (แมวไม่ฆ่าแมว) but to no avail. So Museudam kills Lao Pho's father and accuses Lao Thong so he suceeds to convince Lao Pho's to chase Lao Thong. Na Cha fights very well but is in fact a girl. Siew Fa finally kills herself to avoid being the one slowing her family down. Lao Thong takes revenge over the ruffians, who disband. The two ruffian groups even kill each other and only Cha Teun succeeds to flee as his own gang is wiped away. A love story starts between Lao Thong and Na Cha. Na Cha succeeds to convince her brother that the culprit is Museudam and not Lao Thong. Museudam kidnaps Lao Thong's son. Lao Thong, Cha Teun, Na Cha and Lao Pho storm the ruffians' campement. Ruffians are defeated but Lao Pho dies while protecting Lao Thong. The Mountain Lion is one of the most famous movies directed by Kom Akadej. It is shot within beautiful Thai northern landscapes. It was one of the few Thai movies dealing about Hmong community. The Mountain Lion - เสือภูเขา (1979) movie remains famous for its Kung Fu scenes. This film was one of the first to mix elaborate stunt work and well choreographed fight scenes.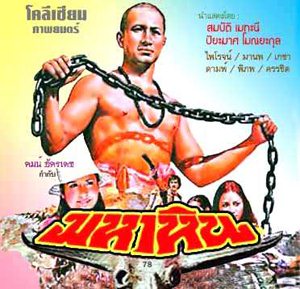 Year

: 1978



Thai title

:

มหาหิน




English title

: Maha Hin



Rating

: 5/5


Director

: Kom Akadej



Main actor

: Sombat Methanee,Sukon Koewliam,Adinan Singhiran,Sawin Sawangrat,Pipop Pupinyo,Phairoj Jaising,Kanchit Kwanpracha,Lak Apichat,Dam Datsakorn,Rith Luecha,Kecha Plianvithee,Manop Aussawathep,Kom Akadej


Main actress

: Piyamas Monayakol,Wiyada Umarin
Hin (Sombat Methanee) is a monk. One day he receives a letter from his younger niece announcing that his parents have been killed by ruffians, their house burnt and cattle stolen. Hin finally disrobes (ศึก). After so many years as monk, only a few people recognize him, i.e. Lung Kiaw (Sukon Koewliam) and his former teacher (Adinan Singhiran). Sombat Methanee shaved his head for this movie. Hin still behaves like a monk, speaks like a monk (โยม), carry his umbrella and stay calm but sometimes it is too much to endure and ruffians get smashed! Subdistrict headman Loi (Sawin Sawangrat) is now living on the land belonging to Hin's relatives. He is always protected by a bunch of ruffians including Pipop Pupinyo. Fon (Piyamas Monayakol) is the daughter of subdistrict headman Loi. Lom (Phairoj Jaising), Hin's former classmate, is the son of subdistrict headman Loi. Phi Saen (Kanchit Kwanpracha) takes care of Neung and Sai, Hin's nephews. Ang (Lak Apichat) always follows Hin to help him. Lom's girlfriend is called Chada (Wiyada Umarin) and is the daughter of Pho Lieng. Hin just wants to take care of his nephews and not bring trouble regarding the land (ผมมาดี). A new house is built and vegetables are planted. Hin wears colorful shirts (สีแปลกๆ). On the way to sell the corn, Hin's truck is stolen and Hin is beaten. Dam Datsakorn and Rith Luecha are the ones behind. They are Pho Lieng's faithful lieutenants! As Hin is at hospital, Rith kidnaps Sai. Ruffians fail to kill Hin at the hospital so he is aware through Neung and Fon. Pho Lieng (Kecha Plianvithee), the big boss, wishes to marry Fon but Loi knows his daughter will never accept. Seua Tim (Manop Aussawathep) is seen with Pho Lieng but keeps his independence. Hin finds Sai but it is too late as she has been raped and killed. Hin has to forget his previous Buddhist vows (เรื่องคนชั่ว) to take revenge. Hin reuses the chain that was used to kill Sai in order to hit the ruffians. Fierceful fights happen between Hin and Rith / Dam in an underground casino. Despite Hin winning, Pho Lieng orders the ruffians to kill Hin but Seua Tim forbids as guns are not allowed in his casino. Hin kidnaps Fon to bring trouble to Kamnan Loi. Pho lieng orders to kill Subdistrict headman Loi as this latter refuses to enter in a bigger scale of corruption (แบ่งกันกินแบ่งกันใช่). Lom and Fon believes the murderer is Hin. Finally Seua Tim explains the truth to them. Justice happens and all the ruffians are killed. Hin leaves as a lonely cowboy. Movie Maha Hin (มหาหิน) was released in year 1978 and directed by famous action movies director Kom Akadej (เจ้าพ่อหนังบู๊เมืองไทย). This movie really features a big bunches of major actors during decade 1970s. Sombat Methanee got 1M baht to cut his hair and be bald as he couldn't play other movies during many months.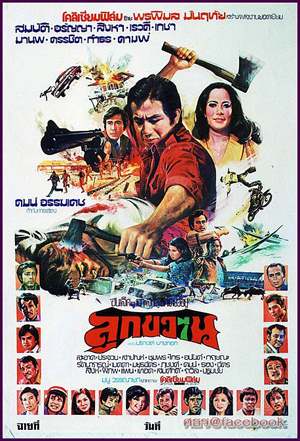 Year

: 1977



Thai title

:

ลูกขวาน




English title

:



Rating

: 3/5


Director

: Kom Akadej



Main actor

: Sombat Methanee,Kom Akadej,Dam Datsakorn,Choomporn Theppitak,Sahat Piempongsan,Kecha Plianvithee,Krai Kanchit,Chat Mongkolchai,Lak Apichat,Prachuap Ruekyamdee,Kamthorn Suwanpiyasiri,Kanchit Kwanpracha,Manop Aussawathep,Pipop Pupinyo,Somsak Chaisongkram,Sayan Chantaravi​boon,Chana Sriubon


Main actress

: Aranya Namwong,Ratanaporn Intarakamhaeng,Metta Roongrat,Rewadee Pattaphong
ลูกขวาน is a Thai movie released in year 1977. It lasts 1h54mn. This action movie, directed by director Kom Akadej, features a great bunch of Thai actors. Sing A (Sombat Methanee) arrives too late as his father Nae Klam died already. His father was a big mafia boss (นักเลง) so smaller bosses (Chun - Dam Datsakorn, Kam - Choomporn Theppitak, Pon - Sahat Piempongsan, Krong - Kanchit Kwanpracha) want to become the leader instead. The movie features fighting between those smaller bosses in order to become the big boss. Back from overseas, Sing A is welcomed by KoLit (Kecha Plianvithee) and by his mother (Ratanaporn Intarakamhaeng). Krai Kanchit challenges Sing A but as he is defeated, he finally joins Sing A's team. Ruffians are using axes (ขวาน) for fighting so giving the movie name, i.e. ลูกขวาน, "axe child". Many groups want to get rid of Sing A. Prachom (Lak Apichat) gives a hand to Sing A aggressed by motorbikes on the beach. Kam (Choomporn Theppitak), married to Metta Roongrat, is one of the small leader wanting to kill Sing A. Nop (Kamthorn Suwanpiyasiri) and Sai (Prachuap Ruekyamdee) are close friends with Sing A. Sing A finally sympathizes with Nolee (Aranya Namwong), daughter of Nop. Phi Pon (Sahat Piempongsan) and his team start hostilities and take over a mine. Mek (Chana Sriubon) and Wan are having a love affair. Tan (Manop Aussawathep) orders to kill Sing A. KoLit and Mek defeat Pipop Pupinyo and his guys trying to enter in their ranch. Krong is shot and injured by another gang. Tan refuses to work with Phi Pon (ขายหน้า). Chat Mongkolchai and his ruffians attack Mek's house but get defeated by KoLit and Mek following a long boat race. Wedding is happening between Mek and Wan. Chun is looking for troubles during the wedding but gets punched by Sing A. Tan is burnt in his car by Phi Pon's team and becomes blind. As a revenge, Phi Pon gets killed by Kanchit. Tan relearns to shoot using his ears instead of eyes. Pinyo and his ruffians kill Sing A's mother but get axed by KoLit and Mek. Kam is arrested by the police. Aranya has a cancer but Sing A still wishes to marry her. Tan takes his revenge over those who caused the fire making him blind. All mafia leaders are now out of the game except Chun. A feast is organized but Chun's ruffians (Somsak Chaisongkram) are bringing a mess. Honor needs to be washed with blood (เลือดต้องล้างกับเลือด). Chun's house is stormed and Chun himself is killed but remaining people including Sing A get caught by police. This Kom Akadej's movie is a non stop action movie featuring around twenty key actors / actresses from decade 1970s.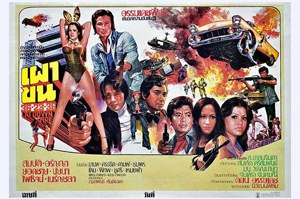 Year

: 1976



Thai title

:

เผาขน




English title

: Lay Down and Die



Rating

: 3/5


Director

: Kom Akadej



Main actor

: Sombat Methanee,Manop Aussawathep,Phairoj Jaising,Kanchit Kwanpracha,Yodchai MeksuwanBoo,Choomporn Theppitak,Dam Datsakorn,Boo Wibunnan,Kom Akadej,Pipop Pupinyo,Pan Borapet


Main actress

: Aranya Namwong,Naiyana Shewanan,Moeifa,Chosri Misommon,Neranchala Thaleungsak
Thai movie เผาขน was released in year 1976. The movie was never released on VCD or DVD in Thailand but a collector saved the film from 16mm format into VHS many years ago. The copy was not so good and was in red color as the film was already old. It lasts 1h44mn and is incomplete. The movie was also released in Italy under the name Lezi Puca Se (Lay Down and Die). It was also released by IFD Films and Arts, a Hong Kong company, under the name Bionic Heroes (1977) and lasts 1h25mn. The VHS rip is still colorful and sharp but the original Thai version has been reduced and cut to fit VHS standard format. Some sequences missing in the Thai remaining version are present in the international release. Enemies are trying to enter Thailand. At the border, Fon (Sombat Methanee) refuses to meet his younger sister Naiyana. He has to investigate who is providing weapons for Thai enemies. The enquiry leads him to a bunny bar, owned by Manop Aussawathep. Both Aranya Namwong and Pong (Phairoj Jaising), sister and brother, have resentments against Manop as he failed to honour the promise to their father to take care of them. They are used by him for low jobs. Pong (Phairoj Jaising) keeps having arguments with Dam, Manop's right hand. Boo Wibunnan is shot by Kanchit Kwanpracha, who ends up in jail. Aranya is having issues with Ah, an older man, who is trying to rape her as she was sold by Manop. Pong shoots him deadly. Pong and Aranya are then chased by the police. Prisoners Kanchit and Yodchai Meksuwan escape from the prison and are chased by the police. Some ruffians led by Dam Datsakorn try to shoot them while they are fleeing. They split to increase the chance for escape. Yodchai meets Pong and Aranya. They bring him temporarily with them to avoid police but then get rid of him on the backside of the road. Manop Aussawathep's girlfriend is played by Moeifa. Both Pong and Aranya fail to kill Manop. Kanchit wishes to revenge also on Manop as he believes he was betrayed. Manop pacifies everybody and Yodchai joins the team also. Dam, Yodchai and Kanchit do a heroin traffic in the train. Naiyana Shewanan spies them. Manop, as head of the traffickers, is upset as his latest traffic was discovered by the police so there must be a spy in his team. Manop decides to use Aranya for a Thai boxing match in order to exchange drugs versus money among a busy crowd. The niece of Manop is Pissamai (Neranchala Thaleungsak). Pissamai and Pong become very close. Chosri Misommon is playing Aranya's Thai boxing trainer. Choomporn Theppitak is playing a drug trafficker. Aranya wins her Muay Thai boxing match. Nayana spies Kanchit and his ruffians charging drugs in a truck. Yodchai convinces the ruffians that he will manage Nayana by himself. As Manop tries to abuse Pissamai, Pong helps her and they flee together chased by Dam. Meanwhile Fon shows to Aranya that Manop uses her as a mule only as drugs is hidden under banknotes. They also flee. Pong is captured while trying to release Nayana. Fon flees with Aranya and Pissamai. While trying to capture drug dealer Choomporn, Fon is finally neutralized by Pipop Pupinyo, Pan Borapet and Kanchit. They are transferred to the ruffians' base by helicopter. Fon is attached to a rope under the helicopter. He falls in a lake. Ruffians are attacking a border station to let enemies enter Thailand. Some ruffians are changing side such as Kanchit trying to protect Yodchai, who was the one always informing the police. The movie highlights police and military helping each other to push back enemies of Thailand. Pong and Pissamai die in each other's arms while fighting for Thailand. Director Kom Akadej is also having a small role as policeman. The movie features a very big number of famous Thai actors / actresses from decade 1970s.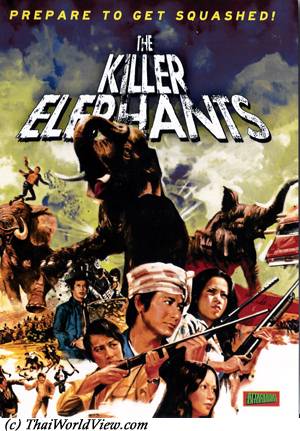 Year

: 1976



Thai title

:

ไผ่กำเพลิง




English title

: Killer Elephants



Rating

: 5/5


Director

: Kom Akadej



Main actor

: Sombat Methanee,Yodchai Meksuwan,Kanchit Kwanpracha,Pipop Pupinyo,Dam Datsakorn,Sayan Chantaravi​boon,Kom Akadej


Main actress

: Aranya Namwong,Naiyana Shewanan,Mayurachath Muarnprasitivej
Ruffians are chased by police officer Ching Ming (Yodchai Meksuwan) but he failed to catch them. He meets his old friend Kau Fei (Sombat Methanee). Ruffians are hiding in a Surin timber yard. A big fight happens as Ching Ming wishes to jail them. Hopefully Kau Fei helps Ching Ming but there is no way to know where is the big boss behind. Local police is trying to catch Kau Fei but elephants prevent police to follow up Kau Fei. He has been accused of murder but he was framed. The head of ruffians (Kanchit Kwanpracha) framed him as Kau Fei refuses to sell his farm land to him. Ruffians burn the houses on the farm land. Ching Ming and Kau Fei help people stuck in their home. Ching Ming likes a lot a local lady Shao Feng (Naiyana Shewanan). Kau Fei decides to take revenge by entering in the boss home. He is not here so he captures madame Shu (Aranya Namwong). Ruffians try to rescue her by entering the farm through the forest but they are welcomed by guns and elephants. Kau Fei still loves Shu despite she was forced to go with the boss. Ching Ming tries to arrest Kau Fei but to no avail. Kau Fei comes to town to make trouble inside the boss' favorite nightclub. Shu is now pregnant with Kau Fei. As Shu is about to deliver, Ching Ming helps to bring her to hospital. The boss aware of this wants to use her and the baby as a bait. Taking profit of Surin elephant carnival (เทศกาลของเมืองสุรินทร์), Kau Fei sends a few elephants and villagers to pick up Shu. Kau Fei does a rampage in the boss' house and even injures him but Mau Tien, another ruffian, finishes him. Mau Tien (Dam Datsakorn) becomes the boss and decides to kidnap Shu and two nurses to attract Kau Fei to the plains. Kau Fei and the villagers rescue Shu and the two nurses. Then a crazy rampage of the elephants on the ruffians' camp happens. They are pushing huts and cars with real people inside. Big explosions and houses in fire happen. Even Ching Ming intervenes and helps Shao Feng. He finally lets Kau Fei go to Cambodia. The Thai movie "Killer Elephants" - ไผ่กำเพลิง was released in Thailand in 1976. Main actors are Sombat Methanee and Aranya Namwong. The movie director was Kom Akadej, who got the "international name of Som Kit in the credits, which is a version of his middle name, Somkit. All the other actors got Chinese style names, probably to cash in on the Hong Kong market and the rest of the worlds wish for more Kung Fu movies. The Killer Elephants cannot be found anymore in Thailand except at the Thai Film Archive, the original Thai version. Joseph Lai and his IFD Arts and Entertainment prepared this international version, which is the most common version outside Thailand. This DVD was released by Swedish company Attackafant Entertainment directed by Fred Anderson, a well known lover of Thai cinema. This DVD is the first official ไผ่กำเพลิง DVD release ever. The "Killer Elephants" movie rights in Thailand belongs to Coliseum film (บริษัท โคลีเซี่ยมฟีล์ม), company from Kom Akadej. Up to now no VCD / DVD was released in Thailand with correct rights according to Thai law. Only a video tape was released long time ago. Coliseum film company would sell the rights for all Kom Akadej's movies and not only for 'Killers Elephants' movie. Thai Company XxX (Triple X) was only interested in 'Killer Elephants' movie so up to this day Thai people are still waiting for a Thai version of ไผ่กำเพล to be released again. The movie also includes also famous supporting actors such as Yodchai Meksuwan, Naiyana Shewanan, Mayurachath Muarnprasitivej, Kanchit Kwanpracha, Pipop Pupinyo, Dam Datsakorn, Sayan Chantaraviboon. The finest batch of Thai actors during 1970's! Only Sorapong Chatree and Krung Srivilai are missing. Pipop Pupinyo, Kanchit Kwanpracha and Dam Datsakorn were the regular bad guys in Thai cinema and so of course even in The Killer Elephants! The same story was also released as Thai TV lakorn in 2004.
---