Increase or decrease font size for easier reading : A+ A-
Kom Akadej
Kom Akadej (1948-2012) - คมน์ อรรฆเดช
Thai director Kom Akadej shot around 12 movies from 1975 to 1987. He was also an actor in around 10 movies from 1971 to 1975. He was a famous action movie director. Khom was working with Hong Kong stars like David Chiang (in 1982's Phet Tad Yok) and making action films like The Mountain Lion - เสือภูเขา (1979) and พยัคฆ์ยี่เก (1983). Kom Akadej reached his peak in late 1970s and early 1980s. The Mountain Lion - เสือภูเขา (1979) movie remains famous for its kung fu scenes. This film was one of the first to mix elaborate stunt work and well choreographed fight scenes. He then switched to Thai TV serie direction. Kom Akadej was president of The committee of The Federation of National Film Association of Thailand in 1999-2002. Kom Akadej movies are difficult to find officially. Movies rights in Thailand belongs to Coliseum film (บริษัท โคลีเซี่ยมฟีล์ม), company of Kom Akadej. Up to now no VCD / DVD was released in Thailand with correct legal rights according to Thai law. Coliseum film company would sell the rights for all Kom Akadej's movies and not only for a single movie. Some companies were only interested in one or a few titles but not the whole catalog so preventing any Kom Akadej movies releases up to this day
This Kom Akadej movie page contains 13 records.
---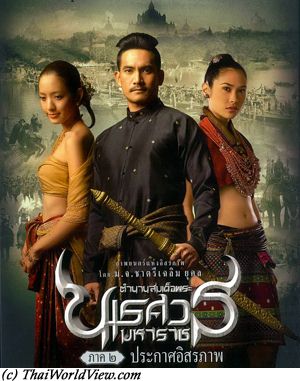 Year

: 2007



Thai title

:

ตำนานสมเด็จพระนเรศวรมหาราช




English title

: King Naresuan 2



Rating

: 5/5


Director

: ChatriChalerm Yukol



Main actor

: Sorapong Chatree,Chatchai Plengpanich,Nopachai Chaiyanam,Somphob Benjatikul,Kom Akadej


Main actress

: Intira Jaroenpura,Paweena Chareefsakul,Deuan Tem Salitul



Buy now

:

Naresuan was sent back to Pegu to represent his father in paying homage to King Nandabayin, who had succeeded Bayinnaung, who passed away in 1581. Naresuan participated with his troops in a Burmese expedition against a Shan state and succeeded in taking a city after the Burmese crown prince and another prince had failed to do so. Naresuan thereby gained the jealous animosity of the crown prince, who plot various attacks against him. Naresuan proclaimed independence from Burma. When crossing River Satong, Naresuan had his forces under attack. With his army across, Naresuan is given a long rifle by his tutor, the monk Khanchong. Naresuan takes aim at the Burmese General across the mile-wide river and fires, killing the man and causing the Burmese troops to loose their morale and cease to follow. In 2009 King Naresuan 3 and 4 are being filmed with government financial support. The Ministry of Culture prioritises its financial support to films that deal with promoting loyalty to the pillars of nation, religion and monarchy. We are back to old times under Thanin Kraivichian's government (1976-1977), where Thai people were tought to be afraid of communism and that the way to survive was already to protect the nation, the religion and the monarchy.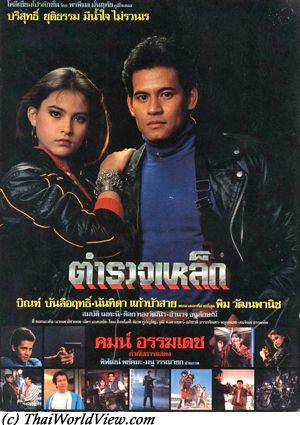 Year

: 1986



Thai title

:

ตำรวจเหล็ก




English title

:



Rating

: 4/5


Director

: Kom Akadej



Main actor

: Bin Banleurit,Sombat Methanee,Kom Akadej,Pipop Pupinyo,Chat Mongkolchai


Main actress

: Marsha,Nanthida Kaewbuasai
Thai movie ตำรวจเหล็ก was released in year 1986. Kom Akadej is the movie director. The movie lasts 1h40mn. Sombat Methanee is a police police commander (ผู้บังคับ) enquiring on a murder. Chanyut was found dead in his swimming pool. 2000M baht have disappeared following the murder. Bin (Bin Banleurit) finds an earring there. Pim (Marsha playing in her first movie) is a journalist (นักข่าว). Muat (หมวด) Bin kills two ruffians having shot policemen. Singer Chengila (Nanthida Kaewbuasai) is harassed by (ขอตัว) Nai Chareun Phran, son of an influential banker and also targeting to be a parliamentary. Fighting happens in the club. Bin arrests Nai Chareun Phran but he is released thanks to his father. Investigations on hitmen are ongoing. Pim enters illegally in a Chinese temple to take pictures of a ceremony. Hitman Chat Mongkolchai is present. A money exchange shall happen between Chat and the son of Sia in order to release Sia. Pim recognizes Bin and reveals by mistake that Police is part of the Chinese lions dancers. Shooting happens and all ruffians are killed. Bin is looking for information on another hitman called Seua Weng. Weng is looking to flee overseas so looking to exchange Thai baht in dollar. He is shot by another fierceful killer, Ai Tong Bai boon Sung, before being able to flee. Bin suspects Kaewbuasai should be related to Chanyut as he found she is wearing only one earring. Chengila was the girlfriend of Chanyut. Chengila has seen the murderer, i.e. Nokhun, famous lawyer (ทนายความใหญ่) and even took a video. Entertainment place Chao Praya 3 is the place where the killer is coming every day to see a girl. Nai Chareun Phran, helped by his lawyer (Kom Akadej) frames Bin in a trap. Chengila blacklists the lawyer Nokhun by asking 200M Baht. The lawyer puts some fake policemen in front of Chengila's condo but Bin arrests them. As usual Pim is here to take pictures. Bin suspects Chengila is not telling the whole truth to him as there should be a reason why fake policemen kept watching her flat. Later on the killer erupts in the disco and tries to shoot Chengila. She escapes thanks to Bin, who is injured. She flees but finally gets shot by the hitman. Before dying, she calls the police and talks about a tape hidden in the bathroom. Bin's assistant finds it and the lawyer is identified as the killer. Nai Chareun Phran is afraid and sends the killer to get rid of the lawyer. He is only injured and ends up at the hospital. The lawyer tries to corrupt Bin's assistant but to no avail. The killer erupts in the hospital and kills Bin's assistant. The lawyer succeeds to flee. Final scene is happening around a political meeting scene. Nokhun injures Nai Chareun Phran and both get arrested. Bin with Pim's succeed to neutralize the killer.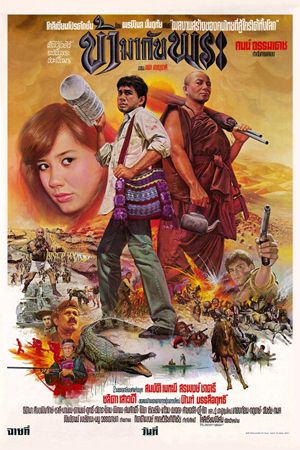 Year

: 1984



Thai title

:

ข้ามากับพระ




English title

:



Rating

: 5/5


Director

: Kom Akadej



Main actor

: Sorapong Chatree,Sombat Methanee,Bin Banleurit,Kom Akadej,Somsak Chaisongkram,Doo Dook Kradon,Pipop Pupinyo,Chat Mongkolchai,Dam Datsakorn,Rith Luecha,Manop Aussawathep,Note Chernyim,Thuam Thoranong


Main actress

: Thitima Sangkapitak
Thai movie ข้ามากับพระ was released in year 1984. It was shown on TV CH7 (ช่อง 7) and last 1h08mn as a shortened version. It was not released on VCD but was released under VHS format. Movie director is Kom Akadej. Soundtrack from band Police is used. It was the first movie for Thai actor Bin Banleurit. A TV serie ข้ามากับพระ was released in 2015. Bin (Sorapong Chatree) is chased by three men (Somsak Chaisongkram, Note Chernyim, Pipop Pupinyo). He is rescued by Luang Pho Seua (Sombat Methanee), being a wandering monk. Bin follows the monk, who wishes to stay alone. Bin wishes to become his disciple (ลูกศิษย์พระ). Doo Dook Kradon and another man are stealing buffalos. Villagers led by Thuam Thoranong are looking for their buffaloes. Luang Pho Seua is wrongly mistaken as a robber but everything is back to normal. Monk Seua and Bin cross a lake but they are attacked by a crocodile. Bin brings bad luck (ซวย) to the monk. They arrive in a ruffian's camp led by Chat Mongkolchai and Seua Noi (Bin Banleurit). Bin follows behind but is stopped by the ruffians. Monk Seua meets Thai Police, who ask him if he saw any ruffians campement. Police attack the camp and Bin can succeed to flee. Seua Noi is upset and promises revenge as he believes Luang Pho Seua and Bin are undercover policemen. Ruffians try to burn Luang Pho Seua but Bin intervenes. Luang Pho escapes to the flames but he is chased by ruffians. Hopefully, hill tribes, led by Kom (Kom Akadej), chase them away. Bin is injured and cured by beautiful doctor Khru Mo (ครูหมอ) (ชลิดา เสาวดี). The village head is worried about revenge by Seua Khaem. Bin meets again the three men chasing him and has to flee. While fleeing, he meets Luang Pho Seua again. Hilltribe lady Baan Su Thong (Thitima Sangkapitak) is fond of Bin. They spend the night together, but Bin flees in the morning, so Baan Su Thong is looking for him. Ut (Dam Datsakorn) enters in the hilltribe village. A fight occurs between Bin and Ut. Ut is defeated. Kom saves the honor of his younger sister Baan Su Thong. Ut requests help for another ruffians' leader (Rith Luecha). Ruffians storm the village. Many ruffians and villagers die in the fighting. Baan Su Thong is killed. Seua Noi is seriously injured by Bin. Khru Mo is kidnapped by Ut to cure Seua Noi. Finally, Seua Noi leaves as he feels better but as he gets sick again. Seua Noi gets help from Luang Pho Suea and is cured. He realizes that Luang Pho Suea is a real monk and a good man. Seua Noi's father is Seua Khaem. Luang Pho Seua is a former policeman. While trying to catch Seua Khaem many years ago, Luang Pho Seua shot his wife, being Seua Noi's mother, by mistake. So, the policeman became a monk. Hill tribe members and Bin surround the ruffians' camp. Seua Kaem (Manop Aussawathep) wishes to take revenge and to shoot the monk but Seua Noi intervenes and is shot instead. Devastated, Seua Kaem gives up on his revenge. Luang Pho has been carrying the wife's bones with him and has been wandering around Thailand in order to meet Seua Khaem.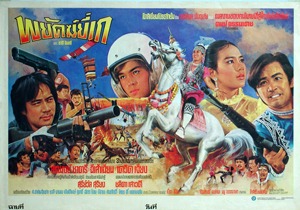 Year

: 1983



Thai title

:

พยัคฆ์ยี่เก




English title

: The Opera Hero



Rating

: 5/5


Director

: Kom Akadej



Main actor

: Sorapong Chatree,Sor Asanajinda,Manop Aussawathep,Pipop Pupinyo,Panna Rittikrai,Somsak Chaisongkram,Kom Akadej,Note Chernyim,Supakorn Srisawat,Chat Mongkolchai,Rith Luecha


Main actress

: Suriwan Suriyong,Piathip Kumwong
Thai movie พยัคฆ์ยี่เก was released in year 1983 and last 1h50mn. It was released under VHS format. A Hong Kong version, also released under VHS format, lasts 1h30mn. The movie is directed by Kom Akadej. Two Hong Kong actors are featured, i.e. David Chiang and Norman Chu. On the movie poster released in Hong Kong, they are of course shown preeminently. A Likay (Thai folk traditional theater) troupe led by teacher Pong (ครู) (Sor Asanajinda) performs in Sukhothai. The main Likay actor is played by Tuan Tong (Sorapong Chatree) and gets a lot of flowers offered especially by ladies including Piathip Kumwong, wife of the village leader (ผู้ใหญ่). It makes the village leader (Manop Aussawathep) to be very upset so he storms the Likay theater with his ruffians (Pipop Pupinyo, Panna Rittikrai and Somsak Chaisongkram) to fight with Tuan Tong as he cannot accept that his wife (แม่ตัวดี) spends money on a Likay handsome actor. Both end up at the police station but the police head (Kom Akadej) finally releases Tuan Tong as he did nothing wrong. Back to the Likay theater, Tuan Tong is beaten by ruffians. A local doctor, called Thongdee, always gives free health care to the Likay troupe. Chased again by the ruffians, Tuan Tong and Note Chernyim have to steal David Chiang's jeep to flee. David Chiang, Suriwan Suriyong and Supakorn Srisawat (ดี๋ ดอกมะดัน) are brothers and sisters. Getting back his jeep, David meets Chompoo, Tuan Tong's sister, (ชลิดา เสาวดี) so he even learns Likay skills as he is enamoured. Suriwan is expert in deltaplane. A jewellery money exchange turns badly between Manop and Sothon (โสธร รุ่งเรือง). Sothon is shot by Chat Mongkolchai but he succeeds to flee. He hides the jewellery inside the Likay theater. David is also looking for Sothon so it creates a misunderstanding between Tuan Tong and David. Sothon is killed by ruffians using a deltaplane shooting harpoons but they are still looking for the missed jewellery. They burnt the Likay theater as retaliation. Teacher Pong sells one diamond to rebuild the theater. He has hidden the real jewellery through the fake jewels used in Likay costumes. As Chat failed to capture Pong and is even shot by David, he is replaced by โดม สิงโมฬี. Ruffians storm the Likay theater again during a performance. Teacher Pong is shot by the ruffians with harpoons and killed. Chompoo is captured as she is wearing half of the real jewellery. The ruffians are led by Norman Chu, doctor Thongdee (ชาลี อินทรวิจิตร) and Rith Luecha. David and others Likay male actors (Note Chernyim...) are also captured. Tuan Tong and Suriwan storm the campment. Multiple fightings and shootings happen. Most of the protagonists die except Tuan Tong, Suriwan and his sister.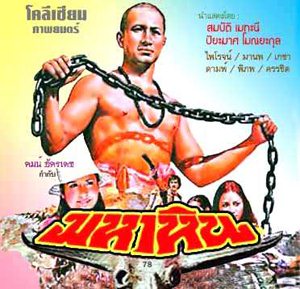 Year

: 1978



Thai title

:

มหาหิน




English title

: Maha Hin



Rating

: 5/5


Director

: Kom Akadej



Main actor

: Sombat Methanee,Sukon Koewliam,Adinan Singhiran,Sawin Sawangrat,Pipop Pupinyo,Phairoj Jaising,Kanchit Kwanpracha,Lak Apichat,Dam Datsakorn,Rith Luecha,Kecha Plianvithee,Manop Aussawathep,Kom Akadej


Main actress

: Piyamas Monayakol,Wiyada Umarin
Hin (Sombat Methanee) is a monk. One day he receives a letter from his younger niece announcing that his parents have been killed by ruffians, their house burnt and cattle stolen. Hin finally disrobes (ศึก). After so many years as monk, only a few people recognize him, i.e. Lung Kiaw (Sukon Koewliam) and his former teacher (Adinan Singhiran). Sombat Methanee shaved his head for this movie. Hin still behaves like a monk, speaks like a monk (โยม), carry his umbrella and stay calm but sometimes it is too much to endure and ruffians get smashed! Subdistrict headman Loi (Sawin Sawangrat) is now living on the land belonging to Hin's relatives. He is always protected by a bunch of ruffians including Pipop Pupinyo. Fon (Piyamas Monayakol) is the daughter of subdistrict headman Loi. Lom (Phairoj Jaising), Hin's former classmate, is the son of subdistrict headman Loi. Phi Saen (Kanchit Kwanpracha) takes care of Neung and Sai, Hin's nephews. Ang (Lak Apichat) always follows Hin to help him. Lom's girlfriend is called Chada (Wiyada Umarin) and is the daughter of Pho Lieng. Hin just wants to take care of his nephews and not bring trouble regarding the land (ผมมาดี). A new house is built and vegetables are planted. Hin wears colorful shirts (สีแปลกๆ). On the way to sell the corn, Hin's truck is stolen and Hin is beaten. Dam Datsakorn and Rith Luecha are the ones behind. They are Pho Lieng's faithful lieutenants! As Hin is at hospital, Rith kidnaps Sai. Ruffians fail to kill Hin at the hospital so he is aware through Neung and Fon. Pho Lieng (Kecha Plianvithee), the big boss, wishes to marry Fon but Loi knows his daughter will never accept. Seua Tim (Manop Aussawathep) is seen with Pho Lieng but keeps his independence. Hin finds Sai but it is too late as she has been raped and killed. Hin has to forget his previous Buddhist vows (เรื่องคนชั่ว) to take revenge. Hin reuses the chain that was used to kill Sai in order to hit the ruffians. Fierceful fights happen between Hin and Rith / Dam in an underground casino. Despite Hin winning, Pho Lieng orders the ruffians to kill Hin but Seua Tim forbids as guns are not allowed in his casino. Hin kidnaps Fon to bring trouble to Kamnan Loi. Pho lieng orders to kill Subdistrict headman Loi as this latter refuses to enter in a bigger scale of corruption (แบ่งกันกินแบ่งกันใช่). Lom and Fon believes the murderer is Hin. Finally Seua Tim explains the truth to them. Justice happens and all the ruffians are killed. Hin leaves as a lonely cowboy. Movie Maha Hin (มหาหิน) was released in year 1978 and directed by famous action movies director Kom Akadej (เจ้าพ่อหนังบู๊เมืองไทย). This movie really features a big bunches of major actors during decade 1970s. Sombat Methanee got 1M baht to cut his hair and be bald as he couldn't play other movies during many months.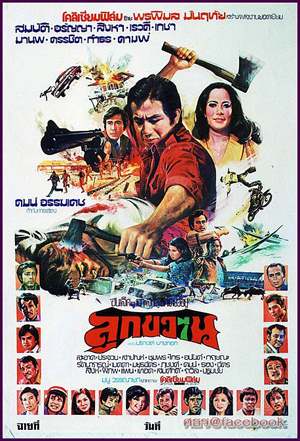 Year

: 1977



Thai title

:

ลูกขวาน




English title

:



Rating

: 3/5


Director

: Kom Akadej



Main actor

: Sombat Methanee,Kom Akadej,Dam Datsakorn,Choomporn Theppitak,Sahat Piempongsan,Kecha Plianvithee,Krai Kanchit,Chat Mongkolchai,Lak Apichat,Prachuap Ruekyamdee,Kamthorn Suwanpiyasiri,Kanchit Kwanpracha,Manop Aussawathep,Pipop Pupinyo,Somsak Chaisongkram,Sayan Chantaraviboon,Chana Sriubon


Main actress

: Aranya Namwong,Ratanaporn Intarakamhaeng,Metta Roongrat,Rewadee Pattaphong
ลูกขวาน is a Thai movie released in year 1977. It lasts 1h54mn. This action movie, directed by director Kom Akadej, features a great bunch of Thai actors. Sing A (Sombat Methanee) arrives too late as his father Nae Klam died already. His father was a big mafia boss (นักเลง) so smaller bosses (Chun - Dam Datsakorn, Kam - Choomporn Theppitak, Pon - Sahat Piempongsan, Krong - Kanchit Kwanpracha) want to become the leader instead. The movie features fighting between those smaller bosses in order to become the big boss. Back from overseas, Sing A is welcomed by KoLit (Kecha Plianvithee) and by his mother (Ratanaporn Intarakamhaeng). Krai Kanchit challenges Sing A but as he is defeated, he finally joins Sing A's team. Ruffians are using axes (ขวาน) for fighting so giving the movie name, i.e. ลูกขวาน, "axe child". Many groups want to get rid of Sing A. Prachom (Lak Apichat) gives a hand to Sing A aggressed by motorbikes on the beach. Kam (Choomporn Theppitak), married to Metta Roongrat, is one of the small leader wanting to kill Sing A. Nop (Kamthorn Suwanpiyasiri) and Sai (Prachuap Ruekyamdee) are close friends with Sing A. Sing A finally sympathizes with Nolee (Aranya Namwong), daughter of Nop. Phi Pon (Sahat Piempongsan) and his team start hostilities and take over a mine. Mek (Chana Sriubon) and Wan are having a love affair. Tan (Manop Aussawathep) orders to kill Sing A. KoLit and Mek defeat Pipop Pupinyo and his guys trying to enter in their ranch. Krong is shot and injured by another gang. Tan refuses to work with Phi Pon (ขายหน้า). Chat Mongkolchai and his ruffians attack Mek's house but get defeated by KoLit and Mek following a long boat race. Wedding is happening between Mek and Wan. Chun is looking for troubles during the wedding but gets punched by Sing A. Tan is burnt in his car by Phi Pon's team and becomes blind. As a revenge, Phi Pon gets killed by Kanchit. Tan relearns to shoot using his ears instead of eyes. Pinyo and his ruffians kill Sing A's mother but get axed by KoLit and Mek. Kam is arrested by the police. Aranya has a cancer but Sing A still wishes to marry her. Tan takes his revenge over those who caused the fire making him blind. All mafia leaders are now out of the game except Chun. A feast is organized but Chun's ruffians (Somsak Chaisongkram) are bringing a mess. Honor needs to be washed with blood (เลือดต้องล้างกับเลือด). Chun's house is stormed and Chun himself is killed but remaining people including Sing A get caught by police. This Kom Akadej's movie is a non stop action movie featuring around twenty key actors / actresses from decade 1970s.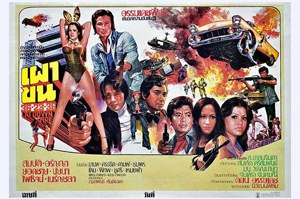 Year

: 1976



Thai title

:

เผาขน




English title

: Lay Down and Die



Rating

: 3/5


Director

: Kom Akadej



Main actor

: Sombat Methanee,Manop Aussawathep,Phairoj Jaising,Kanchit Kwanpracha,Yodchai MeksuwanBoo,Choomporn Theppitak,Dam Datsakorn,Boo Wibunnan,Kom Akadej,Pipop Pupinyo,Pan Borapet


Main actress

: Aranya Namwong,Naiyana Shewanan,Moeifa,Chosri Misommon,Neranchala Thaleungsak
Thai movie เผาขน was released in year 1976. The movie was never released on VCD or DVD in Thailand but a collector saved the film from 16mm format into VHS many years ago. The copy was not so good and was in red color as the film was already old. It lasts 1h44mn and is incomplete. The movie was also released in Italy under the name Lezi Puca Se (Lay Down and Die). It was also released by IFD Films and Arts, a Hong Kong company, under the name Bionic Heroes (1977) and lasts 1h25mn. The VHS rip is still colorful and sharp but the original Thai version has been reduced and cut to fit VHS standard format. Some sequences missing in the Thai remaining version are present in the international release. Enemies are trying to enter Thailand. At the border, Fon (Sombat Methanee) refuses to meet his younger sister Naiyana. He has to investigate who is providing weapons for Thai enemies. The enquiry leads him to a bunny bar, owned by Manop Aussawathep. Both Aranya Namwong and Pong (Phairoj Jaising), sister and brother, have resentments against Manop as he failed to honour the promise to their father to take care of them. They are used by him for low jobs. Pong (Phairoj Jaising) keeps having arguments with Dam, Manop's right hand. Boo Wibunnan is shot by Kanchit Kwanpracha, who ends up in jail. Aranya is having issues with Ah, an older man, who is trying to rape her as she was sold by Manop. Pong shoots him deadly. Pong and Aranya are then chased by the police. Prisoners Kanchit and Yodchai Meksuwan escape from the prison and are chased by the police. Some ruffians led by Dam Datsakorn try to shoot them while they are fleeing. They split to increase the chance for escape. Yodchai meets Pong and Aranya. They bring him temporarily with them to avoid police but then get rid of him on the backside of the road. Manop Aussawathep's girlfriend is played by Moeifa. Both Pong and Aranya fail to kill Manop. Kanchit wishes to revenge also on Manop as he believes he was betrayed. Manop pacifies everybody and Yodchai joins the team also. Dam, Yodchai and Kanchit do a heroin traffic in the train. Naiyana Shewanan spies them. Manop, as head of the traffickers, is upset as his latest traffic was discovered by the police so there must be a spy in his team. Manop decides to use Aranya for a Thai boxing match in order to exchange drugs versus money among a busy crowd. The niece of Manop is Pissamai (Neranchala Thaleungsak). Pissamai and Pong become very close. Chosri Misommon is playing Aranya's Thai boxing trainer. Choomporn Theppitak is playing a drug trafficker. Aranya wins her Muay Thai boxing match. Nayana spies Kanchit and his ruffians charging drugs in a truck. Yodchai convinces the ruffians that he will manage Nayana by himself. As Manop tries to abuse Pissamai, Pong helps her and they flee together chased by Dam. Meanwhile Fon shows to Aranya that Manop uses her as a mule only as drugs is hidden under banknotes. They also flee. Pong is captured while trying to release Nayana. Fon flees with Aranya and Pissamai. While trying to capture drug dealer Choomporn, Fon is finally neutralized by Pipop Pupinyo, Pan Borapet and Kanchit. They are transferred to the ruffians' base by helicopter. Fon is attached to a rope under the helicopter. He falls in a lake. Ruffians are attacking a border station to let enemies enter Thailand. Some ruffians are changing side such as Kanchit trying to protect Yodchai, who was the one always informing the police. The movie highlights police and military helping each other to push back enemies of Thailand. Pong and Pissamai die in each other's arms while fighting for Thailand. Director Kom Akadej is also having a small role as policeman. The movie features a very big number of famous Thai actors / actresses from decade 1970s.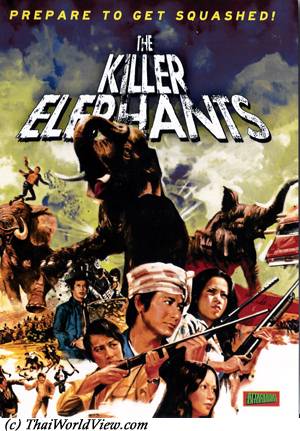 Year

: 1976



Thai title

:

ไผ่กำเพลิง




English title

: Killer Elephants



Rating

: 5/5


Director

: Kom Akadej



Main actor

: Sombat Methanee,Yodchai Meksuwan,Kanchit Kwanpracha,Pipop Pupinyo,Dam Datsakorn,Sayan Chantaraviboon,Kom Akadej


Main actress

: Aranya Namwong,Naiyana Shewanan,Mayurachath Muarnprasitivej
Ruffians are chased by police officer Ching Ming (Yodchai Meksuwan) but he failed to catch them. He meets his old friend Kau Fei (Sombat Methanee). Ruffians are hiding in a Surin timber yard. A big fight happens as Ching Ming wishes to jail them. Hopefully Kau Fei helps Ching Ming but there is no way to know where is the big boss behind. Local police is trying to catch Kau Fei but elephants prevent police to follow up Kau Fei. He has been accused of murder but he was framed. The head of ruffians (Kanchit Kwanpracha) framed him as Kau Fei refuses to sell his farm land to him. Ruffians burn the houses on the farm land. Ching Ming and Kau Fei help people stuck in their home. Ching Ming likes a lot a local lady Shao Feng (Naiyana Shewanan). Kau Fei decides to take revenge by entering in the boss home. He is not here so he captures madame Shu (Aranya Namwong). Ruffians try to rescue her by entering the farm through the forest but they are welcomed by guns and elephants. Kau Fei still loves Shu despite she was forced to go with the boss. Ching Ming tries to arrest Kau Fei but to no avail. Kau Fei comes to town to make trouble inside the boss' favorite nightclub. Shu is now pregnant with Kau Fei. As Shu is about to deliver, Ching Ming helps to bring her to hospital. The boss aware of this wants to use her and the baby as a bait. Taking profit of Surin elephant carnival (เทศกาลของเมืองสุรินทร์), Kau Fei sends a few elephants and villagers to pick up Shu. Kau Fei does a rampage in the boss' house and even injures him but Mau Tien, another ruffian, finishes him. Mau Tien (Dam Datsakorn) becomes the boss and decides to kidnap Shu and two nurses to attract Kau Fei to the plains. Kau Fei and the villagers rescue Shu and the two nurses. Then a crazy rampage of the elephants on the ruffians' camp happens. They are pushing huts and cars with real people inside. Big explosions and houses in fire happen. Even Ching Ming intervenes and helps Shao Feng. He finally lets Kau Fei go to Cambodia. The Thai movie "Killer Elephants" - ไผ่กำเพลิง was released in Thailand in 1976. Main actors are Sombat Methanee and Aranya Namwong. The movie director was Kom Akadej, who got the "international name of Som Kit in the credits, which is a version of his middle name, Somkit. All the other actors got Chinese style names, probably to cash in on the Hong Kong market and the rest of the worlds wish for more Kung Fu movies. The Killer Elephants cannot be found anymore in Thailand except at the Thai Film Archive, the original Thai version. Joseph Lai and his IFD Arts and Entertainment prepared this international version, which is the most common version outside Thailand. This DVD was released by Swedish company Attackafant Entertainment directed by Fred Anderson, a well known lover of Thai cinema. This DVD is the first official ไผ่กำเพลิง DVD release ever. The "Killer Elephants" movie rights in Thailand belongs to Coliseum film (บริษัท โคลีเซี่ยมฟีล์ม), company from Kom Akadej. Up to now no VCD / DVD was released in Thailand with correct rights according to Thai law. Only a video tape was released long time ago. Coliseum film company would sell the rights for all Kom Akadej's movies and not only for 'Killers Elephants' movie. Thai Company XxX (Triple X) was only interested in 'Killer Elephants' movie so up to this day Thai people are still waiting for a Thai version of ไผ่กำเพล to be released again. The movie also includes also famous supporting actors such as Yodchai Meksuwan, Naiyana Shewanan, Mayurachath Muarnprasitivej, Kanchit Kwanpracha, Pipop Pupinyo, Dam Datsakorn, Sayan Chantaraviboon. The finest batch of Thai actors during 1970's! Only Sorapong Chatree and Krung Srivilai are missing. Pipop Pupinyo, Kanchit Kwanpracha and Dam Datsakorn were the regular bad guys in Thai cinema and so of course even in The Killer Elephants! The same story was also released as Thai TV lakorn in 2004.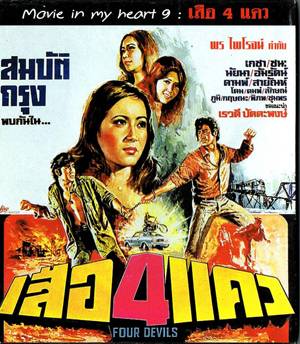 Year

: 1976



Thai title

:

เสือ 4 แคว




English title

: Four Devils



Rating

: 4/5


Director

:



Main actor

: Sombat Methanee,Krung Srivilai,Choomporn Theppitak,Kecha Plianvithee,Pipop Pupinyo,Dam Datsakorn,Chana Sriubon,Kom Akadej,Lak Apichat,Sayan Chantaraviboon,Pan Borapet,Paen Pleumsachai,Pumi Patanayut


Main actress

: Naiyana Shewanan,Rewadee Pattaphong



Buy now

:

Thai movie เสือ 4 แคว was released in year 1976. It lasts 2h20mn. Pleung (Krung Srivilai) and Chat (Sombat Methanee) are always fighting in a prison. The head of prison decide to transfer them to another prison. To avoid any issues during the transfer, they are hogtied together. During transfer, Pleung's teammates attack the police armed escort. Pleung and Chat flee together. Choomporn Theppitak is playing a policeman. They do realize that they have a common enemy called พ่อเลี้ยง Do Tawan (Kecha Plianvithee). Do Tawan is aware that Pleung is now free. Choi (อัมรัตน์ ขัตติยา) is Do Tawan's girlfriend. Four devils [เสือ4แคว] (Pipop Pupinyo – Seua Wang, Dam Datsakorn - Seua Nan, Seua Ping - Chana Sriubon, Seua Yom – โดม สิงห์โมฬี) are called by Do Tawan to kill Pleung. 1M Baht reward is promised for the one who succeeds to kill Pleung. น้อง Kaew (Rewadee Pattaphong), a teacher, is Do Tawan's younger sister. She knows the secret behind her brother. Do Tawan (โจรใจบาป) is selling drugs. Pleung, a former teammate, asked him to stop but ended up in jail because of Do Tawan. Pleung's younger sister Wallin (Naiyana Shewanan) is still kept captive by Do Tawan (ตัวประกัน). A bomb is hidden in her bungalow. Kaew prevents her brother from abusing Wallin. ภูมิ พัฒนายุทธ, Kan (Kom Akadej), Wai (Lak Apichat), Suki (Sayan Chantaraviboon) meet Chat in the restaurant (เอาเต็มที่). He claims to be เสือ4แคว. They sympathize with Chat, who sends them to help Pleung against the 4 devils. Meanwhile, Chat plans to enter Do Tawan group in order to spy them and release Wallin. Pleung, being attacked by Seua, decides to fight back and attack them directly also causing Dam to flee. Do Tawan hires Chat. Seua Ping's team includes veteran actors Pan Borapet, กฤษณะ อำนวยพร and Paen Pleumsachai. Chat pushes the teams against each other. Chat succeeds to exchange Wallin with Kaew simulating a kidnapping. Meanwhile Choi helps to provide information on Do Tawan's business. Chat is identified as the traitor. Chat shall be smashed by a train but Pleung helps him on time. Knowing that Chat is not dead, Do Tawan moves his stock of drugs in a safer place. Pleung identifies the place and decides to attack it. Chat, being finally a policeman, also comes with reinforcement. All ruffians are killed by the Thai A-team. Unable to flee, Do Tawan prefers to explode the warehouse to avoid surrendering. Pleung has to go back to jail but Chat promises that his efforts to catch Do Tawan will be taken into account to reduce the severity. This movie features a huge number of famous Thai actors and actresses.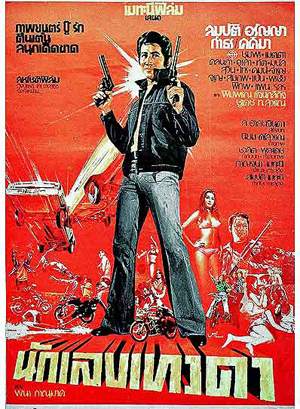 Year

: 1975



Thai title

:

นักเลงเทวดา




English title

:



Rating

: 3/5


Director

: Sombat Methanee



Main actor

: Sombat Methanee,Tat Ekathat,Sawin Sawangrat,Kom Akadej,Kamthorn Suwanpiyasiri,Choomporn Theppitak,Pipop Pupinyo,Krai Kanchit,Sukon Koewliam


Main actress

: Aranya Namwong,Naiyana Shewanan,Orasa Isarangkul,Metta Roongrat,Sasima Singsiri,Donnapha Sophee,Manat Boonkiet



Buy now

:

Thai movie นักเลงเทวดา was released in year 1975. The VCD lasts 1h32mn. Metta Roongrat as market merchant (แม่ค้า) is harassed by ruffians. A car is driven by a mysterious hitman, who kills most of the ruffians of Kamnan Wattana. Wattana (Tat Ekathat) is upset. Kamnan Wattana's daughter, called Wantanee, is played by Naiyana Shewanan. Orasa Isarangkul is also a market merchant (แม่ค้า). Nobody saw his face but he was wearing a red clothing. Thewada (Sombat Methanee) is wearing a red shirt so he is identified as the hitman. Thewada wishes to revenge his friend Somsak killed by ruffians (เทวดามาคิดบัญชี). Thewada enquiries on various ladies to uncover the mysterious hitman. Somsak's wife (ผู้หญิงใจร้าย)(Sasima Singsiri) is involved in the murder with the help of Sawin Sawangrat. Thewada helps Wantanee (ลูกสาวกำนัน). Thewada is not the mysterious killer in red shirt but is willing to find who is behind. Similar to a Thai James Bond with gadgets and kissing all girls (หลงเสน่ห์). Kamnan Wattana agrees to take him as new staff before being son in law (ลูกเขย)! Thewada gets support from Dam (Kom Akadej). A car 'chase happens between Thewada and Kan (Kamthorn Suwanpiyasiri). A sister (Aranya 'Namwong) and her brother (Choomporn Theppitak) are looking for the man, who killed their father นาย Vitun. They believe Thewada is the killer but he succeeds to escape their house just to be captured by Kan (องค์การ). Pipop Pupinyo is part of Kan's team. A third group is with Sawin and Somsak's wife. Kan storms Kamnan Wattana's house and kidnaps his daughter. Metta and Osara are also kidnapped. Thewada and Dam then storm Kan's house to release the ladies. Krai Kanchit is part of Kan's team. Fighting and shooting happen until all ruffians are neutralized or killed. The movie ends up with Thewada leaving with both ladies Aranya and Naiyana.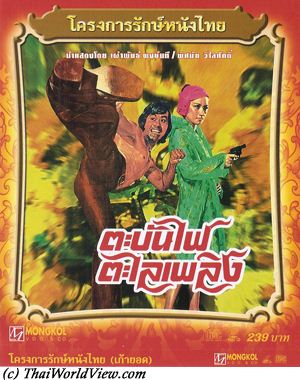 Year

: 1975



Thai title

:

ตะบันไฟตะไลเพลิ




English title

: Tabun Fai Talai Plerng



Rating

: 3/5


Director

:



Main actor

: Phaophan Phongnathee,Kom Akadej,Boo Wibunnan,Krai Kanchit


Main actress

: Pissamai Wilaisak,Metta Roongrat
A Chinese businessman (ผู้จัดการ) (Boo Wibunnan) needs to give protection fee to the mafia. Ratee (Pissamai Wilaisak) is secretary (เลขา) of doctor Kiet, owner of the club. She is also helping on finance management. Ratee has skillset in karate so she can give a tough lesson to ruffians believing she is a partner. Police has some undercover agents near the club to spy the mafia. A mafia member prefers to eat poison than being caught by the police. It looks like an organisation bigger than a standard local Thai mafia is involved. Doctor Kiet is killed by a bomb in his car. A motorbike driven by citizen Yang follows the ruffians but is finally overwhelmed by other motorbikers sent by ruffians. He succeeds to flee and take refuge in a home where lives a beautiful and not shy lady. She is part of the mafia group but is fond of Yang so she doesn't drug him. She dies while protecting him. Yang, chased by police and ruffians (ผู้ร้าย) decides to take a break at his blind mum's house. Per his promise to his mum, Yang refuses to be involved (ไม่รวมมือ) anymore. Yan is finally kidnapped, beaten and left for dead by the ruffians. Ratee, passing by with her car, helps him. Yang is in reality an undercover agent and is now wishing to take his revenge against the ruffians. Yan is surnamed Tabai Fai (ตะบันไฟ). The ruffians are leading an international ring involved in fake money and drug trafficking. Police Chief officer (played by veteran actor and famous action director Kom Akadej) asks Yan to join the ruffians (วงการ) in order to neutralize them from inside and so to help Thailand, his country. Yan gains the ruffians' confidence as they all escape from jail. Thanks to an hidden microphone, a bank robbery is foiled. But the organisation is now aware that there is a traitor among its members. The boss girlfriend (Metta Roongrat) is also suspected. Yan puts a hidden micro in another ruffian pocket so that he cannot be accused. Finally the organisation discovers Ratee and Yan are working on same side against them. Ratee is taken as hostage. The ruffians also kill Yan's mother as retrieval. Yan and the policemen storm their secret base and traitors to Thailand are all punished. The movie ตะบันไฟตะไลเพลิง was released in year 1975. It has a damaged but still colorful picture. it is a typical cold war movie from 1960s / 1970s reminding James Bond style movies. The main actor is Phaophan Phongnathee and is quite unknown as he played only in a few movies during 1970s decade. Fights with Yan reminds Tony Ja's Muay Thai style fighting 30 years before while using slow pace filming on key movements.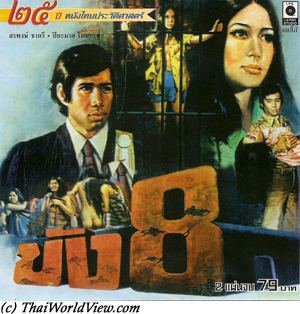 Year

: 1974



Thai title

:

ขัง 8




English title

:



Rating

: 3/5


Director

:



Main actor

: Sorapong Chatree,Krung Srivilai,Kom Akadej


Main actress

: Piyamas Monayakol,Ratanaporn Intarakamhaeng,Marasri Bangchang
Thai movie ขัง 8 was released in year 1974 and is showing realistic life in prison. Thai movie ขัง 8 was released in year 1974 and is showing realistic life in prison. Dao (Piyamas Monayakol) finds her fiance in bed with another woman (แฟนใหม่). As he is going to break the engagement with her, Dao shoots him. Policeman (Kom Akadej) arrests Dao. Her mother (Ratanaporn Intarakamhaeng) keeps crying. Dao is condemned to prison (ติดคุก) and discovers the harsh life there. Elder prisoner is played by Marasri Bangchang. Prassadee (Krung Srivilai) is the prison supervisor. Oratai has arguments with Dao as she wished Dao to be her husband (เป็นสามี). As they fight, both of them are condemned to isolation quarters. Oratai finally recognizes her mistake under the pressure of Prassadee. Dao faces adversity in prison with its internal harsh rules (ระเบียบ) and lack of freedom. Her lawyer Songkram (Sorapong Chatree) visits her and he succeeds to get her released for a retrial. Dao is reunited with her family again. Outside of prison, she realises who is or is not her real friend. She needs to convince a friend to be her witness (พยาน) for the retrial. Songkram promises to help. The father dies. Songkram confesses that he is helping Dao as he has gratitude towards her father. The father refused a debt reimbursement but asked him to promise to marry Dao. Per gratitude over the father (บุญคุณ), Songkram asks for Dao's hand. As tomorrow will be the trial decision, Dao asks him to wait. The tribunal condemns Dao to full life imprisonment. She has to do at least 8 years to hope for any pre-release (สั่งกรรมก็รับกรรม). Songkram promises to wait. Songkram continues to visit Dao regularly but is also now Tuk's boyfriend. Dao learns about his wedding and is of course disappointed. Her surname is นางฟ้าขัง8. When she exits from prison after five years for good behavior, she finds Songkram and her younger sister Tuk have a child. Anyway she is not resentful. It was the first movie of Piyamas Monayakol. A remake was done in year 2002.



Year

: 1971



Thai title

:

มันมากับความมืด




English title

: Out of the Darkness



Rating

: 3/5


Director

: ChatriChalerm Yukol



Main actor

: Sorapong Chatree,Kom Akadej,Rujira Isarangkul,Dam Datsakorn,Surasit Sattayawong,Tawan Siriwat


Main actress

: Naiyana Shewanan,Chosri Misommon,Marasri Isarangkul
A mysterious object fall in the sea. Two scientifists from Bangkok come to the South of Thailand looking for the mysterious object. The local villagers worship what they believe to be a god. But a mysterious creature start to kill villagers at night time. The scientifists have to help the villagers to get rid of this mysterious objet. It was the first Thai science-fiction movie but it was not successful at the box office. In his first film, ChatriChalerm Yukol used new actors, whereas other filmmakers used established superstars.
---