Increase or decrease font size for easier reading : A+ A-
Kokheng
Kokheng (1923-2015) - ก๊กเฮง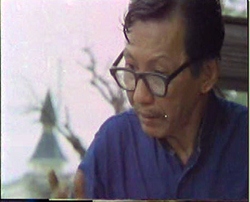 Kokheng was a comic comedian. He often played a role of Chinese businessman with a small moustache. He worked with Lor Tok's troupe and also Dokdin Kanyaman's troupe. He played in movies from 1959 to 1982
This Kokheng movie page contains 16 records.
---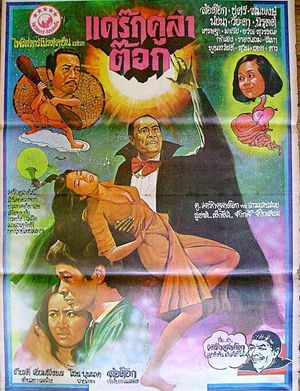 Year

: 1979



Thai title

:

แดร็กคูล่าต๊อก




English title

:



Rating

: 3/5


Director

: Lor Tok



Main actor

: Nirut Sirijanya,Sawin Sawangrat,Settha Sirachaya,Lor Tok,Sithao Petcharoen,Sompong Phonmitr,Kokheng


Main actress

: Naiyana Shewanan,Wiyada Umarin
Klom (Nirut Sirijanya) and Sae (Naiyana Shewanan) love each other. They wish to die together as their love story is impossible as Klom is poor and Sae's father wants her to marry kamnan Oi's son. Oi (Sawin Sawangrat) is an influential local ruffian. The son CheunKlan is played by veteran actor Settha Sirachaya. Some local ghosts (ผีกระสือ and ผีกระหัง) wish to help them as there are already enough spirits in the graveyard (ป่าช้า)! The male spirit helps Klom to give a lesson to CheunKlan and his sbires (มือปืน). The spirits have invited Dracula (ผีฝรั่ง) for a meeting in Thailand to discuss about issues they are facing (overpopulation in cemetery, people doing less donations to spirits...). The two fathers want CheunKlan and Sae (ลูกไม่รักดี) to get engaged. Dracula (Lor Tok) wants to discover Thailand (spicy food and disco). Dracula meets Oum (Wiyada Umarin), a young lady just dropped by her boyfriend. Sae simulates to be possessed (ผีเข้า) but both fathers hire a spirit doctor (หมอผี) to chase the spirit. Sae finally passed away (สิ้นใจ). To help Klom, the two ghosts prepare a plan, one is going to see the hell guardian (Sithao Petcharoen) to ask for clemency and one is possessing the body to prevent decay (เน่าเปื่อย). Klom visits hell to find Sae. He sees some people tortured as they did behave badly in their previous life (member of Parliament having lied and having made false promises...). Corruption is present in hell also! Finally Klong finds Sae in the heaven and get authorization to bring her spirit (วิญญาณ) back to earth. Meanwhile Dracula falls in love with Oum but later on kidnaps also Sae who is back from heaven. This comedy movie starts with a funny idea, sarcastic comments on Thai society but ends up crazily (บ้าบอ) with the real movie director complaining on Lor Tok acting as Dracula. Finally all flee in front of a real ghost. Veteran actor Sithao Petcharoen got a Thai cinema award for his comic role as hell guardian. A second part called หักเหลี่ยมแดร๊กคูล่า was released 7 years later in 1986.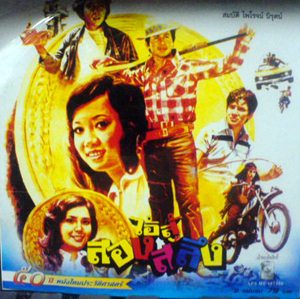 Year

: 1978



Thai title

:

ไอ้สู้สองสลึง




English title

:



Rating

: 1/5


Director

:



Main actor

: Sombat Methanee,Nirut Sirijanya,Phairoj Jaising,Kokheng,Boo Wibunnan


Main actress

: Duangcheewan Komolsen,Prissana Chabaprai
Thai movie ไอ้สู้สองสลึง was released in year 1978. It is available on a VCD lasting 1h58. Kwan (Nirut Sirijanya) and Yot (Phairoj Jaising) help two ladies harassed by six ruffians in a village. They both flee the village for Bangkok due to different reasons (one due to a unwanted wedding and the other as a bored rich guy - เศรษฐีผู้เดินดิน). They only do crazy things such as stealing chicken donated to Buddha, burning a car engine...They end up in a city in a very bad hotel but are expelled as a fire starts due to a BBQ in the room. They eat in an expensive restaurant but do not have money to pay the bill. Kokheng is playing a funny waiter. Butr (Duangcheewan Komolsen) is dreaming that Kwan would be her prince. They have to work for the restaurant to pay back. Tamanoon (Sombat Methanee) only arrives at 1h02mn despite being the main actor in the movie credits. Tamanoon's father wishes to marry him with one of the three daughters of Boo Wibunnan, the restaurant owner. Tamanoon wish to marry the three girls but finally choose one, i.e. Ratchanida (Prissana Chabaprai). Ratchanida is not happy by this. They plan to play tricks on Tamanoon with Kwan and Yot's help by using drinks causing flatulences. But Boo is the one to drink it! Some ruffians kidnap the three daughters and ask for one million baht ransom. Finally thanks to Yot and Tamanoon, the ladies are released. Grateful, weddings are arranged by Boo. This movie is mixing comedy, romance and some action.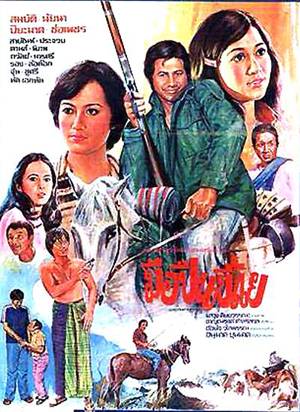 Year

: 1976



Thai title

:

มือปืนขี้แย




English title

:



Rating

: 3/5


Director

:



Main actor

: Sombat Methanee,Dam Datsakorn,Prachuap Ruekyamdee,Pipop Pupinyo,Rong Kaomulkadee,Tawan Siriwat,Sayan Chantaraviboon,Tat Ekathat,Lor Tok,Kokheng


Main actress

: Piyamas Monayakol,Chosri Misommon,Marasri Isarangkul,Naiyana Shewanan
Thai movie มือปืนขี้แย was released in year 1976. This action and comedy movie is lost in Thailand but the first reel lasting 26mn and a 3mn trailer are still available to be seen. Fightings happen with Dam Datsakorn and Pipop Pupinyo as they discover that Sombat Methanee is travelling hidden in their truck. Sombat is accompanied by a tall actor reminding Richard Kiel playing in James Bond movie Moonraker. Comic actor Rong Kaomulkadee is the driver. Sombat Methanee is looking for Kamnan Tawan Siriwat in order to find his mother (Marasri Isarangkul). He finds her but he wishes to identify now who killed his father. Sayan Chantaraviboon wishes to impress young lady KamPoo (Piyamas Monayakol). But he gets bullied by Chosri Misommon and Tat Ekathat. Policeman Raem Prachuap Ruekyamdee meets a friend's daughter, who is now a teacher (ช่อเพชร). Lor Tok is Thai boxing trainer (อาจารย์). Sayan wishes to learn from him as he is not able to fight against anybody. Dao (Naiyana Shewanan) meets Sombat but clash happens between them. Other comic actors are Kokheng and Joomjim Khemlek as policeman.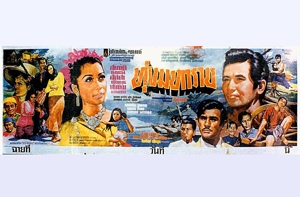 Year

: 1970



Thai title

:

ทุ่งมหาราช




English title

:



Rating

: 3/5


Director

: Sor Asanajinda



Main actor

: Sombat Methanee,Taksin Jampol,Choomporn Theppitak,Sithao Petcharoen,Kokheng,Tat Ekathat


Main actress

: Suthisa Putnuch,Malalin Bonnak
Thai movie ทุ่งมหาราช was released in year 1970. The movie is lost in Thailand. Only one reel is left. The left sequence lasts 19 minutes and the image is quite damaged. The remaining sequence is in mute state as the reel is in 16mm format. Movie director is Sor Asanajinda. Main actors and main actresses include Sombat Methanee, Suthisa Putnuch, Taksin Jampol, Malalin Bonnak, Choomporn Theppitak, Sithao Petcharoen. A lady (Malalin Bonnak) is taking a boat. Sombat and Sithao are seen on a boat. Sombat is holding a gun and shootings happen. Scene with Choomporn, Sithao, Sombat and Suthisa holding a baby. They are having lunch along the river. Another scene is Sombat wakes up stranded on the shore near a young lady. The lady is on the shore is dead. The lady is Sombat's lover. Chief (Tat Ekathat) is having discussion with Sombat. Sombat is discussing with an old lady in the village. Malalin Bonnak is spying them. Sombat is talking to Taksin Jampol. Soup seller is veteran comic actor Kokheng. Suthisa finds Sombat having an affair with Malalin Bonnak. Sombat is seen walking with Suthisa wearing a beautiful dress. She is probably his wife.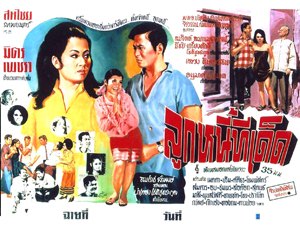 Year

: 1970



Thai title

:

ลูกหนี้ทีเด็ด




English title

:



Rating

: 3/5


Director

:



Main actor

: Mitr Chaibancha,Daonoi Duangjai,Kokheng,Op Boonthit,Somkuan Krajangsat,Sukon Koewliam,Lor Tok,Choomporn Theppitak


Main actress

: Petchara Chaowarat,Metta Roongrat,Prim Praphaporn,Khomapat Attaya,Sasithorn Phetrung,Malee Wetpraseri
Thai movie ลูกหนี้ทีเด็ด was released in year 1970. A partial sequence of 1h45mn in 16mm format is left. It is in mute state and the image is pretty damaged. After removing the damaged sequences, only 1h05mn remains to be seen. Another sequence of three songs in 35mm format lasts 9 minutes. The movie was dubbed and shown in Thai Film Archives in the shorter version of 1h05mn. The movie features 4 songs but only 3 songs are left. The poster selling point is that up to 40 different actors and actresses are present in this movie. Some of the actors are Metta Roongrat, Daonoi Duangjai, Mitr Chaibancha, Prim Praphaporn, Petchara Chaowarat, Kokheng, Op Boonthit, Somkuan Krajangsat, Sukon Koewliam, Lor Tok, Khomapat Attaya, Sasithorn Phetrung, Choomporn Theppitak, Malee Wetpraseri. Lit (Mitr Chaibancha) helps Somkuan Krajangsat and Lor Tok aggressed by ruffians. Somkuan is looking for the house of Op Boonthit so Lit helps him to find it. Wan (Metta Roongrat) is Op's granddaughter. Three friends (Lit and two comic actors) are living together. แม่ค่า Ling (Sasithorn Phetrung) tries to seduce Lit by being friendly with his friends and giving them free food. Ling's mother (Malee Wetpraseri) doesn't want her daughter to meet those poor 3 guys. Sophee, Lit's girlfriend, leaves him as he is poor. Pim (Prim Praphaporn) and Taeng (Petchara Chaowarat) take refuge in their home as rain is falling hard. Pim and Taeng are looking for lost relatives so Lit promises to help them. Policeman Sukon Koewliam and Kokheng are visiting Lit as he needs to pay back some debts. Sukhon threatens to send him to jail. Taeng helps Lit by offering her pearl necklace in order to soothe the usurer. Op Boonthit and Somkuan Krajangsat (พ่ออ้วน) complain Wan likes to go out often. Wan and Noi (Daonoi Duangjai) meet Lit and his two friends to discuss business. Lit visits Op and Somkuan's house. Lit borrows some money as he is opening a business. Wan gives money to Lit and his friends for them to be quiet. Two songs are then featured in the nightclub area. Lit is forbidding his former girlfriend Sophee to dance with Choomporn Theppitak in a nightclub. Chom (Khomapat Attaya) is also present. Lit finally punches Choomporn. Another love song is sung by Khomapat Attaya. Ling declares her love to Lit but Lit only considers her as a younger sister (น้องสาว). Op asks Lit to find his lost daughter. Lit needs to get back the pearl necklace also as Op mentions his lost daughter had such necklace. So he needs to verify if Taeng is the lost daughter or not. Chom is helping by giving money to Lit. Lit buys the necklace back from the Chinese usurier Kokheng. Finally Taeng is reunited with her family thanks to Lit. Later on, Taeng visits Lit in his house. Taeng is then singing with Lit in his house. Thanks to a sign on his chest, Lit is also identified as the lost son of Somkuan. The movie can end up happily. A movie with same name was released in year 1984 but the story is different.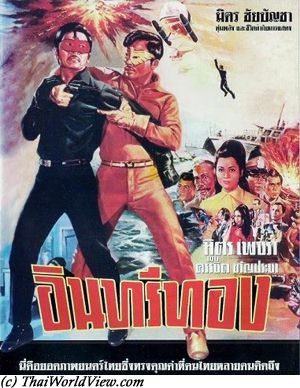 Year

: 1970



Thai title

:

อินทรีทอง




English title

: Golden Eagle



Rating

: 2/5


Director

: Mitr Chaibancha



Main actor

: Mitr Chaibancha,Kanchit Kwanpracha,Prachuap Ruekyamdee,Adul Dulyarat,Choomporn Theppitak,Krai Kanchit,Kokheng


Main actress

: Petchara Chaowarat,Khomapat Attaya,Yaowaret Nisakorn



Buy now

:

The masked vigilante crimefighter, called Red Eagle is back with Mitr Chaibancha playing the leading role. In this movie several influential people are mysteriously killed when they receive a red ceramic Buddha statue. They died of sudden fear. Somebody is also using Red Eagle identity to commit murders so the hero changes his mask to gold and becomes Golden Eagle. The mysterious organisation wishes to take over Thai government. Golden Eagle is investigating against this mysterious organisation in parallel of the Thai police. Trained in psychic powers by Rasputin, the head of the mysterious organisation kills by beaming his thoughts and visage through red ceramic Buddha statues. He can split himself into three images and can hypnotize remotely. He even put his heart out of his body into a vessel for protection. It is the first movie directed by Mitr Chaibancha. It is also the last movie in which Mitr Chaibancha played. Mitr died after falling from a rope ladder that was dangling from a helicopter. He was only 36 years old. Many Thai theaters paid respect to Mitr Chaibancha before showing "Golden Eagle" movie by placing a Pepsi bottle in front of a picture of the Thai actor. It was said that Mitr Chaibancha liked Pepsi. 40 copies were done for "Golden Eagle" movie as it was the last movie of Mitr Chaibancha. Normally only a few copies were done per movie.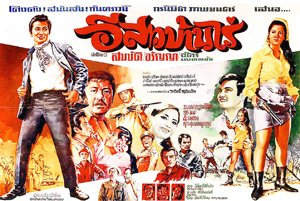 Year

: 1970



Thai title

:

อีสาวบ้านไร่




English title

:



Rating

: 3/5


Director

:



Main actor

: Sombat Methanee,Chat Mongkolchai,Anucha Ratanaman,Choomporn Theppitak,Adinan Singhiran,Chanee Yotchai,Sithao Petcharoen,Kokheng,Sukon Koewliam


Main actress

: Aranya Namwong,Prim Praphaporn,Khomapat Attaya,Marasri Isarangkul
Thai movie อีสาวบ้านไร่ was released in year 1970. It features Sombat Methanee as main actor and Aranya Namwong as main actress. The movie is lost in Thailand but a sequence of 15 minutes remains to be seen. It is a 16mm format movie so no sound is available as it requires live dubbing. A remake was released in year 1983 featuring Sorapong Chatree and Piyamas Monayakol. This movie is also lost except a trailer. Other actors and actresses include Chat Mongkolchai, Anucha Ratanaman, Prim Praphaporn, Choomporn Theppitak, Khomapat Attaya, Adinan Singhiran, โดม สิงห์โมฬี, Chanee Yotchai, Marasri Isarangkul, สาวิตรี สุวรรณจิต, เทิด, Sithao Petcharoen, Kokheng, เสนอ โกมารชุน, Sukon Koewliam. The summary is as below. Aranya is Sarinee. Her nickname is Isao (อีสาว). Sombat is Jainum. Sarinee is the land owner's daughter. Her father gets killed by the neighbour Virawilai (วรวิไล) as he refuses to sell his land. She replaces her father but her staff continues to get annoyed by the ruffians. Jainum gets hired and becomes part of the staff of Sarinee. He gives a tough lesson to the ruffians and is now responsible of the cows in the ranch. Jainum investigates on Sarinee's father death. He finds that those responsible of the murder want to build a runway for planes to bring weapons illegally inside Thailand. Love emerges between Jainum and Sarinee. Owner of ranch Virawilai tries to kidnap Sarinee to force her to transfer her land. While trying to help, Jainum is also captured but hopefully Thai police is coming behind. Ruffians flee in the mountain but Jainum follows them up in order to release Sarinee. The remaining left sequence is certainly happening in the middle of the film. Various scenes can be seen. Choomporn Theppitak is talking on a bed to a lady. Choomporn is a singer in a high end club. Sithao Petcharoen, Sukon Koewliam and two other men try to enter at nighttime in a women's dormitory. They are discovered, beaten and chased away by Prim Praphaporn. Aranya Namwong is meeting Adinan Singhiran in the countryside. He is giving her a letter. She is missing Sombat Methanee. Sombat is with Sukon Koewliam. Two ruffians including Chanee Yotchai kills a man (probably Sarinee's father) in cold blood. A four minutes trailer is also available. Additional scenes can be seen such as Chanee Yotchai trying to recover Sombat Methanee with rocks thanks to a bulldozer, various fightings involving Sombat Methanee or Aranya Namwong, Anucha Ratanaman kidnapping Aranya Namwong, Sombat Methanee fighting with Anucha Ratanaman in order to release Aranya...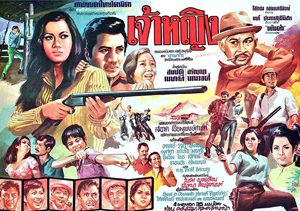 Year

: 1969



Thai title

:

เจ้าหญิง




English title

:



Rating

: 3/5


Director

: Phan Kam,Tae Prakardwutthisan



Main actor

: Sombat Methanee,Sahat Piempongsan,Adul Dulyarat,Choomporn Theppitak,Sukon Koewliam,Joomjim Khemlek,Ruj Ronnapop,Kokheng


Main actress

: Aranya Namwong,Metta Roongrat,Kaenjai Meenakanit
Thai movie เจ้าหญิง was released in year 1969. The whole film is still complete, around 2h30mn, but it was never released in any video format such as VHS, VCD or DVD. The movie is stored at the Thai Film Archives and can be seen there. It is a 16mm movie so no sound is available as such movies were dubbed. This movie is a Thai western and a lot of action, i.e. shootings and boxing fightings, is happening. A short summary is also still available. Busaba is played by actress Aranya Namwong. Busaba's father, played by Adul Dulyarat, has arguments with Luang Soradet (Sahat Piempongsan). Her father dies so Busaba has to be responsible of the paternal ranch. Luang Soradet wishes to extend his own ranch but Busaba refuses to sell. Heun (Sombat Methanee) gets a job in Busaba's ranch but gets trouble with Luang Soradet's ruffians. Kaenjai Meenakanit is on Luang Soradet's side and tries to convince Heun to stay aside. Heun, bathing in waterfalls, helps Kaenchai, whose ankle is twisted. She asks for a massage as a way to entice Heun, who finally throws her in the pond! Heun does protect Busaba as she gets issues with ruffians (house burnt, kidnapping). Heun and his friends push back ruffians attacking a village. Kaenchai shots one ruffian leaders but gets shot also. Heun releases Busaba, who has been captured by ruffians. All friends are arrested by the police. As usual, it is disclosed at the end of the movie that Heun is in fact undercover policeman officer when all ruffians has been neutralized. Busaba is upset but finally forgives Heun. The movie producer was famous director Tae Prakardwutthisan. The movie was given by Tae Prakardwutthisan to Thai Film Archives but it was never released commercially. The movie features 4 songs recorded in 35mm format. Comics are strongly present with veteran actors Sompong Phonmitr, Kokheng, Sukon Koewliam and Joomjim Khemlek.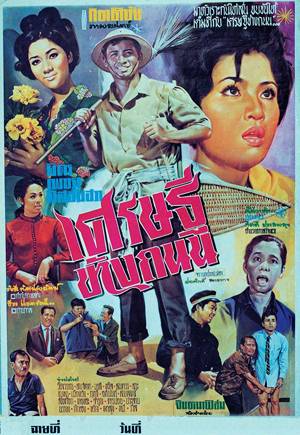 Year

: 1969



Thai title

:

เศรษฐีข้างถนน




English title

:



Rating

: 3/5


Director

:



Main actor

: Mitr Chaibancha,Sompong Phonmitr,Sukon Koewliam,Somkuan Krajangsat,Lor Tok,Daonoi Duangjai,Kokheng,Adinan Singhiran,Choomporn Theppitak


Main actress

: Petchara Chaowarat,Malee Wetpraseri,Wilaiwan Watthanaphanit,Somjit Sapsamruey
Thai movie เศรษฐีข้างถนน was released in year 1969. This movie features Mitr Chaibancha as main actor and Petchara Chaowarat as main actress. The movie is lost in Thailand but a sequence of one hour is left to be seen but very damaged as the movie was soaked with water so only 10 minutes are really watchable. Nothing can be clearly seen or understood but some faces can be recognized during a 46 seconds online sequence such as grandma Malee Wetpraseri, Mitr Chaibancha, Sukon Koewliam, somebody sweeping the floor. All famous comic actors from decade 1960s are playing in this movie. It looks like there was also a Japanese actress called Miss อันฮวา.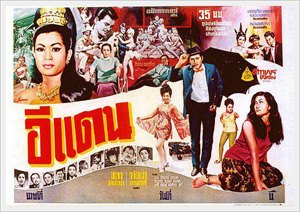 Year

: 1968



Thai title

:

อีแตน




English title

: E-tan



Rating

: 5/5


Director

:



Main actor

: Mitr Chaibancha,Sawin Sawangrat,Sukon Koewliam,Man Teeraphol,Thuam Thoranong,Lor Tok,Kokheng,Sompol Kongsuwan


Main actress

: Aranya Namwong,Chadaporn Wachirapranee,Yaowaret Nisakorn,Wilaiwan Watthanaphanit,Malee Wetpraseri,Chosri Misommon
Thai movie อีแตน was released in year 1968. The movie lasts 3 hours. This movie has a very colorful image and a DVD was released by Thai film Archives in year 2014. Five songs are featured. Kalong (Wilaiwan Watthanaphanit) is married to a chief district officer. Her father is Sawin Sawangrat. She is pregnant. While chasing traffickers, the chief district officer is injured and finally dies. Before dying, he asks his mum to send Kalong to Bangkok in order to have his child raised by his father. The baby has a scar around the ear. The father has a new wife (กันฑรีย์ นาคประภา), who is upset about losing heritage, and she prepares a plan with her lover Nipon (Man Teeraphol) to get rid of Kalong and her child. Mien (Malee Wetpraseri) hears their plan, takes the baby and flees. Shocked, Kalong has a brain attack. Tam, Mien's husband, names the baby E- tan. E-tan (Aranya Namwong) is now a grown beautiful young lady. E-tan meets Rungroj (Mitr Chaibancha) being a lawyer responsible to expel people from a slum to build a new building. E-tan, Tam (Sompol Kongsuwan) and Mien have to leave. Mien goes back to her hometown to work and to send money. Being sick, she is cheated and no money reaches E-tan and Tam. So E-tan decides to quit school in order to work. She tries to find a job as domestic helper in a rich house. But she gets issues with the owner accusing her to have stolen her necklace. She is a fighting with the daughter called Supatra. E-tan meets Phaka (Chadaporn Wachirapranee). She is a mamasan but E-tan is not aware. Tam is the old boyfriend of the mamasan Phaka so he sells E-tan for 5000 baht. Thuam Thoranong, as a customer, is severely beaten with E-Tan. Mien is back and threatens to kill Tam if E-tan is not back within seven days. As the grandfather is getting old and sick but refusing to transfer his heritage to his younger new wife, Nipon has the idea to find a 19 years old girl to pretend being the lost granddaughter. He hires E-tan from Pakha without knowing that E-tan is the real granddaughter! She is recognised by the grandfather thanks to the scar. Rungroj is engaged with Supatra (Yaowaret Nisakorn) but he doesn't love her. He thinks about the young lady beggar but doesn't realise that she is the same lady as the new granddaughter. Supatra is jealous as Rungroj spends a lot of time with E-tan as the grandfather asks him to be a teacher for her. Aware that Nipon and the mother plan to kill them once heritage has been transferred to her, E-Tan prepares a plan with her friends from the slum. A social event is organized to present E-Tan to Thai society as the official lost daughter. Nipon prepares poison for the grandfather. Mien is wishing to announce the bad plans of the new wife and Nipon but she is is killed before by Nipon. Upset by Mien's death, E-Tan shots him with a gun without knowing that he is already dead having drunk the poison by mistake. E-Tan is accused of murder by the new wife and is sent to jail. Rungroj is the lawyer for E-tan. Tam, recognizing that E-Tan has always been good with him, relates the real story to the judge and E-Tan is spared from prison. She then can marry with Rungroj.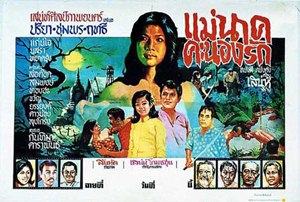 Year

: 1968



Thai title

:

แม่นาคคะนองรัก




English title

:



Rating

: 3/5


Director

:



Main actor

: Choomporn Theppitak,Kokheng


Main actress

: Preeya Roongrueng,Kaenjai Meenakanit
Thai movie แม่นาคคะนองรัก was released in year 1968. The movie is lost in Thailand but a mute sequence of 24 minutes with an image very damaged remains to be seen (probably the first reel). Two men come back by boat. Back from Bangkok, Mak (Choomporn Theppitak) meets his wife Nak (Preeya Roongrueng). Mak drinks alcohol until he gets quite drunk and is not able to discern true reality such as seeing a ghost instead of his baby and seeing Nak's arm getting longer to catch a lemon, which falled from the first floor. The food is spoiled. Before sleeping, Mak wants to hold his child. He still doesn't realise that his wife is a ghost. He finally got concerns and discusses with comic actor Kokheng and other villagers. Actress Preeya Roongrueng has played three times in Mae Nak movies, once in 1959, 1968 and 1978. Movies where Choomporn Theppitak is the main actor are pretty rare. Other actors / actresses are ฤทธี นฤบาล, นุสรา แสงรัตน์, หยาดรุ้ง ระพี.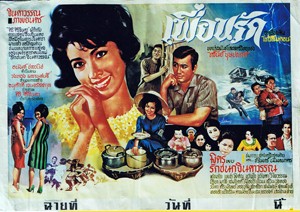 Year

: 1966



Thai title

:

เพื่อนรัก




English title

:



Rating

: 2/5


Director

: ศิริ ศิริจินดา



Main actor

: Mitr Chaibancha,Sawin Sawangrat,Lor Tok,Sompong Phonmitr,Sukon Koewliam,Daonoi Duangjai,Kokheng


Main actress

: Preeya Roongrueng,Somjit Sapsamruey,Malee Wetpraseri,Wilaiwan Watthanaphanit,Sarinthip Siriwan



Buy now

:

Thai movie เพื่อนรัก was released in year 1966 and lasts 2h23mn. It was released under VCD format by Lepso company. The image is still colorful. Movie director is ศิริ ศิริจินดา. It was first movie for Thai actress รักชนก จินดาวรรณ. Thai actors and actresses featured in this movie are Mitr Chaibancha, รักชนก จินดาวรรณ, เพชร พิศณุ, ขวัญใจ สะอาดรักษ์, ขวัญตา บัวเปลี่ยนสี, Preeya Roongrueng, Somjit Sapsamruey, Sawin Sawangrat, Malee Wetpraseri, Wilaiwan Watthanaphanit, เมืองเริง ปัทมินทร์, ไฉน, วงทอง ผลานุสนธิ์, วนิดา, Sarinthip Siriwan, ทรงวุฒิ, Lor Tok, Sompong Phonmitr, Sukon Koewliam, แอ๋, ทองฮะ, แป๊ะอ้วน, Daonoi Duangjai, ชื้นแฉะ, ยรรยงค์, ประสาน, ชาย, Kokheng. Young lady Kaew (รักชนก จินดาวรรณ) is selling noodle soup on the market. She is exploited by her mother in law, Mae Wanta, who takes all her earnings. Kaew is like Cinderella. Meuang Den (Mitr Chaibancha) and Pong (Sompong Phonmitr) stop at Kaew's shop to eat. Meuang Den has arguments with one local ruffian. He promises to come again. Pot, a rich man renting land to Mae Wanta, asks her to arrange for Kaew to stay at his home in Bangkok. He wants her as a minor wife. Kaew helps Meuang Den being injured by a ruffian. Priya (Preeya Roongrueng), wishing to trick her half-sister, sends her to Ming, a ruffian, who tries to abuse her. Hopefully Meuang Den helps her but finally she has to stab Ming as he was strangling Meuang Den. They have to flee. Kaew takes refuge in a family (Lor Tok, Somjit Sapsamruey), living on a boat and selling noodle soup. She meets Meuang Den and Sompong, who are living in a rich house. They have to simulate being gays as their aunt Malee (Malee Wetpraseri) wanted girls. Meuang Den proposes to Kaew's family to stay in a house he is not using. Lor Tok is not willing as he is concerned Meuang Den just wants to seduce Kaew. While leaving, they face a storm. Lor Tok and his wife fall in the water and drown. Meuang Den / Khun Num rescues Kaew on time. Khun Num asks Kaew to stay as domestic helper with a family he knows well, i.e. Kham Thong, Kham Ngeun and her boyfriend Peter. Khun Num doesn't want to disclose his relationship with Kaew to his aunt Malee. The family leaves for Penang. Kaew stays behind to look after the house. In another house, domestic helpers Sukhon and Thongha look after a young lady called Chao Nok. Kaew and Chao Nok meet. They have the same face. They exchange roles to meet Khun Num as Chao Nok wishes to see Bangkok before leaving for Chiang Mai. Nareng (Sawin Sawangrat) shall bring Chao Nok to meet her disabled mother in Chiang Mai. Nareng plans to transfer the will to him. Nareng kidnaps Kaew as he is unaware that Kaew and Chao Nok exchanged roles. Young man Dio tries to help her but to no avail. The rich family is back from Penang. Chao Nok, upset at being treated as a low domestic helper, makes a big fuss with the family and flees to Khun Num's aunt. The two ladies, Chao Nok and Kaew, are lost twins per the will. Aware that Kaew was kidnapped, Khun Num has to go to Chiang Mai to help her. Nareng threatens Kaew to provide the will and to sign it but Kaew cannot as she is not Chao Nok. It makes Nareng very upset. Nareng abused the mother (Wilaiwan Watthanaphanit) by lying to her. The mother and her daughter Kaew are reunited. Khun Num and Dio storm the house, where the mother and Kaew are held captive. The mother interposes while Nareng tries to stab Kaew. She gets stabbed instead. Before dying, she stabs Nareng. The two sisters are reunited. Two couples are formed. Khun Num and Kaew, Dio and Chao Nok.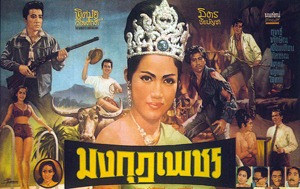 Year

: 1965



Thai title

:

มงกุฎเพชร




English title

:



Rating

: 3/5


Director

: Sor Asanajinda



Main actor

: Mitr Chaibancha,Sukon Koewliam,Adul Dulyarat,Taksin Jampol,Kokheng


Main actress

: Pissamai Wilaisak,Wilaiwan Watthanaphanit,Chadaporn Wachirapranee,Uamdeuan Uttsada
Thai movie มงกุฎเพชร was released in year 1965. It features Mitr Chaibancha as main actor and Pissamai Wilaisak as main actress. The movie is lost in Thailand but there is a partial sequence of 50 minutes left to be seen. The sequence is in mute state as such 16mm film requires live dubbing. Sor Asanajinda is the movie director. Somebody gives a letter to Pissamai. Mitr arrives and is upset with Pissamai. Wilaiwan Watthanaphanit puts a crown on Pissamai's head. Mitr decides to paint her portrait. He acts like crazy causing Pissamai to cry. Wilaiwan has to interpose herself. A young man (ฤทธี นฤบาล) punches Mitr to calm him down. Sukon Koewliam is playing a father's role. Mitr brings Pissamai in a cave. Mitr wishes to paint her portrait again. He becomes crazy again. The young man tries to interpose again but this time he is punched by Mitr. Chadaporn Wachirapranee is seen in bed with her lover or husband, i.e. an older man (Adul Dulyarat). Uamdeuan Uttsada is interested in the young man. Pissamai decides to quit this house. Chadaporn welcomes her to leave the house. But Chadaporn's older husband is unhappy with Chadaporn about this. Pissamai takes refuge in her friend's place. Wilaiwan and Uamdeuan Uttsada follow her up to here. But Mitr arrives first and kidnaps Pissamai. Mitr and Pissamai help each other as they are stuck in moving sand. Mitr being sick is visited by Pissamai and her mother Wilaiwan. Mitr gives them a letter. Mitr is becoming crazy again and flees through the hospital window. Taksin Jampol and Chadaporn flirt. Mitr is running like a worn guy in the mountains. Taksin threatens Pissamai but Mitr is here to help. Mitr brings Taksin in his secret cave. Mitr keeps the crown that Taksin conveits. He informs a ruffian leader. Meanwhile the young man talks to Pissamai again. Weird sounds are heard in the ceiling. Sukholiem is hiding here. Everybody ends up in Mitr's secret cave. Fighting happens as Taksin and the ruffian leader want the crown. Taksin changes side. During the fight, the ruffians' leader hits Mitr's head again the rocky wall and dies by falling in a cave hole. Mitr recovers his memory and he is not crazy anymore. Mitr and Pissamai can then marry.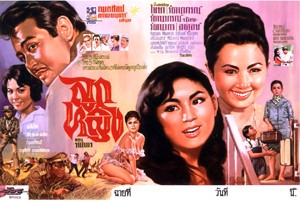 Year

: 1965



Thai title

:

ลูกหญิง




English title

:



Rating

: 3/5


Director

: น้อย กมลวาทิน



Main actor

: Chaiya Suriyun,Sompong Phonmitr,Somkuan Krajangsat,Adul Dulyarat,Sukon Koewliam,Sompol Kongsuwan,Pramin Jarujareet,Kokheng


Main actress

: Ratanaporn Intarakamhaeng,Chadaporn Wachirapranee,Mom Chan Phuangwan
Thai movie ลูกหญิง was released in year 1965. Main actors and actresses include Chaiya Suriyun, Ratanaporn Intarakamhaeng, รัตนาภรณ์ น้อย อินทรกำแหง, รัตนากร อินทรกำแหง, Adul Dulyarat, Chadaporn Wachirapranee, Somkuan Krajangsat, ราชันย์ กาญจนมาศ, Sompol Kongsuwan, Pramin Jarujareet, สังวรณ์, Sompong Phonmitr, พูนสวัสดิ์ ธีมากร, Sukon Koewliam, ทองฮะ, ทองแถม, Mom Chan Phuangwan, ปราณีต คุ้มเดช, Kokheng. Actresses รัตนาภรณ์น้อย (Ratanaporn Noi) and รัตนากร (Ratanakorn) were molded by Ratanaporn Intarakamhaeng. Luk Ying is played by actress รัตนาภรณ์น้อง or รัตนาภรณ์น้อย, i.e. young Ratanaporn. Her first movie was in ลูกนก. She played in other movies such as แก้มทอง, บัวหลวง, ชาละวัน. At that time, Ratanaporn Intarakamhaeng was very famous but started to be too old for romance movies (being more than 30 years old). So marketers wanted to introduce a new actress with a younger face similar to Ratanaporn Intarakamhaeng to play the role of daughter / mother. Movie director is น้อย กมลวาทิน. Movie producer is Ratanaporn Intarakamhaeng. The film was never released on VHS / VCD / DVD format but the movie in 16mm format can still be seen in Thailand. It was found in the South of Thailand in Surat Thani thanks to a teacher and collector of old items in Songkhla area. Two reels are left so only 48 minutes can be seen. A dubbed version was shown in Thai Film Archives in 2020. The remaining film is very damaged but still colorful. The movie takes place in Chiang Mai and then in Bangkok. Chaiya Suriyun plays two roles as a father and a younger man (wearing a moustache) being a musician. Following a fight in a bar, Wissanoo (Chaiya Suriyun) is injured and left for dead. His daughter, Luk Ying (Ratanaporn Noi), asks for help. Pol passing by with Thipsuda (Chadaporn Wachirapranee) decides to help. At the hospital, Thipsuda helps to pay for the bill. Thipsuda becomes finally Wissanoo's new wife (เมียใหม่). Years have passed. Luk Ying is now an adult. Thipsuda is always jealous about Luk Ying (ลำบากใจ). Wissanoo decides to send his daughter to her grandfather's (Somkuan Krajangsat) home in Chiang Mai. Adul (Adul Dulyarat), a policeman, is injured and cured at the grandfather's house so he has the chance to know Luk Ying (ลูกหญิง). Adul is going to marry Luk Ying so the father Wissanoo (นักดนตรี) is invited to the wedding. Arriving there, he recalls his relationship with Walai (Ratanaporn Intarakamhaeng), Luk Ying's mother. He feels bad to have sent his daughter in Chiang Mai. He recalls he met Walai in similar condition in an event in Chiang Mai many years ago and asked her to live in Bangkok with her. They fled to Bangkok as Wissanoo was a poor musician and Walai, the unique granddaughter of a rich man (Somkuan Krajangsat). Wissanoo and Walai had a daughter called Luuk Ying. After a few years for unclear reasons, Walai left back to Chiang Mai and left behind her husband and daughter. She wrote a letter but Wissanoo burnt before reading it. The 48 minutes ends when they meet again at Luk Ying's wedding and their love is still here.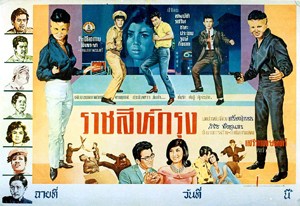 Year

: 1964



Thai title

:

ราชสีห์กรุง




English title

:



Rating

: 3/5


Director

:



Main actor

: Sombat Methanee,Ruj Ronnapop,Chana Sriubon,Sompong Phonmitr,Kokheng,Prachuap Ruekyamdee,Adul Dulyarat,Sukon Koewliam


Main actress

: Malee Wetpraseri, Kingdao Daranee,Preeya Roongrueng
Thai movie ราชสีห์กรุง was released in year 1964. Main actor is Sombat Methanee and main actress is รสลิน วิลาวัลย์. Other actors and actresses are Ruj Ronnapop, Chana Sriubon, Sompong Phonmitr, Kokheng, Prachuap Ruekyamdee, Adul Dulyarat, Malee Wetpraseri, Kingdao Daranee, Preeya Roongrueng, Sukon Koewliam. The movie is lost in Thailand but a 16 minutes sequence remains to be seen (เศษหนัง). As the film is in 16mm format, the sequence is mute as there is no dubbing. Movie director was วิรัช พึ่งสุนทร. Some left sequences show Malee Wetpraseri discussing with Ruj and Kingdao, Sompong Phonmitr wearing a marine suit, Kingdao discussing with her father and mother (Malee). A coin is discovered in a paper. Adul is meeting Ruj for the first time and animosity can be felt. Ruffians are seen on a boat. Ruffians are attacking a house but they get pushed back by inhabitants. Koh heng, Chana Sriubon are having a heated discussion with two other men and a lady in a bar. Misunderstanding and fighting happen. A brawl occurs in the bar. Ruj, Prachuap, Sompong and mariners storm the ruffians' place. Chana is talking to a lady (รสริน วิลาวัลย์) over the phone and then he is picking her up by car. A sequence is showing a house near the sea and people are having fun in a swimming pool. Adul is seen in discussion with another gentleman. Chana is talking with รสริน วิลาวัลย์. Sombat Methanee, main actor, is unfortunately not seen in any of the remaining sequences. The movie is mixing romance and action. The movie poster was drawn by Piak Poster (เปี๊ยกโปสเตอร์).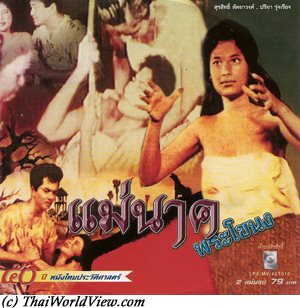 Year

: 1959



Thai title

:

แม่นาคพระโขนง




English title

:



Rating

: 3/5


Director

:



Main actor

: Lor Tok,Surasit Sattayawong,Kokheng


Main actress

: Preeya Roongrueng,Namgneun Boonnak



Buy now

:

Every man in the village loves a young lady called Nak. Young men Mak, Tit Man and the local subdistrict headman's son are part of the suitors but Nak loves Mak. Tit Man tries to forget his discomfiture with another lady called Lamchoon but to no avail so he leaves the village. During a temple festival (งานวัด), where Nak was making merit (ทำบุญ), the local subdistrict headman's son (ลูกกำนันเศรษฐี) fights over Nak with Mak. It turns to be a general fight. Mak promises to marry Nak. On the following day a wedding procession takes place. Similar to movie "The old scar" (แผลเก่า), this 1959 version highlights the rural life with fishing in rice fields and buffaloes. The main actor is the strong and muscular สุรสิทธิ์ สัตยวงษ์. When Nak is pregnant (แผลท้อง), Mak is so happy. But he does receive a letter as he has been selected by lottery to be a soldier in Bangkok. Pa is staying with Nak. The local subdistrict headman's son tries his chance again while Mak is away but Tit Man, going back from Bangkok, helps Nak to chase him. In Bangkok, a woman Chomanak tries to seduce Mak but he is faithful to Nak. Nak dies while giving birth. In this "Mae Nak" 1959 version, the part when Nak is still human is much longer (49 mn) than other "Mae Nak" movies focusing on the ghostly part. During funerals, strong wind and dog howlings happen. People are afraid of ghosts. A local master (อาจารย์) called Thong wishes to make magic filters (ยาเสน่ห์) with Nak's corpse oil (น้ำมันพราย) as it has strong power but he gets strangled while trying to get oil by putting a candle under Nak's chin. Nak is back home waiting for Mak. Nak is now a Phi Tai Hong Klom (ผีตายโหงทองกลม), powerful spirit as it is includes the spirit of unborn baby. The local subdistrict headman's son tries his chance again but this time he loses life. Lor Tok plays a dishonest sorcerer master again asking his acolytes to wear fake ghosts clothes but of course real Mae Nak ghost is coming and all flee. Mak is back home. While preparing food for Mak, a lemon falls on below floor. Mak sees Nak's arm streching out to get the lemon. His child has a demon face. The food is only made of salted fish (ปลาร้า). As he just drank alcohol, he believes his vision is altered. During night time, Nak takes appereance of an ugly ghost again. Mak flees to Tit Man's house. Tit Man confirms that Nak is now a ghost (วิญญาณแรง). Nak is unhappy with Mak's friends as she sees them as a hindrance to her love. A new master helps to neutralize Nak. She refuses to die and birth again (วิญญาณเกิดใหม่) because she loves Mak so much. Love is not possible between ghost and human. In this Mae Nak version, the master succeeds to neutralize Mae Nak and have her spirit emprisonned in an earthen jar closed by a sacred cloth. In other versions, only a Buddhist monk can stop Mae Nak as masters are always useless charlatans. Mae Nak Prakanong (1959) starred sexy actress Preeya Rungruang, while the more recent Nang Nak (1999) featured the actress Intira Jaroenpura, thus shifting the image of female ghosts to a more realistic and humanistic one. It is a typical 1960s movie with dog howling, sorcerer (หมอผี) used, rural background. The picture is decolored and as it is a former 16mm movie, it features a dubbed soundtrack. Mae Nak movie first version was played during Preeya Roongrueng's funerals as an ultimate homage.
---