Increase or decrease font size for easier reading : A+ A-
Koeti Aramboy
Koeti Aramboy (1980) - โก๊ะตี๋ อารามบอย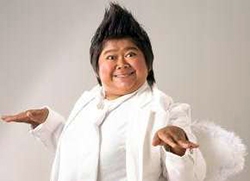 Koeti Aramboy is a comic actor
This Koeti Aramboy movie page contains 12 records.
---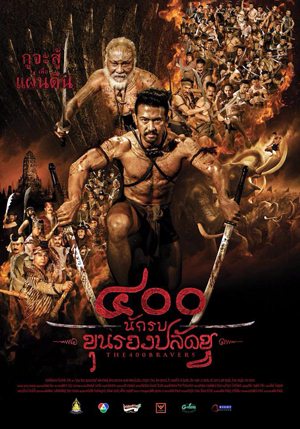 Year

: 2018



Thai title

:

ตุ๊ดตู่กู้ชาติ




English title

: The Last Heroes



Rating

: 2/5


Director

: Poj Arnon



Main actor

: Koeti Aramboy,Mum Jokmok,Suchao Pongwilai


Main actress

:



Buy now

:

Thai movie ตุ๊ดตู่กู้ชาติ / The Last Heroes was released in year 2018 and lasts 2h07mn. Taking place during the Ayutthaya kingdom period, villagers are gathering following a call from the village leader. The village features many transvestites. The village leader requires help from villagers to help the nation against the Burmese army. They refuse as they are afraid to die. Finally, seven villagers accept to join, including Deuan (Koeti Aramboy), Feng (Mum Jokmok), Krang, Krai, ติ๊ก กลิ่นสี, จิ้ม ชวนชื่น. The village leader (Suchao Pongwilai) assigns a master to train them. After a difficult training, they are ready for fighting. They leave the village towards the jungle. They face and defeat some Burmese soldiers. Disguised as Burmese soldiers, they enter the Burmese camp. Krang loses his girlfriend being killed by Burmese soldiers. They are missing their relatives in the village. Krai, being upset, shoots a few soldiers with his arrows, but gets captured. The team arrives in the Burmese king palace. They wear ladies' clothes. They are finally uncovered and arrested by Burmese soldiers. Meanwhile the Burmese army goes towards the Thai village to crunch it. Thanks to the help of a Thai princess and a Thai monk held in the Burmese king palace, the team succeed in escaping following a daring escape from the Burmese palace. They are back on time to save the village, but most of them die like heroes. This movie is mixing comedy and action into an historical background.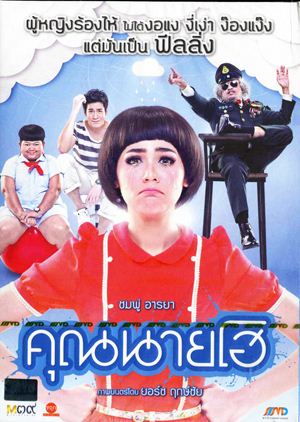 Year

: 2012



Thai title

:

คุณนายโฮ




English title

: Crazy crying lady



Rating

: 2/5


Director

:



Main actor

: Koeti Aramboy,Ray McDonald,Akom Preedakul


Main actress

:



Buy now

:

Thai movie คุณนายโฮ / Crazy crying lady was released in year 2012 and lasts 1h43mn. This movie is a modern Thai romantic comedy film (rom-com). Young lady O (อารยา เอ ฮาร์เก็ต) is very emotive and is always crying very easily. Nana (Koeti Aramboy), her brother, is a katoey rejected by her father (เกลียดกะเทย). O's father (Akom Preedakul) is always wearing military clothes and wishes to sacrifice himself for the Thai nation. Bol (Ray McDonald) is O's boyfriend. O has hard time with her family. Her father shoots by mistake her boyfriend in a paintball shooting game. Her brother hits severely another teenager mocking kathoey in a "takraw" ball game. It is hard for O to cope without her mother, who died already. Her boyfriend wants two separate worlds, i.e. one with her only and one with her family without him! She can always find comfort with her male friend Thiradet, being a doctor (คนที่จำเป็น vs คนสำคัญ). He is always listening and trying to find solutions for her. The doctor Thiradet (ธีรเดช เมธาวราวุธ) identifies O cannot have children soon due to high degenerence of her uterus. She needs to hurry up having a child. The doctor informs the father and his son. They put aside their differences and decide to help her. Her friends convince Boy to invite her in a resort. O is not yet ready as she is waiting for wedding first. She is not ready to enter into a relationship, so they split. Finally, the doctor and O enter into a relationship (แฟน). Unfortunately, it is not timely to have a child but they finally marry. O's family is finally stable.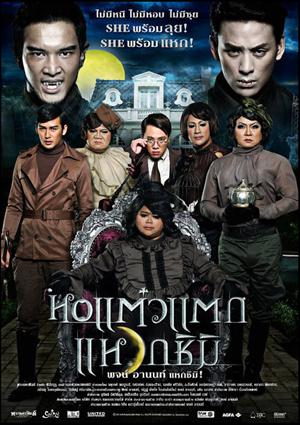 Year

: 2011



Thai title

:

หอแต๋วแตก 3 แหวกชิมิ




English title

: Hor Taew Tak 3 - Wak Shimi



Rating

: 2/5


Director

: พจน์ อานนท์



Main actor

: Koeti Aramboy,Jaturong Mokjok,Ekkachai Srivichai


Main actress

:



Buy now

:

Thai movie หอแต๋วแตก 3 แหวกชิมิ - / Hor Taew Tak 3 - Wak Shimi was released in year 2011 and lasts 1h43mn. The movie poster has to be updated before the release as the poster was considered as culturally incorrect. A tight male swimming suit was replaced by pants. The movie made a gross revenue of 34M THB. The usual ladyboys team (Koeti Aramboy (แพนเค้ก), Jaturong Mokjok (เจ๊แต๋ว), Ekkachai Srivichai (มดดำ)...) is moving to a new dormitory (หอใหม่) but it is a haunted dormitory. Red building is forbidden to access. A female ghost is seen. Another male ghost is seen in the swimming pool. Pancake tries to keep others far from the swimmer ghost, named Teng Thong, as he is very handsome. Dan is the dorm responsible. There is a secret within the red building. Teng Thong died in the swimming pool due to a short circuit. The movie trended on modern topics such as Blackberry BB. Jealousy happens between friends regarding Teng Thong. Teng Tong is finally a vampire. Dan hires some vampire hunters, Plat Phi and โจอี้ เชิญยิ้ม, to catch Teng Tong but they fail to find his coffin. The team realizes that Dan is having a secret. They enquire to identify who killed Teng Tong. Final sequences include werewolves, usage of giant phallus as a rocket and so on… As usual with Hor Taew Tak movies series, there is an excess in language, flashy clothes, salacious jokes. Pancake and Teng Tong get finally married.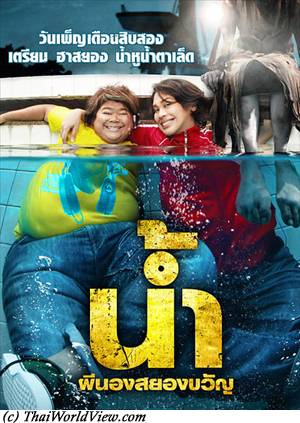 Year

: 2010



Thai title

:

น้ำ ผีนองสยองขวัญ




English title

: H2-OH



Rating

: 3/5


Director

:



Main actor

: Koeti Aramboy,Akom Preedakul


Main actress

: Intira Jaroenpura



Buy now

:

Mook disappears in a swimming pool. Somebody drags her under the water. Charlie is a rescuer. One evening while driving carelessly and arguing with his girlfriend over the phone, he hits a passerby. It is Mook! Hopefully she is not dead but has lost her memory. At nighttime a ghost (ผีตามมา) tries to kill her. Charlie has to help her to recover her memory and thoughts. The ghost is coming through the water that is leaking in the hospital. Every time Mook swims, such as rescuing a young girl, ghosts try to drown her (ผีหลอก). Charlie starts to get more information. Mook is a sport student who disappeared two years ago. She starts to remember and meets her former gym teacher, who is now blind. On that tragic night he was driving the mini bus of the students. They have many medals and always promise to stay together. Being drunk, the driver hit a big truck coming in opposite direction. The mini bus falls in the river. Mook succeeds to escape but the other students die. A promise can be given but it can withdraw also (สบาญถอดได้). Finally to ask the spirits regarding the promise withdraw, they need to go back to the former swimming pool which is now closed. Their policeman friend, nicknamed officer (ผู้กอง) despite being only a first grade staff, helps them to enter. Through touching words, Mook convinces the ghosts to stop their quest for applying the former promise. This movie features Intira Jaroenpura, who played in many horror movies, and Koeti Aramboy, young comic actor. This movie includes a popular mix of two kinds of favorite movies by Thai audience, i.e. comedy and horror.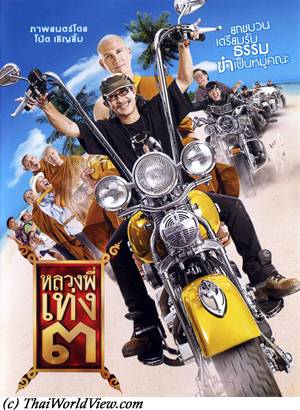 Year

: 2010



Thai title

:

หลวงพี่เท่ง 3




English title

: The Holy man 3



Rating

: 3/5


Director

:



Main actor

: Krissada Sukosol,Note Chernyim,Akom Preedakul,Koeti Aramboy,Der Doksadao


Main actress

:



Buy now

:

Noi decides to enter the monkhood (บวช) and rejects his rock star attitude. He is looking for calm (เอาความสงบ) as he is a stressed man. The abbot reminds him the analogy between a hose splashing randomly due to water pressure and the spirit always wandering. Funny gags happen when monks are going out for alms (บิณฑบาตร) due to small size comic actor Koeti Aramboy trying to offer food to a giant monk or when a man is still jealous that his wife has a sweet spot for the abbot since decades. As usual there are flatulence jokes when spicy and sour food is given to monks. Robbers steal the temple bell (ระฆัง). Later they come to steal the Buddha head (มาขโมยพระ). Monks are all drugged but hopefully the main Buddha statue (หลวงพ่อ) is not stolen as it is too heavy! The gang leader is a burlesque Chinese vendor. He uses false claims regarding the monks that they enter monkhood while leaving pregnant women behind them. Noi is smart enough to counter their lies. Actor Akom Preedakul is playing a funny Thai boxing trainer bringing coyote dancers to the temple! Similar to 1980s-1990s decade comedy ghost movies, there is an sequence about villagers fleeing ghosts. Unfortunately the Buddha statue head is cut and stolen by the Chinese gang. The giant monk disguises himself as soft real Bouddha statue (Luang Pho Nim - หลวงพ่อนิ่ม) as a trick to find their cache. Then Noi asks his former bikers friends for help. They are led by Ed carabao, real leader of famous Thai band Carabao. The robbers are captured and the Buddha head recovered.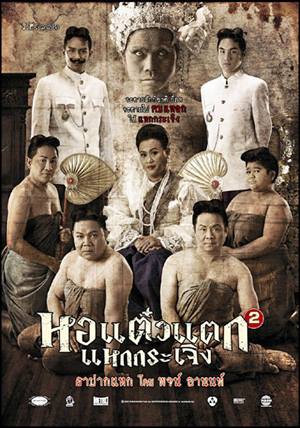 Year

: 2009



Thai title

:

หอแต๋วแตก 2




English title

: Oh My Ghosts!



Rating

: 2/5


Director

:



Main actor

: Koeti Aramboy,Jaturong Mokjok,Ekkachai Srivichai


Main actress

: Tukkie



Buy now

:

Thai movie หอแต๋วแตก 2 (แหกกระเจิง) was released in year 2009. It lasts 1h30mn. There is a mix of scary, comic and teenage sequences. This Thai comedy movie features typical flatulence Thai gags, visual gags and reference to some of the jokes found in Baan Phi Pop (บ้านผีปอบ) film series. It looks like the movie was shoot inside a museum. The same three ladyboys (กะเทย) (Taew as Jaturong Mokjok, Ekkachai Srivichai, ยิ่งศักดิ์ จงเลิศเจษฎาวงศ์), owning a dormitory, need to find where Pancake (Koeti Aramboy) died in order to do proper funeral offerings. They find he died in the toilet so they do pray facing the basin! There is one ghost (Tukkie), called Usamanee, in the dormitory wearing Thai traditional dancer clothes. Pa Yoon (ติ๊ก กลิ่นสี), new tenant (เช่าห้อง), sends a ball on the dormitory's spirit house. It causes Usamanee's anger and Ploy, Pa Yoon's assistant, dies. There is another Thai ghost lady, called Tichada (อภิญญา สกุลเจริญสุข), in the dormitory. Pancake is having arguments with Usamanee (อีผีบ้า). As usual tenants wish to leave as the dormitory is haunted. It is identified that Pa Yoon, Usamanee and Tichada are related to each other in a previous life. Pa Yoon plans to perform a special ceremony to ensure Usamanee and Tichada cannot rebirth again in another life. Pa Yoon and Toi (วีรดิษฐ์ ศรีมาลัย) were husband and wife in a previous life but Toi liked Usamanee so Pa Yoon killed both Usamanee and Tichada. Pancake and the three ladyboys have to go back in the past to gather information in order to defeat Pa Yoon. As usual, the ladyboys in "Hor Thae Tak" film series wear flashy clothes (แต่งตัวแรง).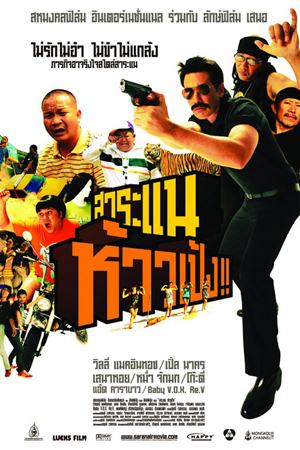 Year

: 2009



Thai title

:

สาระแนห้าวเป้ง




English title

:



Rating

: 1/5


Director

:



Main actor

: Koeti Aramboy,Mum Jokmok


Main actress

:



Buy now

:

Thai movie สาระแนห้าวเป้ง was released in year 2009 and lasts 1h41mn. The three Thai comedy actors, Willie, Ple, and Hoi from popular prank show "Saranae," brought their TV show program on the golden screen. This show was very popular on TV, so the movie was also a big commercial success. It made 92M THB. A comic group hires two junior comics and perform pranks on them by using hidden camera. During 120 days, the two junior comics have to perform pranks on famous people such as comic actor Koeti Aramboy, Korean K-pop girl band called Baby Walk, Carabao Ed and comic actor Mum Jomok. They meet Mum Jomok for a movie proposal. Mum Jomok orders food without paying the bill. The three Thai comedy actors have to run away. Mum Jomok finally accepts to join their movie but is in bad mood during the shooting. A sequence with taxi driving like crazy makes Mum Jomok very upset. They try to excuse themselves with Mum Jomok. Mum Jomok complained about Saranae team but finally accepted their excuses. Maybe it was just to make a commercial buzz before the release of the movie. Finally, pranks are even performed on the two junior comics also!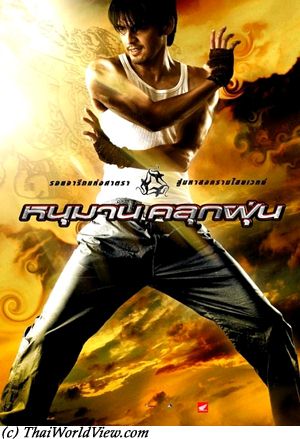 Year

: 2008



Thai title

:

หนุมานคลุกฝุ่น




English title

: Hanuman: The White Monkey Warrior



Rating

: 3/5


Director

:



Main actor

: Choomporn Theppitak,Phairoj Jaising,Kowit Wattanakul,Koeti Aramboy


Main actress

:



Buy now

:

Yot has been trained many years as a white monkey warrior by his master. A rival master is willing to take back some segments of a sacred book to seek absolute power. A mafia guy called Stephen and the rival master command a group of bad guys including three warriors having skills and tatoos related to crocodile, tiger and Jaguar. Those dark side warriors killed Yot's master, Yot's girlfriend and had her sister be paralysed. Yot then finds a shelter inside an up-country school teaching traditional Thai boxing for boys and traditional dance for girls. Once the three bad warriors have killed almost everybody in the school and take away the paralyzed little girl, Yot goes on rampage to fight them and get back the young girl. This movie tries to include recipes that were successful for Ong Bak 1. It includes Thainess through Thai boxing, Thai traditional dance, respect to teacher, sacred tatooes... But the main actor is not as skilled as Tony Jaa. Foreigner are really the bad guys destroying sacred altars and having no respect for teachers and ancestors. 50 years ago mothers mentioned the Chinese Zee Oui (ซีอุย) as a monster to frighten their children, now they can use the bad foreigners!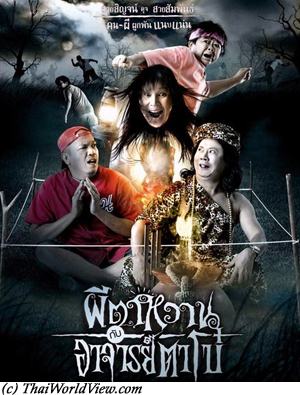 Year

: 2008



Thai title

:

ผีตาหวานกับอาจารย์ตาโบ๋




English title

: The Ghost and Master Boh



Rating

: 3/5


Director

:



Main actor

: Akom Preedakul,Jaturong Mokjok,Koeti Aramboy


Main actress

:



Buy now

:

Master Boh is supposed to be a medium spirit but in fact he lies to the people that he can communicate with spirits. He randomly predicts the lottery numbers and luckily has one of his follower winning the jackpot! His tricky predictions dissatisfy a powerful local mafia leader called Au. Meanwhile, a girl named Wan, previously murdered by Au, returns as a fearful ghost looking for revenge. Finally, Master Boh and Wan have to team up to defeat the local mafia leader.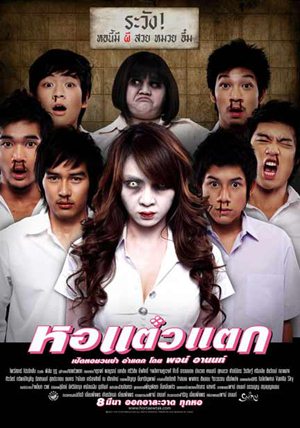 Year

: 2007



Thai title

:

หอแต๋วแตก




English title

: Haunting me



Rating

: 3/5


Director

:



Main actor

: Koeti Aramboy,Jaturong Mokjok,Somchai Sakdikul,Akom Preedakul,Ekkachai Srivichai


Main actress

:



Buy now

:

Thai movie หอแต๋วแตก was released in year 2007 and lasts 1h29mn. This Horror comedy reminds a bit of Baan Phi Pop (บ้านผีปอบ) but goes much beyond as introducing a gay ghost (ผีกะเทย). By year 2016, five opus have been released. While being with Nam Mo, Pancake (Koeti Aramboy) dies from slipping and hurting a WC toilet seat. The four landlords (including Jaturong Mokjok and Ekkachai Srivichai - เอกชัย ศรีวิชัย), old style gays, have to get rid of the corpse. Police comes and Nam Mo is about to tell them the truth as he is being possessed by Pancake. A young lady ghost (เด็กผู้หญิงผี), called Nam Ning (เป้ย ปานวาด), is already present in the building. The tenants, aware of ghosts (เรื่องผี) in the building, wish to quit. The four gay landlords succeed to convince them to stay by offering rent price decrease and promise to get rid of the ghosts. A spirit doctor (แม่หมอ) fails to chase the ghosts! A second one fails also. Akom Preedakul is also having a cameo role. Koeti is lonely (เหงา) and wishes Jaturong Mokjok to do good deeds (ทำบุญ) for him. The young lady ghost was in fact raped and a tape was recorded. While trying to get the tape, Nam Ning fell from the roof. Somchai Sakdikul is hired as a black magician (หมอผี). Nam Mo and Nam Ning are living in different world already (อยู่คนละโลก) but they still have feelings for each other. Finally Nam Ning gets revenge on her rapist and he falls from the roof also. The black magician is decided to get rid of the ghosts. Magic fightings happen and Pancake is using a big sexual amulet (ปลัดขลิกใหญ่) to defeat the black magician. During the fightings, Nam Ning dies while protecting Nam Mo. Pancake also succumbs. Other rapists are arrested by police. The building can be finally exorcised thanks to Buddhist monks.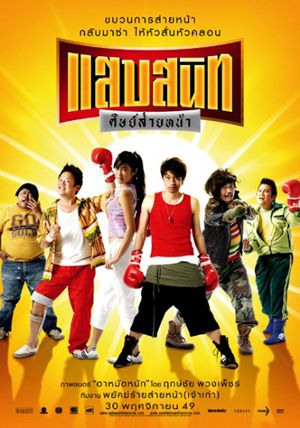 Year

: 2006



Thai title

:

แสบสนิท ศิษย์ส่ายหน้า




English title

: Noodle boxer



Rating

: 3/5


Director

:



Main actor

: Akom Preedakul,Jaturong Mokjok,Koeti Aramboy


Main actress

:



Buy now

:

Thai movie แสบสนิท ศิษย์ส่ายหน้า (Noodle boxer) was released in year 2006. It lasts 1h36mn. A young man called Sanit is cooking in a noodle soup shop. He likes Thai boxing as his father was a former boxer (นักมวย). He is not able to fight properly. Akom Preedakul, Song (Koeti Aramboy) and Phi Saem (Jaturong Mokjok) are his friends and always coming for free soup. Akom recommends him to get some tattoos (ศักดิ์). Sanit loves secretly a young girl called Suey. Another real Thai boxer is also interested in Suey. Suey goes to see a doctor for eyes problems and is accompanied by Sanit. Suey's father complains Sanit is too weak (ขี้แพ้). Akom brings Sanit to a haunted house where a Thai boxer resided in order to get inspired. Sanit's friends encourage him to join Thai boxing contests to earn respect from Suey's father but he keeps losing. Suey is becoming blind. Sanit tries amulets (ของดี). Finally Saem, former champion, takes care of his training (ไม่ยอมแพ้). This time, Suey is really sick. His father needs to find 500 000 baht to cure her. Sanit, known as a looser, accepts to play a match for gaining that amount of money. His opponent is the other Thai boxing champion fond of Suey. Despite strong resistance and dreams of victory, Sanit is defeated again. Suey is cured as the Thai boxing champion gives the 500 000 baht having compassion for Sanit and Suey.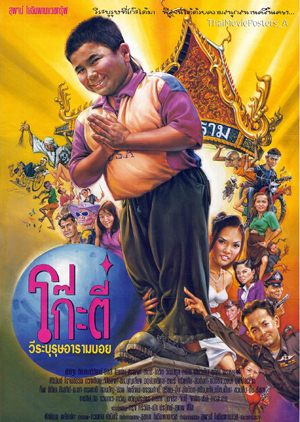 Year

: 1998



Thai title

:

โก๊ตี๋วีรบุรุษอารามบอย




English title

:



Rating

: 3/5


Director

: ทวนธน คำมีศรี



Main actor

: Koeti Aramboy,Billy Ogan,Sorapong Chatree,Kowit Wattanakul,Lor Tok,Krung Srivilai,Pao Porapak


Main actress

:
Thai movie โก๊ตี๋วีรบุรุษอารามบอย was released in year 1998 and lasts 1h43mn. Thai actors and actresses include Koeti Aramboy, ปณิฐา ตัณทนาวิวัฒน์, Billy Ogan, Sorapong Chatree, Kowit Wattanakul, คณิต เขียวเซ็น, ชุติภา พรพิบูลย์, ศิรินันท์ โรจนธรรม, ดวงเดือน จิไธสงค์, ดร.บุญเลี้ยง อดุลย์ฤทธิกุล, ชาตรี ศรียาภัย, Lor Tok, ยอดธง, บุษบา ซุปเปอร์โจ๊ก, กิ๊ฟ ธิติยา ทีสเกิร์ต, น.นท, กรเชตตี สอนสัญ, น้อย โพธิ์งาม, ธรรมศักดิ์ สุริยน, อั๋น ล้อต๊อก, แป๋ว-แห้ง- แม็ก-เปี๊ยก ชวนชื่น, ติ๋ม รัชดา, ดาร์กีย์, อ้อ รวมดาว, เทวัญ ขวัญประการ, ดาริกา นุตจรัส, จิมมี่ จ๊กม๊ก, สำลี ขาวสะอาด, Krung Srivilai, Pao Porapak, สุเทพ สีใส. Movie director is ทวนธน คำมีศรี. An uncle is always working in different places, so he asks an elder Buddhist monk to help for his nephew Koti education. Koti is orphan (เด็กกําพร้า). Koti is part of a group of close friends (เด็กวัด) in the Buddhist temple. Krung Srivilai is Luang Pho. Tok (Lor Tok), playing an occult master (อาจารย์), is abusing credulity of young ladies having love issues. The children also get money from faithful people coming to get monks' advice. Koti is a good singer so a lady promises to release a music tape for him. At school, Koti sees two motorbike drivers giving drugs (ยาบ้า) to some students (นักเรียน). Koti is now aware that some students are addicted (ติดยา). A lady (ดวงเดือน จิไธสงค์ - Sorapong Chatree's wife in real life and in this movie also) with her two daughters, Joey and Chutima, visits monk Krung but she forgets her purse. Kowit Wattanakul is raising birds. Koti gives back the purse but refuses a reward as the monk taught him. Koti and his friend hear ruffians discussing about drugs traffic in the cemetery located in the Buddhist temple. Lor Tok is arrested by Thai police. Sorapong, father of Joey and Chutima, is unwilling that his daughters meet the temple boys. The two daughters visit the Buddhist temple and get kidnapped by the motorbike taxis. The ruffians plan to resell the girls in a prostitution ring. Koti and his friends are also captured as the ruffians' leader believes the friend attacks his parents before. Police are warned. Finally, Koto, Poum, Joey and Chutima succeed to flee but ruffians are chasing them. Luckily a beggar in the Buddhist temple gives important advice to the Thai police. Police catch them on time and Koti neutralises the ruffians' leader. Sorapong has always been negative about Koti but finally appreciates his help to release his daughters.
---