Increase or decrease font size for easier reading : A+ A-
Khomapat Attaya
Khomapat Attaya (1946) - โขมพัสตร์ อรรถยา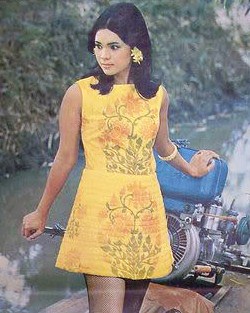 Khomapat Attaya has played in many movies mainly from mid 1960s to mid 1970s decade. She starts playing at 18 years old and was often involved in sexy roles or jealous woman (นางอิจฉา). Nowadays she is more famous for her knowledge of mind power (เจ้าแม่พลังจิต)
This Khomapat Attaya movie page contains 22 records.
---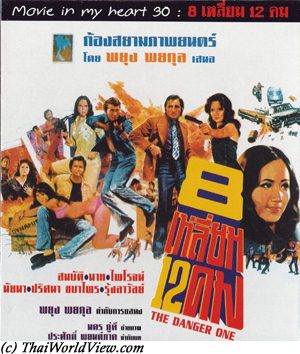 Year

: 1976



Thai title

:

8 เหลี่ยม 12 คม




English title

: The Danger One



Rating

: 3/5


Director

: Payoong Payakul



Main actor

: Sombat Methanee,Dam Datsakorn,Nard Poowanai,Phairoj Jaising,Pipop Pupinyo,Phirapon Piyawan


Main actress

: Prissana Chabaprai,Naiyana Shewanan,Runglawan Sripatimakul,Moeifa,Khomapat Attaya



Buy now

:

Payoong Payakul is the director of the Thai movie "8 เหลี่ยม 12 คม". His wife Prissana Chabaprai is also playing. The movie was released in year 1976 and lasts 1h44mn. The image is a bit reddish and damaged as being the last copy still available on the market. The selling point of the point, according to the poster, is the presence of six movie stars (ดาราเอกโคจร) including Runglawan Sripatimakul, Prissana Chabaprai, Naiyana Shewanan, Nard Poowanai, Sombat Methanee, Phairoj Jaising. The movie features also a few ดาวยั่ว (วิกาวดี, Khomapat Attaya, Moeifa, มิสหลาบยัง) acting in a few daring sequences. A jewellery robbery does happen. Khom (Sombat Methanee) and Chitchai (Dam Datsakorn) are involved. An overseas buyer is now expected in a few days. Anita (Naiyana Shewanan) is the younger sister of Chitchai. Chitchai fails to steal the jewellery suitcase from Khom. Khom sent Krissana (Nard Poowanai) to study in England. Krissana now becomes a policeman. Khom promises it is his last job in order to avoid facing Krissana as a policeman. Tonachai (Phairoj Jaising) with two ladies called Rita and Rosana always help Khom. Chitchai requests the diamonds to Khom earlier than expected. Tonachai has many enemies (ศัตรู) and has a fighting in an underground parking. Chitchai sent some ruffians (Pipop Pupinyo, Phirapon Piyawan...) but it fails. In the morning, Khom brings the 10M baht jewellery for Rita to check. The hotel groom exchanges the small suitcases while they are not aware. Police head asks Krissana to neutralise this jewellery ring. Krissana starts by entering Chitchai's nightclub, i.e. the Suzi bar, by claiming being a life insurance seller. Chitchai's ruffians aware that Krissana is certainly a cop tries to kill him but without success. Khom is concerned that he may face sooner or later Krissana (ปัญหาตัดสินใจไม่ถูก). Krissana gets information from Anita, who is his girlfriend. Khom believes the diamonds have been stolen by Chitchai's team. Rita is in fact part of Chitchai's team also and is finally shot by them. Chitchai captures Khom. The jewels are going to be used in a weapons deal exchange. Aware of the exchange place, Tonachai and the ladies head there. Krissana brings policemen there and also helps to release Khom. The HQ is then stormed and Chitchai is captured. Chitchai recognises his mistakes and is finally happy about the relationship of Rita and Krissana.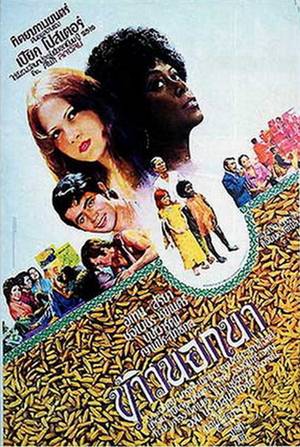 Year

: 1975



Thai title

:

ข้าวนอกนา




English title

:



Rating

: 5/5


Director

: Piak Poster



Main actor

: Uten Boonyong,Adul Dulyarat,Suriya Chinaphan


Main actress

: Sulaleewan Suwanthat,Marasri Bangchang,Khomapat Attaya,Namgneun Boonnak
Thai movie Khao Nok Na (ข้าวนอกนา) was released in year 1975 and directed by Piak Poster. It lasts 1h38mn. An aunt (Sulaleewan Suwanthat) is raising two children, the elder called Deuan is 5 years old and the youngest is called Dam (หีดำ). Both fathers are different. Dam's father is a black man so she is called Dam (ดำ – black) as a reference to her skin color. The children were temporarily given to the aunt by the mother. Unable to raise them, the aunt wishes to sell them to a rich lady. The rich lady (Marasri Bangchang) doesn't want Dam (ไม่ชอบเด็กดำๆ) and buys only Deuan for 3000 baht. She is renamed as Deuan Krai Saen (บุบผารัตน์ ญาณประสิทธิกุล). Father is veteran actor Adul Dulyarat. Finally Dam (ช่อเพชร ชัยเนตร) is sold to a family to become a helper (คนใช้งาน) and to be the puppet of the daughter. Veteran actress Khomapat Attaya is part of the other helpers. Dam is always stubborn (ดือ) as people dislike her skin color. Phi Pan (Suriya Chinaphan) is the son of a taxi driver, who always supported Dam but died earlier in a car accident. The house is becoming a mess with the daughter being pregnant with one male driver and the son spending like crazy on music instruments to build a band. The real mother is back and is asking for her two daughters. The aunt gives the address but the rich lady (คุณผู้หญิง) refuses to let Deuan go. The real mother, always seen smoking, goes to the police to get her rights respected. She finds first Dam. Adul refuses to give back Deuan and proposes 50 000 baht. She accepts and has to sign a contract. Having the money, she also rejects Dam and asks her to go back to her home. Disappointed by her own mother, Dam is looking for a job. She becomes a singer in a nightclub and sings her difficulties as being black in Thailand. Meanwhile the rich family watches Deuan playing in a ballet representation. Dam finds Phi Pan in the street and brings him to her home. They become lover as Dam believes he would be a caring man like his father but Pan is a lazy boy taking profit of girls' money. Pan is using Dam's money to entertain another lady. Adul finds that Deuan goes back home late and is wearing a ring given by a young boy Pop (เลือดแม่ของแค่มันแรง) (Uten Boonyong). Dam is finally dumped by Pan so indulges in alcohol and becomes a short time prostitute. She is surnamed as ลิง (monkey) or สกปรก (dirty) and being rejected by Thai society (equally by rich and poor Thai people). Dam meets people having problems also and starts indulging in drugs to forget daily problems. Pop tries to bring Deuan to a short time motel but finally changes his mind as she keeps crying and mentioning her father's pressure. Dam meets finally Deuan. Deuan is in paradise (สวรรค์) and Dam is in hell (นรก). Finally Deuan ends up with Dam indulging drugs as her paradise is also a hell being the daughter of an easy lady. Police captures the whole group. Deuan's parents bail her, forgive her mistakes and accept her relationship with Pop. A US black man bails Dam from jail and brings her to USA with him. The movie highlights racism in Thailand. Following Vietnam war, many similar cases of children born from Thai prostitutes and black US soldiers did happen in Thailand. A TV serie on the same story was released in year 2013. Khao Nok Na (ข้าวนอกนา) is an interesting title. Normally rice is white so Dam is the rice "outside" the field, i.e. being black and different from the majority of Thai people. The movie got 4 awards (รางวัลตุ๊กตาทอง), i.e. best actress, best song, best story, best supportive role.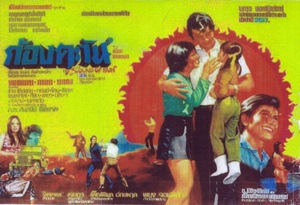 Year

: 1974



Thai title

:

ก้องตะวัน




English title

: THE SOUND OF SUN



Rating

: 3/5


Director

:



Main actor

: Yodchai Meksuwan,Manop Aussawathep,Pipop Pupinyo,Thep Thienchai


Main actress

: Pawana Chanajit,Khomapat Attaya
Thai movie ก้องตะวัน / THE SOUND OF SUN was released in year 1974 and lasts 1h56mn. This movie was never released in Thailand under VHS, VCD or DVD. Kiet (Yodchai Meksuwan) and Daojai (Pawana Chanajit) are stuck in the countryside as their car engine is broken. Thep Thienchai is playing Kiet's domestic helper called Ouam. The sun reverberation is particularly strong in this countryside area. They are married for 7 days. It is not a reciprocal love. Wanna, doctor's wife, is often out with Daojai. The doctor is always obedient to his wife. Kiet is sick while Daojai is away. To create interest from Daojai into Kiet, the doctor lies about a critical disease if she doesn't care more about her husband. Everything is back to normal and they do have a daughter called Sanit. One day, an old friend of Kiet, called Dom, asks him for help. The friend invites him to discuss in a bar and a lady, called Lomrak (Khomapat Attaya), pushes him to drink a lot. He finally sleeps there being drunk. Life goes back to normal but Lomrak keeps calling Kiet (หลงรัก). Kiet keeps going back home late (เมียน้อย) so Daojai is very worried. Very drunk, Lom brings back Kiet at home and meets Daojai (แม่บ้าน). Kiet wishes to use the marital room with Lomrak. Kiet slaps Ouam blaming him. Daojai, Sanit and Ouam quit the house on the same night. They take refuge in a relative's home, who is often drunk. At nighttime, Choei tries to abuse (ปล้ำ) Daojai. Kiet keeps drinking heavily (ทำผิด). Kiet has to sell his car to pay debts. He is fired from his company as 400 000 baht have disappeared from the banking accounts. Kiet is broke (หมดตัว). Kiet discovers that Lomrak is Dom's wife and that they stole his money. Dom's ruffians including Pipop Pupinyo teach him a lesson. The ruffians leave him for dead. Daojai meets อา Montri (Manop Aussawathep). Kiet starts a new life by being a car driver. Daojai and Montree see him on the road side. Daojai misses Kiet but she doesn't want to be weak in front of him so she rejects his apologies and even prevents her daughter to meet Kiet. She mentions that Montri is her new husband. Kiet and Montri have a man-to-man explanation but Dom appears and tries to shoot Kiet. To avoid any issues with Thai justice, Dom has to get rid of Kiet as he is aware of his illegal activities. Dom runs his jeep over Kiet's leg. Due to extreme sun reverberation in this countryside area, Dom loses control of his jeep and crashes into a tree killing Lomrak. A mysterious local doctor takes care of Kiet and he can recover within seven days. Kiet, Daojai and their daughter are back together.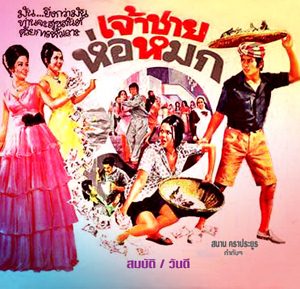 Year

: 1974



Thai title

:

เจ้าชายห่อหมก




English title

: Curried fish prince



Rating

: 3/5


Director

:



Main actor

: Sombat Methanee,Thuam Thoranong


Main actress

: Wandee Sritrang,Khomapat Attaya,Jomchai Jarintorn,Viphavadi Triyakul,Chosri Misommon,Malee Wetpraseri,Metta Roongrat
Thai movie เจ้าชายห่อหมก (Curried fish prince) was released in year 1973. The movie was never released in Thailand under VHS or VCD format. Nevertheless the 35mm film was recorded by a collector and lasts 2h08mn. Chosri Misommon is playing a domestic helper. Mom Pa is waiting for her lost son, Kinarin, who had gone to study abroad and didn't send any news for years. Many years passed and she is getting severely sick. To please her and to speed up her recovery, Metta announces that her son is coming back very soon so she has to organize an event (งานต้อนรับ). The father (Thuam Thoranong) and Metta Roongrat have idea to find a man with a similar face in order to please Mom Pa. The father remembers to have seen such man (พ่อค่า) in Ayutthaya selling curried fish (ห่อหมก). His name is Cheui (Sombat Methanee). His sister, Khomapat Attaya, is also playing a market merchant (แม่ค่า). The grandmother is played by Malee Wetpraseri. Cheui accepts under the pressure of his sister wishing to change her life. He has to learn with moult difficulty good manners from high society (สังคมผู้ดี). Cheui disappears the day before as being caught by a former girlfriend. Seeing her son again, Mom Pa recovers. Mom Pa wishes her son to marry Kantima (Wandee Sritrang). Kantima is upset with Cheui as he is playing too well his role and she refuses to sacrifice herself as she is part of those who paid to hire Cheui. She knows he is coming from a low background (คนจร) so he should behave and not try to abuse about his position of being the fiancé. Real Kinarin (also played by Sombat Methanee) is back but he lost his arm due to airplane accident. Cheui's self declared girlfriend tries to bring a mess but it fails. Cheui is back home as his seven days contract is over. Kinarin, seeing that his mum is happy and Kantima loving Cheui, decides to go back to England to let others having happiness. The rich family still needs Cheui so they use his mother Malee Wetpraseri to convince him again. Kinarin will go back to England and needs Cheui to replace him. Metta is going to England with Kinarin (ท่านพี่). Finally Cheui and Kantima marry. In this romantic comedy movie actor, Sombat Methanee is playing two roles, i.e. Cheui and Kinarin.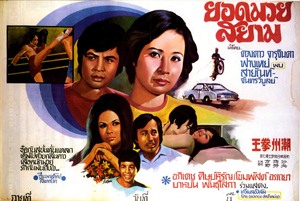 Year

: 1973



Thai title

:

ยอดมวยสยาม




English title

: The greatest Thai boxing



Rating

: 3/5


Director

:



Main actor

: Sayan Chantaravi​boon


Main actress

: Duangdao Jarujinda,Khomapat Attaya
Thai movie ยอดมวยสยาม or "The greatest Thai boxing" was released in year 1973. It is a Taiwan | Hong Kong production. It is named 潮州拳王 - "The greatest Thai boxing" or "Boxer King of Chaozhow". It lasts 1h29mn09s. The movie is lost in Thailand but can still be seen at the Taiwan National Film Archive Foundation. It features Thai actor Sayan Chantaraviboon and Thai actresses Duangdao Jarujinda, Khomapat Attaya. A summary is available in Chinese.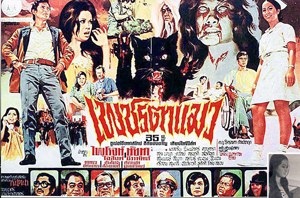 Year

: 1972



Thai title

:

เพชรตาแมว




English title

:



Rating

: 3/5


Director

:



Main actor

: Phairoj Jaising,Manop Aussawathep,Surasit Sattayawong,Tawan Siriwat,Sukon Koewliam,Sompong Phonmitr,Lor Tok


Main actress

: Naiyana Shewanan,Sisala Thongtara,Malalin Bonnak,Khomapat Attaya
Thai movie เพชรตาแมว was released in year 1972. The movie lasts 2h25mn. It seems the movie was never released on DVD or VCD. Only on cable TV so scenes involving alcohol drinking or smoking cigars are blurred. A few songs are featured in the movie similar to all movies beginning of 1970s following huge success of "Mon Rak Luk Tung". Three men are looking in a remote cave for a mystical cat having real diamond eyes. Chat is the one who finds it first but fighting happens with another man. They shoot each other. The third one being a Prince (หม่อม)(Manop Aussawathep), who finally keeps the jewel and doesn't give it back to Chat's daugher. Ten years have passed. The prince is now disabled, lost his wife and child. The jewel brought him bad luck as he is not the real owner. Niphon (Surasit Sattayawong), Tawan Siriwat, Sisala Thongtara, Sukon Koewliam are his domestic helpers. Tawan Siriwat hires a young lady to get the jewel from the Prince. Meanwhile the prince asks Yot (Phairoj Jaising), being a police inspector (สารวัตร), to look for Chat's daughter called Bussayarat. Bussayarat is now a nurse (Naiyana Shewanan). Sompong Phonmitr is her father and wishes to marry her to a local ruffian in order to get money to continue to buy alcohol. Yot helps Bussayarat aggressed by those ruffians. Yot brings Bussayarat to Bangkok in order to meet the Prince believing he found Chat's daughter. As Bussayarat has still a father, the Prince claims she is not the Bussayarat he is looking for but keeps her as a nurse. Niphon introduces to the Prince a fake Bussayarat played by Malalin Bonnak. The Prince asks for 7 days to ensure (สอบถาม) she is the real one. Meanwhile Tawan Siriwat also introduces to the Prince another fake Bussayarat played by Khomapat Attaya. The diamond is sacred (ของศักดิ์สิทธิ์) so it will bring bad luck to malevolent people. Tawan Siriwat, disguised as a ghost (ผี) frightens Malalin to chase her away. Khomapat also faces many black cats in her room and flees. Niphon is married to Nuan (สุพรรณ บูรณะพิมพ์). Nuan is elder sister of Malalin. Niphon is thinking to flee with Malalin when they get the diamond. As Khomapat is in hospital following her shock, Niphon cuts her oxygen approvisionnement to get rid of a competitor. Seeing Yot loving Bussayarat, Malalin is jealous and tries to take Yot away from Bussayarat. Meanwhile Yot is sent by the prince to meet Phra lo (Lor Tok) in order to bring back the diamond. Tawan Siriwat sends some ruffians to steal it but it fails. A ceremony to handover the diamond (มอบเพชร) to Malalin is organised. It ends badly with Tawan Siriwat trying to steal the diamond and injuring Malalin. Yot shots Tawan Siriwat. Being disfigured, Malalin asks Bussayarat to get the diamond for her so that she can have chirurgical operation. Having the diamond, Malalin prepares to flee with Niphon. Khomapat's aunt called Nathalie shots Malalin to get the diamond. Many deaths happen due to the evil power of the diamond (อำนาจของเพชรตาแมว). Nathalie becomes crazy after Niphon steals the diamond from her. Niphon is chased by the police. He shots by mistake Nuan and finally falls from a building. During an official ceremony, the Prince gives back the diamond to Bussayarat.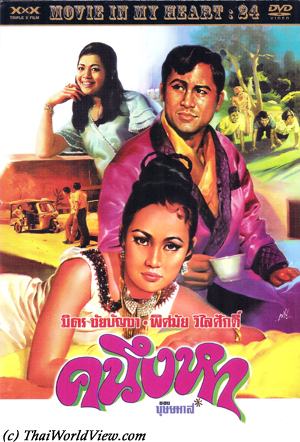 Year

: 1971



Thai title

:

คนึงหา




English title

:



Rating

: 4/5


Director

:



Main actor

: Mitr Chaibancha,Prachuap Ruekyamdee,Daonoi Duangjai,Choomporn Theppitak


Main actress

: Pissamai Wilaisak,Khomapat Attaya,Prim Praphaporn,Metta Roongrat



Buy now

:

Pum (Mitr Chaibancha) loves Deuan Chai but his parents want him to marry Prakai Fa (Khomapat Attaya), a young lady he doesn't love. Mitr consults his lawyer Pattai (Prachuap Ruekyamdee) and they set up a plan. As Deuan Chan is still studying in Japan for 8 months, they need to find a fake lady to convince the aunt (คุณหญิง) that Pum is already married to Deuan Chai and to cancel engagement with Prakai Fa. A job advertising is posted. Yai (Pissamai Wilaisak)(นางหนู), old style young lady, answers to it. Daonoi Duangjai is playing funny character as usual. The aunt is very direct (ปากร้ายใจดี). As wife and husband, Pum and Yai need to share the same room so it causes some issues. Pum's mother doesn't like Yai and wishes to cancel Pum and Deuan Chan's marriage. The mother tries to add jealousy between Pum and Yai by pretending Yai and Pattai are close together. Sathi (Metta Roongrat), close friend with Pum, has a fiance called Pirapee. Prakai Fa arrives and is shocked to discover Deuan Chan as she is supposed to get engaged with Pum. Pum is very jealous regarding Yai. It seems Yai has also a fiance (กุมาร) called Prasan (Choomporn Theppitak). In fact Yai, real name Ranaree, is coming from Songkhla and is also coming from a rich family. Her brother is Pirapee. She has to follow her parents' decision (ต้องทำตามคำสั่งของพ่อ). This movie features the last sequence in Mitr Chaibancha's life. Real Deuan Chan (Prim Praphaporn) is back so Yai prefers to leave. Pum has to disclose the truth to his aunt. The last sequence of the movie is using a replacement of the main actor as Mitr Chaibancha was already dead. Finally the movie ends happily with Pum and Yai staying together.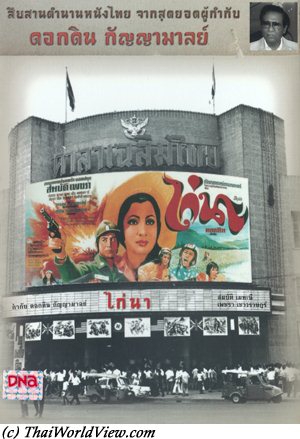 Year

: 1971



Thai title

:

ไก่นา




English title

:



Rating

: 3/5


Director

: Dokdin Kanyaman



Main actor

: Sombat Methanee,Sawin Sawangrat,Prachuap Ruekyamdee,Choomporn Theppitak,Dokdin Kanyaman


Main actress

: Petchara Chaowarat,Orasa Isarangkul,Juree Osiri,Khomapat Attaya,Chadaporn Wachirapranee
Thai movie ไก่นา was released in year 1971 and lasts 2h15mn. The movie was released under DVD format by company Happy Home Entertainment. The DVD features a red picture as the film found was very old. The movie is directed by Dokdin Kanyaman. Jae (Dokdin Kanyaman) and Kai Na (Petchara Chaowarat) sell goods but have issues with policeman Tawan (Sombat Methanee) currently chasing ruffians. Kai Na is a former nurse. She helps an injured man called Chat (Sawin Sawangrat), who claims he was chased by ruffians. After recovery, he flees away and leaves a letter behind. Kai Na brings the letter to the recipient in Bangkok. She meets Mae Nuan (Juree Osiri) and her domestic helper Orasa Isarangkul. The husband Prachuap Ruekyamdee wishes to know where Chat is located now. Prachuap is Chat's old friend. Mae Praem has 20 000 baht debt with Chadaporn Wachirapranee. Her daughter Pan is played by Khomapat Attaya and her bodyguard is Choomporn Theppitak. Prachuap helps Mae Praem with her debt. Prachuap wishes Kai Na to marry his son per Chat's request. Prachupap's son is Tawan! Kai Na accepts as she feels indebted to Prachuap's kindness. As Tawan refuses to marry an unknown lady, he convinces his brother Teewa (จีระศักดิ์ ปิ่นสุวรรณ) to marry her. He secretly loves Kai Na. During the wedding ceremony, Tawan realises that the bride is Kai Na herself! He keeps drinking alcohol to forget his mistake. Teewa was promised to Pan already so her family brings a mess during the wedding party. Pan is already pregnant with Teewa. Teewa announces the news to Kai Na and cancels the wedding. Tawan meets finally Chat, who had been chased by weapons traffickers. Tawan has to go at the Thai border in the North of Thailand. Government official announced that Tawan has disappeared in the forest. To forget her pain, Kai Na and others decide to go helping hill tribes. They give medicine, food and also King / Queen images to them. Teewa is hiding in the mountains as a hill tribe villager as he is chasing some weapons traffickers. Two small parts of the movie are in damaged state and are in fact former songs filmed in 35mm format. In 1960s, movies were shot in 16mm format and had to be dubbed. Songs were shot in 35mm format to have image and sound together. The original movie included 7 songs but only 2 are left. The traffickers storm the hospital where Kai Na is working. The movie ends up happily as Tawan defeats the ruffians. Choomporn is shot. While being in the mountain, Tawan got another wife (a sexy actress - ดาวยั่ว - as usual in Dokdin's movies). Other actors and actresses are พงษ์ลดา พิมลพรรณ, ธัญญา ธัญญรักษ์, สิงห์ มิลินทราศัย, ดลนภา โสภี. Dokdin Kanyaman's movies always include many different tastes (action, romance, comic, a bit of light erotism) in order to please the whole family.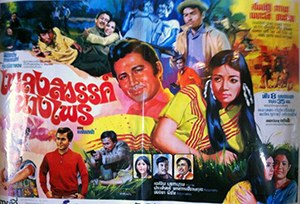 Year

: 1971



Thai title

:

เพลงสวรรค์นางไพร




English title

:



Rating

: 3/5


Director

:



Main actor

: Sombat Methanee,Sawin Sawangrat,Choomporn Theppitak,Anucha Ratanaman,Krai Kanchit,Noppadol Duangporn,Sompong Phonmitr


Main actress

: Pawana Chanajit,Khomapat Attaya
Following huge success of movie "Mon Rak Luk Tung" (มนต์รักลูกทุ่ง) in 1970, many song movies were released to catch up with this trend. Such movies include songs, a bit of action, romance and humor. Thai movie เพลงสวรรค์นางไพร is one of them and was released in year 1971. It features nine songs. Director is พิชิต มีชัย. This movie was a lost movie in Thailand. In year 2013, a last copy was found in a Thai temple in the North of Thailand. Only three reels of the movie are left, so around 1h30mn. Unfortunately the film reels were in bad condition due to water soaking, so only 18mn are usable. It is in 16mm format so there is no sound as such format requires dubbing. No songs are left. No movie poster is left. A movie partial summary is still available. Sombat Methanee is Waiwai, working as forest guard. Pawana Chanajit is SaenGneun. Others actors include Sawin Sawangrat, Choomporn Theppitak, Anucha Ratanaman, Krai Kanchit, Khomapat Attaya, countryside folk singers (นักร้องลูกทุ่ง) such as Noppadol Duangporn. Action takes place in a village. Ruffians are terrorizing and aggressing local ladies. A spirits doctor is coming to the village. A ghost appears to the villagers during an assembly. Romance is happening between Waiwai and SaenGneun. A small sequence shows Sombat Methanee punching ruffians. The remaining sequences are not enough to understand the movie.



Year

: 1971



Thai title

:

น้องนางบ้านนา




English title

:



Rating

: 3/5


Director

:



Main actor

: Chaiya Suriyun,Chat Mongkolchai,Choomporn Theppitak,Op Boonthit,Anucha Ratanaman,Sawin Sawangrat,Sompong Phonmitr


Main actress

: Aranya Namwong,Wassana Chalakorn,Chosri Misommon,Khomapat Attaya
Thai movie น้องนางบ้านนา is a Thai movie released in year 1971. It features Chaiya Suriyun as main actor and Aranya Namwong as main actress. The movie was started with Mitr Chaibancha but it was incomplete due to his premature death. So the main actor was replaced by Chaiya Suriyun. The movie features nine songs but none are left. Many famous singers from beginning of 1970s decade are acting in this movie. No movie summary is available anymore. The movie is lost in Thailand but luckily an extract of 56 minutes is still left. Other actors are Chat Mongkolchai, Choomporn Theppitak, Wassana Chalakorn, Khomapat Attaya, Anucha Ratanaman, Sawin Sawangrat, Marasee (มารศรี), Sompong Phonmitr, Chosri Misommon, Op Boonthit. Without a summary and the movie being in mute state as it is in 16mm format, the story is difficult to understand. Aranya Namwong receives a letter from her fiance studying at university. Wassana Chalakorn is jealous and steals the photograph. Op Boonthit and his daughter Chosri Misommon are bar owners. Sompong is their regular customer. Choomporn Theppitak is agressed by a ruffian, who is finally an old friend. Sawin Sawangrat and Rujira (ม.ล. รุจิรา) seem to have bad plans but are spied by Choomporn and Anucha. Chaiya is back from his studies. Chaiya and Wassana Chalakorn are in a rice field having romantic talk. Khomapat Attaya is with them. Wassana Chalakorn tries to prevent Chaiya to meet Aranya. Anucha is trying to abuse Wassana Chalakorn. Heated arguments happen during a wedding colorful procession. This movie reminds of famous movie "Mon Rak Luk Thung" (มนต์รักลูกทุ่ง - 1970) as it features many songs and various couples involving romance and jealousy. Following movie "Mon Rak Luk Thung" success, many romantic song movies (หนังเพลง) were released in the following months and years trying to surf on a similar popular wave.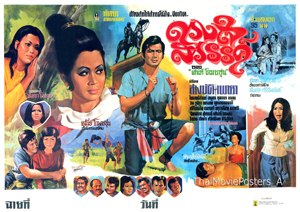 Year

: 1971



Thai title

:

ดวงใจสวรรค์




English title

:



Rating

: 3/5


Director

:



Main actor

: Sombat Methanee,Sukon Koewliam,Anucha Ratanaman,Choomporn Theppitak,Man Teeraphol,Daonoi Duangjai,Sithao Petcharoen


Main actress

: Petchara Chaowarat,Khomapat Attaya,Marasri Isarangkul
Thai movie ดวงใจสวรรค์ was released in year 1971. The movie is lost in Thailand. Only a short left colorful sequence lasts 6 minutes and the image is quite damaged. The remaining sequence is in mute state as the reel is in 16mm format. Main actor is Sombat Methanee and main actress is Petchara Chaowarat. Other actresses and actors are Man Teeraphol, Khomapat Attaya, วิน วิษณุรักษ์, รุจิรา อิศรางกูร,เทอด ดาวไท, พุทธพงศ์, เตือนใจ บุญพระรักษา, ณรงค์, Daonoi Duangjai, Marasri Isarangkul, จิตตรา, Sukon Koewliam, เสน่ห์ โกมารชุน, ถนอม นวลอนันต์, โกร่ง กางเกงแดง, Sithao Petcharoen, สีเผือก, ศรีสุริยา. It is probably an historical romantic movie as people wear old style clothes. Various sequences are left but main actor and main actress cannot be seen. A rampage seems to have happened in a house. A man helps an unconscious man on the floor. He then dies. A young lady finds her mother dead on the floor also. A reddish sequence shows Anucha Ratanaman in a bar talking to barman. Anucha Ratanaman is upset by two other men and leaves the bar. Another sequence shows three armed men led by Choomporn Theppitak. Three comic men including Sukon Koewliam, โกร่ง กางเกงแดง are running and are tired. A beautiful woman (Khomapat Attaya) is walking near them. She is a ghost! The movie features 9 songs according to the movie poster.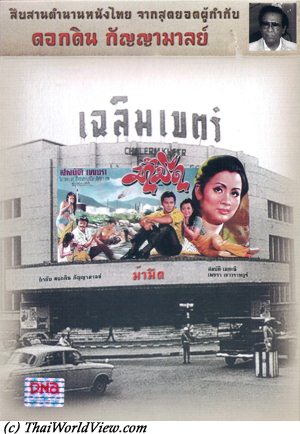 Year

: 1970



Thai title

:

ม้ามืด




English title

:



Rating

: 3/5


Director

: Dokdin Kanyaman



Main actor

: Sombat Methanee,Sawin Sawangrat,Prachuap Ruekyamdee,Choomporn Theppitak,Dokdin Kanyaman,Lor Tok,Rujira Isarangkul


Main actress

: Petchara Chaowarat,Orasa Isarangkul,Wilaiwan Watthanaphanit,Juree Osiri,Khomapat Attaya,Chadaporn Wachirapranee
Thai movie ม้ามืด was released in year 1970. The movie lasts 2h35mn. It is former 16mm format film featuring three songs in 35mm format. Robbers (โจร) are chasing a caravan driven by Kaew (Sawin Sawangrat). Kaew lets a lady called Raya (Wilaiwan Watthanaphanit) to go down first with two young children. Sawin and Raya's husband die later as the caravan falls in a ravine causing a forest fire. During the fire, one of the children disappears (หลานสาว). Sai (Juree Osiri), the husband's mother, accuses Raya to be responsible of those deaths. Prachuap Ruekyamdee, one of the villagers, finally takes care of Raya and her remaining son. Years have passed. The son Chaichan is now an adult and played by Sombat Methanee. He is back from overseas and is supposed to marry but the fiancee Taem Duang changes her mind. He needs to find a solution to avoid his parents losing face (ขายหน้า) in front of the villagers. He helps Meut, a young girl, agressed by ruffians. As a reward for his help, he asks to marry her temporary. The district officer performing the wedding is played by Lor Tok. Keng (Orasa Isarangkul) is Meut (Petchara Chaowarat)'s friend. After the wedding, Meut flees with Keng. In a village, they meet a crazy man who looks like Kaew. They meet also Dokdin Kanyaman. In fact, Meut and Keng have come here to look for petrol. Meanwhile Taem Duang (Khomapat Attaya) and her mother Rasee (Chadaporn Wachirapranee) are gossiping (นินทา) on Chaichan as they believe he was a fake rich guy from countryside. Meut was in fact adopted by Rasee's old husband. Meut wishes to buy a plot of land belonging to Prachuap as it contains petrol. Once Prachuap knows Meut has married his son through a fake wedding, he refuses to sell the land anymore (เขตป่าไม้). Choomporn Theppitak is used by Rasee to perform dirty jobs. Knowing that Meut failed to buy the land, Rasee wants to use her daughter's charms towards Chaichan. Meut recalls from an old grandma that she was brought by her to a rich family when she was young. Chaichan try to stop ruffians led by Choomporn burning the forest (ไฟไม้ป่า). Kaew helps him but gets beaten on the head. His memory is back. Prachuap revels that Kaew is real father of Chaichan, his former associate. Father and son are back together. Bua, a local villager, is pushed by Choomporn and Rasee as granddaughter in order to get heritage but it fails. Finally Rasee, who ordered kidnapping of Meut, shows her real face and tries to force her older husband to transfer heritage to her. Meut and Chaichan stop her on time. It is revealed that Meut is Raya's lost daughter. Meut and Chaichan can now find happiness.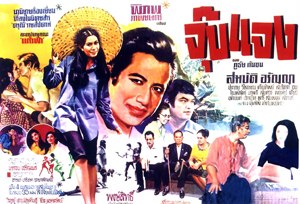 Year

: 1970



Thai title

:

จุ๊บแจง




English title

:



Rating

: 3/5


Director

:



Main actor

: Sombat Methanee,Somkuan Krajangsat,Adinan Singhiran,Prachuap Ruekyamdee,Sukon Koewliam,Op Boonthit,Sompong Phonmitr


Main actress

: Aranya Namwong,Wilaiwan Watthanaphanit,Somjit Sapsamruey,Sarinthip Siriwan,Khomapat Attaya,Chosri Misommon,Marasri Isarangkul
Thai movie จุ๊บแจง was released in year 1970. Main actor is Sombat Methanee and main actress is Aranya Namwong. The movie is in 16mm format and so in mute state as such format requires dubbing. The film is incomplete as only 1h31mn remains to be seen. No summary is available. The movie features four songs but they are lost. Aranya Namwong is Jub Jaeng. Her parents are played by Somkuan Krajangsat as father and Wilaiwan Watthanaphanit as mother. Her mother seems upset. Sombat meets Jub Jaeng's mother indulging in alcohol. Marasee, a rich old lady, orders Adinan Singhiran to kidnap Jub Jaeng. While discussing inside the house, three thugs storm it and kidnap Jub Jaeng. The father and mother get hit by the thugs. Somjit Sapsamruey is Sombat's mother. Prachuap Ruekyamdee releases Jub Jaeng but it is a coup monté. It seems that Jub Jaeng is coming from a rich family. Khomapat Attaya and her mother Sarinthip Siriwan are having arguments with Jub Jaeng. Sukon Koewliam and Chosri Misommon are playing comic roles a domestic helpers. Sombat tries to seduce Jub Jaeng. They finally become lovers. Khomapat and her mother denigrate Jub Jaeng towards Sombat. Khomapat pushes Aranya in the stairs. She ends up at hospital. Wilaiwan and Somkuan finally find Jub Jaeng. They finally get reunited thanks to Sompong Phonmitr. This movie features sequence shot in famous Daimaru former shopping mall. Prachuap has a leg injury and is visited by twin ladies (real singers อารยา ปาริชาติ ฉายาลักษณ์). Finally the parents let Jub Jaeng go with Sombat. Khomapat and her mum are upset about the gifts bought by Sombat to Jub Jaeng. Sombat tries to end the dispute with Khomapat but it ends up badly. While walking on the beach, he gets stabbed by ruffians. Khomapat gets also aggressed by ruffians on the beach. Khomapat tries to hit Jub Jaeng again but she fights back and finally decides to quit this crazy house. Prachuap and Sombat finally understand Khomapat's bad games. Sombat rushes after Jub Jaeng and they finally reconcile.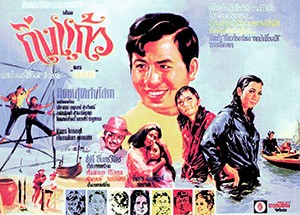 Year

: 1970



Thai title

:

กิ่งแก้ว




English title

:



Rating

: 3/5


Director

:



Main actor

: Mitr Chaibancha,Prachuap Ruekyamdee,Adul Dulyarat,Surasit Sattayawong,Adinan Singhiran


Main actress

: Suthisa Putnuch,Sopha Sataporn,Khomapat Attaya
Thai movie กิ่งแก้ว was released in year 1970. It features Mitr Chaibancha as main actor and Suthisa Putnuch and Sopha Sataporn as main actresses. Other actors featured are Prachuap Ruekyamdee, Adul Dulyarat, Surasit Sattayawong, Khomapat Attaya, Adinan Singhiran. The movie is lost in Thailand but luckily a four minutes sequence featuring a song remains to be seen. Unfortunately Mitr Chaibancha cannot be seen in the remaining four minutes sequence. The singer is ชินกร ไกรลาศ, famous singer during decades 1960s and 1970s. The whole movie features three songs. Normally songs were in 35mm format but for provinces everything was in 16mm format to avoid the pain of having to use two projectors. Three songs were featured in this movie.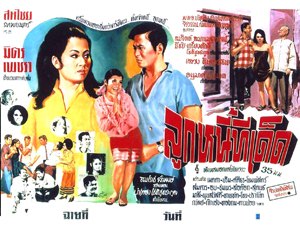 Year

: 1970



Thai title

:

ลูกหนี้ทีเด็ด




English title

:



Rating

: 3/5


Director

:



Main actor

: Mitr Chaibancha,Daonoi Duangjai,Kokheng,Op Boonthit,Somkuan Krajangsat,Sukon Koewliam,Lor Tok,Choomporn Theppitak


Main actress

: Petchara Chaowarat,Metta Roongrat,Prim Praphaporn,Khomapat Attaya,Sasithorn Phetrung,Malee Wetpraseri
Thai movie ลูกหนี้ทีเด็ด was released in year 1970. A partial sequence of 1h45mn in 16mm format is left. It is in mute state and the image is pretty damaged. After removing the damaged sequences, only 1h05mn remains to be seen. Another sequence of three songs in 35mm format lasts 9 minutes. The movie was dubbed and shown in Thai Film Archives in the shorter version of 1h05mn. The movie features 4 songs but only 3 songs are left. The poster selling point is that up to 40 different actors and actresses are present in this movie. Some of the actors are Metta Roongrat, Daonoi Duangjai, Mitr Chaibancha, Prim Praphaporn, Petchara Chaowarat, Kokheng, Op Boonthit, Somkuan Krajangsat, Sukon Koewliam, Lor Tok, Khomapat Attaya, Sasithorn Phetrung, Choomporn Theppitak, Malee Wetpraseri. Lit (Mitr Chaibancha) helps Somkuan Krajangsat and Lor Tok aggressed by ruffians. Somkuan is looking for the house of Op Boonthit so Lit helps him to find it. Wan (Metta Roongrat) is Op's granddaughter. Three friends (Lit and two comic actors) are living together. แม่ค่า Ling (Sasithorn Phetrung) tries to seduce Lit by being friendly with his friends and giving them free food. Ling's mother (Malee Wetpraseri) doesn't want her daughter to meet those poor 3 guys. Sophee, Lit's girlfriend, leaves him as he is poor. Pim (Prim Praphaporn) and Taeng (Petchara Chaowarat) take refuge in their home as rain is falling hard. Pim and Taeng are looking for lost relatives so Lit promises to help them. Policeman Sukon Koewliam and Kokheng are visiting Lit as he needs to pay back some debts. Sukhon threatens to send him to jail. Taeng helps Lit by offering her pearl necklace in order to soothe the usurer. Op Boonthit and Somkuan Krajangsat (พ่ออ้วน) complain Wan likes to go out often. Wan and Noi (Daonoi Duangjai) meet Lit and his two friends to discuss business. Lit visits Op and Somkuan's house. Lit borrows some money as he is opening a business. Wan gives money to Lit and his friends for them to be quiet. Two songs are then featured in the nightclub area. Lit is forbidding his former girlfriend Sophee to dance with Choomporn Theppitak in a nightclub. Chom (Khomapat Attaya) is also present. Lit finally punches Choomporn. Another love song is sung by Khomapat Attaya. Ling declares her love to Lit but Lit only considers her as a younger sister (น้องสาว). Op asks Lit to find his lost daughter. Lit needs to get back the pearl necklace also as Op mentions his lost daughter had such necklace. So he needs to verify if Taeng is the lost daughter or not. Chom is helping by giving money to Lit. Lit buys the necklace back from the Chinese usurier Kokheng. Finally Taeng is reunited with her family thanks to Lit. Later on, Taeng visits Lit in his house. Taeng is then singing with Lit in his house. Thanks to a sign on his chest, Lit is also identified as the lost son of Somkuan. The movie can end up happily. A movie with same name was released in year 1984 but the story is different.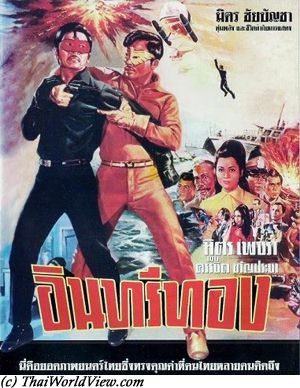 Year

: 1970



Thai title

:

อินทรีทอง




English title

: Golden Eagle



Rating

: 2/5


Director

: Mitr Chaibancha



Main actor

: Mitr Chaibancha,Kanchit Kwanpracha,Prachuap Ruekyamdee,Adul Dulyarat,Choomporn Theppitak,Krai Kanchit,Kokheng


Main actress

: Petchara Chaowarat,Khomapat Attaya,Yaowaret Nisakorn



Buy now

:

The masked vigilante crimefighter, called Red Eagle is back with Mitr Chaibancha playing the leading role. In this movie several influential people are mysteriously killed when they receive a red ceramic Buddha statue. They died of sudden fear. Somebody is also using Red Eagle identity to commit murders so the hero changes his mask to gold and becomes Golden Eagle. The mysterious organisation wishes to take over Thai government. Golden Eagle is investigating against this mysterious organisation in parallel of the Thai police. Trained in psychic powers by Rasputin, the head of the mysterious organisation kills by beaming his thoughts and visage through red ceramic Buddha statues. He can split himself into three images and can hypnotize remotely. He even put his heart out of his body into a vessel for protection. It is the first movie directed by Mitr Chaibancha. It is also the last movie in which Mitr Chaibancha played. Mitr died after falling from a rope ladder that was dangling from a helicopter. He was only 36 years old. Many Thai theaters paid respect to Mitr Chaibancha before showing "Golden Eagle" movie by placing a Pepsi bottle in front of a picture of the Thai actor. It was said that Mitr Chaibancha liked Pepsi. 40 copies were done for "Golden Eagle" movie as it was the last movie of Mitr Chaibancha. Normally only a few copies were done per movie.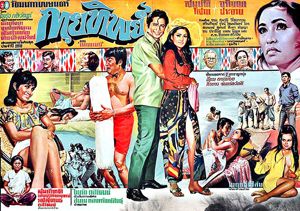 Year

: 1970



Thai title

:

กายทิพย์




English title

:



Rating

: 3/5


Director

:



Main actor

: Sombat Methanee,Chana Sriubon,Prachuap Ruekyamdee,Sukon Koewliam,Sithao Petcharoen,Krai Kanchit,Sawin Sawangrat,Ruj Ronnapop,Sompong Phonmitr,Pan Borapet,Op Boonthit


Main actress

: Aranya Namwong,Sopha Sataporn,Wilaiwan Watthanaphanit,Sarinthip Siriwan,Khomapat Attaya
Thai movie กายทิพย์ was released in year 1970. The movie lasts 2h30mn but only 1h00 is left to be seen. Jaomanat (Sarinthip Siriwan) is Atibadi's domestic helper. Jaomanat has two sons Phayoton (Sombat Methanee) and Pontet (Prachuap Ruekyamdee), playing a gay character (กะเทย). Atibadi (Chana Sriubon) has two daughters Romadee (Aranya Namwong) and Deuan Rung (Sopha Sataporn). Atibadi's wife (Wilaiwan Watthanaphanit), called Nimnuan, is dead already but her soul (วิญญาณ) has possessed Jaomanat. Three house spirits (ศาลพระภูมิเจ้าที่) are also involved. Two of them are played by Sukon Koewliam and Sithao Petcharoen. Krai Kanchit, a hairdresser, gets warned by Phayoton not to disturb Jaomanat anymore. Fighting in slum(สลัม) happens between Phayoton and Krai. Krai is defeated. Sawin Sawangrat comes later with more men to beat Phayoton but the three house spirits help him. สุมาลี ทองหล่อ, mother of Khomapat Attaya, wishes to grab Atibadi. Finally Atibadi takes Sumalee as his new wife. During the wedding party, Khomapat comes with Ruj Ronnapop but Khomapat has more interest in Phayoton. Sompong Phonmitr is playing a หมอทำเสน่ห์. Sumalee and Sawin visit the magician at the same time but they get teased again by the spirits. Krai comes at that time and meets Sumalee. They become lovers. Sumalee and Atibadi spend their honeymoon in Pattaya. Deuan Rung likes Phayoton but this one manages to have his brother Pontet taking care of her so that he can be with Romadee. Meanwhile Krai has seduced also Khomapat so causing Sumalee's ire. She sends Pan Borapet and Sawin to teach (สังสอน) Krai but they kill him. Upset, she also kills Pan Borapet and Sawin. Sumalee is feeling sad (น้อยใจ). Op Boonthit identifies that Nimnuan's sould (วิญญาณ) is inside Jaomanat. A proper ceremony needs to be done. Sumalee wishes to interrupt it. Monks need to be brought. While the soul is about to exit, Sumalee prevents the holy water to be poured. She is struck by a lighting and dies. Ruj is ravaged. Finally Jaomanat can fully recover.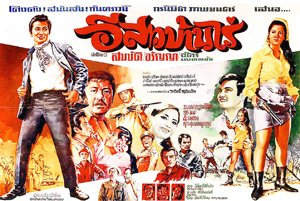 Year

: 1970



Thai title

:

อีสาวบ้านไร่




English title

:



Rating

: 3/5


Director

:



Main actor

: Sombat Methanee,Chat Mongkolchai,Anucha Ratanaman,Choomporn Theppitak,Adinan Singhiran,Chanee Yotchai,Sithao Petcharoen,Kokheng,Sukon Koewliam


Main actress

: Aranya Namwong,Prim Praphaporn,Khomapat Attaya,Marasri Isarangkul
Thai movie อีสาวบ้านไร่ was released in year 1970. It features Sombat Methanee as main actor and Aranya Namwong as main actress. The movie is lost in Thailand but a sequence of 15 minutes remains to be seen. It is a 16mm format movie so no sound is available as it requires live dubbing. A remake was released in year 1983 featuring Sorapong Chatree and Piyamas Monayakol. This movie is also lost except a trailer. Other actors and actresses include Chat Mongkolchai, Anucha Ratanaman, Prim Praphaporn, Choomporn Theppitak, Khomapat Attaya, Adinan Singhiran, โดม สิงห์โมฬี, Chanee Yotchai, Marasri Isarangkul, สาวิตรี สุวรรณจิต, เทิด, Sithao Petcharoen, Kokheng, เสนอ โกมารชุน, Sukon Koewliam. The summary is as below. Aranya is Sarinee. Her nickname is Isao (อีสาว). Sombat is Jainum. Sarinee is the land owner's daughter. Her father gets killed by the neighbour Virawilai (วรวิไล) as he refuses to sell his land. She replaces her father but her staff continues to get annoyed by the ruffians. Jainum gets hired and becomes part of the staff of Sarinee. He gives a tough lesson to the ruffians and is now responsible of the cows in the ranch. Jainum investigates on Sarinee's father death. He finds that those responsible of the murder want to build a runway for planes to bring weapons illegally inside Thailand. Love emerges between Jainum and Sarinee. Owner of ranch Virawilai tries to kidnap Sarinee to force her to transfer her land. While trying to help, Jainum is also captured but hopefully Thai police is coming behind. Ruffians flee in the mountain but Jainum follows them up in order to release Sarinee. The remaining left sequence is certainly happening in the middle of the film. Various scenes can be seen. Choomporn Theppitak is talking on a bed to a lady. Choomporn is a singer in a high end club. Sithao Petcharoen, Sukon Koewliam and two other men try to enter at nighttime in a women's dormitory. They are discovered, beaten and chased away by Prim Praphaporn. Aranya Namwong is meeting Adinan Singhiran in the countryside. He is giving her a letter. She is missing Sombat Methanee. Sombat is with Sukon Koewliam. Two ruffians including Chanee Yotchai kills a man (probably Sarinee's father) in cold blood. A four minutes trailer is also available. Additional scenes can be seen such as Chanee Yotchai trying to recover Sombat Methanee with rocks thanks to a bulldozer, various fightings involving Sombat Methanee or Aranya Namwong, Anucha Ratanaman kidnapping Aranya Namwong, Sombat Methanee fighting with Anucha Ratanaman in order to release Aranya...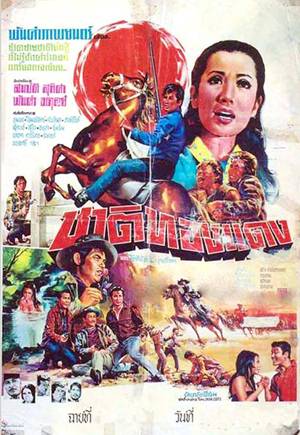 Year

: 1970



Thai title

:

ชาติทองแดง




English title

:



Rating

: 3/5


Director

: Phan Kam



Main actor

: Sombat Methanee,Adul Dulyarat,Chanee Yotchai,Choomporn Theppitak,Anucha Ratanaman,Sukon Koewliam,Joomjim Khemlek,Sawin Sawangrat


Main actress

: Suthisa Putnuch,Khomapat Attaya,Kantima Daraphan
Thai movie ชาติทองแดง was released in year 1970. Main actor is Sombat Methanee and main actress is Suthisa Putnuch. The movie is lost in Thailand but a 2mn14s trailer remains to be seen. The movie director is Phan Kam. The movie is a Thai Western. During the short trailer various sequences can be seen such as Chanee Yotchai hitting a man, a gun duel between Adul Dulyarat and Phan Kam, a fighting scene with Sombat against four men, Anucha Ratanaman flirting with a young lady, Vet actress sexy 1 and 2, a typical waterfall Thai movie scene with a naked lady swimming, a knife duel between Sombat Methanee and Chanee Yotchai, a scene with main actress Suthisa Putnuch. Other actors and actresses are Choomporn Theppitak, Khomapat Attaya, Sukon Koewliam, Joomjim Khemlek, Sawin Sawangrat, Kantima Daraphan.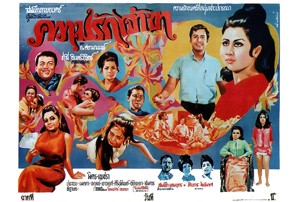 Year

: 1969



Thai title

:

ความรักเจ้าขา




English title

:



Rating

: 3/5


Director

:



Main actor

: Mitr Chaibancha,Adul Dulyarat,Sukon Koewliam,Lor Tok,Prachuap Ruekyamdee,Anucha Ratanaman,Somkuan Krajangsat


Main actress

: Petchara Chaowarat,Chadaporn Wachirapranee,Metta Roongrat,Khomapat Attaya,Yaowaret Nisakorn,Sarinthip Siriwan
Thai movie ความรักเจ้าขา was released in year 1969. This movie features Mitr Chaibancha as main actor and Petchara Chaowarat as main actress. The movie is lost in Thailand but a six minutes trailer is left to be seen. The remaining sequences allow seeing various other actors and actresses such Chadaporn Wachirapranee, Sarinthip Siriwan as mum, Khomapat Attaya, Adul Dulyarat, Anucha Ratanaman, Metta Roongrat, Sukon Koewliam, Lor Tok, Prachuap Ruekyamdee, Yaowaret Nisakorn, Somkuan Krajangsat. Petchara is wearing a blond wig.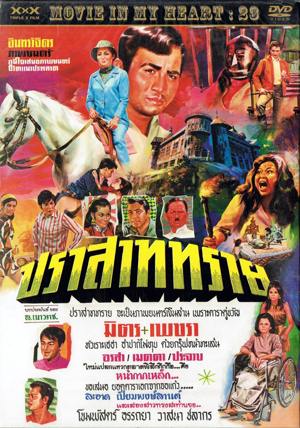 Year

: 1969



Thai title

:

ปราสาททราย




English title

: Sand Castle



Rating

: 4/5


Director

:



Main actor

: Mitr Chaibancha,Sawin Sawangrat,Sukon Koewliam,Sahat Piempongsan,Prachuap Ruekyamdee,Adul Dulyarat


Main actress

: Petchara Chaowarat,Metta Roongrat,Chadaporn Wachirapranee,Khomapat Attaya,Wassana Chalakorn



Buy now

:

A testament is written by an aging father. Everything will be given for the granddaughter, Rung Na Pha (รุ่งนภา), i.e. money and the family house called Sand Castle (ปราสาททราย). So his two sons (คนเลว), aware of this decision, are unhappy. The uncles want to force Rung Na Pha to sign a property transfer. She refuses to do so she is locked inside a hidden room and is put an iron mask on the face (หน้ากากเหล็ก). In Bangkok Ang Madison, young man, meets inadvertently a young student girl called Dao. Ang Madison is neighbor of the Sand Castle (วัง). One of the uncles, Sulasit, also finds Dao, who is having the same face as Rung Na Pha. He brings her back to the family house but villagers and other family members start to notice that she (คุณหนู) has changed a lot. Back to his home, Ang Madison meets Dao but she tells him there is misunderstanding as she is Rung Na Pha and not Dao. Sulasit's daughter likes Ang Madison a lot and wishes to marry him as he is coming from a rich family. Sulasit is friend with Det, a local ruffian head (เจ้าพ่อ). Both uncles don't want half of the house but the whole house including Ang Madison's land. Both uncles' daughters fight to get interest from Ang Madison. They are jealous about Dao as Ang Madison has more interest in her. Ang Madison wishes to share his land with poor villagers to help them. Ang Madison refuses to sell his land to Sulasit, so Sulasit asks Det to kill Ang Madison. Dao and her friends find the real Rung Na Pha in her hidden cell. There are nice old Fx twin effects as Dao and Rung Na Pha both played by Petchara Chaowarat appear on the screen. Dao and her friends cannot release Rung Na Pha on time. Sulasit hits Rung Na Pha harshly causing her death. Sulasit forces Dao to be present as the official opening of the testament. Det is ready to act following Sulasit's order but wishes to play his own plan to get all money and diamonds. Sulasit's son helps and Dao tells the truth about her real identity during the testament opening. Det's irruption brings a mess. Fights happen. Family members fight for pink Diamond. Tragedy happens. The two daughters drown. Sulasit fights with Ang Madison. Finally the father's crazy daughter, mother of Rung Na Pha, puts the fire inside the palace and it explodes. Dao and Ang Madison are safe. In year 1969, this movie became famous. Phanmitr (พันธมิตร) company got the last film copy and shared it with all Thai movies fans.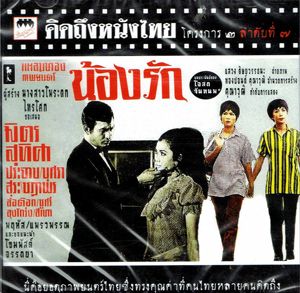 Year

: 1969



Thai title

:

น้องรัก




English title

:



Rating

: 3/5


Director

: Wichit Khunawut



Main actor

: Mitr Chaibancha,Prachuap Ruekyamdee,Lor Tok,Sithao Petcharoen,Preuhat Boonlong


Main actress

: Suthisa Putnuch,Chosri Misommon,Boosara Narumit,Chadaporn Wachirapranee,Khomapat Attaya,Marasri Bangchang



Buy now

:

Thai movie น้องรัก was released in year 1969 and lasts 1h13mn. It is available under VCD format by famous company XxX owned by Toh Pantamit. The original movie is certainly longer as movies in decade 1960s could last up to 2h30mn. It is probably the last 3 reels of the film. Movie director is Wichit Khunawut. One 35mm reel is also still available. Sri (Chadaporn Wachirapranee) brings her niece Kate (Boosara Narumit) in a massage parlour for work but arguments occur as other masseuses complain she is too beautiful so she will take away their customers such as Lor Tok. Sithao Petcharoen is the parlour manager. Fight occurs between Chosri Misommon and Sri. Young lady Dao (Suthisa Putnuch) meets doctor Wut (Mitr Chaibancha) in Neramit's house. Khomapat Attaya is the niece. Shot (Prachuap Ruekyamdee), car driver, knows Kate and loves her. Shot punches his own boss after seeing him with Kate in the massage parlour. She works to be able to raise her younger sister Dao. Marasri Bangchang is playing the owner of rental house. Lying to Shot, Kate has to prostitute herself (ทำงานพิเศษ) in order to find money to pay the rent. Meanwhile Dao tries everything to meet Preuhat Boonlong, her lost grandfather. Neremit proposes to pay Dao's birthday party as he knows she is not rich. It causes the mother and niece's ire. They ruin the party. To help her, Wut pays for the expense and proposes to transform her into an ugly nurse so she can be close to her grandfather. Meanwhile Kate is abused by another man at night time believing it was her lover. She feels so ashamed (ความชั่ว). Thanks to a ring, the grandfather identifies Dao as his granddaughter. Meanwhile Kate is arrested by Police and sent to prison for rehabilitation. Everybody is looking for Kate but she forbids her aunt to tell the truth to anybody. Kate gets seriously sick in the prison. Doctor Wut is the one to treat her. He identifies an incurable cancer (มะเร็งมดลูก). Kate was behaving same as a mother for Dao. Before dying, Kate asks to give her blessings (อวยพร) to the future wedding of Dao and Wut.
---