Increase or decrease font size for easier reading : A+ A-
Kesarin Patamawa
Kesarin Patamawa (193x) - เกศริน ปัทมวรรณn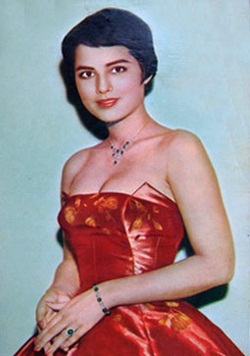 Kesarin Patamawan
This Kesarin Patamawa movie page contains 2 records.
---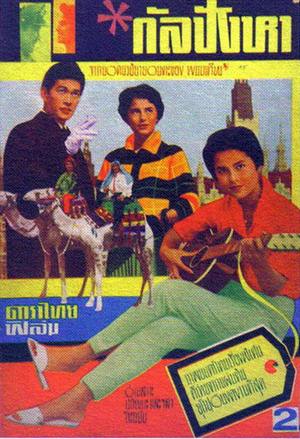 Year

: 1962



Thai title

:

กัลปังหา




English title

:



Rating

: 3/5


Director

: Wichit Khunawut



Main actor

: Chana Sriubon,Ruj Ronnapop,Sukon Koewliam,Preuhat Boonlong,Boo Wibunnan


Main actress

: Kesarin Patamawan,Amara Asavananda,Manat Boonkiet
Thai movie กัลปังหา was released in year 1962. It features Chana Sriubon as main actor and Kesarin Patamawan as main actress. Back from overseas, Kung (Kesarin Patamawan) doesn't want to study anymore as she is old enough. His parents are worried she just wants to have fun with friends. Kung has met Chris (Chana Sriubon) in Italy. Back to Thailand, she meets a fisherman called Naemai (also played by Chana Sriubon) near her home and sympathizes with him. Other actors are Ruj Ronnapop and Boo Wibunnan. She even forces her way (คนดือ) on his boat to see how the life on a boat is. But she takes unreasonable risks. Romance starts between them. Kung receives a request for engagement from Chris. Naemai is arrested by the police. Naemai is Chris' younger brother. Finally aware of the love between Naemai and Kung, Chris breaks his engagement with Kung and lets them having happiness. A VHS from the 16mm film was released in 1992 at the same time as Thai movie สาวน้อย. Director of this movie is famous director Wichit Khunawut. Thai actress Kesarin Patamawan (เกศริน ปัทมวรรณ) played in less than 10 movies before moving to USA. Chana Sriubon played in many other movies with various famous actresses such as in แม่ (with Ratanaporn Intarakamhaeng), ยอดพิศวาส (with สุทิน บัณฑิตกุล), จอมใจเวียงฟ้า (with Metta Roongrat), ก่อนอรุณจะรุ่ง (with Prapan Narkthong), โรงแรมนรก (with Sarinthip Siriwan), สองฝั่งฟ้า (with Pissamai Wilaisak), หมอกสวาท (with Petchara Chaowarat). A remake of movie กัลปังหา with Jarunee Sooksawad, Sorapong Chatree and Nirut Sirijanya was released in year 1985.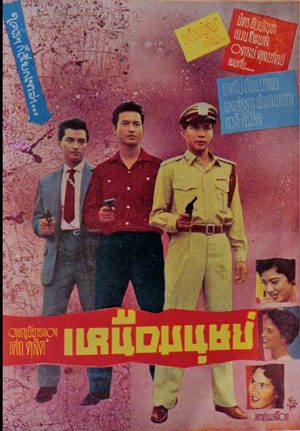 Year

: 1959



Thai title

:

เหนือมนุษย์




English title

:



Rating

: 3/5


Director

: Wichit Khunawut



Main actor

: Mitr Chaibancha,Adul Dulyarat,Man Teeraphol,Sompong Phonmitr,Sukon Koewliam


Main actress

: Rewadee Siriwilai,Kesarin Patamawan,Phong Lada Pimolpan
Thai movie เหนือมนุษย์ was released in year 1959 and lasts 1h26mn. The picture is still colorful. Director is Wichit Khunawut. Mitr Chaibancha was only 25 years old. This is oldest movie still featuring Thai superstar Mitr Chaibancha. Highlight of the movie is Mitr Chaibancha playing with 3 famous main actresses of decade 1950s. Sarawat Cheut (Adul Dulyarat) and Man Teeraphol are policemen. Mitr is playing a bad ruffian, called Krieng, flirting with ladies. Krieng succeeds to win the trust of a gang. The leader sends him in south of Thailand. Sompong Phonmitr follows Krieng as he is impressed by him. Krieng meets Saen, local leader in Pattalung. A local lady called Lada (Rewadee Siriwilai) follows Krieng. Krieng intercepts a truck driven by Saen and containing illicit goods. He joins the Thai police (เจ้าหน้าที่) to catch Saen. Krieng infiltrates another ruffians group and keeps in sync' with Thai police. He meets another lady called Apson (Kesarin Patamawan). Lada is shot while fleeing with Krieng. Businessman Pong asks help from inspector Cheut. Saen kidnaps inspector Man. Krieng helps to release him while ruffians are busy transporting goods. Nit (Phong Lada Pimolpan) is raped by a ruffian. Krieng and Apson joins their efforts to protect Thailand against people trying to hurt the country. Nit steals a document from the ruffians. Undertaker (สัปเหร่อ) kills Saen and Go. Ruffians are aware Krieng betrayed them (ทรยศ). Krieng and Apson are identified as traitors and are attached. Police, called previously by Apson, disturb the ruffians allowing Krieng to escape. Phi Cheua and Nit die during the fightings but Nit shoots Go before dying. Apson is a uncovered policewoman called Achala. It discovered that Krieng's real name is Chet and he is the elder brother of Cheut! Cheut and Chet love the same woman, i.e. Achala. The leader still tries to kill Krieng as revenge. The real leader is Businessman Pong! Krieng succeeds to neutralize the ruffians and escape before the building collapses. He gets Achala's love.
---