Increase or decrease font size for easier reading : A+ A-
Kantima Daraphan
Kantima Daraphan (194x) - กันทิมา ดาราพันธ์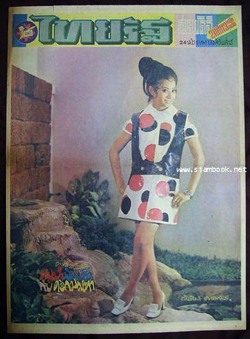 Kantima Daraphan
This Kantima Daraphan movie page contains 6 records.
---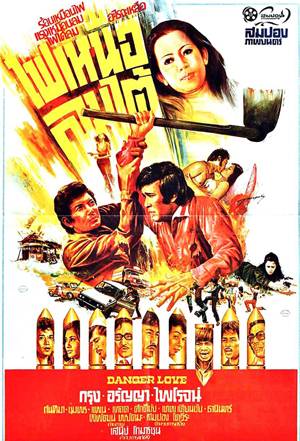 Year

: 1977



Thai title

:

ไฟเหนือลมใต้




English title

: Danger Love



Rating

: 3/5


Director

:



Main actor

: Krung Srivilai,Phairoj Jaising,Choomporn Theppitak,Thep Thienchai,Pan Borapet


Main actress

: Aranya Namwong,Kantima Daraphan,Janthana Siriporn
Thai movie ไฟเหนือลมใต้ was released in year 1977. It features Krung Srivilai as main actor and Aranya Namwong as main actress. The movie is lost in Thailand but a sequence of 1h01mn remains to be seen. Sia (Choomporn Theppitak) is playing pool. Krot (Krung Srivilai) arrives in the game room and shoots him. He then flees. Sia killed Krot's whole family so Krot is taking revenge. Chit (Phairoj Jaising) is upset that his older brother Sia was shot by Krot, a close friend. Chased by ruffians, Krot succeeds to flee by a train going to Hat Yai. A hitman called Takro is killing many people. He finally gets killed due to a trick played by 3 ladies including Linda (Janthana Siriporn) (ไม่น่ามาฅายเพราะว่าข่าอ่อนแบบนี้เลย). The local mafia leader needs to find a new hitman and asks for Krot. Meanwhile Chit finds Krot again and gives him a lesson as he is drunk. Krot succeeds to flee thanks to a taxi driven by Aranya Namwong. Aranya finds a woman picture in Krung's jacket pocket. Probably his former wife killed by Sia. Krot shots 3 drugs traffickers. Chit still tries to catch Krot and a fighting happens on a moving truck. Aranya is in fact a policeman. Krot shots Aranya with a sniper rifle despite Aranya saw him. Krot flees and boards a plane to Chiang Mai. His co passenger is similar to Aranya! Her father just died. Two songs are featured in nightclubs. Linda is also killed by Krot. Aranya is surprised that he is so cruel (หน้าตาดีแต่ใจโหดร้าย). Krot is a professional killer (มือปืนรับจ้าง). Police wants to get him alive to know who are the sponsors behind (ผู้ติดต่อ). So Aranya is assigned to this dangerous task. The remaining sequence ends up here. It could be that Aranya plays two roles. Other actors are กันทิมา, แพน, เทิด, ศักดิ์ชัย, ธานินทร์. A summary of the movie is still available through old Thai stars magazines.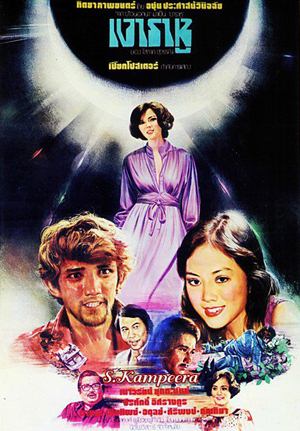 Year

: 1976



Thai title

:

เงาราหู




English title

:



Rating

: 5/5


Director

: Piak Poster



Main actor

: Jirasak Isarangkun Na Ayuthaya,Manop Aussawathep,Adul Dulyarat


Main actress

: Naowarat Yooktanun,Piathip Kumwong,Kantima Daraphan



Buy now

:

A young girl called Tong, living in a slum, is going to stay with her aunt (น้า) Malika (Piathip Kumwong). Many years ago Tong's mother helped Malika who was 6 months pregnant but her boyfriend refused to take care of the baby. As the mother dies of disease, Malika promises to take care of Tong. Malika is Khun Boontaeng's minor wife (เมียน้อย). Khun Boontaeng is avarious so is not so happy to see Tong (หลานสาว) with Malika. He wishes to put her in board school (โรงเรียนประจำ) in order to have full time happiness with Malika. Next week a doctor friend called Tiu will come at their home. Alcohol is needed as he is inconsolable since his wife's death (พ่อม่าย). They finally meet Tiu (Manop Aussawathep) at the golf club. Tiu has a 15 years old son. There is reflection about true love and purchased love (ซื้อความสุข). Many years have passed. Tong (Naowarat Yooktanun) is now a grown up beautiful student wishing to become a a graduate (บัณฑิต). Relation has turned sour with Boontaeng due to his major wife (เมียหลวง). Tiu offers Malika to open a business. Malika wishes Tong to study accountability (เรียนบัญชี) to help take of the company finances. Finally as Boontaeng dies, his wife wants to get back the house! Malika asks Tiu's help who then accepts to host them. Malika manages later to have Tiu signing documents to have her responsible of his fortune. Malika doesn't want to face same fate as with Boontaeng. Even Tiu's son (ลูกชาย), Tom, shall get nothing but he anyway never visits his father. Maybe he is ashamed to have an alcoholic father (ขี้เมา)? Tom gets a monthly salary from his father but sends somebody to get it on his behalf. Tiu continues to indulge in alcohol (ลูกไม่รักดี). Malika doesn't believe in true love. They come to rest in Cha Am in their seaside resort. His son Tom is a rebel with tainted blond hair and hanging around with hippie students. He is staying in a tent with his friends near his father house and denigrates Tong. Tiu is found unanimated on the floor during the night. As Malika is gone with the car, Tong has many difficulties to convince Tom to get a doctor. Tiu remains handicapped and almost paralyzed. He cannot speak properly anymore. Malika refuses to take care of him as she is too busy with her business. She has money but wants now society reconnaissance (เกรด). Tong has to take care about Tiu. Malika gets full power to manage Tiu's asset with the son's approval as he doesn't care about heritage anyway. A rich man Namkeun (Adul Dulyarat) wants to do a join business with Malika. Malika makes many social donations (บริจาคมากเกินไป) so starts to have financial problems. So she pushes Tong to marry him. Tong accepts not because of love but because of gratitude towards Malika (กตัญญู). Tong moves to Phuket (ความรักเกิดยาก). Tong doesn't want to be compared with her aunt Malika as she has studied high enough to take care about herself so she doesn't dream about the heritage of Namkeun. Namkeun has a secret, i.e. following a car accident he cannot perform husband duties anymore. Wiphat is the manager (ผู้จัดการ) taking care of Namkeun's Business activities. It is Tom! Tom believes Malika and Tong are professional experts to grab older rich men. Tom is not upset about his father's heritage but about the house as it is coming from his mum. Being denigrated by Tom and raped by her husband, Tong decides to go back to Bangkok. Due to her foolish expenses, Malika has fired many domestic helpers and sold home furnitures. In fact Malika even sold the house to Khun Namkeun as wedding fee with Tong. Tong promises to Tiu to get the house back in order to give it back to Tom. Malika dreams to become Khun Ying Malika (คุณหญิง) and spends a lot of money on various donations. Tom puts Malika in hospital as she has become crazy with her nobility wishes. He knows that the house now belongs to Tong. Following a drunken evening, Tong gets hurt by her sadistic husband again. Falling from the stairs, Tom brings her to a doctor. During her delirium, she talks to Tiu announcing she succeeds to get the house back. The only solution to save her is to have Namkeun finding a sadistic partner like him. While being cured by the doctor, one of the domestic helper takes benefit to start a relationship with Namkeun. She is sadistic also. Finally Namkeun offers divorce with Tong. She can go back to Bangkok to live happily with Tom, Tiu and even Malika released for mad house. This interesting 1976 movie deals with various modern society themes such as minor and main wife, reconnaissance and status. Main actor is Jirasak Isarangkun Na Ayuthaya, who played only a few movies during 1970s decade. Movie เงาราหู directed by Piak Poster is 2h23mn long. A Thai TV serie with Pete Thongjure was released in 1995.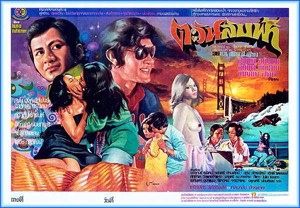 Year

: 1975



Thai title

:

ตะวันลับฟ้า




English title

:



Rating

: 4/5


Director

: ไพรัช กสิวัฒน์



Main actor

: Sombat Methanee,Kwanchai Suriya,Sawin Sawangrat,Paen Pleumsachai,Sithao Petcharoen


Main actress

: Aranya Namwong,Kantima Daraphan,Marasri Bangchang
Thai movie ตะวันลับฟ้า was released in year 1975. It was never released under VCD format. It was released on Thai TV cable channels (Thai BPS, Chaloem Krung TV) and CH7. The movie was remastered in the decade 2010s and shown on Thai BPS. The remastered version lasts 1h43mn. It was also released on U-matic tape and only lasted 1h20mn. The full version probably lasts more than 2 hours as the remastered version is censored. Additional sequences can be seen in the U-matic tape version and other TV versions. Especially the scenes where Chompoo is in love with Tawan (จุดขายตะวันลับฟ้า). Those scenes are highlighted on the movie poster but are cut from the remastered version. This movie was not a commercial success as lesbian love (หญิงรักหญิง) was not a popular topic in 1975. Aranya Namwong was famous for daring to take all roles. It was hard for movie directors to find a beautiful stuntwoman the same as Aranya so finally, Araya had to play many scenes by herself. Movie director is ไพรัช กสิวัฒน์. Thai actors and actresses featured in this movie are Aranya Namwong, Sombat Methanee, อนันต์ สัมมาทรัพย์, Kantima Daraphan, Kwanchai Suriya, รสสุคนธ์ สุรนิคม, จรัสศรี สายะศิลปี, Sawin Sawangrat, สวัสดิ์ วิเศษพงษ์, สุทธิจิตร วีระเดชกำแหง, Marasri Bangchang, ไฉไล ไชยทา (real singer), เพลินตา อุมาแมน, จีราวัจน์ จารุวิจิตร, อรุณศรี น้อยทิพย์, Paen Pleumsachai, Sithao Petcharoen. It was first movie for เกรียงไกร แก้ววิรุฬห์ and ทัศนาลัย สัจจะเวทะ. The story was written by Sor Asanajinda. Tawan (Aranya Namwong) is having a boyfriend, named Nirut (นิรุทธ์)(อนันต์ สัมมาทรัพย์), but Chompoo, a young lady, is jealous as she loves Tawan. Tawan's sister, Saeng Som (Kantima Daraphan), is married to Manot (Kwanchai Suriya), who is a soldier and has a bad view on students. Nirut shall go to the USA two years to finish his studies. Manot is not taking good care of his wife Saeng Som and has even a child with a minor wife. Saeng Som has a miscarriage so she has to go to hospital. In the USA, Nirut forgets Tawan with a young lady called Butree and still lies to Tawan. Saeng Som leaves for the USA as her wedding with Manot is going nowhere. Manot keeps drinking alcohol and tries to abuse Tawan. Finally, Tawan learns through Saeng Som that her fiancee Nirut has married another woman in the USA as she is pregnant. Tawan is so sad and disappointed. A singer (นักร้อง) gives back Manot as he is useless and penniless. Manot tries to change (กลับตัว) but fails. Saeng Som, his former wife, is going to marry again with a doctor. Manot is worried not to see his kids again and knows he has become useless towards his family. Tawan wishes to send Manot to hospital in order to cure his addiction. Manot wishes to get suicide to stop being a hindrance and dies being hit by a car. As Tawan rejects Choompoo's lesbian love, Choompoo tries to kill Tawan as she is not willing to share Tawan with anybody. Chompoo is getting crazy. Her friend brings Tawan to Buri's house (Sombat Methanee) as Tawan, being a decorator (มัณฑนากรสาว), is hired to decorate his house. Pa Nuan (Marasri Bangchang). Invited to a party, Tawan meets Nirut, the new chief district officer (นายอำเภอ), who still loves Tawan. Paen Pleumsachai tries to abuse Aranya but Buri helps. Sithao Petcharoen is working as a house designer with Tawan. Nirut promises to divorce and Tawan believes him. There is ongoing preparation of a new home for the future bride (เจ้าสาว). Who will be the lucky one (ใครจะโชคดี)? Buri recommends Tawan not to wait as he believes that Nirut, per his position of chief district officer, will not divorce. Nirut meets secretly Tawan but is discovered by his wife Butree. Aware, Buri declares they are old friends and that next month, Tawan and Buri will marry! Tawan doesn't have happiness with Buri as jealousy prevails. Tawan visits Chompoo but she hasn't fully recovered. Tawan is pregnant. Tawan and Choompoo shall not meet each other again for Choompoo's good sake. Tawan refuses to come back to Buri's house. Tawan decides to drink medicine to kill the baby but finally changes her mind as the baby is not responsible for the current situation. Choompoo wishes to kill Buri as she knows Tawan is unhappy and knows that the child is unwanted. Buri keeps drinking and falls sick. Chompoo storms Buri's home to kill him. Decided to get her wedding a last chance, Tawan goes back home to see Chompoo about to kill Buri. Nirut, alerted by Tawan, comes to help and is going to shoot Chompoo. Tawan begs Chompoo not to kill the father of her child. Chompoo finally kills herself. Tawan decides to go back with Buri.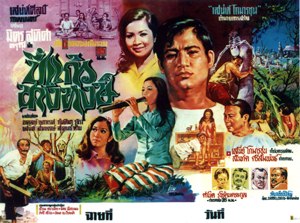 Year

: 1970



Thai title

:

ปี่แก้วนางหงษ์




English title

:



Rating

: 3/5


Director

:



Main actor

: Mitr Chaibancha,Adul Dulyarat,Sompong Phonmitr,Sukon Koewliam,Thuam Thoranong,Daonoi Duangjai


Main actress

: Suthisa Putnuch,Yaowaret Nisakorn,Kantima Daraphan
Thai movie ปี่แก้วนางหงษ์ was released in year 1970. The movie is lost in Thailand but there is a sequence of 5mn30s left to be seen. Main actor is Mitr Chaibancha and main actress is Suthisa Putnuch. Other actors and actresses are Adul Dulyarat, Yaowaret Nisakorn, Sompong Phonmitr, Sukon Koewliam, Thuam Thoranong, Kantima Daraphan (กันทิมา ดาราพันธ์). During the sequence left to be seen, it shows Mitr and Sompong boarding a plane, Mitr and Sompong discussing in an hotel room, Mitr talking to Suthisa through a door, a group gathering around a nun and performing a ceremony to chase a spirit away, funny scenes with a comic actor afraid of a talking skeleton, Mitr discussing with Kantima Daraphan at airport, Kantima talking to another lady and arguments are occurring. Thai movie ปี่แก้วนางหงษ์ is known as a horror movie. Mitr Chaibancha is playing two roles. Six songs were featured. The movie was also adapted through TV series in years 2009 and 2014. Actors Daonoi Duangjai, Sompong Phonmitr, Sukon Koewliam, Thuam Thoranong are playing comic roles adding comedy to this light horror movie. The movie starts during Rama V reign. The scene when Mitr is knocking at Suthisa's door and talking to her happens during this era. Mitr is learning music with Suthisa's father and finally he marries Suthisa. Later on, Mitr marries another lady causing Suthisa's sadness. But she still needs to play music. Suthisa plays music flute (ปี่แก้ว) until a blood vessel breaks in her neck. Mitr realizes his mistake but it is too late as Suthisa is already dead. On the way to Bangkok, the spirit of Suthisa appears causing fear to Mitr. He dies while jumping from a boat. The movie jumps to modern times. Mitr is now a rich man's son, who is back after overseas studies. It can be seen through the sequence where Mitr is boarding a plane. Mitr is back to his house, where the spirit of Suthisa is still waiting for him. Love happens between a human and a spirit. It causes fear to all people around.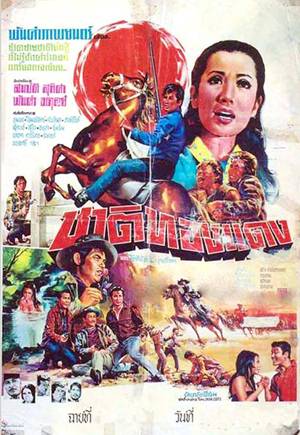 Year

: 1970



Thai title

:

ชาติทองแดง




English title

:



Rating

: 3/5


Director

: Phan Kam



Main actor

: Sombat Methanee,Adul Dulyarat,Chanee Yotchai,Choomporn Theppitak,Anucha Ratanaman,Sukon Koewliam,Joomjim Khemlek,Sawin Sawangrat


Main actress

: Suthisa Putnuch,Khomapat Attaya,Kantima Daraphan
Thai movie ชาติทองแดง was released in year 1970. Main actor is Sombat Methanee and main actress is Suthisa Putnuch. The movie is lost in Thailand but a 2mn14s trailer remains to be seen. The movie director is Phan Kam. The movie is a Thai Western. During the short trailer various sequences can be seen such as Chanee Yotchai hitting a man, a gun duel between Adul Dulyarat and Phan Kam, a fighting scene with Sombat against four men, Anucha Ratanaman flirting with a young lady, Vet actress sexy 1 and 2, a typical waterfall Thai movie scene with a naked lady swimming, a knife duel between Sombat Methanee and Chanee Yotchai, a scene with main actress Suthisa Putnuch. Other actors and actresses are Choomporn Theppitak, Khomapat Attaya, Sukon Koewliam, Joomjim Khemlek, Sawin Sawangrat, Kantima Daraphan.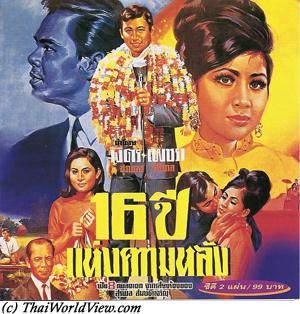 Year

: 1968



Thai title

:

16 ปีแห่งความหลัง




English title

:



Rating

: 3/5


Director

:



Main actor

: Mitr Chaibancha,Somkuan Krajangsat,Sukon Koewliam


Main actress

: Petchara Chaowarat,Kantima Daraphan
It deals about Suraphol Sombatcharoen, a murdered sixties pop star. Suraphol (1930-1968) is Thailand's all-time king of country music. Suraphol died on August 16, 1968 from gunshot wounds, leaving a rich repertoire of luk thung songs that embodied the spirit of the 1960s. Suraphol's immortal song is "Sip hok Pee Haeng Kwam Lang" (16 Years of Our Past). It was his last and most memorable creation. Suraphol wrote the song to depict the 16 years of his marriage in the most heart-broken and touching way.
---