Increase or decrease font size for easier reading : A+ A-
Kanchit Kwanpracha
Kanchit Kwanpracha (1940) - ครรชิต ขวัญประชา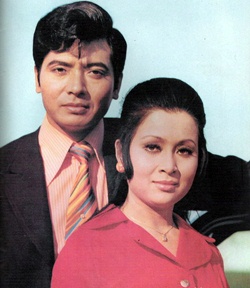 Kanchit Kwanpracha has played in around 80 movies from 1968 to 1990
This Kanchit Kwanpracha movie page contains 42 records.
---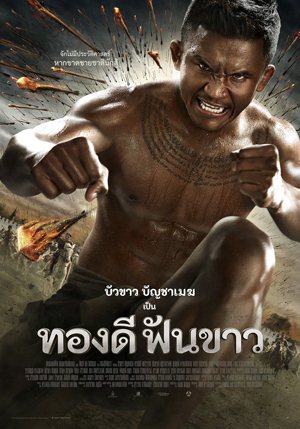 Year

: 2017



Thai title

:

ทองดีฟันขาว




English title

: Thong Dee Fun Khao



Rating

: 4/5


Director

: Bin Banleurit



Main actor

: Buakaw Banchamek,Kanchit Kwanpracha,Manop Aussawathep


Main actress

: Sornsin Maneewan



Buy now

:

Thai movie ทองดีฟันขาว / Thong Dee Fun Khao was released in year 2017 and lasts 1h57mn. Movie director is Bin Banleurit. It is based on the real story of Siamese general Phraya Phichai. Cheut is the son of local noble (เจ้าเมือง). Choi, son of Thai boxer, has always issues with him since childhood. Both of them are now grown up. Cheut and his men are trying to catch Choi (Buakaw Banchamek) but he succeeds to flee. Kanchit Kwanpracha is Cheut's father. Choi joins a group of people organising Thai boxing fights. He becomes their champion. One day, Choi is defeated by a strong opponent being a spade teacher. The group leaves Choi for dead as he is now useless to them. A drunkard helps him and tells him he needs to improve his skills such as speed. Choi renames himself as Thong Dee. He joins Manop Aussawathep as teacher (ครู). Cheut finally finds again Thong Dee. Thong Dee surrenders to avoid villagers being harassed. He is captured but then the soldiers still burn the village. The fighters and Thong Dee rebel and chase the soldiers thanks to their Thai boxing skills. Thong Dee leave the village to avoid the villagers being harassed again. A teenager accompanies him. Seeing Chinese opera performance (งิ้ว) and their master's great skills, Thong Dee asks him to become his disciple (ลูกศิษย์). Later on, Thong Dee helps young lady Rayong (Sornsin Maneewan) and her master attacked by ruffians. Thong Dee gets a new teacher and keep improving his skills. Thong Dee has white teeth. Other actresses have black teeth as Thai people were eating betel nut at that time. At a temple fair, he meets Rayong again. A tournament occurs and the spade teacher is this time defeated by Thong Dee. An attack on the local leader ends up in a fight between the lord Phraya Tak and Thongdee. The Phraya Tak wanted to test Thongdee's loyalty. If Thong Dee loses, he needs to join Phraya Tak's army… Phraya Tak became later King Taksin. Later on, Thongdee became general Phraya Phichai. Thong Dee's role is played by Buakaw Banchamek, a real Thai boxing champion.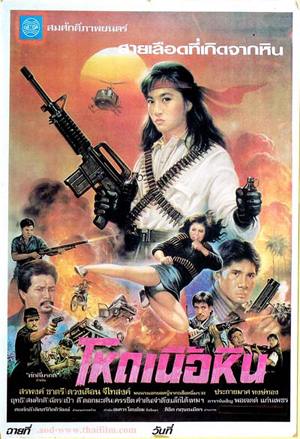 Year

: 1990



Thai title

:

โหดเนื้อหิน




English title

:



Rating

: 3/5


Director

:



Main actor

: Sorapong Chatree,Rith Luecha,Kanchit Kwanpracha,Chat Mongkolchai,Somsak Chaisongkram


Main actress

: Duangdeuan Jithaisong
Thai movie โหดเนื้อหิน was released in year 1990 and lasts 1h29mn. Two groups of ruffians meet in order to exchange drugs and money. Suddenly a young lady called Duangdeuan (Duangdeuan Jithaisong) shots all of them with a M16 rifle. Sophit, restaurant waitress, hears that a group of four guys will deliver heroin soon so she informs subdistrict headman Cheut (Kanchit Kwanpracha). Duangdeuan helps a young girl being kidnapped by ruffians so Duangdeuan seems to be kindhearted. Police, including Duang (Chat Mongkolchai) as policeman, and subdistrict headman Cheut prepare a plan to catch the drug dealers. Thanks to information given by Sophit, ruffians are killed and drug is seized. Mafia leader (พ่อเลี้ยง) Boonseum (Rith Luecha), father of Rith Luecha, is very upset with subdistrict headman Cheut (มึงกับกุเห็นกันดีแน่ๆ). Duangdeuan (นายหญิง) promises to take care of subdistrict headman Cheut herself (หน้าที่ของลูก) and kills him in a sudden attack. The younger brother of Cheut, Chat (Sorapong Chatree), comes back and plans to revenge his elder brother. Ruffians try to get rid of him but they fail. Boonseum wishes to use hitman Khao Yai (Somsak Chaisongkram). Khao Yai and his men attack Chat and he is left for dead. Hopefully village leader Duang helps him and his daughter Phakamat cures his injuries. They prepare a plan (สักวันต้องรับกรรมแน่). Sophit helps to hide Chat but then gets killed by Khao Yai for being a traitress. Chat kills Khao Yai and his men by himself. Fed up that others always fail, Duangdeuan decides to take care of Chat by herself. Going to Duang's house, she only finds Phakamat, who is then hurt and kidnapped. Chat has to help her while Duang is getting help from the police. Chat is an undercover policeman. The policemen and Chat storm the ruffians' house while they are selling weapons to the country traitors. Heavy shootings happen as Duangdeuan has got a machine gun. Almost everybody die. Both Chat and Duangdeuan blow up each other with grenades.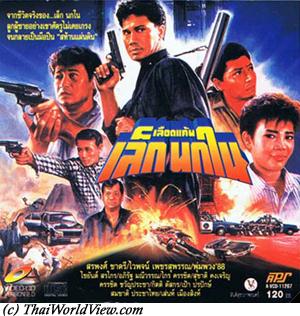 Year

: 1989



Thai title

:

เลือดแค้น เล็ก นกใน




English title

:



Rating

: 3/5


Director

:



Main actor

: Sorapong Chatree,Kanchit Kwanpracha,Chaiyan Sorakrai,Krai Kanchit,Pao Porapak


Main actress

: Pumpuang Duangchan
LepsoStudio also sells this movie but names it incorrectly as มือปืนสะท้านเมือง or 7 สิงห์แดนนรก. This movie is based on a real story. Life's circumstance changes Lek's existence and forces him to kill 12 men. A few village headmen (ผู้ใหญ่บ้าน) have a meeting to decide who will be the next subdistrict headman (กำนัน). Current subdistrict headman Liem wants to push his own son to be his successor. His son is a local police officer. They use bad influence (อิทธิพล) to control the subdistrict. Village headman Naparn tries to oppose. Naparn has two sons, Lek (Sorapong Chatree) and Porn. One night village headman Naparn and Porn are killed. Subdistrict headman Liem hire a hitman (มือปืนรับจ้าง) to kill also Lek. During the funeral (งานศพ), the police officer asks Lek to follow the law (หน้าที่ของกฎหมาย). Lek decides to do his own justice as it will be too difficult to find proofs against a subdistrict headman backed up by a policeman son. The subdistrict headman Liem and one of his son are killed by Lek, who has to flee. The subdistrict headman Liem's second son is not killed as he is a policeman. Liem's ruffians team asks support to subdistrict headman Sing (Kanchit Kwanpracha). Various intimidation and murders are performed by the ruffians team. Lek's family members or friends are killed one by one. They were innocent. Lek cannot remain neutral (เป็นคนดีไม่ได้). Lek has no choice than to exit from his retreat. He shoots a few ruffians. Then Lek quits the province to find a new job. He gets a job in a sawmill (โรงเลื่อย) in Saraburi. The boss is a lady (Pumpuang Duangchan). As he saves her from a log accident, they become sweethearts (แฟน). The ruffians find his retreat. A first murder tentative fails. Understanding that the ruffians will never let him safe, he decides to get rid of them (ต้องฆ่าให้หมด) to solve this endless situation. Lek prays every evening as life's circumstance forces him to kill ruffians to protect people he loves. Lek refuses to become an official hitman as he will not kill people who didn't hurt him. He attacks directly the ruffians' HQ. Sing and the ruffians are afraid for their lives. They ask help from another subdistrict headman. Lek and his remaining friends decide to raid his house to get rid of them. Police arrives to separate both groups. Believing that Lek is injured, his wife hurries up to go there and convince him to surrender (มอบตัว). After a trial, Lek and his friends are condemned to life imprisonment but are finally released after 12 years in jail. The real Lek was then killed by a hitman in 1993.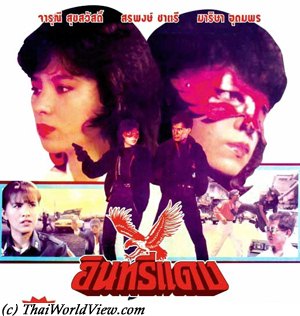 Year

: 1988



Thai title

:

อินทรีย์แดง ตอน อินทรีย์ผยอง




English title

:



Rating

: 3/5


Director

:



Main actor

: Sorapong Chatree,Kanchit Kwanpracha,Lak Apichat


Main actress

: Jarunee Sooksawad



Buy now

:

Rhanee (Jarunee Sooksawad) comes back from studying overseas. Her father is dead (it is in fact a picture of Mitr Chaibancha wearing Insee Daeng mask!) since many years but she takes over his duties by punishing and killing bad ruffian heads as a justiciary. Police inspector (สารวัตร) Decha (Sorapong Chatree) is responsible to catch Insee Daeng. Insee Daeng wishes to catch the heads inside the ruffians circle including Suphon (น้าใหญ่) (Kanchit Kwanpracha) and Lak Apichat. Suphon already faced Insee Daeng 20 years ago. Insee Daeng is fast and difficult to catch (มันไหวเหมือนพายุ). Decha uses one of the ruffians head as a bait to catch Insee Daeng. Decha doesn't shoot Insee Daeng as he has plan to use him as a way to reduce bad influence (อิทธิพล). Another trial to catch Insee Daeng by Decha fails. Meanwhile Decha tries also to stop organised mafia but without full success. Rhanee is working for Krissana, owner of insurance company and close friend of police inspector Decha. She takes opportunity to dispatch messages to the police through Krissana. Decha puts police woman Mot to protect Krissana against the mafia but he finally gets kidnapped. A 3M baht ransom is requested. Despite ransom payment, Krissana is still not freed and is tied to a railway path. Insee Daeng threatens a ruffian to get Krissana location. Police is warned and Krissana is released following shootings with ruffians. Insee Daeng succeeds to escape once again despite Mot's opposition. Ruffians receive a new task to explode a bridge over Chao Praya river. Decha succeeds to put a microphone inside Suphon's home so is aware of their plans. Decha succeeds to neutralize part of the ruffians but Insee Daeng is the one stopping the bombs and killing the leaders. The bridge is safe. The movie ends with a nationalist image on Thai flag. This movie อินทรีผยอง (1988) tries to relaunch Insee Daeng serie but it lacks a good film directing. There is high suspicion that part of the movie has been cut by Lepso. Sorapong plays the police inspector with magnum 357 and dark glasses similar to many other 1980s movies he played in.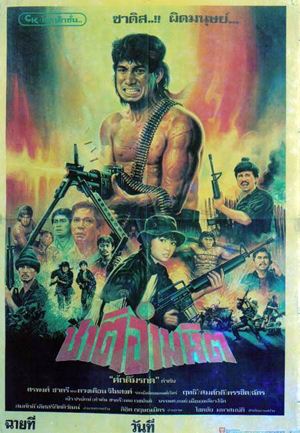 Year

: 1988



Thai title

:

ชาติอำมหิต




English title

:



Rating

: 3/5


Director

:



Main actor

: Sorapong Chatree,Kanchit Kwanpracha,Chat Mongkolchai,Rith Luecha,Somsak Chaisongkram,Pao Porapak


Main actress

: Duangdeuan Jithaisong
Thai movie ชาติอำมหิต was released in year 1988 and lasts 1h33mn. It was released under VHS and VCD formats. Sorapong Chatree plays a role similar to a Thai Rambo. A lot of shooting and bloody fightings occur in this war movie. Trafficker Pao Porapak tries to break a weapon deal with Somchai but it fails and he gets killed. Thai soldier Pleung (Sorapong Chatree) is back to his home but Chat Mongkolchai and his men are waiting for him. They ask for a military code. Young Lady Dawee (Duangdeuan Jithaisong) and her brother Somchai are back to their village and face forest bandits (โจรป่า) attacking the village. Her father is Kanchit Kwanpracha. Dawee wishes that the villagers move to a new place but her father refuses. Chat and his men torture Pleung to get the code as he refuses to disclose it. At nighttime, a villager helps Pleung to flee. Chat's men chase Pleung but it is not easy as he is used to fight in the jungle. He kills many of them one by one. While fleeing, Pleung faces the forest bandits again and they chase him. Dawee is around at that time and a misunderstanding occurs as Pleung believes she is part of the forest bandits. They understand they have a common enemy (ศัตรูเดี๋ยวกัน). Chat and Rith Luecha, Somsak Chaisongkram meet in their main camp. Upset that Pleung succeed to flee thanks to Dawee, the forest bandits storm her village and kidnap her father. Aware, Pleung and Dawee prepare a plan. They put some explosive around the ruffians' camp and succeed to release the father and Somchai. Very heavy fightings and explosions occur. Pleung, as expected, is using a heavy machine gun. Most of protagonists die except Pleung and Davee.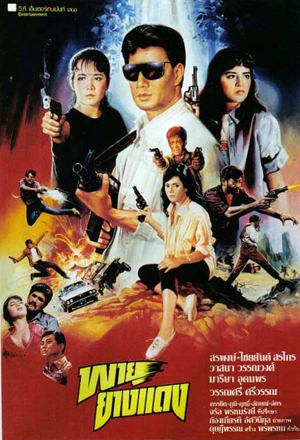 Year

: 1988



Thai title

:

พายุยางแดง




English title

:



Rating

: 3/5


Director

:



Main actor

: Sorapong Chatree,Lak Apichat,Chaiyan Sorakrai,Kanchit Kwanpracha,Rith Luecha,Chat Mongkolchai


Main actress

:



Buy now

:

Thai movie พายุยางแดง lasts 1h26mn and was released in year 1988. It is available under VCD format. Captain (ผู้กอง) Phayu (Sorapong Chatree) meets Chiaw (Lak Apichat), a military instructor (ครูฝึก), and Priaw (Chaiyan Sorakrai), who is a pickpocket. Village leader Cheui refuses to sell his house to ruffians. Chiaw is his son but he didn't go back home for years. Palat (Kanchit Kwanpracha), subdistrict headman Chat Mongkolchai, Ai Saen (Rith Luecha), head of local ruffians, are working together. Ai Saen sends his men to teach village leader Cheui a lesson (สังสอน) but they finally kill him and his elder daughter. The younger daughter, being a teacher, promises to revenge. Priaw informs Chiaw that his father was killed. Chiaw steals some military weapons and flees to revenge his father. Informed by his management, Phayu has to bring him back and to silence this story. Chiaw steals (ปล้น) a car containing money belonging to Ai Saen. Palat (Kanchit Kwanpracha) has to get it back. In Thai movies, the mafia boss is often called Sia / เสี่ย. Ai Saen (Rith Luecha) requests help from corrupted police. The subdistrict headman is the one who killed village leader Cheui. Pen asks Priaw to stop gambling. Chiaw, Priaw, Pen and the subdistrict headman's stepdaughter forms a team together. Phayu asks Police head to give them time as he trusts Chiaw. Chiaw decides to get information from the subdistrict headman's girlfriend. This one starts to be very friendly with him (part censored or cut from VCD). The subdistrict headman Chat comes back and Chiaw is captured. He succeeds to flee by kidnapping Palat's daughter. Ai Saen is upset (อย่าประมาท). As Ai Saen orders to shoot the car despite there is Palat's daughter inside, it causes Ai Saen and Palat to become enemies. Chiaw hits Palat to revenge his father but Phayu and the daughter convince him to let Police do its duty. Palat tells them that Ai Saen a is preparing to betray his country. The team storms the ruffians' den. Pen is used as hostage (ตัวประกัน). The movie ends up with fierce fightings. Palat and Priaw die. Ai Saen is killed. The two actresses are วาสนา วรรณวงศ์ and มาริษา อุดมพร.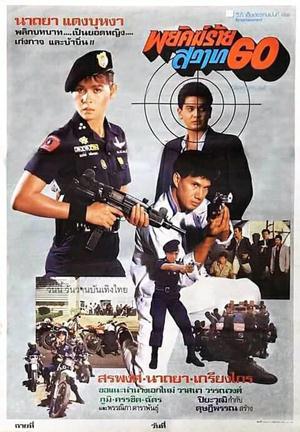 Year

: 1987



Thai title

:

พยัคฆ์ร้ายสวาท 60




English title

:



Rating

: 3/5


Director

:



Main actor

: Sorapong Chatree,Kriengkrai Unhanan,Kanchit Kwanpracha,Pumi Patanayut,Chat Mongkolchai,White Padungkan


Main actress

: Nardtaya DaengBunga



Buy now

:

Thai movie พยัคฆ์ร้ายสวาท 60 was released in year 1987 and lasts 1h32mn. It was released under VCD format by Lepso company. It is a small Police movie with Sorapong Chatree and three subordinates (ลูกน้อง) with highlights on policewomen. James Bond movie is used as soundtrack. Three overseas gangs from Hong Kong, Japan and Thailand gather for business. Police inspector (สารวัด) Toma It (Sorapong Chatree) has to work with policewoman Nee (Nardtaya DaengBunga) to neutralize those gangs. Two other assistants including Oratai (วาสนา วรรณวงศ์) join them. Policewoman Oratai is acting as a singer. Drug exchange occurs outside the club. Shootings happen. White Padungkan has a short role and gets killed. Police intervenes and drug is seized. Amnat (Kanchit Kwanpracha) is the Thai mafia boss. Hiu (Kriengkrai Unhanan) is the Japan mafia boss. Wang Kae (Pumi Patanayut) is the Hong Kong mafia boss. Amnat has betrayed the other mafia leaders. Wang Kae and Chat Mongkolchai arrive in Thailand. Amnat's team fail to kill them. They bring diamonds. Hiu asks all mafia leaders to put disagreements aside and focus on Thai police first as the dirty business is endangered. Nee's younger sister Prissana wished to go overseas for work and suddenly disappears. Nee wants to know where she found a job. She is aware of a hairdresser shop proposing easy overseas job, It is owned by Amnat's girlfriend, Chamfa. Chamfa introduces Nee to the Japanese manager Saekino, who invites her to a restaurant. It is his tactic to kidnap girls and then send them overseas for prostitution. Police teammates come to help. Nee releases the girls kidnapped in a warehouse. Ashamed, Prissana gets suicide. The mother wishes Oratai to leave Police as she doesn't want to lose another daughter. Nee cannot disappoint her father already dead. Police are aware of a drug exchange, so Toma It and his team trap the ruffians. Ruffians suspect there is a traitor among them. Police use Oratai to infiltrate ruffians. Saekino has been released from jail. Ruffians capture Nee's mother. Nee succeeds to release her mother and kills Saekino. Oratai is part of the new batch of women brought by Champa. Ruffians have identified that Oratai is a policewoman. Song, the traitor among the ruffians, helps Oratai to flee. Police start to surround the warehouse. Ruffians start to evacuate ladies. Oratai releases the ladies captured in a bus. Ruffians' leaders try to flee. Thai Police succeed to neutralize all of them and all leaders are killed or captured.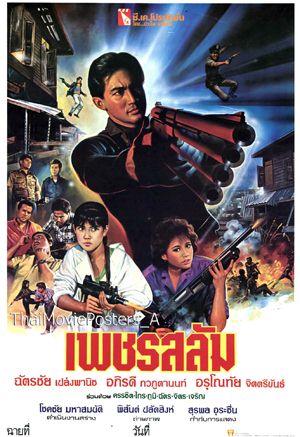 Year

: 1987



Thai title

:

เพชรสลัม




English title

:



Rating

: 2/5


Director

: สุรพล อุระชื่น



Main actor

: Chatchai Plengpanich,Kanchit Kwanpracha,Krai Kanchit,Chat Mongkolchai,Pumi Patanayut


Main actress

: Apiradee Pawaputanon,อรุโณทัย จิตรีขันธ์
During a parliament session inauguration, two members of a party are shot by a hitman. One dies. The son, called Ek (Chatchai Plengpanich), decides to investigate in order to find the murderer and motive. Ek locates Saeng, the hitman but this one is killed as he didn't do his job properly. Saeng's sister, Sopha, sees Ek's face and believes he shot her brother. Damrong, deputy (ผู้แทน) of the same party is also shot and killed. Wadee (Apiradee Pawaputanon), his girlfriend, also wishes to know the motive. Police suspects bad politics motives. Pramod is the political opponent of Damrong. San, policeman, is investigating on this case. Ek is captured by some ruffians while investigating. Chat is the ruffians' leader who killed Saeng. San helps Ek on time but Chat is shot before disclosing any information. Sopha comes to apologize to Ek on her behalf of her dead brother. Wadee wishes to continue Damrong's goal to build a school in a slum. There is style opposition between Sopha, pure lady working as singer at nighttime and Wadee. A romance starts between Ek and Sopha. Ek needs also to spend time with Wadee on the project to build a school. Ek identifies that the head of ruffians was driving the motorbike used by Saeng to shot Damrong. He is linked to Pramod and his acolyte Vinai, highly suspected as corrupted politicians. By investigating on Pramod and Vinai, Ek is captured but released by Wadee. Pramod gets rid of Vinai as he is getting too cowardly and afraid of investigations so he cannot be trusted anymore. Ek is accused of Vinai murder. Meanwhile Sopha succeeds to get Pramod's secret documents showing his involvement in illicit business. Ek's uncle is killed while trying to protect Sopha. Sopha is kidnapped. As they cannot wait for the police, Ek and Wadee have no choice but to storm Pramod's home in order to rescue Sopha. It is a typical action movie from 1980s decade related to ruffians and featuring many shootings and fights.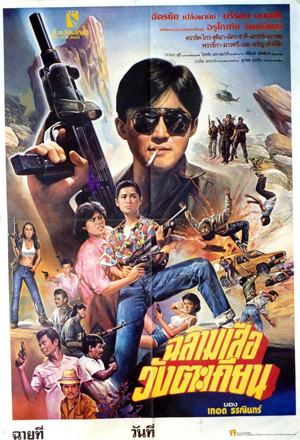 Year

: 1987



Thai title

:

ฉลามเสือวังตะเคียน




English title

:



Rating

: 3/5


Director

:



Main actor

: Chatchai Plengpanich,Chat Mongkolchai,Krai Kanchit,Kanchit Kwanpracha


Main actress

: Marasri Bangchang,Nareerat Monsiri
Thai movie ฉลามเสือวังตะเคียน was released in year 1987. The movie lasts 1h33mn. Three ruffians chase two young ladies. They only succeed to catch one girl. Dao Reuang (อรุโณทัย จิตตรีขันธ์) succeeds to flee. She tells her mother (Marasri Bangchang) the whole story. The father tries to rescue his daughter but finally both are killed. Later on a group of soldiers (ทหารเรือ) led by หมวด Tieng (Chatchai Plengpanich) storm a ruffians' place heavily armed. Then Tieng arrives in a small city. He helps a night lady called Rarai. Her father wanted to become rich thanks to jewels (พลอย) but he died before. Chat Mongkolchai is a local notable. Tieng wins back his land titles against subdistrict officer Krai Kanchit. Tieng authorises the notable to stay on the land but claims he will marry his daughter Kaew (Nareerat Monsiri). Ruffians try to kill him at nighttime but they fail. The ruffian leader, called เจ้าพ่อ Wang Takhien (Kanchit Kwanpracha) or Athon, is concerned of losing his influence (บารมี) and power (อำนาจ) towards villagers. He decides to get rid of Tieng and threatens the local doctor also through some shots on his office (สถานีอนามัย). Village leader (ผู้ใหญ่) and sub district officer Krai are also involved and corrupted with Athon. Chat's wife called Soi also. Tieng and the village leader shot each other because of Soi. Tieng is seriously injured but his friends protect him while he is recovering. Soi is the mistress of Athon. She is pregnant. Soi pushes Kaew versus Dao as both have interest in Tieng. Ratana is Athon's son and he wishes to have Kaew as his wife. Rarai has her own plan to replace Athon. Subdistrict officer Krai kidnaps Kaew and kills her father. A hitman shots the doctor and Dao's mother. Tieng and his friends decide to storm the ruffians place in order to release Kaew. Heavy fightings do occur. Everybody dies except Tieng, Kaew and Dao.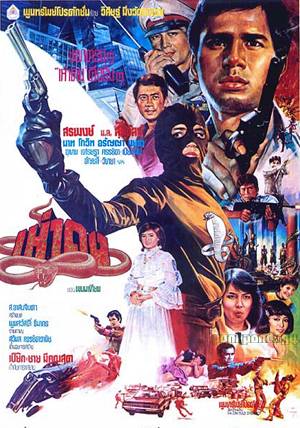 Year

: 1983



Thai title

:

เห่าดง




English title

:



Rating

: 4/5


Director

: เปี๊ยก มีคุณสุต



Main actor

: Sorapong Chatree,Nard Poowanai,Pipop Pupinyo,Kanchit Kwanpracha,Kowit Wattanakul,Settha Sirachaya,Uten Boonyong


Main actress

: Suriwan Suriyong,Aranya Namwong,Piathip Kumwong,Mayura Thanabutr,Marasri Bangchang,Anchalee Chaisiri
Thai movie เห่าดง was released in year 1983 and last 1h55mn. A remastered version was released by Five Star Production (ไฟว์สตาร์โปรดักชั่น) in the decade 2010s and shown on Thai TV cable. As usual on Thai television programs, bad things are blurred such as smoking a cigarette, alcohol bottle or putting a gun on a temple. The movie was also released under VHS format. The movie director is เปี๊ยก มีคุณสุต. A first version of movie "เห่าดง'' was released in 1958 with leading actress Amara Asavananda. The 1983 version featured leading actress Suriwan Suriyong and it was her first movie. The movie song is "จะไปดูหนังไทย บ๊ะ ต้องเห่าดง ดาวดัง สรพงษ์ ผิวคล้ำ นำแสดง สุรีย์วัล สุริยง มาประชันขันแข่ง อรัญญา ก็มา ร่วมกันในเห่าดง". Pleng (เพลิง)(Nard Poowanai) and Kam (Piathip Kumwong) have arguments. Kam complains Pleng is not sincere. Pleng must choose between being a ruffian (นักเลง, การพนัน) versus being an honest military officer (ยุติธรรม). They break up. The military head, Prachom (Kanchit Kwanpracha), promises to help Pleng but this latter refused due to his strong character (กระดูกแข็ง). Pleng has arguments with a debtor, who insults his mother. He stabs him, flees and quits the army. Finally, Pleng becomes a ruffian (เสียคน). Both Prachom and his wife (Marasri Bangchang) are upset by Pleng's decision. Pleng meets dancer Anchalee (Anchalee Chaisiri) in a restaurant. Pleng has a fight with the restaurant owner Prayak (Uten Boonyong) and gets injured. Anchalee takes care of him. Pleng is accepted in the ruffians' team by leader Prayak. Prayak and Chinta (จินดา)(Aranya Namwong) have a child called Bayan. Bayan is in fact a child being kidnapped. Prayak and Chinta need to flee the police and go overseas. Pleng promises to take care of Bayan. Many years have passed. Bayan has now grown up and is renamed Prao (พราว)(Suriwan Suriyong). She has learnt fighting skills (การต่อสู้). While doing shopping, a young policeman called Wut (วุฒิ)(Sorapong Chatree) contacts Prao as Prissana but it is a mistake. But in fact, Prao and Prissana are twins (ลูกแฝด)! They were separated 15 years ago following a robbery by Prayak in Prachom's home. Prissana is Wut's sister. She is engaged to a policeman (Kowit Wattanakul). Hao Dong is a mysterious judiciary punishing ruffians and warning police in advance (ผู้หวังดี). Behind it is Pleng, who always felt guilty to have quit the army. During a last event, Pleng gets shot and killed while helping Wut. Young lady Prao replaces her father Pleng as judiciary. She avenges Pleng by putting a bomb in ruffian leader's car. Wut pretends to be Niwat, insurance representative, in order to investigate the daughter, Saisree (ไซซี)(Mayura Thanabutr), regarding her father's death. In a discotheque, Saisree recognises Prao as they studied together in Japan. Prao studies martial arts including Ninja skills. Wut suspects Prao to be Hao Dong but proofs are not enough. Wut likes Prao (ตํารวจมีหัวใจเหมือนกัน!). Chita and Phayak come back from overseas to support Prao. Prao still wants to catch the real leader of the mysterious society (วงการ). Saisree is now the head of a Chinese style secret society. Both Prao and Saisree want to avenge their father's death. Ruffians are aware that Hao Dong is behind Saisree's father's death, so they want to avenge. Saisree asks Wut to lie to Prao and to attract her in a trap. He refuses. As Saisree loves Wut, she protects him while the ruffians wish to shoot him. Saisree is shot, but Wut succeeds to escape. Prissana is kidnapped by ruffians in order to attract Prao. Wut, the police and Prao storm the ruffians' headquarters. Chita and Phayak, wearing Hao Dong uniforms, are also killed in the fighting, so Prao cannot be accused. Prao is reunited with her parents. A double wedding Prissana / Chao and Prao / Wut can happen.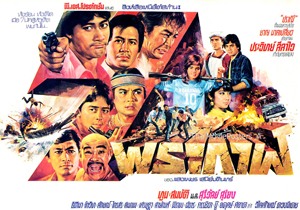 Year

: 1983



Thai title

:

7 พระกาฬ




English title

:



Rating

: 3/5


Director

: ประวิทย์ ลีลาไว



Main actor

: Sombat Methanee,Toon Hiransap,Pipop Pupinyo,Sayan Chantaraviboon,Lak Apichat,Somphob Benjatikul,Kowit Wattanakul,Settha Sirachaya,Kanchit Kwanpracha,Chat Mongkolchai,Sahat Piempongsan,Boo Wibunnan,Somchai Samipak,Adul Dulyarat,Paen Pleumsachai,Pao Porapak


Main actress

: Thitima Sangkapitak,Suriwan Suriyong
Thai movie 7 พระกาฬ was released in year 1983 and lasts 1h55mn. It was released under VHS format and VCD format. It was also released overseas by IFD under the name "US Catman 2 - Boxer Blow". Movie director is ประวิทย์ ลีลาไว. Thai movie 7 พระกาฬ was released multiple times. First time was in year 1967 with Mitr Chaibancha and Petchara Chaowarat. Second time was in year 1983. It was also released as a TV series in year 2004 on CH7. This movie features many famous actors and actresses from decade 1980s. Kanchit Kwanpracha, Sing (Chat Mongkolchai) and Reudi (Thitima Sangkapitak) are having a secret meeting. Kanchit needs to gather seven mercenaries. All of them (Han Meuang Thong - Sombat Methanee, Pipop Pupinyo, Thong Bai as Likay actor – Sayan Chantaraviboon, Boonmee - Lak Apichat, Somphob Benjatikul, Kowit Wattanakul, Settha Sirachaya...) are in jail for multiple murders. Kanchit's team attacks police vehicles during a jail transfer and all seven men can flee in various directions. Reudi receives mission from Kanchit to neutralize Police officer Sattha (ไกรสร แสงอนันต์), who shall capture back the seven inmates. Pho Lieng Saen (Sahat Piempongsan) recruits Boonmee to get rid of his enemy Han Meuang Thong! Sia Mongkol (Boo Wibunnan) wishes to recruit Kowit for a special job. Following a fighting during a Likay performance, Thong Bai has to flee again. Pho Lieng Saen accepts to freeze his revenge towards Han Meuang Thong as the big boss has a more important plan to be performed before. Somchai Samipak, father of Han Meuang Thong, refuses to meet his son anymore. Sattha and Somphob Benjatikul help him as he gets aggressed by Pho Lieng Saen's ruffians looking for his son. Soi (Suriwan Suriyong), daughter of Pho Lieng Saen, meets Prai (Toon Hiransap) and gets help from him as she is harassed by Pao Porapak. Anan (Adul Dulyarat) and his men capture Somphob Benjatikul and Settha Sirachaya. Various mafia leaders (พ่อเลี้ยง), linked to Kanchit, wish to hire the seven men. Kanchit plans to use all of them to perform special secretive actions. Pho Lieng Saen hires Bai and Boonmee. Despite his promise to put aside his own revenge, he sends Boonmee to kill Han Meuang Thong but it fails. Reudi claims to be Han Meuang Thong's wife in order to trap his father. She kidnaps Han's family, i.e his father Somchai and his sister วิไลลักษณ์ ดวงมีเดช, in order to force him to do something against Thai nation. As police disrupts their activities, Police officer Sattha is kidnapped to know who the traitor among the ruffians is. Prai releases him. Then Prai releases Han Meuang Thong's father and sister. Kanchit wishes to prepare a revolution in Thailand to take power through a new political party. Paen Pleumsachai. The seven mercenaries are supposed to do actions to disrupt Thai nation. Aware through Prai, they refuse to betray their country (ขายชาติ) and fight against the ruffians. Ruffians are neutralized. The seven mercenaries saved Thailand, but they still need to go to jail again.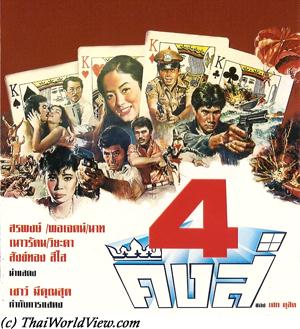 Year

: 1982



Thai title

:

สี่คิงส์




English title

:



Rating

: 3/5


Director

:



Main actor

: Sorapong Chatree,Nard Poowanai,Porjed Kaenpetch,Sahat Piempongsan,Kanchit Kwanpracha,Songthong


Main actress

: Naowarat Yooktanun,Wiyada Umarin



Buy now

:

The police is looking after a gang called "the four Kings" that extorts money from businessmen. The police is contacting a former repentant to get information but this one refuses to get involved in order to protect his family. Unfortunately, the "four Kings" gang, believing that the former repentant is helping the police, decides to kill him. They retaliate over his wife and daughter, who are killed. The former repentant then decides to fight "the four Kings" gang until death. A first version of this movie was released in year 1959. It featured Chaiya Suriyun and Amara Asavananda as main actors.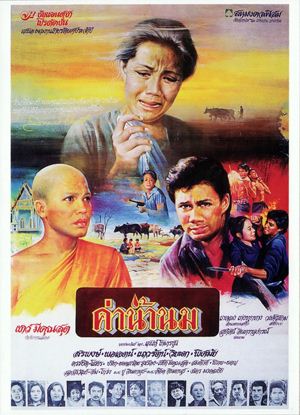 Year

: 1981



Thai title

:

ค่าน้ำนม




English title

:



Rating

: 5/5


Director

: เชาว์ มีคุณสุต



Main actor

: Sorapong Chatree,Porjed Kaenpetch,Chat Mongkolchai,Somsak Chaisongkram,Kanchit Kwanpracha,Pipop Pupinyo,Joomjim Khemlek


Main actress

: Pissamai Wilaisak,Naowarat Yooktanun,Wiyada Umarin,Yotsoi Komarachoon,Sulaleewan Suwanthat,Preeya Roongrueng



Buy now

:

Thai movie ค่าน้ำนม was released in year 1981 and lasts 1h55mn. It was released under VCD format by Solar company and under DVD format by Happy Home Entertainment. It is a remake of the movie ชายผ้าเหลือง shot in 1974. This movie has a similar scenario to the version shot in 1974 but it focuses more about the mother suffering. Previous cinematographic versions were released in year 1953 and 1960 (with Mitr Chaibancha and Preeya Roongrueng). The story is about the love of a mother (Pissamai Wilaisak) towards her two sons, Khun Thong (Sorapong Chatree) and Salika (Porjed Kaenpetch). The mother Bua is widow since her husband was killed by bandits robbing her house. Pissamai wishes to have her two sons becoming monks in order to see them with brown robes (ชายผ้าเหลือง). She needs money to prepare the ceremony. She asks to borrow 2000 THB from the local subdistrict headman but he is unwillingly. Hopefully his daughter Kratin (Wiyada Umarin) pushes him. Another young lady, named Lamduan (Naowarat Yooktanun), also helps by offering money. While Salika is away having sweet talks with Malai (Yotsoi Komarachoon), bandits including village leader Chat Mongkolchai and Somsak Chaisongkram attack Bua's house. The mother is slightly injured and bandits flee away. One of them, Na Kha, is injured to the leg by Salika. The next day, Khun Thong realises Na Kha's injury is not done when chasing bandits but when attacking his home. He now understands that Na Kha previously killed his father 10 years ago during a similar robbery. Khun Thong, in self defense, shots Na khan. The mother's love becomes painful because Khun Thong has become an outlaw (เสือ). Malee, Na Kha's daughter, is then upset with Salika as he is Khun Thong's brother. Malee's mother is played by Preeya Roongrueng. In real life, Preeya Roongrueng is also Yotsoi Komarachoon's mother. Na Khan's son (โสธร รุ่งเรือง) uses Khun Thong's name to raid other houses so Khun Thong has no way to quit. Khun Thong is a Thai Robin Wood and gives help to the poorest. Khun Thong is still a good son and keeps the money he robbed for his mother and his younger brother to enter monkhood (บวชให้แม่). Rejected by both his mother and brother, who refuse dirty money (เงินโจรต้องอยู่กับโจร), Khun Thong decides to work as a peasant and carpenter to earn money from his hard work. But fate is against him. His girlfriend Kratin is trapped by Na khan son's gang, raped and killed. Khun Thong is accused again. His mother is disappointed by his behavior, saying it was not worth to educate him for becoming an outlaw and that feeding milk to him (ค่าน้ำนม) was such a waste. He becomes an outlaw again to catch Na Khan's son. Meanwhile, Na Kha's son is upset with his sister Malee as she is pregnant with Salika. Sulaleewan Suwanthat protects Malee against her brother's ire. Khun Thong wants his teammates (Kanchit Kwanpracha, Pipop Pupinyo, Joomjim Khemlek) to surrender and become good people. Finally he catches Na Khan's son, who recognizes all the evil he has done under Khun Thong's name. It is too late as her mother doesn't want to talk to Khun Thong anymore. Willing to die, he misbehaves a last time to force his mother to shoot him. Before dying, Khun Thong and his mother confirm their filial love and Khun Thong can grab Salika's yellow robe as his brother has become a monk. It is certainly one of the best roles of Sorapong Chatree.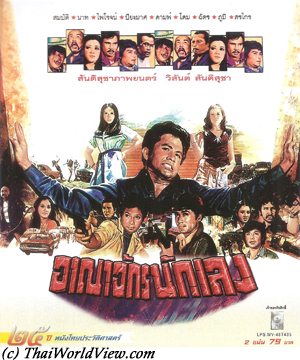 Year

: 1978



Thai title

:

อาณาจักรนักเลง




English title

:



Rating

: 3/5


Director

:



Main actor

: Sombat Methanee,Lak Apichat,Kanchit Kwanpracha,Kecha Plianvithee,Nard Poowanai,Chat Mongkolchai,Pipop Pupinyo,Dam Datsakorn,Phairoj Jaising


Main actress

: Piyamas Monayakol,Duangcheewan Komolsen,Tanyarat Lohanan,Duangjai Hathaikarn



Buy now

:

Thai movie อาณาจักรนักเลง was released in year 1978. It lasts 1h54mn. Labeu (Sombat Methanee) is a policeman. He gets some help from Siaw (Lak Apichat) to capture ruffians. He gets framed by drug traffickers and ends up in jail. Policeman Kanchit (Kanchit Kwanpracha) is building a team including Somjing (Piyamas Monayakol) to fight traffickers. He asks to get Labeu in his team as he believes he is not guilty and it would be a redemption opportunity. Labeu is reluctant but as it is to neutralise a dangerous organisation and clean Thailand's bad reputation as drug trafficking platform, he finally accepts. Drug traffickers include the boss Decha (เจ้านาย - Kecha Plianvithee), Phi Ho (Dam Datsakorn), Chat Mongkolchai, Pipop Pupinyo, Suriya Chinaphan and Duangcheewan Komolsen as secretary. Police team includes Nard Poowanai, Kanchit (Kanchit Kwanpracha), Somjing (Piyamas Monayakol), Gnamta (Tanyarat Lohanan), Labeu (Sombat Methanee). Decha is aware that Labeu has been released. Yousuf is killed in his jail (กุญแจดอกสำคัญ) before being able to share information. Drugs traffickers shall not be underestimated. Ruffians try to stop Labeu but he is now using similar ways as them (grenade...) as he is no longer an official police inspector. Drug ends up in seaport Sri Racha. Phairoj is working as an informant with whoever pays him. Interpol works with Thai people. Pinyo shots one of the foreign policeman. Labeu succeeds to get Kwan's agenda. Kwan (Duangjai Hathaikarn)(หลานสาว), Decha's relative, is captured by Labeu while inspecting a wagon supposed to contain drugs. Money exchange is proposed. Labeu acts like a ruffian now. Phairoj Jaising (อาชีพขายขาว) gives free information to Gnamta as he despises drugs which made his brother die. Decha kills Duangchiwan being unfaithful with Phairoj. Decha killed Kwan's real father many years ago to take over the business. Decha refuses to share the drugs money benefits with his colleagues and imprisons them. Getting back Kwan, he takes refuge in a hidden maze but it gets storms by Labeu and the police. Decha is killed by Apichat. The drugs gang is annihilated and Labeu reinserted in the police as officer (สารวัตร).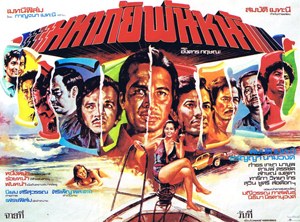 Year

: 1978



Thai title

:

มหาภัยพันหน้า




English title

:



Rating

: 3/5


Director

: Sombat Methanee



Main actor

: Sombat Methanee,Lak Apichat,Kecha Plianvithee,Dam Datsakorn,Rujira Isarangkul,Thep Thienchai,Kanchit Kwanpracha,Manop Aussawathep,Kamthorn Suwanpiyasiri,Pan Borapet,Paen Pleumsachai,Krai Kanchit,Sawin Sawangrat,Wittaya Sukdamrong,Pumi Patanayut


Main actress

: Aranya Namwong,Tharika Thidathip,Metta Roongrat,Orasa Isarangkul



Buy now

:

Thai movie มหาภัยพันหน้า was released in year 1978 and lasts 2h06mn. It was released under VCD and VHS formats. It is a Methanee film production with กาญจนา เมทะนี (Sombat Methanee's wife) as movie producer. Sombat Methanee is movie director. James bond style music is featured. Multiple famous Thai actors and actresses are featured in this movie such as Sombat Methanee, Aranya Namwong, Lak Apichat, Kecha Plianvithee, Dam Datsakorn, Rujira Isarangkul, Thep Thienchai, Kanchit Kwanpracha, Manop Aussawathep, Tharika Thidathip, Metta Roongrat, Kamthorn Suwanpiyasiri, Pan Borapet, Paen Pleumsachai, Krai Kanchit, Orasa Isarangkul, Sawin Sawangrat, Chosri Misommon, Lor Tok, Wittaya Sukdamrong. Multiple murders are committed in various places such as golf club... Each time the killer has a different face, i.e face of Kecha Plianvithee, face of Dam Datsakorn... The killer is having an assistant, i.e. Lak Apichat. The murders are committed by มหาภัยพันหน้า as those men were harmful to Thai society such as corrupted politicians or ruffians trafficking drugs or weapons. The killer is Sakao (Sombat Methanee) with his assistant Wai (Lak Apichat). Sakao is using different masks so he gets called the "great danger with thousand faces" (มหาภัยพันหน้า)! Thep Thienchai and Wai suggest to Sakao to have a lady joining their team. Their boss is Rujira Isarangkul. Det (Kanchit Kwanpracha) is also part of the team. The boss has an important work for them. They have to neutralize Sia Bancha (Kamthorn Suwanpiyasiri). Pho Lieng Boonta (Kecha Plianvithee) and Plaem (Dam Datsakorn) are working with Sia Bancha's team. Sakao and Wai go to Valentino club, where multiple Japanese and Hong Kong singers are working. This is Sia Bancha's usual place. Sakao meets Japanese singer Misiko (Tharika Thidathip). Sakao helps also Sai (Metta Roongrat) beaten by Klang (Krai Kanchit). Sakao has then arguments with Peter (Manop Aussawathep). Fighting occurs in Valentino club. Pho Lieng Boonta asks for an enquiry on Sakao. Sakao changes his face to be similar as Sia Bancha. Ratree, Bancha's girlfriend, is played by Orasa Isarangkul. Sakao enters in Sia Bancha's bedroom to steal documents. Khun Deu (Aranya Namwong) is welcome at the airport by Sakao, Wai and Det. Ruffians recognize Sakao's car and follow it. They aggress Deu being the driver as they believe she is Sakao's wife. Luckily, they flee as police is around. Sakao and Wai disguise themselves as plumbers so that Sakao can listen to Pho Lieng's plans. He meets Misiko again. Peter recognises him so Sakao has to flee on a small motorbike. Deu discovers that Sakao is มหาภัยพันหน้า. Deu finally joins them. Sakao and Klang meet Thongkam (Pumi Patanayut) that recommends them to follow Dr Singhon (Sawin Sawangrat). Ruffians fail to get rid of Sakao. Misiko asks to meet Sakao again and warns him (เล่นกับความตาย) that ruffians are trying to kill him. Sakao is finally captured. Deu uses Dr Singhon's signature to enter in their hidden place and install a microphone under the table. Sakao is beaten but refuses to disclose who he is. Ruffians are doing a weapons traffic to disrupt Thailand. Deu gathers information and informs the Police. Thai Police, led by Wittaya Sukdamrong, are ready to surround the house where ruffians are hiding. House is stormed and all ruffians are neutralized. Misiko was finally an inspector from Japanese Police.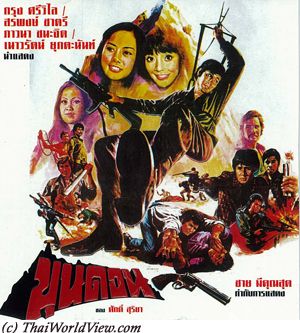 Year

: 1978



Thai title

:

ขุนดอน




English title

:



Rating

: 3/5


Director

: Chai Meekunsut



Main actor

: Sorapong Chatree,Krung Srivilai,Manop Aussawathep,Phairoj Jaising,Kanchit Kwanpracha


Main actress

: Naowarat Yooktanun,Duangcheewan Komolsen,Pawana Chanajit
In Isan area, during a traditional dance (รำวง) party in a village, young man Pui (Sorapong Chatree) and young woman Bulai (Naowarat Yooktanun) are agressed by local ruffian (ผู้ร้าย). Khun Don, local Robin Hood thief, chases the thugs (นักเลง) away. The ruffians' leader is subdistrict headman (กำนัน) Phichit. Two Bangkokian friends come to visit Bulai, i.e. Phanit (Pawana Chanajit) and Thantip (Duangcheewan Komolsen). Phanit mistakes Khun Don with another man called Paradorn that she loved before. Phichit, lewd (ลามก) headman, wants Bulai as his wife. Phichit accuses the two Bangkokian ladies to be linked to Khun Don. Subdistrict headman Phichit is using bad influence (อิทธิพล), strong power (อำนาจ) and money to control the area and performs robbery (ปล้น). His team commits bus burglary under Khun Don name. Pui is accused of roberry and jailed by police officer (ผู้กอง) Thanu (Phairoj Jaising). Mysteriously the district offer orders to free Pui. Bulai joins Khun Don's team to fight subdistrict headman Phichit. Amorous jousts happens between the main characters. Infiltering Phichit's team, Bulai provides information to catch him and his ruffians. Police and army join. Following heavy gun fights, Phichit and his thugs are neutralized (ทำร้ายชาติ). As often during such Thai action movies, it is revealed that three young ladies were undercover policewomen. Pui is a also a policeman and Khun Don is a soldier. Couples are formed and weddings are announced. It is a typical movie 1970s mixing action, romance and songs (Country style Luk Thung - ลูกทุ่ง - and Molam - หมอลำ - music). Eight major actors from 1970s decade are present in this movie.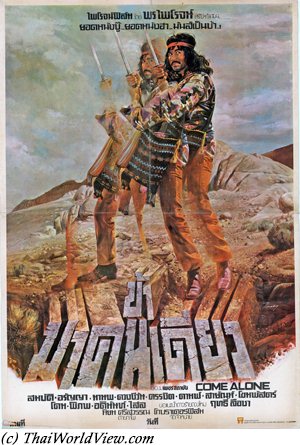 Year

: 1978



Thai title

:

ข้ามาคนเดียว




English title

: Come alone



Rating

: 5/5


Director

: พร ไพโรจน์



Main actor

: Sombat Methanee,Dam Datsakorn,Rith Luecha,Kanchit Kwanpracha,Manop Aussawathep,Sayan Chantaraviboon,Adinan Singhiran,Thep Thienchai


Main actress

: Aranya Namwong,Duangcheewan Komolsen,Khomapat Attaya
Thai movie ข้ามาคนเดียว / Come alone was released in year 1978 and lasts 2h21mn. It was released under DVD and VCD format by XxX company. Movie director is พร ไพโรจน์. Jak Khui (Sombat Methanee) is back to Khorat. He was just released from prison (ติดคุก). He receives recommendations not to come back to Khorat so he disguises in a hippy. Ruffians (Pipop Pupinyo, โดม สิงห์โมฬี, ไสล พูนชัย) follow him as they are unsure it is Jak Khui. He is still looking for his wife Kamsee (Khomapat Attaya) and his son. Undertaker Adinan Singhiran (สัปเหร่อ Sa) helps Jak Khui. Comic Thep Thienchai is part of the team. Jak Khui has to hide in a coffin to escape the ruffians. Yan (Dam Datsakorn), mafia leader (เจ้าพ่อ) in Khorat, wishes to get rid of Jak Khui. Steve (Rith Luecha), hitman (มือดี) from Saraburi, is hired. It was the first movie for Rith Luecha. A Yan's ruffian, former friend with Jak Khui, warns him. Steve and ruffians try to surprise them, but they get pushed back in a cemetery. Yan and his ruffians then storm Uncle Kiet's Thai boxing centre as they believe Jak Khui, former Thai boxer, is hiding there. Kiet's daughter (Duangcheewan Komolsen) and the Thai boxers push them back also (นักเลง vs นักมวย). Some protesters block a factory sawmill manager. Gnot (Kanchit Kwanpracha), as policeman head, lets them do. Hin (Manop Aussawathep) tries to interpose but he is outnumbered. Khaemkaen (Aranya Namwong) asks the protesters to stop. Protesters are pushed by Yan and protected by policeman Gnot. Fighting erupts between Yan and Hin, the new factory manager. Khaemkaen, Yan's fiancee, has to stop them (ต่อยเหมือนเด็กวัด). Sayan Chantaraviboon enters Yan's home to defy him. Appreciating Sayan's boldness, Yan hires him. Jak Khui finally meets his son Simon, who is now a Buddhist novice. Jak Khui stayed five years in prison. Simon has no news about his mother. Sa brings Jak Khui to Kamsee, who is now a crazy woman. His son asks him to stop revenge, but he cannot do it. Kamsee is shot later by Steve. Yan is behind his demise and family misfortune. Jak Khui wishes to revenge (ล้างแค้น). The Thai boxing team is willing to join him. Jak Khui visits Gnot, the corrupt policeman (ตำรวจเลวๆ), but he is outnumbered and taken over to Yan's house. Yan is willing to get rid of Jak Khui as he opposed to him before when he was rising as Khorat mafia leader. They put him in a coffin and plan to throw him from a cliff. Hopefully Sayan Chantaraviboon helps him and they put the warden instead. Jak Khui then visits Khaemkaen to explain to her Yan's bad accomplishments. Hin and his men take back the wood stolen from forests by Yan's ruffians. It makes Yan to be very upset. To their surprise, during Khaemkaen's birthday, ruffians discover that Jak Khui is still alive! Seeing that Thai police starts to have proofs against him, Yan decides to flee. Khaemkaen is kidnapped by Yan. Jak Khui and his team storm the place where Yan and his ruffians are hiding. Jak Khui takes revenge over Yan. Hin and Sayan are finally undercover policemen. Romance can happen between Jak Khui and Khaemkaen.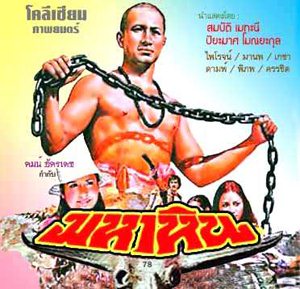 Year

: 1978



Thai title

:

มหาหิน




English title

: Maha Hin



Rating

: 5/5


Director

: Kom Akadej



Main actor

: Sombat Methanee,Sukon Koewliam,Adinan Singhiran,Sawin Sawangrat,Pipop Pupinyo,Phairoj Jaising,Kanchit Kwanpracha,Lak Apichat,Dam Datsakorn,Rith Luecha,Kecha Plianvithee,Manop Aussawathep,Kom Akadej


Main actress

: Piyamas Monayakol,Wiyada Umarin
Hin (Sombat Methanee) is a monk. One day he receives a letter from his younger niece announcing that his parents have been killed by ruffians, their house burnt and cattle stolen. Hin finally disrobes (ศึก). After so many years as monk, only a few people recognize him, i.e. Lung Kiaw (Sukon Koewliam) and his former teacher (Adinan Singhiran). Sombat Methanee shaved his head for this movie. Hin still behaves like a monk, speaks like a monk (โยม), carry his umbrella and stay calm but sometimes it is too much to endure and ruffians get smashed! Subdistrict headman Loi (Sawin Sawangrat) is now living on the land belonging to Hin's relatives. He is always protected by a bunch of ruffians including Pipop Pupinyo. Fon (Piyamas Monayakol) is the daughter of subdistrict headman Loi. Lom (Phairoj Jaising), Hin's former classmate, is the son of subdistrict headman Loi. Phi Saen (Kanchit Kwanpracha) takes care of Neung and Sai, Hin's nephews. Ang (Lak Apichat) always follows Hin to help him. Lom's girlfriend is called Chada (Wiyada Umarin) and is the daughter of Pho Lieng. Hin just wants to take care of his nephews and not bring trouble regarding the land (ผมมาดี). A new house is built and vegetables are planted. Hin wears colorful shirts (สีแปลกๆ). On the way to sell the corn, Hin's truck is stolen and Hin is beaten. Dam Datsakorn and Rith Luecha are the ones behind. They are Pho Lieng's faithful lieutenants! As Hin is at hospital, Rith kidnaps Sai. Ruffians fail to kill Hin at the hospital so he is aware through Neung and Fon. Pho Lieng (Kecha Plianvithee), the big boss, wishes to marry Fon but Loi knows his daughter will never accept. Seua Tim (Manop Aussawathep) is seen with Pho Lieng but keeps his independence. Hin finds Sai but it is too late as she has been raped and killed. Hin has to forget his previous Buddhist vows (เรื่องคนชั่ว) to take revenge. Hin reuses the chain that was used to kill Sai in order to hit the ruffians. Fierceful fights happen between Hin and Rith / Dam in an underground casino. Despite Hin winning, Pho Lieng orders the ruffians to kill Hin but Seua Tim forbids as guns are not allowed in his casino. Hin kidnaps Fon to bring trouble to Kamnan Loi. Pho lieng orders to kill Subdistrict headman Loi as this latter refuses to enter in a bigger scale of corruption (แบ่งกันกินแบ่งกันใช่). Lom and Fon believes the murderer is Hin. Finally Seua Tim explains the truth to them. Justice happens and all the ruffians are killed. Hin leaves as a lonely cowboy. Movie Maha Hin (มหาหิน) was released in year 1978 and directed by famous action movies director Kom Akadej (เจ้าพ่อหนังบู๊เมืองไทย). This movie really features a big bunches of major actors during decade 1970s. Sombat Methanee got 1M baht to cut his hair and be bald as he couldn't play other movies during many months.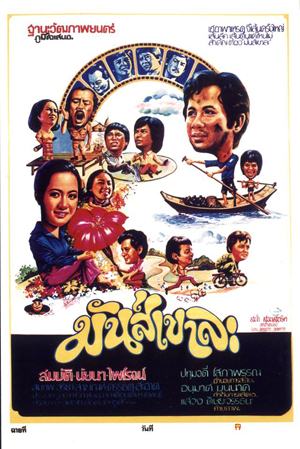 Year

: 1978



Thai title

:

มันส์เขาล่ะ




English title

:



Rating

: 3/5


Director

:



Main actor

: Sombat Methanee,Prachuap Ruekyamdee,Lor Tok,Tawan Siriwat,Suriya Chinaphan,Phairoj Jaising,Sayan Chantaraviboon,Rong Kaomulkadee,Thep Thienchai,Somphob Benjatikul,Boo Wibunnan,Kanchit Kwanpracha,Sahat Piempongsan,Thuam Thoranong


Main actress

: Naiyana Shewanan,Chosri Misommon,Nipaporn Nongnuch,Tharika Thidathip
Thai comedy movie มันส์เขาล่ะ was released in year 1978. The movie is lost in Thailand but a sequence of 1h03mn is left to be seen. Subdistrict headman (กำนัน) Lor Tok wishes to produce a movie with his daughters and his wife playing as actresses. His wife is played by Chosri Misommon. His daughters include Wassana (Naiyana Shewanan) and Nipaporn Nongnuch. Tawan Siriwat seems to oppose the Subdistrict headman's decision. A photo studio is managed by Prachuap Ruekyamdee and his two friends, i.e. Sayan Chantaraviboon and Rong Kaomulkadee. Prachuap and his friends convince Lor Tok to manage the movie for him. They are now looking for a main actor (พระเอก) for their movie but Fui (Sombat Methanee) is finally hired by mistake. Fui's close friend is Thep Thienchai. Lor Tok is the movie producer so they use the money to buy a mercedes! He wishes his family to play in the movie. Somphob Benjatikul is his assistant. Fui and Wassana like each other. Boo Wibunnan is hired as movie director. They are also looking for somebody to write the story. Tawan brings them to meet Mui (Kanchit Kwanpracha) as they are looking for a ruffian (นักเลง). A ceremony for the movie launch (เลี้ยงใหญ่โต๊ะ) is organized. Fui has to sing and does it well (it is Sombat Methanee's real voice). Thuam Thoranong as comic actor is also present. Sahat Piempongsan is used as decorator. Lor Tok always needs to protect his daughters against the young men trying to seduce them. Multiple gags happen during the shooting as Lor Tok doesn't accept any kiss to his daughters. Phairoj Jaising is involved as actor also and a few ดาวยั่ว are joining (Tharika Thidathip). The movie shooting is a disaster. Kamnan Lor Tok is back to his village and is welcomed by Tawan Siriwat and Suriya Chinaphan singing an ironic son and teasing the Subdistrict headman. This comedy is featuring many famous comic actors from 1970s and more than 18 Thai famous actors / actresses.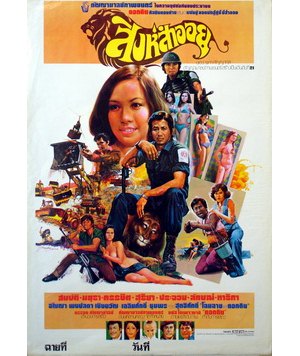 Year

: 1977



Thai title

:

สิงห์สำออย




English title

:



Rating

: 3/5


Director

: Dokdin Kanyaman



Main actor

: Sombat Methanee,Dokdin Kanyaman,Prachuap Ruekyamdee,Suriya Chinaphan,Choomporn Theppitak,Lak Apichat,Kanchit Kwanpracha


Main actress

: Mayura Thanabutr,Tharika Thidathip
Thai movie สิงห์สำออย was released in year 1977 and lasts 2h05mn. As usual with movies directed by Dokdin Kanyaman, it mixes several tastes, i.e. action, romance, comedy, mild erotism. Main actors and actresses are Sombat Methanee, Mayura Thanabutr, Dokdin Kanyaman, Lak Apichat, Kanchit Kwanpracha, Prachuap Ruekyamdee, Choomporn Theppitak, Suriya Chinaphan, Tharika Thidathip, ธัญญา ธัญญารักษ์, พงษ์ลดา พิมลพรรณ, เชิงขวัญ ปิโยบล, เฉลิมศักดิ์, ด.ช.สุทธิศักดิ์, โฉมฉาย ฉัตรวิไล. Ek (Sombat Methanee) is the son of a rich businessman. As he is a bit lazy, the rich businessman put some special clauses in the testament before dying. Ek must become a policeman to keep his rights to heritage. He is sent to Nakhon Phanom to investigate on some illegal traffic happening at the border. As a cover job, Ek is selling goods and is having arguments with Dokdin Kanyaman, another seller. Noon (Mayura Thanabutr), daughter of a local headteacher (พงษ์ลดา พิมลพรรณ), is visiting her mother in Nakhon Phanom. Her mother is taking care of poor children. Her father is Prachuap Ruekyamdee. Relation is tense with her father as he has a new wife (เมียน้อย) called Pantip. Ruffians storm the police station. Ek and Dokdin neutralize them. Suriya Chinaphan, Ek's teammate, meets young lady Moon there. Wan Dao and Yoti (Kanchit Kwanpracha) have business conflicts with Cheung (Lak Apichat) but they finally collaborate. Cheung and Wan Dao become lovers. Cheung's team is attacked by police led by Ek while transporting illegal goods in the jungle. Ek is injured but Dokdin is helping him to hide. Ruffians are looking for Ek to get revenge. Dokdin brings Ek to hospital and they finally flee. Ek needs to marry within three months to receive the heritage (มรดก) per the testament. Ek wishes to marry Noon but his lawyer (Choomporn Theppitak) wishes him to marry his engaged fiancée. Ek refuses as he hasn't realized that his engaged fiancée and Noon are the same person. Dokdin used a similar scenario in movie ไก่นา (1971). Yoti has arguments with Ek. Pantip is also Yoti's mistress. Ruffians storm again the school. Ladies resist. Moon hits Cheung badly and it makes him crazy. Ruffians burn the school buildings and Moon is raped by Cheung. The head teacher (แม่ครู) is kidnapped. Prachuap is aware that Pantip betrays him (ควายแก่) as policemen saw her kissing Yoti. They shot each other. Ek and his teammates storm the camp. Fierce fightings do happen. Noon takes revenge over Cheung and gets reunited with Suriya. Dokdin marries a teacher also.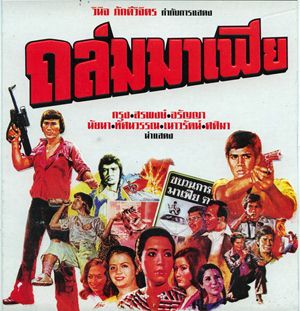 Year

: 1977



Thai title

:

ถล่มมาเฟีย




English title

: Mafia defeated



Rating

: 4/5


Director

: วินิจ ภักดีวิจิตร



Main actor

: Paen Pleumsachai,Pipop Pupinyo,Krung Srivilai,Lor Tok,Sayan Chantaraviboon,Chat Mongkolchai,Somchai Samipak,Sorapong Chatree,Sukon Koewliam,Nirut Sirijanya,Lak Apichat,Manop Aussawathep,Kecha Plianvithee,Boo Wibunnan,Kanchit Kwanpracha,Adul Dulyarat,Man Teeraphol


Main actress

: Naiyana Shewanan,Chosri Misommon,Tasawan Saneewong,Aranya Namwong,Naowarat Yooktanun,Sasima Singsiri
Thai movie ถล่มมาเฟีย (Mafia defeated) was released in year 1977 and lasts 1h54mn. It was released under VCD format by company XxX (Triple X). One song is featured. Movie director is วินิจ ภักดีวิจิตร. Thai actors and actresses featured in this movie are Paen Pleumsachai, Pipop Pupinyo, Krung Srivilai, Lor Tok, Sayan Chantaraviboon, Chat Mongkolchai, Naiyana Shewanan, Somchai Samipak, Sorapong Chatree, Chosri Misommon, Sukon Koewliam, Tasawan Saneewong, Nirut Sirijanya, Lak Apichat, Manop Aussawathep, Kecha Plianvithee, Aranya Namwong, Naowarat Yooktanun, Boo Wibunnan, Kanchit Kwanpracha, Adul Dulyarat, Sasima Singsiri, นรา นพนิรันดร์, Man Teeraphol, ชินดิษฐ์ บุนนาค, เมือง อพอลโล, จวบ, โจ๊ก, สุเทพ เหมือนประสิทธิเวช. This movie includes an impressive number of 30 Thai stars from decade 1970s. Sorapong Chatree, Nirut Sirijanya, Lak Apichat play bad guys in this movie. Normally they always play on the good guys side. Five ruffians including Paen Pleumsachai and Pipop Pupinyo are waiting (มาไม่ดี) for Yot Baramee from Suphanburi. Yot (Krung Srivilai) was just released from prison. Ruffians accuse him of murder but get defeated by Yot. Yot's friends are Lor Tok, Dip (Sayan Chantaraviboon), Han (Chat Mongkolchai) and Baan Yen (Naiyana Shewanan). Krieng (Man Teeraphol) accuses Yot to have killed his father. To avoid causing more issues in the village, Yot leaves for Bangkok with Dip and Lor Tok. Kamnan Somchai (Somchai Samipak) has three children, Mike (Sorapong Chatree), Baan Yen and Yot, being an adopted child. Somchai recommends Yot to contact Mike in Bangkok. Chosri Misommon is playing a crazy secretary, working in company Mike Engineering. Yot, Ding and Lor Tok are looking for job in Bangkok. Mike is not so willing to help as he has only low skills jobs to offer. Songtaew driver (Sukon Koewliam) and receiver (Tasawan Saneewong) have issues with ruffians asking for protection fee. Yot and Dip help and fighting with ruffians occurs. Thai mafia is very powerful and has strong influence. Yot is upset with Thai mafia and would like to stop them. Saem (Nirut Sirijanya) and Lak Apichat, mafia members, visit bars to get money donations (ทำบุญ). Saem and Lak threaten bar owner Chindit (ชินดิษฐ์ บุนนาค) so they have arguments with Yot and Dip, having a drink there and always wishing to help. Policeman Samit (Manop Aussawathep) arrests them. Chindit helps to release them from jail. Sompong (Kecha Plianvithee) is having Watanee (Aranya Namwong) as new girlfriend. His daughter Busalin is back from studying in USA. Busalin (Naowarat Yooktanun) is welcomed in Bangkok by Mike. Saem and Lak try to shoot Yot and Dip, but they succeed to flee thanks to Watanee's car passing by. Mike is part of mafia team working for Sompong. Mike orders Chindit's bar to be closed seven days but Yot and Dip interfere again. Satra (Kanchit Kwanpracha), part of mafia team, asks to kill Yot. Sompong threatens to kill Yot's friends if he refuses to work for him. Satra accuses Mike. Baan Yen is captured by ruffians, who kill her father Somchai and Han. Yot is accused of the murders. Mafia Italy Don Vito (สุเทพ เหมือนประสิทธิเวช) is visiting Thai mafia to show unification. Learning his father's death, Mike tries to shoot Yot despite they are brothers (น้องชาย). Han is not dead and discloses that Krieng is responsible of the murders. The one behind is Satra pushing Mike and Yot against each other. Baan Yen understands the truth. Surapong (Adul Dulyarat), head of police, and his team storm the mafia's den. Yot and his friends are leading. Busalin understands that his father and his ruffians are betraying Thailand (ทำร้ายชาติ). The movie ends up in multiple shootings with Mike and Satra shooting each other, Yot shooting Sompong. Mafia is defeated.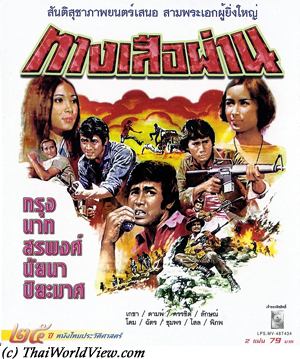 Year

: 1977



Thai title

:

ทางเสือผ่าน




English title

:



Rating

: 3/5


Director

: Choomporn Theppitak



Main actor

: Krung Srivilai,Nard Poowanai,Sorapong Chatree,Pipop Pupinyo,Lak Apichat,Dam Datsakorn,Kecha Plianvithee,Chat Mongkolchai,Kanchit Kwanpracha,Choomporn Theppitak


Main actress

: Piyamas Monayakol,Naiyana Shewanan
Krieng (เกรียง - Krung Srivilai) and Krai (ไกร - Sorapong Chatree) are brothers. They have a sister called Kaew. The third brother is away. They are part of a poor family and their father is sick. Ruffians are terrorising the local villagers (ปล้อนบ้าน). Krieng and Krai want to report a killing (แจ้งความ) to the village headman but he is out of town. The village headman has two children, Sarapee and her brother Han (หาญ - Dam Datsakorn). Han uses a lot of bad influence (อิทธิพล) and is always accompanied by ruffians. Han is committing extortion under the name of Seua Hin (เสืออินทร์). Sarapee is Krieng's love. Some villagers refuse to sell their land to Boonthong (บุญทอง), a local rich businessman. Boonthong is using Han to push them. He has a beautiful daughter called Angkap (อังกาบ - Piyamas Monayakol). Angkap is Krai's love (นางฟ้ามาแล้ว). Han doesn't appreciate his sister to go out with Krieng so this one is beaten by ruffians. Han also loves Angkap. Han is collaborating with Boonthong. Angkap is promised by her father to Han. The third son, Kan (กาญจน์), played by Nard Poowanai, is back. While Krieng and Krai are working in the fields, Kaew and the father are killed. The three brothers are looking for revenge. The village headman is not aware that his son is smuggling with Boonthong. Ket (เกตุ – Lak Apichat) is one of Han's ruffians but he has a nice heart and always warns Angkap if something fishy is under preparation. Han is always looking for arguments with Krieng even during a temple fair. Han uses Ket to shoot Krai in the back while performing Thai folk dance (รำวง) as he is jealous of his relation with Angkap. Ket is playing double game as a fake bullet is used to shoot Krai. Ket warns Angkap that Han plans a night attack to get rid of Krai. Warned by Angkap, the three brothers prepare a surprise for Han and his ruffians. The ruffians fall in a trap and only Han and a few guys escape death. Han takes revenge over Ket by raping and killing his wife. Ket recognizes that Han's missing short button is the one he found near his wife's dead body. Following fist fights and car motorbike chase between Ket and Han, Han finally succeeds to flee. Han kills Boonthong to get his money and recruits more mercenaries. The three brothers and Ket are ready to fight back but they need to face 50 ruffians having M16 guns. Police lead by Mot is coming to help. Ruffians take Sarapee as hostage. A final face to face between the father and Han, the ruffian son, happens. Following a misunderstanding the village headman shoots his own son. Ket also dies. It is moralist ending. Ket is an unknown hero and law remains stronger than filial bonds. It is a 2h03mn movie. This movie features the new 1970s generation of Thai leading actors, i.e. Krung, Sorapong, Nard (สามพระเอกผู้ยิ่งใหญ่).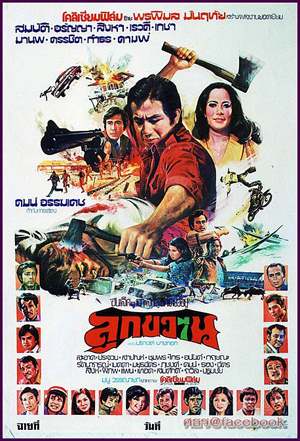 Year

: 1977



Thai title

:

ลูกขวาน




English title

:



Rating

: 3/5


Director

: Kom Akadej



Main actor

: Sombat Methanee,Kom Akadej,Dam Datsakorn,Choomporn Theppitak,Sahat Piempongsan,Kecha Plianvithee,Krai Kanchit,Chat Mongkolchai,Lak Apichat,Prachuap Ruekyamdee,Kamthorn Suwanpiyasiri,Kanchit Kwanpracha,Manop Aussawathep,Pipop Pupinyo,Somsak Chaisongkram,Sayan Chantaraviboon,Chana Sriubon


Main actress

: Aranya Namwong,Ratanaporn Intarakamhaeng,Metta Roongrat,Rewadee Pattaphong
ลูกขวาน is a Thai movie released in year 1977. It lasts 1h54mn. This action movie, directed by director Kom Akadej, features a great bunch of Thai actors. Sing A (Sombat Methanee) arrives too late as his father Nae Klam died already. His father was a big mafia boss (นักเลง) so smaller bosses (Chun - Dam Datsakorn, Kam - Choomporn Theppitak, Pon - Sahat Piempongsan, Krong - Kanchit Kwanpracha) want to become the leader instead. The movie features fighting between those smaller bosses in order to become the big boss. Back from overseas, Sing A is welcomed by KoLit (Kecha Plianvithee) and by his mother (Ratanaporn Intarakamhaeng). Krai Kanchit challenges Sing A but as he is defeated, he finally joins Sing A's team. Ruffians are using axes (ขวาน) for fighting so giving the movie name, i.e. ลูกขวาน, "axe child". Many groups want to get rid of Sing A. Prachom (Lak Apichat) gives a hand to Sing A aggressed by motorbikes on the beach. Kam (Choomporn Theppitak), married to Metta Roongrat, is one of the small leader wanting to kill Sing A. Nop (Kamthorn Suwanpiyasiri) and Sai (Prachuap Ruekyamdee) are close friends with Sing A. Sing A finally sympathizes with Nolee (Aranya Namwong), daughter of Nop. Phi Pon (Sahat Piempongsan) and his team start hostilities and take over a mine. Mek (Chana Sriubon) and Wan are having a love affair. Tan (Manop Aussawathep) orders to kill Sing A. KoLit and Mek defeat Pipop Pupinyo and his guys trying to enter in their ranch. Krong is shot and injured by another gang. Tan refuses to work with Phi Pon (ขายหน้า). Chat Mongkolchai and his ruffians attack Mek's house but get defeated by KoLit and Mek following a long boat race. Wedding is happening between Mek and Wan. Chun is looking for troubles during the wedding but gets punched by Sing A. Tan is burnt in his car by Phi Pon's team and becomes blind. As a revenge, Phi Pon gets killed by Kanchit. Tan relearns to shoot using his ears instead of eyes. Pinyo and his ruffians kill Sing A's mother but get axed by KoLit and Mek. Kam is arrested by the police. Aranya has a cancer but Sing A still wishes to marry her. Tan takes his revenge over those who caused the fire making him blind. All mafia leaders are now out of the game except Chun. A feast is organized but Chun's ruffians (Somsak Chaisongkram) are bringing a mess. Honor needs to be washed with blood (เลือดต้องล้างกับเลือด). Chun's house is stormed and Chun himself is killed but remaining people including Sing A get caught by police. This Kom Akadej's movie is a non stop action movie featuring around twenty key actors / actresses from decade 1970s.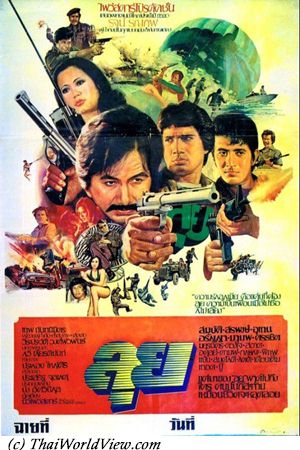 Year

: 1977



Thai title

:

ลุย




English title

:



Rating

: 5/5


Director

: Ruj Ronnapop



Main actor

: Sombat Methanee,Sorapong Chatree,Kanchit Kwanpracha,Pipop Pupinyo,Somsak Chaisongkram,Uten Boonyong,Paen Pleumsachai,Dam Datsakorn,Adul Dulyarat,Boo Wibunnan,Sahat Piempongsan,Manop Aussawathep


Main actress

: Mayurachath Muarnprasitivej,Duangjai Hathaikarn,Aranya Namwong
Thai movie ลุย was released in year 1977 and lasts 2h03mn. It was released under VCD format by company Solar Marketing. A remastered version was released by Five Star Production in the decade 2010s and shown on Thai TV cable. Movie director is Ruj Ronnapop. Lui (Sombat Methanee), Nai (Kanchit Kwanpracha), Lui's Father, Pipop Pupinyo, Somsak Chaisongkram, Deuan (Uten Boonyong) are part of a secret mafia organization. Paen Pleumsachai and his men attack Deuan. Lui and other colleagues arrive to help but his father dies in the fighting. Lui is a hitman in the organization. Lui is married to Sai Nam (Mayurachath Muarnprasitivej). Fed up to be a hitman for 10 years, Lui has decided to stop in order to take care of his wife Sai Nam and his son. He informs his friend Deuan. The secret organization (องค์การ) is not willing to let him go so easily as he knows all the internal secrets. They send two hitmen to kill him. They fail but, before being shot, one of them lies that Deuan is the one who disclosed Lui's location. Another three hitmen led by Somsak are sent but are also killed by Lui. The organisation asks Nai to manage but he refuses as he believes Lui has done nothing wrong. The organisation decides to send Nai to Hong Kong as they lose some trust with him. Ruffian Tio shall be the one to manage Lui. Kanchai Insree (Dam Datsakorn) is hired by Tio (Adul Dulyarat) to kill Lui as Deuan refuses to do the job. A bomb is put in his car. Unfortunately, his wife and son are killed. Lui shoots Deuan as revenge as he believes he is the culprit. Lui takes Boi, Deuan's son, to raise as his own son. Aunt Dou (Duangjai Hathaikarn) is helping. Boi reveals the truth to Lui, i.e. Deuan was beaten as he refused to kill Lui. Pipop and others are killed by Lui. Kanchai is also killed but before dying, he shouts to Boi that Lui is the one, who killed his father Deuan. Lui meets Prakasit (Sahat Piempongsan) by luck in a mall. Chasing happens but Lui spares his life as Prakasit hides behind his daughter. They take refuge in Kanchanaburi. Boi grows up there and learns how to shoot. He is played by Sorapong Chatree. Lui is now having a moustache. Ruffians led by Tio are still looking for Lui. Tio is having good time with girls managed by แม่ Soi (Aranya Namwong). Tio is killed by Lui. They invest in a Pattaya hotel by buying shares in order to prepare a future for Boi, Aunt Dou and Soi. Boi meets a young lady Not (เดือนเต็ม สาลิตุล) looking for a hotel room with her friend Metta. Nai is back from Hong Kong. Three ruffians' leaders are left. Metta is Sakdan's son trying to identify where Lui is hiding. Lui is warned by Soi. Lady Not is Prakasit's daughter. Lui takes care of Sakdan. Kamphet (Manop Aussawathep) kills Soi as she refuses to disclose where Lui is hiding. Nai arrives at the hotel. Boi hears Lui and Nai talking together and that Lui killed his father Deuan through a misunderstanding. He wishes to kill uncle Lui as revenge despite Aunt Dou explaining to him. Thanks to Metta, ruffians now know where Lui is hiding. Boi is willing to shoot Lui and Lui accepts it. He uses an empty gun to shoot the man, who killed his father, but cannot shoot the uncle, who raised him. Ruffians storm Lui's place. Both Nai and Lui are injured. They chase Boi away. Boi faces Metta and is knocked out by him. Nai is shot by ruffians. Lui is shot multiple times by ruffians. Ruffians are celebrating their victory. On his last breath, Lui shoots at the explosives he put under his house. Ruffians are wiped out. Lui dies in Boi's arms.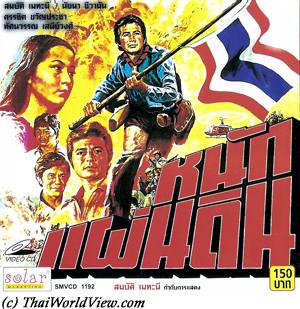 Year

: 1977



Thai title

:

หนักแผ่นดิน




English title

:



Rating

: 4/5


Director

: Sombat Methanee



Main actor

: Sombat Methanee,Prachuap Ruekyamdee,Kanchit Kwanpracha,Lak Apichat,Manop Aussawathep


Main actress

: Naiyana Shewanan,Tasawan Saneewong



Buy now

:

Ruffians attack a bus and put fire into it. Hopefully military can help on time but some passengers die. Who was behind the ruffians? A local villager Chat is having financial difficulties. Nemana and Data, owners of the local sawmills, lend money to poor people with high interest. Chat bought a truck. He is close friend with Tai (Sombat Methanee), who is a village scout (ลูกเสือชาวบ้าน). The Village scouts was a right-wing group sponsored by the King and Queen of Thailand to promote national unity in 1970s. Villagers are helping each other. Due to debts (หนี้) Chat needs to give his rice fresh crop to Nemana. Poor (จน) people just work for the rich! Nemana gives him back the truck against his wife's rice fields guarantee and allows him to cut trees in forest. He befriends with Prachan, who is Nemana's close associate. Despite Nemana's promise, some other ruffians try to catch Chat so he has to fight back for his life. As he shots two men, he has to flee to Bangkok. They lie to him as the ruffians are not dead. He is driving a taxi in Bangkok. He gets framed by Prachan who puts drugs in his car (เล่นละคร) in order to increase Chat's dependence to him as Chat needs to pay back his gratitude. He accepts to join their team. Nuan and Tai marry. Chat, due to easy money and lust, forgets his pregnant wife Bua (กรุงเทพสวรรค์คนมี นรกคนจน, คนลืมตัว). Back to the village Chat complains about the corruption of officials and how to benefit from it! Tai wishes to fight against this corruption that is bad for the country, fight against the bad parliament members. Tai and Chat disagree so fight (คนโทรยศแผ่นดิน). Nemana and Tai have a disagreement regarding rice selling. Tai pushes his democratic concept as villagers can sell to anybody (สหาย). It is democracy versus communism. Nemana proposes to share power and influence (แบ่งอำนาจ). As Tai refuses, they kidnap Nuan, his wife, who is teacher in order to force Tai to join them. Tai refuses their ultimatum and decides to act at nighttime. Faced to a Buddha statue, Tai prays in front of the Thai King and Queen pictures. Thai Buddhism, the monarchy and the nation were high symbols against Communism in 1970s. Patriotic songs are played in the background (รักชาติ). Tai has to use a floating wing similar to a hang-glider to enter silently their camp. He succeeds to release Nuan but they are captured while trying to escape from the camp. Chat's mother dies on a mine while trying to convince her son (คนขายชาติ) to release Tai. Through his treachery he loses his mother (สร้างกรรม). He changes side so frees Tai and Nuan. Chat dies while holding the Thai flag. Tai takes over the Thai flag. Meanwhile villagers holding Thai flags and singing patriotic songs go towards the camp. Thai army is joining them. The ruffians are defeated and some of them injured or killed. Through high compassion, soldiers give help and priority to treat them. Tai successfully removes the red (communist) flag and replaces it by the Thai flag generating cheers and dances. The song "Nak Phaendin" was released in 1975. It is was a patriotic song (เพลงปลุกใจ) against the communist influence (คอมมิวนิสต์). During 1975-1980 years, Thailand was surrounded by Communist countries (Laos, Cambodia, Vietnam) and was at high risk to fall also. This movie from an historical point of view shows nicely this trouble period and how the government propaganda was done.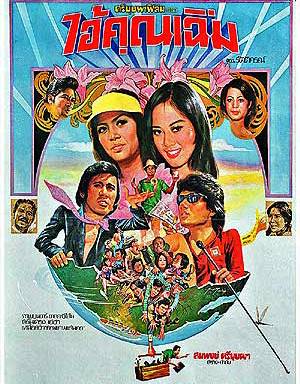 Year

: 1977



Thai title

:

ไอ้คุณเฉิ่ม




English title

:



Rating

: 3/5


Director

:



Main actor

: Sorapong Chatree,Krung Srivilai,Lor Tok,Rith Luecha,Kanchit Kwanpracha,Sayan Chantaraviboon


Main actress

: Naowarat Yooktanun,Mayura Thanabutr
Three beggars are friends and helping each other. One is polishing shoes, one is singing, one is simulating being a blind man in order to be able to sell lottery tickets. One of them has opportunity to work for a businessman and starts a romance with the businessman's daughter. Another one is courting another businessman's daughter. A local mafia gang is kidnapping the two businessmen. Police promises to help but the local police head is part of the mafia gang. The three beggards will manage to release the two businessmen.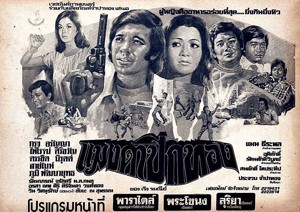 Year

: 1976



Thai title

:

แมงดาปีกทอง




English title

:



Rating

: 3/5


Director

:



Main actor

: Krung Srivilai,Phairoj Jaising,Kanchit Kwanpracha,Pumi Patanayut,Sayan Chantaraviboon,Nirut Sirijanya


Main actress

: Aranya Namwong,Sirikwan Nanthasiri,Orasa Isarangkul
Thai movie แมงดาปีกทอง (Pimp with golden heart) was released in year 1976. The movie is lost in Thailand. It was found in Taiwan under the name "Phoenix the Invincible" as it was released in VHS format. "For your eyes only" (1981) song is featured so the Taiwanese version was released 5 years minimum after the Thai version. This version was released by Taiwanese company New Ship Film Enterprise Co Ltd and lasts 1h27mn. The movie is in Mandarin language with no English subtitles. The movie was also found in Europe under the name "Lady Killer". It lasts 1h28mn and was released under VHS format by company Budget Label. The original movie has been cut to fit in standard TV format 4:3. Krung Srivilai enters as a robber in a house to steal money from a safe. He is the son of the victim! He steals his own father as he needs money! Krung is living with two close friends, i.e. Sayan Chantaraviboon, a steward and photographer, and Pumi Patanayut. Krung and his father despise each other. Krung keeps asking money from his father. He is finally disheritated and his father recommends him to find a lady to nurture him. Trying to gain easy money, Krung loses a big amount to Phairoj Jaising during cards games. Phairoj doesn't give him any credit as he knows Krung has been disheritated. Krung meets Aranya Namwong having problems with her car. Aranya is coming from a rich family. Nirut Sirijanya is her brother. Krung is working as gigolo to earn a living. Sirikwan Nanthasiri meets Krung in a bar. She is Phairoj's girlfriend. Ruffians argue in a pool bar but Kanchit Kwanpracha stops them. Kanchit then spends good time with Sirikwan. Kanchit joins Phairoj's team and takes active part to develop the business. Krung is going out with Orasa Isarangkul as he keeps acting as a gigolo. Finally, Kanchit wants more money from Phairoj for his business participation. It makes Phairoj upset. During a birthday party, two guys (including Pumi) are bothering Aranya but Krung helps. It is a trick as Krung knows well Pumi. Krung and Aranya sympathise and a romance starts. Phairoj's ruffians fail to kill Kanchit. As Phairoj's ruffians fail to get rid of Kanchit through a fight, they finally shoot him. Before dying, Kanchit gave a secret notebook to Sirikwan. Nirut, Aranya's brother, doesn't want her to meet Krung again as he only takes profit of women as gigolo. Krung claims to have changed and has stopped working as a gigolo. Phairoj loves Aranya also. Aranya's father meets Krung but it turns sour. The father is bankrupted so he has to promise his daughter to Phairoj. Phairoj hires Aranya as secretary. Krung has to find 2M USD to pay the father's debts but no way to find such amount. Aranya is not happy working with Phairoj but she has to pay back her father's debts. Fighting in a disco involving Krung and his friends happens again. Sirikwan asks Krung to keep a secret notebook. Phairoj wishes to break with Sirikwan in order to be with Aranya. Sirikwan accepts but threatens him to provide a secret notebook to the police if he doesn't give her a huge amount of money. Phairoj shots Sirikwan. Krung, having the notebook, informs the police. The secret notebook includes all details about Phairoj's illegal business. Thai police is storming Phairoj's den. About to be caught, Phairoj takes Aranya as hostage. Krung risks his life to save her and shows he really cares for her. Krung is injured but Phairoj is shot dead.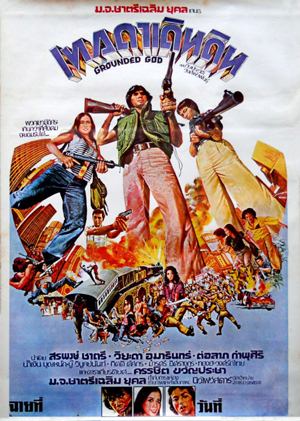 Year

: 1976



Thai title

:

เทวดาเดินดิน




English title

: Grounded god



Rating

: 4/5


Director

: ChatriChalerm Yukol



Main actor

: Sorapong Chatree,Boo Wibunnan,Kanchit Kwanpracha


Main actress

: Wiyada Umarin,Namgneun Boonnak,Marasri Isarangkul



Buy now

:

Thai movie เทวดาเดินดิน / Grounded god was released in year 1976 and lasts 2h24mn. It was released under VCD format by Solar company and lasts 2h10mn. The cable TV version lasts 2h24mn (but some parts are censored through pixelation). It was remastered by Five Star production in the decade 2010s. It was also released through a Thai TV series in 2001. Movie director is ChatriChalerm Yukol. Thai actors and actresses are Sorapong Chatree, Boo Wibunnan, Wiyada Umarin, Namgneun Boonnak, Kanchit Kwanpracha, Marasri Isarangkul, ต่อลาภ กำพุศิริ, กิตติ ดัสกร. This movie mirrors the youthful chaos of the year 1976. The movie was shot at the time of the 1976 violent crackdown on leftist students and protests that occurred in Thammasat university, bangkok. This movie reminds of Stanley Kubrik's violent "Clockwork Orange'' movie and Bonny and Clide story. It is unofficially claimed that Oliver Stone was inspired from this Thai movie for his controversial "Natural Born Killers'' as many parallels are seen. Two young guys including Sorapong Chatree and Toi (ต่อลาภ กำพุศิริ) are dealing with heroin. The police led by inspector Adul (Kanchit Kwanpracha) fail to catch them. He promises to catch them within 15 days. A journalist takes pictures. Young lady Viyada is robbing malls. The two guys take refuge in Viyada's home as Sorapong knows Viyada. They are modern Thai hooligans. The three young hooligans are living thanks to small thefts (stealing goods, wallets...). They are in rebellion with society (ปัญหาสังคม), i.e. they like damaging public installation, breaking windows, frightening and robbing middle class people, eating in restaurants without paying. Toi is keen on drugs also. Police inspector Adul has never had time for his family even on wedding day or children's birthdays. Journalists called them เทวดาเดินดิน (Grounded gods) as they can do whatever they want, they always escape, and nobody can catch them. They have nothing to lose and know they will die sooner or later. When robbing a house and neutralizing the occupants, they get a gun. While stealing a car, they face a strong foreign owner, who fights against them. He is shot dead by Sorapong so they flee to Southern provinces by train. Sorapong, one of the hooligans, is rebelling against the system as when he was a soldier, he was told to kill communist villagers but those people were good people worshipping the King of Thailand so he lost faith in Thai official institutions. Adul was Sorapong former military superior so it is becoming a personal affair. They become more and more violent. They are caught in a whirlpool. They rob banks and shot policemen. Followed by police, they finally find refuge in the South of Thailand around Yala where they continue their bank robbing. Boo (Boo Wibunna), an ordinary bank staff, decides to join them. They get too much media coverage. Surrounded by the Police, they hide in the jungle and are captured by a Muslim community. Wiyada is injured in the leg. The community is fighting against Thai institutions also but have real motives. It is precursory regarding current violent events happening in South of Thailand. Helping during a fighting where the village is attacked, they are allowed to quit the muslim community. Back in Bangkok, they try to get help from their drug dealer, being an old woman, but they get expelled. Wiyada's injury is getting worse. Wiyada wishes to die in Pattaya near the sea. Chased by the police, they end up in a high tower. The hooligans finally die under Thai Police bullets. This movie also highlights criticism of newspapers looking for scoop and raising them as heroes.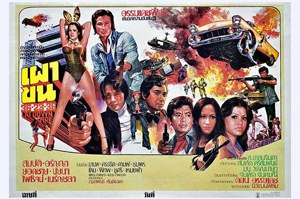 Year

: 1976



Thai title

:

เผาขน




English title

: Lay Down and Die



Rating

: 3/5


Director

: Kom Akadej



Main actor

: Sombat Methanee,Manop Aussawathep,Phairoj Jaising,Kanchit Kwanpracha,Yodchai MeksuwanBoo,Choomporn Theppitak,Dam Datsakorn,Boo Wibunnan,Kom Akadej,Pipop Pupinyo,Pan Borapet


Main actress

: Aranya Namwong,Naiyana Shewanan,Moeifa,Chosri Misommon,Neranchala Thaleungsak
Thai movie เผาขน was released in year 1976. The movie was never released on VCD or DVD in Thailand but a collector saved the film from 16mm format into VHS many years ago. The copy was not so good and was in red color as the film was already old. It lasts 1h44mn and is incomplete. The movie was also released in Italy under the name Lezi Puca Se (Lay Down and Die). It was also released by IFD Films and Arts, a Hong Kong company, under the name Bionic Heroes (1977) and lasts 1h25mn. The VHS rip is still colorful and sharp but the original Thai version has been reduced and cut to fit VHS standard format. Some sequences missing in the Thai remaining version are present in the international release. Enemies are trying to enter Thailand. At the border, Fon (Sombat Methanee) refuses to meet his younger sister Naiyana. He has to investigate who is providing weapons for Thai enemies. The enquiry leads him to a bunny bar, owned by Manop Aussawathep. Both Aranya Namwong and Pong (Phairoj Jaising), sister and brother, have resentments against Manop as he failed to honour the promise to their father to take care of them. They are used by him for low jobs. Pong (Phairoj Jaising) keeps having arguments with Dam, Manop's right hand. Boo Wibunnan is shot by Kanchit Kwanpracha, who ends up in jail. Aranya is having issues with Ah, an older man, who is trying to rape her as she was sold by Manop. Pong shoots him deadly. Pong and Aranya are then chased by the police. Prisoners Kanchit and Yodchai Meksuwan escape from the prison and are chased by the police. Some ruffians led by Dam Datsakorn try to shoot them while they are fleeing. They split to increase the chance for escape. Yodchai meets Pong and Aranya. They bring him temporarily with them to avoid police but then get rid of him on the backside of the road. Manop Aussawathep's girlfriend is played by Moeifa. Both Pong and Aranya fail to kill Manop. Kanchit wishes to revenge also on Manop as he believes he was betrayed. Manop pacifies everybody and Yodchai joins the team also. Dam, Yodchai and Kanchit do a heroin traffic in the train. Naiyana Shewanan spies them. Manop, as head of the traffickers, is upset as his latest traffic was discovered by the police so there must be a spy in his team. Manop decides to use Aranya for a Thai boxing match in order to exchange drugs versus money among a busy crowd. The niece of Manop is Pissamai (Neranchala Thaleungsak). Pissamai and Pong become very close. Chosri Misommon is playing Aranya's Thai boxing trainer. Choomporn Theppitak is playing a drug trafficker. Aranya wins her Muay Thai boxing match. Nayana spies Kanchit and his ruffians charging drugs in a truck. Yodchai convinces the ruffians that he will manage Nayana by himself. As Manop tries to abuse Pissamai, Pong helps her and they flee together chased by Dam. Meanwhile Fon shows to Aranya that Manop uses her as a mule only as drugs is hidden under banknotes. They also flee. Pong is captured while trying to release Nayana. Fon flees with Aranya and Pissamai. While trying to capture drug dealer Choomporn, Fon is finally neutralized by Pipop Pupinyo, Pan Borapet and Kanchit. They are transferred to the ruffians' base by helicopter. Fon is attached to a rope under the helicopter. He falls in a lake. Ruffians are attacking a border station to let enemies enter Thailand. Some ruffians are changing side such as Kanchit trying to protect Yodchai, who was the one always informing the police. The movie highlights police and military helping each other to push back enemies of Thailand. Pong and Pissamai die in each other's arms while fighting for Thailand. Director Kom Akadej is also having a small role as policeman. The movie features a very big number of famous Thai actors / actresses from decade 1970s.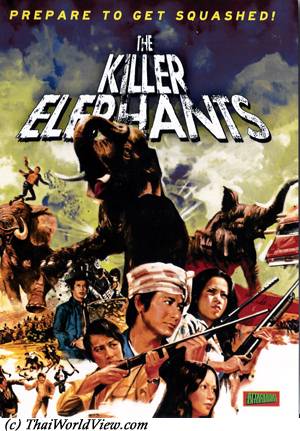 Year

: 1976



Thai title

:

ไผ่กำเพลิง




English title

: Killer Elephants



Rating

: 5/5


Director

: Kom Akadej



Main actor

: Sombat Methanee,Yodchai Meksuwan,Kanchit Kwanpracha,Pipop Pupinyo,Dam Datsakorn,Sayan Chantaraviboon,Kom Akadej


Main actress

: Aranya Namwong,Naiyana Shewanan,Mayurachath Muarnprasitivej
Ruffians are chased by police officer Ching Ming (Yodchai Meksuwan) but he failed to catch them. He meets his old friend Kau Fei (Sombat Methanee). Ruffians are hiding in a Surin timber yard. A big fight happens as Ching Ming wishes to jail them. Hopefully Kau Fei helps Ching Ming but there is no way to know where is the big boss behind. Local police is trying to catch Kau Fei but elephants prevent police to follow up Kau Fei. He has been accused of murder but he was framed. The head of ruffians (Kanchit Kwanpracha) framed him as Kau Fei refuses to sell his farm land to him. Ruffians burn the houses on the farm land. Ching Ming and Kau Fei help people stuck in their home. Ching Ming likes a lot a local lady Shao Feng (Naiyana Shewanan). Kau Fei decides to take revenge by entering in the boss home. He is not here so he captures madame Shu (Aranya Namwong). Ruffians try to rescue her by entering the farm through the forest but they are welcomed by guns and elephants. Kau Fei still loves Shu despite she was forced to go with the boss. Ching Ming tries to arrest Kau Fei but to no avail. Kau Fei comes to town to make trouble inside the boss' favorite nightclub. Shu is now pregnant with Kau Fei. As Shu is about to deliver, Ching Ming helps to bring her to hospital. The boss aware of this wants to use her and the baby as a bait. Taking profit of Surin elephant carnival (เทศกาลของเมืองสุรินทร์), Kau Fei sends a few elephants and villagers to pick up Shu. Kau Fei does a rampage in the boss' house and even injures him but Mau Tien, another ruffian, finishes him. Mau Tien (Dam Datsakorn) becomes the boss and decides to kidnap Shu and two nurses to attract Kau Fei to the plains. Kau Fei and the villagers rescue Shu and the two nurses. Then a crazy rampage of the elephants on the ruffians' camp happens. They are pushing huts and cars with real people inside. Big explosions and houses in fire happen. Even Ching Ming intervenes and helps Shao Feng. He finally lets Kau Fei go to Cambodia. The Thai movie "Killer Elephants" - ไผ่กำเพลิง was released in Thailand in 1976. Main actors are Sombat Methanee and Aranya Namwong. The movie director was Kom Akadej, who got the "international name of Som Kit in the credits, which is a version of his middle name, Somkit. All the other actors got Chinese style names, probably to cash in on the Hong Kong market and the rest of the worlds wish for more Kung Fu movies. The Killer Elephants cannot be found anymore in Thailand except at the Thai Film Archive, the original Thai version. Joseph Lai and his IFD Arts and Entertainment prepared this international version, which is the most common version outside Thailand. This DVD was released by Swedish company Attackafant Entertainment directed by Fred Anderson, a well known lover of Thai cinema. This DVD is the first official ไผ่กำเพลิง DVD release ever. The "Killer Elephants" movie rights in Thailand belongs to Coliseum film (บริษัท โคลีเซี่ยมฟีล์ม), company from Kom Akadej. Up to now no VCD / DVD was released in Thailand with correct rights according to Thai law. Only a video tape was released long time ago. Coliseum film company would sell the rights for all Kom Akadej's movies and not only for 'Killers Elephants' movie. Thai Company XxX (Triple X) was only interested in 'Killer Elephants' movie so up to this day Thai people are still waiting for a Thai version of ไผ่กำเพล to be released again. The movie also includes also famous supporting actors such as Yodchai Meksuwan, Naiyana Shewanan, Mayurachath Muarnprasitivej, Kanchit Kwanpracha, Pipop Pupinyo, Dam Datsakorn, Sayan Chantaraviboon. The finest batch of Thai actors during 1970's! Only Sorapong Chatree and Krung Srivilai are missing. Pipop Pupinyo, Kanchit Kwanpracha and Dam Datsakorn were the regular bad guys in Thai cinema and so of course even in The Killer Elephants! The same story was also released as Thai TV lakorn in 2004.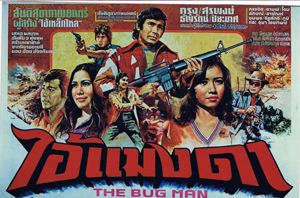 Year

: 1976



Thai title

:

ไอ้แมงดา




English title

: The Bug Man



Rating

: 3/5


Director

: Chai Meekunsut



Main actor

: Krung Srivilai,Sorapong Chatree,Kanchit Kwanpracha,Pipop Pupinyo,Dam Datsakorn,Sayan Chantaraviboon,Lak Apichat,Chat Mongkolchai


Main actress

: Tanyarat Lohanan,Piyamas Monayakol
A Thai man just marries a hill tribe girl called Bokram. His wife is kidnapped by ruffians. He is in fact a man collecting girls for brothels! A mysterious man raid two brothels looking for a lady called Choimai. He is a strong puncher. His name is doctor Chai (Krung Srivilai) and is fiance with Vui, a gym sport woman (นักกีฬาgym). He has lost memory and cannot remember his own fiancee. Hong (Sorapong Chatree) is a well-off son involved with ruffians. Choimai is now prisoner in the prostitution ring leader's house. His name is Yai (Dam Datsakorn) and he is also smuggling weapons. Choimai is in fact Chai's sister. She escapes (ขายตัวกับผู้ชาย) and takes refuge in Dong's home, another ruffian, who is also a brothel owner. Trap is put in place by Yai to capture Chai at Turkish massage place (อาบอบนวด). An electronic device is put near his brain to force him acting on any orders from Yai. Yai uses Chai to give a punchy lesson to Hong. Brothels are similar to slavery as women are chained together. The mamasan (มาม่าซัง) pretends to help Choimai but it is another trap also. She is only interested by her ring and necklace. Brought by three ruffians in a remote place, Hong luckily drives by and helps her. She is welcomed in Hong's parents home (คนสตรี). Hong decides to change his behavior and stop frequenting ruffians. Inside Yai's group, Chai takes revenge over those who kidnapped Choimai. Dong traps Hong (เพื่อนทรยศ) as he has betrayed them. Hong tries to crash him with an old French Citroën DS car. It fails but Hong is finally captured by Yai. Choimai surrenders to Yai to spare Hong's life. Vui is also kidnapped. Chai only simulated being a robot following Yai's orders. Chai succeeds to release Vui. They enter inside Yai's remote camp and gun fights, explosions occur between Yai's ruffians and Chai's friends. Ruffians are defeated. The Lepso VCD image is quite damaged and colorless. It is a recording from TV. Anyway this Thai action movie features part of the finest bunch of 1970s Thai actors. In this movie, Krung Srivilai, best Thai actor in 1974, meets Sorapong Chatree, best Thai actor in 1975. This movie was the most popular movie in 1976. In the title แมงดา means pimp.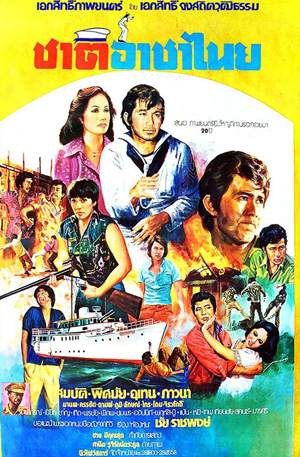 Year

: 1976



Thai title

:

ชาติอาชาไนย




English title

:



Rating

: 3/5


Director

:



Main actor

: Sombat Methanee,Uten Boonyong,Manop Aussawathep,Kanchit Kwanpracha,Krai Kanchit,Dam Datsakorn,Lak Apichat,Choomporn Theppitak,Boo Wibunnan,Paen Pleumsachai


Main actress

: Pissamai Wilaisak,Pawana Chanajit,Moeifa
Thai movie ชาติอาชาไนย was released in year 1976. It features Sombat Methanee as main actor and Pissamai Wilaisak as main actress. The movie is lost in Thailand but there is a short trailer of 1mn30s left to be seen. Other actors and actresses are Uten Boonyong, Pawana Chanajit, Manop Aussawathep, Kanchit Kwanpracha, Krai Kanchit, Dam Datsakorn, Lak Apichat, Choomporn Theppitak, Boo Wibunnan, Moeifa. The short left trailer allows to see a brawl involving Sombat, Kanchit, Dam, Krai, Choomporn and Paen Pleumsachai. Sombat hits Kanchit as he refuses to betray? The movie was previously released in year 2500 with Ratanaporn Intarakamhaeng, เชาวน์ แคล่วคล่อง, Somkuan Krajangsat, ทม วิศวชาติ and กมลพันธ์.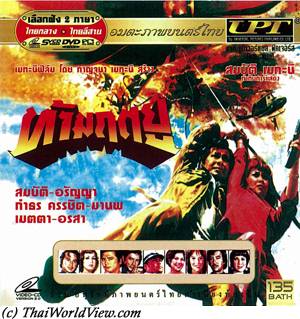 Year

: 1976



Thai title

:

ท้ามฤตยู




English title

:



Rating

: 3/5


Director

: Sombat Methanee



Main actor

: Sombat Methanee,Manop Aussawathep,Kanchit Kwanpracha,Kamthorn Suwanpiyasiri,Krai Kanchit


Main actress

: Aranya Namwong,Metta Roongrat,Moeifa



Buy now

:

During Vietnam war Tua (Sombat Methanee) and his friend Kamleu help to extract American soldiers from the enemy field. A new mission is given to them. They need to eliminate a Lao mafia leader called Kosi. This is the third tentative (รับจ้าง) to get rid of Kosi. It takes place in 1972. Tua is sent on mission to Vientiane. Tua is having a few James Bond secret gadgets. He is captured by a mafia team led by Madam (Moeifa). He claims he has come to Vientiane to kill Mafiosi (เจ้าพ่อ) Kosi. Madam frees him in order to know where Kosi is hidding. Tua meets Jenny, Kosi's daughter. Kosi neutralizes Tua and believes that he is an American agent (มือปืนรับจ้าง) sent to kill him. Kosi is in business conflict with Madam. During a heavy gun fight between the two groups, Kosi is saved by Chinese soldiers and sent to Muang Sing in Northern Laos. Madam is killed. The mission has now changed. Tua and his friend Kamleu now need to extract Kosi from the Chinese soldiers and hand over him to American soldiers. Jenny is also captured by Chinese soldiers. Tua meets Kupan, an old friend who is now involved in drug trafficking. He understands that Kosi was involved in trug trafficking and weapons smuggling to support Red communists. Kosi has been transfered in an island close to Pattaya. Following a final batle involving a turtle shape submarine, Kosi is killed and his treacherous organisation destroyed. It is a typical action movie from mid 1970s with Sombat Methanee, who is directing this movie and also playing the main actor role. It is inspired from James Bond movies' theme with a main actor having gadget agent secret and behaving like a Don Juan. It still includes some Thainess with Tua asking for help from his Buddhist amulet. It is available in both Lao and Thai languages.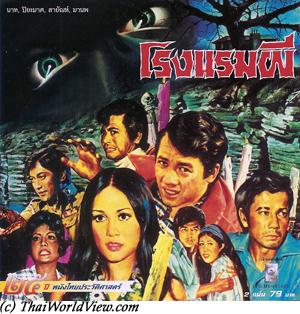 Year

: 1975



Thai title

:

โรงแรมผี




English title

:



Rating

: 3/5


Director

:



Main actor

: Nard Poowanai,Kanchit Kwanpracha,Manop Aussawathep,Lor Tok,Sayan Chantaraviboon,Chana Sriubon,Sithao Petcharoen,Boo Wibunnan,Tat Ekathat


Main actress

: Piyamas Monayakol,Mayurachath Muarnprasitivej,Metta Roongrat
Khun Samong comes in a hotel for one night as it is raining heavily. Her husband chases her but she refuses to follow him up. During the night, she dies being strangled. Footprints on the floor show that the killer is handicapped. The day after a young lady Wilai is coming one night in the same hotel to meet an older man called Siu. He has many banknotes in his suitcase. He also dies and the money disappears. Wilai also dies. The hotel manager Pan finds the money inside his desk drawer. With his partner, he decides to throw away the money in the sea but the banknotes come back with the tide. Khun Samong's husband believes that the hotel management is responsible of his wife's death and the money robbing. So he tries to take revenge over them but it fails. Police is investigating. Khun Samong's husband is also found dead. Finally it is identified that a ghost is living in the hotel. He possessed the hotel manager causing him to walk like a disabled man. Following a chase with the Police, the hotel manager Pan dies. His partner tells a story. Before World War II, Pan flees with a young lady called Sarapee. Sarapee was promised to an older man. This one becomes disabled during World War II due to bombs. He never forgives to Pan and Sarapee. After his death, a house belonging to the older man is given to Pan and Sarapee through legacy. They transform the house into a hotel. Now the ghost is willing to kill all hotel family member one by one, starting with Pan, then his partner. Finally the younger people found that the ghost body is still kept in a crypt below the hotel. They manage to kill the ghost thanks to a sacred Budha image. This movie is different from other Thai horror movies from 1970s decade and more realistic as there are not the usual traditional clown characters that accompany the leading actor.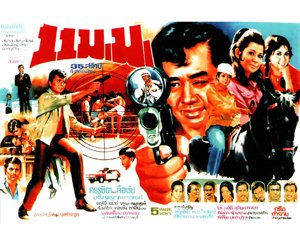 Year

: 1972



Thai title

:

11 ม.ม.




English title

:



Rating

: 3/5


Director

:



Main actor

: Kanchit Kwanpracha,Luechai Natnat,Sompong Phonmitr,Lor Tok


Main actress

: Aranya Namwong,Yaowaret Nisakorn
11 ม.ม. is a Thai movie released in year 1972. It features Kanchit Kwanpracha as main actor and Aranya Namwong as main actress. The movie is lost in Thailand but a 26 minutes sequence is left to be seen. The movie summary is still available through old Thai stars magazine. Et's father is dying. Et (Kanchit Kwanpracha) wishes to get revenge on those who cause his father to die. Sompong Phonmitr and Et go on countryside. They meet Lor Tok, old friend of Sompong. They meet Luechai Natnat, who almost runs over them with his car. A fighting oppose villagers and ruffians led by Luechai. A one to one fight happens between Et and a ruffian. Et wins. While inspecting trees trunks in the forest, Et helps Lek (Aranya Namwong), whose horse gets carried away. Romance happens and they become lovers. Lek is the daughter of Kamnan (เชาว์) and Luechai's sister. So Lek doesn't want this love story to be public. Luechai wishes to kill Et. While Et is going to work by motorbike, he is chased by a car driven by Luechai and his ruffians. They shoot him and Et's motorbike ends up in a pond. The remaining sequence ends here. It was the period where Kanchit Kwanpracha was one the new main actors pushed by the Thai movie industry in order to replace Mitr Chaibancha, who died accidentally in year 1970.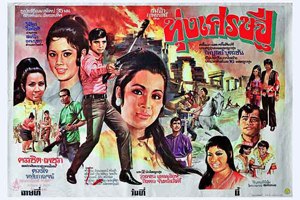 Year

: 1971



Thai title

:

ทุ่งเศรษฐี




English title

:



Rating

: 4/5


Director

:



Main actor

: Kanchit Kwanpracha,Taksin Jampol,Phan Kam,Rujira Isarangkul,Tat Ekathat,Pan Borapet,Adinan Singhiran,Pramin Jarujareet


Main actress

: Petchara Chaowarat,Ratanaporn Intarakamhaeng,Sisala Thongtara,Jomchai Jarintorn
Thai movie ทุ่งเศรษฐี was released in year 1971 and lasts 2h46mn. It was never released under VHS, VCD or DVD but an unofficial version can be found as a collector made a copy of the film, found in 16mm format with soundtrack. This unofficial VHS version features a very damaged black and white image with many vertical lines and distorted sound as the remaining film was projected very often. It is even more damaged than Thai movie มนต์รักลูกทุ่ง. Main actors and actresses are Kanchit Kwanpracha, Petchara Chaowarat, singer รุ่งเพชร แหลมสิงห์, singer กิ่งดาว จันทร์สวัสดิ์, Taksin Jampol, Ratanaporn Intarakamhaeng, Phan Kam, Rujira Isarangkul, สีเผือก, ศรีสุริยา, เทิ่ง สติเฟื่อง, Tat Ekathat, Pan Borapet, Adinan Singhiran, Pramin Jarujareet. 16 songs are featured. Thai movie ทุ่งเศรษฐี is a musical movie (หนังเพลง). The most famous song is ขนมจีนน้ำยา. Subdistrict headman and ruffians' leader Pongdin (Tat Ekathat) is asking lady Molee's hand. She is the village leader Chiaw's (Rujira Isarangkul) daughter. Cherm (Taksin Jampol), armed with swords, pushes back the wedding procession led by Pongdin. Molee (Ratanaporn Intarakamhaeng) succeeds to escape with her boyfriend Pong (Phan Kam). Cherm jumps on a horse and flees also before being overwhelmed. Molee lives with Pong and their child but remains concerned that Pongdin will find them one day. Adinan Singhiran and Pramin Jarujareet succeed to find them but Pong refuses to flee in front of Pongdin again. He is finally killed. Pong's house is burnt. Molee and her child Prai have to flee to Bangkok. Cherm decides to stay in a Buddhist temple. Twenty years have passed. Prai (Kanchit Kwanpracha) and Rung Phet are selling vinyl records during temple fairs. Kwan Dao (Petchara Chaowarat) is visiting the fair also. Prai falls in love with Kwan Dao. He sings romantic song for her. Prai and his friends get beaten by ruffians (including Pan Borapet) because they talked to the daughters of ruffians' leader Pongdin. Pongdin has a wedding plan for his daughter even she doesn't know or love her future husband. Kwan Dao doesn't want to marry a ruffian (นักเลง). Prai with Rung Phet's help are looking for Cherm and Chiaw. While paying respect to an old pagoda, Prai and his friends visit a small wooden house. They are attacked by Borapet and his ruffians. Ruffians are pushed back. They discover that the man meditating in the house is uncle Cherm! Cherm brings them to meet former village leader Chiaw's (Rujira Isarangkul), who is Prai's grandfather! He is now subdistrict headman (กำนัน). Prai is still looking for his father. He doesn't know if his father is still alive or not. Thai boxing matches are organised in the village for the annual festival. It starts with a dwarf match. Next match features Adinan versus Prai. Kwan Dao needs to give the winning reward. Prai defeats Pongdin's champion. It ends up by a lady match. Pongdin accepts them as 'children'. Romance songs occur between Prai and Kwan Dao, male singer (รุ่งเพชร แหลมสิงห์) and female singer (กิ่งดาว จันทร์สวัสดิ์). Face to face occurs between Pongdin, uncle Cherm and Prai. Prai is still looking who killed his father. Both of them are beaten and captured by Pongdin's ruffians. Friends ask for subdistrict headman Chiaw's help. Kwan Dao tries to release Prai and succeeds. Prai knows Pongdon killed his father so he needs to take revenge. Prai captures Pongdin and wishes to torture him on a pyre like he tortured his father (รับกรรม). Molee and Cherm tries to convince him not to kill Pongdin. No more sins shall happen. Seeing his mother collapsing makes Prai realises that he was wrong. Pongdin changes and recognizes his mistakes. Thung Sethi (ทุ่งเศรษฐี) area will have happiness.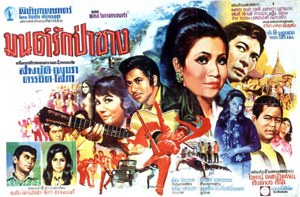 Year

: 1971



Thai title

:

มนต์รักป่าซาง




English title

:



Rating

: 3/5


Director

: Pichai Noylod



Main actor

: Sombat Methanee,Kanchit Kwanpracha,Anucha Ratanaman,Daonoi Duangjai


Main actress

: Petchara Chaowarat,Sopha Sataporn,Metta Roongrat
Thai movie มนต์รักป่าซาง was released in 1971. Main actors and actresses include Sombat Methanee, Petchara Chaowarat, Kanchit Kwanpracha, ถนอม นวลอนันต์, ฤทธี นฤบาล, ธงชัย มิตรประชา, Anucha Ratanaman, เนตรดาว, เสถียร ธรรมเจริญ, เสน่ห์ โกมารชุน, Sopha Sataporn, Daonoi Duangjai, Metta Roongrat, ธิดา, เมืองเริง ปัทมินทร์. Movie director is พิชัย น้อยรอด (Pichai Noylod). The film was never released on VHS / VCD / DVD format but a sequence in 16mm format can still be seen in Thailand as one reel is left. As it is a musical movie, so when projecting the movie, the dubber had to use a record to play the songs. One song, i.e. a molam song, is available online. Before the title sequence, a song is featured as the movie opening with ไวพจน์ เพชรสุพรรณ as musician playing reed-mouth organs (แคน). It introduces a new main actor called ธงชัย มิตรประชา. A movie summary is still available. Nakrop (Sombat Methanee), Samong Thong (Kanchit Kwanpracha), Ket (ถนอม นวลอนันต์), Santi (ธงชัย มิตร ประชา), Kong Jak (ฤทธี นฤบาล) are all civil servants and have to go to Pa Chang district. On the way to Pa Chang, Nakrop sees an ordination parade where beautiful teacher Palap Pleung (Petchara Chaowarat) is dancing. Nakrop falls in love with her. Meanwhile Ong At (Anucha Ratanaman), a rich and influential ruffian in Doi Mae Rang, also notices teacher Palap Pleung. Loving the teacher for a long time, he tries to kidnap her during the ordination parade. Hopefully Nakrop intervenes and stops Ong At. Nakrop promises to visit teacher Palap Pleung soon again. Nakrop goes to Lam Duan hill and have lunch in a restaurant owned by เสน่ห์ โกมารชุน. At the same time, ruffians leader Kam Maen (เสถียร ธรรมเจริญ) is having lunch with his daughter Malika (เนตรดาว) and Ong At. Malika has arguments with Neua Hom (Daonoi Duangjai), who gets beaten by Kam Maen. Nakrop intervenes but Sarapee (Sopha Sataporn), daughter of the restaurant owner, uses a rifle to stop any fighting. Unhappy, Kam Maen and Ong At have to leave. Kong Jak and Samong Thong also travel to Lam Duan hill. Having car issues, they get help from lady Dok Kaew (Metta Roongrat). Kong Jak falls in love with Dok Kaew. Meanwhile Sarapee is captured by Kam Maen's men as revenge. Dok Kaew, aware of the kidnapping, suspects Kam Maen's men. Samong Thong and Kong Jak help to release Sarapee. Sarapee doesn't dare to stay in her father's restaurant anymore and takes refuge in teacher Palap Pleung's home. Santi is the last one to travel. He visits Orasa (ธิดา) and disguises himself as a singer. That night, Ong At has a meeting with Chaiyan (เมืองเริง ปัทมินทร์) regarding contraband weapons. Ong At wants Orasa to sit at his table but she refuses. As he forces her, Santi intervenes. Both Santi and Orasa flee and meet their friends at Pa Chang. In Pak Chang, all couples can enjoy romance, but Santi and Samong Thong are kidnapped by ruffians. Nakrop helps to release them but Kam Maen's men kidnap the three ladies. Nakrop kidnaps Malika in order to be able to bargain with Kam Maen. Following fighting, the three ladies are able to flee. Knowing that a weapon deal will happen soon, Nakrop asks Thai police's help. Ong AT dies following a gun duel with Nakrop. Romances can blossom.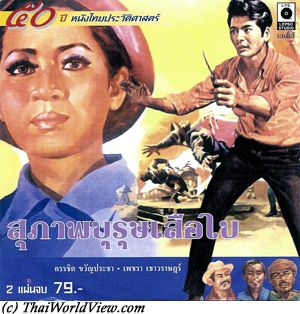 Year

: 1971



Thai title

:

สุภาพบุรุษเสือใบ




English title

:



Rating

: 3/5


Director

:



Main actor

: Kanchit Kwanpracha,Prachuap Ruekyamdee,Sithao Petcharoen,Pipop Pupinyo


Main actress

: Petchara Chaowarat,Metta Roongrat
Wan is going to study to Bangkok. Nui and Yot are his friends. The war with Japan happens. A group, led by a Japanese sergeant, opens a torture camp to interrogate pretended traitors and weapons robbers. Some innocent villagers are arrested including Wan's father. Wan is back and is now a soldier. Wan meets Tawisak, a Thai working for Japanese soldiers and delivering water to them. He is seen as a traitor by Wan and Yot. Wan has issues with a Japanese soldier as he is arrogant so he needs to flee. Wan meets teacher Raiwan (Petchara Chaowarat), who is teaching adults in order for them to know how to read. They all agree to do resist to Japanese occupants. How to help those captured by the Japanese soldiers? Wan joins a group of workers building the railway to Burma. He has issues with the Thai guards, led by Sing, working for the Japanese soldiers (คนไทยทรยศ). He is imprisoned with his father. Meanwhile his friends are acting to free them while Japanese soldiers and Thai traitors are having food and alcohol. Tawisak is playing double game. They flee successfully. Wan decides to become Seua Bai (โจร), a ruffian, in order to fight again the Japanese invaders and the Thai traitors. They steal weapons from Japanese army and start resistance. Nong and her brother miss their father so quit the group. They are captured by another group of ruffians. Wan defeats their leader in one to one fight. Wan misses the teacher Raiwan. He is upset as living as a ruffian he cannot have a real love story with the teacher Raiwan but he does it for the country (เสรีไทย). They plan to disrupt the railway to Burma. Teacher Raiwan and Tawisak participate but are uncovered by a Japanese group led by Sing. Through an ambush, Tawisak is freed but Wan's father dies while protecting his son. Wan's team attacks the Japanese camp and releases Raiwan. As promised to his father, Wan stops to be a robber and surrenders to police (มอบตัว). Teacher Raiwan will be his guarantee. It is a typical action movie from 1960s-1970s with some nationalist and patriotic savor. It is a 2h15mn movie and the image quality is quite red tinted color and damaged. This movie is based on the life of Mr. Bai Sa-ad-dee (นายใบ สะอาดดี), who was one of the most famous Thai robbers in 1940s. His name was Seua Bai (เสือใบ). Other movie remakes on Seua Bai were done in 1984 and in 1998.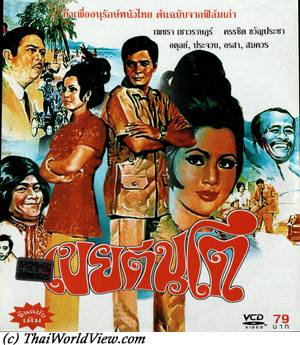 Year

: 1971



Thai title

:

เขยตีนโต




English title

:



Rating

: 3/5


Director

: Adul Dulyarat



Main actor

: Kanchit Kwanpracha,Prachuap Ruekyamdee,Lor Tok,Somkuan Krajangsat,Sukon Koewliam,Adul Dulyarat,Somchai Samipak


Main actress

: Petchara Chaowarat,Orasa Isarangkul,Prim Praphaporn,Metta Roongrat,Juree Osiri,Srisala Thongtara



Buy now

:

Kamnan Noon (Kanchit Kwanpracha) and Krok (Prachuap Ruekyamdee) (พี่ชายต่างประเทศ) are visiting a rich people house. They are welcomed by Lomjai (Petchara Chaowarat) and Iten (Orasa Isarangkul) as domestic helper. Krok comes back after 20 years in his family. He is a lost uncle's son. The uncle has disappeared 20 years ago. Despite having a letter to prove his identity, Krok is not accepted in Thao Thong lineage (ตระกูล) by the father Lom (Somkuan Krajangsat) as Krok doesn't have big feet seen as a family sign. Other family members are Srisala Thongtara (ศรีสละ ทองธารา), Juree Osiri, Prim Praphaporn. Lomjai flees and brings Krok and Noon to meet another family member who is policeman in Chumphon province. Noon and Krok get arrested and accused of kidnapping Lomjai. Noon's father gives guarantee to have them released from jail. Lomjai proposes to marry Noon to avoid him being sued by his father Lom. Neng, Sister of Noon, is played by Metta Roongrat. Noon helps Lomjai's father aggressed by ruffians. A parallel romance is starting between Neng and Lomjai's brother. Lom asks for proper traditions but once Lomjai is back to Bangkok, the wedding is cancelled. Lomjai cannot exit from home. Iten tries to help her to flee but to no avail. Krok becomes India airlines manager (ผู้จัดการ) thanks to his uncle to show to Lom his worthiness. Lom rejected Krok as he didn't want to share heritage with additional family members. Utit (Adul Dulyarat), Lom's brother, is back after recovering his memory. Lom tried to get rid of him twenty years ago. Lom's father (Lor Tok) asks him to surrender to police. Cornered, Lom kidnaps his own father and Lomjai. He finally gets arrested by the police. The movie ends up happily. This romantic drama comedy is based on family rivalry regarding heritage.The movie เขยตีนโต was released in year 1971 but it only lasts 1h23mn as some parts of the movie are missing so the story sometimes suddenly jumps from one sequence to another. The image is of bad quality and is not sharp but the movie has historical value as one of the first movies with Kanchit Kwanpracha replacing Mitr Chaibancha as main actor following Mitr premature tragic death. The poster mentions 7 songs (unfortunately cut and not available on the VCD) and 22 stars present in this movie.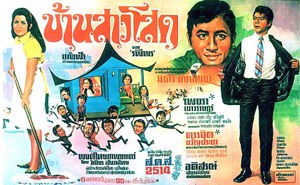 Year

: 1970



Thai title

:

บ้านสาวโสด




English title

:



Rating

: 3/5


Director

: Adul Dulyarat



Main actor

: Mitr Chaibancha,Kanchit Kwanpracha,Adul Dulyarat,Somkuan Krajangsat,Sukon Koewliam,Lor Tok,Prachuap Ruekyamdee


Main actress

: Petchara Chaowarat,Metta Roongrat,Prim Praphaporn,Juree Osiri,Orasa Isarangkul,Jomchai Jarintorn,Marasri Bangchang
บ้านสาวโสด is a Thai movie released in year 1970. It features Kanchit Kwanpracha as main actor and Petchara Chaowarat as main actress. The movie was started with Mitr Chaibancha but it was incomplete due to his premature death. So the main actor was replaced by Kanchit. Another version with Toon Hiransap and Piyamas Monayakol was released in year 1984. In 1970 Mitr Chaibancha worked in many movies in parallel. So some movies still kept one or two sequences of Mitr at the beginning of the reel as additional advertisement for the movie. Around 1 hour 30 minutes is left to be seen. Three single ladies (Metta Roongrat, Prim Praphaporn, Juree Osiri) are living together. Petchara arrives in their home. She is doing chores. Their neighbour is Kanchit Kwanpracha. Other actors are Somkuan Krajangsat, Prachuap Ruekyamdee, Orasa Isarangkul, Adul Dulyarat, Sukon Koewliam, Lor Tok, Jomchai Jarintorn. Kanchit likes Petchara very much. Funny sequences happen on beach seaside between Sukon Koewliam and Prim Praphaporn. Misunderstanding keeps happening between Kanchit and Petchara as other ladies try to seduce Kanchit. It seems that Petchara will marry Prachuap as she is disappointed by Kanchit. Finally kidnappers enter in Petchara's home but they are chased away by Kanchit and captured by Adul Dulyarat and Orasa Isarangkul. Outside the home kidnappers are there again and threaten to shoot Kanchit. Petchara stand between Kanchit and the ruffians to prevent any shootings showing her real love towards Kanchit. In fact kidnappers are this time Adul and Osara playing this trick to force their reconciliation. Six songs are featured. There are still old still pictures showing Mitr playing movie บ้านสาวโสด and the movie poster is also showing his name.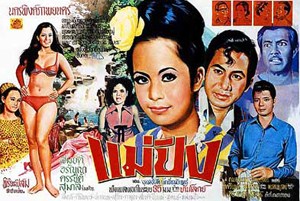 Year

: 1970



Thai title

:

แม่ปิง




English title

:



Rating

: 4/5


Director

:



Main actor

: Sombat Methanee,Sawin Sawangrat,Kanchit Kwanpracha,Sukon Koewliam,Siripong Isarangkul


Main actress

: Aranya Namwong,Chadaporn Wachirapranee,Mom Chan Phuangwan
Thai movie แม่ปิง was released in year 1970 and lasts 2h25mn. The original film is certainly longer as some parts are missing in the VCD released by Lepso. A remake called "มายาพิศวาส" was done in year 1983 with Jarunee Sooksawad. Aranya Namwong plays two roles, i.e. mother Ubon and her daughter Dokbua. The father is sick (กรรม) and invalid. Dokbua wishes to revenge her family. Dokbua simulates a car accident to get attention of Chala (Sombat Methanee). She claims coming from poor province (คนบ้านนอก) and was attracted by a false job offer in Bangkok. Chala and his brother Chet (Sawin Sawangrat) are part of a rich family. Both love Dokbua at first sight. Dokbua is hired as domestic helper in the house. Chet's father, khun Chun, is paralysed. Paen (Chadaporn Wachirapranee) is khun Chun's wife but also Chet's mistress! Chet wishes Dokbua to become his secretary. Chala spends a lot of money and is often described as lost soul (เสียชาติ) as he always borrows money from his father and his brother. Chet tries to abuse Dokbua but she refuses. The father also tries to abuse her but it fails. Chatchai (Kanchit Kwanpracha) has interest in her despite he has already a fiancee called Chaleng (สุมาลี ทองหล่อ), Chala's sister. He doesn't love his fiancee as the engagement was set up by parents and not based on real love. Another domestic helper warns Dokbua about rich people being insincere (ไม่จริงใจ). Chatchai's father, Tawat (Siripong Isarangkul), has interest into Dokbua also. Paen is trying to sell Dokbua to him. Chet tries his luck with Dokbua at night time (ต้องการเธอ) but it fails again. Chala is aware Dokbua has a hidden plan but he cannot identify it. Tawat still wants Dokbua as wife. Dokbua accepts so causing Chala's ire and treating her as นางบำเรอ. Tawat has six wives already. Dokbua accepts in order to become a countess (คุณหญิง). Chala still wonders the hidden plan of Dokbua. The father khun Chun's names Dokbua as head of the company (ล้างบาปก่อนที่จะตาย). After his death, Dokbua is given the whole heritage as he knew she is the daughter of his former enemy. Khun Chun is responsible of Dokbua's father paralysis. Other family members are shocked. Chala is shocked by Dokbua's cynicism and forces her to kiss him. Chatchai, seeing the scene, threatens to tell the truth to his father, if she refuses to become his mistress. Thatchai does not have interest in Chaleng anymore as she is now poor so she keeps indulging in alcohol. Chet tries to seduce Dokbua (หลงเสน่ห์) again causing Paen to be upset. He wishes to marry with Dokbua as she is beautiful and rich. He rejects Paen so she shots Chet with a gun and is arrested by the Police. She has become crazy. Dokbua didn't think her revenge will go that far… She gives back the whole heritage to Chala. Love finally emerges between both.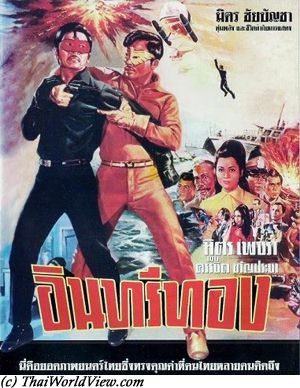 Year

: 1970



Thai title

:

อินทรีทอง




English title

: Golden Eagle



Rating

: 2/5


Director

: Mitr Chaibancha



Main actor

: Mitr Chaibancha,Kanchit Kwanpracha,Prachuap Ruekyamdee,Adul Dulyarat,Choomporn Theppitak,Krai Kanchit,Kokheng


Main actress

: Petchara Chaowarat,Khomapat Attaya,Yaowaret Nisakorn



Buy now

:

The masked vigilante crimefighter, called Red Eagle is back with Mitr Chaibancha playing the leading role. In this movie several influential people are mysteriously killed when they receive a red ceramic Buddha statue. They died of sudden fear. Somebody is also using Red Eagle identity to commit murders so the hero changes his mask to gold and becomes Golden Eagle. The mysterious organisation wishes to take over Thai government. Golden Eagle is investigating against this mysterious organisation in parallel of the Thai police. Trained in psychic powers by Rasputin, the head of the mysterious organisation kills by beaming his thoughts and visage through red ceramic Buddha statues. He can split himself into three images and can hypnotize remotely. He even put his heart out of his body into a vessel for protection. It is the first movie directed by Mitr Chaibancha. It is also the last movie in which Mitr Chaibancha played. Mitr died after falling from a rope ladder that was dangling from a helicopter. He was only 36 years old. Many Thai theaters paid respect to Mitr Chaibancha before showing "Golden Eagle" movie by placing a Pepsi bottle in front of a picture of the Thai actor. It was said that Mitr Chaibancha liked Pepsi. 40 copies were done for "Golden Eagle" movie as it was the last movie of Mitr Chaibancha. Normally only a few copies were done per movie.
---