Increase or decrease font size for easier reading : A+ A-
Kamthorn Suwanpiyasiri
Kamthorn Suwanpiyasiri (1933-2009) - กำธร สุวรรณปิยะศิริ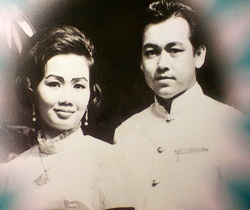 Kamthorn Suwanpiyasiri
This Kamthorn Suwanpiyasiri movie page contains 16 records.
---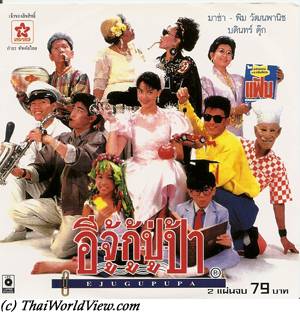 Year

: 1987



Thai title

:

อีจู้กู้ปู่ป้า




English title

: Ejugupupa



Rating

: 1/5


Director

: Kumtorn Tubkunlai



Main actor

: Kamthorn Suwanpiyasiri


Main actress

: Marsha,Piyamas Monayakol,Sulaleewan Suwanthat,Sarinthip Siriwan
A young woman is back from Germany. Her older relatives are quarreling in order to take care about her and find the best husband for her. But the young lady has other ideas in her mind...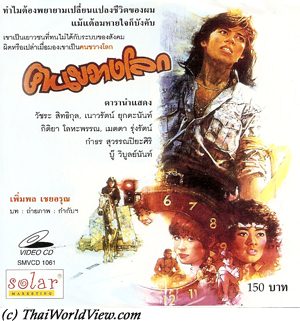 Year

: 1984



Thai title

:

คนขวางโลก




English title

:



Rating

: 5/5


Director

: Permpol Choei-arun



Main actor

: Kamthorn Suwanpiyasiri


Main actress

: Naowarat Yooktanun,Metta Roongrat
Chun is the unique child of a rich family. His father and mother always fight. The husband is cheating his wife and asks his son to keep the secret. Nobody understands or cares about him. Chun is like a beatnik, having long hair and driving an old beetle car. Chun is studying art painting. But even judges don't understand his work. He is fed up with life and rules. Thai students are not educated to challenge rules, the system or think by themselves. Only weak people fear the settled system. Society askes him to stop involvement in politics and focus on studies. He rides a horse in Bangkok to avoid traffic jam and promote his paintings. He challenges his art teacher and makes him upset. When seeing his father doing dangerous business involving risks for the staff health in a factory, he denounces him to the press but nothing is done as they are corrupted. So he makes an union to fight for staff right. His father is disappointed that his son betrays him. His uncle has a plan to have him come back in the society standard rules and be able to take over the company as his father is going old. The uncle orders he cannot see his girlfriend Wee as he is an ungrateful son. Chun goes in gogo bar and blames everybody for the society decadence, Thai men providing young girls to foreigners, indulgence in alcohol... He is expelled by the doormen and beaten by them. He is rescued by Nao, freelance working girl, who initiates him to love. He disappears for 4 days. A love story starts between them. Nao introduces him to her younger sister, who is Wee's best friend! Chun understands that Nao is a prostitute so leaves her. Everybody is lying to him, i.e. the father indulging with young men, the mother indulging in playing cards, Nao selling her body... He gets refuge in a slum. As money runs out, he sells his paintings. Nao recognizes his paintings and finds Chun but he rejects her due to her duplicity. Nao acknowledges but she has no choice as women are puppets that men are using. She does it for her sister to study as they have no more parents. Puzzled, Chun tortures himself same as hermit (ฤาษี). He is very sick so Nao calls his parents. A fight happens between ruffians sent by his parents and slum kids. Chun is sent to visit a psychiatric doctor for crazy people. Did he receive a good education from his parents? His father tries to change him so that he can work in the family factory but to no avail. He identifies himself to Van Gogh. He is forced to live a life like a prisoner with no freedom. His father wants to put him in an hospital for crazy people. Chun is ready to suicide himself. His slum friends and Wee rescue him just on time. This movie is a criticism of Thai education system. People are not themselves. They need to follow society precepts and cannot challenge them.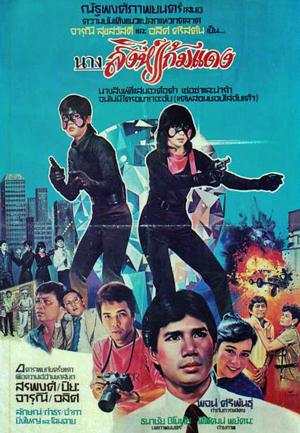 Year

: 1983



Thai title

:

นางสิงห์แก้มแดง




English title

:



Rating

: 3/5


Director

:



Main actor

: Sorapong Chatree,Kamthorn Suwanpiyasiri,Lak Apichat,Piya Trakulrard


Main actress

: Jarunee Sooksawad,Ampha Pusit
Witaya (Sorapong Chatree) is responsible of the security inside Pa's company. Pa has two daughters, Plaew and Fai. They rob their father's money from a safe and donate (บริจาค) 500 000 baht to a blind pupil school. The two sisters give the money under the father's name (กุศล)! While robbing money, they do wear mask with red cheeks (แก้มแดง). They sign their crime with a name card displaying a lioness logo (นางสิงห์). The father is rich and selfish. He never gives any money to charitable organizations but is very generous with his minor wife (เมียน้อย), Toi. Thep, Toi's brother, is part of the company administration council. Plae is also accepted in the company council. The two sisters steal clothes and personal effects from Vitaya to offer them to a poor school (คนยากคนจร). Another time they steal his BMW car. The two sisters continue to harass him but understand that he is a good man. Meanwhile Thep needs more money as he is gambling a lot. Toi has another boyfriend. As Toi cannot always ask money to Pa, Thep decides to steal money from the company safe and uses the lioness logo to accuse them. As the money is not given to a charitable organization, police and Witaya are puzzled regarding the robbers. The two sisters, as the mysterious lionesses, also make a statement about their innocence. A new exhibition showing old artifacts is organized. Thep and Witaya are responsible of the security. Honor of the company (เสียชื่อ) is engaged so a new robbery cannot happen. Thanks to video surveillance, Thep knows who is hiding behind the lionesses' masks and plans to accuse them about the old artifacts successful robbery. Plaew and her sister are aware of the plan thanks to a hidden microphone. They succeed to get back the artifacts but Thep knows and threatens to announce their real identity to the press. He asks for salacious favor to Plaew, who calls his wife Wilai to join them in order to be safe. Thep wants to marry Plaew and becomes the son-in-law (ลูกเขย). Wilai heards his plans and shares the information with Plaew. Thep is finally caught by the police while trying to rob things (ปล้นสินค้า). Hopefully the video tape has been replaced by Wilai (ทำดีได้ดีทำชั่วได้ชั่ว) so Thep cannot prove his accusations over Plaew and his sister. Pa dumps his minor wife. Witaya knows the lionesses' real identity but keeps the secret as love emerges with Plaew.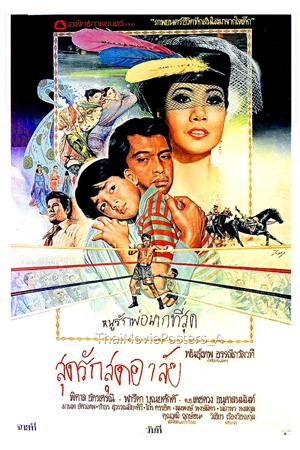 Year

: 1980



Thai title

:

สุดรักสุดอาลัย




English title

:



Rating

: 5/5


Director

: พันธุ์เทพ อรรถไกวัลวที



Main actor

: Pisarn Akraseranee,Manop Aussawathep,Krai Kanchit,Pao Porapak,Kamthorn Suwanpiyasiri,Sompong Phonmitr


Main actress

:
Thai movie สุดรักสุดอาลัย was released in year 1980 and lasts 1h55mn. It was released under VHS format. This Thai movie is based on US movie "The Champ" (1979). Movie director is พันธุ์เทพ อรรถไกวัลวที. Pisan (Pisarn Akraseranee) is a former boxing champion. He has to quit seven years ago due to a brain issue. He still has a dream to go back on the ring. He is leaving alone with his son Chapan (เดชดวง อนุศาสนนันท์), being seven years old. He is divorced with Farida (ฟารีดา บุณยศักดิ์), who left him for a richer man, i.e. Nop (Manop Aussawathep) seven years ago. Pisan often drinks and gambles (พนัน). He bets 100 Baht and wins 150 000 Baht. He buys a horse for his son as a gift. The horse joins horse racing competition. The horse falls and is injured. Being also at the horse racing club, Farinda meets Chapan, her son, for the first time. Pisan is still very upset and refuses Farinda to tell his son that she is her mother as she left them seven years ago. Pisan told Chapan that his mother was dead (ตายแล้ว). Farida knows she is guilty and wishes to take care of Chapan also. She offers expensive gifts (ของแพงๆ). Krai Kanchit and Pao Porapak manage an underground casino. While betting, Pisan and Nop meet. Nop tries to convince him that Chapan still needs a mother. Pisan refuses. 20 000 Baht debt happens as Pisan gets upset. He cannot find any friends to lend him 20 000 baht. He has to ask Farinda. Krai still comes to get the horse as he doesn't believe Pisan can pay back the debt. A fighting erupts and police catches Pisan. Pisan has to stay in jail a while. Chapan stays in Farinda's home as his father Pisan forces him to go there. He would prefer to stay with uncle Sompong Phonmitr or with นภาพร หงสกุล. Chapan, learning that Farida is his mother, rejects her as she is not living with her father anymore. Pisan even asks Farida to come back. The boxing ring manager (Kamthorn Suwanpiyasiri) accepts Pisan back as boxer despite the health risks as Pisan wants to gain money to build a future for his son (studies, house). They train together. Farida gives also support (กำลังใจ) to Pisan. Farinda decides to go back living with her son. The boxing match happens. Pisan wins the first part of the match but the youth of his opponent allows him to come back. Pisan's vision starts to alter as he gets hit at the head. He is knocked down twice but refuses to stop. He finally wins his match but collapses in the cloakroom. Before dying, he asks Chapan to stay with Farida, who is a good person (ต้องการพ่อ / ต้องการอยู่กับพ่อ).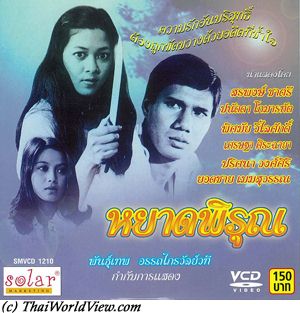 Year

: 1980



Thai title

:

หยาดพิรุณ




English title

:



Rating

: 5/5


Director

:



Main actor

: Sorapong Chatree,Yodchai Meksuwan,Settha Sirachaya,Kamthorn Suwanpiyasiri


Main actress

: Pissamai Wilaisak
A Young lady, called Fai, gives her baby to a rich couple as her husband left her. Her husband is a rickshaw driver and both come from low fringe of Thai society. The baby is named Yat Phirun (หยาดพิรุณ) or Nam Fon as nickname. The new father loves her a lot but the mother Taisanee despises her. They have a second daughter called Nam Phet. Eighteen years passed. Takrit (Sorapong Chatree), young man, is frequenting the daughters. The mother Taisanee still believes Nam Fon is same as her real mother and so should have hot sexual temper (มีไฟ) as she is coming from a poor background. Nam Fon sometimes loses consciousness and forgets what she has just done. Takrit visits the parents' home with his friend Kiti. Nam Fon is sometimes crazy due to painful headaches as she didn't get any love from mother Taisanee (ใจร้าย). The father wishes to separate temporarily his wife and Nam Fon. Nam Fon stays at an aunt's house. Her headaches disappear but then come back. The uncle tries to take advantage of Nam Fon at nighttime. She hits him with a vase but doesn't remember. The uncle claims she enticed him but she refuses to accept a fault (รับผิด) that she didn't do. It will be same as lying (โกหก). Nam Fon is having a double personality syndrome. When she has big headaches, she speaks alone with a low society pronunciation (เสียงประหลาด). Her double personality is called Yat Fon (ผู้ดี - ผู้ต่ำ). She invites Kiti to go out willingly. Takrit meets her in a nightclub at the time Tiki was bringing her to a motel. He rescues her. As the uncle acknowledges his bad behavior, the father and Takrit know that Nam Fon has a problem. The father entrusts Takrit to cure Nam Fon as there is no help to expect from mother Taisanee. Takrit sends her to see a psychanalyst, who uses hypnotism to know the truth. Nam Fon has a split personality (วิญญาณหนึ่งดี - วิญญาณหนึ่งร้าย). Takrit thinks to marry Nam Fon so that she can be far from Taisanee, reduces her headaches and have the double personality die. One body two personalities. Nam Fon's father comes back after 18 years. He asks for 20 000 baht. Taisanee wants to send back Nam Fon to her real father (บุญธรรม). It is too much and Yat Fon beats Taisanee. Taisanee gives money to Nam Fon's father so that he can take her away. Yat Fon is back again and takes a knife to threathen Taisanee and her father. The man acknowledges he is a liar and not her real father, who died already. Taisanee loses consciousness and is sent to hospital. Yat Fon dies in order to be able to give happiness to Nam Fon. Taisanee acknowledges her mistakes and a new relationship can start with Nam Fon. This movie features soundrack from Jerry Goldsmith used in American horror movie The Omen. Pissamai Wilaisak plays swimmingly the bad mother role. This movie highlights prejudices over low society people.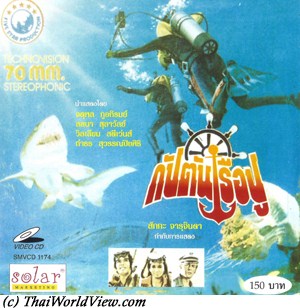 Year

: 1978



Thai title

:

กัปตันเรือปู




English title

: The Pistol



Rating

: 3/5


Director

:



Main actor

: Jatuphol Poopirom,Kamthorn Suwanpiyasiri,Boo Wibunnan


Main actress

: Lalana Sulawan
Thai movie กัปตันเรือปู (The Pistol) was released in year 1978 and lasts 2h01mn. A remastered HD version was released online by Fivestar production in year 2014. A foreigner called Steve is having a diving school in Pattaya and is also the captain of a boat used to transport tourists. Kan (Jatuphol Poopirom) is one of his former employees and is a skilled diver. He now catches crabs (จับปู) and finds a weird piece of rock while fishing. He gives it to the captain's assistant called Ben. Kan is married to Plae (Lalana Sulawan). Inside the rock, an old gun (ปืนโบราณ) is found. Steve asks Ben to get pictures of the gun. The photographer warns Sia Saeng (Kamthorn Suwanpiyasiri) who wants to know where Kan catches crabs. Chinese expert (Boo Wibunnan) is also interested by the old gun. As Kan refuses to disclose the location, he gets beaten. Ruffians believe a treasure must lie at the location where the gun was found. Impressive submarine images show the hunt for the old ship. Steve and Kan dive and look for the old ship under the sea but the ruffians led by Saeng are looking for their location through another boat. Steve and Kan simulate a fake ghost presence in the old ship to chase away Saeng. Many people start to be interested by this old ship including an old professor. The professor believes a Portuguese ship going from Macau to Ayutthaya drowned many centuries ago. Even distrust happens between Kan and Steve. Kan hides the gun in the sea as his home is attacked. The Portuguese embassy wishes to buy the gun for 100 000 baht. Unfortunately the gun has disappeared taken away by another fishing boat net. The dreams of becoming rich fade away for Kan.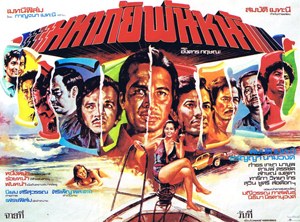 Year

: 1978



Thai title

:

มหาภัยพันหน้า




English title

:



Rating

: 3/5


Director

: Sombat Methanee



Main actor

: Sombat Methanee,Lak Apichat,Kecha Plianvithee,Dam Datsakorn,Rujira Isarangkul,Thep Thienchai,Kanchit Kwanpracha,Manop Aussawathep,Kamthorn Suwanpiyasiri,Pan Borapet,Paen Pleumsachai,Krai Kanchit,Sawin Sawangrat,Wittaya Sukdamrong,Pumi Patanayut


Main actress

: Aranya Namwong,Tharika Thidathip,Metta Roongrat,Orasa Isarangkul



Buy now

:

Thai movie มหาภัยพันหน้า was released in year 1978 and lasts 2h06mn. It was released under VCD and VHS formats. It is a Methanee film production with กาญจนา เมทะนี (Sombat Methanee's wife) as movie producer. Sombat Methanee is movie director. James bond style music is featured. Multiple famous Thai actors and actresses are featured in this movie such as Sombat Methanee, Aranya Namwong, Lak Apichat, Kecha Plianvithee, Dam Datsakorn, Rujira Isarangkul, Thep Thienchai, Kanchit Kwanpracha, Manop Aussawathep, Tharika Thidathip, Metta Roongrat, Kamthorn Suwanpiyasiri, Pan Borapet, Paen Pleumsachai, Krai Kanchit, Orasa Isarangkul, Sawin Sawangrat, Chosri Misommon, Lor Tok, Wittaya Sukdamrong. Multiple murders are committed in various places such as golf club... Each time the killer has a different face, i.e face of Kecha Plianvithee, face of Dam Datsakorn... The killer is having an assistant, i.e. Lak Apichat. The murders are committed by มหาภัยพันหน้า as those men were harmful to Thai society such as corrupted politicians or ruffians trafficking drugs or weapons. The killer is Sakao (Sombat Methanee) with his assistant Wai (Lak Apichat). Sakao is using different masks so he gets called the "great danger with thousand faces" (มหาภัยพันหน้า)! Thep Thienchai and Wai suggest to Sakao to have a lady joining their team. Their boss is Rujira Isarangkul. Det (Kanchit Kwanpracha) is also part of the team. The boss has an important work for them. They have to neutralize Sia Bancha (Kamthorn Suwanpiyasiri). Pho Lieng Boonta (Kecha Plianvithee) and Plaem (Dam Datsakorn) are working with Sia Bancha's team. Sakao and Wai go to Valentino club, where multiple Japanese and Hong Kong singers are working. This is Sia Bancha's usual place. Sakao meets Japanese singer Misiko (Tharika Thidathip). Sakao helps also Sai (Metta Roongrat) beaten by Klang (Krai Kanchit). Sakao has then arguments with Peter (Manop Aussawathep). Fighting occurs in Valentino club. Pho Lieng Boonta asks for an enquiry on Sakao. Sakao changes his face to be similar as Sia Bancha. Ratree, Bancha's girlfriend, is played by Orasa Isarangkul. Sakao enters in Sia Bancha's bedroom to steal documents. Khun Deu (Aranya Namwong) is welcome at the airport by Sakao, Wai and Det. Ruffians recognize Sakao's car and follow it. They aggress Deu being the driver as they believe she is Sakao's wife. Luckily, they flee as police is around. Sakao and Wai disguise themselves as plumbers so that Sakao can listen to Pho Lieng's plans. He meets Misiko again. Peter recognises him so Sakao has to flee on a small motorbike. Deu discovers that Sakao is มหาภัยพันหน้า. Deu finally joins them. Sakao and Klang meet Thongkam (Pumi Patanayut) that recommends them to follow Dr Singhon (Sawin Sawangrat). Ruffians fail to get rid of Sakao. Misiko asks to meet Sakao again and warns him (เล่นกับความตาย) that ruffians are trying to kill him. Sakao is finally captured. Deu uses Dr Singhon's signature to enter in their hidden place and install a microphone under the table. Sakao is beaten but refuses to disclose who he is. Ruffians are doing a weapons traffic to disrupt Thailand. Deu gathers information and informs the Police. Thai Police, led by Wittaya Sukdamrong, are ready to surround the house where ruffians are hiding. House is stormed and all ruffians are neutralized. Misiko was finally an inspector from Japanese Police.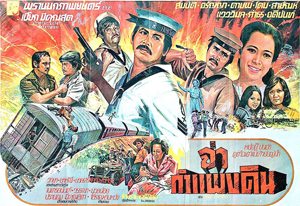 Year

: 1978



Thai title

:

จ่ากำแพงดิน




English title

:



Rating

: 3/5


Director

:



Main actor

: Sombat Methanee,Dam Datsakorn,Adinan Singhiran,Sayan Chantaraviboon,Kamthorn Suwanpiyasiri,Rong Kaomulkadee,Chanee Yotchai,Wittaya Sukdamrong,Dom Singmoli


Main actress

: Aranya Namwong
Thai movie จ่ากำแพงดิน was released in year 1978. It lasts 1h28mn but the sound is partially inaudible. Dam Datsakorn is playing a role on the main actor side. It is pretty rare as most of the time, he is playing a thug leader. Mariners (ทหารเรือ) including Sombat Methanee (with a moustache and always eating betel), Dam Datsakorn and Adinan Singhiran are back to their home town. University student (Sayan Chantaraviboon) is involved in a brawl with thugs and gets support from mariners and Rong Kaomulkadee. Mariners are going back home. Aranya Namwong is a teacher. She is Sombat's girlfriend. The head of the ruffians (Kamthorn Suwanpiyasiri) is upset as his thugs were defeated. Among his ruffians, Chanee Yotchai (ชาณีย์ ยอดชัย) can be seen. Another brawl in a pub happens between mariners and thugs. The university student brings trouble to ruffians as he is catching a pickpocket in a market. Ruffians kidnap Aranya and her friends to work as prostitutes. Her mother is stabbed. The mariners storm the ruffians headquarters to rescue the ladies (น้องเอาคืนมา). They then search them into local brothels (อาละวาดบ่อน). The head of ruffians (พ่อเลี้ยง) is upset that his business is disrupted by those three guys. Two groups of ruffians then unify their efforts. The leader of the second group is played by Dom Singmoli (โดม สิงห์โมฬี). They keep kidnapping young girls or buying them from their parents promising fake jobs in Bangkok. They are also involved in drugs trafficking. Meanwhile the mariners unify their efforts with local police also. The university student is killed by ruffians while trying to stop the ruffians transporting the ladies in a train. Sombat and Dam chase the train. Fighting happens on the moving train. The head of the police is played by Wittaya Sukdamrong (วิทยา สุขดำรงค์). Finally following intense fightings, ruffians are neutralised by the three mariners and the police.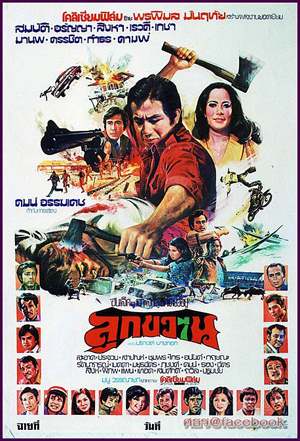 Year

: 1977



Thai title

:

ลูกขวาน




English title

:



Rating

: 3/5


Director

: Kom Akadej



Main actor

: Sombat Methanee,Kom Akadej,Dam Datsakorn,Choomporn Theppitak,Sahat Piempongsan,Kecha Plianvithee,Krai Kanchit,Chat Mongkolchai,Lak Apichat,Prachuap Ruekyamdee,Kamthorn Suwanpiyasiri,Kanchit Kwanpracha,Manop Aussawathep,Pipop Pupinyo,Somsak Chaisongkram,Sayan Chantaraviboon,Chana Sriubon


Main actress

: Aranya Namwong,Ratanaporn Intarakamhaeng,Metta Roongrat,Rewadee Pattaphong
ลูกขวาน is a Thai movie released in year 1977. It lasts 1h54mn. This action movie, directed by director Kom Akadej, features a great bunch of Thai actors. Sing A (Sombat Methanee) arrives too late as his father Nae Klam died already. His father was a big mafia boss (นักเลง) so smaller bosses (Chun - Dam Datsakorn, Kam - Choomporn Theppitak, Pon - Sahat Piempongsan, Krong - Kanchit Kwanpracha) want to become the leader instead. The movie features fighting between those smaller bosses in order to become the big boss. Back from overseas, Sing A is welcomed by KoLit (Kecha Plianvithee) and by his mother (Ratanaporn Intarakamhaeng). Krai Kanchit challenges Sing A but as he is defeated, he finally joins Sing A's team. Ruffians are using axes (ขวาน) for fighting so giving the movie name, i.e. ลูกขวาน, "axe child". Many groups want to get rid of Sing A. Prachom (Lak Apichat) gives a hand to Sing A aggressed by motorbikes on the beach. Kam (Choomporn Theppitak), married to Metta Roongrat, is one of the small leader wanting to kill Sing A. Nop (Kamthorn Suwanpiyasiri) and Sai (Prachuap Ruekyamdee) are close friends with Sing A. Sing A finally sympathizes with Nolee (Aranya Namwong), daughter of Nop. Phi Pon (Sahat Piempongsan) and his team start hostilities and take over a mine. Mek (Chana Sriubon) and Wan are having a love affair. Tan (Manop Aussawathep) orders to kill Sing A. KoLit and Mek defeat Pipop Pupinyo and his guys trying to enter in their ranch. Krong is shot and injured by another gang. Tan refuses to work with Phi Pon (ขายหน้า). Chat Mongkolchai and his ruffians attack Mek's house but get defeated by KoLit and Mek following a long boat race. Wedding is happening between Mek and Wan. Chun is looking for troubles during the wedding but gets punched by Sing A. Tan is burnt in his car by Phi Pon's team and becomes blind. As a revenge, Phi Pon gets killed by Kanchit. Tan relearns to shoot using his ears instead of eyes. Pinyo and his ruffians kill Sing A's mother but get axed by KoLit and Mek. Kam is arrested by the police. Aranya has a cancer but Sing A still wishes to marry her. Tan takes his revenge over those who caused the fire making him blind. All mafia leaders are now out of the game except Chun. A feast is organized but Chun's ruffians (Somsak Chaisongkram) are bringing a mess. Honor needs to be washed with blood (เลือดต้องล้างกับเลือด). Chun's house is stormed and Chun himself is killed but remaining people including Sing A get caught by police. This Kom Akadej's movie is a non stop action movie featuring around twenty key actors / actresses from decade 1970s.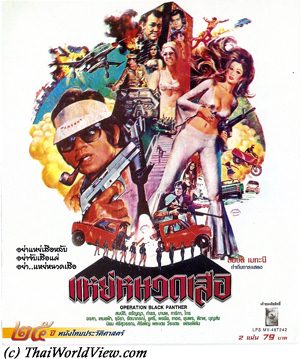 Year

: 1977



Thai title

:

แหย่หนวดเสือ




English title

: Operation Black Panther



Rating

: 3/5


Director

: Sombat Methanee



Main actor

: Sombat Methanee,Manop Aussawathep,Pipop Pupinyo,Kamthorn Suwanpiyasiri


Main actress

: Aranya Namwong,Moeifa,Tharika Thidathip



Buy now

:

Cheutchai (Sombat Methanee) spends a lot of time to read James Bond novels so behaves similarly and weirdly (บ้าๆ บอๆ). This movie reminds of French movie "L'animal" with Jean-Paul Belmondo. Cheutchai is mistaken as another Cheutchai by some ruffians at Bangkok airport. He is brought to a meeting of a mysterious secret organisation (องค์กร). They are all wearing animal mask to hide their real identity and call themselves by number. Traitors are killed by a black panther. Cheutchai is given a mission by sexy number 9, Sareuthai, to kill a politician. He is recruited as a hitman but doesn't shoot the politician so causing the ruffians' ire. He flees through a two driving sides Mini British car. There is a car chase through Bangkok, then until the top of the Golden Mountain and then through a side car. Cheutchai needs to hide in a brothel to escape the ruffians and then in a gogo bar. He finally flees with dancer Aranya and takes refuge in her home. Cheutchai asks help from Sareuthai. She suggests him to kill the organisation leader and gives him the building map. Sareuthai is later killed by the black panther due to her betrayal to the organisation. Cheutchai decides to enter in the building at nighttime but he is captured. Being joked on his qualification as Thai scout (ลูกเสือ), he punches back. During 1970s the Thai scout organisation was seen as a protector of Thai kingdom against external threats such a red communists. He succeeds to escape thanks to Aranya. Police arrives on time to rescue them. Cheutchai and Aranya neutralize the organisation leaders (ทำร้ายชาติ) at Don Meuang airport. In 1976 Don Meuang airport was still used for international travel. Aranya was in fact an uncovered policeman. This movie is a mix of action and comedy. The VCD includes two soundtracks. The second soundtrack in Isan language adds many oral jokes absent in the original Thai soundtrack. The movie features also a funky 1970s music soundtrack. It is produced by "Methanee film" company and Sombat Methanee is also the film director. It is a two hours movie.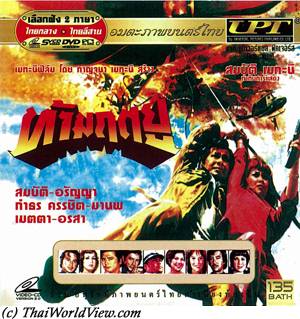 Year

: 1976



Thai title

:

ท้ามฤตยู




English title

:



Rating

: 3/5


Director

: Sombat Methanee



Main actor

: Sombat Methanee,Manop Aussawathep,Kanchit Kwanpracha,Kamthorn Suwanpiyasiri,Krai Kanchit


Main actress

: Aranya Namwong,Metta Roongrat,Moeifa



Buy now

:

During Vietnam war Tua (Sombat Methanee) and his friend Kamleu help to extract American soldiers from the enemy field. A new mission is given to them. They need to eliminate a Lao mafia leader called Kosi. This is the third tentative (รับจ้าง) to get rid of Kosi. It takes place in 1972. Tua is sent on mission to Vientiane. Tua is having a few James Bond secret gadgets. He is captured by a mafia team led by Madam (Moeifa). He claims he has come to Vientiane to kill Mafiosi (เจ้าพ่อ) Kosi. Madam frees him in order to know where Kosi is hidding. Tua meets Jenny, Kosi's daughter. Kosi neutralizes Tua and believes that he is an American agent (มือปืนรับจ้าง) sent to kill him. Kosi is in business conflict with Madam. During a heavy gun fight between the two groups, Kosi is saved by Chinese soldiers and sent to Muang Sing in Northern Laos. Madam is killed. The mission has now changed. Tua and his friend Kamleu now need to extract Kosi from the Chinese soldiers and hand over him to American soldiers. Jenny is also captured by Chinese soldiers. Tua meets Kupan, an old friend who is now involved in drug trafficking. He understands that Kosi was involved in trug trafficking and weapons smuggling to support Red communists. Kosi has been transfered in an island close to Pattaya. Following a final batle involving a turtle shape submarine, Kosi is killed and his treacherous organisation destroyed. It is a typical action movie from mid 1970s with Sombat Methanee, who is directing this movie and also playing the main actor role. It is inspired from James Bond movies' theme with a main actor having gadget agent secret and behaving like a Don Juan. It still includes some Thainess with Tua asking for help from his Buddhist amulet. It is available in both Lao and Thai languages.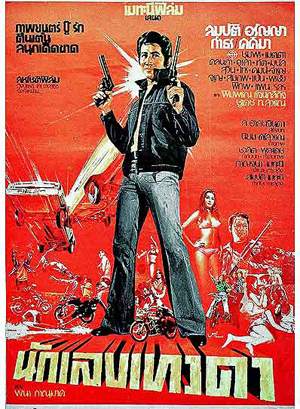 Year

: 1975



Thai title

:

นักเลงเทวดา




English title

:



Rating

: 3/5


Director

: Sombat Methanee



Main actor

: Sombat Methanee,Tat Ekathat,Sawin Sawangrat,Kom Akadej,Kamthorn Suwanpiyasiri,Choomporn Theppitak,Pipop Pupinyo,Krai Kanchit,Sukon Koewliam


Main actress

: Aranya Namwong,Naiyana Shewanan,Orasa Isarangkul,Metta Roongrat,Sasima Singsiri,Donnapha Sophee,Manat Boonkiet



Buy now

:

Thai movie นักเลงเทวดา was released in year 1975. The VCD lasts 1h32mn. Metta Roongrat as market merchant (แม่ค้า) is harassed by ruffians. A car is driven by a mysterious hitman, who kills most of the ruffians of Kamnan Wattana. Wattana (Tat Ekathat) is upset. Kamnan Wattana's daughter, called Wantanee, is played by Naiyana Shewanan. Orasa Isarangkul is also a market merchant (แม่ค้า). Nobody saw his face but he was wearing a red clothing. Thewada (Sombat Methanee) is wearing a red shirt so he is identified as the hitman. Thewada wishes to revenge his friend Somsak killed by ruffians (เทวดามาคิดบัญชี). Thewada enquiries on various ladies to uncover the mysterious hitman. Somsak's wife (ผู้หญิงใจร้าย)(Sasima Singsiri) is involved in the murder with the help of Sawin Sawangrat. Thewada helps Wantanee (ลูกสาวกำนัน). Thewada is not the mysterious killer in red shirt but is willing to find who is behind. Similar to a Thai James Bond with gadgets and kissing all girls (หลงเสน่ห์). Kamnan Wattana agrees to take him as new staff before being son in law (ลูกเขย)! Thewada gets support from Dam (Kom Akadej). A car 'chase happens between Thewada and Kan (Kamthorn Suwanpiyasiri). A sister (Aranya 'Namwong) and her brother (Choomporn Theppitak) are looking for the man, who killed their father นาย Vitun. They believe Thewada is the killer but he succeeds to escape their house just to be captured by Kan (องค์การ). Pipop Pupinyo is part of Kan's team. A third group is with Sawin and Somsak's wife. Kan storms Kamnan Wattana's house and kidnaps his daughter. Metta and Osara are also kidnapped. Thewada and Dam then storm Kan's house to release the ladies. Krai Kanchit is part of Kan's team. Fighting and shooting happen until all ruffians are neutralized or killed. The movie ends up with Thewada leaving with both ladies Aranya and Naiyana.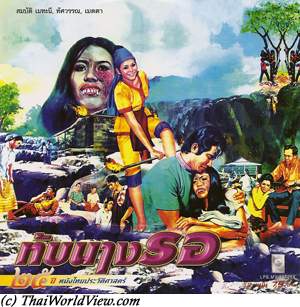 Year

: 1973



Thai title

:

ทับนางรอ




English title

:



Rating

: 3/5


Director

: Chutima Suwannarat



Main actor

: Sombat Methanee,Kamthorn Suwanpiyasiri,Jamroon Nuatjim,Tat Ekathat,Rong Kaomulkadee,Pan Borapet


Main actress

: Tasawan Saneewong,Boosara Narumit,Metta Roongrat,Malee Wetpraseri
Thai movie ทับนางรอ was released in year 1973 and lasts 1h43mn. It was released under VCD format by Lepso Company. Sombat Methanee, Kamthorn Suwanpiyasiri, Pan Borapet, Jamroon Nuatjim, Tasawan Saneewong, Boosara Narumit, Tat Ekathat, Metta Roongrat, Malee Wetpraseri, Rong Kaomulkadee are the main actors and actresses featured in this movie. Movie director is ชุติมา สุวรรณรัต. A baby girl is abandoned in the forest as she has a deformed face (ลูกผี). She is rescued by Tat Ekathat and is named Sopi. At school, she is rejected by other children. Being an adult, her face becomes normal but a awful decease endangers her (อย่าพบความรัก). If she gives life to a baby, she shall die. Her parents (played by Boosara Narumit and Kamthorn Suwanpiyasiri) prevent her from seeing any boy. Chakapan (Sombat Methanee), a Bangkok young man, falls in love with her and asks for her hand but Sopi's parents refuse (เรื่องหัวใจ). Pim (Metta Roongrat) and Rong Kaomulkadee are having a romance. They keep helping Chakapan and Sopi. Sopi is aggressed by two ruffians, including Pan Borapet, working for the village leader. She flees but falls from a cliff. Chakapan saves Sopi's life so her parents finally accept the wedding but knowing that she shall die following a pregnancy. Sopi is now pregnant. Following delivery, Sopi's deformed face is back, so she flees from home with her child. She ends up dying in Chakapan's arms per the doomed prediction.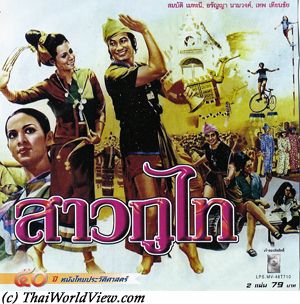 Year

: 1973



Thai title

:

สาวภูไท




English title

:



Rating

: 3/5


Director

:



Main actor

: Sombat Methanee,Kamthorn Suwanpiyasiri


Main actress

: Aranya Namwong,Metta Roongrat
Saendee (Aranya Namwong), young lady, is an university student. Yot (Sombat Methanee), young man, is doing small jobs such as taxi driver in Bangkok to support his mother. Saendee doesn't know that Yot is poor as he is hiding his status by wearing nice suits and renting cars. Saendee gets her diploma. Saendee needs to decide if she continues her studies or start to work. She goes back to Isan to see her father in Nakhon Phanom (เรียนสำเร็จ). Saendee is coming from a local ethnic group called "Phu Tai" (คนภูไท). Her father cannot work since one year so Yot was the one paying for her studies. The father doesn't like Yot as he is not coming from the same ethnic group. There is Bun Bang Fai festival (ประเพณีบุญบั้งไฟ) in Nakhon Phanom. Yot and Saendee become lovers (เป็นของพี่แล้ว) despite the father's disapproval. Saendee is now 6 months pregnant. Yot helps two men involved in a fight. So he is recruited to drive lorries and send goods by them. Unfortunately his new boss is a ruffian. Yot is forced to speed in order to escape police cars. Following a gun fight, the ruffians are shot. Yot is captured by the police and sent to prison. Saendee is not aware. She delivers beautiful twin, two girls, but has to cope alone. She is chased from her home as she cannot pay the rent anymore. Poor Sao Phu Tai (สาวภูไท)... She has to abandon (ฝาก) her children in front of Pa's house. She goes to Bangkok to look for her old university friend, Kamnotchan. Kamnotchan is now a successful business woman as the company boss (ผู้จัดการ) Sarawut likes her a lot. But once Saendee comes to work, the boss changes his focus to her instead of Kamnotchan. Kamnotchan is upset by this situation. A crisis happens and she accuses Saendee of trying to steal the love from the company boss. This is of course wrong as Saendee misses Yot and her children. Saendee leaves Kamnotchan's house. Krot (Metta Roongrat) is a strong female director of a circus. Performers are not good so she needs to find new ones (เด็กฝึกใหม่). The circus teacher thinks to hire the twin girls he recently saw. Pa has no more money to feed all the children she is taking care of. The teacher gives her 10 000 baht to buy and train the two twin girls. The circus director hits them to accelerate their training. So fed up, one of the twin flees. Yot is released from prison. He is looking for his family but to no avail. The little girl is rescued by a rich family. Finally Sarawut finds back Saendee and she accepts to fiance with him. Yot finds a job in the same circus. The circus goes to Bangkok hoping for a better business. The two sisters recognize each other during a performance. The circus director asks for 5 000 baht to give back the child. Sarawut, who loves Saendee, helps her to get back her children. Believing in a children kidnapping Yot follows Sarawut's car. The family is finally reunited happily. It is a good feeling movie even if many unlikelihoods are happening. It highlights the strong and sacrosanct Thai mother. The movie features Isan music in the background. This VCD is a copy of an IBC6 TV program recording but the quality is acceptable.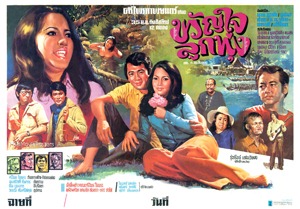 Year

: 1972



Thai title

:

ขวัญใจลูกทุ่ง




English title

: My sweet heart



Rating

: 3/5


Director

: ศรีไพร ใจพระ



Main actor

: Nard Poowanai,Kamthorn Suwanpiyasiri,Sukon Koewliam,Lor Tok,Chaiya Suriyun,Rujira Isarangkul,Op Boonthit,Paen Pleumsachai,Songthong,Sithao Petcharoen


Main actress

: Chosri Misommon
Thai movie ขวัญใจลูกทุ่ง / My sweet heart was released in year 1972 and lasts 2h27mn. Movie director is ศรีไพร ใจพระ. The movie was never released on VHS, VCD, DVD in Thailand. It is only available under 35mm film format, but it was very damaged with colors almost lost. ศรีไพร ใจพระ and บุปผา สายชล were famous singers (นักร้องลูกทุ่ง) since movies ชาติลำชี and มนต์รักลูกทุ่ง shot by รังสี ทัศนพยัคฆ์. They were husband and wife. Movie ขวัญใจลูกทุ่ง was the first movie directed and produced by ศรีไพร and featuring his wife บุปผา as main actress. Chaiya Suriyun was supposed to the main actor in this movie. He started to play in a few sequences, but problems occurred. So, the main actor was changed to Nat Poowanai, who was a new actor who just played in a few movies. Surprisingly Chaiya can still be seen on the movie poster and in a few sequences of the movie. Chot character, played by Chaiya, is killed after a fighting sequence where Chaiya is shot by ruffians. The movie features many actors and actresses such as Kamthorn Suwanpiyasiri, Chosri Misommon, Sukon Koewliam, Lor Tok, Chaiya Suriyun, Nard Puwanai, Rujira Isarangkul, Op Boonthit, Paen Pleumsachai, Songthong, Sithao Petcharoen, วงศ์ทอง ผลานุสนธิ์, พูนสวัสดิ์ ธีมากร, ทานทัต วิภาตะโยธิน,แคหลอ, ชูศรี โรจนประดิษฐ์, ขุนแผน, ถนอม นวลอนันต์, เปี๊ยก, พิม พิไลลักษณ์. 12 songs are featured in this musical movie. Kamthorn Suwanpiyasiri (ลูกกำนัน) wants to seduce Kratin (บุปผา สายชล). Kratin watches boat races with Champi (Chosri Misommon). Sithao Petcharoen is the referee. Uncle Khaem (Rujira Isarangkul) prevents Kratin to meet Yot (Nard Poowanai). He has already a planned engagement with Kamthorn as Yot is a poor man. Kratin is Khaem's granddaughter. Chot (Chaiya Suriyun) and Sri Phrai (ศรีไพร ใจพระ) arrive in the village. Thai boxing match free style is organized and Sri Phrai, despite being a weak opponent, wins. Khaem loses a lot of money. He is upset that Kamthorn makes profit on him. Sri Phrai wishes to marry Kratin. Kamthorn and his ruffians (including Paen Pleumsachai) agress Kratin. Phi Chot and his friends help. Kamthorn gets defeated but one of the ruffians shoots Phi Chot. Op Boonthit plays a Chinese merchant. Hippy Songthong arrives from Bangkok. Uncle Khaem wishes to marry Kratin with Songthong. He is fired as he misbehaves. Next day, a man similar to Songthong with a lady Lin, claiming to be Yot's girlfriend, is having a drink in a cafe. Khaem and his team capture him. The lady flees and meets Kamthorn, who tells her that Yot has already another girlfriend named Kratin. Songthong is covered with flour and chased away. Lin visits Yot and Kratin sees them together so it is causing a misunderstanding. Khaem has to excuse towards Songthong. As a revenge, Songthong is parading the uncle through the city. Following Kratin and Yot pleas, Songthong releases him. The movie ends up happily with uncle Khaem allowing Yot and Kratin to marry, Kamthorn having a romance with Lin.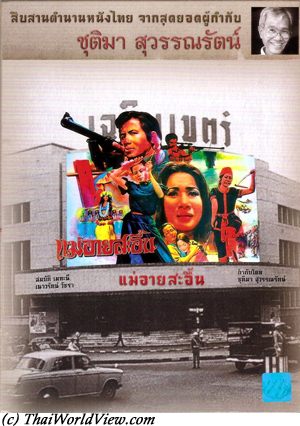 Year

: 1972



Thai title

:

แม่อายสะอื้น




English title

:



Rating

: 5/5


Director

: Chutima Suwannarat



Main actor

: Sombat Methanee,Kamthorn Suwanpiyasiri,Sahat Piempongsan,Jamroon Nuatjim


Main actress

: Naowarat Watchara,Tasawan Saneewong,Metta Roongrat,Viphavadi Triyakul,Malee Wetpraseri



Buy now

:

A subdistrict headman is almost blind but still performs traditional arts. His daughter Dao Lin (Naowarat Watchara) can do traditional spade dance. They are living in a Northern village specialised in making traditional colorful umbrellas. Mem (Malee Wetpraseri) recommends Dao Lin to a Bangkokian lady for a job in Bangkok (เสริมสวย). Dao Lin accepts as she needs money to cure her father's eyes. The second daughter is played by Tasawan Saneewong, who is acting for the first time. No further study for her as they are too poor. In Bangkok, Dao Lin realises the job is in fact acting as a prostitute (โสเภณี / ฉันไม่ใช่สินค้า). Dao Lin cannot send news. She ends up in pregnancy and succeeds to flee the brothel (กลุ่มนรก). She delivers a baby, who is unfortunately disabled. The hospital doctor (Kamthorn Suwanpiyasiri) finds her a job as a model (นางแบบ) but she needs to hide her baby (สังคมทุกวันนี้จำเป็นต้องสวมหน้ากากเข้าหากัน). She gives her baby to her sister lying it is a friend's baby. Dao Lin meets Songpon (Sombat Methanee) in Penang. They finally get engaged (หมัน). Dao Lin discovers that the doctor is Sombat's brother but he promises to disclose nothing. She forgets her family so her father decides to come to Bangkok with her sister Chaeung and disabled son to find Dao Lin. Ten (Metta Roongrat) becomes Chaeung's friend in Bangkok. Chaeung recognises her sister on TV. When meeting together, Dao Lin is ashamed (ลืมตัว) as she doesn't want anybody to know her poor background so she chases away her younger sister. Disappointed, Chaeung runs away and is hit by a car. She is cured by the same doctor, who cured her elder sister. Having pity on her, the doctor recruits her as domestic helper. Dao Lin is surprised to see Chaeung in the doctor's house and asks her not to reveal their family links until she is married with Songpon. Pi (Sahat Piempongsan) is having an affair with Songpon's mother. He always asks for money. They all go to Southern island to help poor children. Songpon's brother called Songyut lives there and takes care of the family domain. Songyut falls in love with Chaeung. Songpon also loves Chaeung but just got engaged with her sister... The mother asks Songyut to stop seeing her as she is a poor girl. Chaeung is kidnapped per the mother's orders. Ten asks Songyut for help. A boat chase is happening in Phuket near the James Bond island. Pi, wishing to get the family domain, shots Songyut through a long range gun but falls from the cliff and dies. The mother is horrified and crossed against Chaeung (เด็กเวร) but she is indirectly responsible of her lover's acts. Meanwhile Dao Lin warns Songpon who finally rescues Chaeung after an impressive car chase. Songyut's mother asks Dao Lin to get rid of Chaeung as she takes her as responsible of her son's death. Dao Lin accepts. Chaeung hears this conversion and arguments happen between the two sisters. Dao Lin's father hears his two daughters arguing and now is aware that Chaeung hides the reality about Dao Lin forgetting her own family. Chaeung, the father and the disabled son leave for Mae Sai. Da Lin follows them there but her father is already dead. He got suicide because of disappointment with his daughter. Songpon is here also blaming Dao Lin not to have told him the truth about her background as he is comprehensive and it would have saved her father's life. Nobody in the village wishes to talk to Dao Lin. To pay respect to her father a last time, she performs the traditional spade dance and finally cuts her throat during the dance. She entrusts Chaeung and her son to Songpon. It is a sad family drama with a rich mother causing her son's death and a poor daughter causing her father's death. The DVD แม่อายสะอื้น (1972) lasts 1h55mn but some parts are missing as it is a copy from U-matic tapes.. Famous director is Chutima Suwannarat (ชุติมา สุวรรณรัตน์) well known for sad movies.
---