Increase or decrease font size for easier reading : A+ A-
Juree Osiri
Juree Osiri (1930-2012) - จุรี โอศิริ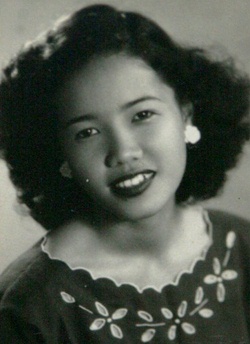 Juree Osiri was a Thai Actress and National Artist. She is well Known as Pa Ju. Juree was singing, acting and doing dubbing during the golden era of Thai films. She was the voice of all leading actresses such as Petchara Chaowarat, Pissamai Wilaisak, Pawana Chanajit, Naowarat Yooktanun and Lalana Sulawan. She dubbed around 100 to 200 movies thanks to her sweet voice. She was married with actor Somchai Samipak
This Juree Osiri movie page contains 20 records.
---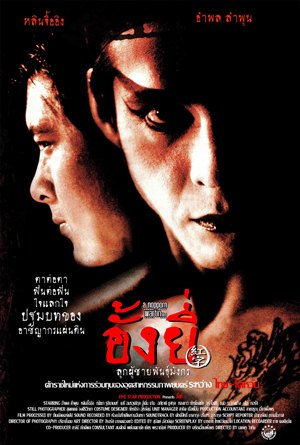 Year

: 2000



Thai title

:

อั้งยี่ ลูกผู้ชายพันธุ์มังกร




English title

: Ang Yee



Rating

: 4/5


Director

: นพพร วาทิน



Main actor

: Amphol Lumpoon,Jimmy Lin


Main actress

: Juree Osiri



Buy now

:

Thai movie อั้งยี่ ลูกผู้ชายพันธุ์มังกร / Ang Yee was released in year 2000 and lasts 1h53mn. It was released under VCD and DVD format. A remastered version was released by Five Star Production in the decade 2010s and shown on Thai TV cable. This movie takes place in 1937 in the Thai Chinese community. Two Chinese secret societies are confronting each other. This violent and bloody movie is a Taiwanese – Thai cinematographic cooperation. Leng (Amphol Lumpoon), a triad disguised as a Chinese opera performer, kills a prominent member of Tang clan and his men but he is severely injured. Hong (ฌัชชา รุจินานนท์), a young lady, impressed by his fighting skills, helps him as he is about to die. Her grandmother (Juree Osiri) is reluctant but accepts to help. Aware, her brother Howe (Jimmy Lin - Taiwanese actor) wishes to chase him away as he is afraid of the impacts on his family. Tang members are looking for Leng. Leng's boss is cruel and wishes to get rid of him also as he is afraid he will take his place one day. The boss (อภิชาติ ชูสกุล) empowers Tua Tao (ทองขาว ภัทรโชคชัย) to find virgins for him. Chaba likes Howe. Joong (เมธี อมรวุฒิกุล), a member of the Tang clan, likes Chaba also. While visiting his friend Howe, Joong meets Leng. Fighting erupts and Leng is defeated as he is still injured. Joong lets him go as Hong begs him. The boss and Tua Tao are disappointed that Leng is still alive. Hong visits Leng to give him back a jade pendant. Tua Tao is now aware about Hong. Tua Tao follows Hong and captures her for his boss. Grandma is killed while trying to protect her. Leng succeeds to release Hong but Howe is upset and considers Leng as responsible. Howe joins the Tang clan in order to avenge his grandmother. Despite promising to his grandmother not to become a ruffian, he becomes a fierceful clan member and attacks the triad. Fightings happen between the two groups. Leng spares Howe and Joong's lives. The boss, being aware, orders Leng to be beheaded. The other clan members led by Kiu oppose so the boss has to retract. Leng injures himself to recognize his failure. The boss orders Kui to be killed and Tua Tao tries to kill Leng. Leng, seriously injured, falls in the river and disappears. He becomes a beggar. Meanwhile Howe refuses to quit the Tang clan despite Hong's request. Howe and Joong find Leng and bring him back to their home. Together they decide to get revenge over the three men leading the triad clan. Leng promises to Hong to quit the triad once his revenge is over. Tua Tao and the third leader are killed but the triad leader is more skilled. Heavy fighting occurs between the leader, Leng, Howe and Joong. Howe and Joong die. Leng defeats the leader but he is seriously injured. He dies in Hong's arms, waiting for him at the train station.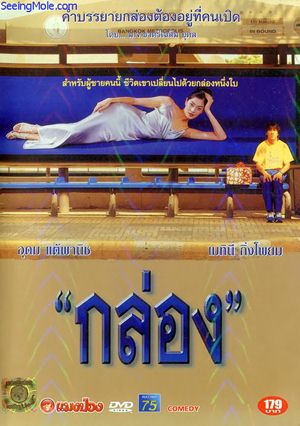 Year

: 1998



Thai title

:

กล่อง




English title

:



Rating

: 3/5


Director

:



Main actor

: Udom Taepanich


Main actress

: Metinee Kingpayom,Orasa Isarangkul,Juree Osiri,Marasri Isarangkul
Thai movie กล่อง, directed by ChatriChalerm Yukol, was released in year 1998. It lasts 1h36mn. A story is told by a comic show actor (Udom Taepanich - อุดม แต้พานิช). The people appearing in the story are in fact present in the theater. He reuses them. The story is about Cheut, who is a song composer and has only problems having debts, being annoyed by the landlord (Orasa Isarangkul), being exploited by ruffians or by policemen (asking for money for police charity but keeping for himself) and being unlucky. His wife (Metinee Kingpayom) always blames him (คนหรือควาย). He goes to a music producer but cannot get any appointment so even loses his musical compositions there. As he always gets cheated, bullied, annoyed, blamed (กง แกล้ง รังแก ด่า) so he decides to get suicide but he fails despite several attempts (ไม่เคยทำอะไรสำเร็จ). Wishing to plunge from a tall bridge, he misses the bus. He notices another passenger also waiting for the bus. Trying to talk to him, he realizes that the passenger is dead. He steals his box as anyway it cannot have any usage for a dead man. Cheut and his wife try to open the box without success. In the morning, the wife is very unhappy as she found from the newspaper that the dead man is a drug trafficker and that box certainly contains heroin. So they are in serious problem. Following multiple happenings, Cheut gets rid of the box. His wife, learning from TV that the deceased was finally a rich man and not a drug trafficker, asks him to get back the box asap. As the landlord is asking for the rent, Cheut's wife tells her there is certainly money in the mysterious box. Rumours spread fast (นินทา). People are greedy. People previously bad with him are now very polite, very attentive as they believe he is now a rich man. They all fail to open the box. Luckily the producer finds the songs written by Cheut and he becomes a rich man. He decides to throw away the box. The box is like Pandora box, a box for dreams. As their dreams are achieved, they don't need the box anymore.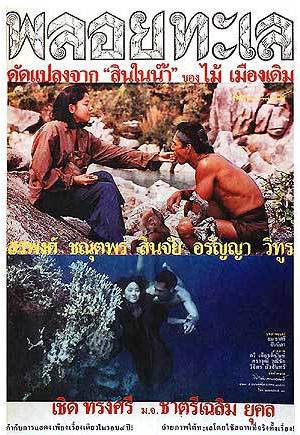 Year

: 1987



Thai title

:

พลอยทะเล




English title

: The Gem from the Deep



Rating

: 5/5


Director

: Cherd Songsri



Main actor

: Sorapong Chatree,Witoon Karuna


Main actress

: Sinjai Hongthai,Aranya Namwong,Juree Osiri,Chanutporn Wisitsopon
Thai movie พลอยทะเล was released in year 1987 and lasts 1h55mn. Movie director is famous director Cherd Songsri. Sorapong Chatree with his short haircut, killing smile and strong body really shines and plays in a great movie compared to the many average action flicks he played in 1980s. Happiness is present on a small island between Kratin (กระถิน), young lady (Sinjai Hongthai), and Rung (รุ่ง) a young man (Sorapong Chatree). They love each other but any wedding decision is linked to their parents. Kratin's parents reject this love. Rung is a diver, collecting seashells and fishies for a living. The movie shows nicely life of island, people collecting coconuts thanks to monkeys, collecting eggs from giant turtles. Beautiful landscapes are shot. Kratin is jealous of Sangpao (สำเภา), another young woman (Chanutporn Wisitsopon) that Rung considers as a sister only (น้องสาว). As Kratin's parents cannot accept such love and wedding, they consider fleeing to the city. While diving, Rung finds a red pure gem (พลอยทะเล, น้ำดี). He plans to sell it to cure his mother (Juree Osiri) but makes the mistake to show it to another villager, father of Kratin. This one and his sons, arguing that Rung behaves badly with his daughter, try to kill him to steal the gem. Rung gives the jewel to Kratin and fights back. In front of Kratin's eyes, he is left for dead. He is only injured and succeeds to reach his mother's home where Sangpao rescues him. Kratin is sent to the city. She meets Sieng, the fishery lady boss (นาย)(Aranya Namwong), who recruits her as domestic helper. Rung recovers slowly and is still upset that the gem is not anymore with him. Sangpao takes care about Rung. A love story is about to start but it doesn't bloom as Rung and Sangpao still have Kratin in mind. Kratin really believes Rung is dead so she is sad. Sieng's brother, Samrien (Witoon Karuna), likes Kratin a lot and starts to seduce her. They become lovers. Kratin shows him the gem. Samrien decides to keep it until their wedding in order to avoid it is stolen by somebody else. One day, Sangpao finds Kratin in the city and informs her that Rung is not dead. Samrien refuses to give back the gem, refuses to let Kratin go and promises her that she will become the fishery owner. The movie shows the fishery work from a cultural point of view. It is bad fate (เวรกรรม) that Kratin saw Rung dead but now it is too late as she needs to have gratitude over the boss and her family. Finally Rung discovers the truth about Kratin and Samrien. Sangpao has to intervene to avoid Rung becoming violent. Sangpao and Kratin have arguments as Kratin cannot give the gem back. Rung also asks Kratin as he needs to cure his mother but she tries to manipulate him. Samrien refuses to give it back to Rung as he believes half of it belongs to him. The fisherman, who brought Rung and his mother to the city, asks for his money but Rung cannot pay him as he hasn't got the gem yet. During a fight the mother is stabbed and dies. A big storm is now happening. Samrien is endangered on a boat. Kratin asks Rung to help Samrien as his boat is stuck. Samrien encourages him not to go but Rung accepts as he is kind hearted so he releases the boat but disappears in the sea. Countryside people have often bigger heart than city people. This gem has caused many people to die. In the morning, the sea sends back Rung's body. He is still alive and Sangpao had been waiting the whole night for him praying. Kratin finally finds Rung stranded on the beach. They promise love to each other. Kratin goes back to Samrien's home to get the gem from a safe but it is no longer in the box. Rung doesn't care about it anymore but Kratin refuses to follow him as she doesn't want to live poorly on the island. It causes Rung's ire as it shows she is more interested by the gem than Rung. He understands that only Songpao really loves him. Sangpao is the one, who gets the gem. A fight between Samrien and Rung occurs as Samrien still wants the gem. Rung defeats him and decides to go back to his island. Sangpao goes back with him. Samrien breaks up with Kratin. Rung sends the gem back in deep sea.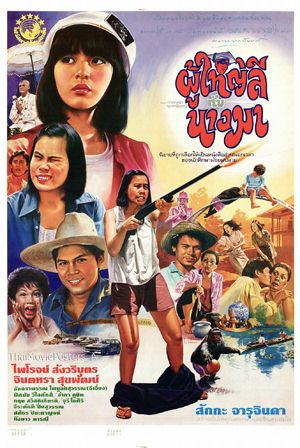 Year

: 1985



Thai title

:

ผู้ใหญ่ลีกับนางมา




English title

:



Rating

: 3/5


Director

: สักกะ จารุจินดา



Main actor

: Phairoj Sangwaribut,Tongchai Prasongsanti


Main actress

: Jintara Sookkapat,Ampha Pusit,Pissamai Wilaisak,Juree Osiri,Kingdao Daranee
Thai movie ผู้ใหญ่ลีกับนางมา was released in year 1985 and last 1h35mn. It was released under VCD format by Solar company. A remastered version was released by Five Star Production (ไฟว์สตาร์โปรดักชั่น) in the decade 2010s and shown on Thai TV cable. It was the first movie of actress Jintara Sookkapat. Other actors and actresses are Phairoj Sangwaribut, Tongchai Prasongsanti, Ampha Pusit, Pissamai Wilaisak, Juree Osiri, Kingdao Daranee, กฤษ สวัสดิเกียรติ, จิระศักดิ์ ปิ่นสุวรรณ, ศศิธร ปิยะกาญจน์, สักกะ จารุจินดา. Movie director is สักกะ จารุจินดา. ผู้ใหญ่ลีกับนางมา story has been produced as Thai TV series six times already (1971, 1977, 1987, 1996, 2003, 2009). Ma's grant- mother (Juree Osiri) just died so Ma (Jintara Sookkapat) comes back from Bangkok to visit her domain in Isaan region. She had not met her grant-mother for many years as she went to Bangkok to study. A man called Phujai Li (Phairoj Sangwaribut) has organized all funerals without consulting her. Ma already has a fiance called Pradit but she discovers he is unfaithful, so she breaks up and goes back to the countryside. She does not want to sell her 300-rai land. She wants to handle by her-self. A local farmer called Wao helps her. Wao is in fact Phujai Li, spying secretly to see how Bangkokian people can adapt to countryside. Phujai Li's mother (Pissamai Wilaisak) sends a local lady, called Pin, to help Ma. Ma accepts this lady (อัจฉราพรรณ ไพบูย์สุวรรณ) with her two children to stay in her home to help her as she was also dumped by her husband. There is often no official wedding in the countryside. People just stay together so social problems occur when separation happens. She finally works hard to maintain the farm. Anger happens when Ma understands that Phujai Li and Wao are the same person. Finally, Ma forgives Phujai Li. The Isaan village uses a cat in their rain-making procession (ประเพณีแห่นางแมว). The cat is carried around the village in a small cage, while the villagers make noise with musical instruments, to attract the attention of celestial gods. It works as rain is coming. Ma is busy preparing rice fields. Phujai Li loves Ma but she is still shocked by her fiance's behavior. On top of this, Phujai Li is chased by another local lady (Ampha Pusit). Phujai Li asks his mother to ask for Ma's hand as he does not dare. Ma accepts to become Phujai Li's fiancee even if she is not happy that he did not ask himself. Phujai Li decides to become a monk for one rainy season. As Pradip, older fiance of Ma, tries to befriend her, Phujai Li refuses to enter monkhood. Finally, Phujai Li becomes a monk for three months following his mother's wish to see him in yellow robes (ชายผ้าเหลือง). Pradip is chased away. Phujai Li and Ma can marry happily.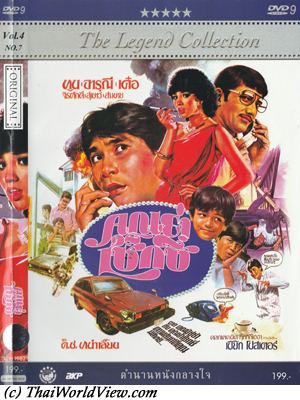 Year

: 1982



Thai title

:

คุณย่าเซ็กซี่




English title

:



Rating

: 2/5


Director

: Piak Poster



Main actor

: Toon Hiransap,Der Doksadao,Somchai Samipak,Doo Dook Kradon,Suchao Pongwilai


Main actress

: Jarunee Sooksawad,Juree Osiri,Sulaleewan Suwanthat,Chosri Misommon



Buy now

:

Thai movie คุณย่าเซ็กซี่ was released in year 1982 and it lasts 1h57mn. It is available under DVD format released by BKP. Movie director is Piak Poster. An old doctor friend visits Et (Toon Hiransap). Et asks for Thip's hand (Jarunee Sooksawad). Thip's father (Somchai Samipak) has a shock. Et visits his doctor friend to find a solution. Chosri Misommon and Doo Dook Kradon are playing crazy patients (อย่าถือคนบ้า ว่าคนเม่า). One of the kids, Mee, is kidnapped by Suchao Pongwilai. Suchao is asking for 300 000 baht as ransom. The kid succeeds to escape and even tricks his kidnappers. The kidnappers lie to Et and capture him. He still has to give a ransom to be released. Luckily the Police is passing by and he can escape. Ruffians are finally identified and jailed by Police. Et can finally marry Thip. Et and Thip are singing a song reminding of วัยอลวน movie in 1975. วัยอลวน was also director by Piak Poster. His old doctor friend (จิรศักดิ์ อิศรางกูร) asks him for help. He needs him to take care about a lady's best friend so that he can focus to seduce her without having a chaperon always around. Et teaches her tennis. Thip sees him with that lady and back home, he gets severely beaten and even falls from the stairs. Incantations (คาถา) from the grandfather are used to make people smaller or bigger so that he is not humiliated by his wife anymore but it is only a dream. Believing Et is becoming crazy as he keeps mumbling incantations, Thip calls the doctor to check his condition. The doctor asks Thip to be nice towards Et as he missed love when he was a kid. Thip announced to the head of school (Juree Osiri) that she quits her job to take care about her home. It is Thip's birthday. As Thip is wearing old style clothes so one of her friend restyles her. So she becomes sexy (คุณย่าเซ็กซี่). Love is back between Et and Thip. The movie can end happily.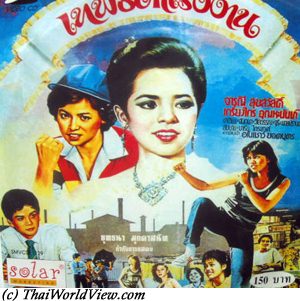 Year

: 1982



Thai title

:

เทพธิดาโรงงาน




English title

: Factory angel



Rating

: 5/5


Director

: Yutthana Mookdasanit



Main actor

: Kriengkrai Unhanan,Lak Apichat,Somchai Samipak,Krailat Kriengkrai


Main actress

: Jarunee Sooksawad,Wilaiwan Watthanaphanit,Juree Osiri



Buy now

:

Oi (Jarunee Sooksawad) is leaving her village and is going to the city (กรุง) to find a work. Teum (Krailat Kriengkrai) proposes to help. After a long trip, they reach the textile factory (คนงานใหม่). Rangsan (Kriengkrai Unhanan) as factory manager (ผู้จัดการ) agrees to recruit Oi and her two friends. Rotchai is the factory controller (ห้าม, ไม่อนุญาต). Factory workers sleep in dormitory and share big bathroom. The factory manager seems to like Oi a lot. His parents are played by famous veteran actor Somchai Samipak and veteran actress Juree Osiri. Chalai is a high-so girl pushed by Rangsan's mother to marry her son. Working conditions are hard in the factory, i.e. hot and noisy environment. Japanese investors are visiting the factory. Yamada, the Japanese factory owner, wants Oi to represent the Thai factory in Japan as angel protector. Everybody is stunned by Oi's beauty when she wears traditional clothes. Molam song is used as soundtrack (สาวโรงงาน). Oi is split between her boyfriend waiting for her in Isan and the strong interest shown by the factory manager Rangsan. There is a contest in the factory similar to Songkran festival (ประกวด เทพธิดาโรงงาน or angel factory contest). Pa Chan, an old aunt (Wilaiwan Watthanaphanit), working there for twenty years, gets the title. A high society fair is organized by Rangsan's parents in their home. Oi is invited (สวัสดีปีใหม่). There is a contrast between western classical music used in high society part and Molam listened in the factory. But at the end the high society people (ผู้ดี) also push each other for the buffet. Lak Apichat is playing a house guard. The fair degenerates as Chalai denigrates Oi (คนบ้านนอก) and ends up with a bowl of food on the head. Rangsan refuses to punish Oi as she didn't behave badly in her job so the mother hires ruffians but they get pushed back thanks to the taxi driver Pen (อโนเชาว์ ยอดบุตร). Many countryside people have dreams when coming to Bangkok the first time (กรุงเทพเป็นเมืองฟ้า). Some workers end up working in sauna believing work is easier and getting fast money. Pa Chan loses conscience again while working. Despite being a worker dedicated for twenty years, she is finally thrown away like a dog (is it the reward for being a slave for twenty years?). A sign shows "Safety first" but no action is taken to help Pa Chan. Rangsan explains the gesture by being worried about syndicates and wish to avoid inspections as it could mean additional expenses. Oi rescues the old lady at her home. Oi is invited in Japan and shall be selected as factory angel representative. On the day of the announcement event, Pa Chan dies of sickness in Oi's arms. Oi makes a touching speech to the factory management complaining about their lack of humanity towards Pa Chan. She quits her job and goes back to Isan. Her boyfriend is on the way to Saudi Arabia to work there one year. She finds her father. Only family is source of trust and happiness. The movie เทพธิดาโรงงาน lasts 2 hours. It has been adapted into a Thai TV serie in year 2012.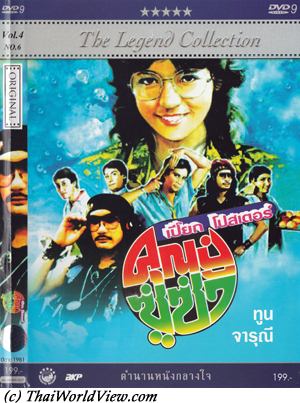 Year

: 1981



Thai title

:

คุณปู่ซู่ซ่า




English title

:



Rating

: 2/5


Director

: Piak Poster



Main actor

: Toon Hiransap,Der Doksadao,Somchai Samipak


Main actress

: Jarunee Sooksawad,Juree Osiri,Sulaleewan Suwanthat,Janthana Siriporn,Chaweewan Boonprok,Patama Panthong



Buy now

:

Thai movie คุณปู่ซู่ซ่า was released in year 1981 and lasts 1h59mn. It is available under DVD format released by BKP. Movie director is Piak Poster. Invited to a wedding party, Et (Toon Hiransap) is still single and is a playboy. He meets Juree Osiri. Et has inherited from his grandfather so he doesn't need to work. He doesn't want to marry as he likes freedom. He invites young lady Pat (Patama Panthong) to Pattaya. Kaew (Der Doksadao), his domestic helper, invites a lady (Janthana Siriporn) in his home while he is away. A little girl called Mot comes to their home. She is Et's relative daughter. As her family has financial issues, the relatives leave Mot with him. Et gets issues with police as he goes to teenager's party (ซวยจริงๆ). Mot's teacher is Thip (Jarunee Sooksawad). As there is nobody to stay with Mot, Thip stays to be her friend as both Kaew and Et are out every night. Et is going out with Chaweewan Boonprok. Enamoured with the teacher Thip (ครูสวยฉิบหาย), Kaew suggests bad ideas to Et in order to seduce Thip such as using sedative (ยานอนหลับ) or inviting her while there is nobody at home. All ideas fail and Thip is very upset with Et as she complains he lives a bad life only spending money and bringing no value to Thai society (ประโยชน์ต่อสังคม). Thip decides to change. Thip's father (Somchai Samipak) is a bakery's owner. Et succeeds to be hired in the bakery and launches successful cakes having tits shape. A co-worker (Sulaleewan Suwanthat) complains he is salacious (ลามก). Worried that Et will bring shame to his father and their business, Thip fires him. Apologizing for his behavior and feeling very sad, Et quits the bakery. While helping the father aggressed by two robbers, he is injured by them. Finally Thip understands Et is a good guy. Et promises to quit his bad behavior and acts as an adult. The second part of this Thai movie is named as คุณย่าเซ็กซี่ was released in year 1982.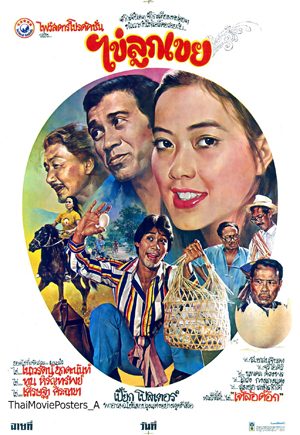 Year

: 1981



Thai title

:

ไข่ลูกเขย




English title

:



Rating

: 5/5


Director

: Piak Poster



Main actor

: Toon Hiransap,Sor Asanajinda,Lor Tok,Settha Sirachaya,Somchai Samipak,Noppadol Duangporn,Krong Kangkengdaeng


Main actress

: Naowarat Yooktanun,Juree Osiri
Thai movie ไข่ลูกเขย was released in year 1981 and lasts 1h50mn. A remastered version was released by Five Star Production (ไฟว์สตาร์โปรดักชั่น) in the decade 2010s and shown on Thai TV cable. The movie was released under VCD format by Solar company. The movie director is Piak Poster. This is a social Romantic Comedy. Mother Juree Osiri wishes to marry her daughter Rose (Naowarat Yooktanun) to Jongsak (Settha Sirachaya), a rich but insipid man. Her husband is played by Somchai Samipak. Tuan (Toon Hiransap) is going to the village to bring improvements. He meets Rose as her car splashes him with mud. As her car refuses to start anymore, he forces her to apologize before bringing her by bicycle to the village. Tieng (Sor Asanajinda) is the village leader and father of Tuan. Tuan is seen as a crazy guy by many villagers. Rose takes her revenge by taking his clothes away while he is bathing in a stream. She forces him to apologize to get his clothes back. As the school headmaster has to go to the city for a meeting, Tuan is the one to help with the children. At that time, there was one teacher for all class levels! Rose realizes that Tuan is a clever man. He is hiding his real identity. Following a conference in Bangkok, Rose's mother is charmed by a young man protecting the poor farmers rights versus the rich Bangkokian society. Turn spends time with Lok Tok to understand his tricks to beat local administration. Noppadol Duangporn wishes to become the new village leader. At nighttime, Tuan hacks Rose's radio in order to sing a song. She tries to unveil him but cannot. Finally, Rose befriends with Tuan. Noppadol informs the mother Juree. Juree complains to Rose that she is coming from a wealthy family with a high status so she shouldn't befriend a farmer. The father Somchai Samipak tries to temporize his wife. Noppadol has an objective to replace Tieng so he goes to meet the chief district officer in the city, Tuan tricks them by emptying their petrol tank and puts a laxative in their drinking water. The next day, they try to get revenge, but Tuan is good at Karate. Meanwhile Rose finds papers and pictures showing the real identity of Tuan. Tuan claims he had no choice as villagers would not trust a civil servant from Bangkok. It was the only way to see the real village problems, the good and bad things done by villagers. They go for a walk and get stuck by a storm. Juree, the mother, coming to inspect her daughter, is then very worried. On the next day, she refuses her daughter Rose to come here again. Upset, Rose claims she sees people value by their achievements and not by their money. She claims Tuan and she are now wife and husband in order to stay in the village. The mother is upset as her daughter marries a poor farmer (คนบ้านนอก). Her husband, Somchai, knows the truth, but doesn't disclose it. Juree tries to bring back her daughter to her home, but she fails. As the village leader is reaching retirement, a new village leader has to be elected. Noppadol is facing Krong Kangkengdaeng. Krong is winning by far as he is more popular. There is a new bailiff (ปลัดอำเภอ) nominated in the area. It is Tuan! Through a good speech, he reminds villagers that he, as a civil servant, is here to serve them and not the opposite! Rose goes back to her home with Tuan. The mother is upset as he keeps singing. On the next day, Jongsak comes to flirt with Rose, but Tuan exits his room wearing a bailiff uniform. Tuan apologizes to the mother and discloses his real identity. The mother is now delighted that her daughter marries Tuan.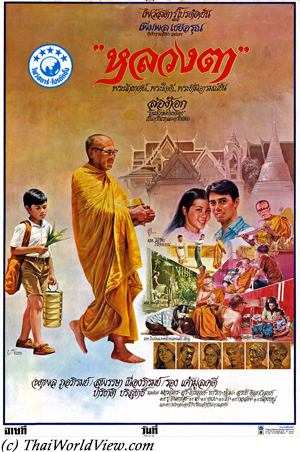 Year

: 1980



Thai title

:

หลวงตา ภาค 1




English title

: The old monk



Rating

: 4/5


Director

: Permpol Choei-arun



Main actor

: Jatuphol Poopirom,Lor Tok,Rong Kaomulkadee,Krailat Kriengkrai,Thuam Thoranong


Main actress

: Supansa Nuengpirom,Mayurachath Muarnprasitivej,Tharika Thidathip,Juree Osiri



Buy now

:

Thai movie หลวงตา ภาค 1 / The old monk was released in year 1980 and lasts 2h13mn (according to Five Star Production website). It was released under multiple formats, a beta-max version (2h01mn), VCD version by Solar (2h02mn), VCD version by BKP (2h05mn), DVD version by BKP (2h05mn), a True Thai Film cable TV version (1h48mn). A remastered version was released during decade 2010s by Five Star Production. Movie director is Permpol Choei-arun. This movie shows the importance of Buddhist abbots in Thai society. Luang Ta (Lor Tok) is an abbot in a Thai Buddhist temple. He is taking care of children (เด็กวัด) given to the temple as the parents are too poor to take care of them. During childhood, young boy Long often deal with stubborn Chuk and Ek. Long (Jatuphol Poopirom) and Ek (Rong Kaomulkadee) are now grown up. Mae Choi (Mayurachath Muarnprasitivej) is Long's mother but she is ashamed (ผู้หญิงขายคัว) so she doesn't disclose who she is. Long is like orphan (ลูกกำพร้า) under the responsibility to Luang Ta. Fighting between Long and Ek occur as Ek always tease others but they remain friends. Luang Ta teaches (สั่งสอน) them continuously. Long is accepted in school army and Ek is accepted in police school. Mae Choi dies. Luang Ta organises a funeral being the main sponsor (เจ้าภาพ). The undertaker (สัปเหร่อ) discloses she worked in a brothel (ซ่อง) before. Young lady Duangjai (Tharika Thidathip) stays in temple as she has nowhere to go. She has little education as her parents thought primary studies were enough. Luang Ta complains that girls should study also and not only do home chores. She regains trust in herself and learns new skills but after a while Luang Ta tells her it is time to leave as it is not correct for a lady to stay in a temple where only men are present. Lom, without parents and who has always lived in Buddhist temple, is in love with a young woman called Wan (Supansa Nuengpirom). Her high society parents (Thuam Thoranong and Juree Osiri) don't want a poor groom. On top of this, they are worried about impacts on their lineage. Lom decides to go at the Thai border as he knows this love is impossible. Wan clashes with her parents, who are more worried about old symbols such as status, fame, lineage instead of their daughter happiness. By reading newspapers, Luang Ta learns that Duangjai made a successful wedding. Pushed by Wan, her parents visit Luang Ta to learn more about Lom. The abbot gives them the whole story. The parents are concerned about gossip as Lom is prostitute's son but Luang Ta reminds them that skills and good personality are not linked to lineage but to own ability. Ek is proud to announce to Luang Ta that he is now police captain with 3 stars. Luang Ta complains that multiple stars don't make people more intelligent. Lom is injured at the border and is sent to hospital. Luang Ta decides to visit him but two robbers (including Krailat Kriengkrai) enter in the Buddhist temple. They kidnap Luang Ta. Surrounded by police led by Ek, they have to endure Luang Ta's sermons (โดนเทศน์ไม่ไหว) so they finally give up and surrender. Long is back to the temple to visit Luang Ta with his wife Wan as her parents have agreed to the wedding.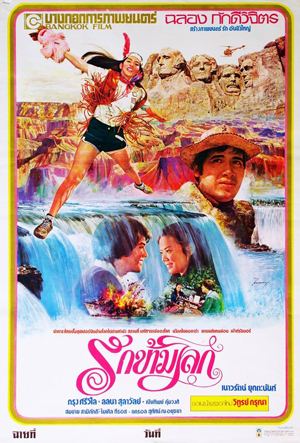 Year

: 1978



Thai title

:

รักข้ามโลก




English title

:



Rating

: 3/5


Director

: Chalong Pukdeewichit



Main actor

: Krung Srivilai,Somchai Samipak,Witoon Karuna


Main actress

: Naowarat Yooktanun,Piathip Kumwong,Lalana Sulawan,Juree Osiri



Buy now

:

Thai police inspector (สารวัตร) Ton (Krung Srivilai) is chasing drug traffickers. Heroin traffickers are shot dead by a mysterious helicopter while trying to flee police in USA. 20M baht are lost. To compensate their loss, traffickers need to get drugs directly from Golden Triangle in Thailand. Anong (Piathip Kumwong) is married to a drunkard foreigner. Nit (Naowarat Yooktanun) is her daughter. The husband Mike has a secret arrangement with the US ruffians as he becomes rich suddenly. They all travel to USA. The drug traffic is coming from Thailand to USA through antics. Maem Clara is a small antics shop's owner. She is working with Pai (สมชาย สามิภักดิ์ - Somchai Samipak), who is the driver, and with Fon (Witoon Karuna). Noon (Lalana Sulawan) is Pai's daughter. Even Osiri, veteran actress and Somchai Samipak's wife, has a small role. Pai's van is followed up by Mike. Mike tries to stop Pai's van. Finally Ton helps to push back the ruffians but they all have to flee. Unfortunately Anong is captured by Mike (เป็นตัวประกัน) while fleeing. While running away from the ruffians, romance starts between Noon and Ton, between Fon and Nit. Ton fails to find heroin in uncle Pai's van. Maem Clara is the real master behind the traffic. As usual, Krung can defeat his opponents thanks to his powerful kicks. Heroin is finally hidden inside the teak wood that uncle Pai ordered from Thailand. Mike is dropped and shot by his friends. Nit and Noon are also captured. Before dying, Mike discloses to Ton where the ruffians are heading to. Police is then chasing their boat. Through final shootings and bombings, ruffians are all killed, Mit and Noon are released but Nit's mother is losing her life. Thai movie รักข้ามโลก, directed by Chalong Pukdeewichit, was mainly shot in USA in 1978. This romance and action movie includes one love song by Witoon Karuna. Another movie called ล่าข้ามโลก directed by Chalong Pukdeewichit was also shot in USA in 1983.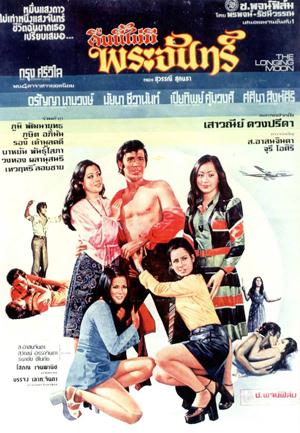 Year

: 1975



Thai title

:

คืนนี้ไม่มีพระจันทร์




English title

:



Rating

: 3/5


Director

:



Main actor

: Krung Srivilai,Sor Asanajinda,Rong Kaomulkadee


Main actress

: Naiyana Shewanan,Aranya Namwong,Piathip Kumwong,Juree Osiri,Sasima Singsiri
Thai movie คืนนี้ไม่มีพระจันทร์ was released in year 1975. The movie is lost in Thailand and only a sequence of 38 minutes remains to be seen. A group of young women including Naiyana Shewanan is sleeping together in a big bungalow near the beach. It is the yearly trip organized by their art university (มหาวิทยาลัยศิลปากร). One of the young ladies recognizes Nat (Krung Srivilai), a male art student of the same university. Back to his home, Soi Dao (Aranya Namwong) is waiting for Nat. Later Nat ends up drinking expensive alcohol with another young lady called Yu (Sasima Singsiri). Nat has no money so is being entertained by ladies. Yu is drunk and Nat brings her home but June (Piathip Kumwong) has time to recognize him. Nat sees women as sexual objects and lies to each of them (เจ้าชู้). He goes from Soi Dao to Yu. Soi Dao is finally pregnant (ลูกเศรษฐี). Soi's father is played by Sor Asanajinda and Soi's mother is played by Juree Osiri. They are concerned about their family name and they don't want Soi Dao to marry anybody. Soi Dao wishes to go abroad as Nat doesn't show interest anymore. Nat is not sure if Naiyana loves him as she is aware of his butterfly activities. Playing a game with another man, Soi Dao arouses Nat to get back his interest through jealousy. The left sequence ends up here. In 1975, this movie makes a lot of noise because of some daring scenes (หนังโป๊ๆ เปลือยๆ).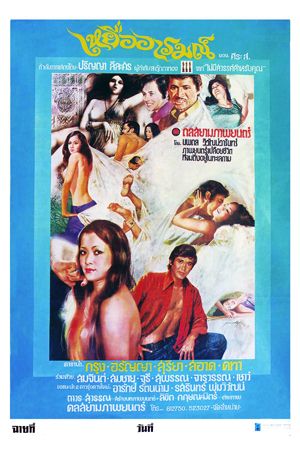 Year

: 1975



Thai title

:

เหยื่ออารมณ์




English title

:



Rating

: 3/5


Director

:



Main actor

: Krung Srivilai,Suriya Chinaphan,Sahat Piempongsan,Chao Klaewklong,Somjin Thammatat,Somchai Samipak


Main actress

: Aranya Namwong,Juree Osiri
Thai movie เหยื่ออารมณ์ (victim of lust) was released in year 1975. Main actors and actresses include Krung Srivilai, Aranya Namwong, Suriya Chinaphan, Sahat Piempongsan, Juree Osiri, Chao Klaewklong, สานต์ คฑา อภัยวงศ์, Somjin Thammatat, Somchai Samipak, สุพรรณ บูรณะพิมพ์, จารุวรรณ ปัญโญภาส. Movie director is ปริญญา ลีละศร. The film is lost in Thailand but a sequence in 35mm format can still be seen. The picture is very damaged and reddish. It lasts ten minutes. During the remaining sequence, misunderstandings occur between Krung and Euay (Aranya). Krung believes Tawan (Suriya Chinaphan) is having an affair with Euay, his girlfriend. Tawan denies and he is just worried about Euay. Euay is having an affair with Sahat Piempongsan. She has a fight with him and gets beaten. Juree Osiri is playing Euay's mother and Chao Klaewklong is playing Euay's father. Euay decides to marry a US soldier as he won't known her past. Euay is in mood after reading an erotic magazine. Thai movies between 1973 and 1976 enjoyed a high freedom and featured themes (lust, pleasure...) that were never seen before in Thai movies.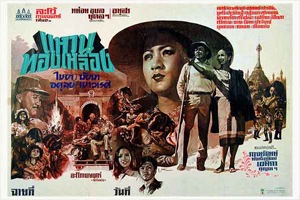 Year

: 1973



Thai title

:

แหวนทองเหลือง




English title

:



Rating

: 4/5


Director

: พระเจ้าวรวงศ์เธอ พระองค์เจ้าอนุสรมงคลการ



Main actor

: Chaiya Suriyun,Adul Dulyarat,Chao Klaewklong,Sukon Koewliam,Sompol Kongsuwan


Main actress

: Naiyana Shewanan,Yaowaret Nisakorn,Marasri Isarangkul,Juree Osiri,Chosri Misommon,Chadaporn Wachirapranee
Thai movie แหวนทองเหลือง was released in year 1973 and lasts 2h56mn. The movie was never released on VCD / DVD formats but was shown on Thai TV cable. Director is Thai prince พระเจ้าวรวงศ์เธอ พระองค์เจ้าอนุสรมงคลการ. The production of this movie last almost 2 years. Many actors and actresses are featured in this movie, i.e. Chaiya Suriyun, Naiyana Shewanan, Adul Dulyarat, Yaowaret Nisakorn, Chao Klaewklong, Marasri Isarangkul, Juree Osiri, Sukon Koewliam, เมืองเริง ปัทมินทร์, Sompol Kongsuwan, เสถียร ธรรมเจริญ, Chosri Misommon, ภาณุวัฒน์ มังคลารัตน์, เขมิกา กุญชร ณ อยุธยา, Chadaporn Wachirapranee. In North of Thailand, Sai Kam (Chosri Misommon) and her young sister Duang Jai (Naiyana Shewanan) are domestic helpers in a beautiful mansion. Krissada (Chaiya Suriyun) (คุณผู้ชาย) is the owner. The subdistrict headman Prem (Chao Klaewklong) is Duang's father. Uuan (Juree Osiri) and Noi (Marasri Isarangkul) dream to marry Krissada. Krissada is gone to visit waterfalls with Duang. A snake bites Krissada and Duang Jai saves him. A romance starts, and a wedding promise happens. Krissada gives a ring to Duang Jai. Krissada has to leave urgently to Bangkok after receiving a telegraph. Sukon Koewliam loses Krissada's letter he was supposed to give to Duang Jai. Duang Jai stays in a relative home to hide her pregnancy. Finally, Prem discovers that his daughter Duang Jai is pregnant. To hide his shame, the father plans to marry Duang as soon as possible. Prem wants to hide that Krissada is the father as he doesn't believe Duang Jai is telling the truth. As he owns a lot to Krissada's father, he nevertheless refuses to damage Krissada's honor. Sai Kam and Duang are enchained but Duang succeeds to flee. She tries to go to Bangkok but has no money, so she walks by following the railway tracks to Bangkok! Railway workers and doctor Metta (Adul Dulyarat) find her. She is about to deliver. A daughter is born. It is war time, so Bangkok is not a good place to stay. Doctor Metta proposes to send her. During two years, Duang Jai is looking for Krissada's house in Bangkok. She finally finds it. Sukon tells her Krissada's story. Krissada has disappeared. Metta asks her to decide about her future but Duang Jai refuses to marry him per her promise to Krissada. Chadaporn Wachirapranee is playing a brothel owner. Duangjai is working there as she needs money to survive. Bombs destroy the brothel house and her friends are killed. A Japanese officer helps her. As she has nowhere to go, being a ผู้หญิงชัว, he proposes her to be his domestic helper and wife (เมีย). The war is going to be finished soon. The Japanese officer promises to keep sending money to her. He dies on the way to Japan. Duangjai needs to resume being a prostitute (โสเภณี). The house owner wishes to expel Duang Jai and Taew as they cannot pay the rent anymore. The Japanese officer helped the owner during war, but gratitude is useless according to the house owner! Duang Jai and Taew find gold hidden under the carpet. Many years passed. Taew (Yaowaret Nisakorn) and Duangjai have set up their own company. Duangjai has a new name, i.e. เศรษฐีโสเภณี. Taew recommends her to look for her lost daughter and to look for happiness. Duang Jai meets Krissada again as her car hits a passerby. He has become a beggar. His father had many debts. Krissada was part of Seri Thai (resistance to Japanese invaders) but had chosen the wrong boss so had to flee to Laos. Duangjai proposes to help. She doesn't dare to tell who she is. Thai newspapers start to give bad rumours about her previous status as prostitute (ปากเสีย). Nattaya, one of the employees, is a drug addict (ติดยา). Krissada proposes to help. Nattaya has difficulties to get rid of drugs. She succeeds to flee from Krissada's home. She is then kidnapped as ruffians want to get money from Duang Jai and Taew. Krissada helps. During fightings with ruffians, Phi Taew is shot and wishes Duang Jai to disclose the truth but Duang Jai still has concerns about her past (ชีวิตโสเภณีมีค่าเพราะว่าเงิน). Nattaya announces to Duangjai that she is going to marry with Krissada. Duangjai tries to break the relationship but Nattaya refuses. Finally, Duangjai asks to be with Krissada a few hours. She wears Northern clothes again. Krissada is not able to link Duang Jai and Aitit, Duang Jai new name. Duangjai leaves and gives a gift for the wedding. The gift is the ring given twenty years ago. Finally doctor Metta is able to explain that Nattaya is Duangjai's daughter and so Krissada's daughter so a wedding cannot happen. Now it is Krissada turn to look for Duang Jai...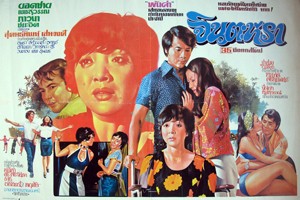 Year

: 1973



Thai title

:

จินตะหรา




English title

:



Rating

: 4/5


Director

: Phan Kam



Main actor

: Yodchai Meksuwan,Choomporn Theppitak,Adul Dulyarat,Preuhat Boonlong


Main actress

: Pawana Chanajit,Amara Asavananda,Marasri Bangchang,Juree Osiri
Thai movie จินตะหรา was released in year 1973 and lasts 1h50mn. It was released under VHS format. Movie director is Phan Kam. It is a romance drama (หนังชีวิตรัก). Montree (Yodchai Meksuwan) is a famous sport student in the university. Kesa (Choomporn Theppitak) introduces him to sexy lady Kha (อภิญญา วีระขจร). Basaba (สุคนธ์ทิพย์ เสนะวงศ์) and Jintara (Pawana Chanajit) are close friends and are joking about Montree. Kha makes Montree drinks a lot. Montree flees before sleeping with her making her very upset. Busaba's father and Jintara's mother have decided to marry. This is a new wedding for the parents (Amara Asavananda and Adul Dulyarat). The grandfather (Preuhat Boonlong) hopes to have a grandson (หลาน) so that his son's life is useful (เสียชาติเกิด)! Busaba and Jintara become half-sisters but from different father and mother! Jealousy often occurs between the two sisters as Jintara likes to have or to use everything that Busaba has. Busaba has interests in Montree. Jintara hides to read playboy. Jintara starts to be jealous to see Busaba and Montree together. Jintara tries to take Montree away from Busaba. Montree is confused. The grandfather wants a son to keep the family lineage. He pushes his son to take a minor wife as the new wife is still not pregnant. Jintara is blamed by her mother as she keeps having bad behavior, i.e. เอาแต่ใจตัวเอง. Jintara collapses (เป็นลม) due to big headache. A doctor finds she has a brain cancer. She has only six months to live. She changes her behavior and becomes a nice person (ความหวังดี). She tries to reunite Montree and Busaba but it fails. In order to push back Montree to Busaba, she stops showing interest to Montree and simulates to be interested in another student called Asawin. Fighting occurs between Asawin and Montree. Montree is injured. Montree's mother, Juree Osiri, complains that Jintara brings troubles to her son (ลูกไม่รักดี). Jintara's mother is finally pregnant. Montree wishes to know the truth behind Jintara's behavior change. Jintara's health is getting worse. Her mother is about to deliver and Jintara has still to perform the school theater performance for orphelin children. Her theater performance becomes similar to her real life as she collapses during the last scene (ฉากสุดท้าย). The new child is a daughter and is named Jintara as the first Jintara is leaving this world… Jintara makes Montree and Busaba promise to love each other.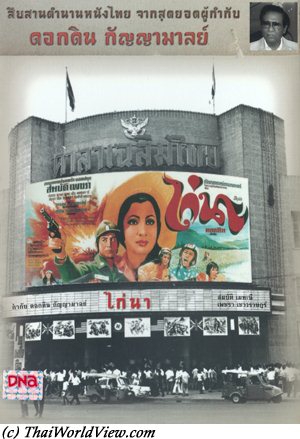 Year

: 1971



Thai title

:

ไก่นา




English title

:



Rating

: 3/5


Director

: Dokdin Kanyaman



Main actor

: Sombat Methanee,Sawin Sawangrat,Prachuap Ruekyamdee,Choomporn Theppitak,Dokdin Kanyaman


Main actress

: Petchara Chaowarat,Orasa Isarangkul,Juree Osiri,Khomapat Attaya,Chadaporn Wachirapranee
Thai movie ไก่นา was released in year 1971 and lasts 2h15mn. The movie was released under DVD format by company Happy Home Entertainment. The DVD features a red picture as the film found was very old. The movie is directed by Dokdin Kanyaman. Jae (Dokdin Kanyaman) and Kai Na (Petchara Chaowarat) sell goods but have issues with policeman Tawan (Sombat Methanee) currently chasing ruffians. Kai Na is a former nurse. She helps an injured man called Chat (Sawin Sawangrat), who claims he was chased by ruffians. After recovery, he flees away and leaves a letter behind. Kai Na brings the letter to the recipient in Bangkok. She meets Mae Nuan (Juree Osiri) and her domestic helper Orasa Isarangkul. The husband Prachuap Ruekyamdee wishes to know where Chat is located now. Prachuap is Chat's old friend. Mae Praem has 20 000 baht debt with Chadaporn Wachirapranee. Her daughter Pan is played by Khomapat Attaya and her bodyguard is Choomporn Theppitak. Prachuap helps Mae Praem with her debt. Prachuap wishes Kai Na to marry his son per Chat's request. Prachupap's son is Tawan! Kai Na accepts as she feels indebted to Prachuap's kindness. As Tawan refuses to marry an unknown lady, he convinces his brother Teewa (จีระศักดิ์ ปิ่นสุวรรณ) to marry her. He secretly loves Kai Na. During the wedding ceremony, Tawan realises that the bride is Kai Na herself! He keeps drinking alcohol to forget his mistake. Teewa was promised to Pan already so her family brings a mess during the wedding party. Pan is already pregnant with Teewa. Teewa announces the news to Kai Na and cancels the wedding. Tawan meets finally Chat, who had been chased by weapons traffickers. Tawan has to go at the Thai border in the North of Thailand. Government official announced that Tawan has disappeared in the forest. To forget her pain, Kai Na and others decide to go helping hill tribes. They give medicine, food and also King / Queen images to them. Teewa is hiding in the mountains as a hill tribe villager as he is chasing some weapons traffickers. Two small parts of the movie are in damaged state and are in fact former songs filmed in 35mm format. In 1960s, movies were shot in 16mm format and had to be dubbed. Songs were shot in 35mm format to have image and sound together. The original movie included 7 songs but only 2 are left. The traffickers storm the hospital where Kai Na is working. The movie ends up happily as Tawan defeats the ruffians. Choomporn is shot. While being in the mountain, Tawan got another wife (a sexy actress - ดาวยั่ว - as usual in Dokdin's movies). Other actors and actresses are พงษ์ลดา พิมลพรรณ, ธัญญา ธัญญรักษ์, สิงห์ มิลินทราศัย, ดลนภา โสภี. Dokdin Kanyaman's movies always include many different tastes (action, romance, comic, a bit of light erotism) in order to please the whole family.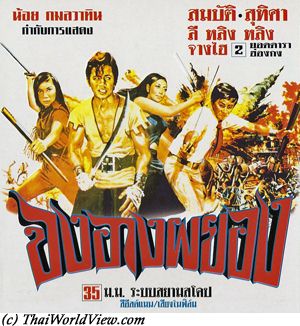 Year

: 1971



Thai title

:

จงอางผยอง




English title

:



Rating

: 4/5


Director

:



Main actor

: Sombat Methanee,Prachuap Ruekyamdee,Songthong


Main actress

: Suthisa Putnuch,Juree Osiri



Buy now

:

A Thai Chinese community is celebrating Chinese New Year (ตรุษจีน) though dances (รำ) and songs. Even Songthong is singing a few songs before being killed as suddenly the village is attacked. Hin is the leader of the pirates (โจร) who attack the village. Many villagers are captured or killed. Four children, two boys (Phet, Chiang Ho) and two girls (Kae, Lilin), promise to revenge their parents and punish Hin. The kids get separated. Fifteen years have passed. Seua and Kae love each other but their love is endangered as it is discovered Seua is Koeb's son. Koeb has cut Kae's mother arm during the village attack fifteen years ago. Their love becomes impossible. Back home Kae finds her mother dead. Chiang Ho and Lilin are back from China and ready for revenge. They meet Kae and look for Phet, the last friend. Phet has been raised by Hin and is called Praew. Hin, following the fall of Ayutthaya, has become lord of the province. The three friends attack directly Hin's fort but are defeated as Phet supports Hin, the pirate leader, and is now a traitor (ทรยศ). The two girls are captured as Seua also betrays Kae. Seua is the one who killed Kae's mother. Phet had to lie and simulates as he is an Ayuthaya soldier (งานของแผ่นดิน). He loves the king and the kingdom. Hin is making an alliance with Burma to sell canons (โจรขายชาติ). Phet's double game is disclosed. He is captured by Hin and his fingers are broken to prevent any fighting. Hopefully Chiang Ho can help and they flee from the fort. Lin takes care (รักษาพยาบาล) of Phet. They ask support from their old teacher but he refuses to believe that Hin is a traitor. Finally faced to the truth he decides to help. Surpassing the pain, Phet fights for the kingdom (ช่วยแผ่นดิน). Elephants are used to defeat Hin's soldiers. Despite being outnumbered, the fierce Siamese soldiers succeed to defeat the traitors and Burmese soldiers in order to save the King. Many sword fights and kung fu / Thai boxing fights typical from 1970s Hong Kong movies are featured. The King's face cannot be seen but Thai royal music is played to indicate his presence. This movie is really typical from years 1970s when patriotic movies were shot due to the communist threats at the Thai borders. The movie features two Hong Kong movies stars. It takes two years to shoot the complete movie. It was an expensive movie to make as real soldiers were used, a fort has to be built along a mountain and then destroyed by explosives.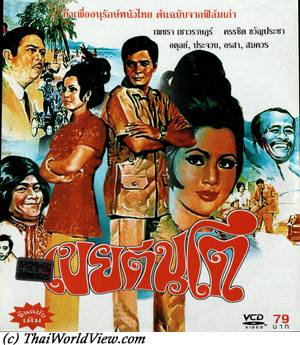 Year

: 1971



Thai title

:

เขยตีนโต




English title

:



Rating

: 3/5


Director

: Adul Dulyarat



Main actor

: Kanchit Kwanpracha,Prachuap Ruekyamdee,Lor Tok,Somkuan Krajangsat,Sukon Koewliam,Adul Dulyarat,Somchai Samipak


Main actress

: Petchara Chaowarat,Orasa Isarangkul,Prim Praphaporn,Metta Roongrat,Juree Osiri,Srisala Thongtara



Buy now

:

Kamnan Noon (Kanchit Kwanpracha) and Krok (Prachuap Ruekyamdee) (พี่ชายต่างประเทศ) are visiting a rich people house. They are welcomed by Lomjai (Petchara Chaowarat) and Iten (Orasa Isarangkul) as domestic helper. Krok comes back after 20 years in his family. He is a lost uncle's son. The uncle has disappeared 20 years ago. Despite having a letter to prove his identity, Krok is not accepted in Thao Thong lineage (ตระกูล) by the father Lom (Somkuan Krajangsat) as Krok doesn't have big feet seen as a family sign. Other family members are Srisala Thongtara (ศรีสละ ทองธารา), Juree Osiri, Prim Praphaporn. Lomjai flees and brings Krok and Noon to meet another family member who is policeman in Chumphon province. Noon and Krok get arrested and accused of kidnapping Lomjai. Noon's father gives guarantee to have them released from jail. Lomjai proposes to marry Noon to avoid him being sued by his father Lom. Neng, Sister of Noon, is played by Metta Roongrat. Noon helps Lomjai's father aggressed by ruffians. A parallel romance is starting between Neng and Lomjai's brother. Lom asks for proper traditions but once Lomjai is back to Bangkok, the wedding is cancelled. Lomjai cannot exit from home. Iten tries to help her to flee but to no avail. Krok becomes India airlines manager (ผู้จัดการ) thanks to his uncle to show to Lom his worthiness. Lom rejected Krok as he didn't want to share heritage with additional family members. Utit (Adul Dulyarat), Lom's brother, is back after recovering his memory. Lom tried to get rid of him twenty years ago. Lom's father (Lor Tok) asks him to surrender to police. Cornered, Lom kidnaps his own father and Lomjai. He finally gets arrested by the police. The movie ends up happily. This romantic drama comedy is based on family rivalry regarding heritage.The movie เขยตีนโต was released in year 1971 but it only lasts 1h23mn as some parts of the movie are missing so the story sometimes suddenly jumps from one sequence to another. The image is of bad quality and is not sharp but the movie has historical value as one of the first movies with Kanchit Kwanpracha replacing Mitr Chaibancha as main actor following Mitr premature tragic death. The poster mentions 7 songs (unfortunately cut and not available on the VCD) and 22 stars present in this movie.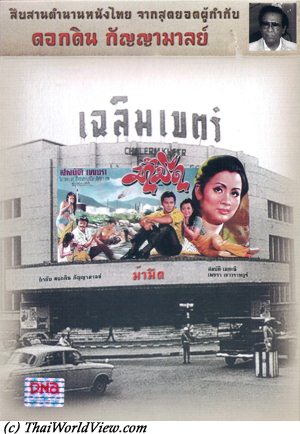 Year

: 1970



Thai title

:

ม้ามืด




English title

:



Rating

: 3/5


Director

: Dokdin Kanyaman



Main actor

: Sombat Methanee,Sawin Sawangrat,Prachuap Ruekyamdee,Choomporn Theppitak,Dokdin Kanyaman,Lor Tok,Rujira Isarangkul


Main actress

: Petchara Chaowarat,Orasa Isarangkul,Wilaiwan Watthanaphanit,Juree Osiri,Khomapat Attaya,Chadaporn Wachirapranee
Thai movie ม้ามืด was released in year 1970. The movie lasts 2h35mn. It is former 16mm format film featuring three songs in 35mm format. Robbers (โจร) are chasing a caravan driven by Kaew (Sawin Sawangrat). Kaew lets a lady called Raya (Wilaiwan Watthanaphanit) to go down first with two young children. Sawin and Raya's husband die later as the caravan falls in a ravine causing a forest fire. During the fire, one of the children disappears (หลานสาว). Sai (Juree Osiri), the husband's mother, accuses Raya to be responsible of those deaths. Prachuap Ruekyamdee, one of the villagers, finally takes care of Raya and her remaining son. Years have passed. The son Chaichan is now an adult and played by Sombat Methanee. He is back from overseas and is supposed to marry but the fiancee Taem Duang changes her mind. He needs to find a solution to avoid his parents losing face (ขายหน้า) in front of the villagers. He helps Meut, a young girl, agressed by ruffians. As a reward for his help, he asks to marry her temporary. The district officer performing the wedding is played by Lor Tok. Keng (Orasa Isarangkul) is Meut (Petchara Chaowarat)'s friend. After the wedding, Meut flees with Keng. In a village, they meet a crazy man who looks like Kaew. They meet also Dokdin Kanyaman. In fact, Meut and Keng have come here to look for petrol. Meanwhile Taem Duang (Khomapat Attaya) and her mother Rasee (Chadaporn Wachirapranee) are gossiping (นินทา) on Chaichan as they believe he was a fake rich guy from countryside. Meut was in fact adopted by Rasee's old husband. Meut wishes to buy a plot of land belonging to Prachuap as it contains petrol. Once Prachuap knows Meut has married his son through a fake wedding, he refuses to sell the land anymore (เขตป่าไม้). Choomporn Theppitak is used by Rasee to perform dirty jobs. Knowing that Meut failed to buy the land, Rasee wants to use her daughter's charms towards Chaichan. Meut recalls from an old grandma that she was brought by her to a rich family when she was young. Chaichan try to stop ruffians led by Choomporn burning the forest (ไฟไม้ป่า). Kaew helps him but gets beaten on the head. His memory is back. Prachuap revels that Kaew is real father of Chaichan, his former associate. Father and son are back together. Bua, a local villager, is pushed by Choomporn and Rasee as granddaughter in order to get heritage but it fails. Finally Rasee, who ordered kidnapping of Meut, shows her real face and tries to force her older husband to transfer heritage to her. Meut and Chaichan stop her on time. It is revealed that Meut is Raya's lost daughter. Meut and Chaichan can now find happiness.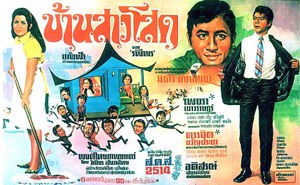 Year

: 1970



Thai title

:

บ้านสาวโสด




English title

:



Rating

: 3/5


Director

: Adul Dulyarat



Main actor

: Mitr Chaibancha,Kanchit Kwanpracha,Adul Dulyarat,Somkuan Krajangsat,Sukon Koewliam,Lor Tok,Prachuap Ruekyamdee


Main actress

: Petchara Chaowarat,Metta Roongrat,Prim Praphaporn,Juree Osiri,Orasa Isarangkul,Jomchai Jarintorn,Marasri Bangchang
บ้านสาวโสด is a Thai movie released in year 1970. It features Kanchit Kwanpracha as main actor and Petchara Chaowarat as main actress. The movie was started with Mitr Chaibancha but it was incomplete due to his premature death. So the main actor was replaced by Kanchit. Another version with Toon Hiransap and Piyamas Monayakol was released in year 1984. In 1970 Mitr Chaibancha worked in many movies in parallel. So some movies still kept one or two sequences of Mitr at the beginning of the reel as additional advertisement for the movie. Around 1 hour 30 minutes is left to be seen. Three single ladies (Metta Roongrat, Prim Praphaporn, Juree Osiri) are living together. Petchara arrives in their home. She is doing chores. Their neighbour is Kanchit Kwanpracha. Other actors are Somkuan Krajangsat, Prachuap Ruekyamdee, Orasa Isarangkul, Adul Dulyarat, Sukon Koewliam, Lor Tok, Jomchai Jarintorn. Kanchit likes Petchara very much. Funny sequences happen on beach seaside between Sukon Koewliam and Prim Praphaporn. Misunderstanding keeps happening between Kanchit and Petchara as other ladies try to seduce Kanchit. It seems that Petchara will marry Prachuap as she is disappointed by Kanchit. Finally kidnappers enter in Petchara's home but they are chased away by Kanchit and captured by Adul Dulyarat and Orasa Isarangkul. Outside the home kidnappers are there again and threaten to shoot Kanchit. Petchara stand between Kanchit and the ruffians to prevent any shootings showing her real love towards Kanchit. In fact kidnappers are this time Adul and Osara playing this trick to force their reconciliation. Six songs are featured. There are still old still pictures showing Mitr playing movie บ้านสาวโสด and the movie poster is also showing his name.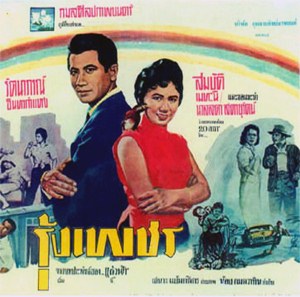 Year

: 1961



Thai title

:

รุ้งเพชร




English title

:



Rating

: 3/5


Director

:



Main actor

: Sombat Methanee,Preuhat Boonlong,Adinan Singhiran


Main actress

: Ratanaporn Intarakamhaeng,Juree Osiri,Sarinthip Siriwan,Mom Chan Phuangwan
This movie รุ้งเพชร was shot in 1961. Main actors are Sombat Methanee and Ratanaporn Intarakamhaeng. It was Sombat Methanee's first movie (พระเอกใหม่). It was first opportunity for Sombat as a handsome young and muscular leading actor. Sombat was 4 to 5 years younger than the leading actress. This 16mm version is partially lost and only 48 minutes are still left to be seen. The film has no sound as all 16mm movies were dubbed. Rung's best close friend is a bird "NOK IENG" (นกเอี้ยง) sitting on her shoulder. As often in old Thai movies, bad female characters are depicted as smoking girls. Another version, a 35mm film, was shot in 1980 with Sorapong Chatree, Sor Asanajinda, Settha Sirachaya as actors and Nanthida Kaewbuasai, Pissamai Wilaisak, Piathip Kumwong, Thitima Sangkapitak, Nantada Ngaokrajang as actresses. A few sequences can be seen in both movies such as fruit throwing on Sombat's head, Sombat as a teacher to a stubborn student, Sombat looking for Rung who has fled from home. A nice old Renault 1960 is driven by Sombat. Some sequences only happen in 1961 version such as a romantic sequence in a cave, Sombat doing unsuccessful iron clothing and cooking food. The 1961 version still has a quite colorful image.
---