Increase or decrease font size for easier reading : A+ A-
Jomchai Jarintorn
Jomchai Jarintorn (19xx) - จอมใจ จรินทร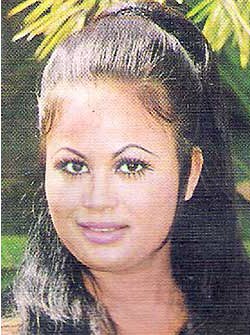 Jomchai Jarintorn has played in around 26 movies. Her first movie was ดิน น้ำ ลมไ ฟ (1969). Jomchai Jarintorn played the bad girl (ดาวโป๊ ดาวยั่ว)
This Jomchai Jarintorn movie page contains 5 records.
---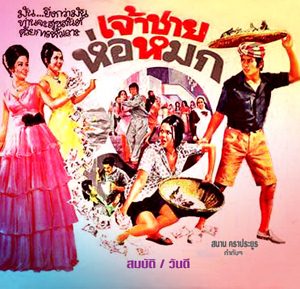 Year

: 1974



Thai title

:

เจ้าชายห่อหมก




English title

: Curried fish prince



Rating

: 3/5


Director

:



Main actor

: Sombat Methanee,Thuam Thoranong


Main actress

: Wandee Sritrang,Khomapat Attaya,Jomchai Jarintorn,Viphavadi Triyakul,Chosri Misommon,Malee Wetpraseri,Metta Roongrat
Thai movie เจ้าชายห่อหมก (Curried fish prince) was released in year 1973. The movie was never released in Thailand under VHS or VCD format. Nevertheless the 35mm film was recorded by a collector and lasts 2h08mn. Chosri Misommon is playing a domestic helper. Mom Pa is waiting for her lost son, Kinarin, who had gone to study abroad and didn't send any news for years. Many years passed and she is getting severely sick. To please her and to speed up her recovery, Metta announces that her son is coming back very soon so she has to organize an event (งานต้อนรับ). The father (Thuam Thoranong) and Metta Roongrat have idea to find a man with a similar face in order to please Mom Pa. The father remembers to have seen such man (พ่อค่า) in Ayutthaya selling curried fish (ห่อหมก). His name is Cheui (Sombat Methanee). His sister, Khomapat Attaya, is also playing a market merchant (แม่ค่า). The grandmother is played by Malee Wetpraseri. Cheui accepts under the pressure of his sister wishing to change her life. He has to learn with moult difficulty good manners from high society (สังคมผู้ดี). Cheui disappears the day before as being caught by a former girlfriend. Seeing her son again, Mom Pa recovers. Mom Pa wishes her son to marry Kantima (Wandee Sritrang). Kantima is upset with Cheui as he is playing too well his role and she refuses to sacrifice herself as she is part of those who paid to hire Cheui. She knows he is coming from a low background (คนจร) so he should behave and not try to abuse about his position of being the fiancé. Real Kinarin (also played by Sombat Methanee) is back but he lost his arm due to airplane accident. Cheui's self declared girlfriend tries to bring a mess but it fails. Cheui is back home as his seven days contract is over. Kinarin, seeing that his mum is happy and Kantima loving Cheui, decides to go back to England to let others having happiness. The rich family still needs Cheui so they use his mother Malee Wetpraseri to convince him again. Kinarin will go back to England and needs Cheui to replace him. Metta is going to England with Kinarin (ท่านพี่). Finally Cheui and Kantima marry. In this romantic comedy movie actor, Sombat Methanee is playing two roles, i.e. Cheui and Kinarin.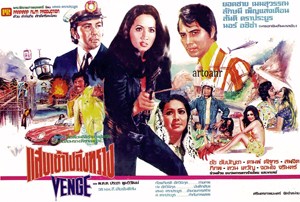 Year

: 1974



Thai title

:

แสบเข้าไปถึงทรวง




English title

: Vengeance



Rating

: 3/5


Director

:



Main actor

: Dam Datsakorn,Yodchai Meksuwan,Pipop Pupinyo


Main actress

: Lakshmi Pensaengdeuan,Somjit Sapsamruey,Jomchai Jarintorn
This 1974 movie "แสบเข้าไปถึงทรวง" is lost in Thailand but is still available in Malaysia under the title "Dendam Perawan" / "Vengeance" as it features a Thai Malaysian actress (Lakshmi Pensaengdeuan - ลักษมี เพ็ญแสงเดือน). Summary might be a bit inaccurate as the movie is dubbed in Malaysian only. Yodchai (Yodchai Meksuwan) is fiancee together with a young Malaysian lady called Ning. Dam (Dam Datsakorn) sees the jewels offered as gifts. Dam, being the fiancee's sister, decides to rob the jewels and kills the middle age lady to succeed. A little boy sees him but he is thrown across the stairs. The mother has time to write the murderer name with her blood. Ning does her enquiry inside Bangkok low cost hotels to find Dam. She is able to drive fast car, knock out ruffians and throw knife. She finds Dam's house but he is not here. Fighting happens with ruffians but Yodchai comes to help on time. Ning goes to Malaysia to continue the investigation. Her friend is a pilot and loves her secretly. Dam is aware that Ning is looking for him. The pilot finally starts a romance with another Malaysian lady. Dam's ruffians try to stop her. They get beaten one by one! Finally they find Dam's secret home. Following violent fighting, Ning and Yodchai are defeated. Ning is put in Dam's car trunk. The pilot and Yodchai still follow them to prevent Dam escaping by helicopter. Ning defeats herself Dam and refuses to give him any chance opting for self justice. Unfortunately her friend, the pilot, has died during the fighting. This movie is mainly shot in Malaysia. The actress Lakshmi has the main role. Thai veteran actor Yodchai Meksuwan has a second role. The movie features great views of Kuala Lumpur with old buildings and old mosques. The movie features a few famous Malaysian actors, i.e. Noor Azizah, S. Roomai Noor, Karim Siraj.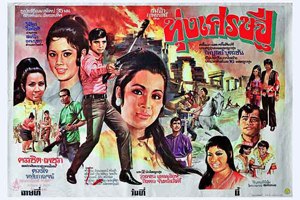 Year

: 1971



Thai title

:

ทุ่งเศรษฐี




English title

:



Rating

: 4/5


Director

:



Main actor

: Kanchit Kwanpracha,Taksin Jampol,Phan Kam,Rujira Isarangkul,Tat Ekathat,Pan Borapet,Adinan Singhiran,Pramin Jarujareet


Main actress

: Petchara Chaowarat,Ratanaporn Intarakamhaeng,Sisala Thongtara,Jomchai Jarintorn
Thai movie ทุ่งเศรษฐี was released in year 1971 and lasts 2h46mn. It was never released under VHS, VCD or DVD but an unofficial version can be found as a collector made a copy of the film, found in 16mm format with soundtrack. This unofficial VHS version features a very damaged black and white image with many vertical lines and distorted sound as the remaining film was projected very often. It is even more damaged than Thai movie มนต์รักลูกทุ่ง. Main actors and actresses are Kanchit Kwanpracha, Petchara Chaowarat, singer รุ่งเพชร แหลมสิงห์, singer กิ่งดาว จันทร์สวัสดิ์, Taksin Jampol, Ratanaporn Intarakamhaeng, Phan Kam, Rujira Isarangkul, สีเผือก, ศรีสุริยา, เทิ่ง สติเฟื่อง, Tat Ekathat, Pan Borapet, Adinan Singhiran, Pramin Jarujareet. 16 songs are featured. Thai movie ทุ่งเศรษฐี is a musical movie (หนังเพลง). The most famous song is ขนมจีนน้ำยา. Subdistrict headman and ruffians' leader Pongdin (Tat Ekathat) is asking lady Molee's hand. She is the village leader Chiaw's (Rujira Isarangkul) daughter. Cherm (Taksin Jampol), armed with swords, pushes back the wedding procession led by Pongdin. Molee (Ratanaporn Intarakamhaeng) succeeds to escape with her boyfriend Pong (Phan Kam). Cherm jumps on a horse and flees also before being overwhelmed. Molee lives with Pong and their child but remains concerned that Pongdin will find them one day. Adinan Singhiran and Pramin Jarujareet succeed to find them but Pong refuses to flee in front of Pongdin again. He is finally killed. Pong's house is burnt. Molee and her child Prai have to flee to Bangkok. Cherm decides to stay in a Buddhist temple. Twenty years have passed. Prai (Kanchit Kwanpracha) and Rung Phet are selling vinyl records during temple fairs. Kwan Dao (Petchara Chaowarat) is visiting the fair also. Prai falls in love with Kwan Dao. He sings romantic song for her. Prai and his friends get beaten by ruffians (including Pan Borapet) because they talked to the daughters of ruffians' leader Pongdin. Pongdin has a wedding plan for his daughter even she doesn't know or love her future husband. Kwan Dao doesn't want to marry a ruffian (นักเลง). Prai with Rung Phet's help are looking for Cherm and Chiaw. While paying respect to an old pagoda, Prai and his friends visit a small wooden house. They are attacked by Borapet and his ruffians. Ruffians are pushed back. They discover that the man meditating in the house is uncle Cherm! Cherm brings them to meet former village leader Chiaw's (Rujira Isarangkul), who is Prai's grandfather! He is now subdistrict headman (กำนัน). Prai is still looking for his father. He doesn't know if his father is still alive or not. Thai boxing matches are organised in the village for the annual festival. It starts with a dwarf match. Next match features Adinan versus Prai. Kwan Dao needs to give the winning reward. Prai defeats Pongdin's champion. It ends up by a lady match. Pongdin accepts them as 'children'. Romance songs occur between Prai and Kwan Dao, male singer (รุ่งเพชร แหลมสิงห์) and female singer (กิ่งดาว จันทร์สวัสดิ์). Face to face occurs between Pongdin, uncle Cherm and Prai. Prai is still looking who killed his father. Both of them are beaten and captured by Pongdin's ruffians. Friends ask for subdistrict headman Chiaw's help. Kwan Dao tries to release Prai and succeeds. Prai knows Pongdon killed his father so he needs to take revenge. Prai captures Pongdin and wishes to torture him on a pyre like he tortured his father (รับกรรม). Molee and Cherm tries to convince him not to kill Pongdin. No more sins shall happen. Seeing his mother collapsing makes Prai realises that he was wrong. Pongdin changes and recognizes his mistakes. Thung Sethi (ทุ่งเศรษฐี) area will have happiness.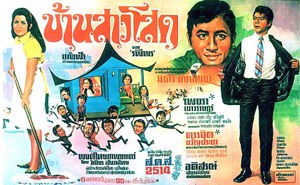 Year

: 1970



Thai title

:

บ้านสาวโสด




English title

:



Rating

: 3/5


Director

: Adul Dulyarat



Main actor

: Mitr Chaibancha,Kanchit Kwanpracha,Adul Dulyarat,Somkuan Krajangsat,Sukon Koewliam,Lor Tok,Prachuap Ruekyamdee


Main actress

: Petchara Chaowarat,Metta Roongrat,Prim Praphaporn,Juree Osiri,Orasa Isarangkul,Jomchai Jarintorn,Marasri Bangchang
บ้านสาวโสด is a Thai movie released in year 1970. It features Kanchit Kwanpracha as main actor and Petchara Chaowarat as main actress. The movie was started with Mitr Chaibancha but it was incomplete due to his premature death. So the main actor was replaced by Kanchit. Another version with Toon Hiransap and Piyamas Monayakol was released in year 1984. In 1970 Mitr Chaibancha worked in many movies in parallel. So some movies still kept one or two sequences of Mitr at the beginning of the reel as additional advertisement for the movie. Around 1 hour 30 minutes is left to be seen. Three single ladies (Metta Roongrat, Prim Praphaporn, Juree Osiri) are living together. Petchara arrives in their home. She is doing chores. Their neighbour is Kanchit Kwanpracha. Other actors are Somkuan Krajangsat, Prachuap Ruekyamdee, Orasa Isarangkul, Adul Dulyarat, Sukon Koewliam, Lor Tok, Jomchai Jarintorn. Kanchit likes Petchara very much. Funny sequences happen on beach seaside between Sukon Koewliam and Prim Praphaporn. Misunderstanding keeps happening between Kanchit and Petchara as other ladies try to seduce Kanchit. It seems that Petchara will marry Prachuap as she is disappointed by Kanchit. Finally kidnappers enter in Petchara's home but they are chased away by Kanchit and captured by Adul Dulyarat and Orasa Isarangkul. Outside the home kidnappers are there again and threaten to shoot Kanchit. Petchara stand between Kanchit and the ruffians to prevent any shootings showing her real love towards Kanchit. In fact kidnappers are this time Adul and Osara playing this trick to force their reconciliation. Six songs are featured. There are still old still pictures showing Mitr playing movie บ้านสาวโสด and the movie poster is also showing his name.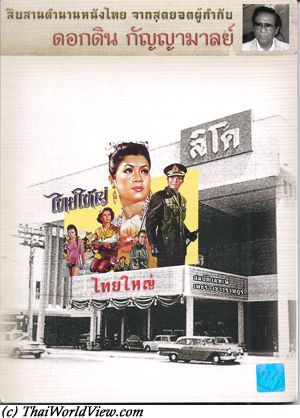 Year

: 1970



Thai title

:

ไทยใหญ่




English title

:



Rating

: 3/5


Director

: Dokdin Kanyaman



Main actor

: Sombat Methanee,Man Teeraphol,Dokdin Kanyaman,Choomporn Theppitak,Sawin Sawangrat,Adul Dulyarat


Main actress

: Petchara Chaowarat,Metta Roongrat,Chadaporn Wachirapranee,Jomchai Jarintorn



Buy now

:

Tanoi (Sombat Methanee) is a prince (ฟ้าชาย) living in a small kingdom at the Thai border. Some insurgents try to kill him. It is a putsch handled by Saenfa (Man Teeraphol). Tanoi has to flee by helicopter. Metta (Metta Roongrat), Koi (Petchara Chaowarat) and Tua (Dokdin Kanyaman) are three friends always together. As usual Metta and Dokdin are playing supporting roles (ตัวประกอบ) so bringing additional fun. The helicopter crashes but Tanoi has time to escape. Tua catches him in his fish net. Tanoi, despite being mistaken as a thief, finally becomes friend with Koi, Tua and Metta. A romance starts between Koi and Tanoi. Tanoi doesn't disclose his royal origin and is happy to stay in remote village (บ้านป้า). Yanee (Jomchai Jarintorn) through Choomporn (Choomporn Theppitak) wishes to buy Koi's land. Fond of Tanoi, she wishes to hire him but he refuses. Tanoi finally succeeds to contact his army thanks to the radio left in the helicopter. Choomporn is hired by Saenfa's team to catch Tanoi. The village becomes too dangerous for Tanoi so he leaves for Bangkok. Yanee and Koi have different mothers but same father, ie Sawin (Sawin Sawangrat). Yanee expulses Koi from her land. Koi, Tua and Metta go to Bangkok to live in the father's house but they are chased away by Chadaporn Wachirapranee. Aran (Adul Dulyarat) is protecting Tanoi. Per his advice, Tanoi has to wear a moustache and ignore his old friends to avoid any risk being identified by Saenfa. Koi, Tua and Metta identify him in a restaurant terrace but are disappointed when Tanoi claims he doesn't know them. Koi and his friends are sheltered by a nice lady, who in fact Tanoi's mother! Sawin makes alliance with Saenfa. Tanoi shall be captured or killed. During a dinner between Tanoi and Aran, Koi and his friends disguise to know more about Tanoi. Ruffians try to kill him. Yanee just puts sleeping medicine instead of poison as she loves secretly Tanoi. So Koi and his friends can rescue Tanoi on time. Yukol, Tanoi's younger brother, also loves Koi. In Mae Sai, Pa discloses to Koi that Tanoi is her son. Meanwhile Tanoi tries to regain power. Sawin is killed. Despite strong resistance, Saenfa's soldiers are defeated. Finally Tanoi marries Koi after a last minute suspense and misunderstanding as she believes she is not high ranking enough for a prince. The DVD is based on different sets of movie reels. The 16mm part is in very good condition and is still colorful. The movie features a few songs recorded in 35mm format but the damaged image is in red color only. But it is still original songs despite some cracking in the sound. Two movies were released by Dokdin Kanyaman, ie ไทยใหญ่ in 1970 and ไทยน้อย in 1969. For movie ไทยใหญ่ featuring Sombat Methanee hanging to a rope attached to a helicopter, extra precaution were taken to avoid same tragic accident as Mitr Chaibancha. As Mitr Chaibancha died, director Dokdin Kanyaman started to use Sombat Methanee as main favorite actor.
---