Increase or decrease font size for easier reading : A+ A-
Jesdaporn Pholdee
Jesdaporn Pholdee (1977) - เจษฎาภรณ์ ผลดี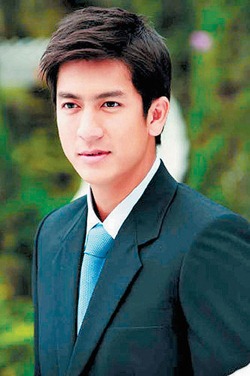 Jesdaporn Pholdee's first film role, starring in Dang Bireley's and Young Gangsters in 1997 won him widespread popularity
This Jesdaporn Pholdee movie page contains 9 records.
---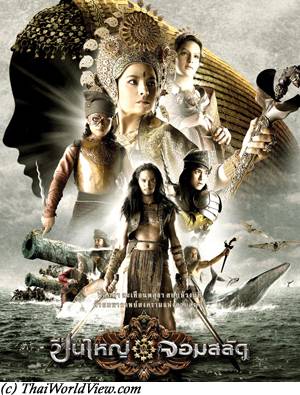 Year

: 2008



Thai title

:

ปืนใหญ่จอมสลัด




English title

: Queens of Langkasuka



Rating

: 3/5


Director

: Nonzee Nimitbut



Main actor

: Ananda Everingham,Jesdaporn Pholdee,Sorapong Chatree,Vinai Kraibutr


Main actress

: Jarunee Sooksawad



Buy now

:

Langkasuka is a small kingdom in South of thailand during Ayuthaya period. A Queen is managing the city as the King of Langkasuka was assassinated. The Queen is under threat as several assassination tentatives are performed. She wants her daughter to marry the Prince of Pahang to get more protection for Langkasuka city. Her daughter is not willing to marry the Prince of Pahang but finally accepts. Langkasuka is under threat and the Queen is looking for big cannons to protect the city. Pari is a young skilled man that has been trained since his chilhood in order to swim fast under the sea, to able to breathe under the sea and listen to noise under the sea. With local villagers, he has to often confront pirate boats. In their village a Chinese cannon expert is living. One day, all villagers are killed by Black Raven pirates who kidnap the Queen's daughters coming to convince the Chinese expert to make cannons for Langkasuka city. Pari, whose wife has been killed, follows the pirates and help to free the Queen's daughters. Pari and one daughter are separated from the group and then rescued by Master White Ray, who teachs him some black magic and to be able control sea creatures. The master has a white and black personalities. Black Raven pirates succeeds to make cannons and through an alliance with other local kings decide to take over Langkasuka. A Langkasuka soldiers team tries to destroy the cannons but fails. The Master, under his black personality, helps the pirates to retrieve a big cannon under the sea to destroy Langkasuka. Hopefully the intervention of Pari will be decisive during the battle.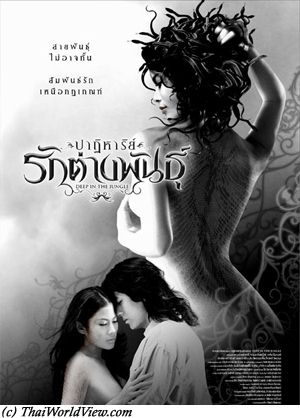 Year

: 2008



Thai title

:

ปาฏิหาริย์รักต่างพันธุ์




English title

: Deep in the Jungle



Rating

: 2/5


Director

:



Main actor

: Jesdaporn Pholdee


Main actress

:



Buy now

:

Nawin, an army secret service agent is protecting a young woman called Jin. She is chased by men from International forces lead by a felon guy. She is extracted from a Myanmar village and separated from her brother. Jin and her brother are undergoing a strange transformation within their body as her blood circulates through mutation. The International forces are after the young woman only. The felon guy claims they are not human, being a half breed mix between animal and human. Being followed up in Bangkok, Nawin helps her to escape the felon guy and its strong men. Nawin has pity for Jin and love emerges. He takes Jin back to her birth place. But the International forces found her again, destroy the village and kill all villagers. Finally both the brother and sister transform themselves into powerful giant snakes. They get rid of all bad soldiers and felon guy. Unfortunately Nawin cannot stay with her in the jungle.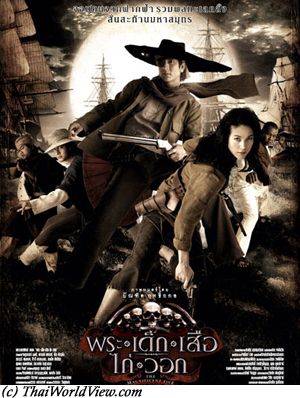 Year

: 2006



Thai title

:

พระ เสือ เด็ก ไก่ วอก




English title

: The Magnificent Five



Rating

: 3/5


Director

: Bandit Ritthakol



Main actor

: Jesdaporn Pholdee,Charoenporn Awnlamai,Note Chernyim,Somchai Sakdikul


Main actress

: Paula Taylor



Buy now

:

One hundred years ago two robbers (a young lady and a comic character), a false doctor and a former monk flee the police. A foreigner (ฝรั่ง) in collusion with a corrupted village head takes away the farmers' children to use them as slaves. To get back their children they need to pay a big amount of money. Farmers have heard of a local Robin Hood called Seua (เสือ). They try to contact him but meet the above quatuor but not the real Seua. They go after the kidnapers. They finally meet the real Seua. The Magnificent Five are united. They go together to search for the children but spend more time to argue on the reward sharing. The group reaches their ruffians' camp. They use Trojan horse tactic but it fails and the young lady (Paula Taylor) escapes nearly to serious problems with the camp leader. They need to reach the sea before a boat takes away the children. A fight happens. The foreigner and his ruffians are deafeated so need to flee and sail away. The young lady then decide also to neutralize the camp leader to avoid anymore kidnapping to happen. Charoenporn Awnlamai plays the comic expert in explosives. In many modern Thai movies, foreigners are often the bad guys. In old movies, the bad guys were the Burmese or the communist threat. This movie is a blending of action and comedy. Could this movie be seen as as a criticism of the foreigners stealing the Thai youth?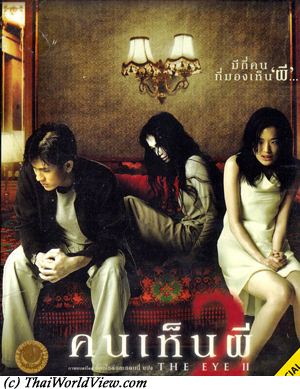 Year

: 2004



Thai title

:

คนเห็นผี 2




English title

: The Eye 2



Rating

: 4/5


Director

: Oxide Pang,Danny Pang



Main actor

: Jesdaporn Pholdee


Main actress

: Shu Qi



Buy now

:

Joey, young and beautiful Hong Kong lady, is spending a lot of money on shopping in Bangkok to forget her problems. She even tries a suicide tentative because she can see ghosts. The tentative fails. She call a Thai man called Sam during her insomnia. The hotel sends Buddhist monks to chase the ghosts from her room. She goes back to Hong Kong. Her Thai boyfriend still refuses to answer to her calls. She still sees ghosts in many occasions, i.e. in restaurants, MTR train station, bathroom. She discovers that she is pregnant. She decides to see a medium expert and gets Buddhist explanations on her ghostly visions. The medium tells her that a ghost wishes to enter inside her womb and be reincarnated inside her baby. When somebody dies, the spirit shall be reincarnated. It is karma (กรรม) Buddhist belief. So she tries not to panic when seeing ghosts. People believe she is crazy so she is sent to hospital. She sees a spirit trying to enter her womb. A woman ghost is chasing her. She enquiries on women who got suicide in MTR train stations. She forces the ghost to come out by trying to hang up herself. She finds the ghost's name is Michelle. By interviewing some of Michelle's family members she finds that her boyfriend Sam was Michelle's husband! Sam couldn't see Joey anymore without thinking about Michelle's suicide. His wife is going to be his daughter! His wife got suicide as a retaliation on Sam having a mistress. Joey doesn't want Michelle to become her baby so she jumps from the hospital roof but fails to die. Finally the baby is born and Joey can live happily with her daughter as she accepts to leave with the moral burden that she has part of responsibility in Michelle's death. "The Eye" movies are an horror series, with the latest one titled "The Child's Eye 3D" released in 2010.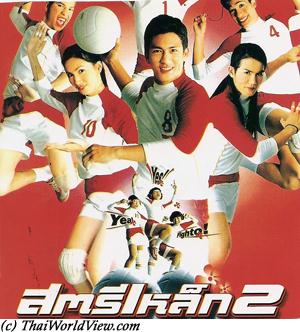 Year

: 2003



Thai title

:

สตรีเหล็ก 2




English title

: The Iron ladies 2



Rating

: 2/5


Director

: Yongyooth Thongkonthun



Main actor

: Jesdaporn Pholdee


Main actress

:



Buy now

:

Some members have quit the Iron ladies team. One of the member even joined a competitor team called the "tip-top". Some Iron ladies members decide to reunify the whole team in order to confront the "tip-top" team. It is the opportunity to remember how the Iron ladies team was created and the problems they faced due to their gay status.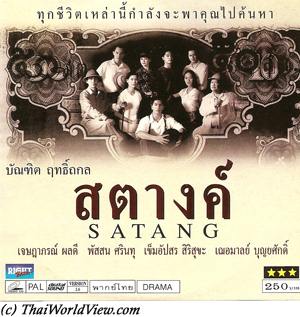 Year

: 2000



Thai title

:

สตางค์




English title

: Satang



Rating

: 3/5


Director

: Bandit Ritthakol



Main actor

: Jesdaporn Pholdee,Sahat Piempongsan,Chatchai Plengpanich,Santisuk Promsiri,Sorapong Chatree,Manop Aussawathep


Main actress

: Jintara Sookkapat



Buy now

:

During World War II, some bad Thai soldiers stole cash money but they have to hide it. After the war, some Thai people, living in a slum but coming from different social backgrounds, learn about this and decide to take their chance and look for the money. During their quest, some people become jealous and greedy. Bad Thai soldiers are also still seeking for the money...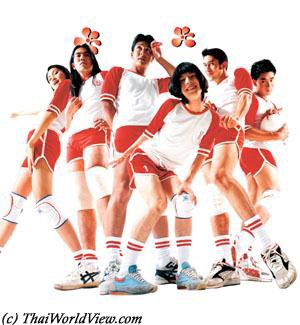 Year

: 2000



Thai title

:

สตรีเหล็ก




English title

: The Iron ladies



Rating

: 3/5


Director

: Yongyooth Thongkonthun



Main actor

: Jesdaporn Pholdee


Main actress

:
It is based on a true story. In 1996 several friends living in Lampang decided to make a volley-ball team. All of them were gay ("KATOEI" - กะเทย). They were not allowed to play in other teams so they decided to make their own team. They win the national championship. This film shows them to the public in another way and also does a good job for their wider acceptance in Thai society. This movie has also been registered as National Heritage per the 2016 list released by the Thai Film Archive.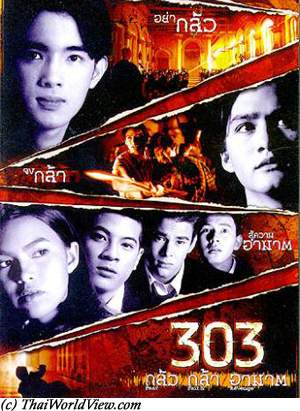 Year

: 1998



Thai title

:

303 กลัว กล้า อาฆาต




English title

: 303 Fear Faith Revenge



Rating

: 3/5


Director

:



Main actor

: Ananda Everingham,Jesdaporn Pholdee,Suchao Pongwilai


Main actress

:
In 2503, it is the start of the new school year at St George School. All young boys are from rich noble families (ผู้ดี) except one poor boy, Chaiden, from North of Thailand. He needs to help cleaning the church. There are strong rules and hazing. Chaiden and 4 teens from the same room declare friendship. By checking old school pictures, they found that a former student, Mum Rachawong, who was a model of excellence, kills himself in 2495. Nobody neither wants to know more, neither wants to speak to them more on this topic. They become friend with Nam Khaeng, young daughter of the director. They decide to call Mum Rachawong's spirit (วิญญาณ) to know the truth through an occult ceremony. They learn he was killed. The students decide to enquiry to know the truth. The 2495 school record miss many signatures. Weird crimes start to happen. One student dies by falling from balcony. A second student dies by electrocution in shower room. The main priest (หลวงพ่อ) would like all students to exit the school but the bad weather prevents it. A third student dies killed by a spade. Sisamut, one of the teen, is always afraid, weak, always follow orders and is the other teens' black sheep. Chaiden and two friends are arrested due to Sisamut's delation. Murders continue. Nam Khaeng has disappeared. Sisamut performs killings in the school as a revenge of being others' black sheep. Sisamut is possessed by a ghost who already committed a killing rampage a few years ago as the school management, including the main priest, was pushing for student hard selection and elite perfection. During this rampage many teens were killed including Mum Rachawong. Chaiden and his friends help to release Nam Khaeng just in time and succeed to defeat the ghost thanks to Mum Rachawong's supernatural help. A new management team now rules St George school. There is no more forced hazing.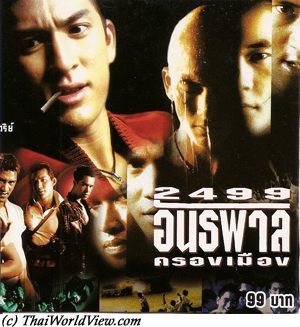 Year

: 1997



Thai title

:

2499 อันธพาล ครองเมือง




English title

: Dang Bireley and the Young Gangsters



Rating

: 4/5


Director

: Nonzee Nimitbut



Main actor

: Jesdaporn Pholdee


Main actress

:



Buy now

:

Dang Bireley and the Young Gangsters (2499 อันธพาลครองเมือง) is a Thai movie released in year 1997 and directed by Nonzee Nimitbut. Daeng is the son of prostitute and has been in violence cycles since his young age. The action takes place in decade 1950s with youth references such as Elvis Presley or James Dean. Daeng always kiss his James Dean amulet to get good luck and not a Buddhist amulet. Daeng, Pu, Dam, Lem Sing, Piek are close friends (นักเรียน / นักเลง). Daeng's mother would like her son to ordain (บวช). Daeng would like his mum to stop such job. He meets Pra, a bar singer. He refuses to do normal job and keeps trying in order to become a ruffians leader in his district but other leaders are already present so it causes clashes. Daeng gets a gun to get revenge. During an outdoor movie performance in a temple fair with an old movie featuring Sor Asanajinda, Taksin Jampol and Wilaiwan Watthanaphanit, Daeng shots rival thug. Issues then happen with Dam and Pu. Piek ends up in jail. Friendship ends with Dam and Pu. Daeng cannot choose his path but can fight it. Daeng helps his friend Moo Chiem to protect the blue moon bar in Chonburi. Moo Chiem wishes to open a casino (บอล) but he is then in competition with local headman Taek. Moo Chiem hires Pu and Dam without telling Daeng. Pu and Dam have arguments with GIs causing the casino to be closed ten days. Moo Chiem is killed by a hitman. Taek is suspected. Taek hires Pu and Dam to destroy the underground casino. Daeng and his team takes revenge over Taek but Pu and Dam succeed to escape. Daeng goes back home to fulfill his promise to ordain to his mother. Despite threats to ruin the ceremony by Pu and Dam, Daeng decides to go ahead. During the ceremony, heavy shootings happen. Daeng, Pu, Laem and Dam die. Daeng's promise to ordain as a monk was only to please his mother. His heart was not really sincere so he ironically dies before being able to enter the Buddhist temple. Another movie in 2012 called Gangster - Antapal (อันธพาล) was released and involving same protagonists. It was not a remake but another view on the same gangster era. This movie has taken over 75 million baht at the box office in 1997, an amazing figure by local standards.
---