Increase or decrease font size for easier reading : A+ A-
Jatuphol Poopirom
Jatuphol Poopirom (1951-1981) - จตุพล ภูอภิรมย์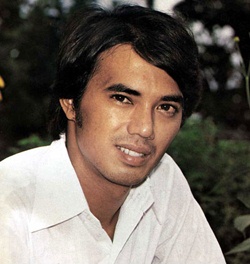 Jatuphol Poopirom has played in around 25 movies before dying in year 1981 in a car accident. Jatuphol Poopirom got a Thai award for his first movie performance in Taxi Driver (Citizen I). He also received a posthumous Thai award for his performance in Romance of the Saka
This Jatuphol Poopirom movie page contains 10 records.
---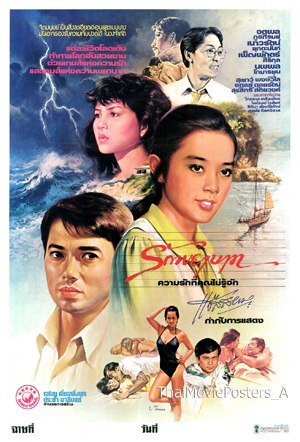 Year

: 1981



Thai title

:

รักพยาบาท




English title

:



Rating

: 3/5


Director

: แจ๊สสยาม



Main actor

: Jatuphol Poopirom,Suchao Pongwilai,Surasit Sattayawong,Krailat Kriengkrai


Main actress

: Naowarat Yooktanun,Penpak Sirikul
Thai movie รักพยาบาท was released in year 1981 and lasts 1h56mn. A remastered version was released by Five Star Production (ไฟว์สตาร์โปรดักชั่น) in the decade 2010s and shown on Thai TV cable. The movie was released under VCD format by Solar company. Movie director is แจ๊สสยาม. It was the last movie of famous Thai actor Jatuphol Poopirom, who died in a car accident on 20 March 1981. Children Pim and Paen are two close friends. They get separated as Paen is going to study in Bangkok. Reaching adult age, Pim is played by Penpak Sirikul and Paen by Naowarat Yooktanun. Both stop studies and start to work. Paen is working in Chatree (Suchao Pongwilai)'s company. Pin also finds a job in Chiang Mai. Claiming he has a letter for Pim, Pim's boss tries to rape her but he has a heart attack. Pim flees. She meets San (Jatuphol Poopirom) by hazard. He helps Pim as she does not know where to go. Finally, a romance starts between them and they become lovers. San has to go to Chiang Rai for business for three days and promises to send her to Bangkok. San has a car accident while driving to Chiang Rai. Chatree nominates Paen as his personal secretary. Pim waits but San is not coming back. She has to leave the hotel. She goes to Bangkok and faces a taxi driver, who steals her luggage. She has nowhere to go and feels hungry. She collapses and somebody brings her to hospital. The doctor (นพพล โกมารชุน) pities her and finds a job for her in his aunt's company. A romance starts. Pim is pregnant with San as father. Abortion is forbidden by law so the doctor refuses to help. He finally changes his mind but Pim has decided to do it by herself. She loses a lot of blood but luckily the doctor saves her again. She wishes to get revenge over San. Pim befriends Lin, an actress, so she wishes to become an actress. Pim meets Adul Dulyarat, a movie director, and becomes his mistress. San meets Paen. A romance starts and he wishes to marry Paen. Paen resigns from Chatree's company and gets married to San. Chatree still loves Paen but Paen considers him as a friend only. San is looking for a job but refuses to ask help from Chatree. Bancha (Surasit Sattayawong), a rich businessman, is contacted by Paen to help San. He accepts to help as he is impressed by Paen's strong love over San. Adul wishes to introduce Pim to Bancha as he plans to marry her. Pim meets San at Bancha's birthday party. Pim leaves Adul to live with Bancha and marries him. Pim does everything to make San upset. She wears the ring San offered to her and discloses who she is. They become lovers again. Pim pushes San to divorce Paen. As Paen refuses to divorce, Pim suggests to San to kill Paen. Paen announces she is pregnant, so San decides to break up with Pim. Meanwhile Bancha is also aware of the situation through Krailat Kriengkrai. Pim storms the place when San and Paen are staying. When realising that San's wife is her old friend Paen, she renounces her wish to shoot San. She wishes good luck to them. In the parking lot, she gets shot by Krailat and dies. Bancha did not forgive…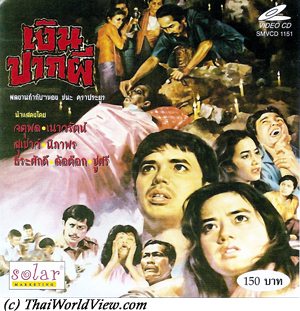 Year

: 1981



Thai title

:

เงินปากผี




English title

: Ghost Money



Rating

: 3/5


Director

: Chana Kraprayoon



Main actor

: Jatuphol Poopirom,Lor Tok,Suchao Pongwilai


Main actress

: Naowarat Yooktanun,Nipaporn Nongnuch,Chosri Misommon
Malee (Chosri Misommon) is married to Lor Tok, an alcoholic caretaker. Lor Tok has a daughter called Lao (Nipaporn Nongnuch) and a son called Lo. Malee has also a son from a previous wedding. He is called Mon (ทะลึ่ง). Lor Tok is a husband believing his wife more than his children so relationship is very bad between his children and the new wife. Teacher Awan (Naowarat Yooktanun) meets Pop (Jatuphol Poopirom) visiting the countryside per invitation from his friend, a policeman played by Suchao Pongwilai. The father doesn't give money anymore to his children so Lo thinks about stealing the coins from dead corpses (เงินปากผี). With two friends (Biaw and Pui), Lo goes in a Buddhist temple at night time to steal coins from corpses stored in a morgue. The teacher brings Pop to a famous sacred cave where birds can be heard but not seen. Many people died there. The three children spent all their pocket money so decide to go to the sacred cave to look for additional coins. They dig up a coffin with a corpse still in perfect condition (ผีเขมร). One of the kids forces to open the mouth in order to get the coin so causing the dead spirit to be very upset. Biaw dies because of the ghost. The boy Lo wishes to give back the coins to the spirit but Mon has stolen the coins and plan to sell them in Bangkok. The policeman enquiries on the coins found on Biaw. Biaw's mother gives the coins to the teacher. The spirit then possesses the teacher and frightens Pui at night time. Pui is found with burnt hands. As Lo recognises his stealing, the spirit doesn't hurt him but forces him to watch Pui digging endlessly. The spirit is now after Malee and sends hell birds (นกนรก) to punish her as she is a liar. Pui finally dies. A spirit doctor (หมอผี) arrives in the village and warns the teacher Awan that she is possessed. He asks to meet her in the sacred cave to perform an exorcist ceremony (พิธี) but he is found dead. The spirit kills both Malee and Mon. Villagers finally request the help of a Buddhist monk in order to neutralize successfully the evil ghost. In 2014, this movie was fully restored in beautiful colorful HD version by Five Star company.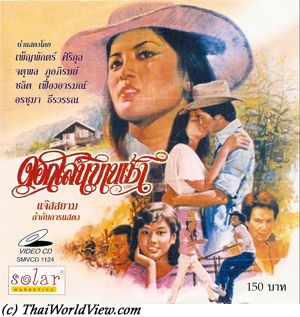 Year

: 1980



Thai title

:

ดอกโสนบานเช้า




English title

:



Rating

: 3/5


Director

:



Main actor

: Jatuphol Poopirom


Main actress

: Penpak Sirikul
Pina (Jatuphol Poopirom) and Nuan (Penpak Sirikul) just get married. Pina is a farm owner and Nuan is a Bangkokian lady. Nuan simulates to be sick in order to avoid bed time with her husband and verifies if her husband really loves her sincerely or not. She is worried about a minor wife (เมียเก็บช่อน). They stay at countryside in a cow farm. Nuan learns that Pina sold 20 cows (เสีย20ตัว) to pay for the engagement ceremony. It is a big sacrifice for a farmer, so it shows his sincerity. They can become wife and husband (สมบูรณ์). Nuan beauty is well known during the district (เมียสวยเหมือนนางฟ้า). During a stormy night, they help a man called Pratchai, who invites them to Phuket to thank them. Pratchai is very interested in Nuan, who is a former model (นางแบบ). Pratchai is a swet man (หวาน). He takes profit that Pina doesn't know how to swim in order to invite Nuan for a boat trip. He tries to take advantage towards her but to no avail. Nuan is fed up by countryside life as Pina spends a lot of time drinking with his coworkers. She wants him to spend time with her and less with his friends. Similar to many other Thai movies, this movie features bad taste live vomit sessions in toilets. A young village lady is preparing food for Pina as he is fed up with Nuan's cooking style. It is too much for Nuan (เบื่อ). She quits (ลาก่อน) and goes back to Bangkok to stay with her mother. Nuan is asking to Pratchai a model job to cause jealousy to Pina. Pratchai invites Nuan to his home. He offers a ring to her and tries again to abuse her but Nuan doesn't forget that she is married. Pina is injured by ruffians attacking his farm. Nuan goes back home to take care about him. Pratchai comes to apologize so Pina and Nuan can live a happy married life. It is a polite romantic movie with particles krap (ครับ) and kha (ค่ะ) used between wife and husband, mother and daughter. Respectable expressions Khun Phujing (คุณผู้หญิง) and Khun Phuchai (คุณผู้ชาย) is used by farmers to name Nuan and Pina.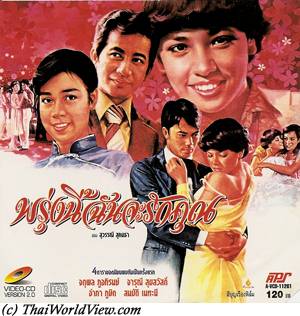 Year

: 1980



Thai title

:

พรุ่งนี้ฉันจะรักคุณ




English title

:



Rating

: 3/5


Director

: Phan Kam



Main actor

: Sombat Methanee,Jatuphol Poopirom


Main actress

: Jarunee Sooksawad,Ampha Pusit,Yotsoi Komarachoon



Buy now

:

A man called Non helps a woman, called Oon, drugged by a taxi driver, who wants to rape her. Oon believes that Non raped her and flees. Non loves Oon but cannot find her anymore as she leaves for France. Oon's sister meets Noon and is fond of him. Non asks her in marriage. When Oon comes back from France, many confusions happen until love emerges between Non and Oon.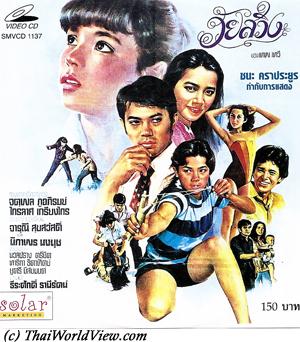 Year

: 1980



Thai title

:

วัยสวิง




English title

:



Rating

: 3/5


Director

:



Main actor

: Jatuphol Poopirom,Krailat Kriengkrai


Main actress

: Jarunee Sooksawad,Nipaporn Nongnuch,Tharika Thidathip



Buy now

:

Nout, a young female teen, is walking along the beach. She steals a golden Buddha necklace (สร้อยลูก) and flees. Et, young man from a rich family, helps as some people are chasing Nout. Nout plays a mute girl (แม่ใบ้), steals also his wallet and disappears. Nout lives with her mother in a shack. Her elder sister, Oon, is gone and left her young child behind. Nout sells sea jewels for tourists on Pattaya beach. Panoo, Oon's sister boyfriend, writes a letter and refuses to recognize that he is the father of the child. Nout discovers that Et is Panoo's young brother. By giving back the wallet, she tries to find where is Panoo but Panoo has just died from a cancer. Panoo's family is aware that Panoo has a young child and wishes to find him. His family publishes a newspaper article. Hopefully a neighbour warns Nout' s family so they decide to bring the baby for its good sake future. Panoo 's mother wants Nout and her mother to stay to take care of the baby. Et discovers that the wallet's robber is Nout, sibling of the baby. Nout refuses to recognize her faults (ใจแขง). She faces animosity from Anong, a domestic helper, who dreams to marry Et and also from Khun, Et's girlfriend (แฟน). Phi Sing is a rickshaw driver who loves Anong. A few verbal fights happen between Nout and Khun (ไม่ยอมจริงๆ, เรื่องหยุมหยิม). Nout is sent to school to finish her studies. Anong tries to push Khun against Nout so that she can have Et for herself only. Pak, friend of the family, has high interest in Nout (เด็กดื้อ). Et is upset as he loves Nout but cannot say it. His mother pushes him to marry Khun but his dream is to marry Nout. Anong declares her love to Et but to no avail. Pak wants to marry Nout and asks Et to be his requester (พ่อซื้อ). She needs to think about it. Anong is fired as she tried to hide the grandmother's ring into Nout's room in order to accuse her of robbery. Finally Anong-Khun collusion is disclosed. To justify her sacking, she lies and complains to Phi Sing that Et tried to rape her. She soothes him as she wants to take revenge. Nout doesn't love Pak so refuses the wedding proposal. A modern lady shall marry for love and not for position (รักเหมือนน้อง). Anong and Phi Sing steal the baby and ask for a 100 000 Baht ransom. Jarunee's boxing skills are well shown off. Following a fight between Anong and Nout, the baby is finally released through a fierce mud fight. But Nout and her mother decide to go back to Pattaya to avoid causing more troubles. Et drives there and ask Nout to come back to Bangkok as his wife. It is a typical romantic movie from 1980s decade. Jarunee always excels playing the upcountry girl that has a swift tongue and knows how to give witty and sharp answers.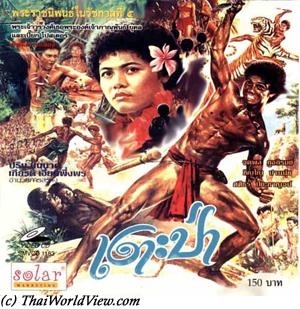 Year

: 1980



Thai title

:

เงาะป่า




English title

:



Rating

: 5/5


Director

: Prince Bhanu Yukol,Piak Poster



Main actor

: Jatuphol Poopirom,Pinyo Parnnui


Main actress

:



Buy now

:

Thai movie เงาะป่า was released in year 1980 and lasts 1h32mn. It was released under VCD format. It was remastered in full HD format by Five Star production in mid-2010s. Movie director is Piak Poster. This movie takes place in a tribe located in a forest. They have all a dark skin so are called "เงาะป่า" tribe. Sompla (Jatuphol Poopirom) is a young fearless man skilled in animal hunt with blowpipe and knowledgeable in medicinal herbs and plants. The tribe is wearing clothes like South Pacific tribes. Lamhap (ศศิธร ปิยะกาญจน์) is the daughter of the local sorcerer (หมอผี). The local sorcerer would like Sompla to become the next sorcerer as he is getting older but Sompla refuses. The tribe exchanges goods from the forest with Thai villagers at the market. Anao, the village leader's son, is good at sales so Lamhap's parents appreciate him. The movie highlights their everyday life in the forest, i.e. getting fruits and food from the forest, be aware of danger such as snake and tiger... It is a beautiful ode to natural life. There is a contest to shoot flowers and to win ladies hearts. Jealousy happens between Sompla and the village leader's son, Anao (Pinyo Parnnui), as both love Lamhap. Lamhap prefers Sompla but the marriage decision is linked to her parents' choice. The village leader wants his son to become the next leader and wishes Anao to marry Lamhap. After a misunderstanding with Sompa, Lamhap accepts to marry the village leader's son. The wedding is beautifully shot, and it reminds about Thai movie "The old scar" (แผลเก่า), which also features portraiture of Thai culture and way of life through a tragic romance. Sompa ruins the wedding night by making noise and sending rocks on their roof. While Anao goes out to catch the intruders, Sompla kidnaps Lamhap. The movie includes beautiful ambient light shooting with torches as the village leader's family is chasing them. Sompla and Lamhap flee. They go deep inside the forest. They are tracked down due their fire smoke. A fight happens between Sompa and Anao. The winner shall get Lamhap. Sompa wins by attracting Anao inside the deep forest instead of fighting inside a clearing. Unfortunately, another fighter shoots Sompla with a poisonous arrow. Sompla dies and Lamhap kills herself over Sompla's body. This movie was directed by the General Major His Royal Highness Prince Bhanu Yukol, a pioneering Thai filmmaker. He was the uncle of famous director Prince ChatriChalerm Yukol. Thai actor Jatuphol Poopirom received a posthumous Thai award for his performance as he died in 1981 in a car accident. The movie soundtrack mixes a traditional and entertaining music. It is based on a novel (Romance of the Sakai) by Thai King Rama 5. The Culture Ministry registers 25 Thai classic films each year at the National Film Heritage Registry. This movie is part of the 25 films heritage list announced on 04 October 2015, which is Thai Movies Conservation Day.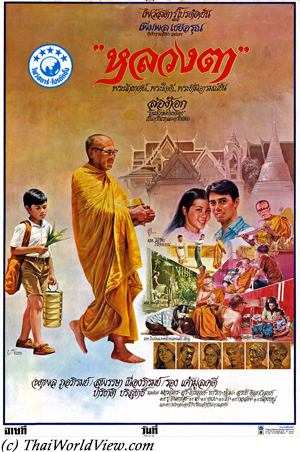 Year

: 1980



Thai title

:

หลวงตา ภาค 1




English title

: The old monk



Rating

: 4/5


Director

: Permpol Choei-arun



Main actor

: Jatuphol Poopirom,Lor Tok,Rong Kaomulkadee,Krailat Kriengkrai,Thuam Thoranong


Main actress

: Supansa Nuengpirom,Mayurachath Muarnprasitivej,Tharika Thidathip,Juree Osiri



Buy now

:

Thai movie หลวงตา ภาค 1 / The old monk was released in year 1980 and lasts 2h13mn (according to Five Star Production website). It was released under multiple formats, a beta-max version (2h01mn), VCD version by Solar (2h02mn), VCD version by BKP (2h05mn), DVD version by BKP (2h05mn), a True Thai Film cable TV version (1h48mn). A remastered version was released during decade 2010s by Five Star Production. Movie director is Permpol Choei-arun. This movie shows the importance of Buddhist abbots in Thai society. Luang Ta (Lor Tok) is an abbot in a Thai Buddhist temple. He is taking care of children (เด็กวัด) given to the temple as the parents are too poor to take care of them. During childhood, young boy Long often deal with stubborn Chuk and Ek. Long (Jatuphol Poopirom) and Ek (Rong Kaomulkadee) are now grown up. Mae Choi (Mayurachath Muarnprasitivej) is Long's mother but she is ashamed (ผู้หญิงขายคัว) so she doesn't disclose who she is. Long is like orphan (ลูกกำพร้า) under the responsibility to Luang Ta. Fighting between Long and Ek occur as Ek always tease others but they remain friends. Luang Ta teaches (สั่งสอน) them continuously. Long is accepted in school army and Ek is accepted in police school. Mae Choi dies. Luang Ta organises a funeral being the main sponsor (เจ้าภาพ). The undertaker (สัปเหร่อ) discloses she worked in a brothel (ซ่อง) before. Young lady Duangjai (Tharika Thidathip) stays in temple as she has nowhere to go. She has little education as her parents thought primary studies were enough. Luang Ta complains that girls should study also and not only do home chores. She regains trust in herself and learns new skills but after a while Luang Ta tells her it is time to leave as it is not correct for a lady to stay in a temple where only men are present. Lom, without parents and who has always lived in Buddhist temple, is in love with a young woman called Wan (Supansa Nuengpirom). Her high society parents (Thuam Thoranong and Juree Osiri) don't want a poor groom. On top of this, they are worried about impacts on their lineage. Lom decides to go at the Thai border as he knows this love is impossible. Wan clashes with her parents, who are more worried about old symbols such as status, fame, lineage instead of their daughter happiness. By reading newspapers, Luang Ta learns that Duangjai made a successful wedding. Pushed by Wan, her parents visit Luang Ta to learn more about Lom. The abbot gives them the whole story. The parents are concerned about gossip as Lom is prostitute's son but Luang Ta reminds them that skills and good personality are not linked to lineage but to own ability. Ek is proud to announce to Luang Ta that he is now police captain with 3 stars. Luang Ta complains that multiple stars don't make people more intelligent. Lom is injured at the border and is sent to hospital. Luang Ta decides to visit him but two robbers (including Krailat Kriengkrai) enter in the Buddhist temple. They kidnap Luang Ta. Surrounded by police led by Ek, they have to endure Luang Ta's sermons (โดนเทศน์ไม่ไหว) so they finally give up and surrender. Long is back to the temple to visit Luang Ta with his wife Wan as her parents have agreed to the wedding.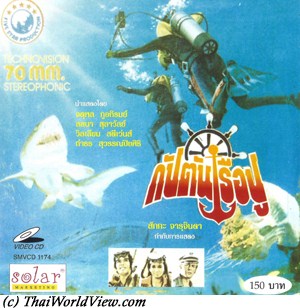 Year

: 1978



Thai title

:

กัปตันเรือปู




English title

: The Pistol



Rating

: 3/5


Director

:



Main actor

: Jatuphol Poopirom,Kamthorn Suwanpiyasiri,Boo Wibunnan


Main actress

: Lalana Sulawan
Thai movie กัปตันเรือปู (The Pistol) was released in year 1978 and lasts 2h01mn. A remastered HD version was released online by Fivestar production in year 2014. A foreigner called Steve is having a diving school in Pattaya and is also the captain of a boat used to transport tourists. Kan (Jatuphol Poopirom) is one of his former employees and is a skilled diver. He now catches crabs (จับปู) and finds a weird piece of rock while fishing. He gives it to the captain's assistant called Ben. Kan is married to Plae (Lalana Sulawan). Inside the rock, an old gun (ปืนโบราณ) is found. Steve asks Ben to get pictures of the gun. The photographer warns Sia Saeng (Kamthorn Suwanpiyasiri) who wants to know where Kan catches crabs. Chinese expert (Boo Wibunnan) is also interested by the old gun. As Kan refuses to disclose the location, he gets beaten. Ruffians believe a treasure must lie at the location where the gun was found. Impressive submarine images show the hunt for the old ship. Steve and Kan dive and look for the old ship under the sea but the ruffians led by Saeng are looking for their location through another boat. Steve and Kan simulate a fake ghost presence in the old ship to chase away Saeng. Many people start to be interested by this old ship including an old professor. The professor believes a Portuguese ship going from Macau to Ayutthaya drowned many centuries ago. Even distrust happens between Kan and Steve. Kan hides the gun in the sea as his home is attacked. The Portuguese embassy wishes to buy the gun for 100 000 baht. Unfortunately the gun has disappeared taken away by another fishing boat net. The dreams of becoming rich fade away for Kan.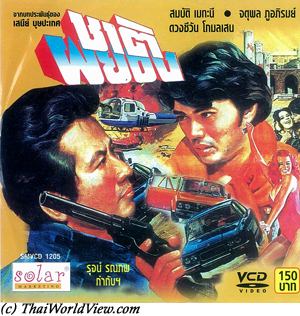 Year

: 1978



Thai title

:

ชาติผยอง




English title

:



Rating

: 3/5


Director

: Ruj Ronnapop



Main actor

: Sombat Methanee,Jatuphol Poopirom,Sor Asanajinda,Sahat Piempongsan,Manop Aussawathep,Somsak Chaisongkram,Paen Pleumsachai,Somphob Benjatikul,Pipop Pupinyo


Main actress

: Duangcheewan Komolsen



Buy now

:

Thai movie ชาติผยอง was released in year 1978 and lasts 1h45mn. It is directed by Ruj Ronnapop. Plaew Suriyong (Sombat Methanee) is back to Thailand after many years in Chicago. His father has been killed. He is immediately kidnapped by ruffians led by Sahat Piempongsan and including Somsak Chaisongkram / Paen Pleumsachai. He has to kill Sarayut (Sor Asanajinda), a popular politician, against a reward of 1M baht and one airplane ticket to go anywhere. Sarayut's wife was fed up with the risks linked to politics so she left him 10 years ago to go to Italy with their young son. Plaew has to be a hitman (มือปืน). Sahat lies to Plaew in order to have Sarayut killed. As Plaew's father was a politician, he would be the right scapegoat. A lady called Romanat (Duangcheewan Komolsen) helps Plaew to prepare the shooting and gets in love with him. Plaew has one week to do the job. The killing shall happen during a speech. He meets Manop Aussawathep to learn more his father's death. Plaew still wanders who has killed his father, who was also a politician. People, who wish to hurt Thailand, killed his father. They now chase him also. Politics in Thailand is full of bad influence (อิทธิพล), corruption and murders through hitmen. Romanat warns him that people try to kill him. Romanat wishes to flee with Plaew and mentions that she knows Sahat will shot Plaew once the job is done. During the political gathering, Plaew doesn't shoot Sarayut but his opponent. This causes Sahat's ire and Plaew needs to flee to Malaysia. Plaew meets Lucky Jack (Jatuphol Poopirom) in Malaysia but they have to flee to Rome, Italy due to problems with police. Lucky Jack is in fact Sarayut's son! In Rome, Plaew seduces Maria that Lucky Jack also loves. As Sahat threatens to kill Romanat, Plaew has seven days to come back to Thailand. Maria loves Plaew but gets killed during a gunfight. Lucky Jack doesn't forgive Plaew. Plaew and Lucky Jack go back to Bangkok to catch Sahat. Sahat sends Romanat as a gift to lucky Jack acting as a local ruffian. Finally both Plaew and Lucky Jack love again the same woman, i.e. Romanat. Plaew learns that Sarayut is behind his father's death. Misunderstandings happen between Jack and Plaew as ruffians push Jack against Plaew. Meanwhile Sarayut, as smart and evil politician, plays also the two men against each other. Sarayut, as nasty politician, is wishing to send Plaew to trial in order not to be accused of any collusion of the previous shooting done by Plaew. He pushes his own son to shoot Plaew. Finally Plaew shots Sarayut but gets shot by Lucky Jack. This is a typical action movie from the 1970s highlighting the bad sides of the Thai politics.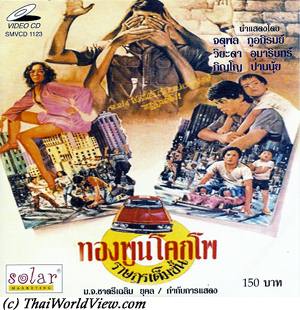 Year

: 1977



Thai title

:

ทองพูน โคกโพ ราษฎรเต็มขั้น




English title

: Taxi Driver (Citizen I)



Rating

: 5/5


Director

: ChatriChalerm Yukol



Main actor

: Jatuphol Poopirom,Pinyo Parnnui,Somsak Chaisongkram,Boo Wibunnan


Main actress

: Wiyada Umarin,Marasri Isarangkul



Buy now

:

Thai movie ทองพูน โคกโพ ราษฎรเต็มขั้น / Taxi Driver (Citizen I) was released in year 1977. Thongpoon (Jatuphol Poopirom) is a Thai farmer coming from Udon Thani and going to Bangkok. Thongpoon sold his rice field in Udon and has spared money during five years to buy a taxi. This taxi represents the future for him and his young son. It is his dream to have his own taxi. Thongpoon is gullible. Rich Bangkok people cheat him by claiming having no change but Taen, a kind-hearted prostitute, gives him a note without asking change back. Her name is Taen (Wiyada Umarin) and she has issues with Somsak Chaisongkram (แมงดา) as she is pregnant. Thongpoon helps chasing Somsak away and becomes her regular taxi driver. He picks up her at her working place (อาบอบนวด). Thongpoon proposes to Taen to take care about his son but not easy to stop such job well paid. Thongpoon meets also Pinyo Parnnui, who claims to be a Thai soldier having fought in Vietnam and now being paralyzed. When his taxi get stolen by bad boys, his life alters. As they also steal his money, he is expelled from his home by his landlord (Marasri Isarangkul) as he cannot pay the rent. He ends up working on a construction site. His goal is to get back his taxi by all means. Pinyo brings him where the ruffians mingle but he gets beaten again. A business card lost allows to identify Boo Wibunnan as garage owner. He then forgets Taen and son. He refuses money from Taen to buy a new taxi as he doesn't want to be a pimp (แมงดา). He storms Boo's garage and kill the ruffians trying to stop him. This madness leads him to prison. This movie highlights the impossible fight between poor and rich influential people, the analogy between the buffalo and the taxi for poor Isan people in Bangkok. Jatuphol Poopirom got a Thai award for his performance. It was his first movie. Sorapong Chatree was supposed to play the main role of Thongpoon but he was not available for the shooting so new comer Jatuphol Poopirom replaced him. As Jatuphol Poopirom died during a car accident in 1981, Sorapong Chatree played the main role in Citizen II. ChatriChalerm Yukol drove around Bangkok for weeks with cab drivers gathering anecdotes for "The Citizen".
---