Increase or decrease font size for easier reading : A+ A-
Janthana Siriporn
Janthana Siriporn (1950) - จันทนา ศิริผล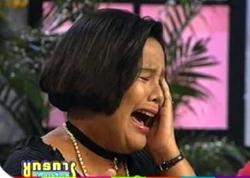 Janthana Siriporn is a Thai comic actress. She played in more than 40 movies and dozens of Thai TV series
This Janthana Siriporn movie page contains 18 records.
---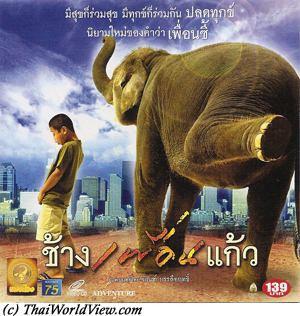 Year

: 2003



Thai title

:

ช้างเพื่อนแก้ว




English title

:



Rating

: 3/5


Director

: Bin Banleurit



Main actor

:


Main actress

: Janthana Siriporn
It is about a little boy going to Bangkok with his three elephants in order to look for his father. He is also helping a little girl looking for her mother.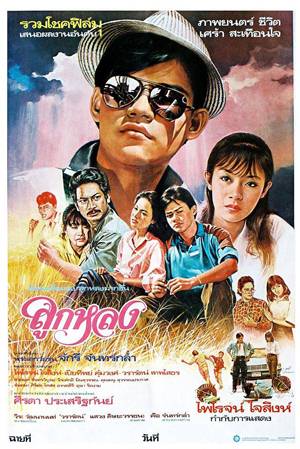 Year

: 1985



Thai title

:

ลูกหลง




English title

:



Rating

: 3/5


Director

: Phairoj Jaising



Main actor

: Phairoj Jaising


Main actress

: Piathip Kumwong,Janthana Siriporn
Thai movie ลูกหลง was released in year 1985 and lasts 1h38mn. Phairoj Jaising is the movie director. A man (Phairoj Jaising) and a woman (Piathip Kumwong) have couple issues as they come from different background. Jaising often goes home late being drunk. Jaising loses his job because of Chirasak (จิระศักดิ์ ปิ่นสุวรรณ). Following another fight with his wife, Jaising flees with his child. Piathip doesn't know where to find Jaising. Chirasak proposes her to become her new husband and to give her an adopted child to raise. She accepts the child named Nat but refuses to marry again. 20 years have passed. Nat (จักรี จันทร์กล่ำ) is now an adult but he is spending a lot of money. His mother Piathip never says no. She is worried about his frequentations. His girlfriend, Pon, claiming to come from rich family, is in fact coming from a poor background and is being pushed by her brother (แมงดา). Pon hires Janthana Siriporn to play her mother. They rent a house to look richer. Going on week-end together, Nat's car hits a young lady, called Kaew (ศิรดา ประเสริฐกันย์), crossing the street. She is Jaising's daughter! Nat is worried about Kaew so he stays behind to visit her every day. Pon goes back home first to borrow money from Nat's mother. Jaising asks her daughter to be careful about Bangkokian young men (หนุ่มกรุงเทพ). Some local young men unhappy about Nat's behavior decide to give him a lesson. They fail. The mother Piathip and Pon come to the poor house to get Nat back. As he isn't there, Kaew gets insulted. Finally, Jaising chases Nat from his home when he knows he is the son of Piathip. Nat accepts to marry Pon following his mother's insistence. Learning the event through newspaper, Kaew asks Jaising to go to the wedding. The wedding is finally broken as it is disclosed that Pon has many debts and Janthana also discloses Pon is not her daughter. Chirasak explains the truth to all parties. Kaew and Nat can have happiness together.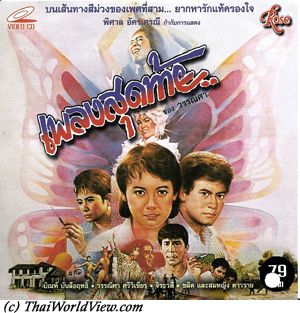 Year

: 1985



Thai title

:

เพลงสุดท้าย




English title

: The Last Song



Rating

: 3/5


Director

: Pisarn Akraseranee



Main actor

: Bin Banleurit


Main actress

: Janthana Siriporn
It is about "KATOEI" (กะเทย - man dressed like a woman and behaves according to the gender role of a woman) and "tom boy" (ทอม - girl who behaves according to the gender role of a boy). It deals about their difficulty to find true love and the way society reacts to them. At that time, society was generally quite conservative and katoeys were viewed as abnormality. The public outcry the film raised helped push it under the national spotlight. The film's theme song became a hit. A remake was done by the same director in year 2006.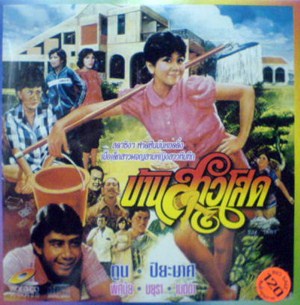 Year

: 1984



Thai title

:

บ้านสาวโสด




English title

:



Rating

: 3/5


Director

:



Main actor

: Toon Hiransap,Boo Wibunnan,Somchai Samipak,Somkuan Krajangsat,Supakorn Srisawat,Krong Kangkengdaeng


Main actress

: Piyamas Monayakol,Metta Roongrat,Pissamai Wilaisak,Mayura Thanabutr,Pornpan Ketmamatsu,Janthana Siriporn,Manat Boonkiet
Thai movie บ้านสาวโสด was released in year 1984. The TV cable version lasts around 1h55mn and is coming from channel "true thaifilm". So cigarettes, alcoholic drinks and even sexy posters on the wall are blurred. Two songs are featured in this movie. A first version of this movie was released in year 1970 with Mitr Chaibancha, Kanchit Kwanpracha and Petchara Chaowarat. Three sisters are still single, i.e. Yip (Metta Roongrat), Teuan (Pissamai Wilaisak), Waraipon (Mayura Thanabutr). One is her mid- forties, one is her mid-thirties, one is her mid-twenties. Yip likes women more than men. A lawyer (อำนวย ศิริจันทร์) discloses the father's testament. They get heritage from their father including the house to share. If they ever marry, they lose any rights to the house. Being singles, they challenge each other who will get married first. A friend will send her son Ting (หลาน) to stay in their house after having studied in Bangkok. The domestic helpers (Janthana Siriporn...) leave as there are fed up by miser Teuan. Plaew (Piyamas Monayakol) is hired as new domestic helper. The three ladies get interest into Ting (Toon Hiransap), 26 years old, as he is very handsome (หน้าหอม). Ting meets Tangwon (Boo Wibunnan) and Metti (Supakorn Srisawat). They wish to rent the house behind บ้านสาวโสด. Businessman Somchai Samipak has a new wife. His daughter is Plaew but she left home as she is unhappy with her new stepmother Vichanee (Pornpan Ketmamatsu). Plaew is suspected by Ting to be the daughter of a rich businessman. Ting's parents are played by Somkuan Krajangsat and Manat Boonkiet. Teuan is worried that Plaew will take Ting from them. Ting's father already found a fiancee for his son. Thanks to Krong Kangkengdaeng, Ting is hired as a driver (คนขับรถ) by Somchai. Plaew and her sister wonder why Ting behaves this way. The new young wife Vichanee is Metti's mistress but she asks Ting to keep quiet on this and she provides a photo album on Plaew (คุณหญิง) to Ting. Vichanee also become mistress with Ting (ความต้องการ). Ting fails to show that Plaew is in fact a rich businessman's daughter. Ting's parents are worried that their son gets enamoured with a domestic helper (เด็กคนใช้). Following a family trip to Pattaya, Ting's parents meet Plaew's parents and both of them are uncovered! Romance can finally start between Ting and Plaew.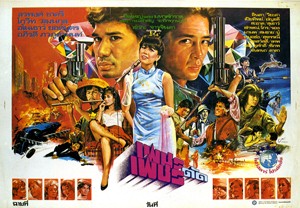 Year

: 1984



Thai title

:

เพชรตัดเพชร




English title

: Diamond vs Diamond



Rating

: 4/5


Director

: สักกะ จารุจินดา



Main actor

: Sorapong Chatree,Kowit Wattanakul,Somchai Samipak,Paen Pleumsachai,Krai Kanchit,Pipop Pupinyo,Manop Aussawathep,Boo Wibunnan,Pao Porapak,Rong Kaomulkadee,Lak Apichat,Sahat Piempongsan,Thep Po-ngam,Suchao Pongwilai


Main actress

: Apiradee Pawaputanon,Piathip Kumwong,Wiyada Umarin,Anchalee Chaisiri,Linda Khatancharoen,Janthana Siriporn,Suphanee Jitthieng



Buy now

:

Thai movie เพชรตัดเพชร was released in year 1984 and lasts 2h07mn. It was released under VCD format by Solar company and under VHS format. A remastered HD version was released during decade 2010s by Five Star Production. This movie features an impressive number of famous Thai actors and actresses from decade 1980s including less known actors หมอซ้ง, พุนสวัสดิ์ ธีมากร, วุมิ คงคาเขตร, ชูศักดิ์ สุธีรธรรม, ดาดา. Movie director is สักกะ จารุจินดา. Thai movie เพชรตัดเพชร was originally released in the year 1966 with Mitr Chaibancha, Luechai Natnat and Petchara Chaowarat. It was also released as Thai TV series in the years 2011 and 2016. Suchao Pongwilai is drunk inside a disco with a partner (Linda Khatancharoen). Mo Sing (หมอซ้ง) tries to seduce the partner so it makes Suchao angry and a fight erupts. Mo Sing loses a two colours denture and gets angry. He shoots Suchao and flees. The partner is found back by Mo Sing, but she claims she doesn't have the denture. Pailin (Piathip Kumwong) is the gang's leader. Yot (Kowit Wattanakul) is her right hand. During a drug exchange, Cheut (Sorapong Chatree) is killed by Yot keeping both drugs and money. Head of police Somchai Samipak talks to police officer Naresuan (Sorapong Chatree). He needs him to neutralise a drug gang working in Thailand, Hong Kong and Macau. Cheut is Naresuan's twin. They were separated when they were 12 years old. Naresuan wishes to revenge his dead brother. Naresuan accepts the mission and will act as Cheut in order to catch Yot. In a bar, Cheut meets Paen Pleumsachai, Pipop Pupinyo as he is looking for Yot. Cheut meets his previous girlfriend Yoi (Wiyada Umarin) having Manop Aussawathep as new husband. Fighting occurs in the bar. Back to Yaowarat district, Cheut ends up in Boo Wibunnan's entertainment centre and meets Anchalee Chaisiri. She suggests him to go to Jumbo bar to find Yot. There, Cheut is facing Pao Porapak. Cheut finally finds Yot with his girlfriend, then steals his suitcase full of drugs and gives it back to the police. Cheut flies to Hong Kong. He meets Pailu (Apiradee Pawaputanon), a singer. Pailu introduces him to Cheng (Krai Kanchit). On a boat in Sai Kung, Cheut meets Cheng again. Coming for a drug exchange, Cheut steals money from Cheng. He gets help from Jo (อโนเชาว์ ยอดบุตร), an undercover HK policeman. HK Police recommends to Cheut to leave Hong Kong as soon as possible for his own safety. Rong Kaomulkadee and Lak Apichat are working for Sahat Piempongsan, former boss of Cheut. Sahat thought Cheut was dead. Knowing Cheut is still alive, he decides to help him. Yot sends a killer to get rid of Cheut but he fails. Cheut learns from head of Police Somchai that Pailu is from Interpol. Another tentative to kill Cheut fails again. Cheut gets help from Rong. Thai police uses a stratagem for Jo to join Cheng's team. Facing a fight with ruffians, Cheng is helped by Jo in a bar. Convinced by his skills, Cheng asks him to join his team. Pailin is business partner with Cheng. Per Pailin's order, Yot captures Cheut. Cheng wants to get back his money. Meanwhile, Sahat captures Pailin's men in order to know where they keep Cheut. Cheut claims the money was confiscated by the HK Police but the drug is still stored in a suitcase hidden in Pailu's home. Pailu gets help from Somchai so that drug is given back to ruffians. Cheng starts to suspect Pailu also. She fails to escape. Meanwhile Thai police surrounds the ruffians' den. Yot plans to kill Cheut but it fails through a final epic fight between Cheut and Yot. Finally Thai police arrests all ruffians. Sahat fails to flee.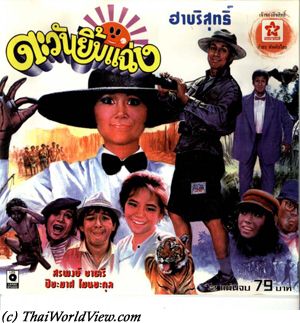 Year

: 1984



Thai title

:

ตะวันยิ้มแฉ่ง




English title

:



Rating

: 3/5


Director

: Kumtorn Tubkunlai



Main actor

: Sorapong Chatree,Sor Asanajinda


Main actress

: Piyamas Monayakol,Janthana Siriporn
In Nan province, animist forest people (คนป่า) are discovered. They are called "Phi Tong Leuang" (ผีตองเหลือง) or Mlabri ethnic group. They do not possess anything and share everything within the group. They are exploited by Bangkokian people to cut trees in forest. They stop to cut trees because deities (ผีฟ้า) are angry. A professor sends a group of students including a young lady called Doktawan to study and to catch a "Phi Tong Leuang" in the forest. In Ta Wa Dung village, people from Chinese origins are living. They are far from civilization and are friend of the Mlabri ethnic group. Cheng is a young man living in Ta Wa Dung village. The students mistakes Cheng as a Mlabri ethnic group member and catches him. Cheng is same as French Asterix and his magic potion. Cheng gets high strength when getting exposed to sun. As he wishes to visit Bangkok, he lets himself captured. There, he is exposed like an animal in a cage. Doktawan educates him to modern world (radio, music, dance). A romance happens between Cheng and Doktawan. The illegal logging company sends ruffians to get rid of Cheng so he has to flee. Police catches him and sends him to hospital for crazy people as he is walking half naked. Meanwhile Cheng's parents are worried and decide to go to Bangkok to search for him. They arrive in Bangkok with elephants and horses to look for him! Finally Cheng is reunited with his family but it is discovered that he is not a Mlabri so he needs to help Doktawan to find real Mlabri ethnic group members. Meanwhile the illegal logging company wants to kill all Mlabri people to be able to exploit the forest. Gun fight happens in famous Earth Pillars site at Sao Din. Police arrives on time to rescue the students and Mlabri. This is a typical Thai comedy from the 1980s decade with a "katoey" (กะเทย) in the funny and silly role, gags from "Raiders of the Lost Ark" and "The Gods Must Be Crazy" (1981). There is very bad taste as the illegal logging company ruffians often carry a nazi flag to emphasize their badness. In 2009 the operator of a waxworks museum in Pattaya has been forced to cover up a giant billboard of Adolf Hitler giving a Nazi salute after complaints. This movie includes first introduction of hidden advertisement with beer brand name promotion.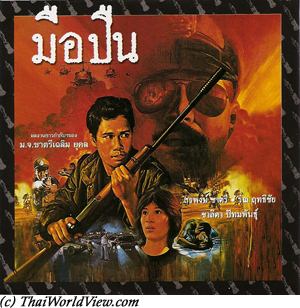 Year

: 1983



Thai title

:

มือปืน




English title

: Gunman I



Rating

: 5/5


Director

: ChatriChalerm Yukol



Main actor

: Sorapong Chatree,Krai Kanchit,Ron Rittichai


Main actress

: Chalita Puttamapun,Janthana Siriporn



Buy now

:

It is about the story of Sommai, a barber, who is acting as a gunman ("MEU PEUN" - มือปืน) in order to get money to cure his sick boy. He is an veteran soldier who has fought in Laos but was left behind by his superior Tanu after saving his life. Now his previous superior is a policeman involved in gunman investigations. Tanu has a reputation for killing criminals. Applying gratitude ("KATANJOO" - กตัญญู) towards his previous mate, the investigation is going slowly until a younger policeman gets involved... This film highlights conflicts between poor people (the gunman and his family), the government officials (policemen and soldiers) and wealthy influential businessmen. This movie has received 5 Thai awards. The opening scene in Gunman I, when the camera moved along and made viewers feel as though they were riding on a motorcycle with the lead character, has remained famous.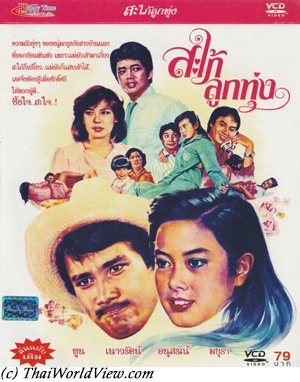 Year

: 1982



Thai title

:

สะใภ้ลูกทุ่ง




English title

:



Rating

: 3/5


Director

:



Main actor

: Toon Hiransap,Somchai Samipak,Sor Asanajinda


Main actress

: Naowarat Yooktanun,Mayura Thanabutr,Malee Wetpraseri,Janthana Siriporn,Phong Lada Pimolpan



Buy now

:

Thai movie สะใภ้ลูกทุ่ง was released in year 1982 and lasts 1h48mn. It was released under VCD format by Lepso and Happy Time companies. Movie director is ดริน ดารากร. Mui (Naowarat Yooktanun) and Khaem (Mayura Thanabutr) are sisters and have arguments with their mother Malee (Malee Wetpraseri). It seems that Malee is preparing an arranged wedding with a Bangkokian young man. It could be Ati (Toon Hiransap) or At (ยิ่งใหญ่ อายะนันท์), a gay man. Mui is upset as she read a letter sent by Ati looking down her sister (บ้านนอก, เมียลูกทุ่ง). The two young men are also upset as they don't plan to get married. Waew (Janthana Siriporn) is playing a comic domestic helper. Ati's Father is played by Somchai Samipak. Ati simulates being sick so only his mother (Phong Lada Pimolpan) and At are going to Ubon. Ati has multiple girlfriends. So being in trouble with them, he finally also goes to Ubon. Ati meets Mui as he is hurt by her motorbike. He meets her father Sor Asanajinda. When realizing that Ati is the Bangkok guy who wrote the nasty letter, she chases him away. Chok (อนุสรณ์ เดชะปัญญา), At's boyfriend (แฟน), needs 100 000 baht to finish his doctor studies. Sor has also a debt towards Somchai and his wife as he borrowed money to pay Mui's doctor studies so that is why his family has to agree to a wedding. Mui is upset with Bangkok people, who denigrate (ดูถูก) countryside people. To get the 100 000 baht from Malee, At accepts to marry Khaem but there is no love. The mother uses Khaem as her slave. At prepares to divorce by claiming Khaem has an affair with doctor Chok. Chok acknowledges due to the debt he owes to Ati. Mui, being doctor student with Chok, is upset by his behavior and discloses to the whole family that it is only a lie as Chok and At are gays. Sor has died so Mui and Khaem go back to Ubon. Chok keeps drinking as he loved secretly Mui and is ashamed of his behavior (ไม่น่าบัดซบ). Ati finally marries Mui but his mother keeps being upset having Mui as daughter in law. The mother now invents a relationship between Chok and Mui to ruin Ati's wedding. Malee, being sick, is cured by Mui (หมอเทวดา) so relationship is improved between Mui and Malee. Chok and Khaem finally marry as Chok wishes to repair his previous mistakes. Somchai forces his wife to change her behavior. At tries to shoot Chok during the wedding but Ati interposes and gets shot. Mui cures him. The mother apologizes to Mui and happiness is back in the family. Mui and Ati roam Isan remote villages to cure sick people. This comedy romantic movie also has a few social aspects such Bangkok people vs countryside people, elders deciding wedding on behalf of younger people, girls studying…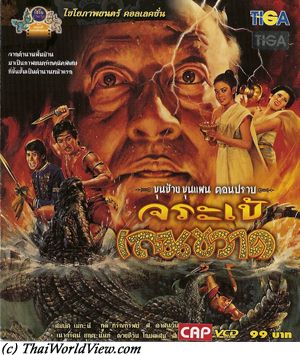 Year

: 1982



Thai title

:

ขุนช้างขุนแผน ตอนปราบจรเข้เถรขวาด




English title

:



Rating

: 3/5


Director

: Sompote Sangduenchai,Neramit



Main actor

: Sombat Methanee,Sor Asanajinda,Toon Hiransap


Main actress

: Naowarat Yooktanun,Duangcheewan Komolsen,Janthana Siriporn



Buy now

:

This movie is based on the folklore story "Khun Chang Khun Paen" (ขุนช้างขุนแผน) but only on a limited part of the whole story. During Ayutthaya period, a middle age man, Master Taen (อาจารย์เถร), has strong magic knowledge (วิชา) so can seduce women through spells and can transform himself into a ferocious crocodile. His young apprentice (ลูกศิษย์) can also become a fierce crocodile. Young ladies Simala and Soifa are the wives of noble Phra Phi but Phra Phi spends all nights with Simala. Soifa becomes very jaleous and asks Master Taen to help her. Master Taen uses black magic incantations. Simala and Phra Phi get tortured like voodoo puppets. Due to incantations (พิธี), Simala gets a defigured face so that Phra Phi goes back to Soifa. Phra Chumpoon, Phra Phi's brother, tries to defend Simila. Soifa asks Master Taen for a love filter to force Simala having an affair with Phra Chumpoon so that she can be repudiated by Phra Phi. Nothing happens but Phra Phi nevertheless chases her. Phra Chumpoon asks for his father's help. The father, Paen, sees that his son is under spell influence. Soifa starts to panic. The king orders to arrest Master Taen but Master Taen and his apprentice become crocodiles to kill the soldiers. A reward is offered to catch the crocodiles. Paen searches for evidence such as wax effigy inside the bedroom. But nothing found as Soifa hides it well but Paen succeeds to find it and breaks the spell (พิธีแก้) for Simala. Master Taen sends an evil spirit to fight Paen but Paen's baby spirit (กุมารทอง) helps him. Master Taen is arrested by Phra Chumpoon. He refuses to break the spell for Phra Pi. Simala and Soifa need to show their purity (บริสุทธิ์) by walking without pain on hot charcoal. Soifa fails (ความดีต้องชนะความชั่ว) and is chased in Northern Thailand. The two crocodiles continue their rampage until they are stopped by Paen and Phra Chumpoon. Master Taen is defeated and killed by Phra Chumpoon. Characters are similar to traditional theatre "Like" (ลิเก), i.e. the leading actor (พระเอก), the leading actress (นางเอก), the jealous girl (นางเอก), the funny and hilarious supportive maids (ตัวตลก). This is another movie from famous Chaiyo productions and produced by Sompote Sangduenchai. This is the fourth movie including crocodiles killing human again. The previous movies were Crocodile (จระเข้ - 1980), Kraithong (ไกรทอง - 1980), Kraithong 2 (ไกรทอง 2 - 1985). As often with Sompote productions, it includes light salacious content, humorous dialogues and kitsch Fx (Yak flying).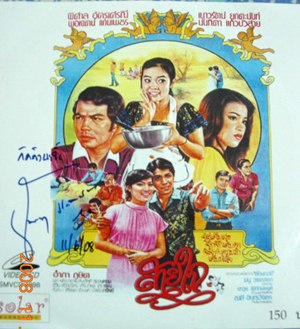 Year

: 1981



Thai title

:

สายใจ




English title

:



Rating

: 3/5


Director

:



Main actor

: Pisarn Akraseranee,Porjed Kaenpetch,Sawin Sawangrat,Somsak Chaisongkram


Main actress

: Naowarat Yooktanun,Sarinthip Siriwan,Nanthida Kaewbuasai,Ampha Pusit,Janthana Siriporn
Thai movie สายใจ was released in year 1981. It lasts 1h45mn. Yae Suk (Naowarat Yooktanun) and Den (Pisarn Akraseranee) have a car accident. They find an arrangement for the damages (ค่าเสียหาย). Her parents are Sarinthip Siriwan (คุณหญิง) and Sawin Sawangrat. Da (Nanthida Kaewbuasai) is her sister. Yae Suk is selling old items from her grandfather to allow the family to survive (หมดตัวแล้ว). But the parents either gamble the money or bet on horses. The father meet Somsak Chaisongkram and Saksit (Porjed Kaenpetch) while playing cards. The father invites them for lunch as he has the idea to marry his daughters in order to get money from the dowry (ค่าสินสมรส). A family gathering for all parties including Ampha Pusit happens to know each other. Da doesn't like Saksit as she believes he is just a gambler. He loses on purpose. Saksit pretends he can buy anything (ซื้อความนับถือความรักไม่ได้). Pho Lieng is also interested by Da and even tries to abuse her. Saksit helps her on time. They all go for a hike in the mountain but accidents occur. Finally Saksit and Da sympathize. Pho Lieng sends men to get rid of them. They have to spend the night in the forest but finally defeat the ruffians. As his daughters spent night outside home, the father claims his family name is tarnished (ขายหน้า). Da refuses to get sold (ถูกขาย). One old family friend mentions that the family name is already tarnished since a long time as the father and mother are strong gamblers. It shouldn't be the daughters' duty to pay for their gambling vice. Misunderstanding happens between Da and Saksit. Den helps to solve the issue. They finally get reunited also.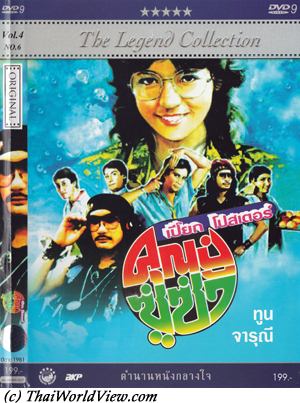 Year

: 1981



Thai title

:

คุณปู่ซู่ซ่า




English title

:



Rating

: 2/5


Director

: Piak Poster



Main actor

: Toon Hiransap,Der Doksadao,Somchai Samipak


Main actress

: Jarunee Sooksawad,Juree Osiri,Sulaleewan Suwanthat,Janthana Siriporn,Chaweewan Boonprok,Patama Panthong



Buy now

:

Thai movie คุณปู่ซู่ซ่า was released in year 1981 and lasts 1h59mn. It is available under DVD format released by BKP. Movie director is Piak Poster. Invited to a wedding party, Et (Toon Hiransap) is still single and is a playboy. He meets Juree Osiri. Et has inherited from his grandfather so he doesn't need to work. He doesn't want to marry as he likes freedom. He invites young lady Pat (Patama Panthong) to Pattaya. Kaew (Der Doksadao), his domestic helper, invites a lady (Janthana Siriporn) in his home while he is away. A little girl called Mot comes to their home. She is Et's relative daughter. As her family has financial issues, the relatives leave Mot with him. Et gets issues with police as he goes to teenager's party (ซวยจริงๆ). Mot's teacher is Thip (Jarunee Sooksawad). As there is nobody to stay with Mot, Thip stays to be her friend as both Kaew and Et are out every night. Et is going out with Chaweewan Boonprok. Enamoured with the teacher Thip (ครูสวยฉิบหาย), Kaew suggests bad ideas to Et in order to seduce Thip such as using sedative (ยานอนหลับ) or inviting her while there is nobody at home. All ideas fail and Thip is very upset with Et as she complains he lives a bad life only spending money and bringing no value to Thai society (ประโยชน์ต่อสังคม). Thip decides to change. Thip's father (Somchai Samipak) is a bakery's owner. Et succeeds to be hired in the bakery and launches successful cakes having tits shape. A co-worker (Sulaleewan Suwanthat) complains he is salacious (ลามก). Worried that Et will bring shame to his father and their business, Thip fires him. Apologizing for his behavior and feeling very sad, Et quits the bakery. While helping the father aggressed by two robbers, he is injured by them. Finally Thip understands Et is a good guy. Et promises to quit his bad behavior and acts as an adult. The second part of this Thai movie is named as คุณย่าเซ็กซี่ was released in year 1982.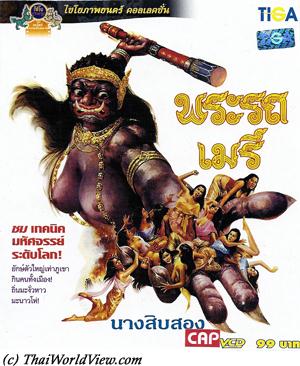 Year

: 1981



Thai title

:

พระรถเมรี




English title

:



Rating

: 3/5


Director

: Sompote Sangduenchai,Neramit



Main actor

: Toon Hiransap,Dam Datsakorn,Ron Rittichai,Sithao Petcharoen,Sompong Phonmitr,Sukon Koewliam


Main actress

: Ampha Pusit,Supansa Nuengpirom,Duangcheewan Komolsen,Janthana Siriporn,Metta Roongrat



Buy now

:

This movie is based on Southern Thai Local Literature. Twelve daughters are abandoned by their parents, who are too poor to educate so many children. The twelve daughters are rescued by a "Yak" woman who promises to take care about them as her own daughters. She deceived them and force them to drink a potion that transform the young girls into beautiful maidens. They escape and are rescued by a Prince, who falls in love with the youngest girl, called Sip Song. He agreed to marry the twelve girls. Once again, the "Yak" woman deceived and force them to drink a potion that makes them 8 months pregnant. The Prince, disappointed by this unexpected pregnancy, expels them and they are imprisoned in a cave, where the "Yak" woman has their eyes removed in order to make an ever young potion for her. Blind and with no food no eat, the ladies eat their new born babies except the son of Sip Song who is raised by a gentle "Yak". The son is called Phrae Rot Meri. Getting older he ran a cock fight to make a living for the 12 ladies. Becoming an adult, he has a deal with the Prince and goes to the "Yak" country to get more magic potions in order to get freedom for the 12 ladies including his mother. But the "Yak" woman is doing all possible tricks to stop him...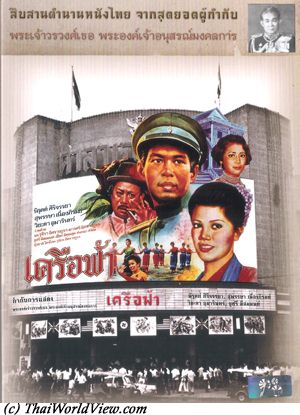 Year

: 1980



Thai title

:

เครือฟ้า




English title

:



Rating

: 4/5


Director

:



Main actor

: Nirut Sirijanya,Rujira Isarangkul


Main actress

: Supansa Nuengpirom,Wiyada Umarin,Sarinthip Siriwan,Chosri Misommon,Marasri Isarangkul,Janthana Siriporn



Buy now

:

Thai movie เครือฟ้า (สาวเครือฟ้า) was released in year 1980. It is available under DVD format (1h49mn) and VCD format (2h01mn) released by former company Solar. During World War 2, Hoi is a military officer (นายทหาร) in Chiang Mai back from overseas. Hoi (ลูกผู้ดี / ลูกพญา) is coming from a high society family (Sarinthip Siriwan). Hoi (Nirut Sirijanya) meets a young Northern lady called Kreua Fa (Supansa Nuengpirom) at a traditional dance event. Chiang Mai is famous for the beauty of its ladies (เมืองคนงาม). Kreua Fa's father raised elephants. Local North people speak local northern dialect in the movie. Kreua Fa makes Hoi discover elephants' life in the forest. A local old notable wishes to marry Kreua Fa. The notable involved in drugs trafficking wishes to get rid of Hoi. A plan is set up to have Hoi having a deadly accident in the forest with an elephant but Kreua Fa helps him on time. Romance starts between them. They finally marry following Northern traditions. As Thailand has declared war to Germany, Hoi needs to go back to Bangkok and then to fight in Europe. His plane is hit and Hoi lost his memory. Three years have passed. Champa has been taking care of him during his long recovery. Hoi's parents settle the wedding with this rich heiress (Wiyada Umarin). Meanwhile Kreua Fa has delivered a child. The evil notable kidnaps Kreua Fa's baby to force her to become his wife. Kreua Fa's friends use elephants to release her and the notable is arrested for drug trafficking. One day Hoi is invited to Chiang Mai to demonstrate Thai airplanes. Kreua Fa hearing the plane believes Hoi comes back for her. Hoi has the feeling he went to Chiang Mai before losing his memory (ความทรองจำ). The new wife is aware of Kreua Fa but hides the truth to Hoi. Officer Pla explains the truth to Kreua Fa that Hoi lost memory as his plane was hit during the war. Kreua Fa needs to wait. Kreua Fa tries to get suicide. Finally aware of a ball given by high society, she decides to find Hoi. During the ball, arguments arise between Kreua Fa and Champa but Hoi cannot remember Kreua Fa. Kreua Fa is so disappointed so she decides to kill herself. Hoi finally recovers his memory. While rushing to find Kreua Fa, he just arrives on time to have her dying in his arms. She entrusts her child to Hoi. This movie has been released in theaters before in year 1953 (Chalit Susewee and Wilaiwan Watthanaphanit) and 1965 (Mitr Chaibancha and Pissamai Wilaisak).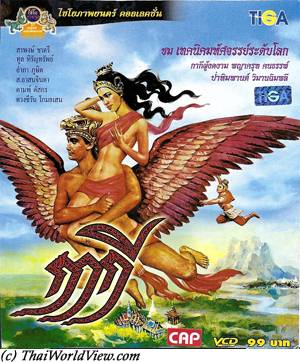 Year

: 1980



Thai title

:

กากี




English title

: Kaki



Rating

: 3/5


Director

:



Main actor

: Sorapong Chatree,Toon Hiransap,Sor Asanajinda,Dam Datsakorn,Sithao Petcharoen


Main actress

: Ampha Pusit,Duangcheewan Komolsen,Janthana Siriporn



Buy now

:

Beautiful young woman Kaki (กากี) is created from a magnolia flower by an hermit (ฤาษี) for the old King Prommathat (ท้าวพรหมฑัต). So Kaki becomes the beautiful wife of King Prommathat. One of the King's musician, Than (คนธรรพ์) (Sorapong Chatree), loves Kaki and composes songs to ease her heart. King Garuda (พญาครุฑ) comes down from his celestial residence to gamble with the King Prommathat in a dice game. King Garuda sees the beautiful Kaki and loves her immediately. King Garuda and Than love Kaki. Following a battle between Than and King Garuda, Kaki is kidnapped by King Garuda. King Garuda is a supernatural half-bird half-man creature living in a world different from the human beings world. Both the King Prommathat and the musician Than are sad. King Garuda visits again King Prommathat's palace believing nobody knows he kidnapped Kaki. King Garuda is demystified by the musician Than. Following a poetry wording fight, King Garuda is defeated. The deity needs to send Kaki back to the human world. The King Prommathat is shocked to learn that Than and Kaki love each other. Kaki is sentenced to harsh punishment. Finally Than succeeds to find Kaki and confirms his love to her despite Kaki claims that she is not worth as she had three husbands (หลายผัว, เป็นกะหรี่). It based on a great Thai classical literature written by Jao Praya Praklang Hon. Nowadays in Thai language, the word Kaki (กากี) is still used to mention a woman, who has an adulterous behavior.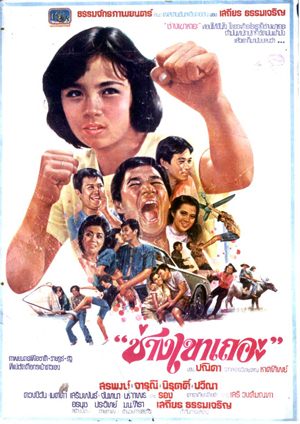 Year

: 1980



Thai title

:

ช่างเขาเถอะ




English title

:



Rating

: 3/5


Director

: เสถียร ธรรมเจริญ



Main actor

: Sorapong Chatree,Nirut Sirijanya,Rong Kaomulkadee


Main actress

: Jarunee Sooksawad,Duangcheewan Komolsen,Natanee Sitthisaman,Metta Roongrat,Janthana Siriporn
Thai movie ช่างเขาเถอะ was released in year 1980 and lasts 1h47mn. It was released under VCD format by company Triple XxX. The VCD is coming from a U-matic tape so the picture is not sharp. Some sequences are lost so the original movie is much longer. As Khun To Phanmitr, Triple XxX company owner, couldn't find a version in 35mm format to digitalise, so he used the U-matic tape version to release a VCD version. Movie director is เสถียร ธรรมเจริญ. This movie is a romantic comedy. Jarunee Sooksawad got best actress award for this movie. A poor family includes four members, i.e. the mother (Natanee Sitthisaman), the father, Tan (อีน้ำตาล สาวชาวนาเมืองสุพรรณ)(Jarunee Sooksawad) and her younger sister named Tok (ปวีณา ปิจเปี่ยมกิจ). A rich family is including various members such as Metta Roongrat, mother and head of the family, and her three children, i.e. Watee (Nirut Sirijanya), Wae (Sorapong Chatree) and Weechanee (Duangcheewan Komolsen). Phi Loi is Tok's boyfriend. The father is disapproving this relationship and wishes to get his daughter back. Her elder sister Tan is harassed by Loi and his ruffians, but she is able to fight back. The father sends Tok to Bangkok and asks Watee to take care of her. The father is killed by Loi and his ruffians as revenge. Loi's mother also dies. Loi believes Tan is behind her death. Tan is aggressed again but gets help from a local uncle. He teaches her self-defense. Tok is pregnant with Watee but she has no time to tell him. Loi and his ruffians are killed. The uncle got rid of them. Tan's mother dies after reading newspaper announcing Watee's wedding. Tan decides to go to Bangkok to find her sister. Tok stays with a masseuse (หมอนวด). The rich family doesn't tell the truth to Tan. They see her kindness when she helps to catch a robber stealing the mother's bag. Phet (Janthana Siriporn) is playing a domestic helper. Metta authorizes Tan to stay until she finds her sister Tok. Tan is finally fired from their home. Weechanee's boyfriend brings her back. Tan helps Lek (Rong Kaomulkadee). So finally, Tan is used as guardian (ยาม) by the rich family. Tan is upset to see uncle Uuu visiting Metta. Uuu asks Metta to get rid of Tan and discloses they spoiled her former heritage but Wae is aware. Tan helps Wae aggressed by ruffians. Tan has often difficulty to control herself so often recites a sentence (ใครจะทำอะไรเราก็ช่างเขาเถอะ) to stay calm. Issue happens when Tok is back in the house. Uncle Uuu is back but Tan rejects him. Uncle Uuu wishes to give back the heritage to her as he knows he misbehaved. She only wants her parents' land and to leave Bangkok. Wae declares his love to Tan. Watee is going to marry Tok. Tan accepts to marry Wae only if he accepts to live in Suphanburi. Wae discovers life on the countryside and has to work in rice fields. Happiness finally happens after Wae getting used to the countryside life.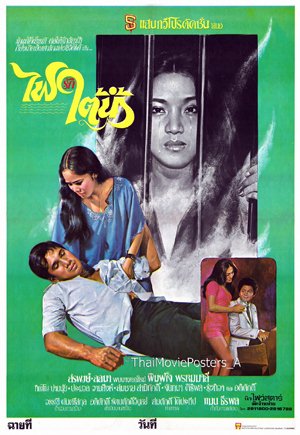 Year

: 1979



Thai title

:

ไฟรักใต้น้ำ




English title

:



Rating

: 3/5


Director

: Man Teeraphol



Main actor

: Sorapong Chatree,Somchai Samipak,Pinyo Parnnui


Main actress

: Lalana Sulawan,Janthana Siriporn
Thai movie ไฟรักใต้น้ำ was released in year 1979 and lasts 1h34mn. The movie was available on VHS. It is a movie recording on TV CH3 many years ago. It was first movie for actress พิมพ์ใจ พรหมมาลี. Movie director is Man Teeraphol. It is businessman Somchai's (Somchai Samipak) birthday party. His daughter Tum (Lalana Sulawan) is managing the party with the help of Bun (Sorapong Chatree), being a dedicated staff. Su (Janthana Siriporn) is Tum's close friend. Vinny is Tum's sister. Bun meets attractive young lady Jit (พิมพ์ใจ พรหมมาลี) at the party. On the next day, Jit starts trying to seduce Bun. Bun is a clerkman without money and is very shy. He lives in a slum. Jit invites Bun to go out. Vinny sees Bun and Jit together. Bun and Jit become lovers. Jit wants to marry Bun. Bun does not move to Jit's home as he does not want to be perceived as profiting from a richer woman (กอดเมียน้อย). They marry but Bun wants to keep money on his own for the wedding. Jit works for the government. Jit has a strong libido. Peung (Pinyo Parnnui) is mute and is a musician in Pattaya hotel. Jit has a manager, who is her former lover. Jit is not fully happy with her married life. Jit spends a lot of money as she must join official events (งานสังคม), so it makes Bun upset. Bun works hard so he does not have time for his wife at nighttime due to tiredness. Jit needs sex (ต้องการ). Having dinner with her boss, he drugs her. Vinny and Su see Jit in the car and see her running out from a short time hotel. Jit fled from the hotel before her boss could do anything to her. They share the news with the father Somchai and Tum. Back home, she drinks a lot and argues with Tum, who is sending Bun back home. Bun slaps Jit, who quit their home. Back to Pattaya hotel, Jit drinks a lot as she complains Bun does not understand her. The boss just wants a mistress and makes many promises to Jit. She is not interested. Finally, Peung and Jit become lovers. Jit is not yet divorced but is having an affair with Peung (ชู้). Tum is aware through Vinny. Jit needs desire (ความใคร่). Bun is sick as he works too much. He is just husband in name (ผัวในนาม) so he is also upset. The ladies bring Bun to Pattaya to try to find a solution. Bun sees Jit with Peung. He punches Peung and slaps Jit. At evening time, Bun drinks a lot. Peung, wishing to get revenge, hits him with a stick. He then tries to strangle Tum. Jit, looking for Peung, intervenes and has no choice but to stab Peung. Jit ends up in jail and recognizes her mistakes, but it is too late. She wishes good luck to Bun and Tum together.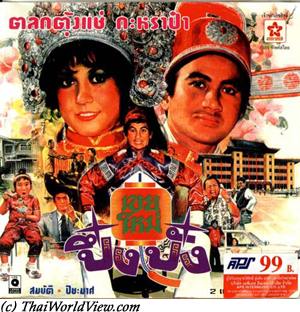 Year

: 1979



Thai title

:

เขยใหม่ปึ๋งปั๋ง




English title

:



Rating

: 2/5


Director

: Kumtorn Tubkunlai



Main actor

: Sombat Methanee,Boo Wibunnan


Main actress

: Piyamas Monayakol,Runglawan Sripatimakul,Chosri Misommon,Janthana Siriporn



Buy now

:

Kimtom is a young man part of a wealthy Chinese family established in Thailand since a few generations. Wo is a young lady part of a Thai traditional high society family (ผู้ดี). Kimtom and Wo love each other but both families refuse this union. The Chinese family wants a rich bride for Kimtom. The Thai family wants a famous family name to match their rank. The Thai high society family despises Chinese customs (strong accent - พูดไทยไม่ชัด, laugh loudly, No good manners - มารยาท, burping during diner). Kimtom wants to prove that Wo's mother is wrong. Wo's mother is pushing towards the son of a Thai rich family linked to old aristocracy. His name is Samkhan (สำคัญ). Kimtom comes to the diner dressed with Chinese traditional old clothes. As Wo's mother thinks that Chinese food is savorless (รสชืดชืด), she makes a very spicy curry for Kimtom! Kimtom's family makes a 2M Baht donation (บริจาค). Wo's family complains about new rich people (เศรษฐีใหม่) versus old aristocracy (เศรษฐีเก่า). It is Wo turn to go for a diner with the Chinese family. Funny situations happen as she doesn't know how to use chopsticks. Finally both families agree for a wedding but the wedding needs to include Chinese and Thai ceremonies. Kimtom doesn't feel well because Wo's mother doesn't accept him. The movie raises issues regarding multiracial weddings. There should be no border for love. The wife needs to stay in the husband's home according to Chinese customs. But Wo's mother keeps her at her home. Misunderstandings keep happening (ทำประชด). Wo is pregnant. The Chinese family wants a boy first. Then both families fight over the education of the child. Finally as Kimtom helps to prevent a robbery on Wo's mother jewels and they move to their own house, happiness and understanding happen again.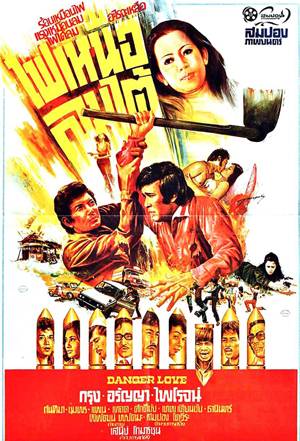 Year

: 1977



Thai title

:

ไฟเหนือลมใต้




English title

: Danger Love



Rating

: 3/5


Director

:



Main actor

: Krung Srivilai,Phairoj Jaising,Choomporn Theppitak,Thep Thienchai,Pan Borapet


Main actress

: Aranya Namwong,Kantima Daraphan,Janthana Siriporn
Thai movie ไฟเหนือลมใต้ was released in year 1977. It features Krung Srivilai as main actor and Aranya Namwong as main actress. The movie is lost in Thailand but a sequence of 1h01mn remains to be seen. Sia (Choomporn Theppitak) is playing pool. Krot (Krung Srivilai) arrives in the game room and shoots him. He then flees. Sia killed Krot's whole family so Krot is taking revenge. Chit (Phairoj Jaising) is upset that his older brother Sia was shot by Krot, a close friend. Chased by ruffians, Krot succeeds to flee by a train going to Hat Yai. A hitman called Takro is killing many people. He finally gets killed due to a trick played by 3 ladies including Linda (Janthana Siriporn) (ไม่น่ามาฅายเพราะว่าข่าอ่อนแบบนี้เลย). The local mafia leader needs to find a new hitman and asks for Krot. Meanwhile Chit finds Krot again and gives him a lesson as he is drunk. Krot succeeds to flee thanks to a taxi driven by Aranya Namwong. Aranya finds a woman picture in Krung's jacket pocket. Probably his former wife killed by Sia. Krot shots 3 drugs traffickers. Chit still tries to catch Krot and a fighting happens on a moving truck. Aranya is in fact a policeman. Krot shots Aranya with a sniper rifle despite Aranya saw him. Krot flees and boards a plane to Chiang Mai. His co passenger is similar to Aranya! Her father just died. Two songs are featured in nightclubs. Linda is also killed by Krot. Aranya is surprised that he is so cruel (หน้าตาดีแต่ใจโหดร้าย). Krot is a professional killer (มือปืนรับจ้าง). Police wants to get him alive to know who are the sponsors behind (ผู้ติดต่อ). So Aranya is assigned to this dangerous task. The remaining sequence ends up here. It could be that Aranya plays two roles. Other actors are กันทิมา, แพน, เทิด, ศักดิ์ชัย, ธานินทร์. A summary of the movie is still available through old Thai stars magazines.
---