Increase or decrease font size for easier reading : A+ A-
Jamroon Nuatjim
Jamroon Nuatjim (192x) - จำรูญ หนวดจิ๋ม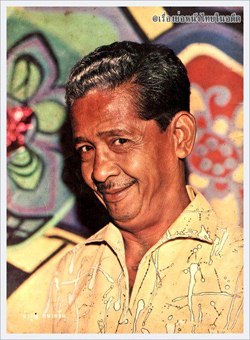 Jamroon Nuatjim
This Jamroon Nuatjim movie page contains 16 records.
---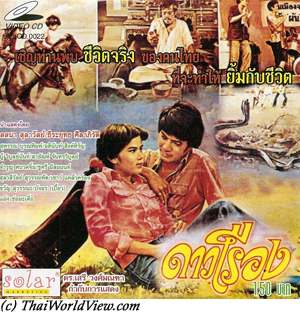 Year

: 1979



Thai title

:

ดาวเรือง




English title

:



Rating

: 3/5


Director

:



Main actor

: Jamroon Nuatjim


Main actress

: Lalana Sulawan
This is the story of a woman, who has a very bad character. One day, a young official comes in the village. Will he succeed to win her heart?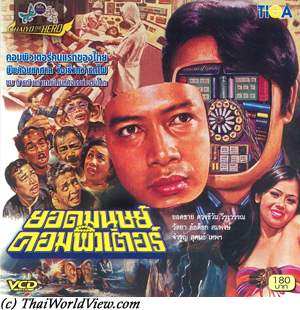 Year

: 1977



Thai title

:

ยอดมนุษย์คอมพิวเตอร์




English title

:



Rating

: 3/5


Director

: Sompote Sangduenchai



Main actor

: Yodchai Meksuwan,Lor Tok,Phirapon Piyawan,Thep Thienchai,Jamroon Nuatjim


Main actress

: Duangcheewan Komolsen



Buy now

:

Four boys are born with strange features, one has very big ears, one has a tail, one has very big hands, one has big nose sinus. Becoming friends, they spend most of their time playing and sleeping. Becoming adults, their fathers banish them from the village as they are doing nothing to help the community. Just as they leave, a local mafia gang threatens the villagers to get help to cultivate opium and to provide food for their members. Meanwhile one lady wants to marry one of the boys but wishes that he can remove his tail. He refuses. At night time, while he is sleeping, she cuts his tail. He flees away but looses a lot of blood. A crazy scientific professor finds and decides to save him by using technology. He becomes the Thai Six Million Dollar Man! He then gathers his three other friends to free the villagers from the mafia gang.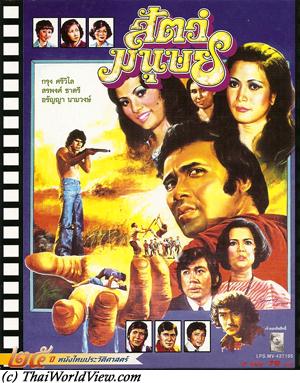 Year

: 1976



Thai title

:

สัตว์มนุษย์




English title

:



Rating

: 5/5


Director

:



Main actor

: Sorapong Chatree,Krung Srivilai,Jamroon Nuatjim


Main actress

: Aranya Namwong,Piathip Kumwong
Chot (Sorapong Chatree) and his sister Choi (Aranya Namwong) are children of poor farmers. Chot loves Soi, who is the subdistrict headman's daughter (กำนัน). They love each other but Chot cannot have any hope as he is too poor (เด็กเรียนควาย). Chot helps his sister Choi as she was going to be raped by three ruffians (สัตว์นรก!) that are protected by the local subdistrict headman. Saeng, son of the subdistrict headman, requests a young lady called Bua as a payment for her mother's debt. Bua takes refuge in Chot's father home. Meanwhile Chot is arrested as he hit earlier the three ruffians. It is unfair and the family has no money to pay the bail (ประกัน). The father needs to ask a local Chinese moneylender for 10 000 baht to pay the bail. There are always issues between Saeng and Chot. Saeng would like to kill Chot. One night, Saeng's ruffians rob the 10 000 baht reimbursement and kidnap Bua. The subdistrict headman and village headman are not helpful to poor people. The village headman prevents Chot and other men to look after the ruffians as Chot shot one of the robbers. Bua is then found dead. Choi is very upset as Bua's death is due to the village headman (ผู้ใหญ่บ้าน) inactivity and his refusal to take responsability (ไม่รับผิดชอบ) as he prefers to help rich people only. As the headman hits her sister, Chot, in full anger, shots him and then needs to flee. Chai is the local Chinese moneylender's son. He is no respect for others. Chai (ลูกเศรษฐี) tries to shoot birds in a Buddhist temple despite the abbot's request to stop. Chot, who took refuge in this temple, prevents him to do so as a temple shall remain a peaceful haven. If we accept human sins, what kind of future will Buddhism have? (ถ้าเรายอมให้มนุษย์ทำบาป ศาสนาจะมีอนาคตอะไร). Pliu, future lawyer, promises to marry Choi. Chot succeeds to get back the 10 000 bath from Saeng (ตอบแทนความชั่ว). The father refuses the money believing his son is now a brigand (โจร). Heavy floods happen. All crops are devasted. The father has no more money to invest in new crops. Be good and there is nothing good happening to them (ความดีไม่เอาแล้ว). The father receives 3000 bath to plant new crops but Choi must accept to be the moneylender's domestic helper (เป็นขี้ข้าดอกเบี้ย). As Chot was injured, he cannot help. Only the Buddhist abbot helps him. Choi is drugged by the moneylender and raped. Then she is forced by Chai. She fell in hell (ตกนรก). She supports this situation as respect to her father (กตัญญูสำหรับพ่อ). Tia, the moneylender, likes Choi very much and decides to take her as minor wife. She accepts in order to remove her father's debt but this one doesn't understand his daughter (sent her to be a maid and not a wife - ส่งให้เป็นแม่บ้านไม่ได้ส่งให้เป็นเมีย) and decides to stop any relationship with her (ไม่มีลูกสาวแล้ว, คนอยู่ละโลก, ผู้หญิงขายตัว). Money has destroyed his world and family. The father has a heart attack and dies. Choi is now pregnant. Most likely the father is Chai and not Tia, the father. Tia's wife puts everybody under his own responsibility. Wishing to do good one time in his life, Tia promises to give a house and one million bath for Chai to marry Choi (ฮี่ควาย). Saeng then threathens to kill Tua if he doesn't handover a bus line. Rich and influent people are sinful (สัตว์มนุษย์) behaving worst than animals. Finally Tia asks Choi to convince Chot to give a lesson to Saeng versus a promise to help Chot against authorities. During the fight Saeng accidentally dies. Chot surrenders (มอบตัว) and is finally forgiven by the tribunal thanks to lawyer Pliu. Choi continues to behave badly with no respect, no care for anybody except himself. He finally has a business conflict with Tia and dies, being shot by Soi. This movie has a deranging question regarding karma. People who do good and follow up Buddhist precepts are the poor losers. The moneylender, the subdistrict headman's family do not follow the law and are the one reaping the profit. Is it worth to be always good people when injustice prevails? Actor Sorapong Chatree got a best Thai actor award for this movie.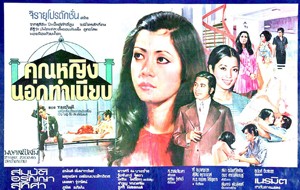 Year

: 1974



Thai title

:

คุณหญิงนอกทำเนียบ




English title

:



Rating

: 4/5


Director

: Neramit



Main actor

: Sombat Methanee,Jamroon Nuatjim


Main actress

: Aranya Namwong,Mayurachath Muarnprasitivej,Suthisa Putnuch,Metta Roongrat,Chosri Misommon,Marasri Bangchang
Thai drama movie คุณหญิงนอกทำเนียบ was released in year 1974. It features Sombat Methanee as main actor and Aranya Namwong as main actress. The movie is lost in Thailand but a sequence of 48 minutes remains to be seen. It is the final sequences of the movie. Supasatee (Aranya Namwong) also called Sajee has arguments with the son, who treats her as a minor wife (เมียเก็บ). The father is Chit (Sombat Methanee). His younger sister (Metta Roongrat) also doesn't accept that Sombat has a new younger mistress. Sajee and Chit deny any wrongdoing. Chit sends Sajee back to the slum through his mercedes so people are gossiping including her own grandmother (Chosri Misommon). Her own grandmother tells her not to forget her own roots but Sajee wishes to climb the social ladder without taking in account other people's critics. Chit is celebrating the birthday of Suthisa, his wife (Suthisa Putnuch). Metta brings doubt in Suthisa's heart but is in fact disappointed that Chit would choose Sajee over her! It causes Lady Suthisa to die as she has a fragile heart already. Even Kaew (Mayurachath Muarnprasitivej), Sajee's best friend and Chit's daughter, believes Sajee wants to take the place of Suthisa. Finally romance happens between Sajee and Chit. The grandmother believes Sajee will be back as same as lotus, she comes from dirty slum soil so she cannot adapt to rich soil. Kaew is pregnant. Sajee has to find an abortion doctor for her. One day while driving with Chit, she sees a woman hit by a car. It is her own mother. Sad event showing she starts forgetting her roots. Chit is also having heart issues. His new wife Sajee gets rejected as Lady nomination (คุณหญิง) as she is not coming from a proper background. Chit ends up at the hospital where Sajee asks to modify the heritage terms. Worried about heritage, Chit's children cause their father's death by asking too many questions instead of letting him rest. On the opening of the testament, Chit's children realize Sajee is not asking for a single baht and is just going back to her slum. Rich people looked wrongly at Sajee. She was the one having a good and true heart.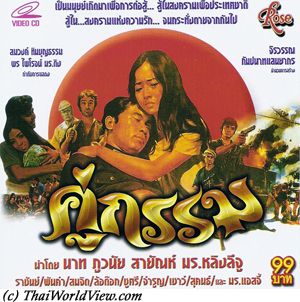 Year

: 1973



Thai title

:

คู่กรรม




English title

:



Rating

: 3/5


Director

:



Main actor

: Nard Poowanai,Lor Tok,Sayan Chantaraviboon,Sukon Koewliam,Jamroon Nuatjim,Chao Klaewklong


Main actress

: Somjit Sapsamruey,Chosri Misommon
This movie is about the tragic love during World War II between a Japanese officer and a Thai lady.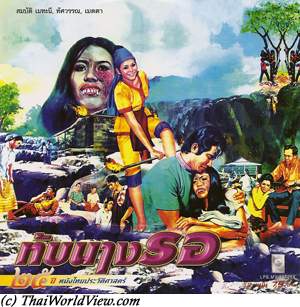 Year

: 1973



Thai title

:

ทับนางรอ




English title

:



Rating

: 3/5


Director

: Chutima Suwannarat



Main actor

: Sombat Methanee,Kamthorn Suwanpiyasiri,Jamroon Nuatjim,Tat Ekathat,Rong Kaomulkadee,Pan Borapet


Main actress

: Tasawan Saneewong,Boosara Narumit,Metta Roongrat,Malee Wetpraseri
Thai movie ทับนางรอ was released in year 1973 and lasts 1h43mn. It was released under VCD format by Lepso Company. Sombat Methanee, Kamthorn Suwanpiyasiri, Pan Borapet, Jamroon Nuatjim, Tasawan Saneewong, Boosara Narumit, Tat Ekathat, Metta Roongrat, Malee Wetpraseri, Rong Kaomulkadee are the main actors and actresses featured in this movie. Movie director is ชุติมา สุวรรณรัต. A baby girl is abandoned in the forest as she has a deformed face (ลูกผี). She is rescued by Tat Ekathat and is named Sopi. At school, she is rejected by other children. Being an adult, her face becomes normal but a awful decease endangers her (อย่าพบความรัก). If she gives life to a baby, she shall die. Her parents (played by Boosara Narumit and Kamthorn Suwanpiyasiri) prevent her from seeing any boy. Chakapan (Sombat Methanee), a Bangkok young man, falls in love with her and asks for her hand but Sopi's parents refuse (เรื่องหัวใจ). Pim (Metta Roongrat) and Rong Kaomulkadee are having a romance. They keep helping Chakapan and Sopi. Sopi is aggressed by two ruffians, including Pan Borapet, working for the village leader. She flees but falls from a cliff. Chakapan saves Sopi's life so her parents finally accept the wedding but knowing that she shall die following a pregnancy. Sopi is now pregnant. Following delivery, Sopi's deformed face is back, so she flees from home with her child. She ends up dying in Chakapan's arms per the doomed prediction.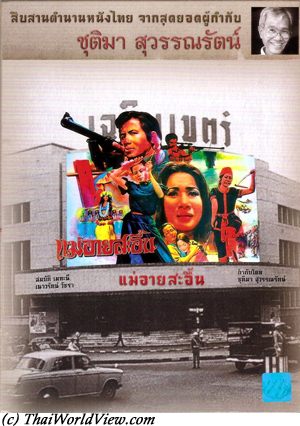 Year

: 1972



Thai title

:

แม่อายสะอื้น




English title

:



Rating

: 5/5


Director

: Chutima Suwannarat



Main actor

: Sombat Methanee,Kamthorn Suwanpiyasiri,Sahat Piempongsan,Jamroon Nuatjim


Main actress

: Naowarat Watchara,Tasawan Saneewong,Metta Roongrat,Viphavadi Triyakul,Malee Wetpraseri



Buy now

:

A subdistrict headman is almost blind but still performs traditional arts. His daughter Dao Lin (Naowarat Watchara) can do traditional spade dance. They are living in a Northern village specialised in making traditional colorful umbrellas. Mem (Malee Wetpraseri) recommends Dao Lin to a Bangkokian lady for a job in Bangkok (เสริมสวย). Dao Lin accepts as she needs money to cure her father's eyes. The second daughter is played by Tasawan Saneewong, who is acting for the first time. No further study for her as they are too poor. In Bangkok, Dao Lin realises the job is in fact acting as a prostitute (โสเภณี / ฉันไม่ใช่สินค้า). Dao Lin cannot send news. She ends up in pregnancy and succeeds to flee the brothel (กลุ่มนรก). She delivers a baby, who is unfortunately disabled. The hospital doctor (Kamthorn Suwanpiyasiri) finds her a job as a model (นางแบบ) but she needs to hide her baby (สังคมทุกวันนี้จำเป็นต้องสวมหน้ากากเข้าหากัน). She gives her baby to her sister lying it is a friend's baby. Dao Lin meets Songpon (Sombat Methanee) in Penang. They finally get engaged (หมัน). Dao Lin discovers that the doctor is Sombat's brother but he promises to disclose nothing. She forgets her family so her father decides to come to Bangkok with her sister Chaeung and disabled son to find Dao Lin. Ten (Metta Roongrat) becomes Chaeung's friend in Bangkok. Chaeung recognises her sister on TV. When meeting together, Dao Lin is ashamed (ลืมตัว) as she doesn't want anybody to know her poor background so she chases away her younger sister. Disappointed, Chaeung runs away and is hit by a car. She is cured by the same doctor, who cured her elder sister. Having pity on her, the doctor recruits her as domestic helper. Dao Lin is surprised to see Chaeung in the doctor's house and asks her not to reveal their family links until she is married with Songpon. Pi (Sahat Piempongsan) is having an affair with Songpon's mother. He always asks for money. They all go to Southern island to help poor children. Songpon's brother called Songyut lives there and takes care of the family domain. Songyut falls in love with Chaeung. Songpon also loves Chaeung but just got engaged with her sister... The mother asks Songyut to stop seeing her as she is a poor girl. Chaeung is kidnapped per the mother's orders. Ten asks Songyut for help. A boat chase is happening in Phuket near the James Bond island. Pi, wishing to get the family domain, shots Songyut through a long range gun but falls from the cliff and dies. The mother is horrified and crossed against Chaeung (เด็กเวร) but she is indirectly responsible of her lover's acts. Meanwhile Dao Lin warns Songpon who finally rescues Chaeung after an impressive car chase. Songyut's mother asks Dao Lin to get rid of Chaeung as she takes her as responsible of her son's death. Dao Lin accepts. Chaeung hears this conversion and arguments happen between the two sisters. Dao Lin's father hears his two daughters arguing and now is aware that Chaeung hides the reality about Dao Lin forgetting her own family. Chaeung, the father and the disabled son leave for Mae Sai. Da Lin follows them there but her father is already dead. He got suicide because of disappointment with his daughter. Songpon is here also blaming Dao Lin not to have told him the truth about her background as he is comprehensive and it would have saved her father's life. Nobody in the village wishes to talk to Dao Lin. To pay respect to her father a last time, she performs the traditional spade dance and finally cuts her throat during the dance. She entrusts Chaeung and her son to Songpon. It is a sad family drama with a rich mother causing her son's death and a poor daughter causing her father's death. The DVD แม่อายสะอื้น (1972) lasts 1h55mn but some parts are missing as it is a copy from U-matic tapes.. Famous director is Chutima Suwannarat (ชุติมา สุวรรณรัตน์) well known for sad movies.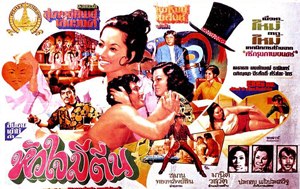 Year

: 1972



Thai title

:

หัวใจมีตีน




English title

:



Rating

: 3/5


Director

:



Main actor

: Phairoj Jaising,Krai Kanchit,Jamroon Nuatjim


Main actress

: Metta Roongrat,Wilaiwan Watthanaphanit,Sukhonthip Saneewong
Thai movie หัวใจมีตีน was released in year 1972. It features Phairoj Jaising as main actor and as Sukhonthip Saneewong (สุคนธ์ทิพย์ เสนะวงศ์) as main actress. The movie is lost in Thailand but a sequence of 6 minutes 30 seconds remains to be seen. Other actors and actresses are Metta Roongrat, นงลักษณ์, Wilaiwan Watthanaphanit, Krai Kanchit, จีระศักดิ์, ธานินทร์, อภิญญา, จำรูญ. Sukhonthip Saneewong is introduced as a new actress in this movie. She was born in 1952. This movie is about a musician but due to back luck, he ends up being a male prostitute (ผู้ชายขายตัวหรือผัวเช่า). The main actress is a bar singer trying to push the musician to write songs for her in order that he quits his current job. หัวใจมีตีน is the first song written by the musician and it becomes famous.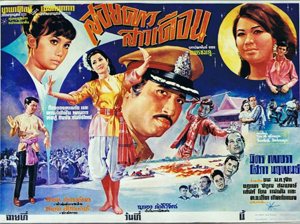 Year

: 1969



Thai title

:

สอยดาวสาวเดือน




English title

:



Rating

: 3/5


Director

: Chalong Pukdeewichit



Main actor

: Mitr Chaibancha,Chana Sriubon,Sorapong Chatree,Jamroon Nuatjim


Main actress

: Petchara Chaowarat,Sopha Sataporn,Viphavadi Triyakul
Saming (สมิง) is a local ruffian. He loves a young lady called Srinuan (ศรีนวล) (Petchara Chaowarat). While trying to get back a necklace belonging to his family, Saming is injured so he cannot stay close to Srinuan. Neung (หนึ่ง) (Mitr Chaibancha), a Bangokian young man, comes to visit the village one week for a local yearly dance contest festival. Saming loves Srinuan but Srinuan is more interested in Neung. It is reciprocal. Saming is unhappy with Neung. During the dance contest, competitors try to hurt Srinuan but Neung protects her and gets injured. Srinuan spends the night with Neung. As Srinuan's father, Kamnan Tong (กำนันธง), is aware, Neung needs to take responsability (ต้องรับผิดชอบ). Neung is coming from a rich family. His father is disappointed by his son's behavior but wants his son to finish his studies first and get approval from the grandmother. Neung needs to leave. Srinuan promises to wait (ค่อยพี่นะ). Behind the curtain, Neung's father promises land and money to Srinuan's father to forget about this union. 18 years have passed. A daughter is born from their brief union. Her name is Soi (สอยดาว), who is now a beautiful teen. Neung's father sends his grand children to check the land he gave to subdistrict headman Tong. It includes Deuan (สาวเดือน ) and Kla (ลูกเมียแต่ง / ลูกเมียหลวง). Saming (โจร เสือ) is now the ruffians leader. Srinuan doesn't want Soi to meet the Bangkokian people as they might have bad intentions. Soi helps Deuan, her half sister, who falls in the river (ด้วยน้ำใจ). She is sad that her real father never visited her. Kla, the brother, has a bad mindset denigrating countryside people and gets smacked by Soi. Neung wishes to know who hit Kla. Neung meets Soi and understands she is her daughter. Neung wishes to know the truth about Soi. The father, subdistrict headman Tong, doesn't wish to let Neung meet Srinuan again but Neung insists. After 18 years passed Srinuan doesn't want to meet him again also (ไม่อยากเป็นเมียที่สอง! ไปขอทานที่อื่น!). Finally Neung recognizes officially Soi as her daughter and she moves to Bangkok to become an upper class lady (เลือดควาย / เลือดผู้ดี). Neung's wife, Soi Phet, doesn't accept this as it means to share heritage with another family member. Many troubles happen. Kla sends two ruffians to rape Soi. The grandmother falls from stairs while trying to help. Soi is accused and goes back to countryside with her mother. Neung's wife wishes to get back the land. Following a boat assault, Neung's wife is shot. Saming is responsible. Following gun fights between Police and ruffians, a final duel happens between Neung and Saming. Neung wins. Kla is injured and is forgiven by his father and Soi. Neung and Srinuan can now live happily together. Interesting to find that Sorapong Chatree, Thailand's most famous actor, is playing a young stunt during a few minutes at the beginning of the movie.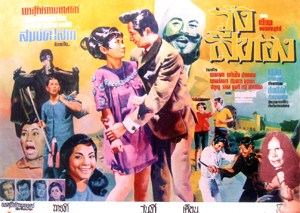 Year

: 1968



Thai title

:

วังสีทอง




English title

:



Rating

: 3/5


Director

: Sulaleewan Suwanthat



Main actor

: Sombat Methanee,Somkuan Krajangsat,Adinan Singhiran,Choomporn Theppitak,Krai Kanchit,Jamroon Nuatjim


Main actress

: Sopha Sataporn,Sulaleewan Suwanthat,Chosri Misommon,Metta Roongrat,Kaenjai Meenakanit,Phong Lada Pimolpan
วังสีทอง is a Thai movie released in year 1968. It features Sombat Methanee as main actor and Sopha Sataporn as main actress. Other actors are Somkuan Krajangsat, Metta Roongrat, Choomporn Theppitak, Krai Kanchit, Kaenjai Meenakanit, Sulaleewan Suwanthat, Adinan Singhiran, Chosri Misommon. The movie is lost in Thailand but a trailer of five minutes is still available. Without a summary and the 16mm movie being in mute state, it is difficult to understand the story. Various short sequences are show Krai abusing of Metta, a man disguised in black outfit, Sombat punching Adinan trying to abuse Sopha. This movie ambiance reminds of other movies such as ปราสาททราย or ฟ้าคะนอง. The movie producer is ป้าทอง also called as Sulaleewan Suwanthat. Other less known actors include สุพรรณ บูรณะพิมพ์-จำรูญ หนวดจิ๋ม-ทนงศักดิ์ ภักดีเทวา.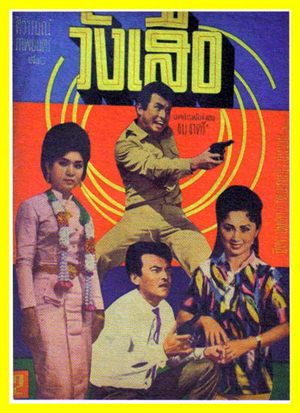 Year

: 1965



Thai title

:

วังเสือ




English title

:



Rating

: 3/5


Director

: Neramit



Main actor

: Mitr Chaibancha,Prachuap Ruekyamdee,Sor Asanajinda,Sukon Koewliam,Jamroon Nuatjim


Main actress

: Petchara Chaowarat,Ratanaporn Intarakamhaeng
Thai movie วังเสือ was released in year 1965. The movie is lost in Thailand. Only a short left colorful movie trailer lasts 2 minutes 20 seconds. The remaining sequence is in mute state as the reel is in 16mm format. Main actor is Mitr Chaibancha and main actress is Petchara Chaowarat. It features Prachuap Ruekyamdee, Ratanaporn Intarakamhaeng, Sor Asanajinda, ชาย, วงศ์, ธัญญา, Sukon Koewliam. Movie directors are มารุต and ครูเนรมิต. Remaining sequences allow seeing Mitr as a government official, Petchara, Prachuap as bad guy, Ratanaporn as Mitr's mother. Various short sequences feature fighting, shooting, Mitr upset with Petchara, Sukon, Petchara escaping from ruffians, Jamroon Nuatjim.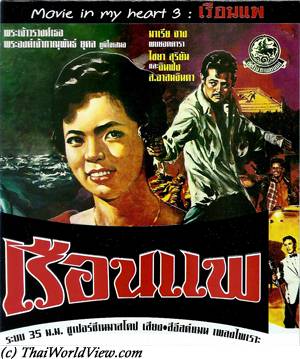 Year

: 1961



Thai title

:

เรือนแพ




English title

: Houseboat



Rating

: 5/5


Director

: Neramit



Main actor

: Sor Asanajinda,Chaiya Suriyun,Jin Fong,Preuhat Boonlong,Jamroon Nuatjim


Main actress

:



Buy now

:

Four friends are living together, 3 men and one woman, Pen (เพ็ญ). They rent an old boat from Pen's father and repair into a boat house to live on it (เรือนแพ). Kaew (แก้ว) wishes to become a Thai boxing champion (นักมวย). Lin (รินทร์) wishes to become singer and songs compositor. Chen (เจน) wishes to finish first grade his studies and become a policeman. Pen is the lady. All three friends secretly love Pen. Many songs are featured in the movie. Kaew wishes to participate to real Thai boxing competition instead of only doing trainings. He is very hot temper. A local ruffian head, Ekarat, finds a fight for him and he wins. A song master hears Lin's beautiful voice and wishes to recruit him. A thunderstorm wrecks their home and they nearly escape to death. Kaew saves Pen from drowning so winning her heart and love (หนูเป็นของเขาแล้ว). Kaew wants to win big money to take care about Pen but he needs to do illegal things such as losing a match. He refuses to do so causing Ekarat's ire. He meets another Lopburi influant man. He gives 40 000 baht for his wedding with Pen. On the way to Chiang Mai for the wedding, Kaew discovers that Pen's father is preparing the wedding with somebody else! Upset he disturbs the ceremony and shots the groom. He has to flee and becomes an outlaw (ผู้ร้าย). The four friends have gone different paths (ตามดวง). Kaew gets friend with another ruffian. They rob banks and barges together. Chen, who is now a policeman, needs to catch Kaew as it is his duty. He tries to convince him to surrender but no to avail as Kaew is afraid to go twenty years in jail. Kaew and Pen still meet together. Pen wishes Kaew to stop robbing (หยุดปล้น). Even if Kaew wishes to stop, his ruffians friends discourage him saying no woman will wait for him so long in jail. On top of this they are still chased by the police so no time to rest and think. During a singing performance, Lin is shot and killed by one of the ruffians. Kaew cannot help on time. Chen believes Kaew is the one who shot Lin. They all meet on their format boat house. Kaew accepts to surrender but other ruffians shot him and Chen. The movie ends tragically, Kaew dying while sending the boat on the ruffian to smash him. Only Pen survives. The friendly happiness is no more. เรือนแพ is the first officially restored Thai movie by USA in years 2006-2007. It is a 50 years old movie and the VCD from "Phanmitr" (พันธมิตร) collection company includes a copy in very good condition. It was the first Thai movie in 35mm with songs and not dubbing like 16mm movies. Even the Thai King went to watch the movie in 1961! Chaiya Suriyun was the first star to win three consecutive Thai oscars (รางวัลตุ๊กตาทอง) in years 1962-1964. His first Thai oscar was thanks to this movie "เรือนแพ". The movie got 3 oscars (best actor, best supporting actor, best movie). It was adapted many times as Thai TV series and another time for cinema in 1989 with Santisuk Promsiri.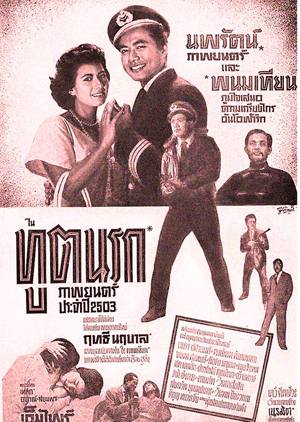 Year

: 1960



Thai title

:

ฑูตนรก




English title

:



Rating

: 3/5


Director

: Neramit



Main actor

: Luechai Natnat,Man Teeraphol,Tat Ekathat,Phirapon Piyawan,Jamroon Nuatjim


Main actress

: Amara Asavananda
Thai movie ฑูตนรก (เล็บครุฑ ภาคสมบูรณ์) was released in year 1960. The main actor is ฤทธี นฤบาล and main actress is Amara Asavananda. This movie is supposed to be a sequel of Thai movie "เล็บครุฑ" released in year 1957 and featuring Luechai Natnat. Luechai got a Thai cinema award for his first movie. In this sequel, the main actor is new and his name is ฤทธี นฤบาล. Others actors and actresses are พงษ์ลดา พิมลพรรณ, งามตา ศุภพงษ์, Luechai Natnat, Man Teeraphol, Tat Ekathat, ประศาสน์ คุณะดิลก, กวี นาคราช, ชาติ เชิงชาย, สมถวิล มุกดาประกร, Phirapon Piyawan, Jamroon Nuatjim (จำรูญ หนวดจิ๋ม). Director is Neramit (ครูเนรมิต). It was not a big success as the main actor was more known for second roles in other movies. The movie is lost in Thailand but a 5 minutes sequence is is left to be seen. Luechai Natnat has certainly a small role to make the transitions between the two movies. Various small sequences can be seen such as scenes including actors Tat Ekathat and Man Teeraphol, Jamrun Nuatchim hiding under the bed, Amara threatened by a man with a bottle full of acid, Amara and a captain in front of a paquebot, the captain leaving, veteran sexy actress (ดาวยั่ว) seducing a man.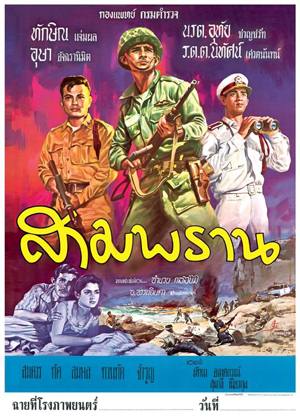 Year

: 1960



Thai title

:

สามพราน




English title

:



Rating

: 3/5


Director

: Neramit



Main actor

: Somkuan Krajangsat,Taksin Jampol,Tat Ekathat,Sompol Kongsuwan,Jamroon Nuatjim


Main actress

: Usa Atcharanimit
Thai movie สามพราน was released in year 1960. Main actors and actresses are are Somkuan Krajangsat, Taksin Jampol, Usa Atcharanimit, รต.อุทัย ชาญชวัท, ร.ต.ต.นิทัศน์ เศวตนันทน์, Tat Ekathat, Sompol Kongsuwan, Jamroon Nuatjim, มัทนา อลงศกรณ์, สุมาลี เนียวกุล. Movie director is Neremit. The story was written by อ.อรรถจินดา. The movie is lost in Thailand but a sequence in 16mm format can still be seen. It lasts fifteen minutes. The movie takes place during a period when movies against communist threat were popular. The colorful and sharp remaining sequence shows a lady holding a gun towards Somkuan Krajangsat. Finally, she is releasing him after his explanation. Two ladies are fleeing from a cell after neutralizing the guard. Tat Ekathat is having a fight with Somkuan Krajangsat. The first lady helps the other ones to flee. A dancer is performing in a club. Two ruffians are looking for troubles. The lady owner cannot stop them. Somkuan Krajangsat intervenes and fighting occurs. Policeman Jamroon Nuatjim arrives when fighting is over. The lady takes care of Somkuan Krajangsat's injuries. The owner invites him for talking. A Buddhist ceremony, where Tat Ekathat is present, occurs. The poster was drawn by Piek Poster. Somkuan Krajangsat is well known for his roles as father in Thai movies but he was even a main actor and a movie director in some 1950s and early 1960s decades movies. With the rise of Mitr Chaibancha, Chaiya and Sombat Methanee, he had to focus on second roles.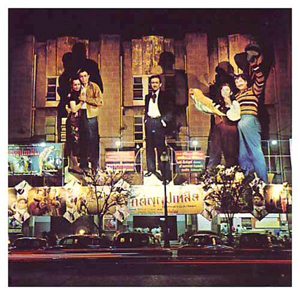 Year

: 1958



Thai title

:

กตัญญูปกาสิต




English title

: Flame in ashes



Rating

: 3/5


Director

: Wupeng



Main actor

: Surasit Sattayawong,Phan Kam,Taksin Jampol,Chao Klaewklong,Jamroon Nuatjim,Tat Ekathat


Main actress

: Wilaiwan Watthanaphanit
Thai HK movie "Flame in ashes" or "Underground Sparks" / 地下火花 / กตัญญูปกาสิต was released in year 1958. The movie lasts 1h46 min and is dubbed in Mandarin language. The movie features a colorful and sharp image. The movie is lost in Thailand but can still be seen in Hong Kong Film Archives. A still picture remains in Thailand showing huge cut outs of the actors / actresses in front of an old theater (โรงหนังเฉลิมไทย). The movie features many Thai actors / actresses including Wilaiwan Watthanaphanit, Surasit Sattayawong, Phan Kam, Taksin Jampol, Chao Klaewklong, Jamroon Nuatjim, จางจงหวัน, จินฟง, วารุณี, Tat Ekathat. This movie got awards during Thai Film Festival (1958) including Best Actor for Surasit Sattayawong, Best Screenplay, Best Set Design for director Wupeng. The high-level synopsis is approximative due to limited understanding of Mandarin language. Another high-level synopsis found in HK Film Archives mentioned that "The Green-Nail gang has long been suppressing the Chinese in Thailand. Once, a businessman Chen Hongyi is found murdered. A person identifying himself as Lung turns himself in claiming responsibility for the murder carried out at the investigation of a satanic organization. However, the case becomes more complicated after Lung and his wife are found dead. Hongyi's son Xilin (Surasit Sattayawong) investigates the case with police officer Ran. Ran penetrates the gang's lair, his life only spared by a female gangster Ling. Reinforced by gangster Abin and the defected Ling, Ran successfully exterminates the gang".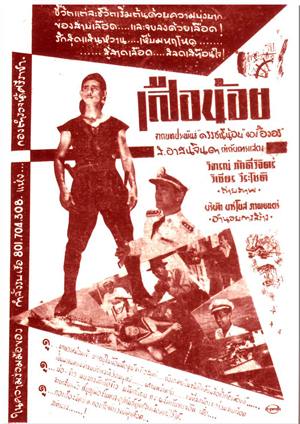 Year

: 1955



Thai title

:

เสือน้อย




English title

:



Rating

: 3/5


Director

: Sor Asanajinda



Main actor

: Taksin Jampol,Sor Asanajinda,Phan Kam,Lor Tok,Preuhat Boonlong,Sompol Kongsuwan,Jamroon Nuatjim


Main actress

:
Thai movie เสือน้อย was released in year 1955. It was a famous film during year 1955. No image or summary is left to be seen for this movie. The movie is lost in Thailand but a sequence of 10 minutes is left to be seen. Many other Thai movies used the same plot in other remakes. Main actor is Taksin Jampol acting as a pirate (โจรสลัด). Sor Asanajinda is movie director. Other actors and actresses are Sor Asanajinda, Phan Kam, Lor Tok, จำรูญ, Preuhat Boonlong. During the left sequence, the main actress is captured and kept as hostage. She is a member of the Royal family (ลูกหม่อมเจ้า) and has fallen in the hands of pirates. One ruffian (Sompol Kongsuwan) tries to abuse her but Seua Noi (Taksin Jampol) intervenes in time. The ruffian finally ends up beating another male hostage but it doesn't finish well again for him. Ruffians are all wearing red bandana. Taksin is seen kissing the main actress. Lor Tok is wearing a nice black moustache. Thai navy has decided to get rid of the pirates and attack their campement. Taksin is seen holding a baby. The remaining sequence ends here.
---