Increase or decrease font size for easier reading : A+ A-
Intira Jaroenpura
Intira Jaroenpura (1980) - อินทิรา เจริญปุระ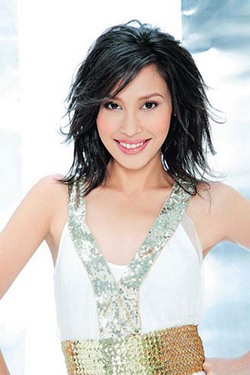 Intira Jaroenpura comes from a well-known show business family. Her father is the famous actor and director Ruj Ronnapop. Her elder half sister is Mai Charoeunpura, popular singer and actress with GMM Grammy
This Intira Jaroenpura movie page contains 9 records.
---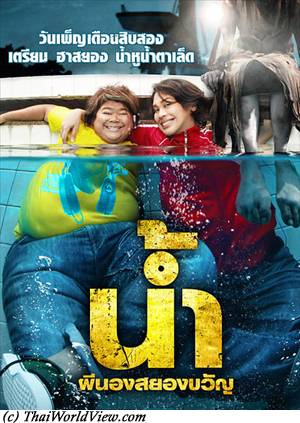 Year

: 2010



Thai title

:

น้ำ ผีนองสยองขวัญ




English title

: H2-OH



Rating

: 3/5


Director

:



Main actor

: Koeti Aramboy,Akom Preedakul


Main actress

: Intira Jaroenpura



Buy now

:

Mook disappears in a swimming pool. Somebody drags her under the water. Charlie is a rescuer. One evening while driving carelessly and arguing with his girlfriend over the phone, he hits a passerby. It is Mook! Hopefully she is not dead but has lost her memory. At nighttime a ghost (ผีตามมา) tries to kill her. Charlie has to help her to recover her memory and thoughts. The ghost is coming through the water that is leaking in the hospital. Every time Mook swims, such as rescuing a young girl, ghosts try to drown her (ผีหลอก). Charlie starts to get more information. Mook is a sport student who disappeared two years ago. She starts to remember and meets her former gym teacher, who is now blind. On that tragic night he was driving the mini bus of the students. They have many medals and always promise to stay together. Being drunk, the driver hit a big truck coming in opposite direction. The mini bus falls in the river. Mook succeeds to escape but the other students die. A promise can be given but it can withdraw also (สบาญถอดได้). Finally to ask the spirits regarding the promise withdraw, they need to go back to the former swimming pool which is now closed. Their policeman friend, nicknamed officer (ผู้กอง) despite being only a first grade staff, helps them to enter. Through touching words, Mook convinces the ghosts to stop their quest for applying the former promise. This movie features Intira Jaroenpura, who played in many horror movies, and Koeti Aramboy, young comic actor. This movie includes a popular mix of two kinds of favorite movies by Thai audience, i.e. comedy and horror.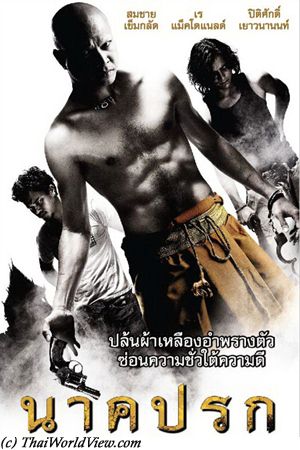 Year

: 2010



Thai title

:

นาคปรก




English title

: In the shadow of Naga



Rating

: 5/5


Director

: Pawat Pawangkasiri



Main actor

: Ray McDonald,Sahat Piempongsan,Somchai Khemklad


Main actress

: Intira Jaroenpura



Buy now

:

7 millions of baht have been hidden following a robbery. One of the robber is called Sing. His girlfriend is a prostitute. The police raids the illegal casino (บ่อน) she is staying in. They are looking for Sing but she doesn't know where he is hiding. The money has been hidden in a Buddhist temple. The three robbers come back to the temple but a chapel (โบสถ์) has been constructed on the top of the cache. They need to dig (ต้องขุด) but as it takes time, the only way is to become monk (ต้องบวช) in order to be able to stay in the temple. Sing points his gun to the abbot to force the ordination. Sing and Dang ordinate (เป็นพระ). Pong prefers to remain as a temple boy. Sing and Pong behave badly as monk, i.e. chase dog with feet, say bad words, don't follow closely the temple rules (ระเบียบของวัด), smoke, hit novice (เณร), don't pray before eating. Sing is atheist and calls the abbot as 'boss' instead of เจ้าอาวาส. At night time, they dig. The morning arrives earlier than expected. They need to hit the temple gong (ระฆัง), need to say blessings. The abbot has to justify their inexperience by mentioning they are new monks (พระบวชใหม่) from Thudong order (พระธุดงค์). Sing cannot support the food at lunch time made of alms donation (ฉันเพื่ออยู่ไม่ใช้อยู่เพื่อฉัน). The abbot is also doing tatoos. Pong asks for tatoos also (ศาสนาพุทธศักดิ์สิทธิ์เกิน ดีกว่าคุณทำร้ายได้). Sing is still complaining. His feet hurt as he is not used to walk bare foot. Life prison was easier. Food is not good. Earlier they promised to share 50% of the money with a fourth unknown man. The abbot has money on him and doesn't hesitate to touch a woman bitten by a snake. Dang and Sing hit badly robbers who were trying to steal Buddha statues in order to protect their secret digging activities inside the chapel. They lie to villagers (หลอกชาวบ้าน). They know they are wrong but still do wrong (รู้ว่าทำผิดแต่ยังทำผิด). Sing misses his girlfriend Nam Peung so he invites her to join him to Wat Pa Lom but she refuses believing it is another bad joke from Sing (ช่วยตัวเองก็แล้วกัน). Believing it can be good for her karma, she finally visits the temple and finds Sing as a monk (หลวงพี่). Sings removes his monk robe to make love to Nam Peung. Sing breaches all Buddhist precepts and brings trouble to the temple community. Pong is a good guy and explains to the abbot what happens before. They did a bank robbery (ปล้นเงิน) and hide the money inside the temple's chapel. Pong wanted to help his blind mother. He has lengthy discussion with the abbot about Buddhism (It is possible to teach some people to be good, it is more difficult with some others สอนให้เป็นคนดีบางคนสอนได้บางคนสอนยาก - Badness is easier to do than goodness / ความชั่วทำง่ายความดียทำยาก). Being discovered by other monks, Sing and Dang threathen to kill the monks if they don't help to dig. At morning time, they need to go for alms (เป็นเวลาบิณฑบาตร). If they don't go, they will have nothing to eat. Today is Makabucha day so local people are coming for offerings (บูชา) and listen to sermon (ฟังเทศน์). Dang decides to give them a poignant sermon regarding children working far away from parents to send them money and encourage parents to teach well their kids (สอนลูกดีดี - กตัญญู) to avoid becoming bad guy like him. While digging, they find a cache but no money. Sing starts to break the main Buddha statue. There is a small golden statue inside. A police inspector enters the chapel. Nam Peung was keeping the police inspector informed. He is a corrupted cop asking for his share. They shot at each other. The police inspector is hit. Dang is hit also. Nam Peung hits Sing, who was going to shoot the abbot. Nam Peung finds the money bag in the base of the Buddha statue but it is empty. She prefers to suicide herself instead of surrending to the police. The abbot takes the responsability on him (ผิดเอง). Pong is arrested. 4 years passed. Pong is doing ordination for his blind mother, who cries when holding the yellow robes (ผ้าเหลือง). The former abbot has defrocked. He has now a wife and a child. He is driving a Mercedes car. He comes back to get the golden Buddha statue. He was the one who kept the money. He is finally arrested and the statue is restituted to the temple. After 3 years waiting for the new film law to avoid a ban, this movie was finally released uncut with a Rate 18+. Making a story with bad monks is strong for the local Thai audience as faith and crime are always taboo in Thai films. There is a comparison between the four characters and the four types of lotus in Buddhism (บัวประเภทไหน).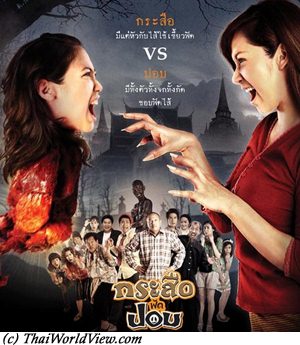 Year

: 2009



Thai title

:

กระสือฟัดปอบ




English title

:



Rating

: 2/5


Director

:



Main actor

: Phairoj Jaising,Akom Preedakul


Main actress

: Intira Jaroenpura,Naowarat Yooktanun,Prangwalai Thepsatorn



Buy now

:

A teacher brings his art students on the country-side to go for camping. Every day people die in the village. Some people believe some ghosts "Phi Kraseu" and "Phi Pop" reside in the village. The spirit ("Phi Kraseu" - ผีกระสือ) is a malicious and very dangerous spirit which manifests itself as a beautiful woman. It floats through the air because it has no lower body. It appears as a length of intestines suspended from a lovely woman face. A "Phi Pop" (ผีปอบ) is an evil spirit believed to possess a person to eat his intestine while also forcing him to seek and consume raw animal organs and meat at night-time. A medium master (อาจารย์) try to chase villagers away in order that a foreign developer can build a resort. The medium master use two ladies ghosts to frighten the villagers. The "Phi Pop" ghost performs many killings. The role is played by sexy actress Prangwalai Thepsatorn. As the medium master fails to chase the villages, the developer gives him a last chance. So he launches ghosts in daytime to deter the villagers. The art students need to flee ghosts. The Phi Kraseu fights with Phi Pop to stop the killings. The village head (ผู้ใหญ่บ้าน) decides to use a sorcerer (หมอผี) to chase the ghosts from the village. Finally the students with the help of "Phi Kraseu" get rid of the "Phi Pop" and the developer. There are heavy gags characteristic of modern horror comedies. The fat student is treated as an elephant. Naowarat Yooktanun is still as beautiful as 30 years ago. Some sequences are a homage to old classic Thai movies.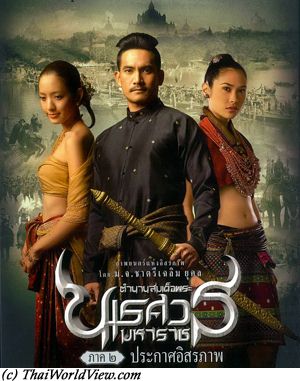 Year

: 2007



Thai title

:

ตำนานสมเด็จพระนเรศวรมหาราช




English title

: King Naresuan 2



Rating

: 5/5


Director

: ChatriChalerm Yukol



Main actor

: Sorapong Chatree,Chatchai Plengpanich,Nopachai Chaiyanam,Somphob Benjatikul,Kom Akadej


Main actress

: Intira Jaroenpura,Paweena Chareefsakul,Deuan Tem Salitul



Buy now

:

Naresuan was sent back to Pegu to represent his father in paying homage to King Nandabayin, who had succeeded Bayinnaung, who passed away in 1581. Naresuan participated with his troops in a Burmese expedition against a Shan state and succeeded in taking a city after the Burmese crown prince and another prince had failed to do so. Naresuan thereby gained the jealous animosity of the crown prince, who plot various attacks against him. Naresuan proclaimed independence from Burma. When crossing River Satong, Naresuan had his forces under attack. With his army across, Naresuan is given a long rifle by his tutor, the monk Khanchong. Naresuan takes aim at the Burmese General across the mile-wide river and fires, killing the man and causing the Burmese troops to loose their morale and cease to follow. In 2009 King Naresuan 3 and 4 are being filmed with government financial support. The Ministry of Culture prioritises its financial support to films that deal with promoting loyalty to the pillars of nation, religion and monarchy. We are back to old times under Thanin Kraivichian's government (1976-1977), where Thai people were tought to be afraid of communism and that the way to survive was already to protect the nation, the religion and the monarchy.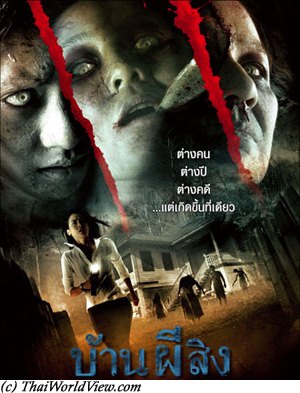 Year

: 2007



Thai title

:

บ้านผีสิง




English title

: The House



Rating

: 4/5


Director

:



Main actor

:


Main actress

: Intira Jaroenpura



Buy now

:

A journalist lady is investigating a murder. A doctor killed his wife. She visits the house where the doctor and his wife lived. It is an old house made of wood. It seems haunted. She found that two other murders are also linked to this house. She sees horrible ghosts at day and night time. Evil spirits are living in this house. She starts to have relationship problems with her husband, who has been possessed. Tragedy happens when her husband becomes crazy and tries to kill her. She then decides to burn the house but evil spirits won't let her do so easily...



Year

: 2004



Thai title

:

เปรต ร.ศ. หกสิบเก้า




English title

:



Rating

: 3/5


Director

:



Main actor

:


Main actress

: Intira Jaroenpura
Prets (เปรต) are creatures that suffer as a result of their bad deeds in their previous lives. They are portrayed as extremely thin and tall. Their mouths are as small as a pinhole so they are always hungry as they cannot find enough food to feed them. They are moaning loudly out of intense pain and suffering. This movie takes place in the 1800s. A "pret" ghost is seen by villagers at night time. The "pret" ghost killed a few villagers doing bad deeds such as robbing Buddha statues in temple or removing gold foil from Buddha images. Beung, a young man, believes the "pret" ghost manifestation is linked to the finding of an old Buddha statue. Beung is also fond of Samri, the daughter of the village headman. A local landlord comes to the village to evaluate the old Buddha statue. He also gets interested in Samri. With the help of the village headman, he decides to rob the old Buddha statue to sell it to a rich collector. The temple abbot is killed and Beung is accused of the murder. while bringring the statue back home and Beung to prison, the landlord's team is defeated by the "pret" ghost.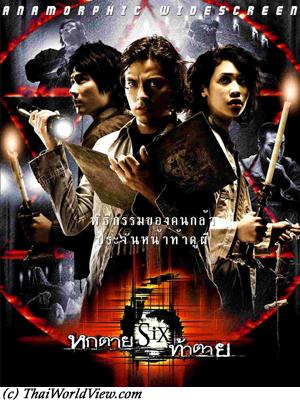 Year

: 2004



Thai title

:

Six หกตายท้าตาย




English title

: Six



Rating

: 4/5


Director

:



Main actor

: Ray McDonald


Main actress

: Intira Jaroenpura



Buy now

:

Fai is a lady having scary visions. She is mysteriously connected to the number "6", which is related to bad luck. On the night before her 24th birthday (2+4 = 6 and 6*4 = 24), her friends come to celebrate. The whole group is composed of 6 men and one woman, Fai. One of the friends foretells their future (ดูดวง) with tarots cards. They shall all die due to ghosts (ผีมีจริง). Following a visit to a Buddhist Thai temple and Chinese shrine to get protective items, they decide to find ghosts. On the way to an old mansion, they almost have a deadly traffic accident. Fai takes a picture of the group but the young men are not displayed on the picture... They reach the old abandoned mansion close to the sea. It looks like a haunted house with bats, rats, a mysterious hidden owner and a scary caretaker. A calling spirit ceremony (พิธีเรียกวิญญาณ) is performed. A woman spirit answers. Fai believes that the spirit wants them to achieve something. They found a room with 6 coffins. They put in place a network of small webcams and microphones in the house. Six of them performs a new calling spirit ceremony in six different rooms. Suspense is increasing. Woman cries are heard. Ravens attack. A ghost is seen. Blood spills. The batteries run out. Once the batteries are replaced, they have disappeared and finally are found in the coffins. All of them were involved in a murder 70 years ago. In fact they already died in the car accident when going to the house. The ghost already takes his revenge. All of them have died except Fai. This movie has a really nice photography. The suspense momentum gets increased very well.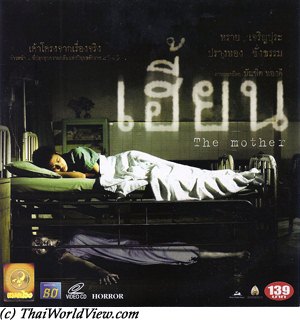 Year

: 2003



Thai title

:

เฮี้ยน




English title

: The mother



Rating

: 4/5


Director

: Bandit Thongdee



Main actor

:


Main actress

: Aranya Namwong,Intira Jaroenpura



Buy now

:

This movie is about an addicted young woman having visions. She sees a lady ghost and hears baby screams. The lady ghost is looking for her baby that has been transformed into a "KUMAN THONG" (กุมารทอง). Wishing to stop the visions, the young woman is investigating about the lady death and is getting her help.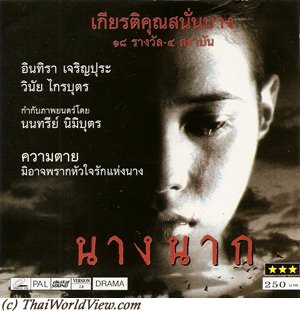 Year

: 1999



Thai title

:

นางนาก




English title

: Nang Nak



Rating

: 5/5


Director

: Nonzee Nimitbut



Main actor

: Vinai Kraibutr


Main actress

: Intira Jaroenpura



Buy now

:

Last century, during the reign of King Mongkut (1851-1868), a woman called "NAK" was married to a man called "TID MAK". They moved into a house in Bangkok's Phra Khanong district. After a while her husband was called off to war. Alas she was already pregnant. While her husband was away, she died with the baby still inside her body. So as Thai people believe, a woman who died with her baby creates a powerful spirit called "PHI TAI HONG THONG KLOM" (ผีตายโหงทองกลม). She became a ghost. As she still loved her husband deeply, she took a form of human being and waited for "Tid Mak" to return. Her husband didn't know anything about his wife's death. So when he came back home, his wife was waiting for him. Many persons did warn him that his wife was dead and that he was living with a ghost but he did not believe them. One day when "MAE NAK" was preparing the dinner and her husband bathing himself in the bathroom, a lemon fell from her hand. As the house was a Thai traditional house, it was built on piles and so the lemon fell on the ground 2 meters lower than the house's floor. So the ghost "MAE NAK" made her arm longer in order to get it. But her husband saw that, he understood that his wife was now a ghost. He managed to flee from the house and took refuge inside a Buddhist temple. "MAE NAK" terrorised the local population as an expression of her anger with them for helping her husband. Thanks to a monk, the spirit was imprisoned in an earthen pot and thrown in the river. It is one of the the biggest success in Thai cinema (it grossed more than 150 million baht in Thailand). It is the story of "MAE NAK PHRA KHANONG" (แม่นาคพระโขนง). The spirit "MAE NAK" (แม่นาก) is not a dreadful spirit. She kills only to keep her husband. The love of "MAE NAK" towards her husband is beyond death. Many scenes are shot at night time with no additional lighting so making an eerie atmosphere. This movie has won awards for the best director, best art director, and best sound at Asia-Pacific Film Festival in 1999. Since the beginning of the Thai movie industry in 1923, the story of "MAE NAK" has been made and remade 15 times over. It is a modern remaking of a traditional tale, which evokes nostalgia (traditional house, buffaloes in field, quiet river...). The Culture Ministry registers 25 Thai classic films each year at the National Film Heritage Registry. This movie is part of the 25 films heritage list announced on 04 October 2014, which is Thai Movies Conservation Day.
---