Increase or decrease font size for easier reading : A+ A-
Euthana Mukdasanit
Euthana Mukdasanit (1952) - ยุทธนา มุกดาสนิท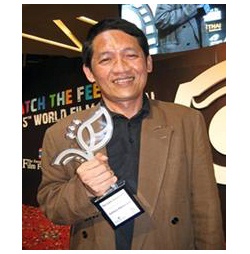 Euthana Mukdasanit created a stage-theatre during the time he studied at Thammsat university where he became interested in social problems. In 1975 he joined the Isan group to produce the underground film "Tong Pan". His next films were based on Thai novels and also local current affairs. Euthana's movies always pick up on social issues, both directly and indirectly. As the industry has opened more opportunity for Thai movies in 1990s, he returned to filmmaking after being sidelined by the dominance of teen movies. In 2001 after being laid off by Grammy, he created a new company, the Bangkok Actors' Studio
This Euthana Mukdasanit movie page contains 9 records.
---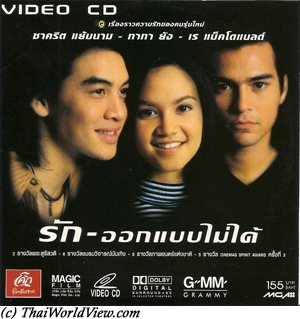 Year

: 1998



Thai title

:

รักออกแบบไม่ได้




English title

: O-Negative



Rating

: 2/5


Director

: Euthana Mukdasanit



Main actor

: Ray McDonald,Shahkrit Yamnarm


Main actress

: Tata Young



Buy now

:

Four young Thai people are very close friends. But when love appears, will they still be good friends?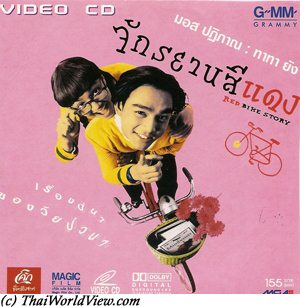 Year

: 1997



Thai title

:

จักรยานสีแดง




English title

: Red bike story



Rating

: 3/5


Director

: Euthana Mukdasanit



Main actor

: Mos


Main actress

: Tata Young



Buy now

:

This romantic comedy is about students trying to pass successfully their exams. Some of them are more interested by courting Thai girls than studying. It is a comedy targeted for young people with nice music from the pop group Loso.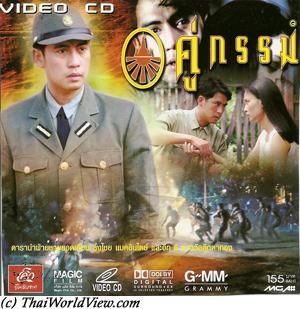 Year

: 1996



Thai title

:

คู่กรรม




English title

: Sunset at Chaophraya



Rating

: 3/5


Director

: Euthana Mukdasanit



Main actor

: Thongchai McIntyre


Main actress

: Suthisa Putnuch,Wilaiwan Watthanaphanit
This movie is about the tragic love during World War II between a Japanese officer called Gobori and a Thai lady. It is remake. Previous versions were shot in 1973 and 1988.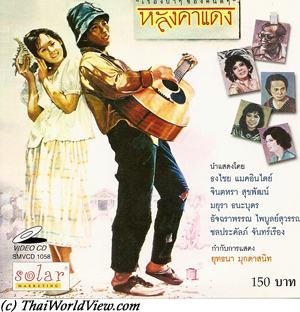 Year

: 1987



Thai title

:

หลังคาแดง




English title

: The Red Roof



Rating

: 3/5


Director

: Euthana Mukdasanit



Main actor

: Thongchai McIntyre


Main actress

: Jintara Sookkapat,Mayura Thanabutr,Amara Asavananda



Buy now

:

A man is wrongly sent in asylum by a greedy woman, who wants to get her husband's fortune. There he meets another woman left alone by a family in the asylum and decides to help her to get away. This movie features a few songs by Bird.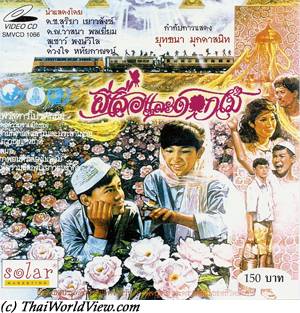 Year

: 1985



Thai title

:

ผีเสื้อและดอกไม้




English title

: Butterfly and Flowers



Rating

: 5/5


Director

: Euthana Mukdasanit



Main actor

: Suchao Pongwilai


Main actress

: Duangjai Hathaikarn



Buy now

:

This movie is focusing on a poor Muslim community in South of Thailand close by the Malaysian border. A teenager boy, called Huyan, has to sell ice cream to help his father as his father is not rich enough to pay education for his three children. His teacher and his best friend, a girl called Mimpi, are sorry about this decision. The teacher asks Huyan to continue to pass this year exams as education is important for his future. He can sell ice creams in the school thanks to the teacher kindness. Huyan has one smaller brother and sister. He has no mother any more. Business competition is hard as other ice cream vendors have bicycles to go from one place to another but Huyan needs to walk. Her friend Mimpi goes to Malaysia but promises to come back. Everyday Huyan waits at the train station hoping for her return. He finally sees and goes to the Malaysian border with her as he forgot to exit the train. During the trip, Huyan meets other youngsters making a living by smuggling rice. Meanwhile his father is looking for him and gets hit by a train. He is disabled and cannot work anymore. The son has remorse. He has to take responsibility of the whole family. There is a swift change from the school protected environment to adult responsibilities. He helps to smuggle rice between Malaisia and Thailand. It is illegal as no taxes are paid on the rice. He has no choice based on family survival necessity (ความจำเป็น). To escape controllers, he has to go on top of the train wagons where youngsters risk their live if they fall. He has also to run away to escape the police. But he gets money and can send back his brother and sister to school. Following the tragic death of his friend, he decides to stop doing this illegal business and to sell flowers. Movie Butterfly and Flowers got Best Picture from the Hawaii Film Festival in 1986. It made only 5 millions baht in Thailand, most of that in Bangkok. This movie is part of the first 25 films heritage list announced on October 4 2011, which is Thai Movies Conservation Day.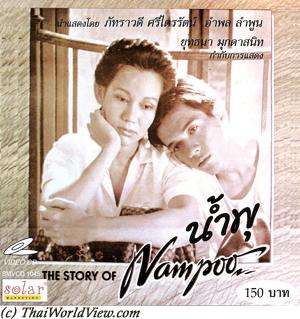 Year

: 1984



Thai title

:

น้ำพุ




English title

: The story of Nampoo



Rating

: 4/5


Director

: Euthana Mukdasanit



Main actor

: Amphol Lumpoon,Suchao Pongwilai


Main actress

:



Buy now

:

It deals about a young man entering the drug realm and his lapse until death. It is a real-life story of a teenage heroin addict, who is neglected by his middle-class parents. The former rocker turned screen star Ampol Lumpoon received Best Actor Awards for this movie. In 1984, Ampol Lumpoon snatched Best Actor award at The First Southeast Asian Film Festival for his role as a drug-addicted teenager. He eventually made his name known in 1984 with Namphoo, which broke the blockbuster record held by the classic Phlae Kao and made Bt17 million at the box office. It was to be his most successful movie. This movie was praised by critics, academics and intellectuals.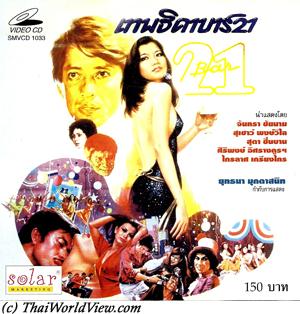 Year

: 1978



Thai title

:

เทพธิดา บาร์ 21




English title

: The Bar 21's Angel



Rating

: 5/5


Director

: Euthana Mukdasanit



Main actor

: Suchao Pongwilai,Krailat Kriengkrai


Main actress

: Chantra Chaiyanam



Buy now

:

In Bar 21, customers can forget their problems thanks to the beautiful ladies and alcohol (มาเที่ยว). Hostess Thida quits her job to stay with her four years boyfriend, Parn. Parn is younger than Thida about five years. She leaves her job to stay in Chiang Mai. Girls working in Bar 21 are called "Partner". Their dream is to be a normal person also but they are often denigrated (ดูถูกผู้หญิง). They need to get money (เกิดมาจน) but can enjoy a certain kind of freedom (เสรี). All are waiting for a new life (ชีวิตที่ดีกว่า), waiting for the day they will quit Bar 21 (ชีวิตใหม่). Linda arrives in Chiang Mai just on time for Parn's university diploma ceremony. She offers to him a beautiful watch and cash money but Parn seems to have forgotten his promise to marry her when he gets the diploma (จบแล้ว). He refuses to fulfill his promise. He is now a diploma university holder so he cannot marry a "partner" as he has now a certain status (เกียรติ). Despite she pays for his studies and now stops working for him, he refuses this love saying he cannot (ไม่มีบุญคุณ). He took advantage of her during many years. Marrying a "partner" would stain him for the whole life. He doesn't want to offer her a chance of redemption. In the train back to Bangkok, Linda is harassed by three young men taking advantage that she is a "partner" so an "easy" lady. She meets in the train two other young farmers (ทำนา), Sing and Rot, coming from countryside (บ้านนอก) and going to Bangkok to find better jobs. Sing and Rot have arguments and fight with the three young men to protect Linda. Rot is shot. The three young men cannot escape punishment despite one of them, Akom, is a son of parliament member. Linda is back to work in Bar 21. Sing is lost in Bangkok (เมืองหลวง). Sing is hungry and has no money. He meets a little girl living in a slum (สลัม). She is a small robber. Sing helps them to sell opium in the slum. Sing and the family are caught by the police (ผมไม่ผิด). There is analogy between countryside people coming to Bangkok and Linda, the "partner". They are all doing low cast jobs. Linda meets a son of a rich family, Thanong. He is really nice to her and invites her to his birthday. Linda starts to dream again (อาจเป็นคนนี้). She has a lot of fun (ดื่มเหล้าเก่ง) and happiness during this evening. After the party, Thanong asks her to help his brother Akom, who is now in jail. She should wrongly testify in front of a trial. She understands that everything was a lie. Thanong, ผู้ดี, just tries to use her. As she refuses to lie, strong arguments between values of poor people, "partner" and rich people are bitterly raised. She refuses money offered to her in order to lie. Back home, she is attacked at nighttime by two ruffians. An old man (ท่าน) helps her but he is in fact Akom's father. He succeeds to convince Linda by playing on her motherhood feeling, the possibility to do a good action and become Angel (เทพ) Thida. In the police station Linda accuses Sing. Poor people are in hell and rich people are in heaven because of money difference. Akom's father gives money to thank her but she doesn't want money but social recognition. Sing flees from police station and goes to see Linda so that she tells the truth at the trial. Sing is poor but kind hearted. She accepts as knowing she has been deceived by rich people. As Thanong just visits Linda to abuse her, Thanong and Sing fight. Sing is shot by the police. It is a dark and sad movie about poor and uneducated people abused by rich Bangkokian people. Of course Thanong stops visiting Linda. It is more a showpiece than a social study, the film is nevertheless remembered for its undaunted subjects. The film was not successful at box office but received good reviews and two awards (ตุ๊กตาทอง). It is a drama social move mixed with a musical comedy as many songs are featured. A Thai TV drama serie based on the same story was released in 1990.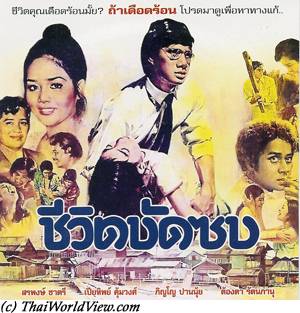 Year

: 1977



Thai title

:

ชีวิตบัดซบ




English title

: Damned life



Rating

: 5/5


Director

: Euthana Mukdasanit,Permpol Choei-arun



Main actor

: Sorapong Chatree,Pinyo Parnnui


Main actress

: Piathip Kumwong



Buy now

:

Teacher Tom and his hairdresser wife Reusi are living in a slum. They have a daughter. Tom is very dedicated to his job and study books every evening. His wife is bored and wishes to have a more exciting life. Following a friend invitation to a high society party, she goes alone as Tom believes it is not his world. There she meets a rich man and becomes her lover. She starts to go back home very late and doesn't go to her daughter's school activities. Following arguments between Tom and Reusi, they finally agree to divorce and Reusi announce to him that he is not the real father of their daughter! The slum is also full of robers and drug sellers. By unfortunate incident, Tom contributes to the arrest of one drug seller. This latter wishes to take revenge on Tom. Reusi is finally dumped by her rich lover. Tom and Reusi finally stay together for the good sake of their daughter and start to have hapiness again. One stormy night when Tom is out for working late, 4 drunk men lead by the drug seller enter in Tom's house, rape his wife and kill his daughter. Tom chases them and kills them one by one but his life is wrecked. What a damned life... This movie about slum dwellers earned Bt1 million at the box office. In 1977 this movie was almost a clone of the popular newspapers' front pages as it dealt with drugs, rape, divorce, violence. Virtue is not rewarded. Sorapong Chatree got his first Thai cinema reward thanks to this movie (ตุ๊กตาทองตัวแรกของพระเอกสรพงษ์ ชาตรี).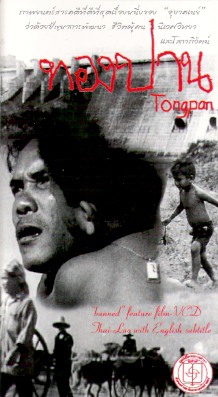 Year

: 1976



Thai title

:

ทองปาน




English title

: Tong Pan



Rating

: 5/5


Director

: Euthana Mukdasanit,Surasee Phatham,Isan Group



Main actor

:


Main actress

:
Tong Pan is a poor peasant from Isan, Northeast area of Thailand. He has three kids and his wife is sick. He is now living in Chiang Khan as he has to move earlier from his former home flooded due to a dam construction. He is invited by a student to partipate to a seminar regarding the contruction of a new dam in Pak Chong area. He is going there hoping for changement into peasants' life. He is only a hired peasant, he has no more land. He got only 2000 Baht a year and cannot even get a forward payment from his greedy landlord to cure his sick wife. Following the October 1973 uprising, government wants to add more democracy in the decision making. Foreign engineer, professors, governmental agency officials, local inhabitants including Thong Pan join the seminar. The foreign engineer explains the great advantages of the dam from an economic point of view. But local inhabitants cannot understand spoken English! They use local Isan dialect. The governmental agency officials complain that nobody thinks about Thailand's future. It is good for the country for selling electricity abroad and anyway it is difficult to find advantages for all. The minority shall sacrifice it-self as long as it good for the majority. There is a parallel between the theory discussed at the seminar and the reality that local peasants are experimenting (houses and land flooded, no more water in rice fields during dry season and flood during rainy season as water is released from dam, no more fishes to catch, no trees to build house as forests have been cut, sickness, poverty, electricity for the rich not for the poor...). Finally participants remind that it should be good to get the feedback from locals. But Thong Pan is already gone as he knows nothing can change. One local raise that they want fertile land but also complains about officials corruption, thieves, illegal sawmills that cut forests, missing healthcare for them as they can never visit doctors. When Tong Pan reaches home, his wife is already dead. Tong Pan movie was banned following the 1976 demonstrations. Participants and directors were sent to jail or exiled following this 1976 uprising. The Culture Ministry registers 25 Thai classic films each year at the National Film Heritage Registry. This movie is part of the 25 films heritage list announced on 04 October 2011, which is Thai Movies Conservation Day.
---