Increase or decrease font size for easier reading : A+ A-
Duangjai Hathaikarn
Duangjai Hathaikarn (1953) - ดวงใจ หทัยกาญจน์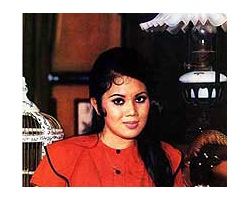 Duangjai Hathaikarn starred in around 60 films from 1971 to 1992. Duangjai Hathaikarn is a Bangkok-born Thai TV star who moved to Chiang Mai 20 years ago
This Duangjai Hathaikarn movie page contains 12 records.
---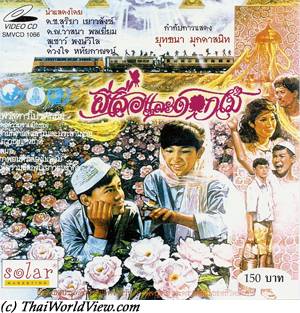 Year

: 1985



Thai title

:

ผีเสื้อและดอกไม้




English title

: Butterfly and Flowers



Rating

: 5/5


Director

: Euthana Mukdasanit



Main actor

: Suchao Pongwilai


Main actress

: Duangjai Hathaikarn



Buy now

:

This movie is focusing on a poor Muslim community in South of Thailand close by the Malaysian border. A teenager boy, called Huyan, has to sell ice cream to help his father as his father is not rich enough to pay education for his three children. His teacher and his best friend, a girl called Mimpi, are sorry about this decision. The teacher asks Huyan to continue to pass this year exams as education is important for his future. He can sell ice creams in the school thanks to the teacher kindness. Huyan has one smaller brother and sister. He has no mother any more. Business competition is hard as other ice cream vendors have bicycles to go from one place to another but Huyan needs to walk. Her friend Mimpi goes to Malaysia but promises to come back. Everyday Huyan waits at the train station hoping for her return. He finally sees and goes to the Malaysian border with her as he forgot to exit the train. During the trip, Huyan meets other youngsters making a living by smuggling rice. Meanwhile his father is looking for him and gets hit by a train. He is disabled and cannot work anymore. The son has remorse. He has to take responsibility of the whole family. There is a swift change from the school protected environment to adult responsibilities. He helps to smuggle rice between Malaisia and Thailand. It is illegal as no taxes are paid on the rice. He has no choice based on family survival necessity (ความจำเป็น). To escape controllers, he has to go on top of the train wagons where youngsters risk their live if they fall. He has also to run away to escape the police. But he gets money and can send back his brother and sister to school. Following the tragic death of his friend, he decides to stop doing this illegal business and to sell flowers. Movie Butterfly and Flowers got Best Picture from the Hawaii Film Festival in 1986. It made only 5 millions baht in Thailand, most of that in Bangkok. This movie is part of the first 25 films heritage list announced on October 4 2011, which is Thai Movies Conservation Day.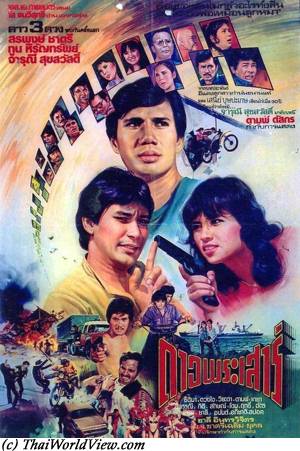 Year

: 1982



Thai title

:

ดาวพระเสาร์




English title

: The Big Deal



Rating

: 4/5


Director

: Dam Datsakorn



Main actor

: Sorapong Chatree,Toon Hiransap,Pipop Pupinyo,Rith Luecha,Lak Apichat,Dam Datsakorn,Kecha Plianvithee


Main actress

: Jarunee Sooksawad,Thitima Sangkapitak,Wiyada Umarin,Duangjai Hathaikarn
ดาวพระเสาร์ (The Big Deal) movie is gathering three main stars from 1980s decade, i.e. Sorapong Chatree, Toon Hiransap and Jarunee Sooksawad. This movie is mixing action and romance. An impressive bunch of 1970s-1980s famous Thai actors are participating. Dam Datsakorn, more known for his ruffian leader role, is also the director. Dao Prasao (Sorapong Chatree) is similar to a lonesome cowboy but he has a strong kick (ตีนแรง) whenever somebody is looking for troubles. Taen (Toon Hiransap) wishes to befriend with Dao Prasao. Taen is chased by Sing Manorom's ruffians but gets help from Dao Prasao. Taen gives him a bag with 100 000 baht as a reward. Taeng, Taen's fiancee, is promised to ruffian Sing Manorom so Taen has no wish to live anymore. The 100 000 baht were supposed to be used while fleeing with Taeng. Diaw Dai (Wiyada Umarin), prostitute with sincere heart, helps them to hide from the ruffians. Tuang (Rith Luecha) is her evil pimp and wishes to take revenge following Diaw Dai betrayal. Dao Prasao promises to help Taen. Taeng (Jarunee Sooksawad) is the daughter of sub- district headman (kamnan) called Yot. Dao Prasao arrives as a mysterious wedding gift giver in order to enter more easily in Yot's house. Causing a fire during the wedding eve, Dao Prasao takes profit of the mess to flee with Taeng. He is injured while helping her. Despite a plot from Tuang, all succeed to escape the ruffians. Diaw Dai has some feelings for Dao Prasao. Some feelings start also between Taeng and Dao Prasao. His real name is Kata. He left his home as his fiancee married his father while he was studying abroad. Meanwhile while visiting Taen's home, Taeng discovers he has already a fiancee! In fact his father wants to force him to marry a high society lady called Kaew (Thitima Sangkapitak). Feeling sad, Taeng is finally captured again by the ruffians. Aware of this, Dao Prasao with close friend Dang's support raid the ruffians nightclub. Jarunee excels in Thai boxing skill-set and they succeed to escape. Taeng is disappointed by Taen as he doesn't dare to oppose his father to protect their love (อยู่ในอำนาจบารมีของพ่อ). He is not as courageous as Dao Prasao. Taen feels hurt by Taeng's words. Chumporn, head of ruffians, is leading a prostitution ring. They capture many ladies including Taeng, Kaew, Diaw Dai to sell them to an international buyer. Tuang kills Diaw Dai as a revenge. Dao Prasao and Taen successfully release the ladies through fierce fights on moving trucks and through motorized acrobatics. Taen wishes to show he has courage also. Kaew is killed during the battle. Taen and Taeng are reunited. Dao Prasao leaves them and continues his life as a lonesome cowboy. Dao Prasao has accomplishes his mission as Taen and Taeng can be happy together now. An earlier version with Sombat Methanee was shot in 1970.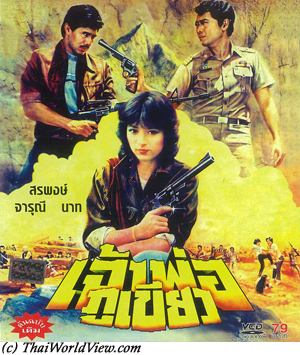 Year

: 1981



Thai title

:

เจ้าพ่อภูเขียว




English title

:



Rating

: 3/5


Director

:



Main actor

: Sorapong Chatree,Nard Poowanai,Kecha Plianvithee,Lak Apichat


Main actress

: Jarunee Sooksawad,Duangjai Hathaikarn



Buy now

:

Palan Phuthai is coming back to Chayaphum area after having spent a few years in prison as a former hit man. During the bus trip, he becomes friend with the bus fare collector, who promises to present him his sister called Taew. Back in Chayaphum, things have changed. Following a dispute with a dishonest placement company sending Thai workers abroad, his mother and brother died. He has to take care of a small baby that he confides to the district officer's wife. The district officer knows that Palan has become a good person. Palan has arguments with the dishonest placement company as they take money from poor people and never send them abroad for work. The boss of the placement company is a local godfather called Kamthorn, who is also involved in illegal logging. Palan robs important documents from the placement company and even abducts Kamthorn's daughter, Busaba, to force him to stop his illegal activities. It fails as Palan has to exchange the small baby against Busaba. Taew become Palan's wife. Kamthorn tries to get rid of Palan and the district officer by using a hit man, former friend of Palan. Finally Kamthorn dies and Palan gives his gun back to the district officer as justice has won.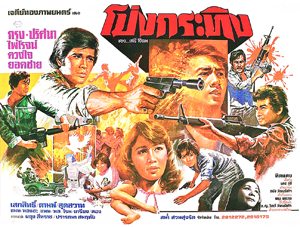 Year

: 1979



Thai title

:

โป่งกระทิง




English title

:



Rating

: 3/5


Director

:



Main actor

: Krung Srivilai,Dam Datsakorn,Yodchai Meksuwan,Phairoj Jaising,Man Teeraphol


Main actress

: Prissana Chabaprai,Duangjai Hathaikarn
Thai action movie โป่งกระทิง was released in year 1979. Main actors are Krung Srivilai and Prissana Chabaprai. This movie is lost in Thailand. The three last reels are only left to be seen. Phairoj Jaising and three ladies (Duangjai Hathaikarn, Prissana Chabaprai) including Kaew are having issues with ruffians. They decide to fight back. Shootings are exchanged with ruffians. Krung Srivilai as policeman (หัวหน้าสถานีคนใหม่) tries to arrest the ruffians. Det (Dam Datsakorn) and Man Teeraphol are the ruffians' leaders. Yodchai Meksuwan is subdistrict headman. Det is using bad influence (อิทธิพล) over the area. Det and Phi Khun are buying weapons (อาวุธ). Their den is surrounded by policemen led by Krung but they refuse to give up. Heavy shootings happen. Det is finally captured.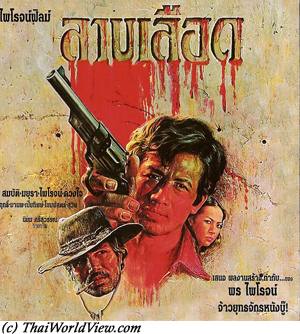 Year

: 1979



Thai title

:

ลาบเลือด




English title

:



Rating

: 3/5


Director

:



Main actor

: Sombat Methanee,Phairoj Jaising,Manop Aussawathep,Sawin Sawangrat,Rith Luecha,Pipop Pupinyo


Main actress

: Piathip Kumwong,Mayura Thanabutr,Duangjai Hathaikarn



Buy now

:

Drunk ruffians are terrorizing a shop while listening to an old Boney M song. Sukol gives them a lesson. Seuabin (Rith Luecha) is the leader of the ruffians. They kidnap villagers and force them to work as slaves (ทาส). Sukol (Sombat Methanee) is working in a gambling den (บ่อน). He meets his old friend Phairoj Jaising. They were former Thai soldiers during the war in Laos. Both of them have been requested to meet in this remote Isan city by their old friend Siaw (Manop Aussawathep). Siaw requests help as his two sisters, Bao (Mayura Thanabutr) and Mon (Duangjai Hathaikarn), have disappeared. They are part of the working slaves (ทำไร่กัญชา) and have been lured by fake job offers. Bao is sick but to get medicine from the guards, women have to offer their body. No problem (มาเลย) for Chai (Piathip Kumwong), who is a former kind hearted prostitute, in order to help Bao. As usual Pipop Pupinyo is playing the ruthless ruffian also. Sukol loves to eat Larb Luat dish (ลาบเลือด). Phairoj, simulating to be an up country bumpkin, is recruited as worker by the agency offering expensive fake jobs. Seua Ling (Sawin Sawangrat) is the big boss. Meanwhile showing his fighting and shooting skills, Sakol is recruited by Seua Ling. Rivalry happens between Sakol and Seuabin as both are skilled gunman (มือปืน). When Chai is sick, nobody is helping her (ใจหมา). She dies during the night refusing Mon to sacrifice herself for her. Sakol asks Siaw to provide explosives. Sawin has an important 500 kg shipment to be done so extra ruffians come. New plan is to release all inmates and not only the two sisters. Seuabin prepares a putsch against Seua Ling as he is upset that Seua Ling is too friendly with Sakol and also wishing to get a bigger share of money. The plan seems to go wrong when Seuabin captures and tortures Sakol to know the truth. Phairoj organises the inmates uprising and uses weapons hidden by Siaw in the field. Through a thrilling and explosive final, all ruffians are defeated or killed. Finally Siaw offers his two sisters to Sakol and Phairoj as rewards. ลาบเลือด is a 2h08mn Thai western.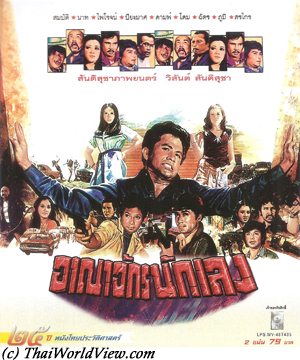 Year

: 1978



Thai title

:

อาณาจักรนักเลง




English title

:



Rating

: 3/5


Director

:



Main actor

: Sombat Methanee,Lak Apichat,Kanchit Kwanpracha,Kecha Plianvithee,Nard Poowanai,Chat Mongkolchai,Pipop Pupinyo,Dam Datsakorn,Phairoj Jaising


Main actress

: Piyamas Monayakol,Duangcheewan Komolsen,Tanyarat Lohanan,Duangjai Hathaikarn



Buy now

:

Thai movie อาณาจักรนักเลง was released in year 1978. It lasts 1h54mn. Labeu (Sombat Methanee) is a policeman. He gets some help from Siaw (Lak Apichat) to capture ruffians. He gets framed by drug traffickers and ends up in jail. Policeman Kanchit (Kanchit Kwanpracha) is building a team including Somjing (Piyamas Monayakol) to fight traffickers. He asks to get Labeu in his team as he believes he is not guilty and it would be a redemption opportunity. Labeu is reluctant but as it is to neutralise a dangerous organisation and clean Thailand's bad reputation as drug trafficking platform, he finally accepts. Drug traffickers include the boss Decha (เจ้านาย - Kecha Plianvithee), Phi Ho (Dam Datsakorn), Chat Mongkolchai, Pipop Pupinyo, Suriya Chinaphan and Duangcheewan Komolsen as secretary. Police team includes Nard Poowanai, Kanchit (Kanchit Kwanpracha), Somjing (Piyamas Monayakol), Gnamta (Tanyarat Lohanan), Labeu (Sombat Methanee). Decha is aware that Labeu has been released. Yousuf is killed in his jail (กุญแจดอกสำคัญ) before being able to share information. Drugs traffickers shall not be underestimated. Ruffians try to stop Labeu but he is now using similar ways as them (grenade...) as he is no longer an official police inspector. Drug ends up in seaport Sri Racha. Phairoj is working as an informant with whoever pays him. Interpol works with Thai people. Pinyo shots one of the foreign policeman. Labeu succeeds to get Kwan's agenda. Kwan (Duangjai Hathaikarn)(หลานสาว), Decha's relative, is captured by Labeu while inspecting a wagon supposed to contain drugs. Money exchange is proposed. Labeu acts like a ruffian now. Phairoj Jaising (อาชีพขายขาว) gives free information to Gnamta as he despises drugs which made his brother die. Decha kills Duangchiwan being unfaithful with Phairoj. Decha killed Kwan's real father many years ago to take over the business. Decha refuses to share the drugs money benefits with his colleagues and imprisons them. Getting back Kwan, he takes refuge in a hidden maze but it gets storms by Labeu and the police. Decha is killed by Apichat. The drugs gang is annihilated and Labeu reinserted in the police as officer (สารวัตร).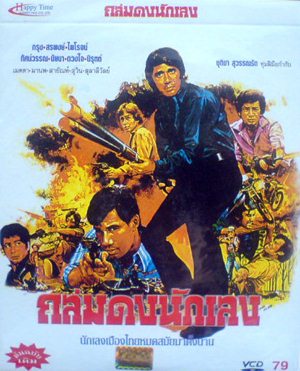 Year

: 1978



Thai title

:

ถล่มดงนักเลง




English title

:



Rating

: 4/5


Director

:



Main actor

: Sorapong Chatree,Krung Srivilai,Phairoj Jaising,Nirut Sirijanya,Manop Aussawathep,Sayan Chantaravi​boon,Sawin Sawangrat


Main actress

: Naiyana Shewanan,Metta Roongrat,Tasawan Saneewong,Duangjai Hathaikarn,Sulaleewan Suwanthat



Buy now

:

Thai movie ถล่มดงนักเลง was released in 1978 and lasts 1h53mn. The movie was released under VCD format by Happy Time Marketing company. Movie director is ชุติมา สุวรรณรัต. It is a typical Thai movie from decade 1970s and featuring two top action movies actors, i.e. Sorapong Chatree and Krung Srivilai. Jane (Metta Roongrat), as countryside bus ticket receiver, has issues with four ruffians including Plaew (Manop Aussawathep) and Sayan Chantaraviboon. Ruffians complain that driver Kate (Tasawan Saneewong) is driving too fast on bad countryside roads. Kate chases them away by threatening them with a rifle. Village leader (Sawin Sawangrat) is concerned that Plaew is back after a few years in prison. Nit is the village leader's daughter (Naiyana Shewanan) (หลานสาวคนสวย). Nit warns Krieng (Sorapong Chatree), her fiance, that ruffians are back to the village. Sa (Nirut Sirijanya), a gay character, is harassed by those four ruffians and beaten severely. Reudi (Duangjai Hathaikarn) is nurse for the village and is taking care of Sa. Mun (Krung Srivilai), selling buffalos and managing a herd, is stopping in the village to buy food for his team. Mun is also beaten by the ruffians and is saved by Nit. Mun promises to come back and gets revenge. Thong Chai (Phairoj Jaising) is arriving in the village. Ruffians prepare to steal the buffalo herd to make easy money. Thong Chai is a undercover policeman. Krieng (คู่รัก) is also arriving in the village following letter sent by Nit. Other ruffians also arrive to work for Plaew. The buffalo herd guardians are attacked. All are killed except Mun being injured. Plaew is jealous to see Nit and Krieng together. He asks for a fight one to one with Krieng but gets defeated. Phairoj wishes to catch the big boss, i.e. Seua Klaew, so he needs to collect more evidences. Meanwhile Plaew's team continues to harass villagers. Mun, staying in the village to get revenge, has a fight with Plaew also. Four men and four ladies have romance, i.e. Krieng (Sorapong Chatree) - Nit (Naiyana Shewanan), Sa (Nirut Sirijanya) - Reudi (Duangjai Hathaikarn), Mun (Krung Srivilai) - Kate (Tasawan Saneewong), Thong Chai (Phairoj Jaising) - Jane (Metta Roongrat). Aunt Sulaleewan Suwanthat is found hanged as she refuses to sell rice noodles to the ruffians. Ruffians try to storm Mun's house but they fail. Plaew uses ruffians from other provinces to avoid being involved. Plaew sends bikers to storm the market. The bikers are pushed back but Sawin dies during the fightings. Plaew is fed up to lose so he decides to act under his real name, i.e. Seua Klaew! Ruffians kidnap the four ladies. It turns badly and Jane is shot. Sayan Chantaraviboon is injured by Jane before being shot. Worried to die, Sayan lets Nit and Kate to search for a doctor for him. The four friends storm the ruffians' den. Heavy shooting shootings occur. Police arrives also. Plaew, upset that Sayan let two ladies to flee, shoots Sayan and the nurse Reudi. All ruffians are killed. Sa carries the nurse body.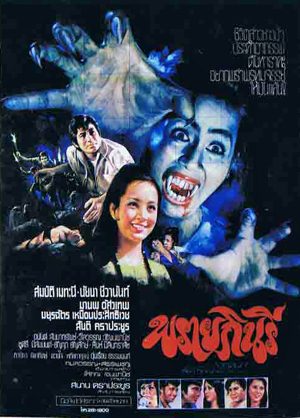 Year

: 1976



Thai title

:

พรายกินรี




English title

: The Tiger Devil



Rating

: 3/5


Director

:



Main actor

: Sombat Methanee,Manop Aussawathep,Adul Dulyarat,Pipop Pupinyo


Main actress

: Naiyana Shewanan,Malee Wetpraseri,Wilaiwan Watthanaphanit,Mayurachath Muarnprasitivej,Chosri Misommon,Duangjai Hathaikarn
Thai movie พรายกินรี (The Tiger Devil) was released in year 1976 and lasts 1h35mn. The movie is certainly cut as it is only available from cable TV programmes. Malee (Malee Wetpraseri) and Kinaree (Naiyana Shewanan) are travelling together after leaving a Christian community. They are aggressed on the way to their village by two men including Manop Aussawathep. They step back when understanding that Kinaree, who was fighting strongly, is a lady (นางฟ้า). Pipop Pupinyo, the village leader, remembers that many years he wanted to burn Kinaree as she was accused to be a tiger devil spirit. A monk stopped the burning and gave a sacred necklace to prevent Kinaree to become a spirit again (เวรกรรมของหลาน). She has to keep until being 20 years old. Kinaree and her grandmother were expelled from the village but are now back. One young villager tries to abuse Kinaree while she is bathing in the waterfall. When angry, she becomes the tiger devil spirit again and kills the villager. The grandmother Malee falls and gets injured. Per Kinaree's request, Manop searches for a doctor. Doctor Sombat Methanee then checks Malee but she finally dies. Pipop, afraid of Kinaree, leads the villagers to burn her again. The doctor decides to bring Kinaree in Bangkok but faces Manop, who is jealous. The doctor and Kinaree succeed to flee Manop and the angry crowd. They are back to Bangkok. New characters are present in the doctor's home, Chosri Misommon as domestic helper, Wilaiwan Watthanaphanit as mother, Mayurachath Muarnprasitivej as his fiancee Dao (ปากเสียใหญ่), friends such as Chom (Duangjai Hathaikarn) and Chatree (Adul Dulyarat). She is used in the kitchen but is useless (เด็กเวร). Dao has a lover (เล่นชู) called Chai (อนันต์ สัมมาทรัพย์). There is a ballroom event. Dao tries to humiliate Kinaree (ชาวป่า) during the ball but to no avail. She hires the car driver to hurt Kinaree but she becomes a tiger devil spirit (ผีเสือ) again and kills him. Today is Kinaree's birthday. Dao aware that Kinaree could be a spirit is willing to challenge her. She removes her necklace and slaps her. Horror happens with Chai is killed and Dao injured by the tiger devil spirit. Police shots the spirit a few minutes before Kinaree's 20th birthday. Kinaree becomes a full human but dies due to her injuries in the doctor's arms. Another version of Kinaree was released in year 1969 (กินรี) with Sombat and Suthisa. In this older version, Kinaree doesn't die.



Year

: 1976



Thai title

:

3นักสู้ผู้ยิ่งใหญ่




English title

:



Rating

: 3/5


Director

:



Main actor

: Sorapong Chatree,Phairoj Jaising,Sukon Koewliam,Pipop Pupinyo,Uten Boonyong,Boo Wibunnan,Krai Kanchit


Main actress

: Pawana Chanajit,Moeifa,Duangjai Hathaikarn,Runglawan Sripatimakul
3นักสู้ผู้ยิ่งใหญ่ movie deals about two ruffians factions competing for leadership. One group is led by wealthy man (พ่อเลี้ยง) Yan. The second group is led by Sia (คนอิทธิพลมาก). Sia is played by actor Boo Wibunnan, who always plays the mafia leader, half Chinese half Thai, speaking a Thai language mixed with Chinese words. Sia's daughter is Taptim (Pawana Chanajit). She is fair and doesn't hesitate to recognise mistakes done by her father or his team. Both ruffians leader have sexy mistresses (ดาวโป้) played by Moeifa and Runglawan Sripatimakul. Yumei is Yan's mistress but she has also another lover, i.e. Roj (Phairoj Jaising), Yan's close associate. Some of Sia's ruffians take compromising pictures in order to blackmail Roj as they are aware he is having an affair with his boss mistress. Jom (Sorapong Chatree) and his wife Srithong find a job inside Yan's company. Yan's daughter Songla notices Jom. Sia's ruffians threaten villagers working as gold prospectors. Jom and Roj have a fight with Sia's ruffians as they raped one of the village lady. Each ruffians leader is responsible and protecting his territory and people. While Jom is away, Srithong is raped and killed. Jom promises to revenge her. Siep (Uten Boonyong), an undercover policeman, having a strong punch, is entering the area. Sia wishes to recruit him. As Taptim has studied in university, Siep tries to convince her that her father activities are wrong (เดือดร้อน) towards villagers. Jom is captured by some ruffians led by Hin while walking endlessly. He is finally released as he is identified as staff from Yan. Hin accepts Jom in his team and trains him so that he can revenge his wife. Roj And Yumei are expelled by Yan as they are having an affair. Yan has received a comprising picture given by Sia! Roj joins Sia's team. Siep and Taptim try to reconcile both parties causing Sia's ire. As Siep shoots one of Sia's ruffians trying to rape a villager, he is considered as a traitor (ทรยศ) and imprisoned. Jom joins back Yan as he has finished his training. Moeifa drugs Yumei so that she cannot refuse Sia's advances. Her plan is to take the team control with Roj. Yumei is punished and killed by Roj. Knowing Yumei's death, Yan requests a one to one duel with Sia. Yan shots Sia but then Roj cowardly shots Yan also. Roj is the new leader. Meanwhile Taptim helped Siep to flee. Jom and Siep fight back in order to defeat Roj and his ruffians. The area now becomes ruffians free. It is a 2h12 movie with some 1970s key actors. Movie picture is quite poor and colorless. It certainly comes from an old TV program recording.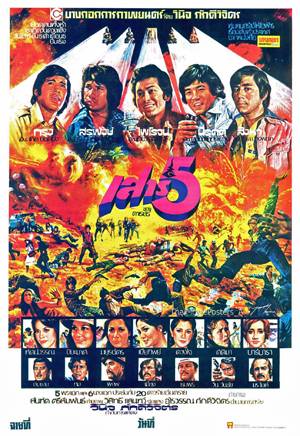 Year

: 1976



Thai title

:

เสาร์ 5




English title

:



Rating

: 2/5


Director

:



Main actor

: Krung Srivilai,Sorapong Chatree,Phairoj Jaising,Nirut Sirijanya,Pipop Pupinyo


Main actress

: Piyamas Monayakol,Tasawan Saneewong,Piathip Kumwong,Mayurachath Muarnprasitivej,Duangjai Hathaikarn



Buy now

:

5 friends are reunited for a mission in Northeast of Thailand. They were soldiers during Vietnam war. They receive sacred powerful Buddha amulets from a famous Buddhist monk in order to protect them during fighting. They have to swear, holding Thai flag, that they are willing to sacrifice their life for the nation, the religion and the monarchy. Sent on mission, they are facing a bunch of thieves, foreign people having a secret base with powerful rockets to threaten Thailand. Finally with the support of five women soldiers, they defeat the villains. Five major actors and actresses from the 1970s were featuring in this action movie.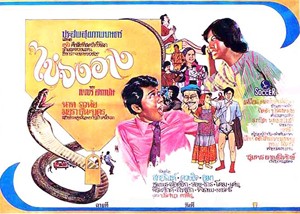 Year

: 1976



Thai title

:

ไข่จงอาง




English title

:



Rating

: 3/5


Director

: Choomporn Theppitak



Main actor

: Nard Poowanai,Sayan Chantaravi​boon,Krai Kanchit,Rong Kaomulkadee,Choomporn Theppitak,Lor Tok


Main actress

: Mayura Thanabutr,Duangjai Hathaikarn,Marasri Bangchang
Thai movie ไข่จงอาง was released in year 1976. The movie is lost in Thailand but a remaining sequence of 28 minutes is left to be seen. Veteran actress Marasri Bangchang is collecting debts reimbursement. She is married to younger man called Insee (Rong Kaomulkadee) but his little bird gets burnt by hot soup poured by his wife as he is courting younger lady (แม่ค้า)! This comedy features three male friends (Sayan Chantaraviboon, Nard Poowanai and Pong) looking for fun. Three ladies friends (Nit – Mayura Thanabutr, Pip - Duangjai Hathaikarn, Tip…) realise that their three husbands are going to have fun together but their wives surprise them (อยากตายไหม). Pong is a doctor so he is lying about his friends' health in order to get some compassion from their wives. Other actors are Krai Kanchit, Lor Tok, อุมา, โดม, เด่น, ปริศนา ดาริน, หมึก.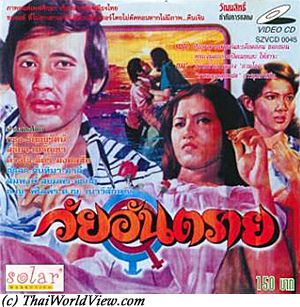 Year

: 1976



Thai title

:

วัยอันตราย




English title

:



Rating

: 5/5


Director

:



Main actor

: Krung Srivilai


Main actress

: Tanyarat Lohanan,Duangjai Hathaikarn,Moeifa,Neranchala Thaleungsak
Husband Rat is butterflying outside (รักกินขโมย) with mistress singer (นักร้อง) Na while his wife Potchanee is at home with two children, Tik and Tup. He spends a lot of money on his singer and comes back late every night (แม่ใหม่). A friend warns the wife Potchanee where is her husband (ผัวชั่ว). Potchanee surprises them together. Arguments are raised (วิชาผูกชาย) sharply. One of the daughter, hiding in the car, hears everything. The wife shoots the singer, her husband and her daughter by mistake so she kills herself. The movie introduction sets the tone. It is about love, crave and death (ใคร่, ตาย, รัก). The daughter Tup finally didn't die. She is now an adult and living with her younger sister Tik, who is studying at university. Tup is a doctor in order to help other people. She also wants her younger sister to do activities useful for the society (ประโยชน์สำหรับสังคม). Tup has a boyfriend called Krienkrai. Krienkrai's younger brother, Kong, likes Tik a lot. The two brothers love the two sisters. Krienkrai wishes to marry with Tup but she is always delaying as understanding (ความเข้าใจ) is important for her as she is afraid of being married and facing same issue as her mother. If Krienkrai wants love, Tup will give him. If Krienkrai wants crave, he shall go somewhere else (ไปหาที่อื่น). So Krienkrai is going out with Moeifa (กะหรี่) to have crave with another woman. She wishes to train his younger brother (เด็กน้อย) also! Ruffian Yot (คนจิงจกสังคม) is leading a prostitution ring. One of his prostitutes, Kathin, flees but she is caught back. Luckily the two brothers pass by and help her. She has syphilis. The doctor gives an educational description of all sexual deceases with crude and real pictures. Pat, young lady, has issues with her parents. Her mother is sick as her father doesn't have mood to do his bedtime husband duties so she is depressed. Pat leaves home and is kidnapped by ruffians. Luckily Pat is rescued in time by Kong. Kong helps to bring happiness on her face. if parents are not happy, children will behave badly (ไม่อบอุ่น). Passage to teen age is dangerous (วัยอันตราย). Tik is ready to lose Kong so that Pat can have happiness. During a storm Pat and Krienkrai have a short time sexual relation. Krienkrai still wishes Tup to stop being a doctor after their wedding. Pat is now pregnant. Who is the father? Kong is suspected by Tik. Pat's mother suggests abortion. Krienkrai is drunk everyday but refuses to marry Pat. Pat refuses to abort. Kong knows the truth (เลวกว่าหมา). Kong decides to recognize the baby as his brother is too coward. Kit understands Kong's decision. Pat refuses that Tik or Tup sacrifice themselves and promise not to kill herself. The ruffians lead by Yot notice Pat and Tik in a mall. They kidnap them. Hopefully Kathin, the lady that Krienkrai helped before, is still working there again (สังคมไม่รับ) and promises to help Pat and Tik. Pat is raped and hurt in the tummy by Yot. Tik succeeds to escape thanks to Kathin. She calls Kong, Krienkrai and the police for help. They neutralize the ruffians. Finally Krienkrai accepts to recognize the child. He blames Tup for refusing to give him some lust before so causing all this mess to happen as he needs to go outside (ระบาย)! Tup still loves Krienkrai especially after such sacrifice and continues to dedicate her life to medicine. The movie features great music from 1970s. The movie highlights that lust (กิเลส) and desire (ตัณหา) are present in all people. Impact will depend on how each individual can succeed to control himself. It also features academic educational messages on sexual deceases, birth control (correct use of contraceptive) and basic sexual teaching about unique father conception. "Wai Antarai" is really part of the new kind of movies that appear during 1973-1976 freedom era. It was the first Thai movie about sex education (เพศศึกษา).
---