Increase or decrease font size for easier reading : A+ A-
Duangdao Jarujinda
Duangdao Jarujinda (1951) - ดวงดาว จารุจินดา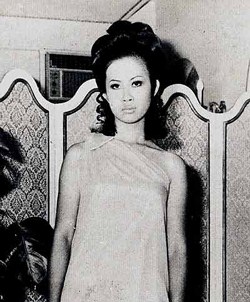 Duangdao Jarujinda is a very famous actress in Thai TV series Duangdao Jarujinda's first movie "วิมานสลัม" was released in year 1971. She was a dubber also
This Duangdao Jarujinda movie page contains 8 records.
---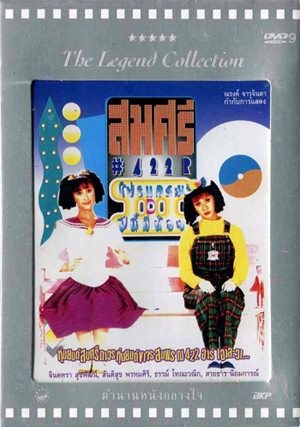 Year

: 1995



Thai title

:

สมศรี 422R โปรแกรม D ปีนี้มีน้อง




English title

: Somsri 422R Program D



Rating

: 3/5


Director

:



Main actor

: Santisuk Promsiri,Sombat Methanee


Main actress

: Jintara Sookkapat,Duangdao Jarujinda



Buy now

:

Thai teen movie สมศรี 422R โปรแกรม D ปีนี้มีน้อง / Somsri 422R Program D is the third opus of สมศรี 422 อาร์ / Somsri 422R, the Thai robot. It was released in year 1995 and it lasts 1h47mn. In Bangkok, there is a three kid's family with a father as crazy inventor. Mother is played by Duangdao Jarujinda. The father created Thai robot Somsri 422R before. Sompon is a new lady robot created by the father. Gags happen as ladies robots have unexpected behaviors such as going in male toilets or learning bad habits from humans... Funny competition do happen between the two robots. The grandfather (สุประวัติ ปัทมสูต) in Chiang Mai has difficulties with Sombat Methanee. He is always nagged by him and loses all competitions to him. Sombat has a very strong granddaughter. The grandfather wishes some help from Somsri (Jintara Sookkapat) in order to silence Sombat. It features various teen romances (including สายธาร นิยมการณ์). Animosities continue between the two grandfathers. Sombat even hires tough guys (มือดี) (including ชลประคัลภ์ จันทร์เรือง) to get rid of Somporn but they keep failing. Grandfather accuses Somsri to be jealous (ขี้อิจฉา) of Somporn. Ed (Santisuk Promsiri) is always supportive of Somsri (เป็นคนยุ่งจะตายไป). Competition shall happen both granddaughters (น้อง) per grandfathers' agreements. Somporn is the one to participate to the competition but she loses the first event due to cheating (โกง). As she is injured, Somsri replaces her and wins the last two events.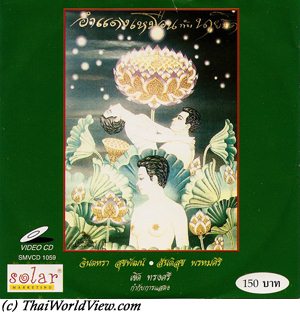 Year

: 1994



Thai title

:

อำแดงเหมือนกับนายริด




English title

: MUEN and RID



Rating

: 5/5


Director

: Cherd Songsri



Main actor

: Santisuk Promsiri,Man Teeraphol,Ron Rittichai


Main actress

: Jintara Sookkapat,Duangdao Jarujinda



Buy now

:

Prior to 1865, women had no status in Thai society. They were looked down on as object with no significant value. Their parents and husbands had the right in law to pawn or sell them, just as they could pawn or sell their cattle. Hence the old Thai saying: "Women are buffaloes, men are humans". Muen was the daughter of peasants in Nontaburi Province. During a storm, she almost drown and was saved by a young monk called Rid. As she was love with the monk, she wanted to be close to him and succeeded to convince the temple abbot to be able to go to the temple school. Despite Thai society obstruction that thought that knowledge was useless for women, she learnt how to read and write. Her parents were trying to force her to marry Poo, who had alread several wives. She managed to escape and took refuge with Rid, who has left the monkhood for her. When he discovered where she was, Poo claimed under the law that Rid had abducted his wife. Muen was arrested, and suffered abuse and mistreatment in Jail. But she never gave up hope, and managed to escape and submit a petition to King Mongkut. She condemned the law as being unfair, and condemned Thai society for condoning men's exploitation and abuse of women. She faced the death penalty for her temerity; Thai society had lived by and respected the laws she attacked for centuries. The King issued a Royal Decree granting her a pardon. Based on a true story, the film celebrates an early case of a struggle for women's rights in Thailand, which resulted in a decree promulgated by King Mongkut in December 1865.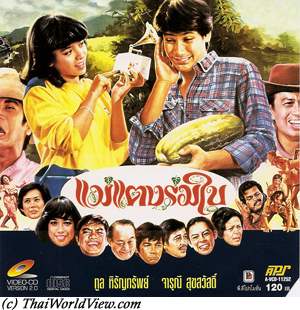 Year

: 1982



Thai title

:

แม่แตงร่มใบ




English title

:



Rating

: 3/5


Director

: Sombat Methanee



Main actor

: Toon Hiransap,Sombat Methanee,Suchao Pongwilai,Boo Wibunnan


Main actress

: Jarunee Sooksawad,Ampha Pusit,Duangdao Jarujinda
Two families making a living on agriculture don't esteem each other. They unite when some gangsters threaten them in order to buy goods at low price. Love stories happen between young people from both families.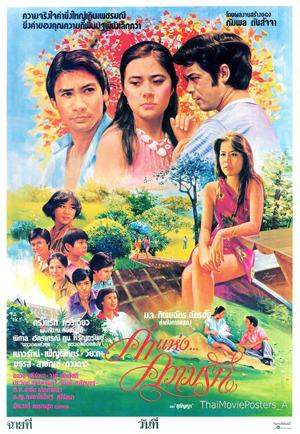 Year

: 1981



Thai title

:

ค่าแห่งความรัก




English title

:



Rating

: 3/5


Director

: ม.จ.ทิพยฉัตร ฉัตรชัย



Main actor

: Toon Hiransap,Pisarn Akraseranee,Sayan Chantaraviboon,Yuranan PamornMontri


Main actress

: Penpak Sirikul,Naowarat Yooktanun,Wiyada Umarin,Duangdao Jarujinda
Thai movie ค่าแห่งความรัก was released in year 1981 and lasts 1h36mn. Movie director is ม.จ.ทิพยฉัตร ฉัตรชัย. Actors and actresses featured are Toon Hiransap, Penpak Sirikul, Naowarat Yooktanun, Wiyada Umarin, Pisarn Akraseranee, Sayan Chantaraviboon, Duangdao Jarujinda, Yuranan PamornMontri, มธุรส รัตนา, ฉลวย ศรีรัตนา, วงศ์ ศรีสวัสดิ์, ประวิตร สุจริตจันทร์, จันตรี สาริกบุตร. Doctor Kengkrai (Toon Hiransap) is always drunk. This is due to his wife Pakpong (Penpak Sirikul) having external affairs but he is unable to divorce her as they have two kids. Sura (Naowarat Yooktanun) is Pakpong's younger sister. Piplin (Wiyada Umarin) is the eldest sister. Sut (Pisarn Akraseranee) helps Kengkrai as he has a car accident and is unable to drive drunk. Sut and Sura have arguments. Sut is hired by Kengkrai as driver and as a helper for his children. Kengkrai has two children but his wife is not taking care of them. Uncle Sut becomes a second father for the children, Moo and Maew. Arguments happen between Sut and Pakpong as she is jealous of him, being loved by her children. Sayan Chantaraviboon, from a rich Thai southern family, greets Sut. Doctor Kengkrai still has a big domain. The doctor has to sell his land as he needs money to pay his wife's debts. Phi Luang, brother in law, wishes to buy the land. Kengkrai has concerns selling the land as it belongs to his children. A mysterious rich man from south of Thailand, Khun Paradon, buys the land for 5M THB by offering higher bid than Phi Luang. The land will remain under Moo and Maew names. The brother in law is upset. Sut is upset against the rich people (ผู้ดี) as Sura listens to him (สัตว์ป่า) talking to Yot. A lost letter indicates Pakpong's bad intentions towards the doctor. Her lover finds the letter and threatens to disclose everything as she wishes to break up. Sut forces the lover to give back the letter and to disappear. Sut has a strong character. He succeeds to clear all issues and problems. Pakpong promises to change (แม่ที่ดีต่อไป). A romance between Sut and Sura is about to start (ไม่กลัวแต่ไม่ไว้ใจ). Paradon (Yuranan PamornMontri) is coming to meet Sura and asks her hand. Piplin gets beaten by her brother and the mother is upset as Pakpong didn't privilege her own family for the land sales. The mother thinks about money only. Paradon challenges Sura on the land. The real Paradon is Sut, who is doing tricks to check Sura's real heart. Sut's secret is finally disclosed and romance can blossom.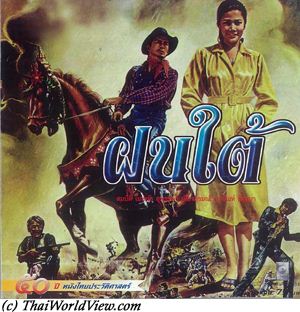 Year

: 1980



Thai title

:

ฝนใต้




English title

:



Rating

: 3/5


Director

:



Main actor

: Sombat Methanee,Sayan Chantaraviboon,Prachuap Ruekyamdee,Boo Wibunnan,Sawin Sawangrat,Pipop Pupinyo,Adul Dulyarat,Chat Mongkolchai


Main actress

: Supansa Nuengpirom,Metta Roongrat,Duangdao Jarujinda
This movie is a Thai Tom Yum (ต้มยำ) western mixing action and comedy. Following a robbery, ruffians have to stop at a house to rest at night time and repair their car. They kill the whole family living there but the kid, called Yot, is only injured and promises to take revenge. He notices that the killer is wearing particular boots. Yot is rescued and healed by a Buddhist monk and doctor Meng (Adul Dulyarat). Twenty years have passed. Yot (Sombat Methanee) is coming back in the area to sell medicine. The area is under the control of mafiosi Lit and his thugs (Pipop Pupinyo and Chat Mongkolchai). Even local subdistrict headman (กำนัน) Cha (Prachuap Ruekyamdee) has difficulty to get authority from them. The district officer (นายอำเภอ) has been killed. The doctor Meng now indulges into alcohol to forget his worries. His wife, Busuba (Metta Roongrat), was deceitful and caused the death of his best friend. She is now Lit's girlfriend. A Thai country music (ลูกทุ่ง) singer (Sayan Chantaraviboon) is coming in the village and teams up with Yot. Lit (Sawin Sawangrat) tries to get rid of Yot, the country music singer and even local subdistrict headman Cha. Yot finds the 20 years old boots in Cha's barn so he believes that local subdistrict headman Cha is responsible of his parents' death. Various events (doctor Meng, Lit and Busaba die) happen until the thugs are neutralized thanks to Yot and the singer, who is in fact an undercover military officer. Remembering the Buddhist monk's advice, Yot doesn't do self justice and becomes the new district officer. It is a typical movie of end of 1970s decade with Thai country music songs, action, comedy, romance (Yot and Chewi (Supansa Nuengpirom), local subdistrict headman Cha's daughter), revenge. A previous version of ฝนใต้ was also done in 1970 already with Sombat Methanee.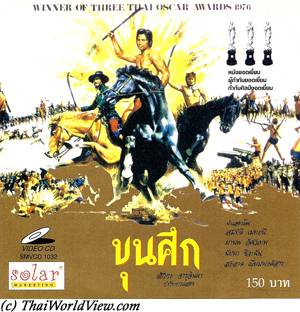 Year

: 1976



Thai title

:

ขุนศึก




English title

: The War Lord



Rating

: 4/5


Director

:



Main actor

: Sombat Methanee,Manop Aussawathep,Sahat Piempongsan


Main actress

: Naiyana Shewanan,Duangdao Jarujinda
It deals about the opposition between two men during Ayuthaya period. One is part of aristocracy, one is a commoner but both love the same woman. The commoner is forced to live in clandestinity. But thanks to courageous performances during war, he deserves respect and title. This movie has won Three Thai oscars. A remake was done in 2003.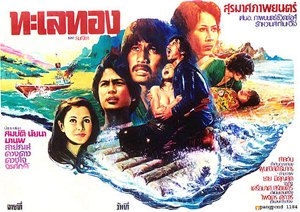 Year

: 1975



Thai title

:

ทะเลทอง




English title

:



Rating

: 4/5


Director

:



Main actor

: Sombat Methanee,Man Teeraphol,Manop Aussawathep,Sayan Chantaraviboon,Choomporn Theppitak


Main actress

: Naiyana Shewanan,Duangdao Jarujinda
Many years ago, Laem Kun Thalae (Sombat Methanee) and Mae Plae (Naiyana Shewanan) were tied to a pole, beaten and left to die in the sea. Laem Kun Thalae survived thanks to his friend Fong but Mae Plae died. Their child was left to a teacher. Many people believed they both died in the sea during high tide. The teacher has three children, i.e. one boy, Pu (Sayan Chantaraviboon), and two daughters, Nang (Naiyana Shewanan) and Neua Oon. Nang is the baby given many years ago. Nang is hard worker but Neua Oon is lazy. Sak, son of Sou (Man Teeraphol), a local ruffian, always wants to bring the two sisters out but Pu refuses and Nang is not interested to go. Sak becomes lover with Neua Oon (ได้เป็นเมีย). Kun (Sombat Methanee) and his friend Fong (Manop Aussawathep) are always seen around. Kun always helps Nang in difficult situations. Pradet (Choomporn Theppitak) is the local policeman officer but is bending to Sou. Sou wishes Pradet to arrest Kun as he is a trouble maker. Nang and Sak's two sisters (Nit and SiriPorn) are kidnapped by overseas woman traffickers. They are rescued by a boat carrying Kun, Sak and Pu. Kun decides then to keep Sak and his sisters as hostage. They take refuge on an island. Pu and Siriporn become lovers. There is a suggestion for Kun to surrender to police (มอบตัว) as Sou is following up them. Nit (Duangdao Jarujinda) promises to help as she loves Kun. Kun doesn't believe in the police fairness so he flees with Nang. As the action is taking place close to Cambodia border, their boat gets attacked by red Cambodian soldiers. They have to jump from the boat but are caught up in a storm. They are finally protected by Mae Plae's spirit (วิญญาณ) and rescued by a boat. Sou and his ruffians team capture Kun and Fong. They are ready for a final vengeance. Nit believes Kun and Laem Kun Thalae are the same individual. Situation is reversed thanks to Kun's skills. Sou, Sak and Nit are now prisoners under Kun. The policeman Pradet agrees to speak and discloses what really happens many years ago between him, Sou and Laem Kun Thalae. Finally Nang's real father is policeman Pradet. His wife Sai is Sou's younger sister. Pradet has a short relationship with Mae Plae. Through jealousy, Sai and Sou took vengeance on Mae Plae and innocent Laem Kun Thalae. So Kun and Laem Kun Thalae are the same man. Despite his initial desire for vengeance, Kun leaves it away and stays with Nang. Thai movie "Thalae Thong" (ทะเลทอง) was released in 1975.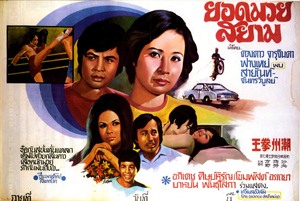 Year

: 1973



Thai title

:

ยอดมวยสยาม




English title

: The greatest Thai boxing



Rating

: 3/5


Director

:



Main actor

: Sayan Chantaraviboon


Main actress

: Duangdao Jarujinda,Khomapat Attaya
Thai movie ยอดมวยสยาม or "The greatest Thai boxing" was released in year 1973. It is a Taiwan | Hong Kong production. It is named 潮州拳王 - "The greatest Thai boxing" or "Boxer King of Chaozhow". It lasts 1h29mn09s. The movie is lost in Thailand but can still be seen at the Taiwan National Film Archive Foundation. It features Thai actor Sayan Chantaraviboon and Thai actresses Duangdao Jarujinda, Khomapat Attaya. A summary is available in Chinese.
---