Increase or decrease font size for easier reading : A+ A-
Duangcheewan Komolsen
Duangcheewan Komolsen (1957-2019) - ดวงชีวัน โกมลเสน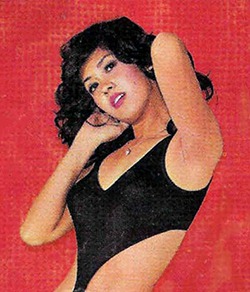 Duangcheewan Komolsen is famous for sexy pictures in Thailand. She was Thailand representative at Miss World in 1976 and was miss Thailand in 1976. She played in more than 35 movies
This Duangcheewan Komolsen movie page contains 28 records.
---



Year

: 1985



Thai title

:

ไกรทอง 2




English title

: Kraithong 2



Rating

: 3/5


Director

: Sompote Sangduenchai,Neramit



Main actor

: Sorapong Chatree,Sombat Methanee,Sor Asanajinda,Lor Tok,Lak Apichat,Der Doksadao


Main actress

: Ampha Pusit,Aranya Namwong,Supansa Nuengpirom,Duangcheewan Komolsen



Buy now

:

Thai movie ไกรทอง 2 was released in year 1985. It was released under VCD and DVD format by Tiga Company and lasts 1h33mn. The Betamax version lasts 1h49mn. The main difference is longer sequences with a Chinese master (อาจารย์). Main actors and actresses featured in this movie are Sorapong Chatree, Sombat Methanee, Sor Asanajinda, Lor Tok, Lak Apichat, Ampha Pusit, Aranya Namwong, Supansa Nuengpirom, Der Doksadao, Duangcheewan Komolsen. This time Kraithong faces a man, who has also the power to change himself into a fearful crocodile. Thong (Suphansa Nuengpirom) and Kaew (Ampha Nuengpirom) are Kraithong's wives. Wimala (Aranya Namwong) and Malaiwan (Duangcheewan Komolsen), former Chalawan's wives, are staying in a cave under the river. Sor Asanajinda is a powerful hermit. Sor asks Wimala (แม่นาง) not to disturb humans anymore. Meanwhile a crocodile takes away a baby and his father. The mother goes to Chinese shrine to ask help from a Chinese master (Lor Tok). Der Doksadao and เหี่ยว are playing medium assistants in the Chinese shrine. A funny and long sequence featuring the master showing his surnatural skills towards Der Doksadao is present in the betamax but cut in the VCD version. A government official offers a reward to kill the crocodile. The crocodile continues his rampage and attacks a floating market, humans and even a buffalo. Kraithong visits a master mentioning that crocodile Chalawan is back. The crocodile is in fact half human (Lak Apichat) half spirit (จระเข้ผีสิงห์). Lak agresses Chalawan's wives in the cave. The Chinese master, despite his supernatural skills, is killed by the crocodile. Some scenes where Lor Tok is featuring his flying skills are cut from VCD but present on the BetaMax. The crocodile then attacks the house where Thong and Kaew are living. After a rampage, Kaew is kidnapped by the crocodile played by Lak Apichat. Wimala wishes to use Lak to take revenge over Kraithong. Chalawan is back per incantations from Sor. He is upset that his wife Wimala replaces him so fast. So Wimala pushes Lak to kill Chalawan. Upset about Kaew, Kraithong heads towards the cave. He faces Lak, already injured by Chalawan, and succeeds to defeat him. Chalawan then defies him again. Following an epic fight, Chalawan is defeated again and Kraithong brings Kaew back.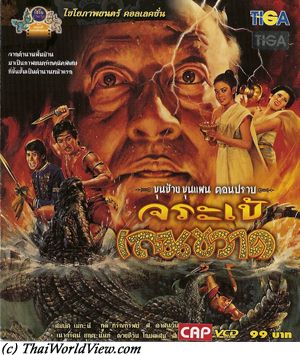 Year

: 1982



Thai title

:

ขุนช้างขุนแผน ตอนปราบจรเข้เถรขวาด




English title

:



Rating

: 3/5


Director

: Sompote Sangduenchai,Neramit



Main actor

: Sombat Methanee,Sor Asanajinda,Toon Hiransap


Main actress

: Naowarat Yooktanun,Duangcheewan Komolsen,Janthana Siriporn



Buy now

:

This movie is based on the folklore story "Khun Chang Khun Paen" (ขุนช้างขุนแผน) but only on a limited part of the whole story. During Ayutthaya period, a middle age man, Master Taen (อาจารย์เถร), has strong magic knowledge (วิชา) so can seduce women through spells and can transform himself into a ferocious crocodile. His young apprentice (ลูกศิษย์) can also become a fierce crocodile. Young ladies Simala and Soifa are the wives of noble Phra Phi but Phra Phi spends all nights with Simala. Soifa becomes very jaleous and asks Master Taen to help her. Master Taen uses black magic incantations. Simala and Phra Phi get tortured like voodoo puppets. Due to incantations (พิธี), Simala gets a defigured face so that Phra Phi goes back to Soifa. Phra Chumpoon, Phra Phi's brother, tries to defend Simila. Soifa asks Master Taen for a love filter to force Simala having an affair with Phra Chumpoon so that she can be repudiated by Phra Phi. Nothing happens but Phra Phi nevertheless chases her. Phra Chumpoon asks for his father's help. The father, Paen, sees that his son is under spell influence. Soifa starts to panic. The king orders to arrest Master Taen but Master Taen and his apprentice become crocodiles to kill the soldiers. A reward is offered to catch the crocodiles. Paen searches for evidence such as wax effigy inside the bedroom. But nothing found as Soifa hides it well but Paen succeeds to find it and breaks the spell (พิธีแก้) for Simala. Master Taen sends an evil spirit to fight Paen but Paen's baby spirit (กุมารทอง) helps him. Master Taen is arrested by Phra Chumpoon. He refuses to break the spell for Phra Pi. Simala and Soifa need to show their purity (บริสุทธิ์) by walking without pain on hot charcoal. Soifa fails (ความดีต้องชนะความชั่ว) and is chased in Northern Thailand. The two crocodiles continue their rampage until they are stopped by Paen and Phra Chumpoon. Master Taen is defeated and killed by Phra Chumpoon. Characters are similar to traditional theatre "Like" (ลิเก), i.e. the leading actor (พระเอก), the leading actress (นางเอก), the jealous girl (นางเอก), the funny and hilarious supportive maids (ตัวตลก). This is another movie from famous Chaiyo productions and produced by Sompote Sangduenchai. This is the fourth movie including crocodiles killing human again. The previous movies were Crocodile (จระเข้ - 1980), Kraithong (ไกรทอง - 1980), Kraithong 2 (ไกรทอง 2 - 1985). As often with Sompote productions, it includes light salacious content, humorous dialogues and kitsch Fx (Yak flying).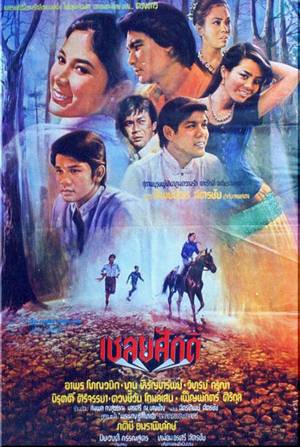 Year

: 1981



Thai title

:

เชลยศักดิ์




English title

:



Rating

: 3/5


Director

:



Main actor

: Toon Hiransap,Nirut Sirijanya,Aphorn Tonawanik


Main actress

: Penpak Sirikul,Duangcheewan Komolsen,Marasri Bangchang
Two Royal family clans (ตระกูล) have strong continuing conflicts (ความอาฆาตแค้น). One clan is อัศวราช, clan from the leading actor Yothin, and สันตติวงศ์, clan from the leading actress Alissa. M.C. , father of Alissa and Atisak, is dying. He wishes to clear up the conflicts between the two clans. Yothin (โยธิน) and Atisak (อติศักดิ์) from opposite clans have a gun duel. Yothin loses and needs to be Atisak's prisoner (เชลย) for one year. He has to stay in Atisak's estate located in countryside. He meets Alissa, Atisak's younger sister and Anoun, the younger brother. Yothin cannot get anywhere without authorization from Atisak or Alissa (เขาเป็นทาส). Prince (เจ้าแสนไทย) Saenthai, Atisak's friend, speaks sweetly with Alissa (อลิสา) but doesn't have real interest into her. Yothin becomes Anoun's personal instructor. Alissa and Atisak can force Yothin's body to execute tasks but they cannot control his spirit (จิตใจ). Yothin has a fiancee already Piromya (ภิรมยา) but he doesn't dare to see her and didn't tell her he is now under Atisak's orders. Saenthai has a high interest into Piromya. Prince Kanfa (เจ้าขวัญฟ้า) is having an affair (เมียน้อย) with Kaew, a domestic helper. He is acting as a butterfly with women but he wishes to marry Alissa. Yothin and Piromya still love each other. But Piromya is attracted by Kanfa. Piromya breaks up with Yothin when she learns that Yothin has become Atisak's slave. Piromya try to console with Kanfa. Yothin's father is sick but Yothin refuses to visit him to avoid having gratitude (บุญคุณ) to Atisak and Alissa. As Piromya is now pregnant, Kanfa needs to marry her but he cannot forget Alissa. Kanfa kidnaps Alissa to force her to become another wife. Yothin organises a hunt to find her. Piromya wishes to see the face of the traitor Kanfa (ผู้ทรยศหัวใจ) and dies in pregnancy while looking for Kanfa. Despite knowing Piromya's fate and being wrong, Kanfa refuses to let Alissa go. Though an unfortunate occurrence of circumstances, Kaew stabs Kanfa. Yothin flees with Alissa and Anoun. Love emerges between Alissa and Yothin. Unfortunately Anoun dies drowned in rapids while trying to help a dog. Atisak gives back his freedom to Yothin. Yothin leaves and promises to Alissa to come back as a friend (มิตร) and not a prisoner (เชลย) anymore. This movie is based on a story written by Princess Watnanokom Prawit (วัฒโนดม ประวิตร). It was adapted two times as movies (1959 and 1981) and three times for Thai television (1983, 1991 with Likit and Jintara, 2010).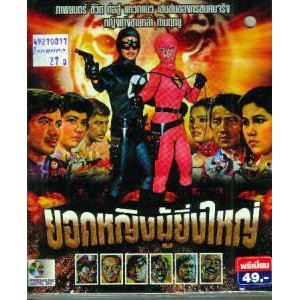 Year

: 1981



Thai title

:

ยอดหญิง ผู้ยิ่งใหญ่




English title

:



Rating

: 2/5


Director

:



Main actor

: Sombat Methanee,Yodchai Meksuwan,Kecha Plianvithee,Pipop Pupinyo,Lak Apichat,Boo Wibunnan,Thuam Thoranong,Paen Pleumsachai,Krong Kangkengdaeng


Main actress

: Wassana Sitthiweth,Piathip Kumwong,Duangcheewan Komolsen.Suphanee Jitthieng
Thai movie ยอดหญิง ผู้ยิ่งใหญ่ was released in year 1981. The version seen only lasts 1h05mn so too many scenes were cut making the storytelling bit weird. Boss (เจ้านาย) Bancha (Kecha Plianvithee) is trafficking weapons. Pipop Pupinyo is part of his team. A mysterious masked vigilante man, wearing black clothes, is trying to stop him. It is Nam (Sombat Methanee). A truck carrying weapons is stopped by Thai Police thanks to Nam. Nam warns Bancha but a fighting erupts with his tough guys. Nam gets help from a mysterious masked vigilante woman, wearing red clothes. Nam meets Nissa (Wassana Sitthiweth), daughter of the police head. Yot (Lak Apichat) helps Pat (Piathip Kumwong) kidnapped by ruffians. Ruffians kidnap Sia / เสี่ย Boo Wibunnan's child and shoot him in the shoulder. Hopefully red and black masked vigilantes follow the car but get attacked by yellow masked men (องค์การสีเลือง). Two ladies Pat and Nissa (นกสองตัว) are captured by Bancha's team, who are preparing to betray Thailand. Yodchai Meksuwan and Darlin (Duangcheewan Komolsen), from Malaysia, are police members. Bancha threatens the police head to kill his daughter Nissa if their business is disrupted again. Nam simulates joining the yellow gang in order to be able to release the ladies. Nam cannot reach agreement so a one to one (ต่อสู้แบบลูกผู้ชาย) fight must happen. Police finally arrives. Pat sacrifices her life to save Nam. Lak helps to release Darlin, who is identified to be the mysterious red masked vigilante woman. All ruffians are captured or killed. The identity of the gang leader (ลืมชาติ) is then known... Other actors are เศกสิทธิ์, Suphanee Jitthieng,โดม สิงโมฬี, Krong Kangkengdaeng.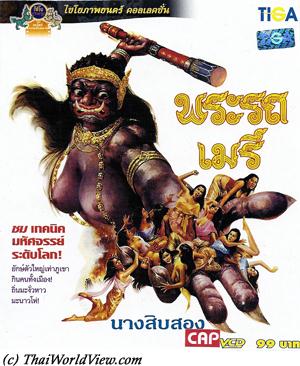 Year

: 1981



Thai title

:

พระรถเมรี




English title

:



Rating

: 3/5


Director

: Sompote Sangduenchai,Neramit



Main actor

: Toon Hiransap,Dam Datsakorn,Ron Rittichai,Sithao Petcharoen,Sompong Phonmitr,Sukon Koewliam


Main actress

: Ampha Pusit,Supansa Nuengpirom,Duangcheewan Komolsen,Janthana Siriporn,Metta Roongrat



Buy now

:

This movie is based on Southern Thai Local Literature. Twelve daughters are abandoned by their parents, who are too poor to educate so many children. The twelve daughters are rescued by a "Yak" woman who promises to take care about them as her own daughters. She deceived them and force them to drink a potion that transform the young girls into beautiful maidens. They escape and are rescued by a Prince, who falls in love with the youngest girl, called Sip Song. He agreed to marry the twelve girls. Once again, the "Yak" woman deceived and force them to drink a potion that makes them 8 months pregnant. The Prince, disappointed by this unexpected pregnancy, expels them and they are imprisoned in a cave, where the "Yak" woman has their eyes removed in order to make an ever young potion for her. Blind and with no food no eat, the ladies eat their new born babies except the son of Sip Song who is raised by a gentle "Yak". The son is called Phrae Rot Meri. Getting older he ran a cock fight to make a living for the 12 ladies. Becoming an adult, he has a deal with the Prince and goes to the "Yak" country to get more magic potions in order to get freedom for the 12 ladies including his mother. But the "Yak" woman is doing all possible tricks to stop him...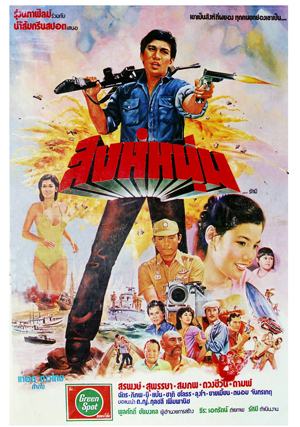 Year

: 1981



Thai title

:

สิงห์หนุ่ม




English title

:



Rating

: 4/5


Director

:



Main actor

: Sorapong Chatree,Chat Mongkolchai,Dam Datsakorn,Pipop Pupinyo,Paen Pleumsachai,Boo Wibunnan,Somphob Benjatikul


Main actress

: Supansa Nuengpirom,Duangcheewan Komolsen
Thai movie สิงห์หนุ่ม was released in year 1981. In Thailand, the movie is lost but the movie last 35mm film reel was preserved by a collector and lasts 24mn. This Thai movie was also released in Sweden by company HB Video-film. พ่อเลี้ยง Hin (Chat Mongkolchai) meets Wattana (Dam Datsakorn) for illegal business. Sakda / Sing (Sorapong Chatree), named as สิงห์หนุ่ม, a policeman, always causes them problems. He stops their drug traffic at the border. Hin decides to attack Sing through his family. His wife is raped and killed. Sing takes revenge but Hin succeeds to flee. Sing sympathized with Pipop Pupinyo and this latter helps him to be recruited by Srisuda (Duangcheewan Komolsen). Srisuda likes Sing a lot. Boo Wibunnan, Hin and Wattana build a traffic together. Policeman Tawan (Somphob Benjatikul) stops their boats trafficking in Thai waters. Srisuda is upset but she is not willing to sell her boats to Boo. Hin's ruffians are jealous to see singer Salika (Supansa Nuengpirom) talking to Tawan so a fight occurs. As Tawan is outnumbered, he gets some help from Sing and his friends. Somphob needs help from Sing and his ruffians to neutralize the ruffians. They all agree. Meanwhile ruffians plan to use the singer Salika to pressure policeman Tawan. Srisuda accepts to take care of Sing's daughter but asks Sing to move in her house... Last ruffians' operation fails again. Pipop is suspected to be a traitor and is killed. Ruffians shoot Srisuda and kidnap Sing's child. During the chase and the shootings, the child is killed. Ruffians then kidnap the singer Salika. Police storms the place but Watttana flees by boat with Salika. Sing follows and releases her.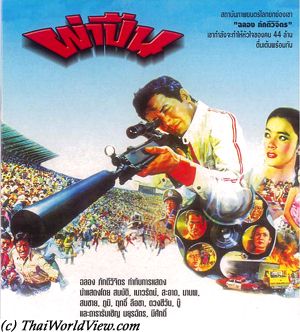 Year

: 1980



Thai title

:

ผ่าปืน




English title

: CRIME TARGET



Rating

: 3/5


Director

: Chalong Pukdeewichit



Main actor

: Sombat Methanee,Rith Luecha,Manop Aussawathep,Sahat Piempongsan,Boo Wibunnan


Main actress

: Naowarat Yooktanun,Duangcheewan Komolsen



Buy now

:

Chatree (Sahat Piempongsan) and Boo (Boo Wibunnan), two rich men, take part to social activities implying donations. Chatree's wife (Duangcheewan Komolsen) is a former bar singer. Their relationship is not going on well. Meanwhile ruffians rob a jewelry. Police inspector (สารวัตร) Kampan shots them (จับตาย 3 ศพ). Manop, brother of two deceased ruffians, is upset and looks for revenge towards Kampan. Naowarat, new young female policeman, has to work with Kampan (Sombat Methanee) known as "pitiless gun" (ปืนโหด). Kampan has lost his wife during an intervention. Since that time, he is a lonely policeman and is well known to kill bad guys with one bullet only with his magnum 357. Naowarat's father is the head of Thai police. Naowarat just comes back from Chicago after high successful studies. Chatree is the owner of a nightclub but he is losing money. Outside the nightclub, two thugs try to kill Kampan but they get finally shot by him. Reut and Manop try to kill inspector Kampan again. As they fail, they flee through a school minibus. Without knowing it, there are Chatree and Boo's sons in the minibus! Children are used as protection (ตัวประกัน). The ruffians ask for a ransom of 10M baht that shall be carried by Kampan (มือดี). Kampan brings no gun but has a special watch in order to be located anywhere. Chatree is in fact Manop's boss (เจ้านาย). Kampan's watch is discovered and after some torture, he is put in a sealed hole with Chatree's wife and her lover dead bodies. Buried alive, Kampan escapes death thanks to some workers finishing Chatree's house canalisations. The ruffians ask 1M USD to the Chinese businessman against his son's life. Money exchange shall happen in a full football stadium but Kampan and Naowarat make their plan foiled. Reut is killed. Chatree and Manop bring the kids into a disaffected factory. Following his own son pleas, Chatree surrenders. Kampan shots Manop. Children are freed. It could be the Thai version of "Dirty Harry" as Kampan also does self justice. The Thai version lasts 1h38mn. An international version was also released by Filmark production and is lasting 1h30mn. The international name is "CRIME TARGET".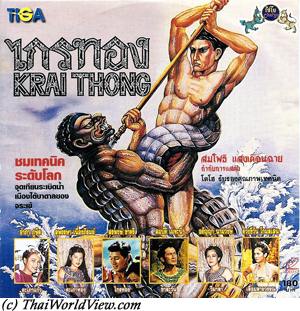 Year

: 1980



Thai title

:

ไกรทอง




English title

: Kraithong



Rating

: 3/5


Director

: Sompote Sangduenchai



Main actor

: Sorapong Chatree,Sombat Methanee


Main actress

: Ampha Pusit,Supansa Nuengpirom,Aranya Namwong,Duangcheewan Komolsen



Buy now

:

Kraithong is an old Thai tale based on an aggressive, violent and male-dominated world. Kraithong movie is based on Thai traditional folklore story relating a love story between a crocodile and human beings. A spirit living in the river has the possiblity to change himself into a crocodile. He uses his powers to terrify the population by killing inhabitants and kidnaps young girls for his harem. His name is Chalawan (ชาละวัน). One day Chalawan sees the two daughters of a rich local trader and falls in love with them. The two daughters are called Takao Kaew and Takao Thong. He kidnaps Takao Kaew and brings her to his cave under the river. The father is very angry and recruits a crocodile master (หมอจระเข้) called Kraithong. He promises to give his two daughters if Kraithong can stop Chalawan. Kraithong finds the way to Chalawan's underwater cave. A fight happens between Kraithong and Chalawan. Kraithong movie raises the Thai polygamy theme as Chalawan has already crocodiles wives in his underwater cave but still desires human being wives.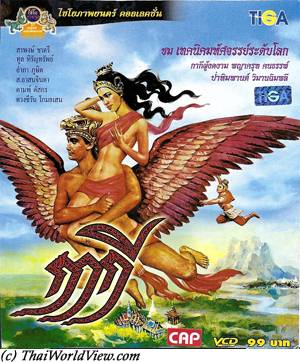 Year

: 1980



Thai title

:

กากี




English title

: Kaki



Rating

: 3/5


Director

:



Main actor

: Sorapong Chatree,Toon Hiransap,Sor Asanajinda,Dam Datsakorn,Sithao Petcharoen


Main actress

: Ampha Pusit,Duangcheewan Komolsen,Janthana Siriporn



Buy now

:

Beautiful young woman Kaki (กากี) is created from a magnolia flower by an hermit (ฤาษี) for the old King Prommathat (ท้าวพรหมฑัต). So Kaki becomes the beautiful wife of King Prommathat. One of the King's musician, Than (คนธรรพ์) (Sorapong Chatree), loves Kaki and composes songs to ease her heart. King Garuda (พญาครุฑ) comes down from his celestial residence to gamble with the King Prommathat in a dice game. King Garuda sees the beautiful Kaki and loves her immediately. King Garuda and Than love Kaki. Following a battle between Than and King Garuda, Kaki is kidnapped by King Garuda. King Garuda is a supernatural half-bird half-man creature living in a world different from the human beings world. Both the King Prommathat and the musician Than are sad. King Garuda visits again King Prommathat's palace believing nobody knows he kidnapped Kaki. King Garuda is demystified by the musician Than. Following a poetry wording fight, King Garuda is defeated. The deity needs to send Kaki back to the human world. The King Prommathat is shocked to learn that Than and Kaki love each other. Kaki is sentenced to harsh punishment. Finally Than succeeds to find Kaki and confirms his love to her despite Kaki claims that she is not worth as she had three husbands (หลายผัว, เป็นกะหรี่). It based on a great Thai classical literature written by Jao Praya Praklang Hon. Nowadays in Thai language, the word Kaki (กากี) is still used to mention a woman, who has an adulterous behavior.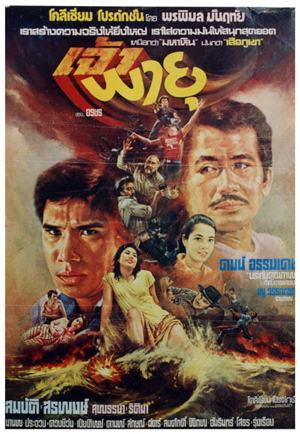 Year

: 1980



Thai title

:

เจ้าพายุ




English title

: Thunder Kid



Rating

: 5/5


Director

: Kom Akadej



Main actor

: Sorapong Chatree,Sombat Methanee,Manop Aussawathep,Prachuap Ruekyamdee,Dam Datsakorn,Somsak Chaisongkram,Lak Apichat,Choomporn Theppitak,Somchai Samipak,Chat Mongkolchai,Pipop Pupinyo,Siripong Isarangkul,Paen Pleumsachai,Pao Porapak


Main actress

: Supansa Nuengpirom,Piathip Kumwong,Thitima Sangkapitak,Duangcheewan Komolsen
Thai movie เจ้าพายุ was released in year 1980 and lasts 1h55mn. It was never released in Thailand but is still available overseas in Sweden as it was sold through VHS format. Palat (Sombat Methanee) rapes Piathip Kumwong, his former wife, as he is upset she has another lover (Manop Aussawathep). A kid is born from this relationship but it has no recognized father (ไม่มีพ่อแต่ต้องมีชื่อ). Manop is said to be Yu's father. Uncle (พ่อลุง) Jaeng (Prachuap Ruekyamdee) names the kid as Thunder (เจ้าพายุ), as he is born during a storm, but his nickname is Yu. When Yu was 3 years old, Piathip left home as Palat was having a new wife called Duangcheewan. Being adults, Eum (Thitima Sangkapitak) and Yu (Sorapong Chatree) love each other since childhood. Eum's parents promise her to another man called To (Dam Datsakorn). Palat, Somsak Chaisongkram and To try everything to break this relationship. Eum and Yu flee but are chased by Palat and ruffians led by To. Yu accepts to surrender and is sent to prison. Manop Aussawathep, father of Yu, learns that Palat has been nominated as chief district. He still has a debt to pay with Palat. While Palat is resting with his family, he does attack them. Palat's new wife (Duangcheewan Komolsen) is shot dead. Pho Seua (Choomporn Theppitak) in prison teaches Yu to master resistance and strength. Yu becomes friend with Pha (Lak Apichat) in prison. Eum, knowing that Yu's father killed Duangcheewan, cannot marry Yu anymore and accepts to marry To. Yu is devastated to learn this news. After a while, Yu is released from jail. Pha is waiting for him. Yu helps Sia Wiwat (Somchai Samipak) and his daughter Chan (Supansa Nuengpirom) Chan having issues with ruffians. He has conflicts with Chat Mongkolchai, head of workers (ป่าไม้). Meanwhile To sends some men (Somsak Chaisongkram and Pipop Pupinyo) to get rid of Yu. Siripong Isarangkul is playing the big boss. They push Manop to force his own son Pha to get rid of Yu. Pha and Yu are in fact brothers. As Pha refuses to kill Yu, To sends Paen Pleumsachai to kill him but it fails as Pha is only injured. Pha gets revenge by shooting Siripong Isarangkul. To's hidden plan is to get rid of Sia Sawat, Yu and to get the sawmill for himself and to get Chan as wife for Chat. Chat uses heavy machine to drop tree logs on the office, where Sia Wiwat and uncle Jaeng are working. Uncle Jaeng dies. Yu has to take revenge on Chat and To. Yu chases To until he can kill him. Final fighting does occur between Manop, Palat and Yu. Manop catches Yu and threatens to kill him if Palat doesn't surrender. Yu is Palat's real son! Piathip already lost one son so she cannot accept this and shoots Manop.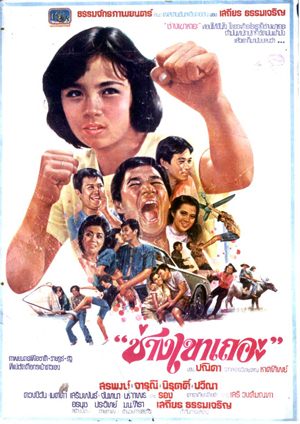 Year

: 1980



Thai title

:

ช่างเขาเถอะ




English title

:



Rating

: 3/5


Director

: เสถียร ธรรมเจริญ



Main actor

: Sorapong Chatree,Nirut Sirijanya,Rong Kaomulkadee


Main actress

: Jarunee Sooksawad,Duangcheewan Komolsen,Natanee Sitthisaman,Metta Roongrat,Janthana Siriporn
Thai movie ช่างเขาเถอะ was released in year 1980 and lasts 1h47mn. It was released under VCD format by company Triple XxX. The VCD is coming from a U-matic tape so the picture is not sharp. Some sequences are lost so the original movie is much longer. As Khun To Phanmitr, Triple XxX company owner, couldn't find a version in 35mm format to digitalise, so he used the U-matic tape version to release a VCD version. Movie director is เสถียร ธรรมเจริญ. This movie is a romantic comedy. Jarunee Sooksawad got best actress award for this movie. A poor family includes four members, i.e. the mother (Natanee Sitthisaman), the father, Tan (อีน้ำตาล สาวชาวนาเมืองสุพรรณ)(Jarunee Sooksawad) and her younger sister named Tok (ปวีณา ปิจเปี่ยมกิจ). A rich family is including various members such as Metta Roongrat, mother and head of the family, and her three children, i.e. Watee (Nirut Sirijanya), Wae (Sorapong Chatree) and Weechanee (Duangcheewan Komolsen). Phi Loi is Tok's boyfriend. The father is disapproving this relationship and wishes to get his daughter back. Her elder sister Tan is harassed by Loi and his ruffians, but she is able to fight back. The father sends Tok to Bangkok and asks Watee to take care of her. The father is killed by Loi and his ruffians as revenge. Loi's mother also dies. Loi believes Tan is behind her death. Tan is aggressed again but gets help from a local uncle. He teaches her self-defense. Tok is pregnant with Watee but she has no time to tell him. Loi and his ruffians are killed. The uncle got rid of them. Tan's mother dies after reading newspaper announcing Watee's wedding. Tan decides to go to Bangkok to find her sister. Tok stays with a masseuse (หมอนวด). The rich family doesn't tell the truth to Tan. They see her kindness when she helps to catch a robber stealing the mother's bag. Phet (Janthana Siriporn) is playing a domestic helper. Metta authorizes Tan to stay until she finds her sister Tok. Tan is finally fired from their home. Weechanee's boyfriend brings her back. Tan helps Lek (Rong Kaomulkadee). So finally, Tan is used as guardian (ยาม) by the rich family. Tan is upset to see uncle Uuu visiting Metta. Uuu asks Metta to get rid of Tan and discloses they spoiled her former heritage but Wae is aware. Tan helps Wae aggressed by ruffians. Tan has often difficulty to control herself so often recites a sentence (ใครจะทำอะไรเราก็ช่างเขาเถอะ) to stay calm. Issue happens when Tok is back in the house. Uncle Uuu is back but Tan rejects him. Uncle Uuu wishes to give back the heritage to her as he knows he misbehaved. She only wants her parents' land and to leave Bangkok. Wae declares his love to Tan. Watee is going to marry Tok. Tan accepts to marry Wae only if he accepts to live in Suphanburi. Wae discovers life on the countryside and has to work in rice fields. Happiness finally happens after Wae getting used to the countryside life.



Year

: 1980



Thai title

:

ไอ้ย่ามแดง




English title

:



Rating

: 5/5


Director

: Chao Meekunsut



Main actor

: Sorapong Chatree,Manop Aussawathep,Uten Boonyong


Main actress

: Supansa Nuengpirom,Duangcheewan Komolsen



Buy now

:

Two young boys, Tom and Palad, are close friends. Following a game, one of the kid is injured. His friend Tom has to steal some medicine. The shop owner dies while trying to catch him. Palad becomes a Buddhist novice so they lose contact. Tom (Sorapong Chatree) is now a grown up adult. His girlfriend Malee is already promised to somebody else, i.e. to the ruffian Ying (Manop Aussawathep), by her father. Tom overturns ruffian Ying's boat and then announces that Malee is already his wife. Wedding is canceled but Ying promises revenge over Tom. Tom and Malee have real happiness and are living as farmers. Malee becomes pregnant (กำลังจะมีลูก). Malee is kidnapped by Ying's ruffians while Tom is working in rice fields. Tom wishes to have his child back (จะเอาลูกของกู). As Ying is good friend with the local district officer (กำนัน), nothing Tom can do. The dictrict officer's daughter called Boonlam (Supansa Nuengpirom) is upset by this. Ying has already a wife (Duangcheewan Komolsen). Malee refuses to eat. Tom starts to believe Malee abandoned him but he needs to get his child back. Tom becomes crazy due to sadness (เสียใจถึงเป็นคนบ้า). Tom with long hair is wandering around and acts like a child. As Malee's father becomes too disturbing, he gets shot by Ying's ruffians. While Ying is away, Ying's first wife stabs Malee as she complains Malee is taking Ying away from her. Being wrongly informed that Malee has delivered the baby, Tom only finds Malee's bloody corpse. He gets accused by Ying's wife regarding Malee murder. He gets the foetus baby from Malee's tummy and flees. Tom takes refuge in a Buddhist temple. Ying asks the district officer to catch Tom as he is a dangerous crazy man. Boonlam complains that her father better arrests those who made Tom become crazy. One of Ying's ruffian, a dwarf, tries to rape Ying's wife but as she resists, he stabs her and accuses Tom. Tom has become crazy and sings lullaby to the dead baby. He takes revenge over the district officer. One day, Boonlam is also agressed by the dwarf and another ruffian. Tom, mistaking her as Malee, saves her. Boonlam explains to him that the baby is already dead. She has pity of him (สงสาร) and washes his dirty bloody clothes. Due to a storm, she spends the night with Tom. Palad (Uten Boonyong), Boonlam's fiance, is an administrative officer. Palad is Tom's former friend during childhood. Boonlam wishes Tom to surrender (มอบตัว). A crime is done again by somebody wearing same clothes as Tom. Tom is accused again but finally Palad get proofs that Ying is behind everything. A tentative to arrest Ying degenerates in shootings. Finally Tom kills Ying but also cuts his own threat, unable to support anymore a life full of deaths (ในชีวิตมีแค่ความตาย). Boonlam has no time to tell him that he was declared not guilty by administration. Ai Yam Daeng (ไอ้ย่ามแดง) is a strong movie directed by Chao Meekunsut. It highlights corruption and dark influence impact on poor people like Tom. A new DVD from Happy Home was released in year 2012 but the sound is a bit unstable in volume. Sorapong delivers again great acting performance.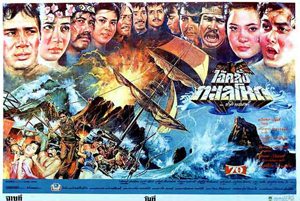 Year

: 1979



Thai title

:

ไอ้คลั่งทะเลโหด




English title

:



Rating

: 5/5


Director

:



Main actor

: Sorapong Chatree,Phaophan Phongnathee,Manop Aussawathep,Prachuap Ruekyamdee,Adinan Singhiran,Taksin Jampol,Dam Datsakorn,Somsak Chaisongkram,Rith Luecha


Main actress

: Wiyada Umarin,Duangcheewan Komolsen,Nantana Ngao Krajang
A woman is about to deliver her baby. The husband brings his wife on a boat but it is caught in a storm. Their village on the island is wiped away by a tsunami. A boy is born on the boat. The boat is then attacked by a group of pirates (Manop Aussawathep, Prachuap Ruekyamdee, Adinan Singhiran and Taksin Jampol). The baby life is spared and is named Ai Klang. During his youth, Ai Klang is trained to use all weapons. Salai (Wiyada Umarin) likes Ai Klang since her childhood. Ai Klang (Sorapong Chatree) has a reputation of having extraordinary skills as storm child (ลูกพายุ). He is disliked by some pirates (Dam Datsakorn, Somsak Chaisongkram, Rith Luecha and Phaophan Phongnathee) on the island. During a boat attack, the father is injured and the diviner predicts a bad omen for the village (ดาวบอก). Ai Klang and Sarapat, the other son (ลูกพ่อ), keep arguing over Salai. Their pirate (สลัด) village is located on an island. Normally they never keep survivors to avoid their hidden village to be discovered. Sarapat keeps a young lady called Chom (Duangcheewan Komolsen) for his father. She becomes in fact his mistress. Salai's family members are accused of theft. In fact, their crime is to have seen Sarapat and his mistress Chom together. Through a deadly game, two are shot but the father survives as Ai Klang fails, on purpose, to hit him three times. Ai Klang rescues a young lady Malai (Nantana Ngao Krajang) whose boat is wrecked on the island. It causes Salai's jealousy. While bringing her back to her father, Ai Klang is recognized as pirate and needs to flee. Ai Klang learns from Salai's father that he is not the real son of the pirates' leader. While the father is away, the bad pirates get rid of Salai's father despite Ai Klang's resistance. Ai Klang is attached to a pole during rising tide but Salai helps him before he gets drowned. Sarapat takes over the island while his father is away. When the father is back, he is captured. While Sarapat and his men celebrate their victory, the island volcano wakes up. Ai Klang and a number of men faithful to the father attack the renegade pirates. Fight is fierce but they win. Salai is killed during the fightings. Ai Klang ends up fighting with his father as he killed his real parents twenty years ago. He is unable to kill him as twenty years together have created strong filial bonds. To acknowledge his mistake, the father announces that they all stop to be pirates! But it is too late as finally a tsunami wipes the island. Just before, the father sent Ai Klang and Malai to take refuge on higher grounds. ไอ้คลั่งทะเลโหด was released in year 1979 and features an impressive list of famous 1970s Thai actors. Star wars movie soundtrack is used. The movie was never released officially in VCD or DVD format but a VHS telezin version can be found around. It is supposed to be one of the few Thai movies shot in 70mm format.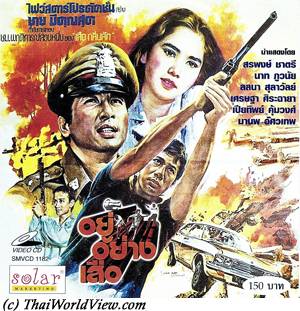 Year

: 1979



Thai title

:

อยู่อย่างเสือ




English title

:



Rating

: 3/5


Director

: Chai Meekunsut



Main actor

: Sorapong Chatree,Settha Sirachaya,Manop Aussawathep,Nard Poowanai


Main actress

: Piathip Kumwong,Lalana Sulawan,Duangcheewan Komolsen
An intensive deforestation is taking place in North of Thailand. Seua (Sorapong Chatree), young man, is back to his native city and is looking for a job. He met Duang, a former girlfriend. Priaw, Duang's brother, drives him to a neighbouring city, Mae Sot, where job opportunities are soaring. Seua meets Pop, an old friend, in order to get job recommendations. Seua is married but he comes alone. They have a drink in a bar. Two interesting characters are working in the bar, i.e. lady Toi (แม่เพลิงไฟ) and ladyboy (กะเทย) Aree, who is a musician and singer. Pop is shot while they are having a drink. A Police inspector (สารวัตร) is investigating the murder but no clues can be found regarding the murderer and cause. It seems to be linked to a corruption and bad influence case. Kamsaen, rich and influential man (พ่อเลี้ยง) , has a beautiful daughter called Kamyat. Pop was a family member but he was not well appreciated as he tried to seduce Kamyat. Seua tries to meet Kamsaen but to no avail. Some ruffians sent by Sinkon, Kamsaen's close assistant, try but fail to drub Seua. Truth has to be hidden and it is a strong message that Seua should stop investigating on Pop's death. The bar manager is shot also. Seua is seriously beaten at the head as he refuses to stop investigating. While driving, Sinkon is also shot by the hitman. A former policeman, Natheum, passing by, sees the hitman's face. All witnesses are killed one by one. Illegal forest concessions (ตัดไม้เถื่อน) business is suspected. Threatening letters are now received by Seua. A plan is prepared with the police inspector. They break over the ruffians directly inside the forest. Shootings happen between police and the ruffians. They release Kamsaen and his daughter held prisoners inside a hut. The ruffian leader succeeds to escape and is still unknown. Natheum is Seua's old friend. While having a drink in the bar, he recognizes Aree as the hitman. Kamsaen has been simulating his capture and is in fact the real headmaster. Toi is his mistress. Kamsaen is killed while trying to resist to the police. Seua, carrying a Magnum 357 gun, revenges his friend Pop by shooting Aree. The magnum 357 is certainly influenced by inspector Harry movies with Clint Eastwood. This movie is a typical action movie from decades 1970s-1980s and features the finest Thai actors and actresses.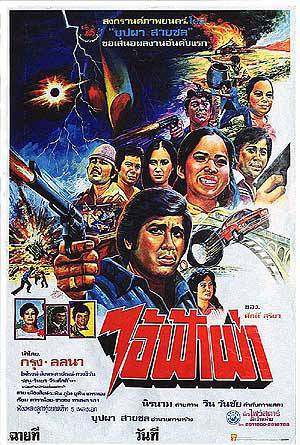 Year

: 1979



Thai title

:

ไอ้ฟ้าผ่า




English title

:



Rating

: 3/5


Director

:



Main actor

: Krung Srivilai,Sawin Sawangrat,Phairoj Jaising,Boo Wibunnan,Sayan Chantaraviboon


Main actress

: Lalana Sulawan,Duangcheewan Komolsen,Ratchanoo Boonchuduang
A new baby is born and is called Ai Fa Pha (ไอ้ฟ้าผ่า) as it is born during a storm. Many years have passed. Yoo (Krung Srivilai) is back from university. His surname is Fa Pha. He is expecting his girlfriend Anoolok (Lalana Sulawan) to wait for him at the bus station but he is welcomed by three ruffians when getting off the bus. Even police led by Phalat, a corrupted official (ราชการเลวๆ), wants to catch him. Yoo takes refuge with his old friend bandit (เสือ) Beung (Phairoj Jaising). The sub-district headman (กำนัน) Pho is having forced land promises of sale with many villagers including Sin (Sayan Chantaraviboon). Beung is a mix of Robin Wood and thief forcing bad guys such as the local rice reseller to be more honest. Yoo and Beung want to help Sin who is treated like a slave by the sub-district headman family. Sin loves Kru, the daughter of Kamnan Pho. Beung kills both the brother and the father. Phalat accepts bribe (ใช้อำนาจ) from a Thai Chinese businessman. Beung wants to arrange a wedding between Sin and Kru but finally Kru becomes Yoo's fiancee as Sin doesn't want to be forced anymore! Phalat wishes to marry Anoolak. But she is still awaiting for Yoo. Her father was forced to fiance her with Phalat due to some debts. Phalat organizes kidnapping of Anoolak. She finally escapes thanks to Sin. Beung shoots the Chinese businessman to stop corruption. Young lady Nokarin likes Beung, an eternal bachelor. Fa Pa, convinced by his family and Anoolak, finally surrenders to the police and his complaints are heard by the district officer. Palat and his acolytes are dismissed (ยุติธรรม). The weddings Yoo / Anoolak and Sin / Kru can happen. But Palat wishes for revenge. They storm the wedding ceremony and shoot guests. The ruffians are defeated but Sin and Beung are shot dead while trying to protect each other. It is linked to their karma. Good deeds are recompensed but bad deeds are paid. Beung's killings are finally paid despite he killed bad people only. A few romantic songs are performed during the movie.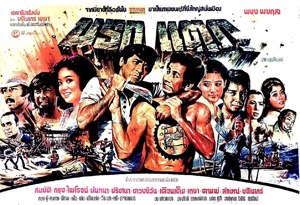 Year

: 1979



Thai title

:

นรกแตก




English title

:



Rating

: 3/5


Director

: Payoong Payakul



Main actor

: Sombat Methanee,Krung Srivilai,Phairoj Jaising,Dam Datsakorn,Kecha Plianvithee,Lak Apichat,Pipop Pupinyo,Boo Wibunnan,Phirapon Piyawan


Main actress

: Nantana Ngao Krajang,Prissana Chabaprai,Duangcheewan Komolsen,Deuan Tem Salitul
Thai movie นรกแตก was released in year 1979. It features Sombat Methanee and Krung Srivilai. This action movie is lost in Thailand but a trailer lasting 1 minute 30 seconds is left to be seen. The short trailer shows Sombat (ยิ่ง มหายศ) receiving sacred tattoos from a famous monk from South of Thailand so giving him mystical power, a knife fight between Sombat and Dam. Other actors are Phairoj Jaising, Pipop Pupinyo, Dam Datsakorn, Duangcheewan Komolsen, Kecha Plianvithee, Lak Apichat, Nantana Ngao Krajang, Boo Wibunnan, Prissana Chabaprai. This movie was a mixed of action and mystic (หนังบู๊ผสมไสยศาสตร์) same as เสาร์ 5 (1976). There are ghosts (ผีดิบ) and pirates (โจรสลัด). Director was Phayung Phayakul (พยุง พยกุล). The main actress in this director's movies is always his own wife, i.e. Prissana Chabaprai.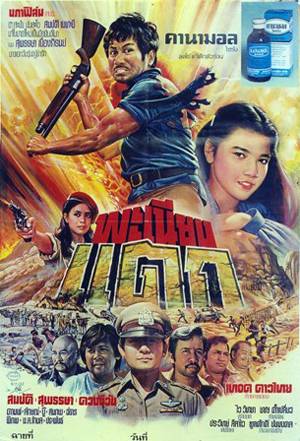 Year

: 1979



Thai title

:

พะเนียงแตก




English title

: Illegal Miner



Rating

: 4/5


Director

:



Main actor

: Sombat Methanee,Somphob Benjatikul,Boo Wibunnan,Dam Datsakorn,Chat Mongkolchai,Pipop Pupinyo,Lak Apichat


Main actress

: Supansa Nuengpirom, Duangcheewan Komolsen
Thai movie พะเนียงแตก was released in year 1979 and lasts 1h51mn. It was also released overseas in Sweden under VHS format and renamed as Illegal Miner. It was distributed by HB Video-film company. Midnight Express film music is used in this movie. A gold transfer is attacked and robbed. Police head nominates Sathan (Somphob Benjatikul) to investigate this robbery. The gold transfer was arranged by Anan, owner of a gold mine. Anan (Boo Wibunnan) is married to a new young wife called Dao (Duangcheewan Komolsen). Dao is also the mistress of ruffian Titio (Dam Datsakorn) so she keeps transferring information to him. Phaniek (Sombat Methanee), a former policeman, is now a drunkard (ขี้เหล้า). He was framed and accused of murdering his wife and her lover. He spent five years in jail. Pipop Pupinyo and Lak Apichat always push him to drink. Anan's daughter, Salika (Supansa Nuengpirom), is coming back from Penang after finishing her financial studies. Dao and Salika don't get on together as Salika starts to have a look in her father's company accounts so Dao is worried she will find the irregularities she has done. A second gold transfer is arranged but it is attacked again by ruffians led by Titio. Phaniek was part of the team protecting the gold transfer as he wanted to ensure that his good old friend Saeng was safe. Unfortunately, Saeng is killed despite Phaniek trying to help him. Lak and Pipop are aware somebody succeeds to escape but they are not aware it is Phaniek. Titio asks them to find and kill the survivor. Sathan has arguments with Lak and Pipop as they also treat Phaniek as a dog. Sathan and Phaniek become friends. Phaniek realises that Sathan is Saeng's son. Sathan is struck between taking revenge and following his duty as policeman. Salika is named as new company boss by her father. Phaniek brings Sathan to work in the mine. Salika hires them despite Titio opposing. Chat Mongkolchai is close friend (เพื่อนรัก) with Titio. Anan and Salika realize that Dao and Titio have stolen money since a long time by forging accounts. Phaniek and Sathan get rid of Chat. Titio is fired by Salika. Titio prepares a revenge and plans to attack the next gold transfer by himself. Ruffians are pushed back by police led by Phaniek and Sathan. But Salika is kidnapped by Titio… Salika is released thanks to Dao, worried that Titio wishes to harass Salika. Ruffians are neutralized. Anan forgives Dao and Phaniek stops drinking alcohol!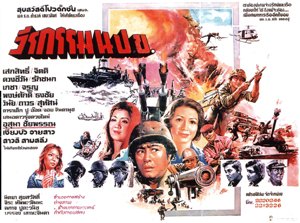 Year

: 1979



Thai title

:

วีรกรรม นปข




English title

:



Rating

: 3/5


Director

:



Main actor

: Kecha Plianvithee


Main actress

: Duangcheewan Komolsen
Thai movie วีรกรรม นปข was released in year 1979. The movie is lost in Thailand but a few minutes trailer remains to be seen. It is a war movie highlighting sacrifice, patriotism (หนังแนวรักชาติ) and duty. Known actors are Kecha Plianvithee, Duangcheewan Komolsen and actor เสกสิทธิ์ สวัสดิ์รักษ์. This movie was not so successful as it lack a famous main actor as selling added value.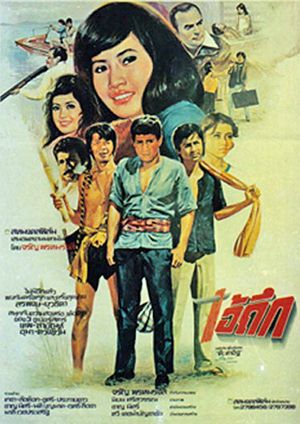 Year

: 1979



Thai title

:

ไอ้ถึก




English title

:



Rating

: 3/5


Director

:



Main actor

: Sorapong Chatree,Sayan Chantaraviboon,Kecha Plianvithee,Rith Luecha,Lor Tok,Thep Thienchai


Main actress

: Chosri Misommon,Duangcheewan Komolsen,Yuwathida Surasawadee
Movie ไอ้ถึก was released in year 1979 and lasts 1h58mn. It is a funny comedy showing the discovery of Bangkok and its modernism by three bumpkins. Lazy husband Sayan (Sayan Chantaraviboon) is chased from home by his wife (Chosri Misommon). His friends are Yiem (Sorapong Chatree) and Phabai (Thep Thienchai). The three friends are fired from their respective home (อยู่วัดตั้งแต่เกิด, home, mistress). They need to find ways to survive. They decide to go to Bangkok (บ้านนอกเข้ากรุง). Various funny situations happen as they are not used to Bangkok modern way of life. They have arguments in a restaurant with ruffians (นักเลง). The ruffians were hired by two young ladies to release their sister Nong Suda kidnapped by Decha (Kecha Plianvithee) and Rith Luecha. The ladies hire the three friends instead. They succeed to release Suda. During the escape, they also take a case belonging to Decha. Ruffians want to get back the suitcase (กระเปาะขอคืน) as it contains important documents related to their business. The three ladies bring the three friends around Bangkok (Happy Land attraction park, Pattaya). They also discover hotels and massage (นวด). As a fighting erupts in the massage parlour, Khun Prangsee (Duangcheewan Komolsen) brings them to her home. They finally befriend with her husband played by Lor Tok (คุณผู้ชายมาแล้ว). After multiple failed trials, Decha finally gets back his suitcase but also kidnaps again Suda and her sisters. The police believes the three friends are responsible of the kidnapping. A fair (งานฉลอง) organized by Khun Prangsee's husband turns to a disaster as police tries to arrest them. By fleeing, the three friends bring the Police by luck to Decha's house. Ruffians are captured. Ladies are released and the three friends are innocented. They prefer to go back to their village than staying in Bangkok. The three ladies bring them to their village but finally flee as Yiem's house collapse on them, as it is discovered that Sayan is already married, as Phabai offers a weird amulet (ปลัดขลิก)!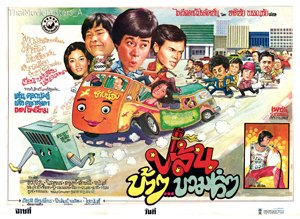 Year

: 1979



Thai title

:

ปล้น บ้าๆ บวมส์ๆ




English title

: The Mad Robbery



Rating

: 3/5


Director

: เพชร ราชภรณ์



Main actor

: Der Doksadao,Thep Po-ngam,Sithao Petcharoen,Thuam Thoranong,Sompong Phonmitr,Dam Datsakorn,Lak Apichat,Pipop Pupinyo,Somsak Chaisongkram,Boo Wibunnan,Sukon Koewliam


Main actress

: Nipaporn Nongnuch,Duangcheewan Komolsen,Malee Wetpraseri,Chosri Misommon
Thai movie ปล้น บ้าๆ บวมส์ๆ / The Mad Robbery was released in year 1979 and lasts 1h43mn. A remastered version was released by Five Star Production (ไฟว์สตาร์โปรดักชั่น) in the decade 2010s and shown on Thai TV cable. It was released under VCD format by Lepso company. Movie director is เพชร ราชภรณ์. A group of six friends (including เด่น ดอกประดู่, Der Doksadao, Thep Po-ngam) are doing magic tricks and selling medicine to cure toothache, but it fails to be a good business. Running out of money, they decide to rob a bank. Sithao Petcharoen and Thuam Thoranong are among the policemen being warned about a robbery. Sompong Phonmitr, as head of police, orders the Police to surround the bank. The six friends succeed to flee by disguising themselves as ladies. They put a fake bomb around a group of ruffians (Dam Datsakorn, Lak Apichat, Pipop Pupinyo, Somsak Chaisongkram, อนันต์ สัมมาทรัพย์...), who promised to get revenge knowing it was a trick. The bank boss is Boo Wibunnan. The police head is upset with three policemen as they let the six fake ladies escape. They must catch them back to erase their mistakes. The six friends have a car accident but get help from truck drivers led by young lady Ae (Nipaporn Nongnuch). Ae invites them to her home. There, they find Boo, Ae's father, playing cards with other men. Luckily, Boo does not recognize them. Boo is losing money. As Tok is knowing card tricks, he gets the money back. The six friends prefer to leave afraid that Boo would recognize them. They decide to look for a job in Bangkok. Ae invites them to her home in Bangkok and guarantees that her father will find jobs for them. Going to Bangkok, Tok leaves the bank bag full of money to his aunt Malee Wetpraseri. The friends then separate to avoid being caught by the police. Tok meets his old old friend Elvis (วิสูตร ตุงคะรัตน์ - Thai Elvis), who invites him. In Ae's house, the friends meet the aunt Chosri Misommon and Ae's elder sister Ann (Duangcheewan Komolsen). The ruffians try to take revenge over the six friends, but finally they give up as they see the Police chasing the friends. Back at his aunt's house, Tok finds she has died, and the money has disappeared. At the funerals, Sukon Koewliam announced to Tok that aunt Hom had used the money to donate to the local Buddhist temple to build a sacred chapel. Thai people finally catch the six friends and Boo recognizes them as robbers of his bank!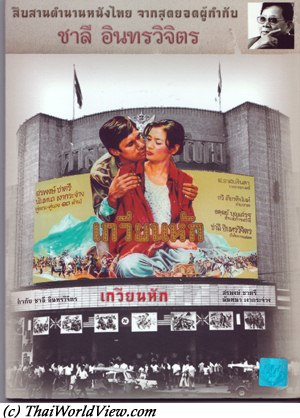 Year

: 1978



Thai title

:

เกวียนหัก




English title

:



Rating

: 4/5


Director

:



Main actor

: Sorapong Chatree,Sor Asanajinda,Somphob Benjatikul,Dam Datsakorn,Sayan Chantaraviboon,Lak Apichat,Kecha Plianvithee,Sawin Sawangrat


Main actress

: Nantana Ngao Krajang,Sarinthip Siriwan,Duangcheewan Komolsen



Buy now

:

Thai movie เกวียนหัก was released in year 1978 and lasts 1h26mn. The DVD picture is not sharp as the original 35mm film was certainly very damaged and incomplete. The DVD was released by Happy Home Entertainment in year 2014. Aunt Sarinthip Siriwan is taking care of her nephew Rien (Nantana Ngao Krajang), whose beauty impresses many men. She is just 16 years old and is the daughter of subdistrict headman Kecha (Kecha Plianvithee). น้อง Kuay (Duangcheewan Komolsen) likes Faeng but he prefers Rien. Sor (Sor Asanajinda) is the Faeng's father. Taming (Dam Datsakorn) is a robber. Sayan Chantaraviboon and Lak Apichat are part of his team. Sawin Sawangrat is the village leader (ผู้ใหญ่). Today is an important day to perform good deeds at the Buddhist temple (ทำบุญที่วัด). Chan (Somphob Benjatikul) tries to seduce Krajang. Festival, dances, songs, fireworks do happen after the religious ceremony. Faeng wins a small contest similar to rocket festival (ประเพณีบุญบั้งไฟ) versus Chan. Faeng (Sorapong Chatree) loves Rien so it generates jealousy from other men in the village. While trying to kiss Rien, Faeng is injured by her to the arm by her spade (ไม่เสียหาย). During the night Taming robs some houses. Faeng is summoned to subdistrict headman's house. Faeng is accused to have joined Taming the night before to rob houses. Faeng has an injury at the arm so he must be culprit. Rien admits she was the one to injure Faeng (เรื่องปล้นหรือเรื่องปล้ำ) because he tried to kiss her. Kecha loses face in front of the villagers! Disappointed, Kuay enters in Faeng's room. He pities her and tells an old secret story about the village leader being the one robbing houses before. They almost become lovers but Faeng asks her to go back. Chan declares his love to Rien but she is not interested. He wishes to ask her hand to her father. Rien and Faeng love each other but the subdistrict headman forbids Faeng to meet his daughter again. The father shall bring her away on the next day. Faeng and Rien become lovers (รักเหมือนโจร). Taming promises to help. Faeng's father is found dead. Faeng storms the subdistrict headman's place as he believes he knows who is behind the murder. Fightings occurs and the village leader is killed. Faeng learns where Chan and Rien are heading. Love circumstances towards Rien push Faeng to become a ruffian. Fierce fightings happen when Taming, Faeng and the ruffians storm the convoy led by Chan. Faeng defeats Chan but Rien dies following her injuries caused by the cart (เกวียน) falling on her.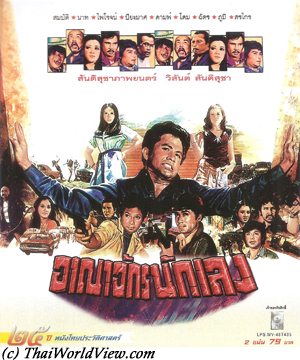 Year

: 1978



Thai title

:

อาณาจักรนักเลง




English title

:



Rating

: 3/5


Director

:



Main actor

: Sombat Methanee,Lak Apichat,Kanchit Kwanpracha,Kecha Plianvithee,Nard Poowanai,Chat Mongkolchai,Pipop Pupinyo,Dam Datsakorn,Phairoj Jaising


Main actress

: Piyamas Monayakol,Duangcheewan Komolsen,Tanyarat Lohanan,Duangjai Hathaikarn



Buy now

:

Thai movie อาณาจักรนักเลง was released in year 1978. It lasts 1h54mn. Labeu (Sombat Methanee) is a policeman. He gets some help from Siaw (Lak Apichat) to capture ruffians. He gets framed by drug traffickers and ends up in jail. Policeman Kanchit (Kanchit Kwanpracha) is building a team including Somjing (Piyamas Monayakol) to fight traffickers. He asks to get Labeu in his team as he believes he is not guilty and it would be a redemption opportunity. Labeu is reluctant but as it is to neutralise a dangerous organisation and clean Thailand's bad reputation as drug trafficking platform, he finally accepts. Drug traffickers include the boss Decha (เจ้านาย - Kecha Plianvithee), Phi Ho (Dam Datsakorn), Chat Mongkolchai, Pipop Pupinyo, Suriya Chinaphan and Duangcheewan Komolsen as secretary. Police team includes Nard Poowanai, Kanchit (Kanchit Kwanpracha), Somjing (Piyamas Monayakol), Gnamta (Tanyarat Lohanan), Labeu (Sombat Methanee). Decha is aware that Labeu has been released. Yousuf is killed in his jail (กุญแจดอกสำคัญ) before being able to share information. Drugs traffickers shall not be underestimated. Ruffians try to stop Labeu but he is now using similar ways as them (grenade...) as he is no longer an official police inspector. Drug ends up in seaport Sri Racha. Phairoj is working as an informant with whoever pays him. Interpol works with Thai people. Pinyo shots one of the foreign policeman. Labeu succeeds to get Kwan's agenda. Kwan (Duangjai Hathaikarn)(หลานสาว), Decha's relative, is captured by Labeu while inspecting a wagon supposed to contain drugs. Money exchange is proposed. Labeu acts like a ruffian now. Phairoj Jaising (อาชีพขายขาว) gives free information to Gnamta as he despises drugs which made his brother die. Decha kills Duangchiwan being unfaithful with Phairoj. Decha killed Kwan's real father many years ago to take over the business. Decha refuses to share the drugs money benefits with his colleagues and imprisons them. Getting back Kwan, he takes refuge in a hidden maze but it gets storms by Labeu and the police. Decha is killed by Apichat. The drugs gang is annihilated and Labeu reinserted in the police as officer (สารวัตร).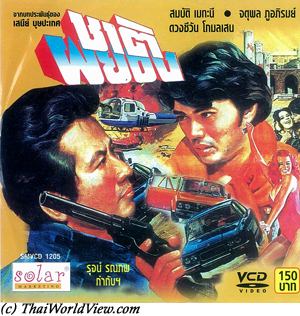 Year

: 1978



Thai title

:

ชาติผยอง




English title

:



Rating

: 3/5


Director

: Ruj Ronnapop



Main actor

: Sombat Methanee,Jatuphol Poopirom,Sor Asanajinda,Sahat Piempongsan,Manop Aussawathep,Somsak Chaisongkram,Paen Pleumsachai,Somphob Benjatikul,Pipop Pupinyo


Main actress

: Duangcheewan Komolsen



Buy now

:

Thai movie ชาติผยอง was released in year 1978 and lasts 1h45mn. It is directed by Ruj Ronnapop. Plaew Suriyong (Sombat Methanee) is back to Thailand after many years in Chicago. His father has been killed. He is immediately kidnapped by ruffians led by Sahat Piempongsan and including Somsak Chaisongkram / Paen Pleumsachai. He has to kill Sarayut (Sor Asanajinda), a popular politician, against a reward of 1M baht and one airplane ticket to go anywhere. Sarayut's wife was fed up with the risks linked to politics so she left him 10 years ago to go to Italy with their young son. Plaew has to be a hitman (มือปืน). Sahat lies to Plaew in order to have Sarayut killed. As Plaew's father was a politician, he would be the right scapegoat. A lady called Romanat (Duangcheewan Komolsen) helps Plaew to prepare the shooting and gets in love with him. Plaew has one week to do the job. The killing shall happen during a speech. He meets Manop Aussawathep to learn more his father's death. Plaew still wanders who has killed his father, who was also a politician. People, who wish to hurt Thailand, killed his father. They now chase him also. Politics in Thailand is full of bad influence (อิทธิพล), corruption and murders through hitmen. Romanat warns him that people try to kill him. Romanat wishes to flee with Plaew and mentions that she knows Sahat will shot Plaew once the job is done. During the political gathering, Plaew doesn't shoot Sarayut but his opponent. This causes Sahat's ire and Plaew needs to flee to Malaysia. Plaew meets Lucky Jack (Jatuphol Poopirom) in Malaysia but they have to flee to Rome, Italy due to problems with police. Lucky Jack is in fact Sarayut's son! In Rome, Plaew seduces Maria that Lucky Jack also loves. As Sahat threatens to kill Romanat, Plaew has seven days to come back to Thailand. Maria loves Plaew but gets killed during a gunfight. Lucky Jack doesn't forgive Plaew. Plaew and Lucky Jack go back to Bangkok to catch Sahat. Sahat sends Romanat as a gift to lucky Jack acting as a local ruffian. Finally both Plaew and Lucky Jack love again the same woman, i.e. Romanat. Plaew learns that Sarayut is behind his father's death. Misunderstandings happen between Jack and Plaew as ruffians push Jack against Plaew. Meanwhile Sarayut, as smart and evil politician, plays also the two men against each other. Sarayut, as nasty politician, is wishing to send Plaew to trial in order not to be accused of any collusion of the previous shooting done by Plaew. He pushes his own son to shoot Plaew. Finally Plaew shots Sarayut but gets shot by Lucky Jack. This is a typical action movie from the 1970s highlighting the bad sides of the Thai politics.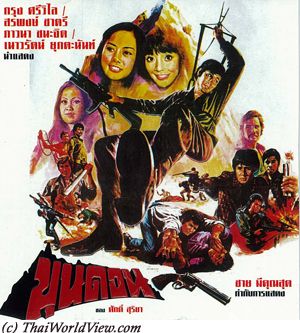 Year

: 1978



Thai title

:

ขุนดอน




English title

:



Rating

: 3/5


Director

: Chai Meekunsut



Main actor

: Sorapong Chatree,Krung Srivilai,Manop Aussawathep,Phairoj Jaising,Kanchit Kwanpracha


Main actress

: Naowarat Yooktanun,Duangcheewan Komolsen,Pawana Chanajit
In Isan area, during a traditional dance (รำวง) party in a village, young man Pui (Sorapong Chatree) and young woman Bulai (Naowarat Yooktanun) are agressed by local ruffian (ผู้ร้าย). Khun Don, local Robin Hood thief, chases the thugs (นักเลง) away. The ruffians' leader is subdistrict headman (กำนัน) Phichit. Two Bangkokian friends come to visit Bulai, i.e. Phanit (Pawana Chanajit) and Thantip (Duangcheewan Komolsen). Phanit mistakes Khun Don with another man called Paradorn that she loved before. Phichit, lewd (ลามก) headman, wants Bulai as his wife. Phichit accuses the two Bangkokian ladies to be linked to Khun Don. Subdistrict headman Phichit is using bad influence (อิทธิพล), strong power (อำนาจ) and money to control the area and performs robbery (ปล้น). His team commits bus burglary under Khun Don name. Pui is accused of roberry and jailed by police officer (ผู้กอง) Thanu (Phairoj Jaising). Mysteriously the district offer orders to free Pui. Bulai joins Khun Don's team to fight subdistrict headman Phichit. Amorous jousts happens between the main characters. Infiltering Phichit's team, Bulai provides information to catch him and his ruffians. Police and army join. Following heavy gun fights, Phichit and his thugs are neutralized (ทำร้ายชาติ). As often during such Thai action movies, it is revealed that three young ladies were undercover policewomen. Pui is a also a policeman and Khun Don is a soldier. Couples are formed and weddings are announced. It is a typical movie 1970s mixing action, romance and songs (Country style Luk Thung - ลูกทุ่ง - and Molam - หมอลำ - music). Eight major actors from 1970s decade are present in this movie.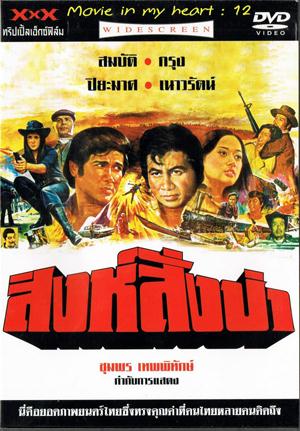 Year

: 1978



Thai title

:

สิงห์สั่งป่า




English title

:



Rating

: 3/5


Director

:



Main actor

: Sombat Methanee,Krung Srivilai,Chanee Yotchai,Kecha Plianvithee,Dam Datsakorn,Lak Apichat,Pipop Pupinyo,Choomporn Theppitak,Lor Tok,Chat Mongkolchai,Pumi Patanayut


Main actress

: Naowarat Yooktanun,Piyamas Monayakol,Ratanaporn Intarakamhaeng,Duangcheewan Komolsen



Buy now

:

Thai movie สิงห์สั่งป่า was released in year 1978. The movie lasts 1h47mn. Sing (Sombat Methanee) helps Pukong (ผู้กอง) Palee aggressed in the train by Chanee Yotchai and other ruffians. Sing goes home in his village Thung Kla as he hasn't seen his mother for years but his home has been robbed and burnt. Anan (Kecha Plianvithee) is the local ruffians' leader. The subdistrict headman (กำนัน) and the police headman are corrupted by Anan. Seua Thong (Dam Datsakorn) is his close hand doing the dirty job. Mae Chom (Ratanaporn Intarakamhaeng), restaurant owner and wife of Anan, encourages Sing to sell his mother's land. Sing meets Tap (Lak Apichat) and Duangcheewan Komolsen, who tell him the difficulties faced by villagers. Pipop Pupinyo is a small ruffians' leader. Chen (Krung Srivalai) is visiting a friend in Thung Kla. He meets Oon (Naowarat Yooktanun), daughter of Anan. Chen knocks out Pipop. Sing's car explodes. It looks like somebody wants to get rid of him. Sing ends up in jail after shooting two ruffians including Chanee. Choomporn Theppitak, as head of police, orders to transfer him to prison. Lor Tok, Chat Mongkolchai, Dao (Piyamas Monayakol) prepare a plan to release one of their inmate colleagues. Seua Dao helps a prisoner so Sing takes opportunity to flee also. Anan is upset as he was planning to have Sing killed during the transportation but his plan foils. Chen and Sing are friends but nobody knows it. A drug and money exchange is planned by Anan and shall be managed by Seua Thong. But the plan is foiled also as Sing and Seua Dao intervene. Chen is suspected to have warned them. Chen is tortured by Anan as he betrayed him. Sing and Tap successfully release him. Only one song is featured in this movie. Somebody from Bangkok insinuates that Seua Thong shall replace Anan. It fails. Finally Sing, Tap and Chen storm Seua Tong's place. Ruffians are killed and Seua Thong dies following a speed boat race. The same team now storms Anan's place. About to kill Anan, Sing listens to Mae Chom and Oon and spares Anan's life. Anan is arrested by Pukong Palee.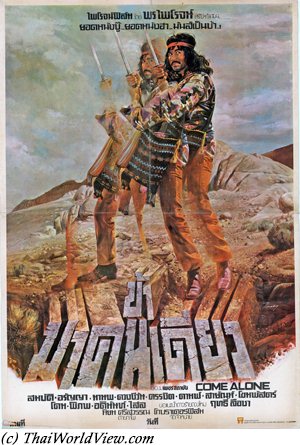 Year

: 1978



Thai title

:

ข้ามาคนเดียว




English title

: Come alone



Rating

: 5/5


Director

: พร ไพโรจน์



Main actor

: Sombat Methanee,Dam Datsakorn,Rith Luecha,Kanchit Kwanpracha,Manop Aussawathep,Sayan Chantaraviboon,Adinan Singhiran,Thep Thienchai


Main actress

: Aranya Namwong,Duangcheewan Komolsen,Khomapat Attaya
Thai movie ข้ามาคนเดียว / Come alone was released in year 1978 and lasts 2h21mn. It was released under DVD and VCD format by XxX company. Movie director is พร ไพโรจน์. Jak Khui (Sombat Methanee) is back to Khorat. He was just released from prison (ติดคุก). He receives recommendations not to come back to Khorat so he disguises in a hippy. Ruffians (Pipop Pupinyo, โดม สิงห์โมฬี, ไสล พูนชัย) follow him as they are unsure it is Jak Khui. He is still looking for his wife Kamsee (Khomapat Attaya) and his son. Undertaker Adinan Singhiran (สัปเหร่อ Sa) helps Jak Khui. Comic Thep Thienchai is part of the team. Jak Khui has to hide in a coffin to escape the ruffians. Yan (Dam Datsakorn), mafia leader (เจ้าพ่อ) in Khorat, wishes to get rid of Jak Khui. Steve (Rith Luecha), hitman (มือดี) from Saraburi, is hired. It was the first movie for Rith Luecha. A Yan's ruffian, former friend with Jak Khui, warns him. Steve and ruffians try to surprise them, but they get pushed back in a cemetery. Yan and his ruffians then storm Uncle Kiet's Thai boxing centre as they believe Jak Khui, former Thai boxer, is hiding there. Kiet's daughter (Duangcheewan Komolsen) and the Thai boxers push them back also (นักเลง vs นักมวย). Some protesters block a factory sawmill manager. Gnot (Kanchit Kwanpracha), as policeman head, lets them do. Hin (Manop Aussawathep) tries to interpose but he is outnumbered. Khaemkaen (Aranya Namwong) asks the protesters to stop. Protesters are pushed by Yan and protected by policeman Gnot. Fighting erupts between Yan and Hin, the new factory manager. Khaemkaen, Yan's fiancee, has to stop them (ต่อยเหมือนเด็กวัด). Sayan Chantaraviboon enters Yan's home to defy him. Appreciating Sayan's boldness, Yan hires him. Jak Khui finally meets his son Simon, who is now a Buddhist novice. Jak Khui stayed five years in prison. Simon has no news about his mother. Sa brings Jak Khui to Kamsee, who is now a crazy woman. His son asks him to stop revenge, but he cannot do it. Kamsee is shot later by Steve. Yan is behind his demise and family misfortune. Jak Khui wishes to revenge (ล้างแค้น). The Thai boxing team is willing to join him. Jak Khui visits Gnot, the corrupt policeman (ตำรวจเลวๆ), but he is outnumbered and taken over to Yan's house. Yan is willing to get rid of Jak Khui as he opposed to him before when he was rising as Khorat mafia leader. They put him in a coffin and plan to throw him from a cliff. Hopefully Sayan Chantaraviboon helps him and they put the warden instead. Jak Khui then visits Khaemkaen to explain to her Yan's bad accomplishments. Hin and his men take back the wood stolen from forests by Yan's ruffians. It makes Yan to be very upset. To their surprise, during Khaemkaen's birthday, ruffians discover that Jak Khui is still alive! Seeing that Thai police starts to have proofs against him, Yan decides to flee. Khaemkaen is kidnapped by Yan. Jak Khui and his team storm the place where Yan and his ruffians are hiding. Jak Khui takes revenge over Yan. Hin and Sayan are finally undercover policemen. Romance can happen between Jak Khui and Khaemkaen.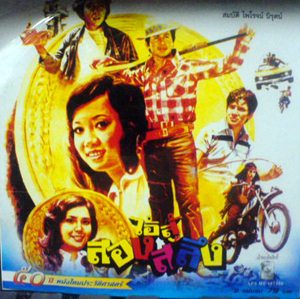 Year

: 1978



Thai title

:

ไอ้สู้สองสลึง




English title

:



Rating

: 1/5


Director

:



Main actor

: Sombat Methanee,Nirut Sirijanya,Phairoj Jaising,Kokheng,Boo Wibunnan


Main actress

: Duangcheewan Komolsen,Prissana Chabaprai
Thai movie ไอ้สู้สองสลึง was released in year 1978. It is available on a VCD lasting 1h58. Kwan (Nirut Sirijanya) and Yot (Phairoj Jaising) help two ladies harassed by six ruffians in a village. They both flee the village for Bangkok due to different reasons (one due to a unwanted wedding and the other as a bored rich guy - เศรษฐีผู้เดินดิน). They only do crazy things such as stealing chicken donated to Buddha, burning a car engine...They end up in a city in a very bad hotel but are expelled as a fire starts due to a BBQ in the room. They eat in an expensive restaurant but do not have money to pay the bill. Kokheng is playing a funny waiter. Butr (Duangcheewan Komolsen) is dreaming that Kwan would be her prince. They have to work for the restaurant to pay back. Tamanoon (Sombat Methanee) only arrives at 1h02mn despite being the main actor in the movie credits. Tamanoon's father wishes to marry him with one of the three daughters of Boo Wibunnan, the restaurant owner. Tamanoon wish to marry the three girls but finally choose one, i.e. Ratchanida (Prissana Chabaprai). Ratchanida is not happy by this. They plan to play tricks on Tamanoon with Kwan and Yot's help by using drinks causing flatulences. But Boo is the one to drink it! Some ruffians kidnap the three daughters and ask for one million baht ransom. Finally thanks to Yot and Tamanoon, the ladies are released. Grateful, weddings are arranged by Boo. This movie is mixing comedy, romance and some action.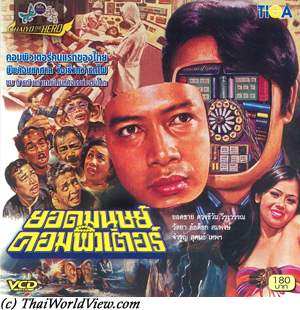 Year

: 1977



Thai title

:

ยอดมนุษย์คอมพิวเตอร์




English title

:



Rating

: 3/5


Director

: Sompote Sangduenchai



Main actor

: Yodchai Meksuwan,Lor Tok,Phirapon Piyawan,Thep Thienchai,Jamroon Nuatjim


Main actress

: Duangcheewan Komolsen



Buy now

:

Four boys are born with strange features, one has very big ears, one has a tail, one has very big hands, one has big nose sinus. Becoming friends, they spend most of their time playing and sleeping. Becoming adults, their fathers banish them from the village as they are doing nothing to help the community. Just as they leave, a local mafia gang threatens the villagers to get help to cultivate opium and to provide food for their members. Meanwhile one lady wants to marry one of the boys but wishes that he can remove his tail. He refuses. At night time, while he is sleeping, she cuts his tail. He flees away but looses a lot of blood. A crazy scientific professor finds and decides to save him by using technology. He becomes the Thai Six Million Dollar Man! He then gathers his three other friends to free the villagers from the mafia gang.
---