Increase or decrease font size for easier reading : A+ A-
Doo Dook Kradon
Doo Dook Kradon (1949) - ดู๋ ดอกกระโดน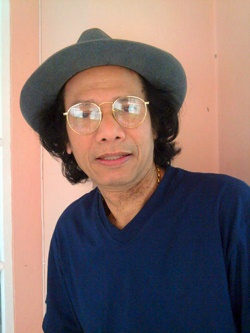 Doo Dook Kradon is a Thai comic actor
This Doo Dook Kradon movie page contains 22 records.
---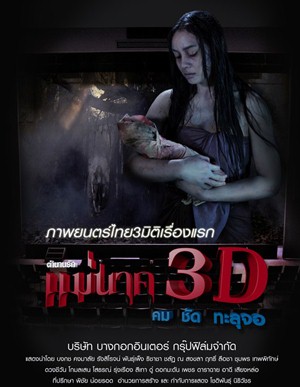 Year

: 2012



Thai title

:

แม่นาค 3D




English title

: Mae Nak 3D



Rating

: 3/5


Director

:



Main actor

: Doo Dook Kradon,Rith Luecha,Choomporn Theppitak


Main actress

: Bongkoj Kongmalai



Buy now

:

Thai movie แม่นาค 3D was released in year 2012. Veteran actor comic Doo Dook Kradon is playing relief character. During a temple fair (งานวัด), Mak is participating to a Thai boxing match. His opponent is Pleung, son of the subdistrict headman (พ่อกำนัน) (Rith Luecha). Pleung loses to Mak as Mak has the support of young lady Nak (Bongkoj Kongmalai). Mak and Nak wedding happens in the subdistrict headman's house making Pleung very upset (ให้นาคเป็นเมีย). Pleung uses a magician (หมอผี) to make a love philtre (น้ำมันพราย). The philtre touches Ploy instead of Nak. Ploy kills herself in Pleung's bedroom. Pleung wishes to use teacher (อาจารย์) Kong, who requires a foetus from a pregnant dead woman in order to create a child spirit (กุมารทอง). Unfortunately Nak, pregnant, dies while Mak is away. She is upset with Kong hurting her dead baby (นาคมา). Finally Phi Mak is back after being soldier (ไปรับราชการ) one year in Bangkok. He is not aware that Nak died already. Nobody dares to tell him the truth. He finds his house in bad shape. Finally Nak comes at nighttime but strangely her body is cold and has a strong smell. The famous scene when catching a lemon is impressive in 3D. Veteran actor Choomporn Theppitak is playing a monk. Kong promises to get rid of Nak but he finally dies. Nak takes revenge (ผีนาคอาละวาด) over those, who hurt her baby. Pleung's life is spared but he becomes crazy. During her body cremation, Nak looks for Mak. Mak asks her to stop her killings and to accept her death. Mak plans to ordain permanently as a monk (บวชไม่ศึกตลอดชีวิต). Nak finally leaves for heaven (พบกันทุกชาติ). Mak wishes a good departure (อนุโมทนาสาธุ).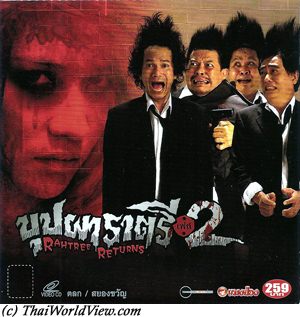 Year

: 2005



Thai title

:

บุปผาราตรี 2




English title

: Rahtree returns



Rating

: 3/5


Director

: Yuthlert Sippapak



Main actor

: Somchai Sakdikul,Doo Dook Kradon,Der Doksadao,Supakorn Srisawat


Main actress

:



Buy now

:

A group of robbers escapes from police and hides money in a haunted apartment. It is in the room 609 where Rahtree, a lovesick ghost, lives with her handicapped boyfriend. She has cut his legs to prevent him to flee. Frightened by the ghosts, the robbers flee but come back with a psychic to face the ghosts. Meanwhile, the handicapped boyfriend has given the money to a blind young girl to pay for her hospital fees to recover her sight. This causes Rahtree's wrath...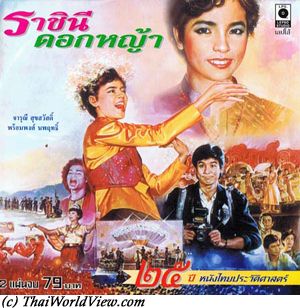 Year

: 1986



Thai title

:

ราชินีดอกหญ้า




English title

:



Rating

: 4/5


Director

: Surasee Phatham



Main actor

: Prompong Nopparith,Doo Dook Kradon


Main actress

: Jarunee Sooksawad
A Molam performers group is going to quit playing (ลาเวที). They are going to play Manora performance for the last time. Benchawee is the main young lady singer. A photographer called Somwit wishes to join them. He wants to convince them not to stop as Molam is part of Isan culture but it seems too late. Finally they accept to resume one time as a donor pleads them. Molam is not so popular anymore. Mainly old people are watching. Molam performers have difficulties to compete face to modern Thai country (ลูกทุ่ง) music and need to renew their style. Molam is an art (ศิลปะ). Somwit understands the need to write down songs in order to have records as it is mainly passed orally from one generation to another. There are many kinds of Molam song style such as Molam Ploen (หมอลำเพลิน) , Molam sing (หมอลำซิ่ง) and so on... Somwit wishes to bring the Molam band to radio broadcasting. Somwit decides to mix Molam song with modern Thai song (หมอลำยังไม่ตาย). An example is "Siang Isaan" as a modern Molam music group. Sawit wants to bring Benchawee to Bangkok to increase her popularity. They meet an unscrupulous producer who only wants to abuse Rawee. They continue to tour around Thailand and start to become famous. Somwit has to go back for personal affairs in Bangkok but fails to come back. Benchawee misses him and has then difficulties to sing properly. Somwit finally comes back mixing Molam songs with a modern dancing music. Benchawee becomes the Molam queen. This movie highlights that traditions can survive and stay popular by adapting to the modern tastes. The producer realizes his mistake. Yearly best singer competition is going to happen. Who will be the next queen of singers? Duang Chan Duang Chai, Thai country music singer, has fans all over Thailand but Benchawee has only Isan fans but Isan workers are everywhere so spreading their culture. A vote happens and Benchawee is aware that she won. Somwit brings Benchawee to meet his parents. His father refuses this wedding as he is coming from high society. For him an Isan girl is same as a Lao girl so denigrating both. The game is cheated and Duang chan Duang Chai Chan is announced as winner. Molam couldn't be accepted by Bangkok elite (คนเศรษฐีโกหก) So Benchawee couldn't win. The elite has chosen but Thai people have chosen also. Benchawee's concert is a huge success while Duang Chan Duang Chai concert is a complete failure as spectators flock to see Benchawee singing. She becomes the queen of grassroots (ราชินีดอกหญ้า) instead of the queen of flowers (ราชินีดอกฟ้า). The perjury is disclosed as hidden votes are found. It is fun to see Jarunee Sooksawad singing Molam songs (หมอลำสาวบ้านนอก). Lao and Thai languages are used in this movie shot in year 1986. The movie lasts 2h03mn. It got three rewards (รางวัลสุพรรณหงส์) during Thai film industry ceremony.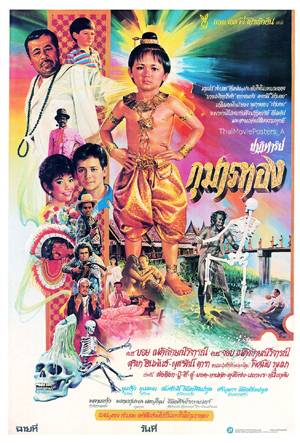 Year

: 1985



Thai title

:

ปาฏิหาริย์กุมารทอง




English title

:



Rating

: 2/5


Director

: พลายแก้ว



Main actor

: Lor Tok,Suriya Chinaphan,Supakorn Srisawat,Boo Wibunnan,Doo Dook Kradon,Krong Kangkengdaeng


Main actress

:
Thai movie ปาฏิหาริย์กุมารทอง was released in year 1985 and lasts 1h28mn. The movie was released under VHS format and VCD format by Solar. Director is พลายแก้ว. Thai actors and actresses featured in this movie are Lor Tok, Suriya Chinaphan, Supakorn Srisawat, Boo Wibunnan, Doo Dook Kradon, ทานทัต วิภาตะโยธิน, Krong Kangkengdaeng, นภาพร หงสกุล, หนึ่งฤทัย, ผุสรัตน์ ดารา, ยอด. A wandering monk, giving advice to the local community, has a magical baby spirit statuette (กุมารทอง). He leaves the statuette behind as he is entering the forest for meditation. Village leader Boo Wibunnan is having a gambling den. Boo is married to a new young wife (พิศมัย ภุมมา). Tok (Supakorn Srisawat) is Boo's right hand. A teacher (Suriya Chinaphan) is trying his best to teach children as the school lacks money. The monk leaves the statuette to an old couple. The baby spirit asks them to keep the secret. A couple is having an issue as the husband is losing a lot of money by gambling in Boo's place. The grandma and grandma are worried about their grandchild. The gambler even sells his kid on a bet. Master (อาจารย์) Lor Tok arrives in the village. He is a fake master. The baby spirit warns him to behave properly and uses him to defeat Boo, who is abusing the local community. First many villagers win money through a lottery organised by Boo. Boo then challenges Lor Tok to organise a lion dance contest to win back his money. Boo loses again a lot of money. Money is used to improve the local school facilities. The teacher and Pim (ผุสรัตน์ ดารา), Boo's daughter, get on well. Boo is upset with this relationship. Boo and his new wife believe Pim is betraying them. The teacher is beaten and captured while visiting Pim in her room. They finally succeed to escape. Boo hire hitmen (including Doo Dook Kradon) to get rid of master Lor Tok. They fail. Tok suggests a master from Malaysia. The master is resurrecting a vampire (ผีดิบ). The baby spirit and its skeleton associate defeat the vampire also. Villagers can enjoy a peaceful life without gambling. This comedy includes many comic actors from decade 1980s.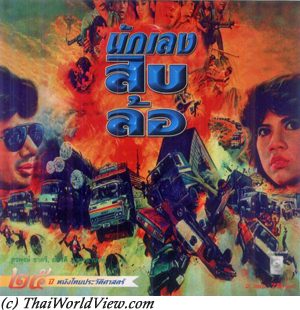 Year

: 1985



Thai title

:

นักเลงสิบล้อ




English title

:



Rating

: 2/5


Director

: Choomporn Theppitak



Main actor

: Sorapong Chatree,Rith Luecha,Nard Poowanai,Lak Apichat,Sayan Chantaraviboon,Somkuan Krajangsat,Doo Dook Kradon,Choomporn Theppitak


Main actress

: Apiradee Pawaputanon,Wiyada Umarin



Buy now

:

Thai movie นักเลงสิบล้อ was released in year 1985 and it lasts 1h37mn. Wut (Sorapong Chatree)(ลูกพี), son of owner of a truck company (รถสิบล้อ), comes urgently from Thailand following request from Lak (Lak Apichat) as his father just died (งานศพ). Sarawat (Nard Poowanai) tries to arrest him as he is over speeding to be on time to the funeral. A bomb explodes during the funeral. His mother (เจ้าภาพ) dies also. Revenge shall happen as his parents' death is a murder. The one, who carried the bomb, is identified as a lady, called Pim (พิมพ์ใจ พรหมมาลี), working in a karaoke. Sia Song (Somkuan Krajangsat), her boyfriend, is aware they spend the night together. Decha (Rith Luecha) is his right hand. Young lady Suntalee (Apiradee Pawaputanon) is leading a mining site and also selling durians (ทุเรียนแม่ค้า). Through a daring tentative, Wut and his team empty Decha's truck causing Sia to lose a lot of money. Umarin is selling trucks. Sia Song is also the shop owner. Wut enquiries on Sia through Song. Sarawat has arguments with tough men but refuses corruption money. As he is always accused to be too strict, he removes his policeman insignia to teach a lesson to the tough drivers. Sia Song orders to shoot Wut but he is only injured him. He gets closer to Suntalee and tells her that he is an undercover policeman. Four men, part of Suntalee's team, plan to betray her in order to steal precious stones (พลอย). Challenged and overwhelmed by the ruffians (คุณจะไม่มีโอกาสเห็นขาอ่อนฉัน), she gets help from Choomporn Theppitak. The traitors join Sia Song's team. Sarawat and Wut try to prevent ruffians doing dirty business at the border. Weapons are hidden in rice bags. They chase Decha driving a big truck carrying teak trees. Drug is hidden in teak trees. Wut and the trucks encircle Sia Song forcing him to surrender. Many great famous Thai actors are present in this movie but the directing is a bit weak. Luk Thung (ลูกทุ่ง) countryside music about trucks is featured in this movie. Trucks (สิบล้อ) in Thailand are ornamented with many drawings and colors.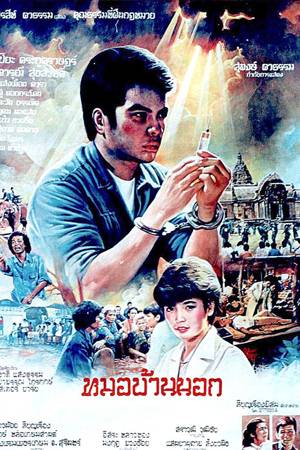 Year

: 1985



Thai title

:

หมอบ้านนอก




English title

:



Rating

: 5/5


Director

: Surasee Phatham



Main actor

: Piya Trakulrard,Doo Dook Kradon


Main actress

: Jarunee Sooksawad
Thai movie หมอบ้านนอก was released in year 1985. Directeur is Surasee Phatham. The movie was shot in Surin province. Phanom (Piya Trakulrard) became village doctor as one of his relatives died due to lack of doctor. Mountebanks (หมอเถื่อน) have no diploma so they are illegal. Some are charlatans such as Doo Dook Kradon but Phanom is useful. Such illegal doctors have their utility to the community as official doctors are often absent from remote areas. Doctor หมอผู้หญิง Kwanta (Jarunee Sooksawad) is the first doctor with diploma in this district (แพทย์ปริญญาจากกรุงเทพฯ). She asks Thai Police to stop the fake doctors selling fake medicine to villagers (ชาวบ้าน). A policeman is shot in the village. Kwanta doesn't have the right equipment so Phanom is helping to remove the bullet. Phanom wishes to stop doing this job as there is now Kwanta as official doctor. Illegal village doctors are arrested by Police. Kwanta disrupts local illegal business so some people try to kill her (ฆ่าคนดีๆ). Phanom is injured instead. Police believes Phanom is behind the murder tentative on Kwanta. Finally the mastermind is arrested. Phanom surrenders to the police and requests to help a villager a last time. He saves an elder man through a blood transfusion. In the jail, he assists to a TV show showing Kwanta receiving an award. She gives a praise to Phanom and succeeds to get an official diploma for him so that he can practice legally.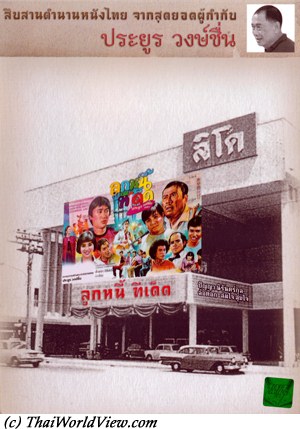 Year

: 1984



Thai title

:

ลูกหนี้ทีเด็ด




English title

:



Rating

: 4/5


Director

:



Main actor

: Lor Tok,Note Cheunyim,Doo Dook Kradon,Rith Luecha,Der Doksadao


Main actress

: Piathip Kumwong,Malee Wetpraseri



Buy now

:

Thai movie ลูกหนี้ทีเด็ด was released in year 1984 and lasts 1h36mn. The movie was released under DVD format by company Happy Home Entertainment. The movie features many songs. A music orchestra (วงดนตรี) has difficulty to make a living. Part of the members include Note Cheunyim, Rop (ปัญญา นิรันดร์กุล), Doo Dook Kradon, Tranee (Der Doksadao). Their producer is Rith Luecha but they have no success. Rith Luecha is married to Bun Reuang (Piathip Kumwong). They have never time to take care about their daughter Ro Rak (จิตต์โสภิณ ลิมปิสวัสดิ์). พี่ Niaw as new producer tries to find new ideas. The group doesn't have expected success (หมดตัว) as concert halls remain almost empty. Last chance is to release a tape but Phi Niaw (Lor Tok) has to sell his house (ขายไม่ออก). His secretary Suphanee is also his wife. His friends ask Rop to marry Ro Rak as she is coming from rich family. He needs to seduce her first but he is not expert at all (กำลังโบ้เบ้ / อย่าลีลา). Rith is having affairs while his wife Bun Reuang is always out on charity events with a high society woman (คุณหญิง). Phi Niaw lost his car, his house and about to lose his wife as the other orchestra members suggest to use Suphanee to seduce Rith. The music orchestra is looking for a new style (เพลงสตริง) to be popular. Bun Reuang chases all of them away after seeing Rop trying to seduce her daughter and after knowing that Rith has given money without asking for reimbursement as Tranee always introduces beautiful ladies to him to ease loan requests... They leave for upcountry. Ro Rak hides in their van. Police is called by Bun Reuang. Rop is almost arrested for kidnapping a teen but finally released as the problems are coming from the fact that the parents are not talking each other. Bun Reuang needs to organize a concert for orphan children (เด็กกำพร้า) so she needs a music orchestra. Only Tranee's orchestra is available...so she has to remove her complaint regarding unpaid debts. The concert is a huge success. She saves face. Rop and Ro Rak renew their friendship.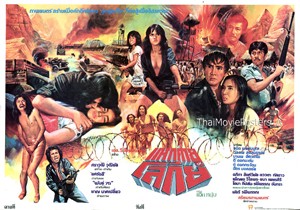 Year

: 1984



Thai title

:

แหกค่ายโลกีย์




English title

: Virgins in the Tiger Cage



Rating

: 1/5


Director

:



Main actor

: Tanit Pongmanoon,Supakorn Srisawat,Doo Dook Kradon,Manop Aussawathep,Chat Mongkolchai


Main actress

:
Thai movie แหกค่ายโลกีย์ was released in year 1984 and lasts 1h30mn (Taiwanese version). It was released in Thailand under VCD format by Lepso company. It was released in Taiwan under the name Virgins in the Tiger Cage / 玉女刧. Mandarin language is used. The VHS was probably released in Taiwan by a local company. Movie director is ศราวุฒิ วุฒิชัย. Tanit Pongmanoon, วัลลภ นพสมบูรณ์, Supakorn Srisawat, Doo Dook Kradon, Manop Aussawathep, Chat Mongkolchai are the Thai actors playing in this movie. Below summary is based on the Taiwanese version. Many ladies have been kidnapped by ruffians and are held prisoners in a remote camp in the jungle. They have to wear inmate clothes. Five more ladies have been captured. Among the ruffians, there is a ruthless lady with a whip, who like women. The ruffians disagree and fight together. Around 70 girls are held captive and are forced to work. Some conflicts erupt between girls also as the ruthless lady has a favorite. At night time, a few inmate ladies try to escape. Four succeed to go far in the jungle but ruffians are chasing them, but they are finally captured back. They are tortured in front of others to give example. Inmate ladies are forced to work hard in the camp. One of them trying to flee again and is shot dead by Chat. Supakorn Srisawat tries his luck at nighttime in the women dorm but he gets punished by the girls. Tanit starts to love one of the ladies called Chaba. He has a plan to release all ladies. He explains to them the camp details so that they can get M16 guns stored in one hut. Fightings occur between ladies and ruffians. All protagonists die except Tanit and Chaba. Tanit is finally arrested by Thai police as he was involved in the camp management. This movie reminds about movie สัตว์สาวในกรงเสือ / Girls in the Tiger Cage (1976).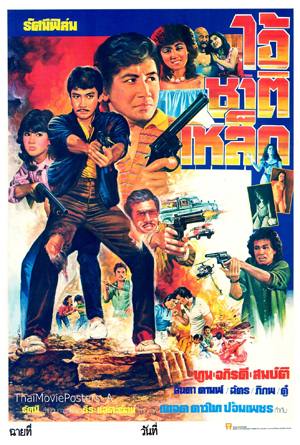 Year

: 1984



Thai title

:

ไอ้ชาติเหล็ก




English title

:



Rating

: 4/5


Director

:



Main actor

: Toon Hiransap,Dam Datsakorn,Sombat Methanee,Doo Dook Kradon,Pipop Pupinyo,Chat Mongkolchai


Main actress

: Linda Khatancharoen,Apiradee Pawaputanon
Thai movie ไอ้ชาติเหล็ก was released in year 1984 and lasts 1h50mn. It is available under VHS format. The picture quality is very sharp. Policeman Ran (Toon Hiransap) has to take over an important task, i.e. intercept a truck hiding illicit goods. Cannabis (กัญชา) is seized. The ruffians' leader Linda (Linda Khatancharoen) is upset so she wants to meet Police inspector Ra (หัวใจเป็นเหล็ก). Tanum (Dam Datsakorn) is working for her. Doo Dook Kradon and Tiu (Sombat Methanee) are playing foreign tourists and visit a gogo bar. Back to countryside, Tiu learns that his wife Jan was raped and killed while he was away. Doo discovers that his wife is living with Pipop Pupinyo now (เมียพี่มีชู้). Unable to give a lesson to Pinyo, Doo receives help from Tiu! Both Ran and policewoman Apiradee Pawaputanon are given to mission to find the drug traffickers in Isan. Waew (Chat Mongkolchai) has arguments with Ran, disguised as a ruffian (นักเลง อาละวาด). Waew receives some help from Tiu and Doo. Tanum, following a recommendation from Waew, hires Tiu and Doo as drivers. Following some shootings and fightings, Ran is framed by Waew and Tanum. As Ran's gunshot unfortunately another policeman and a ruffian, Ran is accused in front of other policemen to be a rogue policeman. Ran is arrested and dismissed as police officer. Anyway he continues his investigation in order to clean his name. Waew takes profit of the ruffian's death to abuse his wife. Tiu kills Waew as he is one, who raped his wife. Tiu and Doo flee. They take refuge in Linda's house per Tanum's advice. As Tanum fails a few times during drug transportation, a waitress played by Apiradee is suspected. She is kidnapped. Seeing Tiu and Linda close together, Tanum is upset and frames him by warning the Police regarding the next drug transportation. Ran releases Apiradee. Tiu escapes to the Police. Tiu is very upset as nobody told him what was inside the truck. This time, Tanum tries to shoot him but Doo is killed instead. Tiu kills Tanum through a fierce fight. Linda's birthday happens in weird conditions. Ran is captured and refuses to join the ruffians in drug trafficking. This time Apiradee releases Ran and they quickly go to the pier to catch all ruffians. Tiu and Linda are arrested. It is seldom seeing Sombat Methanee playing a bad guy. Life conditions push Tiu to become a bad guy as he followed Linda's asking for help. Being arrested, Linda asks Ran for compassion towards Tiu as she is the one sole responsible but Tiu will still have to answer about his acts to Thai justice.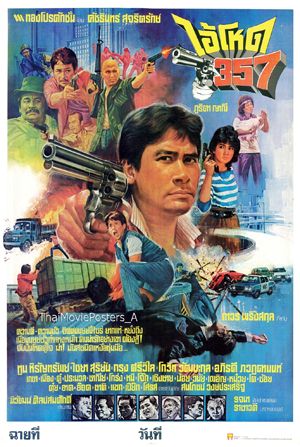 Year

: 1984



Thai title

:

ไอ้โหด 357




English title

:



Rating

: 2/5


Director

: ถาวร พริ้งสกุล



Main actor

: Toon Hiransap,Krung Srivilai,Chaiya Suriyun,Kowit Wattanakul,Kecha Plianvithee,Doo Dook Kradon,Boo Wibunnan,Chanee Yotchai


Main actress

: Apiradee Pawaputanon
Thai movie ไอ้โหด 357 was released in year 1984 and only lasts 1h13mn. It was released under VHS format. Probably some parts of the movie were lost when the movie was transferred to VHS format. As some parts of the movie are missing the storytelling is sometimes awkward. Movie director is ถาวร พริ้งสกุล. Doo (Doo Dook Kradon) is captured by a group of men and is forced for a wedding. The daughter's father, Boo Wibunnan, is the owner of a big hotel in Bangkok and wishes Doo to move to Bangkok to help take care of the hotel. The wedding is a failure. Cheut (Kowit Wattanakul) works with his father in the car repair business. The elder brother is absent. Ruffians including เมือง อพอลโล่ kill the father and mother but Cheut succeeds to flee. Bancha (Kecha Plianvithee) is the mastermind as he wants the land (ที่ดิน). Cheut's girlfriend (ทิพย์มณี ญาณี), teacher Manee, informs him. Ruffians ask him to leave the city but he refuses. Cheut's brother is Chat (Chaiya Suriyun), a small policeman. Ruffians try to kill the two brothers but fail. Linda, ผู้ช่วย (Apiradee Pawaputanon), is nominated to help Chat. Linda arrives by boat driven by Chot (Toon Hiransap). As the two brothers are surrounded by ruffians (หมาหมู), they get support from policeman Krung Srivilai. The two brothers promise to get revenge for their parents. Linda, the subdistrict officer's daughter, asks villagers not to be afraid of ruffians as Thai police are on their side. Bancha warns the sub district officer, his daughter Linda, Chot and Doo not to interfere in their business. Chot is not willing to help so he gets scolded by Chat and Cheut. Linda and Manee are kidnapped by ruffians. Cheut and Chat succeed to release Linda. Policeman Krung tries to arrest ruffians. As some ruffians are found dead, he suspects Cheut. The sub district officer is killed. Krung, Chot and Linda try to embuscade Bancha to arrest him but it fails. Somebody is shooting the ruffians with a magnum 357 but nobody knows who the shooter is. Deputy Panom is involved. Bancha is his younger brother so he protects him. Finally ruffians are neutralized and Bancha is shot dead.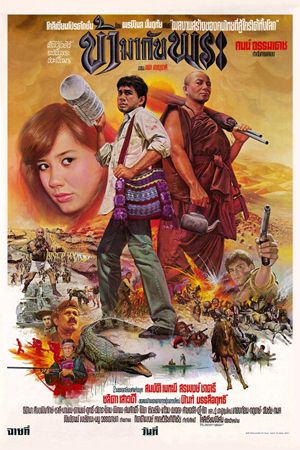 Year

: 1984



Thai title

:

ข้ามากับพระ




English title

:



Rating

: 5/5


Director

: Kom Akadej



Main actor

: Sorapong Chatree,Sombat Methanee,Bin Banleurit,Kom Akadej,Somsak Chaisongkram,Doo Dook Kradon,Pipop Pupinyo,Chat Mongkolchai,Dam Datsakorn,Rith Luecha,Manop Aussawathep,Note Chernyim,Thuam Thoranong


Main actress

: Thitima Sangkapitak
Thai movie ข้ามากับพระ was released in year 1984. It was shown on TV CH7 (ช่อง 7) and last 1h08mn as a shortened version. It was not released on VCD but was released under VHS format. Movie director is Kom Akadej. Soundtrack from band Police is used. It was the first movie for Thai actor Bin Banleurit. A TV serie ข้ามากับพระ was released in 2015. Bin (Sorapong Chatree) is chased by three men (Somsak Chaisongkram, Note Chernyim, Pipop Pupinyo). He is rescued by Luang Pho Seua (Sombat Methanee), being a wandering monk. Bin follows the monk, who wishes to stay alone. Bin wishes to become his disciple (ลูกศิษย์พระ). Doo Dook Kradon and another man are stealing buffalos. Villagers led by Thuam Thoranong are looking for their buffaloes. Luang Pho Seua is wrongly mistaken as a robber but everything is back to normal. Monk Seua and Bin cross a lake but they are attacked by a crocodile. Bin brings bad luck (ซวย) to the monk. They arrive in a ruffian's camp led by Chat Mongkolchai and Seua Noi (Bin Banleurit). Bin follows behind but is stopped by the ruffians. Monk Seua meets Thai Police, who ask him if he saw any ruffians campement. Police attack the camp and Bin can succeed to flee. Seua Noi is upset and promises revenge as he believes Luang Pho Seua and Bin are undercover policemen. Ruffians try to burn Luang Pho Seua but Bin intervenes. Luang Pho escapes to the flames but he is chased by ruffians. Hopefully, hill tribes, led by Kom (Kom Akadej), chase them away. Bin is injured and cured by beautiful doctor Khru Mo (ครูหมอ) (ชลิดา เสาวดี). The village head is worried about revenge by Seua Khaem. Bin meets again the three men chasing him and has to flee. While fleeing, he meets Luang Pho Seua again. Hilltribe lady Baan Su Thong (Thitima Sangkapitak) is fond of Bin. They spend the night together, but Bin flees in the morning, so Baan Su Thong is looking for him. Ut (Dam Datsakorn) enters in the hilltribe village. A fight occurs between Bin and Ut. Ut is defeated. Kom saves the honor of his younger sister Baan Su Thong. Ut requests help for another ruffians' leader (Rith Luecha). Ruffians storm the village. Many ruffians and villagers die in the fighting. Baan Su Thong is killed. Seua Noi is seriously injured by Bin. Khru Mo is kidnapped by Ut to cure Seua Noi. Finally, Seua Noi leaves as he feels better but as he gets sick again. Seua Noi gets help from Luang Pho Suea and is cured. He realizes that Luang Pho Suea is a real monk and a good man. Seua Noi's father is Seua Khaem. Luang Pho Seua is a former policeman. While trying to catch Seua Khaem many years ago, Luang Pho Seua shot his wife, being Seua Noi's mother, by mistake. So, the policeman became a monk. Hill tribe members and Bin surround the ruffians' camp. Seua Kaem (Manop Aussawathep) wishes to take revenge and to shoot the monk but Seua Noi intervenes and is shot instead. Devastated, Seua Kaem gives up on his revenge. Luang Pho has been carrying the wife's bones with him and has been wandering around Thailand in order to meet Seua Khaem.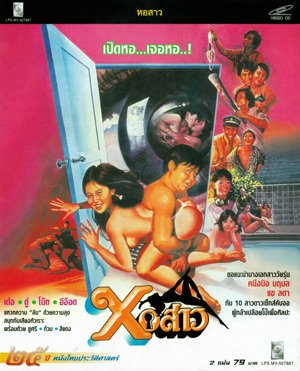 Year

: 1984



Thai title

:

หอสาว




English title

:



Rating

: 2/5


Director

:



Main actor

: Pipop Pupinyo,Doo Dook Kradon,Thuam Thoranong,Note Chernyim,Der Doksadao,Supakorn Srisawat


Main actress

: Chosri Misommon
Thai movie หอสาว was released in year 1984. The VCD lasts 1h13mn only so this version is cut or censored. All sexy scenes are removed. Choosri (Chosri Misommon) and Chat (Thuam Thoranong) are the dorm owners. Chat dislikes a young man called Sing (Note Chernyim), who visits often the young ladies in the dorm. The female dorm (หอสาว) has harsh rules to follow. Young lady Plaew needs to find fast money as she needs to support her poor parents. Doo (Doo Dook Kradon), one of the dorm guardian, is stealing bras (โรคจิต) inside the dormitory. Bantoop (Pipop Pupinyo), another dorm guardian, is forbidden by his wife to go upstairs in the dorm as she doesn't trust him. Plaew meets a movie director, who promises to make her as a star but he is just a liar. Another dorm lady proposes her to become a model (นางแบบ) first. The men are using periscope to spy ladies in their rooms (บุญตาของเรา). Plaew becomes close friend and even lover with another lady. As Plaew is alone, Choosri's son becomes close to Plaew as she feels lonely. When the lady finds that Plaew is now having a boyfriend, arguments occur (ไม่ธรรมชาติ). A new tenant called Jarunee arrives. It is a katoey so she is fired from the dorm. Two other ladies find one sponsor to pay for their rent. Chat is getting favors from one tenant as she is used to drugs (ขอยาเธอ). It ends up badly as she dies from overdose. Sing is arrested by the Thai Police as he was the one selling drugs to the ladies in the dorm. Despite being an average film, the movie highlights some challenges faced by Thai society in decade 1980s (drugs, upcountry women coming to Bangkok, homosexuality, mistress, prostitution...). Choosri decides to stop doing dorm business (ฉันไม่ทำแล้ว) as there are only problems to manage. New actresses include คนึงนิจ นฤมล and แข ลดา. The movie's selling argument highlighted on the poster is about 10 young daring ladies (10 สาวดาว).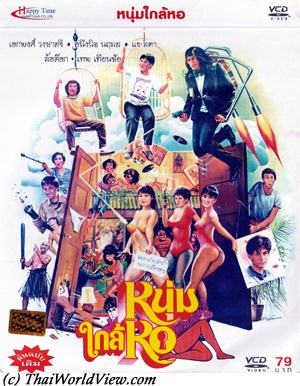 Year

: 1984



Thai title

:

หนุ่มใกล้หอ




English title

:



Rating

: 2/5


Director

:



Main actor

: Lor Tok,Pipop Pupinyo,Thep Thienchai,Doo Dook Kradon,Rong Kaomulkadee,Thuam Thoranong,Note Chernyim,Pao Porapak


Main actress

: Chosri Misommon
Thai movie หนุ่มใกล้หอ was released in year 1984 and it lasts 1h39mn. It is a light sexy comedy and it reminds of the Italian 1970s comedies. The dorm owner (หอสาวแม่) forbids her girls to approach men (สตรีที่ดี). She raises some orphan girls (เลี้ยงเป็นลูก). Pipop Pupinyo is used as a bodyguard to prevent intruders in the dorm. Doctor Lor Tok opens a dorm for men (หอชาย) on the opposite side! Among Lor Tok's disciples, there are veteran actors Doo Dook Kradon, Rong Kaomulkadee, Thuam Thoranong, Note Chernyim. The mother forces Pipop and another guard to take medicine to moderate their ardor (ไม่ไว้ใจ, อารมณ์เพศ). The young men take their revenge by giving to the mother a laxative so that they can be alone with the girls. On the following night, they even cut the water to force the girls to bathe in the swimming pool. Lor Tok tries to provide special medicine (ยาพลังเพศ) to convince Pipop to join them. The mother complains all men are dirty (ลามก). As a new male joins the dorm, the guys change their tactics and use the new handsome guy (รูปหล่อ) to seduce the mother (สุภาพ, แข็งแรง). He succeeds to be invited by the mother as an additional guard when the young ladies sunbathe (สาวอาบแดด). Basically the mother is doing the opposite she was teaching to her girls. They protest against their mother (อย่าทำผิดอีกเลย)! Lor Tok insults her as a mix of madonna (แม่พระ) and witch (แม่มด). Thep Thienchai, as a toilets cleaner, is also involved. Lor Tok is arrested by the police following complaints of Chosri Misommon. Finally the young men fall in love with the ladies. Lor Tok is released from prison and is back with two disciples (ลูกศิษย์) including Pao Porapak. As the two thugs plan to kidnap some girls, the young men intervene to catch them. The ladies dorm's owner decides to remove the fence between the male and female dorms as she recognizes that women cannot live without men. Lor Tok is finally arrested again for selling porn videos. The movie ends up with sexy sequences showing what Lor Tok has secretly filmed. Those sequences present in the 35mm film have been removed from the VCD released by Happy Time. Note Chernyim only plays in a few sequences. There was disagreement on his salary for this movie so he was replaced by Doo Dook Kradon.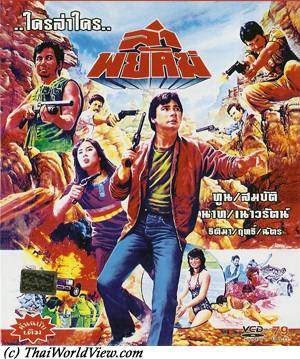 Year

: 1983



Thai title

:

ล่าพยัคฆ์




English title

:



Rating

: 3/5


Director

:



Main actor

: Sombat Methanee,Toon Hiransap,Rith Luecha,Nard Poowanai,Chat Mongkolchai,Sukon Koewliam,Paen Pleumsachai,Doo Dook Kradon


Main actress

: Naowarat Yooktanun,Thitima Sangkapitak



Buy now

:

Thai movie ล่าพยัคฆ์ was released in year 1983 and lasts 1h51mn. It was released under VHS format (1h51mn) and under VCD format (1h34mn). Cha (Sombat Methanee) and Phayak (Toon Hiransap) are soldiers (รับจ้างชายแดน). Being attacked and overwhelmed by enemies, Cha forces Phayak to flee as he has a family to take care to take care. While Phayak is away, ruffians led by Klam (Chat Mongkolchai) raid his house. They, including Paen Pleumsachai, kidnap his father Sukon Koewliam and his sister Phayao (Thitima Sangkapitak). His sister is deceived by Khun Amnat (Nard Poowanai), the local mafia leader, as he simulates a fake release. Klam shot the father but bullets cannot hurt him (ยิงไม่เข้า) as he is wearing a sacred protective Buddhist amulet so they hit him very badly. Phayak goes back home. Nuan (Naowarat Yooktanun), Phayak's friend, is also harassed by the ruffians (วันนี้ไม่อยากทำบาป) led by Phalat (Rith Luecha). Phayak's father dies. Doo Dook Kradon is the caretaker. Phayak gets the protective amulet from his father mouth and is aware how his father was killed. Meanwhile Cha is left as dead at the border. Following tortures to the head by thugs, he loses his memory and is now always drunk. Phayak decides to revenge his father. It is typical 1980s-decade movie when the main actor needs to seek revenge by himself as he cannot rely on Thai police. Khun Amnat uses bad influence and power to control the area (มีอำนาจ). Police believes him. Ruffians try to get rid of Phayak but Klam fails. Phayao sends a letter to meet her brother Phayak. Her brother is upset with her as she has a new husband (ผัว) just one day after their father died. Khun Amnat uses Cha to shoot Phayak but he survives thanks to the sacred amulet (ของดี). Phayak needs to flee as police now tries to catch him as he shot a few ruffians belonging to Amnat's team. Khun Amnat uses Phayao to convince her brother to surrender (มอบตัว) and uses Cha again to kill him. Phayao complains she has no more shelter (ไม่มีที่พึ่ง). It is a trick to steal his amulet. Menawhile Nuan's father is killed and Nuan is kidnapped. Phayak needs to face Cha in order to release Nuan. Hopefully Cha recovers his memory on time. Phayao knows now that Khun Amnat is a lier so she takes back the amulet and flees from his home but she is shot by him. As usual, bad guys are finally punished and Nuan is released. No extra judicial killing this time as Khun Amnat is handovered to the police. Thai people believe that sacred powerful Buddhist amulets from famous Buddhist monks can protect them during fighting. Such amulets were used by Thai soldiers during Vietnam war. Other Thai actions movies featuring Buddhist amulets protection are เสาร์ 5 (1976), ลำพูนดำ (1983), ลายพาดกลอน (1987), ลำพูนแดง (1988)...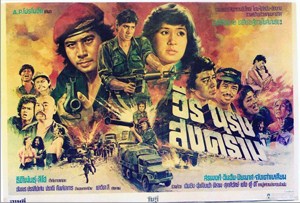 Year

: 1983



Thai title

:

วีรบุรุษสงคราม




English title

: Jungle heat



Rating

: 3/5


Director

:



Main actor

: Sorapong Chatree,Der Doksadao,Doo Dook Kradon,Supakorn Srisawat,Pipop Pupinyo


Main actress

: Piyamas Monayakol,Preeya Roongrueng,Sulaleewan Suwanthat
Thai movie วีรบุรุษสงคราม / Jungle heat was released in year 1983. It is a Thai / Hong Kong / Taiwanese coproduction. Multiple versions were released, i.e. a Thai version never released on any VHS / VCD format and targeting local Thai market, a Hong Kong / Taiwanese version for international market. The Thai version is lost but an incomplete version lasting 1h20mn was shown before in Thai film archives. The overseas version was released under the name of Jungle Heat. An IFD version lasts 1h17mn. It is available through various VHS versions in Japan (lasting 1h30mn), Philippines, Taiwan and China. Some Thai actors are still part of the international version such as Piyamas Monayakol, Pipop Pupinyo, Preeya Roongrueng. Main actors and actresses in Thai version are Sorapong Chatree, ฉิน ฮั่น, Piyamas Monayakol, ถัง เต้า เหลียน เฉิน ซิง, อุ้ย ผิง เอ้า, ฟาง เฟย เซิน, Preeya Roongrueng, Pipop Pupinyo, Sulaleewan Suwanthat, Der Doksadao, Doo Dook Kradon, Supakorn Srisawat. Sorapong Chatree is the main actor of the Thai version. During the Vietnam war, a few men are hired and trained to drive US trucks among Vietcong lines. A US captain hires Tony and his men, but the drivers are not aware of the risks. The drivers get a three weeks training. The drivers are going out to have fun at night time. One of them, Rick, meets bar lady Piyamas Monayakol and romance starts. A new member Chiang Sing joins them. Their trucks have brakes issues, so accident occurs. They are finally captured by the Vietcong (including Pipop Pupinyo) and tortured. The movie features many strong torture sequences such as acid pouring on the head, prisonners burnt with petrol by a rat on fire, scie usage... They succeed to escape. They complain to the lieutenant. As they need money, they finally go again to evacuate weapons as the war is just over but they are attacked by the same Vietcong members. Rick is missing. Piyamas misses him and blames Tony to have abandoned him. US soldiers cannot help as war is over. Tony and his men decide to act first. Following fierce fighting in a cave, Tony and his team release Rick. Being attacked by other Vietcong members, they get support from US lieutenant. War is over and the team has run out of money. Upset as the team spent money to save him, Rick joins a dangerous motorcycle competition. He loses his life while competing and Piyamas gets a lot of money, but she throws it away as money cannot replace the love she lost.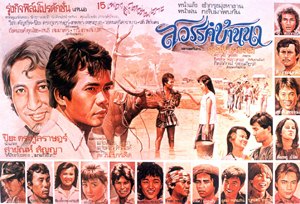 Year

: 1983



Thai title

:

สวรรค์บ้านนา




English title

:



Rating

: 5/5


Director

: Surasee Phatham



Main actor

: Piya Trakulrard,Ed Carabao,Doo Dook Kradon


Main actress

:
Thai movie สวรรค์บ้านนา was released in year 1983. The movie lasts currently 2h03mn. Due to its success it was released two times. But on the second release, some sequences and Carabao songs have disappeared. A 2h15mn version was shown on VHS and cable TV. The original length is 2h30mn. Director is Surasee Phatham who directed many famous social movies. Main actors and actresses are Piya Trakulrard, แสงเดือน ดารา, แสงดาว, ตะวัน, Doo Dook Kradon, ดี๋, Ed Carabao, สุชาติ, สนธิ, อุดม, ชวลิต, ทองมี มาลัย, ดาวใต้ เมืองตรัง, เทพพร เพชรอุบล, สนธิ สมมาตร. This movie is about Isan, northeastern region of Thailand. The movie features fourteen great songs. Isan people come to Bangkok for work but then they have to go back to home when rainy season is coming in order to take care of rice fields (ทำนา). They face harsh life in Bangkok. Most of Isan workers have manufacturing job in factories, work in bar / nightclub, work as Tuk Tuk driver, toilets boy (boy ห้องน้ำ)... Teuk (Carabao Ed - แอ๊ด) is fired from the bar in which he is performing as people don't like his songs. A group of ten friends including Sitha (Piya Trakulrard) and Fai invite him to discover life in countryside (ชีวิตชนบท) as it is time for rice season. Isan people dream to go back home to build their paradise (สวรรค์บ้านนา). As there is a rice crop only once a year they have no choice but to go working in Bangkok. Souvenirs (ของฝาก) are brought by them when they come back to the village where only old people and children stay. Nang wishes to be a molam singer (นางเอกมอลำ) but her father doesn't allow. Villagers help each other and shared work happens in the rice fields using buffalo. Romances are happening. The movie is showing how the rice season is happening. The movie shows Isan culture such as "Bun Bang Fai" (บุญบ้างไฟ) festival parade. The rocket competition is ending in fightings between groups. Many men are disappointed (อกหัก) as Sitha and Nang love each other. The father wishes to choose his daughter's husband by himself (ชอบลูกเสียงหรือลูกสาว). One villager is coming back from Saudi Arabia having a big house, building a new house for his father, having latest TV, Hi Fi and listening to western music but his wife is gone (ชู). A local villager called Kaew, being jealous about Sitha, talks to Nang's father. Nang is not allowed to meet Sitha anymore. Buddhist Lent festival (วันเข้าภรรษา) is coming. This movie is showing life in Isan with rice culture (ทำนา) and its various steps, religious ceremonies, harsh life in Isan, special dishes (ลาบเลือด…), hunting... Sitha is disappointed as misunderstandings happen with Nang. Sitha's friend convinces his father (ชาวนา) to sell his rice fields to pay for the fee to go to Saudi Arabia. Nang's father sends her to the city to try to break their relationship. On the day of Nang's fiancailles with villager Kaew, Nang flees with Sitha. Nang's father, afraid to lose his daughter, promotes her as molam main singer (นางเอกมอลำ) in his band and accepts finally Sitha. Rice season is over (หมดหน้านา). A farewell to local spirits (ปู่ตา) before departure to Bangkok is done. Famous Carabao song Pu Tao (เพลง ผู้เฒ่า) is sung by Ed. Everybody is back to work in Bangkok. One goes to Saudi Arabia. Ed finally composes some famous songs following his stay in Isan. Only old people are left when young people go back to work in Bangkok. When this movie was released in year 1983, it makes Isan people working in Bangkok to wish going back to home! In 1983, people were still using mail to communicate so this movie got a huge success. Outdoor cinemas in Isan were all asking for this movie! All the films were lost as it was shown and shown until the film was damaged beyond repair. Luckily, the movie was released again in year 1993. By merging various versions of the film reels, it is possible to get a duration of 2h18mn so quite close to the original length of 2h30mn.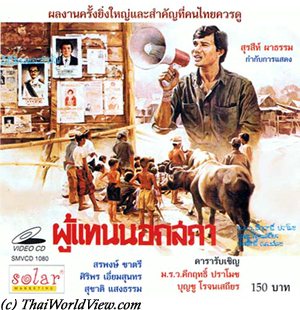 Year

: 1983



Thai title

:

ผู้แทนนอกสภา




English title

: The MP outside the Parliament



Rating

: 5/5


Director

: Surasee Phatham



Main actor

: Sorapong Chatree,Doo Dook Kradon,Supakorn Srisawat


Main actress

:



Buy now

:

After successful studies in Bangkok, Boonchai (บุญชัย) represents his party for member of Parliament election in rural Northeast of Thailand. Many other candicates register to the election to become member of Parliament. There are candicates of important parties with impressive list of diploma they got abroad but can they understand the poor people problems? There is a candidate backed up by the government, who is spending a lot of money to have huge billboards and is offering free gifts with his voting number. There is a funny candidate that wishes to clean the political dirt with a broom and bring light to democracy with a lantern. Boonchai has left Isan many years to study in Bangkok and has gone through the 1976 revolution. He got voting number 8. He announced to his girlfriend, who is a teacher lady, that he is trying to become member of Parliament to help the local people but she is worried as politics is a difficult and dangerous matter in Thailand. Some candidates give money for people to buy alcohol, some others give free medicine to buy the hearts and votes of local people but they don't bother to discuss with them and listen to their problems. They just promise more gifts to come. The money they spend to buy vote, they will get it back when they are elected. Boonchai is visiting villagers also on his small motorbike but he has no gifts to offer. He is not coming only for one day to change farmers life by bringing gifts but with ideas for the next four years to change their life. One taxi driver, seduced by his program, offers Boonchai to drive him anywhere he wishes. The government candidate doesn't care to visit the people as the "stupid buffalo" farmers can be bought with money. Meanwhile other candidates compete on gifs and on the biggest speakers to make their voice louder. They look like more fruit sellers! Boonchai is a local child of the region so he knows the farmers problems. He eats same food as farmers, works with farmers and propose them solution to improve their daily life and revenue increase by shifting various cultures all over the year. Villagers like his project up to the point that he starts to be a real political threat to the candidate backed up by the government. This latter decides to use bad tactics, i.e. villagers are threatened that they will not receive subsidies any more if anybody in a village votes for him, Boonchai is also accused to be a communist. Finally he is beaten by 4 tough men but it makes him more popular as many villagers support him. He is comforted to fight against adversity. The evil candidate tries to use drunkards to disturb his political meetings but they are expelled by his supporters. The evil candidate plans an outdoor cinema projection in order to disturb Boonchai's meeting hoping that people would prefer entertainment to serious politics. But it fails also. The evil candidate decides to send a team to kill Boonchai at night time when he is back from late political meetings. He succeeds to escape to assassination and villagers protect him. People voice is growing against bad politicians. Villagers provide him a gun to defend him-self. The evil candidate decides to use a hitman to get rid of Boonchai. Boonchai dies but he still wins the election as local people vote massively for him. Good men disappear and corrupted men remain... This movie gives a real image of Thai politics thirty years ago. But did nowadays Thai politics really improve? Former PM and politician MR Kukrit Pramoj appeared in this movie. Mr Kukrit showed up briefly at the beginning of the film, playing a party leader who gives a talk to the candidates. Not long after that, a new law prohibited political parties from attracting votes by playing in films.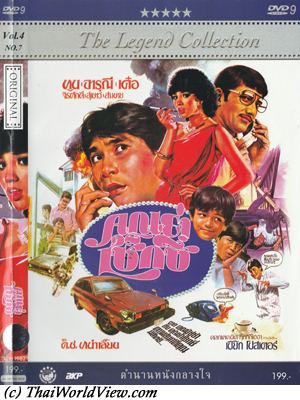 Year

: 1982



Thai title

:

คุณย่าเซ็กซี่




English title

:



Rating

: 2/5


Director

: Piak Poster



Main actor

: Toon Hiransap,Der Doksadao,Somchai Samipak,Doo Dook Kradon,Suchao Pongwilai


Main actress

: Jarunee Sooksawad,Juree Osiri,Sulaleewan Suwanthat,Chosri Misommon



Buy now

:

Thai movie คุณย่าเซ็กซี่ was released in year 1982 and it lasts 1h57mn. It is available under DVD format released by BKP. Movie director is Piak Poster. An old doctor friend visits Et (Toon Hiransap). Et asks for Thip's hand (Jarunee Sooksawad). Thip's father (Somchai Samipak) has a shock. Et visits his doctor friend to find a solution. Chosri Misommon and Doo Dook Kradon are playing crazy patients (อย่าถือคนบ้า ว่าคนเม่า). One of the kids, Mee, is kidnapped by Suchao Pongwilai. Suchao is asking for 300 000 baht as ransom. The kid succeeds to escape and even tricks his kidnappers. The kidnappers lie to Et and capture him. He still has to give a ransom to be released. Luckily the Police is passing by and he can escape. Ruffians are finally identified and jailed by Police. Et can finally marry Thip. Et and Thip are singing a song reminding of วัยอลวน movie in 1975. วัยอลวน was also director by Piak Poster. His old doctor friend (จิรศักดิ์ อิศรางกูร) asks him for help. He needs him to take care about a lady's best friend so that he can focus to seduce her without having a chaperon always around. Et teaches her tennis. Thip sees him with that lady and back home, he gets severely beaten and even falls from the stairs. Incantations (คาถา) from the grandfather are used to make people smaller or bigger so that he is not humiliated by his wife anymore but it is only a dream. Believing Et is becoming crazy as he keeps mumbling incantations, Thip calls the doctor to check his condition. The doctor asks Thip to be nice towards Et as he missed love when he was a kid. Thip announced to the head of school (Juree Osiri) that she quits her job to take care about her home. It is Thip's birthday. As Thip is wearing old style clothes so one of her friend restyles her. So she becomes sexy (คุณย่าเซ็กซี่). Love is back between Et and Thip. The movie can end happily.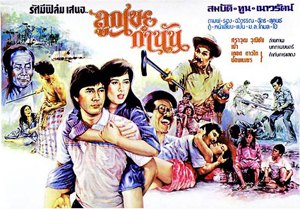 Year

: 1982



Thai title

:

ลูกเขยกำนัน




English title

:



Rating

: 3/5


Director

:



Main actor

: Sombat Methanee,Dam Datsakorn,Toon Hiransap,Sukon Koewliam,Doo Dook Kradon,Chat Mongkolchai,Paen Pleumsachai,Pao Porapak


Main actress

: Naowarat Yooktanun,Chaweewan Boonprok
Thai movie ลูกเขยกำนัน was released in year 1982. The movie is lost in Thailand but a 3 minutes trailer remains to be seen. Its image is unfortunately half damaged as the film was soaked with water and it has an inaudible sound. Various short sequences are shown in the trailer. Sombat Methanee is the subdistrict headman (กำนัน). Naowarat Yooktanun is his daughter. Dam Datsakorn and Toon Hiransap are fighting and punching each other. Naowarat is being kidnapped. Naowarat is fighting with veteran actress. It is a romantic action comedy movie. Similar to many Thai movies, it features various styles in order to please the whole family including with a hot love scene (featuring Dam and Chaweewan Boonprok). It uses the same ingredients as popular Thai movie ลูกสาวกำนัน (1981) but it was not as successful. Other actors seen in the trailer are Chat Mongkolchai and Pao Porapak, actor always playing tough ruffian roles. Other actors / actresses are รอง, Chaweewan Boonprok (ฉวีวรรณ บุญปรก), Sukon Koewliam, Doo Dook Kradon, หน่ำเลี๊ยบ, Paen Pleumsachai.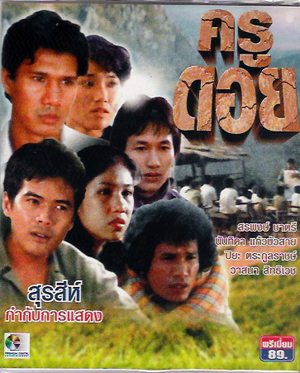 Year

: 1982



Thai title

:

ครูดอย




English title

: Mountain teacher



Rating

: 5/5


Director

: Surasee Phatham



Main actor

: Sorapong Chatree,Piya Trakulrard,Doo Dook Kradon


Main actress

: Wassana Sitthiweth,Nanthida Kaewbuasai



Buy now

:

Thai movie ครูดอย was released in year 1982. It lasts 1h50mn. Four new teachers (including Piya Trakulrard, Doo Dook Kradon and Wassana Sitthiweth) are sent to Loei in a remote village located on a mountain. They are welcomed by indifferent villagers busy doing gambling (การพนัน). Teacher Sompong is already in the village. Sompong (Sorapong Chatree) indulges in alcohol (สุรา) as he feels useless. Only one monk is left in the village. Villagers seem to be very strong here (ไม่ร่วมมือ). Those new teachers teach children and adults. The school is very basic. Teacher Sompong made a pond for villagers to avoid getting water from far away. One part of the village is under influence of a ruffian managing an underground casino and wishing to undercut influence of the village headman and teacher Sompong. Wan (Nanthida Kaewbuasai) is worried about teacher Sompong. New teachers succeed to have villagers working to build new school by flattering the ruffian. They also finish teacher Sompong's task by bringing water in the village through bamboo pipes. The ruffian feels betrayed as the merit goes back to teacher Sompong. Some old people die because of cold. Teachers organise a concert donation (บริจาคคนจน) to get warm clothes for villagers. It is a success and such remote village gets awareness. Their next action is to convince village men to stop gambling. Tempting the luck (การเสี่ยงโชค) is the only hope of poor people. The teachers buy cheated dices to win village men's money and have it reused to improve the school. Having no more pocket money, the village men keep drinking alcohol. One of the teachers simulates being sick because of the alcohol to convince them to stop drinking. Teachers convince villagers to work together and to prepare rice fields on mountains slopes. Wan is sick during rainy season and there is no more medicine. It is a nightmare to go to the nearest city and roads are stuck in the mud. There is no electricity in the village. Good weather is back. The teachers go to sell their products at the city. When they are back, Wan is dead. It is time for the four young teachers to be allocated to somewhere else. Teacher Sompong stays as he is a mountain teacher (ครูดอย) and villagers need him. Thanks to the teachers, villagers are now able to take care about themselves, take decision and do not rely on external help only. In this movie, director Surasee Phatham uses Isan music as background. His movie shows the dedication of the teachers going in remote areas with cold winter.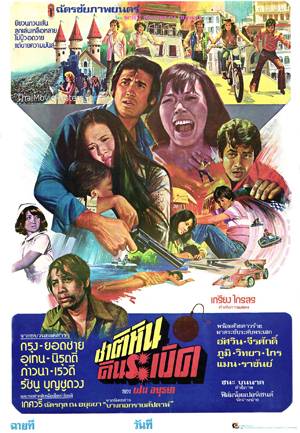 Year

: 1979



Thai title

:

ชาติหินดินระเบิด




English title

:



Rating

: 3/5


Director

:



Main actor

: Krung Srivilai,Yodchai Meksuwan,Nirut Sirijanya,Uten Boonyong,Doo Dook Kradon,Krai Kanchit,Pumi Patanayut,Wittaya Sukdamrong


Main actress

: Pawana Chanajit,Rewadee Pattaphong,Ratchanoo Boonchuduang
Thai movie ชาติหินดินระเบิด was released in year 1979. Main actors and actresses include Krung Srivilai, Yodchai Meksuwan, Pawana Chanajit, Nirut Sirijanya, Rewadee Pattaphong, Ratchanoo Boonchuduang, Uten Boonyong, Doo Dook Kradon, Krai Kanchit, Pumi Patanayut, อัศวิน รัตนประชา, จิระศักดิ์ ปิ่นสุวรรณ, Wittaya Sukdamrong, ราชันย์ กาญจนมาศ. Movie director is เกรียง ไกรสร. The film is lost in Thailand but a sequence in 35mm format can still be seen. The picture is very damaged and reddish. It lasts ten minutes. During the remaining sequence, Nirut and Doo Dook Kradon are in prison. Pumi Patanayut is about to burn Nirut's wife and her child. Policeman Krung tries to help but he is finally captured. Police surrounds the school where ruffians are hiding and having kids as hostages. Yodchai Meksuwan is playing a blind man. Pumi Patanayut is the head of ruffians. Krung and Nirut enter the school to release Nirut's son. It is successful.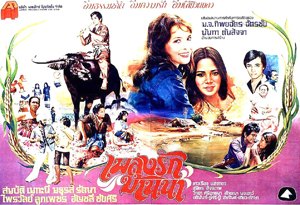 Year

: 1977



Thai title

:

เพลงรักบ้านนา




English title

:



Rating

: 3/5


Director

:



Main actor

: Sombat Methanee,Boo Wibunnan,Adinan Singhiran,Doo Dook Kradon


Main actress

: Chosri Misommon,Anchalee Chaisiri
Thai movie เพลงรักบ้านนา was released in year 1977. It features Sombat Methanee as main actor, มธุรส รัตนา and Anchalee Chaisiri as main new actresses. A four minutes trailer and a 1h30mn movie are still available. The full movie with 12 songs including 3 by Sombat is not available anymore. A partial version was released many years ago on Thai TV CH7 but in a shorter release with only one song featured. Other actors featuring in this movie are Boo Wibunnan, Adinan Singhiran, Doo Dook Kradon, Chosri Misommon. A young man (ไพรวัลย์ ลูกเพชร) from Suphanburi is sheltered in Sri Prai and her sister's home as he has nowhere to go but he has nice singing skills. Worrying he would seduce his two daughters, the father finally chases him. Duan (Sombat Methanee) rescues Sri Prai aggressed by ruffians. Romance between Duan and Sri Pai happens. The story is about two sisters coming from a rich family and who love two poor men to the despair of their father. Finally the two poor men help their future father in law as a businessman is trying to buy his land knowing that a road is going to be built soon. The two new actresses are Anchalee Chaisiri born in 1956 and มธุรส รัตนา born in 1957.
---