Increase or decrease font size for easier reading : A+ A-
Donnapha Sophee
Donnapha Sophee (195x) - ดลนภา โสภี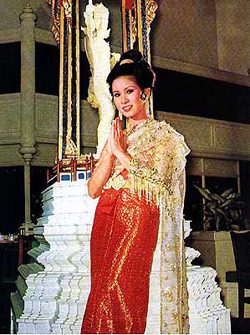 Donnapha Sophee was often playing the bad girl (ดาวยั่ว). Her first movie was จอมเจ้าชู้ in 1971. Her most famous movie remains ไก่นา by Dokdin. Her fame started to decrease in 1974
This Donnapha Sophee movie page contains 5 records.
---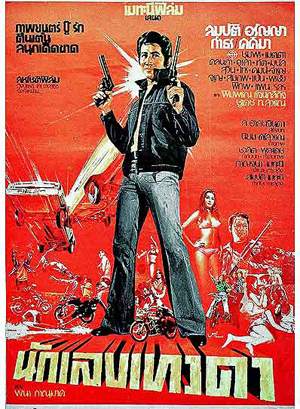 Year

: 1975



Thai title

:

นักเลงเทวดา




English title

:



Rating

: 3/5


Director

: Sombat Methanee



Main actor

: Sombat Methanee,Tat Ekathat,Sawin Sawangrat,Kom Akadej,Kamthorn Suwanpiyasiri,Choomporn Theppitak,Pipop Pupinyo,Krai Kanchit,Sukon Koewliam


Main actress

: Aranya Namwong,Naiyana Shewanan,Orasa Isarangkul,Metta Roongrat,Sasima Singsiri,Donnapha Sophee,Manat Boonkiet



Buy now

:

Thai movie นักเลงเทวดา was released in year 1975. The VCD lasts 1h32mn. Metta Roongrat as market merchant (แม่ค้า) is harassed by ruffians. A car is driven by a mysterious hitman, who kills most of the ruffians of Kamnan Wattana. Wattana (Tat Ekathat) is upset. Kamnan Wattana's daughter, called Wantanee, is played by Naiyana Shewanan. Orasa Isarangkul is also a market merchant (แม่ค้า). Nobody saw his face but he was wearing a red clothing. Thewada (Sombat Methanee) is wearing a red shirt so he is identified as the hitman. Thewada wishes to revenge his friend Somsak killed by ruffians (เทวดามาคิดบัญชี). Thewada enquiries on various ladies to uncover the mysterious hitman. Somsak's wife (ผู้หญิงใจร้าย)(Sasima Singsiri) is involved in the murder with the help of Sawin Sawangrat. Thewada helps Wantanee (ลูกสาวกำนัน). Thewada is not the mysterious killer in red shirt but is willing to find who is behind. Similar to a Thai James Bond with gadgets and kissing all girls (หลงเสน่ห์). Kamnan Wattana agrees to take him as new staff before being son in law (ลูกเขย)! Thewada gets support from Dam (Kom Akadej). A car 'chase happens between Thewada and Kan (Kamthorn Suwanpiyasiri). A sister (Aranya 'Namwong) and her brother (Choomporn Theppitak) are looking for the man, who killed their father นาย Vitun. They believe Thewada is the killer but he succeeds to escape their house just to be captured by Kan (องค์การ). Pipop Pupinyo is part of Kan's team. A third group is with Sawin and Somsak's wife. Kan storms Kamnan Wattana's house and kidnaps his daughter. Metta and Osara are also kidnapped. Thewada and Dam then storm Kan's house to release the ladies. Krai Kanchit is part of Kan's team. Fighting and shooting happen until all ruffians are neutralized or killed. The movie ends up with Thewada leaving with both ladies Aranya and Naiyana.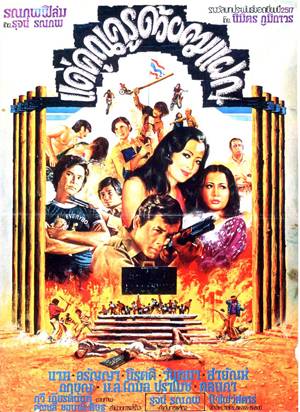 Year

: 1975



Thai title

:

แด่คุณครูด้วยคมแฝก




English title

:



Rating

: 4/5


Director

: Ruj Ronnapop



Main actor

: Nard Poowanai,Sayan Chantaraviboon,Nirut Sirijanya,Somchai Samipak


Main actress

: Aranya Namwong,Donnapha Sophee
Thai movie แด่คุณครูด้วยคมแฝก was released in year 1975 and lasts 1h51mn. The movie was released under VHS format. In a remote village, two teachers are killed as they refuse to mingle with the local leader Krot. Teachers want to protect children (อนาคตของชาติ) and raise education level but ruffians see them as opponents. Chai (Nard Poowanai) is nominated as new school headmaster (ครูใหญ่คนใหม่) for village Krok. The school includes multiple teachers such as teacher Tawon (Sayan Chantaraviboon), teacher Duang (Nirut Sirijanya), teacher Yim (วันทนา บุญบันเทิง), old teacher Piek. Ruffians are always looking for trouble (ขอเรื่อง). Chan Raem (Donnapha Sophee), owner of a local restaurant, likes Chai. Old teacher Piek is often drunk (ขี้เมา) as he is unable to oppose to the ruffians. The ruling here is done through guns (กฎหมายที่นี่คือปืน). Chai meets Duang Kaew (Aranya Namwong), daughter of the ruffians' leader. Duang Kaew doesn't want to help anybody else despite Chai asking her to bring usefulness to society and nation. The subdistrict headman Somchai (Somchai Samipak) organises a motorcycle race. The teachers (ผู้รู้หนังสือ) win so they cause Krot and his men to lose face. The father Krot refuses to help to build a new school. Chai wishes to teach children as the villagers' knowledge needs to increase. No future without knowledge. Teachers are keys in the development of children (ครูคือแม่ที่สอง) in remote villages as parents are busy in rice fields. Krot just wants to keep villagers as idiots because it is easier to recruit men. A party is organised by the subdistrict headman to celebrate the race. Chai continues to try to convince Kaew to help the school. Being drunk, ruffians shoot at teachers and Duang is injured. Young lady Raem goes with Duang as Chai refuses her advances. Ruffians kidnap teacher Yim and rape her. Disgusted, Duang Kaew humiliates the rapists, blames her father (สังสอนพ่อ) and joins villagers' side (ลูกอกตัญญู) to fight injustice. Krot's son uses violence to build popularity (สร้างบารมี) for his father. Old teacher Piek goes for duel with ruffians but he is shot by them. Angry by this death, rebellion happens led by teacher Chai. The father and his men surround the village. Duang Kaew is on the villagers' side. Pushed by his daughter, the father wishes to change and condemn the rapists but his son Kampaeng is not willing. Shooting happens as Kampeng wants to kill teacher Chai. Following confusion and houses burning, Kampaeng is also shot and dies. The father asks to stop the killings and promises to change. He asks teacher Chai to stay and commits 300 000 baht to build a new school. The teacher offers him a book about karma.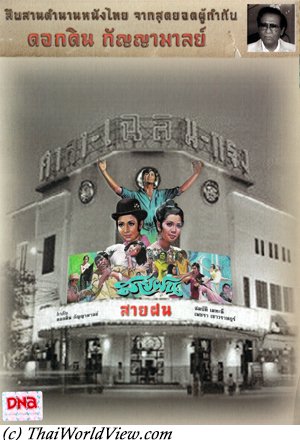 Year

: 1973



Thai title

:

สายฝน




English title

:



Rating

: 4/5


Director

: Dokdin Kanyaman



Main actor

: Sombat Methanee,Man Teeraphol,Dokdin Kanyaman,Choomporn Theppitak,Prachuap Ruekyamdee,Sawin Sawangrat


Main actress

: Petchara Chaowarat,Suthisa Putnuch,Orasa Isarangkul,Donnapha Sophee,Chadaporn Wachirapranee,Somjit Sapsamruey



Buy now

:

Thai movie สายฝน was released in year 1973 and last 2h33mn. It was released under DVD format by company Happy Home Entertainment. The picture is sharp and colorful. Three songs are featured in the movie. Sathit (Sombat Methanee) is a former football player, who failed to have success. Sathit gives back his room keys to his landlord Chadaporn Wachirapranee, quits university and is going back home to Sukhothai. Sathit has to go back urgently (เรื่องยุ่งๆ). Young lady Kaewta (Suthisa Putnuch) is disappointed as she believes there is a love story behind his sudden return. Sathit meets Saipin (Petchara Chaowarat), student coming back from USA, in the train. Likay (Orasa Isarangkul) and Cheunchai (Man Teeraphol) welcome Saipin in Phitsanulok. Uncle Jing (Dokdin Kanyaman) is a teacher and Deuan (Donnapha Sophee) is his daughter. Saming (Choomporn Theppitak) and Sataya (จีรศักดิ์ ปิ่นสุวรรณ) have arguments with Sathit and Jing. Saipin is uncle Saeng's daughter (Prachuap Ruekyamdee). Saeng owns the land where Jing's school is located, and all local villagers are indebted to him. Sathit's mother is played by Somjit Sapsamruey (ลูกไม่รักดี), being almost blind. Half of his land was sold to Saeng to pay for Sathit's studies, so she is upset that he stops studying. Kaewta is a new teacher arriving in Jing's school. She wishes to be close to Sathit. Sataya wishes to marry with Deuan. Love triangle occurs between Sathit, Kaewta and Saipin. Saming and Cheunchai manage an illegal game den (บอล) where villagers get poorer. One villager hangs herself due to debts. Sathit decides to get rid of this underground den. Deuan is pregnant with Sattaya but he refuses to recognize his paternity. Sathit calls the police to have the den closed. Upset, Saming decides to get rid of Sathit. Sathit organizes a rebellion to increase the salary of the farmers paid by Saeng. Sawin Sawangrat is part of the rebellion. Saipin helps the villagers by buying food for them (แจก) but villagers are reluctant to accept. Saipin gives secretly money to the mother to pay back her debt. The ruffians burn Sathit's fields to prevent him selling goods to help villagers. Sathit wishes to get revenge but Kaewta calms him down. Sathit loves Kaewta like a sister (น้องสาว). Sad, she wishes to go back to Bangkok, but she finally stays because of poor children needing her. Due to money conflict, Saming kills Cheunchai. Rats eat the supply so even Sawin dies due to disease. Saipin lets the farmers take the rice inside Saeng's barns. Upset, Saeng chases Sathit. Saming is also shot by Saeng. About to shoot Sathit and Jing, Saeng understands that Saming was the one being dishonest with farmers by using the den to make them poor and buying their land at low price. The movie ends up with Thai King Rama IX car convoy passing by and rain falling through a cloud having the Royalty symbol shape.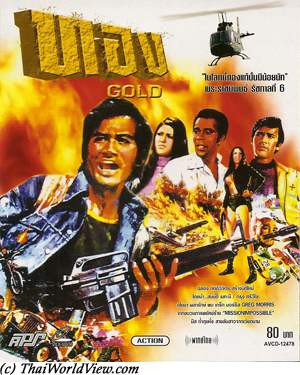 Year

: 1973



Thai title

:

ทอง




English title

: Gold



Rating

: 3/5


Director

: Chalong Pukdeewichit



Main actor

: Sombat Methanee,Krung Srivilai,Greg Morris,Pipop Pupinyo,Dam Datsakorn,Somsak Chaisongkram


Main actress

: Tham Thuy Hang,Donnapha Sophee



Buy now

:

A huge quantity of Thai gold is stolen. An American agent recruits some Thai mercenaries to build a tough team of experts. The team is responsible to get the gold back in Thailand. The gold is currently in Communist Vietnam. The team is parachuted there. A young woman is waiting for them to guide them into the jungle. On their way they met two other women that are trying to free their father imprisonned in the jungle by Vietnamese soldiers. It seems that one of the three ladies is a spy. Many difficulties happen before being able to retrieve the gold and not all of them can go back alive to Thailand... The movie "Gold" was the first big success of Chalong Pukdeewichit. The film was a phenomenal success locally and made a profit internationally. It became the first Thai film to be widely sold to international markets. Later on "Gold 2" (Gold Raiders - 1983), "Gold 3" (The Lost Idol - 1990) and "Gold 4" (In Gold We Trust - 1992) were even released. Chalong Pukdeewichit put in place an effective marketing strategy, i.e. a large budget, sex, violence and involvement of a famous internationally known actor to attract buyers. In movie Gold, American actor Greg Morris from the Mission Impossible TV series played alongside with Thai stars Sombat Methanee, Krung Srivilai. Same recipe was applied later to "H-Bomb". The Mission Impossible soundrack is even used a few times during the movie.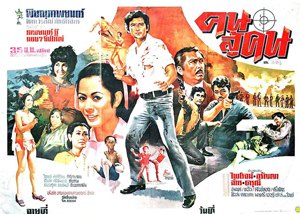 Year

: 1972



Thai title

:

คนสู้คน




English title

:



Rating

: 3/5


Director

:



Main actor

: Phairoj Jaising,Choomporn Theppitak,Chat Mongkolchai,Songthong,Paen Pleumsachai


Main actress

: Aranya Namwong,Marasri Bangchang,Sisala Thongtara,Donnapha Sophee,Darunee Cheunsakul
Thai movie คนสู้คน was released in year 1972. It features Phairoj Jaising as main actors and Aranya Namwong as main actress. It lasts 1h36mn. Two songs are featured in this movie. This is the first movie featuring Phairoj Jaising and Aranya Namwong together. Director is วิจารณ์ ภักดีวิจิตร. Often in 1960 or 1970s Thai movies, music from Italian spaghetti westerns (Ennio Morricone) or James Bond movies was used. Korakot (Phairoj Jaising) arrives in Udon Thani. The introduction sequence even shows old theater โรงหนังเฉลิมวัฒนา. Korakot is back to his village through a bus from Udon Thani. He gets robbed by two ruffians (นักเลงเจ้าถิ่น) including Yuan (Choomporn Theppitak). They steal a jewellery belonging to his mother. Krit (Chat Mongkolchai) rescues him. Some relief characters are played by Songthong and Sisala Thongtara (ศรีสละ ทองธารา). Krit's sister is played by "bad girl" Donnapha Sophee. Knowing his friend's problems, krit chases after the ruffians. Two are killed but Yuan succeeds to flee. Korakot is not able to hold a weapon or fight back (ใจต้องสู้). Khun Phiset is upset with Krit as two of his men were killed. Korakot shall go to Khun Phiset's home to get back his jewellery. On the way, he meets Plienjai, Khun Phiset's daughter (Aranya Namwong), expert in shooting with Daojai (Darunee Cheunsakul). Yuan claims he doesn't have it. Plienjai likes Korakot. Daojai and Krit (สุภาพบุรุษนักสู้) love each other. Yuan loves Plienjai also but it is not reciprocal so he tries to force her. Khun Phiset chases him away. Korakot gets a training from Krit (คนสู้คน). Yuan forges an alliance with another ruffian leader called Seua Sing (Paen Pleumsachai) to get revenge and plans to kidnap Plienjai. As they get pushed back by Krit and Korakot, Seua Sing prepares more men to join. Enticed to get back his mother's jewellery, Korakot is tortured by Sing and Yuan by being attached to a cross and forced to walk under harsh sun. Meanwhile Songthong is killed through an embuscade. Krit helps Korakot before a full dehydration. Korakot's mother is played by Marasri Bangchang. A double wedding happens, i.e. Korakot with Plienjai and Krit with Daojai. Yuan, Sing and their ruffians bring troubles to the party by kidnapping the ladies including Krit's sister. Korakot and Krit chase after the ruffians. Seua Sing rapes Krit's sister. As a bait, Korakot defies Yuan and defeats him while Krit releases the ladies. Through a final shooting, Seua Sing is shot by Krit's sister but she also dies. Newly-wed couples can now find happiness with the ruffians being neutralised.
---