Increase or decrease font size for easier reading : A+ A-
Deuan Tem Salitul
Deuan Tem Salitul (1958) - เดือนเต็ม สาลิตุล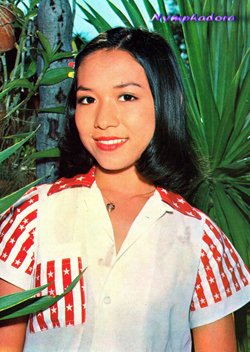 Deuan Tem Salitul has played in many Thai TV series and around 30 movies
This Deuan Tem Salitul movie page contains 6 records.
---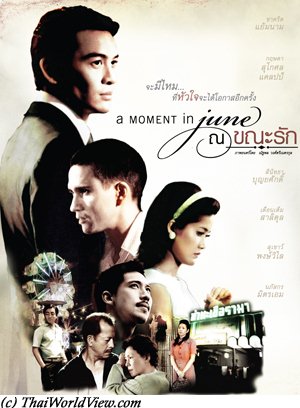 Year

: 2008



Thai title

:

ณ ขณะรัก




English title

: A Moment in June



Rating

: 3/5


Director

:



Main actor

: Shahkrit Yamnarm,Suchao Pongwilai,Krissada Sukosol


Main actress

: Deuan Tem Salitul



Buy now

:

This movie relates about a love story that failed to succeed 30 years ago. A young man is already married and following his best friend's departure for Japan, he has to look after his friend's fiancee. A love story happens between both. This love is reciprocal but he finally fails to flee with her as his wife is pregnant. Thirty years later, the woman wishes to meet the man again. There are analogies with a two young men love story that are going to break up, this 30 years old love story and this love story with a new chance 30 years later. Based on misunderstanding and lack of effort or compromise, love stories can fail. One of the young men, Pakorn, is making a theater piece outline related to this love story. He is in fact the son of the older man and has done the theater piece following the older woman request. The love story magic happens again but his own love story fail as his lover died in a train accident. This movie includes colorful atmosphere of 1970s era.



Year

: 2007



Thai title

:

ตำนานสมเด็จพระนเรศวรมหาราช




English title

: King Naresuan



Rating

: 4/5


Director

: ChatriChalerm Yukol



Main actor

: Sorapong Chatree,Chatchai Plengpanich,Phairoj Jaising,Santisuk Promsiri,Manop Aussawathep,Nopachai Chaiyanam,Somphob Benjatikul


Main actress

: Paweena Chareefsakul,Deuan Tem Salitul



Buy now

:

This movie is made in three parts and relates the story of the greatest hero in Thai history, i.e. King Naresuan who was born in 1555. At the age of nine, he had been taken as hostage to Burma for 6 years to ensure Phitsanulok's loyalty to Burmese kingdom. In Pegu, Naresuan is treated as a son of the Burmese king, Bayinnaung, and is afforded all the respect due to a prince. Naresuan is ordained as a novice monk in a Buddhist temple under the supervision of the monk, Khanchong. There he became acquainted with sword fighting and methods of war. As his sister is also held hostage, Naresuan decided it is time for him to return to Siam. He attracted a band of loyal fellows and made his escape back to Phitsanulok.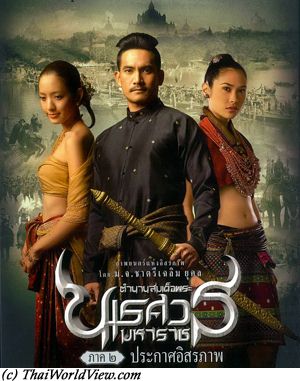 Year

: 2007



Thai title

:

ตำนานสมเด็จพระนเรศวรมหาราช




English title

: King Naresuan 2



Rating

: 5/5


Director

: ChatriChalerm Yukol



Main actor

: Sorapong Chatree,Chatchai Plengpanich,Nopachai Chaiyanam,Somphob Benjatikul,Kom Akadej


Main actress

: Intira Jaroenpura,Paweena Chareefsakul,Deuan Tem Salitul



Buy now

:

Naresuan was sent back to Pegu to represent his father in paying homage to King Nandabayin, who had succeeded Bayinnaung, who passed away in 1581. Naresuan participated with his troops in a Burmese expedition against a Shan state and succeeded in taking a city after the Burmese crown prince and another prince had failed to do so. Naresuan thereby gained the jealous animosity of the crown prince, who plot various attacks against him. Naresuan proclaimed independence from Burma. When crossing River Satong, Naresuan had his forces under attack. With his army across, Naresuan is given a long rifle by his tutor, the monk Khanchong. Naresuan takes aim at the Burmese General across the mile-wide river and fires, killing the man and causing the Burmese troops to loose their morale and cease to follow. In 2009 King Naresuan 3 and 4 are being filmed with government financial support. The Ministry of Culture prioritises its financial support to films that deal with promoting loyalty to the pillars of nation, religion and monarchy. We are back to old times under Thanin Kraivichian's government (1976-1977), where Thai people were tought to be afraid of communism and that the way to survive was already to protect the nation, the religion and the monarchy.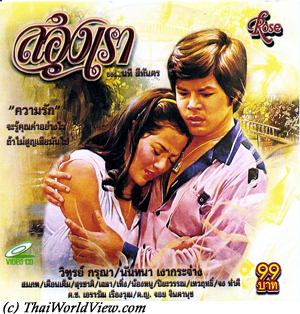 Year

: 1979



Thai title

:

สองเรา




English title

:



Rating

: 3/5


Director

:



Main actor

: Witoon Karuna,Somphob Benjatikul


Main actress

: Nantana Ngao Krajang,Deuan Tem Salitul
Teewa (Witoon Karuna) is a photographer and writer. He is also a butterfly hopping from one woman to another (น้ำผึ้งดวงตา) such as Tuk. He is sweet talker (ปากตรงกับหัวใจเสมอ). It is lust (ความใคร่) before real love (ความรัก). He meets one of his books fan called Rat (Nantana Ngao Krajang) at the party. They get on well but she asks more time to be ready as Teewa was heading directly to a motel. Romantic scenes with Teewa and Rat are shot partially in Ancient City (เมืองโบราณ). Rat's friends warn her about Teewa (เจ้าชู้ที่สุด). Rat's father wishes to send her to America to study. Separation is very difficult (ไม่อยากห่างคุณ). Rat needs to study four years. They see each other a last time in Ayutthaya, symbol of eternal love (เจ้าฟ้ากุ้ง). They promise to wait each other. Teewa has opportunity to go to America for business trip but he is not able to find Rat as she changed address. He doesn't receive news anymore. Teewa starts to indulge in alcohol and finally quits his job. Teewa has a car accident. Tuk gives her blood to save him. They marry and have a child. Four years have passed. Rat finally comes back and contacts Teewa. She also married in America with a fellow Thai student and didn't dare to tell it to Teewa. It is painful (ทรมานใจ) to see other during social parties as love is still here. They secretly meet in Sukhothai. A difficult choice between love and society dictates has to be done. Teewa is thinking to divorce Tuk and marry Rat. Finally seeing their current families wrecking away, they decide it is wiser to stop their impossible love. Movie สองเรา ("two of us") was released in 1979. Same as character Rat, actress Nantana Ngao Krajang stopped her career in 1980 and went to America with her family.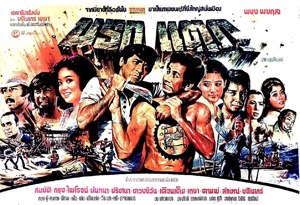 Year

: 1979



Thai title

:

นรกแตก




English title

:



Rating

: 3/5


Director

: Payoong Payakul



Main actor

: Sombat Methanee,Krung Srivilai,Phairoj Jaising,Dam Datsakorn,Kecha Plianvithee,Lak Apichat,Pipop Pupinyo,Boo Wibunnan,Phirapon Piyawan


Main actress

: Nantana Ngao Krajang,Prissana Chabaprai,Duangcheewan Komolsen,Deuan Tem Salitul
Thai movie นรกแตก was released in year 1979. It features Sombat Methanee and Krung Srivilai. This action movie is lost in Thailand but a trailer lasting 1 minute 30 seconds is left to be seen. The short trailer shows Sombat (ยิ่ง มหายศ) receiving sacred tattoos from a famous monk from South of Thailand so giving him mystical power, a knife fight between Sombat and Dam. Other actors are Phairoj Jaising, Pipop Pupinyo, Dam Datsakorn, Duangcheewan Komolsen, Kecha Plianvithee, Lak Apichat, Nantana Ngao Krajang, Boo Wibunnan, Prissana Chabaprai. This movie was a mixed of action and mystic (หนังบู๊ผสมไสยศาสตร์) same as เสาร์ 5 (1976). There are ghosts (ผีดิบ) and pirates (โจรสลัด). Director was Phayung Phayakul (พยุง พยกุล). The main actress in this director's movies is always his own wife, i.e. Prissana Chabaprai.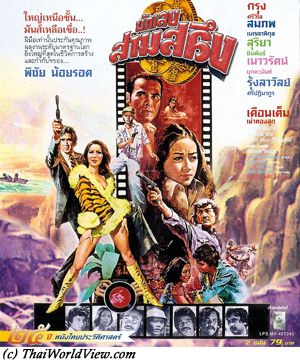 Year

: 1976



Thai title

:

นักเลงสามสลึง




English title

:



Rating

: 3/5


Director

:



Main actor

: Krung Srivilai,Songthong,Suriya Chinaphan,Somsak Chaisongkram,Kecha Plianvithee,Somphob Benjatikul


Main actress

: Naowarat Yooktanun,Deuan Tem Salitul,Runglawan Sripatimakul
Ket (Krung Srivilai) promises to his dying boss to go to Khao Kiaw to find the children he never had time to care of. Viwe (Songthong), an independant ruffian is wandering around Khao Kiaw. Kraison and his sister Mon are besieged in a restaurant by ruffians. Viwe agrees to help them but is asking for money as reward. Ket, having his lunch, helps them by shooting the ruffians. They all flee. Later in the village, Ket helps a young lady called Kaem (น้องสาวคนสวย) (จะไม่มีวาสนาเห็นขาอ่อนของฉัน) harassed by a few ruffians (Somsak Chaisongkram). Ket is looking for uncle Pran. Ket learns from Kaem that uncle Pran was shot a few months ago. Kaem brings Ket to meet Pran's children, i.e. Plaew (Naowarat Yooktanun) and Prai (Suriya Chinaphan). Kaem is Prai's girlfriend. Pracha (Kecha Plianvithee) is the ruffians leader. They all refuse to sell their land to Pracha. Pracha wants to know who is the man who resists to his ruffians. Plaew hires Ket to protect her fields (ไร่). Many beautiful "luk thung" (ลูกทุ่ง) are performed by Krung and Naowarat. Plaew bewares of Ket as he insolent (ทะลึ่ง). Pracha hires Viwe to kill Kraison. The ruffians take revenge over Ket by torturing him but this time Kraison helps to release him. Kaem loves Ket but Ket sees her as a young sister only (ที่ใครที่มัน). Prai is framed by Pracha's mistress and has to kill one of the ruffians to be able to flee away. Viwe asks for additional bonus to Kraison to avoid killing him. It ends up in a fight. Ket, Plaew and Prai threatens Pracha to stop harassing them for a last time but Pracha is preparing his revenge. While a Buddhist ceremony (ผ้าป่า) happens in the village, Plaew is kidnapped. Ket follows Pracha's ruffians in order to release her. Gun fights happen. Pracha and his ruffians are killed. Viwe, always helping people for money, is also shot dead. The movie end is a bit weird as it is discovered that Kraison killed many years ago Ket's brother so he has to revenge his dead brother. Ket is arrested by the police following his bad acts. Plaew promises to wait for him. Thai movie นักเลงสามสลึง (1976) or "the three ruffians" features many famous Thai actors from 1970s decade. Krung Srivilai was then at his zenith. A James Bond soundtrack is used. It lasts 1h50mn. The VCD has one audio track with Thai and one audio track with Lao. This movie is a mix of romance, action and features many songs.
---