Increase or decrease font size for easier reading : A+ A-
Der Doksadao
Der Doksadao (1951) - เด๋อ ดอกสะเดา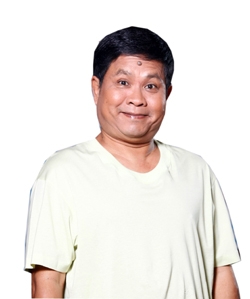 Der Doksadao is a comic actor. He played in more than 60 movies with a peak between 1977 and 1987
This Der Doksadao movie page contains 17 records.
---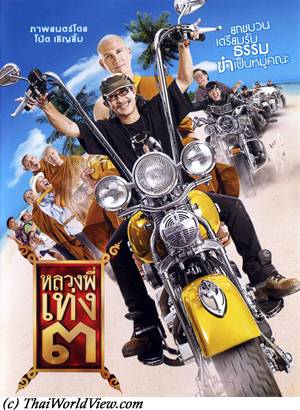 Year

: 2010



Thai title

:

หลวงพี่เท่ง 3




English title

: The Holy man 3



Rating

: 3/5


Director

:



Main actor

: Krissada Sukosol,Note Chernyim,Akom Preedakul,Koeti Aramboy,Der Doksadao


Main actress

:



Buy now

:

Noi decides to enter the monkhood (บวช) and rejects his rock star attitude. He is looking for calm (เอาความสงบ) as he is a stressed man. The abbot reminds him the analogy between a hose splashing randomly due to water pressure and the spirit always wandering. Funny gags happen when monks are going out for alms (บิณฑบาตร) due to small size comic actor Koeti Aramboy trying to offer food to a giant monk or when a man is still jealous that his wife has a sweet spot for the abbot since decades. As usual there are flatulence jokes when spicy and sour food is given to monks. Robbers steal the temple bell (ระฆัง). Later they come to steal the Buddha head (มาขโมยพระ). Monks are all drugged but hopefully the main Buddha statue (หลวงพ่อ) is not stolen as it is too heavy! The gang leader is a burlesque Chinese vendor. He uses false claims regarding the monks that they enter monkhood while leaving pregnant women behind them. Noi is smart enough to counter their lies. Actor Akom Preedakul is playing a funny Thai boxing trainer bringing coyote dancers to the temple! Similar to 1980s-1990s decade comedy ghost movies, there is an sequence about villagers fleeing ghosts. Unfortunately the Buddha statue head is cut and stolen by the Chinese gang. The giant monk disguises himself as soft real Bouddha statue (Luang Pho Nim - หลวงพ่อนิ่ม) as a trick to find their cache. Then Noi asks his former bikers friends for help. They are led by Ed carabao, real leader of famous Thai band Carabao. The robbers are captured and the Buddha head recovered.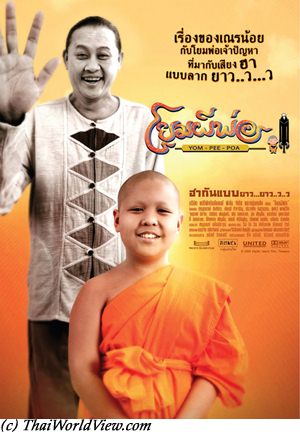 Year

: 2009



Thai title

:

โยมผีพ่อ




English title

: Yom-Pee-Poa



Rating

: 2/5


Director

:



Main actor

: Kiet Kijcharouen,Suchao Pongwilai,Jaturong Mokjok,Der Doksadao


Main actress

: Naowarat Yooktanun



Buy now

:

A turbulent boy, called Yung, becomes a Buddhist novice. It is a relief for the village as this boy spent his time annoying villagers. A ghost is seen inside the village Buddhist temple. Villagers use talismans (ของดี) to protect themselves against the ghost. The ghost, called Tik, is pacifist and even funny (ผีตลก). Tik is Yung's father. He requests his son to find his wife (Yung's mother) with whom he misbehaves before. They are going to Bangkok. The mother, called Tom, is working in a Karaoke. Tik cannot rebirth (เกิดใหม่) if Tom doesn't forgive him. Chao, Tom's father, tries to help. Tom is protected by a mafia boss. The mafia boss shots Tom. Both Tom and Tik can rebirth happily. This movie is another ghost comedy with Buddhist monks. This comedy includes visual gags, sonorous gags, witty riposte in dialogues. It is targeted for a rural audience public. This movie messages are related to gratitude (กตัญญ) over parents and to always try and never give up. It is a typical comedy movie of 2000s decade, i.e. quite pleasant to see (หายความเครียด) but immediately forgotten.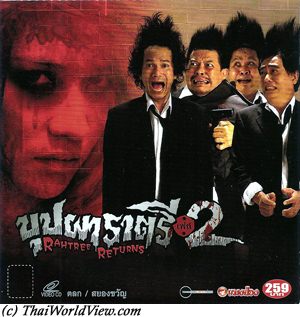 Year

: 2005



Thai title

:

บุปผาราตรี 2




English title

: Rahtree returns



Rating

: 3/5


Director

: Yuthlert Sippapak



Main actor

: Somchai Sakdikul,Doo Dook Kradon,Der Doksadao,Supakorn Srisawat


Main actress

:



Buy now

:

A group of robbers escapes from police and hides money in a haunted apartment. It is in the room 609 where Rahtree, a lovesick ghost, lives with her handicapped boyfriend. She has cut his legs to prevent him to flee. Frightened by the ghosts, the robbers flee but come back with a psychic to face the ghosts. Meanwhile, the handicapped boyfriend has given the money to a blind young girl to pay for her hospital fees to recover her sight. This causes Rahtree's wrath...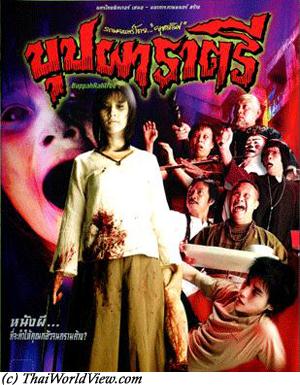 Year

: 2003



Thai title

:

บุปผาราตรี




English title

: Rahtree: Flower of the Night



Rating

: 4/5


Director

: Yuthlert Sippapak



Main actor

: Somchai Sakdikul,Der Doksadao


Main actress

:



Buy now

:

A rich playboy seduces and abandons a young lady called Rhatree. The young lady kills herself and her apartment is now haunted. Nobody can get the ghost out despite the multiple trials by a Chinese medium and a catholic priest. Full of sorrow, the playboy comes back but doesn't know that her lover is now a ghost...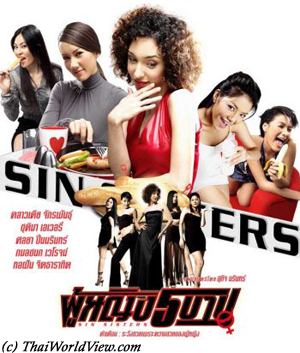 Year

: 2002



Thai title

:

ผู้หญิง 5 บาป




English title

: Sin Sisters



Rating

: 2/5


Director

:



Main actor

: Der Doksadao


Main actress

:



Buy now

:

During one night, five Thai women narrate their most terrific and craved sexual experiences. Sin Sisters II has been released in 2010.



Year

: 1985



Thai title

:

ไกรทอง 2




English title

: Kraithong 2



Rating

: 3/5


Director

: Sompote Sangduenchai,Neramit



Main actor

: Sorapong Chatree,Sombat Methanee,Sor Asanajinda,Lor Tok,Lak Apichat,Der Doksadao


Main actress

: Ampha Pusit,Aranya Namwong,Supansa Nuengpirom,Duangcheewan Komolsen



Buy now

:

Thai movie ไกรทอง 2 was released in year 1985. It was released under VCD and DVD format by Tiga Company and lasts 1h33mn. The Betamax version lasts 1h49mn. The main difference is longer sequences with a Chinese master (อาจารย์). Main actors and actresses featured in this movie are Sorapong Chatree, Sombat Methanee, Sor Asanajinda, Lor Tok, Lak Apichat, Ampha Pusit, Aranya Namwong, Supansa Nuengpirom, Der Doksadao, Duangcheewan Komolsen. This time Kraithong faces a man, who has also the power to change himself into a fearful crocodile. Thong (Suphansa Nuengpirom) and Kaew (Ampha Nuengpirom) are Kraithong's wives. Wimala (Aranya Namwong) and Malaiwan (Duangcheewan Komolsen), former Chalawan's wives, are staying in a cave under the river. Sor Asanajinda is a powerful hermit. Sor asks Wimala (แม่นาง) not to disturb humans anymore. Meanwhile a crocodile takes away a baby and his father. The mother goes to Chinese shrine to ask help from a Chinese master (Lor Tok). Der Doksadao and เหี่ยว are playing medium assistants in the Chinese shrine. A funny and long sequence featuring the master showing his surnatural skills towards Der Doksadao is present in the betamax but cut in the VCD version. A government official offers a reward to kill the crocodile. The crocodile continues his rampage and attacks a floating market, humans and even a buffalo. Kraithong visits a master mentioning that crocodile Chalawan is back. The crocodile is in fact half human (Lak Apichat) half spirit (จระเข้ผีสิงห์). Lak agresses Chalawan's wives in the cave. The Chinese master, despite his supernatural skills, is killed by the crocodile. Some scenes where Lor Tok is featuring his flying skills are cut from VCD but present on the BetaMax. The crocodile then attacks the house where Thong and Kaew are living. After a rampage, Kaew is kidnapped by the crocodile played by Lak Apichat. Wimala wishes to use Lak to take revenge over Kraithong. Chalawan is back per incantations from Sor. He is upset that his wife Wimala replaces him so fast. So Wimala pushes Lak to kill Chalawan. Upset about Kaew, Kraithong heads towards the cave. He faces Lak, already injured by Chalawan, and succeeds to defeat him. Chalawan then defies him again. Following an epic fight, Chalawan is defeated again and Kraithong brings Kaew back.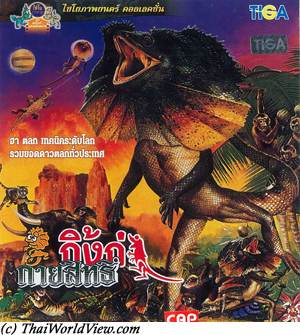 Year

: 1985



Thai title

:

กิ้งก่ากายสิทธิ์




English title

:



Rating

: 3/5


Director

: Sompote Sangduenchai



Main actor

: Lor Tok,Lak Apichat,Sithao Petcharoen,Der Doksadao


Main actress

:
This movie deals about a giant chameleon, which is the gardian of a magical diamond. It is stolen by an alien. The chameleon sent a "Yak" to get it back. Meanwhile the chameleon wanders through the human world and faces many weird aventures. He is facing a deadly crocodile frightening humans living on rivers, facing hunters that want to catch it etc...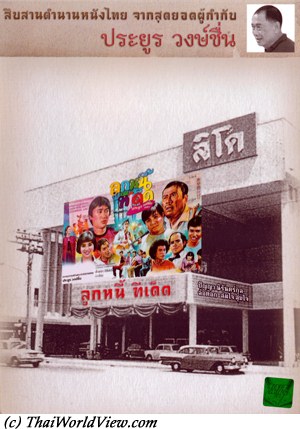 Year

: 1984



Thai title

:

ลูกหนี้ทีเด็ด




English title

:



Rating

: 4/5


Director

:



Main actor

: Lor Tok,Note Cheunyim,Doo Dook Kradon,Rith Luecha,Der Doksadao


Main actress

: Piathip Kumwong,Malee Wetpraseri



Buy now

:

Thai movie ลูกหนี้ทีเด็ด was released in year 1984 and lasts 1h36mn. The movie was released under DVD format by company Happy Home Entertainment. The movie features many songs. A music orchestra (วงดนตรี) has difficulty to make a living. Part of the members include Note Cheunyim, Rop (ปัญญา นิรันดร์กุล), Doo Dook Kradon, Tranee (Der Doksadao). Their producer is Rith Luecha but they have no success. Rith Luecha is married to Bun Reuang (Piathip Kumwong). They have never time to take care about their daughter Ro Rak (จิตต์โสภิณ ลิมปิสวัสดิ์). พี่ Niaw as new producer tries to find new ideas. The group doesn't have expected success (หมดตัว) as concert halls remain almost empty. Last chance is to release a tape but Phi Niaw (Lor Tok) has to sell his house (ขายไม่ออก). His secretary Suphanee is also his wife. His friends ask Rop to marry Ro Rak as she is coming from rich family. He needs to seduce her first but he is not expert at all (กำลังโบ้เบ้ / อย่าลีลา). Rith is having affairs while his wife Bun Reuang is always out on charity events with a high society woman (คุณหญิง). Phi Niaw lost his car, his house and about to lose his wife as the other orchestra members suggest to use Suphanee to seduce Rith. The music orchestra is looking for a new style (เพลงสตริง) to be popular. Bun Reuang chases all of them away after seeing Rop trying to seduce her daughter and after knowing that Rith has given money without asking for reimbursement as Tranee always introduces beautiful ladies to him to ease loan requests... They leave for upcountry. Ro Rak hides in their van. Police is called by Bun Reuang. Rop is almost arrested for kidnapping a teen but finally released as the problems are coming from the fact that the parents are not talking each other. Bun Reuang needs to organize a concert for orphan children (เด็กกำพร้า) so she needs a music orchestra. Only Tranee's orchestra is available...so she has to remove her complaint regarding unpaid debts. The concert is a huge success. She saves face. Rop and Ro Rak renew their friendship.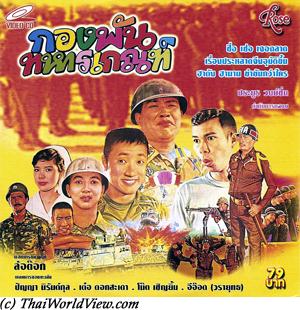 Year

: 1984



Thai title

:

กองพันทหารเกณฑ์




English title

:



Rating

: 4/5


Director

:



Main actor

: Lor Tok,Rith Luecha,Note Chernyim,Der Doksadao,Sawin Sawangrat


Main actress

:



Buy now

:

Thai movie กองพันทหารเกณฑ์ was released in year 1984. It was released under VCD format by Rose company and lasts 1h36mn. The original movie is certainly longer than that as some missing sequences can be seen in the damaged 35mm film. The movie features singer ปัญญา นิรันดร์กุล, Note Chernyim, Lor Tok, Der Doksadao, Rith Luecha, Sawin Sawangrat, วรายุฑ มิลินทจินดา, อำนวย ศิริจันทร์, ชลิดา เสาวดี as main actors and actresses. ชลิดา เสาวดี was only 17 years old when playing in this movie. Movie director is ประยูร วงศ์ชื่น. This popular movie started a trend of Thai military comedy movies. It features a mix of action and comedy. Chatree, a singer, is having his last concert as tomorrow he needs to do military service for two years. Various other characters must join also such as Noo Daeng (Der Doksadao), Note Chernyim, Pan (วรายุฑ มิลินทจินดา playing กะเทย role), Lor Tok as a policeman also sent to military service as he escaped it during many years. Soldiers have duty to protect nation (ป้องกันประเทศชาติ), Buddhism and the King. Rith Luecha is their instructor putting the stress on discipline (ระเบียบวินัย). Head of the training camp is อำนวย ศิริจันทร์. New recruits get bags and need to train. Chatree (ปัญญา นิรันดร์กุล) is enamored with a nurse, named Chatlalai (ชลิดา เสาวดี), but she has a doctor boyfriend already. To calm Chatree down, the doctor gives him a big injection shot. Training with weapons, rifle, grenades occur (ทหารใหม่). As Chatree keeps trying to seduce Chatlalai, the doctor gives him a heavy laxative. The nurse's father is playing by Sawin Sawangrat. Lor Tok warns Chatree that Sawin is off to the border for a few days. Chatree befriends with an uncle and he doesn't know that the uncle is Chatlalai's father and military camp big boss! Chatlalai discovers that the doctor is already married so she is very disappointed and ends up at hospital. Chatree keeps visiting her and comforts her. Comic sequence when Note is visiting Pan to tease him but Rith is hiding under the blanket. Thai soldiers also protect citizen as they have issues with ruffians harassing a lady so fighting occurs. Lor Tok proposes that Chatree sings at the Thai Army day (วันกองทัพไทย) to apologize to Sawin. During the Thai Army day, parade and orchestra with Chatree singing are featured. Thai soldiers need to go to Burmese border. Tanks and troop transport vehicles are sent. This movie probably acted as a showroom for Thai army to show its capabilities in 1984. Rith dies during fighting. Having walked on a mine, he wanted his men to avoid being injured. Chatree is back from war, having arm and leg. He claims to be disabled (พิการ) to ensure Chatlalai has pity on this but he is lying. The movie ends up with Chatlalai chasing Chatree to kick him.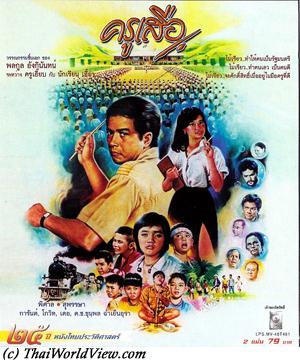 Year

: 1984



Thai title

:

ครูเสือ




English title

:



Rating

: 4/5


Director

:



Main actor

: Pisarn Akraseranee,Boo Wibunnan,Kowit Wattanakul,Der Doksadao


Main actress

: Supansa Nuengpirom
A Thai Chinese type businessman is offering land (ค่าที่ดิน) for school extension. Kru Seua (ครูใหญ่), school headmaster, is accepting on behalf of the school. Kru Seua (ครูเสือ) has a good reputation with all villagers (ครูดี). A new Bangkok sexy lady teacher Boot (ผู้ช่วย) is arriving at the school. Miss Boot has high expectations but Kru Seua reminds her that all teachers have same level, same room, same toilets as it is countryside school (โรงเรียนบ้านนอก). So all teachers have to follow the rules, show good behavior including appropriate clothing and proper speech! Kru Seua chases pupils up to the waterfall as they try to escape his mathematics lesson. Pupils are punished using the old way, i.e. beaten severely with a stick. Teacher Boot tries to intervene and to oppose but to no avail. Kru Seua is respected by the villagers but Boot believes his teaching methods are outdated (โบราณ) and promises herself to win over him. Some children behave badly, steal other people belongings or play betting games (ทำดียาก - ทำชั่วง่าย). There is even a small mafia (นักเลงแทนนักเรียน). Kru Seua encourages pupils to share food as some of them do not have enough to eat. A mother has her son Pleun, being a former convict, released from prison after three years. His wife has gone and his son is sick. He needs money. Chinese businessman's grandson comes to study at Kru Seua's school but he has a bad behavior believing he can do anything as his grandfather funds the school. Kru Seua refuses his entry as all children shall be the same in school (short hair, same uniform). The Chinese businessman argues his donations give him any right but then where is the virtue (บุญ) of doing donation if there is a hidden compensation? The child brings itching powder in the classroom. Finally unable to accept more, Kru Seua cuts himself the boy's hair very short (หน้าที่ของครู). The grandfather goes to police to fill a complain. Kru Seua refuses to bend to bad influence. Meanwhile the kid is kidnapped by Pleun. Kru Seua knows the kidnapper Pleun who is a former student in the school. Kru Seua is an easy man, eating simple food from villagers by using hands. A romance starts between Kru Seua and Boot. Boot tries to convince Kru Seua not to dismiss following the pressure he received from the Police and the Thai Chinese businessman. They finally find Pleun at old Prasat Muang Singh Khmer temple. Kru Seua convinces him to release the child and to surrender to the police. The former convict has always seen Kru Seua as his third parents (พ่อแม่ที่สาม). Kru Seua has decided to quit his job. Despite excuses from the Thai Chinese businessman and his son, despite cries from the children and Boot, Kru Seua seems inflexible. Will he change his mind? Many Thai movies produced in years 1978 to 1984 were related to teachers such as ครูชายแดน, ครูบ้านนอก, ครูสมศรี, ครูจันทร์แรม, ครูปิยะ. Teachers are always supposed to be a reference and show perfect behavior to Thai pupils.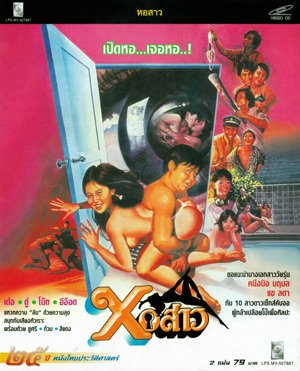 Year

: 1984



Thai title

:

หอสาว




English title

:



Rating

: 2/5


Director

:



Main actor

: Pipop Pupinyo,Doo Dook Kradon,Thuam Thoranong,Note Chernyim,Der Doksadao,Supakorn Srisawat


Main actress

: Chosri Misommon
Thai movie หอสาว was released in year 1984. The VCD lasts 1h13mn only so this version is cut or censored. All sexy scenes are removed. Choosri (Chosri Misommon) and Chat (Thuam Thoranong) are the dorm owners. Chat dislikes a young man called Sing (Note Chernyim), who visits often the young ladies in the dorm. The female dorm (หอสาว) has harsh rules to follow. Young lady Plaew needs to find fast money as she needs to support her poor parents. Doo (Doo Dook Kradon), one of the dorm guardian, is stealing bras (โรคจิต) inside the dormitory. Bantoop (Pipop Pupinyo), another dorm guardian, is forbidden by his wife to go upstairs in the dorm as she doesn't trust him. Plaew meets a movie director, who promises to make her as a star but he is just a liar. Another dorm lady proposes her to become a model (นางแบบ) first. The men are using periscope to spy ladies in their rooms (บุญตาของเรา). Plaew becomes close friend and even lover with another lady. As Plaew is alone, Choosri's son becomes close to Plaew as she feels lonely. When the lady finds that Plaew is now having a boyfriend, arguments occur (ไม่ธรรมชาติ). A new tenant called Jarunee arrives. It is a katoey so she is fired from the dorm. Two other ladies find one sponsor to pay for their rent. Chat is getting favors from one tenant as she is used to drugs (ขอยาเธอ). It ends up badly as she dies from overdose. Sing is arrested by the Thai Police as he was the one selling drugs to the ladies in the dorm. Despite being an average film, the movie highlights some challenges faced by Thai society in decade 1980s (drugs, upcountry women coming to Bangkok, homosexuality, mistress, prostitution...). Choosri decides to stop doing dorm business (ฉันไม่ทำแล้ว) as there are only problems to manage. New actresses include คนึงนิจ นฤมล and แข ลดา. The movie's selling argument highlighted on the poster is about 10 young daring ladies (10 สาวดาว).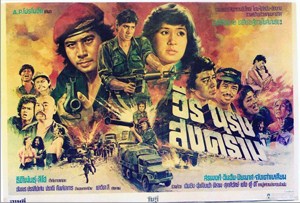 Year

: 1983



Thai title

:

วีรบุรุษสงคราม




English title

: Jungle heat



Rating

: 3/5


Director

:



Main actor

: Sorapong Chatree,Der Doksadao,Doo Dook Kradon,Supakorn Srisawat,Pipop Pupinyo


Main actress

: Piyamas Monayakol,Preeya Roongrueng,Sulaleewan Suwanthat
Thai movie วีรบุรุษสงคราม / Jungle heat was released in year 1983. It is a Thai / Hong Kong / Taiwanese coproduction. Multiple versions were released, i.e. a Thai version never released on any VHS / VCD format and targeting local Thai market, a Hong Kong / Taiwanese version for international market. The Thai version is lost but an incomplete version lasting 1h20mn was shown before in Thai film archives. The overseas version was released under the name of Jungle Heat. An IFD version lasts 1h17mn. It is available through various VHS versions in Japan (lasting 1h30mn), Philippines, Taiwan and China. Some Thai actors are still part of the international version such as Piyamas Monayakol, Pipop Pupinyo, Preeya Roongrueng. Main actors and actresses in Thai version are Sorapong Chatree, ฉิน ฮั่น, Piyamas Monayakol, ถัง เต้า เหลียน เฉิน ซิง, อุ้ย ผิง เอ้า, ฟาง เฟย เซิน, Preeya Roongrueng, Pipop Pupinyo, Sulaleewan Suwanthat, Der Doksadao, Doo Dook Kradon, Supakorn Srisawat. Sorapong Chatree is the main actor of the Thai version. During the Vietnam war, a few men are hired and trained to drive US trucks among Vietcong lines. A US captain hires Tony and his men, but the drivers are not aware of the risks. The drivers get a three weeks training. The drivers are going out to have fun at night time. One of them, Rick, meets bar lady Piyamas Monayakol and romance starts. A new member Chiang Sing joins them. Their trucks have brakes issues, so accident occurs. They are finally captured by the Vietcong (including Pipop Pupinyo) and tortured. The movie features many strong torture sequences such as acid pouring on the head, prisonners burnt with petrol by a rat on fire, scie usage... They succeed to escape. They complain to the lieutenant. As they need money, they finally go again to evacuate weapons as the war is just over but they are attacked by the same Vietcong members. Rick is missing. Piyamas misses him and blames Tony to have abandoned him. US soldiers cannot help as war is over. Tony and his men decide to act first. Following fierce fighting in a cave, Tony and his team release Rick. Being attacked by other Vietcong members, they get support from US lieutenant. War is over and the team has run out of money. Upset as the team spent money to save him, Rick joins a dangerous motorcycle competition. He loses his life while competing and Piyamas gets a lot of money, but she throws it away as money cannot replace the love she lost.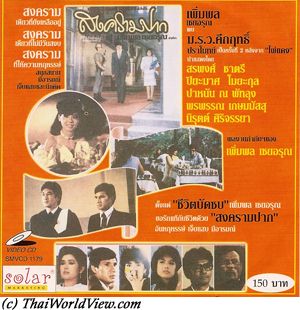 Year

: 1983



Thai title

:

สงครามปาก




English title

:



Rating

: 4/5


Director

: Permpol Choei-arun



Main actor

: Sorapong Chatree,Lor Tok,Nirut Sirijanya,Der Doksadao


Main actress

: Piyamas Monayakol,Wiyada Umarin,Pornpan Ketmamatsu
Atawut is working in governement as speaker. He is married to Pim and they have a young son. He has also a mistress called Nat. He claims buying hot fresh food to his wife when coming back late but the driver just heats it up on the car engine! His wife, Pim, starts to be aware. A lawyer, who loves Nat, is waiting that Nat is fed up flirting with a married man. Atawut is coming from Isan area, Northeast of Thailand. He wants to participate to local elections in the "People" party (พรรคประชาชน). He wears blue-cotton farmer clothes (มอฮ่อม) during his meetings. Pim, his wife, comes from a high society family but he is coming from a poor Isan family. He wins because his wife gives away money so that he can get popular. She couldn't allow her family name to be tarnished in case of defeat. Atawut cannot bear it, gets drunk and goes with Nat. But he is lying to his mistress also. He is a womaniser up to the point local newspapers publish a picture of him and a local cinema star. Meanwhile Pim's younger sister, Pamela, comes back from America. Fed up by Nat and Pim, Atawut takes a break and goes to Chiang Mai. There he meets Pamela visiting Chiang Mai also. Nat announces it to Pim and its circle (สังคมผู้ดี). She is insulted as a pandering lady (นางบำรุง). Pim looses face and decides to divorce. Atawut asks her to think twice in order to protect his representative title invoking that having mistress is common issue in Thailand. But this is not acceptable for women! As he sees his wife eating with another man (in fact for business purpose), Atawut loses temper. He uses a gun and injures Pim. The trial starts. The man who loves Nat is Atawut's lawyer. Atawut misses his family. He stays humble and simple. He finds an old Isan friend selling Thai coffee (โอเลี้ยง). His friend is not unfaithful. Atawut is rich but not happy. His friend is poor but happy. Atawut will loose child and everything due to his bad behavior. Parents of both sides try to corrupt the judge by offering gifts but despite living in small house, he refuses. Trial is over and the child shall stay in custody with the mother. Finally both side misses each other so much and for the good sake of the young son go back together for an happy ending. This movie raises many 1980s society issues, i.e. men able to cheat wives as a common society issue, corruption in elections, corruption in justice, divorce in high society, men vs women behavior.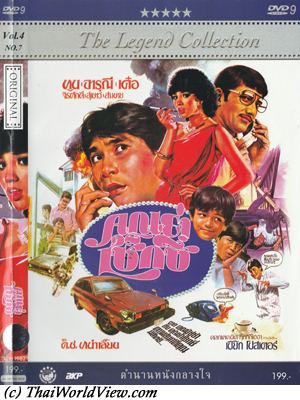 Year

: 1982



Thai title

:

คุณย่าเซ็กซี่




English title

:



Rating

: 2/5


Director

: Piak Poster



Main actor

: Toon Hiransap,Der Doksadao,Somchai Samipak,Doo Dook Kradon,Suchao Pongwilai


Main actress

: Jarunee Sooksawad,Juree Osiri,Sulaleewan Suwanthat,Chosri Misommon



Buy now

:

Thai movie คุณย่าเซ็กซี่ was released in year 1982 and it lasts 1h57mn. It is available under DVD format released by BKP. Movie director is Piak Poster. An old doctor friend visits Et (Toon Hiransap). Et asks for Thip's hand (Jarunee Sooksawad). Thip's father (Somchai Samipak) has a shock. Et visits his doctor friend to find a solution. Chosri Misommon and Doo Dook Kradon are playing crazy patients (อย่าถือคนบ้า ว่าคนเม่า). One of the kids, Mee, is kidnapped by Suchao Pongwilai. Suchao is asking for 300 000 baht as ransom. The kid succeeds to escape and even tricks his kidnappers. The kidnappers lie to Et and capture him. He still has to give a ransom to be released. Luckily the Police is passing by and he can escape. Ruffians are finally identified and jailed by Police. Et can finally marry Thip. Et and Thip are singing a song reminding of วัยอลวน movie in 1975. วัยอลวน was also director by Piak Poster. His old doctor friend (จิรศักดิ์ อิศรางกูร) asks him for help. He needs him to take care about a lady's best friend so that he can focus to seduce her without having a chaperon always around. Et teaches her tennis. Thip sees him with that lady and back home, he gets severely beaten and even falls from the stairs. Incantations (คาถา) from the grandfather are used to make people smaller or bigger so that he is not humiliated by his wife anymore but it is only a dream. Believing Et is becoming crazy as he keeps mumbling incantations, Thip calls the doctor to check his condition. The doctor asks Thip to be nice towards Et as he missed love when he was a kid. Thip announced to the head of school (Juree Osiri) that she quits her job to take care about her home. It is Thip's birthday. As Thip is wearing old style clothes so one of her friend restyles her. So she becomes sexy (คุณย่าเซ็กซี่). Love is back between Et and Thip. The movie can end happily.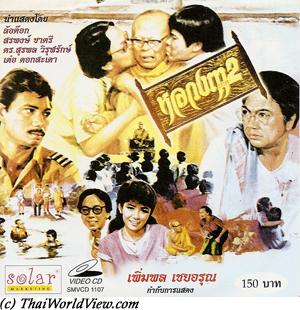 Year

: 1982



Thai title

:

หลวงตา 2




English title

:



Rating

: 3/5


Director

: Permpol Choei-arun



Main actor

: Lor Tok,Sorapong Chatree,Der Doksadao


Main actress

:



Buy now

:

This second opus shows the importance of Buddhist abbots and village headmen ("KAMNAN" - กำนัน) in Thai society. A turbulent young man has been sent by his father in a temple to receive a good education. He still misbehaves and flees with a young lady. Hopefully the village headman and the abbot are here to ease tension and solve issues. It emphasizes the cooperation of all generations to solve village problems.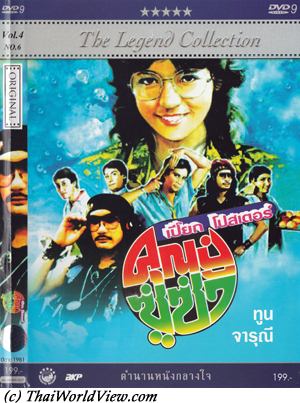 Year

: 1981



Thai title

:

คุณปู่ซู่ซ่า




English title

:



Rating

: 2/5


Director

: Piak Poster



Main actor

: Toon Hiransap,Der Doksadao,Somchai Samipak


Main actress

: Jarunee Sooksawad,Juree Osiri,Sulaleewan Suwanthat,Janthana Siriporn,Chaweewan Boonprok,Patama Panthong



Buy now

:

Thai movie คุณปู่ซู่ซ่า was released in year 1981 and lasts 1h59mn. It is available under DVD format released by BKP. Movie director is Piak Poster. Invited to a wedding party, Et (Toon Hiransap) is still single and is a playboy. He meets Juree Osiri. Et has inherited from his grandfather so he doesn't need to work. He doesn't want to marry as he likes freedom. He invites young lady Pat (Patama Panthong) to Pattaya. Kaew (Der Doksadao), his domestic helper, invites a lady (Janthana Siriporn) in his home while he is away. A little girl called Mot comes to their home. She is Et's relative daughter. As her family has financial issues, the relatives leave Mot with him. Et gets issues with police as he goes to teenager's party (ซวยจริงๆ). Mot's teacher is Thip (Jarunee Sooksawad). As there is nobody to stay with Mot, Thip stays to be her friend as both Kaew and Et are out every night. Et is going out with Chaweewan Boonprok. Enamoured with the teacher Thip (ครูสวยฉิบหาย), Kaew suggests bad ideas to Et in order to seduce Thip such as using sedative (ยานอนหลับ) or inviting her while there is nobody at home. All ideas fail and Thip is very upset with Et as she complains he lives a bad life only spending money and bringing no value to Thai society (ประโยชน์ต่อสังคม). Thip decides to change. Thip's father (Somchai Samipak) is a bakery's owner. Et succeeds to be hired in the bakery and launches successful cakes having tits shape. A co-worker (Sulaleewan Suwanthat) complains he is salacious (ลามก). Worried that Et will bring shame to his father and their business, Thip fires him. Apologizing for his behavior and feeling very sad, Et quits the bakery. While helping the father aggressed by two robbers, he is injured by them. Finally Thip understands Et is a good guy. Et promises to quit his bad behavior and acts as an adult. The second part of this Thai movie is named as คุณย่าเซ็กซี่ was released in year 1982.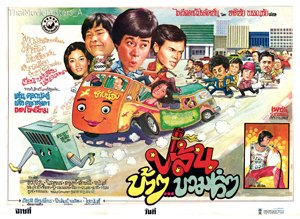 Year

: 1979



Thai title

:

ปล้น บ้าๆ บวมส์ๆ




English title

: The Mad Robbery



Rating

: 3/5


Director

: เพชร ราชภรณ์



Main actor

: Der Doksadao,Thep Po-ngam,Sithao Petcharoen,Thuam Thoranong,Sompong Phonmitr,Dam Datsakorn,Lak Apichat,Pipop Pupinyo,Somsak Chaisongkram,Boo Wibunnan,Sukon Koewliam


Main actress

: Nipaporn Nongnuch,Duangcheewan Komolsen,Malee Wetpraseri,Chosri Misommon
Thai movie ปล้น บ้าๆ บวมส์ๆ / The Mad Robbery was released in year 1979 and lasts 1h43mn. A remastered version was released by Five Star Production (ไฟว์สตาร์โปรดักชั่น) in the decade 2010s and shown on Thai TV cable. It was released under VCD format by Lepso company. Movie director is เพชร ราชภรณ์. A group of six friends (including เด่น ดอกประดู่, Der Doksadao, Thep Po-ngam) are doing magic tricks and selling medicine to cure toothache, but it fails to be a good business. Running out of money, they decide to rob a bank. Sithao Petcharoen and Thuam Thoranong are among the policemen being warned about a robbery. Sompong Phonmitr, as head of police, orders the Police to surround the bank. The six friends succeed to flee by disguising themselves as ladies. They put a fake bomb around a group of ruffians (Dam Datsakorn, Lak Apichat, Pipop Pupinyo, Somsak Chaisongkram, อนันต์ สัมมาทรัพย์...), who promised to get revenge knowing it was a trick. The bank boss is Boo Wibunnan. The police head is upset with three policemen as they let the six fake ladies escape. They must catch them back to erase their mistakes. The six friends have a car accident but get help from truck drivers led by young lady Ae (Nipaporn Nongnuch). Ae invites them to her home. There, they find Boo, Ae's father, playing cards with other men. Luckily, Boo does not recognize them. Boo is losing money. As Tok is knowing card tricks, he gets the money back. The six friends prefer to leave afraid that Boo would recognize them. They decide to look for a job in Bangkok. Ae invites them to her home in Bangkok and guarantees that her father will find jobs for them. Going to Bangkok, Tok leaves the bank bag full of money to his aunt Malee Wetpraseri. The friends then separate to avoid being caught by the police. Tok meets his old old friend Elvis (วิสูตร ตุงคะรัตน์ - Thai Elvis), who invites him. In Ae's house, the friends meet the aunt Chosri Misommon and Ae's elder sister Ann (Duangcheewan Komolsen). The ruffians try to take revenge over the six friends, but finally they give up as they see the Police chasing the friends. Back at his aunt's house, Tok finds she has died, and the money has disappeared. At the funerals, Sukon Koewliam announced to Tok that aunt Hom had used the money to donate to the local Buddhist temple to build a sacred chapel. Thai people finally catch the six friends and Boo recognizes them as robbers of his bank!
---